We all know the US is brimming with vast lands and stunning landscapes that have some of the world's most beautiful sights. What's even better, the United States government has made sure our country's breathtaking sites are protected. That's why we have had a National Parks system in place since 1916! And truly, our National Parks are something else, to say the least. They have very different ecosystems and the majority of them are free to enter all year long. I mean, there's a reason why they were given their very own documentary called America's Best Idea! They are just that, the best idea ever! I'm so grateful we've decided to protect these national treasures for future generations.
Visiting a US National Park is an amazing adventure. Trust me, I've seen them all on an epic seven-month-long road trip! In 2017, my husband and I traveled to every single National Park in the United States (there were 59 at the time) and it was an EPIC journey! There are now 63 National Parks in the USA and it's on our bucket list to get to the remaining 4 we are yet to experience.
Since I'm a National Park lover (and I know one or two things about each one of them), I wanted to make a bucket list for you guys. Today's post is dedicated to the ultimate US National Parks bucket list. I'm aware that not everyone can visit all US parks on the same trip, so this list is the perfect way to narrow it down to a handful of must-include ones. You can use it as a checklist for all your future National Park trip planning! Check them off one by one, even if you only get to one per year. I promise, visiting all of these national treasures is so worth it. Let's get to the United States National Parks that should be on your bucket list!
Disclaimer: This blog post may feature some affiliate links, which means I get a small commission if you make a purchase (at no extra cost to you). It's one of the ways I can keep producing free guides and resources for my readers. Learn more about my affiliate policy here. Thank you for the support!
The Ultimate US National Parks Bucket List
You might be wondering how we chose which parks to include in this bucket list? We felt it was best to give a selection of destinations that gave you a well-rounded national parks experience. Many lists just include the most beautiful or the most popular parks, but we believe that every park has something interesting to offer. In saying that, if you want to learn which parks we rated the highest during our 7 month adventure, check out our blog post that ranks the US national parks from best to worst.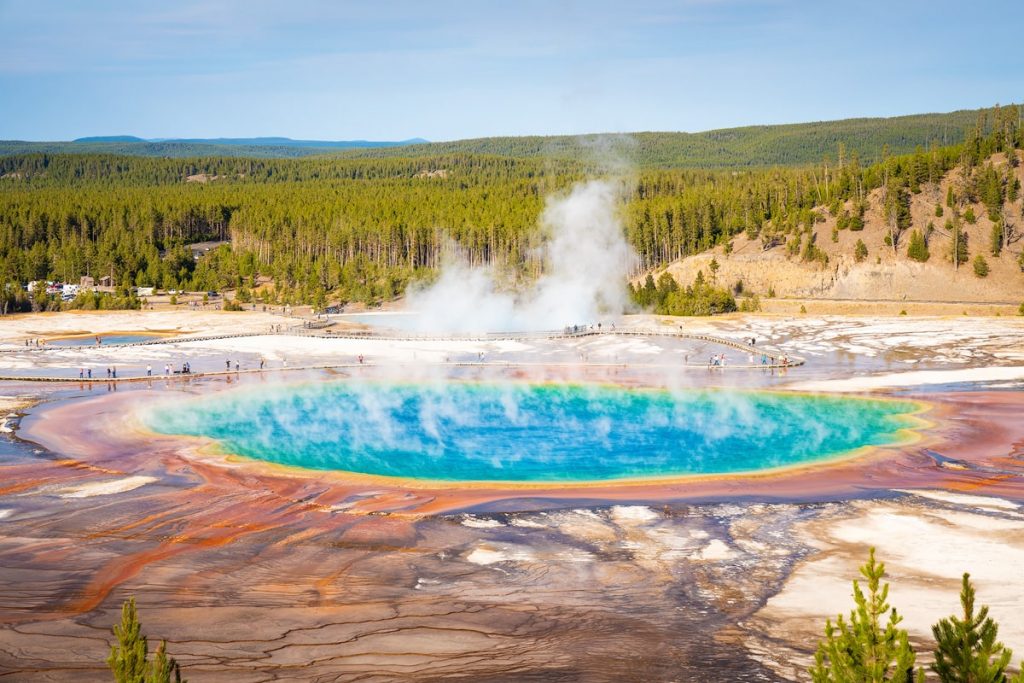 Yellowstone National Park
Located across Wyoming, Idaho, and Montana, Yellowstone is on the National Parks bucket list of not only many Americans but people from all over the world. This was America's first National Park! And I promise you could spend days here and leave feeling like you barely got to experience anything. You'll find unique hydrothermal and geologic natural wonders, hiking trails, native wildlife, fishing and swimming spots, campgrounds, and even sky tracks. There's just so much to do in the Yellowstone Ecosystem!
Bear in mind that Yellowstone is a seasonal park, so you'll need to plan your visit in advance. Summer is the busiest season there, but winter can also be pretty crowded since skiers love to make the most out of the snowy tracks. So, if you prefer a quieter environment, consider visiting during May or September. As for accommodations, you can sleep in a lodge, cabin, or out in the campgrounds. Don't worry, there are plenty of places to eat a delicious meal onsite! If you want to know more about this gorgeous park, read my ultimate Yellowstone guide.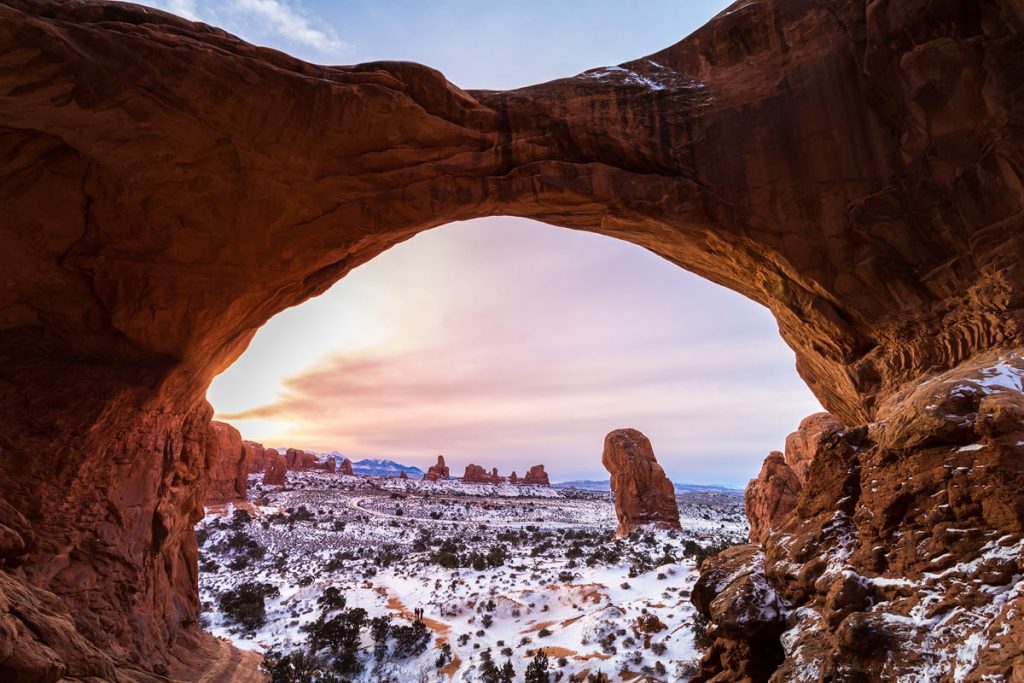 Arches National Park
This red-rock wonderland is not to be missed! If you want to amaze yourself with 2,000 natural stone arches and thousands of other rock formations, Arches National Park is the place to visit. It's located in Utah and spreads out for more than 300 kilometers. Impressive! Wherever you look, there are copper rocks and blue skies. You can camp, hike, rock-climb, stargaze, cycle, horseback ride, and even participate in a ranger's program!
Arches National Park is normally open all year round. Though it can get super busy between March and October, so be sure to arrive early in the morning to avoid crowds. The best times to enter the park are before 8 am or after 3 pm. If you want to stay overnight, there's a camping ground on-site, Devils Garden Campground. Just make sure you book your spot a couple of months in advance!
If you're planning a trip to the USA Southwest, then you should definitely check out our guide to Utah's best National Parks, the Mighty 5!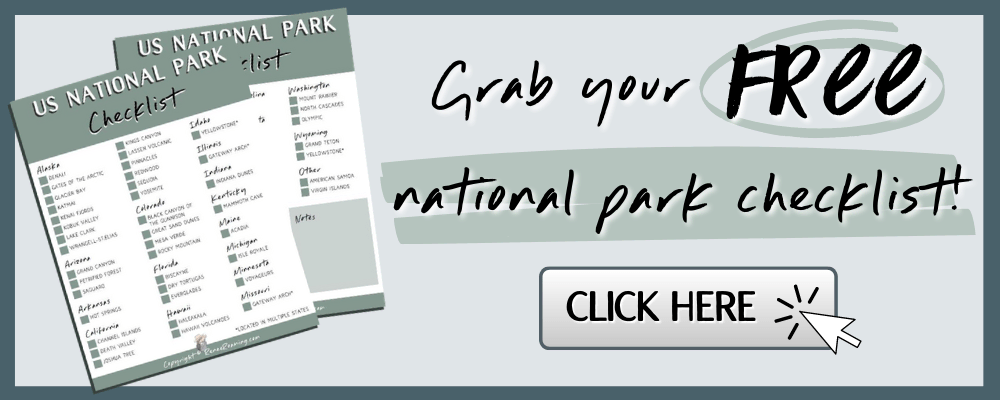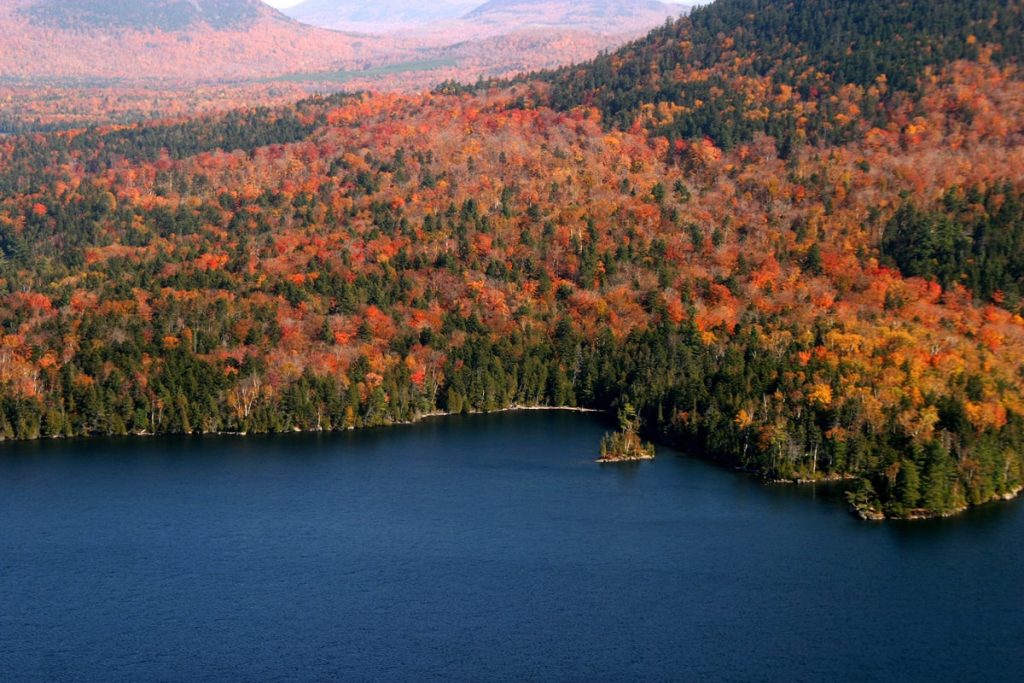 Acadia National Park
Often called the Crown Jewel of the North Atlantic Coast, Acadia National Park is located in Maine. It features more than one scenic drive and is accessible during all seasons. Each time of the year offers a completely different and magical experience! During summer, enjoy birdwatching, hiking, biking, horseback riding, stargazing, tide pooling, swimming, and boating. If you prefer wintery days, you can opt for skiing, snowshoeing, ice fishing, and snowmobiling! And many say that fall is the most beautiful time to visit Acadia… go see for yourself!
Not the entire National Park is open year-round, but several main areas are available to visit during all seasons. If you want to spend the night amidst nature, there are four campgrounds available, though you will need to make a reservation in advance. I recommend spending at least two days exploring this beautiful place since the park actually encompasses 50,000 acres of Maine's Atlantic Coastline. There are over 150 hiking trails, so come prepared and with plenty of time!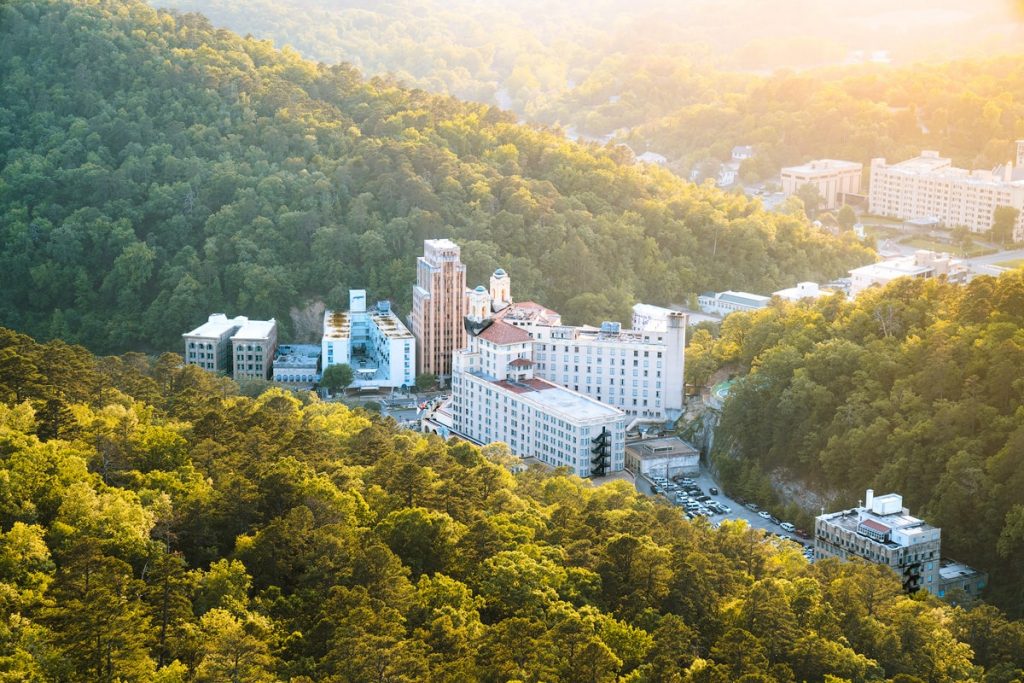 Hot Springs National Park
Hot Springs is the home to the only nonvolcanic geothermal springs in the United States. It has a unique combination of lithology, geologic structure, and natural water sources. Perhaps its biggest feature, the park has 47 thermal springs and over 30 miles of hiking trails. All in almost 23 kilometers of Arkansas! The park is open year-round, but fewer people visit during winter. Which makes it the best time to warm up in a hot water cascade!
There are different ways to experience the thermal waters at Hot Springs. There are two indoor hot bathhouses, two cold spring fountains amidst nature, and several bodies of water to experience on the hiking trails. The Gulpha Gorge Campground is the best place to stay in the middle of the forest, but it's on a first-come-first-serve basis. So be smart about the dates you pick for your visit! If not available, you can always opt for the historic Hotel Hale.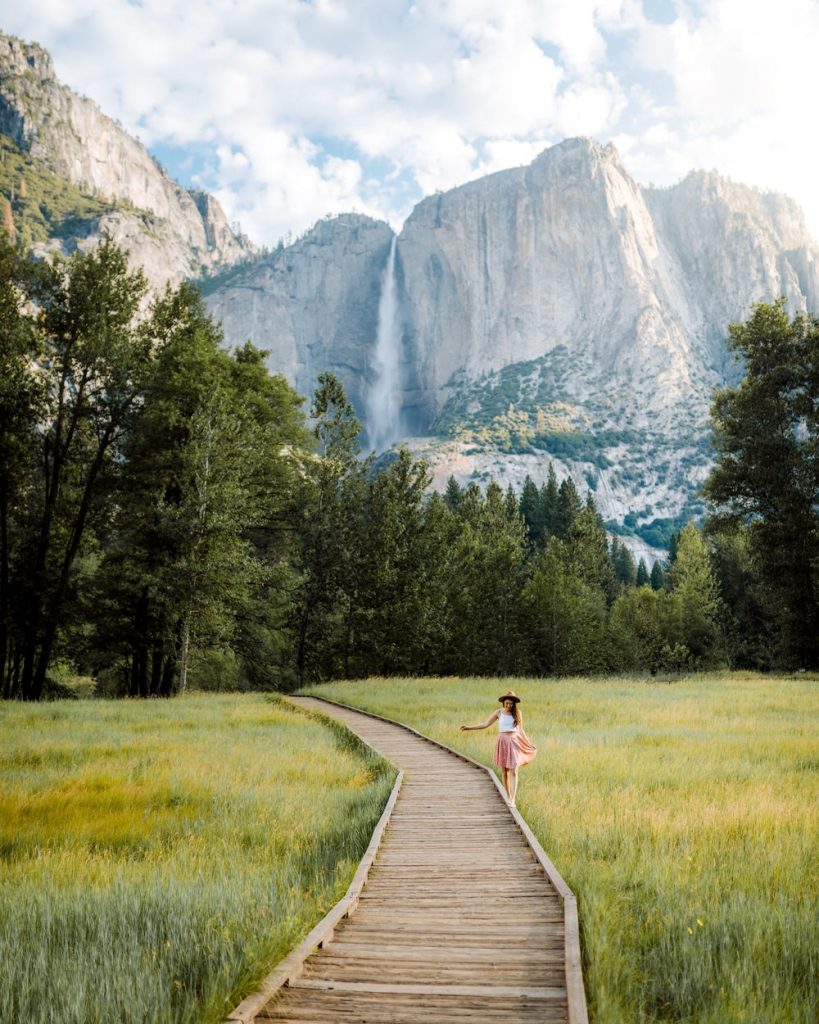 Yosemite National Park
Yosemite is one of the most widely recognized National Parks in the United States! It covers 1,200 square miles of beautiful land filled with waterfalls, ancient sequoias, valleys, meadows, and a whole lot of stunning nature. There's so much to do and discover in this park. Biking, hiking, stargazing, birdwatching, horseback riding, auto-touring, fishing, rock climbing, winter sports, water activities, you name it. Don't sweat it if you can't pick, I have a full guide on this California park!
Most of the visitors spend their time in Yosemite Valley, a 7-mile-long canyon that's almost a mile wide and features cascades and huge granite walls. Many casual tourists only visit this area. I highly recommend checking out the rest of what the park has to offer across the south rim and north rim of the premises. The busiest times to visit fall between April and October, so give the low season a chance to avoid crowds. There are both lodging and camping overnight stays available, as well as some exciting overnight hikes!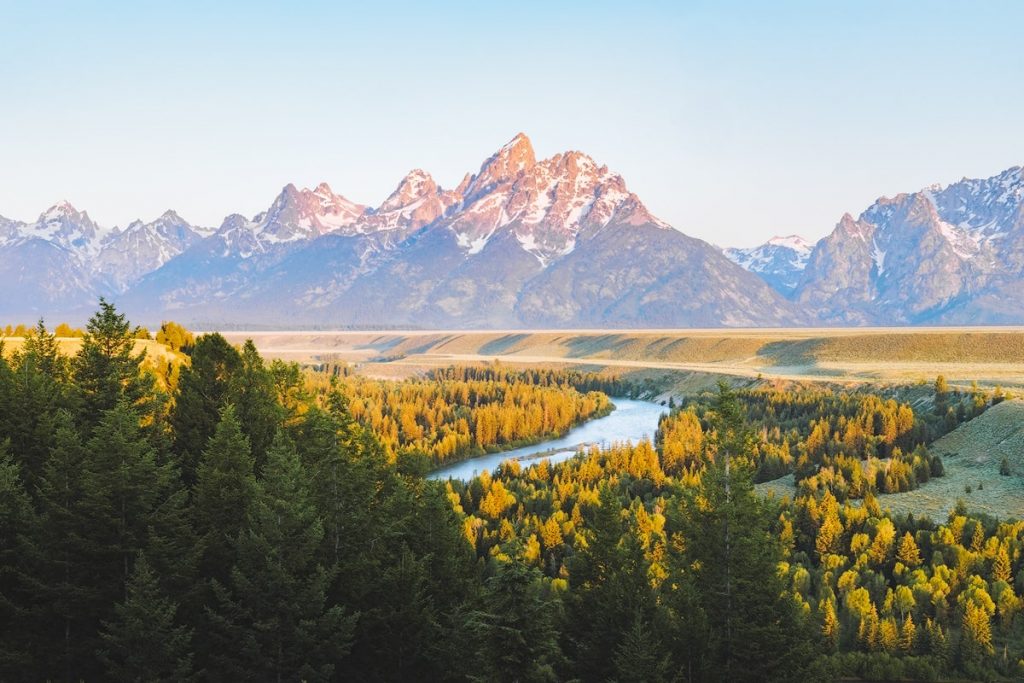 Grand Teton National Park
There's a reason they refer to Grand Teton's landscape as Mountains of the Imagination. If you love high peaks and rocky hikes, then this one needs to be on your US National Parks bucket list! It's located within the Teton Range, across northwestern Wyoming and a small part of Idaho. I mentioned mountains, but don't think that's all this place has to offer. It also features unique wildlife, clear lakes, green valleys, rivers, homesteads, cattle ranches, and undeniable blue skies!
There are campgrounds and lodging available for those who wish to stay overnight. And we recommend it! If not for the stunning stars that come out every night, do it for the myriad of things you can do while in this National Park. Think about hiking, mountaineering, climbing, kayaking, biking, and boating. You can even take a quick trip to Jackson and visit the city while you're at it. There's something for everyone! We have a full guide on the best things to do in Grand Teton National Park – check it out!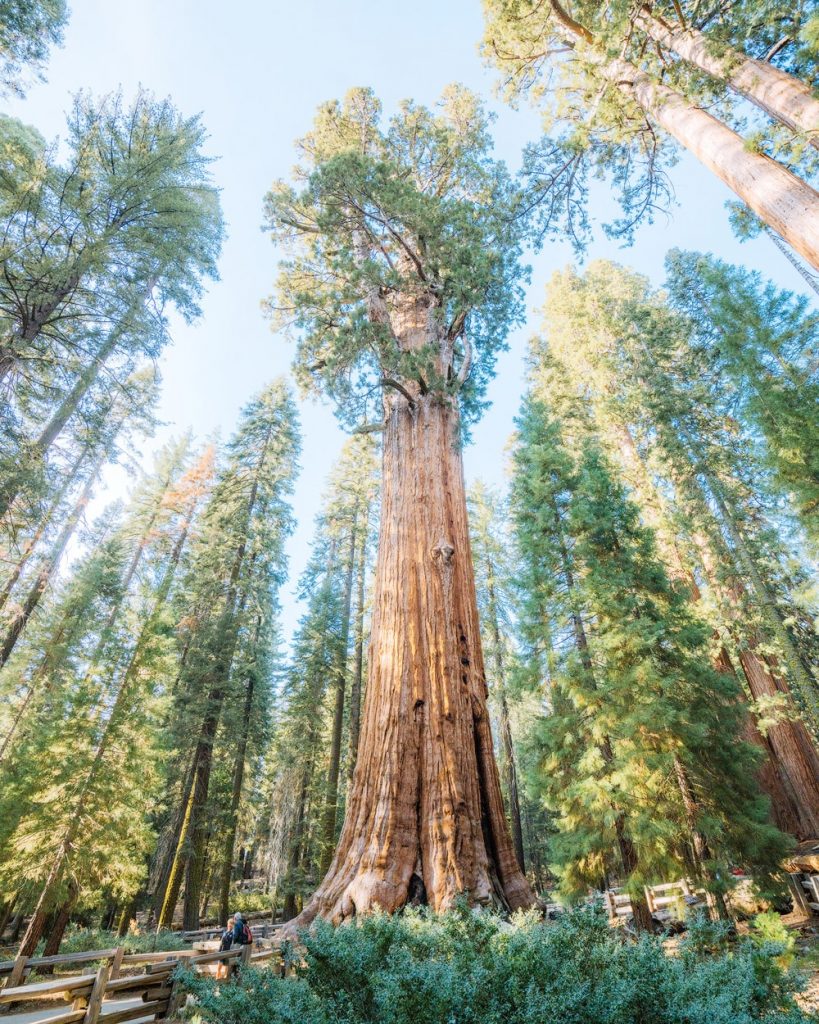 Sequoia and Kings Canyon National Park
If you're interested in seeing some of the tallest trees in the world, add Sequoia and Kings Canyon National Parks to your list. This jointly run park is home to the largest trees in the world. These trees are a true wonder. The giant sequoias are not the oldest trees in the world, however they do live to around 3,400 years, which is absolutely incredible! Their long life cycle has actually helped scientists better understand the history of climate and the general sequoia life cycle, which is much longer than our own. While visiting these trees, make sure you gaze up to the top. It's a truly incredible view as the giants can only be truly marveled in person. No picture does them justice!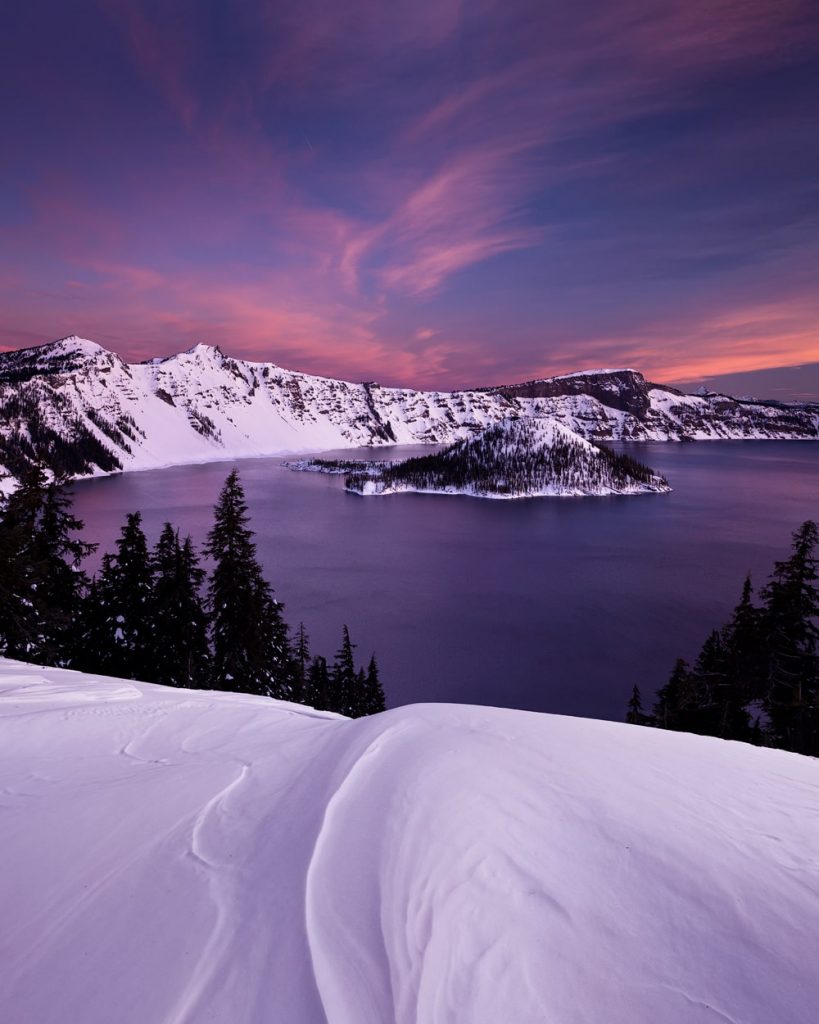 Crater Lake National Park
Crater Lake is a must-visit on your US National Park bucket list. It's the deepest lake in the entire United States, at 1,943 feet. And you can actually experience its depth because the water is so clear you can see up to 100 feet down. The lake is a caldera, which essentially means that it's a former volcano… super cool! Crater Lake National Park can be visited year-round, though it's said to be particularly beautiful in the winter months.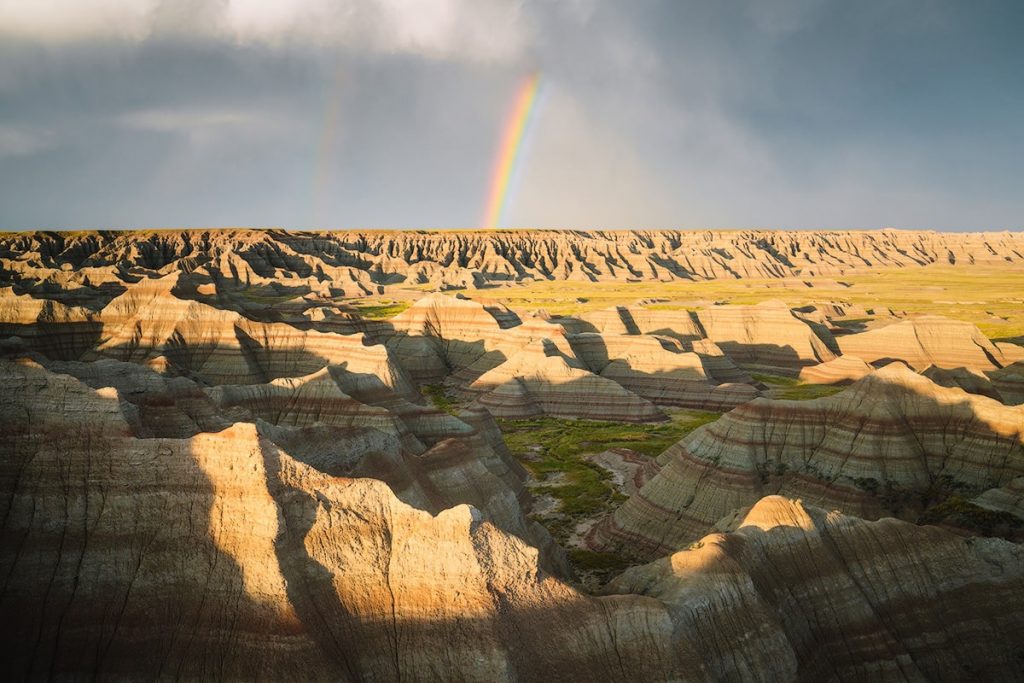 Badlands National Park
Located in western South Dakota, Badlands National Park is home to million-year-old geologic formations and a few of America's most famous mammals. It's the perfect park for a scenic drive. And you can even make a road trip out of it since it's located between (but far from) a few major cities! The park is open 7 days a week all year round, so don't worry about having to visit at a particular moment of the year.
There are both backcountry camping and traditional campgrounds onsite. Though there are also cabins at the Cedar Pass Lodge if camping is not quite for you. You can also explore the fossils in the Great Plains, the vast geology of the Black Hills, check out a few underground weapons and learn cold war history, or take part in ecological and recreational activities. Of course, hiking, biking, and stargazing are always available!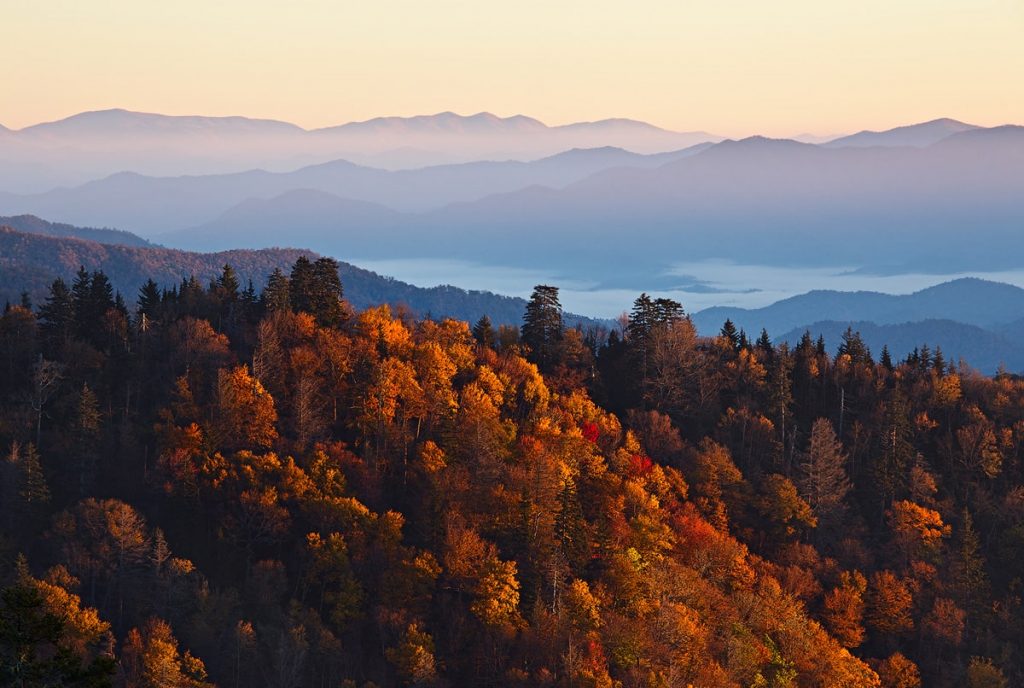 Great Smoky Mountains
The Smoky Mountains are a mountain range along the Tennessee and North Carolina border. They are a subrange of the Appalachian Mountains, and form part of the Blue Ridge Physiographic Province which stretches from Southwest Pennsylvania to Georgia. Great Smoky Mountains National Park is all about getting knee-deep in nature. Think wildlife, massive forests, beautiful mountains, hiking trails, and even waterfalls. Some things we recommend working into your trip here include hiking, black bear sightings, definitely visiting the waterfalls, horseback riding, and Cade's Cove. Check out our park guide here.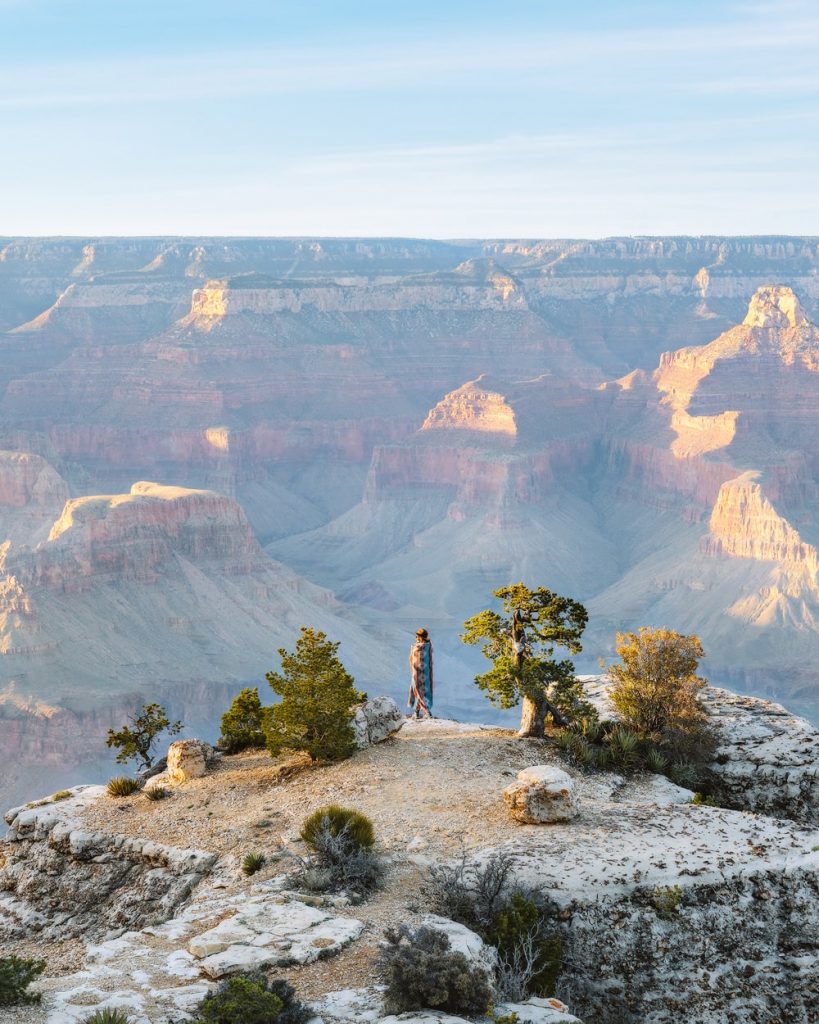 Grand Canyon National Park
You can't make a US National Parks bucket list without including this iconic park. The Grand Canyon is one of the most well-known natural landscapes in the entire world. It encompasses over 277 miles of Arizona desert in length and is 10 miles wide in some parts. The Grand Canyon was formed over millions of years, so it showcases the natural formation of red rock and is a massive display of geological history.
At the Grand Canyon, you can engage in hiking, photography, river rafting, guided tours, even mule riding tours. There are tons of places to eat, lodging, and even educational programs like ranger training.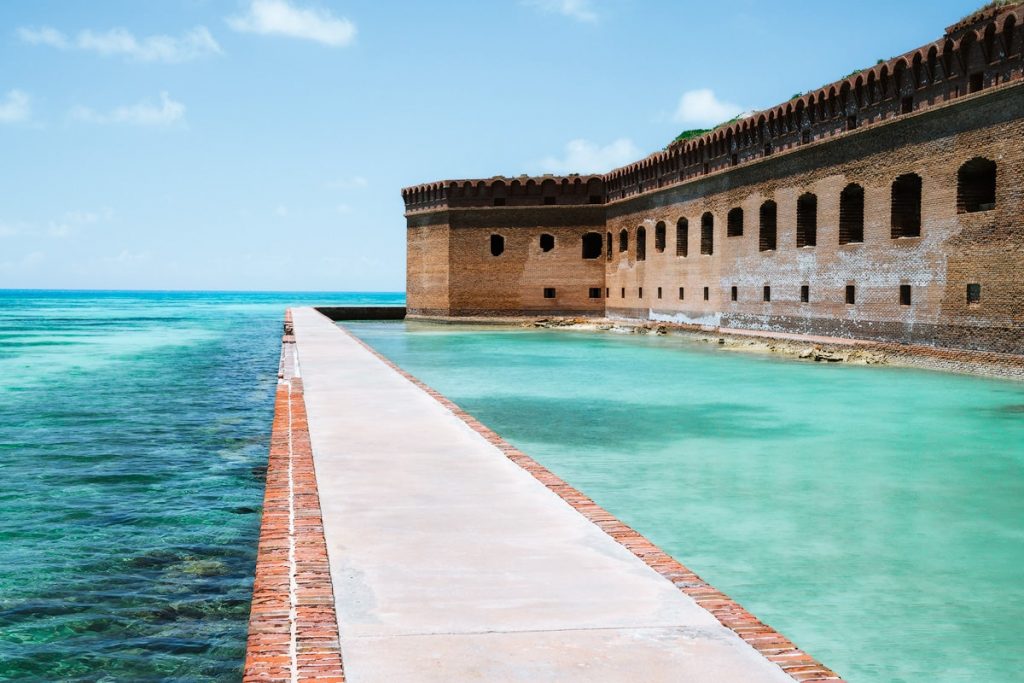 Dry Tortugas National Park
This National Park is one of the few in the United States to be scattered around several islands. Dry Tortugas features 7 different islands, just 70 miles west of Key West. That's right, it might be time to pay Florida a visit to check out this stunning nature hub! You can access the park through both a local ferry and seaplane from Key West, though bringing a private boat is also allowed by filing a permit.
You'll be amazed by this 19th-century fort and the local marine wildlife. There are several snorkel opportunities for those who love the water! The park has a campground located on Garden Key, but sadly there's no place to buy food and drinks inside. Still, visitors are allowed to bring their own meals if they wish. So if you come well-prepared, you can spend the night and live off your supplies!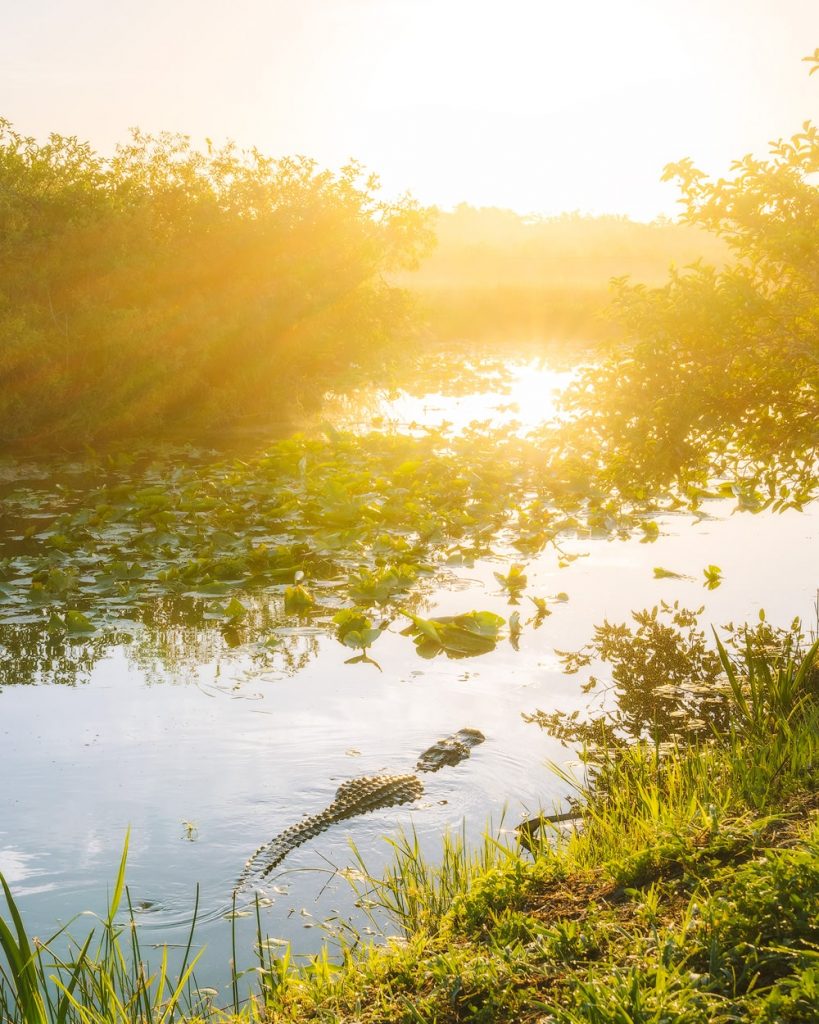 Everglades National Park
Another Florida gem to add to your bucket list, is the Everglades in Florida. This national park is the largest subtropical park in the United States. It is well known for its boating attractions, fishing, bird watching, and of course for its gators. Yep, this park is one of the main places you can view both live alligators and crocodiles in the wild. The Everglades is home to many animals and is also well known for its issues with invasive species.
Visiting this park is a truly unique experience and likely to give you a different vibe than most of the other parks in the United States just due to its climate and wildlife. I definitely recommend adding it to your bucket list!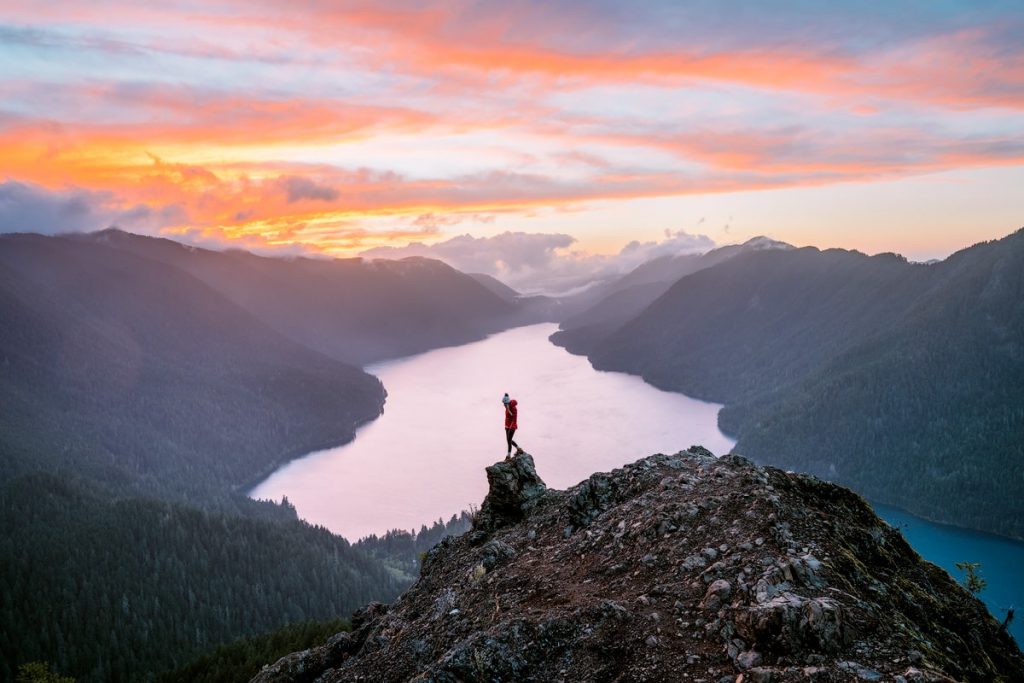 Olympic National Park
Olympic National Park is the place to visit for beautiful seashores, breath-taking forests, snowy mountains, magical cascades, and abundant wildlife. I know, it seems to have it all! Located alongside the Pacific Coastline in Washington, this park has a unique biodiversity and has been a long-time favorite of many travelers out there. You'll find it on the westernmost corner of Washington, and it stretches across 1 million acres of pristine land.
With such diverse climates, you can pretty much do anything during your time in Olympic Park. Boating, fishing, tidepooling, camping, hiking, backpacking, stargazing, wildlife viewing, skiing, snowboarding, snowshoeing, tubing… Whatever adventure you want, go for it! The park is open every day, year-round, though most people visit from June to September. You'll find both a camping site and lodging accommodations available during most of the year. Click here to check out our park guide!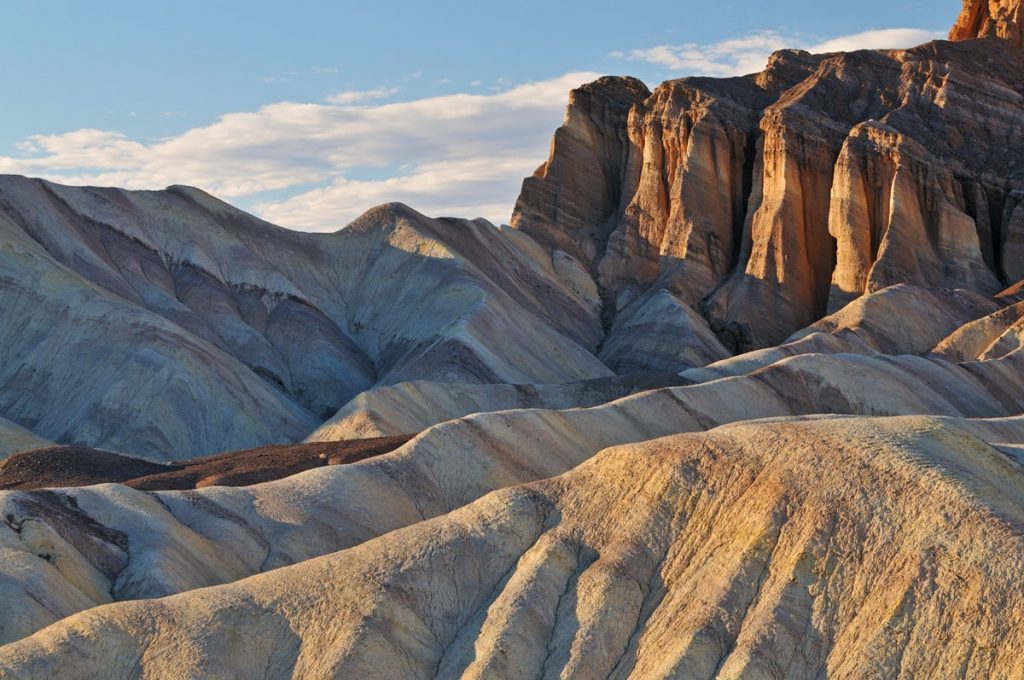 Death Valley National Park
Welcome to Death Valley, often called the hottest, driest, and lowest National park in North America. And this place does not disappoint! Death Valley can be found below sea level, in the state of California. The contrast of landscapes is incredible, this is truly a magical place! And I'm not saying this because Star Wars was filmed here, though it contributes to the mystic vibe! Check out my guide for the ultimate scoop on this fan-favorite US National Park. 
There are campgrounds and lodging spots across Death Valley, as well as restaurants and convenience stores to supply travelers on their journey through the desert. Some of the most popular activities are stargazing, sunset and sunrise watching, hiking, backcountry driving, road and mountain biking, and trail running. If you want to discover the park's secrets, take a guided tour once the sun is down and enjoy some nighttime exploration! This National Park needs to be on your bucket list, that's all I have left to say.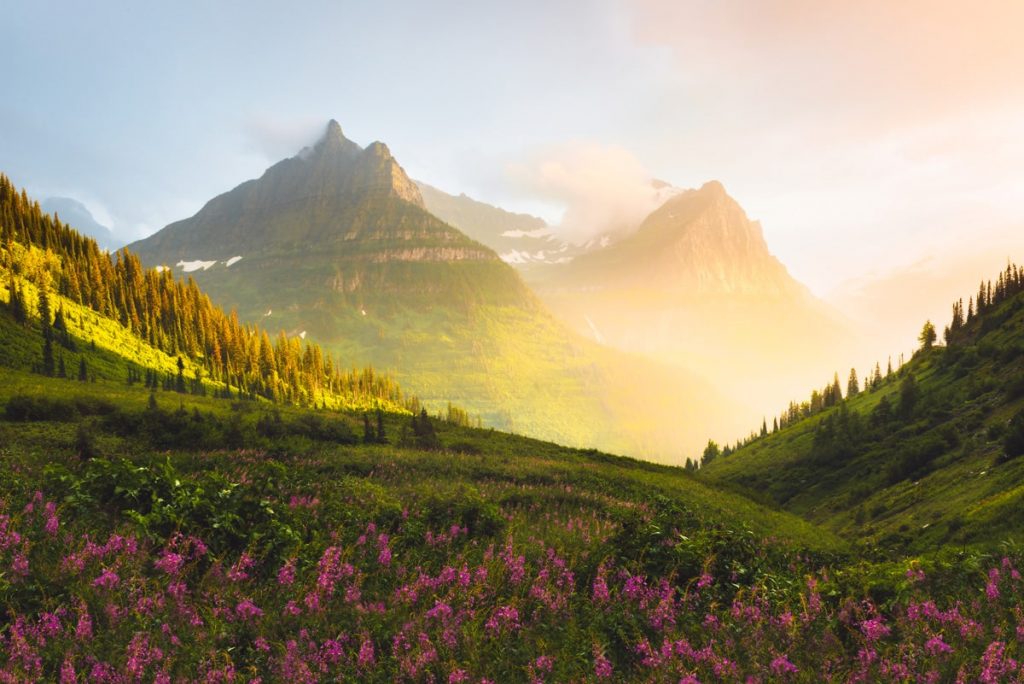 Glacier National Park
Montana's Glacier National Park is home to the famous Going-to-the-Sun Road, vast forests, pristine lakes, snowy mountains, and green meadows. This park is famous for its biodiversity and natural ecosystems. It's actually an International Peace Park, separated from Waterton Lakes National Park in Alberta by only a 20-foot swath. It extends across 4.100 kilometers with several hike trails that travel to and from the Hidden lake. The park is open year-round, though the peak seasons are spring and summer. So opt for a wintery adventure to enjoy a quieter setting!
At Glacier National Park, there's something for everyone, at any season! There are traditional National Park activities, like hiking, biking, fishing, boating, and cross-country skiing. But you can also participate in guided tours and other ranger-led activities for a more in-depth experience. And don't forget about the Going-to-the-Sun road! This must-do road connects the east and west rims of the place through the middle of the park. It's the quintessential scenic drive, so be sure to set aside time to enjoy it properly!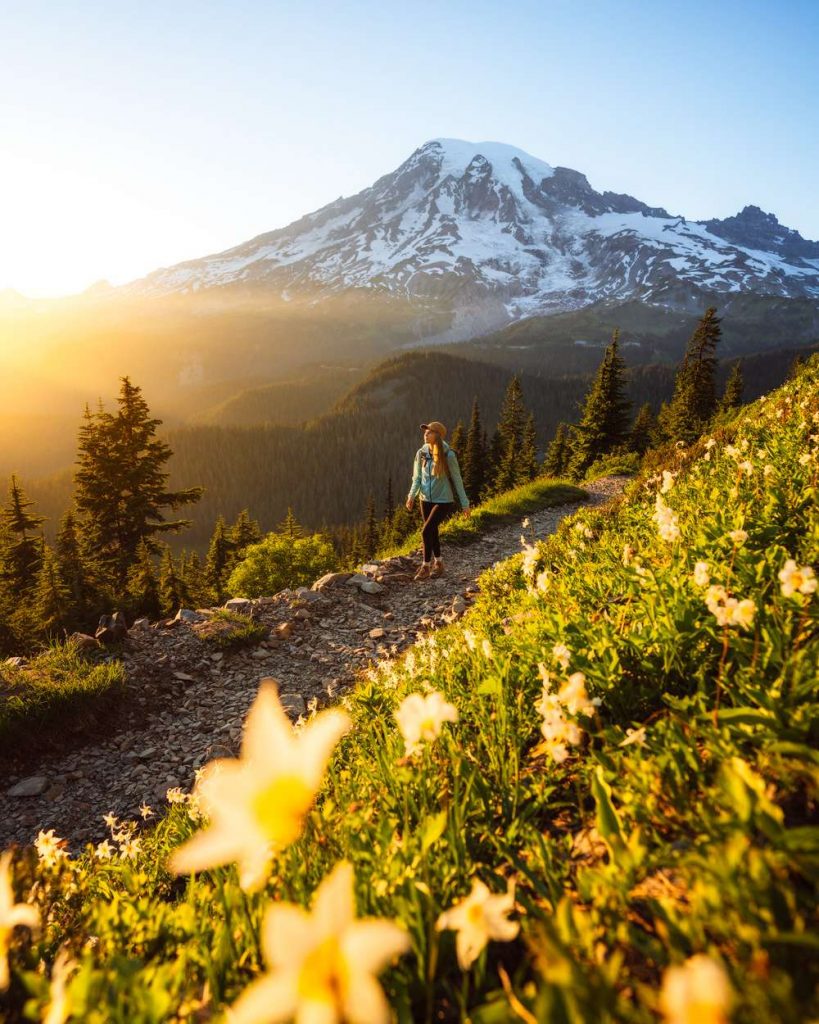 Mount Rainier National Park
At a mighty 14,410 feet above sea level, Mount Rainier is one of Washington's most famous landscapes. This active volcano is actually the most glaciated peak in the United States, with 5 different rivers spawning from it. With alpine ecosystems, this place is breathtaking. You will spend more than one visit trying to discover at its fullest potential! I mean, meadows, ancient forests, and an icy volcano? We loved it there so much that I made an ultimate guide for this park out of hopes to inspire as many people as possible to visit. So be sure to add it to your US National parks bucket list!
You'll be happy to read Mount Rainier is open year-round! Each season fleshes out a different beautiful feature of this place, with summer bringing the wildflowers and winter transforming the place into a snow-capped heaven. As for places to stay, you'll find two lodges and three major campgrounds. Don't worry about the food, there are also restaurants available! 
Don't forget to also check out my guide to the best hikes in Mount Rainier National Park!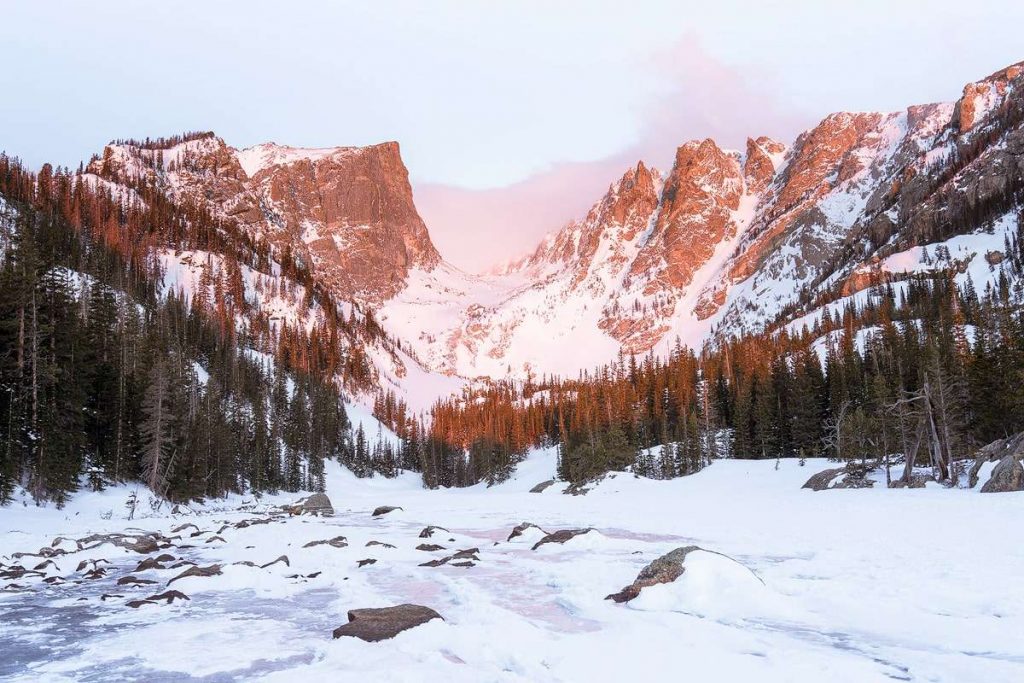 Rocky Mountain National Park
If you like snow-capped mountains, alpine meadows, and pristine lakes, add Rocky Mountain to your National Parks bucket list! Located in wonderful Colorado, you can easily travel northwest from Boulder to get here. It encompasses 415 square miles of protected land and mountains, with unique wildlife and ecosystems. Weather permitting, this park is open all day, year-round. So it's perfect for a winter escapade!
Unlike a few of the National Parks on this bucket list, Rocky Mountain National Park has no lodging accommodations available. There are both backcountry or regular camping options onsite, so get ready to sleep in a tent under the stars! Though if you really need a lodge, there are plenty of places to stay located within the nearby communities.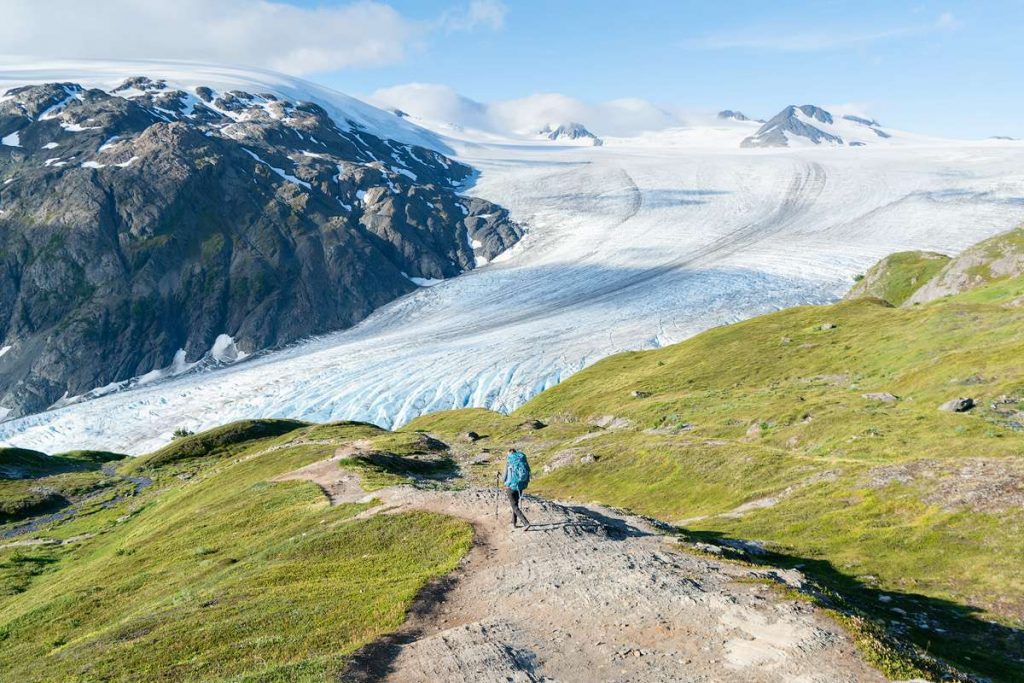 Kenai Fjords National Park
It would be unacceptable to leave Kenai Fjords National Park out of this bucket list! This is the place where the ocean and ice meet the mighty mountains, merging together into an indescribable landscape filled with nature's wonder. It's located on the south coast of Alaska and it protects the glaciers of these shores, at the very edge of the Kenai Peninsula. With nearly 40 glaciers, this national Park is like no other. Read my ultimate guide to visiting this place like an expert traveler!
It's a tough journey to get there since only the Exit Glacier Area is accessible by car. Still, it's doable and so, so worth it. The sleeping infrastructure is minimal, with only a few coveted public cabins and one first-come-first-serve campground available onsite. The nearby communities have a full range of lodging accommodations and restaurant options available, though. So weigh your options and pick what's more comfortable for you!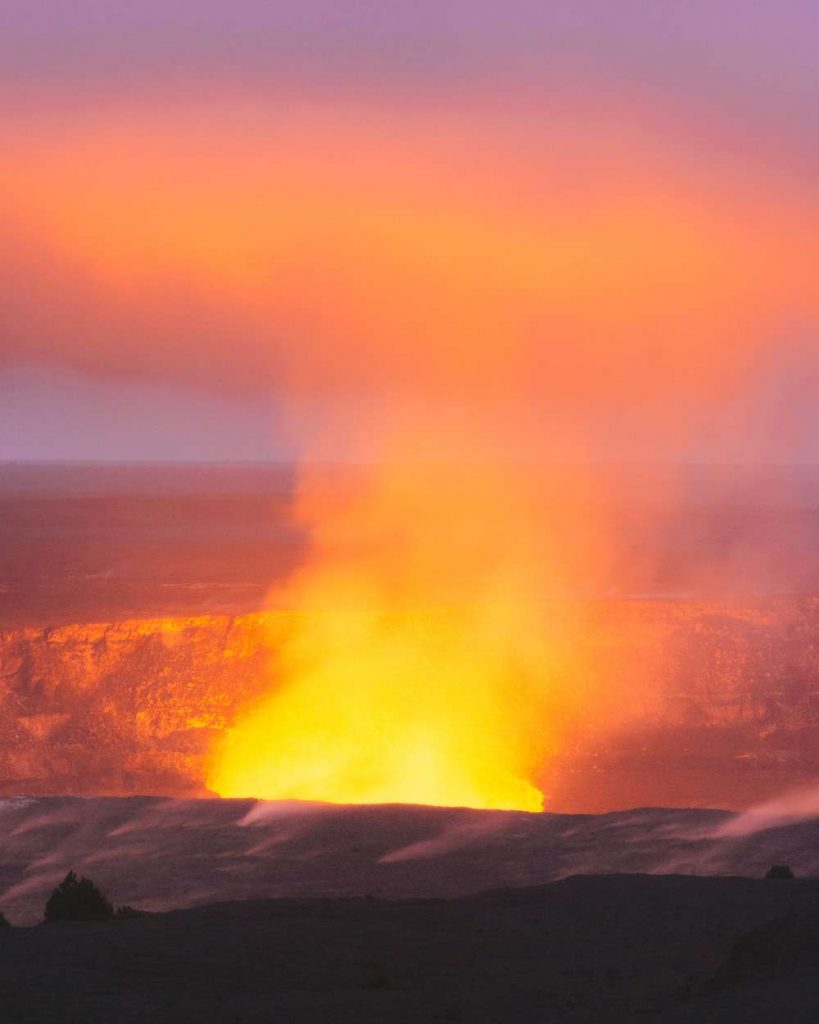 Hawaii Volcanoes National Park
You'll have to hop on a plane to visit this one, but it is SO worth it. Volcanoes are a true testament to the power of nature. Honestly, there is nothing more exciting than seeing and feeling the heat from a volcano, capable of literally forming the land we live on. This park is home to two of the world's most active volcanoes – Kīlauea and Mauna Loa. You can get up close and personal, take a tour, and feel the heat coming off of the land. It's also designated as an International Biosphere Reserve and UNESCO World Heritage Site. Check out our guide to The Big Island for other adventures while you're in the area.
What are the US National Parks at the top of your bucket list?
That's all for my North America National Parks bucket list! I know it's quite a handful of parks to add to your bucket list. But I just love them all! So take it easy and start checking them off the list one by one. You'll visit them all soon enough, I'm sure. And feel free to let me know of all your previous National Park adventures in the comments! If you are in the mood for more National Parks content, then head over to this section of the Renee Roaming blog. Happy adventures, travelers!
---
PIN FOR LATER!