Mount Rainier National Park has to be one of the most stunning places in the entire world, and is certainly a gem of Washington State! From meadows of wildflowers, to old-growth forest, to beautiful waterfalls and rivers, and incredible mountain views… Mount Rainier really is a nature lovers dream.
I have visited the park at least 20 times now, including during my 2017 trip to all the US National Parks. Over the years I have got to know the area fairly well and I'm excited to share my tips with you all! In this blog post I'm covering everything you need to know to plan your Mount Rainier getaway, including when to visit, where to stay, the best things to see, what hikes to take, photo spots, packing recommendations, suggested itineraries, and more!
Disclaimer: This blog post is in collaboration with Backcountry.com and features some affiliate links. This means I get a small commission if you make a purchase (at no extra cost to you). Use code RENEE15 to get 15% off your first Backcountry order (some exclusions apply). You can also learn more about my affiliate policy here. Thank you for the support!
Mount Rainier National Park is located 2-3 hours southeast of downtown Seattle, depending on which entrance you are accessing. Many visitors also visit the park from neighboring Oregon, with Paradise located about a 3-hour drive from Portland.
Public transport into the park is limited so instead I would suggest driving or renting a car. One of the best parts about visiting Mount Rainier is being able to take the park's scenic drives by wildflower meadows, towering trees, and mountain vistas. The nearest airport to the park is Seattle-Tacoma International Airport. Use Skyscanner to search multiple airlines for the best deals.
You can also book a tour from Seattle if you prefer the guided option. This private tour is offered with a gourmet lunch, or you can take a small group tour or large group tour for more budget-friendly alternatives.
Although some sections of the park are officially open year-round, summer and fall are by far the best time to visit. In particular, the months of July through October usually offer the best weather, snow-free trails, and the chance to see wildflowers (depending on the season). Keep in mind that Mount Rainier can experience fairly dramatic weather conditions and you are always best to research and plan accordingly.
To avoid crowds I would suggest planning your visit for during midweek and outside of busy holidays such as Fourth of July. Parking can get extremely busy on the weekends and lines can build up at the entrance gates. Entering the park before 10 am or after 2:30 pm can also help avoid delays during busy periods. Check out this article by the National Park Service (NPS) for avoiding summer congestion.
If your main objective is to see wildflowers then you will need to be flexible with the conditions, weather, and the season. Each year is different and the "peak" bloom will depend on many factors. In general, the wildflowers will start blooming early-mid July and will peak by the first week of August, but again this can change season-to-season. The NPS has updates each year on their 'Discover Wildflowers' web page.
FYI national park lovers – I put together a checklist of all the parks, so you can mark each off as you visit them! It's free to download via my travel resource library! Click the image below.
Visitation time is a very personal thing, as some people prefer to see only the highlights and others opt to really take their time exploring the park. My personal recommendation would be to spend 2-3 days seeing the highlights whilst also getting to see some of the less-visited sections. You will find some suggested itineraries further down this blog post, including for single-day visits, 3 days, and 5 days.
Mount Rainier National Park has four main entrances: Nisqually (southwest), Carbon River (northwest), White River/Sunrise (northeast), and Stevens Canyon (southeast). The Nisqually entrance (via SR 706) is probably the most popular given its year-round access for vehicle traffic, proximity to the state's main highways, and access to Longmire and Paradise. Note that many of the park roads close in winter.
The park has five main sections: Longmire, Paradise, Ohanapecosh, Sunrise, and Carbon River/Mowich. I would say the most developed and well-known sections of the park are Paradise and Sunrise, but below is a brief breakdown of what each area of the park has to offer:
Longmire – the park's historic district, with access to a wilderness information center, museum, and the National Park Inn.
Paradise – best known for its wildflower meadows, main park visitor center, winter activities, ranger station, guide house, and the Paradise Inn.
Ohanapecosh – where visitors can experience the park's old-growth forest and also access the Ohanapecosh Visitor Center and Ohanapecosh Campground.
Sunrise – a popular spot to explore wildflower meadows and views of the mountain, with access to the Sunrise Visitor Center, Sunrise Day Lodge, and White River Campground.
Carbon River/Mowich – best known for its beautiful trails and camping, including Mowich Lake Campground and Tolmie Peak Trail. Read my blog, Car Camping Essentials List to make sure you're fully prepared for any camping.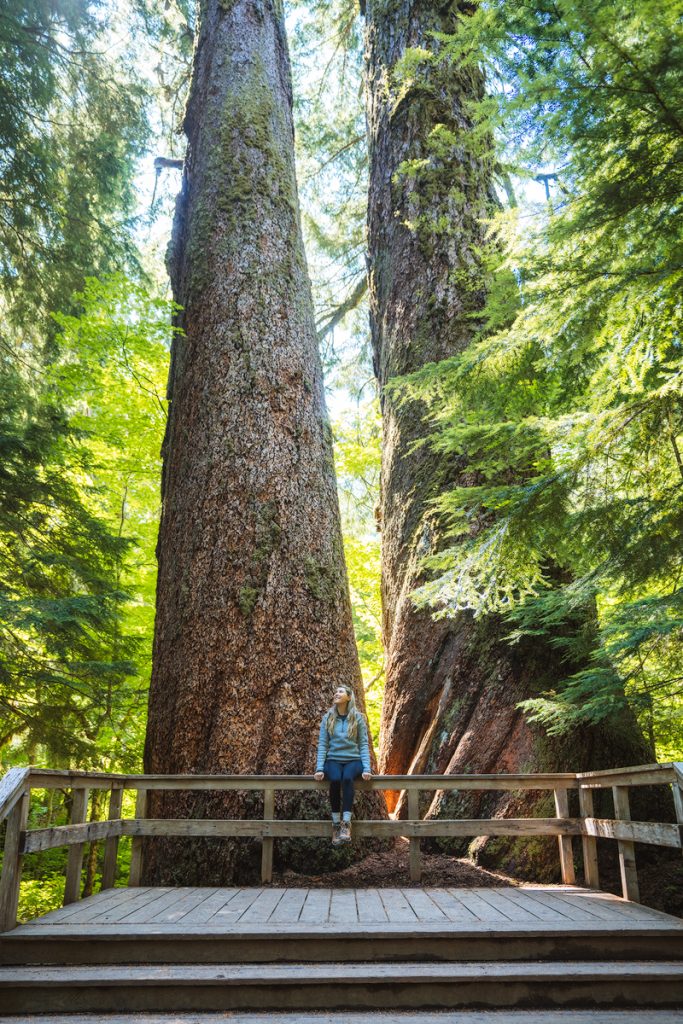 Like most national parks, Mount Rainier has limited facilities and access to things like phone service or WiFi. You can access free WiFi in the Paradise Jackson Visitor Center, though this can only be used during opening times (varies depending on the season). I use Verizon and have 5G in the Paradise parking lot and a couple of the overlooks near Paradise.
In terms of places to eat, you can find food in Longmire, Paradise, and Sunrise, though this also depends on the season and opening hours. Plan accordingly and check the NPS website for the most up-to-date information each season. In general, I recommend bringing your own food and water to the park so that you can make the most of your visit and not have to worry about finding places to eat. Read our guide on planning a national parks trip for more information
Entrance fees to the park vary depending on your visit time (see a breakdown of the fees here). If you are a fairly regular visitor to national parks and recreation areas then I would suggest purchasing an annual pass, also known as the "America the Beautiful" pass. These are only $80 USD and cover entrance fees to all national parks and national wildlife refuges PLUS day-use fees at national forests, BLM lands, and more.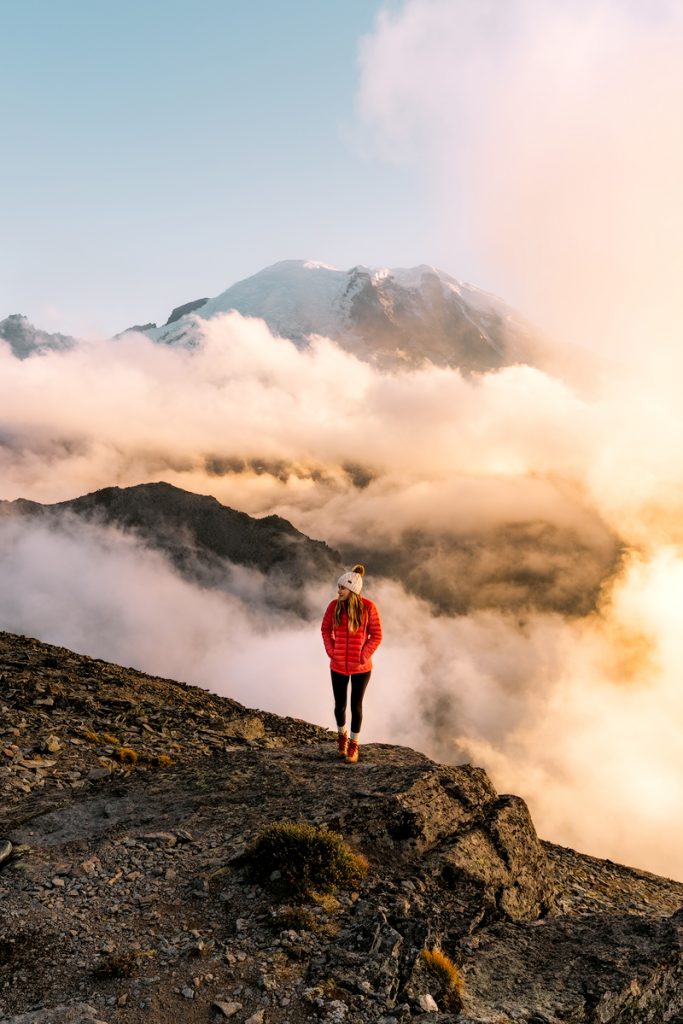 There are numerous lodging options inside and outside of Mount Rainier National Park. Inside the park, you have the choice of staying at the National Park Inn (Longmire) and the Paradise Inn (Paradise), or in one of the three major campgrounds (Cougar Rock, Ohanapecosh, and White River). There are also numerous overnight backcountry camping spots throughout the park, though these require a wilderness permit.
My favorite campground is Cougar Rock, which is located in the southwest corner of the park between Longmire and Paradise. There are 173 sites, with many available on a first-come, first-served basis, though it's recommended you try to reserve a site ahead of time through the Recreation.gov web site. Keep in mind that there are no electrical, water, or grey water hookups in any of the park's campgrounds.
Ashford and Packwood make for nice towns to base yourself outside of the park. During one of my visits to Mount Rainier we opted to rent a cabin in Ashford with family. It turned out to be a convenient spot to see most of the parks attractions. Here are some great options you can check out:
Creekside Cabin classic cozy tiny home, but can sleep up to 4 people, close to the Nisqually park entrance
Nelson Base Camp Log Cabin is a family run cabin filled with personal memorabilia of mountaineering trips and ample outdoor space
Big Creek Cabin overlooks the river and has cozy loft bedrooms and beautiful views from the deck
Mount Rainier National Park is bursting with things to see and do. Here are some of my favorite sights that you can drive right up to and are perfect for all types of visitors:
Explore Paradise and witness wildflower meadows, the historic Paradise Inn, and check out the museum upstairs of the Paradise Jackson Visitor Center.
Stop by Christine Falls and Narada Falls on your drive up from the southwest entrance. They are both a very short walk and offer stunning views!
Enjoy the mountain views from Reflection Lakes (the name comes from the beautiful reflection of Mount Rainier you get on a still day).
Take the scenic drive between Paradise and Sunrise, pull off at the numerous overlooks and enjoy the mountain vistas! Detour to Tipsoo Lake and enjoy blooming wildflowers, a scenic picnic area, and views of Mount Rainier.
Drive to the highest point in the park accessible by vehicle, Sunrise (6,400 feet). Take in the magnificent views of Mount Rainier, Emmons glacier, and Mount Adams.
Explore the historic district of Longmire, including the Longmire Museum and National Park Inn.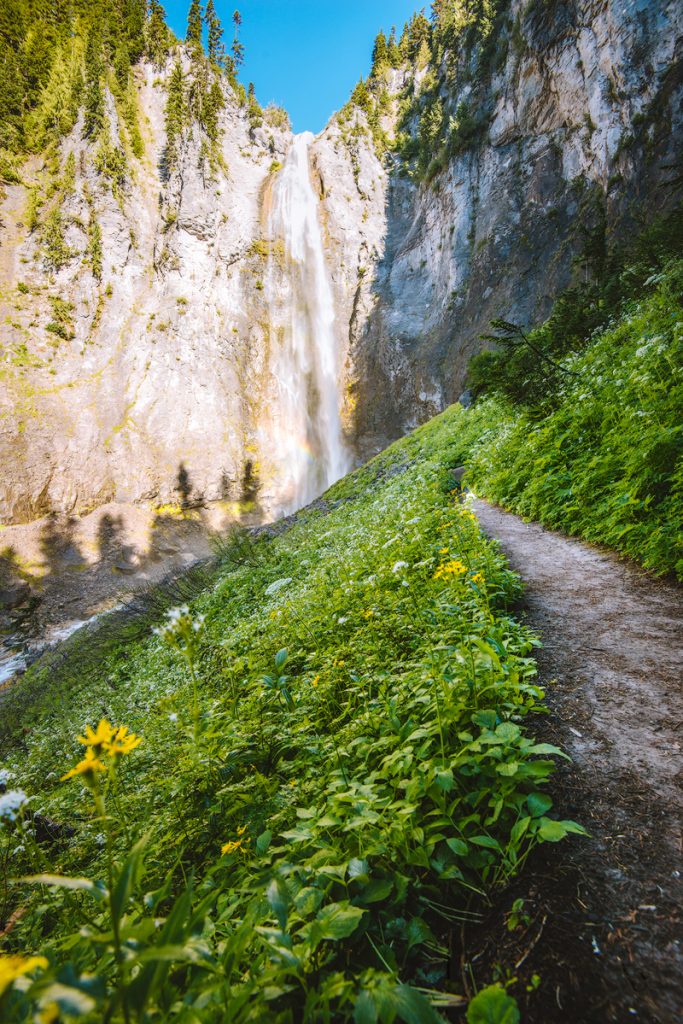 Every time I go hiking in Mount Rainier National Park I am in complete awe that such a beautiful place can even exist. I have listed some of my favorite trails below, but keep in mind that there are more choices and you should always check conditions before you go!
While you're preparing for your trip, make sure to also read my blog, How To Plan the Perfect National Parks Visit. Pack a warm jacket, good hiking boots and plenty of water.
2.5-miles round trip, 610-feet elevation gain, stunning alpine lake views, wildflower meadows, and glimpses of Mount Rainier.
4.5-miles round trip, 1300-feet elevation gain, shaded forest trail with beautiful views of Mount Rainier and ancient trees. You also get to experience walking part of the Wonderland Trail!
3.8-miles round trip, 900-feet elevation gain, beautiful forest trail, wildflowers, and close-up views of 320-foot high Comet Falls (and Bloucher Falls).
1.5-miles round trip, minimal elevation change, walk along the river and marvel at old-growth forest including Western red-cedar, Douglas-fir, and Western hemlock. *Note that Grove of the Patriarchs is closed for the 2022 season. Find out more information via the NPS website.
5.6-miles round trip, 900-feet elevation gain, absolutely stunning views of Mount Rainier, the Cascades, and even over to the Olympic Mountains on a clear day.
3.5-miles round trip, 500-feet elevation gain, wildflower meadows, huckleberries, and beautiful Mount Rainier views (hike in clockwise direction).
5.5-miles round trip, 1700-feet elevation gain, abundant wildflowers, and a close-up look at Mount Rainier and the Nisqually Glacier (hike in a clockwise direction). You can also consider adding on a portion of Mazama Ridge for more wildflower viewing.
6.5-miles round trip, 1010-feet elevation gain, gorgeous views of Eunice Lake and Mount Rainier, plus a chance to see Tolmie Peak Lookout.
(East to Dege Peak) 4.2-miles round trip, 800-feet elevation gain, beautiful subalpine meadows of the Sunrise area and views of the mountain. Visitors can also hike the very first part of Sourdough Ridge for beautiful views of Sunrise, then head back to the car. You can essentially hike as far or as little as you want along the ridge.
9-miles round trip, 2500-feet elevation gain, hike right up to the northeastern face of Mount Rainier and enjoy stunning views of Winthrop Glacier. You can technically hike to only the First Burrough or the Second Burrough, but there are three in total and the views keep getting more and more epic the further you hike.
Some super short and easy hikes also include Nisqually Vista Trail, Narada Falls, and Myrtle Falls. For really adventurous I would suggest looking into longer treks such as the Wonderland Trail (on my bucket list!) and climbing to the summit of Mount Rainier.
Not surprisingly, Mount Rainier is a popular photography location and people come from all over the world to capture its beauty. Over the years I have narrowed my favorite photo spots down to the following locations, though there are many more options available for those willing to put in the research:
Reflection Lakes: best captured during sunrise or sunset on a still day (to get that iconic reflection of Mount Rainier).
Fremont Lookout: gorgeous at sunset, especially if you are lucky enough to experience a cloud/fog inversion.
Little Tipsoo Lake: beautiful at both sunrise and sunset, especially if the lake is still enough to capture a mountain reflection.
Paradise: probably the best location to capture wildflower images (ask the rangers where the best blooms are).
Comet Falls: for an iconic long exposure waterfall image you can't really beat Comet Falls (also consider Bloucher Falls and Narada Falls).
I thought it would be useful to provide some suggested itineraries based on how long you have to spend in the park. Use these as a guide when planning your own trip but be sure to do some additional research to ensure roads are open, trails are snow-free etc. For ease of planning, I have included a map with all these locations above.
Start early to fit everything in and beat the crowds. Begin by accessing the park from the Nisqually entrance and drive up Paradise Valley Road. Stop at Christine Falls Bridge, Narada Falls, and Ricksecker Point on your way up to Paradise. Take a hike at Paradise according to your ability level (e.g. Nisqually Vista, Myrtle Falls, Skyline Trail), enjoy the wildflower meadows, and afterwards grab a snack or quick meal at the Paradise Inn (or pack a picnic lunch).
Continue along Stevens Canyon Road towards Sunrise, stopping to take in the views at Reflection Lakes and any other scenic pullouts along the way. If time permits, you could take a quick hike along the Grove of the Patriarchs Trail or Bench and Snow Lakes Trail before driving the last stretch to Sunrise. Finish the day hiking to Fremont Lookout or taking the Sourdough Ridge Trail (don't forget to pack all the hiking essentials, including a headlamp if you plan to stay out until sunset and hike in the dark).
Drive out the northeast park entrance if you're heading in the Seattle direction. You'll be tired after this adventure packed day of exploring, but totally worth it if you can only take a day trip to Mount Rainier.
Base yourself in a nearby town such as Ashford and split your days into exploring different sections of the park. Camping at the Cougar Rock Campground for the first night and White River Campground for the second night would be optimal. Having 3 full days will allow you to take a little more time at each of the locations mentioned below.
Day 1: Begin by hiking the Comet Falls Trail or the Rampart Ridge Loop Trail (choose Comet if you like waterfalls and Rampart if you'd prefer mountain views). Afterwards continue on to Paradise, stopping to experience Christine Falls Bridge, Narada Falls, and Ricksecker Point along the way. Explore the wildflower meadows up at Paradise, check out the museum at the visitor center, and consider hiking another trail in the afternoon (e.g. Nisqually Vista Trail, Myrtle Falls, or Skyline Loop).
Day 2: Start your day at Reflection Lakes before heading onto to hike the Bench and Snow Lake Trail and/or the Grove of the Patriarchs Trail. Have lunch in one of the many scenic picnic areas in that area (there are also some chairs and tables right by the parking lot). Afterwards continue on to Tipsoo Lake and hike the Naches Peak Loop that afternoon.
Day 3: Spend your day in the Sunrise area exploring the wildflower meadows and enjoying the views of Mount Rainier from the overlook by the junction of Sunrise Rim Trail and Emmons Vista Nature Trail (pinned on the map above). Choose a day-hike such as Fremont Lookout, Sourdough Ridge, or The Burroughs, and enjoy your last hours in the park. You can exit the park via the northeast or southeast entries if that is quicker, rather than driving back through Ashford.
Begin by exploring all the areas mentioned in the 3 day itinerary but spreading them out over 4 days so that you can take longer hikes and spend more time enjoying the views. Add on an extra day exploring the northwest section of the park, the Carbon Rover/Mowich area. Take a day hike to the Tolmie Peak Fire Lookout for gorgeous views of Eunice Lake and the north-side of Mount Rainier.
For a 5 day itinerary you may consider splitting up your accommodation by starting on the Sunrise side, camping 2 nights at the White River Campground, then spending 2 nights at the Cougar Rock Campground, and 1 night at the Mowich Lake Campground (primitive, walk-in only sites).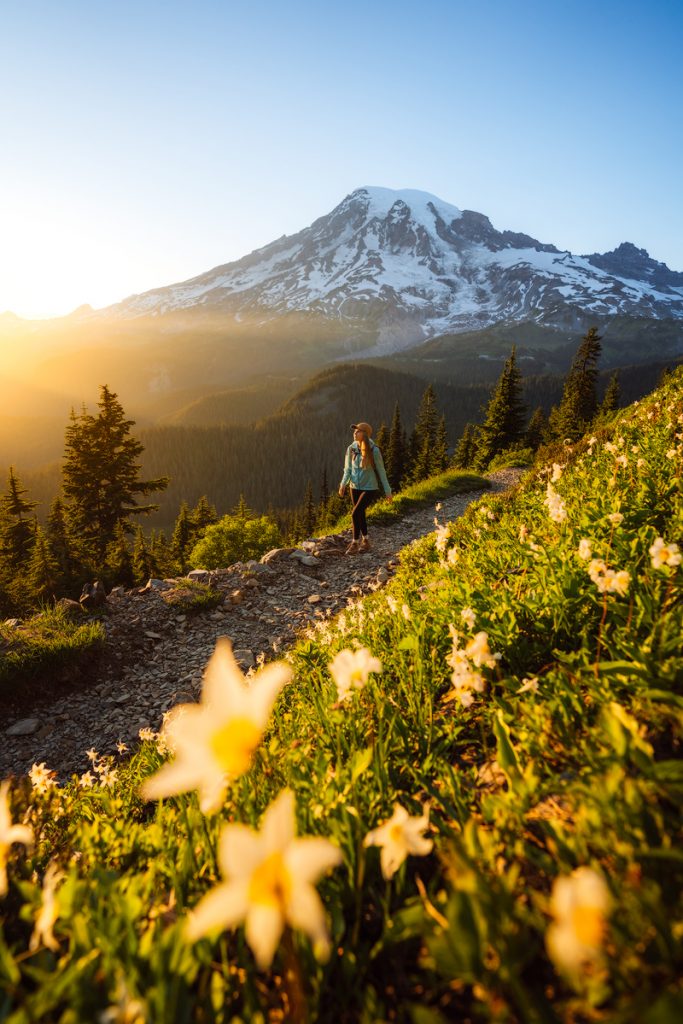 Featured above: Peak Design backpack, Patagonia fleece
What you pack for your trip will depend on what time of year you choose to visit. For example, if you visit during winter you will need to pack warmer layers and gear such as microspikes or snowshoes. Whereas if you visit during summer then light layers, a sun hat, and extra sunblock are a must!
This packing guide is also tailored towards people who enjoy hiking. If you don't plan to hit the trails, simply leave off the hiking-specific items when using the guide. For those choosing to camp, I have an entire guide and packing list for car camping essentials, so make sure to check that out!
Don't forget to use code RENEE15 to get 15% off your first Backcountry.com order! (some exclusions apply) Click here to shop my favorites.
If you're visiting in summer then a pair of trail runners or lighter hiking boots should do the trick, such as the La Sportiva Bushido II Trail Running Shoe. If you prefer a more solid, supportive hiking boot the Columbia Newton Ridge Plus Waterproof Hiking Boots are a great choice. We also have a guide on all the best hiking shoes, so don't forget to check that out when shopping for new hiking boots!
Wool socks are the best for preventing blisters and also letting your feet breathe. Recommended hiking socks.
I generally reach for leggings and I have also been loving skorts lately, but choose whatever feels comfortable and practical for you! Recommended hiking pants; hiking shorts; hiking skort, hiking dress, hiking leggings.
Merino wool tops are my favorite due to their breathability and odor resistance. Recommended short-sleeve hiking top; long-sleeve hiking top.
Choose something with hip and chest straps for optimal comfort and practicality. Recommended backpack.
When taking short walks or exploring roadside stops I often prefer to opt for a small hip pack instead of a backpack. Just something to fit my phone, lip balm, sunglasses, and any other essentials. Recommended hip pack.
Optional but I personally swear by them for hiking! Recommended trekking poles.
Perfect for chilly mornings and evenings. Opt for something lightweight like a fleece or pullover. Recommended mid-layer.
You will want something warmer for chilly days and during the mornings and evenings when visiting in the spring or fall. Recommended insulated jacket.
It's always a good idea to pack a rain jacket and/or windbreaker, especially at higher elevations in the Pacific Northwest. Bonus – windbreakers are great for keeping mosquitoes away, too! Recommended rain jacket, recommended windbreaker.
Pack some casual and/or nicer outfits if you plan to eat out at restaurants. This is of course optional though! Check out my Favorites page on Backcountry for some recommendations.
When driving, have Google Maps or Maps.Me handy. For hiking, carry a physical map and a compass, and download offline maps onto your phone. I use Gaia GPS – click here to get 20% off a Premium membership!
Optional, but can give you and your loved ones some peace of mind when hiking or traveling without phone service. Recommended emergency device.
For hiking in the dark, camping, or in emergency roadside situations. Recommended headlamp.
Pack a reusable water bottle and you could also consider using a water bladder inside your backpack when hiking. You'll want to bring plenty of water on all of your hikes. It can get quite hot and you definitely do not want to become dehydrated. I like to keep a larger water jug in my car so that I don't have to rely on finding water fillup stations. Lastly, I also like to hike with a lightweight water filter to ensure I don't get sick when drinking from streams.
Bring along either a cap, bucket hat, or wide brim hat to protect your face from the sun. Recommended cap; bucket hat; wide brim hat.
Self-explanatory. This one is reef safe and doesn't contain any chemicals that will harm you or the environment. Don't forget a lip balm with sunscreen too.
Polarized sunglasses are best for eye protection.
Always carry a small first aid kit with essential items like blister plasters and emergency supplies. Recommended lightweight first aid kit.
Always best to keep these on you in case your car is broken into. Recommended lightweight wallet (or you can simply use a small binder clip!)
Optional but trust me, you will want a camera to capture the incredible red rocks and natural rock formations! Check out the camera gear I use to capture my travel photos and the camera bag I pack it all in!
You might want to pack a cooler and bring along your own food and drinks during your trip. It's especially refreshing to have a cold drink waiting for you in the car after a hot hike. For a cooler, you can opt for a small/day trip size, or a larger cooler that's more conducive to car camping and longer road trips. Recommended day trip cooler; larger cooler.
Every road trip requires snacks! Bring whatever your favorite snacks are or factor in time to stop at a grocery store / gas station. My go-to snacks.
If you enjoy drinking coffee then it's best to bring along a reusable mug or tumbler. Recommended mug; insulated tumbler.
Similar to above, having your own travel utensils / cutlery is a great way to cut down on single-use plastics when ordering take-out food.
Make sure to pack your park pass if you have one already! If not you can buy one when you arrive at the parks or online before you go.
Don't forget to download some good tunes and podcasts for your road trip. For music, check out my playlists on Spotify. For podcasts, we have an entire guide on the best road trip podcasts!
Want more packing & gear tips? Check out our guides on what to wear hiking, day hiking essentials, car camping gear essentials, how to plan a national parks trip, and the best hiking shoes.
Mount Rainier was designated a National Park on March 2, 1899; making it the fifth national park in the United States.
The earliest evidence of human activity in the park is dated circa 2,000-3,800 BC. American Indian tribes inhabited the Mount Rainier area prior to European "discovery", with the Nisqually, Puyallup, Squaxin Island, Muckleshoot, Yakama, and Cowlitz tribes living a subsistence lifestyle off the land.
Mount Rainier is known as "Tacoma" or Takhoma to Native Americans, which translates as "she who gives us the waters" or "the mountain that was god" in native languages.
The centerpiece of the park is Mount Rainier, standing at 14,411 feet above sea level and known as the most glaciated peak in the lower 48 states.
Mount Rainier experiences around 20 small earthquakes a year, making it the second most seismically active volcano in the North Cascade Range, after Mount St. Helens.
The first well documented summit of Mount Rainier occurred in 1870 by General Hazard Stevens and Philemon Van Trump.
Mammals found within the park include black bear, cougar, coyote, raccoon, bobcat, hare, weasel, mole, beaver, red fox, porcupine, marmot, skunk, deer, marten, shrew, pika, elk and mountain goat.
In 2021, Mount Rainier National Park had 1,670,063 visitors according to the National Park Service.
Before you go… if you're going to be out in nature it's important that you strive to protect it and follow Leave No Trace (LNT) principles. Please be sure to educate yourself on proper etiquette before heading into the national park. Listed below are some guidelines taken directly from the Leave No Trace Center for Outdoor Ethics, known as The Seven Principles.
Important: Mount Rainier's meadows are very fragile, damage easily, and take many years to regenerate. Try to minimize your impact on this delicate environment by hiking only on the constructed trails and resting or picnicking on rocks near the trail. Also, please don't pick the wildflowers! I would suggest checking out my blog Hiking Trail Etiquette Rules You Should Know before visiting. Even as an experienced hiker, it's a good idea to brush up on the dos and don'ts before hitting a national park.
---