Katmai National Park is one of the gems of the national park system, which is why we keep finding ourselves back there! This remote Alaskan national park is world famous for its salmon run that attracts some of the largest coastal brown bears in the world. Not only that, but glaciated peaks, volcanoes, and scenic waterways are also sure to impress visitors. Keep reading to find out all the details on planning a visit to Katmai National Park.
Disclaimer: This blog post may feature some affiliate links, which means I get a small commission if you make a purchase (at no extra cost to you). It's one of the ways I can keep producing free guides and resources for my readers. Learn more about my affiliate policy here. Thank you for the support!
How To Visit Katmai National Park
Katmai National Park and Preserve is located in a remote region of southern Alaska. Most visitors come to the park to witness North America's largest population of protected brown bears and Katmai's unique volcanic history. But it's not easy to get there! The park is only accessible via float plane or boat, with King Salmon being the nearest town.
Where is Katmai National Park Located?
Katmai National Park is located in a remote area of the Alaskan Peninsula, roughly 250 miles southwest of Anchorage. The park's headquarters and visitor center are located in the town of King Salmon.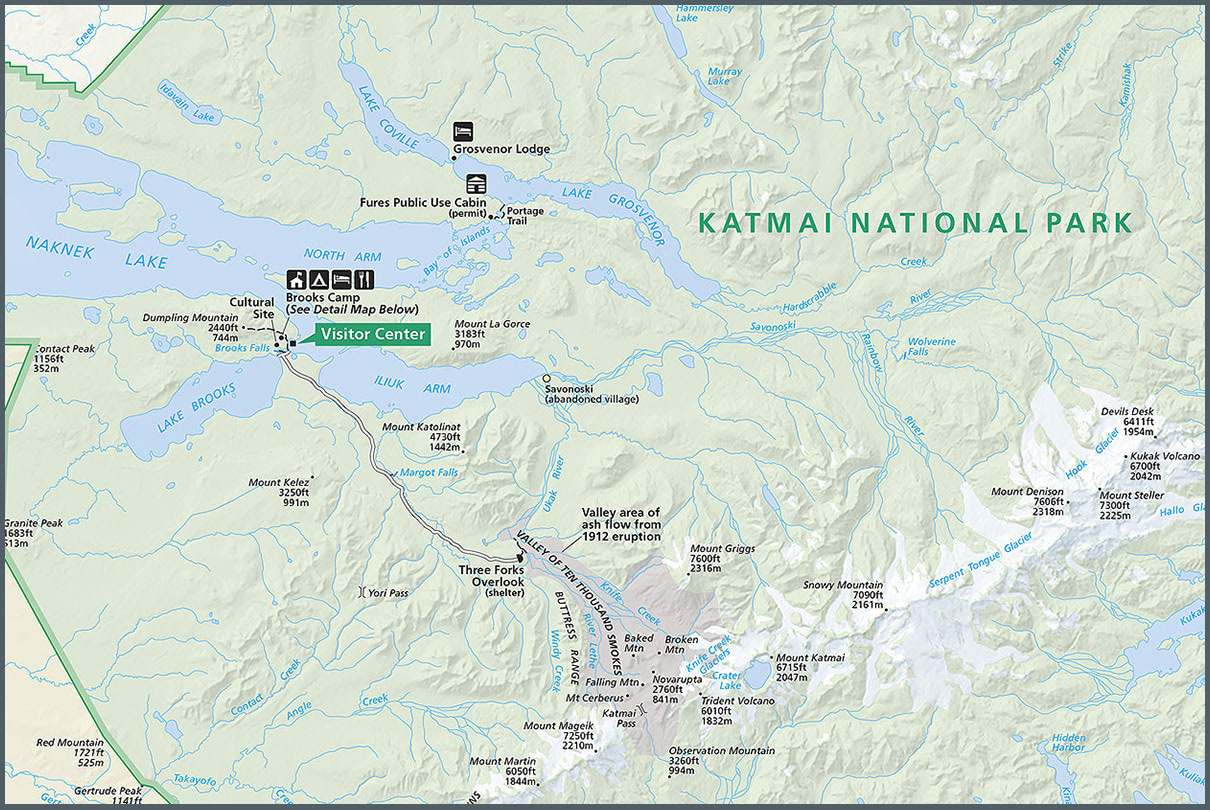 Getting To Katmai National Park
There are no roads to access Katmai National Park, visitors must enter the park via boat or plane. Most visitors will fly to Katmai by air taxi on a tour from Anchorage. There are also flights to Katmai from smaller towns such as King Salmon, Kodiak, Homer, and Dillingham. The tiny town of King Salmon is accessible via plane from Anchorage (approximately a 1-hour flight).
Do note that most people visiting Katmai National Park are doing so as part of a tour. These tour operators will typically handle all of your transportation, so all you have to worry about is booking the tour that's right for you and showing up at the correct airport.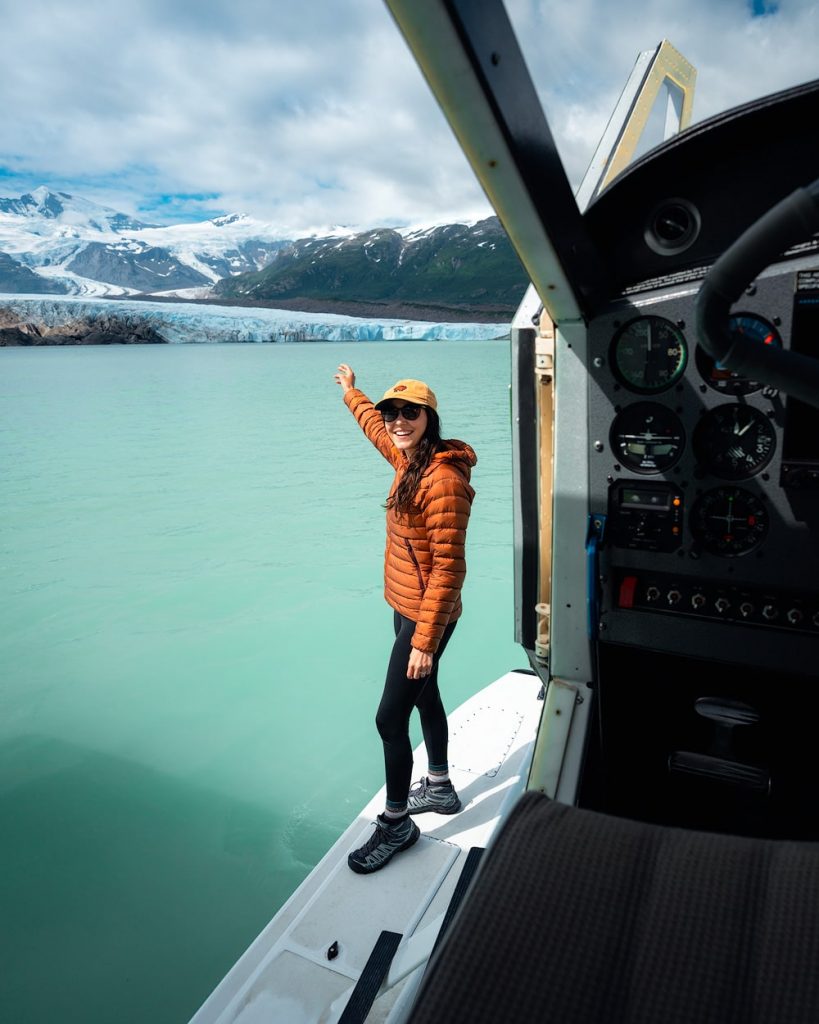 Best Time To Visit Katmai National Park
The most popular times to visit the park are June through September. These are the months when the weather is best, the salmon are abundant, and the coastal brown bears are most active. Most tour operators also only operate in the park during these months. To experience the peak of the salmon run, mid-July to mid-August is typically the best time, though also the busiest.
Alternatively, fall is a beautiful season in the park. Vibrant yellows, oranges, and reds paint the landscape. The peaks will also start seeing their first snow, making for a dramatic backdrop. While the salmon run is over, the wildlife is preparing for the winter. Large mammals often appear larger and more majestic with their thicker coats and full bellies after the salmon run. With this beauty comes a higher chance for rain though, so you have to decide if you're willing to take the chance. Some tours, especially flightseeing, also don't operate in bad weather.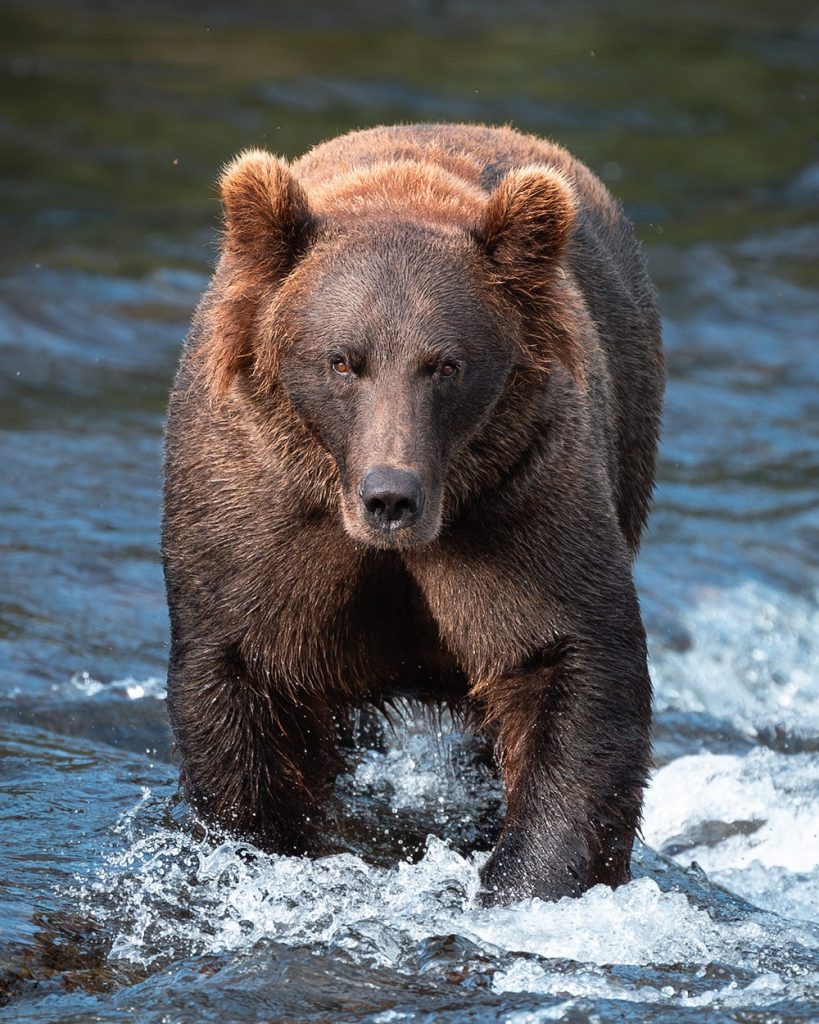 Where To Stay In Katmai National Park
One of the most popular places to stay in Katmai National Park is Brooks Lodge and Brooks Camp. Located at the famous Brooks Falls, Brooks Lodge and Brooks Camp are the perfect base to enjoy bear viewing. We stayed at the campground during our first visit to Katmai and it was a fun (and slightly scary) experience. The only thing separating your tent from the bears is an electric fence.
Unfortunately, securing a reservation for Brooks Lodge is difficult due to its popularity. You must enter a random lottery and hope to be selected for one of the 16 cabins onsite. The campground opens for reservations each year on January 5 at 8 am AKST on Recreation.gov Brooks Camp Permit page. These campsites are also highly sought after and will book out for the salmon run period almost instantly.
Another option is to stay outside of the park and fly in on a day trip(s). Multiple tour companies and lodges in the surrounding areas offer this service. Our favorite has been the Farm Lodge (AKA Lake Clark Resort) in Port Alsworth. Located in the heart of Lake Clark National Park, this lodge offers packages that include your lodging, delicious home-cooked meals, tours out to Katmai and Lake Clark National Park, and all of your transport. They are a local family-run operation, and the guides know all of the best spots to help you have the best wild Alaska experience. We have stayed there twice now and couldn't recommend more!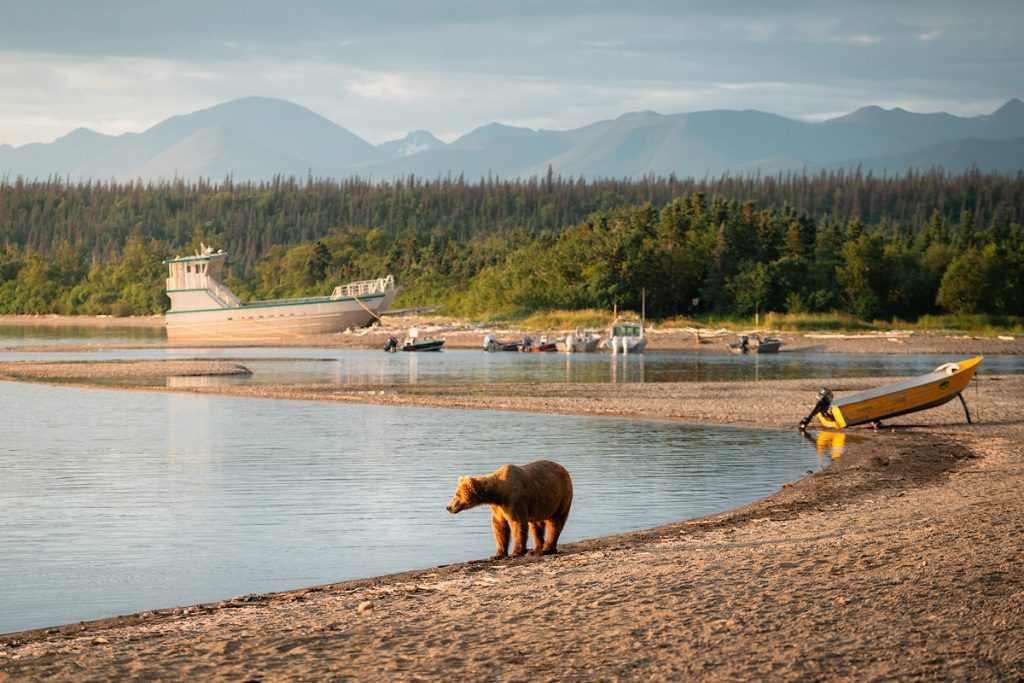 Things To Know Before Visiting Katmai National Park
Being a very remote national park, there are more things to consider before visiting Katmai than parks closer to large cities. Here are a few things to keep in mind:
Entrance Fee
There is no official entrance gate or fee to enter Katmai National Park.
Is There a Park Visitor Center?
There are 3 visitor centers for Katmai National Park. They are:
King Salmon Visitor Center – Located next door to the King Salmon airport, and open 7 days a week, 9-5, from June 1st till mid-September. Here you can get your park passport stamped, learn about the nearby parks, and purchase souvenirs.
Brooks Camp Visitor Center – Located at Brooks Camp, this visitor center operates as the entrance to Brooks Falls and provides mandatory bear safety briefings to all visitors. It is also the place to check in for Brooks Camp reservations. There is souvenirs a place to stamp your park passport, useful information about the park, and souvenirs for purchase. Open June 1st till late September.
Robert F Griggs Visitor Center – The most remote of the visitor centers. Opening hours vary, and it's typically only open during ranger-led tours of The Valley of Ten Thousand Smokes.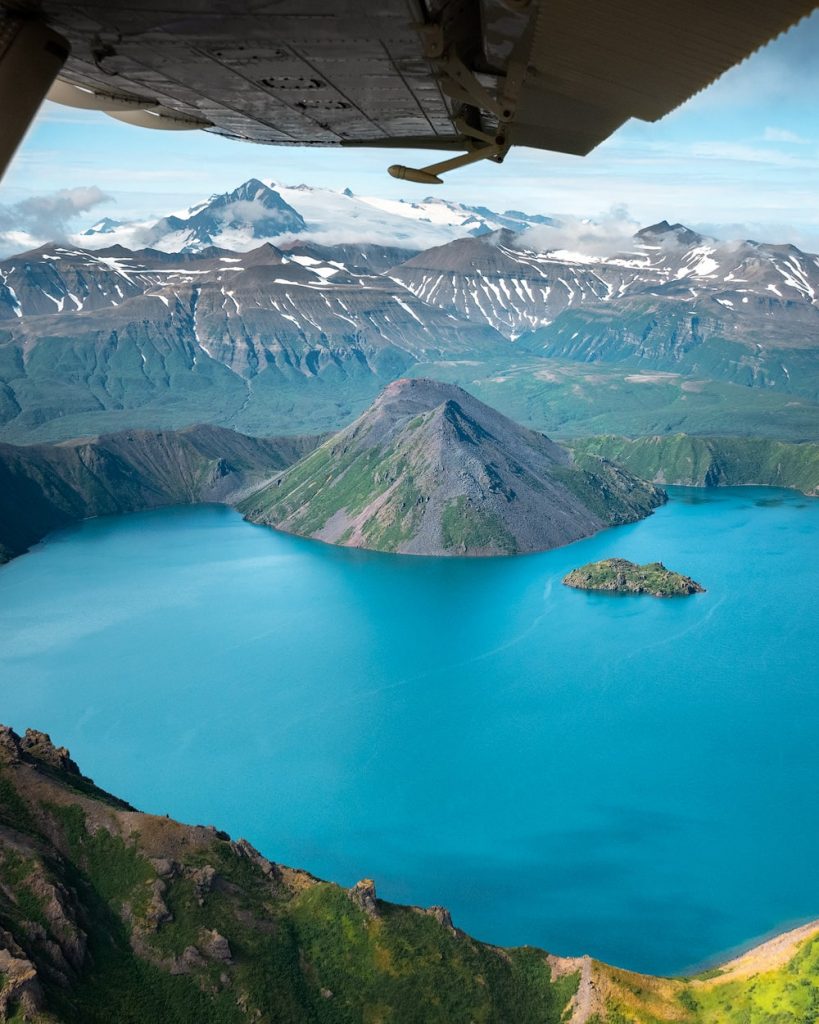 Cell Service and WiFi
There is very limited or no cell service or wifi available within the park or at Brooks Lodge. Your best bet is at lodging outside the park, so check with them when you are booking if that's important to you. With that said, even if they have wifi, our experience has been that it does not work well. Plan on being mostly off-grid for your time in Katmai National Park.
Weather and Seasons
Katmai National Park experiences the best weather in the summer months from June through mid-August. That being said, the highs in the warmest month of July still only average 64 degrees (18 Celsius). Rain is common in Katmai, even in the summer months. Be sure to keep warm layers and a rain jacket nearby on any travels to Katmai National Park.
Fall is a beautiful time to visit as the foliage changes to a carpet of magnificent yellows, oranges and reds. Temps drop to average around 55 in September, and rain becomes a lot more common.
Winter travel is almost non-existent within Katmai National Park. Temperatures are brutally cold, wet, and snowy, and most tour operators are closed for the winter season.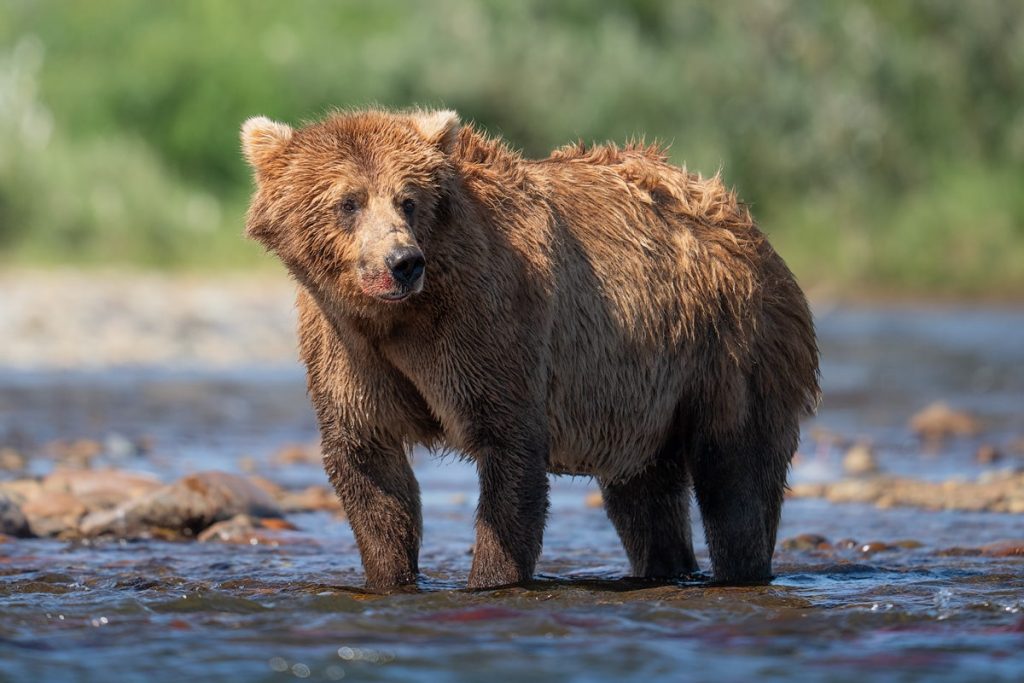 Wildlife – Bear Safety
Bears are one of the biggest attractions of Katmai National Park. Due to visitors' likely proximity to these magnificent (but wild!) animals, there is an extra level of necessary bear safety practices and knowledge. If you are taking a tour with an accredited guide, they will be prepared for how to handle bear encounters. If you will be doing any travel in the park by yourself without a guide, be sure to read my bear safety blog post and come prepared.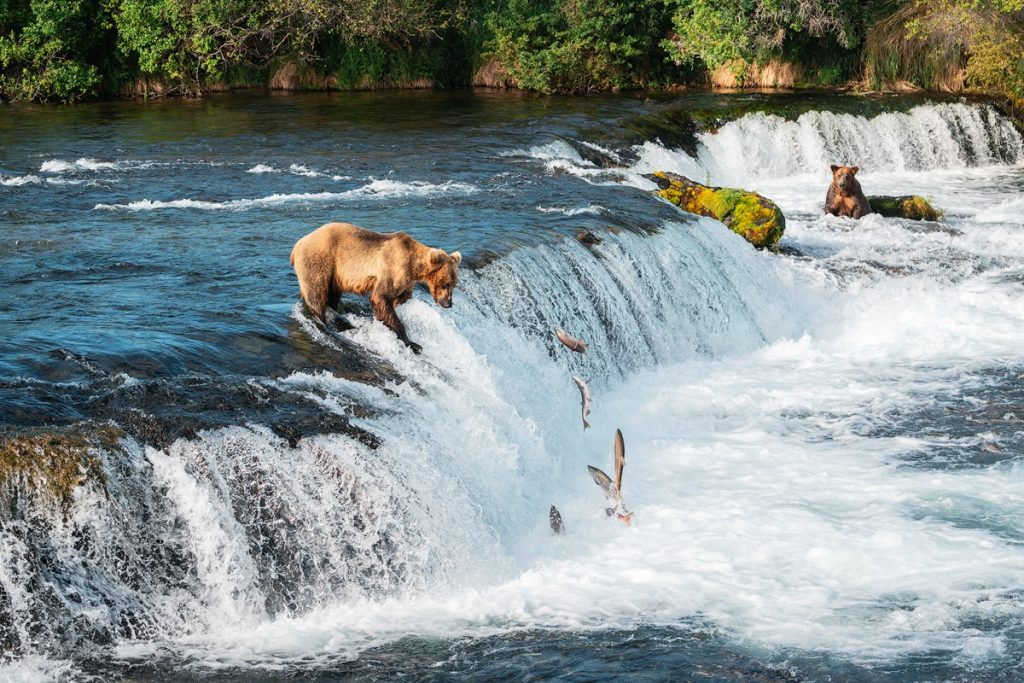 Best Things To Do In Katmai National Park
The wildlife is the star of the show in Katmai National Park. That being said, there are many other amazing outdoor recreation opportunities. Below are some of my favorite things to do in Katmai: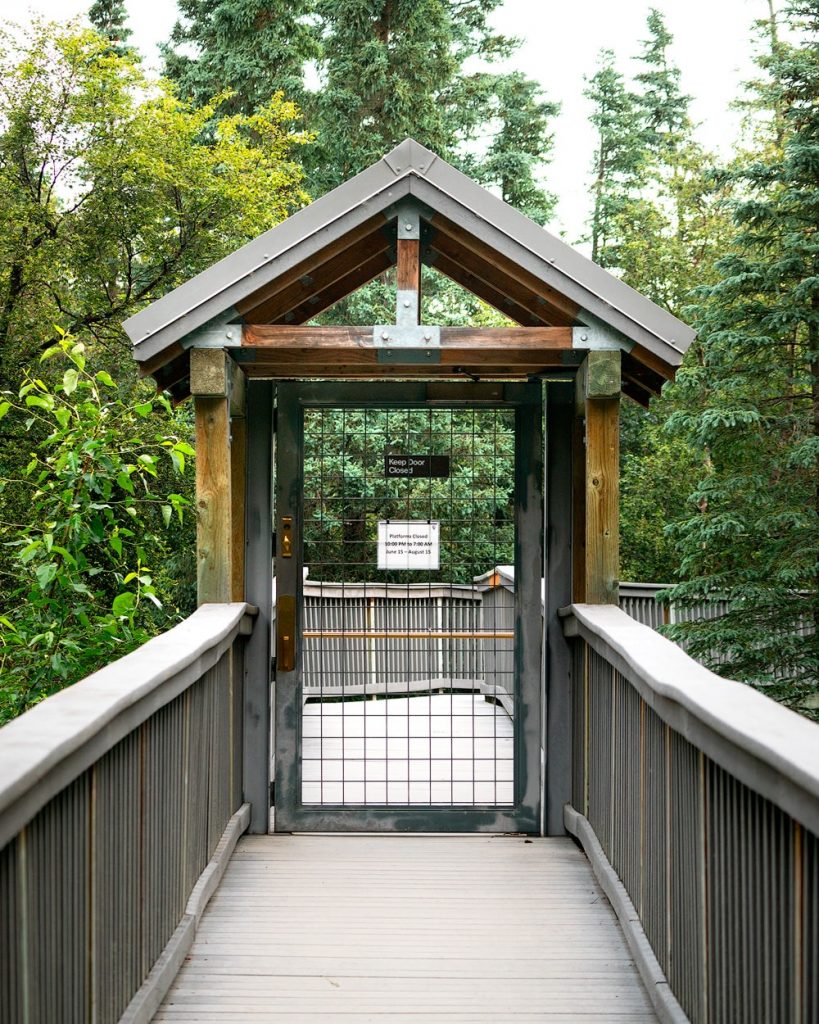 Bear Viewing at Brooks Falls
Katmai's population of 2000+ brown bears is the reason most visitors make their way to the park, with many coming from all over the world. Brooks Camp is busy during summer months as bears feast on abundant salmon and awe-struck tourists watch on from raised viewing platforms. The Brooks Falls Platform is the most popular location in Katmai for observing bears and salmon, where 10+ bears can be within eyesight at any given time. The platform holds around 40 people at a time, and visitors are typically rotated through by rangers to ensure everyone gets a fair turn.
Brooks Falls can be visited as a day trip with one of many tour operators from Anchorage, King Salmon, Homer, Kodiak, Port Alsworth, and other nearby towns. Visitors lucky enough to secure a reservation can also stay in the area at Brooks Lodge or Brooks Camp. The lodge has a restaurant and all of your typical amenities. Brooks Camp is more of a basic campground experience. Due to the abundance of bears, an electric fence surrounded the camp to keep the bears out.
Brooks Falls can also be experienced remotely. The park has webcams at some of the popular bear viewing areas along Brooks River. This gives those at home the chance to watch the bears feed on the salmon run. See the webcams here. There is even a vote held by the park each year to crown the fattest bear.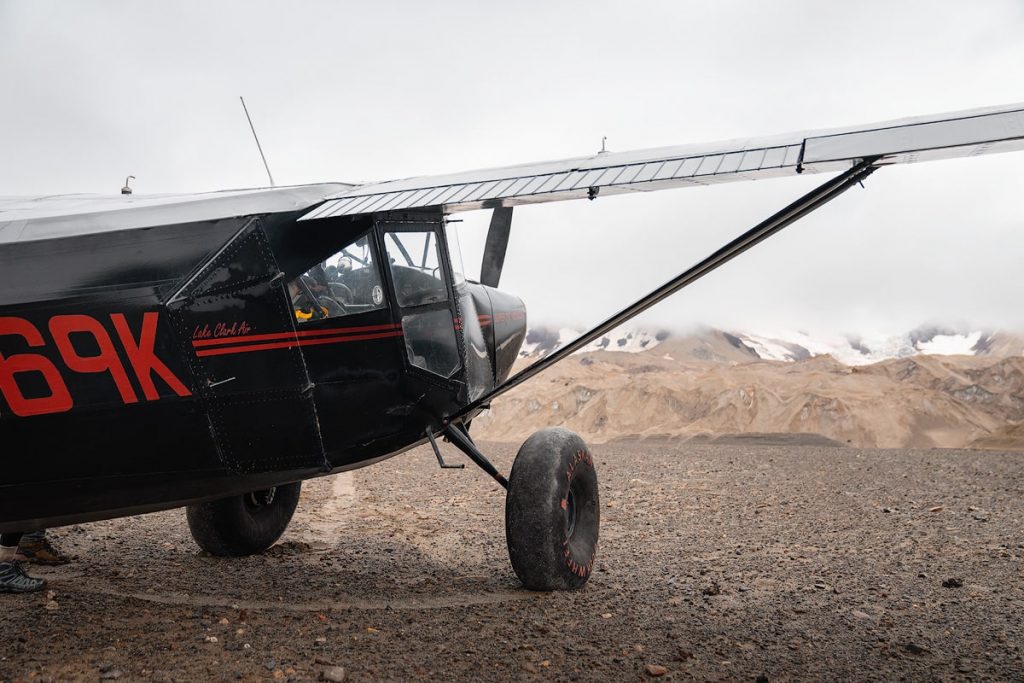 Visit The Valley of Ten Thousand Smokes
In 1912, a volcano named Novarupta erupted with a force 10 times that of Mount St. Helens. This was the largest volcanic eruption of the 20th century. Ash filled the air, global temperatures cooled, nearby Kodiak Island was forced into darkness, and acid rain burned clothing off lines in British Columbia.
Suddenly the Katmai region was world famous and this eruption was one of the reasons the area was designated a National Monument in 1918. Pyroclastic ash flow from the eruption of Novarupta formed the Valley of Ten Thousand Smokes, which can now be experienced via tours run by the National Park Service or on private flightseeing tours.
The most affordable way to visit The Valley of Ten Thousand Smokes is on a day trip from the Brooks Camp area. These arrive by bus and then you are guided by a park ranger to view the area.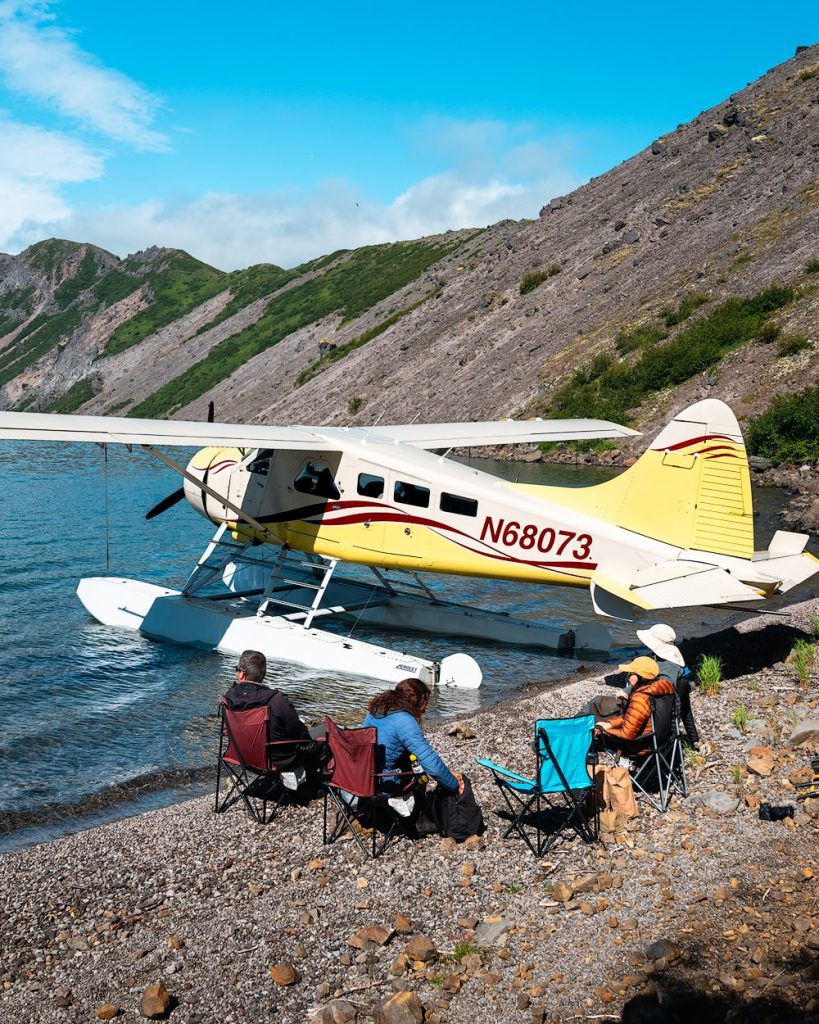 Flightseeing Tours of Katmai National Park
Taking a scenic flight is the best way to see as much of Katmai National Park as possible. Though the park is famous for its wildlife, there is absolutely no shortage of incredible landscapes to witness from the ground or air.
The Farm Lodge / Lake Clark Resort offers scenic flights as part of their accommodation packages. I was lucky enough to take one of these on a recent trip to the Farm Lodge and it was one of the best things I've ever done in 15 years of traveling. We saw jaw-dropping glaciated peaks, The Valley of Ten Thousand Smokes, endless turquoise rivers, beautiful stretches of coastline, and even landed in a volcanic crater lake!
Flightseeing tours are also operated out of Anchorage and other nearby townships such as King Salmon, Kodiak, and Homer.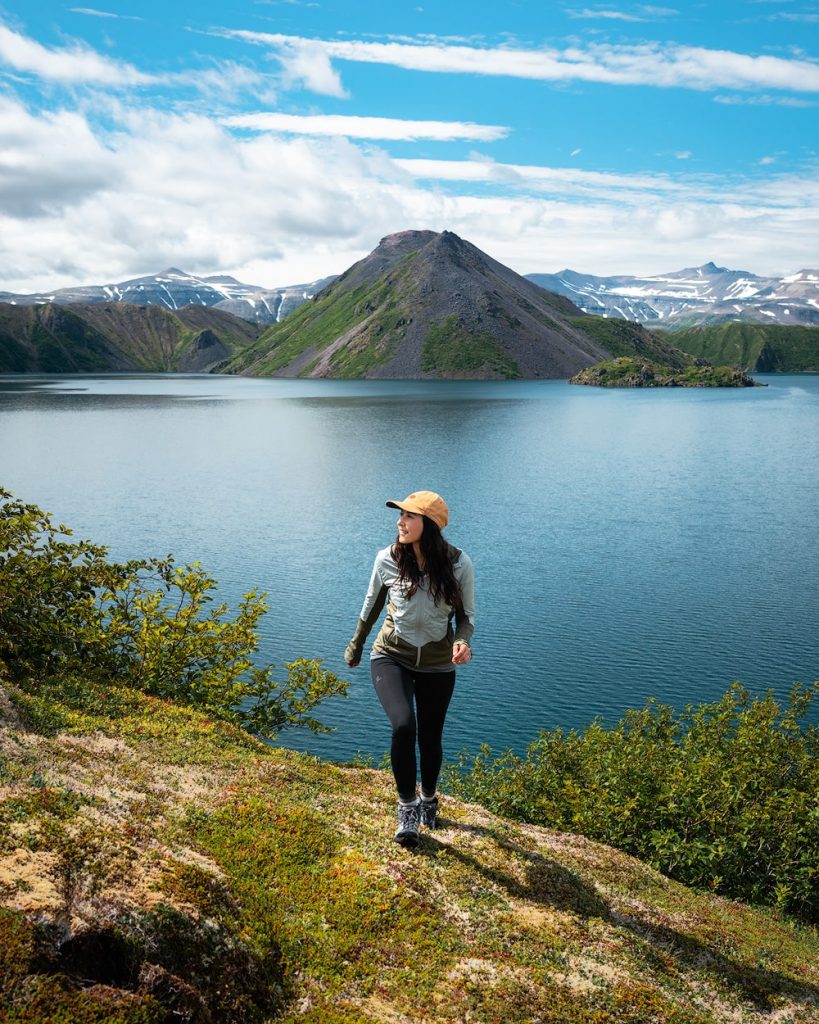 Hiking in Katmai National Park
There are only a couple of "official" maintained hiking trails in Katmai National Park. The first is the trail network between Brooks Camp and the Brooks River bear viewing platforms. The other trail is the 4.2-mile roundtrip Ukak Falls and Windy Creek Overlook trail. To access this trail, you will catch a bus from Brooks Lodge to The Valley of Ten Thousand Smokes.
Outside of the above-mentioned trails, hikers in Katmai National Park will mostly be forging their own paths. This means having excellent route-finding skills and being confident in bear safety techniques. Backpackers and hikers who choose to go into the backcountry without a tour guide will need to research and plan their own trips, as well as figure out transportation in and out of the backcountry.
The Baked Mountain Huts overlooking the Valley of Ten Thousand Smokes is an option for those wanting to stay in the backcountry but prefer to have an (albeit primitive) shelter.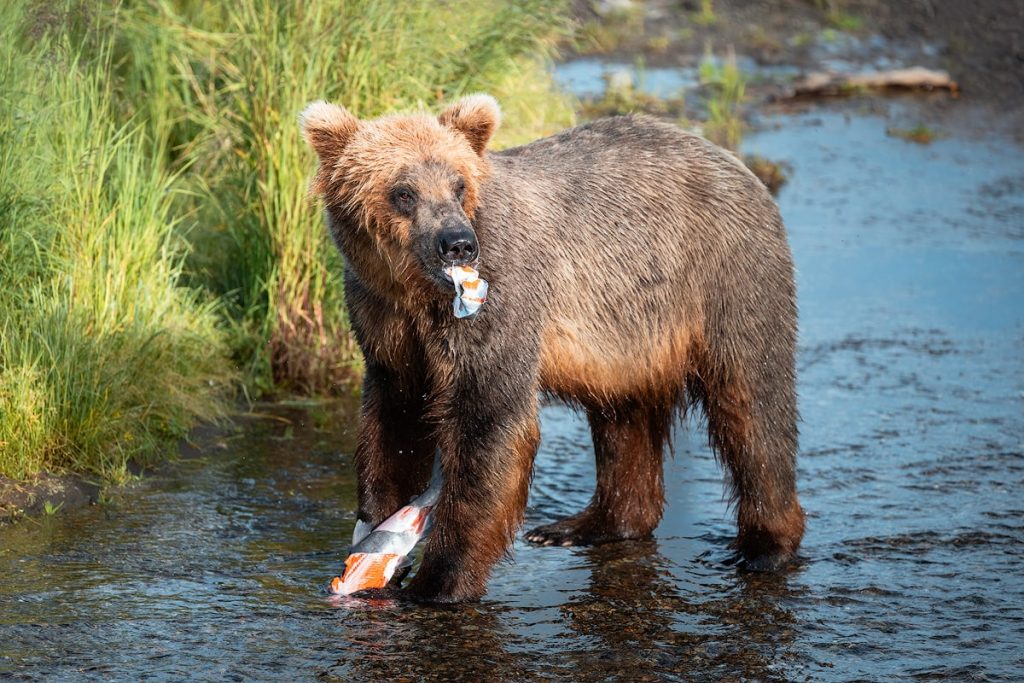 Fishing in Katmai National Park
Fishing is a large part of Katmai's history. Anglers flock to the region for the chance to catch 5 different species of salmon, arctic char, arctic grayling, rainbow trout, dolly varden, and more. Appropriate safety measures and permits need to be taken into consideration when fishing in Katmai and in the vicinity of bears. Tour providers offer specific fishing tours of the region, leaving from Anchorage and other nearby townships.
Katmai National Park Fun Facts
Katmai became a National Monument in 1918 and later designated a National Park and Preserve in 1980.
The park and preserve covers 4,093,077 acres, being roughly the size of Wales. Most of this land is designated wilderness area in the national park, where all hunting is banned.
The highest elevation in the park is 7,606-feet on Mount Dennison.
Though most famous for its bears, Katmai is home to other mammal species such as moose, wolf, coyote, beaver, lynx, wolverine, river otter, mink. Marine mammals include harbor seal, sea lion, sea otter, beluga whale, orca, and gray whale.
Bear watching in Katmai is best in July when the sockeye salmon spawn.
Before the 1912 Novarupta eruption, there were four year-round villages in what is now Katmai National Park and Preserve. Due to heavy ash fall, the inhabitants of Savonoski, Kaguyak (Douglas), Kukak, and Katmai villages left and resettled elsewhere along the Alaska Peninsula.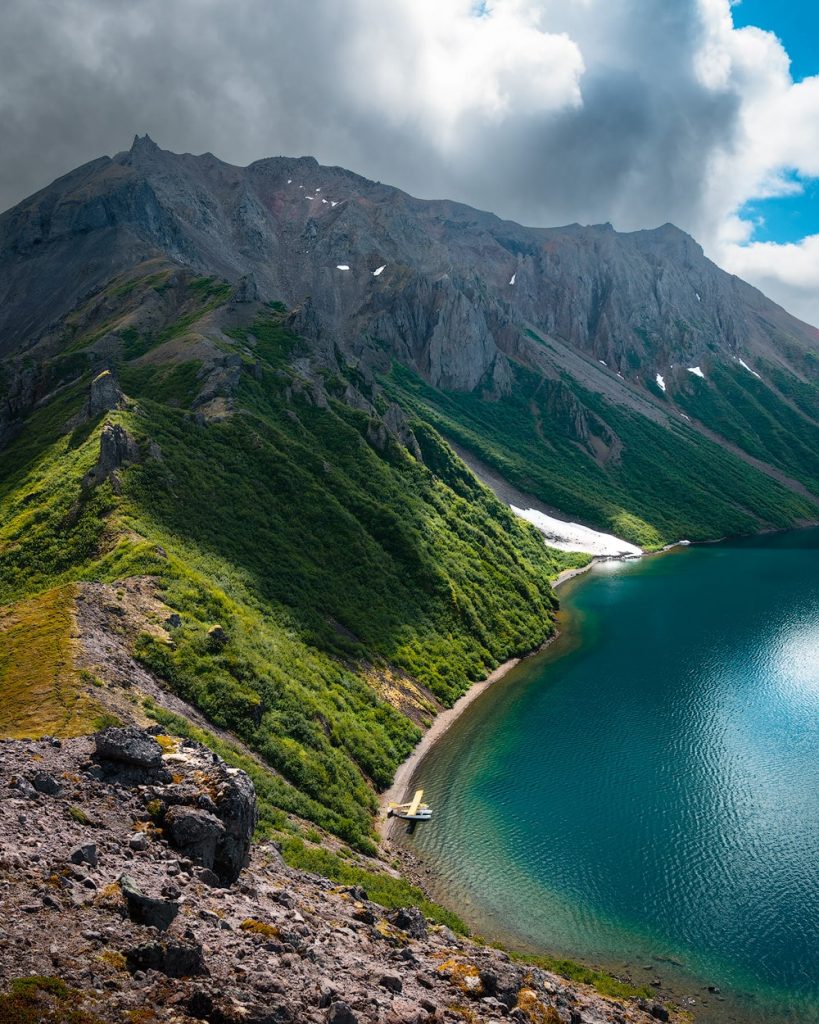 Final Thoughts On Visiting Katmai National Park
Katmai National Park is one of the least visited of the entire park system. In fact, in 2022 it's estimated that only 33,908 people visited Katmai. So if you get to experience it, count yourself lucky! I hope this guide helped you plan an incredible trip. Feel free to leave any personal tips and insights in the comments below.
PIN for Later Planning!