If it's not on your bucket list already, Sedona, Arizona most definitely should be! With incredible weather, beautiful scenery and red rocks, and tons of opportunities for hiking, Sedona is a must-visit. If you're planning a trip to Sedona, I definitely recommend hitting a few of the local hiking trails. So, I'm sharing 6 incredible Sedona hikes to add to your bucket list! Whether you only have time for one or all six, you can't go wrong – these are some of the best hiking trails in Sedona.
Disclaimer: This blog post is in collaboration with Backcountry.com and features some affiliate links. This means I get a small commission if you make a purchase (at no extra cost to you). Use code RENEE15 to get 15% off your first Backcountry order (some exclusions apply). You can also learn more about my affiliate policy here. Thank you for the support!
6 Incredible Sedona Hikes to add to your bucket list
These are some of the best hikes in Sedona! One of the things I love about Sedona is how many amazing, short trails there are. So I found it was a great way to spend the morning hiking one or two shorter trails, and then spending the afternoon working, mountain biking, or exploring other parts of the area. Because the desert climate in Sedona is different than most of the rest of the world, I'm also sharing my suggested packing guide to help you plan for your trip!
Sedona Hiking and Leave No Trace
Before we jump into the best Sedona hiking trails, let's go over some guidelines for recreating responsibly. As you might be aware, Sedona is a popular hiking destination… and for good reason! But that does mean that crowds can get quite large during peak seasons and on the weekends. It's important that you be mindful of your impact on the area and consider the below guidelines.
Pack out all your trash
This one is fairly self-explanatory – do not leave behind any trash, fruit peels, nutshells, toilet paper, human waste, etc. Bring along a bag so that you can take home all your own garbage (and any that others have left on the trail). Be sure to read up on the 7 Leave No Trace Principles if you haven't already.
Be Respectful of Wildlife and Other People
Never feed wildlife and be sure to observe them from a distance. Do not touch or pick up wild animals. It's also important that you be respectful of other hikers enjoying the trails. We cover the basics in our guide on hiking etiquette rules. Some of the main tips to consider are giving way to others, keeping noise to a minimum, and being respectful when taking photos.
Stay on the Trail
Most hikes in Sedona have good signage and are well-maintained. Stay on the trail and when you yield to another hiker, bicyclist, or horses and horseback riders, be mindful of where you step when stepping off the trail. Don't step on delicate plants or small animals. There are some "social trail" detours and off-trail hiking in Sedona. In these instances, it is okay to veer off the main trail, but try your best to walk where others have formed a path before you (or on top of rocks).
Do Not Touch Dwelling Sites or Petroglyphs
Sedona has beautiful natural rock formations and abundant Native American history (cliff dwellings, petroglyphs sites). Leave areas as you found them – there is never a reason to leave graffiti, rock markings, or wood carvings anywhere outdoors. Avoid touching, sitting on, leaning against, and standing on dwellings and petroglyphs. I also urge you not to build cairns and leave all the rocks placed where you found them. Building a cairn can cause a negative experience for others and also affect the area you are hiking in.
One of my followers, @Ashley.Goes.Hiking, provided us with some helpful resources for learning more about the Sedona area and the Archaeological Resource Protection Act. For more information on how to responsibly visit dwelling sites and locations in the Southwest please visit www.friendsofcedarmesa.org and consider taking the Sedona Pledge before visiting. See below:
The rocks are red and the silence is golden. I vow to respect the natural quiet of Sedona's open spaces and neighborhoods.
I will be mindful of Sedona's arid environment by minimizing my water and energy use and I will be extremely careful with fire.
I'll make my own memories, but not my own trails.
I won't risk life or limb (human or sapling) for more likes. I won't get killed for a killer photo.
When playing outside, I'll be ready for rapid changes in weather and random episodes of magic.
Leave No Trace and pack out trash – that includes TP and pup poo!
I will discover art in Sedona's galleries rather than making my own. Carving on trees or rocks, stacking stones, or defacing the environment diminishes nature's art.
If I can't find a parking spot, I will not invent my own. I will go with the traffic flow, using my turn signal often and my car horn seldom.
I'll be caring and considerate wherever I go, because that's the Sedona way.
I also encourage you to learn about the indigenous history of the Sedona area. Read up on the Sinagua, Western Apache, Hopitutskwa, Pueblos, and Hohokam People and their culture. While you're in the greater Sedona area, shop at Native American owned stores for art, crafts, jewelry, and souvenirs. Some options include Garlands Navajo Rugs, Kachina House, Hoel's Indian Shop, Garland's Indian Jewelry, and Ninibah in Tlaquepaque Arts & Crafts Village.
Going to the Bathroom Outdoors
Use the restroom before you begin hiking (most trailheads have dump toilets). If you need to go during your hike then there are some best practices to follow. When peeing and pooping outdoors make sure to do it at least 200 feet away from any hiking trail, waterways, and campsites. Pack out all human waste and toilet paper as Sedona is not a suitable destination for burying your waste. Click here for more information about going to the bathroom outdoors.
Things to bring in your pack for using the bathroom outdoors:
Toilet paper: You can also bring a Kula Cloth, pee rag, bandana, or wipes.
A trash bag to carry your waste out in. You can also use a wet bag.
A great day-hiking item to pack is a TP Kit. These little kits have some toilet paper, two wet wipes, and a sealable bag to pack out everything.
Hiking Trail Etiquette for Dogs
All the trails listed in this Sedona hiking guide are pet friendly, but your dog or cat needs to be leashed at all times. When another hiker approaches make sure to have control of your dog and let other hikers know that he/she is friendly. It goes without saying, but always clean up after your dog and never leave their waste or poop bags on the trail.
Purchase a Parking Pass
A Red Rock Pass is required when leaving your vehicle unattended at the majority of trailheads in Sedona. These passes cost $5 for one calendar day, $15 for 7 consecutive days, or $20 for an annual pass. A Grand Annual Red Rock Pass is $40 and also includes day-use parking at Grasshopper Point, Cresent Moon, and Call O' Canyon. Note that an America The Beautiful Pass is accepted in lieu of the Red Rock Pass and also includes admission to Red Rock Country Heritage Sites: Palatki Ruins and Rock Art site, Honanki Ruins site, and V-Bar-V Heritage site.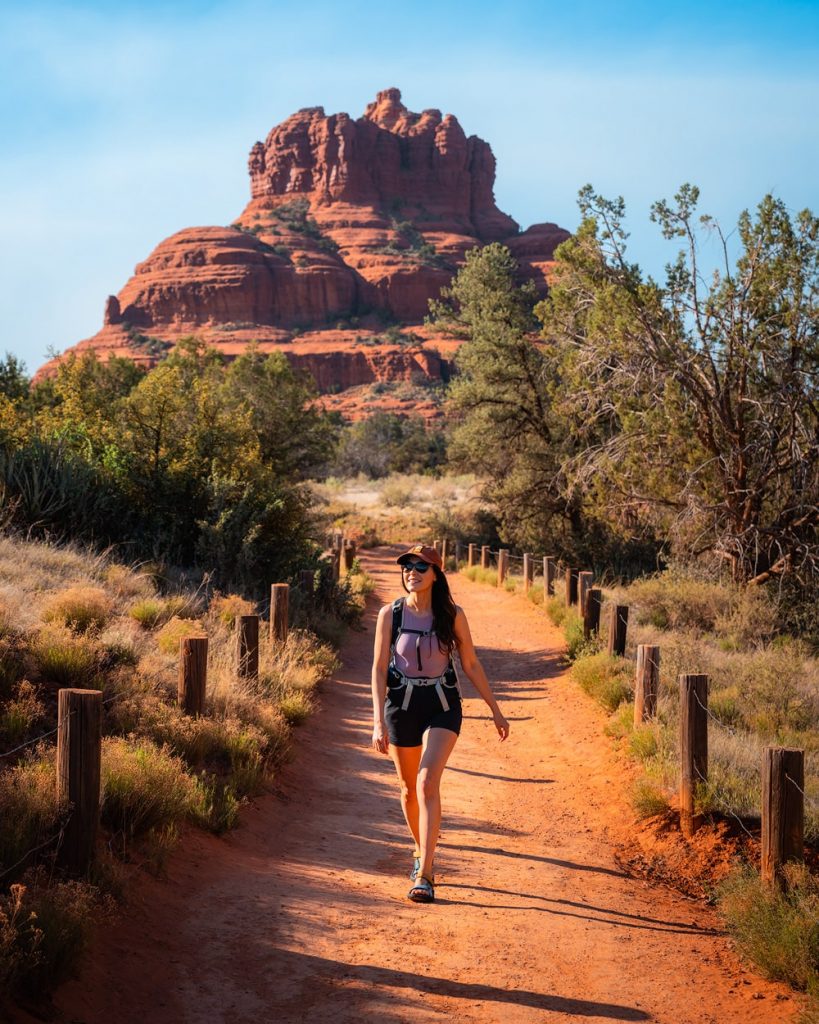 Bell Rock Loop Trail
This is a nice quick 1.8 mile loop hike if you're on a time crunch and want to stretch your legs. But there are lots of cool side trails and areas to explore around the Bell Rock area. We spent a few hours wandering around and taking in the sights, so if you have time to spare I definitely recommend adding on some extra miles! There's not much shade here (or on most of these hikes) so plan accordingly by packing extra water, a hat, and sunglasses, and avoiding hiking during the hottest parts of the day.
There is a short loop off the main Bell Rock Loop Trail that climbs partially up the side of Bell Rock itself and provides stunning views. It gets pretty steep and turns into a bit of a scramble, so choose your own adventure on this detour and always make cautious decisions based on your own comfort and experience levels! You can also link up the Bell Rock Loop with a larger loop around the Courthouse Butte Loop trail for even more views.
Insider Tip: If you are okay with hiking an extra ~0.6 miles, I recommend starting at the Bell Rock Vista Trailhead. The reason being is that you get beautiful views of Bell Rock as you walk north towards it along Bell Rock Pathway.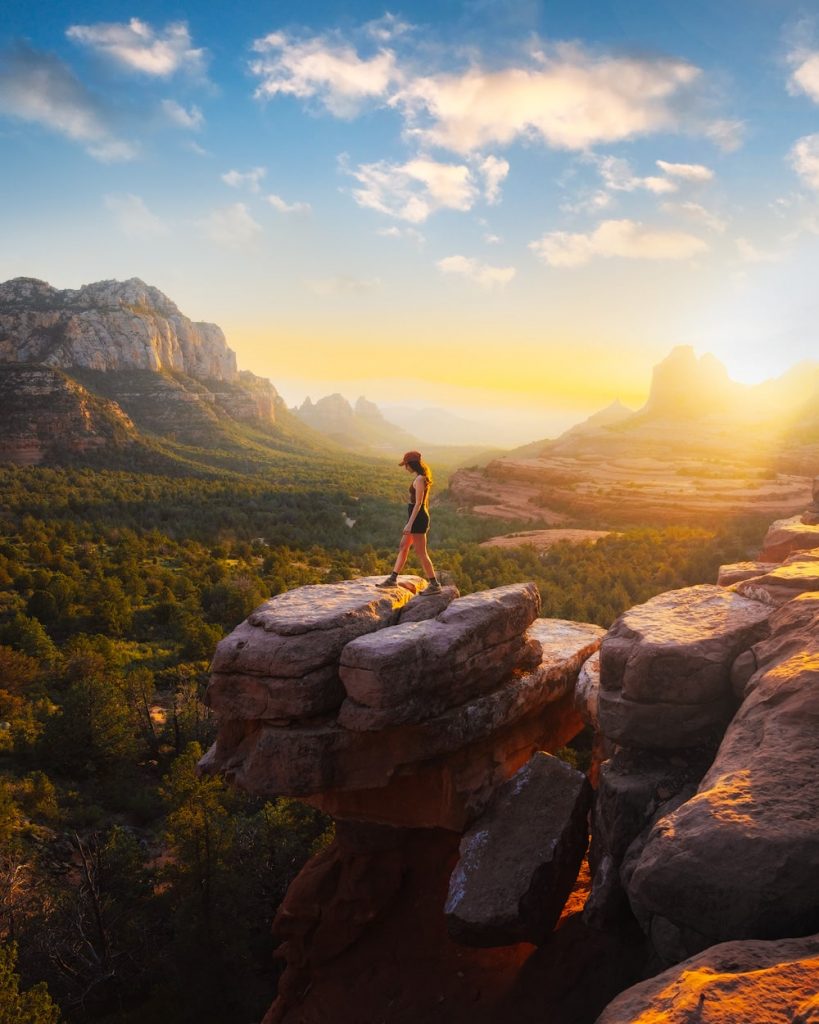 Munds Wagon Trail
This is one of the best Sedona hikes in my opinion. The Munds Wagon Trail follows a historic cattle trail and wagon road that was used to transport cattle herds and goods all the way until the 1930s – so cool! You should definitely take the time to hike all the way to Merry Go Round Rock where you can scramble up and get amazing panoramic views of the incredible buttes and rock formations.
You can actually drive all the way to the top if you have a high clearance 4×4 vehicle. The road runs parallel to the trail and does cross at points. I have talked to some people that have said that it can get a bit noisy from Jeep tours on the road, but when we hiked at sunset we didn't experience this.
Distance: 6.4 miles roundtrip
Elevation gain: 1300 feet
Difficulty: Moderate

Road access

: 2×2 friendly (to the trailhead, 4×4 beyond that)

Pet friendly

: Yes, on leash

Trailhead location

: Get directions via Google Maps
Insider Tip: We watched the sunset from Merry Go Round Rock and it was gorgeous! On the way down, we opted to walk along the 4×4 road instead of the trail because it's a more direct route and easier to navigate in the dark. Be sure to pack a headlamp if you plan to stay for sunset!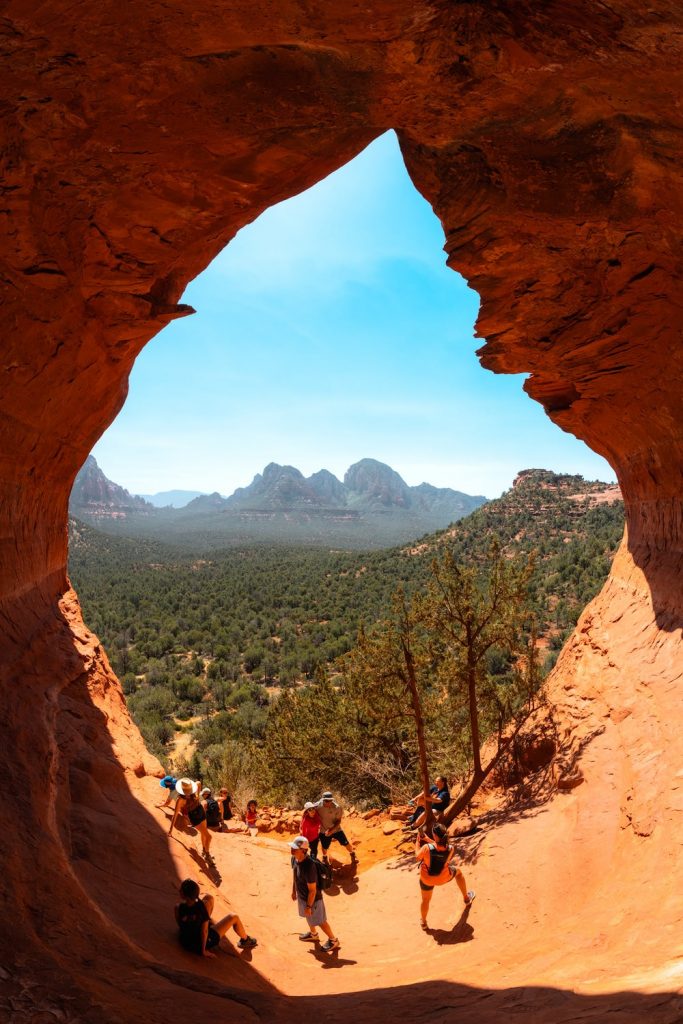 The Birthing Cave
One of the more popular Sedona hikes, the Birthing Cave requires little effort on your part and rewards you with incredible views. The majority of this hike is on a flat, wide path which makes it a good option for hikers of all abilities.
You'll start at the Long Canyon Trail parking lot and fork off to the left after 0.5 miles. Shortly after you'll notice a large, heart-shaped formation in the rocks. You've made it to the Birthing Cave! You can actually climb right up into the cave itself for great views of the surrounding red rocks and landscapes while you're here. Be cautious as the red rocks can be a bit slippery!
Distance: 2 miles roundtrip
Elevation gain: 250 feet
Difficulty: Easy

Road access

: 2×2 friendly

Pet friendly

: Yes, on leash

Trailhead location

: Get directions via Google Maps
Insider Tip: Because it's short and sweet, the Birthing Cave hike tends to get quite busy! Your best bet is to start early in the day to avoid the crowds.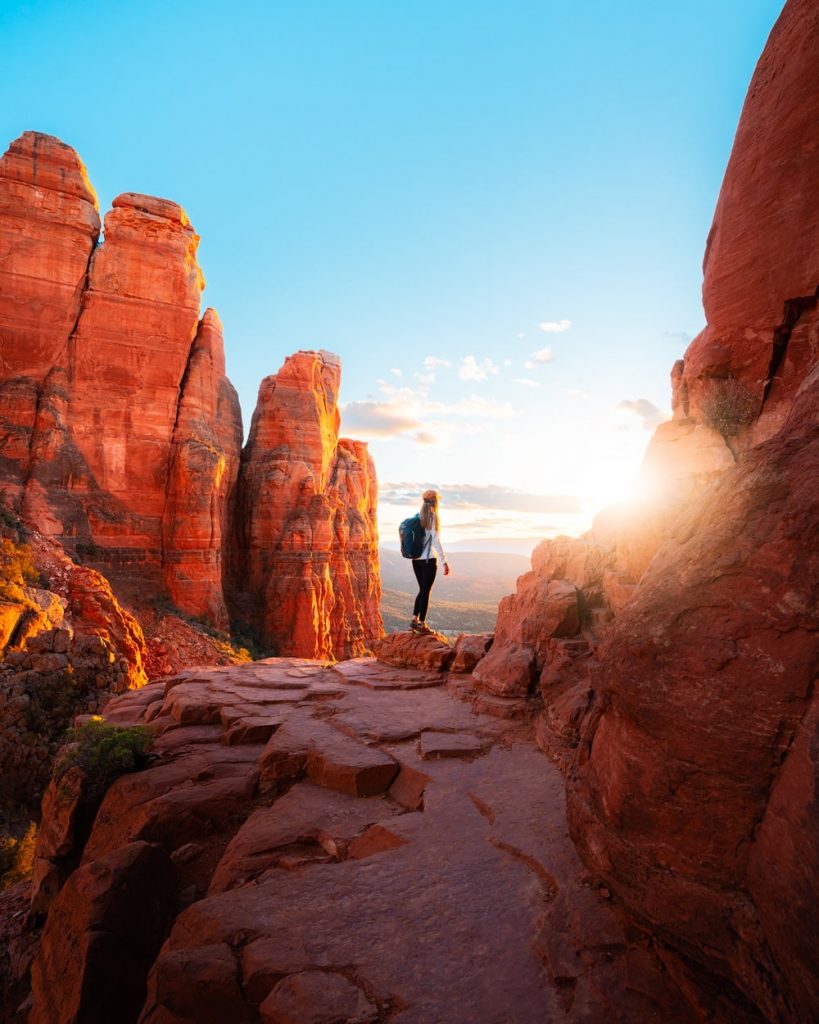 Cathedral Rock Trail
The Cathedral Rock Trail is a classic Sedona hike, but it gets very busy at sunrise and sunset. I still recommend hiking here, just don't expect to have the trail all to yourself. Though it's a short hike mileage-wise, it packs a pretty good elevation gain in a short distance, so expect to feel your legs working!
While here, it's worth taking a detour to the Cathedral Rock Pillar. It requires a little more scrambling and isn't super easy to find, but it's worth it! Once you see the "End of Trail" sign, walk along the right edge of Cathedral Rock. The Cathedral Rock Pillar will shortly come into view around the corner!
Sedona is home to a handful of energetic "vortexes" which travelers from all around the globe seek out for their spiritual energy. One of these vortexes is believed to be here at Cathedral Rock, so you may notice visitors here meditating, doing yoga, or just soaking in some of the special energy of the vortex.
Distance: 1.5 miles roundtrip
Elevation gain: 750 feet
Difficulty: Moderate

Road access

: 2×2 friendly

Pet friendly

: Yes, on leash

Trailhead location

: Get directions via Google Maps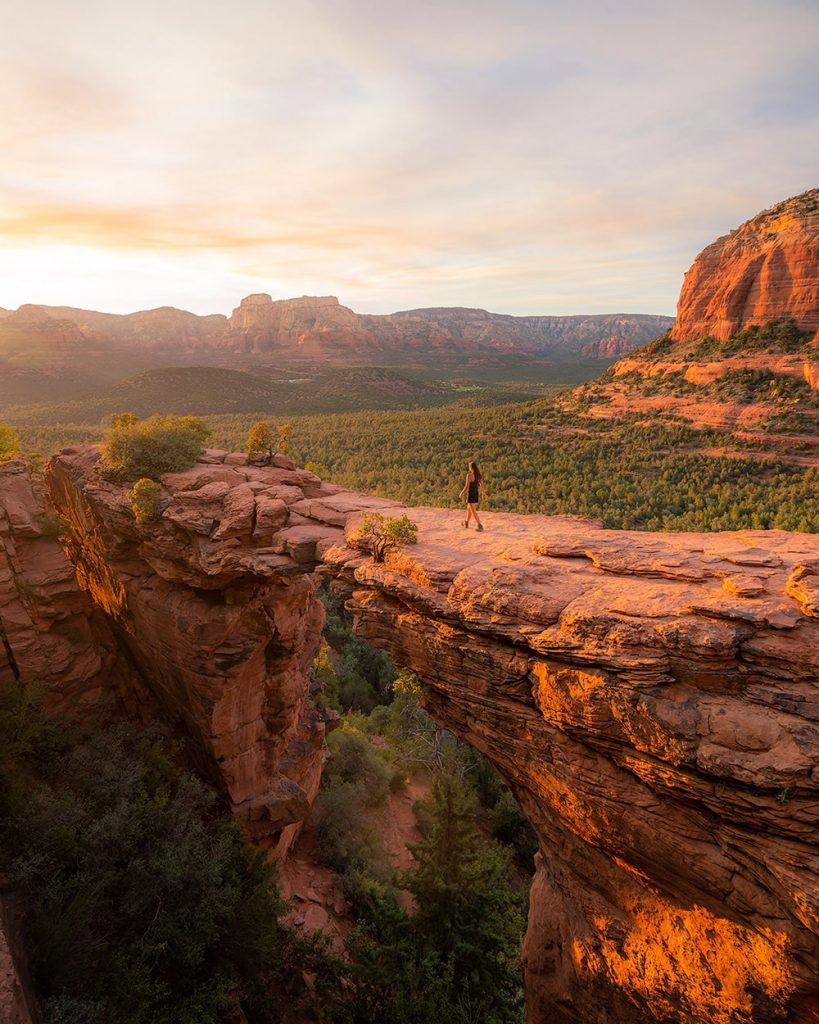 Devils Bridge Trail
Because you can take photos standing atop the Devils Bridge, this is definitely one of the most popular hikes in Sedona. It's worth it if you don't mind a little company on the trail! If you aren't stoked at the idea of waiting in line for a photo on the bridge, maybe give this one a miss, or start hiking in the dark and be one of the first people to arrive when the sun comes up! I have to admit though, it's pretty amazing to walk across the red rock arch which is the largest natural sandstone arch in the area.
Distance: 4.2 miles roundtrip
Elevation gain: 500 feet
Difficulty: Easy

Road access

: 2×2 friendly, though you can get to a closer trailhead with a 4×4 vehicle via Dry Creek Road

Pet friendly

: Yes, on leash

Trailhead location

: Get directions via Google Maps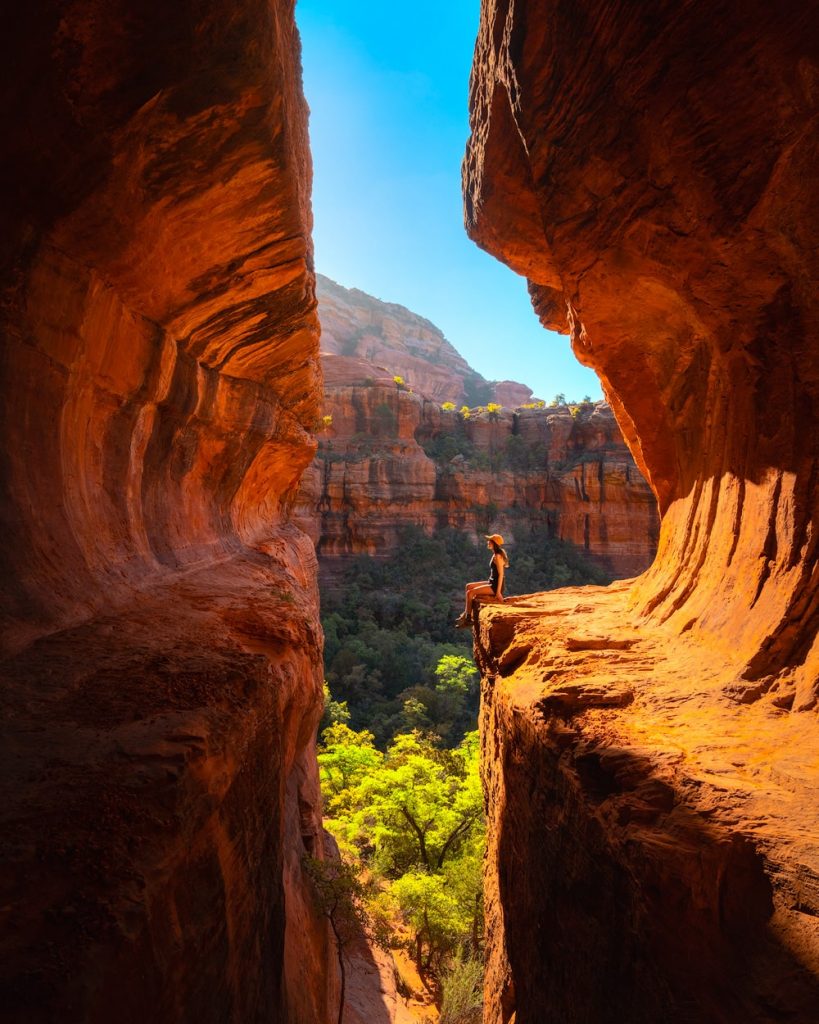 Boynton Canyon Trail & Subway Cave
This is a must-hike when in the Sedona area, especially the Subway Cave detour. Though the full hike is over 7 miles round trip, you can absolutely hike as short or long as you'd like. And you'll still get incredible views of the surrounding red rock country! Many hikers opt to only follow the trail to Subway Cave and back, which is stunning and offers amazing views of Boynton Canyon. Keep in mind there are no signs indicating the Subway Cave side trail. I recommend using Gaia GPS maps to navigate to the trail junction.
Accessing the Subway Cave does involve crossing some sections of exposed trail and cliffs. If you are terrified of heights or ledges, this might not be the best hike for you. I don't like exposure but was able to manage fine by accessing the cave from the less steep route. As you approach the cave you can either go straight up a very steep section or keep walking a little further and opt for a slightly less steep cliff access point. It might sound a little confusing, but it makes sense once you're there and you will see other people for reference.
Distance: 7.3 miles roundtrip
Elevation gain: 1200 feet
Difficulty: Moderate

Road access

: 2×2 friendly

Pet friendly

: Yes, on leash (I wouldn't recommend taking them to the Subway Cave)

Trailhead location

: Get directions via Google Maps
Insider Tip: This hike can get very busy, so start early! I recommend beginning hiking by about 7 am.
More Sedona Hikes To Add To Your List
There are so many amazing hiking trails in the Sedona area! You could stay for weeks in the area and hike multiple trails every day. Some more to add to your list include:
Soldiers Pass Trail and Seven Sacred Pools
West Fork Trail
Fay Canyon Trail
Bear Mountain Trail
Brins Mesa Trail
Doe Mountain Trail
Broken Arrow Trail
Red Rock Crossing Trail
Airport Mesa Trail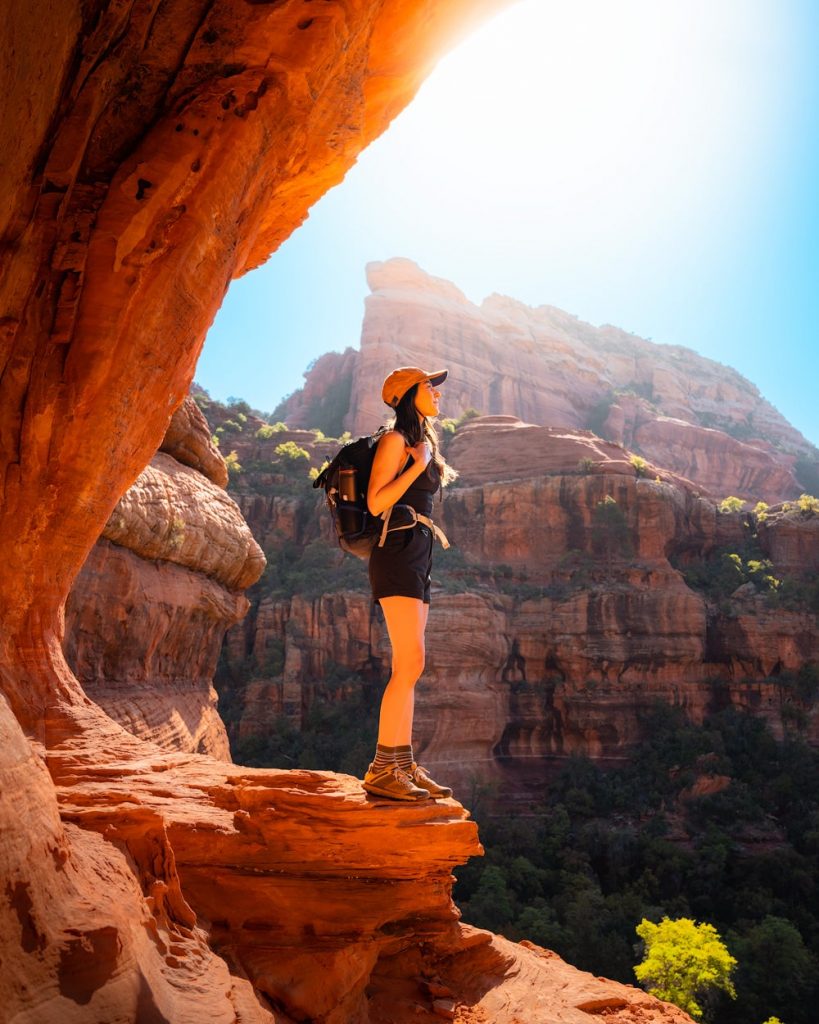 What To Pack for a Sedona Hiking Trip
What you pack for your Sedona trip will depend on what time of year you choose to visit. For example, if you visit during winter you will need to pack more layers and gear. Whereas if you visit during summer then light layers, a sun hat, and extra sunblock are a must! Hiking in Sedona can get quite hot, so be prepared for a range of temperatures and to be flexible with your schedule, especially if you're traveling during the hotter months of the year.
Below you will find my recommend gear items for visit to Sedona. Backcountry.com is my go-to retailer for all things outdoors and travel. Use code RENEE15 to get 15% off your first order (some exclusions apply). Click here to shop my gear favorites.
Hiking shoes:
Since it can be quite hot in Sedona, you're best off in a lightweight, breathable pair of hiking shoes or trail runners. But keep in mind you'll want something with more traction since you'll be hiking along sandy rocks in places. The Danner 2650 Hiking Shoes are my favorite hiking boots for terrain like this. If you prefer a more solid, supportive hiking boot the Columbia Newton Ridge Plus Waterproof Hiking Boots are a great choice. We also have a guide on all the best hiking shoes, so don't forget to check that out when shopping for new hiking boots!
Merino wool socks:
Wool socks are the best for preventing blisters and also letting your feet breathe. Recommended hiking socks.
Hiking pants, leggings, shorts, Skorts, Dresses:
While I generally opt for leggings while hiking, shorts are a must in Sedona! The Stoic Desert Shorts were some of my go-to shorts for all the hiking in Sedona. I have also been loving skorts lately, but choose whatever feels comfortable and practical for you! Recommended hiking pants, hiking skort, hiking dress, hiking leggings.
Quick-dry top:
Merino wool tops are my favorite due to their breathability and odor resistance. Recommended short-sleeve hiking top; long-sleeve hiking top. If you want less material in the hot weather, other good options are lightweight tank tops or sports bras. But make sure to apply and reapply lots of sunscreen to avoid sunburns! I also like to have a long sleeve sun shirt to avoid unnecessary sun exposure if I do feel like I am getting burnt. This one is lightweight and provides UPF protection.
Day pack/hiking backpack:
Choose something with hip and chest straps for optimal comfort and practicality. Recommended backpack.
Hip pack:
When taking short walks or exploring roadside stops I often prefer to opt for a small hip pack instead of a backpack. Just something to fit my phone, lip balm, sunglasses, and any other essentials. Recommended hip pack.
Trekking poles:
Optional but I personally swear by them for hiking longer and steeper trails! Recommended trekking poles.
Mid-layer:
Perfect for chilly mornings and evenings. Opt for something lightweight like a fleece or pullover. Recommended mid-layer.
Insulated jacket:
You will want something warmer for chilly days and during the mornings and evenings when visiting in the spring or fall. Recommended insulated jacket.
Rain jacket:
Though it tends to be dry in Sedona, it's still a good idea to pack a rain jacket and/or windbreaker. Recommended rain jacket, recommended windbreaker.
Casual clothes:
Pack some casual and/or nicer outfits if you plan to eat out at restaurants. This is of course optional though! Check out my Favorites page on Backcountry for some recommendations.
Navigation:
When driving, have Google Maps or Maps.Me handy. For hiking, carry a physical map and a compass, and download offline maps onto your phone. I use Gaia GPS – click here to get 20% off a Premium membership!
Emergency beacon:
Optional, but can give you and your loved ones some peace of mind when hiking or traveling without phone service. Recommended emergency device.
Headlamp + batteries:
For hiking in the dark, camping, or in emergency roadside situations. Recommended headlamp.
Drink bottle + Water Jug:
Pack a reusable water bottle and you could also consider using a water bladder inside your backpack when hiking. You'll want to bring plenty of water on all of your hikes in Sedona. Since it can get quite hot it's a lot easier to get dehydrated. Electrolyte aids are a great addition when hiking in warm climates (they're great for travel/flying, too!) I like to keep a larger water jug in my car so that I don't have to rely on finding water fillup stations. Lastly, I also like to hike with a lightweight water filter to ensure I don't get sick when drinking from streams.
Sun hat:
Bring along either a cap, bucket hat, or wide brim hat to protect your face from the sun. Recommended cap; bucket hat; wide brim hat.
Sunscreen:
Self-explanatory. This one is reef safe and doesn't contain any chemicals that will harm you or the environment. Don't forget a lip balm with sunscreen too.
Sunglasses:
Polarized sunglasses are best for eye protection.
Don't forget to use code RENEE15 to get 15% off your first Backcountry.com order! (some exclusions apply) Click here to shop my favorites.
First aid items:
Always carry a small first aid kit with essential items like blister plasters and emergency supplies. Recommended lightweight first aid kit.
Phone + driver's license/ID:
Always best to keep these on you in case your car is broken into. Recommended lightweight wallet (or you can simply use a small binder clip!)
Camera + batteries:
Optional but trust me, you will want a camera to capture the incredible red rocks and natural rock formations! Check out the camera gear I use to capture my travel photos and the camera bag I pack it all in!
Cooler:
You might want to pack a cooler and bring along your own food and drinks during your trip. It's especially refreshing to have a cold drink waiting for you in the car after a hot hike in Sedona. For a cooler, you can opt for a small/day trip size, or a larger cooler that's more conducive to car camping and longer road trips. Recommended day trip cooler; larger cooler.
Snacks:
Every hiking trip requires snacks! Bring whatever your favorite snacks from home to save a little extra on your trip budget. My go-to snacks.
Reusable coffee mug:
If you enjoy drinking coffee then it's best to bring along a reusable mug or tumbler. Recommended mug; insulated tumbler.
Reusable utensils:
Similar to above, having your own travel utensils / cutlery is a great way to cut down on single-use plastics when ordering take-out food.
National Parks Pass:
If you're going on a larger road trip and planning on hitting some of the incredible national parks in the Southwest, make sure to pack your park pass if you have one already! If not you can buy one when you arrive at the parks or online before you go.
Road trip playlist + Podcasts:
Don't forget to download some good tunes and podcasts for your road trip. For music, check out my playlists on Spotify. For podcasts, we have an entire guide on the best road trip podcasts!
Want more packing & gear tips? Check out our guides on what to wear hiking, car camping gear essentials, how to plan a national parks trip, and the best hiking shoes.
Final Thoughts On The Best Hikes In Sedona
Have I convinced you yet that you need to plan a trip to Sedona? Whether you can only visit for a weekend or a full week, I definitely recommend heading to Arizona and checking some of these incredible Sedona hikes off your bucket list. Have you already spent some time in Sedona? If so, I'd love for you to share your favorite spots in the comments below.
---
PIN for Later!