Hiking is a healthy and rewarding way to explore our national parks and other natural spaces. These walking trails are typically off the beaten path and allow you to experience less crowded destinations. And one of the best things about hiking is that you can do it in any season and at any time of the day! I have plenty of blog posts about hiking during daylight hours, but in this one, I will be diving into my top night hiking tips.
You may be thinking, why hike at night?! There are so many advantages to night hiking! Including:
Hiking in the dark is required if you want to experience sunrise (unless you go overnight backpacking)
You may want to cover more miles than only hiking in daytime will allow
Hiking at nighttime is a great way to avoid midday heat
Hiking back in the dark is the only way to enjoy a sunset in remote places
The night can give a whole new perspective on a familiar place and breathe new life into it for you
Hiking under a starry night sky or full moon is one of the most magical feelings on earth
Night hiking can provide photographers with unique conditions to take amazing photos
These are all great reasons to hike at night, but it's important to understand the unique challenges that come with hiking in the dark so that you stay safe and enjoy yourself out there on your adventures. Let's jump into some tips and tricks so you can hit the trail at night and actually enjoy it instead of feeling terrified the whole time!
Disclaimer: This blog post is in collaboration with Backcountry.com and features some affiliate links. This means I get a small commission if you make a purchase (at no extra cost to you). Use code RENEE15 to get 15% off your first Backcountry order (some exclusions apply). You can also learn more about my affiliate policy here. Thank you for the support!
Must Know Night Hiking Tips: How To Hike for Sunrise and Sunset
I love experiencing sunrises and sunsets out in nature, so often find myself hiking in the dark. This drums up A LOT of questions from my Instagram and blog followers. Most of the queries are focused on safety, required gear, and whether or not I recommend solo night hiking. This guide will cover all those most commonly asked questions!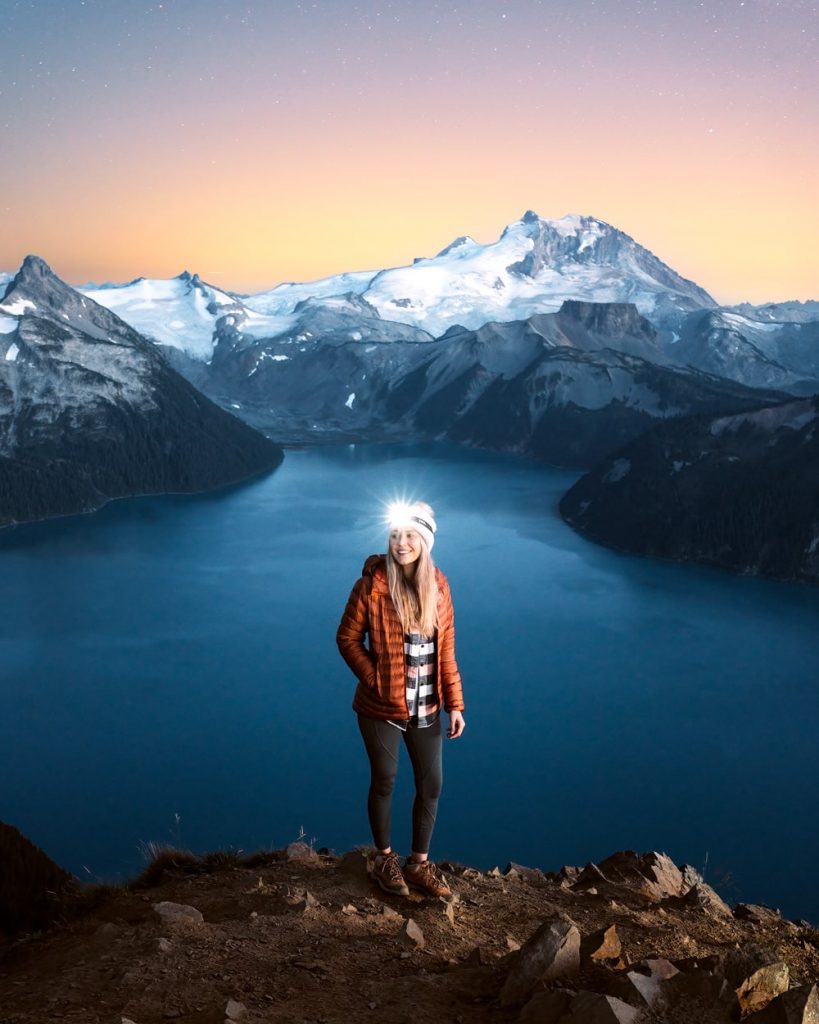 Bring Adequate Lighting
One of the most important aspects of night hiking is having a strong and reliable light source to illuminate the trail ahead. The most common and effective night hiking light is a headlamp. A good headlamp, like the Petzl Actik Core, will allow you to see the trail ahead, spot wildlife before you bump into them, and help you navigate setting up camp in the dark.
Headlamps come in many shapes and sizes, but just about any headlamp will work. The important thing is that you make sure that it will have sufficient batteries for your journey, and pack extra batteries (or charging banks) if in doubt. The last thing you want is to be stuck in the dark without a way to find your way home.
You can use a flashlight when hiking, though it's often not as convenient as using a headlamp. Having your hands free to use trekking poles, bear spray etc., is preferred in my experience.
---
Dress Accordingly
At night, you're likely going to be hiking in cooler temperatures in comparison to hiking during the day. Depending on where you live, it still may be warm enough to hike at night in a t-shirt or light long sleeve shirt during the summer months.
In Washington State, I often need to throw on an extra layer when hiking in the dark, especially if hiking downhill where I won't be exerting as much energy. In summer, this often means putting on a fleece layer or wind jacket, or in cooler months, I may even need to throw on a puffy jacket as well.
If you like hiking in shorts or skorts during the day you could consider packing a pair of hiking pants or leggings to change into once it gets colder. Click here to read my guide on how to dress for hiking.
---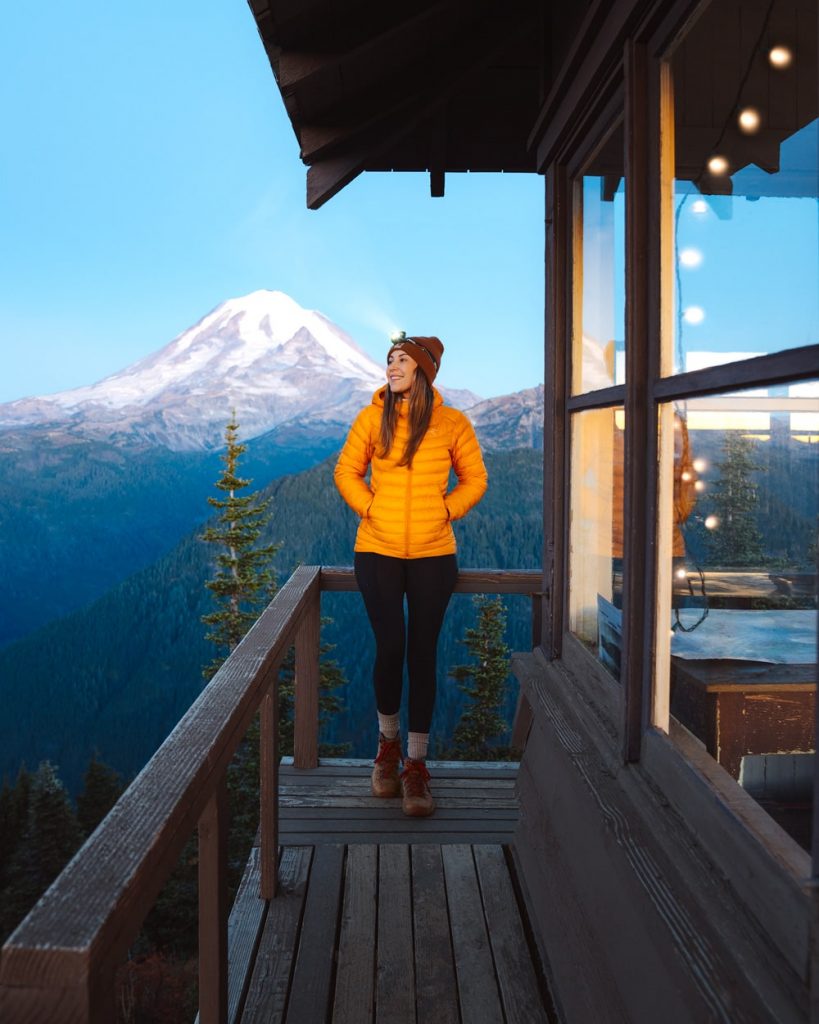 Tell Someone Your Plans
This is important for any hike, but especially when you're going to be hiking at night. Let someone close to you know a rough itinerary of your trip and your expected return date. This way, if something goes wrong and you don't return, they can have a search and rescue crew looking as fast as possible and in the correct area.
Want more peace of mind? I highly recommend hiking with a satellite emergency beacon like the SPOT Gen4 Satellite GPS Messenger or the Garmin InReach Mini. That way you can press the SOS button if something goes wrong, notifying search and rescue crews. You can also contact family back home and let them know you are safe.
---
Consider The Moon Cycle
Hiking at night during a full moon is a very different experience than hiking during a new moon. A full moon can entirely illuminate the landscape, making it far less likely to get lost or sustain an injury due to the increased visibility.
Consider the moon cycles if your itinerary has you hiking at night, and if it does, maybe plan it for a time when the moon will be as close to full as possible.
---
Research the Trail and Conditions
When planning your hike it's always important to research the trail conditions and forecasted weather. This is even more important if you will be hiking at night time.
If you are new to night hiking, I suggest that you choose a trail that you are familiar with. This will help to build your skills while feeling confident that you won't get lost. Over time you will build that confidence to the point where you will be able to hike in the dark just about anywhere.
A simple google search is often not accurate enough for checking the weather in popular destinations, but I recommend using apps or websites with more accurate location-specific forecasts for remote areas. A few of my favorites include OpenSummit, Windy, and the National Oceanic and Atmospheric Administration (NOAA) website.
---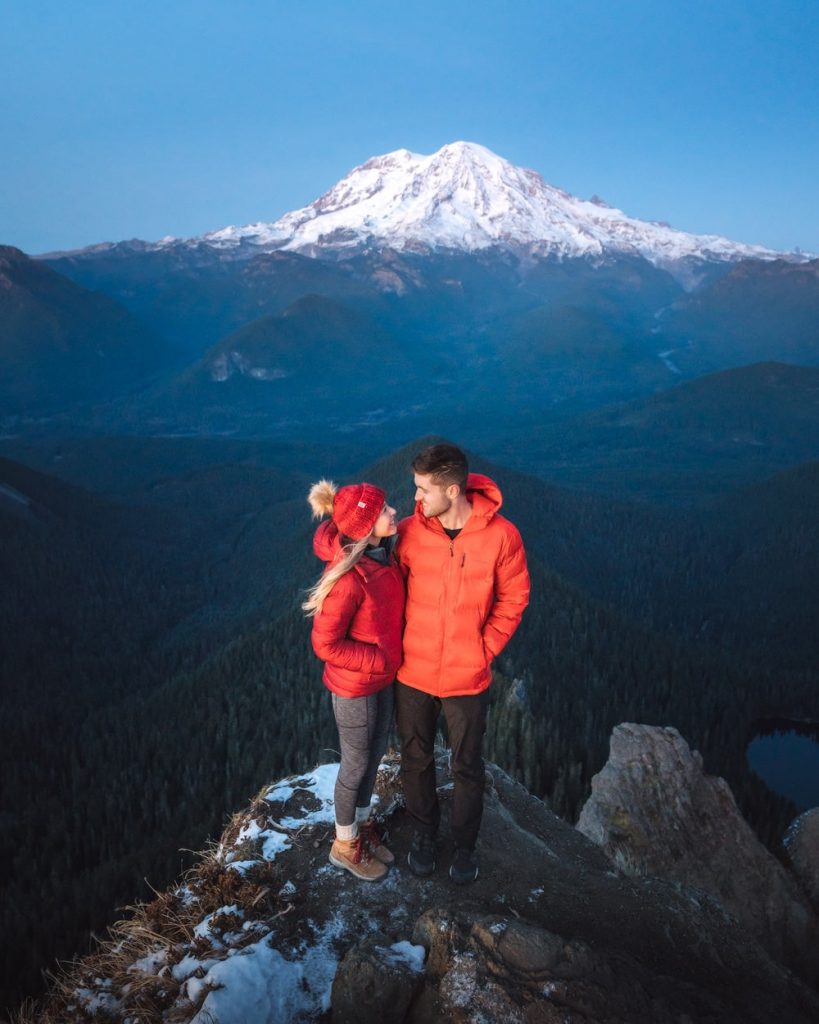 Hike With Other People
It's a fact that you are more likely to get lost and/or hurt hiking at night compared to during daylight hours. With that in mind, it's a great idea to do any night hiking in a group.
You are far less likely to get lost in a group with multiple people who are keeping track of directions. Also, in case of an emergency (e.g. someone sustaining an injury), there are other people in the group to go and get help.
Hiking with other people is also the safest option when it comes to wildlife encounters… but we will touch more on that in the next section!
---
Watch Out for Wildlife
A lot of wildlife will sleep during the warm hours of the day and then come out at dusk to feed. Wild animals will typically not be a threat to you, unless you are hiking in bear country and not following recommended precautions. Read my guide on must-know bear safety hiking tips.
Both you and wildlife can have decreased range of sight in the dark, so it's especially important to make noise to let wildlife know you are coming. That way they can move on and you very likely won't even see them. You can make noise in a lot of ways, but my personal favorite is talking loudly or singing amongst my hiking group, or a loud "heyo" every so often.
Insider tip: reserve the use of 'hey bear' or 'bearrr' for when you actually see a bear. An experienced hiking guide taught me that it's the safest way to quickly tell the rest of your group there is a bear up ahead. If you call out 'hey bear' all the time it can decrease your sensitivity to hearing that word shouted in an actual dangerous situation.
---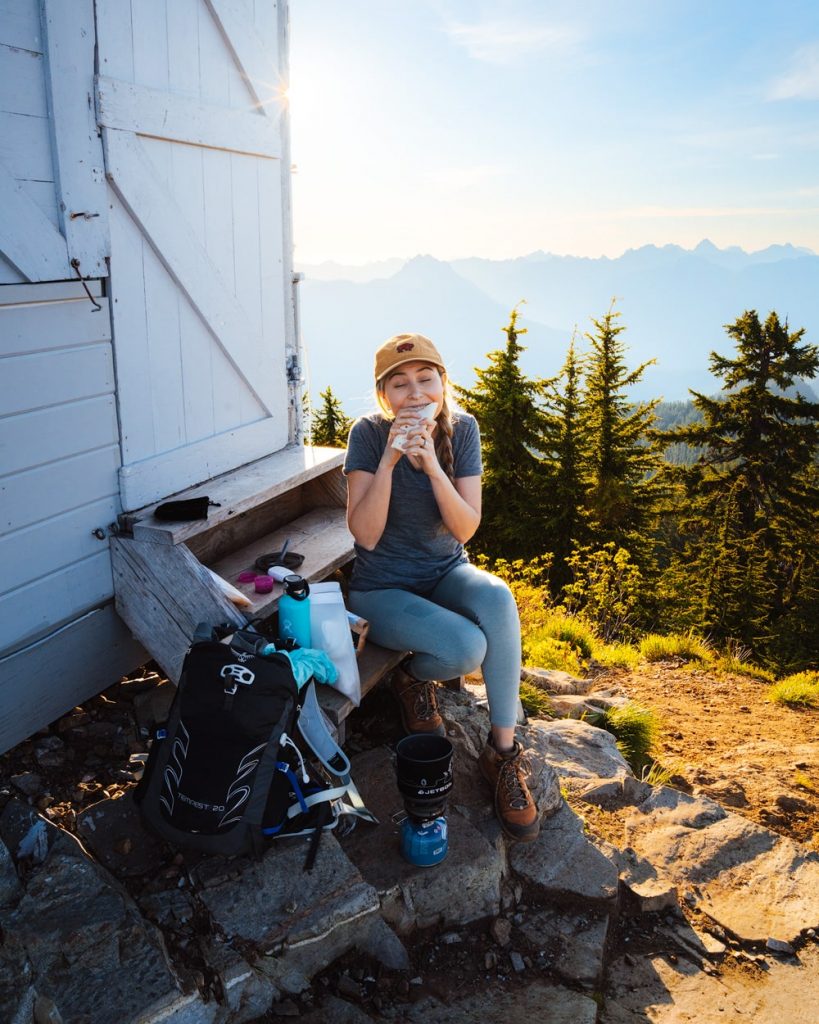 Pack Enough Food and Water
It's easy to fall into the trap of not drinking enough water during the cooler hours of the night. And while it's true that we need more water during the hotter hours of the day, your body still needs water to keep going at night. Make sure to keep topping up as you would if you were hiking during the day. I like to add Liquid I.V. Electrolytes to my water on hiking trips.
It's also important to keep eating to keep your body fueled, especially if you are trail running or hiking a strenuous trail. If you eat dinner and still plan to hike for many hours afterwards, you're probably going to need another snack or two to sustain your energy. Make sure to factor this in when packing for your trip! I really like GoMacro bars for hiking.
Fun fact: There are certain foods that can help increase your night vision over time. Add some sweet potatoes, carrots, mangoes, apricots, and other foods packed with vitamin A into your regular diet and you'll have an easier time seeing at night time.
---
Don't Wander Off The Trail
Sticking to the trail is important for all but the most experienced hikers and navigators, and it's even more important at night. It doesn't take much to get lost once you step off the trail, and this is exacerbated at night when you cannot see clearly to find your way back on track.
My favorite way to make sure I am staying on trail is by tracking my hike with the Gaia GPS app. This app provides topographic maps where you can follow the trail, track your mileage, and check for water sources. It's free to download and use but you can only download offline maps if you have the premium membership (great for when you can't rely on phone service!) Click here to get 20% off your membership.
It's also a good idea to carry and compass and paper map (and to know how to use them!) Apps are great, but you may find yourself with a dead battery or a damaged phone. There are many great resources that can teach you how to use a topographic map, such as this one.
---
Do's and Don'ts For Night Hiking
In summary, the key night hiking tips are:
Bring adequate lighting such as a headlamp
Dress for cooler temperatures
Tell someone your itineary and when you will return
Consider carrying an emergency satelite beacon
Hike during a full moon for increased visability
Adequately research trail conditions and weather
Hike with other people for increased safety
Be mindful of wildlife and follow bear safety guidelines
Pack enough food and water
Stay on the trail and bring along a compass + map
As always, follow Leave No Trace Principles
---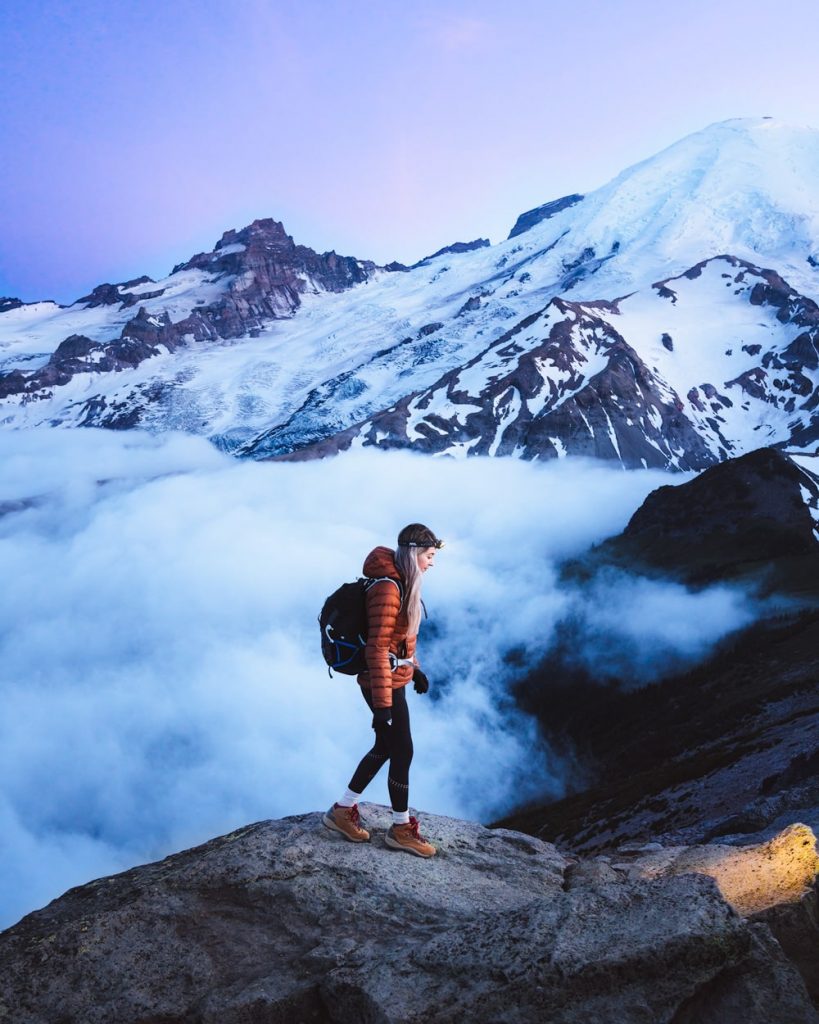 Night Hiking Gear
This gear guide will cover items specific to night hiking. If you want general hiking gear recommendations I suggest checking out the following posts:
Items to pack for your night hike
Headlamp
As we have already touched on in this article, a form of illumination is vital for hiking in the dark. Headlamps are the best approach because they allow you to keep your hands free for using trekking poles, your phone, a compass, bear spray, etc.
There are an array of headlamps to choose from and it can be a little overwhelming knowing which one to buy. I have used the Petzl Actik Headlamp for years and love it, but recently switched to the rechargeable version, the Petzl Actik Core Headlamp. I got tired of going through batteries and would prefer to carry a small portable charger as an emergency backup (plus I can use it for my phone). In saying that, I have never ran out of battery when using the Petzl Actik Core Headlamp as long as I have charged it before a hike.
Extra BAtteries & Portable Charger
As mentioned above, it's important to pack extra batteries or some kind of portable charging system for your headlamp. It's also a good idea to have a portable charger if you are using your phone for offline maps or to track your hike.
I personally love the Goal Zero FLIP portable chargers and will either pack the FLIP 12 or the FLIP 24. The 12 will charge my phone once and the 24 can typically charge my phone twice. There is also the Goal Zero Nomad 5 + FLIP 12 Solar Kit for multi-day treks or for day use (the Nomad 5 recharges via the sun).
Glow In The Dark Compass
As we have already touched on, it's important to have a form of navigation. A paper map and compass are a great way not to have to rely on phones and technology failing. Just make sure you know how to read a topographic map! This is a great resource if you need to learn. Another thing to keep in mind is bringing a night-friendly / glow-in-the-dark compass.
I recommend combining the use of compass + map with a trail navigation phone app like Gaia GPS app. It's free to download and use but you will need the premium membership to have offline maps (best for if you won't have phone service). Click here to get 20% off your membership.
Emergency Satellite Beacon
An emergency satellite beacon is not a required item but it will definitely give you and your loved ones some peace of mind. I like to carry the SPOT Gen4 Satellite GPS Messenger whenever I go hiking or backpacking. It doesn't mean that I don't have to worry about getting hurt or lost, but it does mean I have access to an SOS button if something does go wrong.
Don't Forget The 10 Essentials
We have already covered numerous items that are within the 10 essentials, but I feel it's worth mentioning again. The 10 essentials are items that keep you safe in the outdoors and could potentially save you from a very bad situation (e.g. getting lost, hypothermia, etc.) The National Park Service (NPS) has a great article on the 10 essentials, but I've also run through them below.
1. NAVIGATION (MAP, COMPASS, GPS SYSTEM).
You will use your navigation system to help plan your trip/route, as well as to stay on track during your hike. Be sure to know how to read a topographic map and use a compass before needing to rely on one!
2. SUN PROTECTION (SUNGLASSES, SUNSCREEN, HAT).
These items will protect you from harsh UV rays that can lead to sunburn and skin cancer. I always wear a sun hat when hiking (let's make wide brim hats cool again!) and would also recommend wearing long sleeves if you are particularly prone to sunburn.
3. INSULATION LAYERS (JACKET, HAT, GLOVES, RAIN GEAR, THERMAL UNDERWEAR/BASELAYERS).
These will depend on the type of weather and season you are hiking in, but always be prepared for sudden changes in conditions. The NPS recommends you pack an extra layer of clothing that reflects the most extreme conditions you could encounter.
4. ILLUMINATION (HEADLAMP, LANTERN, FLASHLIGHT).
You will need some sort of light source for night hiking, such as a headlamp. Be sure to pack extra batteries if your device is battery operated.
5. FIRST AID SUPPLIES (LIGHTWEIGHT FIRST AID KIT).
Be prepared for emergencies and have a lightweight first aid kit with you on all hiking trips. I personally bought a pre-made kit and then added a few extra items that were specific to my needs and the type of trip.
6. FIRE STARTER (MATCHES, LIGHTER, FIRE STARTERS).
This is in regards to emergency settings where you may need to use fire as a signal, to keep warm, or to cook food. Otherwise, I recommend using a camp stove and avoiding open fires (always make sure to adhere to burn bans).
7. REPAIR KIT AND TOOLS (DUCT TAPE, KNIFE, SCISSORS, MULTI-TOOL ETC).
Having some basic repair items will help if a gear item breaks or in other emergency situations. Bring any tools/repair items specific to your trip.
8. SHELTER (TENT, SPACE BLANKET, TARP, BIVY).
Adequate shelter will help protect you from severe weather conditions and exposure during an emergency survival situation. A lightweight emergency blanket is easy to throw in your bag on night hikes.
9. FOOD (MEALS, SNACKS).
Make sure you have enough food for your trip length, plus a little extra. Think about the calorie density to weight ratio and avoid heavy food items that will weigh down your pack.
10. HYDRATION (WATER, WATER FILTER).
Remember to drink water often and before you feel thirsty. I also recommend using electrolytes when sweating. Water filtration is another consideration as it is best to avoid drinking unfiltered water. My go-to water filter is the Katadyn BeFree 1L Water Filter Bottle.
---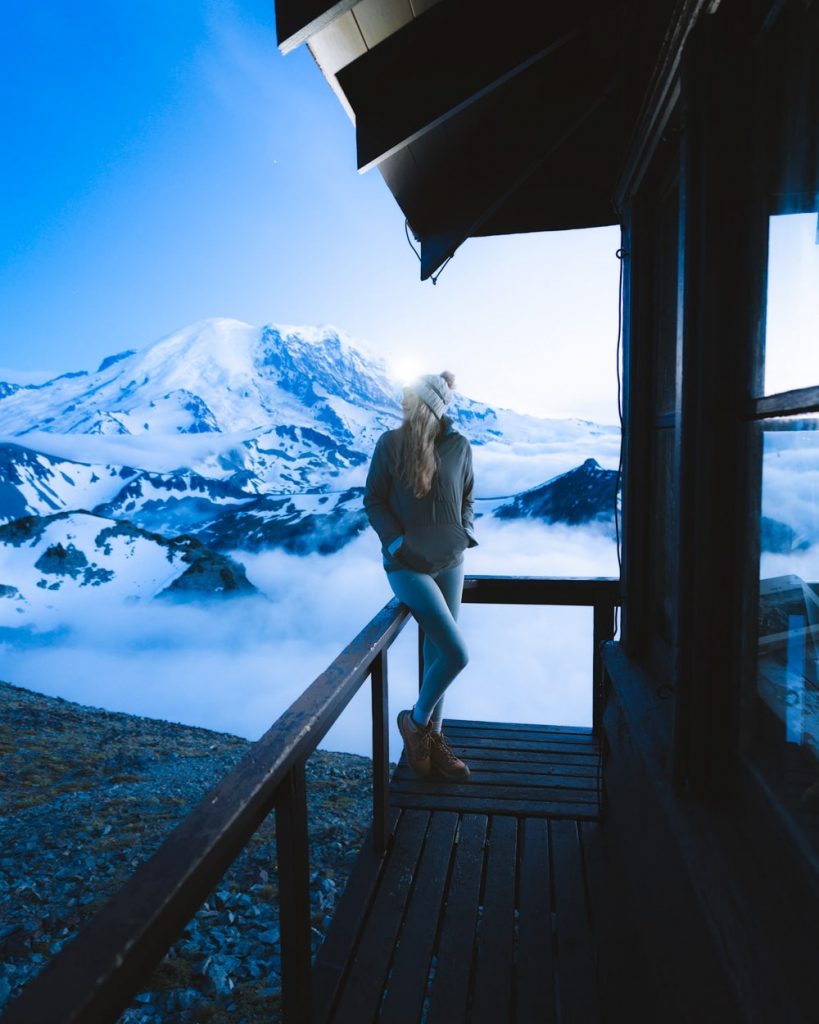 Final Thoughts on Hiking At Night
I hope these night hiking tips make you feel more confident to hit the trails and explore nature! I love the opportunities hiking in the dark can open up, including catching more sunrises and sunsets in the mountains. Have fun and be safe out there!
---
PIN for Later!