I fell in love with road trips 9 years ago on a vacation across the western United States of America. It was on that trip that I rented a vehicle and traveled through a bunch of national parks, including driving from Yellowstone to Grand Teton. Ever since, the open road has felt like freedom, and I even lived out of a van for 7 months during a road trip to visit every national park in 2017!
Yellowstone and Grand Teton are very close, and that's what makes them such a great road trip destination. They are joined at the south border of Yellowstone and the northern border of Grand Teton. These are two of my favorite national parks in the entire country, with each having its own unique reasons to visit. Yellowstone has some of the most incredible geothermal and wildlife viewing places on earth, while Grand Teton has some of the most epic mountain views you will ever see.
In this guide, I'm sharing the knowledge I've gathered over a handful of visits to each park to ensure you hit all of the best spots. Keeping reading for the ultimate Yellowstone to Grand Teton road trip itinerary!
Disclaimer: This blog post may feature some affiliate links, which means I get a small commission if you make a purchase (at no extra cost to you). It's one of the ways I can keep producing free guides and resources for my readers. Learn more about my affiliate policy here. Thank you for the support!
Ultimate Yellowstone To Grand Teton Road Trip Itinerary
Before we jump into the itinerary, there are a few important things to consider when taking a Yellowstone to Grand Teton road trip. Below I'm going to shed some light on the best time to visit, where you should stay, how to get around, and what to pack to make the most of your trip to these incredible national parks.
Best Time To Visit Yellowstone and Grand Teton
Yellowstone's roads typically open around mid-late May, depending on the year. I find this to be the best time to visit, as crowds will be at their lowest while still having access to nearly all of the park. During this time, there should also still be some lingering snow on the mountain peaks, which really adds to the beauty of the park in my opinion. If you can't make it during that period, any time before summer holidays hit will be best.
Conveniently, this is also a great time to visit Grand Teton National Park. Crowds will be much lower compared to summer, and you will still be able to get out on some beautiful hikes despite the high alpine snow still lingering which will keep you from some of the deep backcountry hikes. That lingering snow is great for photos though, and your Jackson Hole photos will have a perfect combination of lush, green foregrounds and dramatic snowcapped peaks.
Summer is the best time in Grand Teton if you love hiking.
The snow has melted from the upper alpine areas, opening up plentiful hiking opportunities that aren't available in spring (at least not without mountaineering experience). You will definitely have more logistical challenges with securing accommodation and parking spots at the busier locations in both parks, but it's doable if you plan far enough ahead. Click here to read my blog with tips on How to Prepare for Hiking and Backpacking Trips!
Fall (September and October) is another great option and has similar positives and negatives to spring. Fewer crowds, potentially more road and facility closures depending on how far into fall you go. Winter is a whole different experience in these parks, and I recommend you checking out my winter national parks guide for more information.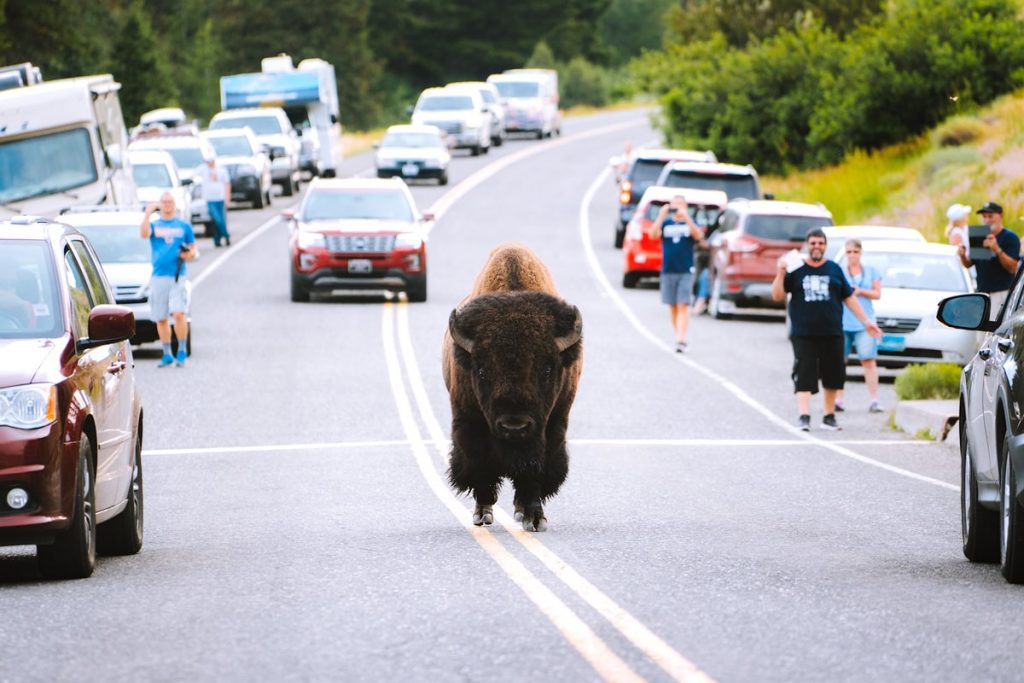 How To Get To Yellowstone and Grand Teton
If you are not within driving distance of either of the parks, I recommend you fly into Bozeman (MT) and drive south from there. Typically this will be the cheapest option that is within an hour of one of the parks. I have routed the above itinerary from Bozeman, but you can also fly into Jackson Hole Airport and flip the itinerary if that works best for you. If you choose to drive, check out my blog that highlights the best apps to help you find free campsites, cheap gas, and hiking trails for your epic road trip!
Alternatively, Salt Lake City may be even cheaper to fly into, but it is a 4-hour drive from Grand Teton National Park. If you do choose to go this route, flip the above itinerary and start from the end instead.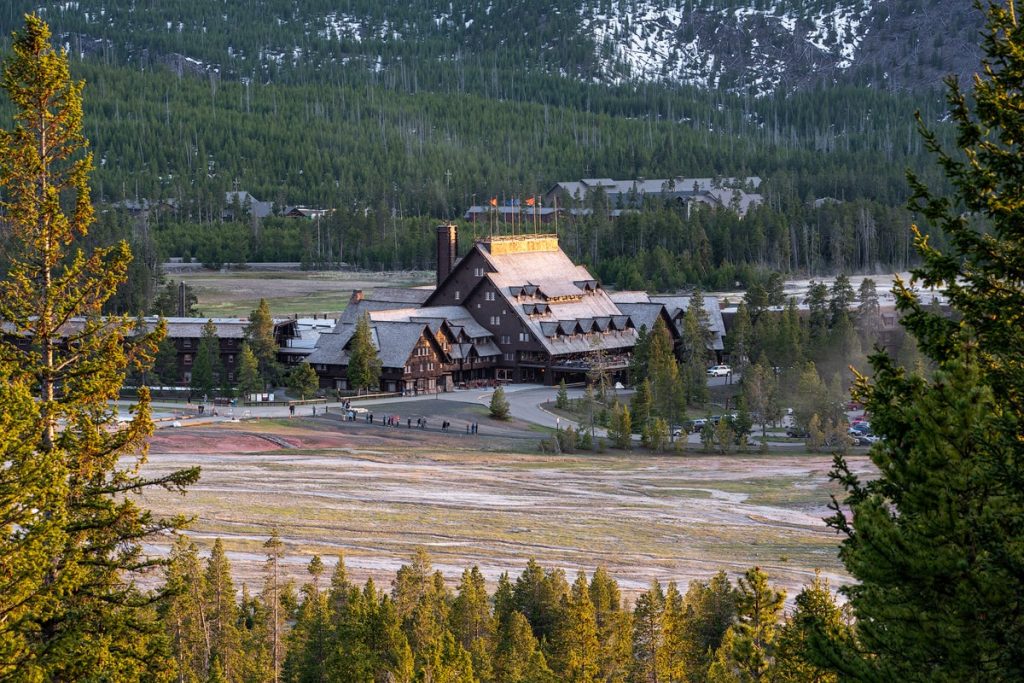 Where To Stay In Yellowstone and Grand Teton
There is a range of lodging options in both Yellowstone and Grand Teton National Parks, and nearby. For the most budget-friendly option, you can choose to stay in campgrounds, either within the parks or just outside. Check out my guide on how to find free campsites in the US.
If you have the means, staying in the national park lodges is a really special experience, especially Old Faithful Inn. When traveling in a large group or as a family, you may want to consider nearby vacation rentals. I personally enjoy staying in Jackson when I am visiting Grand Teton National Park, and my favorite hotels are Mountain Modern Motel and SpringHill Suites.
Where To Rent a Car
Bozeman, West Yellowstone, Jackson, and Salt Lake City all conveniently have car rental options at the airport. Kayak offers convenient ways to book your car rentals. Another option is renting an RV from RVShare, or a camper van from Outdoorsy.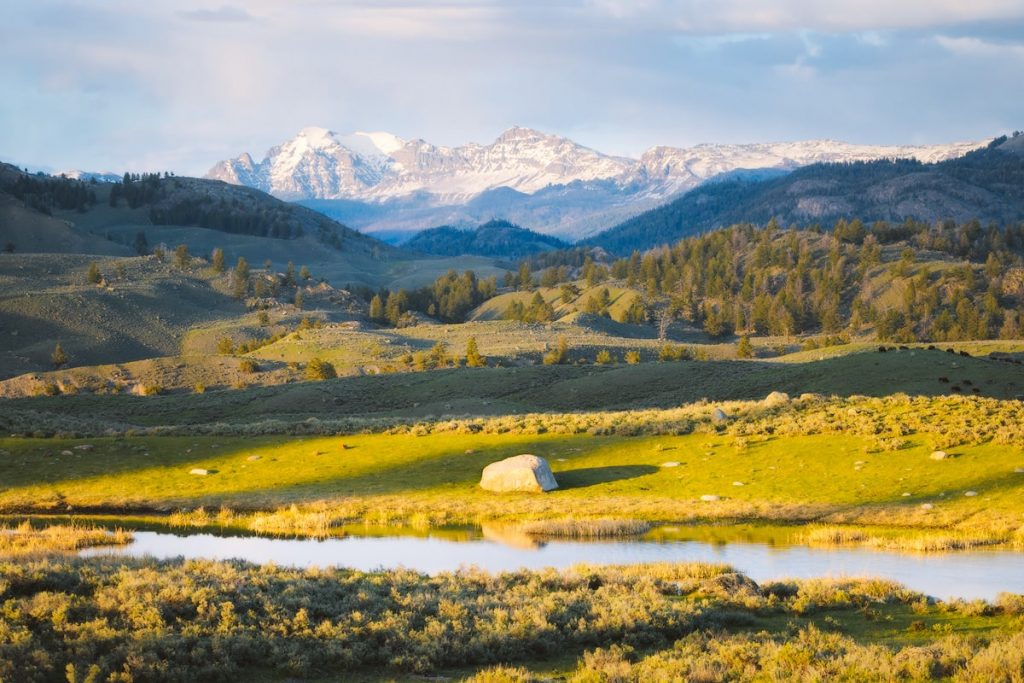 What To Bring To Yellowstone and Grand Teton
Below I am sharing my top recommendations for what to pack for your Yellowstone to Grand Teton road trip. This packing guide is tailored towards people who enjoy getting out on hikes. If you don't plan to hit the trails, simply leave off the hiking-specific items when using this packing guide.
Hiking shoes: Trail runners or hiking boots will work best. Read my guide on the best hiking shoes.
Merino wool socks: Wool socks are the best for preventing blisters and letting your feet breathe. Recommended hiking socks.
Hiking pants, leggings, and/or shorts: I typically reach for leggings, but choose whatever feels comfortable and practical for you. Recommended hiking pants; hiking shorts; hiking leggings.
Quick-dry top: Merino wool is my favorite for its breathability and odor resistance. Recommended hiking top (I wear these shirts on and off the trail because they are

that

great!)
Day pack/hiking backpack: Choose something with hip and chest straps. Recommended backpack.
Hiking poles: Optional but I personally swear by them for hiking! Recommended trekking poles.
Mid-layer: Layering is key when hiking and a mid-layer like a fleece will be perfect to pop on during rest breaks or if the weather cools down. Recommended mid-layer.
Insulated jacket: A must-have even on a warm day. The weather can change very quickly in the mountains. Recommended insulated jacket.
Rain jacket: Always good to have as a "just-in-case" item. Recommended rain jacket.
Swimsuit + towel: If you plan to go swimming in any lakes or rivers.
Casual clothes: Pack some nicer outfits if you plan to eat out at restaurants. This is of course optional though.
Navigation: When driving, have Google Maps or Maps.Me handy. The national parks will also give you park maps when you enter. For hiking, carry a physical map and a compass, and/or a GPS app on your phone such as AllTrails, Gaia, and/or a GPS device like the Garmin InReach Mini (also an emergency beacon).
Emergency beacon: Optional, but can give you and your loved ones some peace of mind when hiking or traveling without phone service. Recommended emergency beacon.
Headlamp + batteries: For hiking in the dark or in emergency roadside situations. Recommended headlamp.
Drink bottle: Pack a reusable water bottle and you could also consider using a water bladder inside your backpack when hiking. Avoid single-use plastics when possible.
Sunscreen: Self-explanatory, but very important.
Sunglasses: Polarized sunglasses are best for eye protection. Recommended higher end and budget-friendly sunglasses options.
Mosquito repellent: You can also opt to pack a bug head net if you hear reports of increased bugs in the area.
First aid items: Always carry a small first aid kit with essential items like blister plasters and emergency supplies. Recommended first aid kit.
Phone + driver's license/ID: Always best to keep these on you.
Camera + batteries: Optional but trust me, you will want a camera to capture these beautiful parks!
Snacks: Every road trip requires snacks! Bring whatever your favorite snacks are or factor in time to stop at a local grocery store.
Reusable coffee mug: If you enjoy drinking coffee or tea then it's best to bring along a reusable mug and avoid single-use plastics.
Reusable utensils: Similar to above, having your own travel utensils is a great way to cut down on single-use plastics when ordering take-out food.
National Parks Pass: If you have one already, make sure to pack it! If not you can buy one when you arrive at the park.
Road trip playlist: Don't forget to download some good tunes for your road trip. Check out my Spotify Road Trip Vibes playlist.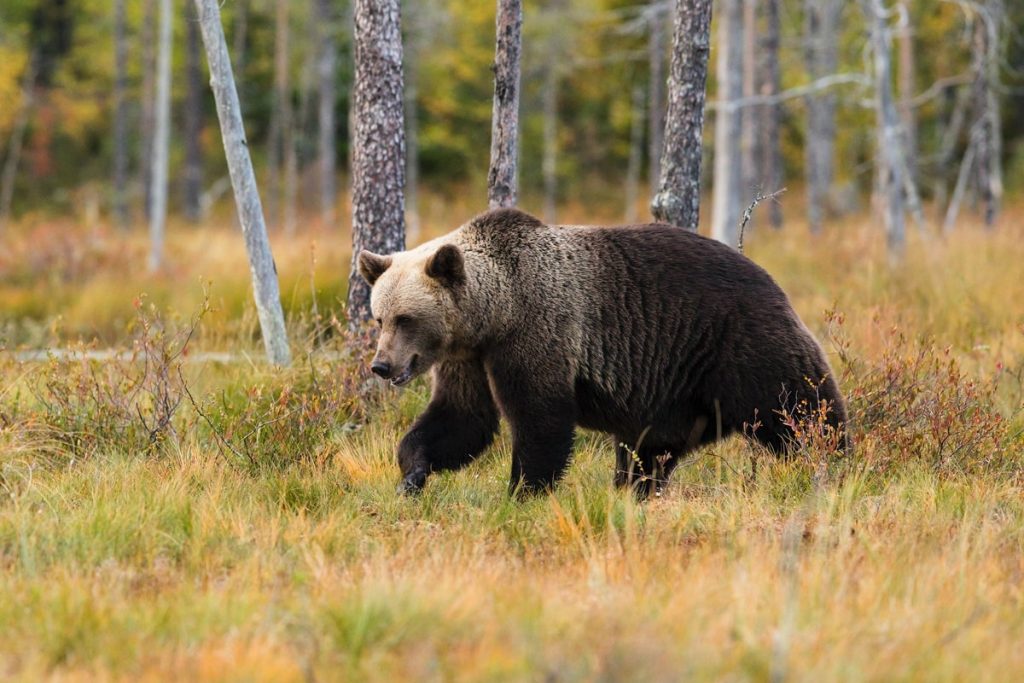 Safety Tips for Your Yellowstone and Grand Teton Road Trip
Yellowstone and Grand Teton National Parks host some of the most breathtaking, but also some of the most dangerous natural sights on the planet. As such, it is vital to follow the National Park Service's rules when visiting the park.
Stay on Trail
Firstly, never stray from the path. Yellowstone's geothermal activity spreads all throughout the park, and falling through what looks to be safe ground into a boiling hot spring is not a nice way to go. Many people have died or become disfigured as a result of this, so for the safety of yourself and the protection of these areas, stick to the trail.
Keep Your Distance From Wildlife
Secondly, give wildlife space. They are called WILDlife for a reason, and these animals are unpredictable. They may look cute, but if you get too close and they feel threatened, they may threaten your life in retaliation. The national park recommendations are to keep a distance of 100 yards (90m) from bears and wolves, and 25 yards (23m) from bison and other animals. If you get too close and an animal attacks, not only are you in trouble, but the animal is likely to be destroyed in response. Give them space.
Black Bear and Grizzly Bear Safety
It is important to note that Yellowstone is home to some large predators, including grizzly bears. You shouldn't need to worry too much in busy geyser basin areas and overlooks, but if you are planning on hiking less busy trails it is recommended you hike in groups of three or more, and carry bear spray with you at all times. Grizzlies should not be feared, but you do need to take extra caution when hiking through a region like this with such a high population of them. Check out our bear safety blog post for more in-depth information.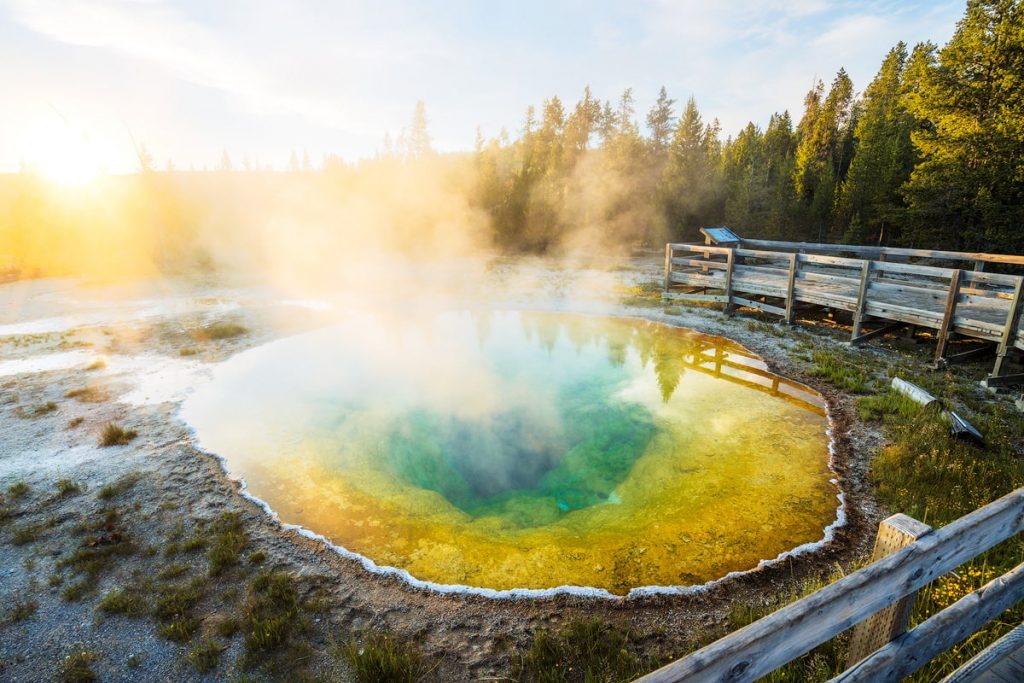 5 Day Yellowstone and Grand Teton Itinerary
There are a few ways in which you can do this Yellowstone to Grand Teton road trip, but my suggestion is to start by flying into Bozeman (MT). I will be beginning the itinerary there, but alternatively, you can fly into Jackson (WY) or Salt Lake City (UT) and reverse this itinerary.
This itinerary includes my must-see locations for those taking a Yellowstone to Grand Teton road trip. I am sharing details about each location, as well as the most logical way to get between them and how long to spend at each place.
For most people, I would recommend you complete this itinerary in 5 days. With that being said, the minimum amount of time to complete this itinerary would be 3 days. But this would definitely involve some rushing from one location to the next. If you have longer, 7 days would be a nice amount of time to take it slow really dig into each stop along the way. In fact, spending longer in the national parks is always the better option if you have the means.
I also have individual guides to each national park, if you want additional information:
Please follow responsible travel guidelines and Leave No Trace principles when out and about. If you're planning to hit the trails, it's also a good idea to brush up on hiking trail etiquette.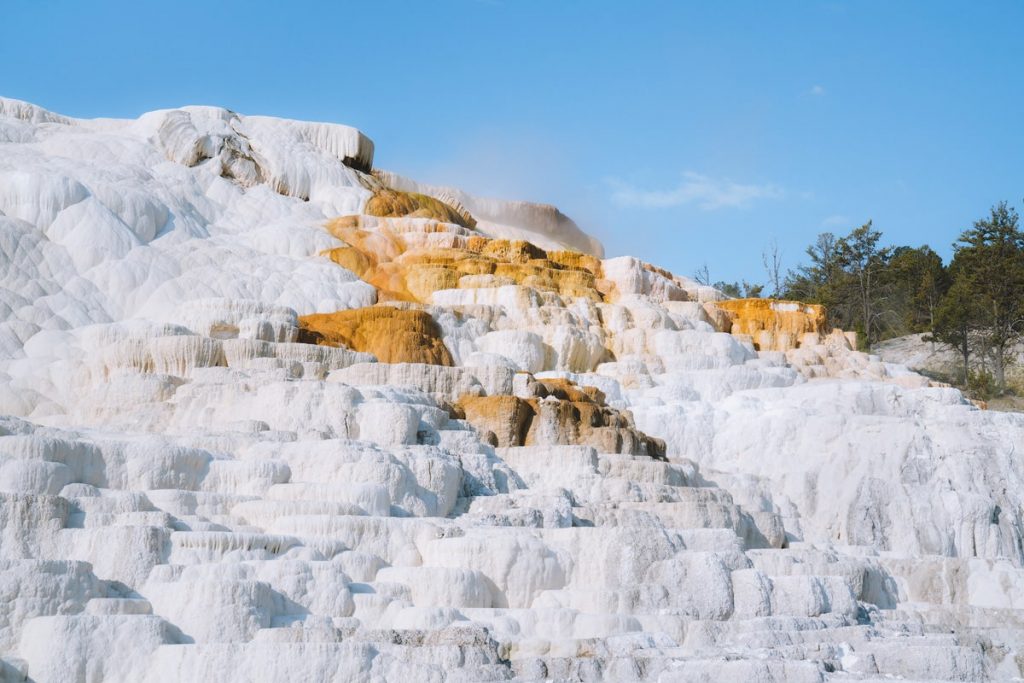 Stop 1: Mammoth Hot Springs
Drive 1.5 hours south from Bozeman and enter Yellowstone National Park through the north entrance, making your first stop at Mammoth Hot Springs. Here you will find food, accommodation options, gas, as well as the famous Mammoth Hot Springs themselves. While here, I recommend checking out the Lower Terraces and Upper Terraces loop trail. The whole loop is around 3.5 miles, but you can go as far as you like and turn around. The Lower Terrace Loop Trail is short and a good one for those on a time crunch. Mammoth Hot Springs is one of the featured stops on this 4-day guided tour of Yellowstone and Grand Teton National Parks.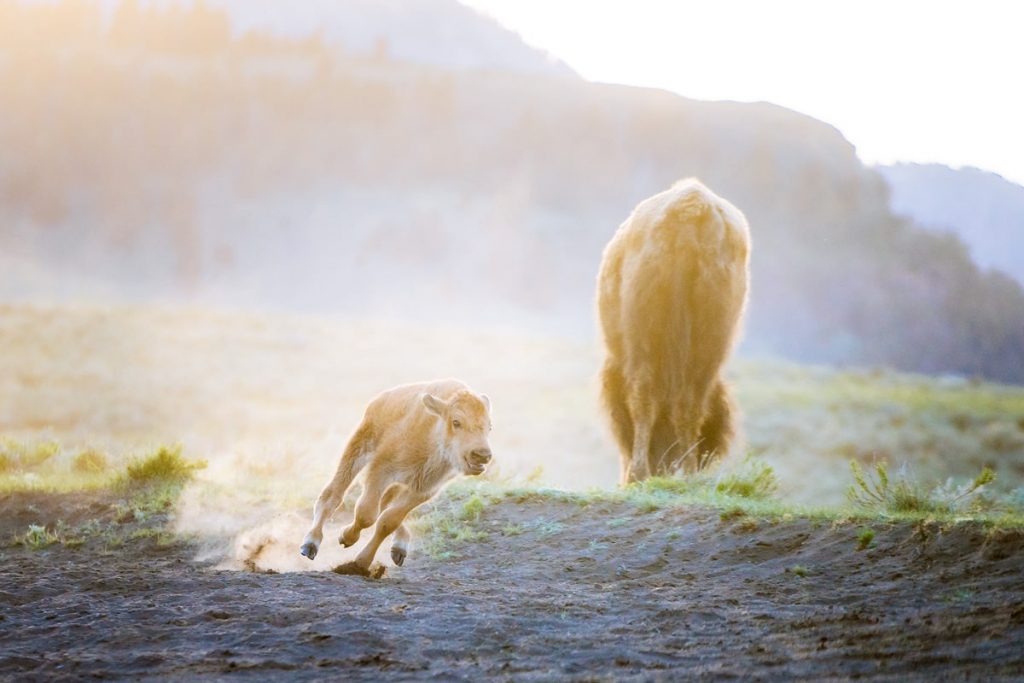 Stop 2: Lamar Valley
Next up, drive roughly an hour east towards the Lamar Valley. Along the way, you might want to stop if you spot wildlife, or just pull over to enjoy the beautiful panoramic views of the area.
The Lamar Valley is in my opinion the best wildlife viewing area in the whole park. Here you will no doubt spot plenty of bison, but may also be lucky enough to see a bear, wolves, pronghorn, coyotes, bald eagles, and more! I recommend bringing some good binoculars or a spotting scope, as animals like wolves and bears like to keep their distance from people. Before you go, make sure to read my blog, Must-Know Bear Safety for Hiking and Camping. There are some great guided hikes in Lamar Valley like this one (bonus – it includes lunch for you!)
If you happen to be there around dinner or lunchtime, continue 30 minutes east to Cookie City (MT). The views along this part of the park are fantastic, and Cooke City is home to Miners Saloon which has delicious pizza.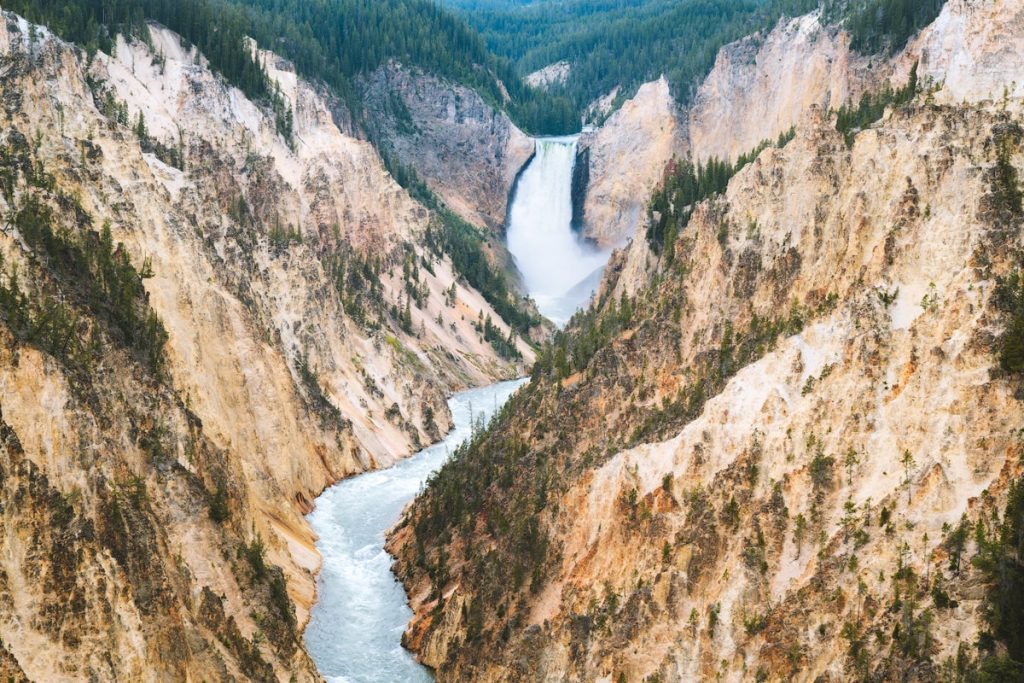 Stop 3: Grand Canyon of the Yellowstone
Around an hour south of the Lamar Valley is the Grand Canyon of the Yellowstone. This is one of the most dramatic scenes in the park, with its main feature being "Lower Falls" seen from Artist Point. This is the tallest waterfall in the park and drops 308 feet down into the canyon below. There are a few other viewing points for the canyon also worth checking out and they are spread out across the North Rim and South Rim. These include Inspiration Point, Grand View, and Upper Falls View.
While in this area, you can choose to stop at the nearby Canyon Village for lodging and dining options. You can also check out the guided tour options in this part of the park. The Grand Canyon of the Yellowstone is included on this West Yellowstone guided tour, along with other must-see Yellowstone highlights.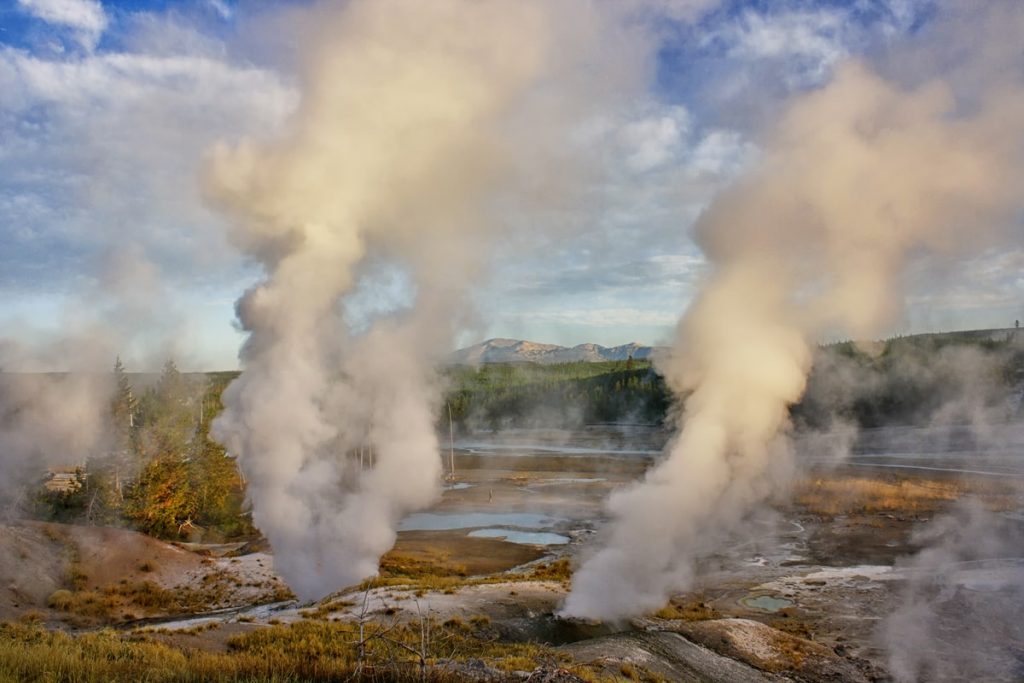 Stop 4: Norris Geyser Basin
Continuing 20 minutes west you will hit Norris Geyser Basin, one of the park's most popular geyser basins. This particular basin is home to Yellowstone's oldest, hottest, and most dynamic geothermal features. It is also home to the world's tallest, currently active geyser named Steamboat Geyser.
There are two areas to explore here, Porcelain Basin (1 mile roundtrip) and Back Basin (1.75 miles roundtrip). Both are definitely worth checking out, but I suggest arriving and following the trail that grabs your attention. You can always do the other one afterwards if you've got the energy.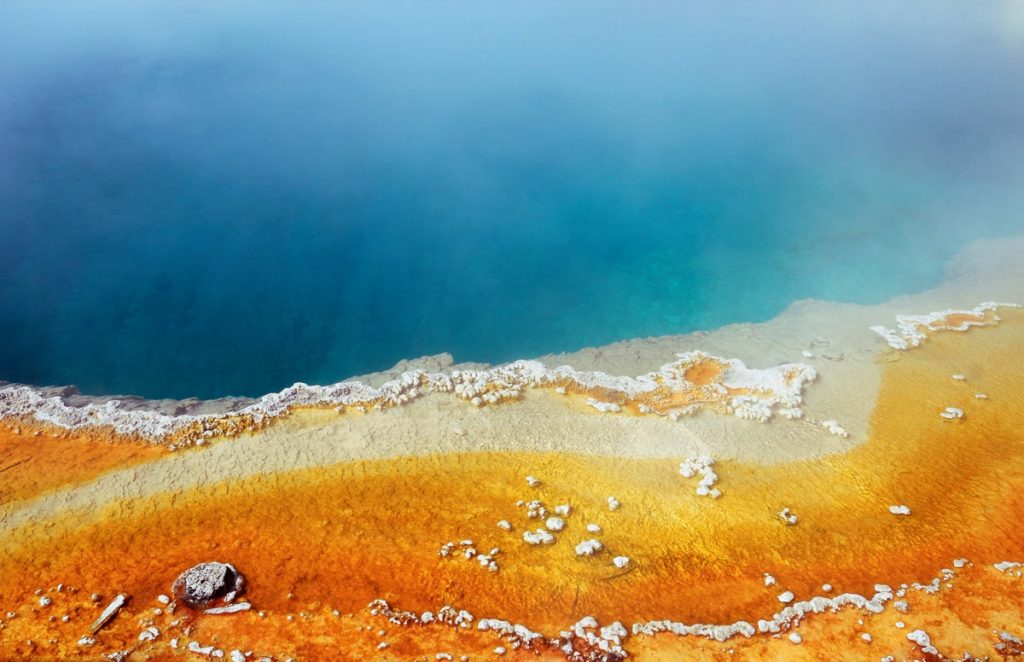 Stop 5: Lower Geyser Basin
Head 35 minutes south to Lower Geyser Basin where you will find the beautiful Fountain Paint Pots Trail. This is a short, 0.5-mile roundtrip loop to see some really cool thermal features. Lower Geyser Basin is one of the highlights on this Full Day Yellowstone Tour. If you only had time for one day, this is the tour I'd recommend!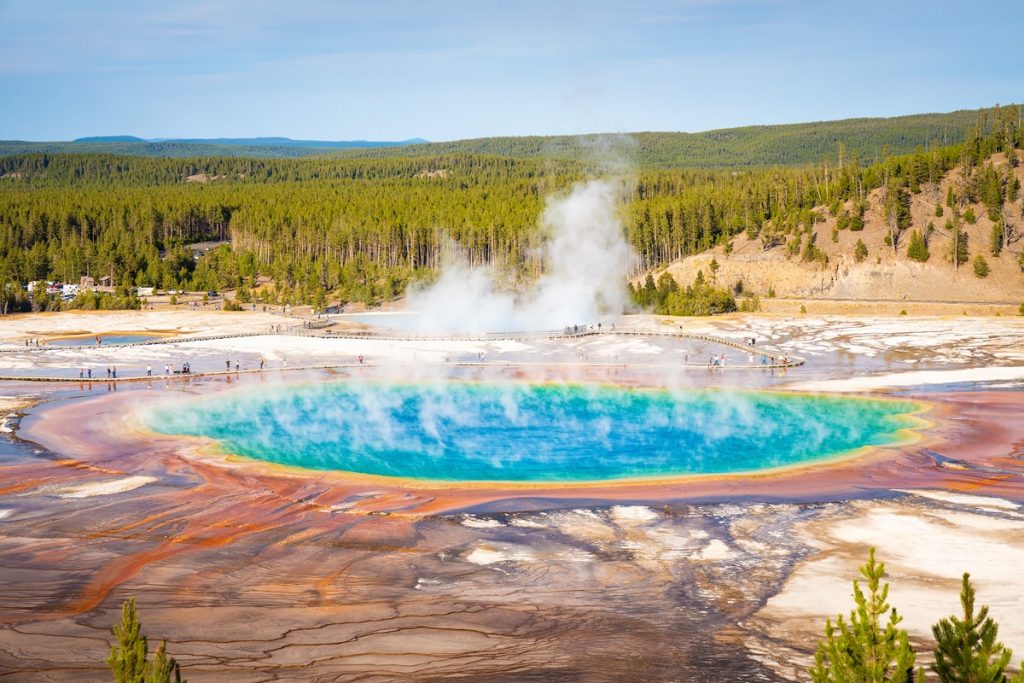 Stop 6: Midway Geyser Basin & Grand Prismatic
Continue 5 minutes south to Midway Geyser Basin, home to the famous Grand Prismatic Spring. This can get very busy, so be prepared to potentially have to wait for a parking spot, but it's worth the wait. Here you will take a short boardwalk from the parking lot to see the amazing Grand Prismatic Spring and a couple of other springs nearby.
If you also want to see the popular postcard view of Grand Prismatic Spring from above, you will need to continue a few minutes south and park at the Fairy Falls Trailhead. From here, you will take the newly built trail up to Grand Prismatic Spring Overlook. It's a relatively short, 1.6-mile round-trip hike to the overlook with a little bit of a climb, so make sure to have some comfortable shoes on.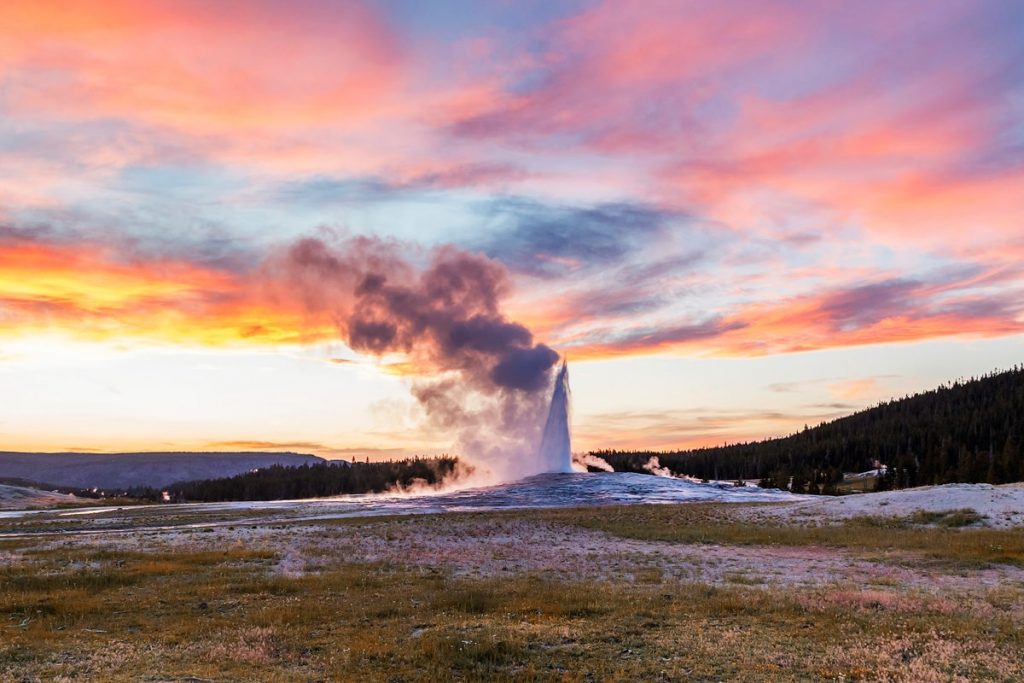 Stop 7: Upper Geyser Basin & Old Faithful
Continuing this epic journey south for another 15 minutes, your next stop is Upper Geyser Basin. No trip to Yellowstone is complete without a stop at this popular area of the park. Here you will find Old Faithful Geyser and Old Faithful Inn, Morning Glory Pool, Old Faithful Visitor Center, as well as many other incredible geothermal features.
Upon arrival, I recommend checking out the visitor center. It has a museum-style display with lots of information about the park, and also boards that list a rough time that all of the popular nearby geysers will erupt next. If you have a little time, you might want to grab a bite to eat at Old Faithful Lodge or Old Faithful Inn and then wait on the benches around Old Faithful for the next eruption. Eruptions occur once every hour or so, and shoot up to 180 feet in the air which is always pretty incredible to witness!

I also highly recommend doing the 3-mile loop hike of Upper Geyser Basin that leaves from the Old Faithful Geyser. This will take you past a bunch of geothermal hot springs and geysers that will blow you away (pun not intended)! My personal favorites are Castle Geyser, Morning Glory Pool, and Riverside Geyser. Eruption times for the geysers will be listed at the visitor center, so check that out if you'd like to catch the eruptions. You can join this Upper Geyser Basin guided hike to learn from a local guide while you explore the geysers and look for wildlife.
Note: This is a good area for food, lodging, and gas, so factor that into your travel plans.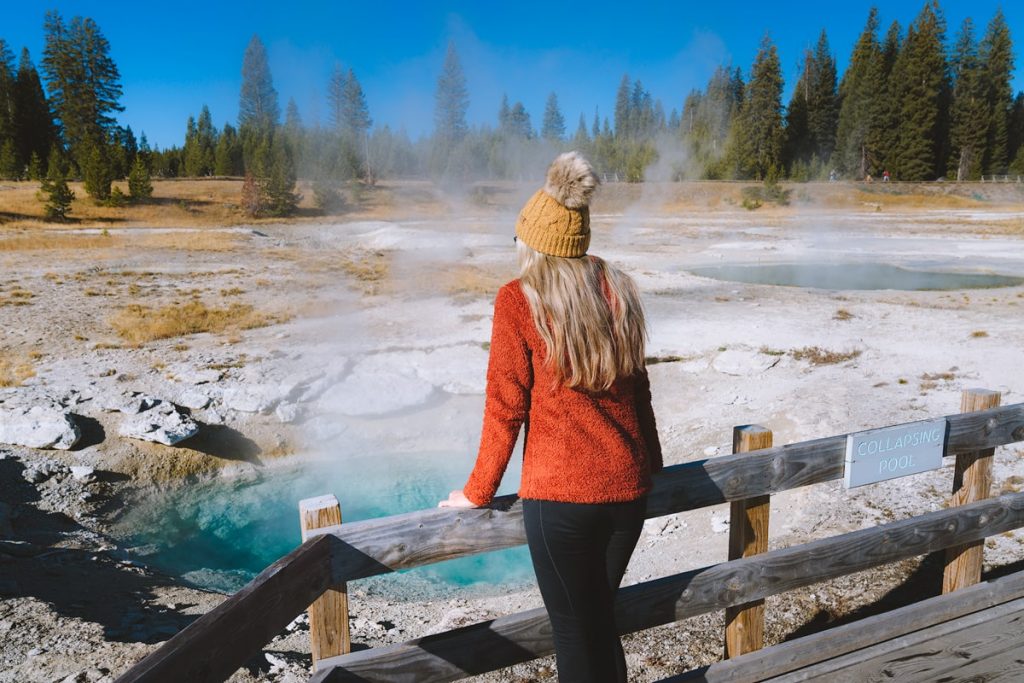 Stop 8: West Thumb Geyser Basin
Your last major stop in Yellowstone National park will be West Thumb Geyser Basin, 30 minutes southeast of Old Faithful. Here you can take the 1 mil West Thumb Geyser Basin Trail to see some more really interesting geothermal features, but this time you're going to have the gorgeous Yellowstone Lake as a backdrop! For something a little different, consider hopping on the water in a sea kayak excursion. This is such a fun and unique way to explore Yellowstone Lake away from the crowds on shore.
From here, you can choose to take a 40-minute detour north to check out Hayden Valley, a popular wildlife spotting area. It's quite similar to Lamar Valley in that you will see lots of bison, but may also be lucky enough to spot wolves, bears, elk, and more. I prefer the Lamar Valley personally, so if you think you got your wildlife fix then you can probably skip this. It is still a really beautiful area and worth checking out if you have the time and don't mind adding 1.5 hours round-trip of driving to your itinerary.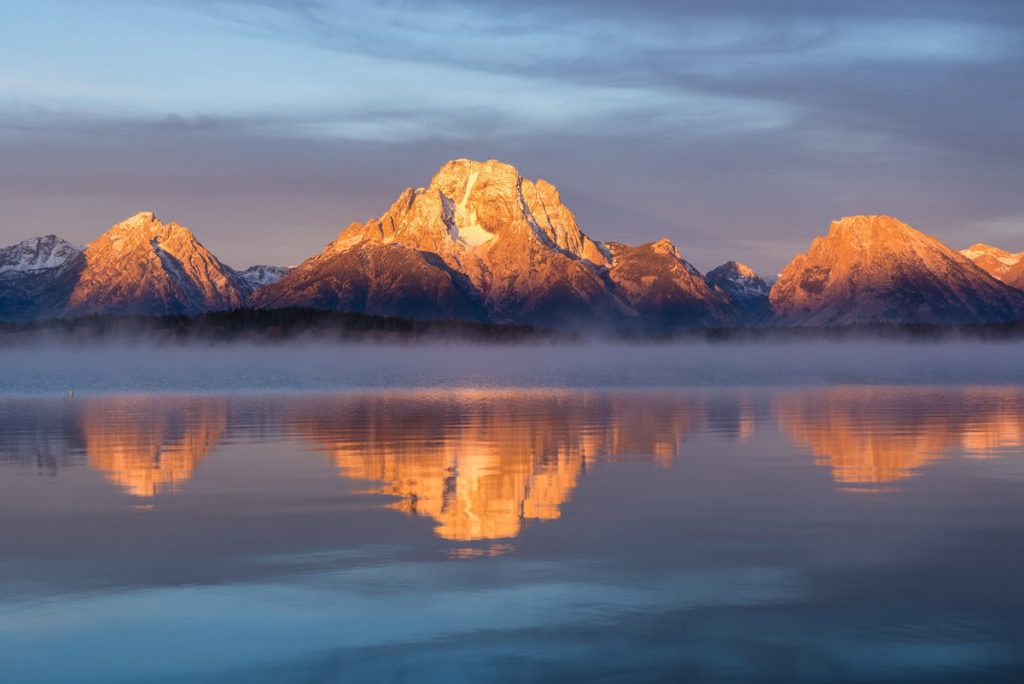 Stop 9: Jackson Lake Overlook
After a 45 minute drive from West Thumb, you've made it to Grand Teton National Park, welcome! Jackson Lake Overlook is an easy-to-get-to roadside overlook and the perfect rocky mountain vista to introduce you to the park. With epic views across Jackson Lake to Grand Teton and accompanying peaks, this is definitely worth a photo stop! Much like Yellowstone, there are lots of tours and excursions in Grand Teton to help your plan your trip. This half-day guided tour is a nice way to see the highlights of the park.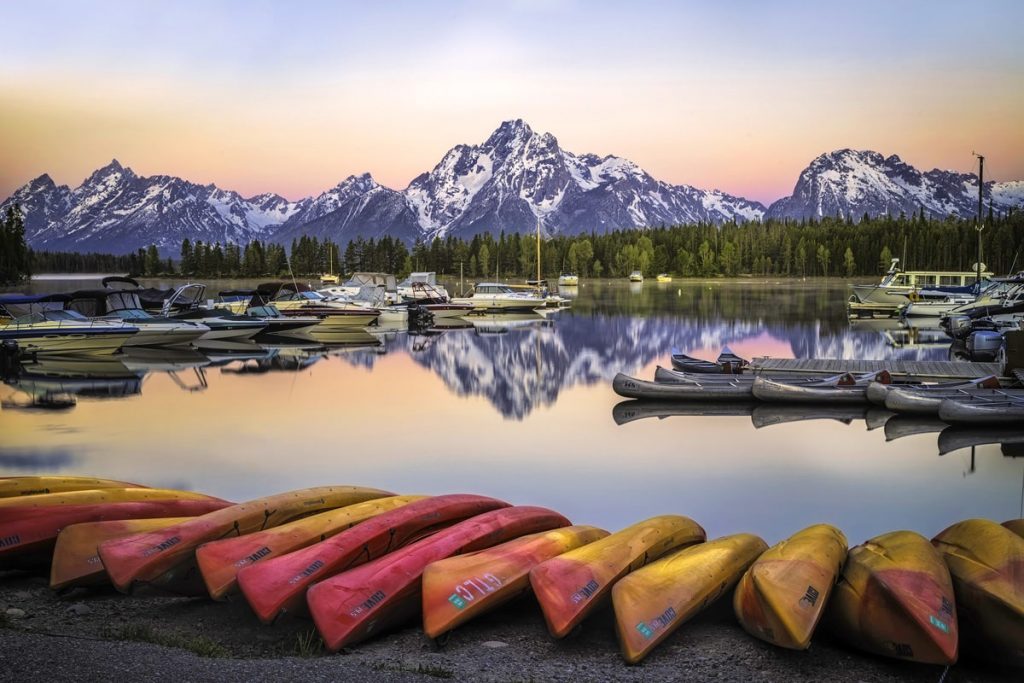 Stop 10: Colter Bay Village
Next up on your Yellowstone to Grand Teton, head 10 minutes south of Jackson Lake Overlook to Colter Bay Village. This is an optional stop for food, gas, or lodging. Here you will find a visitor center, campground, restrooms, pizzeria, restaurant, and convenience store. While in this area you could also consider visiting Jackson Lake Lodge.
Lakeshore Trail leaves from the Lakeshore Trailhead just north of the visitor center and is a great hike to stretch your legs. It's a flat, 2-mile walk that will take you through the forest and to a peaceful part of the lakeshore for some epic views.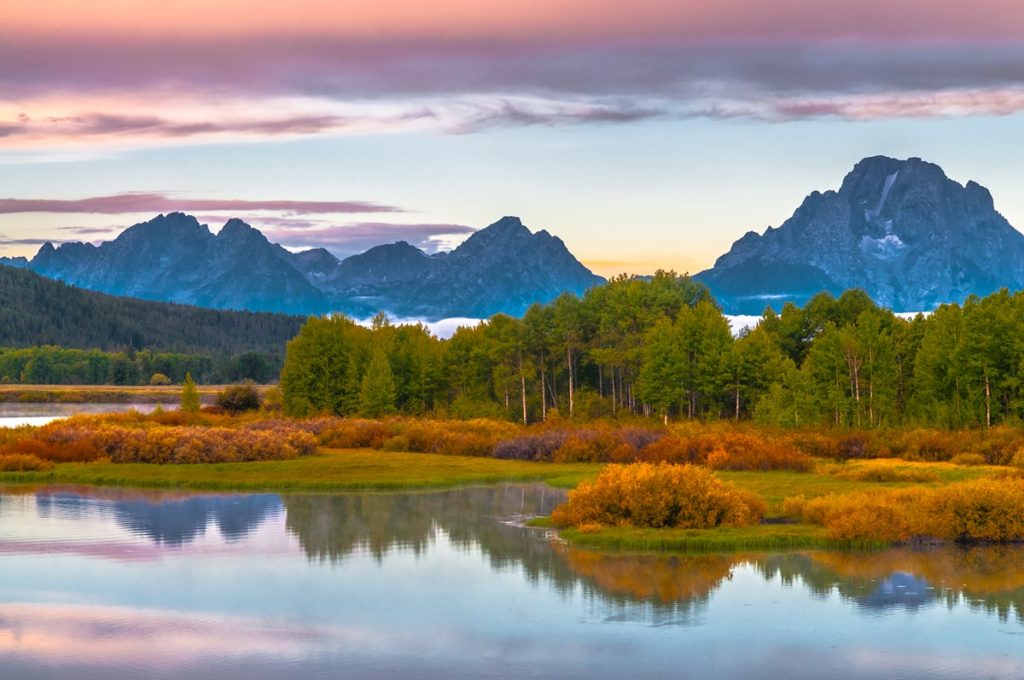 Stop 11: Oxbow Bend
From Colter Bay, continue south-east for 15 minutes to one of the most picturesque roadside views in Grand Teton National Park, Oxbow Bend. Here the Snake River leads towards the dramatic Mount Moran and surrounding peaks, making for some truly epic photos. Sunrise is the most popular time to photograph this spot, but you can still get some nice shots at any time throughout the day if you don't want to rise so early.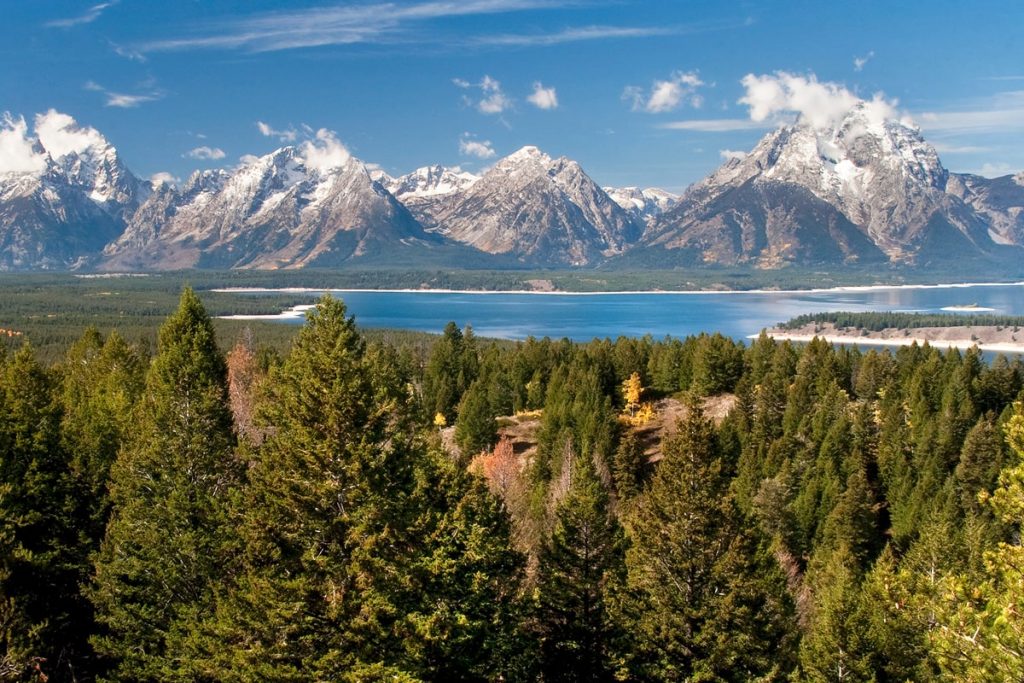 Stop 12: Signal Mountain
Next, head down Teton Park Road to the top of Signal Mountain. Here you get gorgeous 360-degree views of Jackson Hole and beyond. Make sure to take the short little stroll to Jackson Lake Overlook while you are up there. Keep in mind that this is a different overlook of Jackson lake to the one mentioned previously. I've been lucky enough to spot black bears along this road, so keep your eyes peeled!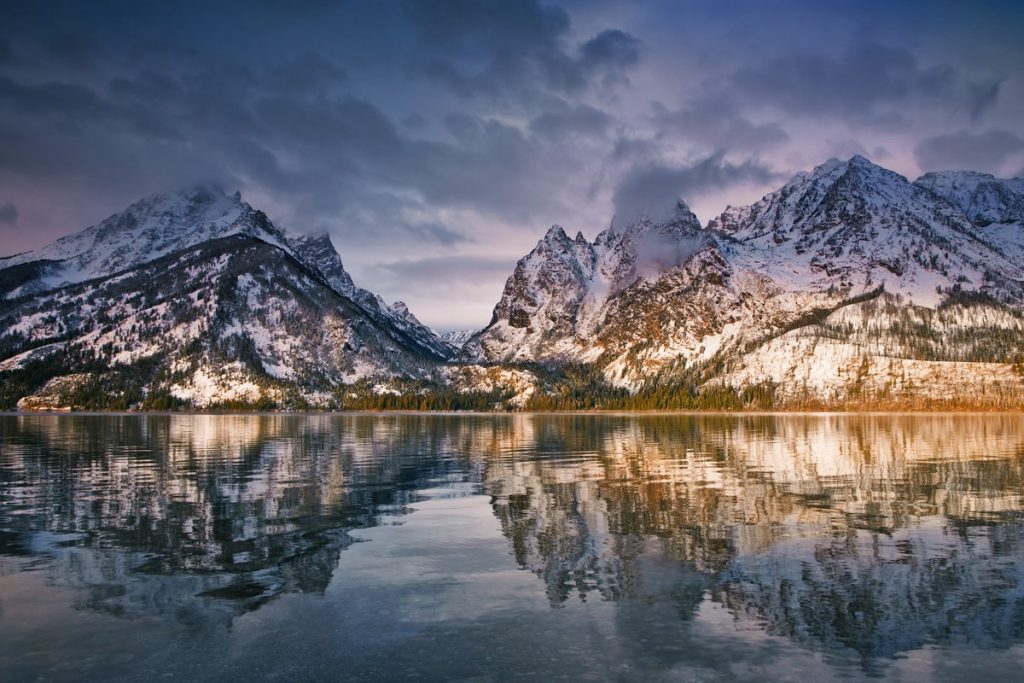 Stop 13: Jenny Lake
Onwards 30 minutes south to one of the most popular areas in the park, Jenny Lake. This is what I think of as the "hub" of Grand Teton. Jenny Lake has a campground, water activity rentals, a visitor center, a general store, amazing hiking trails, and views that will take your breath away!
If you are there in spring, I recommend hiking to Inspiration Point and Hidden Falls. This is a great spring activity as it's likely to be snow-free and provide you with some really beautiful panoramic views of Jackson Hole. The total hike is 2 miles round-trip if you take the boat shuttle across Jenny Lake, or you can add an additional 5 miles if you intend to hike from the parking lot.
If you're there in summer and the snow has melte, there are even more hiking options available from Jenny Lake. In fact, some of my favorite hikes in the country leave from here! Definitely look into Cascade Canyon and Paintbrush Canyon. You can loop them together to make a massive 20-mile day with 4500 feet of elevation, but make sure you have some strong hiking fitness before attempting this.
Another favorite summer activity is to rent a canoe from the boat dock and explore Jenny Lake from the water. It's pretty hard to beat a summer day on the lake, surrounded by some of the most amazing views in the country! If a guided excursion is more your speed, I recommend this day tour which includes a boat ride on Jenny Lake.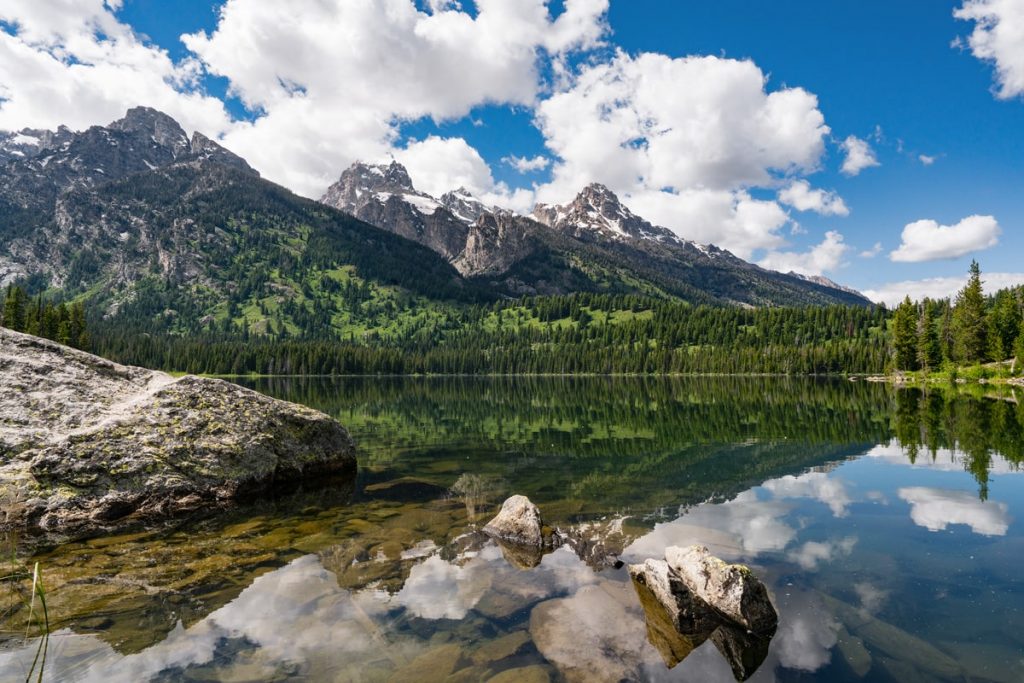 Stop 14: Bradley and Taggart Lakes
If you're still itching for adventure, continue 10 minutes south to Taggart Lake Trailhead. This beautiful 5.5-mile loop hike to both Bradley and Taggart Lakes makes a fantastic spring adventure. Best from May onwards, this hike provides some absolutely stunning views of Grand Teton and allows you to relax at both Bradley and Taggart Lakes along the way. I highly recommend bringing along a picnic lunch, it's a great spot for it! This is definitely one of my favorite things to do during spring in the park when the snow hasn't melted from higher up yet, but it can be very busy in summer.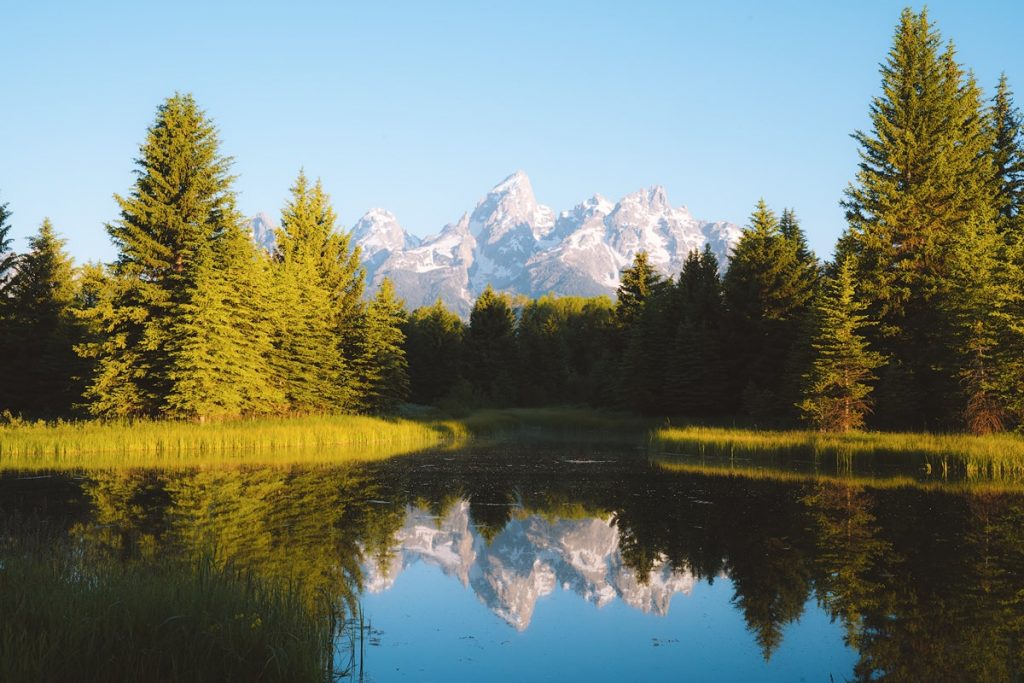 Stop 15: Grand Teton Roadside Viewpoints
Head another 10 minutes south down Teton Park Road and make a stop at the Craig Thomas Discovery and Visitor Center. This is the main visitor center in the park and provides lots of useful information, souvenirs, restrooms, and snacks. I've also spotted moose in this area multiple times, so keep your eyes peeled.
Continue east to the end of Teton Park Road and turn north up Highway 26/89/121. I know, the naming is kind of confusing, but all I know is Google maps lists this part of the highway as having 3 different names, so for accuracy's sake, I'll stick with that. In addition, there are multiple amazing roadside stops along this stretch of highway that you won't want to miss. Then as you continue north the perspective of the mountains changes dramatically. It's definitely worth heading as far north as Snake River Overlook before turning back south and heading to Jackson for a well-deserved rest and bite to eat. Some of the must-see stops along the highway (or just off of it) include:
Blacktail Ponds Overlook
Mormon Row Historic District
Schwabacher Landing
Snake River Overlook
This is the end of your Yellowstone to Grand Teton itinerary! I suggest flying out of Jackson or continuing on to your next destination if you're on a multi-state road trip.
Map of Yellowstone and Grand Teton Itinerary
Below you will find a map of all the Yellowstone to Grand Teton road trip stops mentioned in this guide, as well as some nearby places to explore. You can learn how to create a map like this for your next road trip in my guide about how to plan a national parks trip!
More ways to Explore Yellowstone and Grand Teton
If planning out all the stops on your next adventure sounds more stressful than exciting, there's still lots of ways for you to adventure! Using tour guides to help plan out your days can make sure you get the most out of your time in these spectacular places while not having to worry about driving or planning. Get Your Guide is an amazing resource to plan everything from a guided hike or wildlife adventure to a full on multi-day adventure, all without having to do any of the planning yourself!
Want the perks of a guided tour without having to travel in a group? Check out this Self Driving Audio Guided Tour – you'll get all the expert local knowledge from the comfort of your own car where you can explore at your own pace. There is truly something for everyone!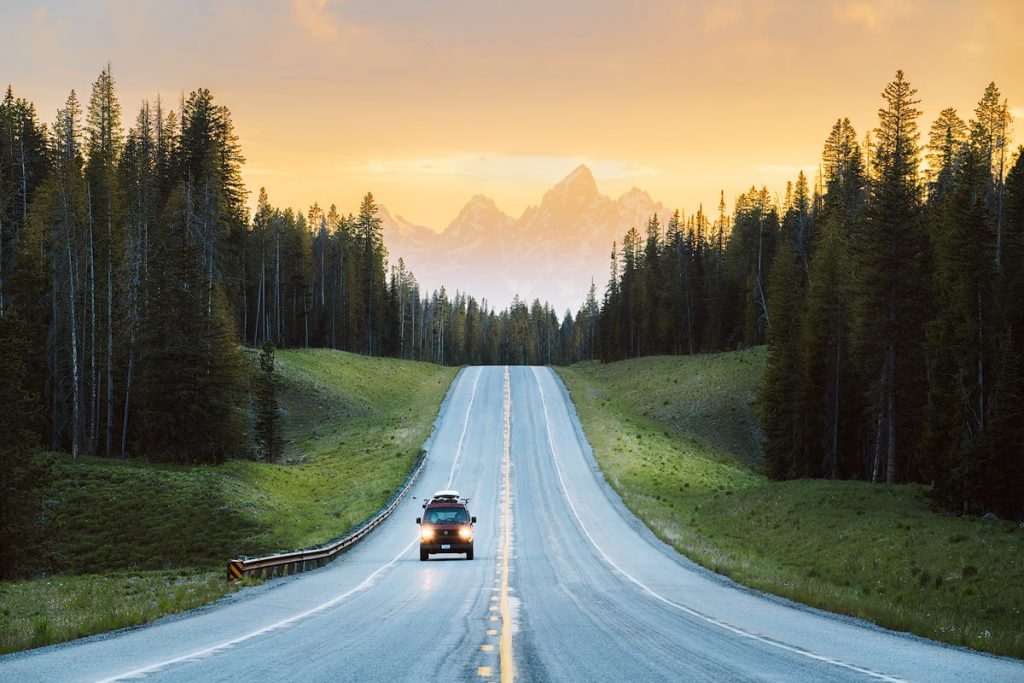 Other Places To Explore from Grand Teton and Yellowstone
Yellowstone and Grand Teton National Park are quite remote, but they have a lot of really great things to see nearby. Some that are within driving distance and worth checking out if you have extra time for your trip:
Togwatee Pass – Short detour from northern parts of Grand Teton, beautiful mountain views.
Jackson – Great lodging and dining options. Beautiful town any time of the year.
A further drive, but if you have the time it's worth the trip:
Bighorn Mountains – Amazing drive and stunning mountain views.
Devil's Tower – Really unique feature in north-eastern Wyoming.
Beartooth Pass – One of the highest elevation highways in the country with more stunning mountain views.
Final Thoughts On Taking a Yellowstone and Grand Teton Road Trip
I hope this blog post helped you to plan an epic Yellowstone to Grand Teton road trip! If you have a favorite overlook or hike that I didn't include in the blog post, please share it below in a comment. That way we can all learn from each other! Happy adventuring friends 🙂
---
PIN for planning later!