Getting outside hiking is not only wonderful for your physical and mental health, but it's a great way to explore nature. Like many people, hiking is something I turn to for exercise, socializing with friends and exploring this beautiful world we live in. There's definitely something special about relying on your own two feet to get you from A to B!
If you're new to hiking, this guide covers all the basics, including how to plan, prepare, and gear-up for your first hike. Already enjoy hiking? Well you may just find some new trail tips or gear inspiration!
Disclaimer: This blog post is in collaboration with Backcountry.com and features some affiliate links. This means I get a small commission if you make a purchase (at no extra cost to you). Use code RENEE15 to get 15% off your first Backcountry order (some exclusions apply). You can also learn more about my affiliate policy here. Thank you for the support!
Beginners Hiking Tip #1: Find a partner
It's totally possible to go hiking solo, but most beginners initially enjoy hiking with a partner for company and safety. I personally enjoy hiking with my husband and friends, but it's nice every now and again to go on a solo adventure.
There are numerous ways to find buddies to hike with. You can post on your personal social media pages (Facebook, Instagram, Twitter) to see if anyone you know also shares the same interest.
You could consider joining hiking related groups on Facebook. I am a member of some pacific northwest women's hiking Facebook groups such as Seattle Outdoor Women Meetups, Girls Who Hike WA, Mtn Chicks PNW, and Women Who Hike Washington. Plus some unisex groups like Washington Hikers & Climbers, and Hiking in the Pacific Northwest.
When I first moved to America I found numerous hiking partners via Meetup groups in my local area. I never had any bad experiences, but always use common sense when meeting up with strangers.
If you are planning on a solo hike, be sure to tell someone your plans before heading off and take a means of communication in case you run into any problems (more on this below).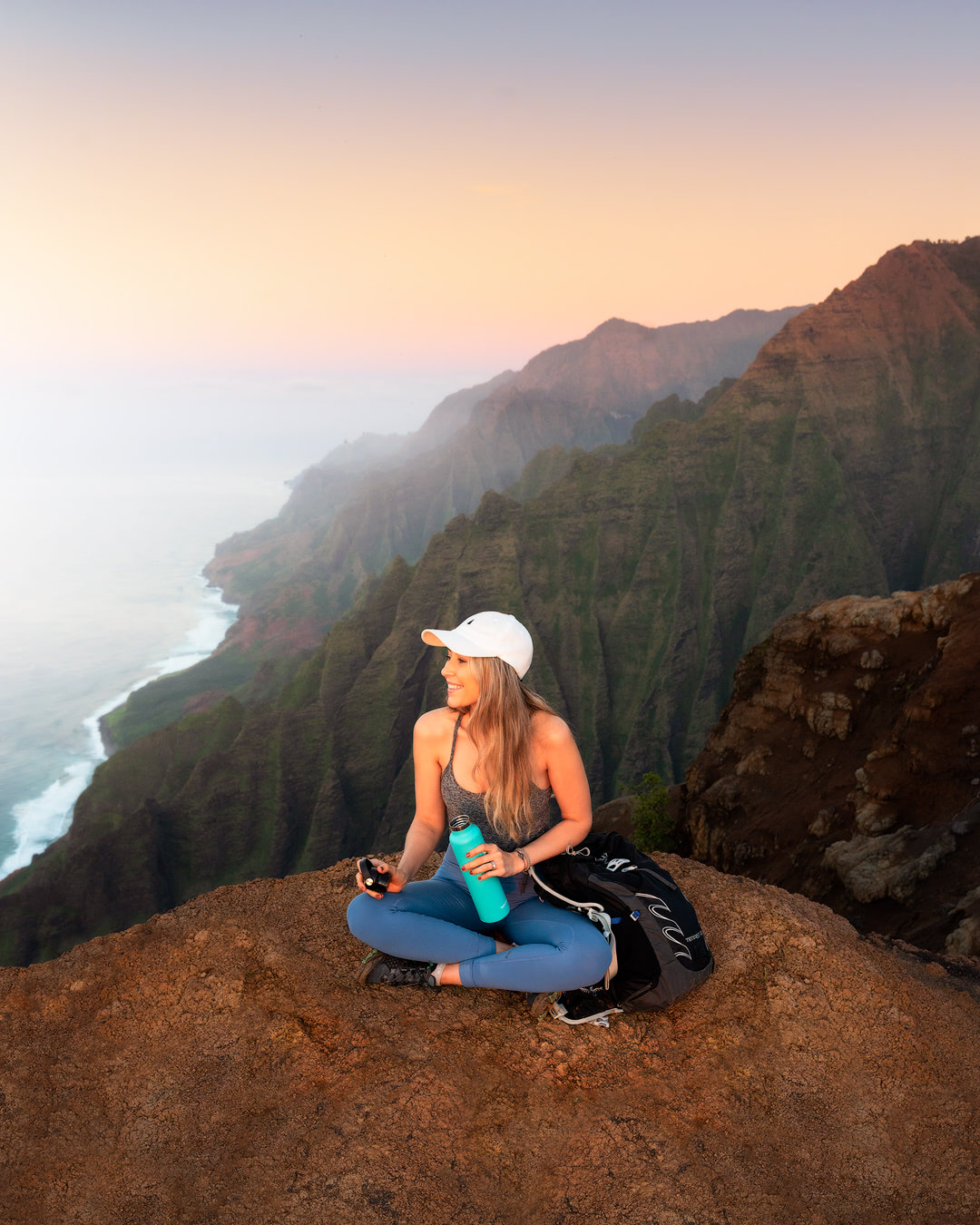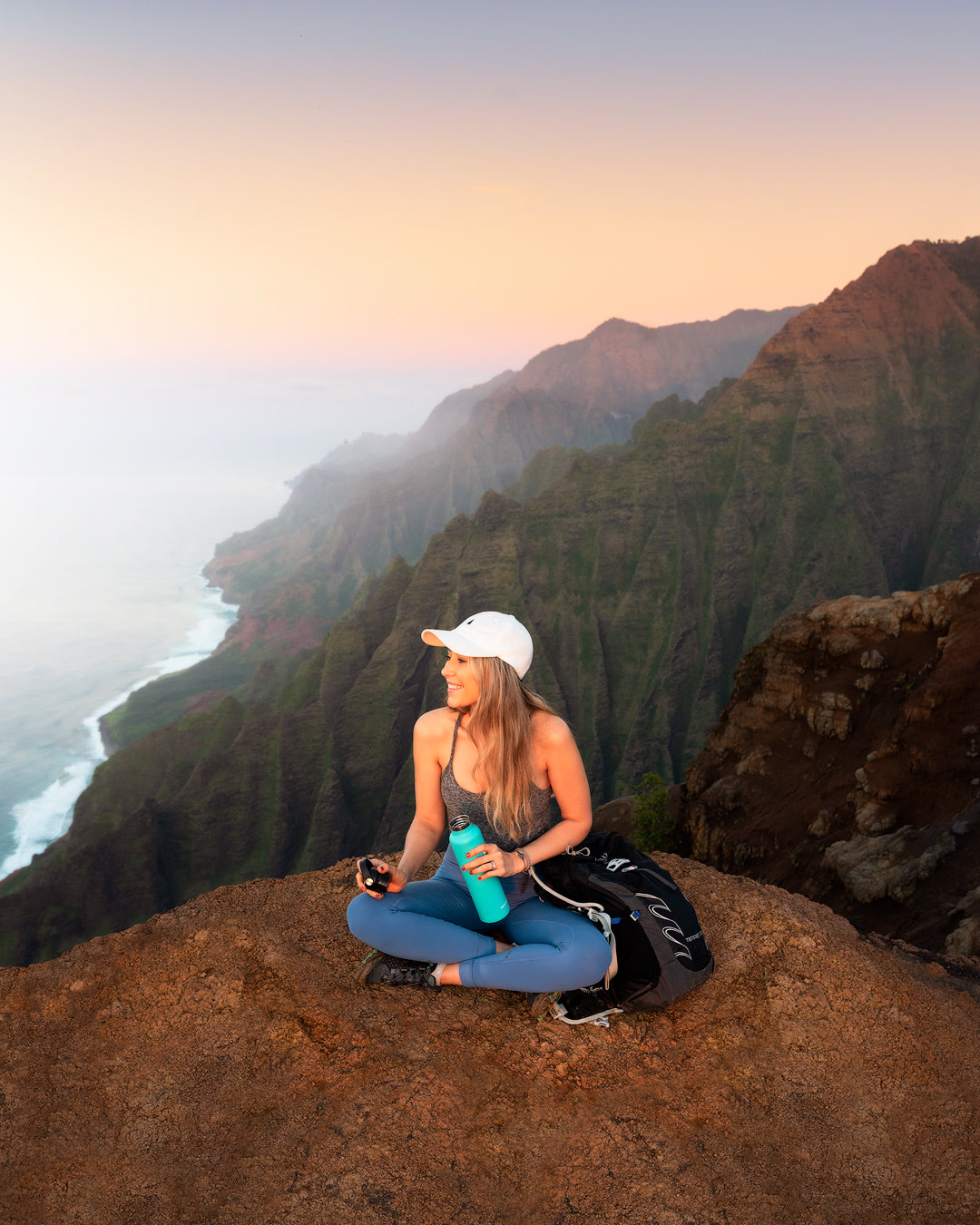 Beginners Hiking Tip #2: Plan it out
It's important to always know where you are going, how to get there, and how to get home safely. Here are those three pillars in more detail:
Decide on your hike
Websites such as The Outbound and All Trails are great resources for choosing hikes in your local area or planning a hiking trip further away. Be sure to factor in distance, elevation, conditions and your time when choosing a hike. Start with easier trails and advance to longer day-hikes (and even overnighters) when you are more experienced.
I would highly recommend using Washington Trails Association resources if you are PNW based!
Don't get lost!
Having basic navigation skills will really help you out on the trail. I personally love using apps such as Gaia GPS to ensure I know where I am going, but physical maps and a compass also do the trick (if you know how to properly use them)
Have a means to access help
It's important that you can flag down help if you do find yourself lost. Research whether you will have phone service on the hike, and if not I would consider taking a tracking/SOS device such as the Garmin InReach Explorer+ (spoken more about below).
RELATED: Leave No Trace: The Seven Principles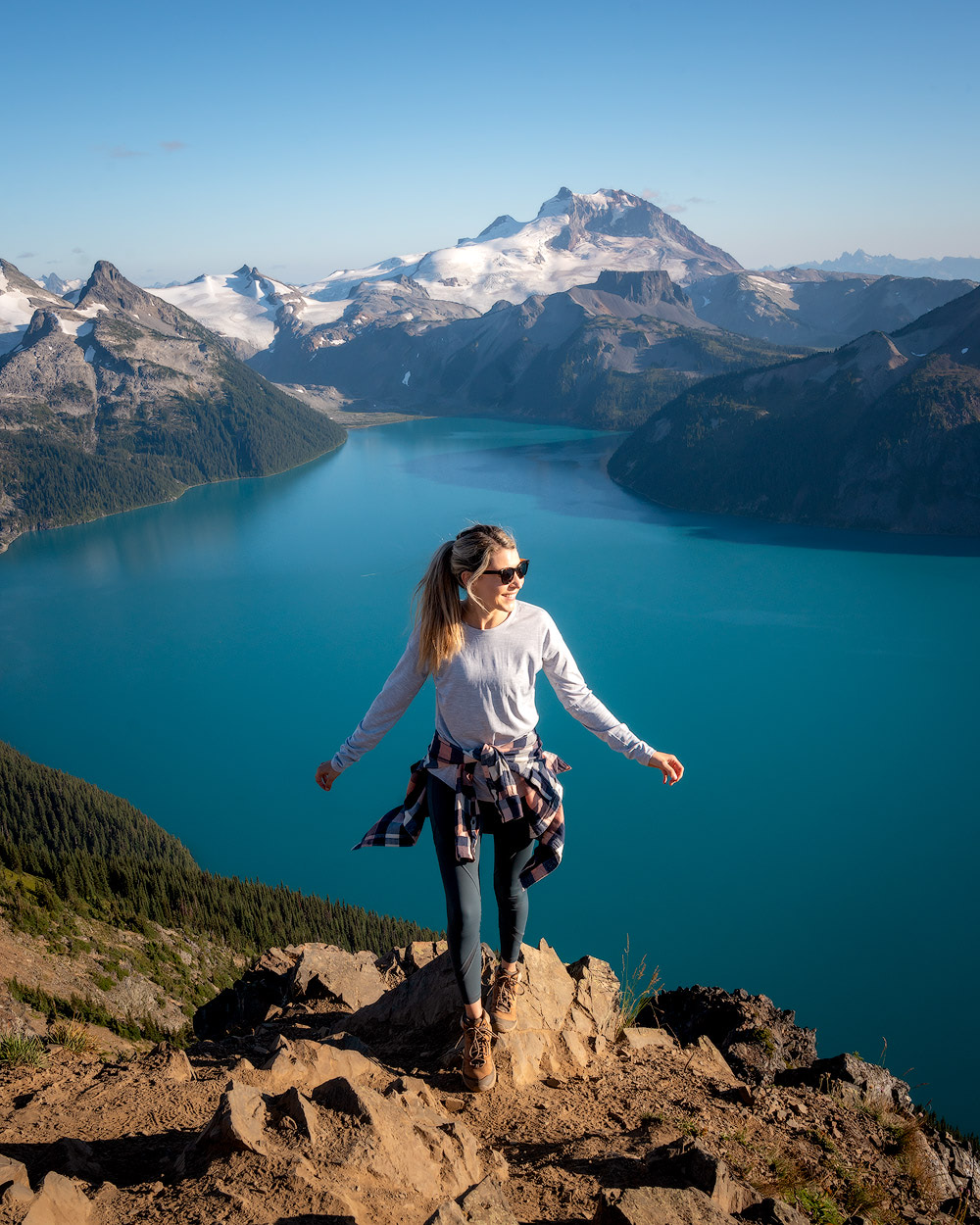 Beginners Hiking Tip #3: Gear up
Comfort is key. I've seen people hike in all sorts of get-ups and different things work for different people. The trick is to find what you feel comfortable exercising in, and making sure you are safe in the outdoors.
This blog post is in partnership with Backcountry.com, my go-to online retailer for all things adventure. They offer free 2-day shipping on orders over $50, easy returns, 24/7 advice from their amazing Gearheads, and they support incredible causes like The Nature Conservancy. Backcountry have kindly offered my readers 15% off first-time online orders using code RENEE15! (some exclusions apply)
You can also download my free hiking checklist via my resource library. It includes everything you should wear and pack hiking in a quick and easy format to check off when preparing for a hiking trip!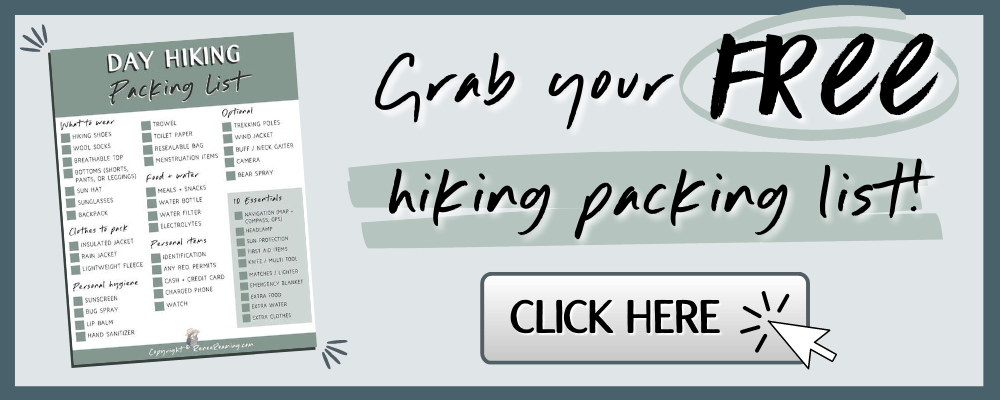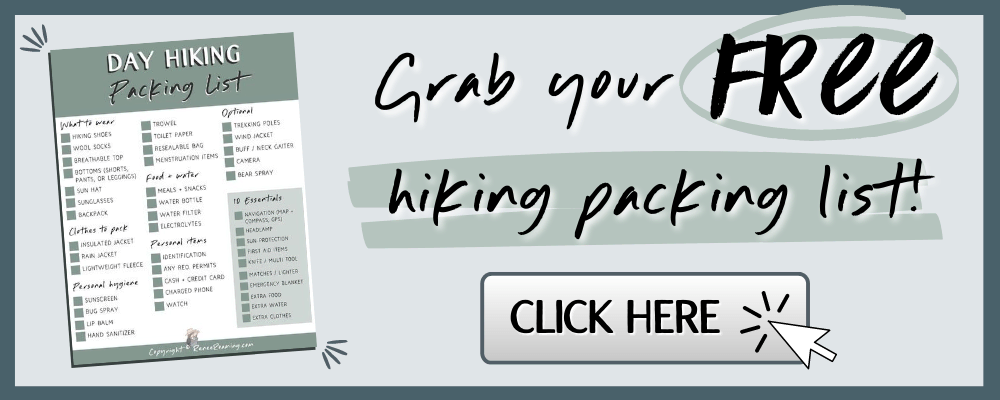 What to wear hiking
Hiking shoes
Hiking shoes are very person specific. Some people love wearing trail runners and others prefer boots. Some people prefer heavier waterproof boots and others prefer lighter options. When hiking I usually opt for a waterproof boot with ankle support, but something that isn't too heavy, like the Columbia Newton Ridge Plus Waterproof Amped Hiking Boot or the Salomon X Ultra Mid 3 GTX Hiking Boots. On dryer trails and in hotter climates I will often opt for the La Sportiva Bushido II Trail Running Shoe.
Check out my guide on the best hiking shoes for women and men
Hiking socks
Don't overlook the importance of having socks that fit correctly and are comfortable to wear for a long time. Over the years I have found that merino wool socks from Darn Tough, Smartwool, and Icebreaker are the most durable, least smelly and most comfortable for hiking.
Hiking bottoms
What you wear for bottoms is a personal preference. If you're a pant kind of person then I would suggest the Arc'teryx Gamma LT Softshell Pant or something similar. If you prefer leggings then I would suggest the Backcountry Active Leggings (with side pockets!) If you're more of a shorts person then you can't go past the Backcountry Olympus Lightweight Short. I personally prefer to keep my legs covered to protect from sunburn, tics, mosquitoes, and scratches. Another option is wearing convertible pants that you can easily switch to shorts, such as the Outdoor Research Ferrosi Convertible Pant.
Hiking shirt
For hiking shirts you can either go with short sleeve, long sleeve, or a tank options. For cooler hikes or those where I am worried about sunburn I will usually opt for longer sleeves and wear something like the Smartwool Merino 150 Long Sleeve Top. Otherwise you will usually find me in one of the Icebreaker Tech Lite SS Low Crewe Shirts. Natural fibers like merino wool are my go-to for hiking tops due to the odor-reducing properties and overall comfort.
Hat
I recommend you wear some kind of hat on the trail to protect you from the sun, especially during the warmer months. Some popular options are caps such as the Patagonia P-6 Label Trad Cap or wider hats such as the Patagonia Baggies Brimmer Hat. If you just want to keep hair out of your face then I would recommend a headband like the Prana Jacquard Headband.
Sunglasses
Having sunglasses makes hiking a LOT more enjoyable on a sunny day (or when it's overcast with a lot of glare). Plus, polarized sunglasses will cut the reflections and glare on those beautiful lakes you are looking at (bonus!) My go-to sunglasses brands are Sunski, SMITH and RAEN.
Trekking poles
Not everyone enjoys using trekking poles but I personally find them helpful for Washington hikes with considerable elevation gain, or if the terrain is unsteady. My go-to poles are the Black Diamond Alpine Carbon Trekking Poles as they are lightweight and comfortable to use. Some more affordable option are the LEKI Voyager Trekking Poles and the Black Diamond Trail Sport 2 Trekking Poles.
RELATED: A Beginners Guide Backcountry Camping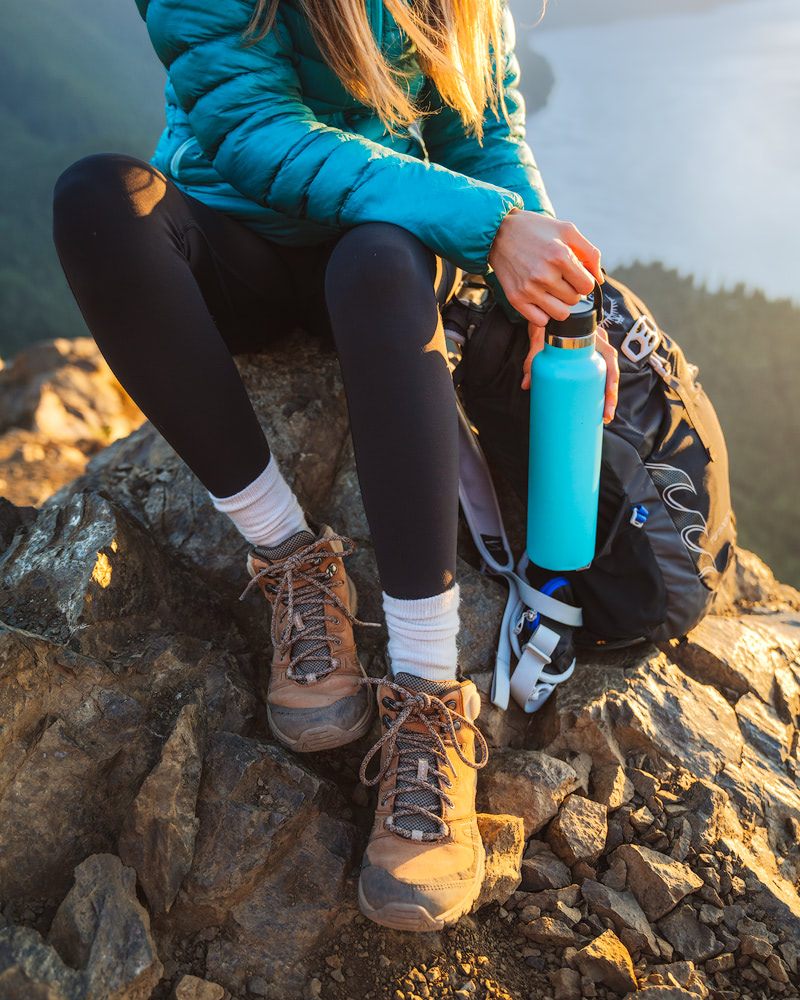 What to pack for hiking
Now that you're sorted on what to wear hiking, you probably want to know what to pack! Below I have listed some recommended items. In terms of what gear is absolutely essential for survival versus "nice to have", I would first make sure you have the 10 essentials: navigation, sun protection, insulation, headlamp, first aid supplies, fire starter, shelter, repair kit, food, and water.
For 15% off your first Backcountry.com order, use code RENEE15 *some exclusions apply*
Backpack
You could technically hike without a daypack, but it might be challenging to carry your drink bottle, layers snacks, etc. without a small space to store them. I would recommend you use a backpack that you already have at home or invest in one that is made for hiking. Key features include adjustable straps, waist belt/strap, check strap, and somewhere to easily access your water bottle or water bladder. I swear by my Osprey Tempest 20L Daypack (comes in 9L, 20L, 30L, 40L, and a 6L lumbar pack for trail runners). Another good option is the Patagonia Nine Trails 20L Backpack, or sometimes I opt to use my camera bag if it's a short hike (the Peak Design Everyday 30L Camera Backpack).
Warm layers
You will want to pack some sort of insulation layer for if it gets cold, even if it seems like a sunny day! The weather can change very fast in the mountains and even in some desert climates. A nice breathable mid layer I love is the Patagonia R1 Fleece and I will even hike in this on cooler days. Another one of my favorites is the Patagonia Better Sweater 1/4-Zip Fleece Jacket, but keep in mind that it is heavier and also warmer than the R1.
For an additional warmth layer I would suggest something like the Arc'teryx Atom LT Jacket or the Arc'teryx Cerium LT Down Jacket (an investment but SO worth it for such a feather-light warm jacket in my opinion). I pretty much take my Cerium LT everywhere I go. A more affordable option is the Patagonia Down Sweater.
Rain & wind protection
I pretty much never go on Washington hike without a rain jacket… you just never know when the weather will turn! You can make the call on this depending on what kind of climate you live in. My go-to rain jacket is the Marmot PreCip Eco Jacket and I also like the Patagonia Torrentshell. Both are lightweight and will keep you dry in a downpour. I also usually pack a lightweight wind jacket. This is completely optional but I find these are often the perfect thing to throw over a t-shirt when there is wind chill but it's too hot for a fleece. Plus they stop mosquitoes biting you! Over the years I have owned the Arc'teryx Squamish hooded jacket, Patagonia Houdini Jacket, and the Backcountry Canyonlands Jacket and they all do a brilliant job.
Water bottle
A water bottle or hydration bladder is an absolute must when hiking! Dehydration can be a killer so it's not something to skimp on. I personally haven't had a great experience using hydration bladders so I stick with my trusted Hydroflask and Nalgene water bottles. Hydroflask's will keep your water cool (or warm) for an entire day whereas Nalgene's are more of a regular style water bottle.
Snacks
Hiking snacks are a personal preference and the amount you pack will depend on the length and difficulty of trail. I will typically pack some granola bars, protein bars, energy chews, homemade trail mix, gummy worms, nut butter sachets, wafers, or dark chocolate. If I want something more substantial I will pack a bagel or fresh bread and cheese.
Navigation
Another one of the "10 Essentials" is a means of navigation. A great starting place is purchasing or printing a topographic map for the area you will be hiking (keep it inside a protective/waterproof sleeve). It's also a great idea to bring along a compass and have some basic skills to use it. In addition to this, it's a good idea to save some offline maps to your phone. I use apps like Gaia and Maps.Me for hiking and backcountry trips.
Emergency device
This isn't a "must have" but more a piece-of-mind item that is good to have if you can afford it. Emergency devices essentially provide a means to call for help if you find yourself in a precarious situation. You may be taking local trips where you have phone service, but if not it might be worth investing in a device that has an SOS feature and tracker, like the Garmin InReach Explorer+ or SPOT Gen3 Satellite GPS Messenger. My husband and I didn't make this purchase for quite some time after we got into hiking and backcountry camping, but it now gives us peace of mind on longer treks and more risky hikes.
First Aid
I typically take a small and lightweight first aid kit on hiking trips. You just never know when it will come in handy for yourself or your hiking partner. I really like the range by Adventure Medial Kits as they are ultralight and waterproof. I always throw in a couple of extra blister-pads too, just in case!
Bug protection
Depending on where you are hiking, it's probably a good idea to take some bug spray with you. Ticks and mosquito-born diseases are no joke in many places around the world so best to be prepared! As I said above, I often choose to hike in full-length clothes to avoid wearing bug spray and I sometimes wash my clothes in mosquito deterring solution/spray for longer trips. I also nearly always take a bug headnet with me.
*Also be sure to wear sunscreen!
RELATED: Eco-Friendly Outdoor Hygiene Tips for Every Hiker and Camper
Gloves & Beanie
Even during the summer months I will often pack a pair of lightweight gloves and a beanie if I am going on a early morning or late afternoon hike. The weather can change very fast in the mountains and I personally get cold easily, so it's worth the extra weight for me. Do what suits you! The North Face and Icebreaker both make a range of good glove choices. For beanies I usually opt for my Pendleton Cable Hat.
Extra items
If you plan to stay out for sunset or will be hiking up pre-sunrise, then I would highly suggest packing a headlamp. My go-to is the Petzl Actik Headlamp. Some extra "just in case" items you may consider bringing along are an emergency blanket/bivy, means to start a fire, a knife or multi-tool, and a whistle.
Camera
This is optional, but you might like to have a camera (or a phone) on you to take some snaps! My go-to mirrorless camera is the Sony a7RIV and I also use the iPhone 11 Pro for camera photography/quick snaps.
RELATED: What's In My Camera Bag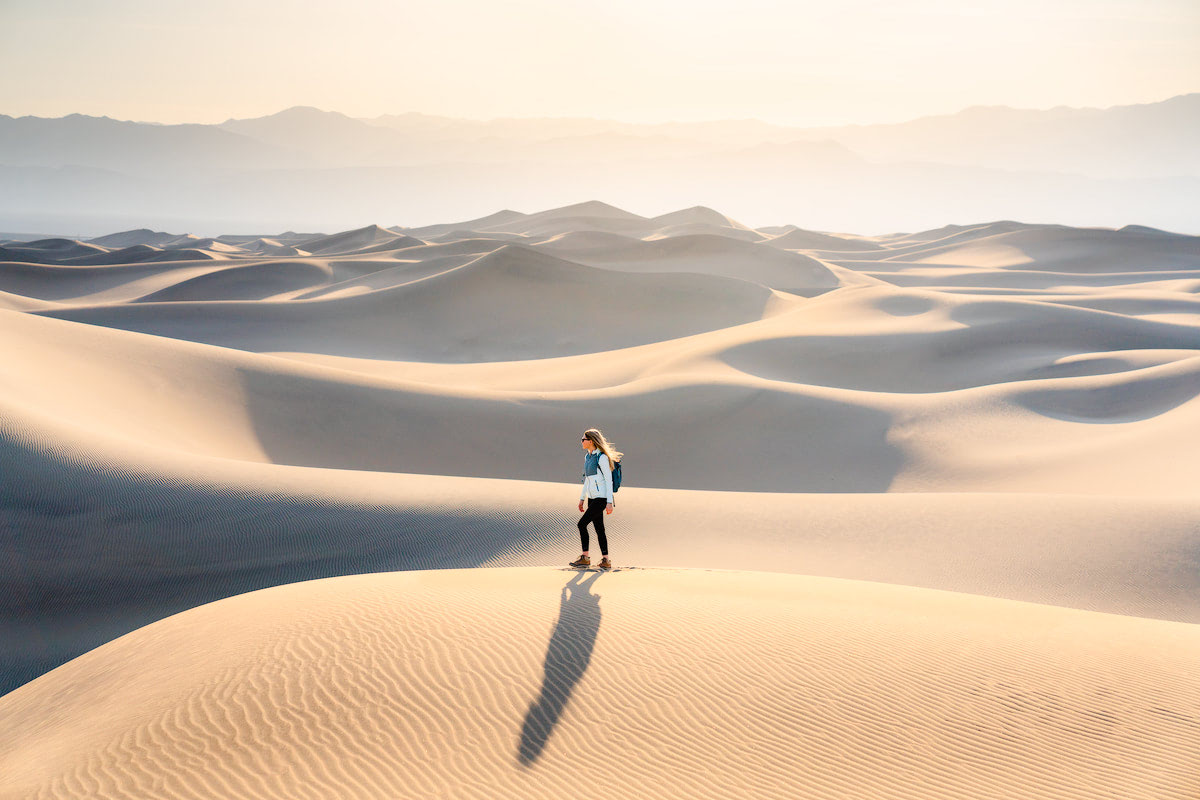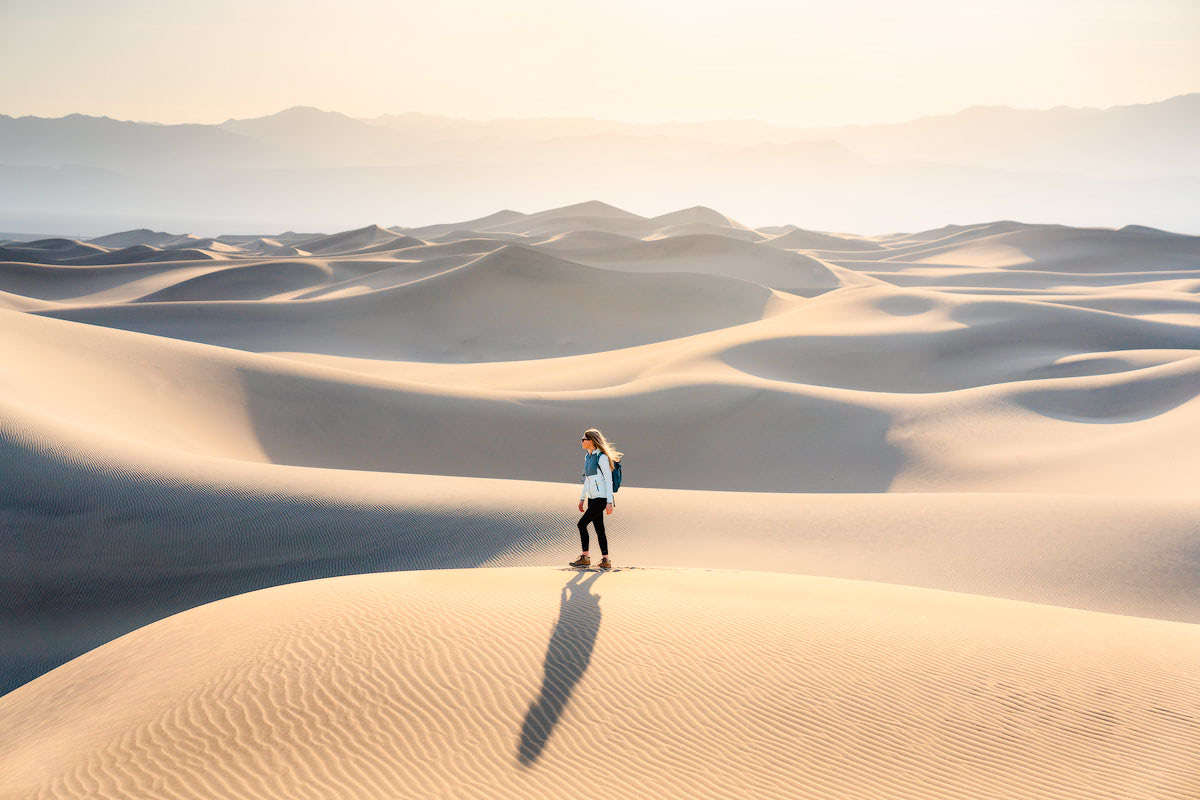 beginners Hiking Tip #4: Leave no trace
Just a quick (but very important!) note about abiding by leave no trace (LNT) principles and respecting nature. Please be sure to educate yourself on proper hiking etiquette before heading out. More information can be found via the Leave No Trace Center for Outdoor Ethics or in my in-depth blog post on the subject.
Know the regulations and special concerns for the area you'll visit
Stay on established trails and durable surfaces
Pack it in, pack it out (do not leave any trash int the backcountry)
Examine, but do not touch cultural or historic structures and artifacts
Leave rocks, plants and other natural objects as you find them
Where fires are permitted, use established fire rings, fire pans, or mound fires
Keep fires small. Only use sticks from the ground that can be broken by hand
Burn all wood and coals to ash, put out campfires completely, then scatter cool ashes
Control pets at all times, or leave them at home
Respect other visitors and protect the quality of their experience
Be courteous. Yield to other users on the trail
Observe wildlife from a distance. Do not follow or approach them.
Never feed animals
More hiking & camping posts
PIN this post for later!