Sleeping outdoors, wild animals, carrying all your gear, pooping in the woods… backcountry camping can seem daunting if you haven't done it before! Like most things though, camping in the backcountry is something you get better at with practice. Everyone has to start somewhere!
This guide shares with you all the essentials for getting out on your first backcountry camping trip. Including how to research, plan ahead and what gear to use. Already a seasoned camper? You may just find some useful tips for your next adventure!
Disclaimer: This blog post is in collaboration with Backcountry.com and features some affiliate links. This means I get a small commission if you make a purchase (at no extra cost to you). Use code RENEE15 to get 15% off your first Backcountry order (some exclusions apply). You can also learn more about my affiliate policy here. Thank you for the support!
---
I remember my first time backcountry hiking and camping. I didn't know all that much about backpacking and definitely make A LOT of mistakes! I was cold, packed way too much stuff, and overall got my ass kicked. So I have pretty much written the guide that I needed when I was first started backpacking, with the hope that it will help you not make the same mistakes 😆 Let's jump into it!
It's important that you do your research and plan accordingly before heading out into the great outdoors. Here are some things you should definitely consider when planning and preparing for your first backcountry camping trip:
You can't just set up a tent anywhere and every trip should be referenced with a Google search and/or conversation with a local ranger. When considering overnight backpacking trips or multi-day treks, I will typically refer to a park's website or call the local ranger office to ask where camping is allowed in a particular area. It's also a good time to take note of any permits that may be required (usually required for national parks).
Some great websites to find backpacking trips in your local area include The Outbound and All Trails. For those based in Washington I would also recommend Washington Trails Association.
Be sure to have adequately researched the route you are taking prior to leaving home. Do you know where you are going? Where you are camping? Where your water sources are? I would recommend taking a physical topographic map (plus compass), download offline maps onto your phone (I use the Gaia App – get 20% off!), and you can also consider carrying a GPS style navigation and emergency device (I have one similar to the Garmin InReach Mini).
I cannot stress this enough… please don't go hiking or backcountry camping without knowing how to respect nature. I have an entire blog post on this topic that I encourage you to read, or you can check out the resources on the Leave No Trace Center for Outdoor Ethics website.
You are best to travel with someone more experienced if it's your first time going backcountry camping. Solo trips are absolutely okay (and preferred by many) but be sure to know what you're doing before setting off. Some ways to find like-minded hikers include Facebook groups, Meetup groups, and booking in on guided trips.
You definitely don't need every single thing I have listed below, but you should 100% have anything required for survival. These items are commonly known as the "10 Essentials" and they include navigation, insulation, nutrition, hydration, shelter, means to start a fire, illumination, first-aid supplies, repair kit, and sun protection. The National Park Service has a great article on this topic if you want to check it out here.
It's important that you tell a friend or family member where you are going hiking/camping. Some people also leave an itinerary under their driver's seat at the trailhead, in case a ranger notices your car has been there for a long period of time.
Read next: How To Get Over Your Fears of First Time Backpacking
---
I won't lie, there are quite a few gear items you need for backcountry camping. In saying that, going on trips with friends can help reduce the items you need to bring along or purchase yourself. Some things that can easily be shared include a tent, stove/cook system, bear canister, first aid kit, bug spray, sunscreen, an emergency device, etc.
Below I have listed the items I personally would recommend for backcountry camping, though you may find that some things aren't necessary for your own kit. I also prefer to invest in lightweight gear so that my overall pack weight is as light as possible. These lightweight items are usually more pricey and you may decide to start with heavier/more affordable gear to begin with. Lastly, please note that the items listed below also lean more towards summer/3-season use and are recommended from a female perspective. I have an entire blog post on winter hiking and camping if that interests you!
Before we jump into it, I want to mention that this blog post is in partnership with Backcountry.com. They are my go-to online retailer for all things adventure because they offer free 2-day shipping on orders over $50, easy returns, 24/7 advice from their amazing Gearheads, and they support incredible causes like The Nature Conservancy. Backcountry have kindly offered my readers 15% off first-time online orders using code RENEE15! (some exclusions apply)
You will find everything listed below in a printable checklist in my free resource library. Be sure to keep in mind that every backpacking trip will be different, so use this as a guide and make adjustments according to your climate, length of trip, etc.
Packs are very personal in terms of size, fit and overall functions. Some people prefer ultra-lightweight with minimal pockets, zips and padding. I personally prefer a light pack that has a few of those features (especially the hip padding) but doesn't go overboard with the weight. Also note that I typically carry a slightly larger pack than necessary as my camera gear takes up a lot of room!
My go-to pack for an overnight trip or a summer multi-day adventure (2-3 nighter) is the Osprey Kyte 46L Women's Pack. I used to use the Unisex Osprey Exos 58L, which I liked, but I find that a women's specific pack works better for my frame. My go-to pack for week long+ camping trips (plus winter adventures) is the Women's Osprey Xena 85L (bigger than most people would need… but again, camera gear!) I also use the Osprey Pack Cover for rainy situations. For an ultra-lightweight pack I would recommend the Hyperlite Mountain Gear 3400 Windrider 55L Backpack.
Again, the type of shelter you use is a personal preference. I personally prefer sleeping in a tent compared to a hammock or under a tarp, but do what suits you. The key is choosing something that is a good combination of lightweight, waterproof, and durable.
I typically share a tent with my husband and we love the Big Agnes Copper Spur Classic UL3 Tent (3 season). We chose that one because it is lightweight, functional, and as a bonus it looks great in photos. The Big Agnes Copper Spur HV UL3 Tent is essentially the same tent but a slightly newer and lighter version, plus there is also a 2 person option. Another great ultralight tent is the Big Agnes Tiger Wall UL2, and a more affordable (but heavier) option is the Marmot Fortress 2 Person Tent.
Everyone sleeps differently in the backcountry and your required sleeping bag temperature rating will depend on where you are. Most people use a 20-30F bag during the summer months, but I personally sleep very cold and instead opt for a 15F bag.
My favorite 3-season sleeping bag is the lightweight unisex Western Mountaineering Apache MF 15 Degree (Fahrenheit) Down Bag (more of a deep red color in person, not pink). It's definitely on the pricier side but so worth the investment in my opinion. In saying that, I have provided some more affordable options below, being the Backcountry x NEMO Chigu Women's Sleeping Bag and the Big Agnes Torchlight UL Sleeping Bag.
One of my top tips is to use a compression bag such as the Sea To Summit Ultra-Sil Compression Dry Sack to keep your sleeping bag as compact as possible in your backpack (as well as protected from any moisture).
These days you can get really lightweight 3-season sleeping pads! I personally use the Exped SynMat UL and sometimes my husband and I share the Exped Synmat HL Duo Sleeping Pad (2 person). Another good lightweight option is the Backcountry x NEMO Verata Sleeping Pad.
Some people prefer to skimp on a camping pillow and instead use their down jacket or nothing at all… but I'm a comfort queen when it comes to this category. I typically use the Exped Air Pillow, with a neck gaiter over the top AND my down jacket stuffed in between haha. Some other lightweight options are the Sea To Summit Aeros Ultralight Pillow and the Sea To Summit Aeros Ultralight Deluxe Pillow.
RELATED: Get a Good Nights Sleep When Backcountry Camping
For a camp stove, I'm a big fan of the Jetboil MiniMo Stove for it's ability to boil water in 1-2 minutes, how lightweight and compact it is, and it's ability to simmer. Some other great options are the MSR PocketRocket 2 Stove (ultra-lightweight) and the MSR Reactor 1L Stove System (hardier for windy/harsh conditions).
If you are using a stove like the PocketRocket then you will need to bring an additional cooking pot – the Snow Peak Trek 1400 Titanium Cookset is a good option.
Your dinnerware and utensils will depend on how and what you choose to cook in the backcountry. I typically prefer to pack a light-weight spoon or spork that has a longer handle. This allows for eating out of pots and dehydrated meal bags without getting too messy. For a mug I love the GSI Infinity Backpacker Mug and if I'm taking a bowl it will be the MSR Alpine Nesting Bowl.
For a quick, easy and yummy camp dinner I usually opt for dehydrated meals by Mary Janes Farm. They are organic, taste like real food, don't have a bunch of nasty ingredients and never leave me feeling bloated (I can't say the same about numerous other dehydrated meal brands!) Some of my favorites are the Alfredo Pasta, Chillimac, and Bare Burrito (with some tortillas and cheese from home).
For snacks I will typically take some granola bars, protein bars, energy chews, homemade trail mix, gummy worms, nut butter sachets, wafers, or dark chocolate. If I don't mind the extra weight then I will usually throw in a bagel or fresh bread and cheese.
Areas that are home to bears require proper storage of your food and other scented items. We typically use a Bear Vault Resistant Food Canister or will sometimes hang our food from a tree in places that allow it. I recommend you check out this bear safety resource. For those needing to learn about hanging food in bear territory, I would suggest watching this video.
A water bottle or hydration bladder is an absolute must when hiking and camping. Dehydration can be a killer so it's not something to skimp on. I personally haven't had a great experience using hydration bladders so I stick with my trusted Hydroflask and Nalgene water bottles. Hydroflask's will keep your water cool (or warm) for an entire day, and Nalgene's are super lightweight and can also function as hot water bottles when winter camping (read about my winter camping tips here).
It's always best practice to filter/purify your water in the backcountry. In my opinion it's just not worth the risk of getting giardia or something else nasty. There are numerous options to filter/purify your water. The easiest is probably using purification tablets like the Katadyn Micropur Tablets, though they can sometimes leave a taste to the water.
My preferred method is via a squeeze or gravity flow system, like the Katadyn BeFree 3L Filtration System. Other options include those by Sawyer and Lifestraw.
Having a trusted light source is vital when going into the backcountry. You need to be able to find your way in the dark and safely maneuver around camp. I enjoy using the Petzl Actik Headlamp when hiking and backcountry camping. Some other great options are the Petzl Tikka Headlamp and the Black Diamond Storm Headlamp.
Though not required, you may want to bring along a lightweight lantern for use at night, like the Goal Zero Lighthouse Mini V2.
Another one of the "10 Essentials" is a means of navigation. A great starting place is purchasing or printing a topographic map for the area you will be hiking and camping (keep it inside a protective/waterproof sleeve). It's also a great idea to bring along a compass and have some basic skills to use it.
In addition to this, it's a good idea to save some offline maps to your phone. I use the Gaia app for hiking and backcountry trips. Click here to get 20% off!
It's important to have a means to call for help if you find yourself in a precarious situation. You may be taking local trips where you have phone service, but if not it might be worth investing in a device that has an SOS feature and tracker, like the Garmin InReach Explorer+ or SPOT Gen3 Satellite GPS Messenger. My husband and I didn't make this purchase for quite some time after we got into hiking and backcountry camping, but it now gives us peace of mind on longer treks and more risky hikes.
I always take a lightweight first aid kit on backcountry camping trips. You just never know when it will come in handy for yourself or your hiking partner. I really like the range by Adventure Medial Kits as they are ultralight and waterproof. I always throw in a couple of extra blister-pads too, just in case!
I am a little intense when it comes to sun protection. The older I get the more I realize the importance of protecting against skin cancer and aging. I typically bring a sun hat and/or a ultralight sun-brella on hiking trips to protect my face from the sun. I will also sometimes use a Buff or bandana for neck protection.
Sunscreen, lip balm and sunglasses are also a packing must. Wearing long sleeve tops and pants is another way to reduce your sun exposure and need to wear sunscreen/bug spray (also keeping your sleeping bag cleaner!)
Depending on where you are hiking, it's probably a good idea to take some bug spray with you. Ticks and mosquito-born diseases are no joke in many places around the world so best to be prepared! As I said above, I often choose to hike in full-length clothes to avoid wearing bug spray and I sometimes wash my clothes in mosquito deterring solution/spray for longer trips. I also nearly always take a bug headnet with me.
I have an entire blog post on outdoor hygiene and would recommend you check it out! For going to the bathroom I find a trowel to be really convenient, especially when the ground is hard. I also take along some toilet paper, tooth brush, hand sanitizer, face/body wipes, and a mini quick-drying towel.
RELATED: Eco-Friendly Outdoor Hygiene Tips for Every Hiker and Camper
Not everyone enjoys using trekking poles. I personally take 1 or 2 along when we are going to be crushing some serious elevation or hiking on unsteady terrain. My go-to poles are the Black Diamond Alpine Carbon Trekking Poles as they are lightweight and comfortable to use. Some more affordable option are the LEKI Voyager Trekking Poles and the Black Diamond Trail Sport 2 Trekking Poles.
I have an entire blog post featuring my favorite hiking clothing – check it out here! In summary, some of my favorite pieces to hike in are the Icebreaker merino wool tops and the Arc'teryx Gamma LT Softshell Pant (or leggings). For a mid-layer I typically reach for my Arc'teryx Atom LT jacket or my Patagonia R1 Fleece.
RELATED: Beginners Guide to Hiking
I love the feeling of changing into clean, dry clothes when arriving at camp. My go-to camp and sleeping clothes are basic thermals, fleeces and insulated jackets. I always keep my sleeping clothes in a ultra-lightweight dry sack just in case rain was to get into my bag (or I fell into a creek!)
My favorite thermal pants for summer are the Icebreaker BodyFit 175 Merino Wool Leggings (I also have the thicker version for colder trips). Similarly, my go-to sleeping thermal top is the Icebreaker BodyFit 175 Merino Wool Half-Zip Top (again, I have the thicker version for colder trips). As mentioned above, I also love the Patagonia R1 fleece for a mid-layer and often sleep in it for extra warmth.
During backcountry camping trips I most typically reach for three types of jackets: a rain jacket, down jacket, and a wind jacket. You certainly don't need to own all three of these but I would always recommend having some sort of insulation/protection layer that is suited to your destination's climate.
My all-time favorite lightweight down jacket is the Arc'teryx Cerium LT (an investment but SO worth it for such a feather-light warm jacket in my opinion), I pretty much take it everywhere I go. A more affordable option is the Patagonia Down Sweater.
When it comes to a rain jacket, my go-to is the Marmot PreCip Eco Jacket and I also like the Patagonia Torrentshell. Both are lightweight and will keep you dry in a downpour.
You might be wondering why I would own a wind jacket as well as the above…? Well, the reason is that often the wind chill makes hiking less enjoyable, but it's just too sweaty hiking in a rain or down jacket! That's where a light-weight and breathable wind jacket comes in handy. Over the years I have owned the Arc'teryx Squamish hooded jacket, Patagonia Houdini Jacket, and the Backcountry Canyonlands Jacket and they all do a brilliant job.
I nearly always have a pair of light-weight gloves on me, especially around camp and when hiking during the early morning hours or late in the day. The North Face and Icebreaker both make a range of good choices.
Hiking shoes are very person-specific. Some people love wearing trail runners and others prefer boots. Some people prefer heavier waterproof boots and others prefer lighter options. I have a guide on all the best hiking boots for men and women, check it out!
When hiking in Washington I usually opt for a waterproof boot with ankle support, but something that isn't too heavy, like the Danner Adrika Hiker Boot or the Salomon X Ultra Mid 3 GTX Hiking Boots. Once the trails become dryer I sometimes opt for a pair of trail runners like the La Sportiva Bushido II Trail Running Shoe.
Don't overlook the importance of having socks that fit correctly and are comfortable to wear for a long time. Over the years I have found that Darn Tough, Smartwool, and Icebreaker are the most durable, least smelly (due to the merino wool) and most comfortable hiking socks. I typically take 2-3 pairs of socks with me when backcountry camping – 1 pair for hiking, 1 pair for sleeping and 1 back-up. I hate having wet/gross feet so taking a third pair is often worth the weight in my opinion.
I love being able to take off my boots and slip on a pair of camp shoes after a long day of hiking. I find sandals with straps like the Teva Originals are easiest to get around in. Alternatively, flip-flop slip-on styles are also lightweight and easy to pack.
Some extra "just in case" items you may consider bringing along are a mini field/gear repair kit, waterproof matches / means to start a fire in the case of an emergency, a knife or multi-tool, and a whistle. I also usually opt to bring my phone, an outdoor watch, ear plugs for sleeping at night, my camera and a lightweight Kindle for the chance to read.
Lastly, you may want to consider leaving a post-hike kit in your car so that you can freshen up on your return. Some items to include would be a change of clothes, face/body wipes, deodorant, hand sanitizer, small towel, a bottle of water, and snacks.
For 15% off your first Backcountry.com order, use code RENEE15 *some exclusions apply*
---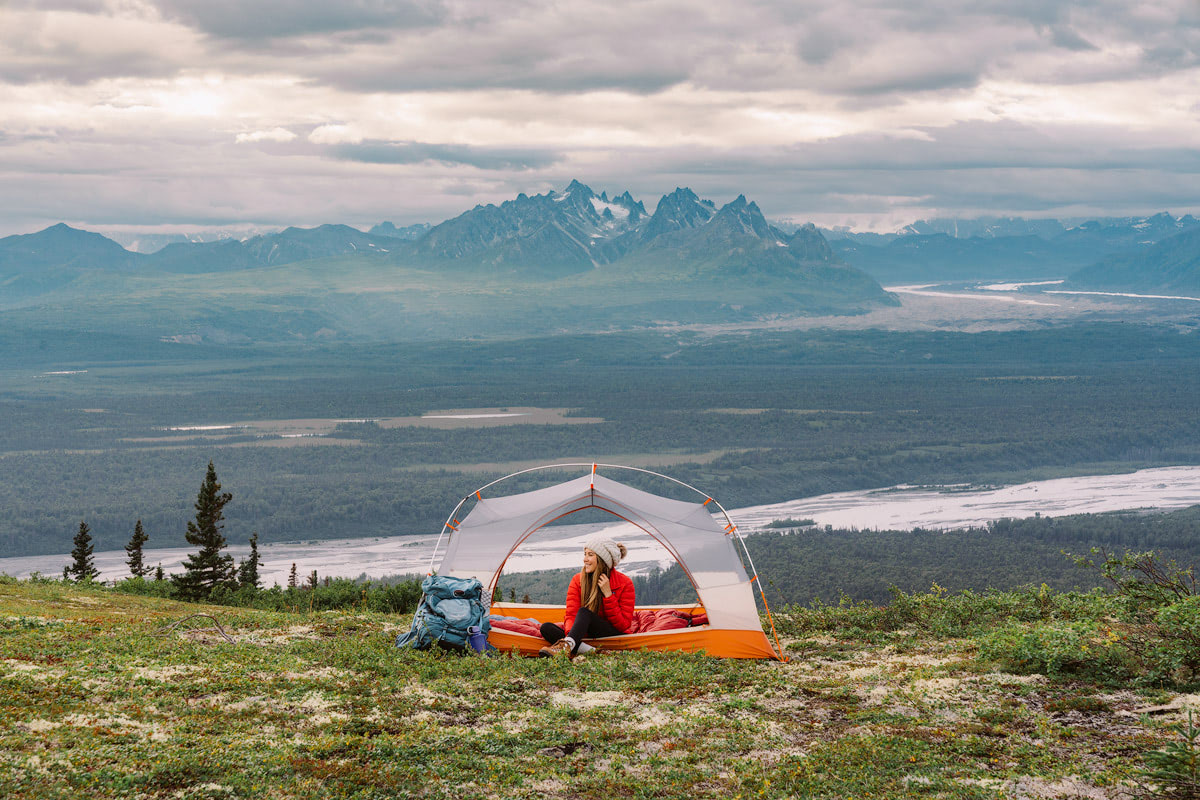 If you're going to be out in nature, it's important that you strive to protect it and follow Leave No Trace principles. Don't forget to educate yourself on proper hiking and camping etiquette before heading out. I've listed the main points below and you can find more information via the Leave No Trace Center for Outdoor Ethics or in my in-depth blog post on the subject.
Know the regulations and special concerns for the area you'll visit
Travel and camp on established trails and durable surfaces
Pack it in, pack it out (do not leave any trash int the backcountry)
Deposit solid human waste in catholes dug 6 to 8 inches deep, at least 200 feet from water, camp and trails.
Pack out toilet paper and hygiene products.
To wash yourself or your dishes, carry water 200 feet away from streams or lakes and use small amounts of biodegradable soap. Scatter strained dishwater.
Examine, but do not touch cultural or historic structures and artifacts
Leave rocks, plants and other natural objects as you find them
Where fires are permitted, use established fire rings, fire pans, or mound fires
Keep fires small. Only use sticks from the ground that can be broken by hand
Burn all wood and coals to ash, put out campfires completely, then scatter cool ashes
Control pets at all times, or leave them at home
Respect other visitors and protect the quality of their experience
Be courteous. Yield to other users on the trail
Observe wildlife from a distance. Do not follow or approach them.
Never feed animals
---
I know there can be a lot of things to worry about for your first backpacking trip. I highly recommend you check out my blog post "How To Get Over Your Fears of First Time Backcountry Camping" where I chat about other backpacking topics you may want guidance on.
I want you to go out there and have fun! Backcountry camping is a special experience and one you will be drawn back to time and time again (I hope!) I personally love the feeling of getting from A to B with everything I need to survive, sleeping out under the stars, waking up with the sun, and being completely off-the-grid. Be safe out there and have a blast 🙂
READ: How To Get Over Your Fears of First Time Backcountry Camping
---
---