Iceland is one of my absolute favorite road trip destinations in the entire world. There aren't many other places where you can drive right past towering glaciers, lagoons filled with icebergs, active volcanoes, dramatic mountain peaks, and even coastal fjords. If you get lucky, your vehicle may even light up a vibrant green as the northern lights dance in the sky above.
The main road around Iceland is Route 1, also known as the "Iceland ring road". This travels a 1,322 kilometers (821 miles) loop around the country. While technically possible in a day trip, you are definitely going to want to take your time exploring this insanely beautiful part of the world. My 7 day Iceland road trip itinerary is going to help you do just that! Plus, I'm sharing options to extend your trip or cut it down to a 3 day Iceland itinerary.
Disclaimer: This blog post may feature some affiliate links, which means I get a small commission if you make a purchase (at no extra cost to you). It's one of the ways I can keep producing free guides and resources for my readers. Learn more about my affiliate policy here. Thank you for the support!
---
Iceland Road Trip Itinerary
Having been to Iceland four times now and experiencing all four seasons, I feel like I have a pretty good grasp of how to maximize my time there. This blog post is based on my own firsthand experiences, plus some additional information I have also learned from friends and locals.
Keep in mind that this blog post is aimed at travelers with their own vehicles (rental cars, camper vans, etc). Driving in Iceland is very easy and there isn't much difference compared to driving in the US or other first-world countries. This Iceland itinerary is also based on a summer and shoulder season perspective, but I will touch on the differences between traveling in these seasons and traveling the country in the winter.
Best Iceland Road Trip Route
Below you will find a general idea of the routes I suggest for both a 7 day and 3 day Iceland road trip itinerary. Ignore the driving times as not every single stop is included, just enough to show the general direction and route. In the next section, we will break down the actual stops for each day of your trip!
7 Day Iceland Road Trip Itinerary Route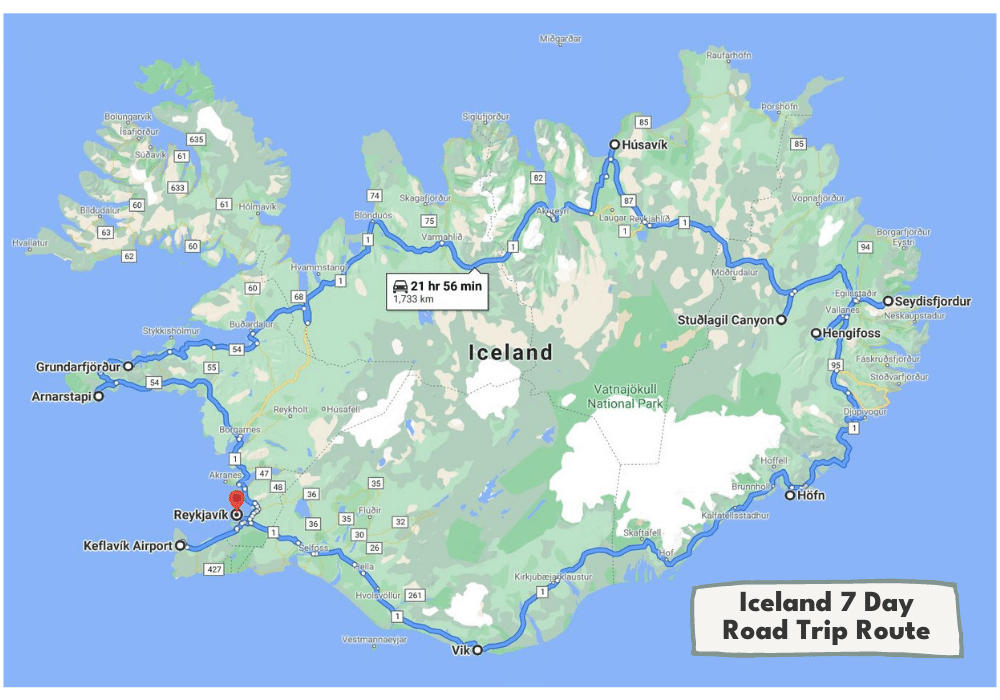 3 Day Iceland Road Trip Itinerary Route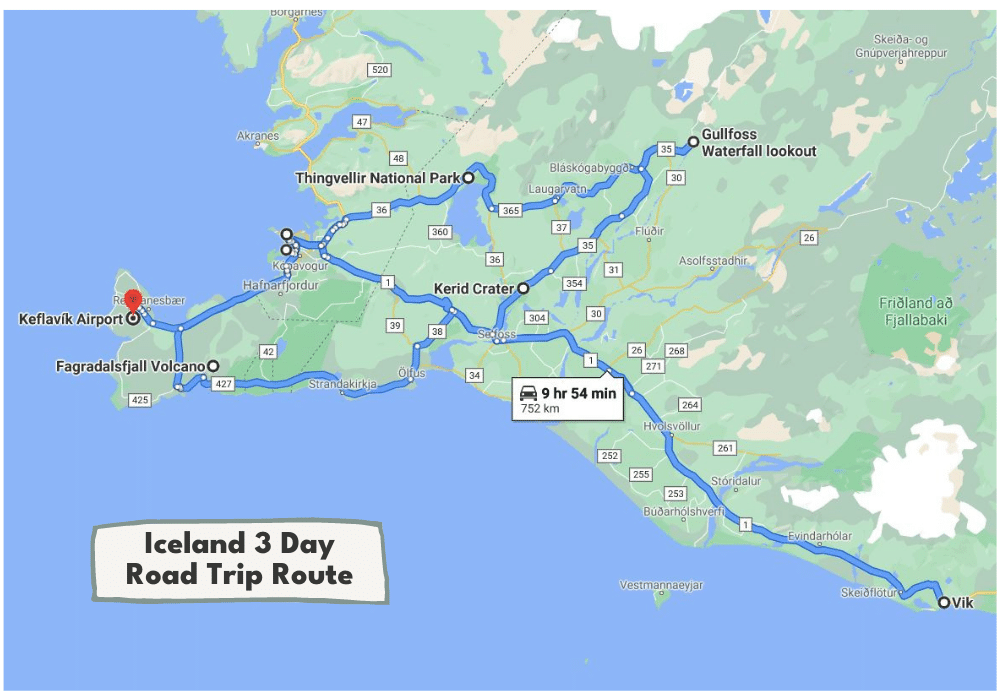 Where To Start and End Your Iceland Road Trip
You will be starting and ending your road trip in Reykjavik, or more specifically, the rental car area near the Keflavik airport. In saying that, you could jump on these itineraries at any stage of your Iceland vacation and you may opt to start/finish in different spots.
How Long To Spend on An Iceland Road Trip
In my opinion, 7 days is a great amount of time for most people to spend road tripping Iceland. Even better would be 10-14 days, especially if you like to take it slow or enjoy capturing photos at sunrise and sunset. A 3 day stopover is very fast, but it's definitely enough time to get a good taste of what Iceland has to offer if that's the only time you have.
Below I will give a day-by-day breakdown for the ultimate 7 day Iceland road trip itinerary. Then afterward I will provide suggestions on how to spend any extra days, e.g. if you opt to take a 10-14 day road trip. I will also provide an itinerary for a much quicker 3 day Iceland visit… so don't worry, I'm going to make sure you have the best Iceland road trip no matter how long you are there!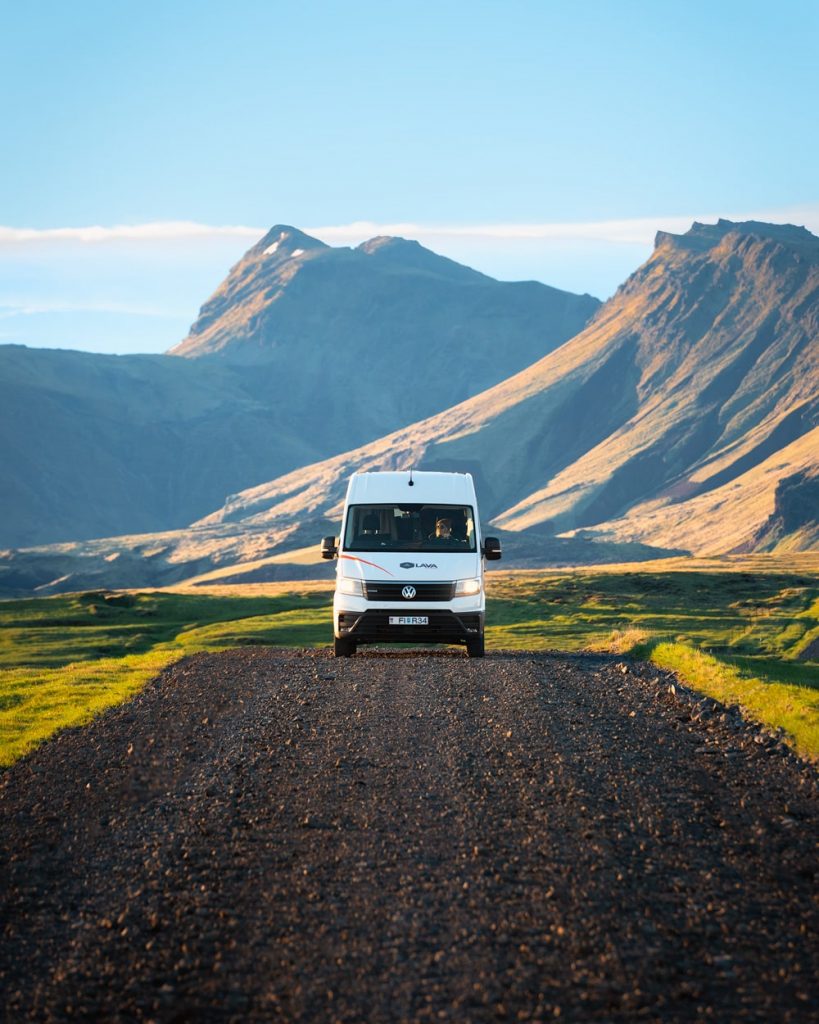 7 Day Iceland Road Trip Itinerary
With this itinerary, I'm using my first-hand experience to help you put together a dream 7-day Iceland road trip. I'll also share some of my favorite scenic stops, hikes, suggestions of where to stay, and some of my favorite food options along the way.
I feel it's important to note that this may need to change slightly depending on the time of year you visit and available daylight hours. Mid-spring through mid-autumn will be optimal in terms of having enough daylight hours to see every stop. Visitors in early spring, late fall, or winter may need to look up the stops I suggest and then prioritize the ones that look the most interesting to them.
Day 1: Reykjavik to Vik
You will be starting day 1 in Reykjavik or Keflavik Airport. The majority of international flights seem to arrive very first thing in the morning, so I am presuming this is the case for your vacation. From here you will pick up your rental car or camper van and begin your journey! Most rental car companies have a location near the airport or will provide a shuttle bus into Reykjavik.
Stop 1: selfoss
Not the most exciting of stops for your first one, but one thing I've learned about Iceland is that it's always important to have snacks on hand! You might find yourself spending longer in an area than you intended, and thus need something to keep you fueled until your next meal. The Krónan grocery store in the city of Selfoss is on the way to your next destination and also large enough to have all you will need. Pick up snacks, groceries, water, cooking propane, etc.
Read next: 12 Best Road Trip Planner Apps to Find Cheap Gas, Campsites, Hiking Trails, and More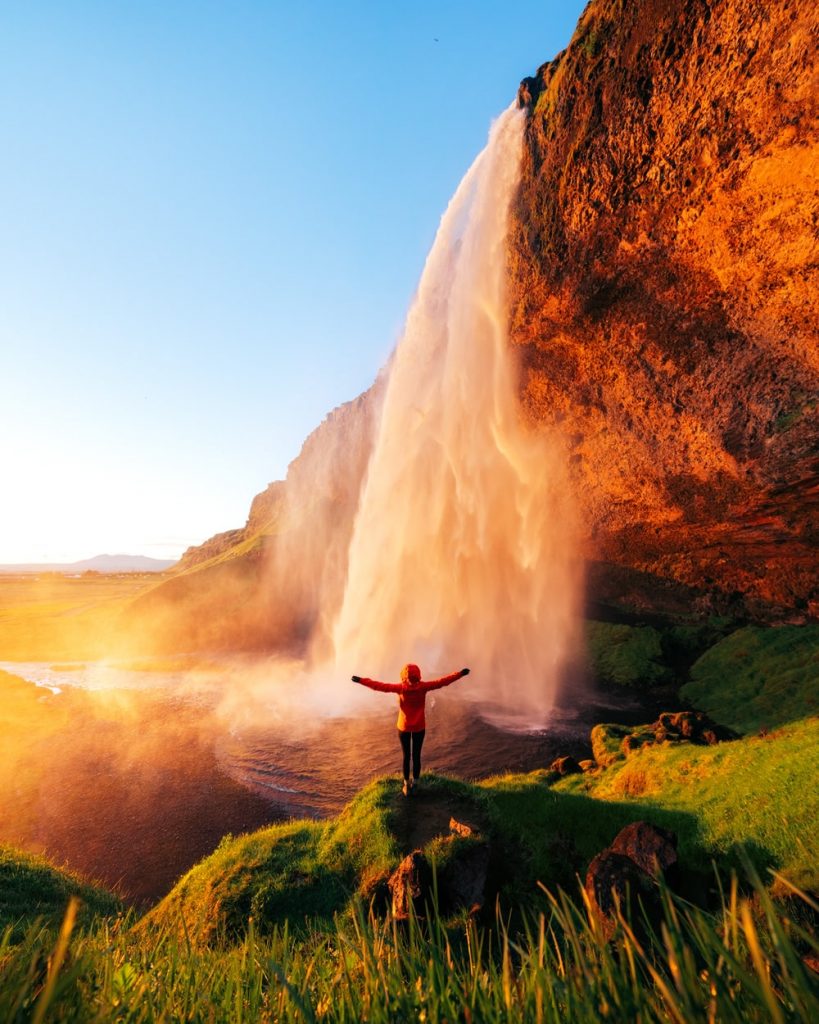 Stop 2: Seljalandsfoss
Seljalandsfoss is one of the most popular waterfalls in Iceland, and for good reason. Here you can follow a nice trail to all different views of the falls, and even walk behind it! Don't forget a rain jacket even if it's sunny out, the spray from the falls can drench you quickly depending on the wind direction.
A bonus stop is following the trail north a short distance from Seljalandsfoss, and you'll be able to check out another waterfall called Gljufrabui. However, it involves walking through a small canyon, and the spray can be pretty strong. You have to be prepared to get wet for this one, but it's worth it for the experience and some cool photos.
Suggested rain jackets: Marmot PreCip Eco Jacket, Arc'teryx Zeta SL Jacket (Gore-Tex), Columbia Splash A Little II Jacket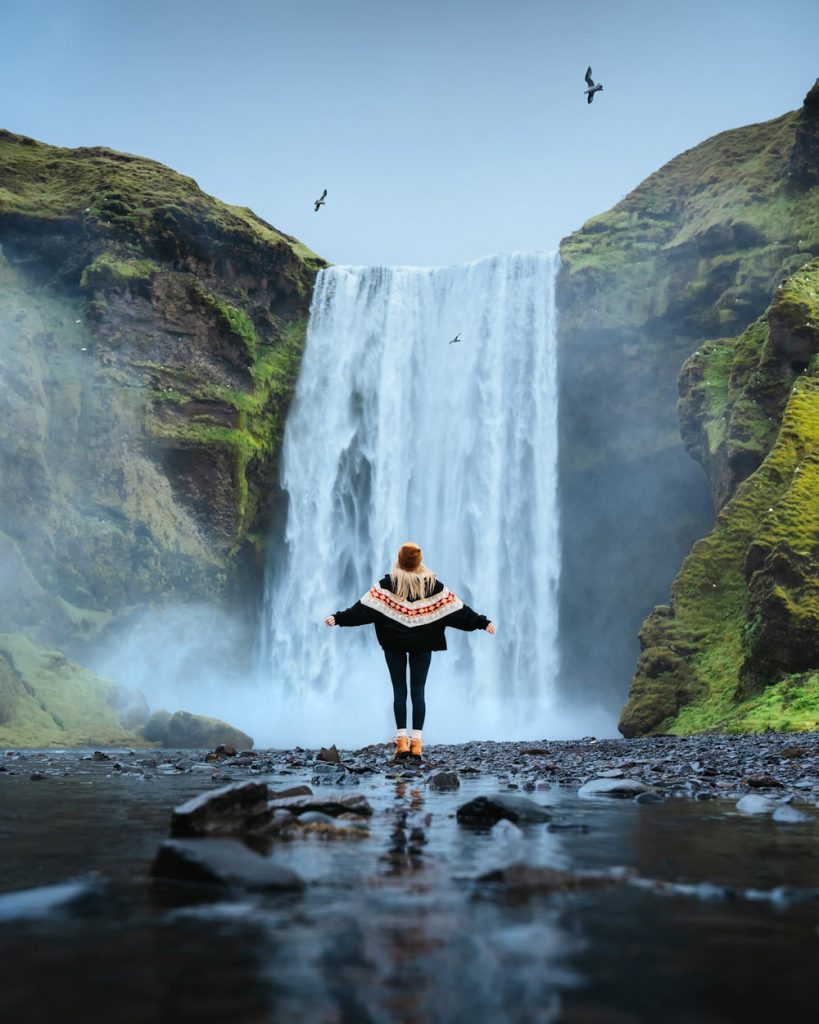 Stop 3: Skogafoss
This is definitely one of my favorite stops in southern Iceland! Skogafoss is SO dramatic, and the birds flying all around really add to the atmosphere as well. Similar to Seljalandsfoss, bring a rain jacket if you plan to get close to the waterfall as the spray is pretty hectic. There is another beautiful canyon just to the east which takes you on a short walk to another waterfall, Kvernufoss. This one is also worth checking out if you have the time! It's far less crowded than Skogafoss.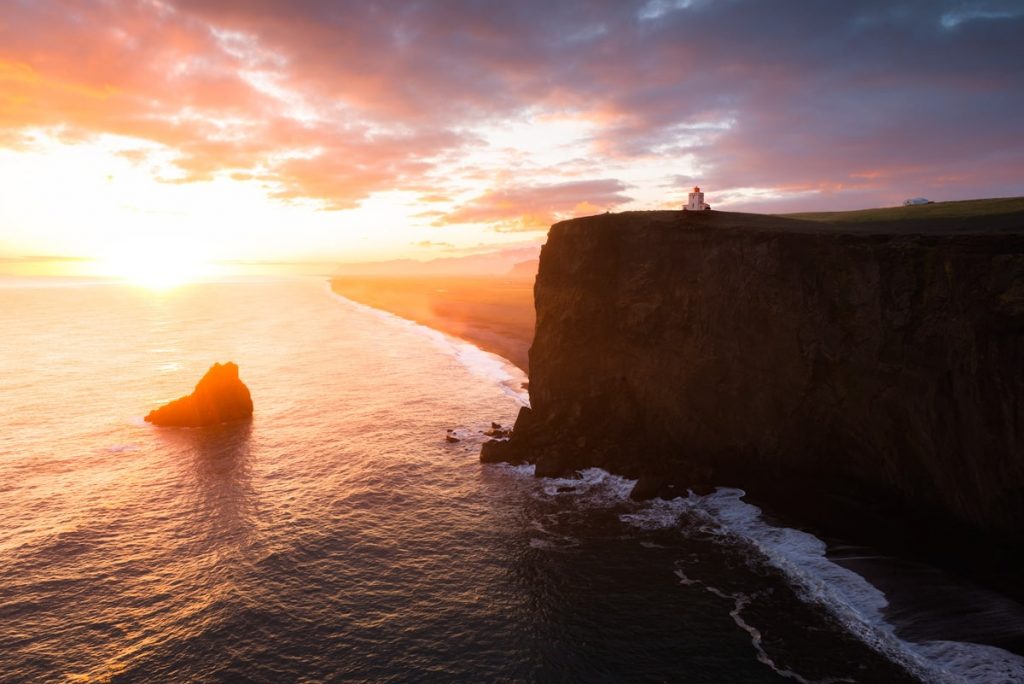 Stop 4: Dyrholaey
Dyrholaey is a small peninsula with epic 360 views out to surrounding glaciers, coastline, mountains, and more. It is also famous for its picturesque rock arch and the lighthouse perched on top. In fact, this is one of my favorite spots to catch a sunrise or sunset in the area. Be mindful of seasonal closures due to puffin nesting. This typically happens around late spring-summer from the evening until early morning. On the way out to Dyrholaey, you can check out the Loftsalahellir Cave which is just a short walk from the roadside. This is a fun photo spot for the photographers out there!
Read next: How To Take Better Travel Photos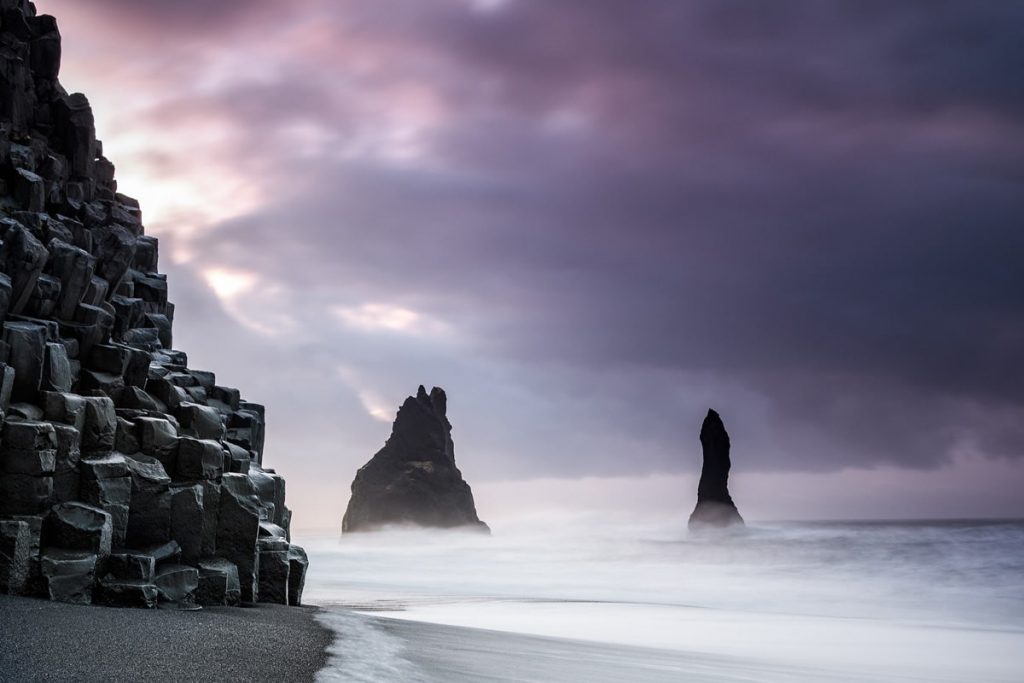 Stop 5: reynisfjara
Another of my favorite stops on an Iceland road trip, Reynisfjara is a beautiful stretch of coastline that is covered in black pebbles instead of sand… super cool! There are also some incredible basalt columns in this area that make for great photos, as well as some sea stacks. Be mindful of the crazy sneaker waves at this location, as tourists have died after being swept out to sea by unexpected waves.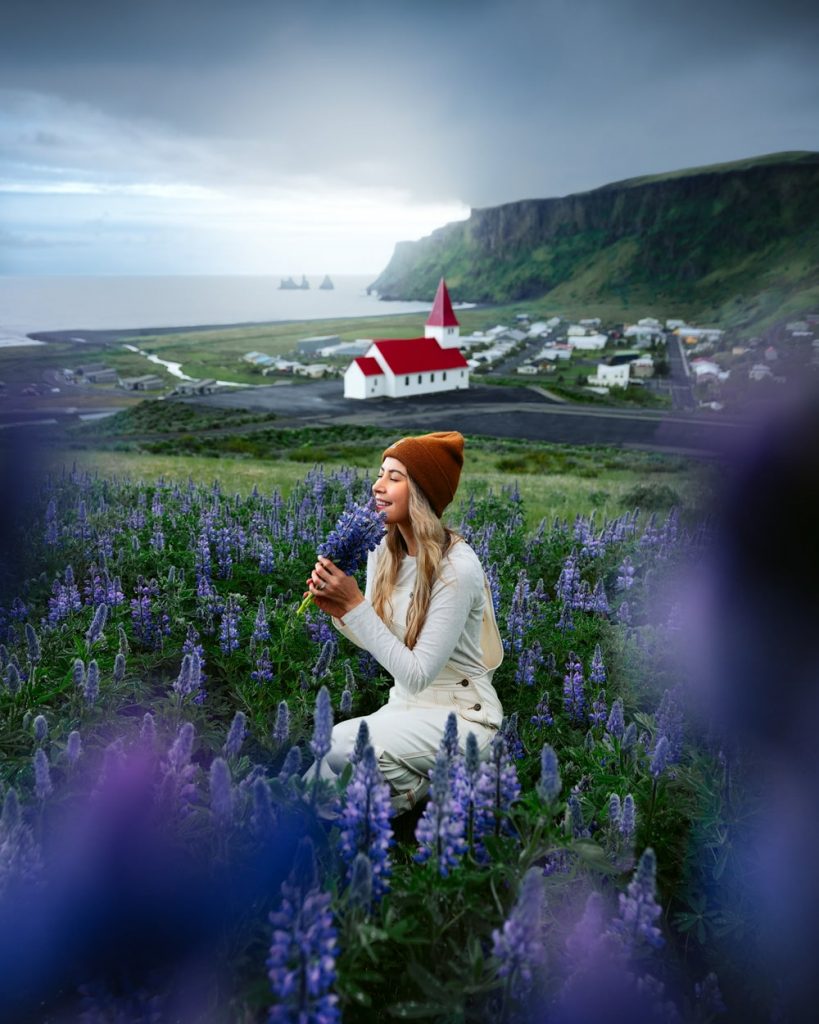 Stop 5: vik
Vik is one of my favorite towns in all of Iceland. It's beautifully located, has plenty of amenities, and is only a 2.5-hour drive from Reykjavik. This is also a great spot to stop for the night to enjoy a nice meal and slow down after a busy first day. While in town I recommend driving up to the Vik i Myrdal Church for great views of Vik. You can also check out the black sand beach if you feel like taking a walk. As for food, I recommend dinner at Smiðjan Brugghús. In fact, this was one of our favorite food stops in Iceland as we loved their burgers, craft beer, and cauliflower wings.
Fun fact: Despite its beauty, lupine is actually an invasive species to Iceland and threatens existing plants and ecosystems. Climate change is not helping the situation and as it spreads more and more some Icelanders even want the plant eradicated. I wouldn't typically condone picking wildflowers, but in the instance above I had been assured by locals that it was harmless.
Where to Stay In Vik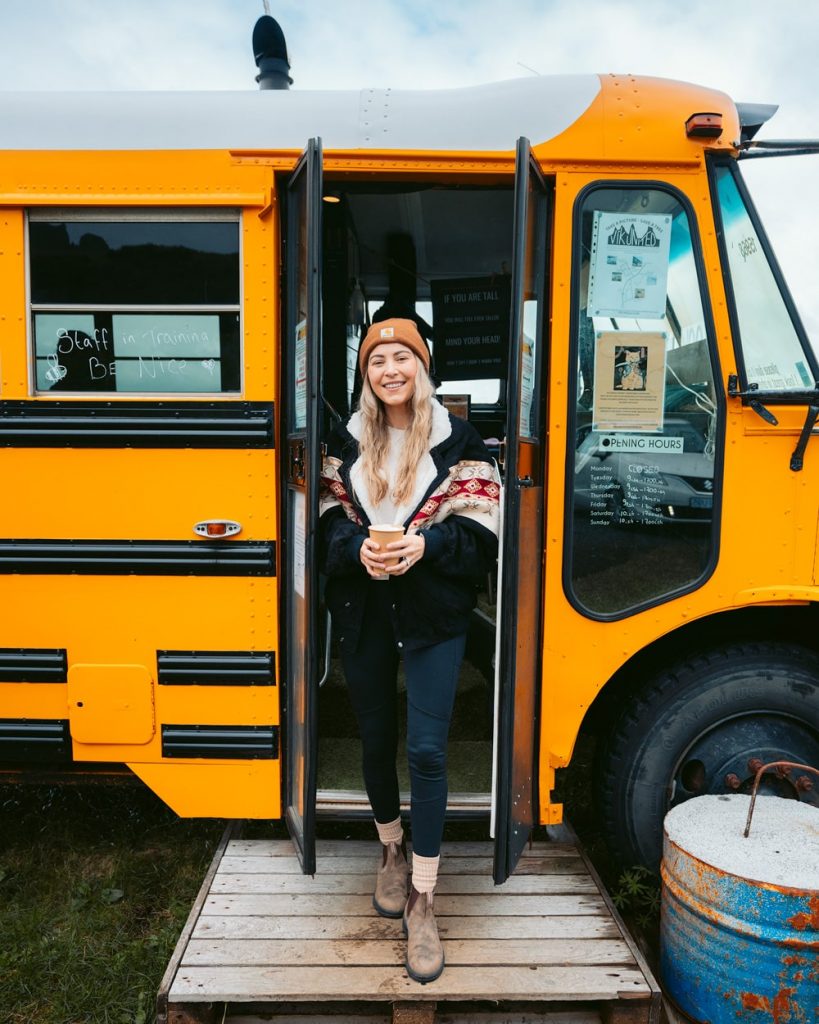 Day 2: Vik to Hofn
You'll be starting day 2 in Vik with an early start (grab coffee at Skool Beans!), and end the day in the town of Hofn. This involves around 3.5 hours of driving total. This is a big day with SO much to see and quite a lot of hiking, so start early and give yourself time to really take it all in.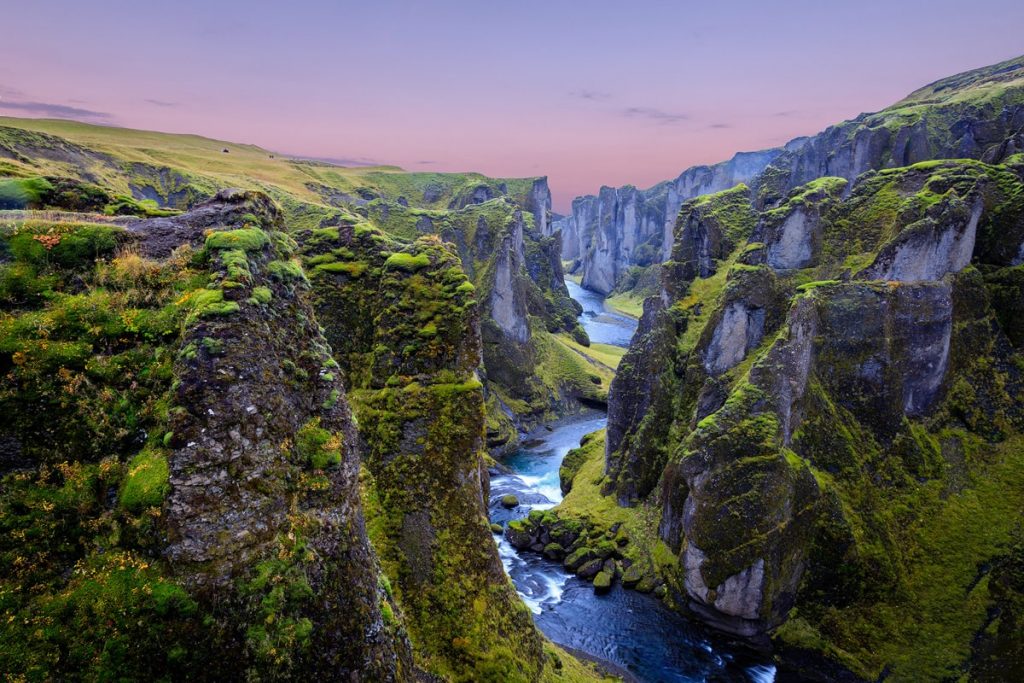 Stop 1: Fjadrargljufur Canyon
Also known as "The Majestic Canyon", Fjadrargljufur Canyon is an awesome first stop of the day to stretch the legs and see some of Iceland's unique geology. A 3km (2 mile) round-trip trail takes you along the top of its moss-covered rocky cliffs and provides gorgeous views of the vibrant Fjaðrá river below. Please respect the barriers put up by land managers to protect the fragility of the area.
Read next: How To Follow Leave No Trace When Exploring the Outdoors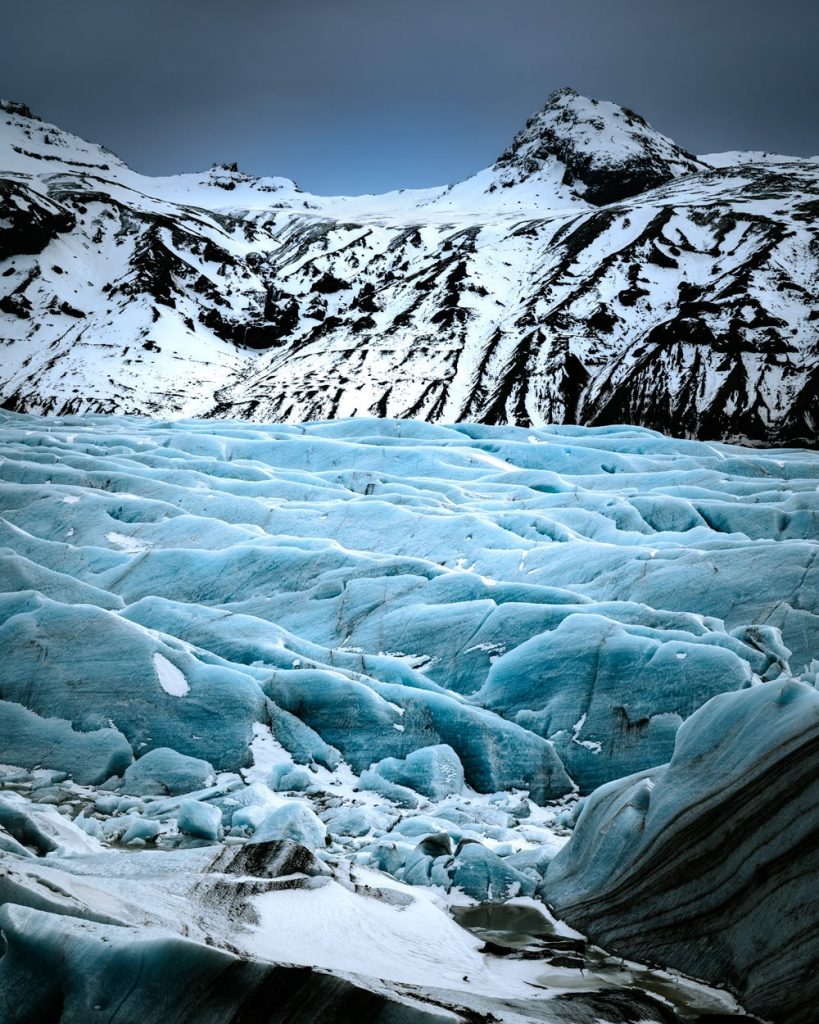 Stop 2: svinafellsjokull
Next up is the ever-so-dramatic Svinafellsjokull glacier. This is one of the most accessible, close-up glacier views in all of Iceland. Just a short walk from the parking lot will give you crazy views of the glacier and the lagoon that it is leaving behind as it melts with rising temperatures. If you're visiting during the midnight sun and have plenty of daylight hours, you could also consider stopping by the nearby waterfall Svartifoss.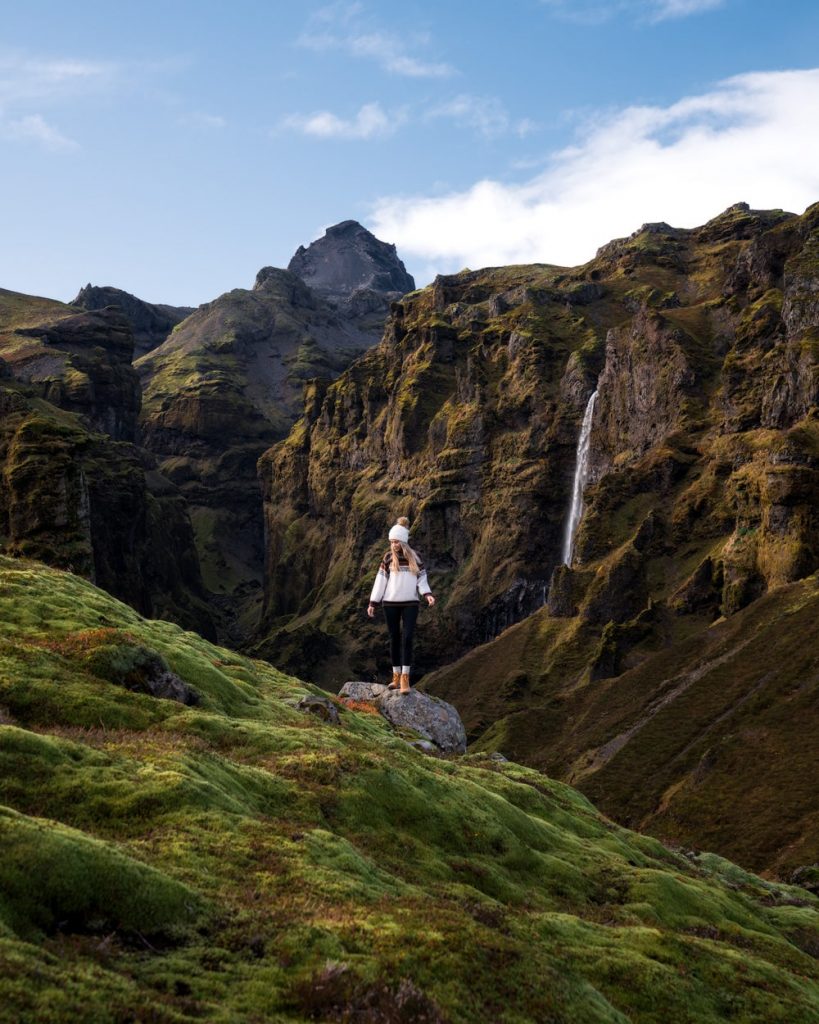 Stop 3: Mulagljufur Canyon
Mulagljufur Canyon might be my favorite spot in all of Iceland! It's not as popular as many of the other locations along Iceland's South Coast, so you will likely have it to yourself (or with very few people). The hike out to the viewpoint at the top of the canyon is around 4.5km (3 miles) round-trip with 200 meters (640 feet) of elevation change. This is a truly breathtaking hike that I cannot recommend enough. It's also one of those spots I will return to again and again.
Read next: What To Wear Hiking as a Woman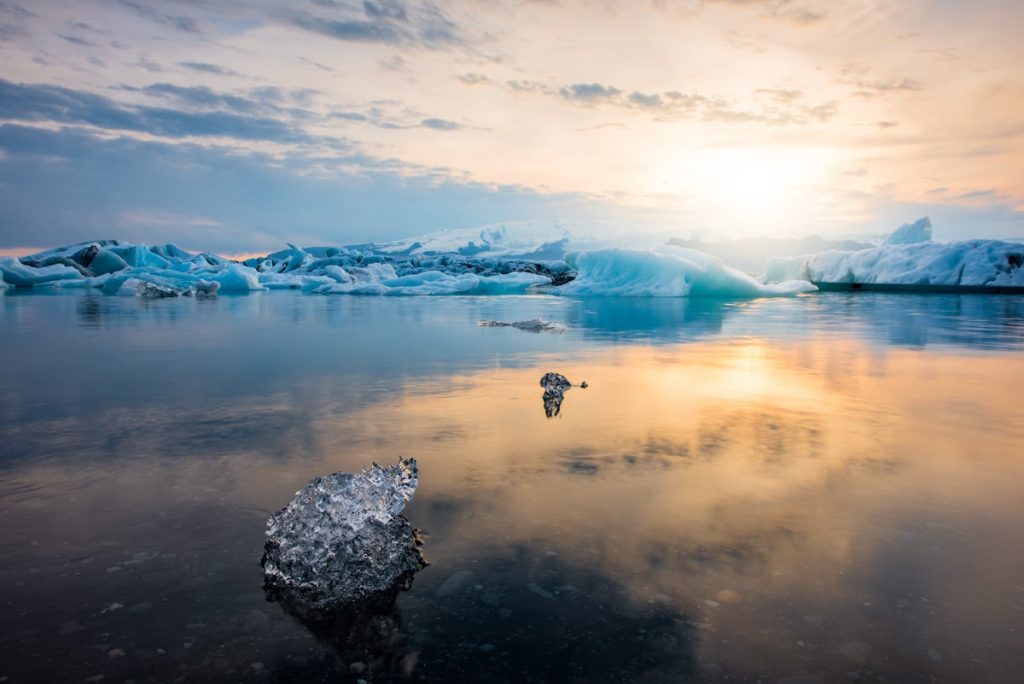 Stop 4: Fjallsarlon, jokulsarlon, and diamond beach
I've lumped these together because they are all close, but these are three different stops. Fjallsarlon is the first stop in this area. Here you can drive up to a parking lot and get insane views of the Fjallsjokull glacier. Fjallsjokull makes its way down to the lagoon, and as the ice breaks off, it floats around making for some really cool photo opportunities.
Next, drive to Jökulsárlón Glacier Lagoon, one of the most famous and beautiful places in Iceland. Jökulsárlón is essentially a much bigger version of Fjallsarlon, but the water is more clear and blue in appearance. At Jökulsárlón you can walk around the lagoon as far as you like, take a boat tour, grab a bite to eat, or use the restrooms. This is also a great spot for sunset photos.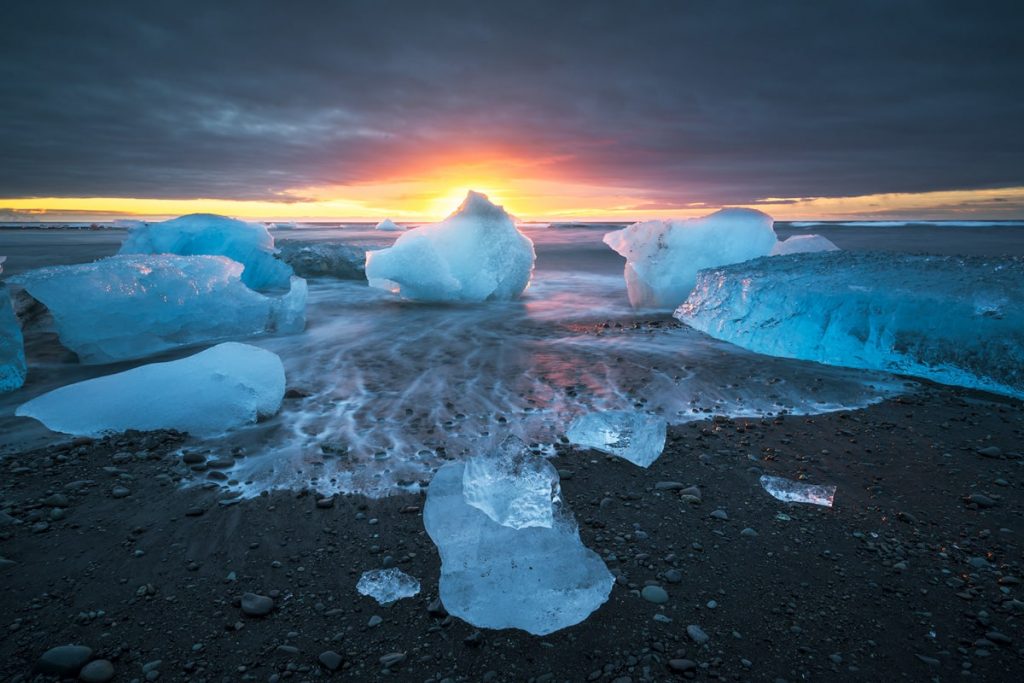 Your last stop of the day is a walk down Diamond Beach. Here, ice is taken out of Jokulsarlon with the tide, then washed up on this stretch of coastline with the waves. There aren't many places around the world where you can find ice on the beach, and that's what makes this spot so unique. The amount of ice you find on this beach will depend greatly on how much ice has fallen off the glacier recently, the current tide cycle, etc. Because of this, some people will find a beach completely covered in ice, while others might find almost no ice at all.
Stop 6: hofn
You will end your day in the fishing village of Hofn. This town has really embraced tourism in the last 5 years and expanded its amenities greatly. We had some really delicious food here at places like Ups (great for vegetarians, also cheap), Pakkhus, Ishusid Pizza, and Hafnarbudin.
Where to Stay In Hofn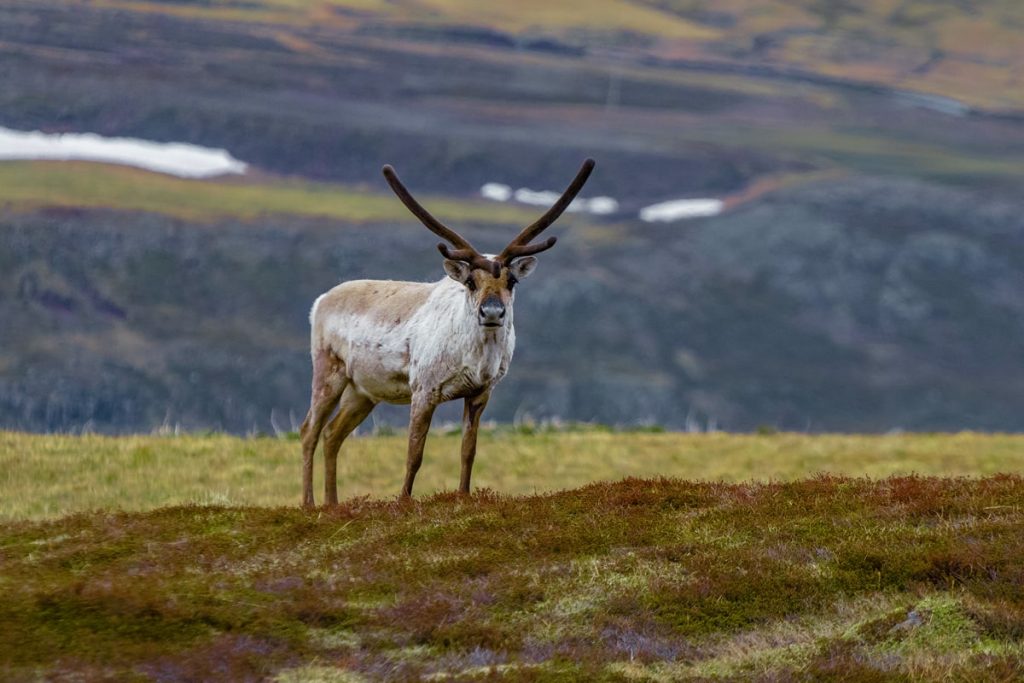 Day 3: Hofn to Seydisfjordur
Day 3 of your Iceland road trip starts in Hofn and will be ending in the gorgeous town of Seydisfjordur. There are only around 2.5 hours of driving total for today, but plenty to see along the way, plus a nice hike to get the blood pumping!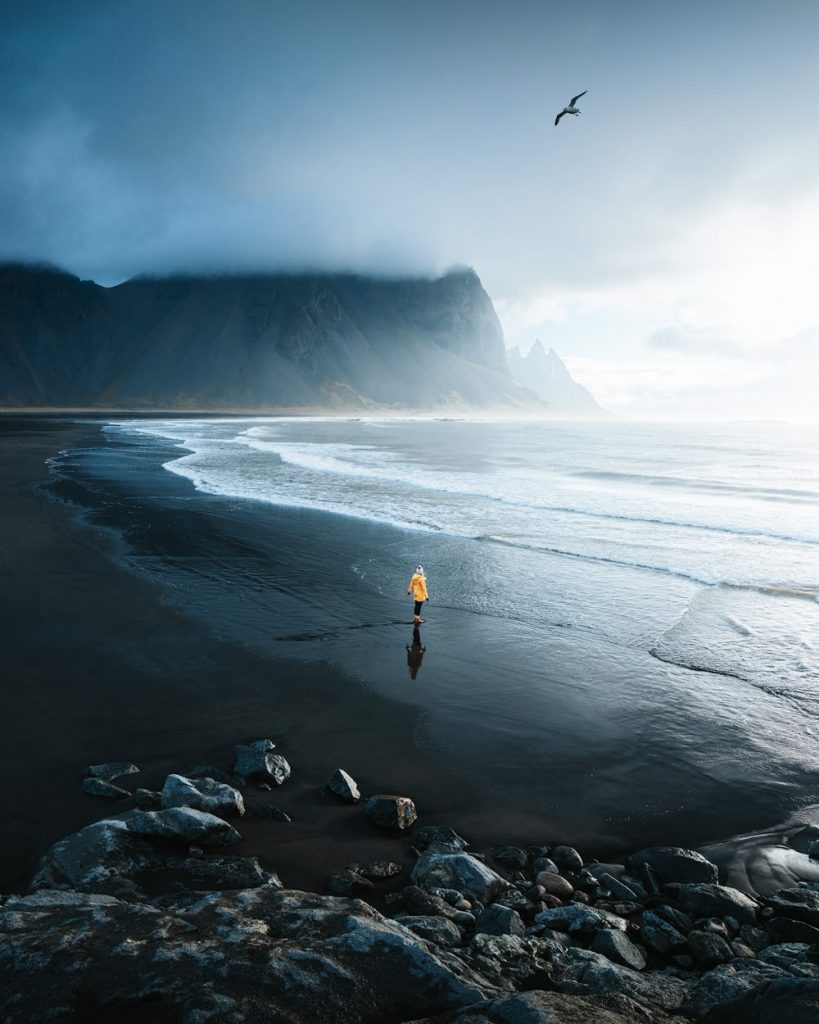 Stop 1: vestahorn (Stokksnes)
Your first stop of the morning will be at Vestrahorn (also known as Stokksnes). There is an entrance fee of about USD 7.50, but it is well worth it. This is another of my absolute favorite stops in Iceland, and I've been more than a handful of times. Sunrise is an absolute dream here if you can stomach the early rise, and thankfully it's close to Hofn so not a big backtrack to get food afterward.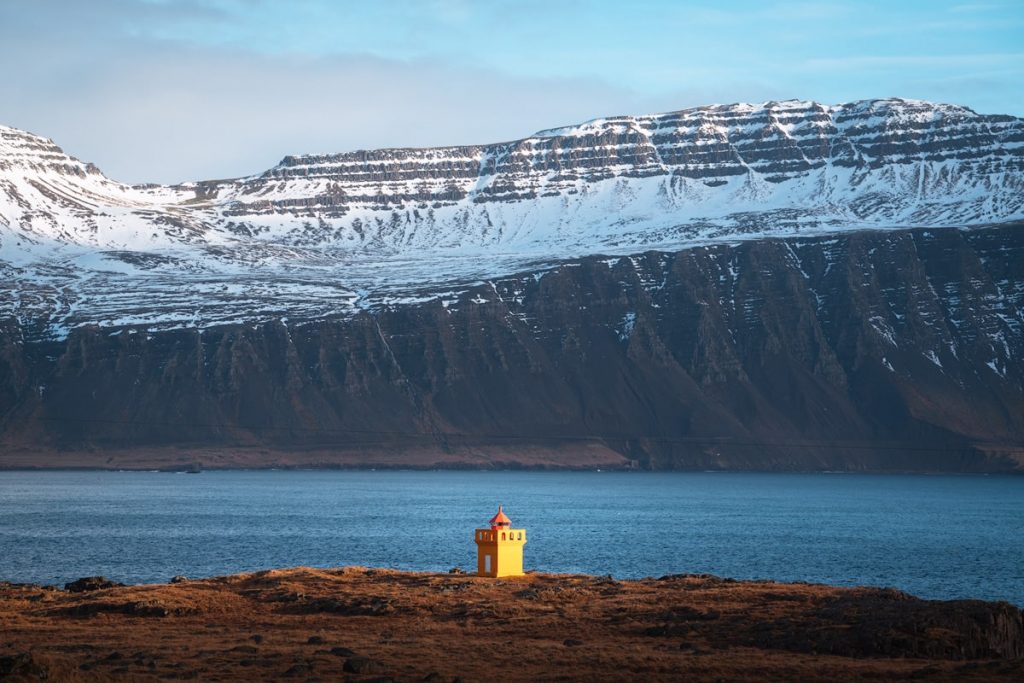 Stop 2: east fjords
The East Fjords make up a large region in eastern Iceland. I've been less specific with the stops in this area because my favorite thing here is to just stop whenever something catches my eye. Everything is so stunning in the East Fjords, so take it slow and enjoy the views. There are also several roadside waterfalls, so feel free to pull over and walk to one or two along the way. Keep an eye out for reindeer, we saw quite a few in this region during our last visit in the late spring/early summer.
If you like hot springs then consider stopping off at Djúpavogskörin Natural Geothermal Pool. In addition, this pool is located right next to the Ring Road (route 1) and has beautiful views. It's also very hot, so you may not even get all the way in!
One thing to note is that Google Maps may take you off route 1 near Breiðdalsvík and over route 95 into Egilsstadir. This is the quickest way, and it is beautiful, though a little bumpy and rough. I personally like route 95, but if you want to stick to the highway you can instead choose to continue the longer way on route 1 to the next stop. Route 1 will also take you through Egilstaddir before the next stop in case you're hungry and need a break. Alternatively, you can choose to detour into Egilsstadir if you take route 95 as well.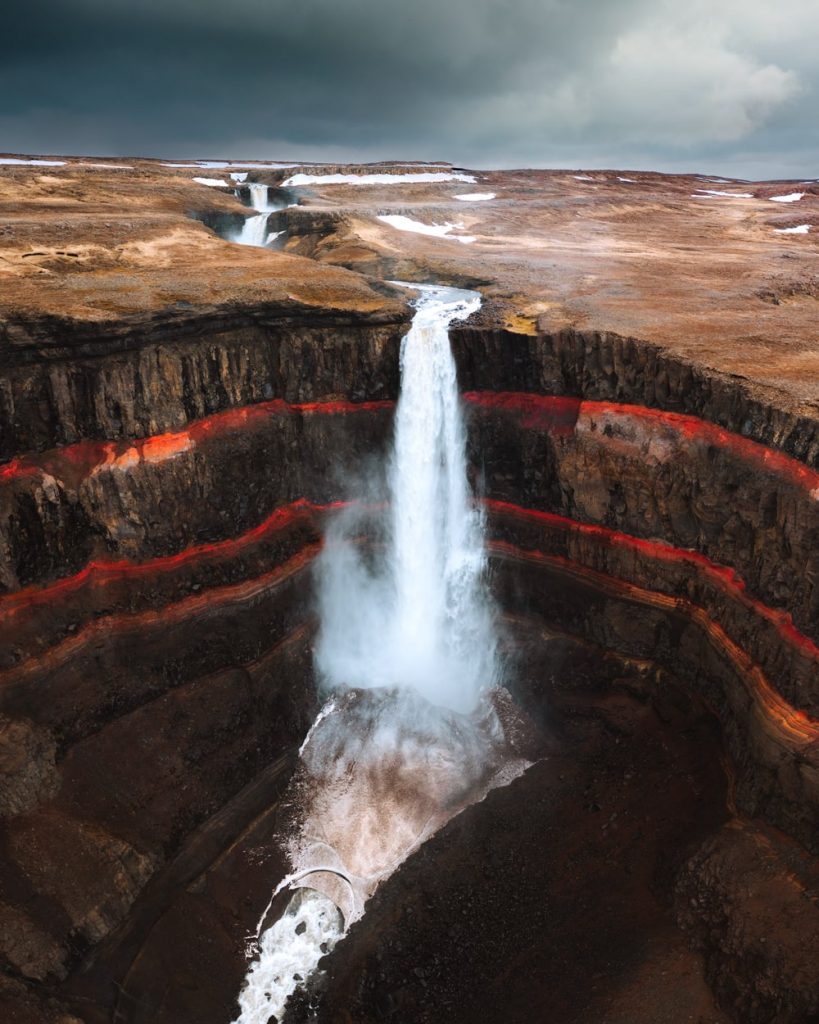 Stop 3: hengifoss and litlanesfoss
Your next stop will be the beautiful waterfalls of Hengifoss and Litlanesfoss. Hengifoss is the third highest waterfall in all of Iceland and is famous for the red banding in the cliffs around it. To reach it requires a steep 4.5km (3 miles) roundtrip hike. But if you don't want to go the whole way to the base of Hengifoss, you can shave off 1.5km (1 mile) round-trip by stopping at the bench viewpoint of Hengifoss above Litlanesfoss and turning around there. There are also restrooms at the parking lot and parking is free.
Read next: Beginners Guide to Hiking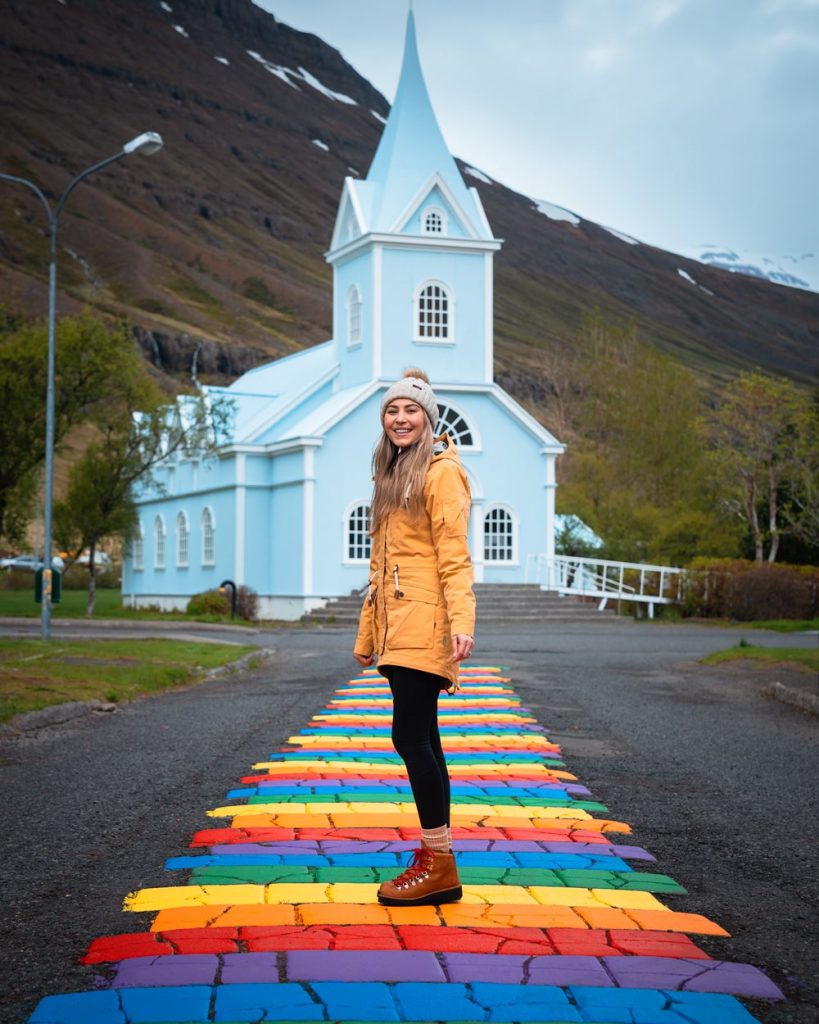 Stop 4: seydisfjordur
While in east Iceland, Seydisfjordur is a quaint coastal town definitely worth checking out. A popular tourist attraction here is the rainbow road leading to the town's church, a symbol of Iceland's progressive nature. This is also a great spot to rest for the night, so grab a meal in town, enjoy the fjord views, and rest up.
Where to Stay In Seydisfjordur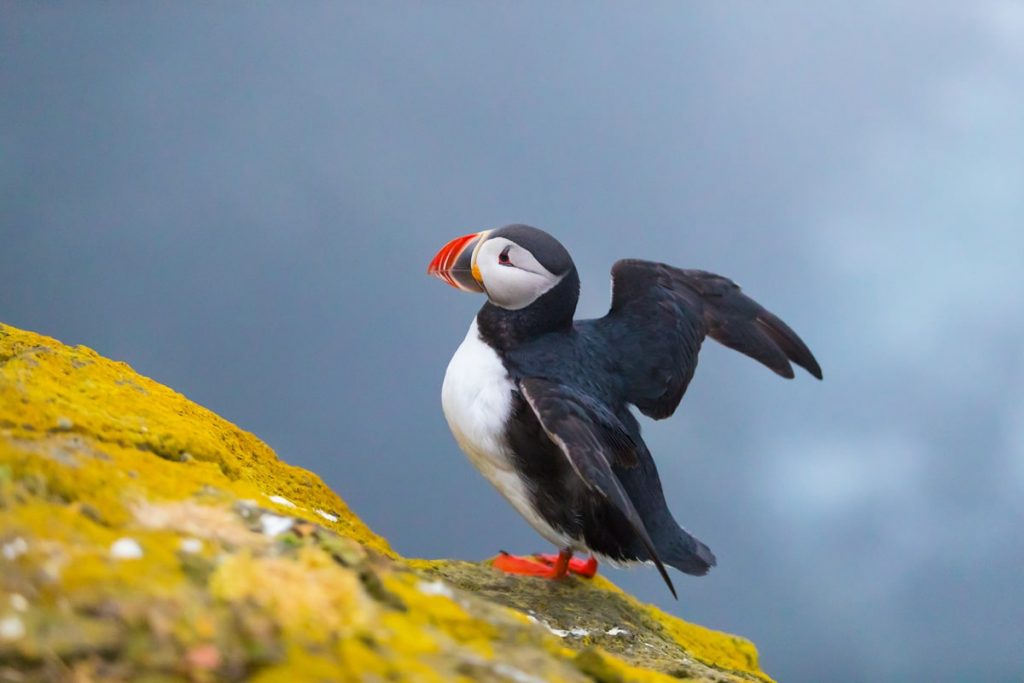 Day 4: Seydisfjordur to Husavik
Over the course of day 4, you will be making your way from Egilsstadir and ending in another beautiful fishing village called Husavik. The total drive time is around 4.5 hours, with short walks at the scenic stops along the way.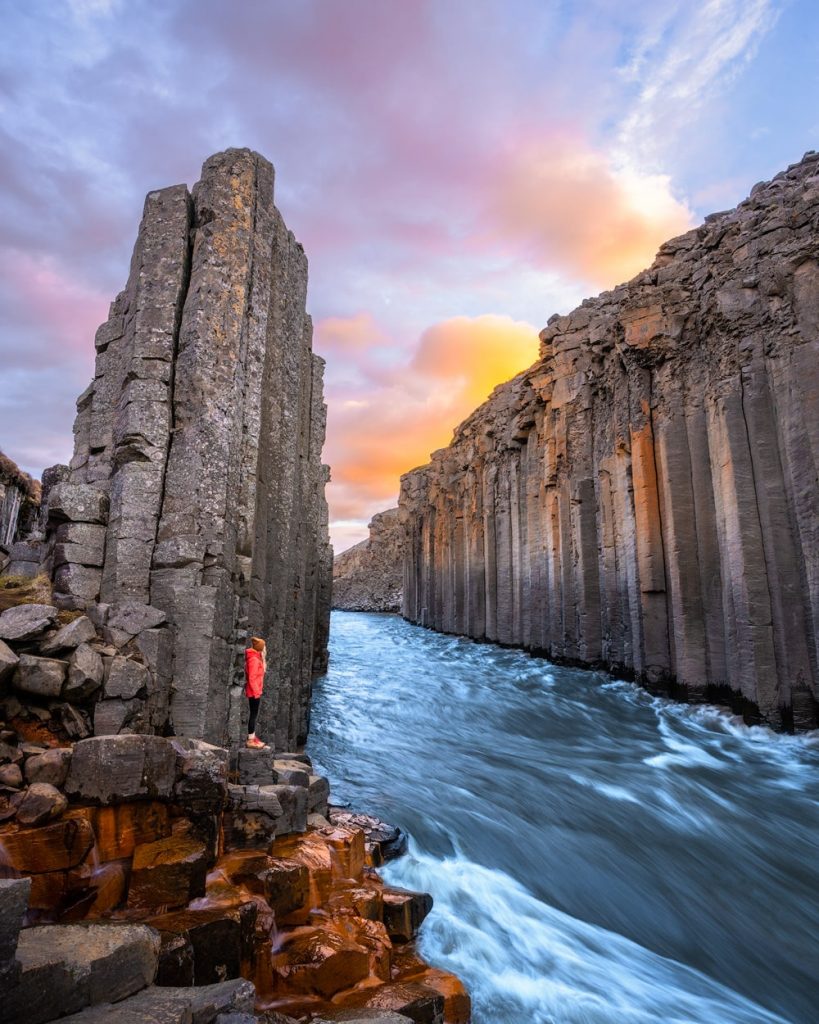 Stop 1: Studlagil Canyon
You have probably all seen this spot on Instagram by now. Stuðlagil Canyon is famous for its Basalt columns that rise from a vibrant blue river, creating the most surreal and dreamy views in the northeast region of Iceland. To get here with the least amount of walking, you'll want to drive to the location listed as "Carpark Stuðlagil East side Canyon" on GoogleMaps, cross the larger bridge (not the smaller one next to it), then turn right. You will be entering a farmer's property, but they allow it as long as visitors respect the land. Continue along the dirt road and turn into the parking lot signed on the right, just before a basalt waterfall called Stuðlafoss. From here it is about a 1.5km (1 mile) walk each way to the canyon.
Note that you can also visit Stuðlagil Canyon from the other side of the river and this option requires minimal walking, but in my opinion, the views aren't as epic. To get to the drive-up spot, simply navigate to "Stuðlagil Canyon Parking" on GoogleMaps and it will take you to the viewing area. In fact, this area has a proper paved parking lot, bathrooms, and a campground.
Read next: Hiking Trail Etiquette Rules You Should Know and Follow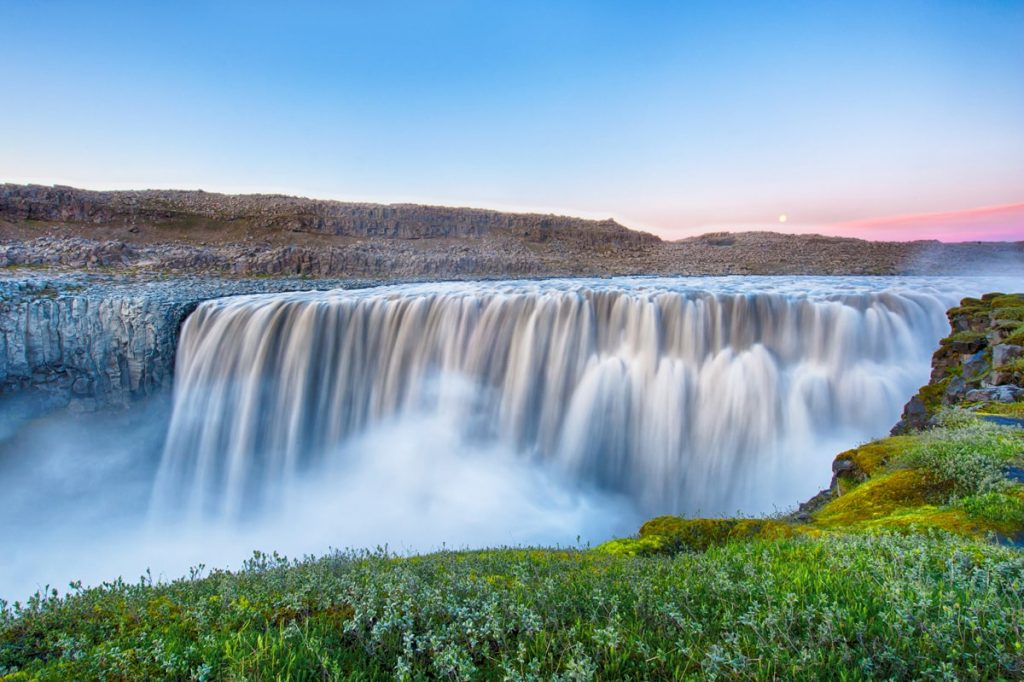 Stop 2: dettifoss
Dettifoss is one of the most intense waterfalls I have ever seen and is said to be the second most powerful waterfall in all of Europe. You can view the falls from either the east or west side, but the west side is the most popular parking lot and has more managed trails, bathrooms, and viewpoints. Click here for directions to the west side parking lot.
Want to see puffins? You could adjust this itinerary in order to visit Borgarfjörður eystri, a famous puffin viewing area in the East Fjords. It's a bit out of the way so would entail cutting out Seydisfjordur, Stuðlagil Canyon, or Dettifoss. This is a helpful article on visiting Borgarfjörður eystri.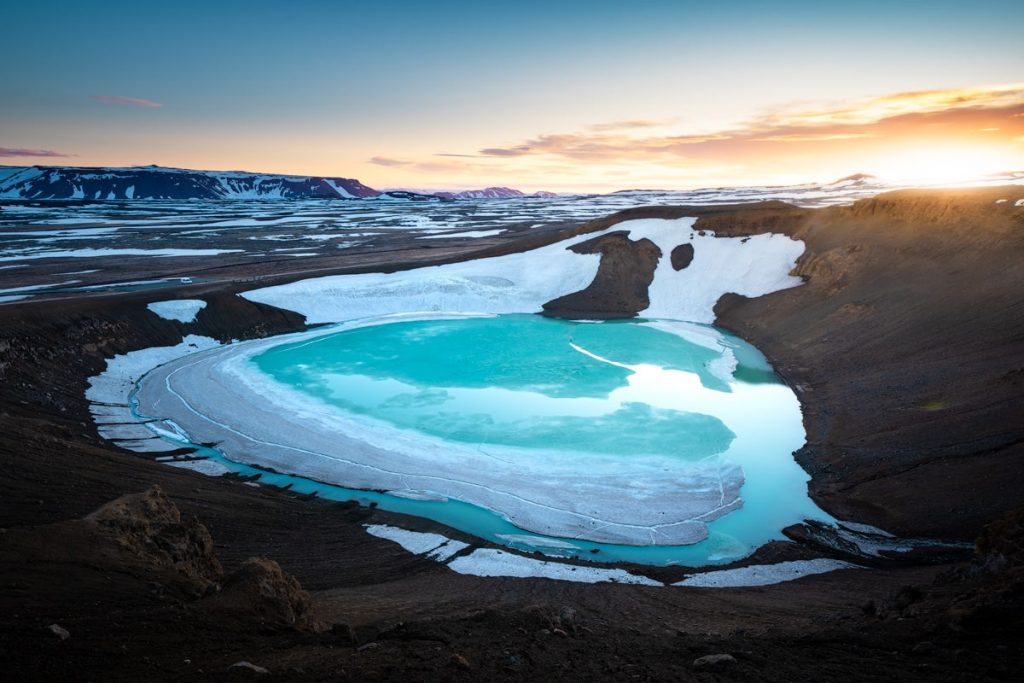 Stop 3: Viti and krafla
The next stop is the Krafla area, where you will find the Viti crater. The drive to the crater through Krafla will give you a look into Iceland's unique way of harnessing the natural energy created by its volcanic landscape. Viti itself is a vibrant blue crater with epic views of the surrounding landscape from the top. This is just a short walk from the parking lot, and you can also go up as far as you like. The crater is usually still frozen until late spring, so keep that in mind.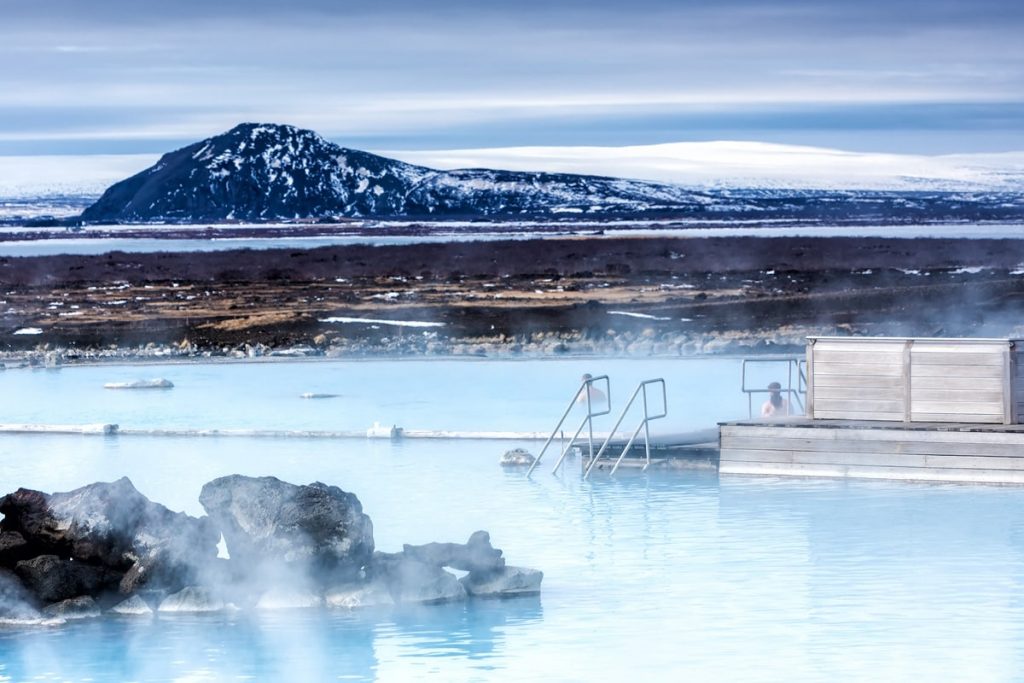 Stop 4: myvatn
Myvatn is a large volcanic lake in northern Iceland. Many visitors to this region come here to go to the Myvatn Nature Baths, which is an option if you enjoy soaking. The Myvatn Nature Baths are really beautiful but not my #1 favorite geothermal hot spring/bath in Iceland. In fact, I find the water to be not quite hot enough for my liking. In saying that, if you're a big hot spring fan then I am sure you will enjoy it.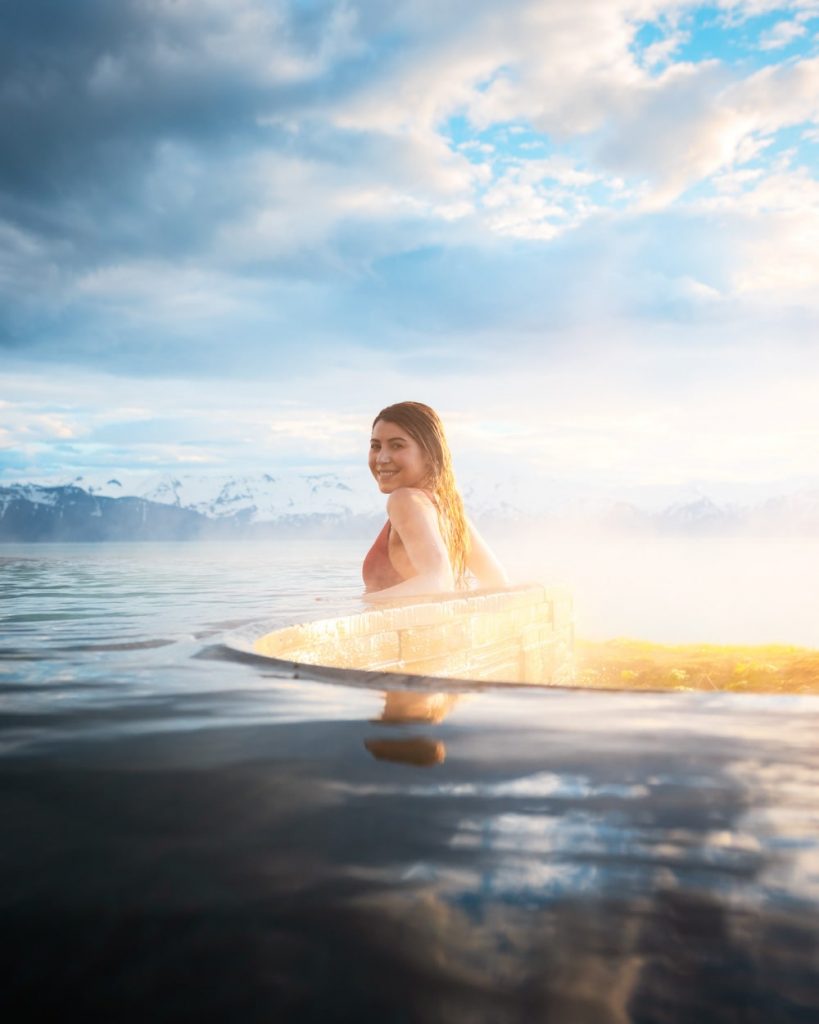 Stop 5: husavik
A small fishing town along the northern coast of Iceland, Husavik was recent thrown into the world's eye as the hometown of the characters in the Will Ferrell movie "Eurovision". Husavik has gorgeous mountain and coastal views, and also one of my favorite geothermal baths, GeoSea. I really enjoyed grabbing some fresh fish for dinner at Fish and Chips, then heading to GeoSea for a sunset soak. I recommend spending the night in or nearby Husavik. If you feel like a sleep-in at this point of the trip, this is the day to do it.
Optional tour: Húsavík Big Whale Safari & Puffin Island Tour
Where to Stay In Husavik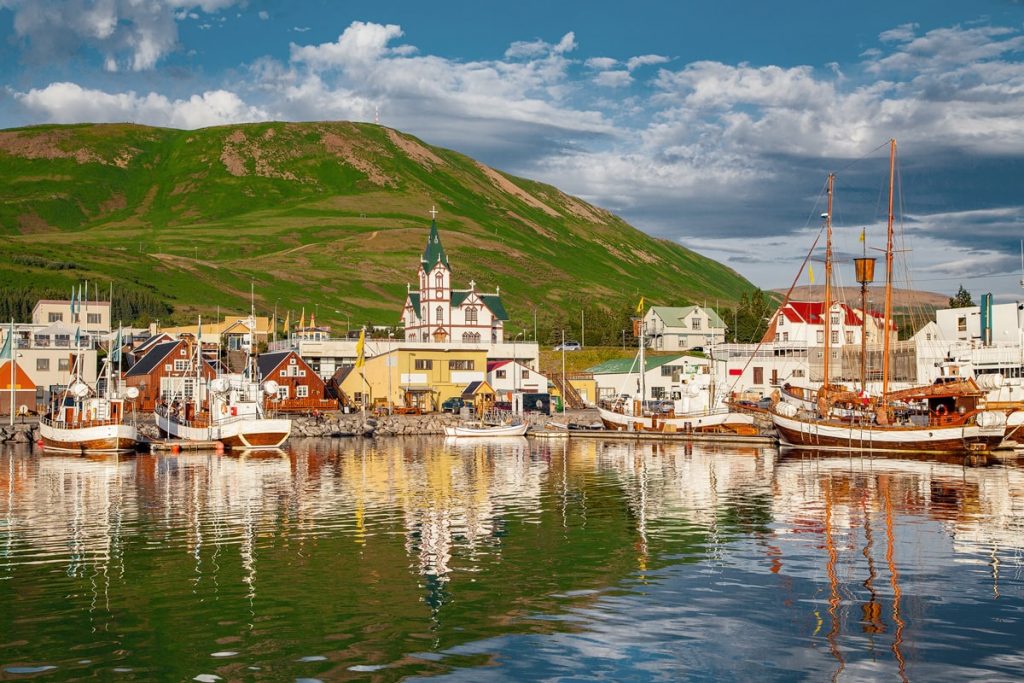 Day 5: HUSAVIK to GRUNDARFJORDUR
Starting in Husavik, this is a big drive day and probably the least interesting of the trip. The northern part of Iceland after Akureyri is a lot of driving and not a lot of interesting things to see until you reach the Snaefellsnes Peninsula. With that being said, the relaxed day of driving is a good way to wind down after a hectic schedule over the past few days.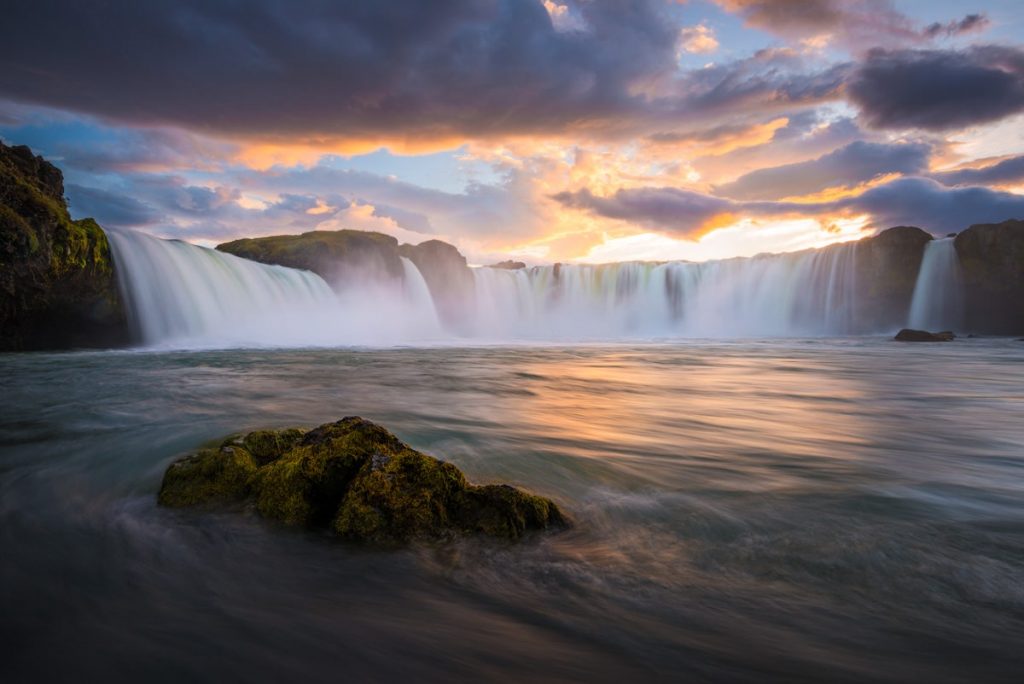 Stop 1: godafoss
Translated to "Waterfall of the Gods", Godafoss is a beautiful waterfall along Route 1 between Husavik and the city of Akureyri. It's definitely worth jumping out of the car and checking this one out. I recommending walking to both sides of the falls if you have the time.
Stop 2: akureyri
Akureyri is the second-largest city in Iceland and home to the second major airport in the country. Akureyri is quite a pretty city and makes a good lunch spot if you got a late start to the day, or even breakfast if you like to eat a little after waking. There are plenty of restaurants, cafes, and retail stores in the city square for you to check out.
Attention hot spring lovers: not much further along route 1 is a short detour to Fosslaug hot pool. You could choose to stop here instead of Akureyri or add it to your itinerary if you have plenty of daylight hours.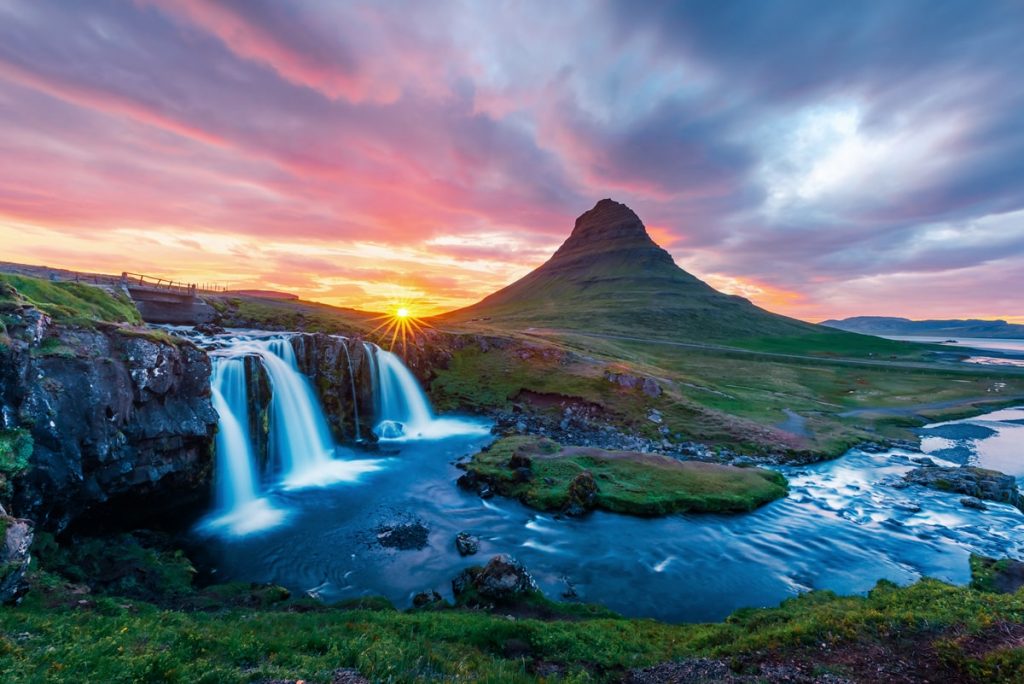 Stop 3: kirkjufellsfoss
A popular stop on the Snæfellsnes Peninsula, Kirkjufellsfoss is just a short walk from the road and offers beautiful views across to Kirkjufell mountain. This is a famous photography spot, so consider going at sunset and be sure to bring your camera!
Read next: What's In My Camera Bag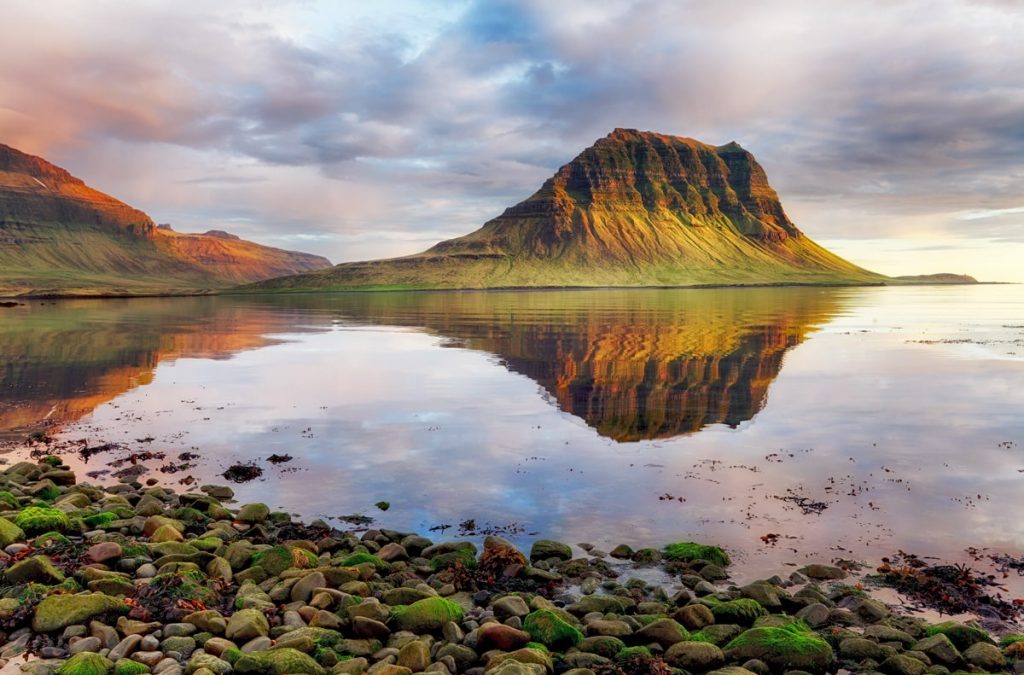 Stop 4: grundarfjordur
Finish the day in the town of Grundarfjordur, nearby Kirkjkufell. This is a pretty small town, but there are a few accommodation and food options catering to tourists.
Where to Stay In Grundarfjordur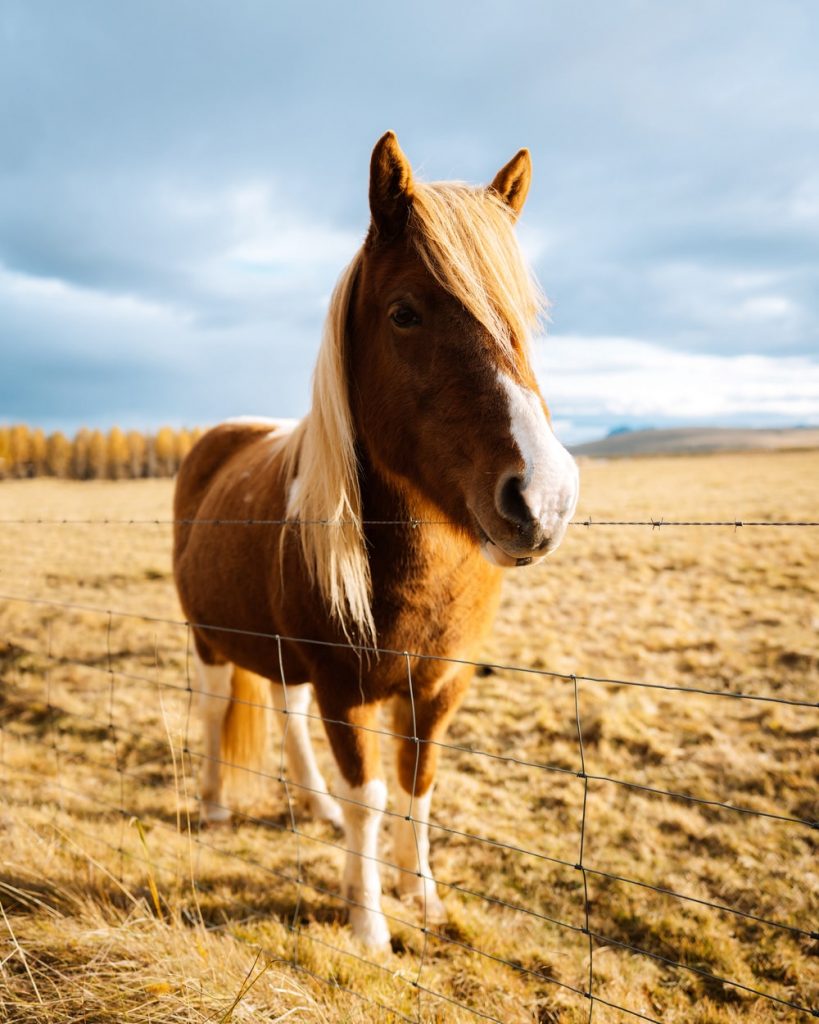 Day 6: GRUNDARFJORDUR to Reykjavik
You'll be starting day 6 in Grundarfjordur and ending in Reykjavik. This is a smaller driving day at around 3.5 hours total, with mostly just roadside stops along the way.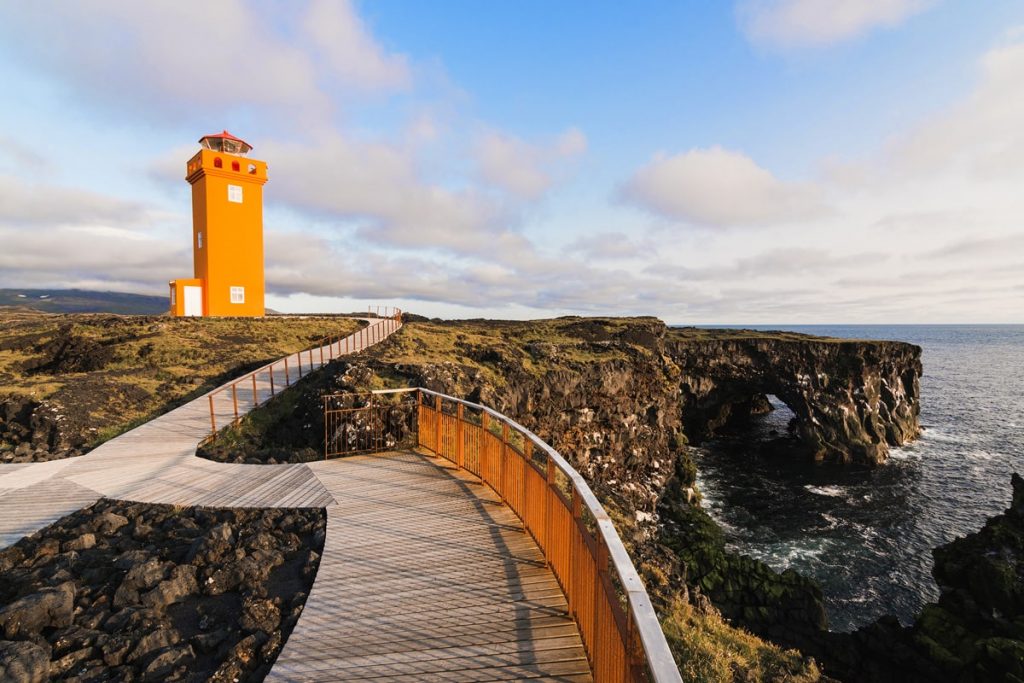 Stop 1: Svörtuloft Lighthouse
Make your way around the Snaefellsnes Peninsula, enjoying the sights along the way. Your first stop will be the Svortuloft Lighthouse, a vibrant orange lighthouse at the western edge of the peninsula. There is also a short walking trail to the lighthouse, and it's a great spot to grab some photos and enjoy the fresh sea air.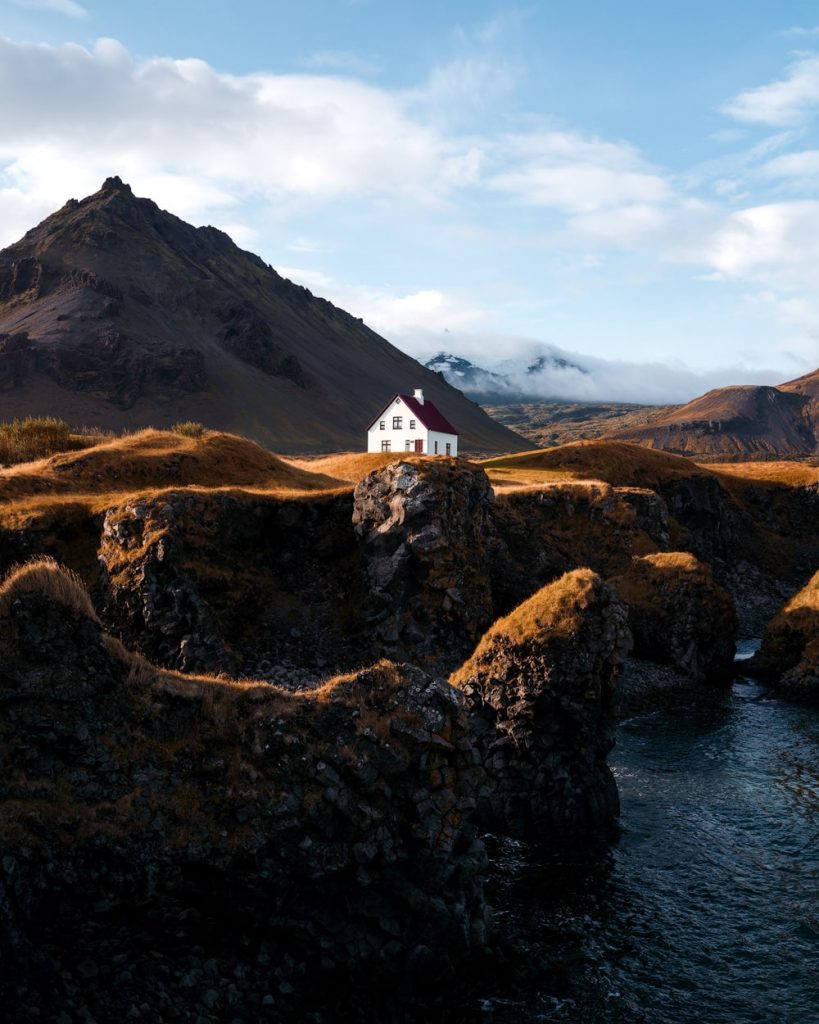 Stop 2: Arnarstapi
Arnarstapi is a nice little stop along the southern part of the peninsula. Here you get great views of the Snaefellsjokull glacier, as stunning coastal scenes. There's also a couple of spots to grab food or use the restroom in Arnarstapi. In addition, I really love the hike from Arnarstapi to the nearby town of Hellnar. It's around 6km (3.7 miles) round-trip, mostly flat, and you will see some really beautiful cliffs, rock arches, and more.
Read next: Best Hiking Shoes for Women and Men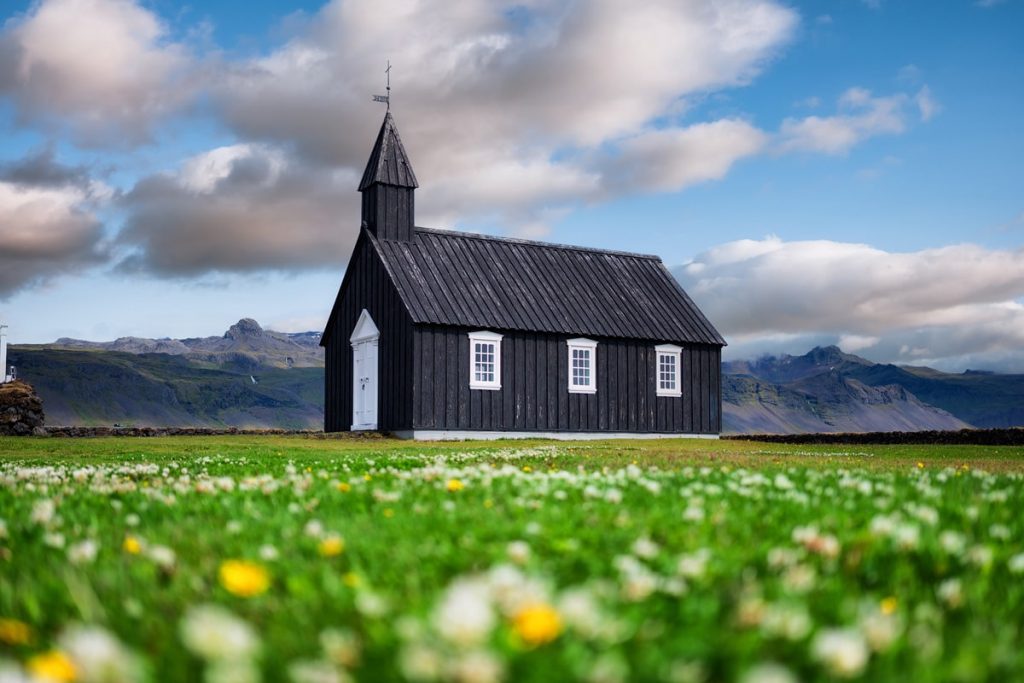 Stop 3: Búðakirkja (Budir)
Budir is a famous black church with dramatic mountain views. Mostly known as a photography spot, it's a cool little detour on your drive back to Reykjavik. You won't need to spend long here.
Fun fact: Iceland is a tiny country but still has over 350 churches dotted around the island, making it an estimated 1 church for every 950 people!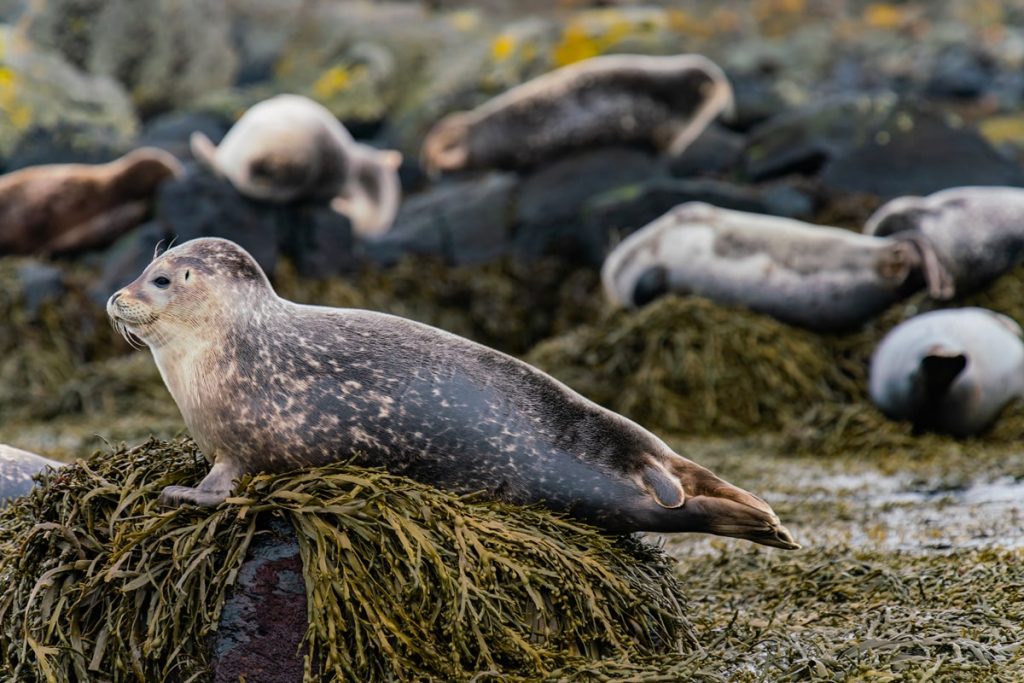 Stop 4: Ytri Tunga Seal Beach
Ytri Tunga is a beach that is home to a seal colony. Your best chance of seeing them is in the summer months, but even if you don't see a seal it's still a beautiful beach to take a stroll. After this stop, you will begin making your way back to Reykjavik.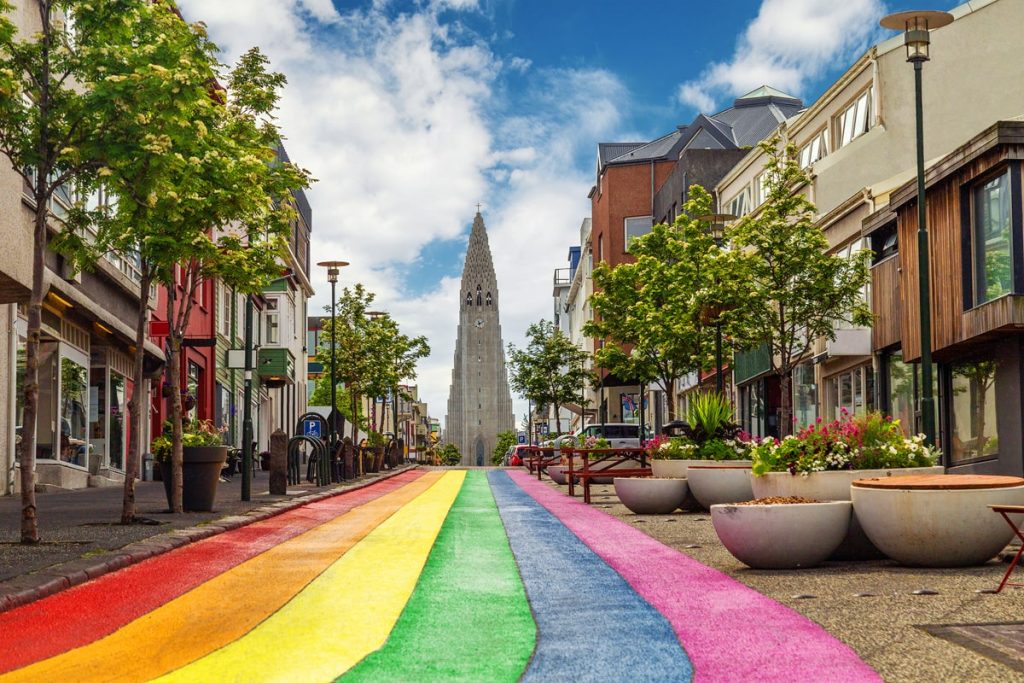 Stop 5: reykjavik
No trip to Iceland is complete without spending a little time in the largest city in the country. Reykjavik is one of my favorite cities from all of my travels around the world. It's quaint, modern, and lively all at the same time. There are some amazing food options, unique retail stores, and also plenty of sights to keep you occupied for an evening downtown.
I recommend checking out Hallgrimskirkja, the famous church which sits at the top of the hill overlooking Reykjavik. You can also pay to take the elevator to the top for epic views over the city and Snaefellsnes Peninsula in the distance (beautiful at sunset!). You can check out the unique architecture inside of the church for free.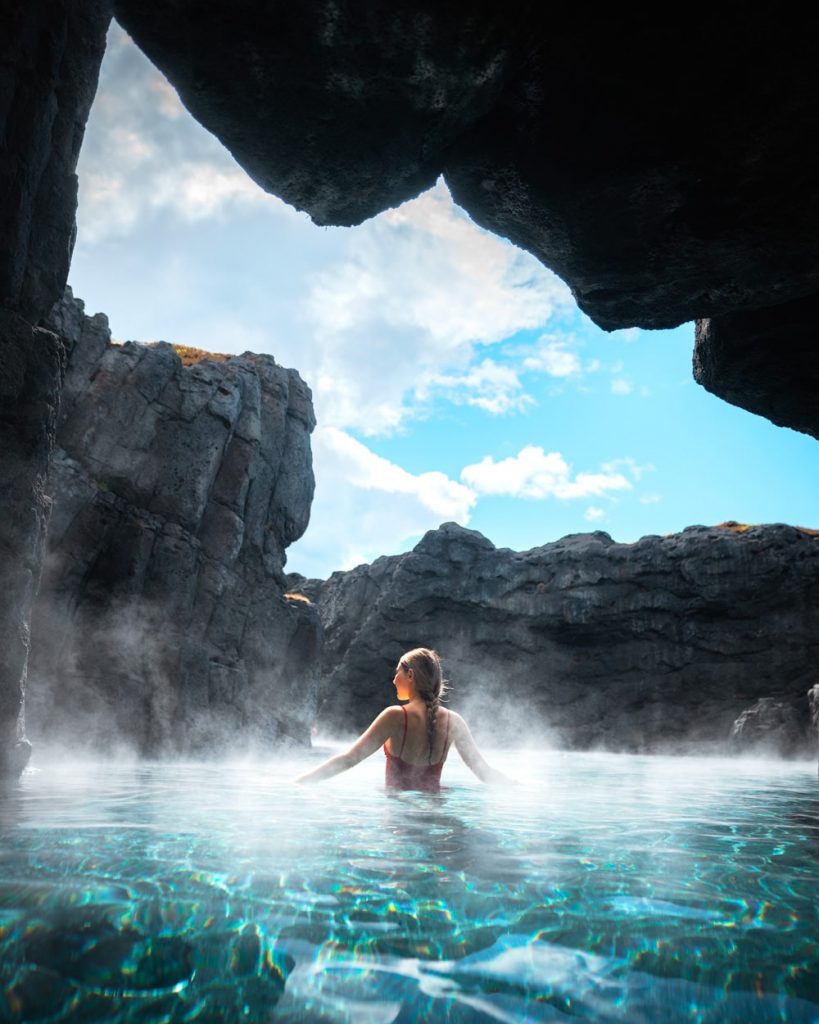 I also recommend the short drive out to Sky Lagoon to experience their amazing oceanside geothermal lagoon. We went to many hot springs/natural baths during our time in Iceland, and this one was probably our favorite overall. The facilities are clean, the pools are surrounded by really neat rock walls, and their 7-step ritual experience was SO relaxing. Click here for tickets to Sky Lagoon (including transfer).
As for food, I've eaten at quite a few places in town. Some of my favorites include Gandhi Indian, Cafe Babalu, 101 Reykjavik Street Food, Fish Company, Kopar, Hamborgarabulla Tomasar, DEIG Workshop, and BioBorgari. We also really enjoyed the coffee from Sandholt.
Looking for an easy way to get around Reykavik without worrying about parking? Try the Reykjavik Hop-On Hop-Off Bus.
Where to Stay In Reykjavik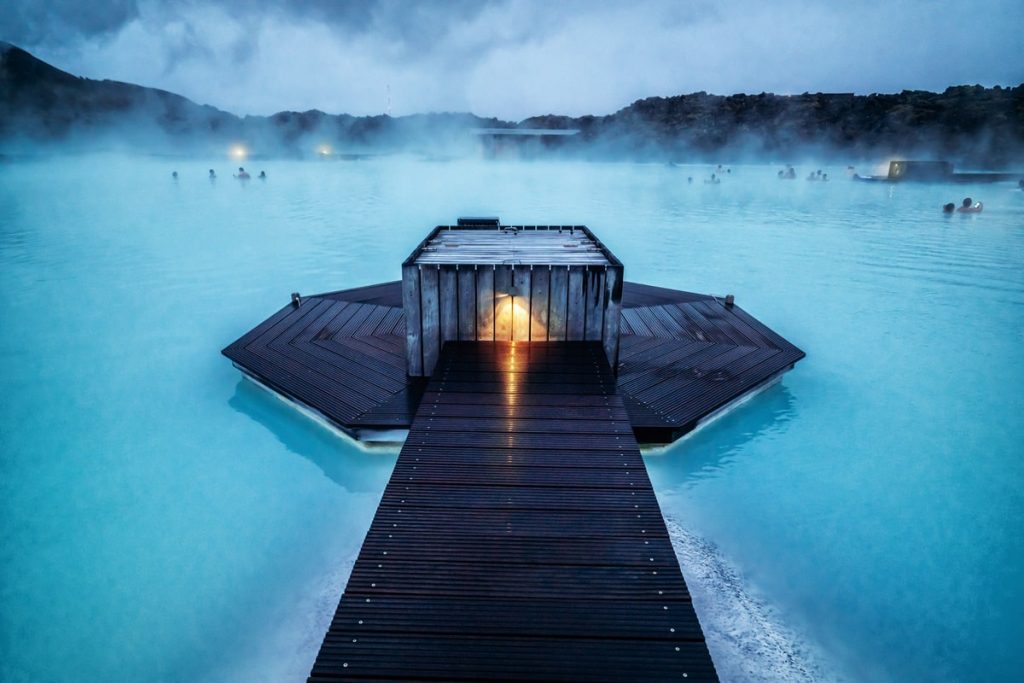 Day 7: Reykjavik to Airport
You'll be starting day 7 in Reykjavik and flying out of Keflavik airport. Most international flights seem to leave in the afternoon, so it should give you plenty of time to do one more thing before flying out.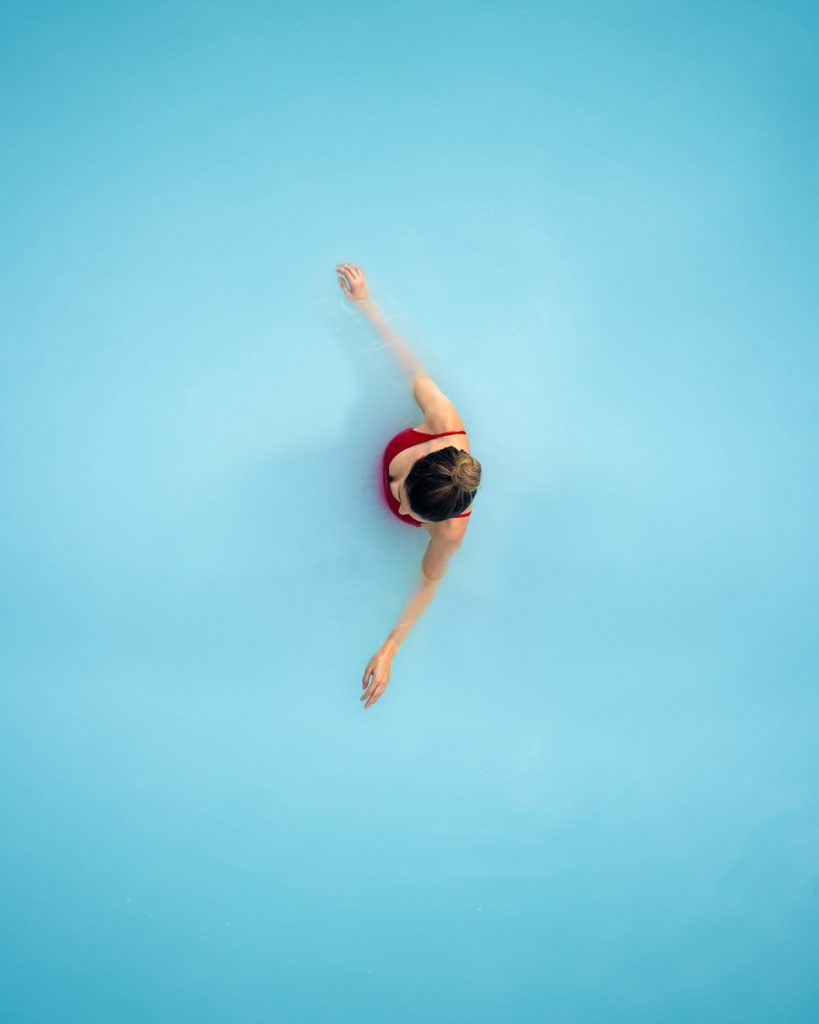 Stop 1: blue lagoon
The Blue Lagoon is the most popular of the natural hot springs in Iceland, partly due to its proximity to Reykjavik and the Keflavik airport. It's made up of 70% ocean water/30% freshwater and is enriched with silica, algae, and minerals. It's said to heal, nourish, and rejuvenate the mind and body. I really enjoyed trying out their different face masks, and their bar swim-up bar even had my favorite cider. Not a bad way to end a hectic trip around the land of fire and ice! Tip: be sure to put your hair up as the silica makes it extremely knotty! Click here to get your Blue Lagoon tickets
Stop 2: keflavik airport
Well, that's it. After an epic 7 day Iceland road trip it's time to go home and get some sleep, something I'm sure you haven't had nearly enough of by now haha. See below for information on how to add additional days to your trip, if that is of interest.
---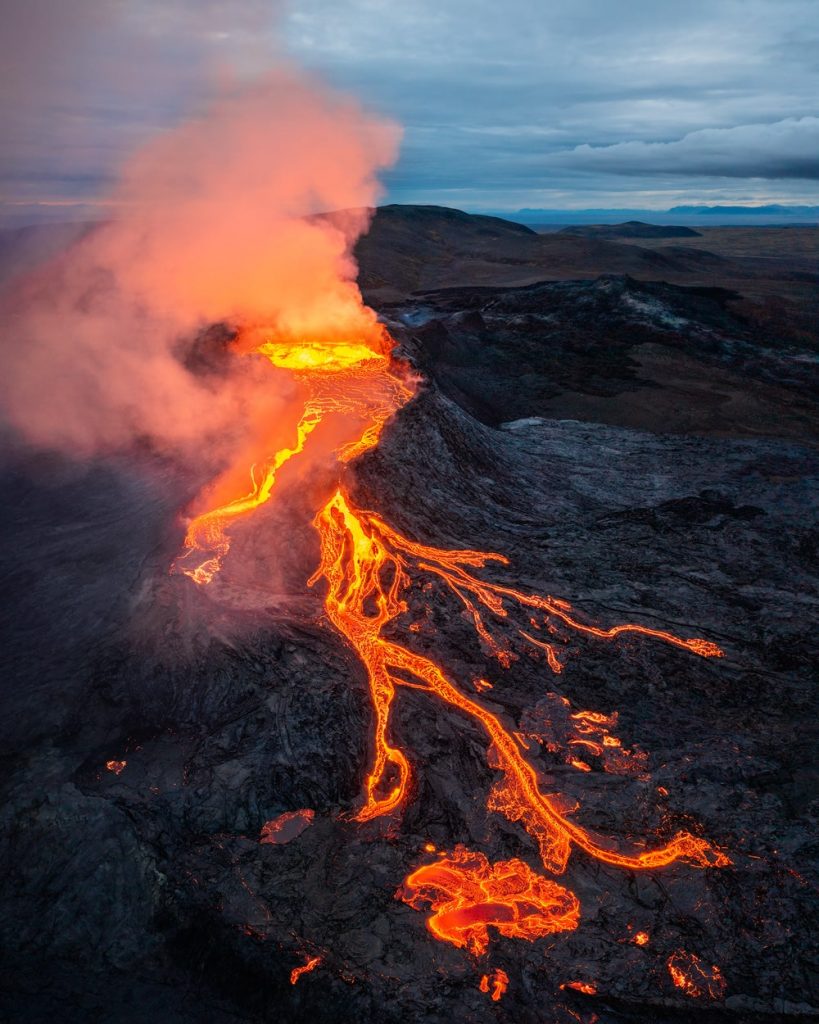 Visiting Fagradalsfjall Volcano
*** Update as of February 2023 *** Fagradalsjfall volcano is sadly no longer erupting.
Iceland is currently experiencing the continued eruption of the Fagradalsfjall volcano. The eruption first started in March, and no one really knows when it will stop. It could be tomorrow, or it could be decades. To see the volcano, you will first park at the place marked Geldingardalur Volcano Parking on Google Maps. When we visited (June 3, 2021), there was a trail to follow from the parking lot which made the journey relatively straightforward. It took about one hour to the viewpoint of the crater (and an hour back down). The trail is a little rocky and uneven, and does go uphill, so bring some water and take it slow if you're not the most stable on your feet.
I went back a second time about 10 days after our first visit (June 13, 2021), and there was now a river of lava flowing right over the trail that we had taken to the viewpoint on our first visit. I say this to point out that the trail and best viewpoint of the volcano are continuously changing. Follow the signs and they will take you to where it is currently safe.
As for when to visit the Fagradasfjall volcano on your Iceland road trip, I suggest making the decision after your dinner in Reykjavik on day 6. If you still have some energy, make the drive out and do it that night. If not you can get some rest and go in the morning. And if you do decide to do it on the morning of day 7, I highly recommend getting up super early and arriving trailhead with enough time to get up there before sunrise. The volcano and lava are most visible in the dark hours.
---
Iceland 7 Road Trip Itinerary Map
Below you will find a Google interactive map of all the spots listed above. The map is broken down into 3 sections: places to see, towns/cities to visit, and places to eat.
---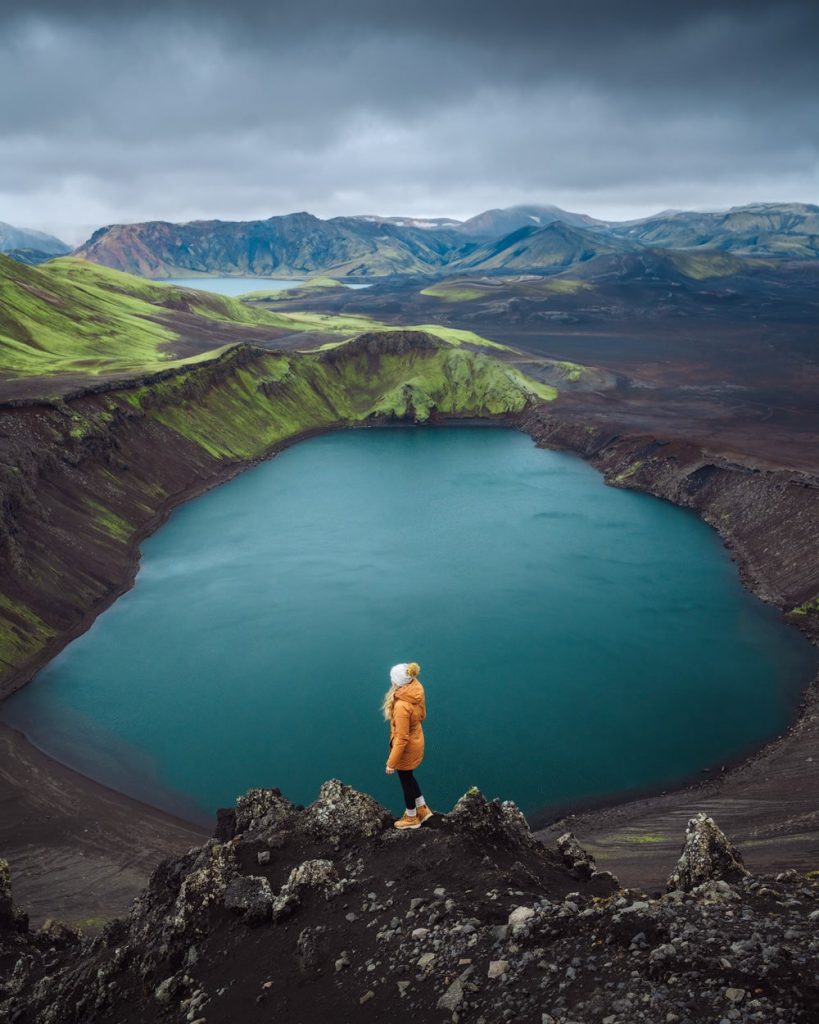 How To Extend Your Iceland Road Trip
If you have more than 7 days in Iceland, there are so many more spots you could add to this itinerary to make it even more epic! The Highlands are typically accessible from late spring until late fall and are home to some of the most unique and beautiful parts of the country. Unfortunately, a lot of it is accessible only with high clearance 4×4 vehicles which can be expensive to rent. It's possible to rent a smaller and cheaper vehicle for the 7 day Iceland road trip itinerary listed above, then rent a 4×4 high clearance vehicle for an additional few days to explore the highlands. I definitely recommend checking out the Landmannalaugar area. There is camping, hiking trails, and some incredible things to see on the drive in.
The Golden Circle is a popular tourist destination, but I left it out of this itinerary due to time constraints and prioritizing other spots. You could do a loop from Reykjavik and do a day trip to the many cool spots out there including Gulfoss, Bruarfoss, Geysir, Þingvellir National Park (aka Thingvellir National Park), and the Kerid Crater. See some more information on a Golden Circle day trip in my 3 Day Iceland road trip itinerary in the next section of this blog post.
Alternatively, if you have an extra 3-5 days you could explore the remote Westfjords.
This is a stunning area of the country, and usually a good escape from other tourists. It's a long drive to get around, and some of the roads aren't the best. With that said, if you have the time, this is definitely worth looking into!
Another option is to explore one of the many islands dotted around the coast of Iceland. A few of the popular ones include Vestmannaeyjar, Grimsey, Drangey, and Flatey.
Read next: How To Take a Road Trip on a Budget
---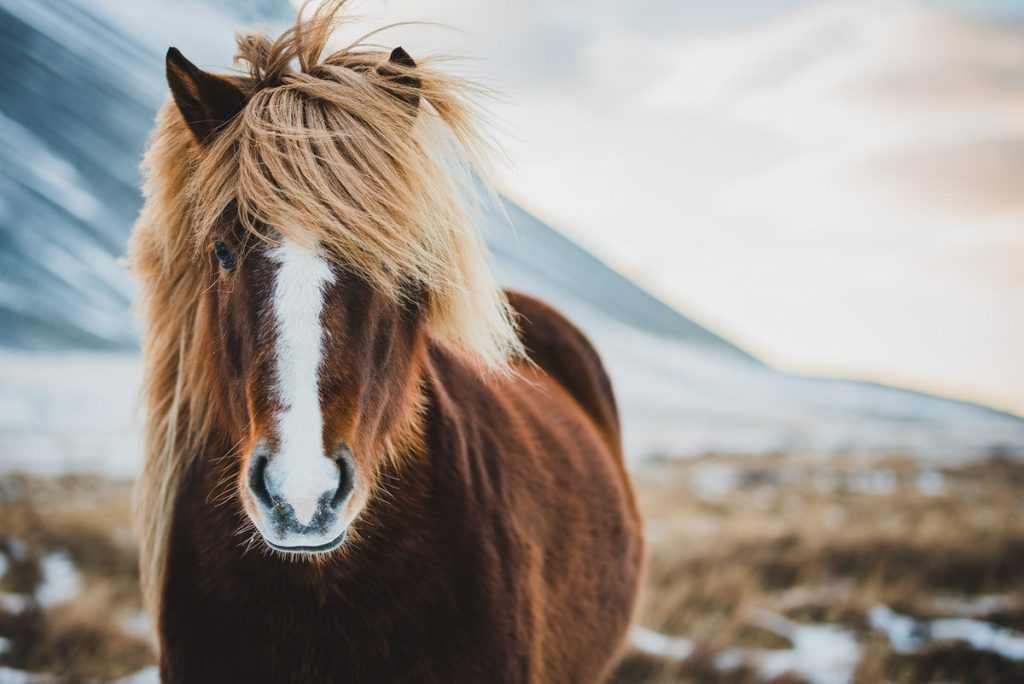 Epic 3 Day Iceland Trip Itinerary
A 3 day Iceland road trip is definitely possible, but the itinerary is going to be PACKED. Don't worry, it'll be worth it! You'll see a volcano, waterfalls, mountains, glaciers, and much more! Due to this being such a short trip, you will have to do a lot of driving to see as much as possible. Thankfully, Iceland has some of the most scenic roads in the world to keep your eyes busy.
Day 1: South Coast
You'll be starting day 1 in Reykavik. From there you will pick up your rental car and head out to the town of Vik, then at the end of the day you will head back towards Reykjavik to spend the night. Day 1 involves around 5.5 hours of driving, but there's plenty of stops in between.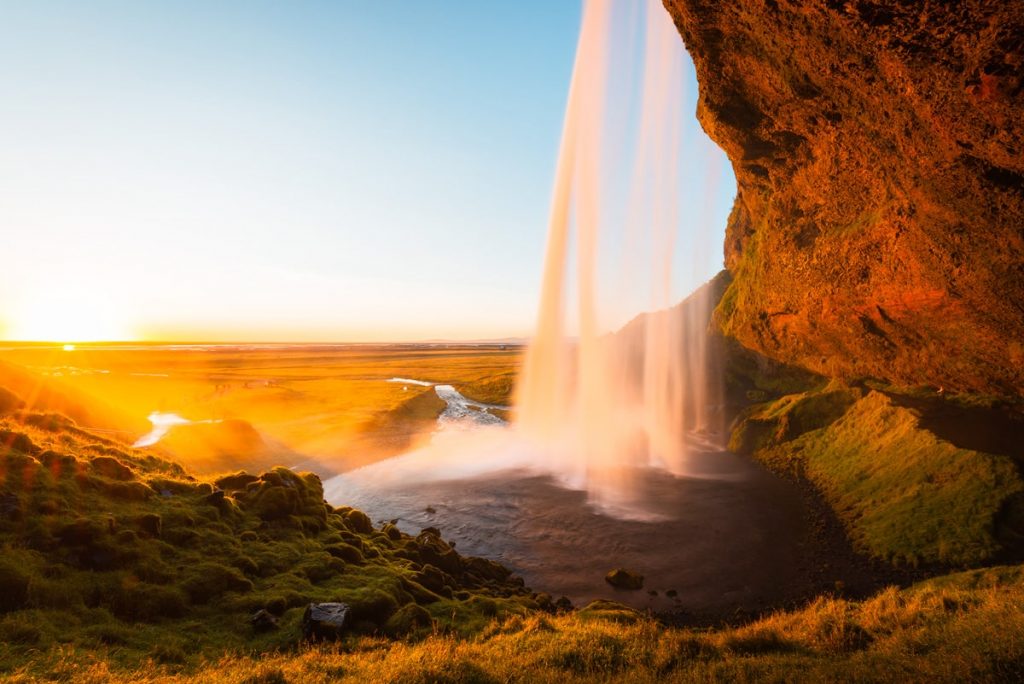 Stop 1: seljalandsfoss
The first stop of this whirlwind Iceland road trip itinerary is Seljalandsfoss. You cannot miss this waterfall as it greets you from the highway. Turn into the parking lot and follow the walking trail around and behind the waterfall. Don't forget a rain jacket (don't say I didn't warn you!)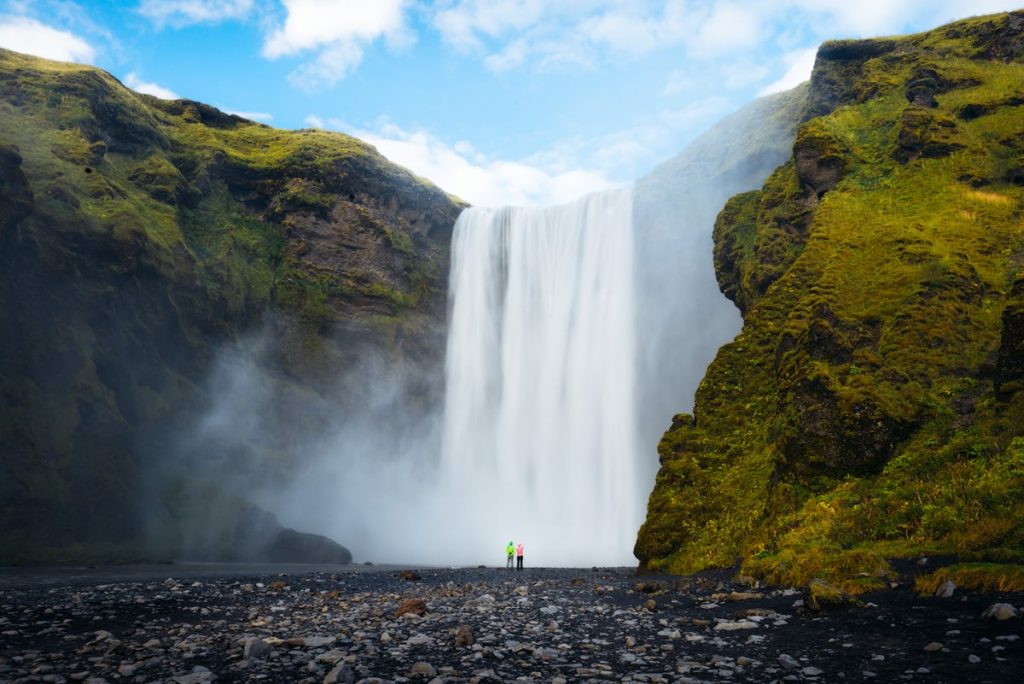 Stop 2: skogafoss
As if Seljalandsfoss wasn't awesome enough, Skogafoss is arguably an even more impressive waterfall. Surrounded by mossy cliffs, this waterfall is one of my favorite stops when traveling Iceland's south coast. You can take a short trail up to the top of the falls, so check that out while you are here.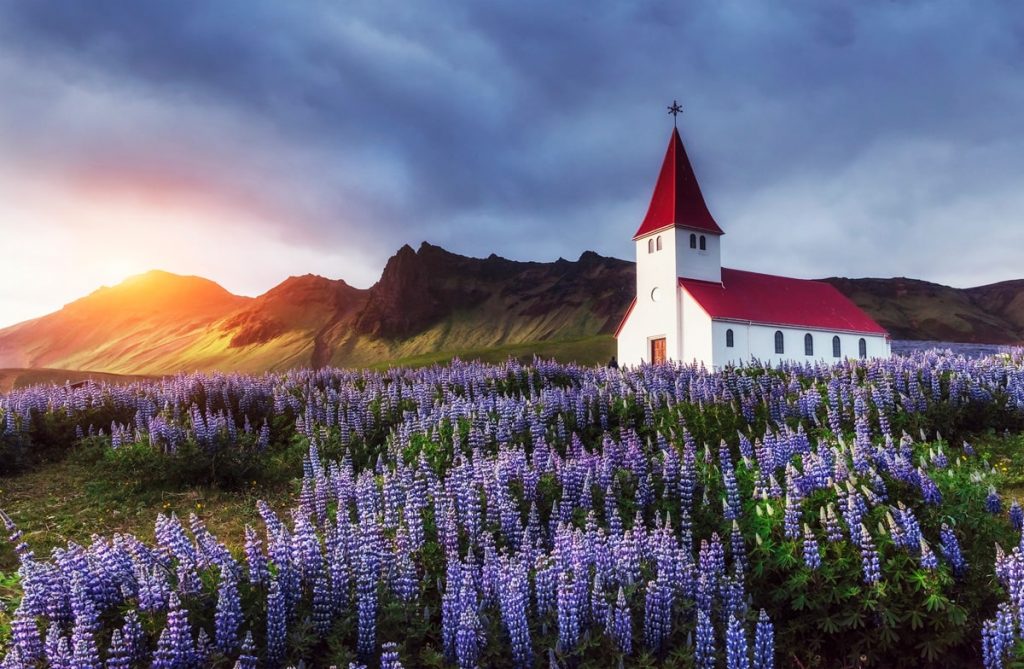 Stop 3: vik
Move on quickly to the town of Vik where you'll grab a burger and a drink at Smiðjan Brugghús. The food and drinks here are so good! If you feel like some caffeine after lunch, the nearby Skool Beans coffee bus (you heard that right, it's actually a bus) has some delicious options to keep you fueled for the next leg of the journey.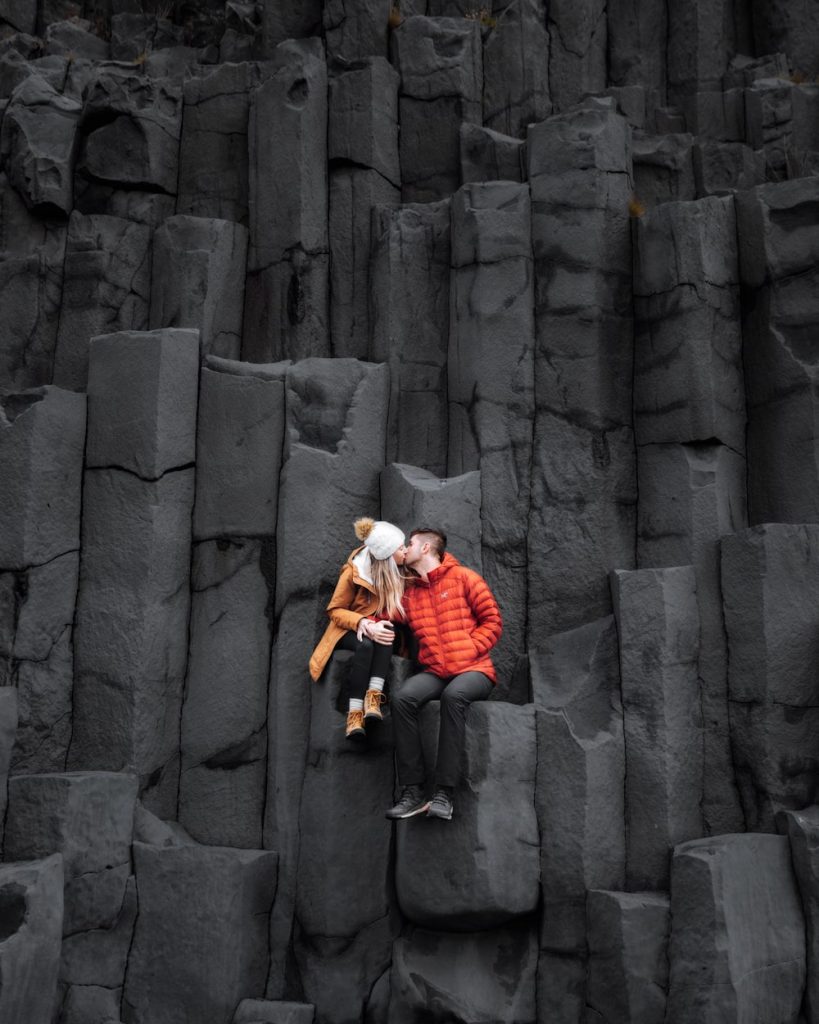 Stop 3: reynisfjara
Time to start heading back towards Reykjavik, but you're not done yet. Head down to Reynisfjara where you will find a beach covered in black pebbles, some really cool sea stack, a cave, and some huge basalt columns that make a great photo opportunity. Keep an eye on the ocean, tourists have been swept away by rogue waves here.
Read next: How To Take Stunning Travel Photos as a Couple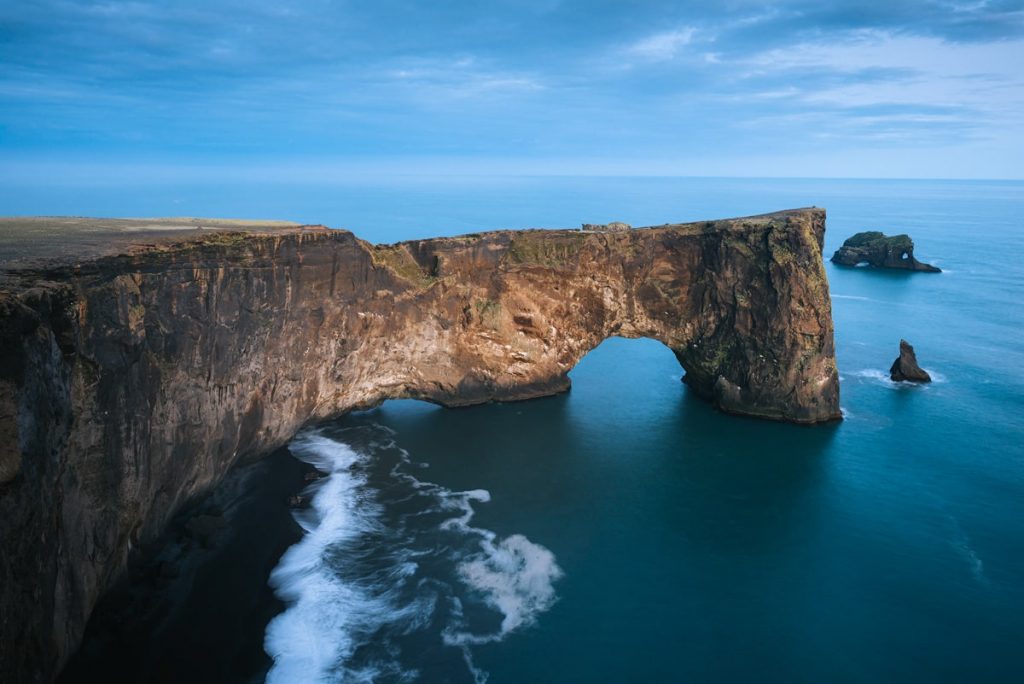 Stop 3: DYRHÓLAEY
Not far up the road from Reynisfjara is Dyrholaey, a peninsula that rises up from the rugged coast to provide epic 360 views of the surrounding coastline, mountains, and glaciers. There's a cute little lighthouse on top and a really dramatic sea arch that should give you some epic photos.
Stop 3: reykjavik
Finish up your busy day with dinner in Reykjavik, the largest city in Iceland. There are many amazing food options here for dinner, including Gandhi Indian, Cafe Babalu, 101 Reykjavik Street Food, Fish Company, Kopar, and Hamborgarabulla Tomasar.
Where to Stay In Reykjavik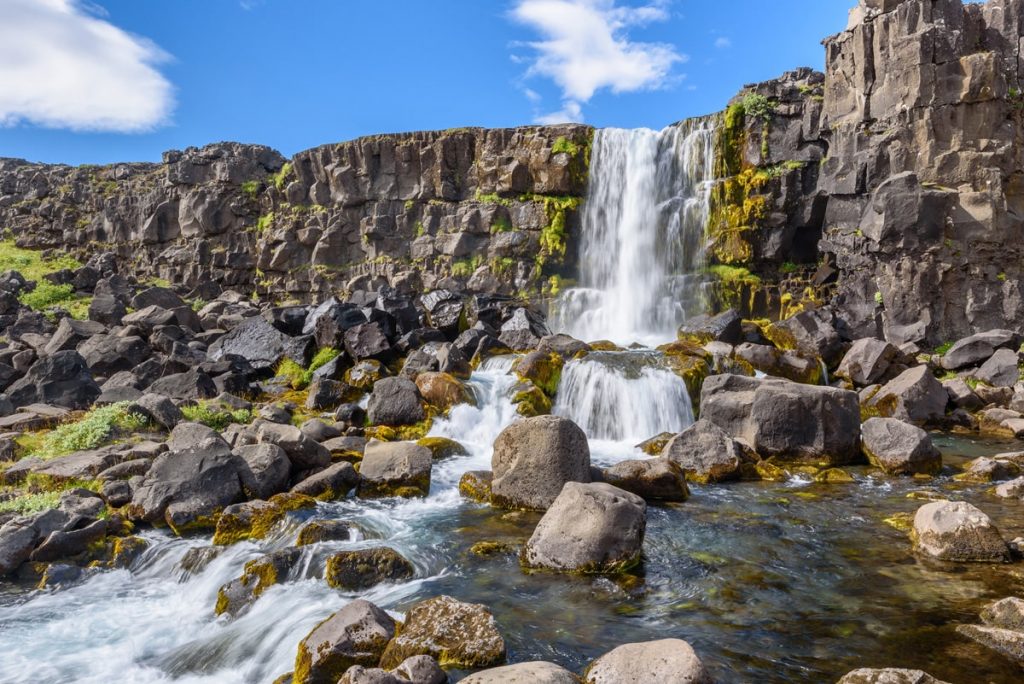 Day 2: Golden Circle and Volcano
You'll be starting day 2 in Reykjavik, driving out to the beautiful Golden Circle, then returning to spend the night in Reykjavik. Today is around 4.5 hours total of driving today.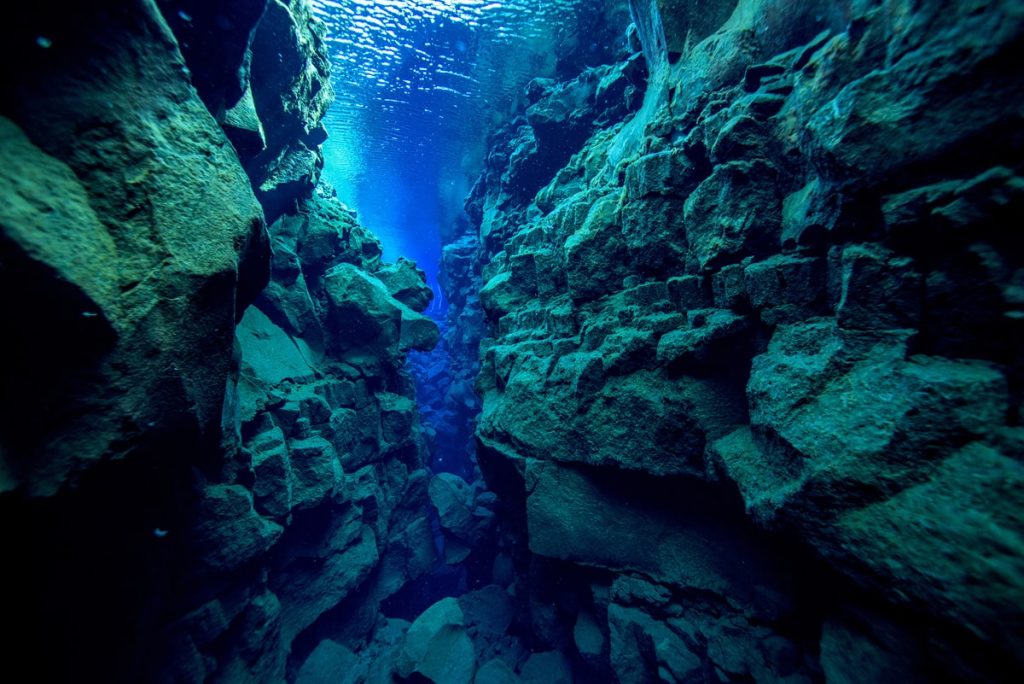 Stop 1: Thingvellir national park
Known as the place where Iceland held its first parliament, 48 chieftains would meet in Thingvellir to discuss matters of great importance, create laws, and conduct court proceedings. Today, tourists visit this beautiful part of the country to hike and take in the scenery.
Thingvellir is also where the North American and Eurasian tectonic plates are separating over time, creating large fissures. A guide can take you to snorkel in one of these fissures called Silfra, which is known to be one of the clearest diving and snorkeling spots on earth. Book your Silfra snorkeling tour here.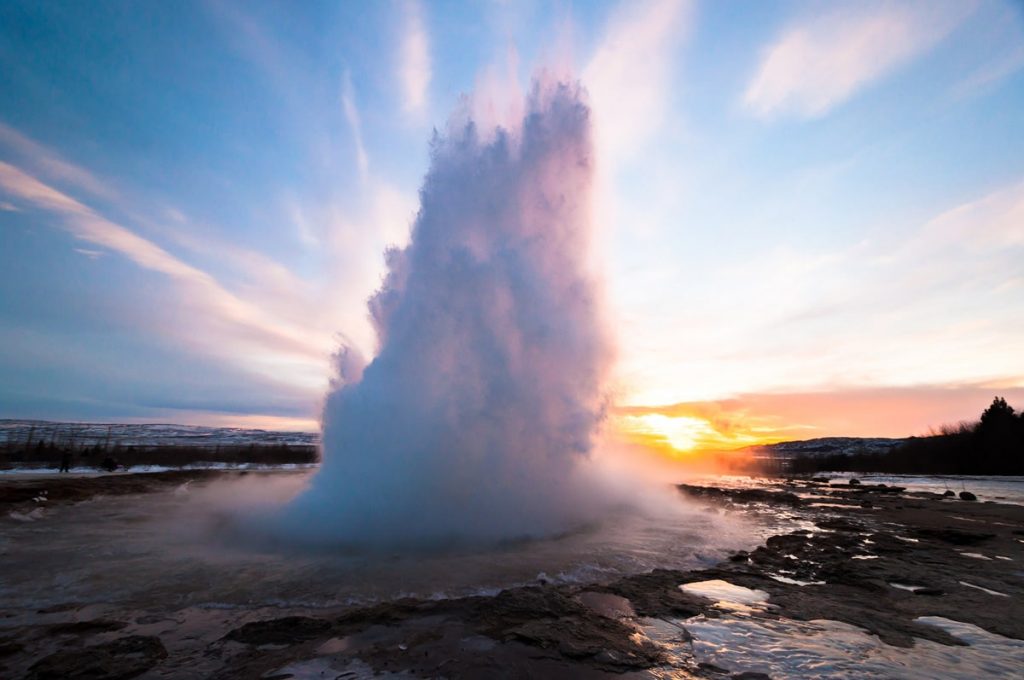 Stop 2: haukadalur
Haukadalur is home to some of Iceland's most recognizable geysers. Here you can get up close and personal with quite a few geothermal features. My favorite was Strokkur which launches hot water up to 100 feet in the air every 5-10 minutes or so. Some eruptions are much smaller than others, so stay for a couple to catch a good one.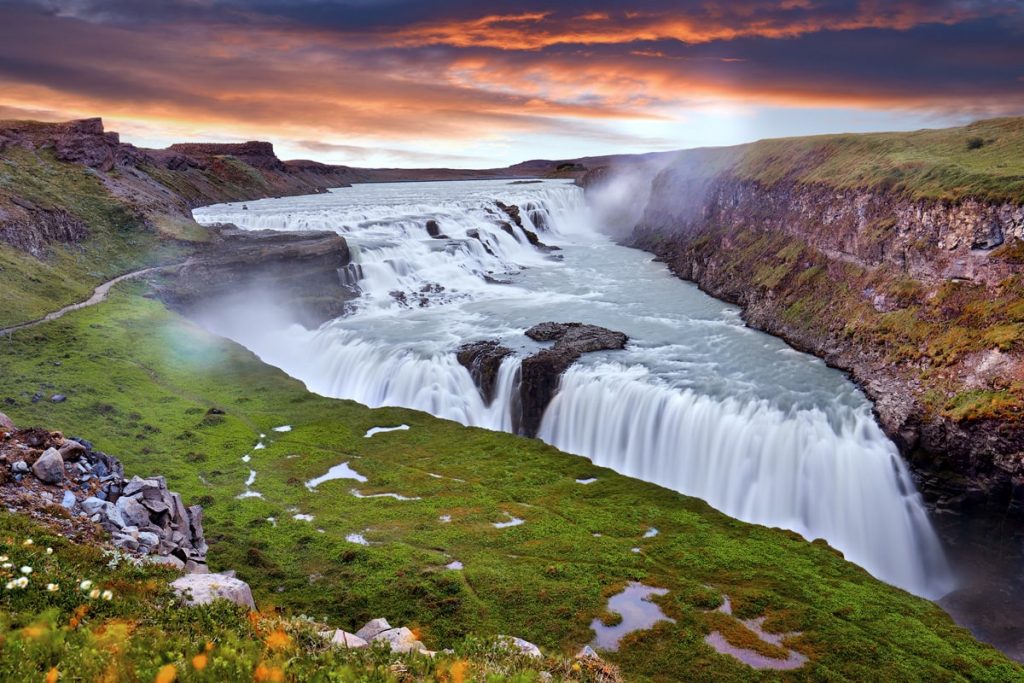 Stop 3: gullfoss
Gulfoss (aka Gold Waterfall) is the furthest stop on the golden circle loop and maybe the most beautiful thing to see in the whole area. Gullfoss falls 100 feet into a canyon, creating so much mist that you'll be thankful for that rain jacket you packed. When the sun hits right, that mist also lights up with a vibrant rainbow making for some awesome photos.
Optional add-on: When driving in between Gullfoss and your next stop (Kerid Crater) you can opt to stop at Secret Lagoon. It's much more affordable than many of the other natural baths in Iceland yet entry still includes access to changing rooms, showers, a bar, and a restaurant. Get your Secret Lagoon tickets here.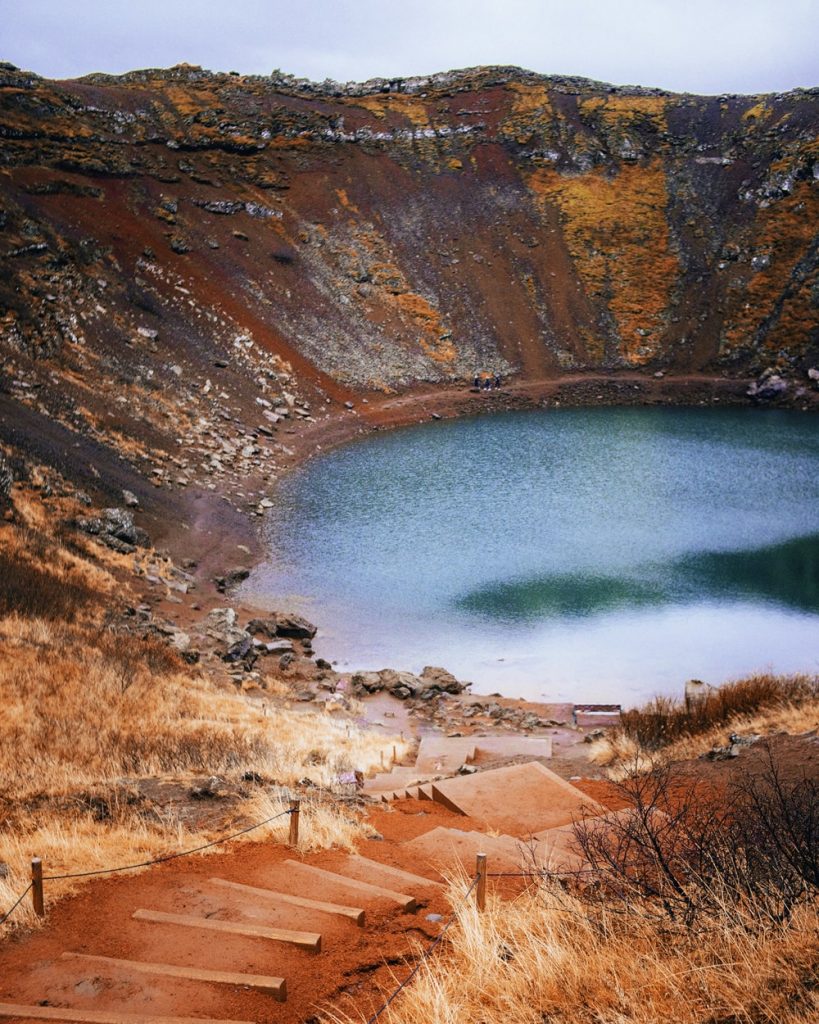 Stop 4: Kerið Crater
Another of the gems in this part of the country, Kerid Crater Lake is a roadside stop with a short walk to the rim of the crater. What used to be a volcano is now a collapsed crater with vibrant walls of red soil and lush green moss. There's an incredibly blue lake at the bottom which you can walk down to and check out as well.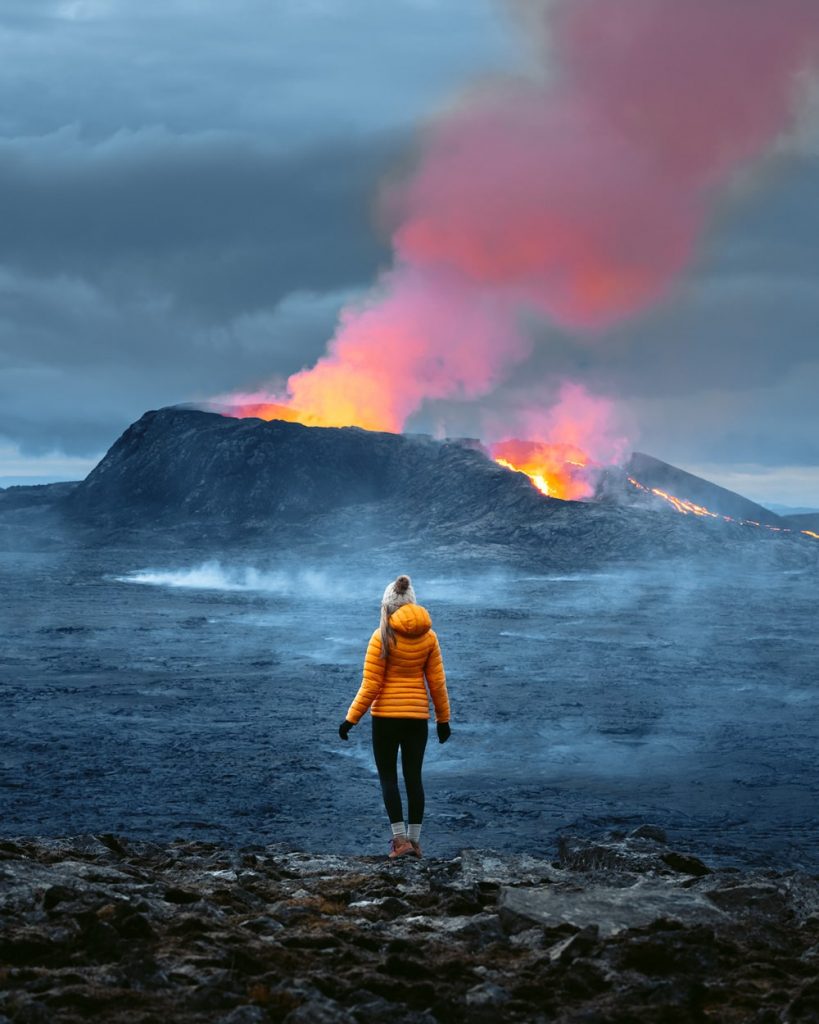 Stop 5: fagradalsfjall volcano
*** Update as of February 2023 *** Fagradalsjfall volcano is sadly no longer erupting.
Ok, time for the grand finale. Fagradalsfjall Volcano is the last stop of the day, mainly due to the fact that the glow from the lava is most easily seen in the darker hours. It's pretty simple to see the volcano, but you do have to work a little for it. Park at the place marked Geldingardalur Volcano Parking on GoogleMaps, then follow the trail (and crowds) out to see the volcano.
At the time of our visit, it was about a 1-hour walk to the point where you could see the volcano. As I mentioned previously, the volcano is ever-changing and conditions can be different on a day-to-day basis. Check the live webcam for an idea of how things currently look. You can also check recent posts on social media and see what others are saying about conditions and hiking trails.
Stop 5: reykjavik
Head back to your accommodation for a well-deserved rest.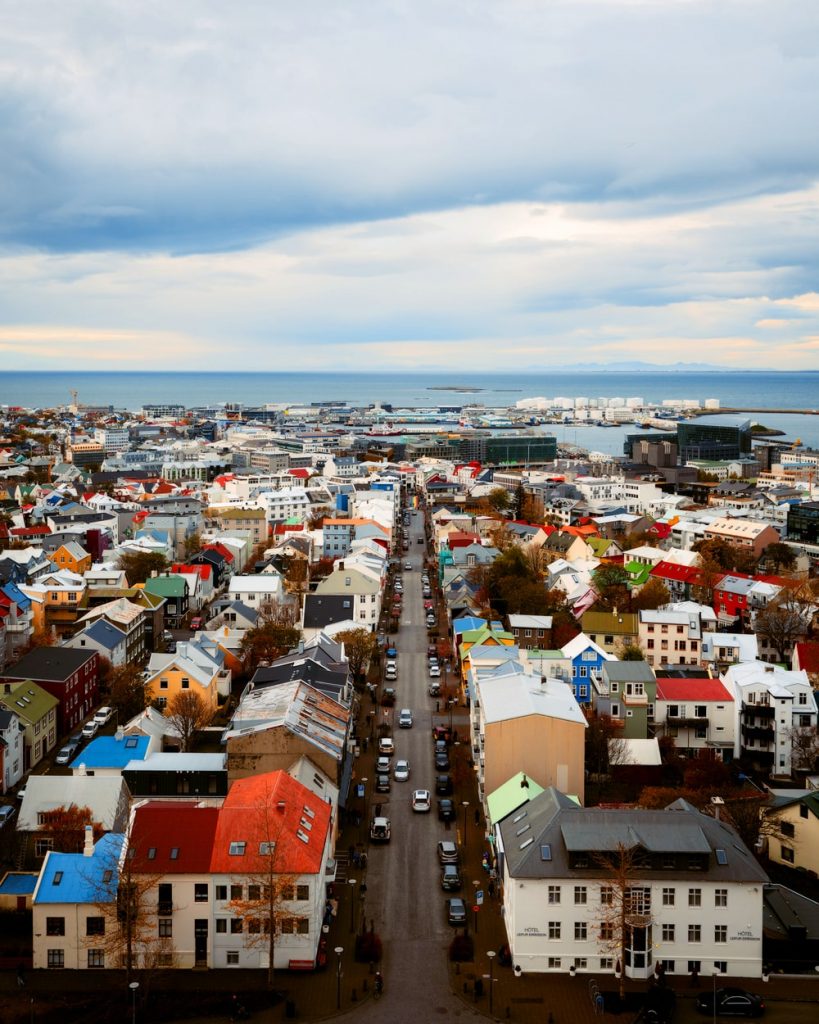 Day 3: Reykjavik and Sky Lagoon
You'll be starting day 3 in Reykjavik with a delicious breakfast (I recommend Sandholt), then taking a relaxing soak in one of Iceland's many incredible geothermal lagoons. Unfortunately, it's then time to head to the airport for your departure.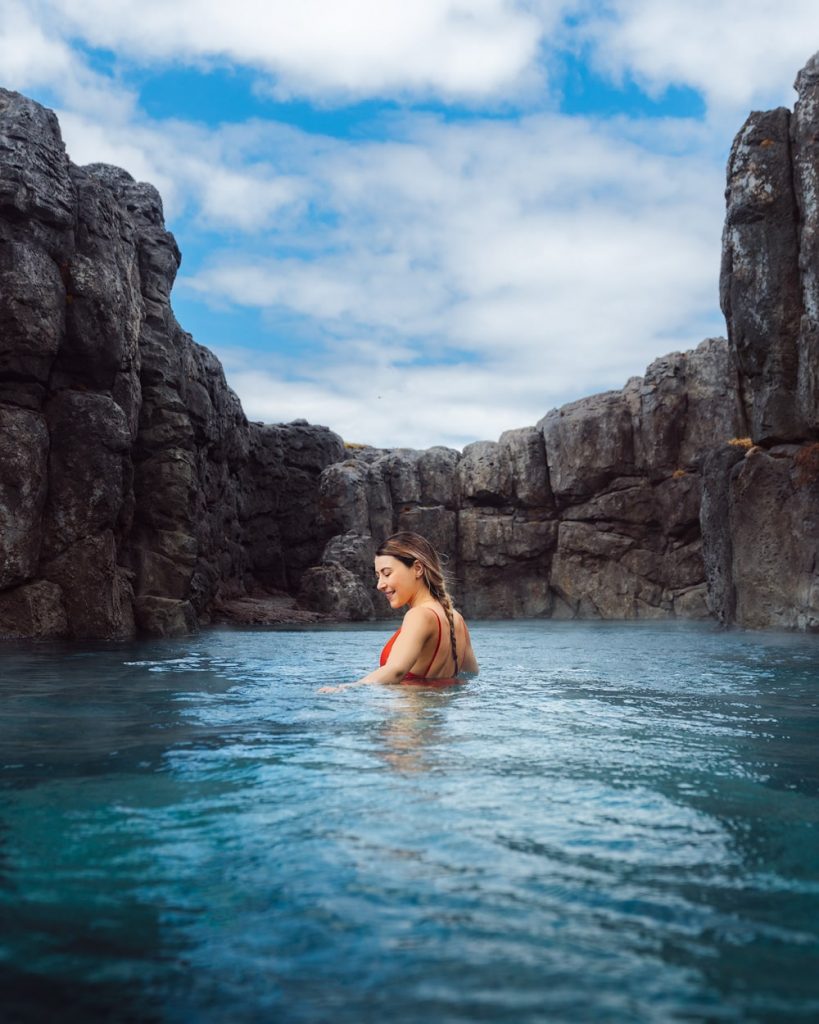 Stop 1: sky lagoon
Iceland is famous for its many geothermal hot springs. Having visited most of the popular ones, I can safely say that Sky Lagoon is my favorite. Located close to Reykjavik, Sky Lagoon has beautiful architecture, amazing views of the city from their infinity pool, and a super relaxing 7-step ritual. This is the perfect way to close out a hectic trip, so lay back and enjoy! Click here for tickets to Sky Lagoon (including transfer).
Stop 2: keflavik airport
Your Iceland road trip has come to an end and it's time to head home to catch up on sleep!
---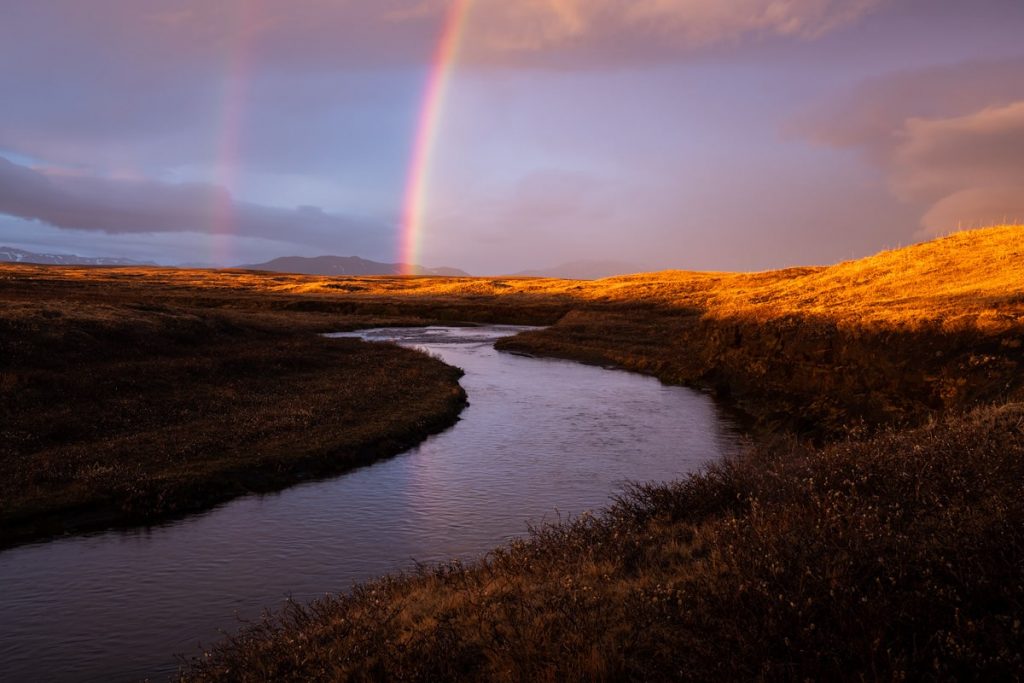 Iceland Road Trip Tips
Here are some helpful tips that will help to make sure your Iceland road trip goes as smoothly as possible:
My favorite way to get internet while in Iceland is getting a local simcard.
It only cost me around $23 USD for 10gb of data with Síminn, and I picked that up at a gas station close to the airport. Service was great in almost all of Iceland, with just a few patchy areas.
Always have snacks on hand.
There isn't a McDonalds every 10 minutes in Iceland (in fact, there aren't any at all), and sometimes you may go hours without a proper spot to eat. Having snacks will mean you won't need to skip stops to keep your belly full.
Hold onto your car doors when you open them!
The standard insurance that comes with rental cars does not include damage to doors. This might not seem like a big deal normally, but when you get there and experience the famous Icelandic wind gusts you will realize what I'm talking about.
Keep a camera on hand.
There are photo opportunities around almost every corner in Iceland. Having your camera closeby will make sure you're ready to snap some great shots at a moments notice. Find out what's in my camera bag.
The last thing you want to do is sleep right through an epic aurora storm while in Iceland! Note that this is not really relevant to those visiting in mid-spring until mid summer where Iceland's night time doesn't really get dark enough to see them.
Closing hours on Google Maps are not always the most accurate.
There's not a whole lot you can do about this, but just be aware thateven though Google says a restaurant opens at 6, it may not be totally accurate.
---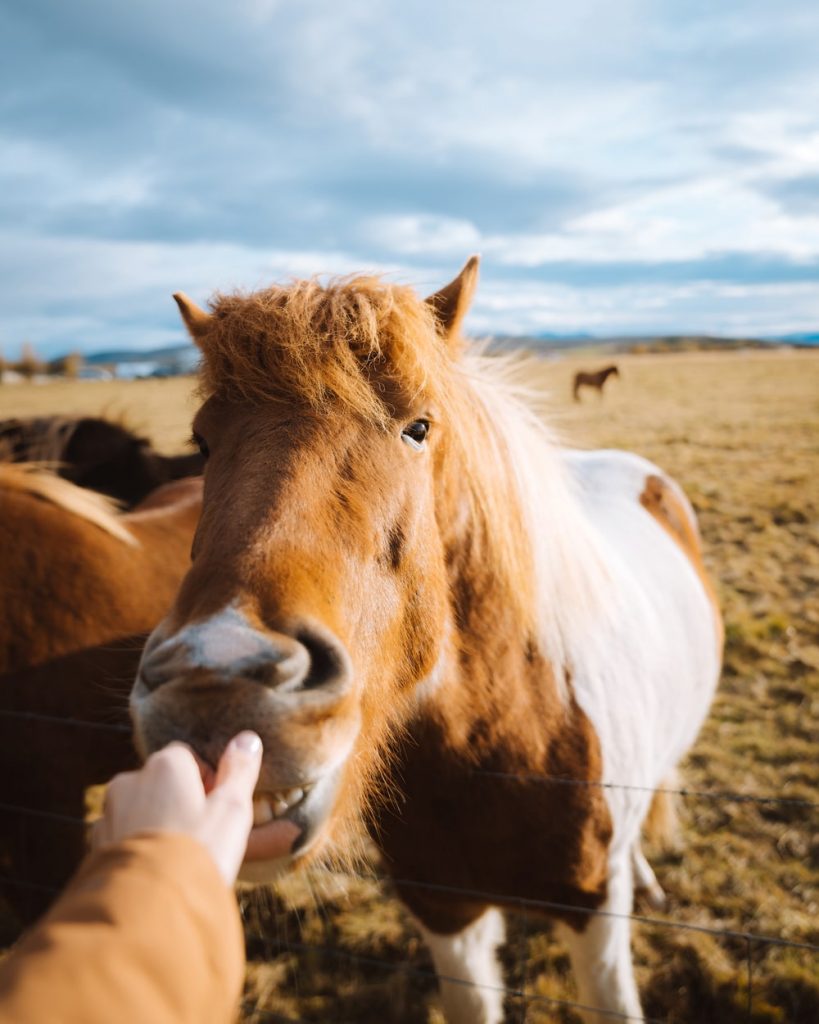 Best Time of Year To Travel To Iceland
Iceland has something different to offer with each season. For example, if you want to see the northern lights, your best bet is winter. The long nights during the winter months will give you the best chance of seeing them, though it is never guaranteed no matter when you visit. If you want to experience the midnight sun, you'll want to visit in late spring or early summer around the solstice. If you prioritize fewer crowds and cheaper prices, typically you will want to visit in early spring or autumn.
Overall, I would say most visitors would love visiting in autumn due to slightly fewer crowds, cheaper prices, and the ability to access areas in the highlands that are not accessible during winter and spring. Sleeping may also be easier during this time as the number of dark hours increases after the summer solstice.
---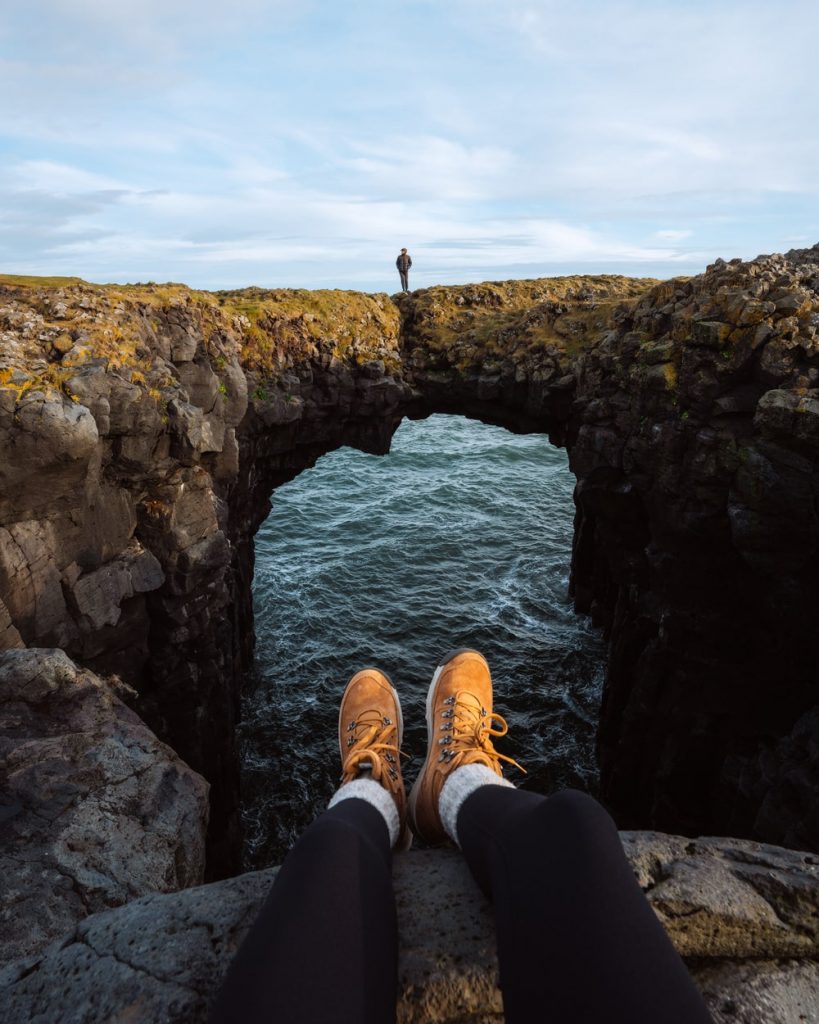 Traveling To Iceland During Covid Restrictions
As of early 2023, there are no COVID-19 related travel restrictions to Iceland as per covid.is. "All infection prevention rules for COVID-19 have been lifted at the Icelandic border, regardless of tourists' vaccination status. However, it varies what rules apply at the borders of other countries."
In saying that, I highly advise you to check for changes in regulations before planning a trip as I won't be able to keep this updated day-to-day. You should also be checking your home country's travel restrictions before planning to exit and re-enter.
This website is a great resource for checking current COVID-19 conditions in Iceland, including vaccination numbers and infection rates.
---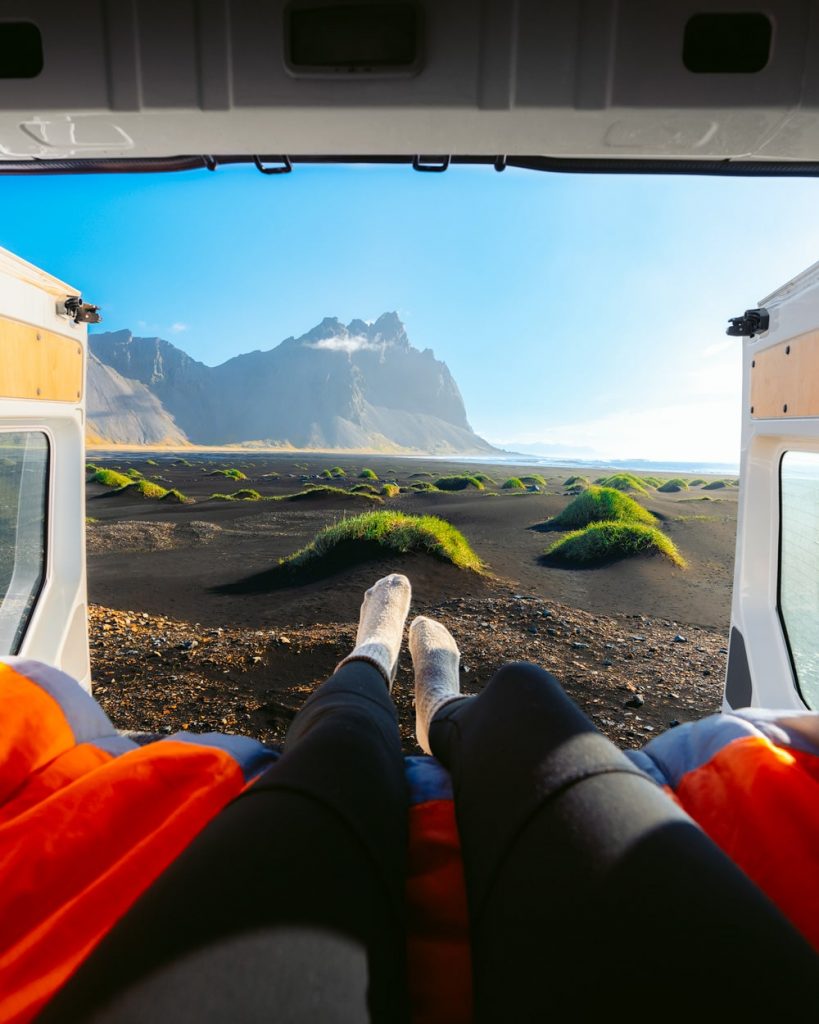 Where To Rent a Car For Your Iceland Road Trip
Choosing an Iceland rental car will depend on the type of trip you plan to take and whether you would prefer to stay in hotels/guesthouses, tent camp, or stay in a camper van. If you plan to stay in hotels or guest houses then you can opt for a regular rental car (check out LAVA car rental Iceland) and I would recommend picking it up after you fly into Keflavik Airport.
I personally love to rent a campervan when traveling around Iceland. That way I have more flexibility about where I want to go each day, I can change my plans depending on the weather, and I can easily cook on the go. Click here to book your Iceland 4×4 campervan rental. If you plan to tent camp then you're probably best to opt for a small rental car as that will be your most budget-friendly option.
---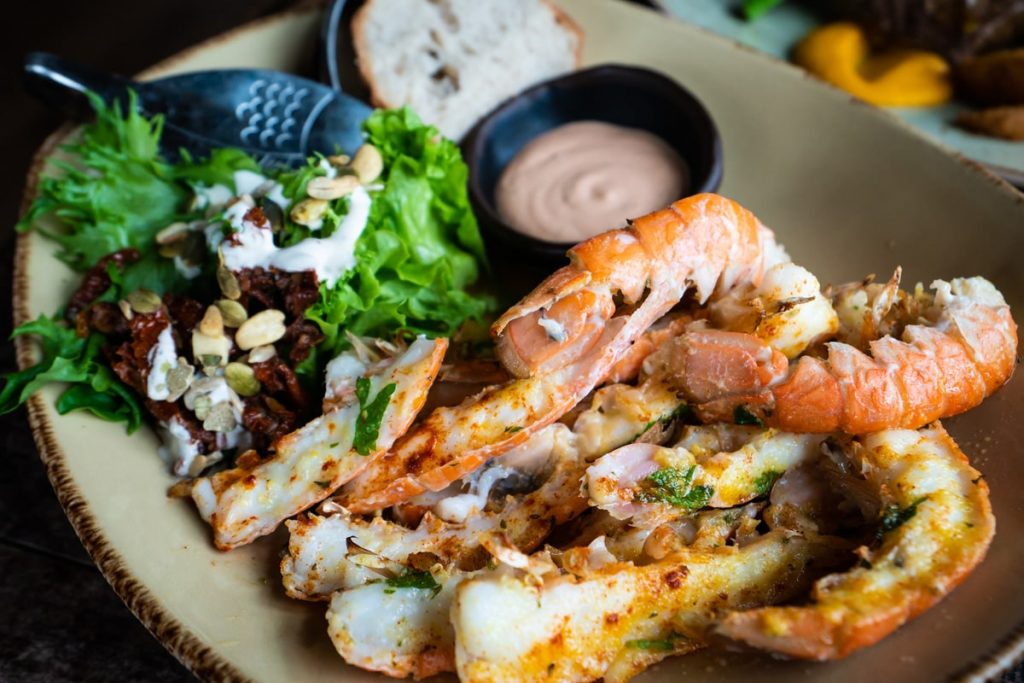 How Expensive Is Eating In Iceland?
My Iceland food experience with this has been quite mixed. As someone from the US, I would say that overall you can expect to spend slightly more than typical US food prices. The grocery store is a little more expensive in general, but not shockingly so. Restaurants are often quite similar in price to their US equivalents, especially once you factor in that you don't tip in Iceland and tax is included in the menu price. In saying that, some restaurants are quite expensive, particularly in touristy areas.
Alcohol is usually more expensive than in the US, so you might want to cut down on drinking when visiting Iceland (or at least factor that into your budget). Overall, if you're trying to save money then I would recommend cooking your own food and bringing some non-perishable snacks from home (e.g. protein bars, nuts, etc.)
---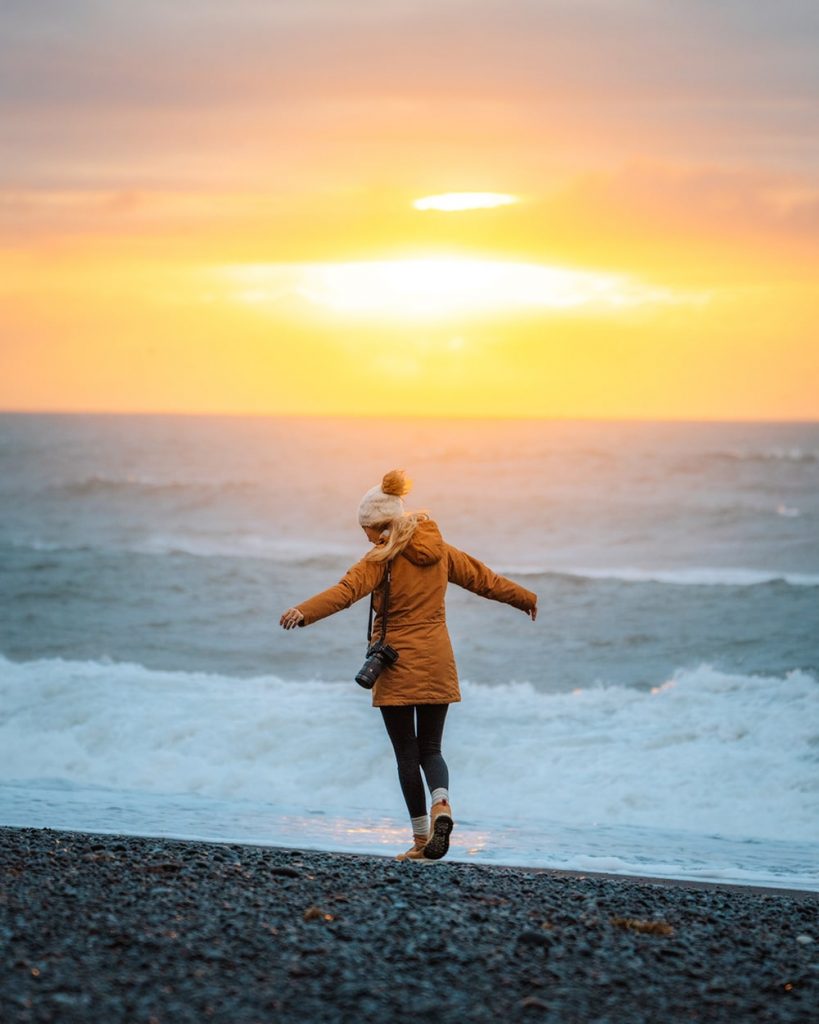 What To Bring To Iceland
Stay tuned for a comprehensive Iceland packing guide! In the meantime, I would highly recommend bringing the below essentials on your Iceland road trip (yes, even in summer!)
Waterproof shoes
Rain jacket
Insulated jacket (e.g. puffy, parka)
Beanie +gloves
Thermal underwear
Swimsuit
Sunglasses
Debit/credit card
Passport
---
How To Check The Weather in Iceland
The absolute best website for tracking weather in Iceland is their local weather office found here. On this website, you can find area-specific forecasts, hourly forecasts, etc. I recommend checking this every day as the weather is ever-changing in Iceland and can be quite unpredictable. I've found other weather apps are not nearly as accurate, so ignore them when in Iceland and stick to the website linked above.
---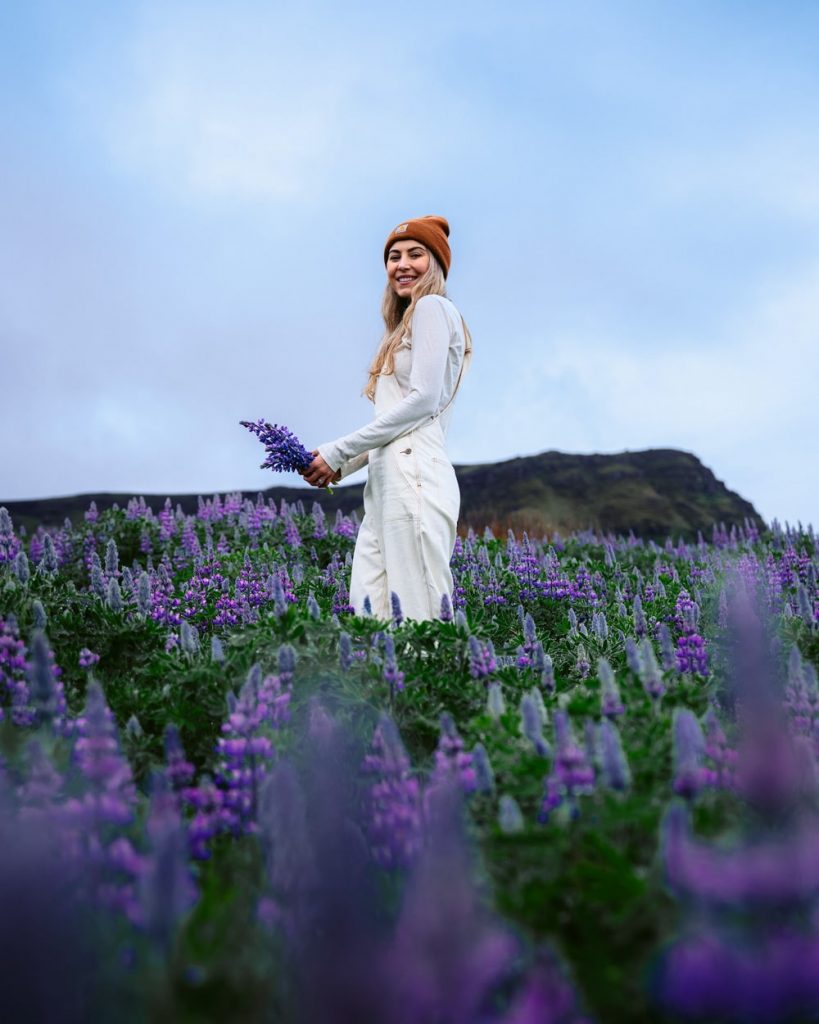 How To Get Cheap Flights To Iceland
There are numerous ways to score cheap flights to Iceland. I typically keep my eye out for emails from Scott's Cheap Flights and will also use Google Flights and Skyscanner to search for options. Click here to search for cheap Iceland flights from your city.
---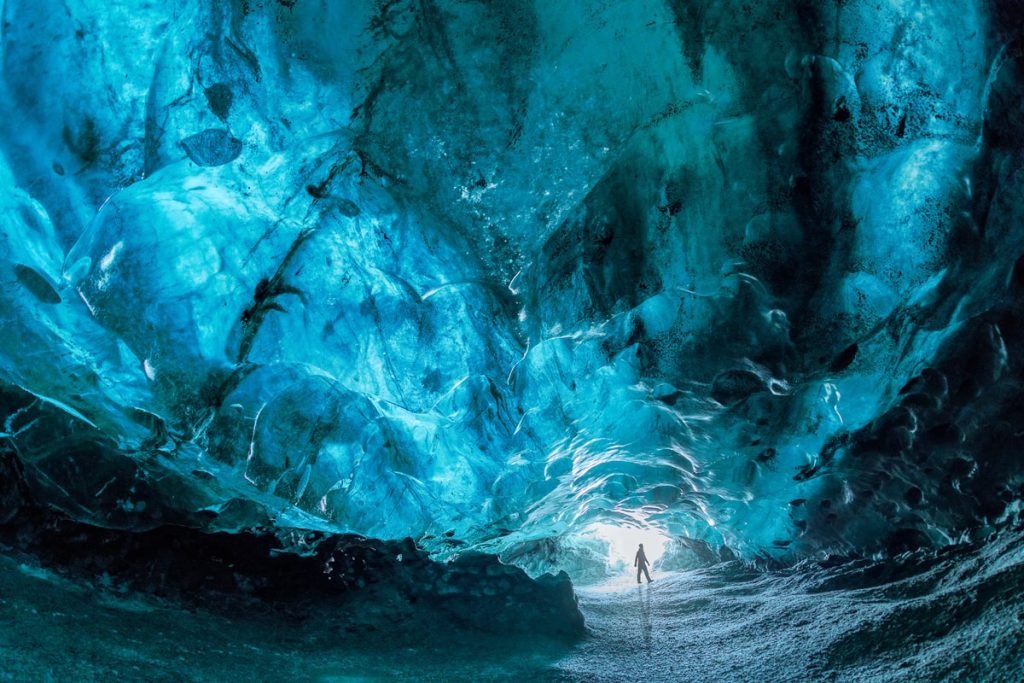 Amazing Iceland Guided Tours
There are numerous guided tours in Iceland for those who don't want to self-drive. Some of these are multi-day tours and others are day trips. Below I have listed some of my most recommended Iceland tours:
Iceland Day Tours out of Reykavik
Iceland multi-day Tours out of Reykavik
Incredible Iceland Experiences
---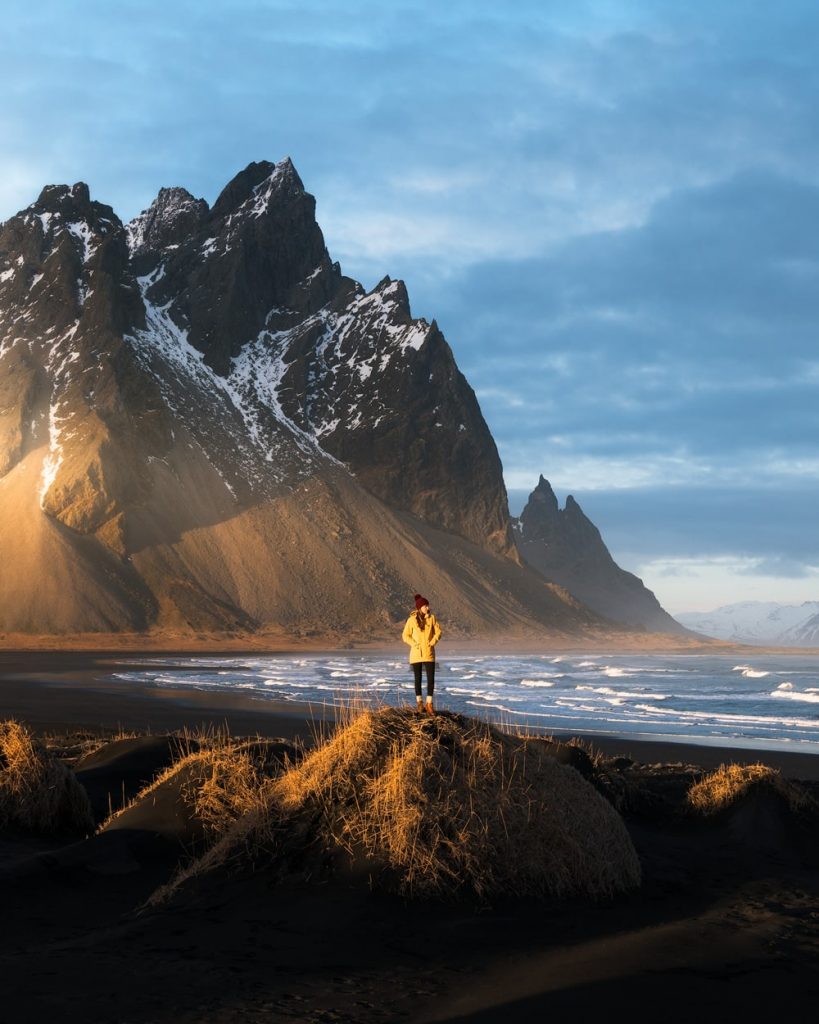 Travel Insurance For Your Iceland Trip
I highly recommend taking out travel insurance for your Iceland road trip. In fact, I recommend travel insurance for any trip because you just never know! I can personally recommend SafetyWing Nomad Insurance. It includes travel coverage for things like travel delay, lost checked luggage, emergency response, natural disasters, and personal liability. Plus, their Nomad Insurance includes travel medical coverage for unexpected accidents and medical problems (doctors, hospitals, medical evacuation, covid-19 treatment). Click here to get insured.
---
PIN for later planning!