Visiting Madeira, Portugal has been on my bucket list for years, and my husband and I decided to visit for our latest anniversary. We stayed in an incredibly picturesque vacation rental in Funchal, Madeira and spent the week hiking, watching endless sunrises and sunsets, and exploring the island on foot. It feels like there are endless activities and attractions for visitors to explore Madeira island, but here are my suggestions for 11 incredible things to do in Madeira, Portugal. Save this post to help plan your visit to this stunning Portuguese archipelago!
Disclaimer: This blog post may feature some affiliate links, which means I get a small commission if you make a purchase (at no extra cost to you). It's one of the ways I can keep producing free guides and resources for my readers. Learn more about my affiliate policy here. Thank you for the support!
11 Incredible Things To Do in Madeira, Portugal
Madeira is a picturesque island destination with incredible mountain and coastal views, great hiking, and home to the famous Madeira wine. It's also known to many people as the birthplace of Cristiano Ronaldo! People often refer to Madeira as the "Hawaii of Europe" with its lush scenery and mild climate for an island in the Atlantic Ocean.
One thing that drew me to the island is that Madeira is pretty well known for having frequent cloud inversions. This means that often at sea level, it will appear cloudy. But, once you hike or drive up into the mountains, you can climb above the cloud level and have incredible views looking down over a sea of clouds. Definitely a bucket list experience!
Pro tip: If you google "Madeira webcams" you can view different areas around the island & the cloud inversions!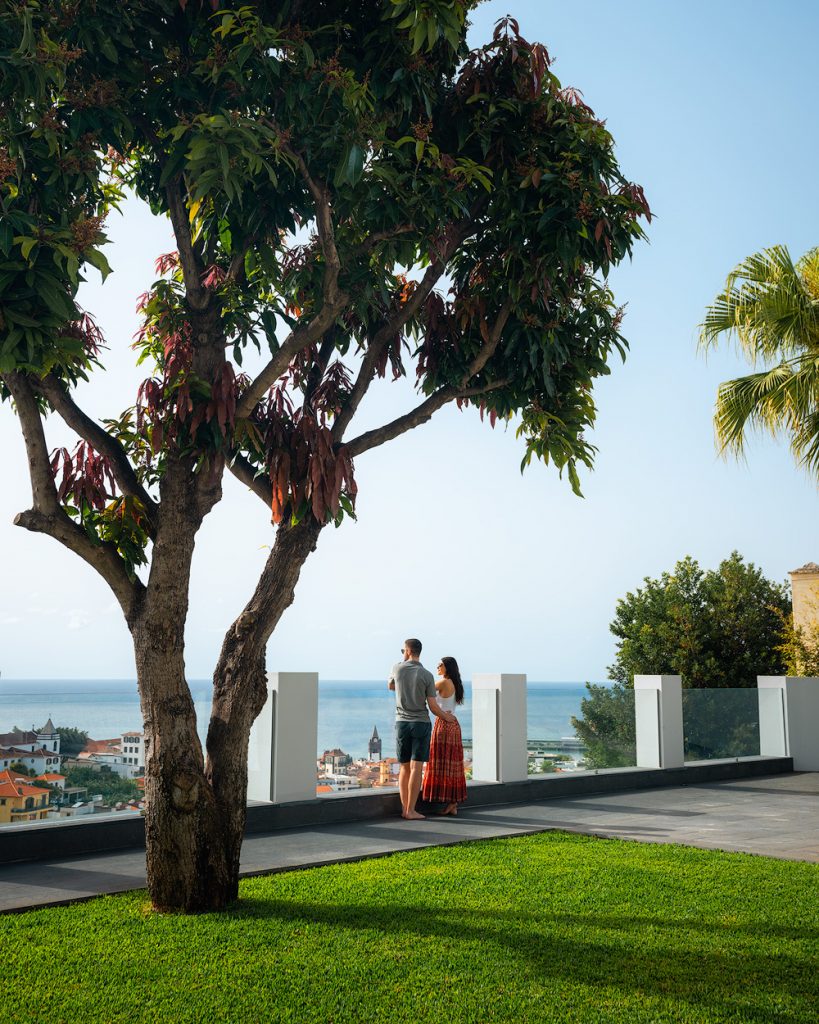 Explore Funchal
Funchal is the largest city, and capital, of Madeira. I definitely recommend spending a few hours, or even a full day, exploring Funchal's old town on foot. We spent quite some time wandering around Funchal taking photos, eating gelato, and enjoying the beautiful weather.
Check out the Funchal marina, and spend some time looking for dolphins and whales along the coast. You could also consider riding the Funchal Cable Car and exploring the Botanical Gardens, or trying out a traditional wicker basket toboggan ride down! Taking a walking tour of Old Town or a Food and Wine walking tour is another great way to immerse yourself in the area's culture and history.
Here are some restaurants and other areas that we absolutely loved:
Miradouro do Socorro
Complexo Balnear da Barreirinha
Santa Catarina Park
Chafariz Gelato & Cafe
Aromas de Italia
Case Mexico
TERRA – Food Concept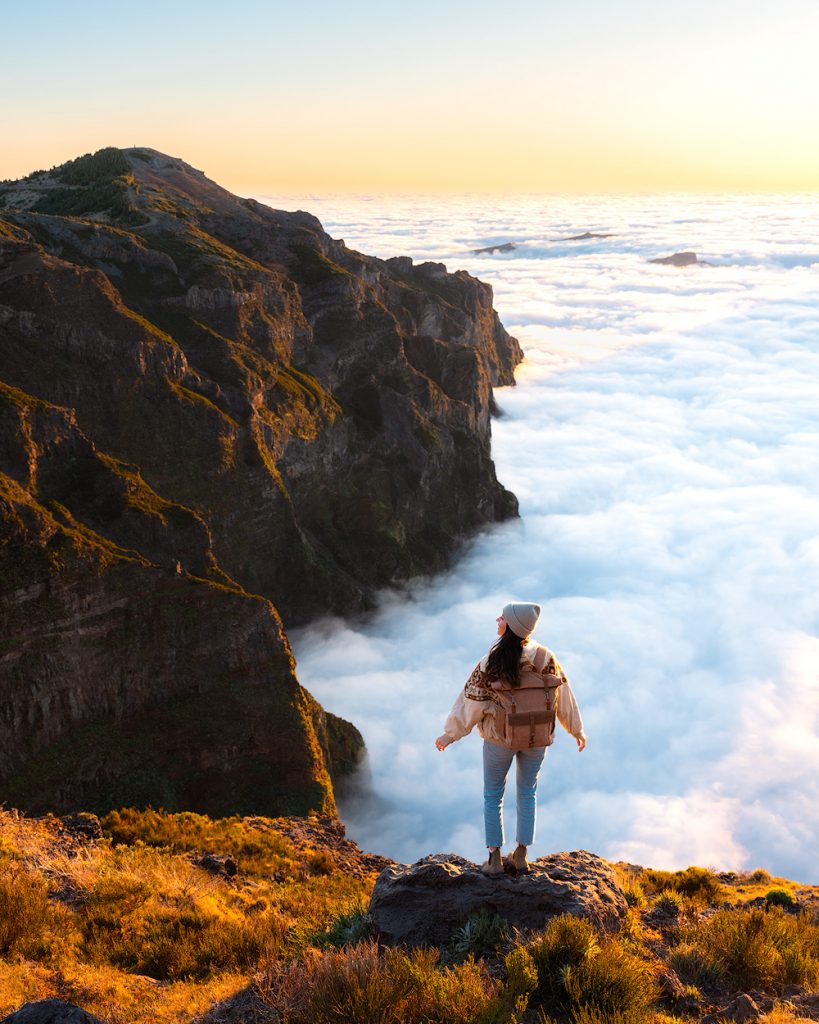 Pico do Arieiro for Sunrise
Pico do Arieiro is an absolute must-visit during sunrise or sunset. Sitting 5,965 feet / 1,818 meters above sea level, the views from Pico do Arieiro are STUNNING! It's easy to access via car, though make sure to arrive early to secure a parking spot as they fill up very quickly for sunrise (even when it's very much still dark out!)
From the parking lot, you can walk a short way up to a viewing area. You don't necessarily need to go beyond this point but I highly recommend you take a short hike to get away from the crowds. The first 0.5 – 1 mile or so of the Pico do Arieiro to Pico Ruivo trail is very scenic, including overlooks and beautiful views in every direction. You could continue on and hike the entire trail (more on that below) but make sure you're prepared for a strenuous hike if that is the case.
One thing about Pico do Arieiro is that you can be lucky and get beautiful conditions, or you can be up there in thick clouds that are blocking the views. I suggest checking the weather forecast and online webcam before visiting. This is also a great way to see if there's a cloud inversion happening… because if there is, you'll want to drive up there straight away!
Don't want to rent a car? Book this sunrise tour that includes hotel transfers and breakfast. There is also a sunset tour of Pico do Arieiro for anyone who doesn't like early starts!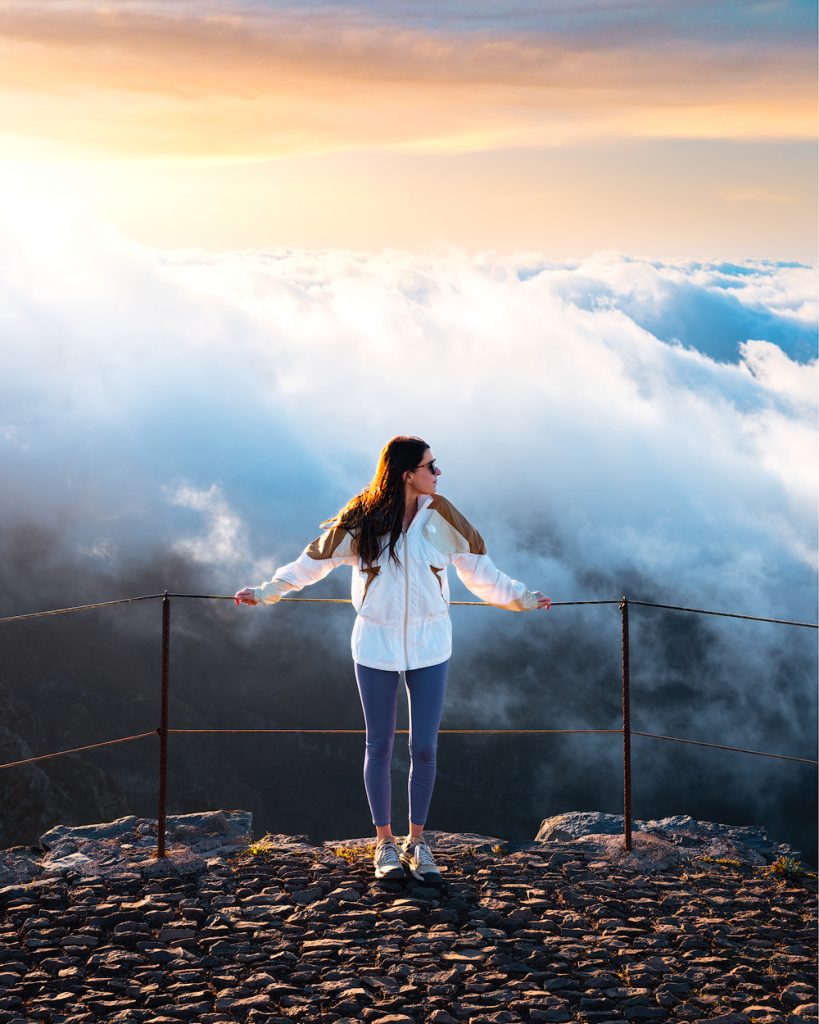 Hike to Pico Ruivo Summit
Pico Ruivo is the highest peak on the island of Madeira, standing at 6,106 feet / 1,861 meters above sea level. To have to hike to access the summit, which can be done via two methods.
The first and "easier" option is to drive to the Pico Ruivo parking lot and hike 3.4 miles roundtrip, including 1600 feet of elevation gain. This is what we opted for because we wanted to view the sunset from the summit (pictured above). If you do this make sure to pack a head lamp and warm layers!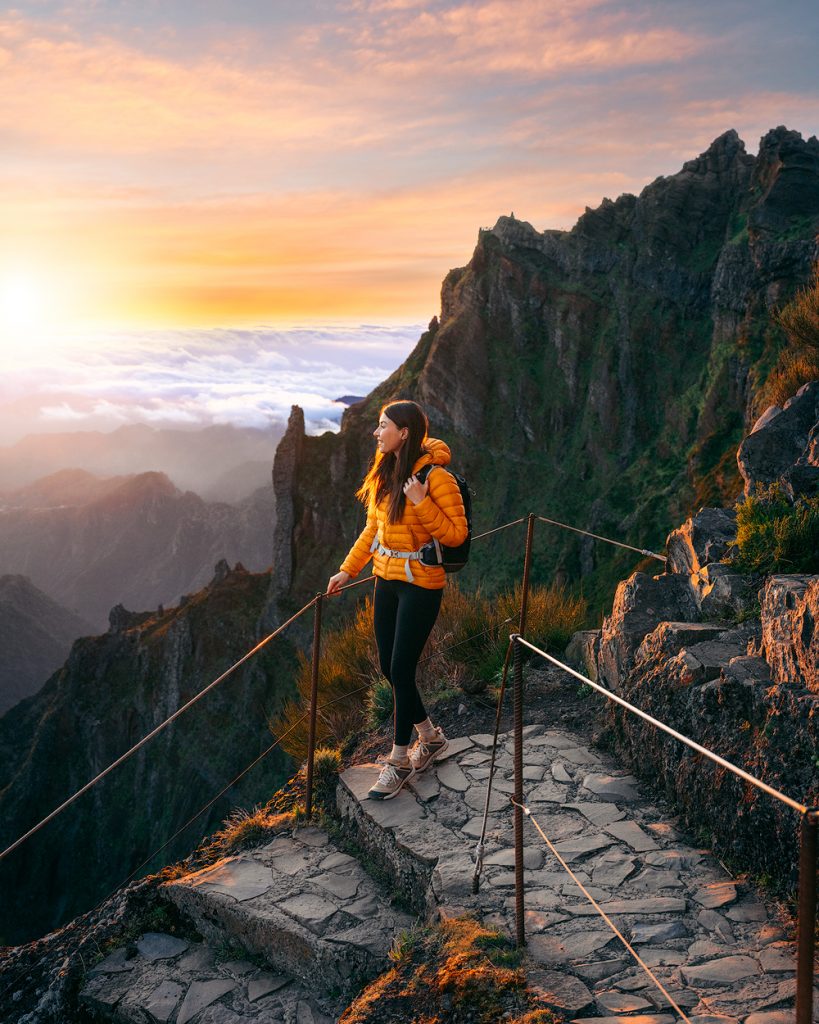 Hike between Pico do Arieiro & Pico Ruivo
The second way to access Pico Ruivo is by hiking the Pico do Arieiro to Pico Ruivo Trail, which is the most famous day hike on Madeira. If you hike roundtrip, the trail covers 6.7 miles / 10.7 km and has 4,038 feet / 1,230 meters of elevation gain… so it's a tough one! You can also book a one-way transfer which allows you to hike in just one direction, starting at Pico do Arieiro.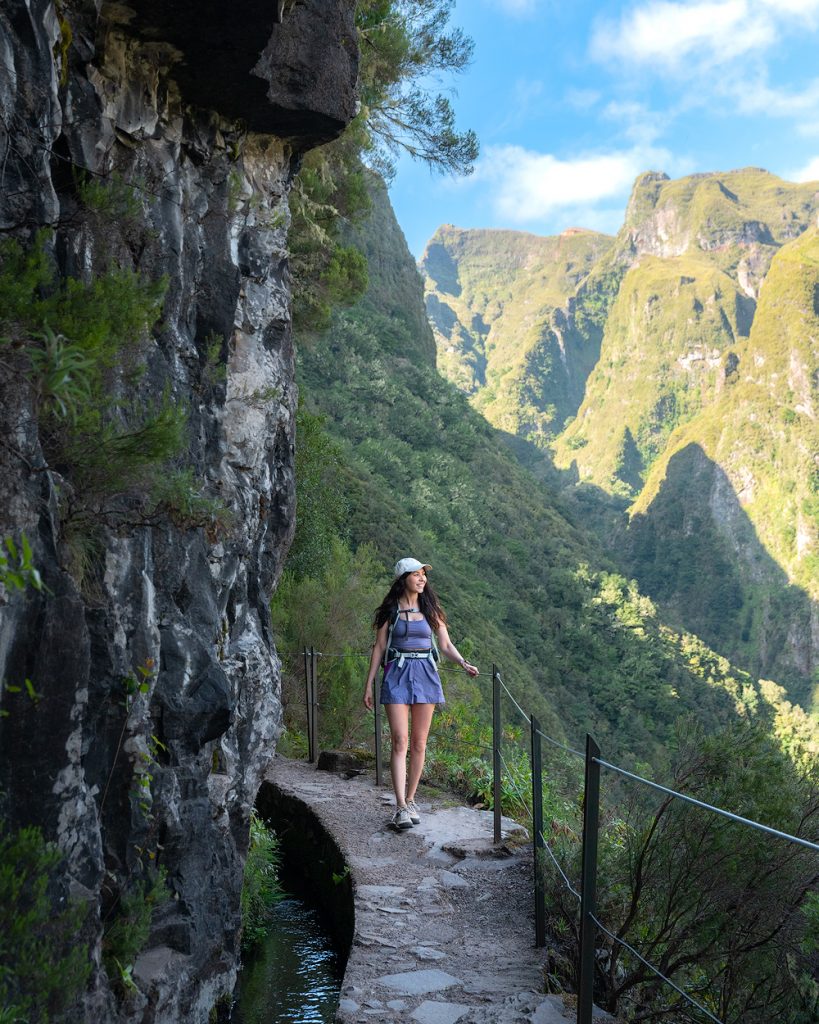 Hike Levada do CAldeirao Verde
Located in Queimadas Forest Park, the Levada do Caldeirao Trail is a unique forest and waterfall hike. It's roughly 8.5 miles / 13.5 km roundtrip, and mostly flat the entire trail. The hiking trail follows the 'levadas' (aqueducts) and caves that were built in the 18th century to bring water down from the mountain. It's so fascinating! Since the hiking trail passes through some caves, I recommend bringing a head lamp so you don't have to rely on your phone for a flashlight.
For a shorter hike, you can also opt to turn back after the first waterfall (about 1.8 miles / 3km roundtrip). The buildings at the beginning of this hiking trail are so cute and picturesque with terracotta roofs, beautiful gardens, and painted doors! The levada walks in Madeira are a must, in my opinion.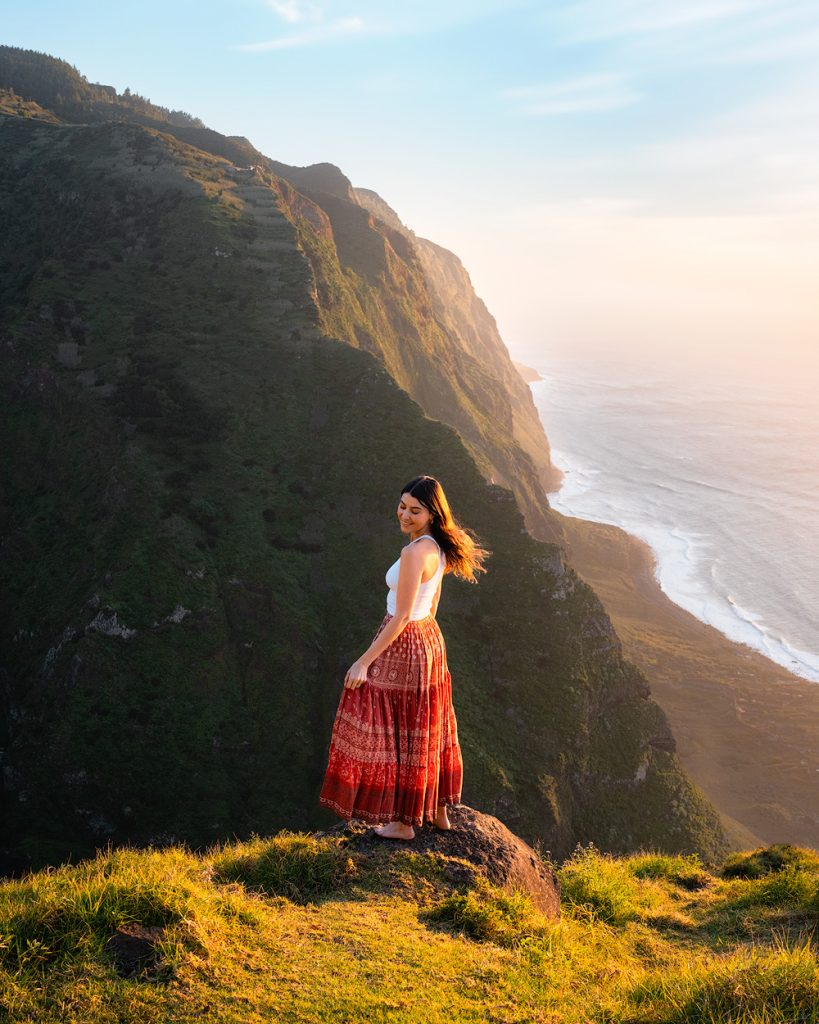 Miradouro do Ponta de ladeira for Sunset
This northern part of the island is certainly one of the best places to watch sunset in Madeira. While Miradouro do Ponta de Ladeira is best visited at sunset, it's absolutely gorgeous during the day too. If you do go sunset, I recommend arriving 30-60 minutes before the sun goes down. Bring a picnic blanket, sit back, and enjoy the views!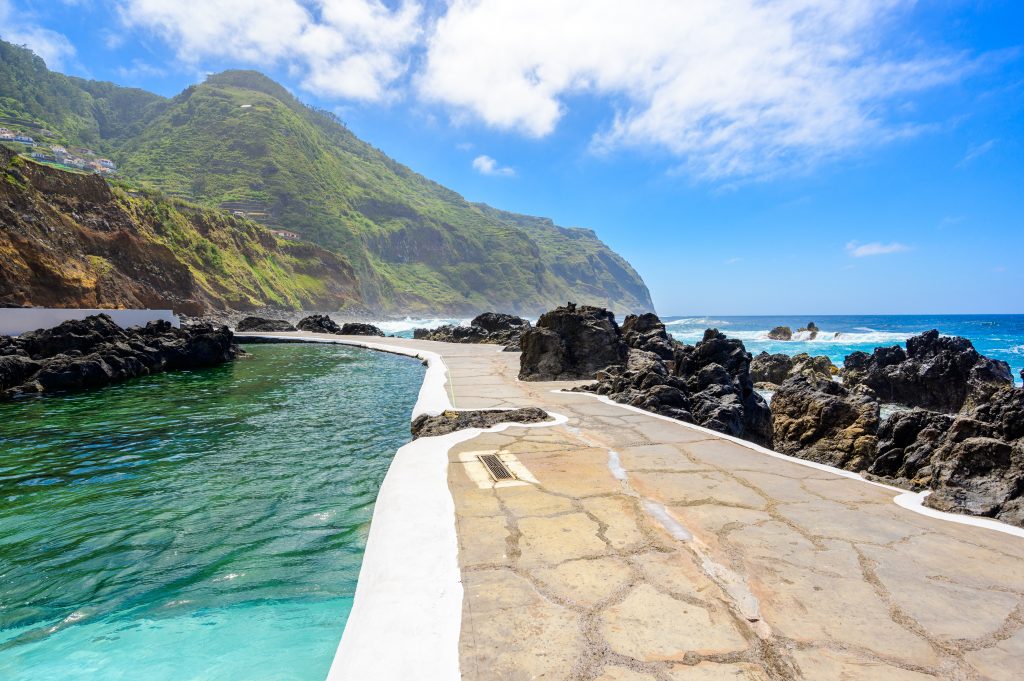 Explore the Natural Pools of Porto Moniz
The Porto Moniz natural pools are saltwater pools by the ocean in volcanic lava formations – so cool! The water is so clear and blue, it makes for incredible swimming and photos. It has a very low-cost entry ticket (less than 2 euro when we were there) and is a really fun part of the island to explore, swim, and snorkel through the pools and lagoons. Make sure to check the weather forecast and tide times before you visit as it's typically best enjoyed during calm weather and low tides.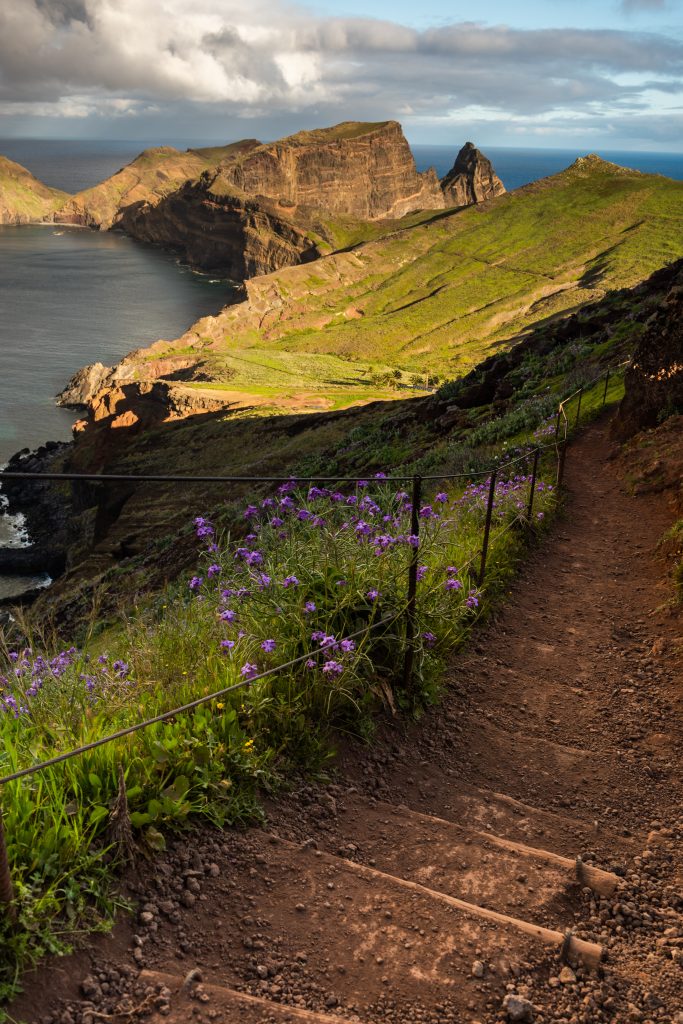 Hike PR8 Vereda da Ponta de São Lourenço
PR8 Vereda da Ponta de São Lourenço is a moderate hiking trail on the eastern tip of the island. Known for its amazing views over the north and south coasts of Madeira, the trail is approximately 4.6 miles / 7.4 km roundtrip and has 1,341 feet / 409 meters of elevation gain. This hiking day tour is a great option if you prefer to have a guided experience or do not have a rental car.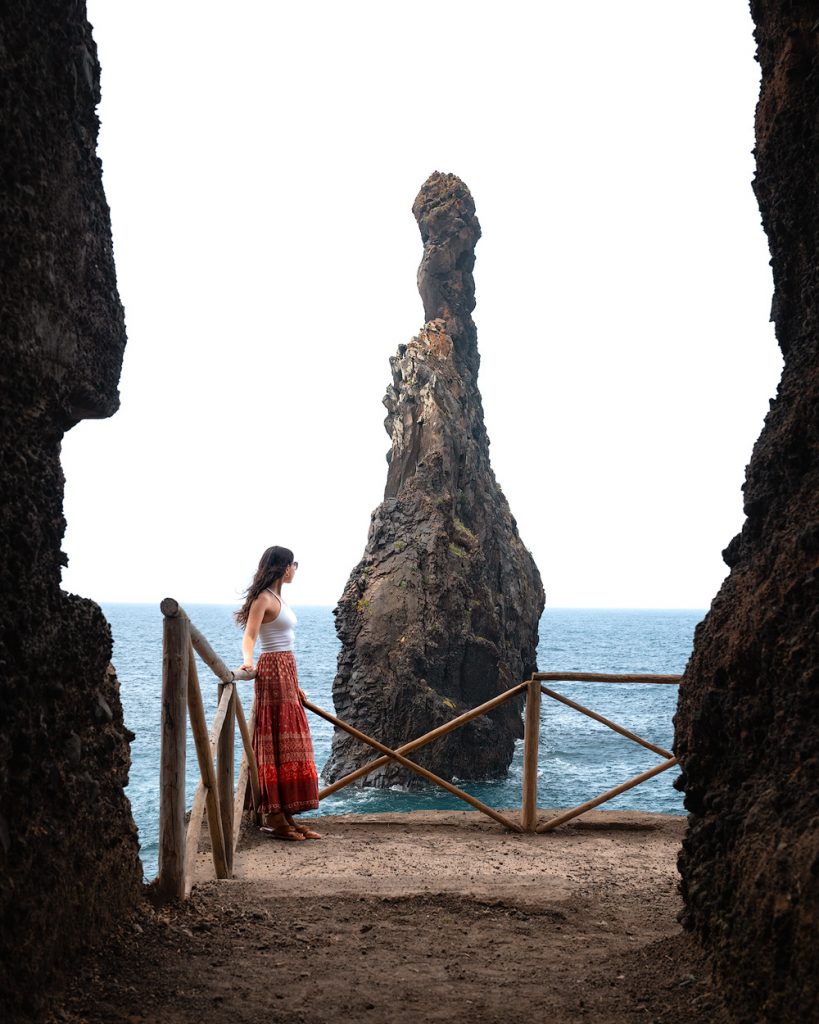 Ribeira da Janela
This corner of the Madeira archipelago is home to incredibly lush valleys and beautiful coastal rock formations. I definitely recommend stopping by Ribeira da Janela lookout along this part of the rocky Madeira coast during your visit! We visited during the day and the crowds were surprisingly not too busy.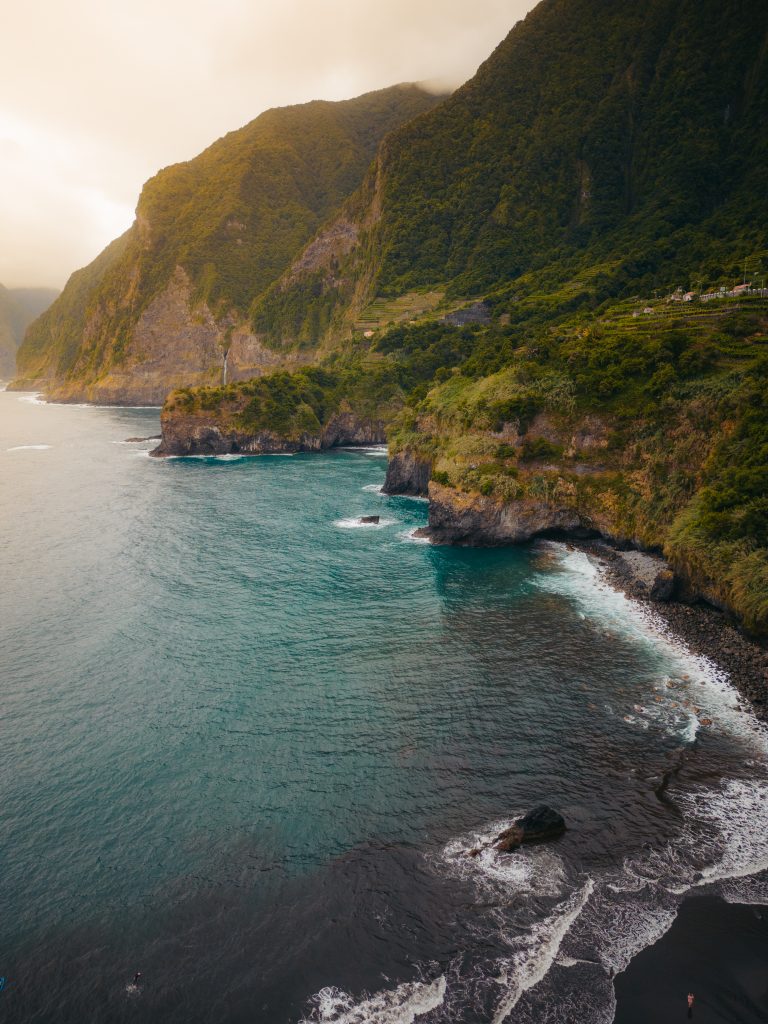 Visit Seixal Black Sand Beach
Seixal Beach is an amazing part of the island to explore. It has super soft, black sand which is unusual as most of Madeira has fairly rocky beaches. The black sand beach is also tucked against lush mountain cliffs and the views are absolutely spectacular!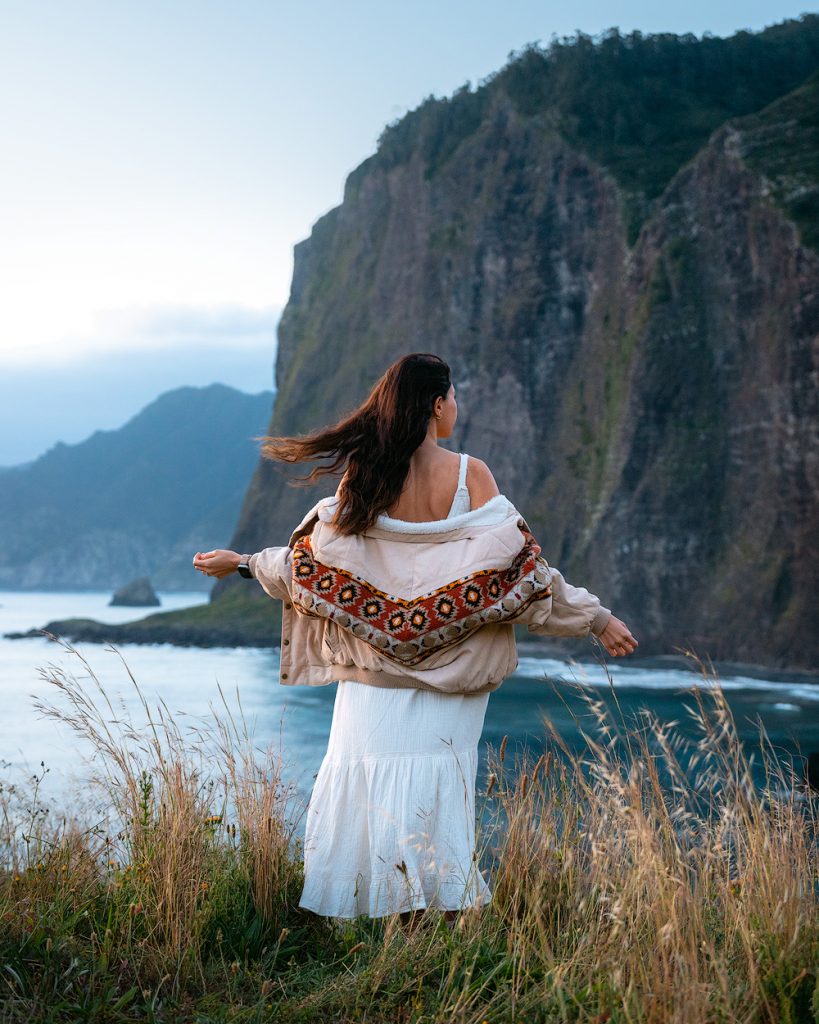 Miradouro do Guindaste
Also called the Crane viewpoint, Miradouro do Guindaste is an amazing place to watch the sunrise from the northern part of the island. It's also pretty stunning during the day, with amazing views over Madeira's signature peninsula, cliffs, and pebble beaches.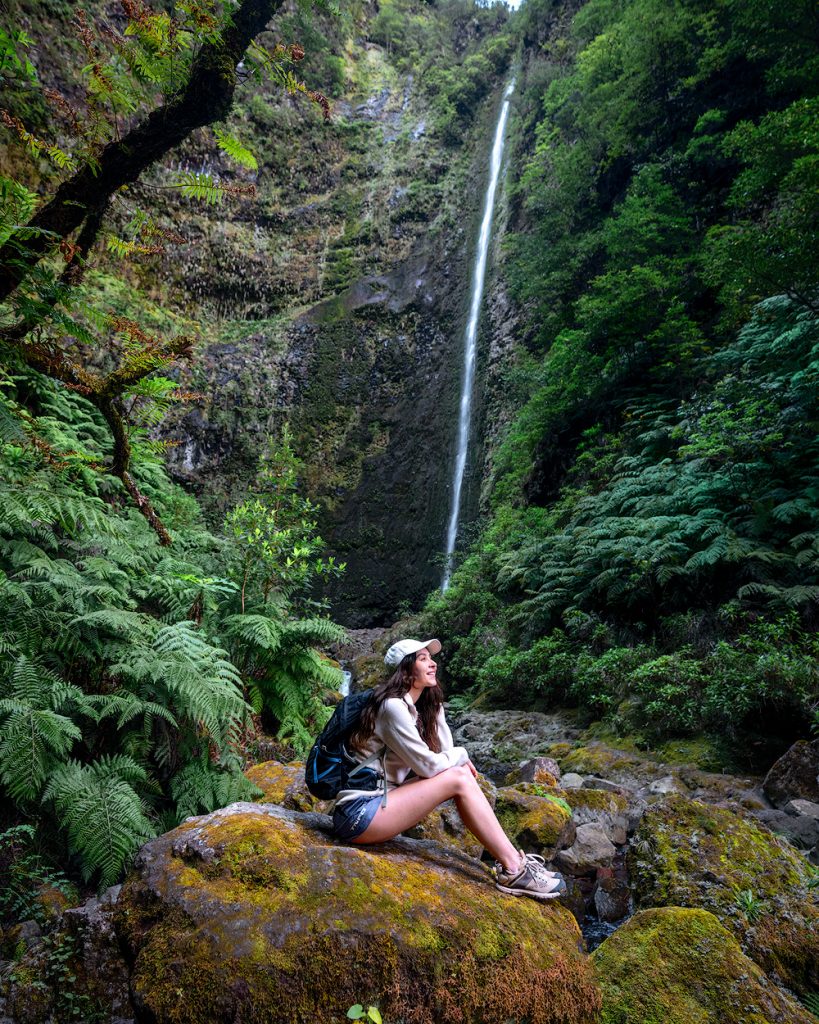 What To Bring to Madeira, Portugal
What you pack definitely depends on your Madeira itinerary. If you plan on doing some hiking, sightseeing, and exploring, here is my recommended "must-have" packing list:
Much of Madeira (and especially the old town of Funchal, where we stayed) is quite hilly, so I recommend a comfortable pair of walking shoes so you can explore as much as possible!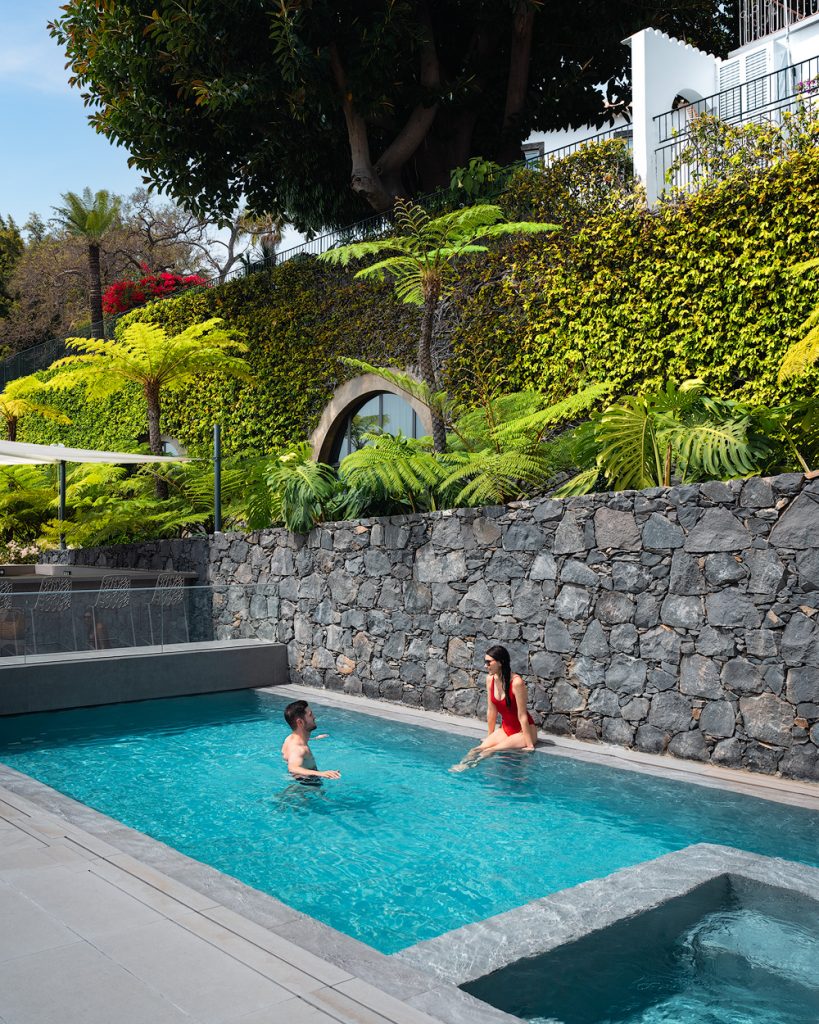 Where to Stay in Madeira, Portugal
We stayed at this incredible rental property that was in the perfect location to explore Madeira. It even had two amazing pools, a hot tub, a steam room, plenty of outdoor lounge space & gardens, and a fully stocked kitchen, a home gym, and laundry! There are a lot of other incredible vacation rentals, as well as hotels in the area too.
Time to Plan a Trip to Madeira!
Visiting Madeira, Portugal had been on my bucket list for years, and I'm SO glad we were finally able to visit this stunning island paradise. This trip had everything from amazing hikes, gorgeous sunrises and sunsets, delicious food, and beautiful accommodations. I can't recommend enough visiting Madeira and discovering this lush paradise for yourself.
---
PIN for Later!