It's no secret that I love hiking. More people have been hitting the local trails over the last few years, and it's so great to hear of more hikers getting out there! I know that it can be overwhelming trying to figure out everything that you need to pack for a day hike, especially for new hikers. So, I'm dedicating this post to the day hiking essentials that you need to pack for a safe and fun hiking trip. I'm also including recommendations for budget-friendly gear, too, as I know hiking gear can be quite expensive.
Disclaimer: This blog post may feature some affiliate links, which means I get a small commission if you make a purchase (at no extra cost to you). It's one of the ways I can keep producing free guides and resources for my readers. Learn more about my affiliate policy here. Thank you for the support!
What To Pack For Hiking: Ultimate Day Hiking Essentials List For 2022
Firstly, you'll want to start by packing the ten essentials. These are the essential, must-have items you need to ensure you're setting out on a trip with everything you need to stay safe. You might not think you need some of these items for a short day hike, but it is always better to be prepared in case of an emergency. Even if you never use some of these items, you might help out a fellow hiker in an emergency.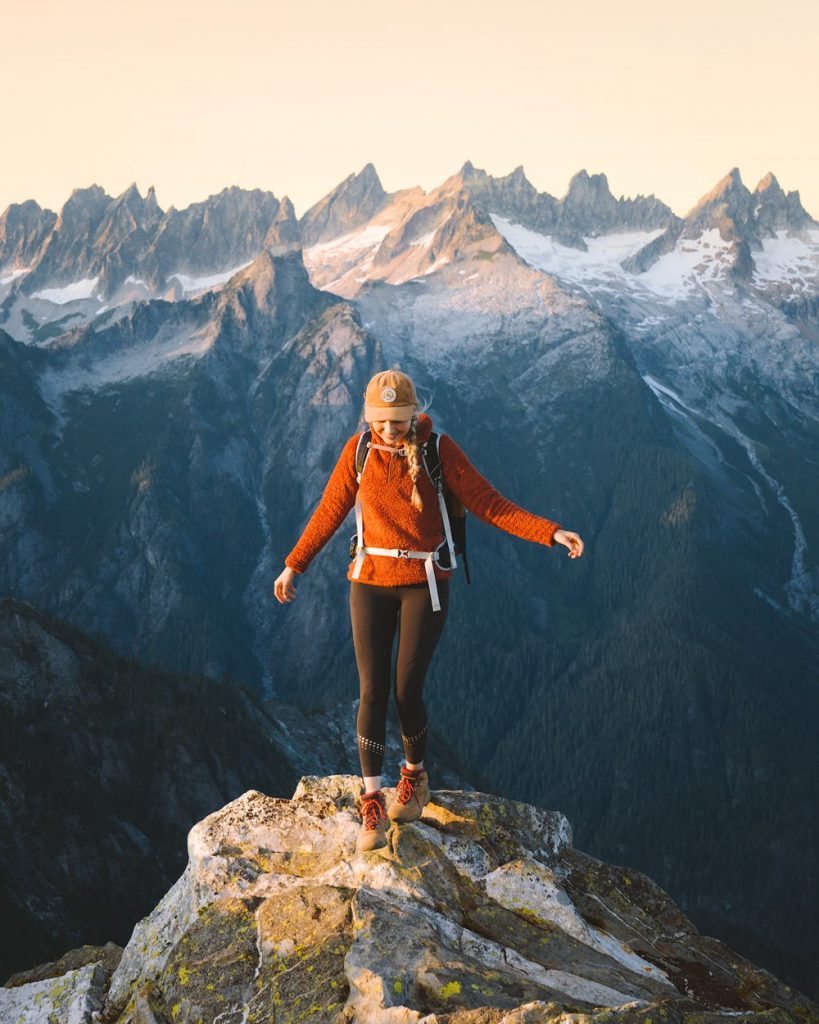 Day Hiking Packing List: The Ten Essentials
Making sure you have the ten essentials packed is an important first step. These essential items will keep you safe in the case of bad weather, injury, or other emergencies that could happen while you're out on the trail. It's smart to get in the habit of packing all of these items first. If you have a dedicated backpack for day hiking, you could leave some of them in your pack so you always know where they are.
Navigation
You should always have a topographic map of the area where you are hiking (bonus: keep it dry in a waterproof sleeve.) You should also be familiar with map reading in order to use your map! Bring along a compass (I leave one in my daypack pocket so I always have it) but be sure you have some basic skill to use it. It can also be helpful to save some maps on your phone. I use Gaia GPS to save maps for offline use while day hiking and backpacking, but you shouldn't rely on electronics in the case of an emergency. You can also consider investing in an emergency GPS device like the Garmin InReach or SPOT Satellite Messenger for additional peace of mind while you're day hiking.
Hydration
A water bottle or hydration bladder is an absolute must when day hiking! Dehydration can be killer so this is not something to skimp on. It's always better to carry too much water versus run out and get yourself into a dangerous situation. I like to hike with Hydro Flask bottles which keep your water nice and cold. You can also pack a hydration bladder into your pack which is typically easier to drink from while you're hiking. I recommend taking a couple liters of water to begin with. If you know there are water sources on the trail, you can start with less water and bring a water filter or water purification tablets to fill up your water bottle mid-hike.
Nutrition
Hiking snacks are a personal preference and the amount you pack will depend on the length and difficulty of trail. I will typically pack some granola bars, protein bars, energy chews, homemade trail mix, gummy worms, nut butter sachets, waffles, or dark chocolate. If I want something more substantial I will pack a bagel or fresh bread and cheese.
Rain gear and insulation
The weather can turn quickly in the mountains, especially at high elevations. I always pack a rain jacket, even when the forecast is sunny. Most of the time I will also have a midweight layer or lightweight puffy, especially if I plan on hiking early in the morning or later in the evening when it can get cold quickly.
Firestarter
Firestarter is another essential in case of emergency that can keep you warm and safe in an unexpected turn of events.
First aid kit
Always take a small, lightweight first aid kit on hiking trips. You just never know when it will come in handy for yourself or your hiking partner. I really like the kits made by Adventure Medical Kits as they are ultralight and waterproof. I always throw in a couple of extra blister-pads too, just in case!
Tools (multitool, knife)
A pocket knife or multitool is handy in many emergency situations.
Light source
You should always have a light source in the case of an emergency and you find yourself on the trail after dark. Again, I don't recommend relying on your phone flashlight. The Petzl Actik Core has been my favorite headlamp for years, and I pack it with me on every single day hike and backpacking trip.
SUn protection
Sunscreen is important to avoid sunburns, although I believe clothing is the best protection from the sun and other elements. When hiking in the hot, exposed sun I prefer to wear a lightweight long-sleeve designed to keep you cool, like the Backcountry Tahoe Sun Hoodie. I also like to wear either a cap or sunhat, along with sunglasses and SPF lip balm.
Shelter
This doesn't necessarily mean you have to pack a tent on a dayhike. It can be as simple as an emergency blanket, an emergency bivvy, or tarp. The idea is that carrying some kind of emergency shelter will help you survive a night outdoors in an unexpected emergency. In theory, you should have an emergency blanket for each hiker in your group.
Bonus: Bathroom Essentials
Ok, so this one isn't technically part of the 10 essentials, but in my opinion, it's an essential part of day hiking. Chances are you'll need to use the bathroom if you're going to be out hiking for a few hours. Be sure to abide by Leave No Trace principles at all times when hiking, and especially using the bathroom. When possible, use trailhead pit toilets where available. If not, be sure to pack out any toilet paper you might use. You can read my in-depth guide on Leave No Trace to learn how to be a responsible and respectful hiker.
Pro tip: I always try to pack a trash bag and gloves to pick up and remove any trash that I find on the trails. This is a good way for us to lessen our impact on the natural environment and help preserve our favorite hiking trails.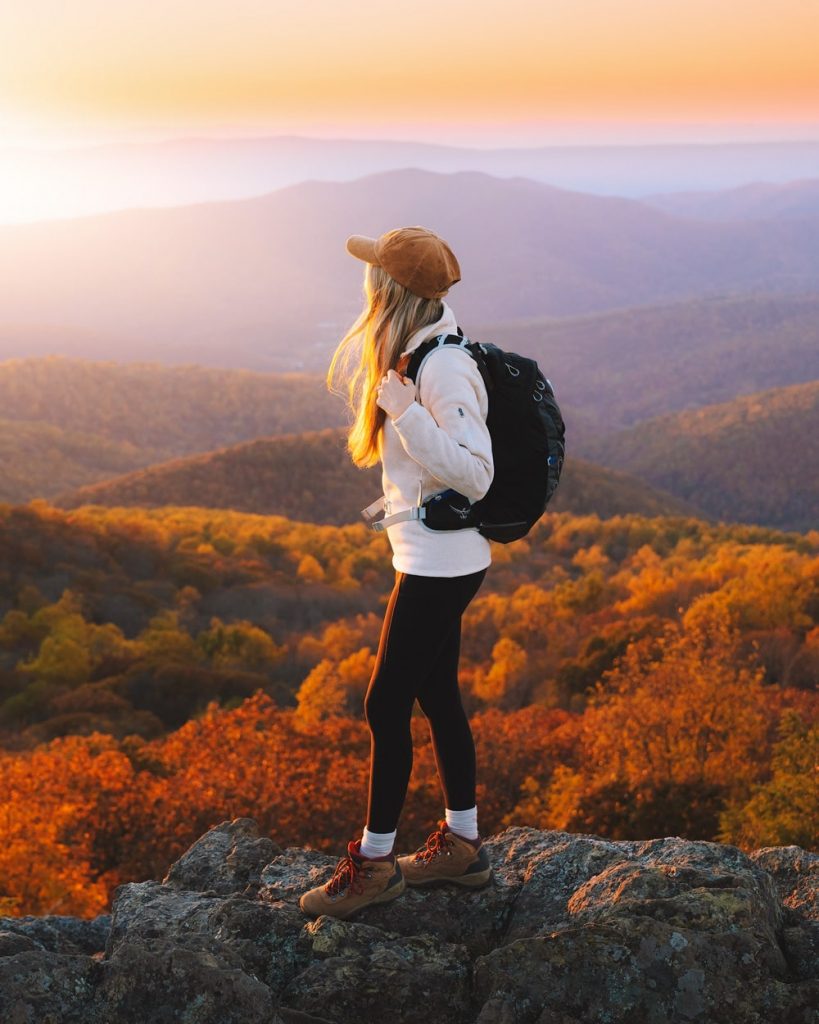 How To Choose a Day Hiking Pack
Choosing a day hiking pack is definitely a pretty personal decision, but there's a few factors to consider. Think about how long you'll be hiking, how much you want to pack, and your budget. For long hikes, you'll likely need to pack more food, water, and safety equipment. My favorite day hiking backpack is the Osprey Tempest. This pack comes in quite a few size options, though I think the 24L size is the best option for a day hike and the straps on this pack are very comfortable. The Mountainsmith Clear Creek 20L Backpack is a good budget-friendly option for packing your day hiking gear. I also like Black Diamond's Trail Blitz 12L Backpack as a minimalist and ultralight pack option for short hikes. I often also use the Hyperlite Versa Hip Pack or Cotopaxi 2L Hip Pack for easy access to essentials (aka snacks and chapstick!)
Insider tip: I often carry a bigger pack (like a 34L backpack) even on shorter, day hikes since I pack a lot of camera gear and warm layers (I get cold easily!) Figure out what works best for you – it might take a little trial and error to find what's comfortable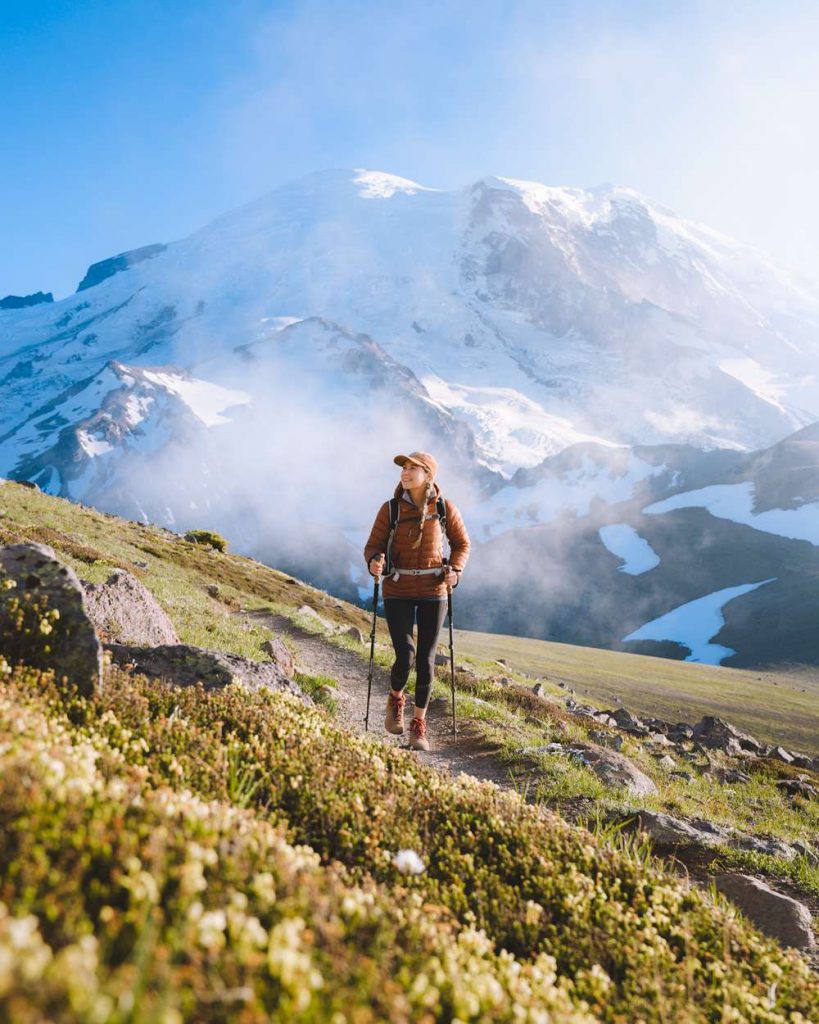 Luxury Items to Bring on a Day Hike
While these are definitely not essentials, here are some of my recommendations that can make your day hike even more fun and comfortable!
Blanket/Seat
If you plan to hang out at your destination for a while, you could pack a cozy fleece blanket , lightweight chair, or seat pad to make yourself more comfortable. You could even even pack a hammock to relax in!
Swim Suit & Towel
Nothing beats jumping into a cool alpine lake on a hot summer day! If you don't want to swim in your hiking clothes or your birthday suit, be sure to pack a swimsuit and a lightweight towel so you can cool off.
Camp Stove
I typically only bring this during winter day hikes, but it's so nice to have hot water for cocoa, tea, or coffee on a winter hike or snowshoe! You could also bring this to prepare lunch at your destination on your day hike. I recommend the Jetboil MiniMo Stove which boils water incredibly quickly and is lightweight to pack. If you plan on having a picnic, I recommend packing some hand sanitizer or wipes if you plan on eating with your hands.
Binoculars
I typically don't carry these since I normally have quite a bit of camera gear. But binoculars are a great option if you're hoping to spot some wildlife!
Portable Charger
If I'm planning on using my cell phone for a lot of photos I like to bring a portable charger or battery pack. That way I never run out of battery on my phone!
Trekking Poles
While I don't really consider these a "luxury" item, they can definitely make your hike much more comfortable and safe. I especially like to use trekking poles on steep trails with uneven terrain. These Kelty trekking poles are a great budget option!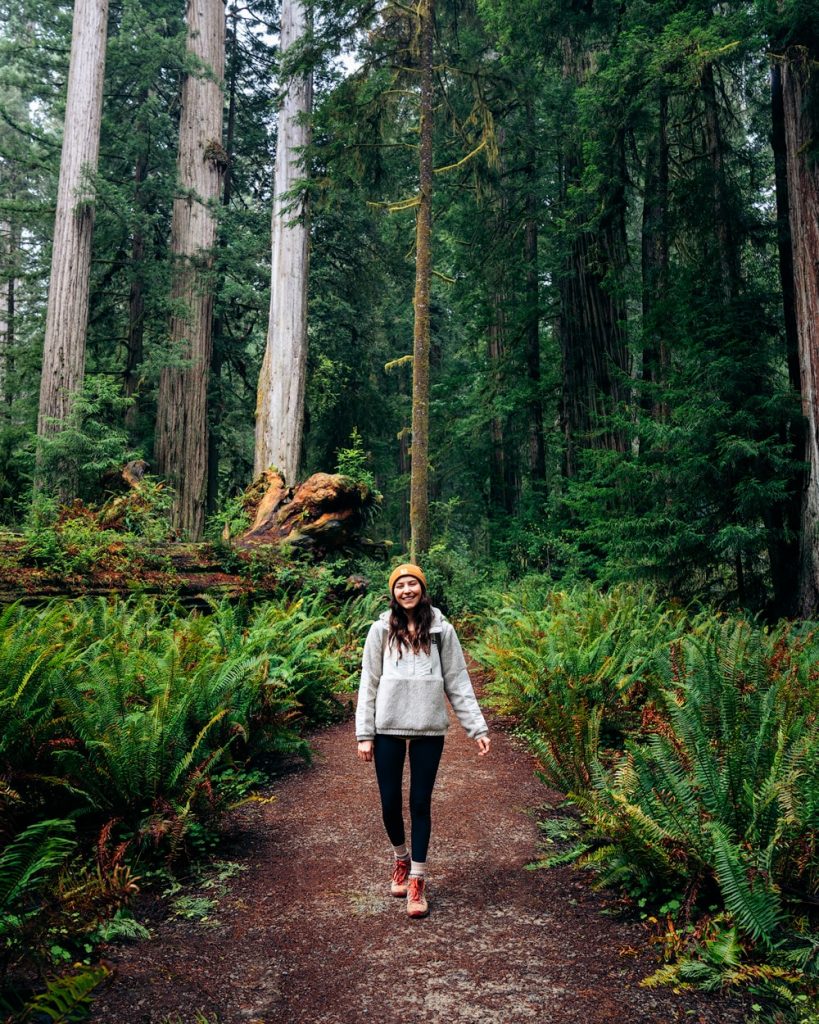 What to Wear Hiking
What you wear hiking is definitely a personal preference, and I always say that comfort is the most important factor, especially on longer hikes. My Hiking Guide for Beginners also has a comprehensive packing list with gear suggestions for day hikes!
Some people prefer stiff hiking boots with more ankle support, while some people prefer lightweight trail runners. There's certainly pros and cons to each style. Check out my in-depth post on the Best Hiking Shoes for Women and Men for hiking footwear recommendations.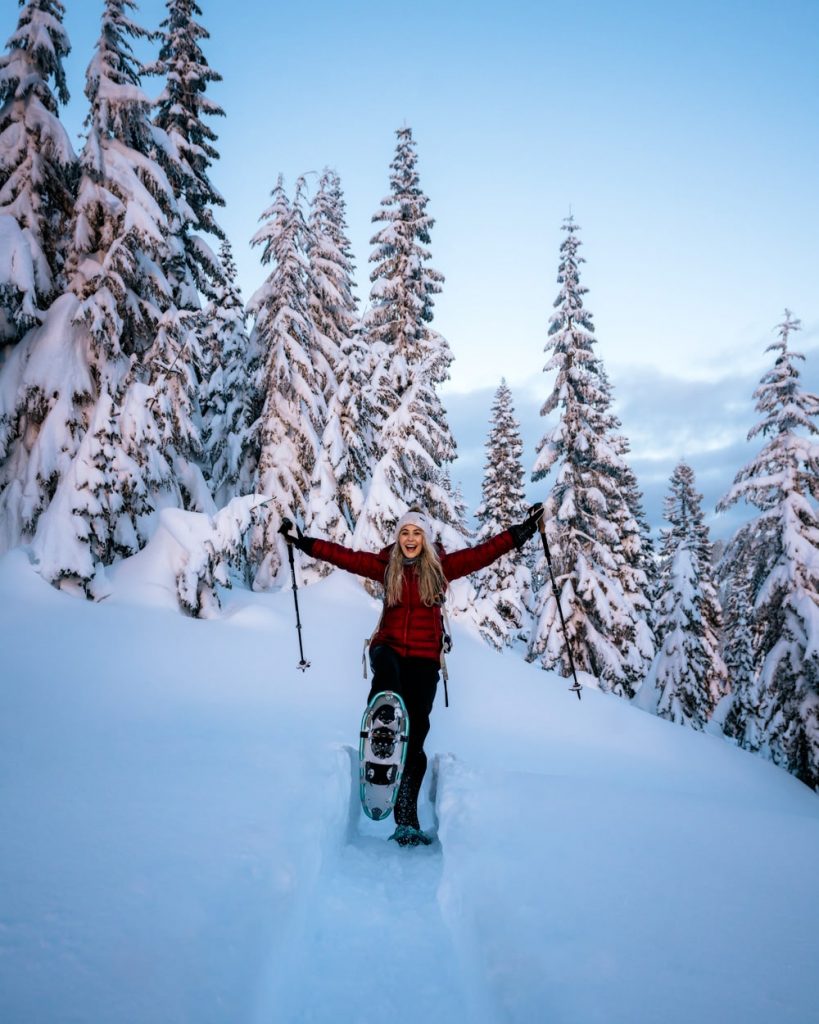 What to Pack for Winter Hiking
Hiking Boots
It's a good idea to have a warm, waterproof pair of hiking boots for winter hiking. Don't forget a warm pair of socks! I like to wear these Smartwool hiking socks when winter hiking.
Warm Layers
Merino wool base layers are a great way to stay warm and dry. Even though it's cold, you'll still be sweating while hiking in the winter, and merino is a natural, moisture-wicking fiber. Staying dry is the first step to staying warm in cold weather! I love wearing a cozy pair of merino leggings underneath my hiking pants on winter day hikes. Depending on the temperature and your personal preference, there are lots of options for light, mid, and heavyweight insulating jackets. I like the Backcountry Synthetic Insulated Jacket as a mid-layer, and the Patagonia Down Sweater as a heavier jacket.
Hat & Gloves
It's important to keep your head and hands warm while hiking. I like to wear a cozy beanie on winter hikes, and I typically have a lightweight pair of gloves. In very cold weather, I wear Hestra Mittens to stay extra toasty.
What to Pack for Hiking in the Rain
Waterproof rain gear
Since it's one of the 10 essentials, I always have a waterproof rain jacket in my pack. If it looks like it's going to rain consistently on a day hike, you might consider also packing waterproof rain pants to help keep you dry and comfortable.
Pack cover
In heavy rain conditions, you can keep your backpack dry with a waterproof pack cover. The budget-friendly option is to line your pack with a large trash bag, so that all your gear is inside the plastic bag once it starts raining.
Dry bag
If you're carrying a lot of electronics (like camera gear!) it's a good idea to carry a dry bag to protect these items.
Dry socks
If you're going to be out in the rain for a while, I highly recommend packing an extra pair of hiking socks. Wet socks and shoes are a surefire way to get blisters and have way less fun.
Hat
A hat will help keep the rain out of your face. I like to wear my hat underneath my rain jacket hood so that my head does not get soaking wet.
What should you
NOT

Take On a Hike?
You can really pack whatever is that you feel like bringing, but there are a few things you might want to leave at home. Heavy items and valuables are likely better off left at home! The lighter weight you gear, the more comfortable you'll be while hiking uphill.
I also recommend not packing anything in glass bottles, such as beer, wine, or even a glass water bottle. I have seen people drop these, or even fall with these, which can lead to a dangerous mess.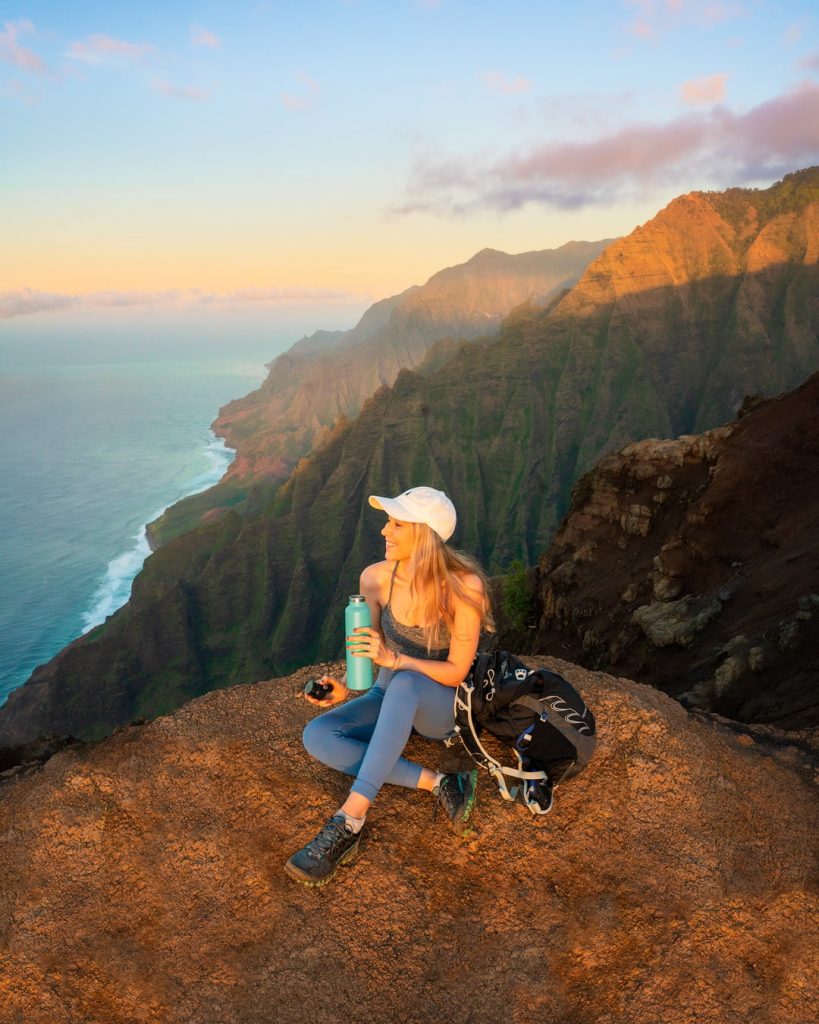 Time to hit the trails for a Day hike!
Now you are ready to hit the trails! Save this day hiking essentials list for your next hike and you'll be well prepared for a safe and fun hike. Don't forget the ten essentials, and don't forget to have fun!
---
PIN for Later!