Some of my favorite hikes in the Pacific Northwest aren't to the highest mountaintops, but instead with gorgeous waterfall views. The Trail of Ten Falls is one of the very best hikes if you love waterfall hikes! Beautiful Silver Falls State Park is home to this hiking trail in Oregon full of iconic waterfalls, including a giant curtain waterfall that you can hike behind. Don't skip this one on your next trip to Portland, Oregon and be sure to add hiking the Trail of Ten Falls to your hiking bucket list!
Disclaimer: This blog post may feature some affiliate links, which means I get a small commission if you make a purchase (at no extra cost to you). It's one of the ways I can keep producing free guides and resources for my readers. Learn more about my affiliate policy here. Thank you for the support!
Ultimate Guide to Hiking the Trail of Ten Falls in Silver Falls State Park, Oregon
Trail of Ten Falls is located just an hour and a half outside of Portland, Oregon, and is home to Silver Falls State Park, one of the most famous hiking destinations in Oregon. There are options if you want a quick view of a waterfall and for a longer hike, there's the 7.2 mile loop to hike the Trail of Ten Falls.  Once you realize you're able to walk behind a 177-foot curtain waterfall at Silver Falls, why wouldn't you want to visit?!
With iconic gushing waterfalls you can walk behind and lush green moss-covered forests, Silver Falls State Park has it all! Oregon State Parks actually named Silver Falls State Park the "crown jewel" of the state parks. Covering more than 9,000 acres, Silver Falls State Park is the largest state park in Oregon! Though I'd consider hiking the Trail of Ten Falls the highlight, there are also many other hiking trails and bike paths in the park. We have visited the park numerous times now, and I will absolutely continue to visit Silver Falls in the years to come. In this blog post, you will be able to get a better idea of your visit and how to properly plan. 
To get the latest information about accessibility to the park and the latest COVID-19 updates, visit the official Silver Falls State Park website before visiting. Remember to always follow local rules, boundaries, and regulations.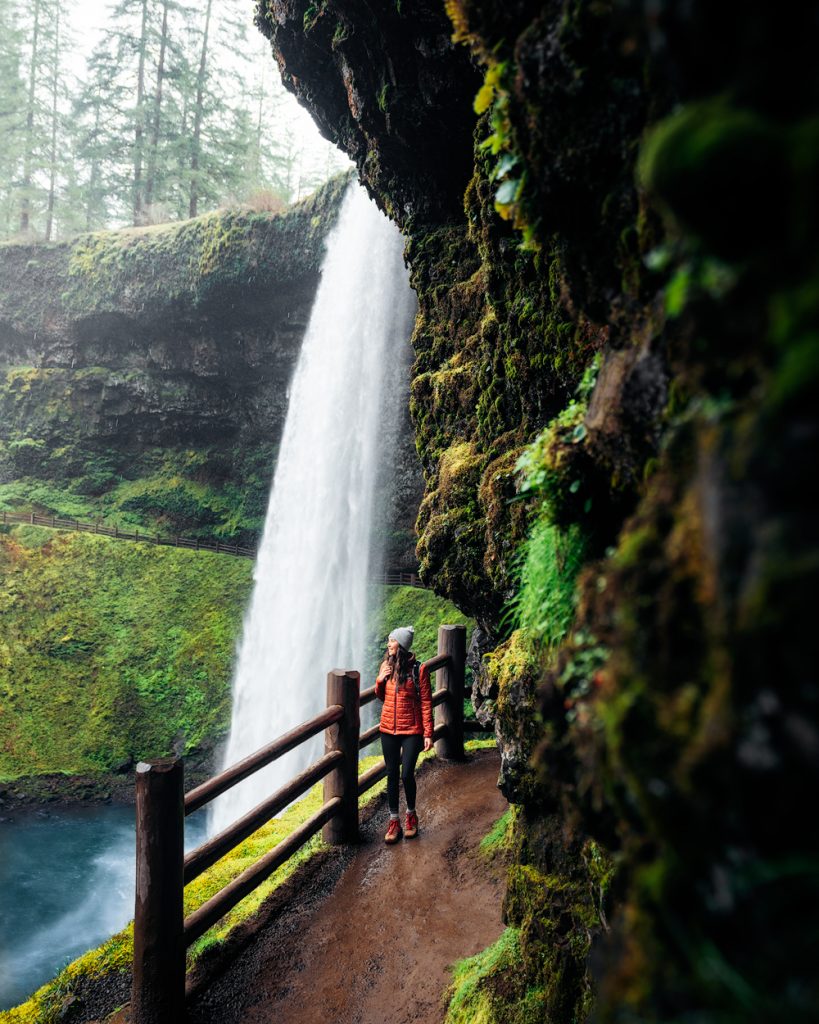 How do you get to Silver Falls State Park?
The Trail of Ten Falls hiking trail is located inside Silver Falls State Park in Oregon. Just an hour and a half from Portland, it's easy to visit Silver Falls State Park as a day trip from the city. For bucket-list adventurers wanting a bit more out of their time in Oregon, these hiking trails can be visited as a part of an Oregon road trip. Moreover, Salem, Oregon (the state capital) is just 30 minutes from Silver Falls State Park.
Insider tip: The Willamette Valley surrounding the park is full of extraordinary wineries to visit! Planning your hike ending at a winery with a charcuterie board is something we enjoy doing on a sunny spring day.
When is the best time to Hike the Trail of Ten Falls?
Silver Falls State Park is open year-round for hiking, but it is most impressive when the waterfalls have the most amount of water falling! February through April is going to be the peak time for water flowing from the falls. Plus, if you're not shy about hiking in the rain, the park will be less busy overall.
The fall season at Silver Falls State Park is especially popular due to the bright leaves that blanket the area in beautiful yellow and gold leaves. If you're able to time it just right so there was recent rainfall giving the falls water after a dry summer. Silver Falls State Park in the fall is a photographer's dream. October is typically when this happens inside the park.
During summer, Silver Falls State Park sees the most visitors for the entire year, so keep that in mind during your trip planning. Oregon doesn't get much rain in the summertime, making the waterfalls turn into something entirely different than what you would see in the spring. If hiking a winter trail is your thing, visiting in the winter months on The Trail of Ten Falls can be beautiful.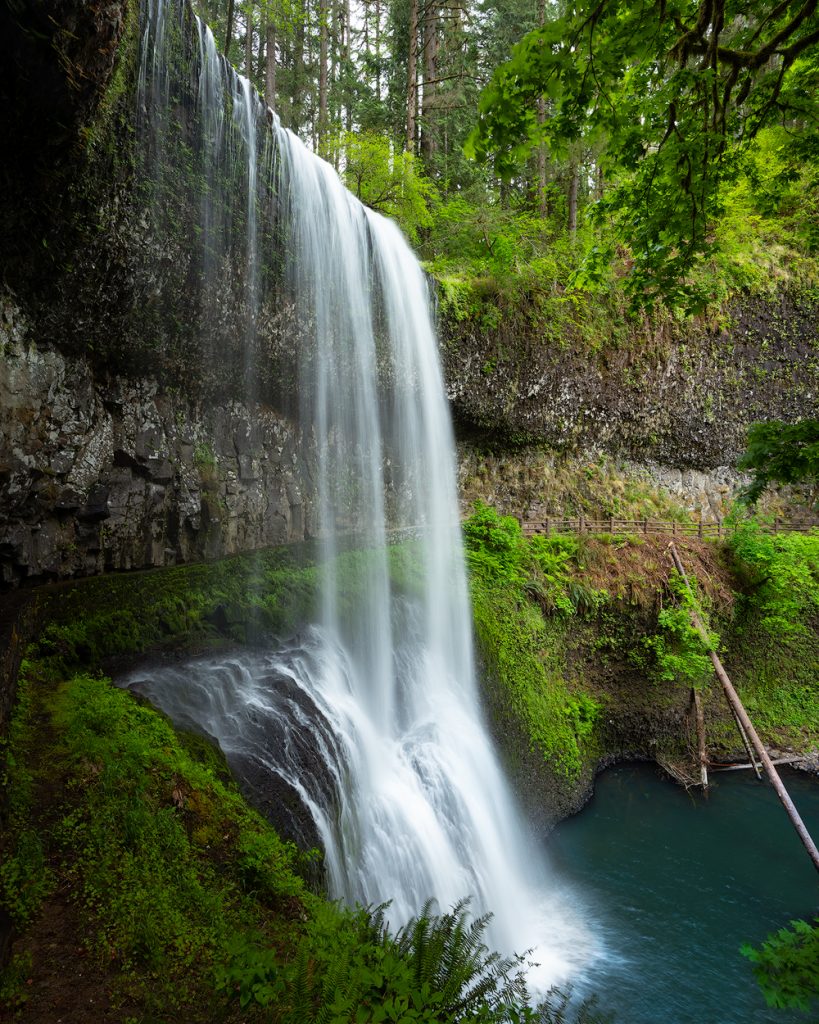 What is the entrance fee for Silver Falls State Park?
Day-use parking at Silver Falls State Park is $5 a day. Be advised that if you're parking away from the South Falls Day Use Area, not all of the parking meters accept cash. If you know when you're visiting Silver Falls State Park, you can save time by purchasing your parking pass in advance online.
How far is the Trail of Ten Falls hike?
Hiking the Trail of Ten Falls can be done through sections at a time or day hikes. Staying overnight at a local rental or campsite is a great way to slowly enjoy Silver Falls State Park. The 7.2 mile moderately rated hike takes an average of 3 hours and 15 minutes to complete. We will go into more detail about each portion of the trail in the next section.
Is the Trail of Ten Falls pet friendly?
If you're wanting to visit the Trail of Ten Falls in its entirety, it is best to leave your pets at home as it is not pet friendly in the canyon trail of the park. Pets are allowed in many areas of Silver Falls State Park, including Upper North Falls. Be sure to leash your dog inside the state park at all times. There is an off-leash pet exercise area on the South Falls Day Use Area of the park.
Where can you stay near Silver Falls State Park?
Silver Falls State Park and the Trail of Ten falls is located near Silverton, Oregon. It's about 20 miles from Salem, Oregon, which is probably your best bet for nearby accommodations. There are plenty of great hotels in Salem and vacation rentals & cozy cabins nearby. For a more adventurous trip, check out my post for 20 Magical Oregon Treehouses You Can Rent! Below are some places that look like great options:
Alpaca Farm Retreat: gorgeous farm stay in the Willamette valley, complete with alpacas, hammocks, and incredible views.
Silver Falls Luxury Studio: a smaller space, but you can't get any closer to Silver Falls State Park than this!
The Bali House: essentially "glamping", you can sleep in a converted greenhouse with a hot tub, private bathroom, and beautiful garden views.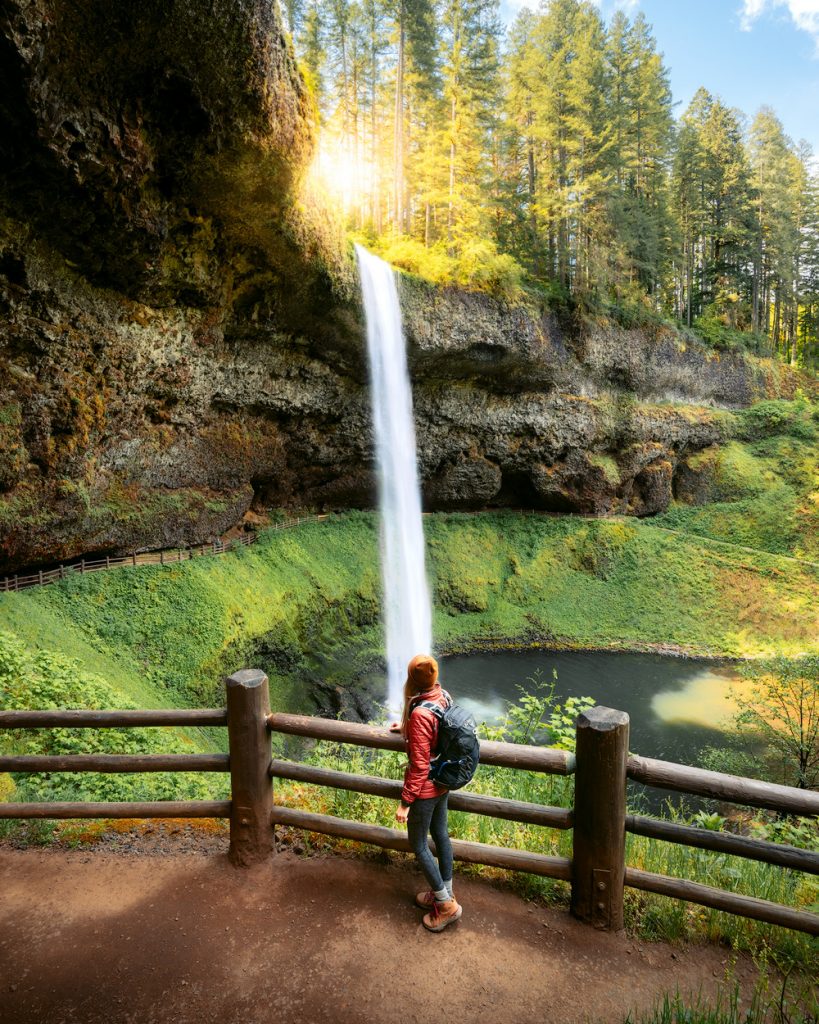 Hiking the Trail of Ten Falls
Let's get into the individual waterfalls on the Trail of Ten Falls Hike. Each waterfall varies in size, appearance, and accessibility-all exceptionally stunning. Whether you're looking to see all of the falls or hike a portion, this will help plan your trip to Silver Falls State Park. Keep in mind it is possible to see a waterfall, head to the car, and drive to another trailhead. Choose your own adventure when visiting Silver Falls State Park! Silver Falls State Park surrounding the trails is stunning in itself, so plan for a picnic if the weather is nice.
Official Trail Map for the Trail of Ten Falls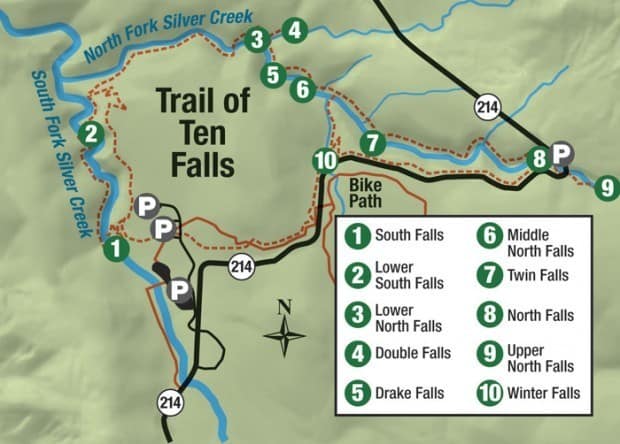 Waterfalls along the Trail of Ten Falls
1. South Falls
South Falls at Silver Falls State Park is the most popular portion of the trail as the 177 foot cascading waterfall can be walked behind! If you just want to do this loop portion of the trail that takes you to the base of South Falls and behind it and back to the parking lot, is .09 miles with 194 ft. of elevation gain.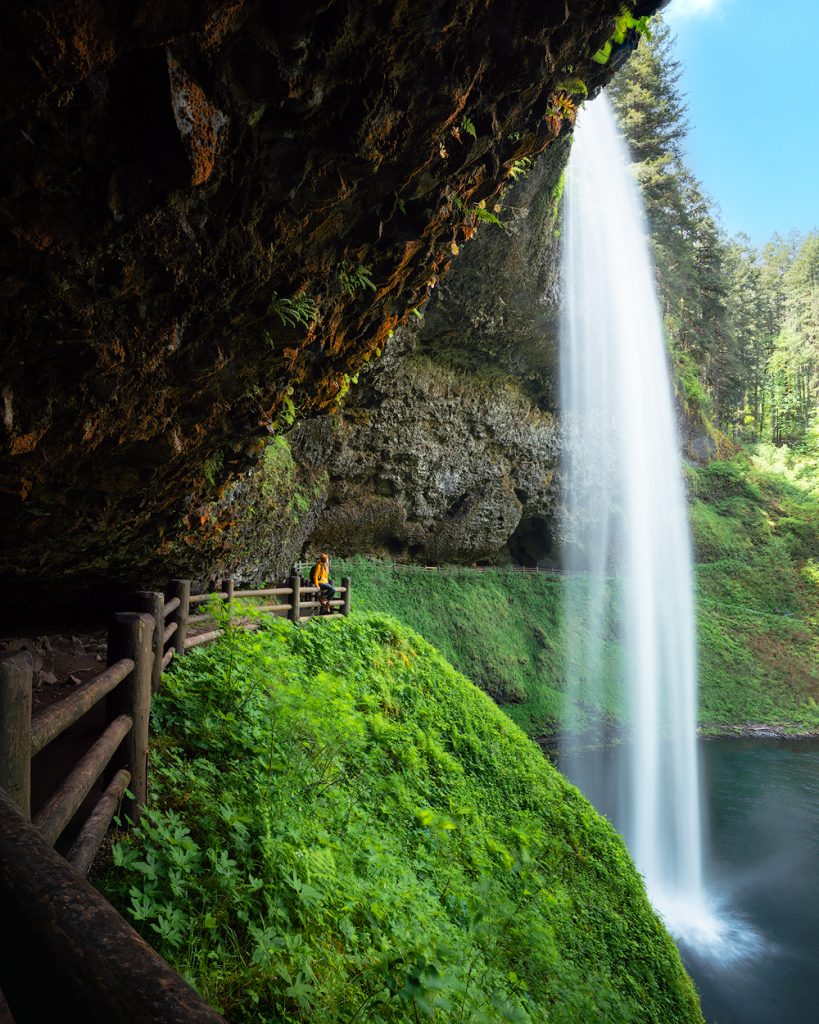 2. Lower South Falls
This portion of the trail is a great way to get a better viewpoint of South Falls from below! Lower Silver Falls is absolutely gorgeous in the fall, especially if you enjoy slowing down the shutter speed on your photos. Lower South Falls is just 93 feet high!
3. Lower North Falls
For a moderate hike, Lower North Falls can be done from the North Falls parking lot if you're not wanting to hike the entire Trail of Ten Falls. From there it's about 3.8 miles and 368 feet of elevation gain along the rim trail. A smaller waterfall just above the North Fork Silver Creek, the Lower North Falls is observed through the lush Douglas Fir and Maple trees from the trail.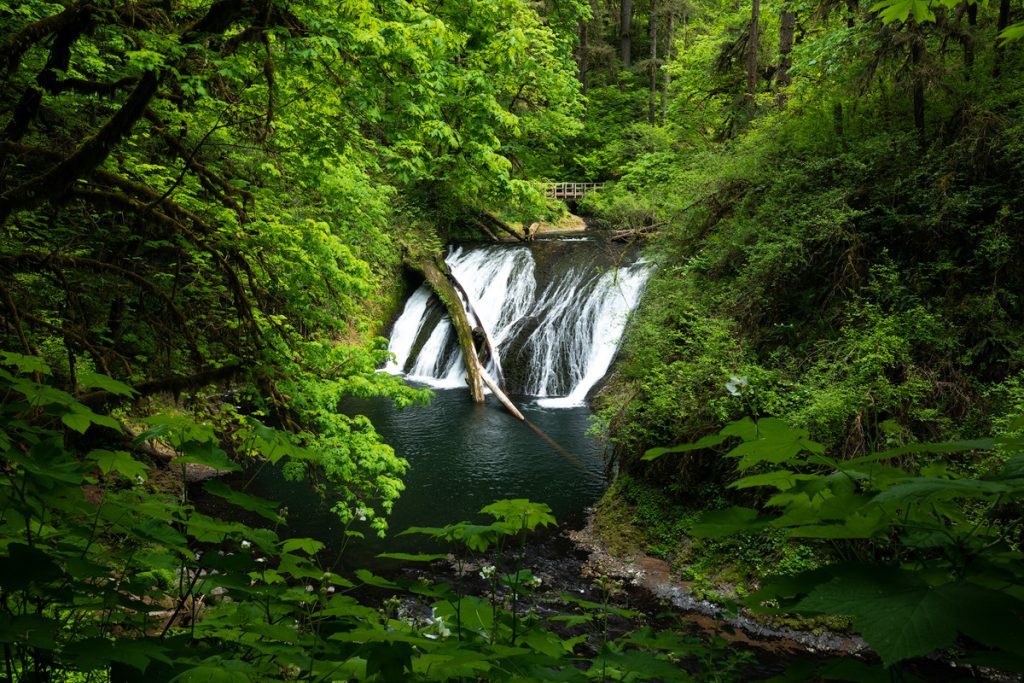 4. Double Falls
Double Falls is a gorgeous 2 tier cascading waterfall beneath basalt columns and moss. It's one of the bigger falls at the park, at 184 feet tall! This portion of the trail is more secluded than the South Portion of the park. You may even find people swimming here in the summertime!
5. Drake Falls
This waterfall is the shortest within Silver Falls State Park at just 27-feet tall. Totally clear views of this waterfall from the trail are a bit hard due to trees growing and the geology of the falls in relation to the trail.
6. Middle North Falls
The shape of this waterfall changes drastically depending on the amount of rain inside the park. Middle North Falls can be traversed behind, which is best experienced after heavy rainfall, creating a 60-foot panel of gushing water for you to walk behind.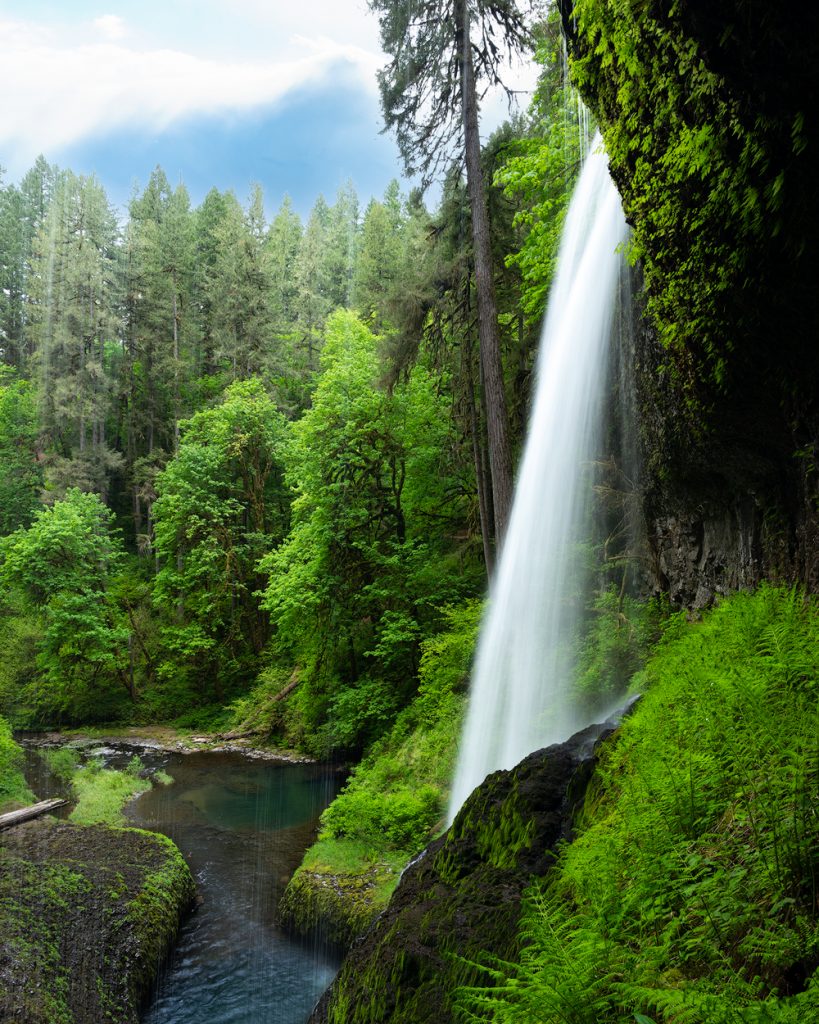 7. Twin Falls Trail
Many hikers say that Twin Falls is the least visited waterfall in the park due to its proximity to South Falls. It is the third shortest waterfall in the park-at just 31 feet tall. During the summertime, these falls almost entirely go away depending on the dry season in Oregon, so they are best visited in the spring.
8. North Falls
A waterfall gushing over the side of basalt columns, North Falls is absolutely stunning. Plus, North Falls at Silver Falls State Park can be walked behind! This section of the Trail of Ten Falls is a popular day hike spot for kids as it's just .05 miles long from the North Falls Trailhead.
9. Upper North Falls
Dogs are welcome at Upper North Falls if you're choosing to park and see these falls from the North Falls Trailhead parking. From that parking lot, it's just .6 miles and 62 feet of elevation gain. This section of the trail isn't visited as much as this is the smallest waterfall in the park. Nonetheless, if you're seeking peace and quiet surrounded by moss-covered trees-this is the waterfall to see.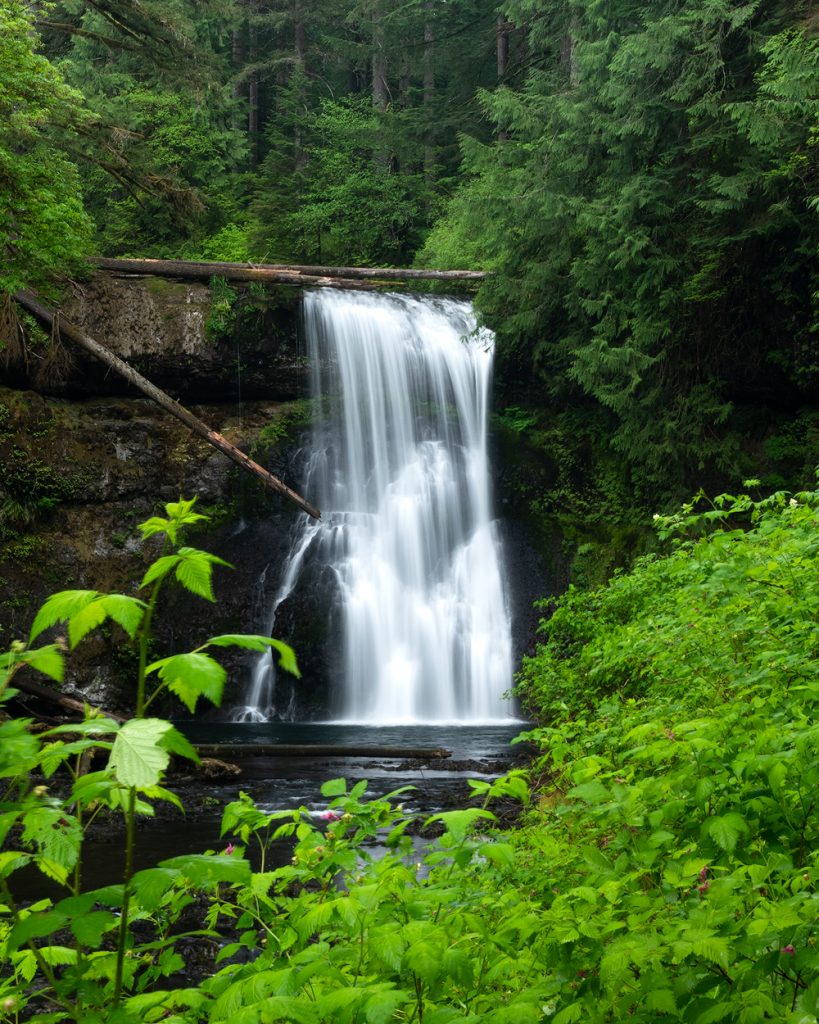 10. Winter Falls
At 134 feet tall, Winter Falls along The Trail of Ten Falls is gorgeous after heavy rainfall because of the way it falls along the basalt walls it gushes over. However, during the summertime, due to the geologic structure of Winter Falls, it is nearly nonexistent.
Where does the Trail of Ten Falls start?
The Trail of Ten Falls can start and finish from multiple trailheads. As mentioned above, some people do a portion and drive from parking lot to parking lot. Personally, I enjoy hiking from the South Falls or North Falls parking lot and going clockwise.
Keep in mind that weather patterns, construction, and closures can happen in the park. If the area gets a rare snowfall or ice fall in winter the paved portions of the trail become a sheet of ice! 
What To Bring for Hiking the Trail of Ten Falls
Even for a short day hike, it's always important to be well prepared. Making sure you have extra layers, plenty of snacks and water, and comfy clothes for the end of the day will ensure you have the best time while you hike the Trail of Ten Falls. You can also consult my full guide to the Day Hiking Essentials.
Backpack:
My favorite day hiking backpack is the Osprey Tempest. This pack comes in quite a few size options, though I think the 24L size is the best option for a day hike. The Mountainsmith Clear Creek 20L Backpack is a good budget-friendly option for packing your day hiking gear. I also like Black Diamond's Trail Blitz 12L Backpack as a minimalist and ultralight pack option for short hikes. It's nice to have a way to keep your pack dry in case of rain (especially here in the Pacific Northwest), so I almost always pack my Osprey Backpack Rain Cover. I often also use the Hyperlite Versa Hip Pack or Cotopaxi 2L Hip Pack for easy access to essentials (aka snacks and chapstick!)
Hiking Shoes
Hiking shoes are very person-specific. Some people love wearing trail runners and others prefer boots. Some people prefer heavier waterproof boots and others prefer lighter options. When hiking somewhere that tends to be wet (like the Pacific Northwest) I usually opt for a waterproof boot with ankle support, but something that isn't too heavy, like the Danner Mountain 600 Hiking Boots. For a more budget-friendly pair of hiking boots, I recommend the Columbia Newton Ridge Waterproof Boots. Sometimes it takes a few tries to find which hiking footwear option works best for you, but don't give up! There are plenty of comfortable hiking shoes out there and I promise they make all the difference.
Hiking Socks
Don't overlook the importance of having socks that fit correctly and are comfortable to wear for a long time. I have found that merino wool socks from Darn Tough's Merino Hike Sock are the most durable and least smelly. I also find they are the most comfortable for hiking. With trail runners, I will sometimes opt for lower socks, like these Smartwool socks. If it's extra cold or snowy out, I'll wear warmer pair of Smartwool Full Cushion socks on winter hikes. Injinji Liner Socks are a great way to help keep your feet dry and prevent pesky blisters!
Hiking Tops
Depending on the weather and personal preference, you can either go with short sleeve, long sleeve, or a tank option. For cooler hikes or those where I am worried about sunburn, I will usually opt for long sleeves and wear something like the Smartwool Merino Long Sleeve Shirt or the lighter Patagonia Capilene Cool long sleeve. Otherwise you will usually find me in one of the Smartwool Merino Short Sleeve or Patagonia Capilene Cool tees.
Natural fibers like merino wool are my go-to for hiking tops due to the odor-reducing properties and overall comfort. I avoid cotton in favor of more moisture-wicking materials (like merino) to stay dry and comfortable, no matter how sweaty I get.
Hiking Bottoms
Hiking pants, or shorts, are also very much a personal preference. I almost always hike in pants or leggings to prevent sunburn, scratches, and bug bites. Recently I have been wearing the Stoic Zip-Off Pant – I love that they can turn into shorts in a pinch. The Sweaty Betty Power Sculpt Legging are my favorite leggings for hiking. If I do hike in shorts, I love the Columbia Firwood Short and Outdoor Research's Ferrosi Short. Some people even like to hike in a skort or workout dress!
Warm Layers
My favorite medium-weight layer is the Patagonia R1 Fleece or Patagonia Better Sweater. I've worn both of these hiking for years and they're so cozy and warm! Vests are great options for hiking because they keep your core warm without overheating your extremities, and they're lightweight to pack. I wear the Patagonia Nano Puff Vest during every season. I almost always carry a puffy with me (yes, even in the summer) both because I get cold easily, and it's easy to get chilly at higher elevations. The Patagonia Nano Puff Hooded Jacket (non-hooded version here) is a great 3 season puffy, and the Patagonia Hooded Down Jacket (non-hooded version here) is my favorite thicker puffy, great for winter hiking. Stoic's Insulated Jacket is a great budget-friendly option for a puffy.
Extra Layers
I always pack an extra layer for wind and/or rain protection on day hikes. For a windbreaker (and bug protection) I really like the Patagonia Houdini Jacket (packs down super small!) and the Cotopaxi Teca Windbreaker which comes in fun colors. A good rain jacket is essential, especially here in the PNW. I've used both the Marmot PreCip Eco Jacket and Patagonia Torrentshell Rain Jacket, and the Outdoor Research Helium Rain Jacket looks like a great lightweight option.
Water & Snacks
A water bottle or hydration bladder is an absolute must when hiking! Dehydration can be a killer, so it's not something to skimp on. I normally stick with my trusted Hydroflask bottles, which keep your water nice and cold. The Hydrapak Recon 1L Bottle is also great and a little lighter weight. On especially hot days or longer hikes, I'll add Nuun tablets, Liquid IV, or Ultima for electrolytes. You can also pack a hydration bladder into your pack which can be easier to drink from while hiking. I start with a couple liters of water and carry a water filter so I can fill up at streams.
I love to snack on nut butter filled Clif Bars, Pro Bar Bolt Chews, GoMacro bars, Honey Stinger Waffles, and nut butters. Often I'll prepare homemade trail mix or other snacks to pack in reusable Stasher Bags for day hikes.
Navigation
You should always have topographic map for the area you will be hiking (keep it inside a waterproof sleeve). You should also be familiar with map reading in order to use your map! It's also a great idea to bring along a compass and have some basic skills to use it. In addition, it's a good idea to save some offline maps to your phone. For instance, I use Gaia GPS to save offline maps for hiking and backcountry trips.
Emergency beacon
These are definitely optional, but are great to give you and your loved ones some peace of mind especially when you're in the backcountry. I've used both the Garmin inReach Mini and the SPOT Gen4 Satellite GPS Messenger. The Garmin has more functions like two-way messaging, but both devices are great options to have in case of emergency.
Headlamp
It's a good idea to have a light source with you (outside of your phone flashlight 😉) in case of emergencies. I have used the Petzl Actik Core Headlamp for years and I love it. The Petzl Tikkina Headlamp is a more budget-friendly option that is also great!
Bathroom essentials
Don't forget to pack sunscreen, lip sunscreen, and some cleaning wipes. If you've ever experience thigh chafing (it's the WORST!), I recommend Mega Babe Thigh Rescue Cream. I keep all these organized in a small pouch, like this one from Topo Designs. For backcountry bathroom needs I pack a trowel, toilet paper, wipes, Kula Cloth, and a zip lock bag to pack out dirty toilet paper. Even on a day hike you'll want to be prepared for bathroom breaks. It's important to dispose of human waste properly to keep our trails clean and safe for all visitors.
First aid & Emergency
No matter how far I'm hiking, I always carry a small first aid kit with essential items. Must haves include blister plasters and emergency supplies like a survival blanket. Here is my recommended lightweight first aid kit. If you're lucky, you may never have to use this, but it's best to be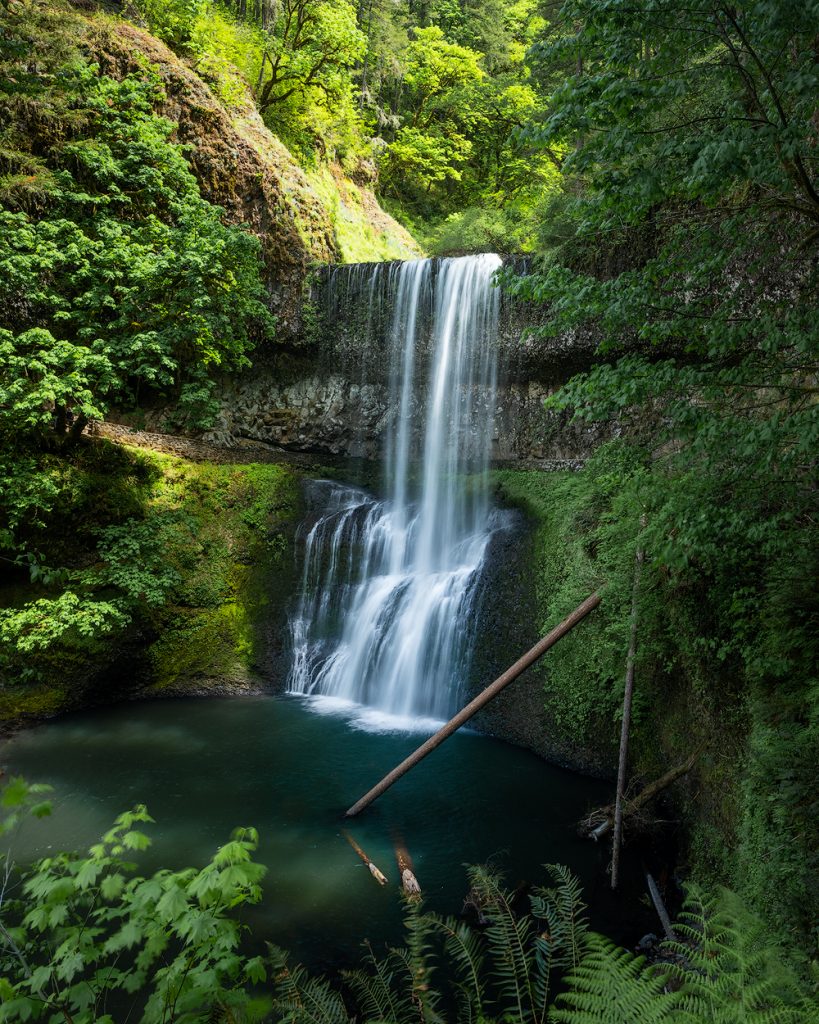 Leave No Trace when Hiking the Trail of Ten Falls
If you do choose to hike this trail, read up on the Leave No Trace Principles (LNT). These principles are guidelines that help people plan, prepare, and adventure more consciously. By practicing the LNT principles, you are reducing your impact when enjoying nature.
Especially when it comes to feeding wildlife-I've had squirrels crawl onto my lap while breaking for lunch here. This is due to people feeding them and they're comfortable with humans. Please do not feed wildlife or leave food scraps behind for them.
Final Thoughts on Hiking the Trail of Ten Falls
Trail of Ten Falls is truly a bucket list hike for anybody visiting Oregon. I hope this Trail of Ten Falls guide has inspired you to add this location to your list when visiting Oregon. If you have ever been, I would love to hear from you in the comments below!
---