I love taking mini getaways to Oregon! One of the things I look forward to most on these adventures is discovering all the cozy Oregon cabins – there are so many hidden gems! From rustic hideaways to riverfront retreats, there's nothing quite like renting a cabin in Oregon… especially when you can curl up with a good book and some great company! If you want to plan an off-grid getaway this season, there are plenty of dreamy cabins to rent in Oregon! In this blog post, I am sharing 24 of my favorite!
Disclaimer – This blog post is not sponsored, though I did receive a complimentary stay at one of the cabins featured. As always, I only share things I absolutely recommend and think my readers will also love! Some of the links I have used are affiliate links, which means I get a small kickback if a booking is made, at no extra cost to you!
---
24 Dreamy Oregon Cabins You Can Rent
There are plenty of magical cabins you can rent in Oregon! Before booking, it's important to know your priorities for choosing the right fit for you. Oregon's vast and enchanting forests stretch from rivers to mountain peaks and offer the perfect setting for your next adventure or staycation year-round. Scroll down to check out some of my favorite Oregon cabins where you can escape it all!
And if you're a big cabin lover, I would recommend also checking out my guide to the best Washington cabins and treehouses! Many of these Washington cabins are just over the border and would make for the perfect road trip add-on! Be sure to also check out my guides on the best Oregon treehouse rentals and incredible Pacific Northwest treehouse rentals.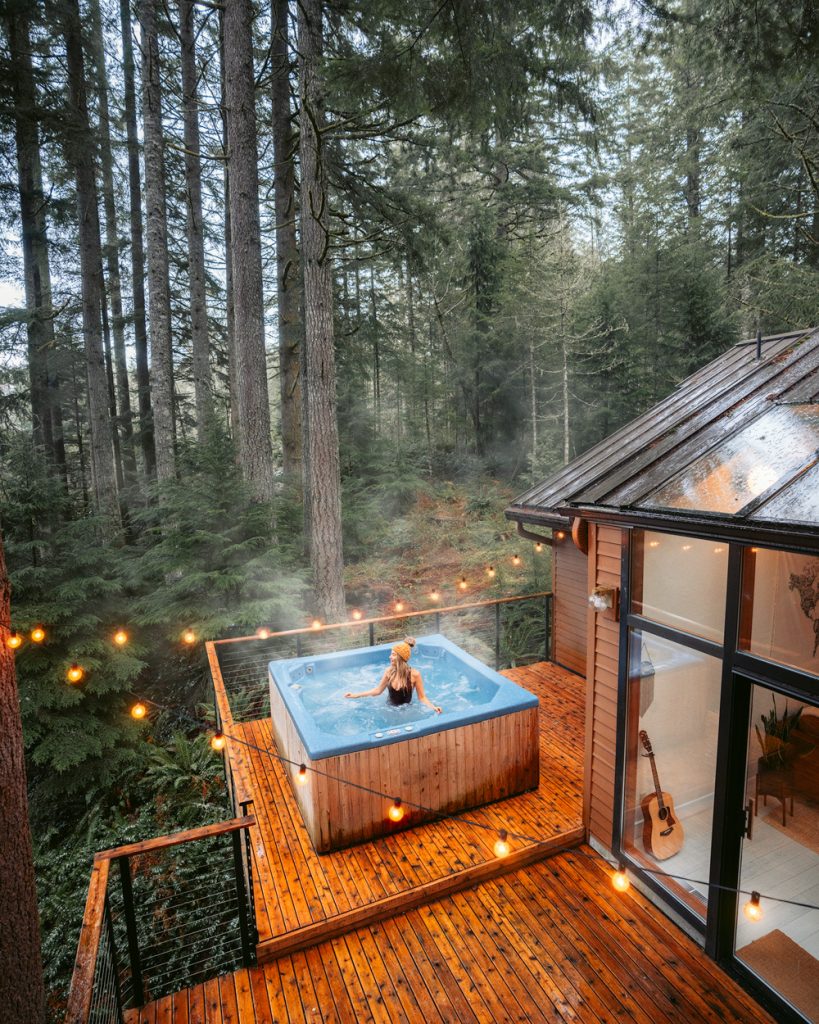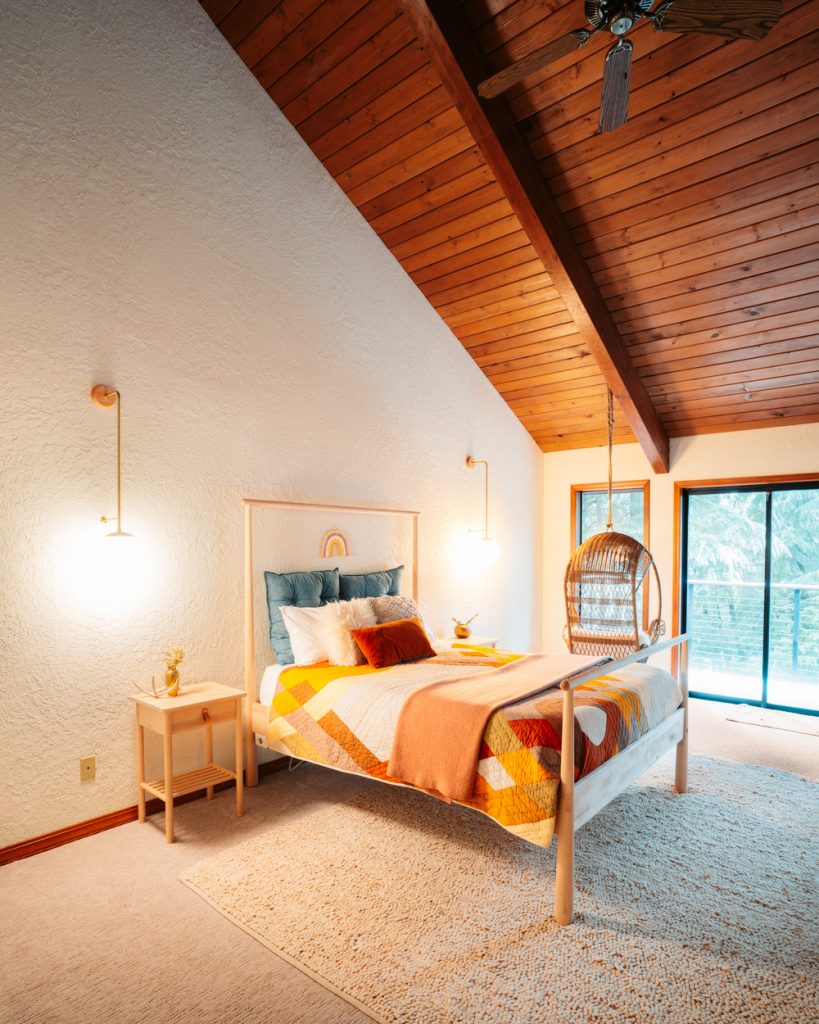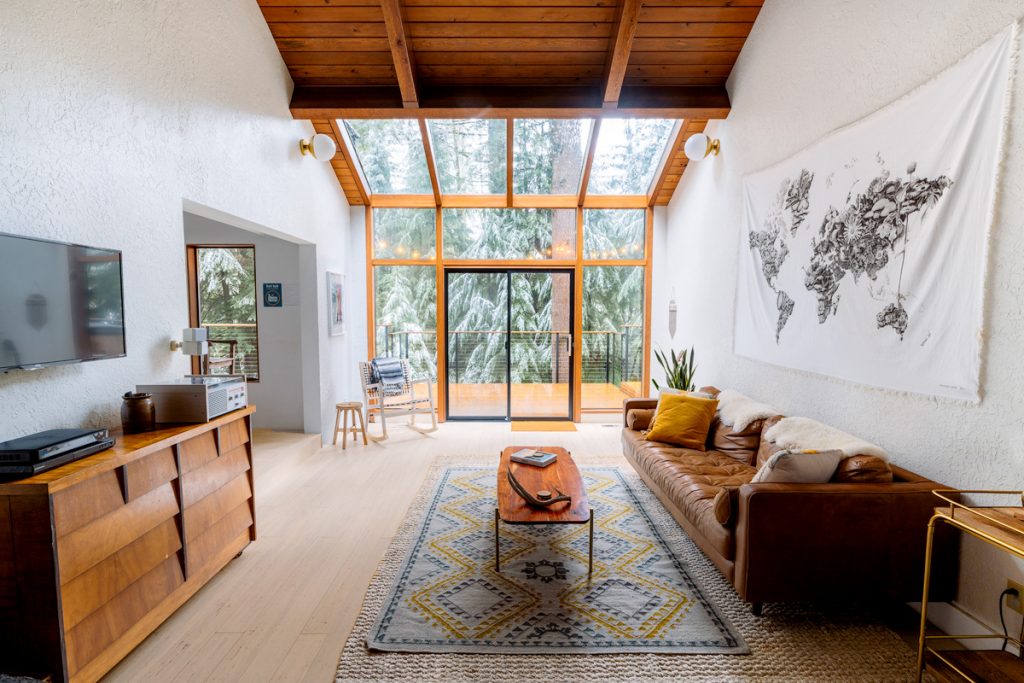 The Woodlands House sits on five acres of wooded property and offers nearby access to incredible hiking trails. This cabin includes stunning vaulted ceilings and features a wood-burning fireplace on every level. It even has a six-person hot tub perfect for relaxing after a long day of adventures. The Woodlands House is the ideal home base for your winter snowshoeing, hiking, or skiing adventures.
Location: Sandy, Oregon
Sleeps: 7 guests
Pet friendly: no
Hot tub: yes
Price: $502/ night
---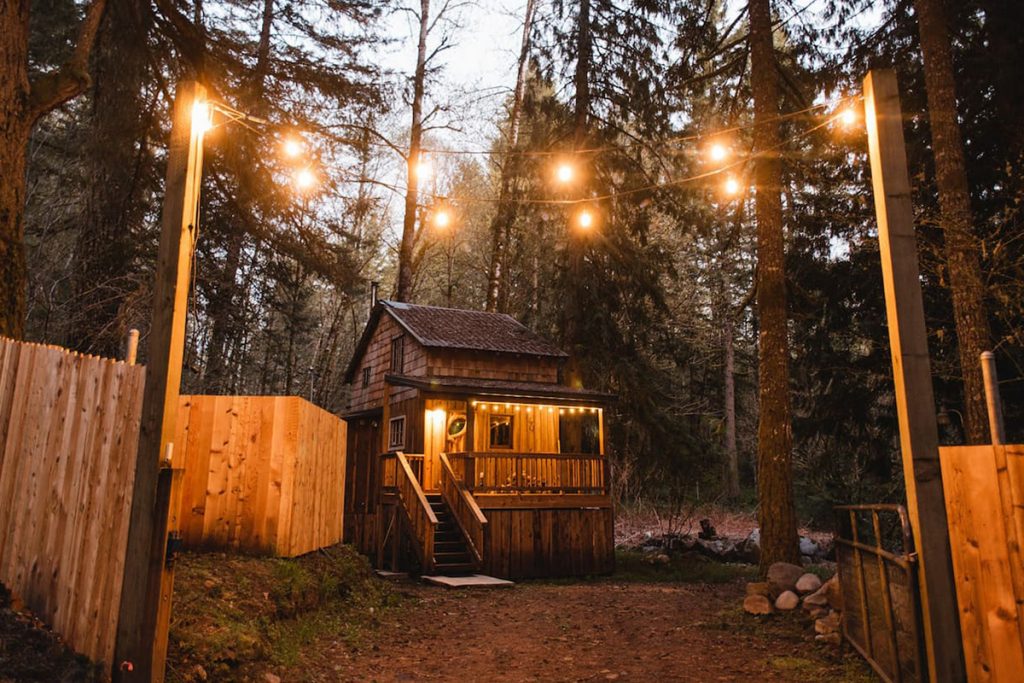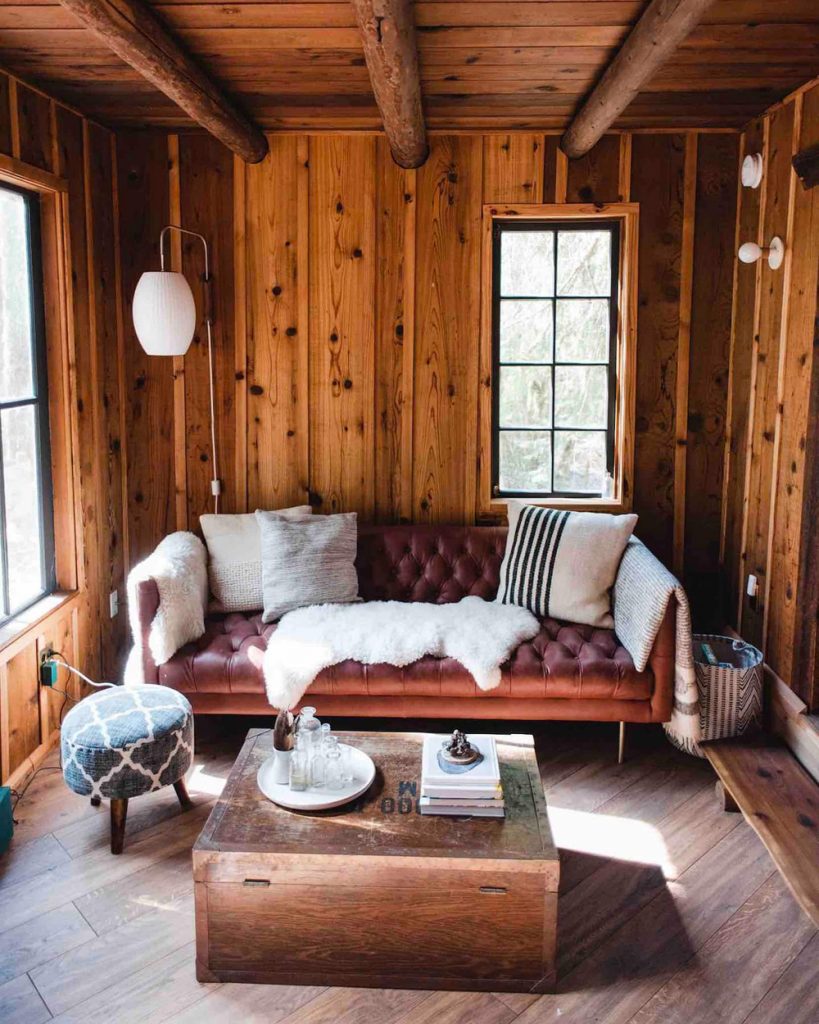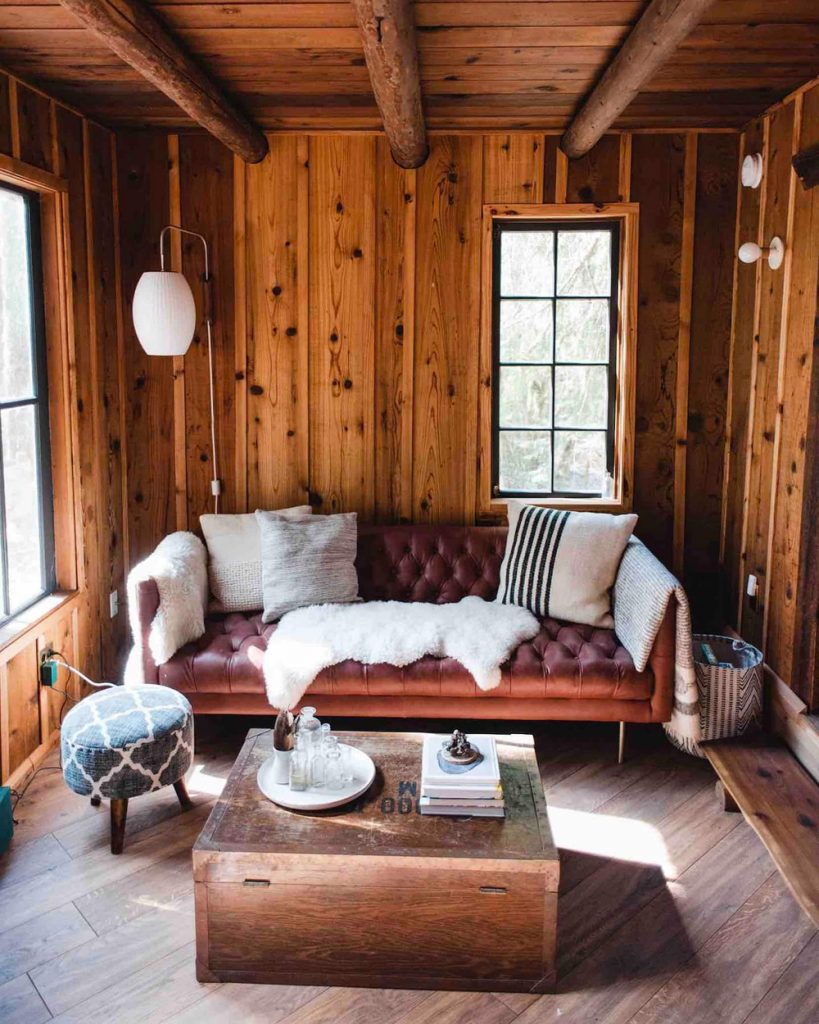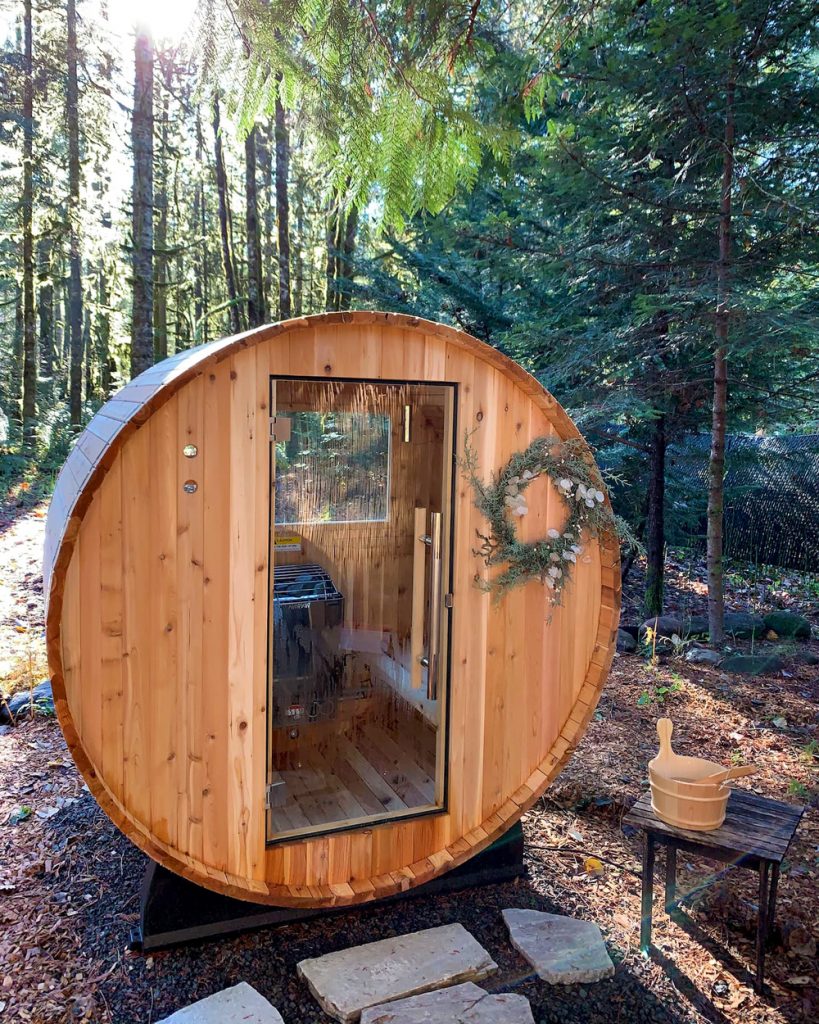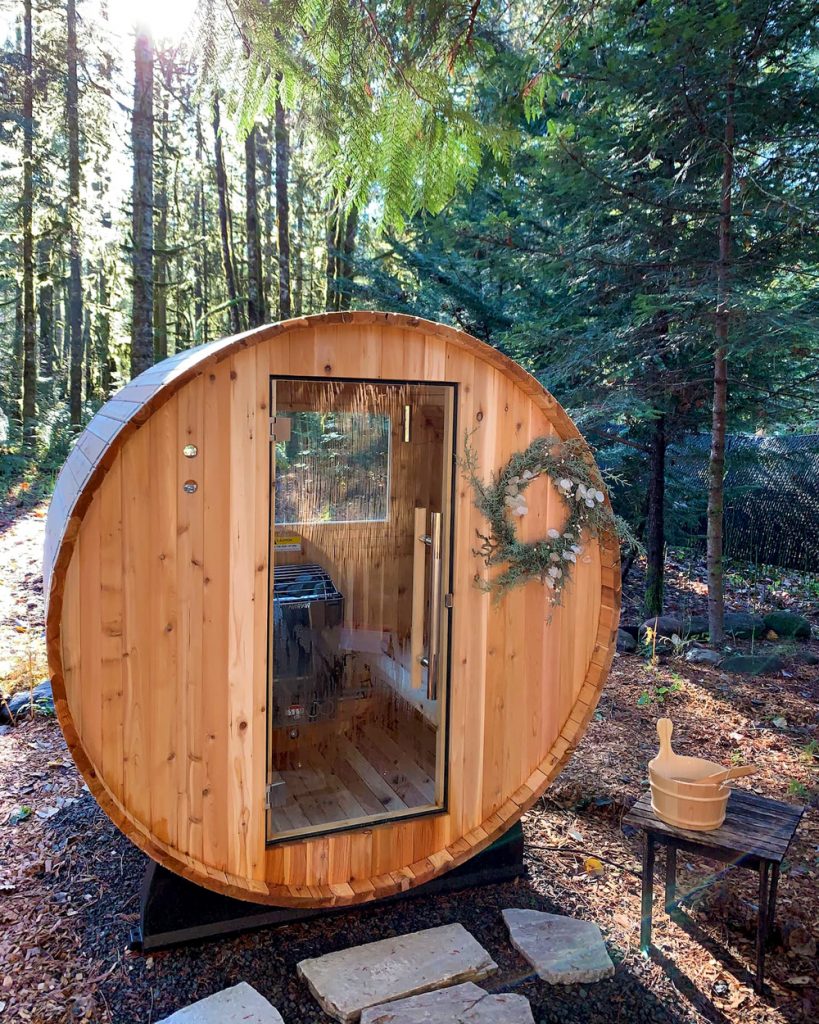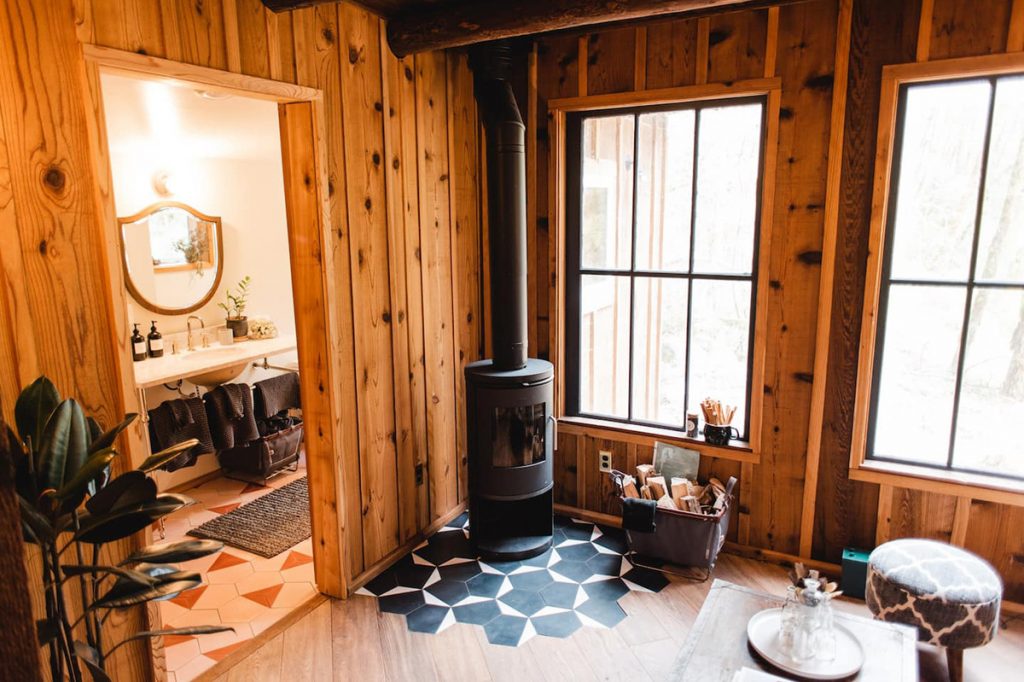 There are plenty of Oregon Cabins, but not many as quaint as this one! This compact 600 sq. feet forest Hide & Seek Cabin is an idyllic, woodsy getaway for two — whether you're seeking adventure in the mountains or hiding from your to-do list. Every detail of this cozy space might tempt you away from all your plans for outdoor activities. And there's, of course, reliable and fast wifi making it a great option to get some work done. Get your calendar open and ready to book a stay of your own!
---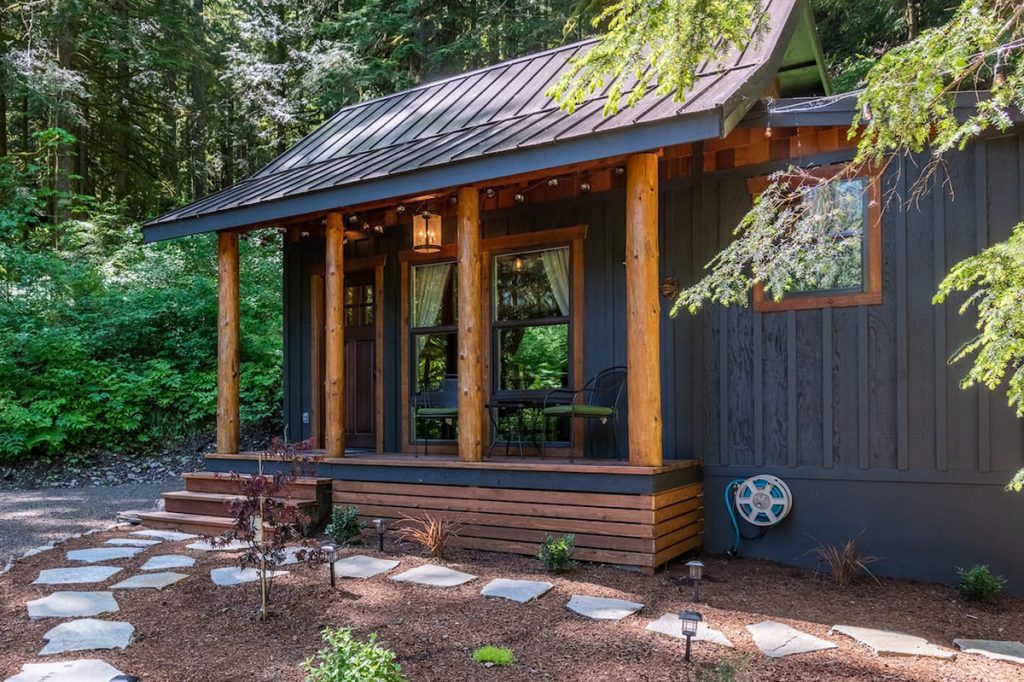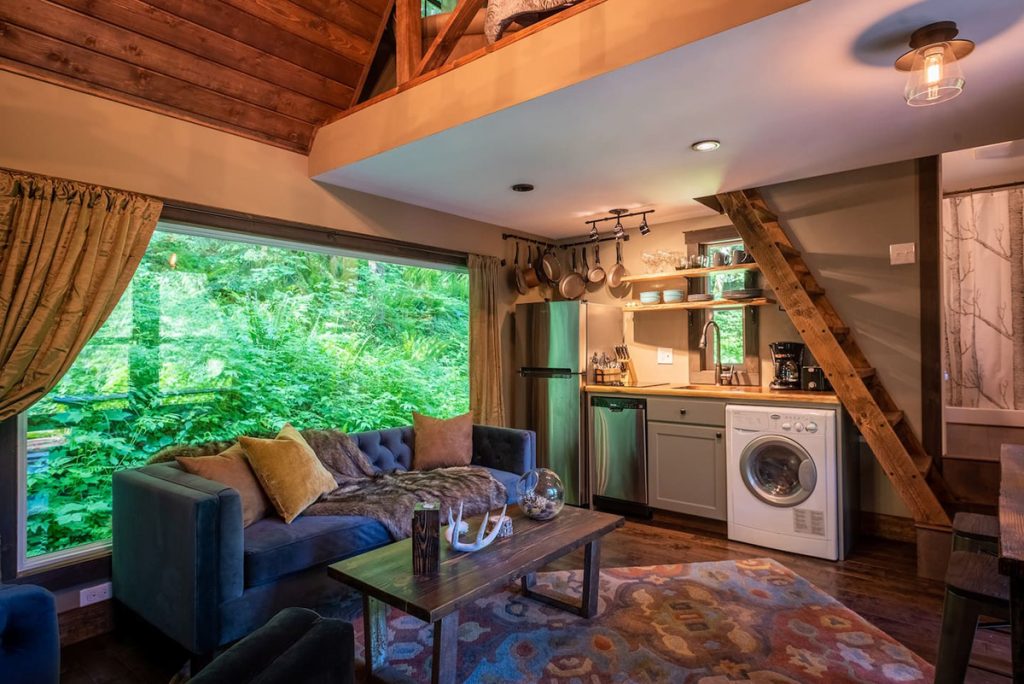 Little House On The Mountain
This Little House On The Mountain Cabin sits on 4 acres of breathtaking private wooded land, bordering Mt. Hood National Forest Land. One of the little details that I love about this Oregon cabin is that local artisans created the art and furniture. If you've ever dreamed about living in a secluded fairytale-like place — now's your chance!
---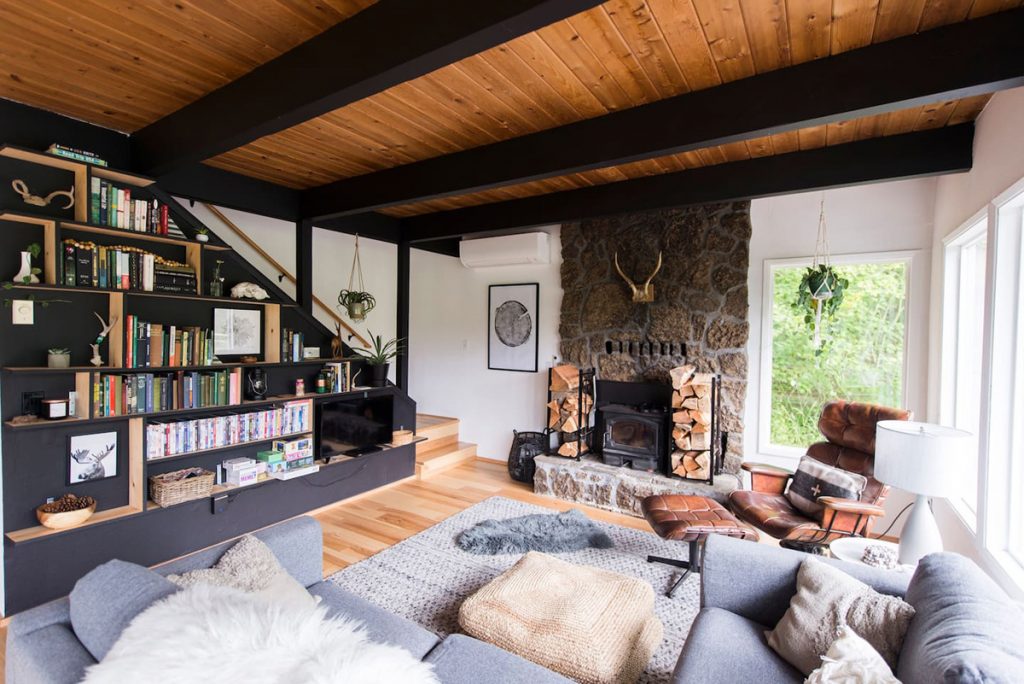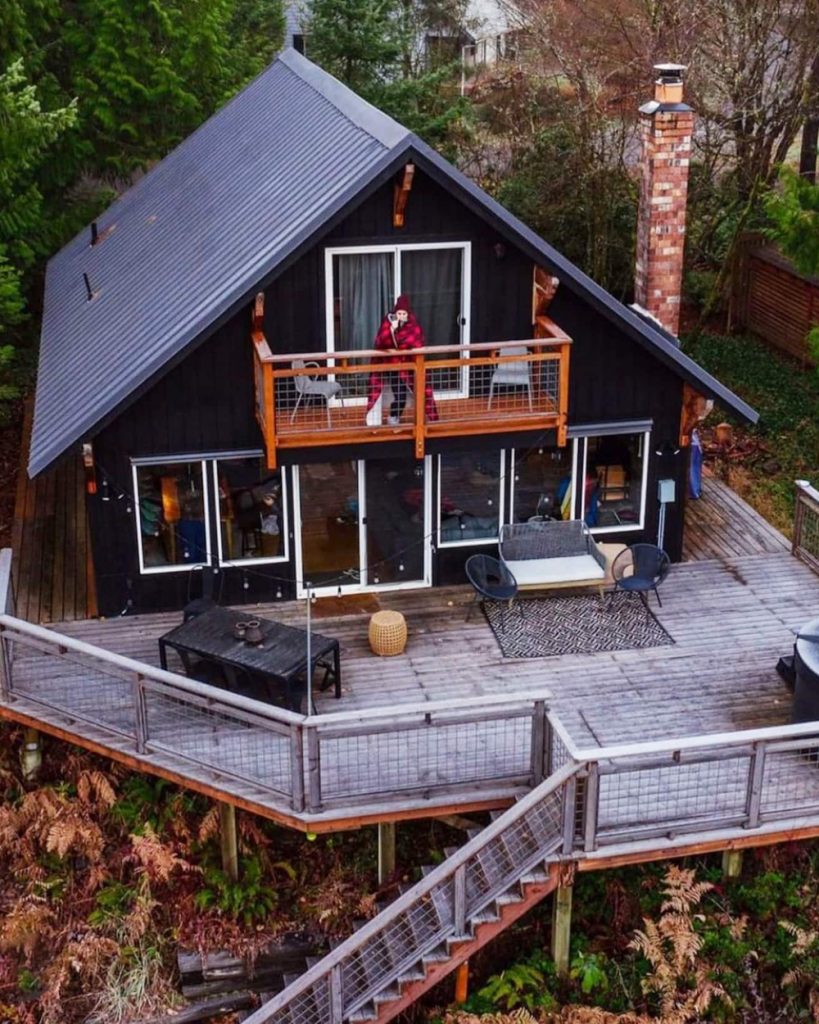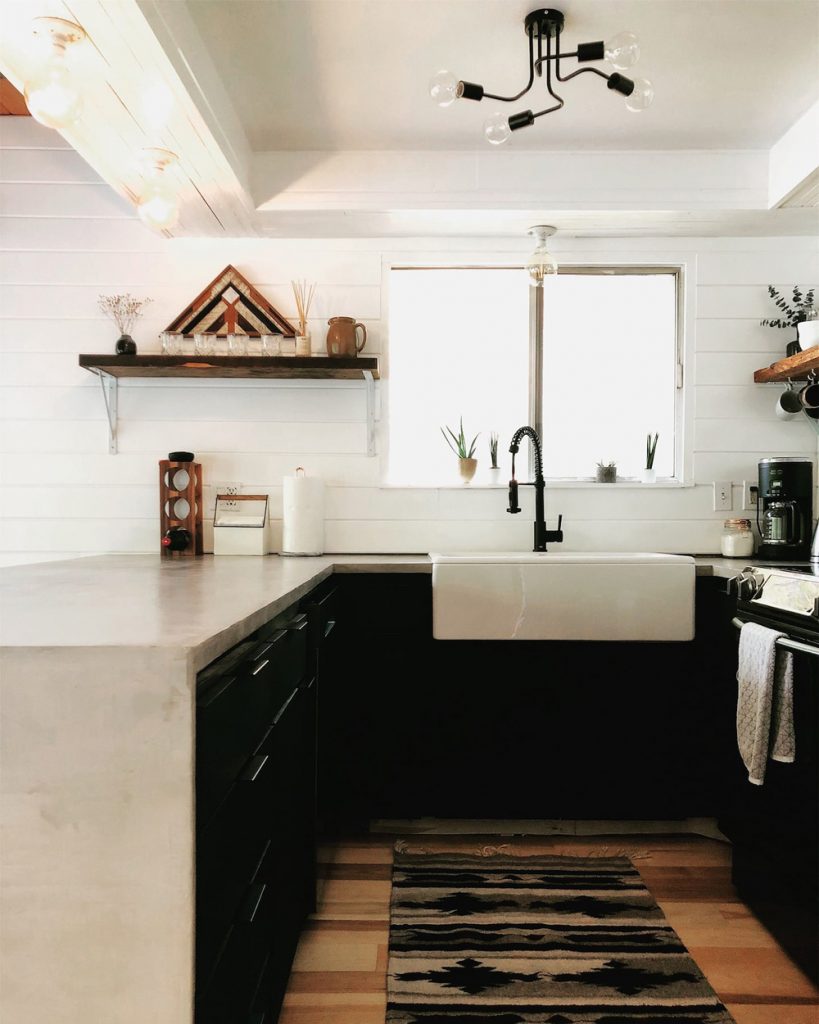 You'll want to keep this East River Rest Cabin on your bucket list! The owner's travels to Scandanavia inspired the design behind this stunning hill-top Oregon cabin equipped with an indoor fireplace and a spectacular view. After a day of exploring, the back deck hot tub is the best place to watch a beautiful sunset. Or if you're feeling up for a little more local adventure, there's a quick trail down to the Sandy River where you can play in the water or chill on the beach!
---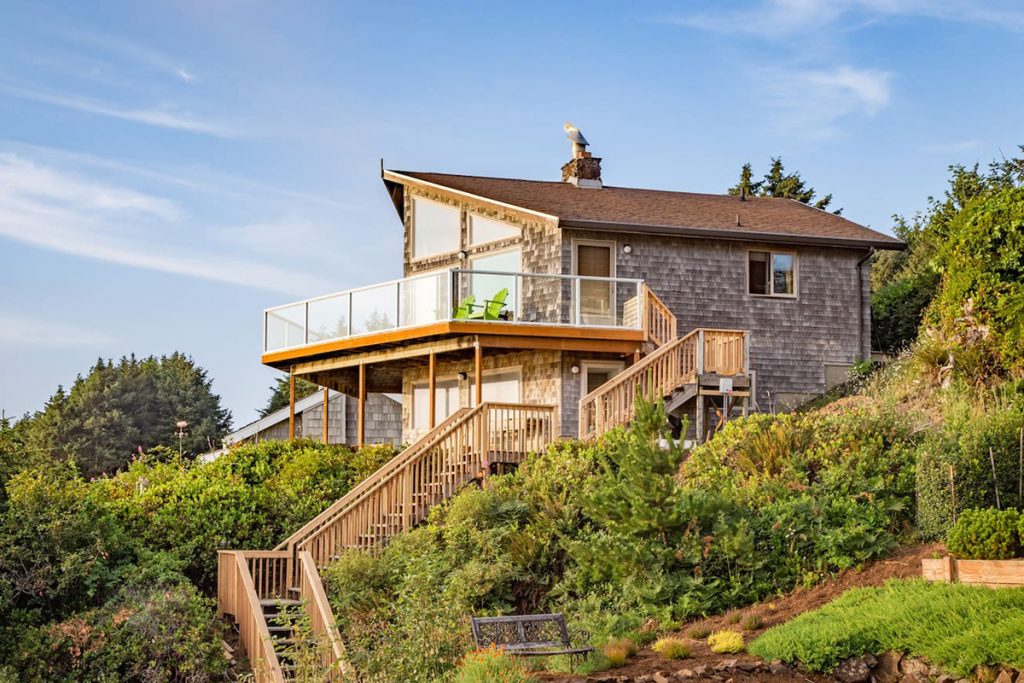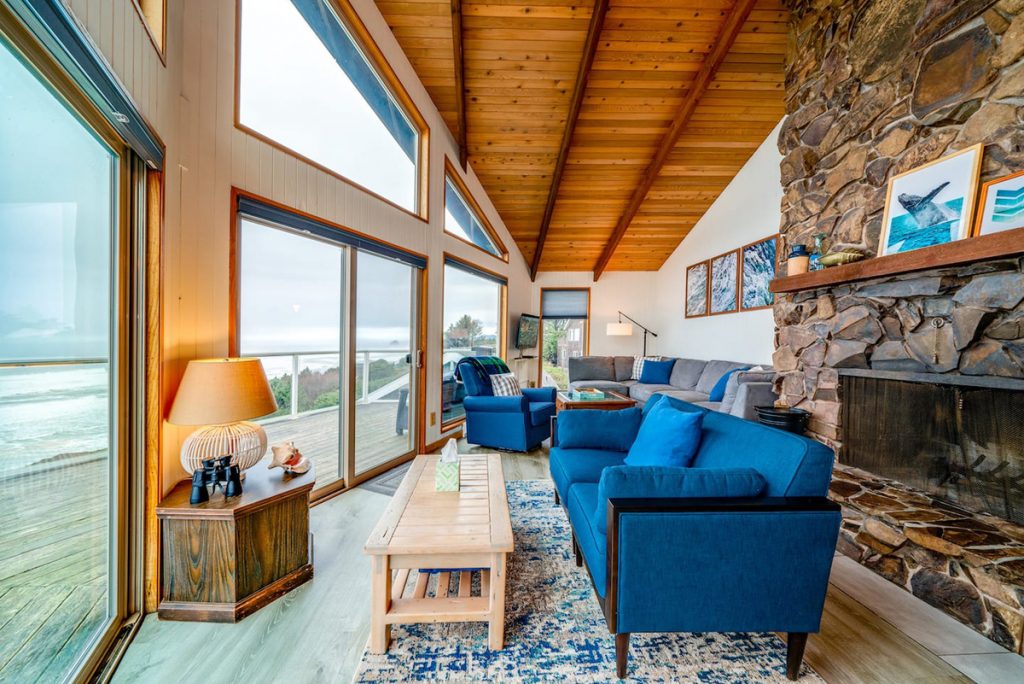 Pacific Overlook Cabin is another bucket-list-worthy cabin you can rent in Oregon with unbelievable panoramic views of Winema beach. You don't want to forget your camera because deer, birds, rabbits, seals & whales regularly make appearances here. It's the perfect family-friendly destination that even allows you to bring your fury-friends along! This cabin offers you the perfect opportunity to smell the fresh air, enjoy nature, nap as often as you'd like, and create precious memories.
Location: Cloverdale, Oregon
Sleeps: 8 guests
Pet friendly: yes
Hot tub: no
Price: $249 / night
---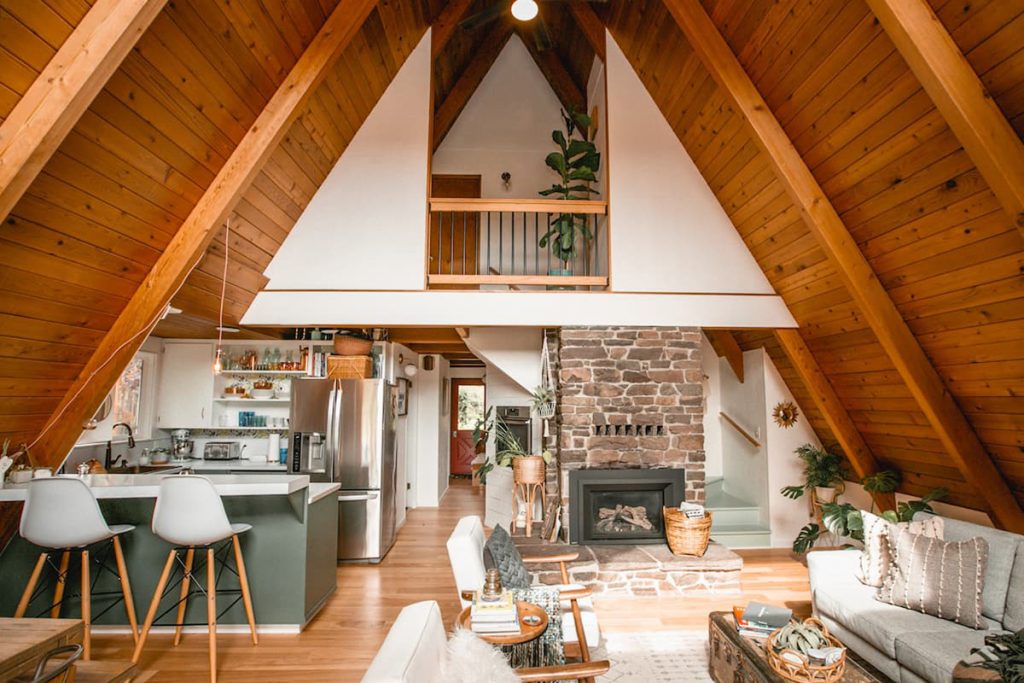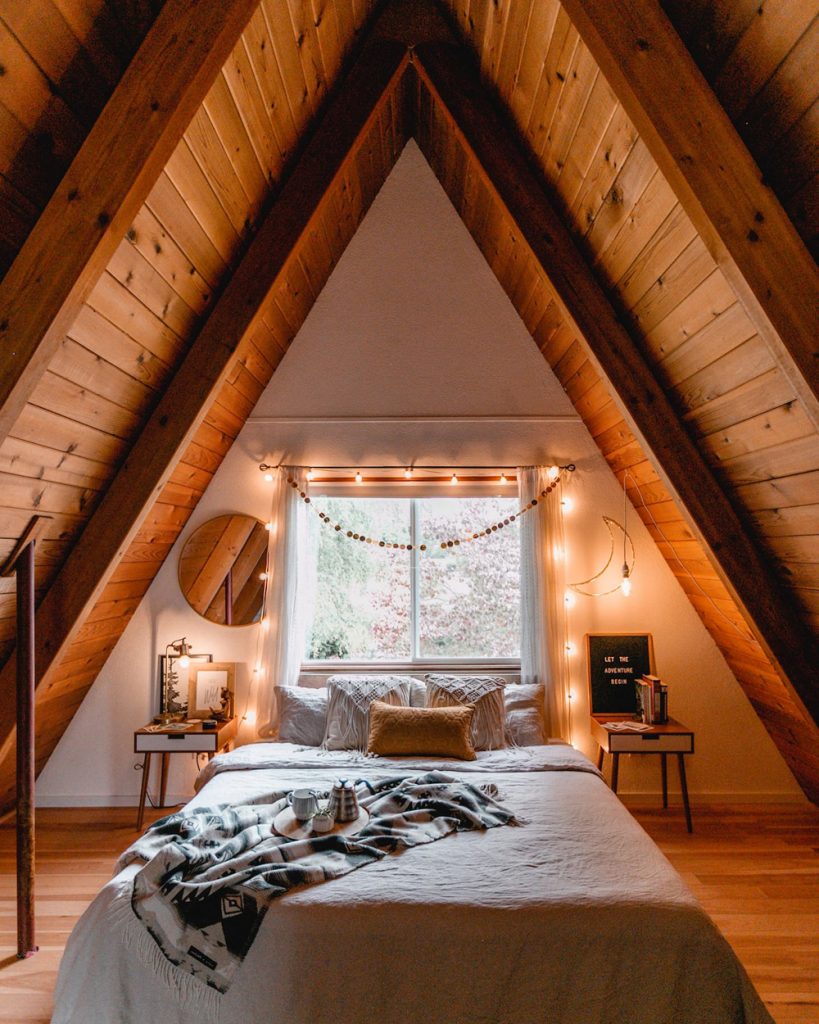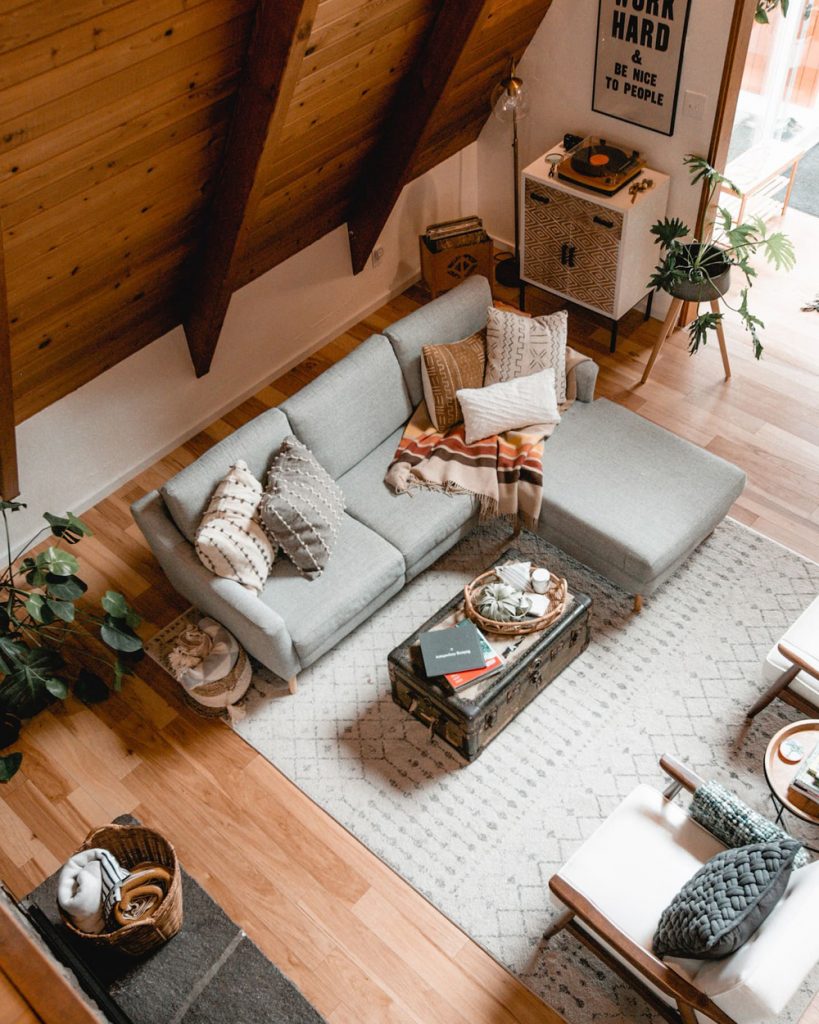 Out of all the cabins you can rent in Oregon, there's a special place in my heart reserved for A-frame cabins. This Red A-Frame Cabin sits on 2.5 acres of scenic mountain land and even has chickens and a bunny that guests are welcome to pet! It's truly the perfect vacation home for a family or friends getaway. If you stay here, make sure to take a peek up at the sky at night to see the stars on a clear day! You'll be blown away.
---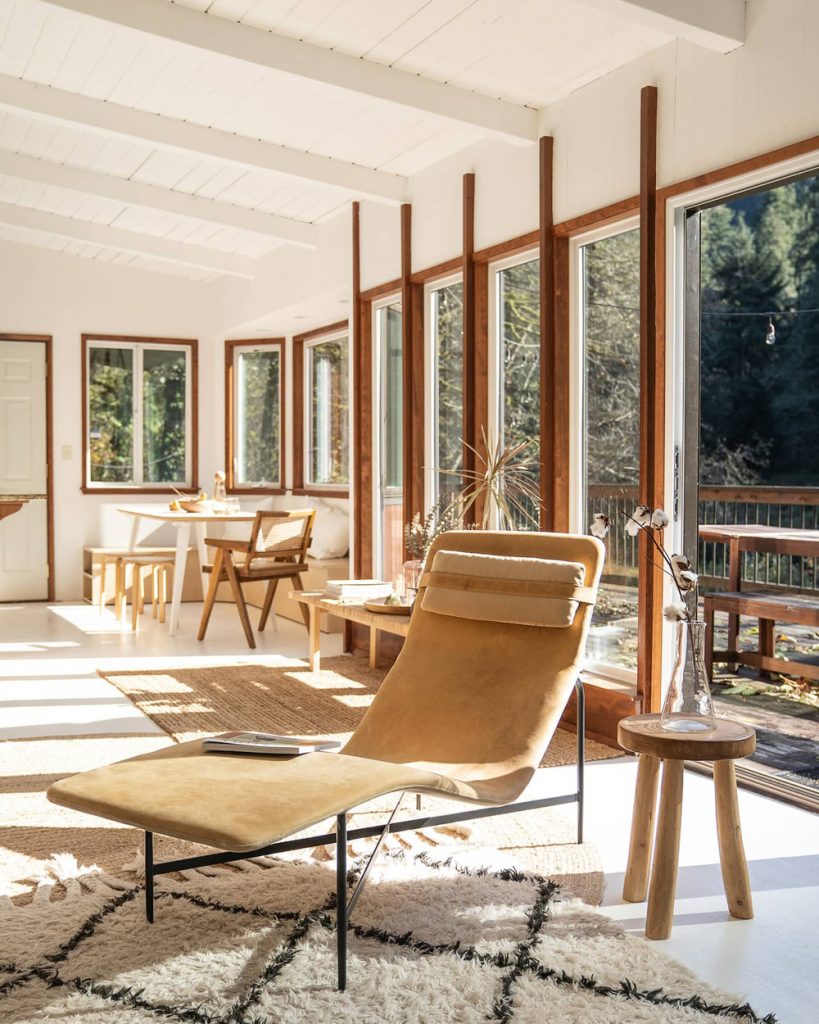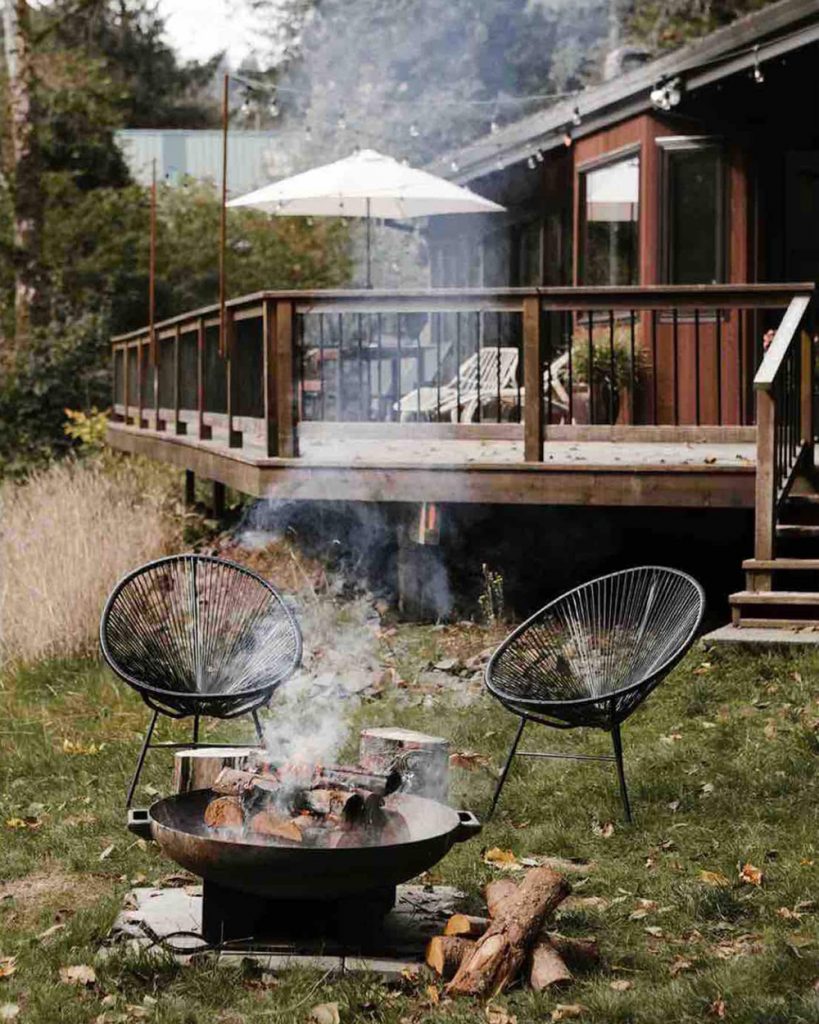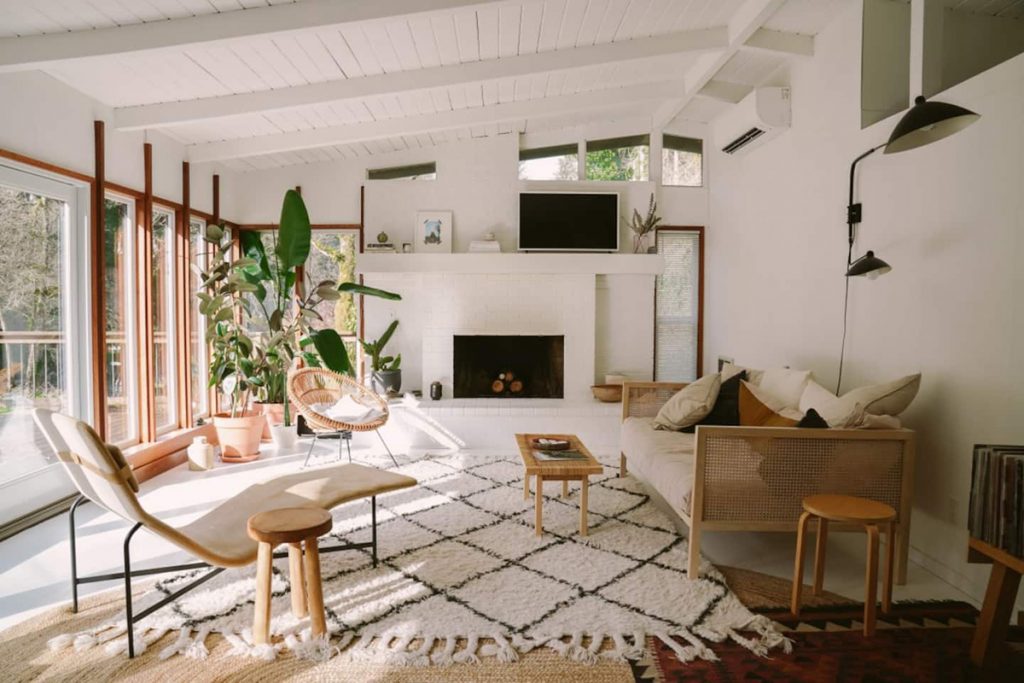 Mid-Century Riverfront Cabin
You will be surrounded by forests, a magical view, and 300 feet of river frontage when you stay at this Mid-Century Riverfront Cabin! Built in 1963, this Oregon cabin retains its original charm with modern upgraded appliances. I highly recommend lighting a campfire on the private pebbled beach when you stay! There's just something so magical about sitting outside by a fire surrounded by your loved ones at night.
Location: Tillamook, Oregon
Sleeps: 5 guests
Pet friendly: no
Hot tub: no
Price: $259 / night
---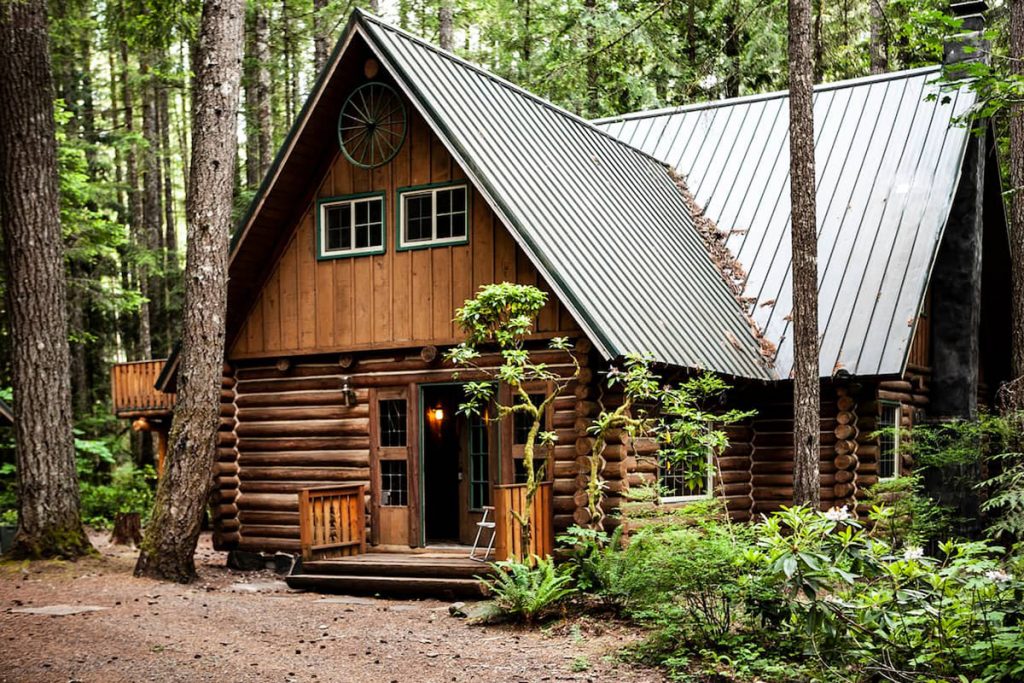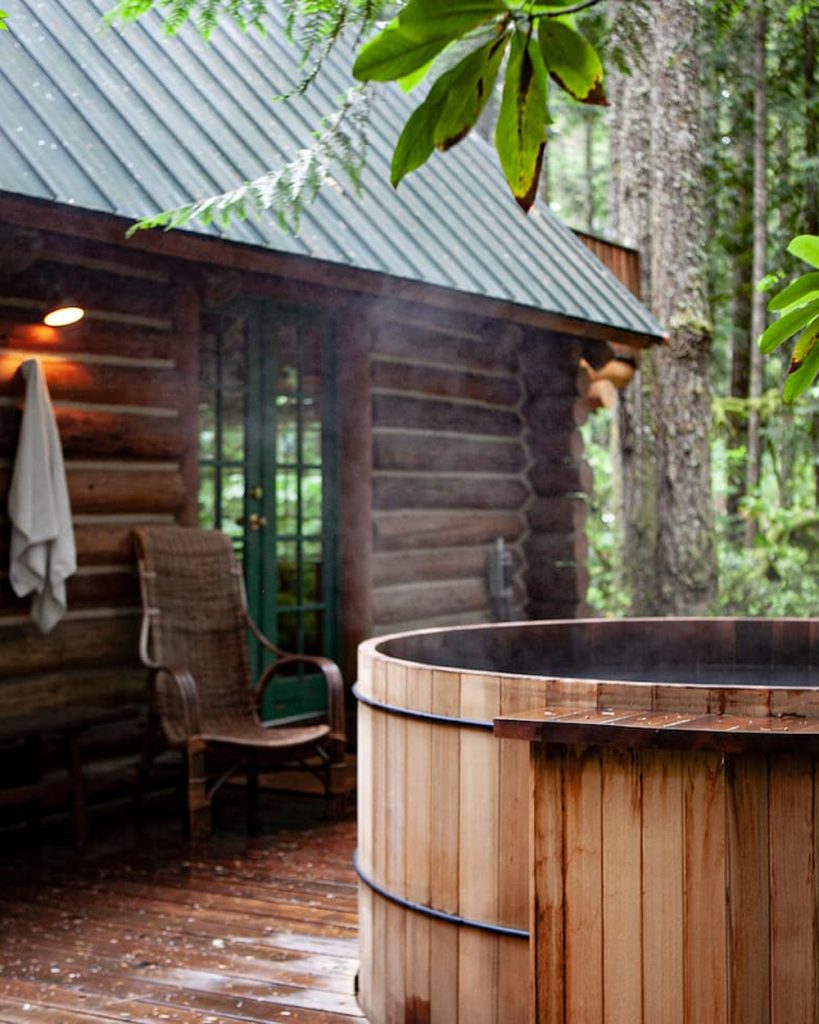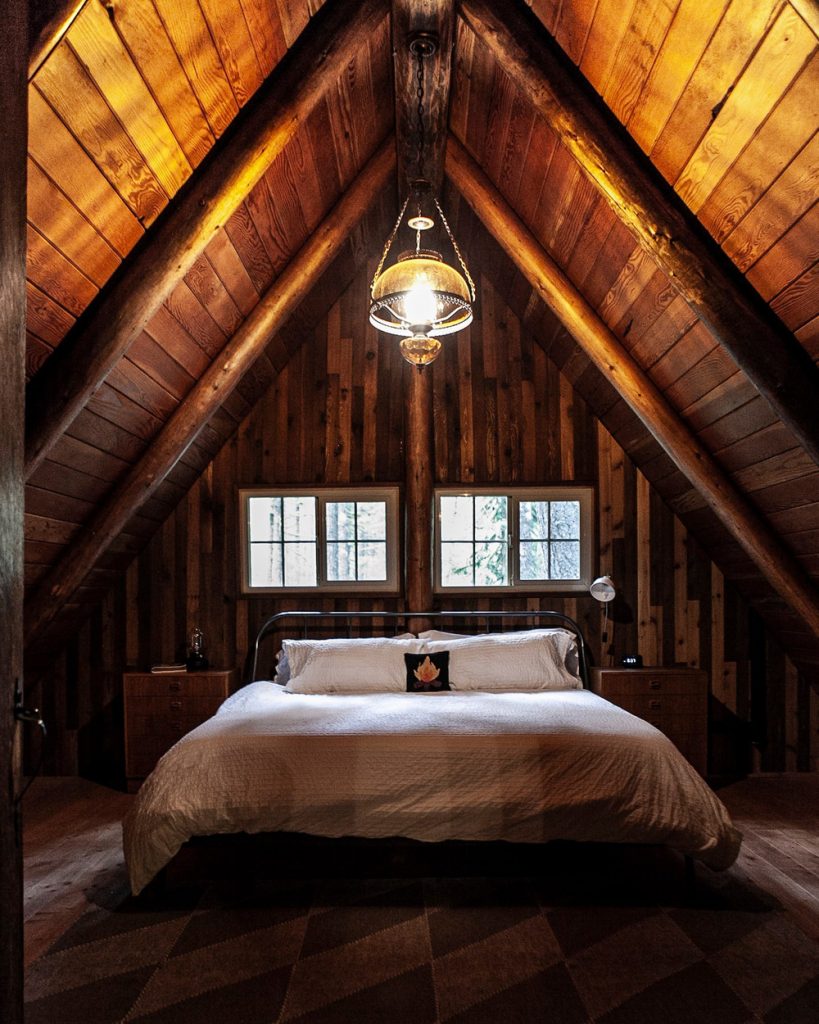 It's officially 'cuddling up in a cabin' weather and Camp Neary is everything you could hope to find if you have been searching for Oregon cabins. Rustic yet modern. Warm and cozy. Private yet close to nearby adventures. It was built in 1975 by famed log home builder Mike Neary, and it has that quintessential PNW cabin vibe on a scale rarely found in cabins you can rent in Oregon! Make staying at this cabin an annual tradition, and you won't regret it.
---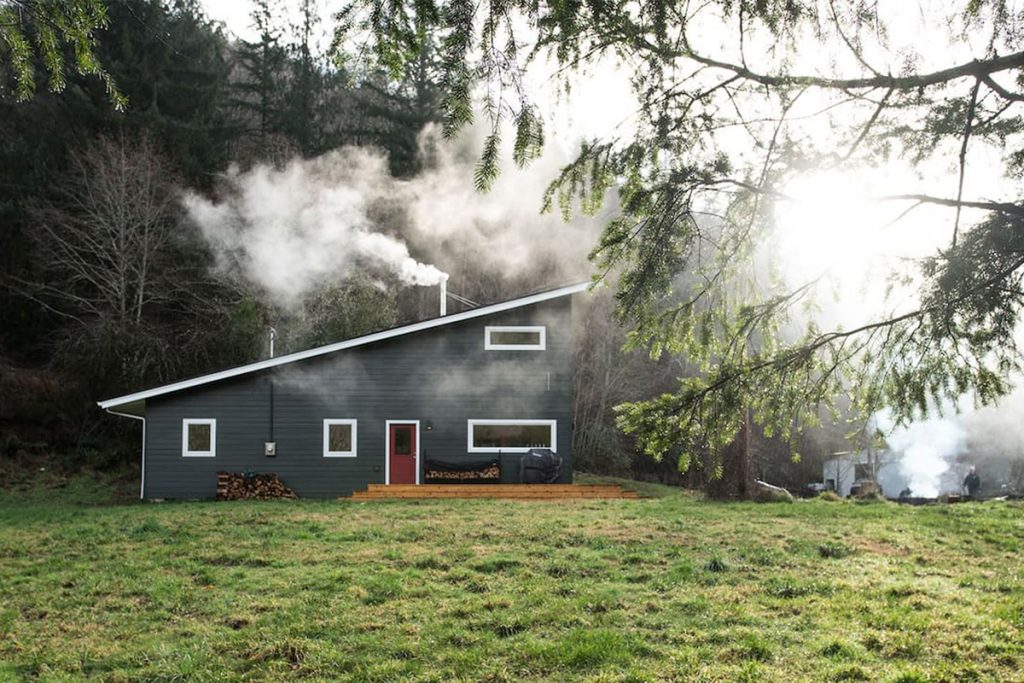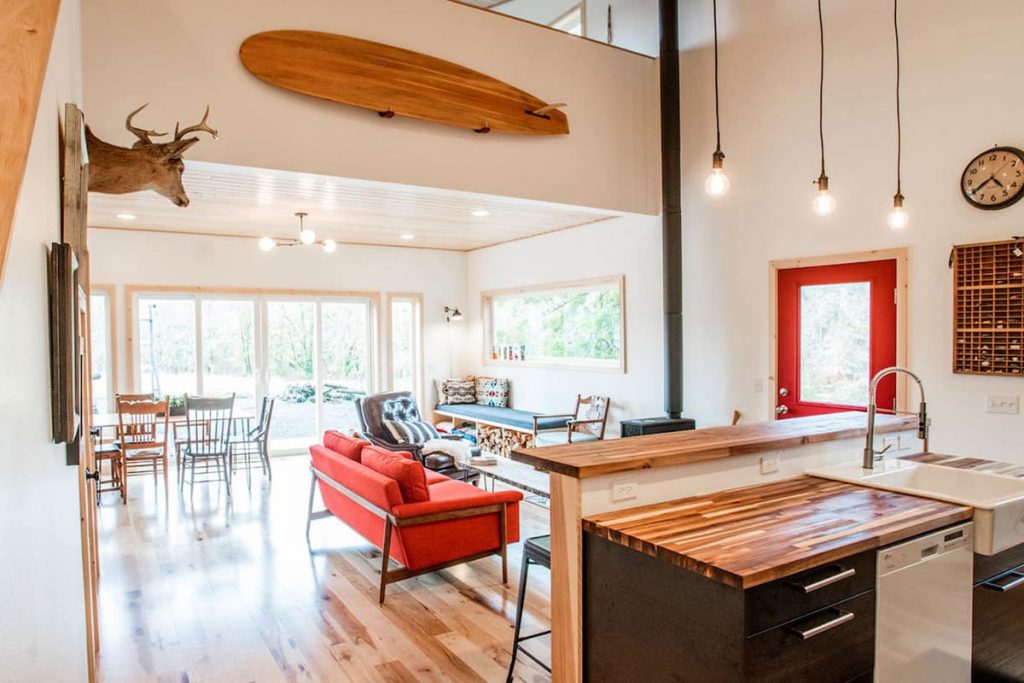 Are you looking for the perfect Oregon cabin to find some inspiration, free from distractions? This contemporary Nehalem River Cabin is the ideal retreat for any artist, writer, or musician. The 1200 sq ft cabin sits on six acres overlooking the serene river and lush forest. I especially love the open layout and large windows that blur the boundary between inside and outside, providing stunning views of the valley.
Location: Seaside, Oregon
Sleeps: 7 guests
Pet friendly: no
Hot tub: no
Price: $253 / night
---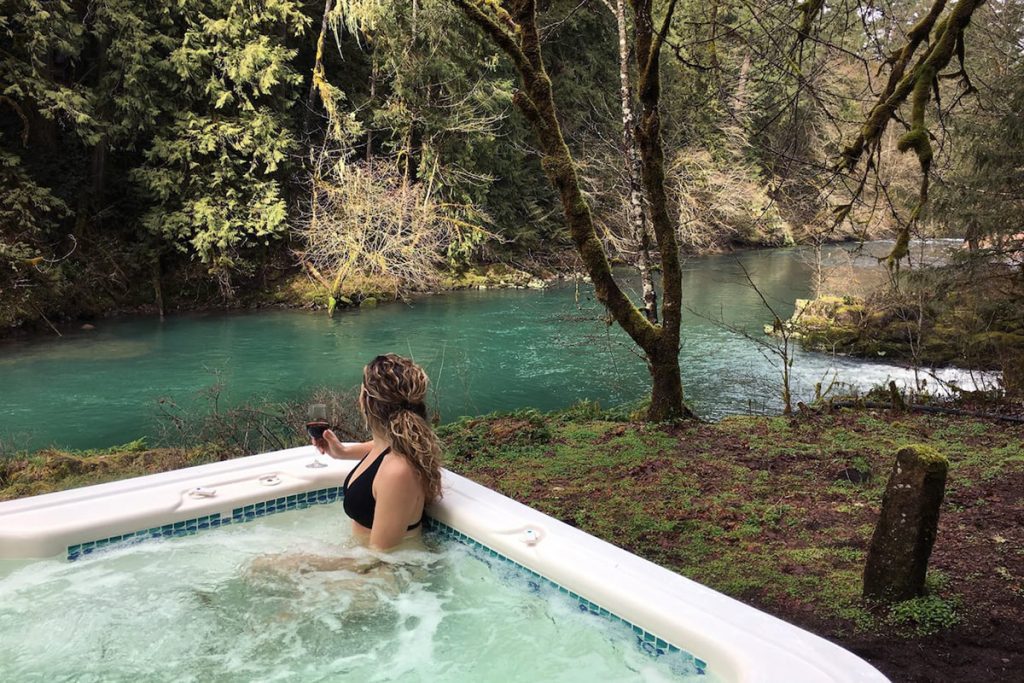 Trout Creek Wilderness Cabin
Oregon cabins truly become THAT much dreamier when they include a hot tub! Trout Creek Wilderness Cabin is a family-owned property of nearly 200 forested acres with no shortage of streams and wildlife. Guests have access to a kitchen that overlooks a picturesque swimming and salmon fishing hole and a hot tub only 20 meters away from the river. This rustic retreat is ideal for nature lovers, writers, hikers, and anyone interested in fishing!
Location: Molalla, Oregon
Sleeps: 5 guests
Pet friendly: no
Hot tub: yes
Price: $404 / night
---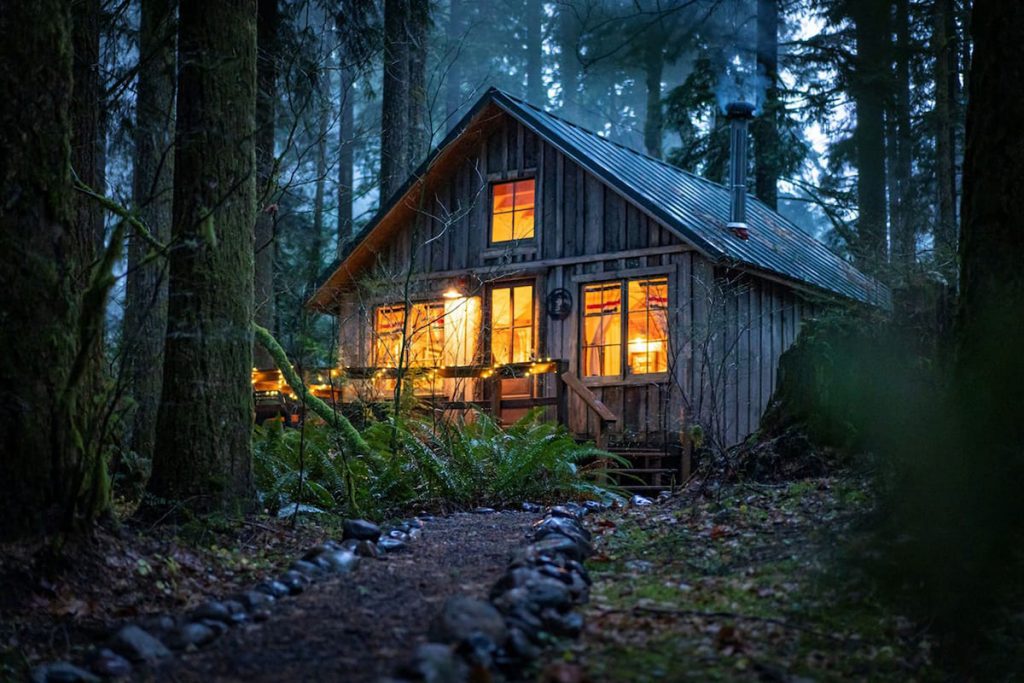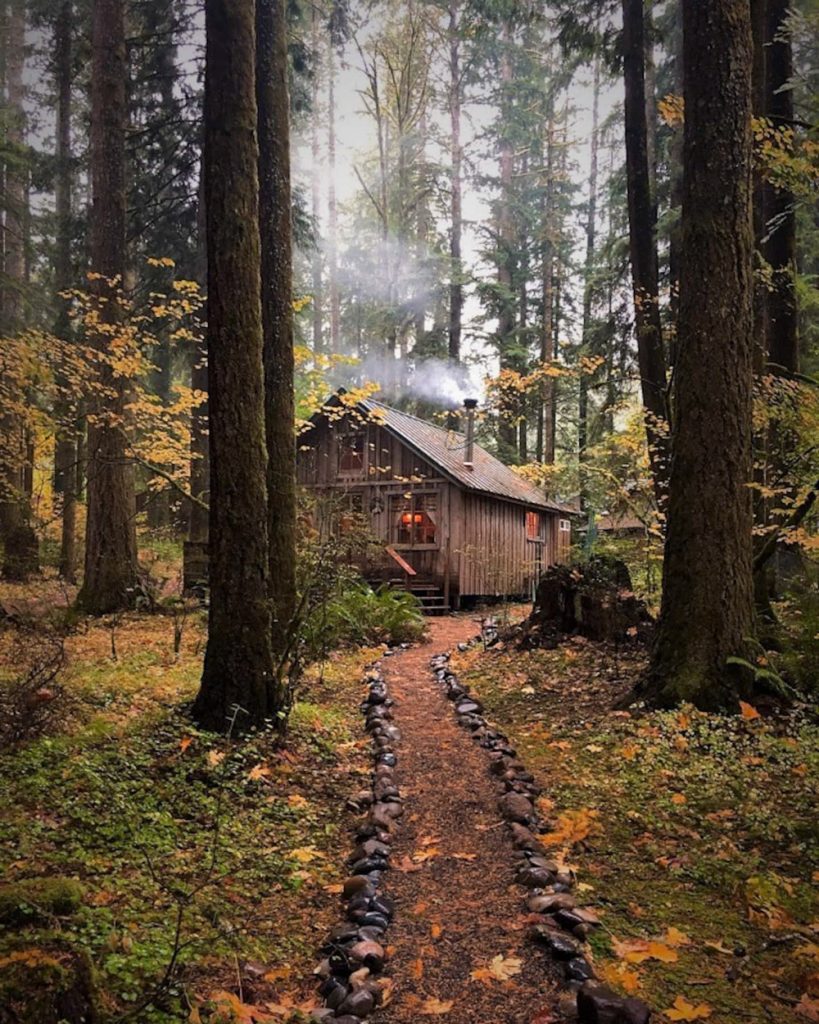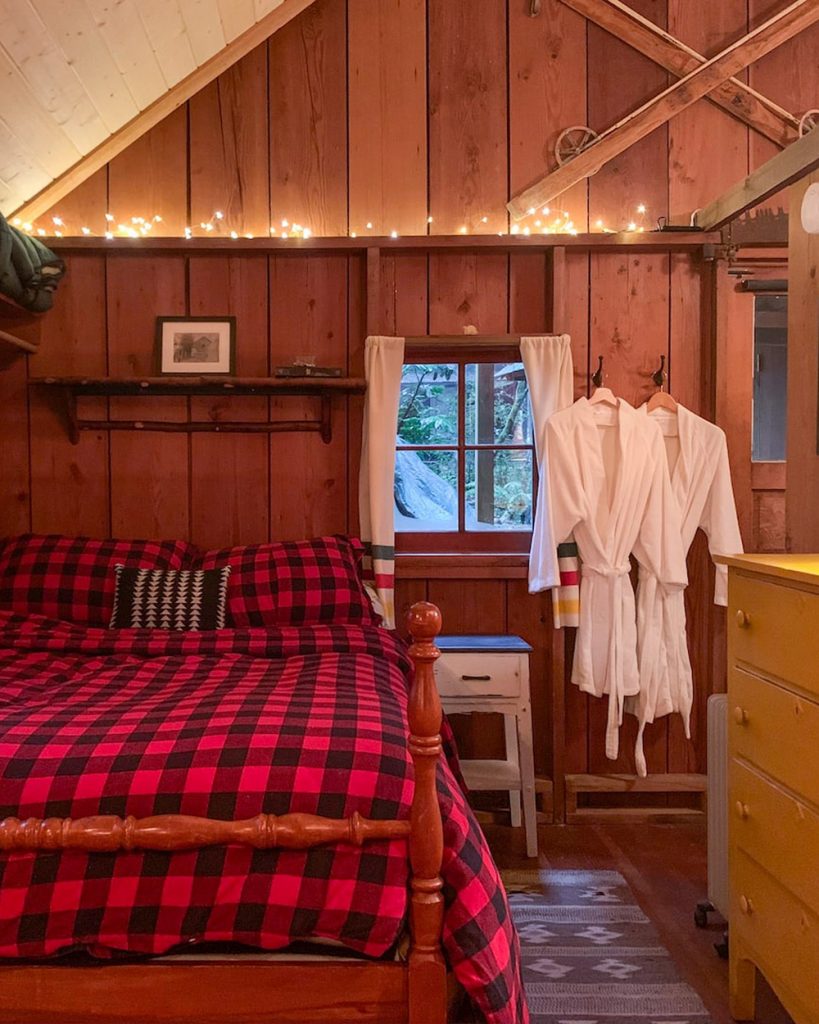 For those who admire authentic Oregon cabins and seek a vintage experience, this Historic Cedarwood Cabin offers the rustic, historical, and simple. It is not a modern house with some decorating touches to evoke a mountain cabin's "style"—it is an actual cabin. I was blown away by the fact it was hand-built in 1922 and delicately restored. If you have a thing for hand-crafted details, you will unquestionably fall in love with this cabin!
---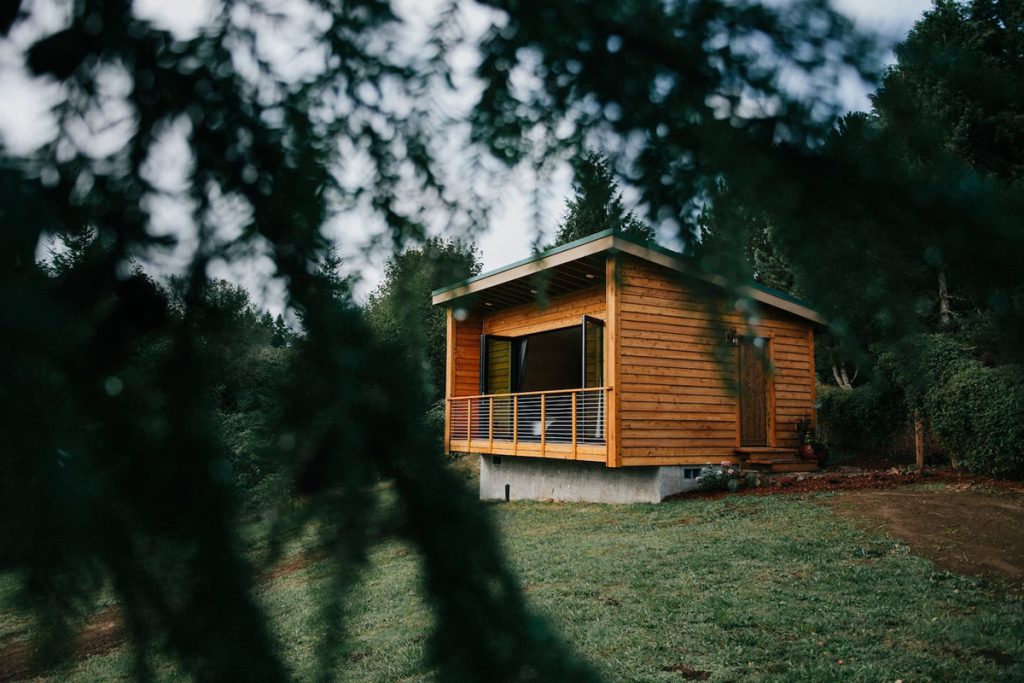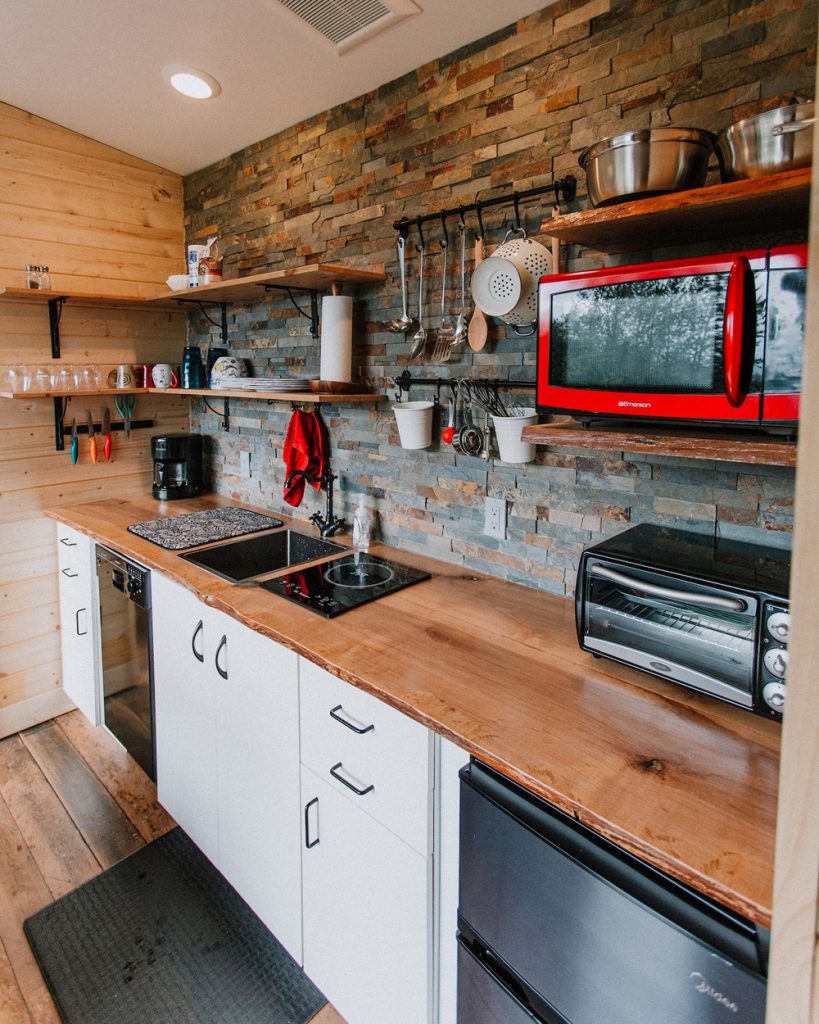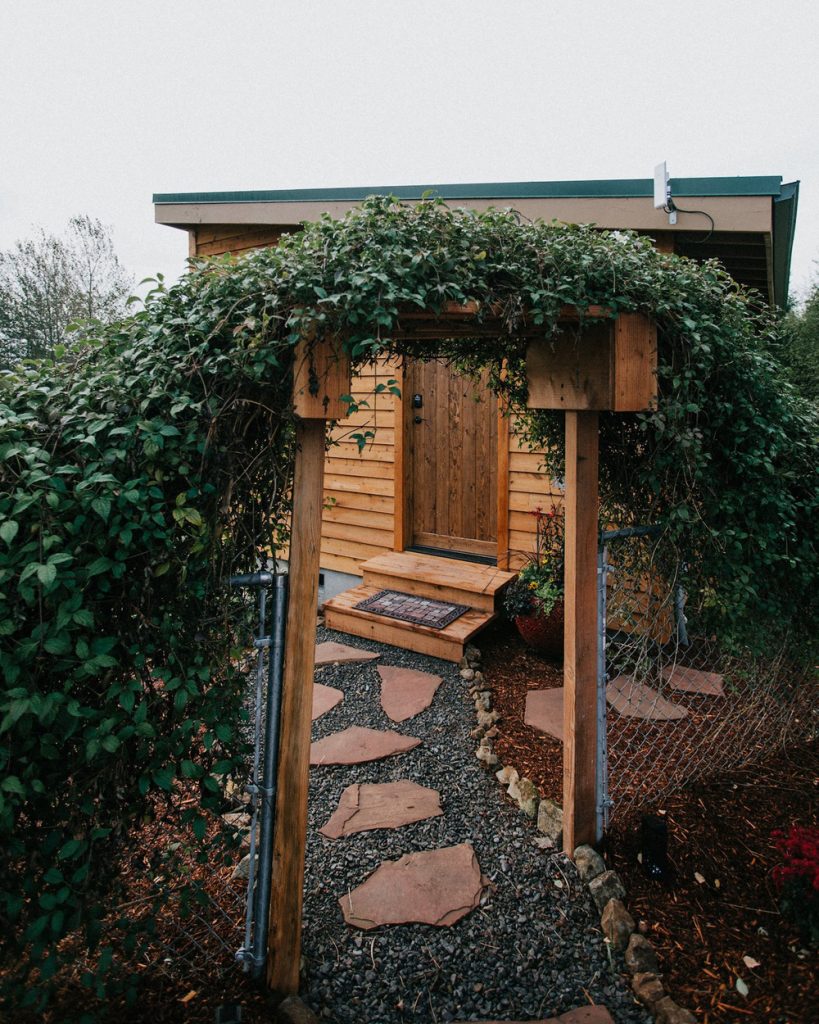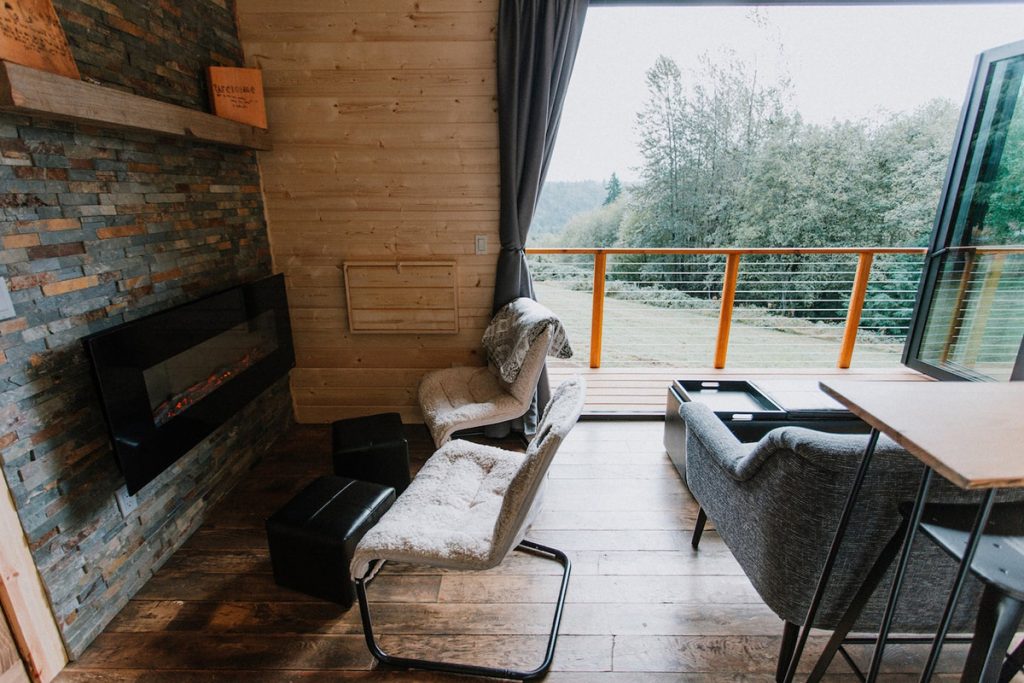 Love Oregon cabins, but not quite ready to commit to the full Oregon cabin experience? The Mt Hood View Tiny House might just be your solution! It is the first and only tiny house in the Sandy area. My favorite part about this accommodation is the moving window wall system that completely opens to the outdoors, allowing for one of the best views of Mt. Hood. Now that's what I call the perfect cabin getaway!
Location: Sandy, Oregon
Sleeps: 2 guests
Pet friendly: no
Hot tub: no
Price: $159 / night
---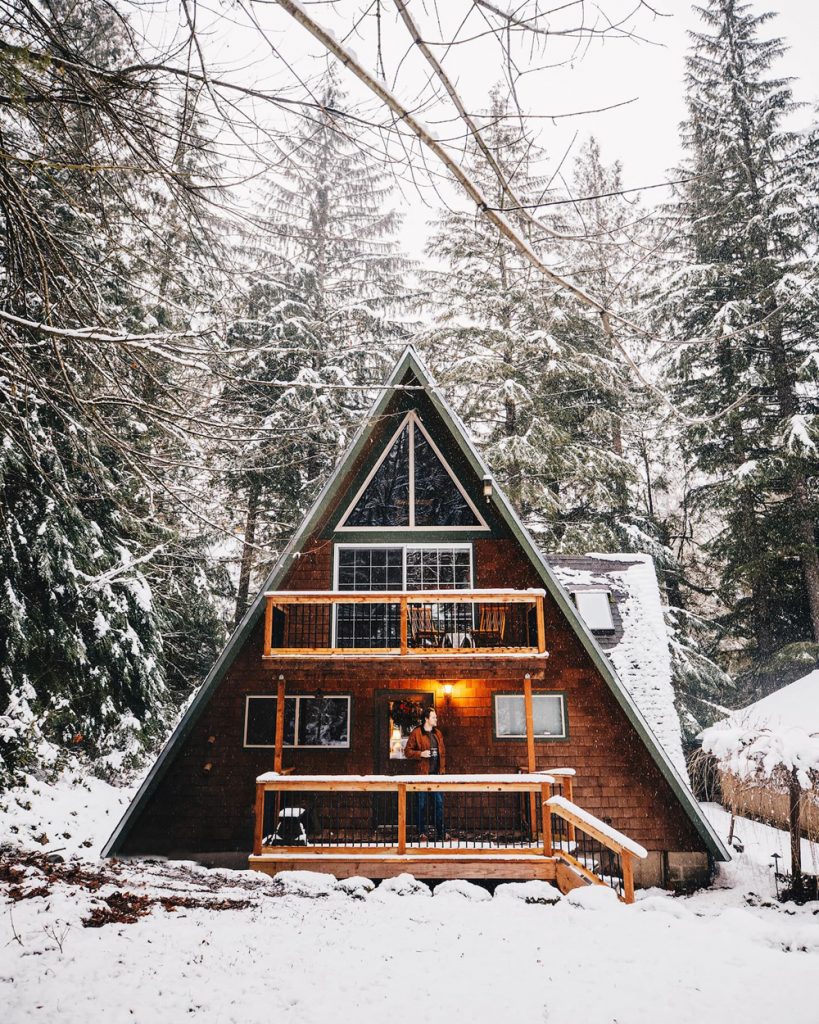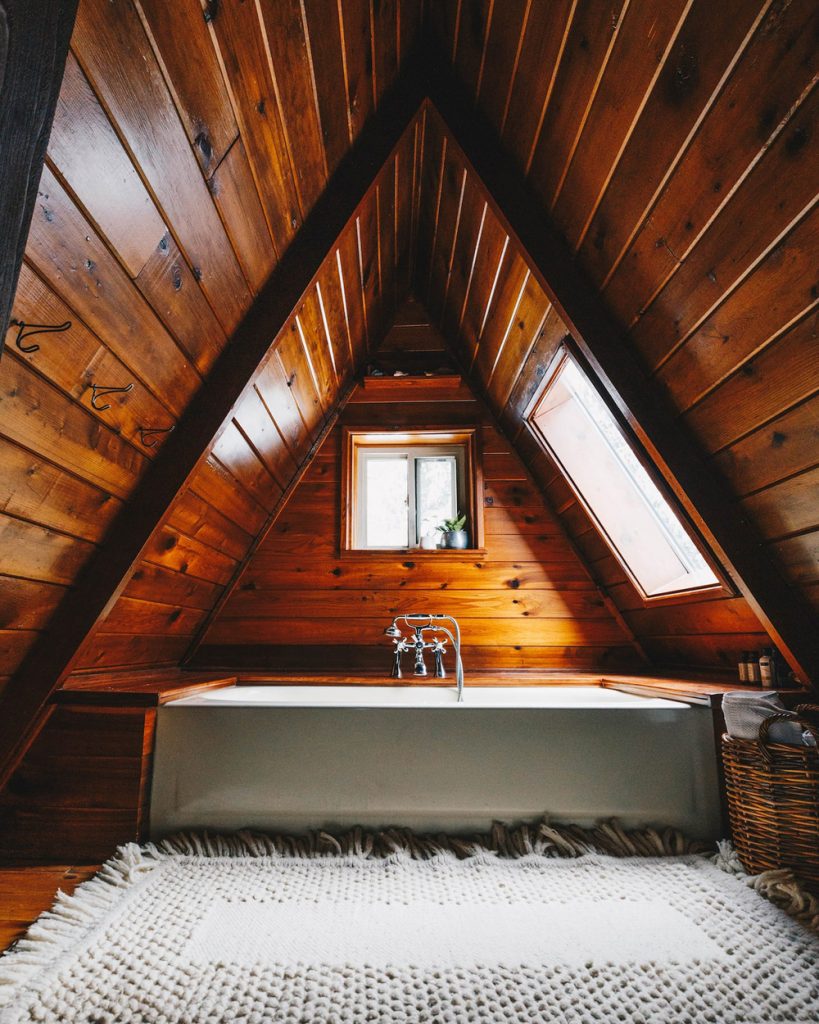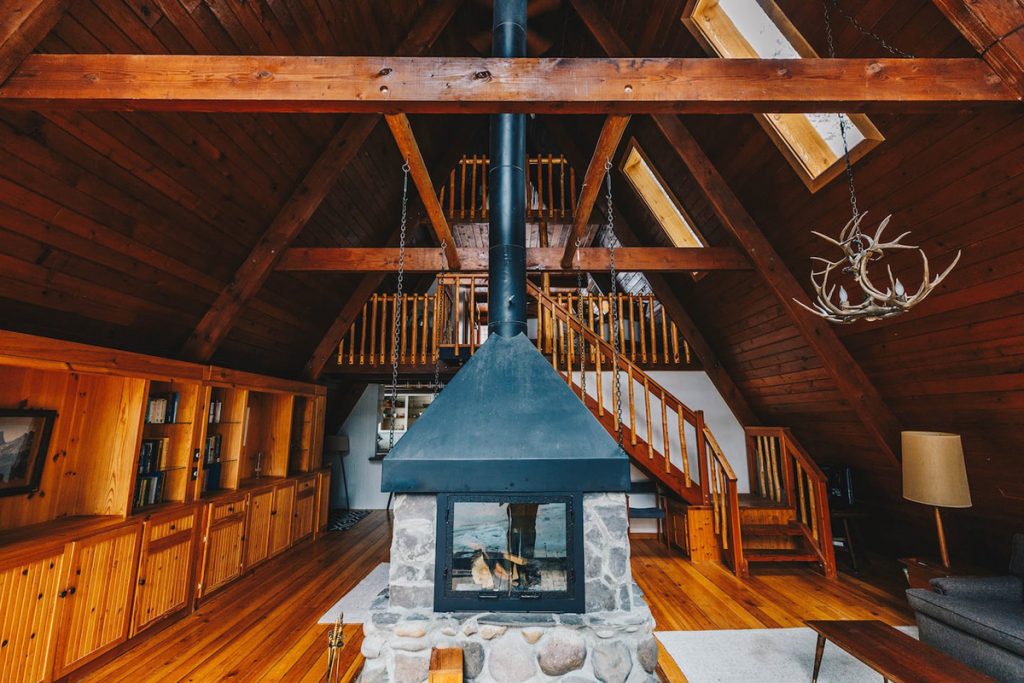 Another day, another cozy, A-frame cabin! I can't get enough. Welches A-Frame Cabin near Mount Hood has beautiful decor and is very spacious. The elegant fireplace is the perfect spot to curl up with a cup of cocoa and a good book, while the living room offers you the opportunity to enjoy face masks, sitcom reruns, and great conversations. Don't forget to spend some time appreciating the outdoors on the expansive deck that's nestled amongst the trees. The hardest part about staying in this Oregon cabin will unmistakably be leaving!
---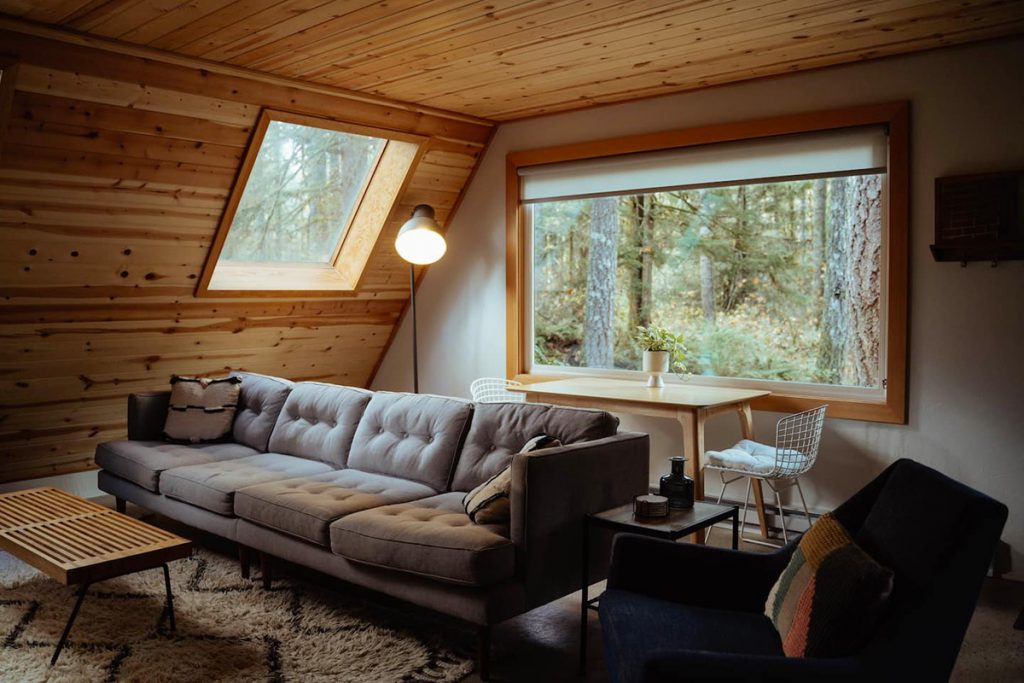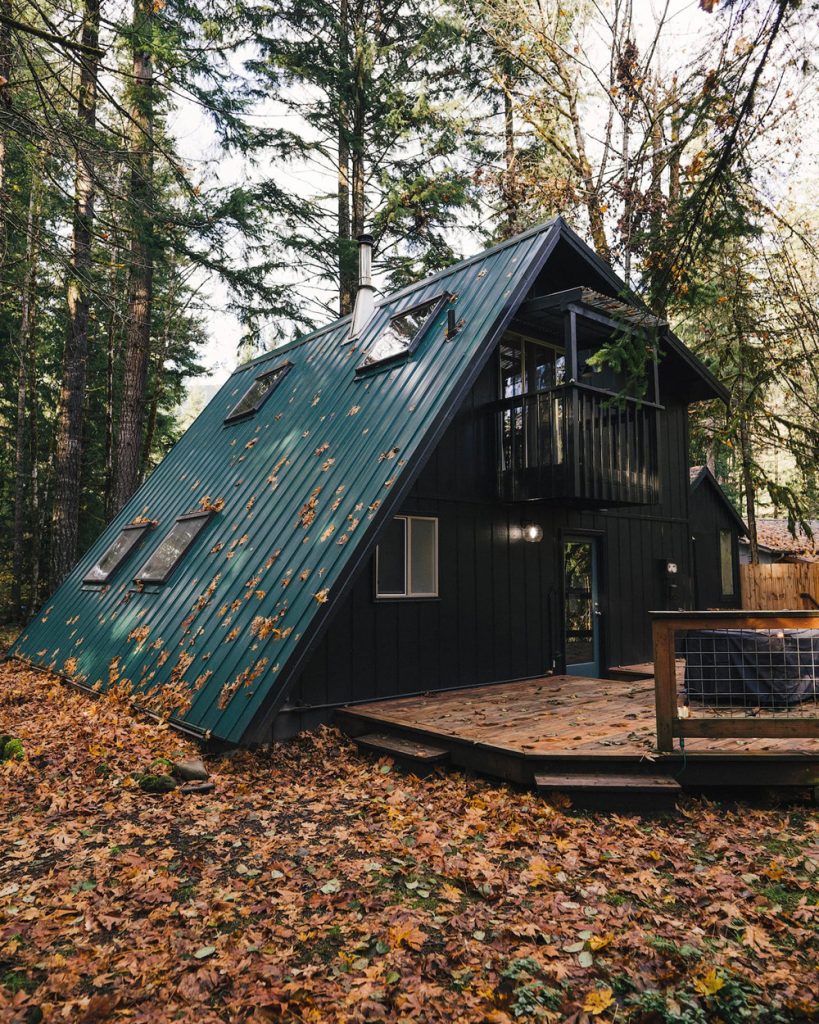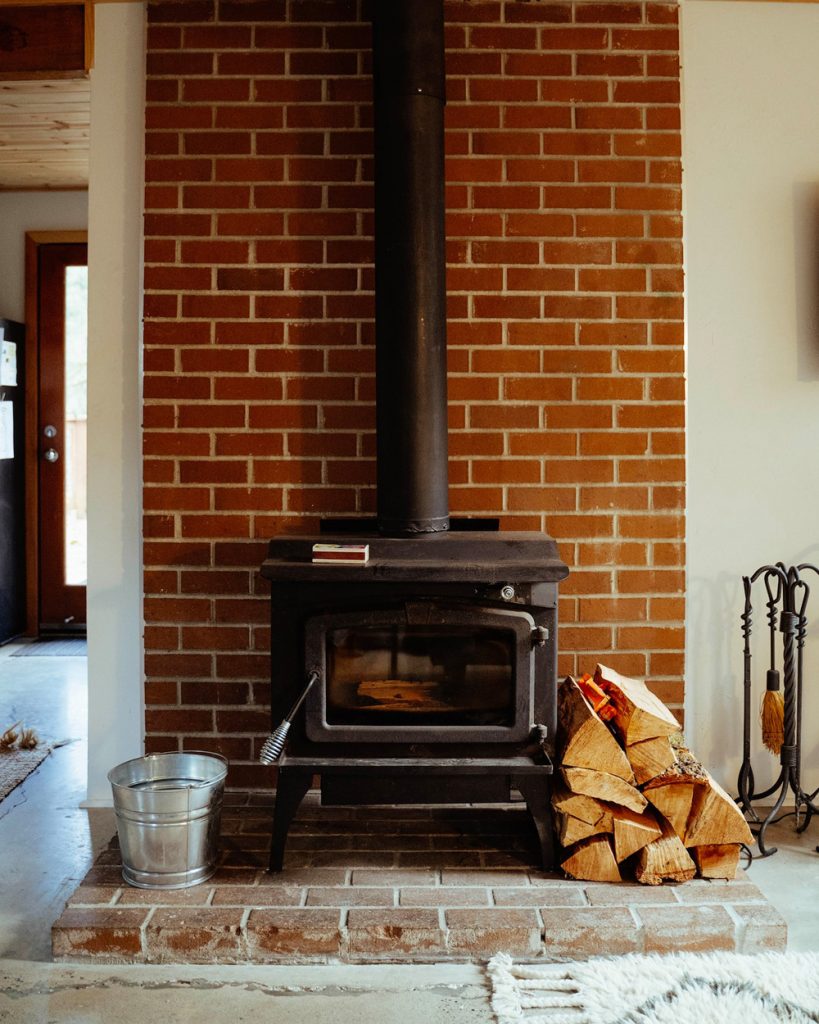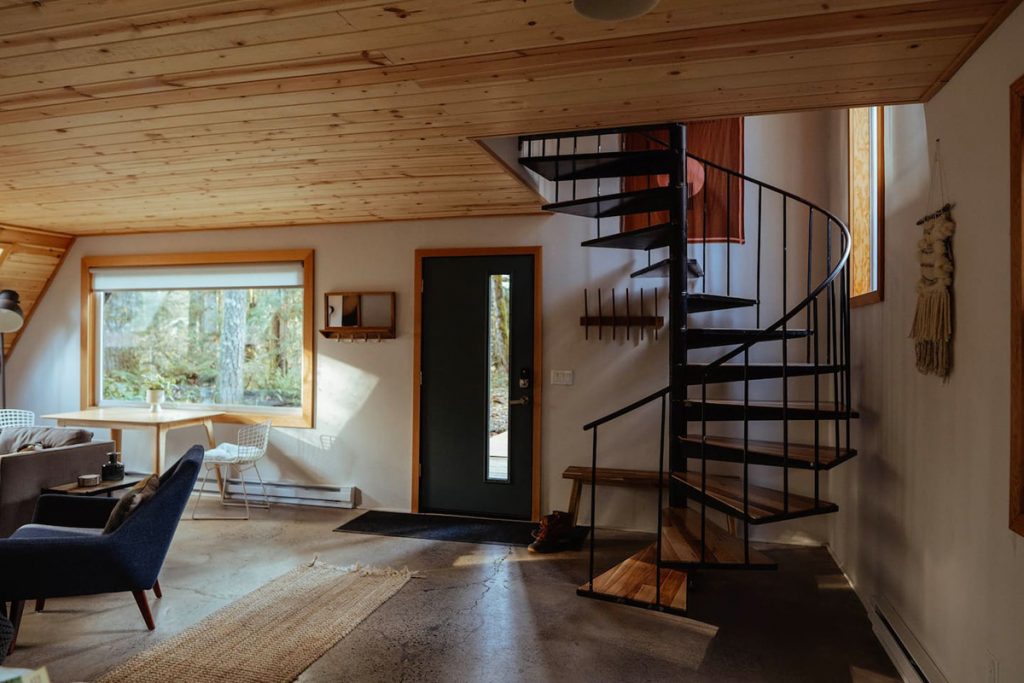 Another one of the bucket-list A-frame cabins you can rent in Oregon is the Niksen House. This cabin was built in the 70's and recently renovated with modern updates, lots of natural light, and a Scandinavian feel, making it an amazing place to relax and recharge. Additionally, this cabin is in a rural residential community and sits next to a 1/2 acre lot giving it an off-the-grid feel with all of the on-the-grid amenities. Picture yourself waking up here to watch the sunrise while dreaming about what adventures you're going to go on that day…
---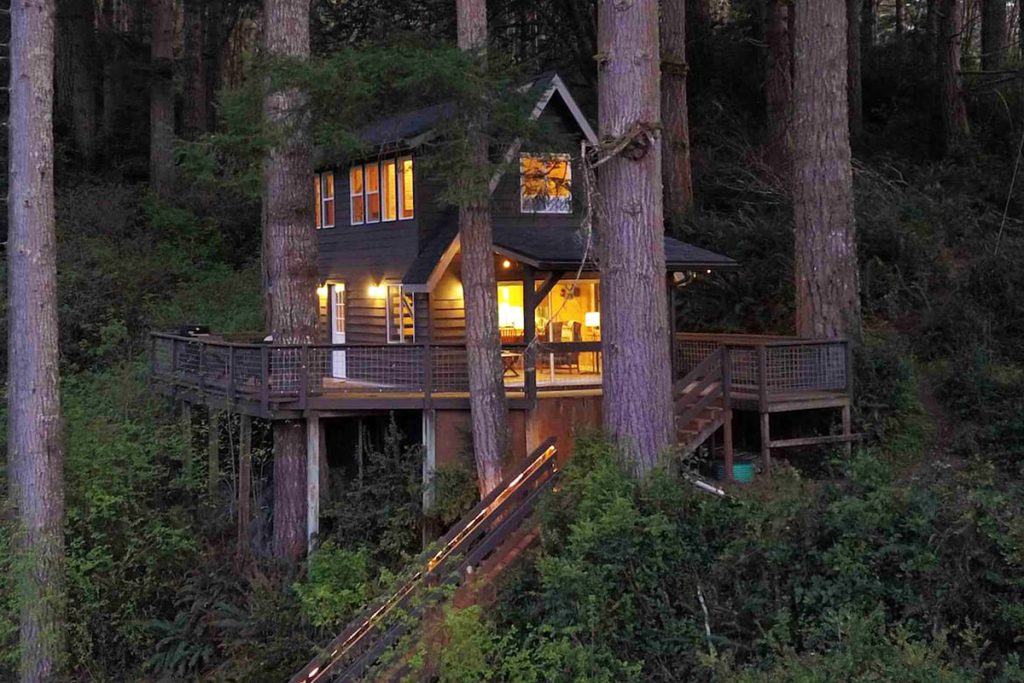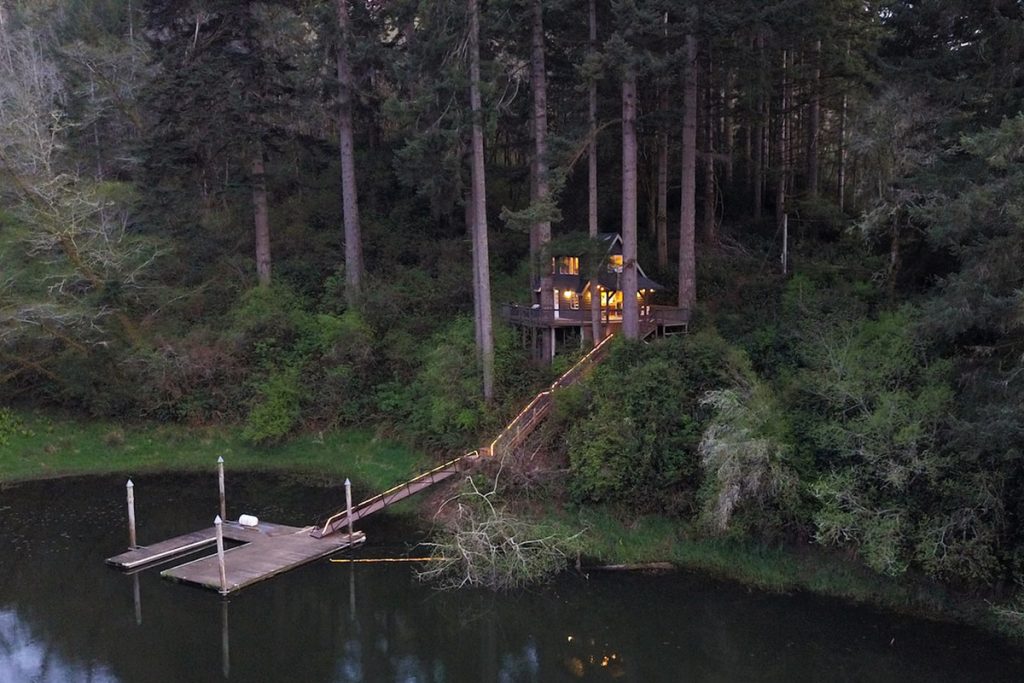 Ready to take your adventure game up a notch? The Cabin in the Trees is only accessible by boat! It is rare to find any Oregon cabins that are this secluded, so if you're interested in booking, be warned that reservations fill up fast! If you do end up snagging a spot, you can look forward to a full kitchen, two bedrooms with queen-sized beds, and a smart TV in the family room. Memories made at this unique cabin location will last a lifetime.
Location: Lakeside, Oregon
Sleeps: 4 guests
Pet friendly: yes
Hot tub: no
Price: $192 / night
---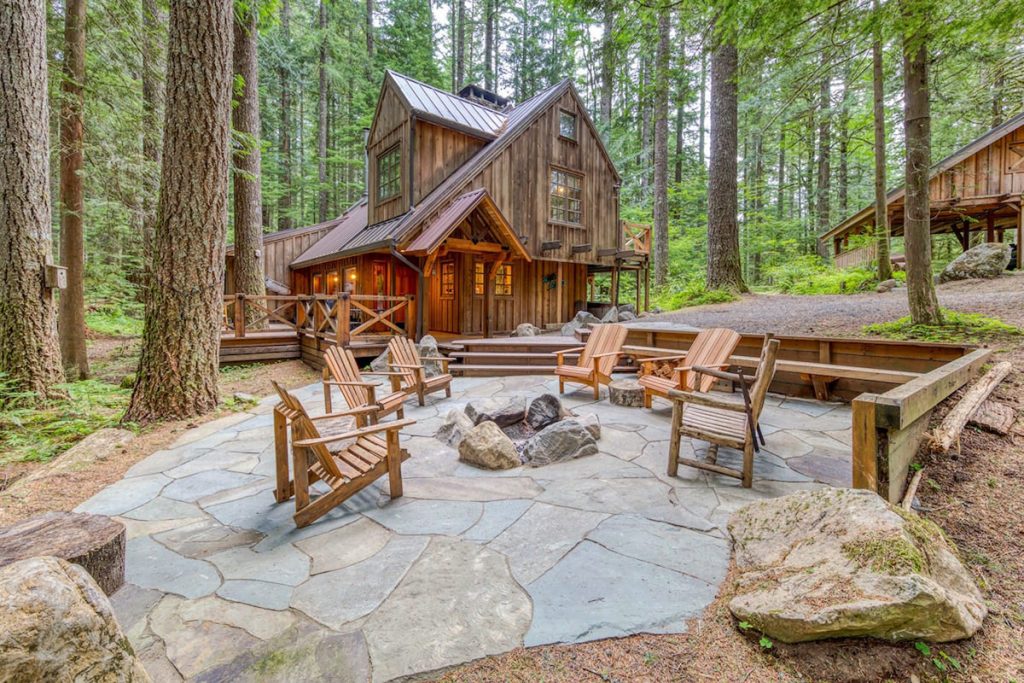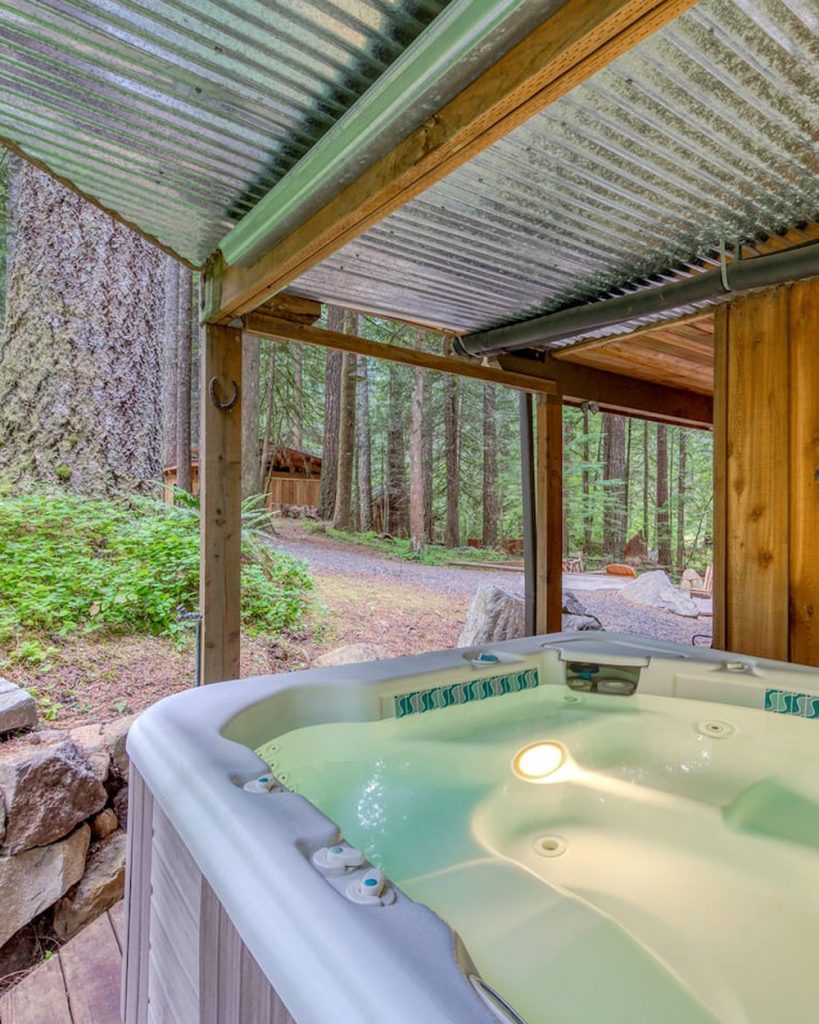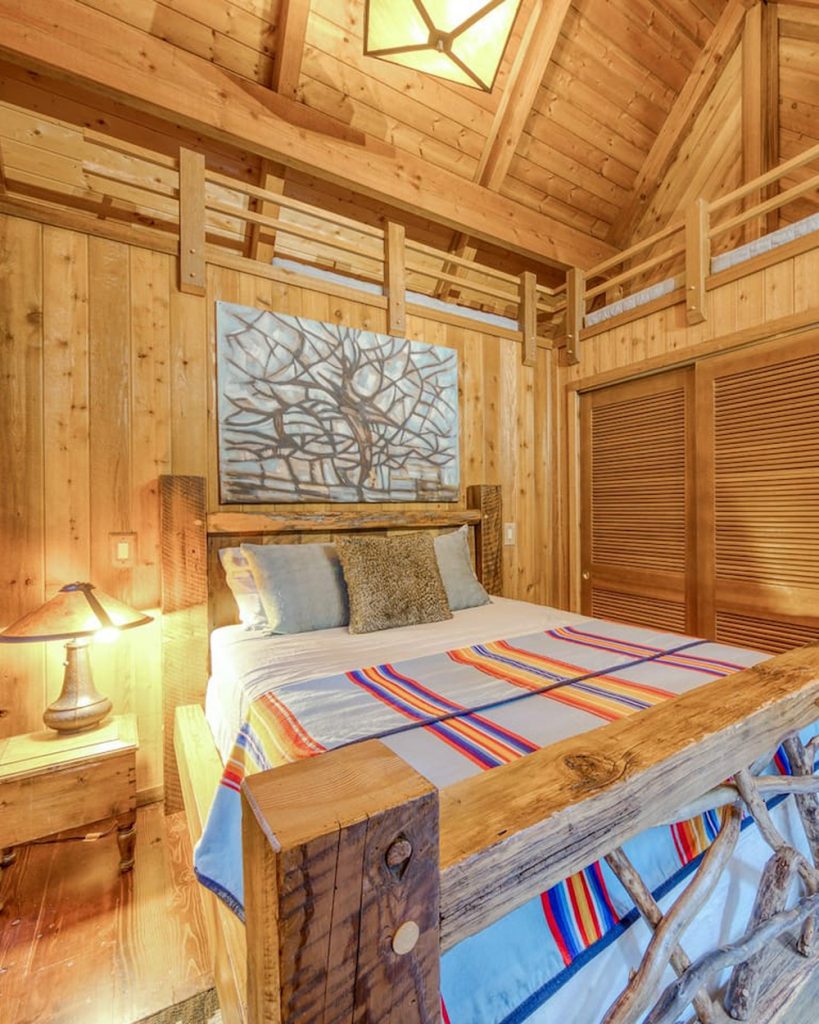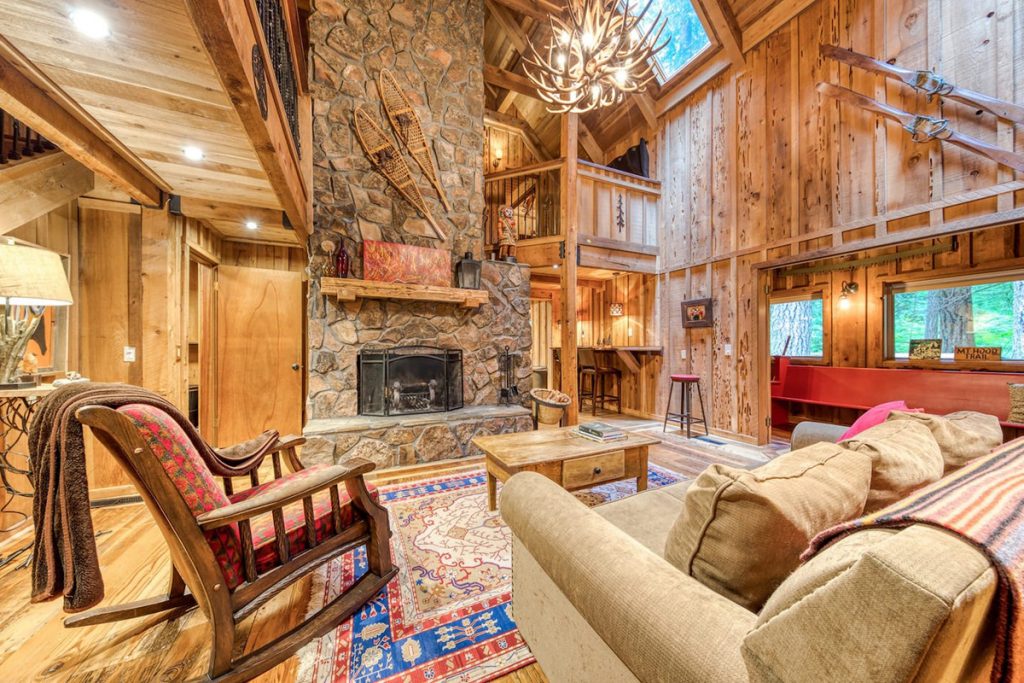 If you could use some more starry lights and bonfire nights in your life, you'll want to keep reading. Another one of the must-see cabins to rent in Oregon is the Sycamore Lodge. Know anyone who would love a true-lodge experience with handcrafted furniture, warm woodwork throughout, and a huge stone fireplace that is the centerpiece of the downstairs living area? This cabin experience could be the perfect gift! Picture yourself soaking in the private hot tub and getting cozy while roasting marshmallows in the large fire pit….
---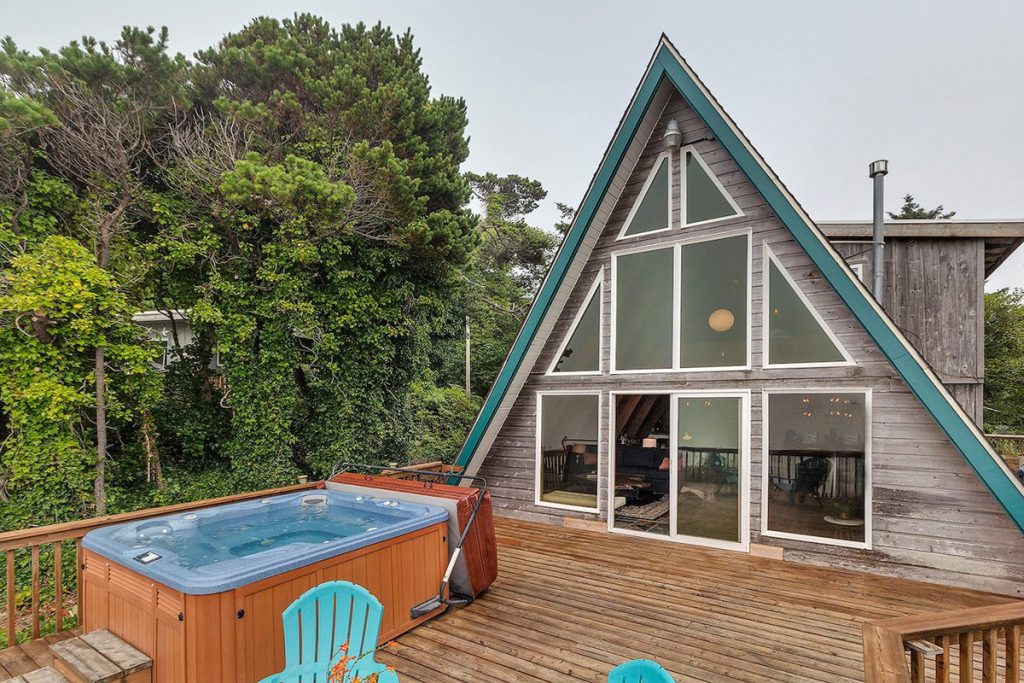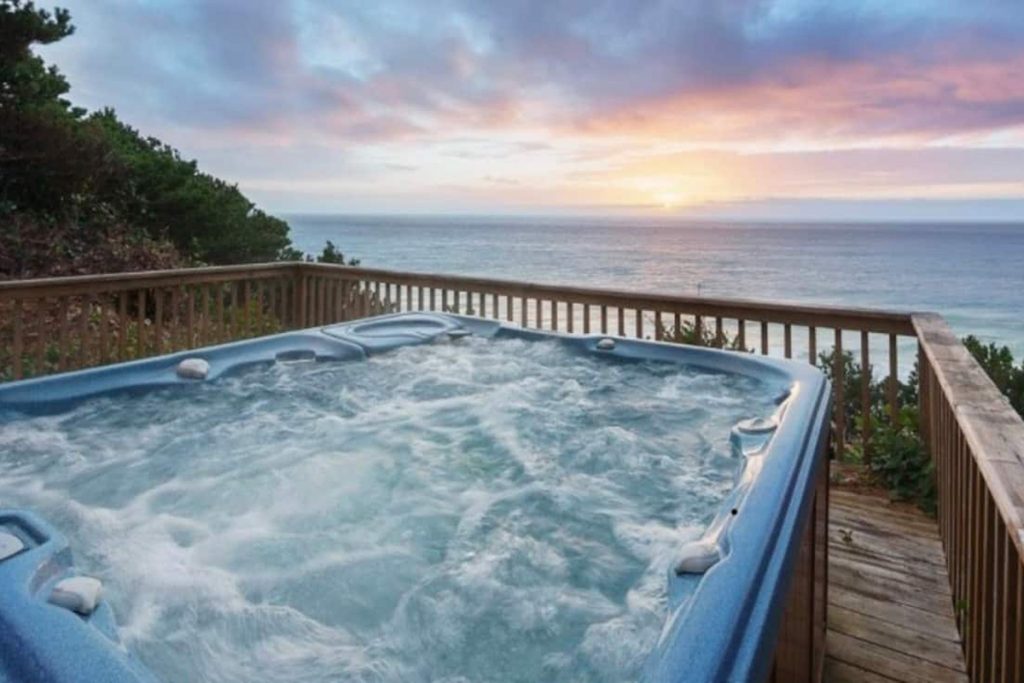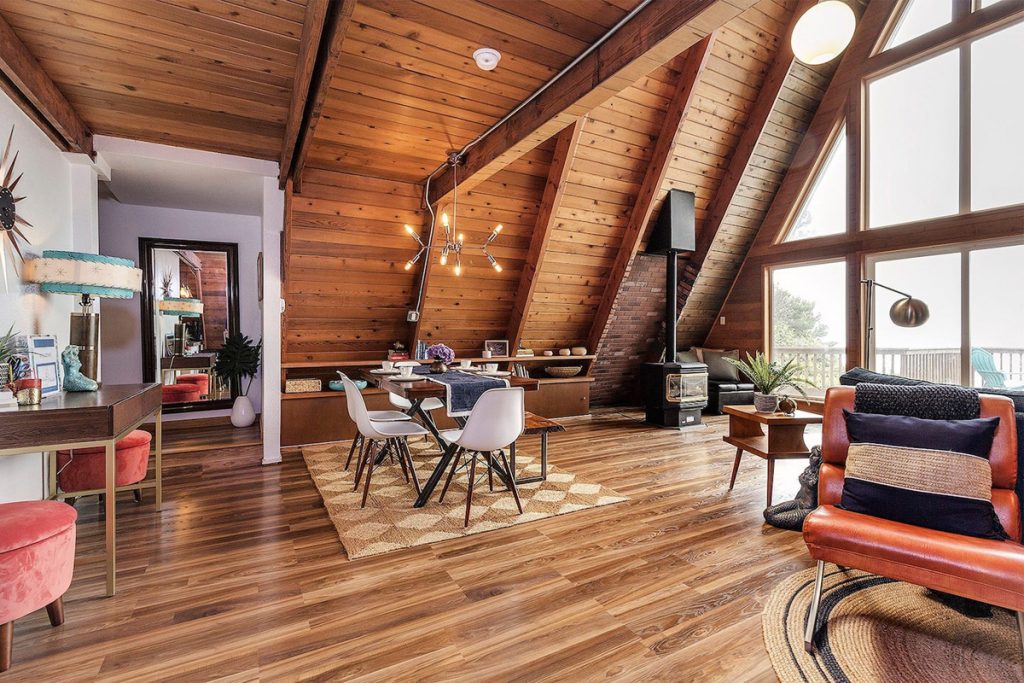 Calling all beach lovers! If you feel stuck choosing between cute Oregon cabins and ones with an ocean-front view, this might be a match made in heaven! This 1960s Salacia A-Frame Cabin has been lovingly restored and now comfortably sleeps six, making it a great place to catch up with old friends. I mean, who wouldn't want to wake up to the sound of crashing waves and have a morning coffee on the scenic patio?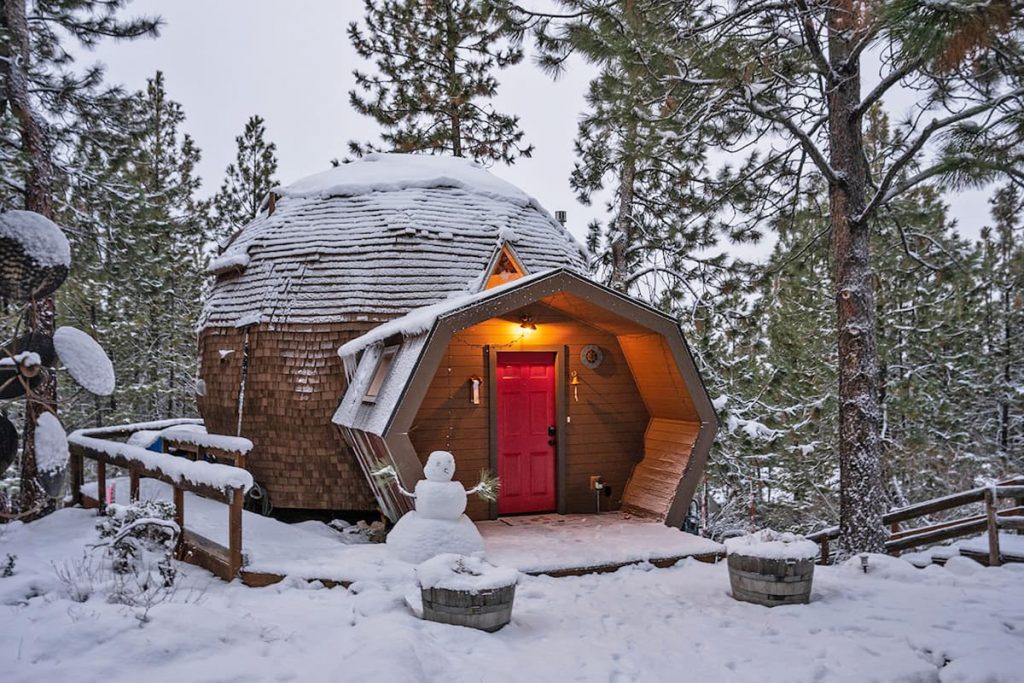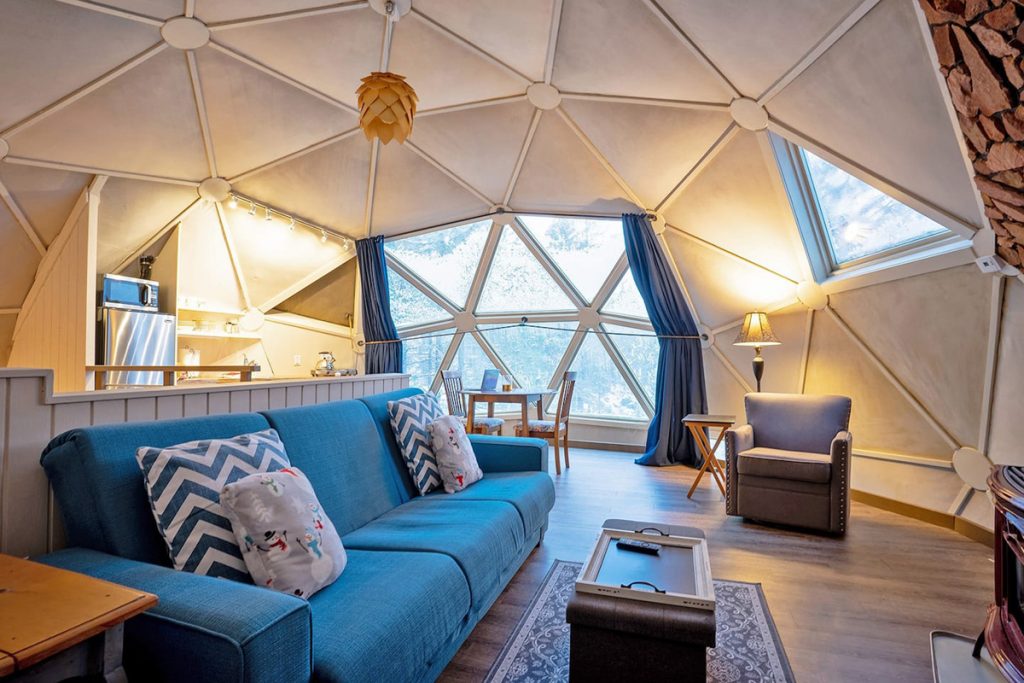 Dome Sweet Dome is certainly one of the most unique of any of the Oregon Cabins you can rent. Renovated & stylishly redecorated in 2019, this true-to-name Geodesic Dome sits on a private and peaceful lot. Having stayed in many Airbnb's over the years, this cabin certainly stands out! If you are looking to spend a little less money while still getting an amazing cabin experience, then Dome Sweet Dome is the booking for you.
Location: Bend, Oregon
Sleeps: 3 guests
Pet friendly: no
Hot tub: no
Price: $170 / night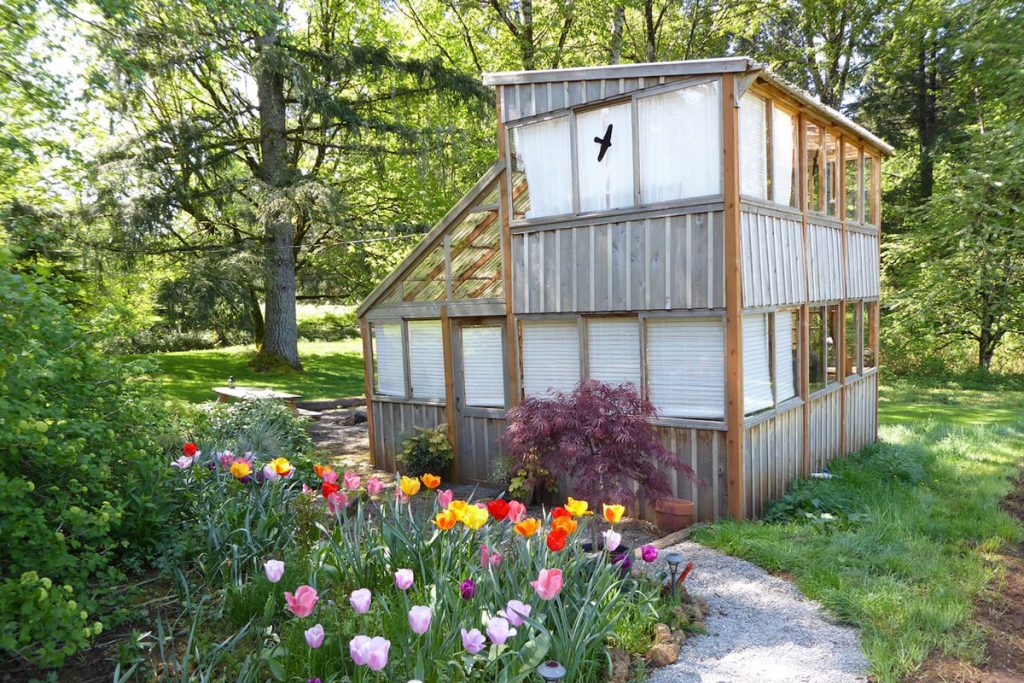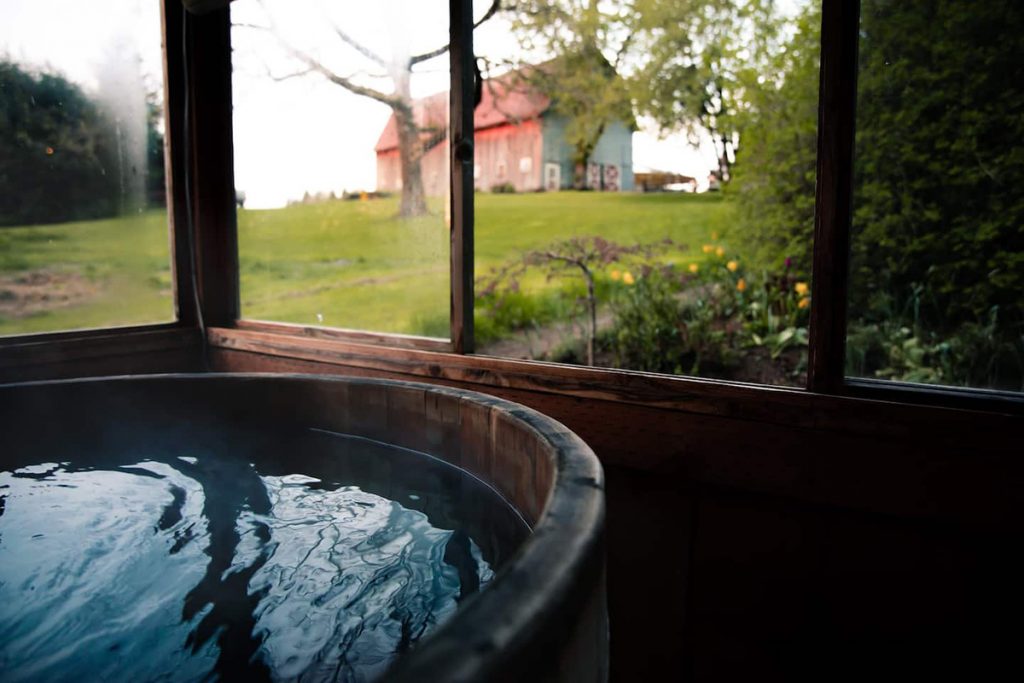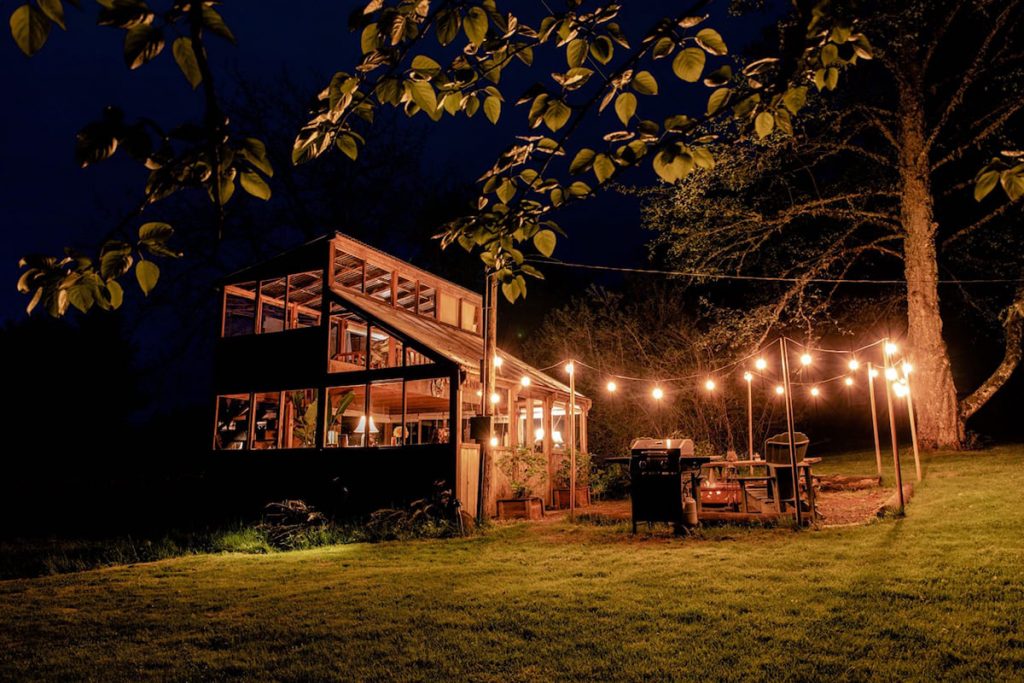 Organic Farm Glamping Cabin
This Organic Farm Glamping Cabin pretty much is the definition of a dreamy romantic getaway! What used to be a greenhouse is now a comfortable and stylish sleeping loft, surrounded by windows with views that truly allow you to enjoy the beautiful farm in style. Complete with a private hot tub and extensive private hiking trails behind the property, you'll be wanting to make staying here a monthly occurrence! If you and your partner have been looking for romantic cabins to rent in Oregon, you'll adore this one.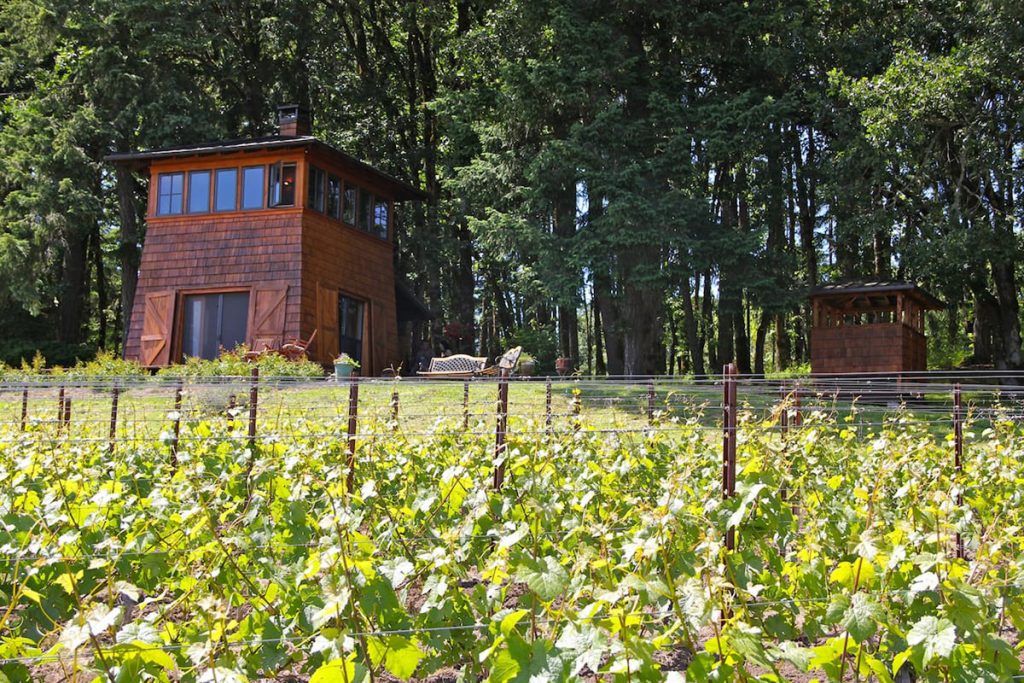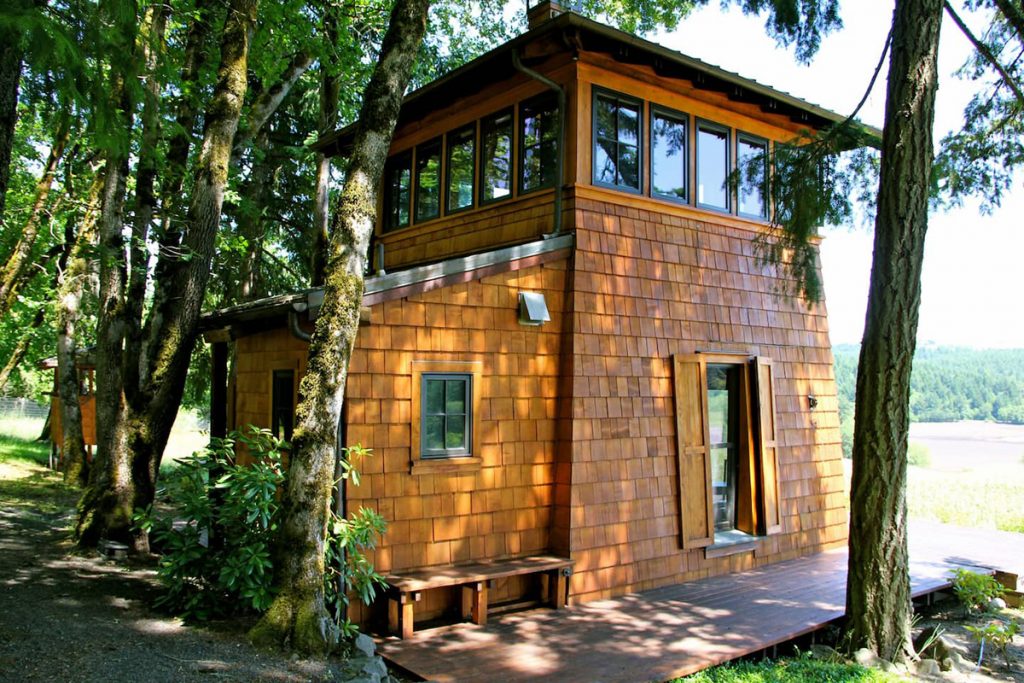 This beautiful two-story Oregon cabin overlooks a 40-acre vineyard and is the epitome of Pacific Northwest craftsmanship. Wine Country Cabin is truly a one-of-a-kind, perfect for couples or anyone looking for a tranquil setting to meditate, read, wine taste, hike, or just relax and take in the views. If you feel like getting out and exploring, the surrounding area includes a wooded area perfect for walking and taking in the fresh air.
Location: Gaston, Oregon
Sleeps: 2 guests
Pet friendly: no
Hot tub: no
Price: $287 / night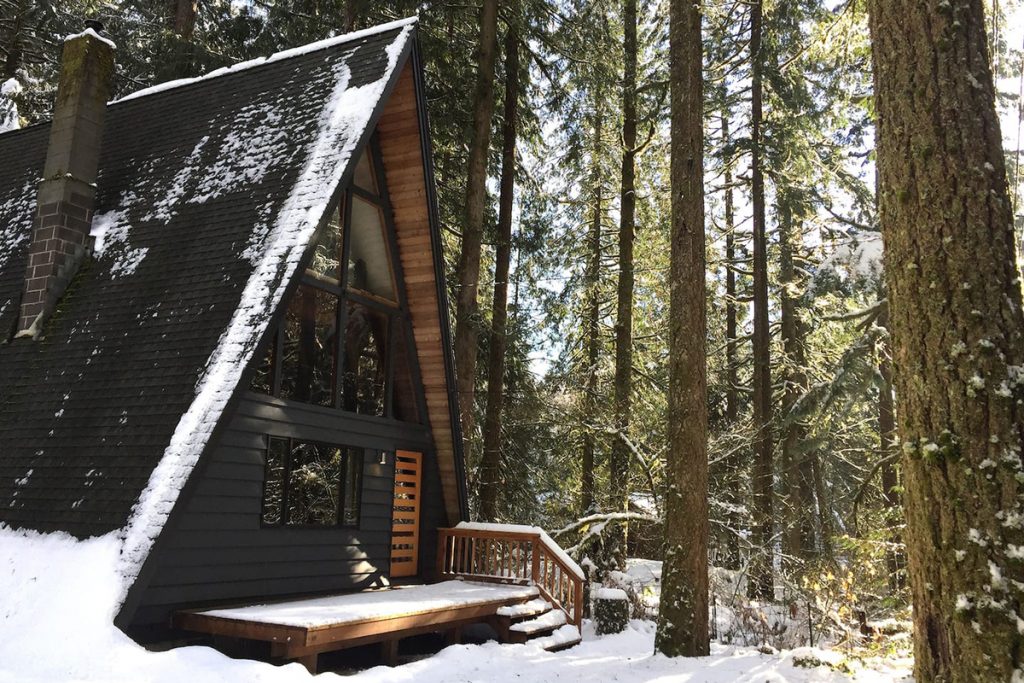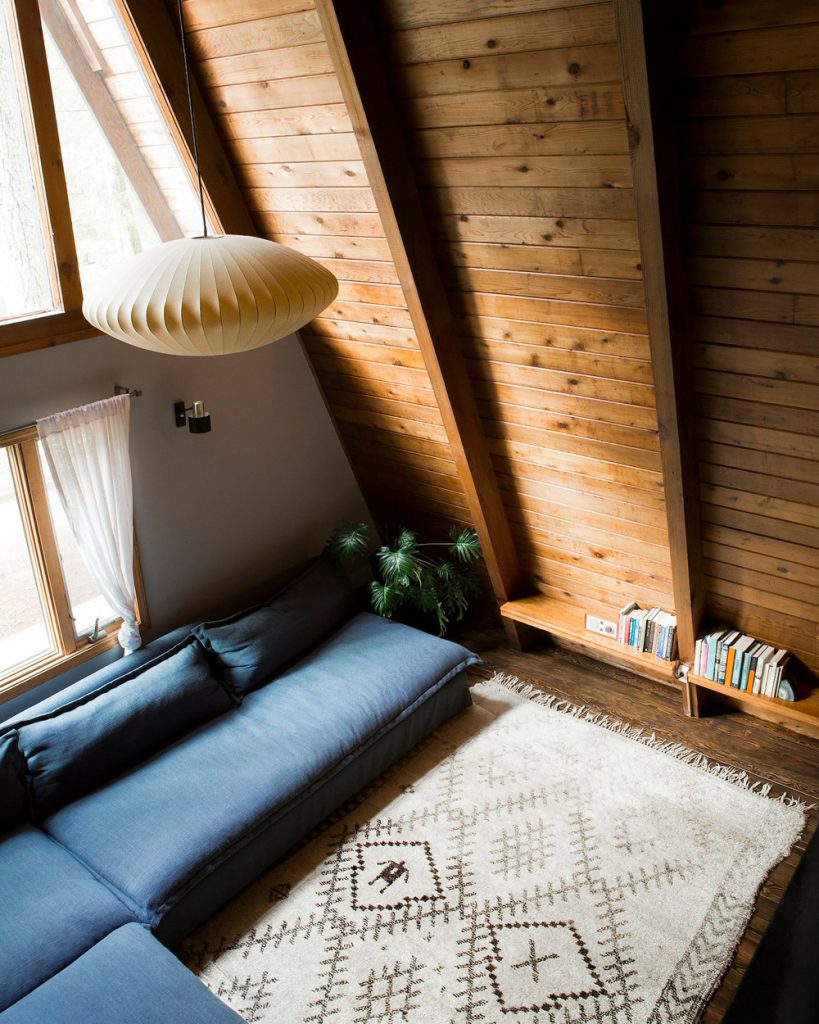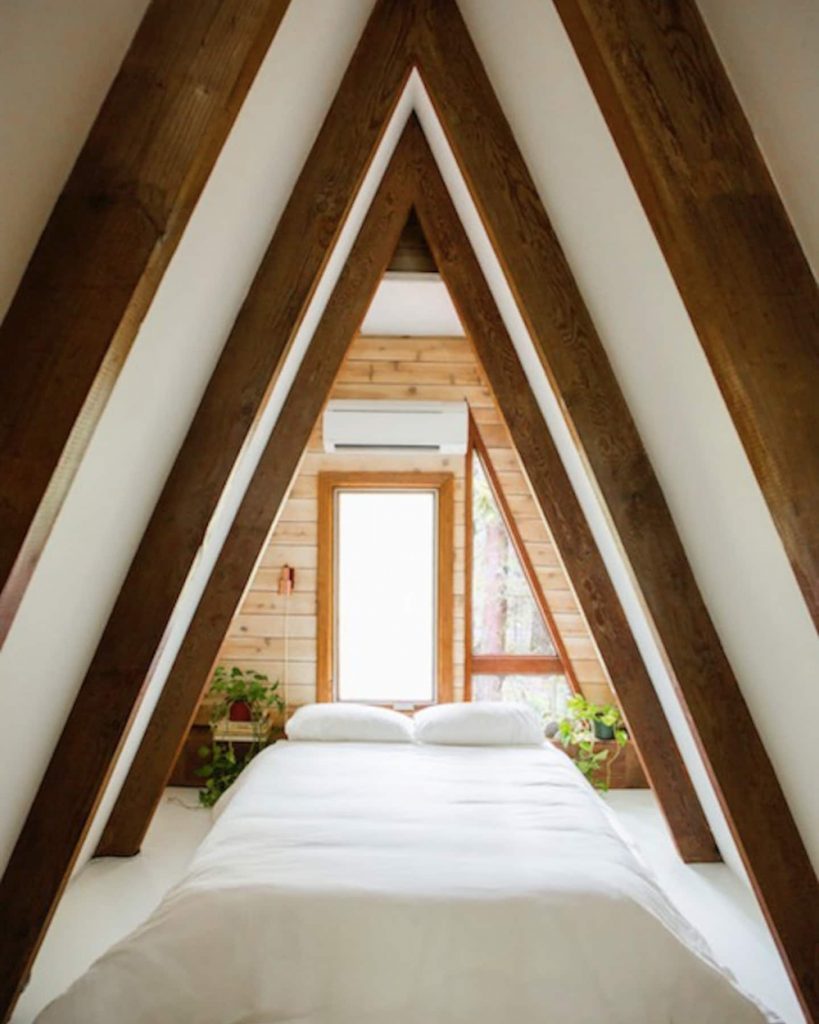 Rancho Relaxo isn't just fun to say out loud; it's also fun to stay in! This newly refined A-frame cabin was renovated in 2016 to reflect the Pacific Northwest's contemporary aesthetic. Whether you lay around on the exquisitely comfortable sectional sofa, find a new favorite book in the library, or use Rancho Relaxo as a base camp for adventures, you're destined to have an incredible stay.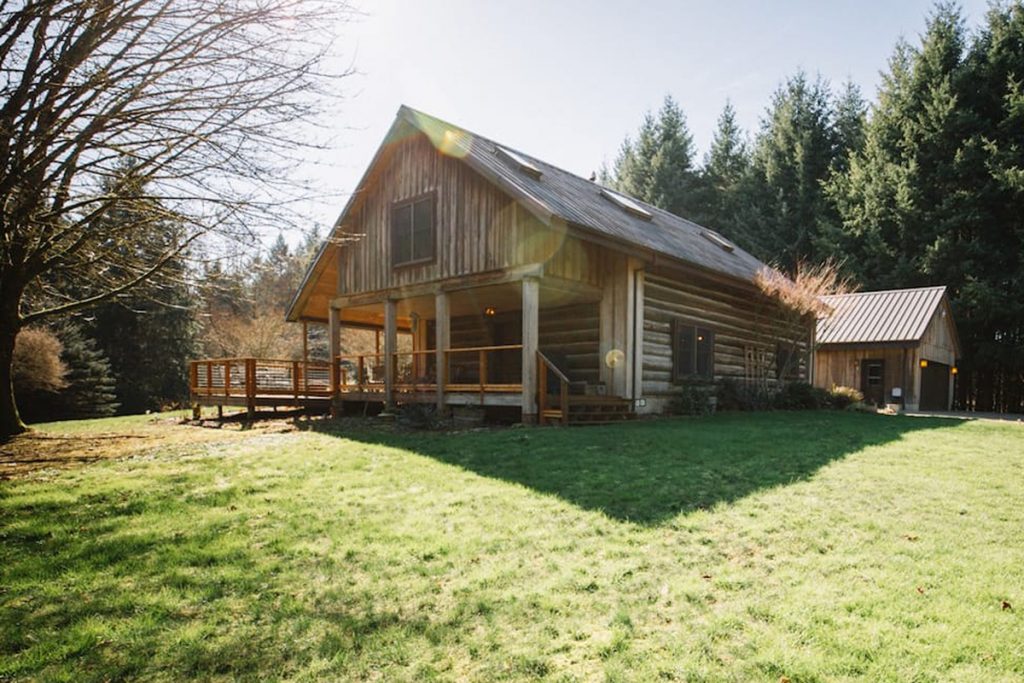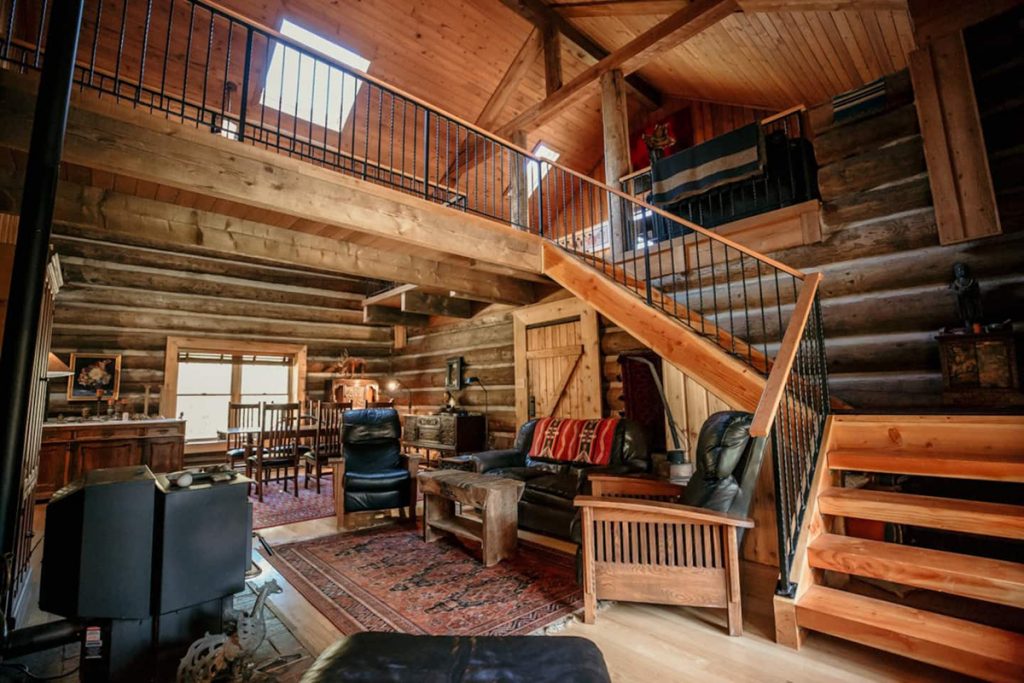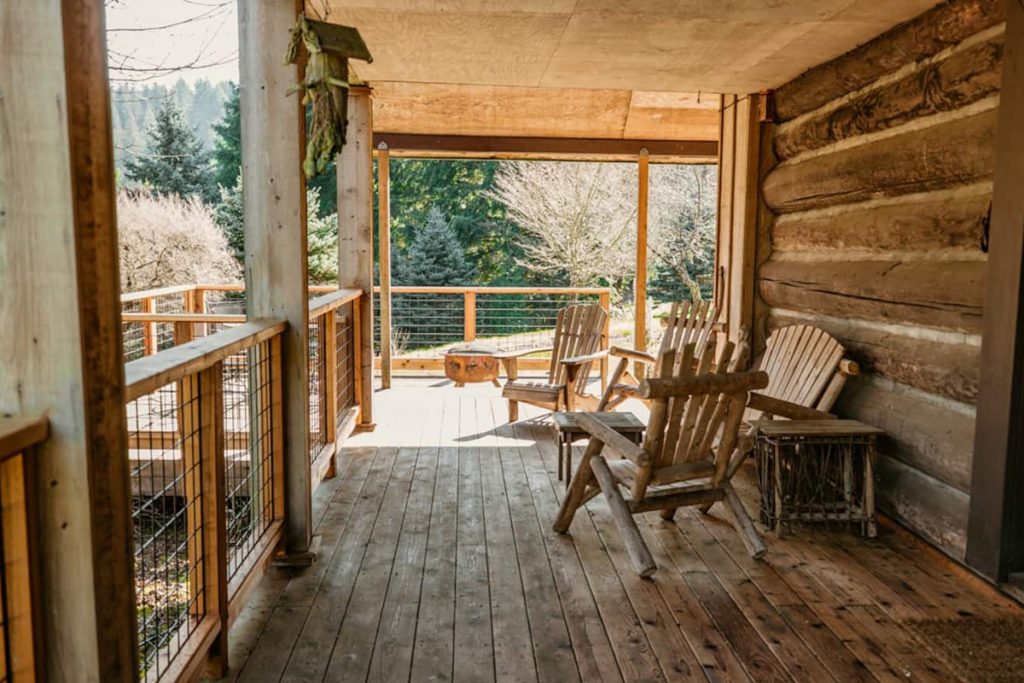 Halem House Log Cabin is a four-bedroom, two-bathroom house built by its owners with a vineyard and wine on-site! The property sits on ten stunning scenic acres in the forest, so be sure to take advantage of the hikes if you're keen! As if the breathtaking views weren't enough, guests also receive a complimentary wine bottle from the grapes grown right on the property! Halem House is the perfect retreat for couples, large families, or groups.
Location: Newberg, Oregon
Sleeps: 8 guests
Pet friendly: no
Hot tub: no
Price: $417 / night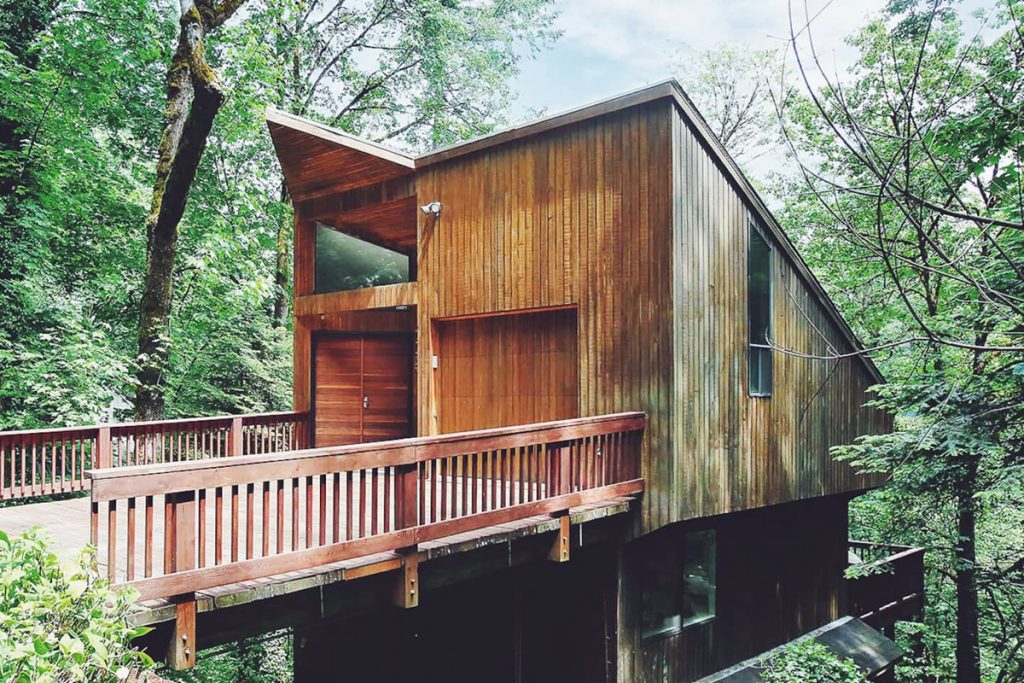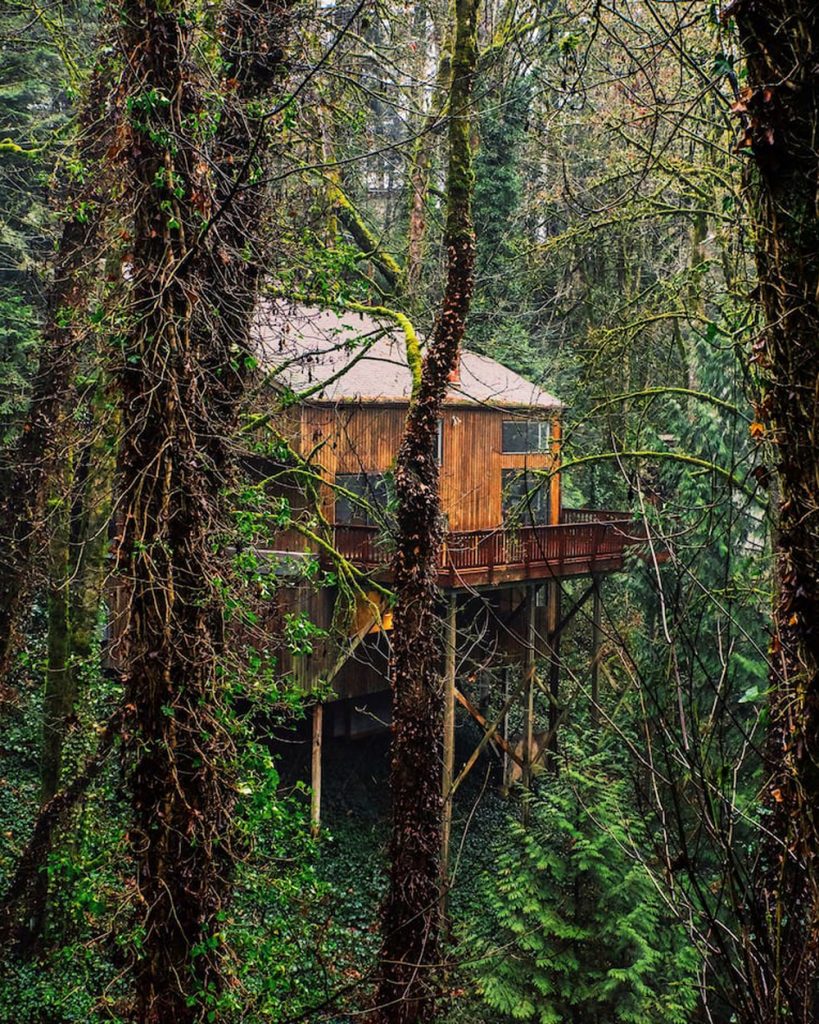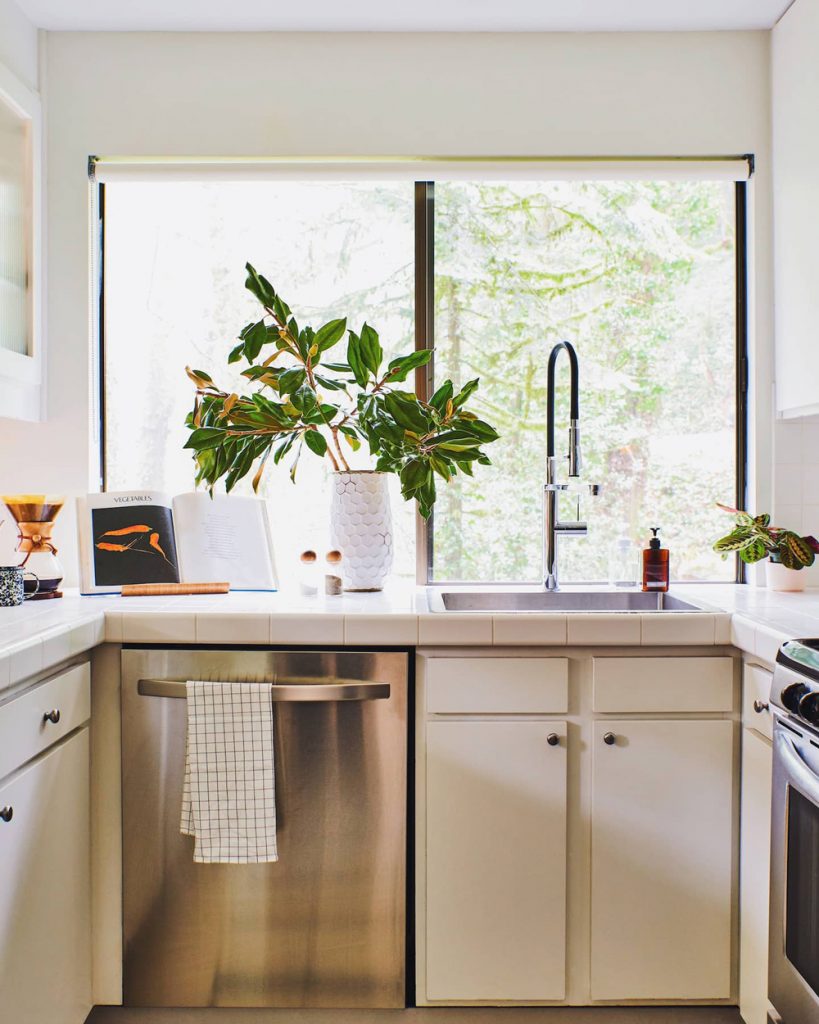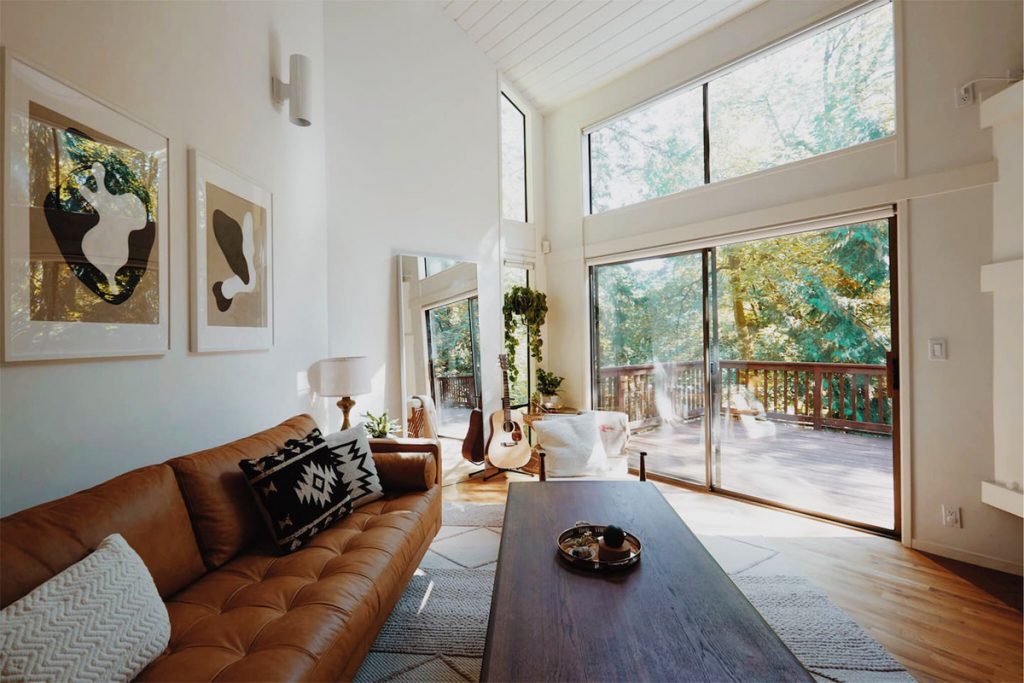 Wald House Portland Cabin
Hiking lovers, this Oregon cabin is for you! Wald House Portland Cabin is located in the Tualatin Mountains and was built in 1979 by architect James G. Tropfenbaum. The property is situated on a 5.5-mile bike-loop and is next to a 178.25-acre park of undeveloped forest, which features nine breathtaking hiking trails. If you're not up for a hike, go for a scenic drive on the winding roads with stunning architecture or explore one of the many unique neighborhoods of Portland!
Location: Portland, Oregon
Sleeps: 5 guests
Pet friendly: no
Hot tub: no
Price: $319 / night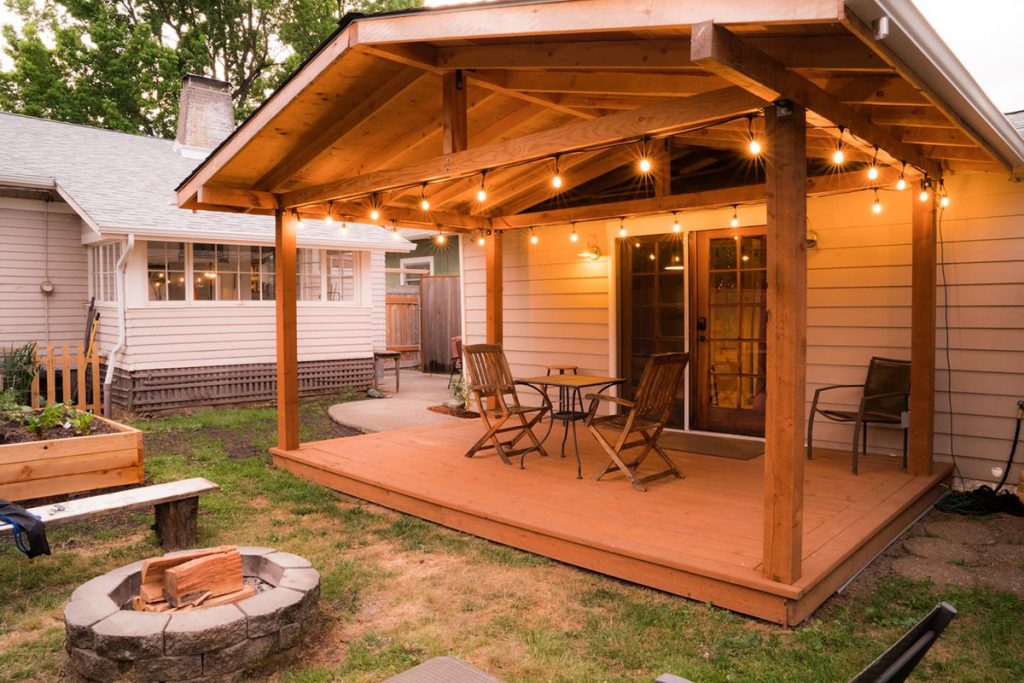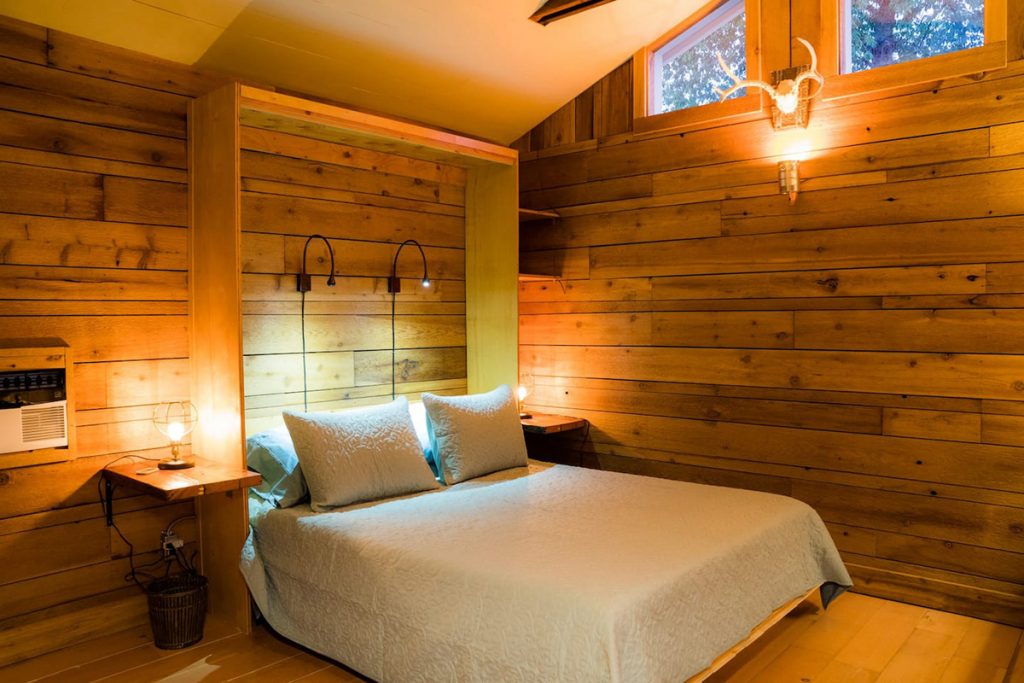 Looking for somewhere to stay a little more long term? The Urban Cabin Portland is a unique cabin-style studio tucked away in a quiet, up and coming neighborhood. Rental bookings are only available on a monthly basis, so make sure to plan accordingly! This little urban nirvana is detached from the main house and offers complete privacy. It's an excellent option for guests seeking a place to relax and recharge after a day of exploring Portland.
Location: Portland, Oregon
Sleeps: 2 guests
Pet friendly: no
Hot tub: no
Price: $3,763 / month
Final Thoughts On Oregon Cabin Rentals
In conclusion, there are so many cabins to choose from in Oregon, and I've only scratched the surface! Oregon is home to more than 360 miles of America's wildest coastline, and these cabins put you smack in the middle of the awe-inspiring scenery Oregon has to offer!
I hope you were inspired to take a cozy cabin getaway in Oregon! Leave a comment if you do end up booking one of these rentals, I would love to hear about your experience 🙂
I also put together a comprehensive list of all my favorite Oregon cabin and treehouse rentals on Airbnb if you want to check it out – click here!