Who doesn't love a cozy weekend getaway?! I've rounded up the ultimate list of treehouses you can rent in the Pacific Northwest so that you can plan the perfect escape. This list of Pacific Northwest treehouses includes everything from cozy cabins with steamy outdoor hot tubs to charming treehouses straight out of storybooks. Perched high above the ground, these dreamy treehouses have views for days, and will bring your adventures to new heights!
Disclaimer: This blog post may feature some affiliate links, which means I get a small commission if you make a purchase (at no extra cost to you). It's one of the ways I can keep producing free guides and resources for my readers. Learn more about my affiliate policy here. Thank you for the support!
31 Best Pacific Northwest Treehouse Rentals
The great thing about treehouses you can rent in the Pacific Northwest is that there are plenty of options to choose from! I've broken up this blog into four parts, including treehouses you can rent in Washington, Oregon, British Columbia, and Idaho! These Pacific Northwest treehouses range from small, camping-style accommodations to more extensive and luxurious treetop perches that offer modern amenities. No matter where you choose to stay, you can be sure to enjoy a great view, with plenty of adventure available to you!
Treehouse and cabin lover? You should also read these posts next!
Ok let's jump into sharing the best Pacific Northwest treehouses!
Best Washington Treehouse Rentals
Washington is known for its bountiful evergreen trees, so what better way to experience them than up among them? Staying in one of these Pacific Northwest treehouses is like a fairytale come true—escape it all by booking your next unique stay.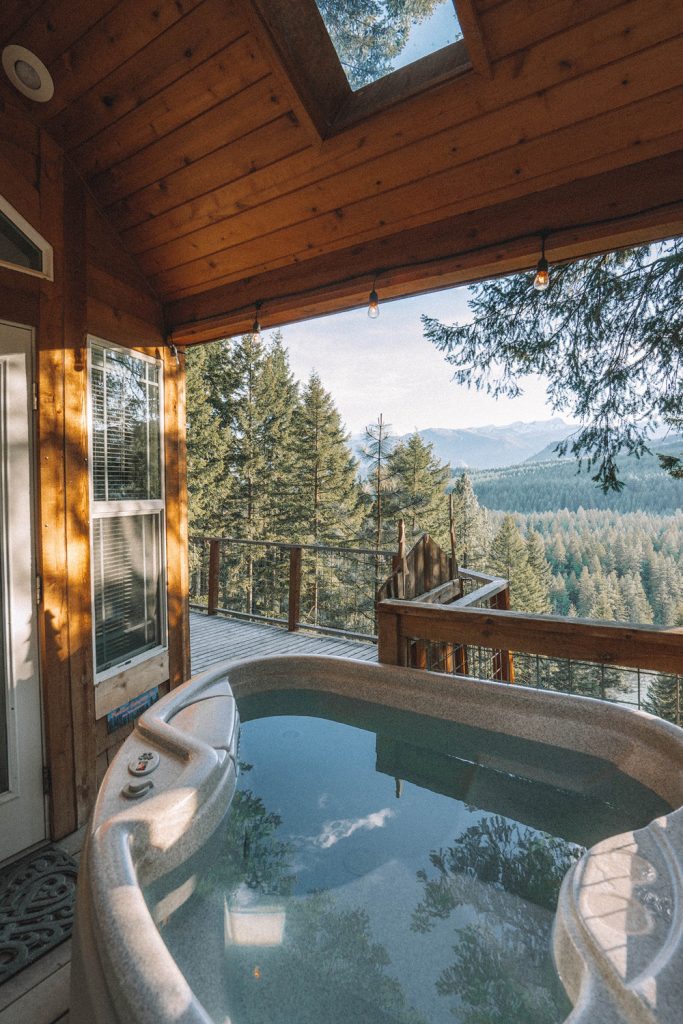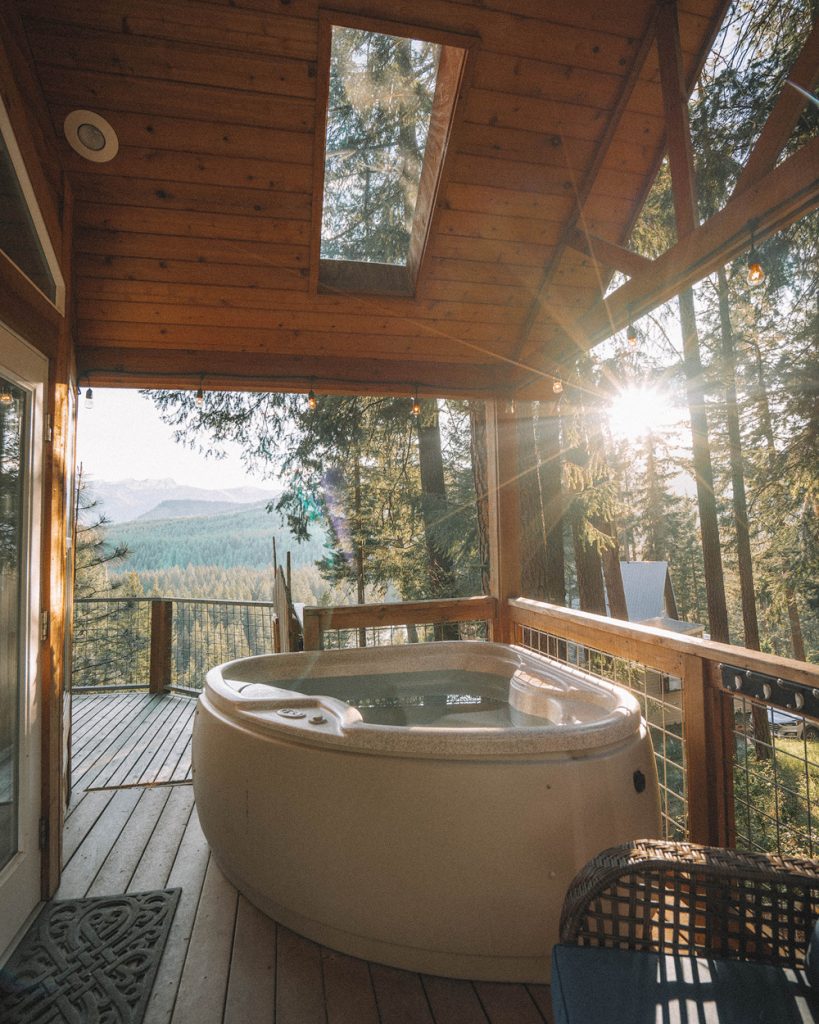 If you're like me, you won't be able to get enough of Pacific Northwest treehouses but whilst not technically a tree house, Das Tree Haus is an idyllic treetop bungalow overlooking the Wenatchee River and Icicle Ridge. Guests have access to a private deck, hot tub, fire pit, grill, and cozy living spaces. Das Tree Haus is the perfect place to base yourself out of whilst exploring the Wenatchee and Leavenworth areas. I recommended hiking to Colchuck Lake during your stay – more details here!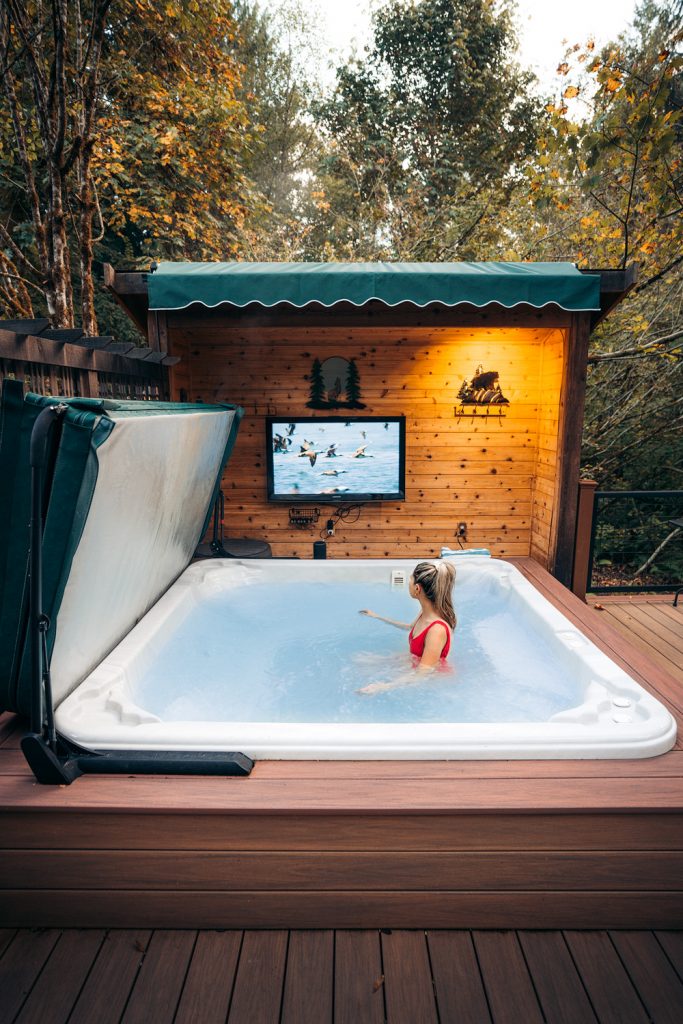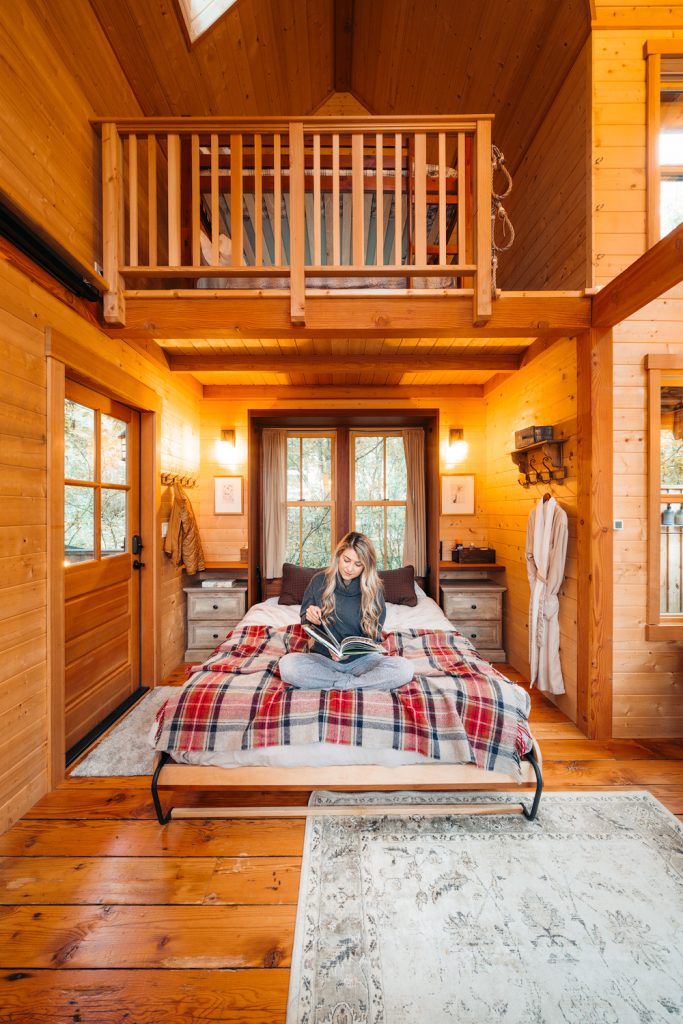 Pete Nelson Original Treehouse
The Pete Nelson Original Treehouse is as authentic as Pacific Northwest treehouses get! I love that when you stay here, you can sleep high up in the trees surrounded by nature but still have total access to common amenities, an outdoor shower + hot tub, and even a 100″ drop-down screen and projector. Can't you picture yourself staying here on a romantic getaway or a fun weekend with the girls? You'll definitely want to add this one to your bucket list!
Location: Redmond
Sleeps: 4 guests
Pet friendly: no
Hot tub: yes
Price: $425 / night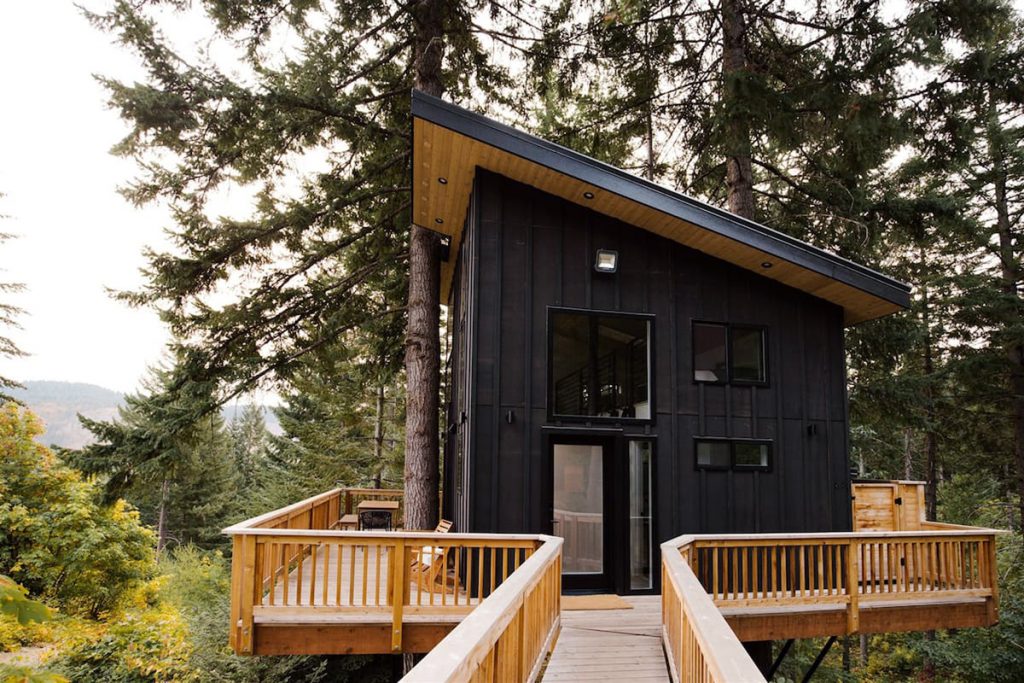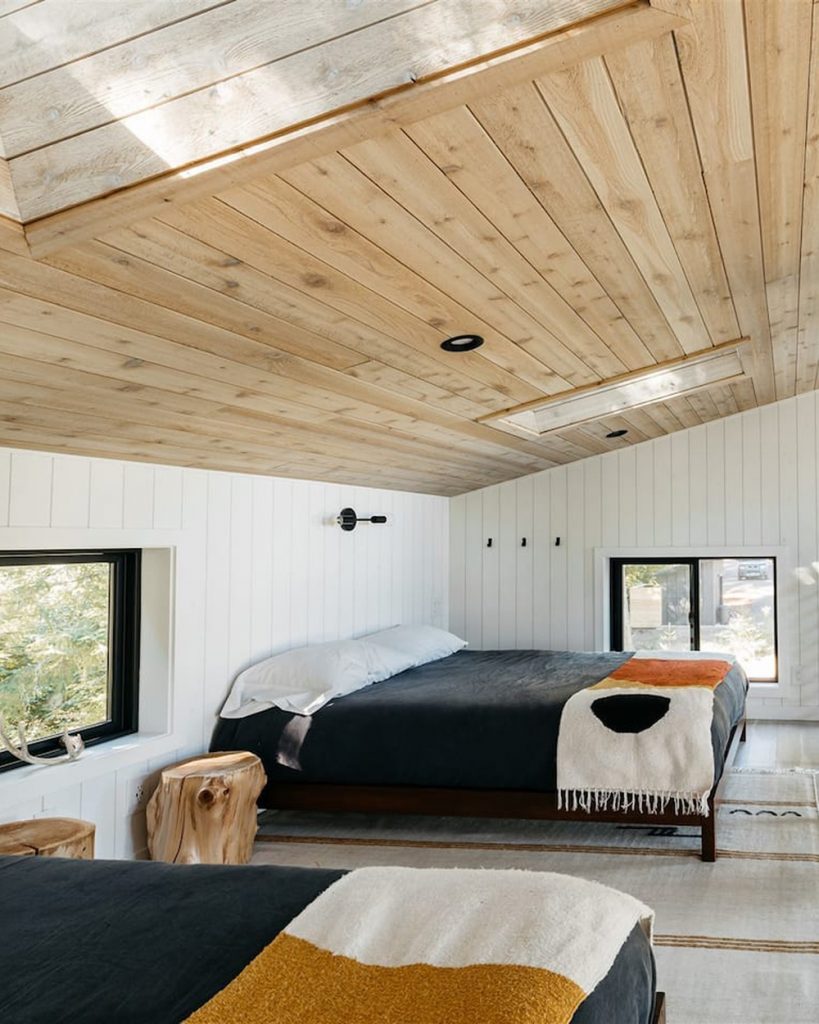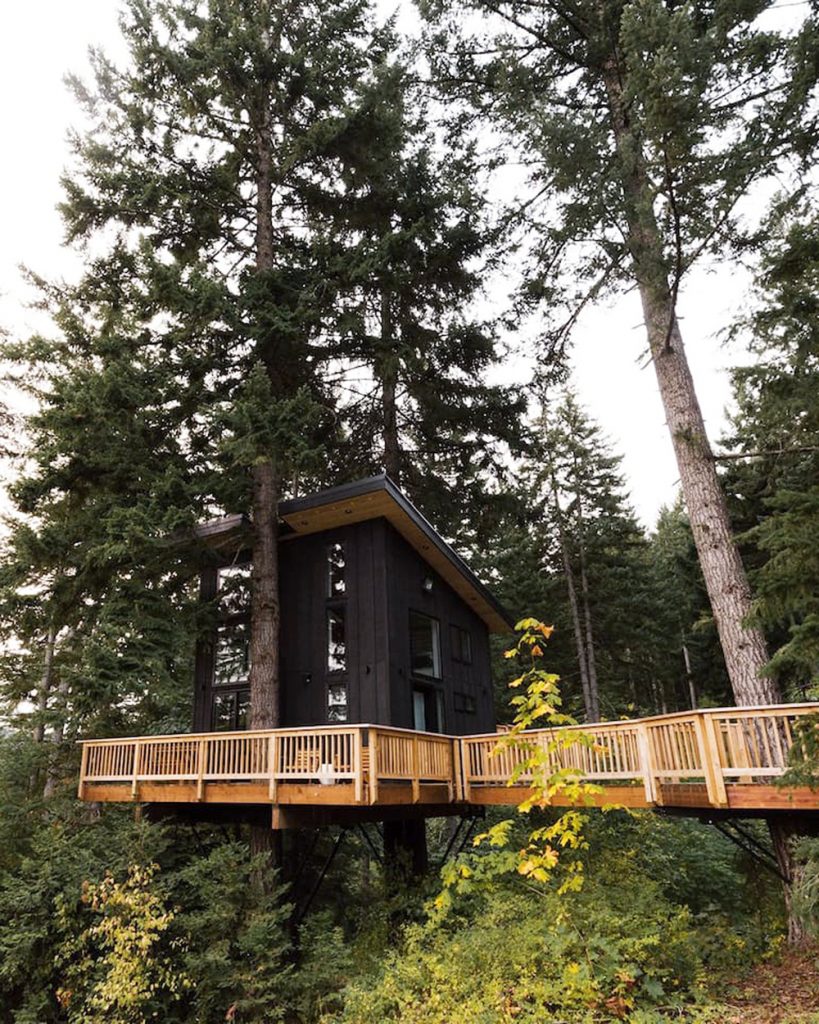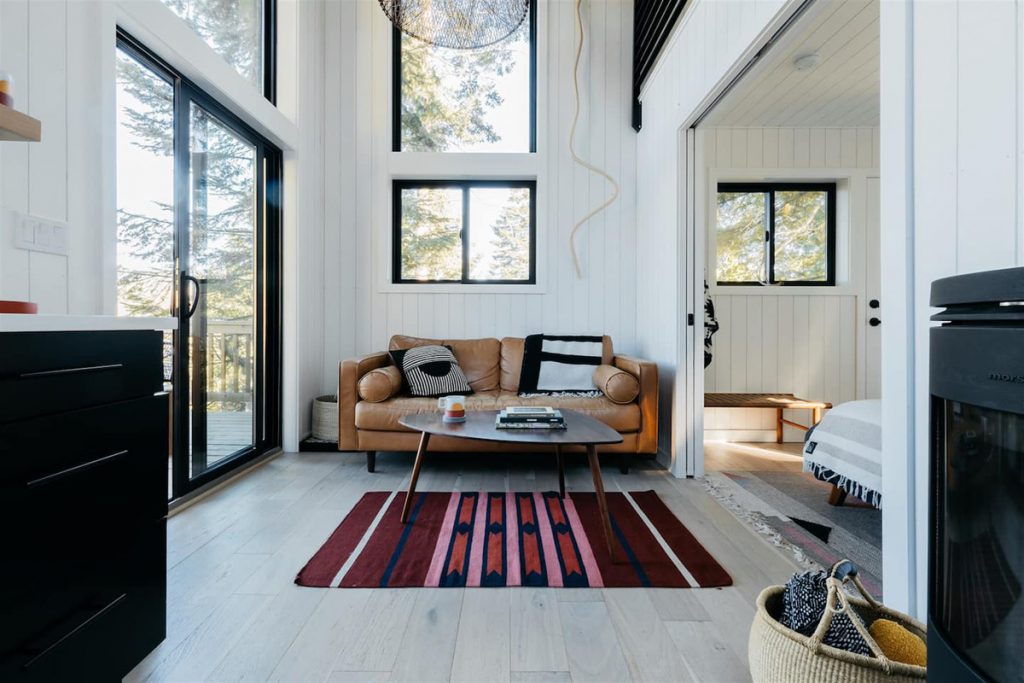 The inspiration behind this next treehouse was the simplicity, functionality, and comfort found in Scandanavian architecture. The Klickitat Treehouse offers floor-to-ceiling windows and skylights with breathtaking views of the surrounding forest, the valley, and Mount Adams. Cozy up with blankets and pillows in the living room during the winter, or slide open the glass doors to Mount Adam's view deck and bring the outside in during the summer.
Read next: 7 Best Things To Do During Fall In Washington State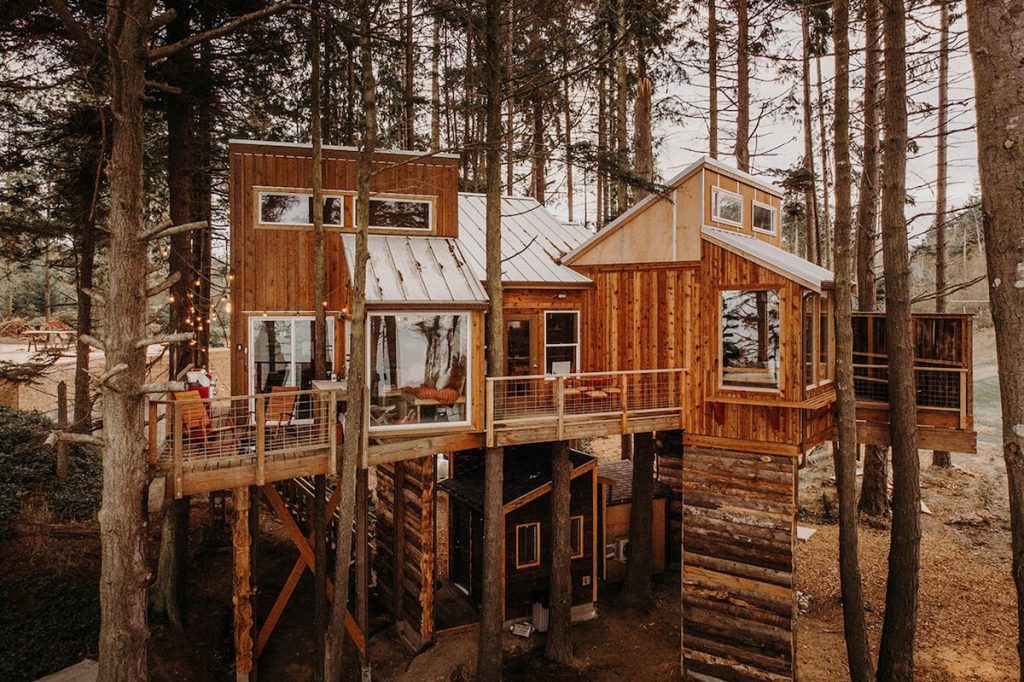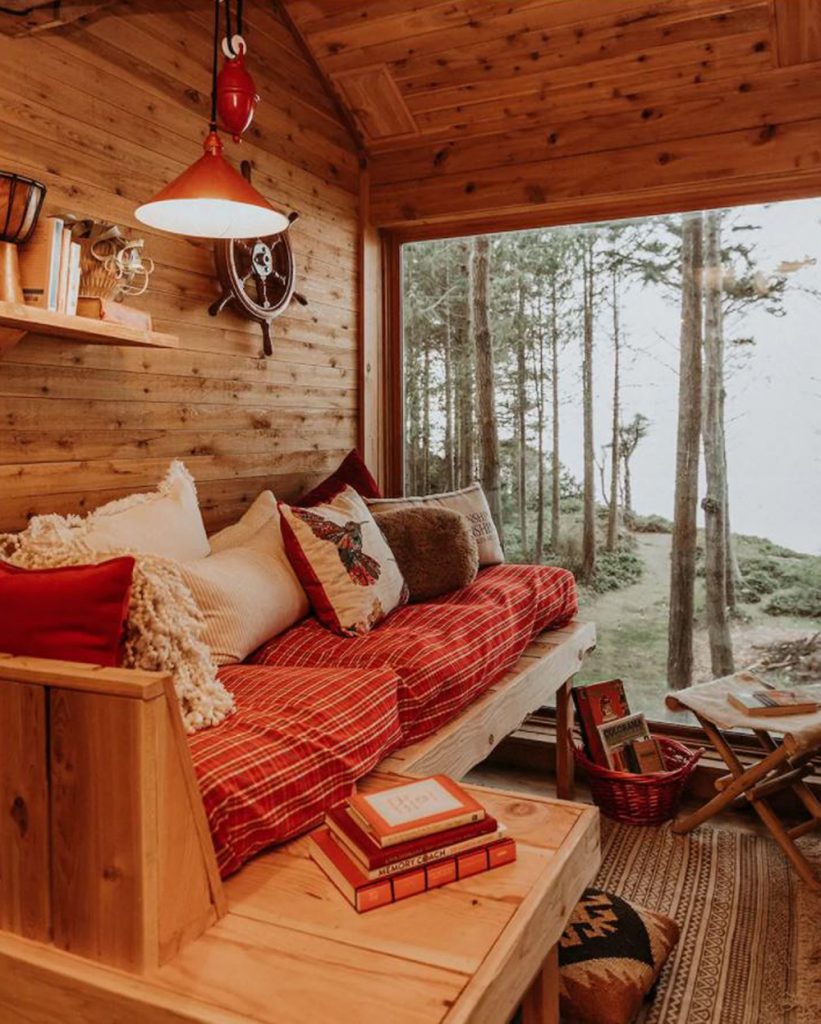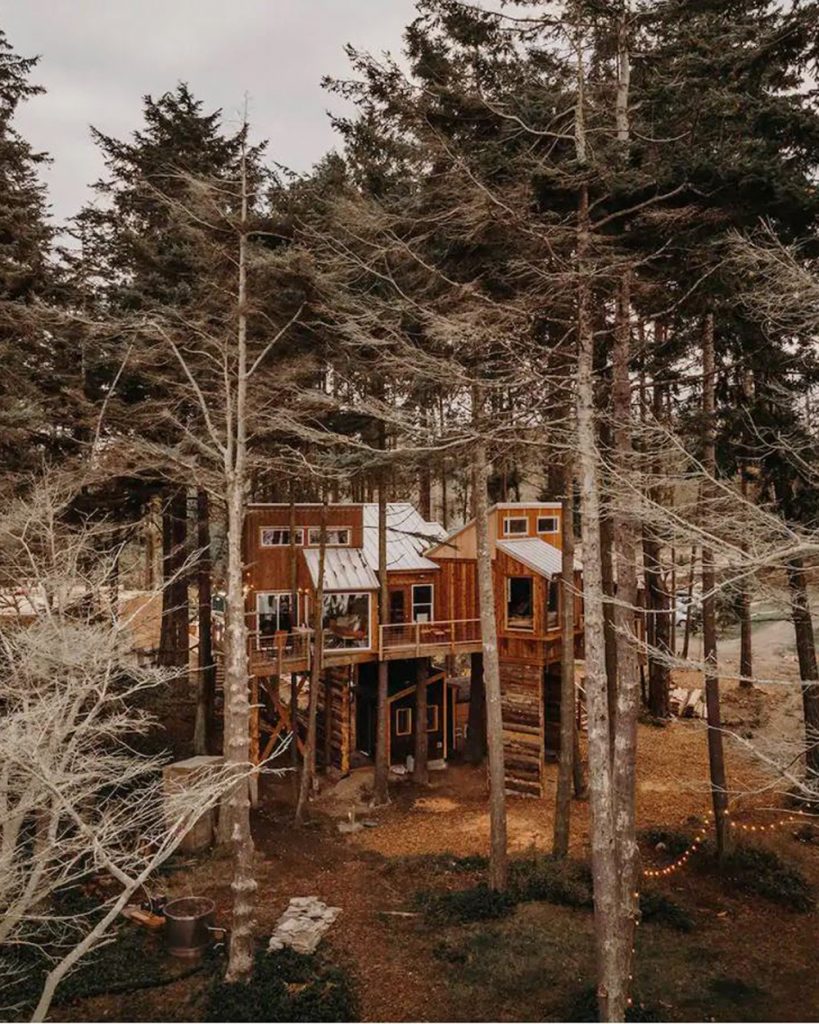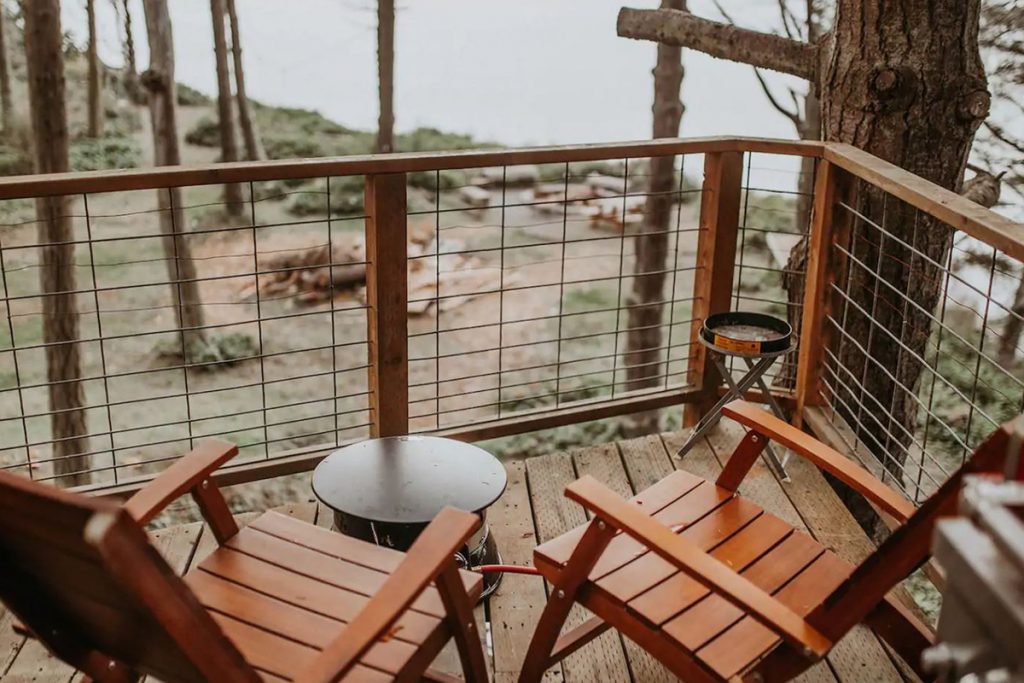 Whilst not technically a tree house, Ole' Treehouse Mill is located on the same property as Treehouse Place and is situated in a beautiful forest setting. Guests can enjoy a luxury bedside soaking tub, soaring ceilings, a kitchenette, and a cozy upstairs loft. One of the coolest things about this restored mill house is that the waterwheel still works and adds a beautiful serenity to the property.
Location: Snohomish
Sleeps: 3 guests
Pet friendly: no
Hot tub: no
Price: $200 / night
Read next: 12 Best National Parks To Visit In The Fall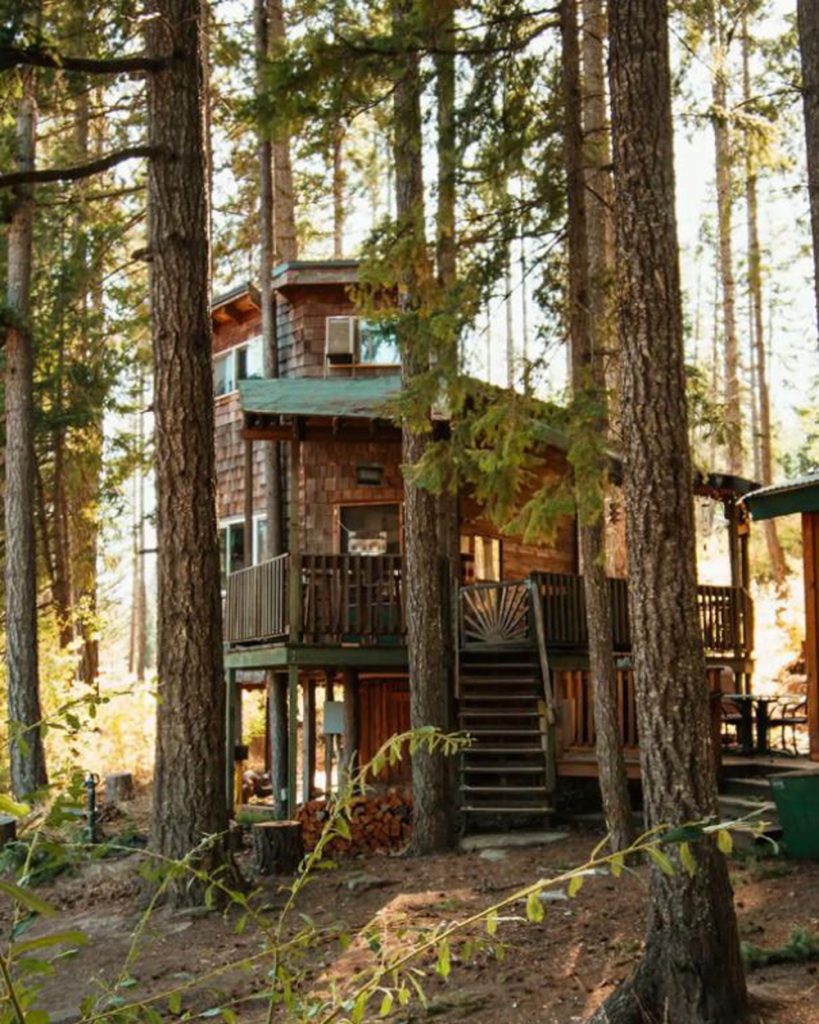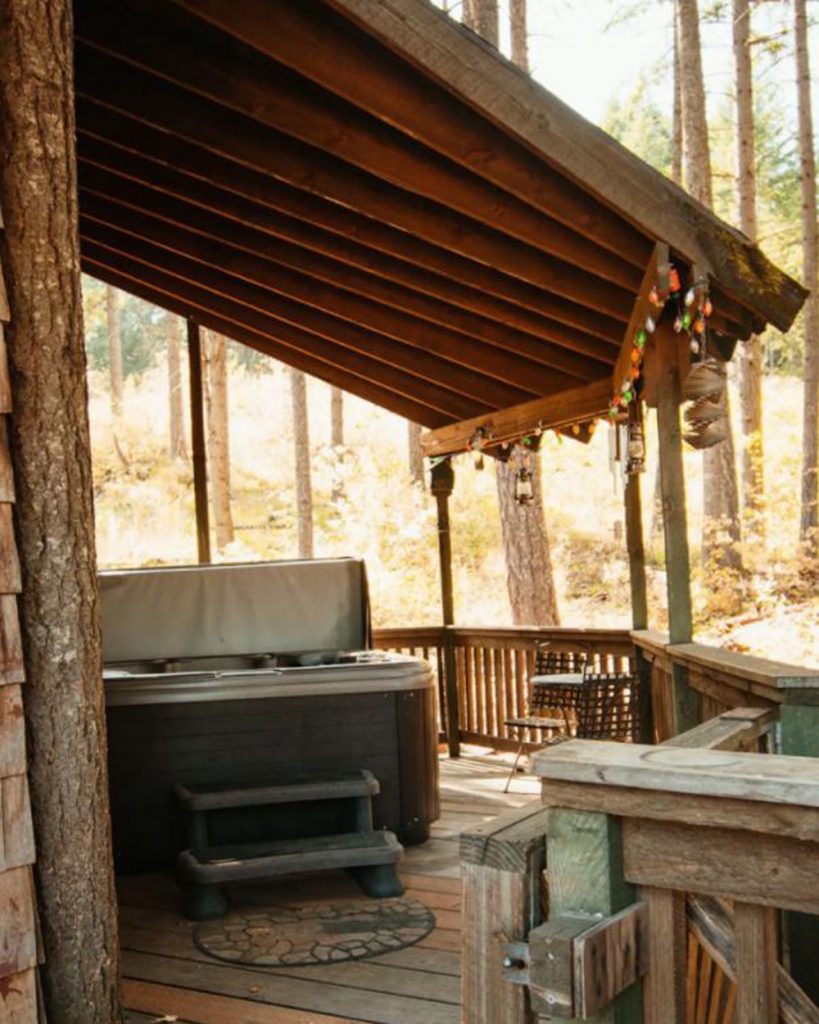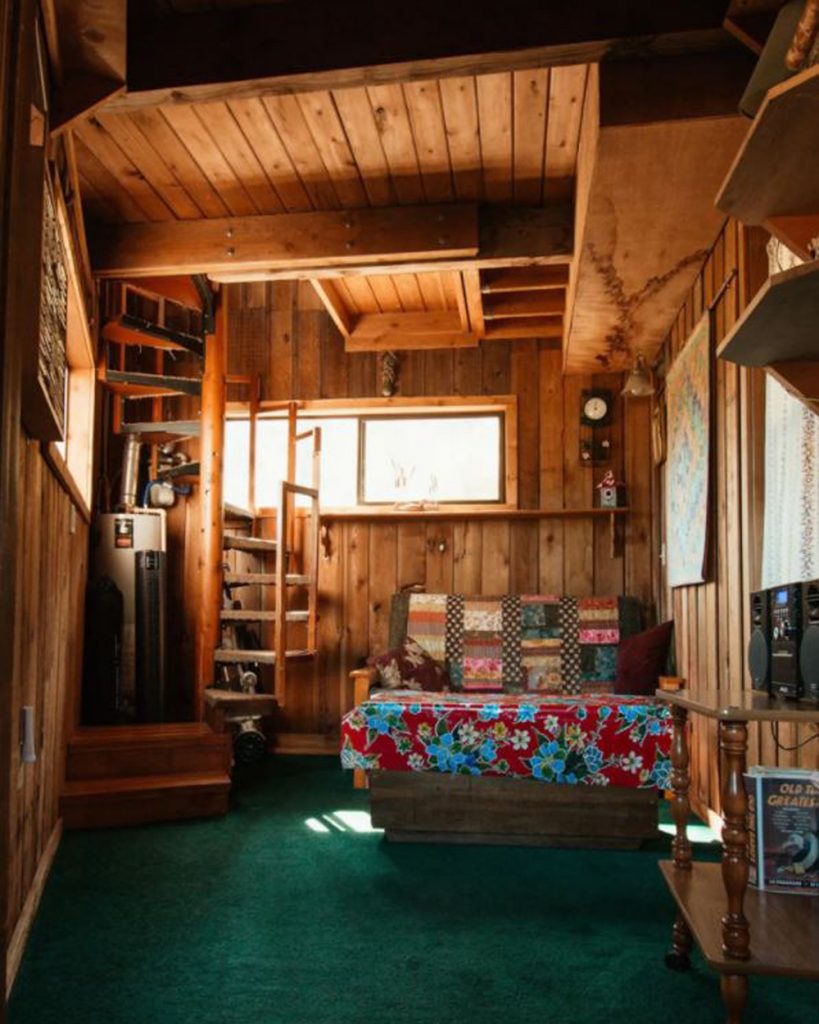 Lothlorien Woods Treehouse
Relax in the hot tub, and let the sun, the moon, and the stars wink at you when you stay at the Lothlorien Woods Treehouse. Nestled at the foot of snow-capped Mt. Adams, this Pacific Northwest treehouse is a charming, one-of-a-kind accommodation. The best part? You can bring your furry best friend while staying here! I can't think of a more romantic getaway than one nestled in these woods!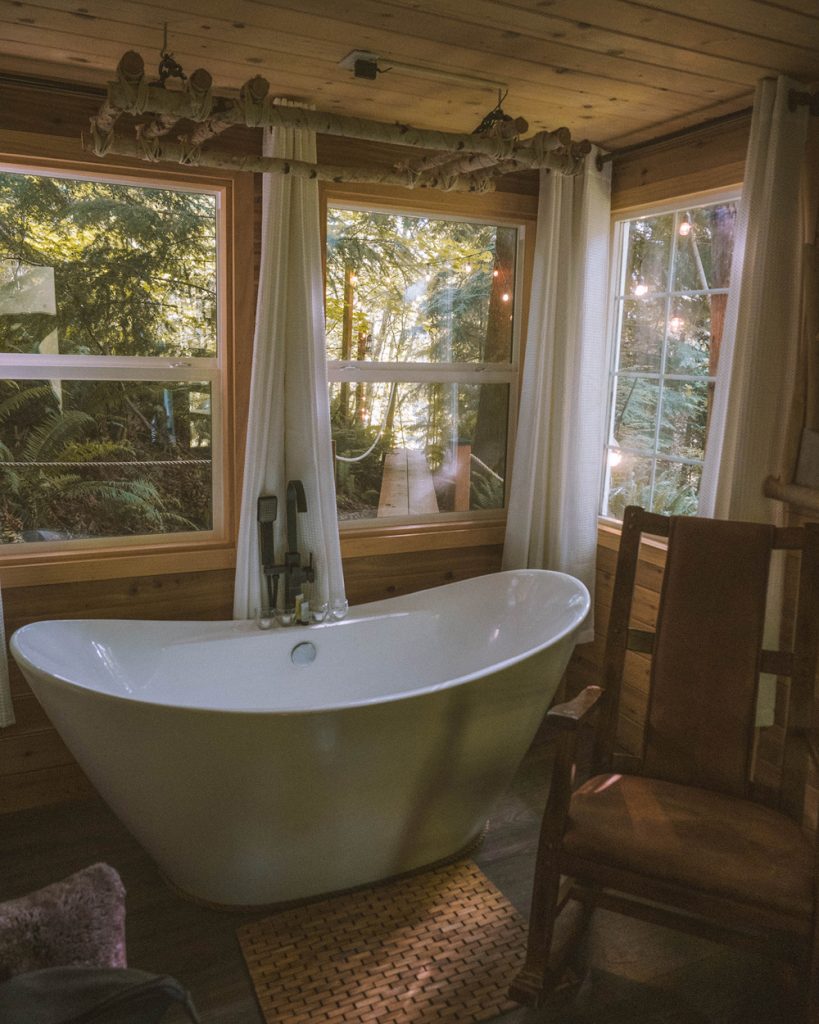 Treehouse Place At Deer Ridge
Not only is Treehouse Place at Deer Ridge incredibly dreamy looking… it also boasts a luxury soaking tub right by a fireplace and TV installed with Netflix! Picture yourself taking a luxurious bath surrounded by pine trees, flickering candles, and a cozy fireplace while binge-watching the latest season of your favorite show… perfection! This Pacific Northwest treehouse is also located relatively close to Seattle, so it's a great option for those not wanting to venture too far out from the city!
Location: Snohomish
Sleeps: 3 guests
Pet friendly: no
Hot tub: no
Price: $314 / night
Read next: 11 Incredible Beginner Friendly Hikes In Washington State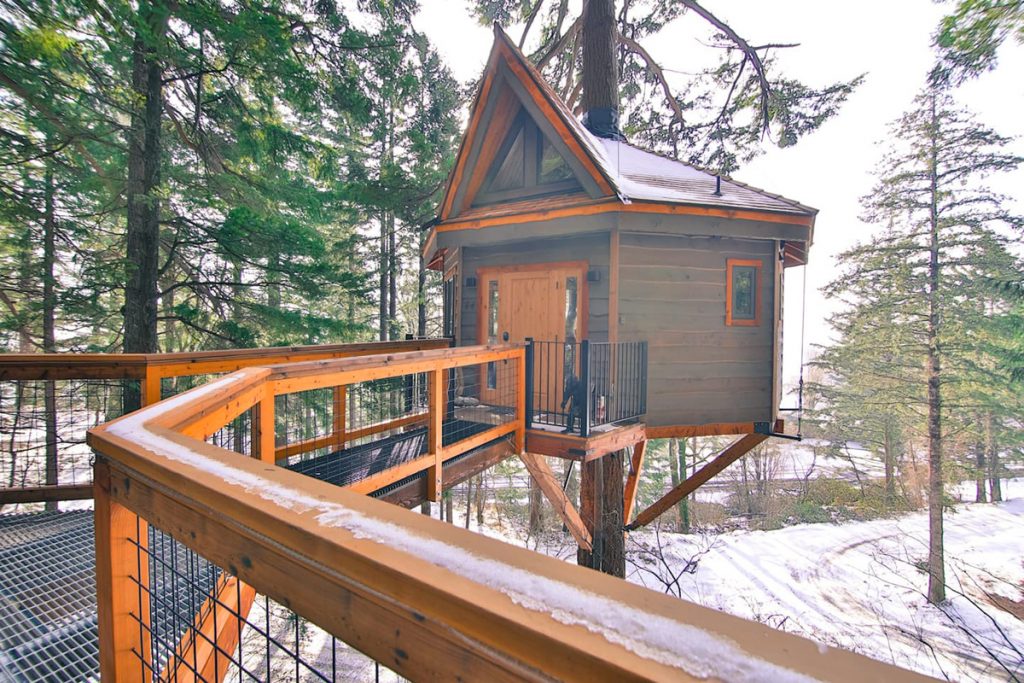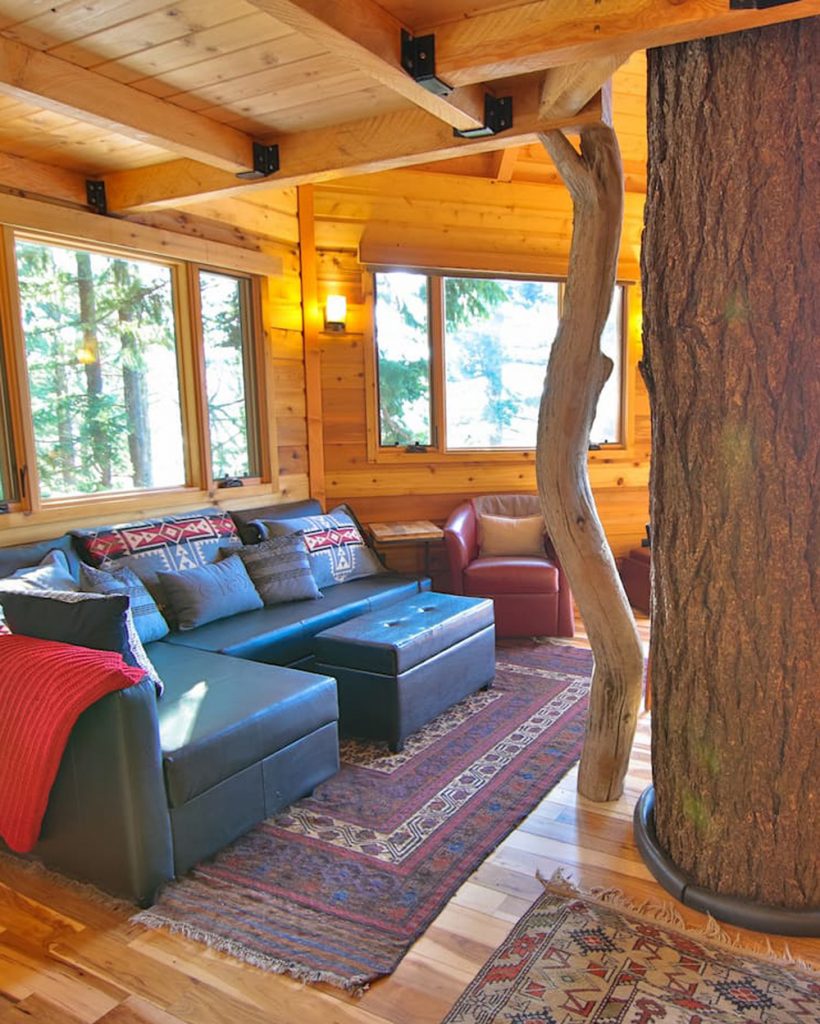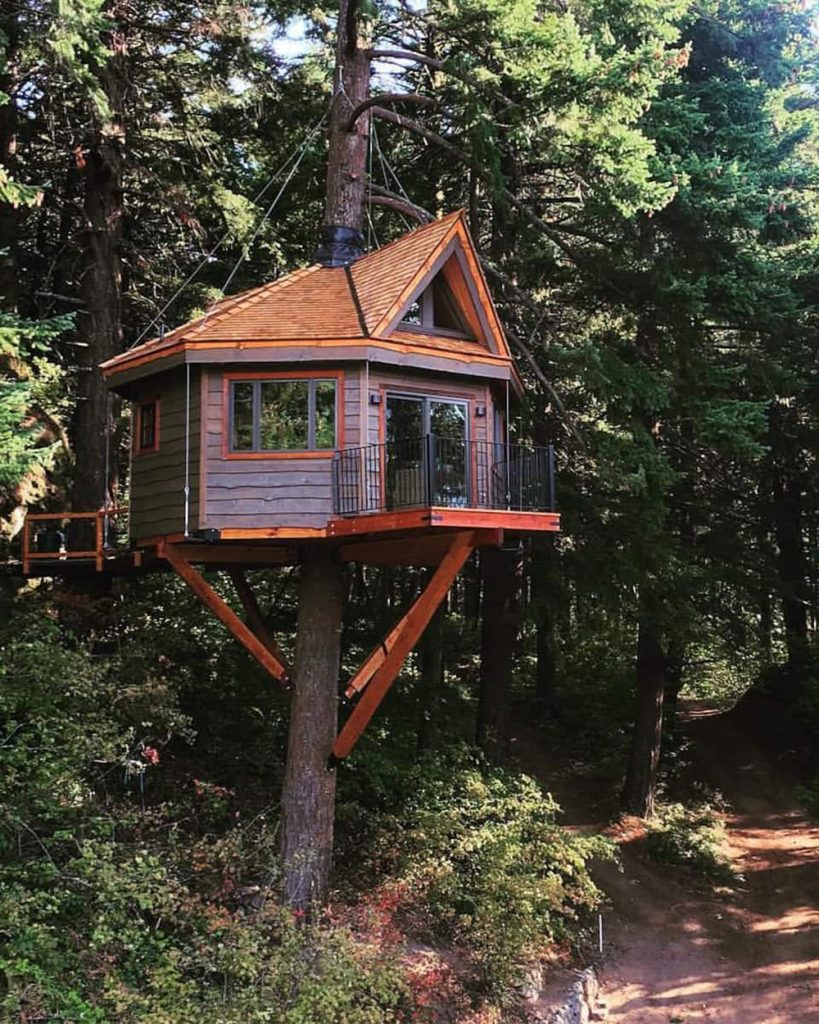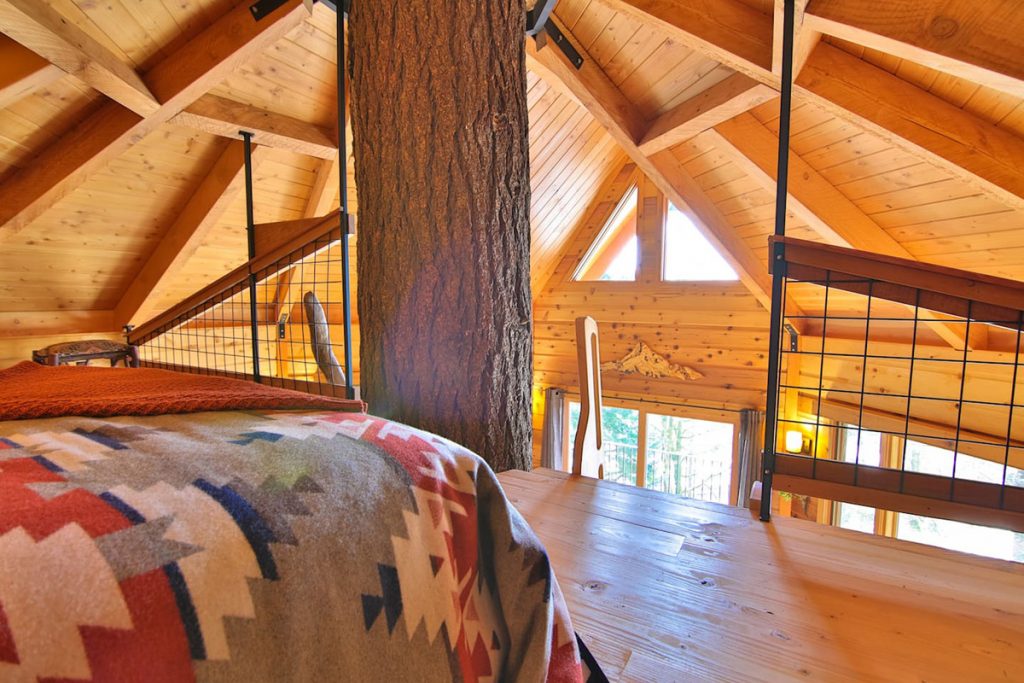 Adventure seekers and Pacific Northwest treehouses go together like peanut butter and jelly, and this next treehouse is as classic as they come. The Osprey Treehouse is named after the Osprey birds that are commonly seen in the area. This gravity-defying treehouse lies in 30 acres of secluded on gorgeous waterfront property. Make sure to take some time each morning on the small balcony to enjoy the feeling of being high up in the trees!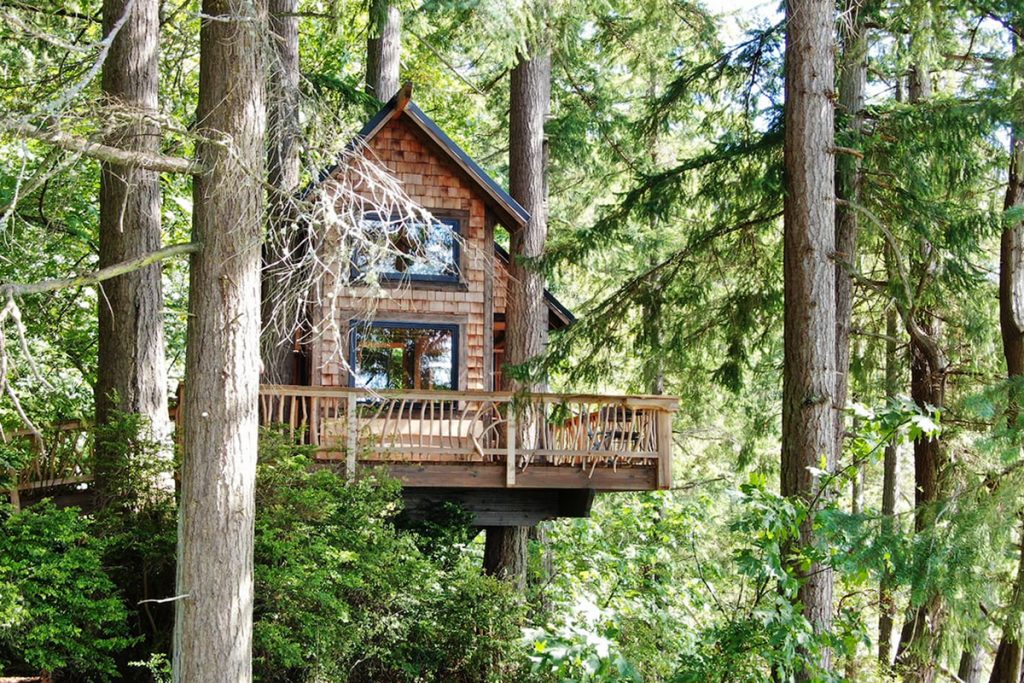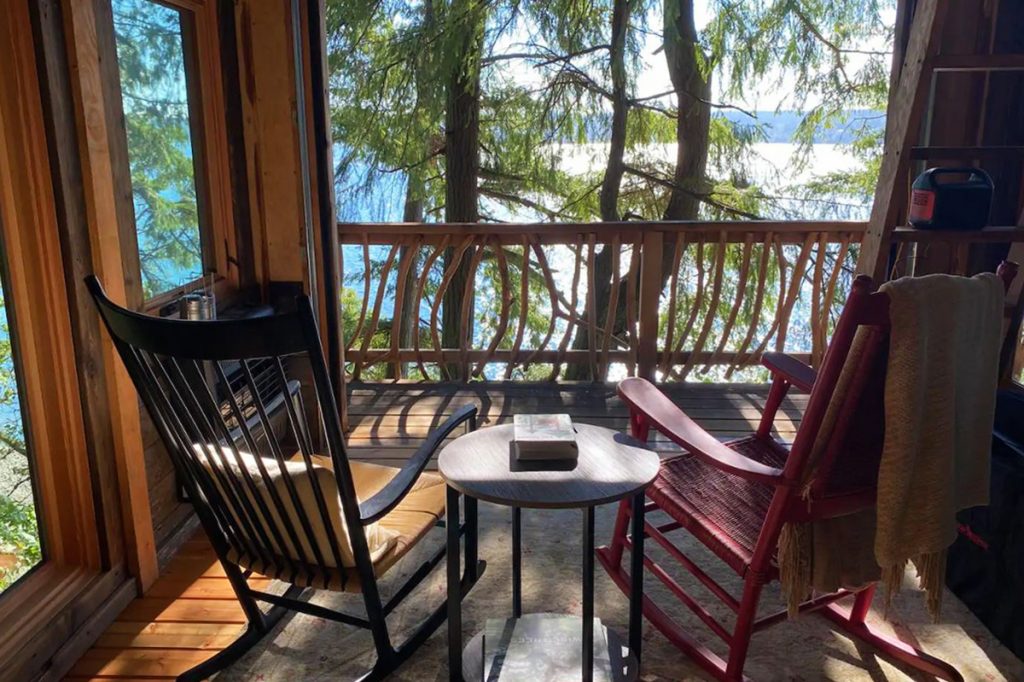 What could be better than experiencing total remoteness and seclusion in a Pacific Northwest treehouse? If you're searching for some much-needed greenery, cool-forest, soul-rejuvenating therapy, where you can fall asleep to the waves caressing the moonlit shoreline and wake to the birds singing in the trees, Eagles' Bluff Tree-house is your ticket! There is even a swing and hammock on the property you can relax in while enjoying your time off the grid.
Location: Vashon, Washington
Sleeps: 2 guests
Pet friendly: no
Hot tub: no
Price: $375 / night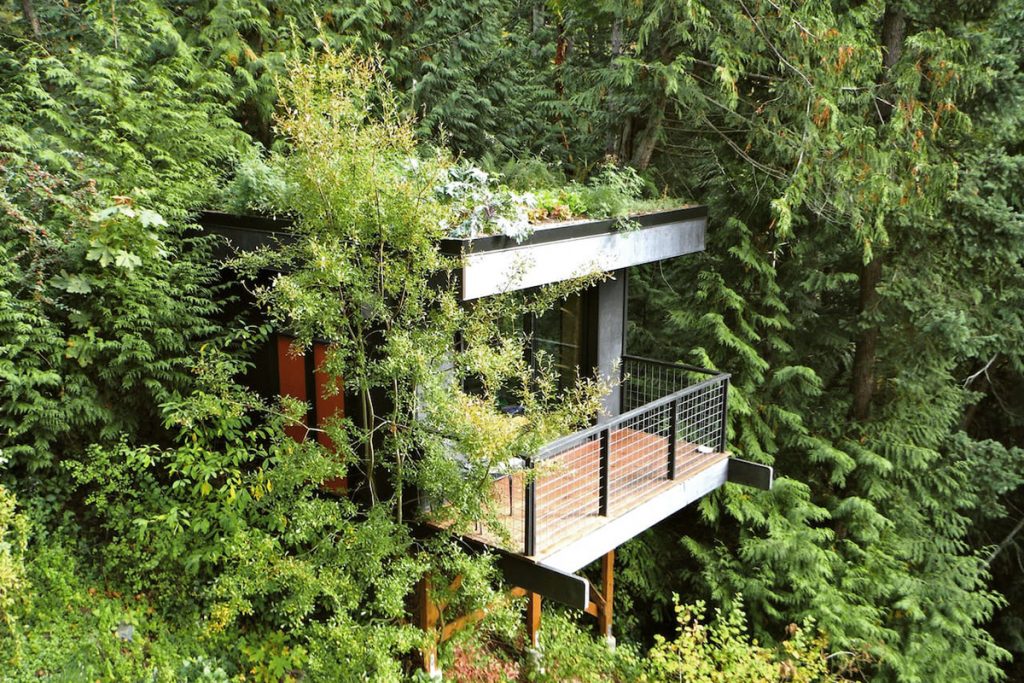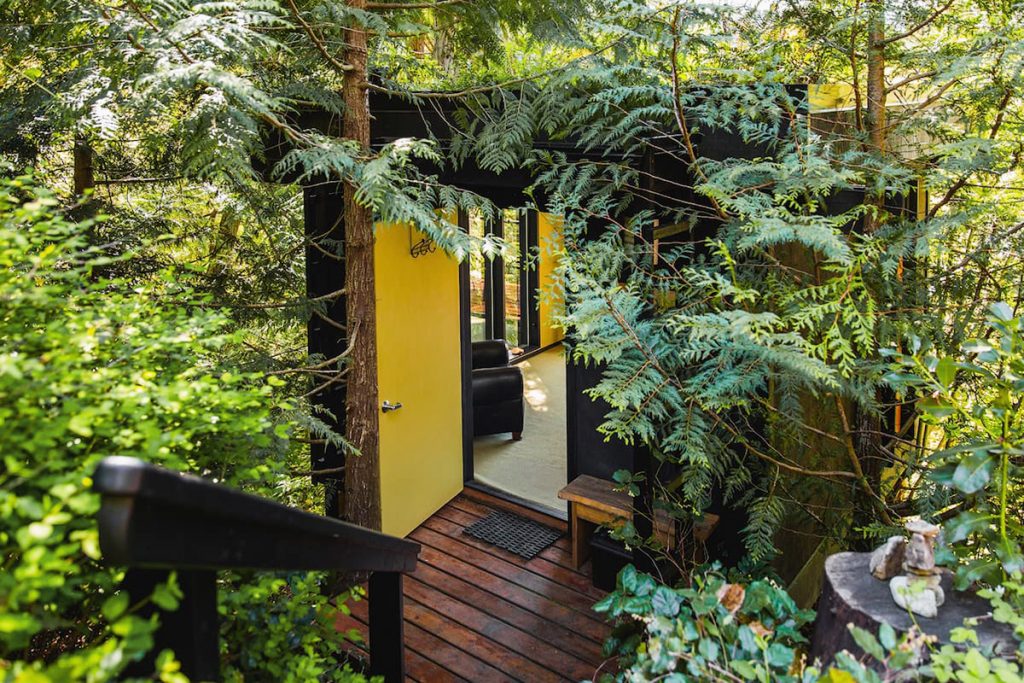 Another one of the magical treehouses you can rent in the Pacific Northwest is Pleasant Bay Lookout. This tucked-away oasis of peace and beauty is nestled in the lush forest overlooking the Salish Sea, just south of Bellingham. Although it's on the smaller side, it has access to more facilities in the adjoining main house (including an outdoor hot tub). It's common for visitors to arrive and cast off plans they may have, making it the perfect option for nature lovers who want simple accommodations in a beautiful outdoor setting.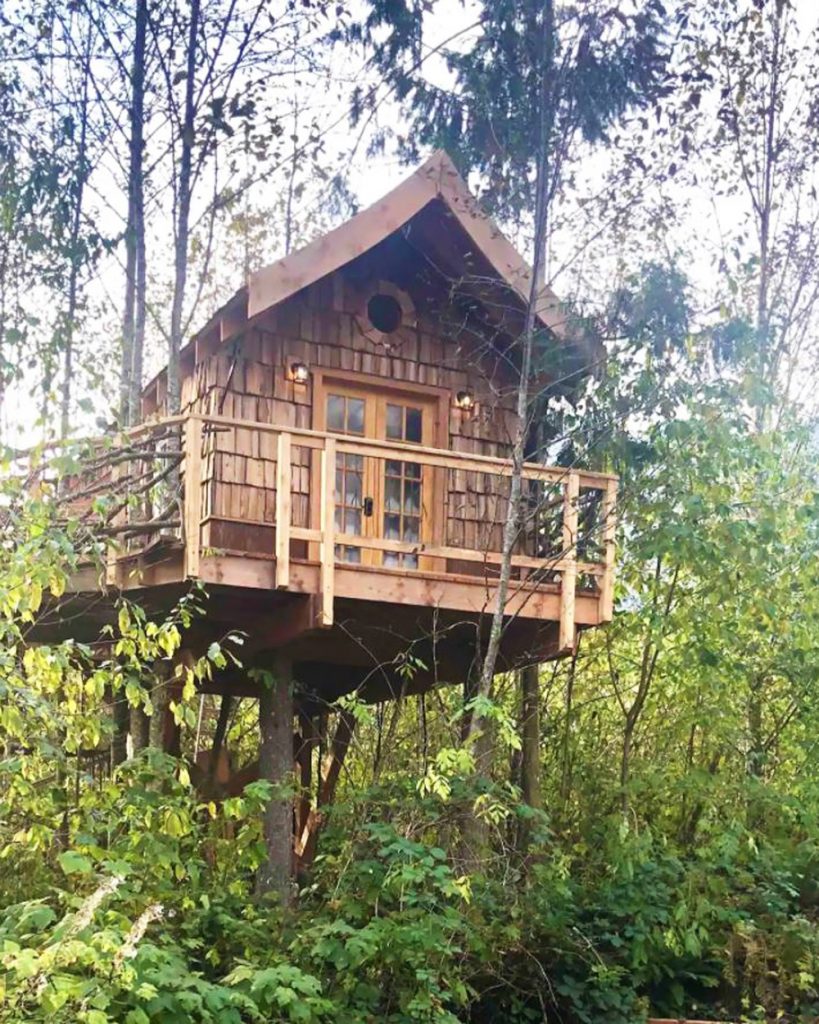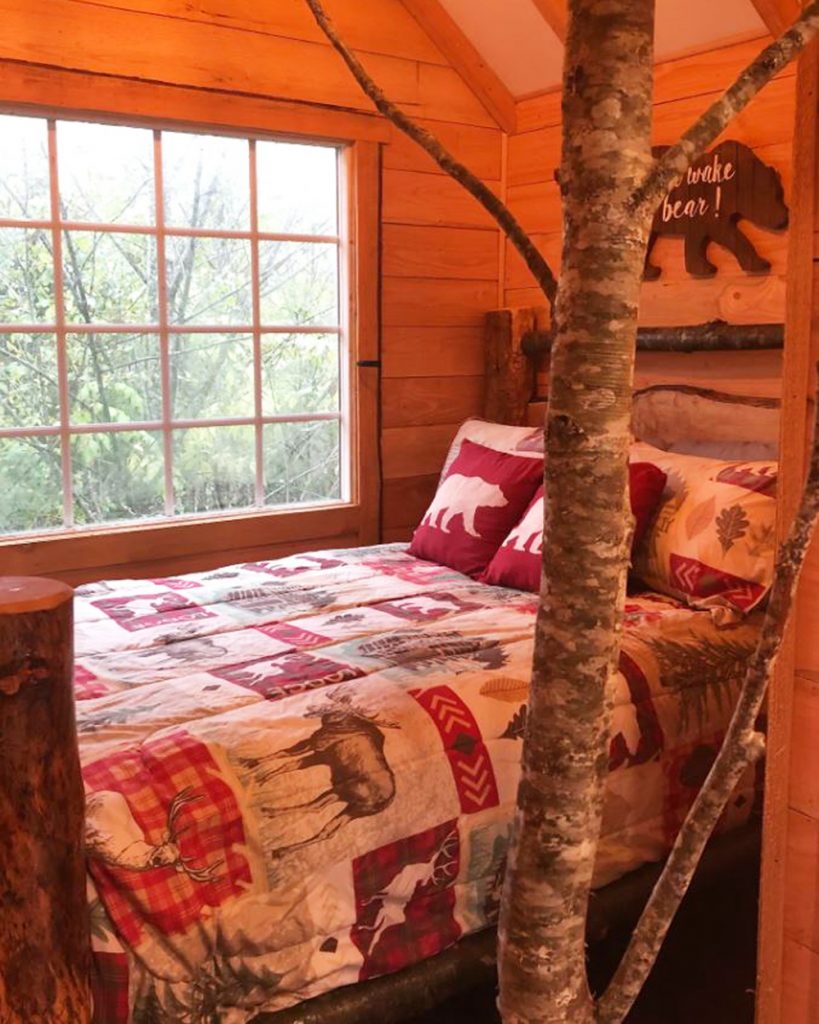 This next Pacific Northwest Treehouse is an excellent choice for your family vacation or a romantic getaway for two! The Pond Perch Treehouse sits 17 feet above the pond's edge, nestled in the trees. There you will be able to enjoy listening to the pond's waterfall while enjoying a complimentary breakfast! This treehouse was made out of hand-milled lumber right on the property, so it is as authentic as they come.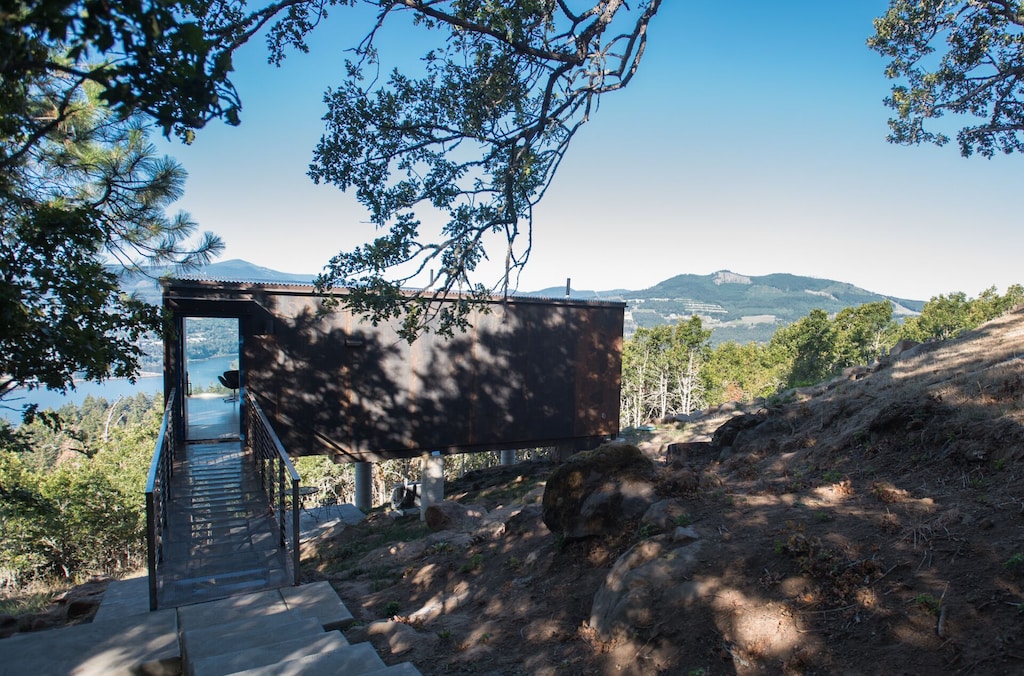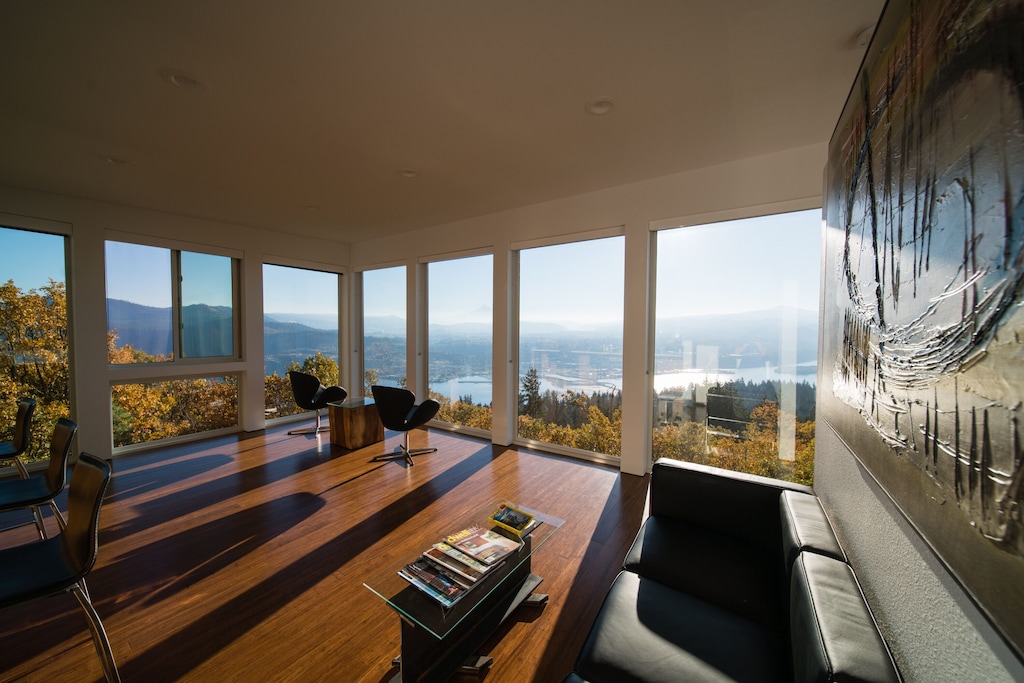 If you're looking for a beautiful and unique treehouse with breathtaking views of the mountains and valleys, this may be the perfect getaway for you! It could be argued that this technically isn't a treehouse but the owners designed it as a luxury treehouse style with the focus on the view. Entire walls of glass give unbeaten views from the state of the art kitchen and huge windows in the bedroom offer the same views. It is truly a work of art. Staying in a house like this has to be a bucket list item on everybody's list, and the Our View Treehouse certainly over-delivers!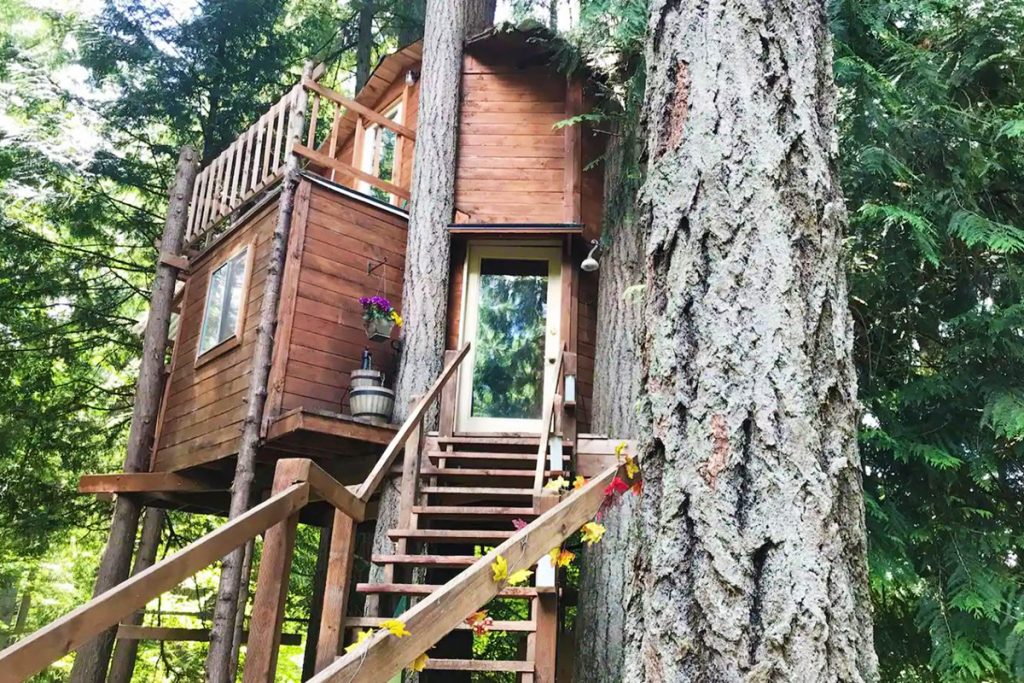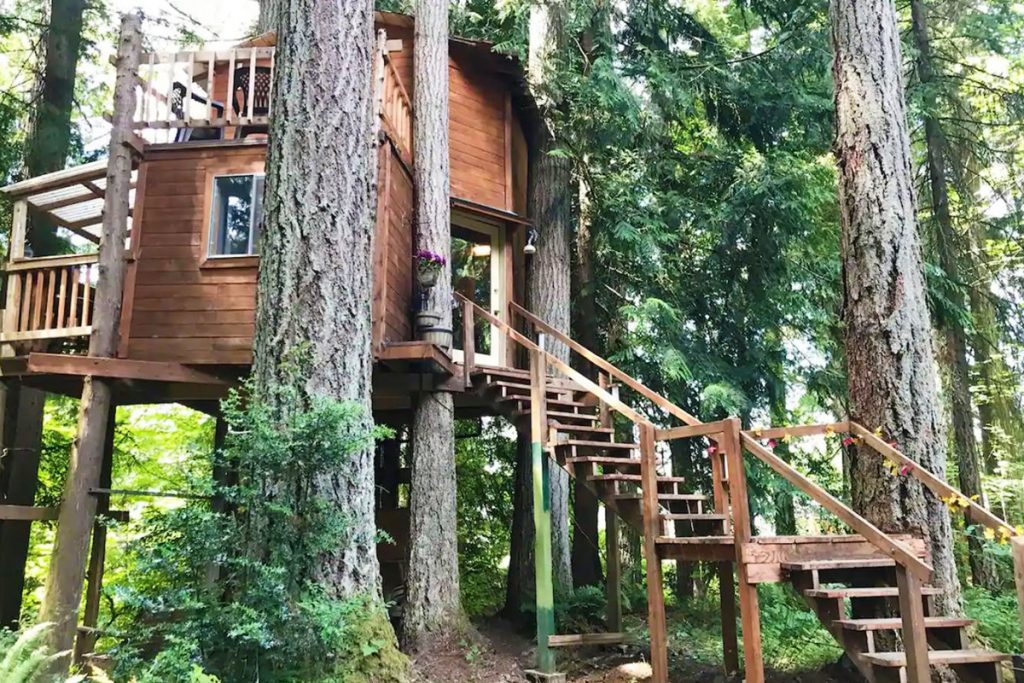 If you are trying to escape the hustle and bustle of your everyday life, AirbnbTree at Adams Cove has plenty of space to stretch out, relax, and recharge. This two-story treehouse is nestled amongst enormous Douglas fir trees and was built out of lumber from a nearby sawmill. It features two balconies with breathtaking views that you'll want to check out at night to hear the great horned owls hooting each evening.
Read next: 9 Best National Parks To Visit In Spring
Best Oregon Treehouse Rentals
Oregon is best known for its stunning coastline and eco-friendly energy sources, making it a wonderful vacation spot or road trip destination. Whether you're a seasoned adventurer or just looking to get away, booking one of these treehouses is an excellent way to make your accommodation just as memorable as your daily adventures.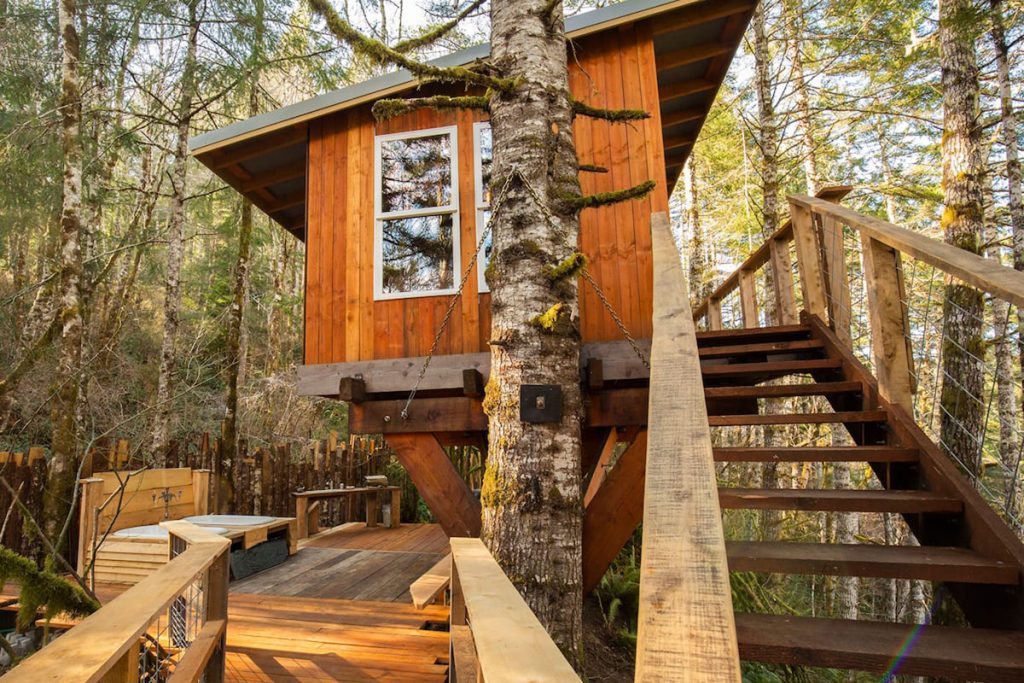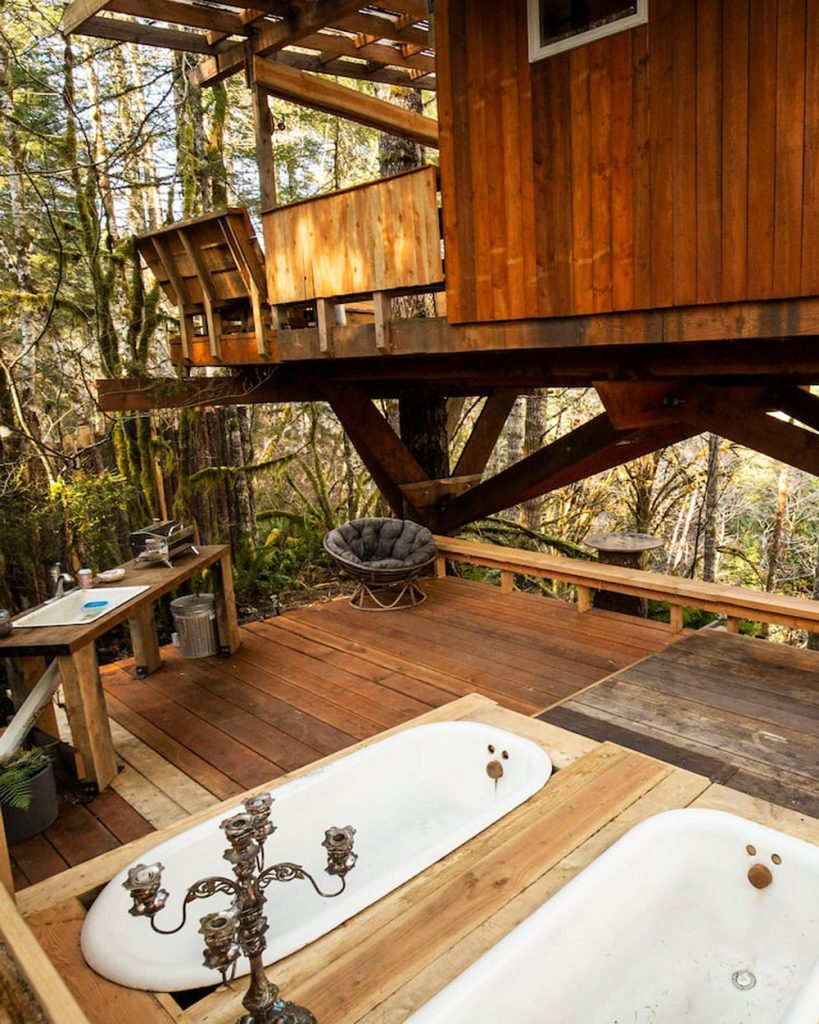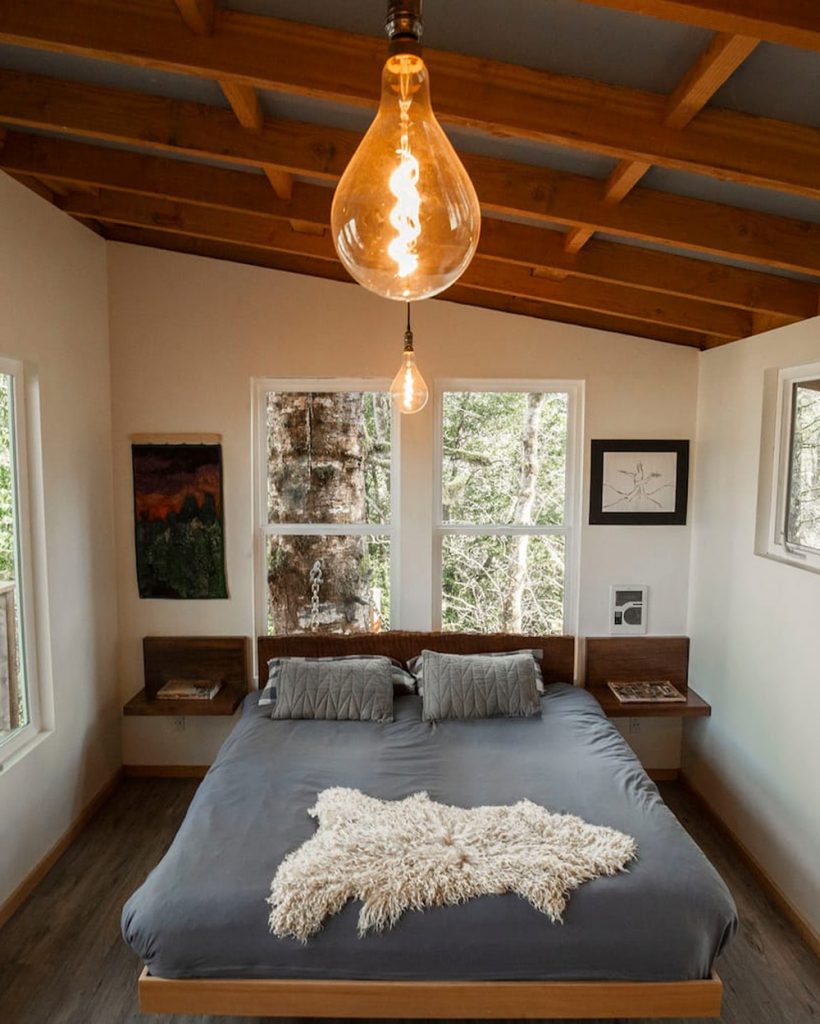 Heartland Treehouse is sure to capture your heart whether you stay for a night or a week! This stunning treehouse is perched between two giant fir trees overlooking a gorgeous river canyon, and it is very close to a waterfall. The natural materials of this charming treehouse add warmth, beauty, and texture to everyday life. I highly recommend soaking in the outdoor bath while staying here!
Location: Langlois, Oregon
Sleeps: 2 guests
Pet friendly: no
Hot tub: outdoor bath
Price: $153 / night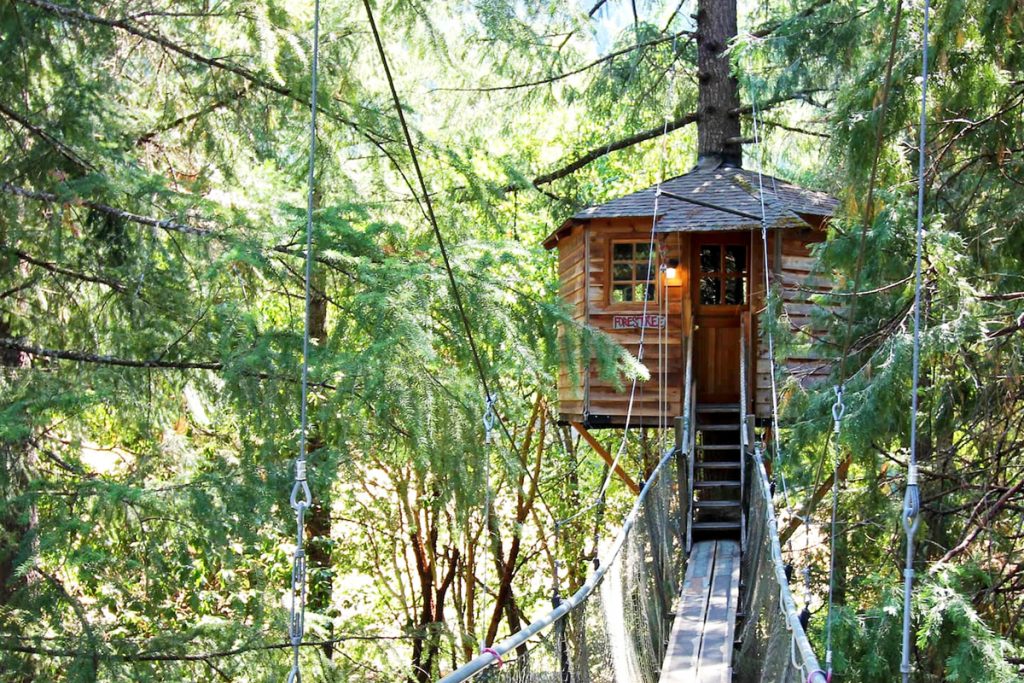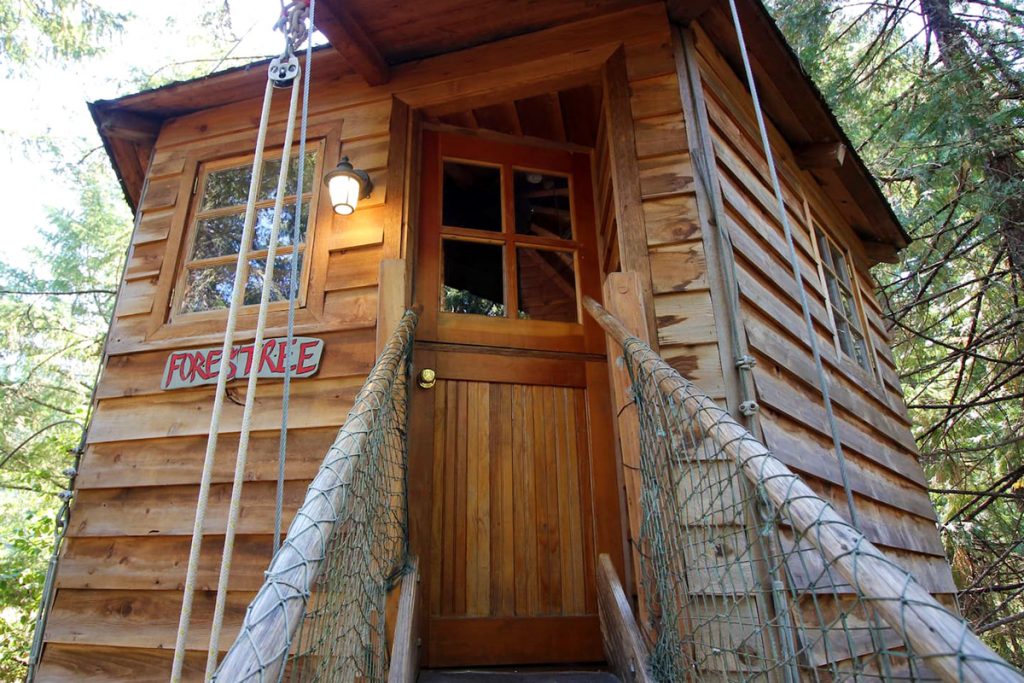 There may be more treehouses you can rent in the Pacific Northwest than you initially thought, but few are as exhilarating as this next one! This large treehouse sits a jaw-dropping 32-feet above the ground, giving you some pretty epic views to wake up to every day! Make sure to contact the hosts ahead of time if you're interested in booking any on-site activities like ziplining, horseback riding, or arts and crafts. The Forestree Treehouse is the perfect home base for your next group outdoor activity-filled adventure.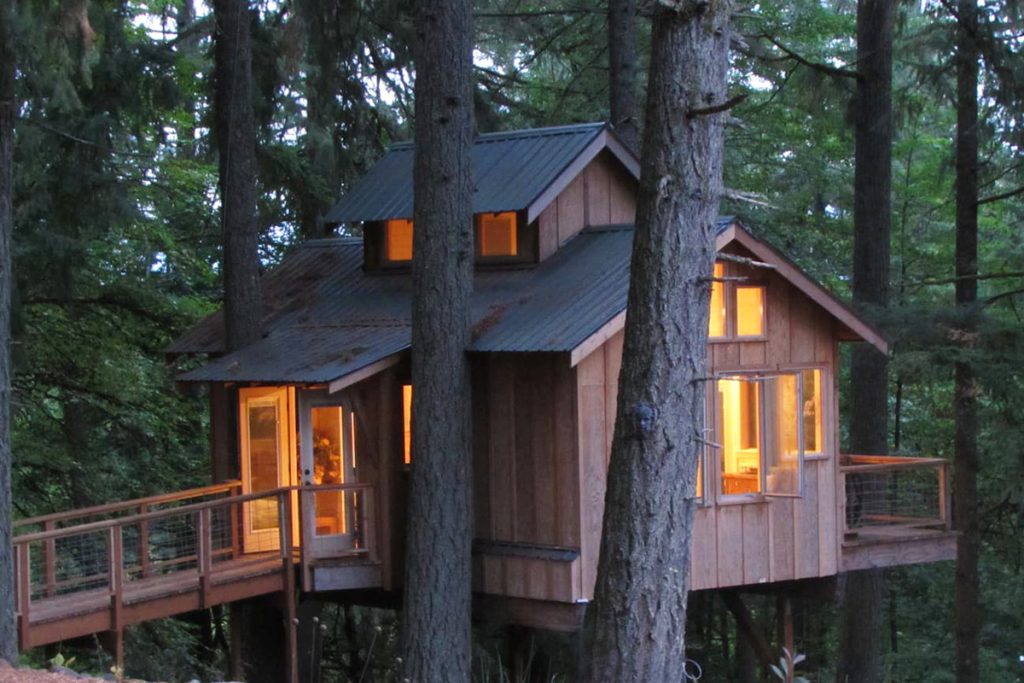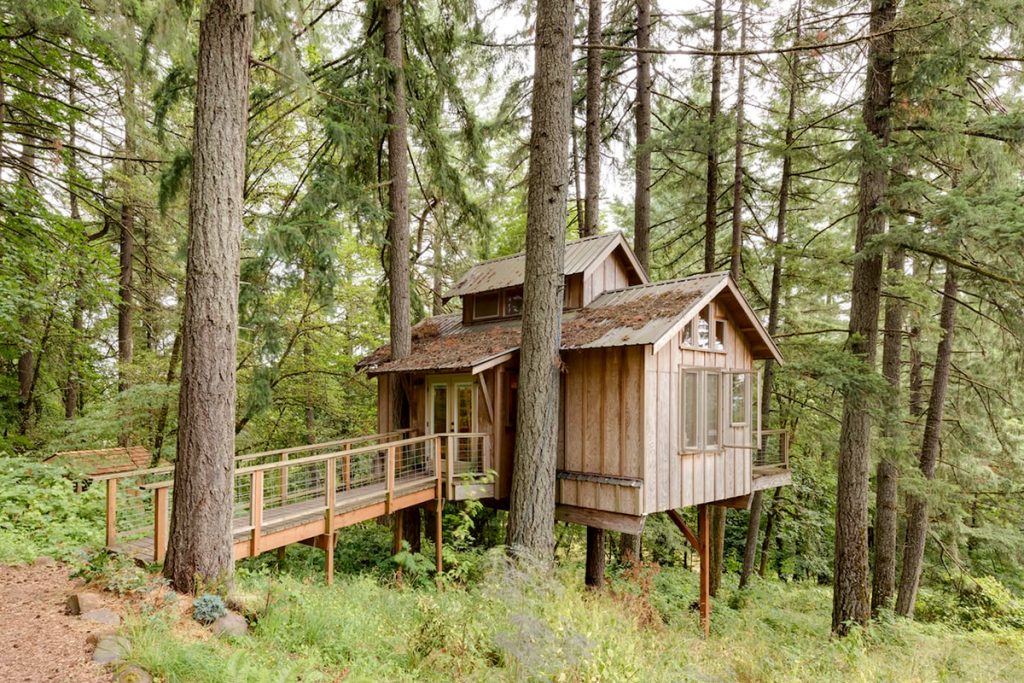 This next Pacific Northwest treehouse was built by the treehouse mastermind himself, Pete Nelson from Animal Planet! Look familiar? You may have seen Deer Haven Treehouse in magazines and books where it has been featured for its charming beauty and beautiful design. The details on the outside of this treehouse gem are just as beautiful as the details on the inside. Be sure to let loose after a long day of adventures and take a swing on the rope swing!
Location: Newberg, Oregon
Sleeps: 5 guests
Pet friendly: no
Hot tub: no
Price: $220 / night
Read next: Ultimate 7 Day Oregon Road Trip Itinerary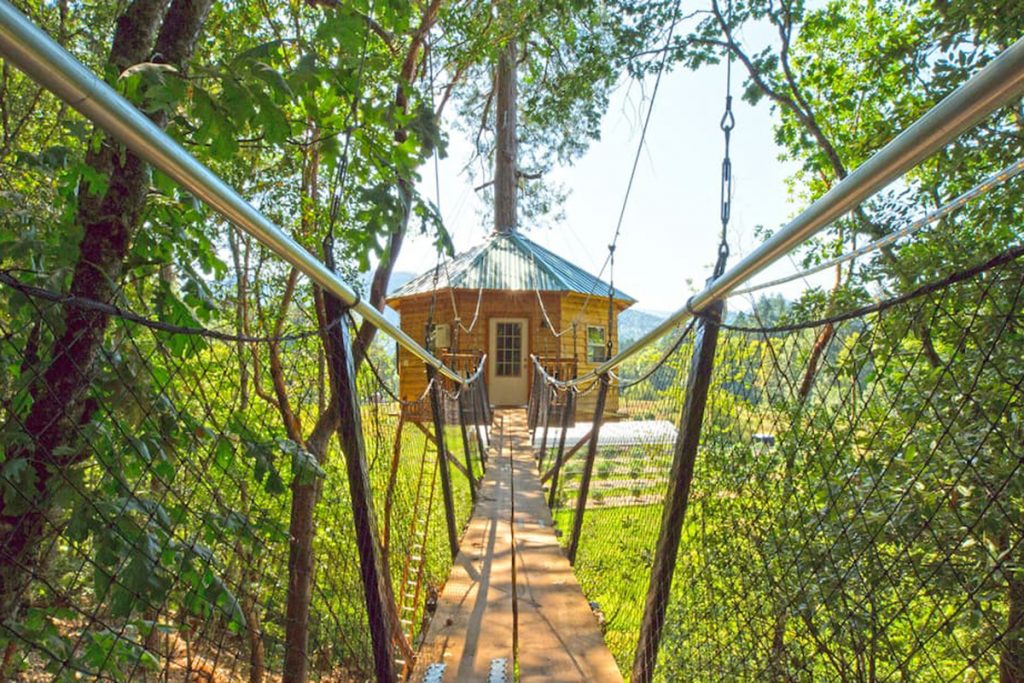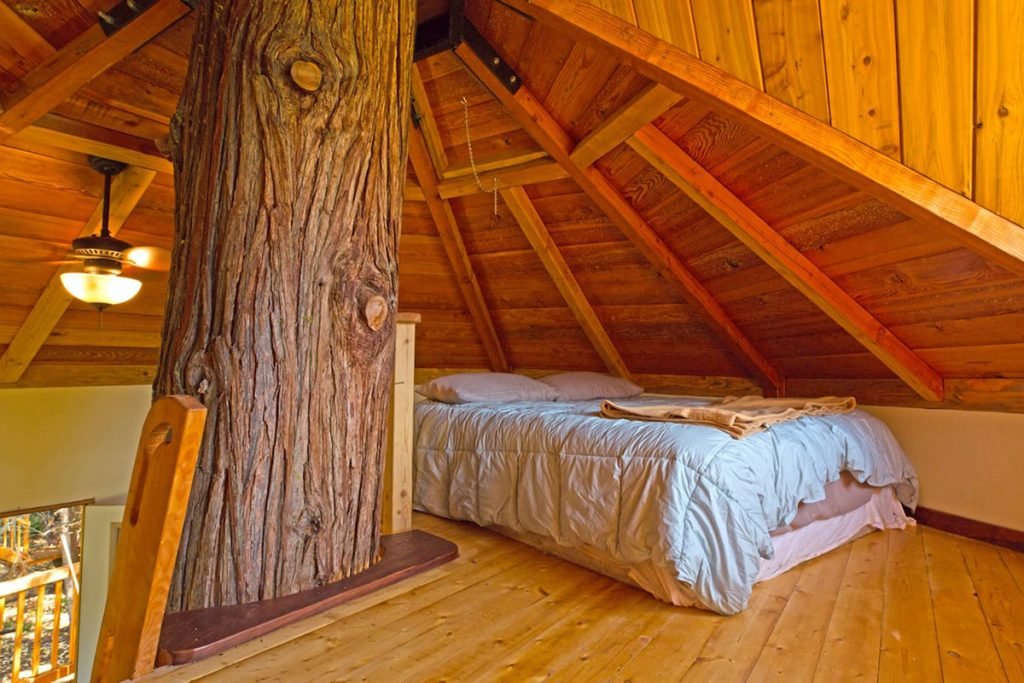 If you're looking for unique treehouses to rent in the Pacific Northwest, this next one comes with an interesting surprise. Sorry kids! You'll have to stay home for this one! To visit the TokinTree Treehouse, all guests must be at least 21 years of age or older. This Airbnb is a new cannabis-friendly treehouse that sits on a working cannabis farm, and puts an all-new meaning on getting "high". As an added bonus, guests receive complimentary cannabis and a garden tour during their stay.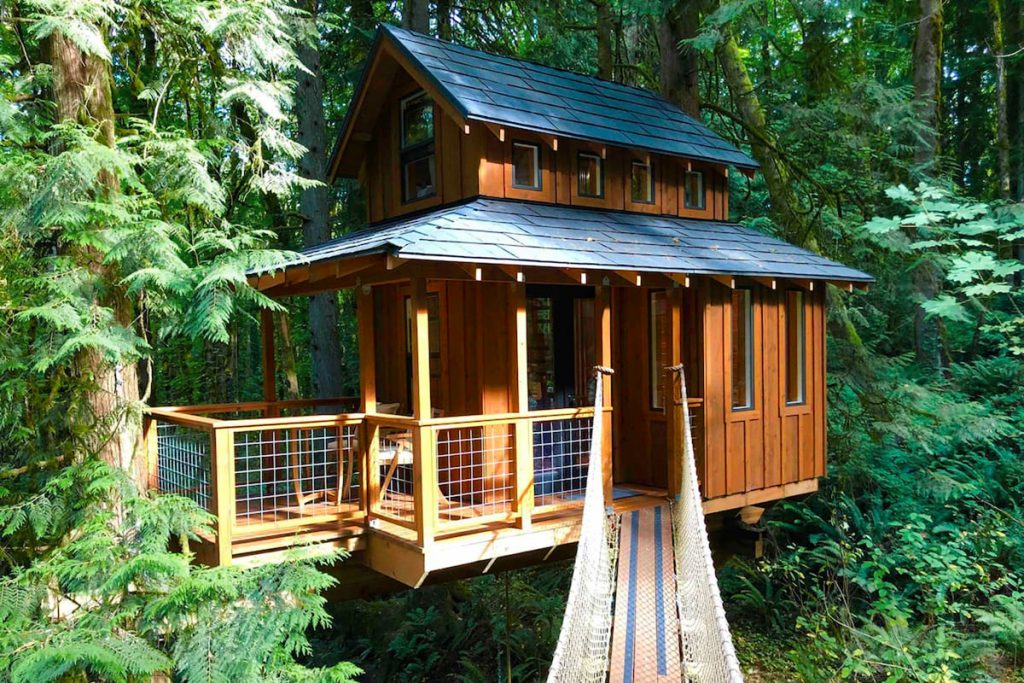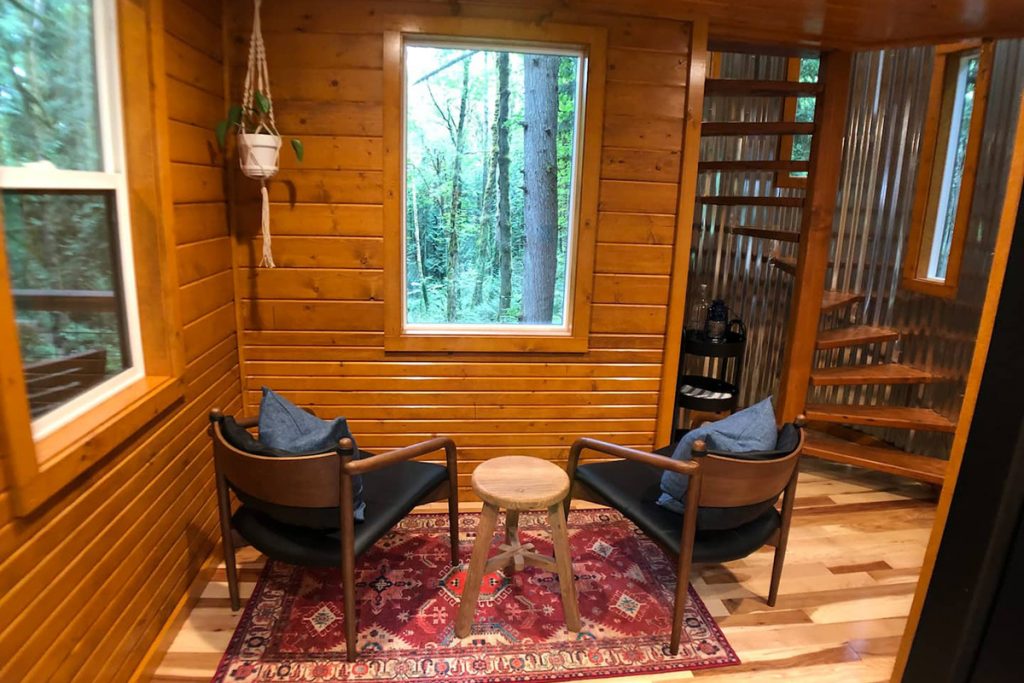 Pacific Northwest treehouses are such a fantastic accommodation space for the perfect romantic weekend or a relaxing solo trip. This Portland Treehouse is a great option if you're looking for a comfortable private room among the beautiful cedar, fir, and maple trees of Marshall Park. The best part? You can escape the busy environment of the city without leaving the city. They even have a 50 amp electric car charger with a Tesla plug available on request!
Location: Portland, Oregon
Sleeps: 2 guests
Pet friendly: no
Hot tub: no
Price: $225 / night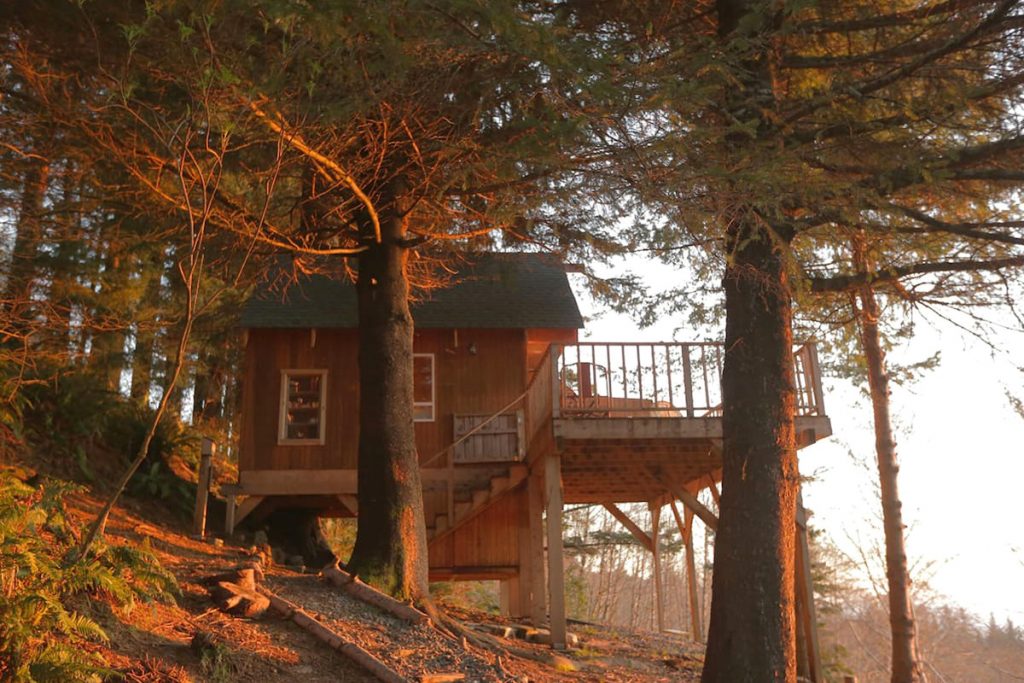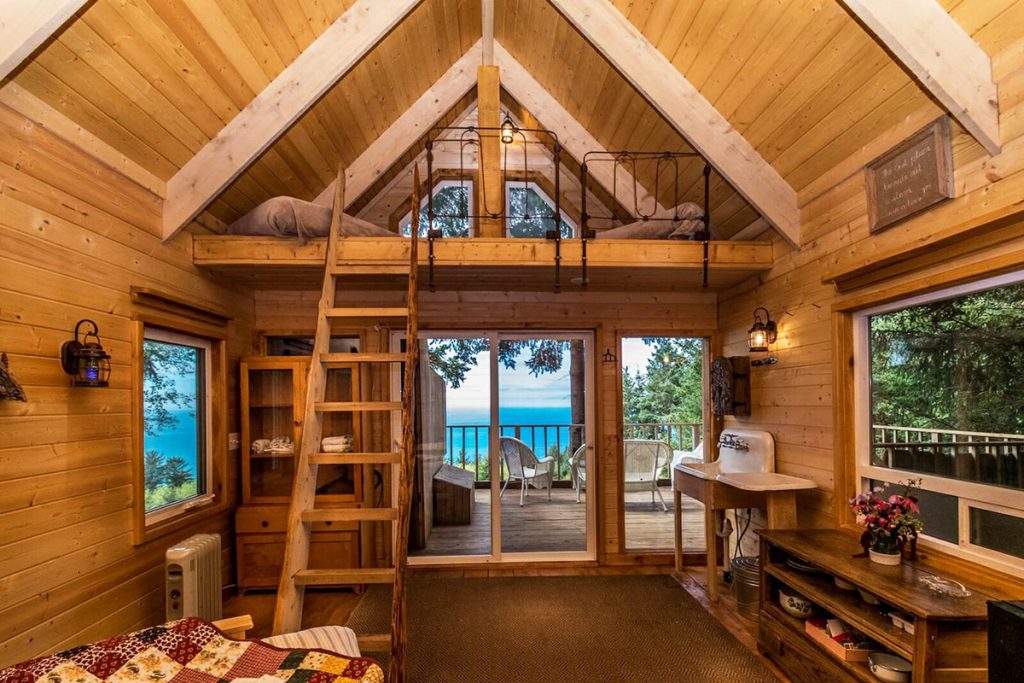 When it comes to treehouses you can rent in the Pacific Northwest, there are only a few that make you feel as if you've stepped out of reality and into the pages of a fairytale. If you haven't already, you'll definitely want to add Bluebird House to your bucket list! This enchanting treehouse sits on seven acres of farm, forest, and beach! Whether you are romantic love birds or a family of adventurers, you will fall in love with watching the waves crash below against the famous Samuel Boardman Corridor. To make it an even more memorable stay, I recommend visiting the gardens that are accessible year-round!
Location: Gold Beach, Oregon
Sleeps: 4 guests
Pet friendly: no
Hot tub: no
Price: $165 / night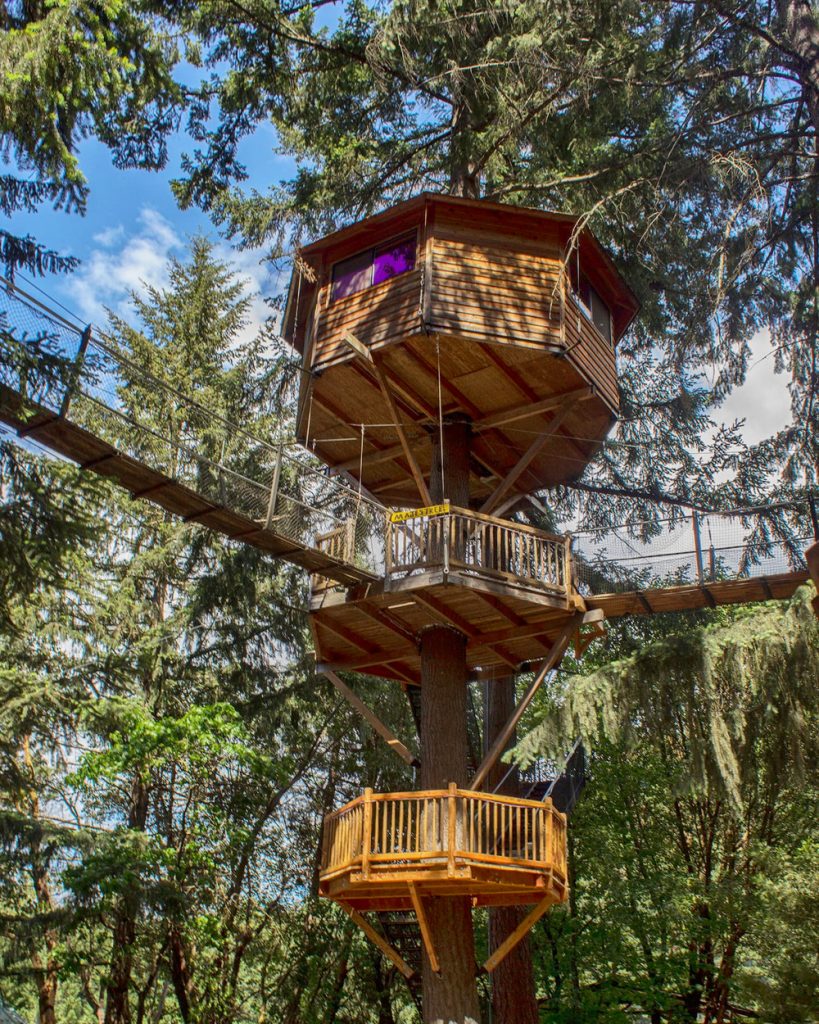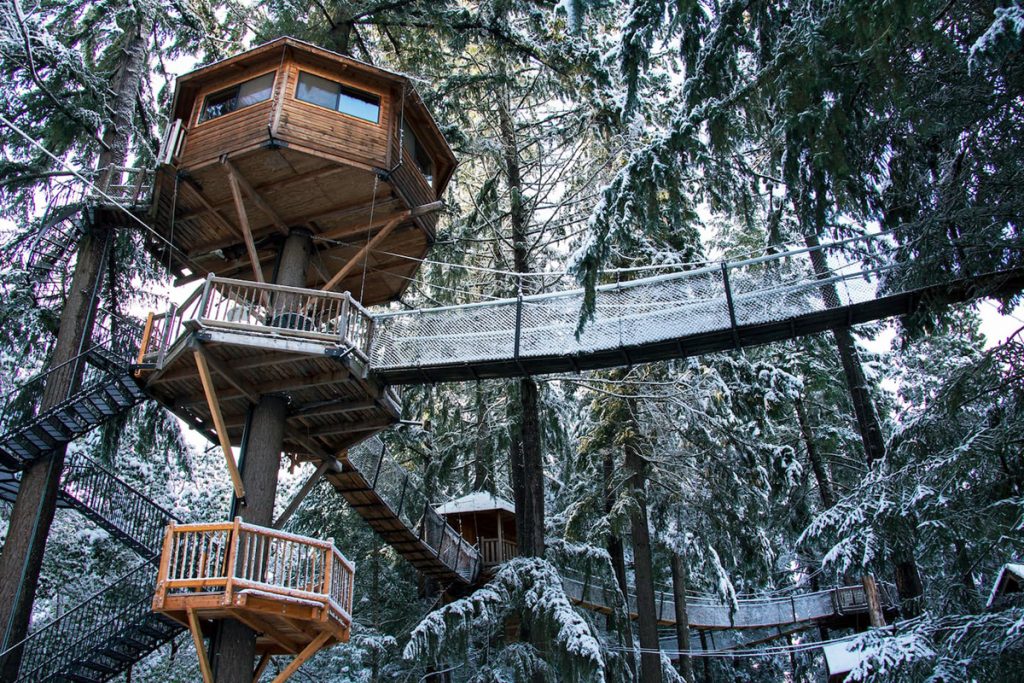 If you've fallen in love with a Pacific Northwest treehouse but were disappointed to learn it only sleeps a few guests, this next one is for you! The Majestree Treehouse comfortably sleeps six guests making it the perfect option to host your next small reunion or group getaway. You will need to walk over suspension bridges to access it, making the journey to get there just as fun as the final destination. Be sure to take advantage of all the hiking, fishing, and rafting in the area!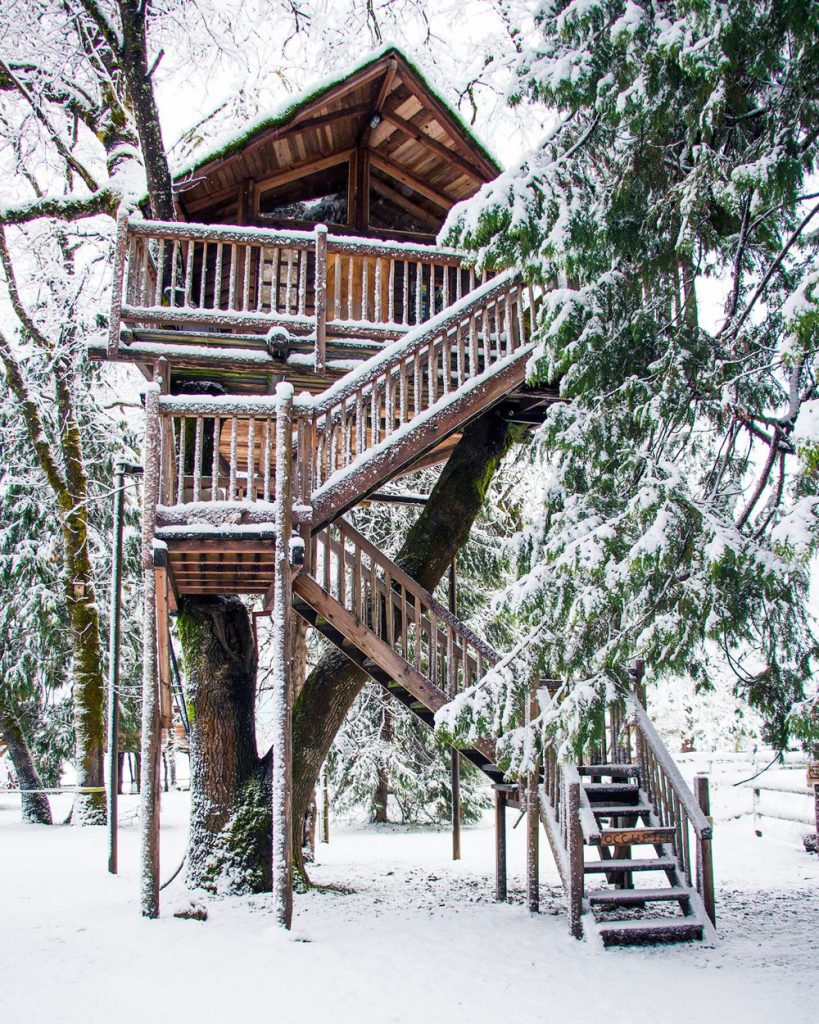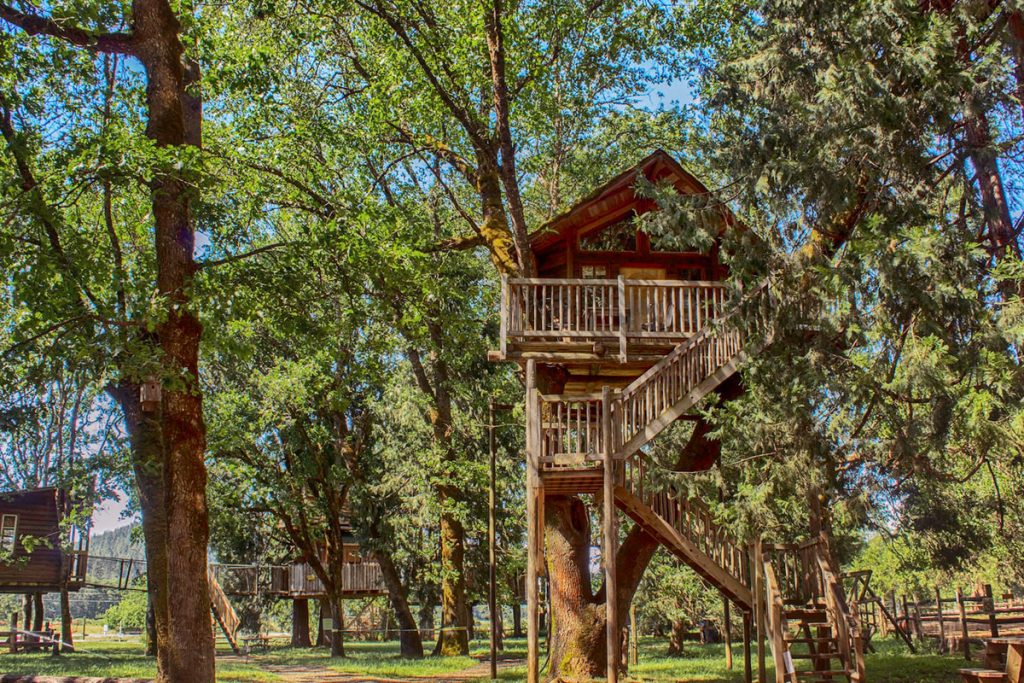 As if staying in Pacific Northwest treehouses wasn't already an incredible experience, Peacock Perch Treehouse offers free breakfast during your stay to fuel your adventures for the day. Built in 1990, this treehouse sits 18 feet off the ground, making it ideal for those who aren't a big fan of high heights but still want to sleep among the trees. Be sure to check your calendar soon as reservations fill up quickly!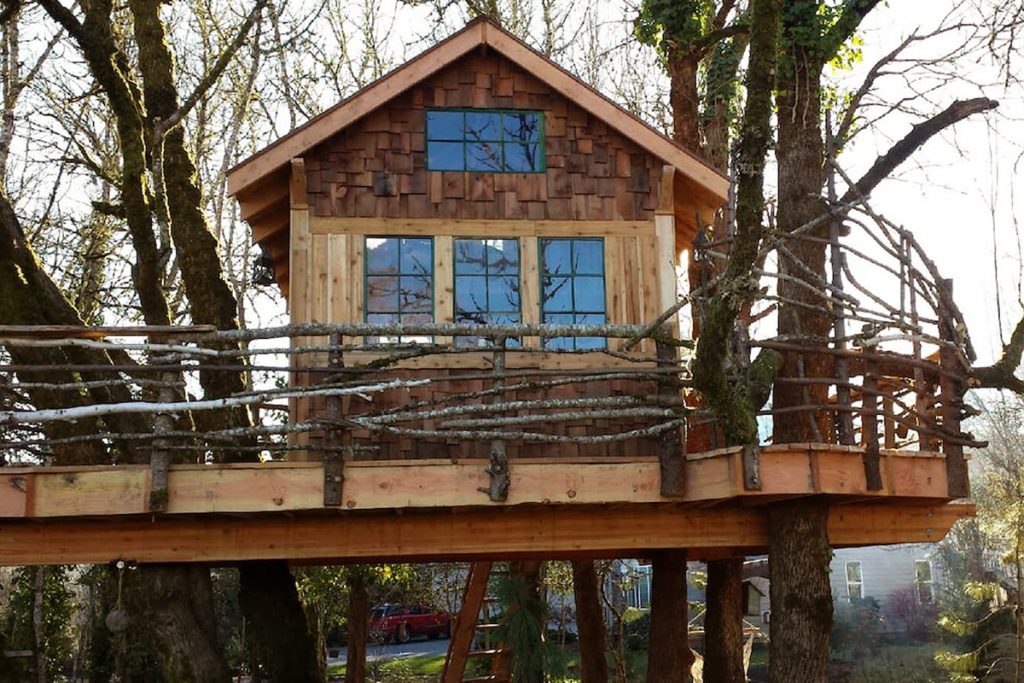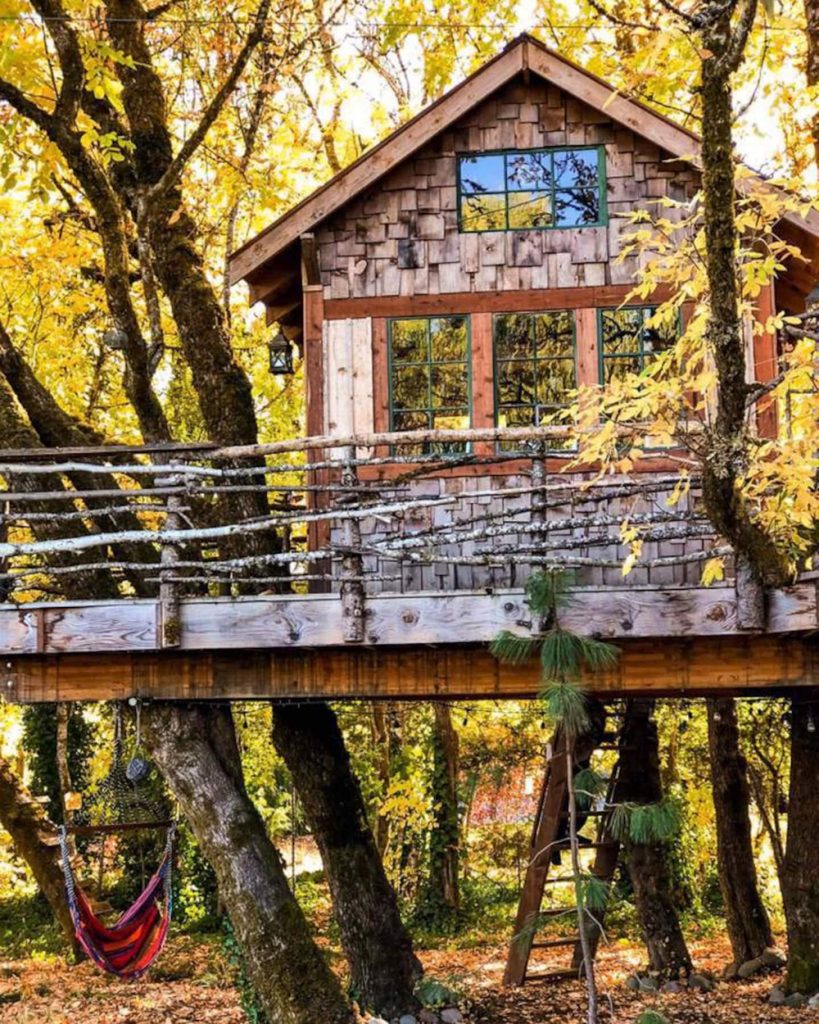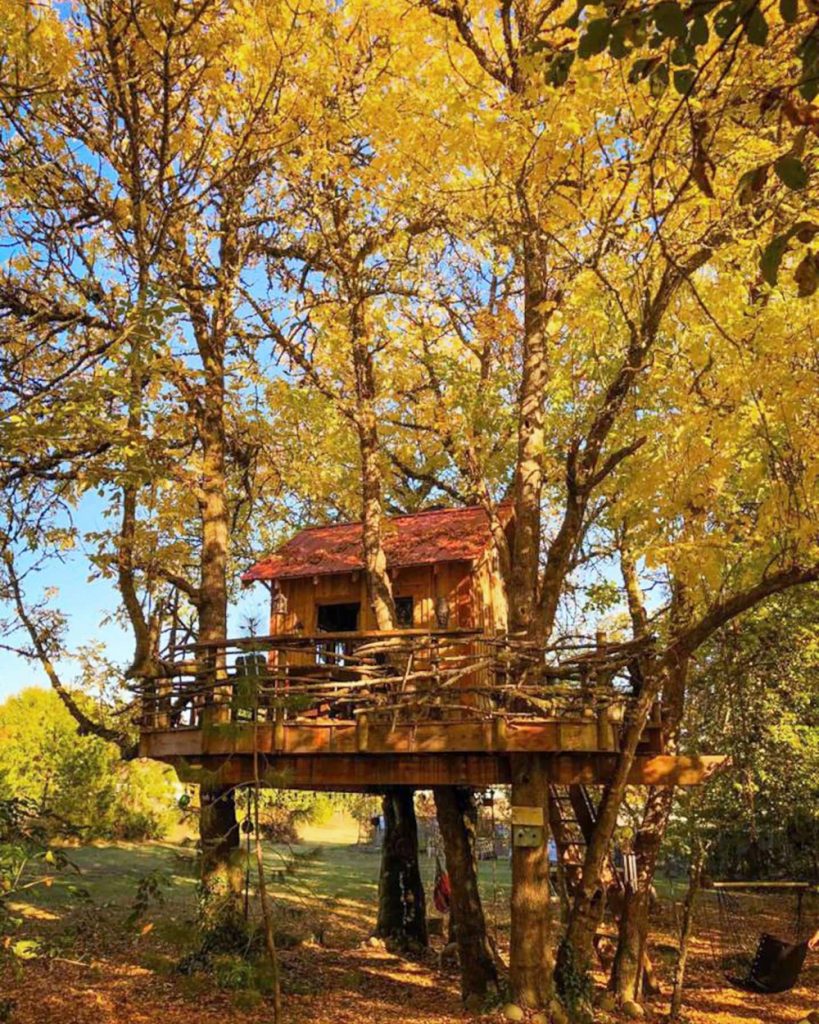 Camping lovers, this next one is for you! Book yourself an evening at The Treehouse Retreat to disconnect from stress, and reconnect with nature for a while. This 100 square foot treehouse is an excellent option for those who don't mind giving up luxuries like hot water and are comfortable using outhouses. Take a break from roughing it in a tent and try something more memorable (and less chilly)!
Location: Philomath, Oregon
Sleeps: 3 guests
Pet friendly: no
Hot tub: no
Price: $51 / night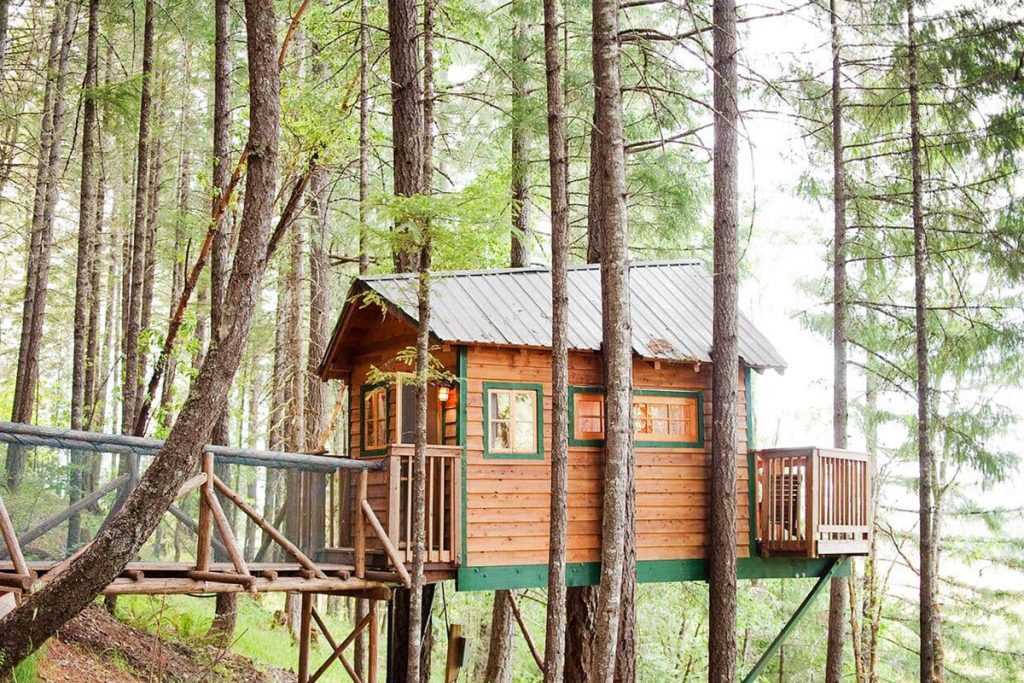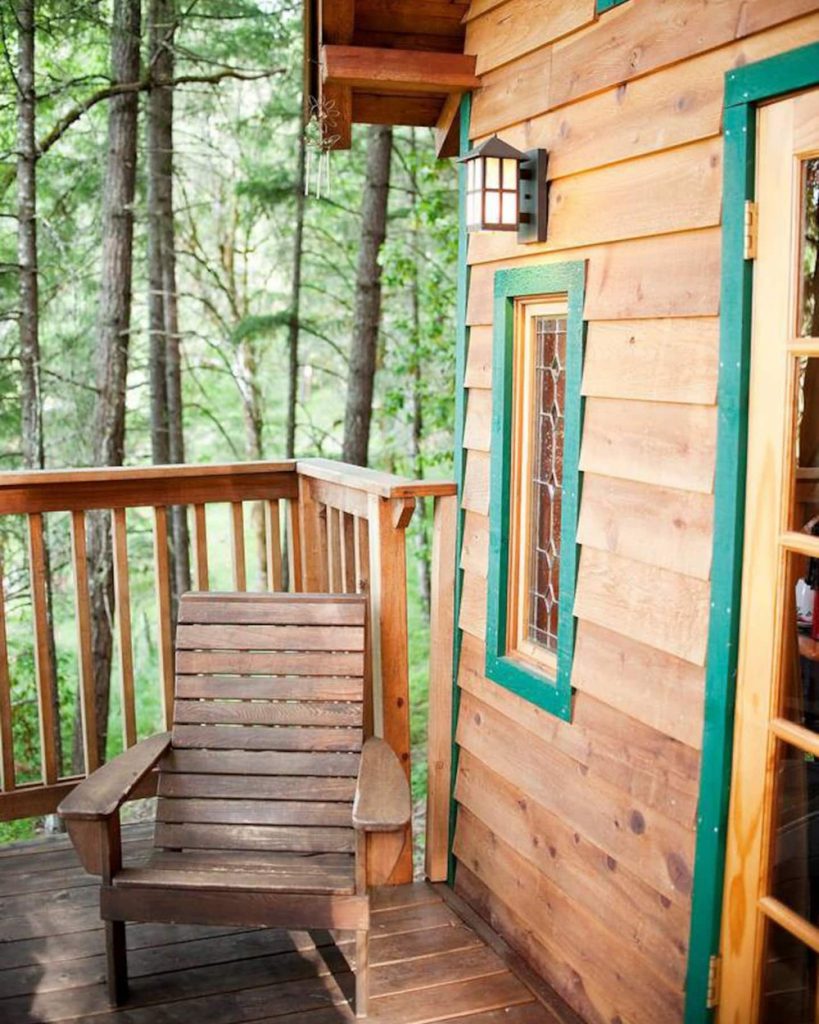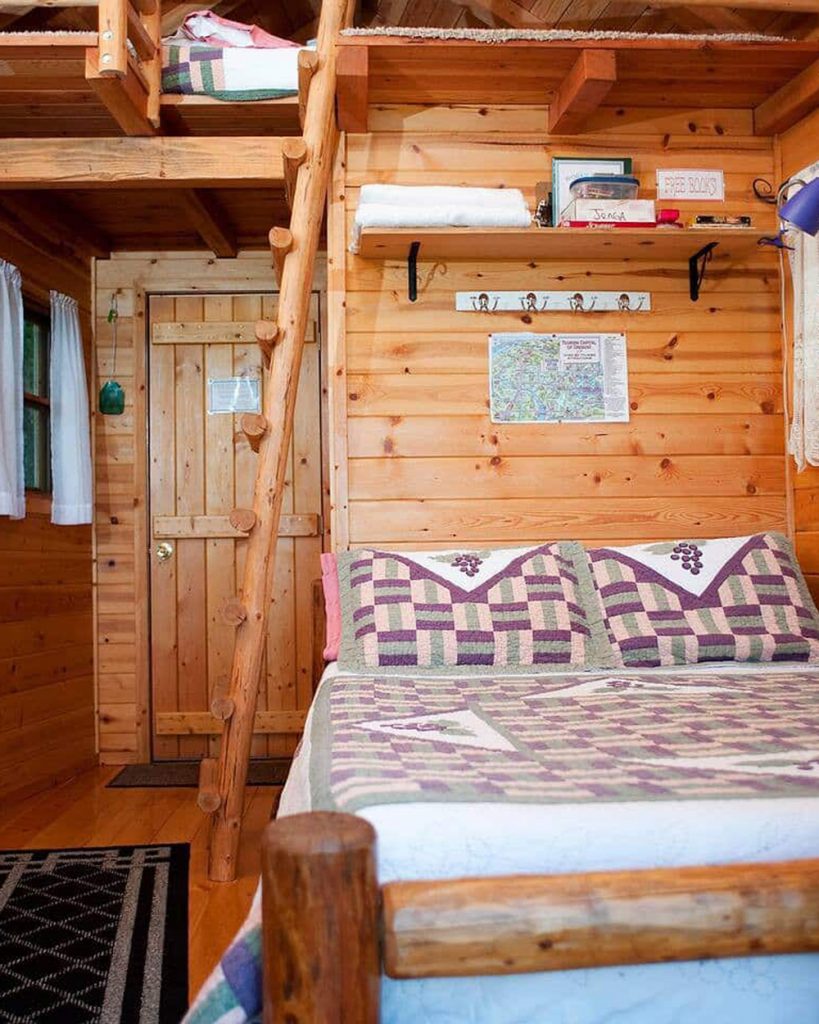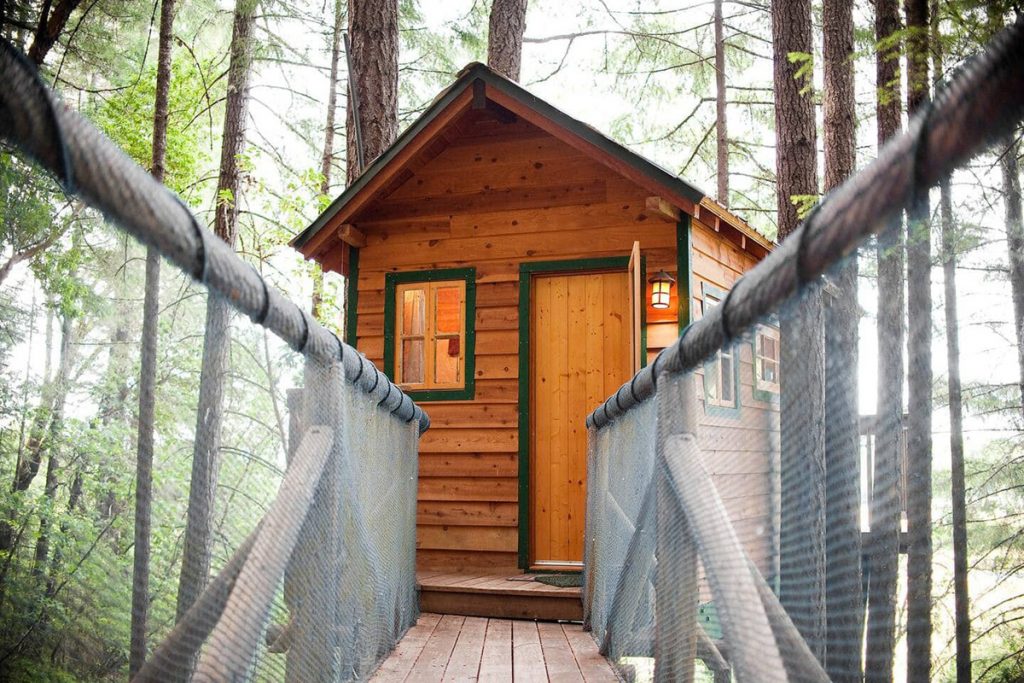 Are you looking for an adventurous Pacific Northwest treehouse? Today's your lucky day! The Cozy Cottage Treehouse is the perfect base for your next activity-filled weekend. I recommend visiting the Oregon Cave National Monument and the Giant Redwoods while visiting! After coming home from a long day of adventures, you'll be able to enjoy free wifi, a mini-fridge, a gas grill, and even a seasonal pool. As a bonus, you have the option to request breakfast at an additional charge.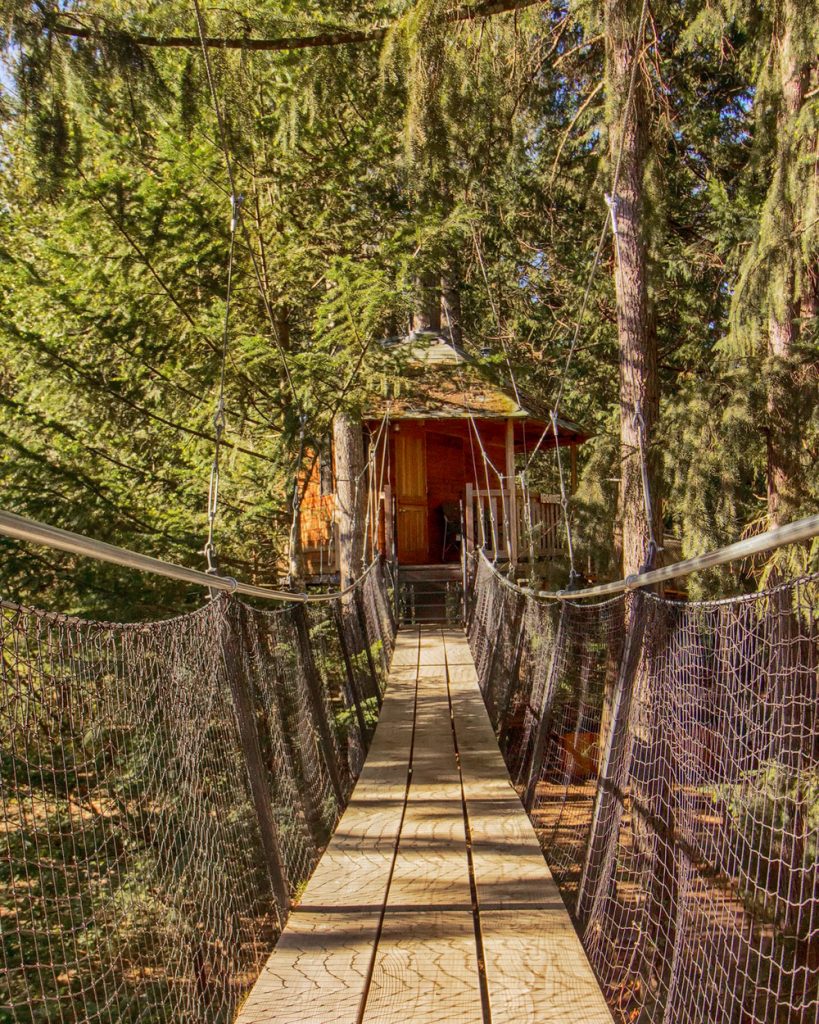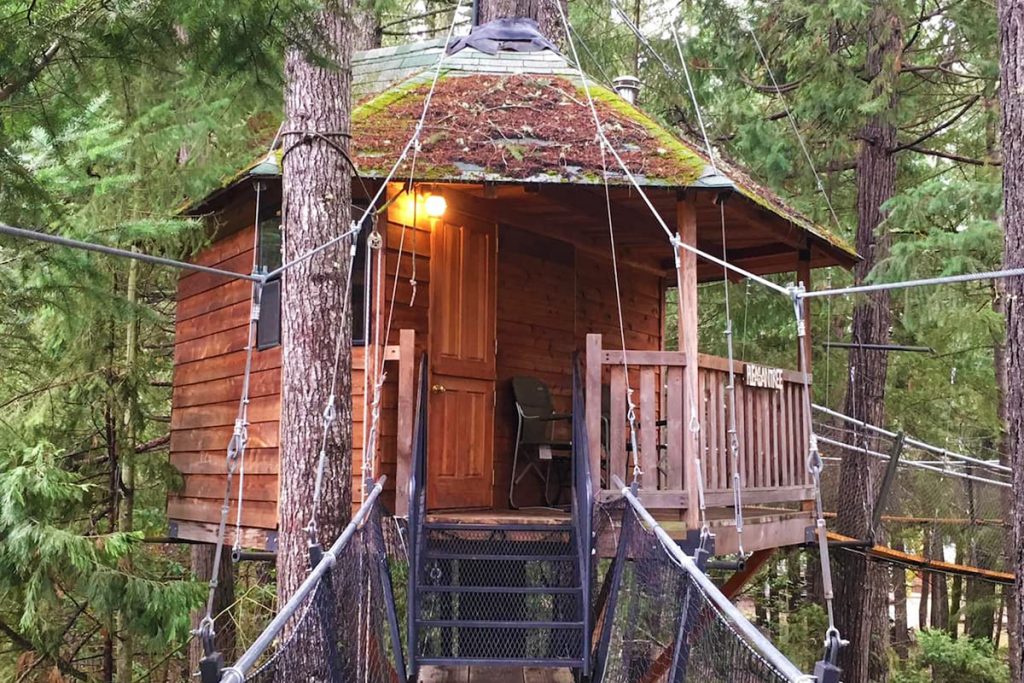 Another magical treehouse you can rent in the Pacific Northwest is Pleasantree Treehouse! Escape the city and enjoy some time away from the hustle and bustle of everyday life when you stay here. This treehouse is part of a treehouse community, so you'll have lots of fun sightseeing the other treehouses in the area. This particular one sits about 30 feet off the ground, so you can really feel the movement when the wind blows. As a bonus, there's even free breakfast included!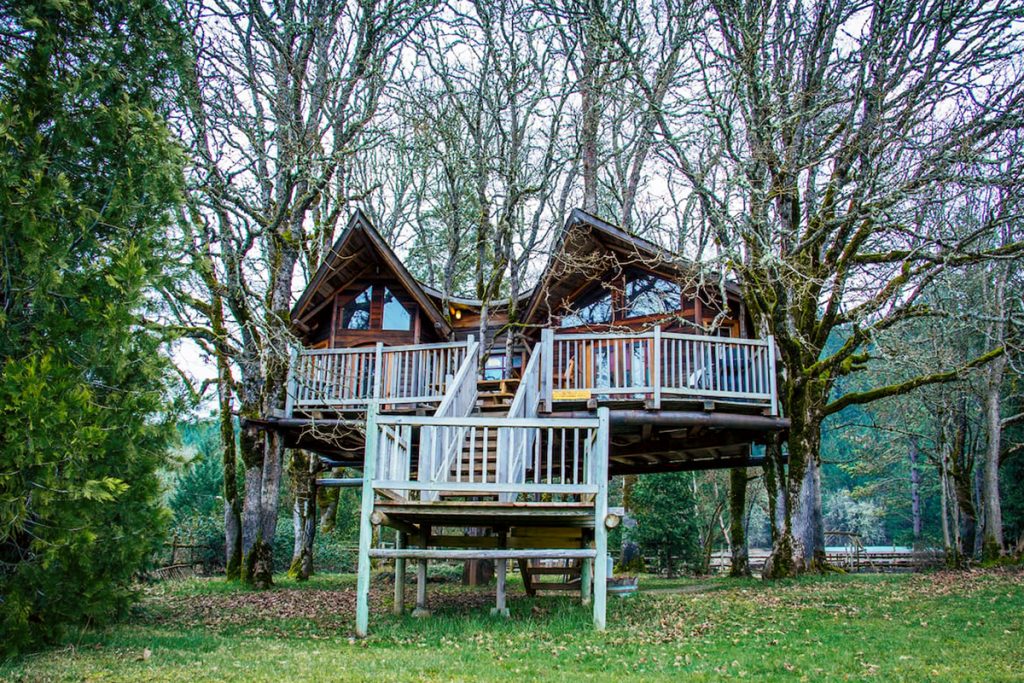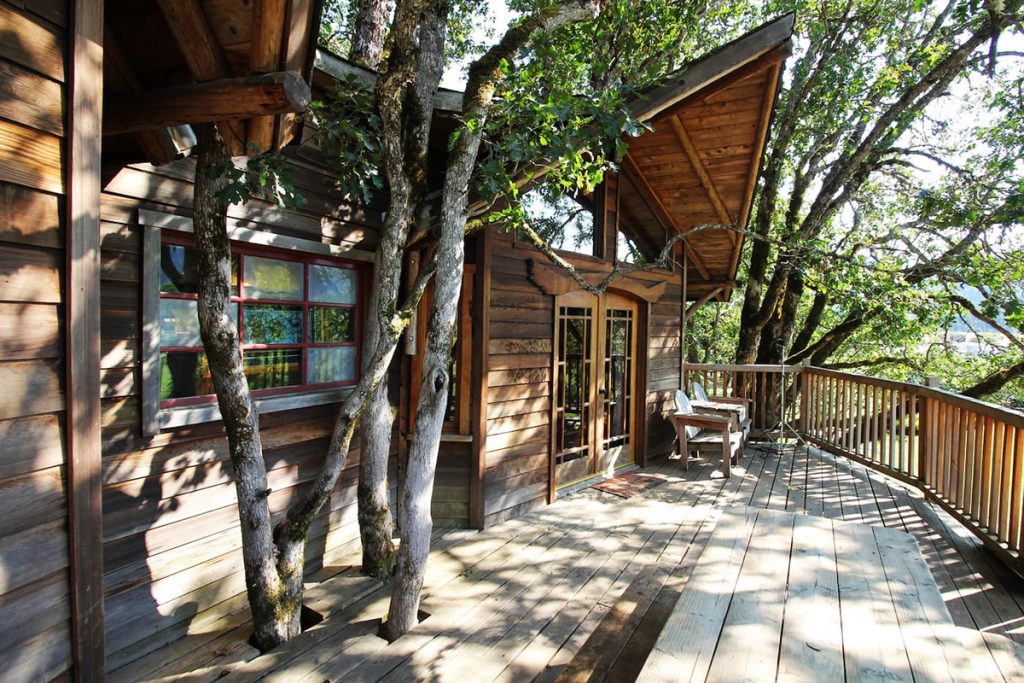 Make going back to "school" something your kids look forward to at the Schoolhouse Treehouse! This family-friendly Pacific Northwest treehouse is part of a treehouse village that you and your kids will have endless fun exploring. The kitchenette here is equipped with a microwave, toaster oven, coffee pot, mini-refrigerator, and even has a propane BBQ to make family meal night that much more special. There may be plenty of treehouses to rent in the Pacific Northwest, but this one will indeed be an unforgettable adventure for the whole family.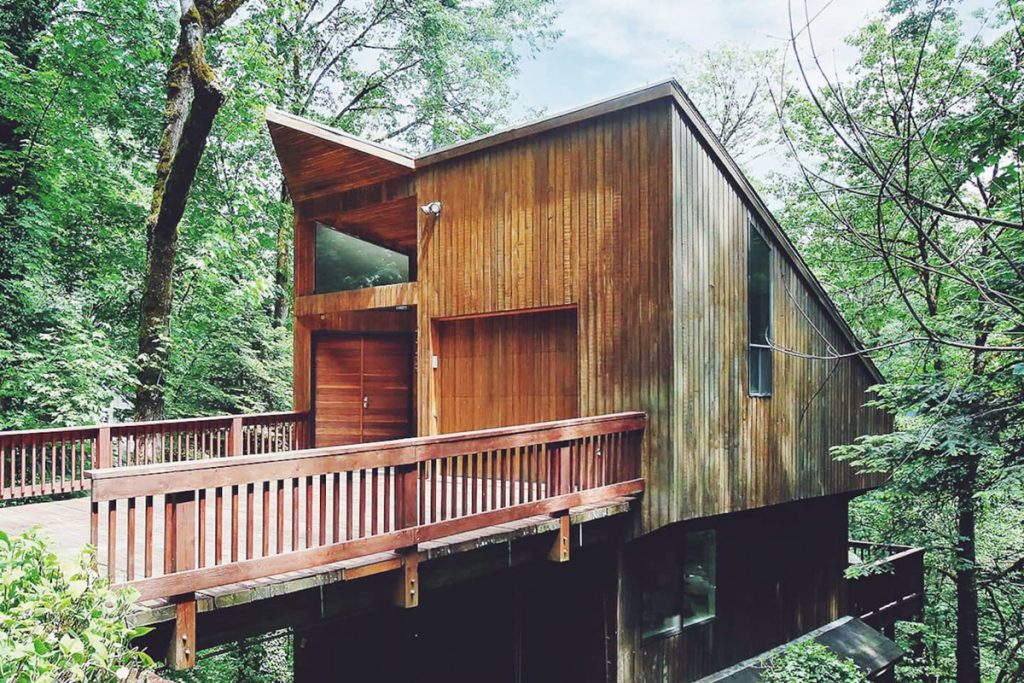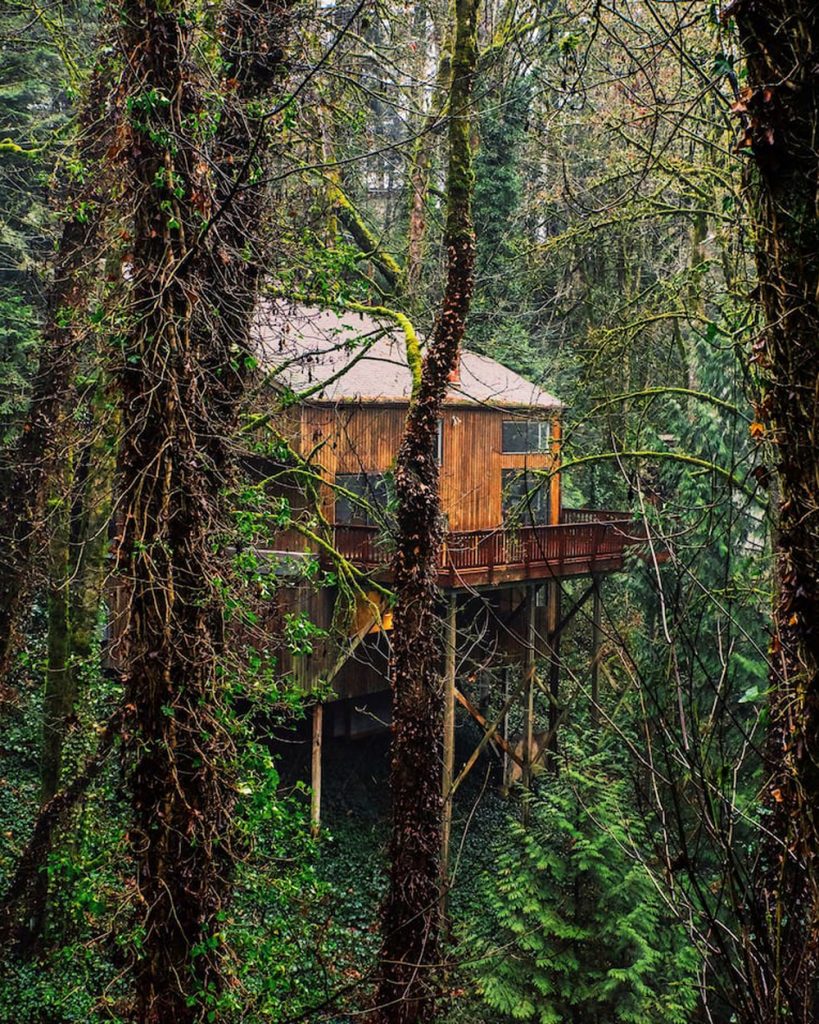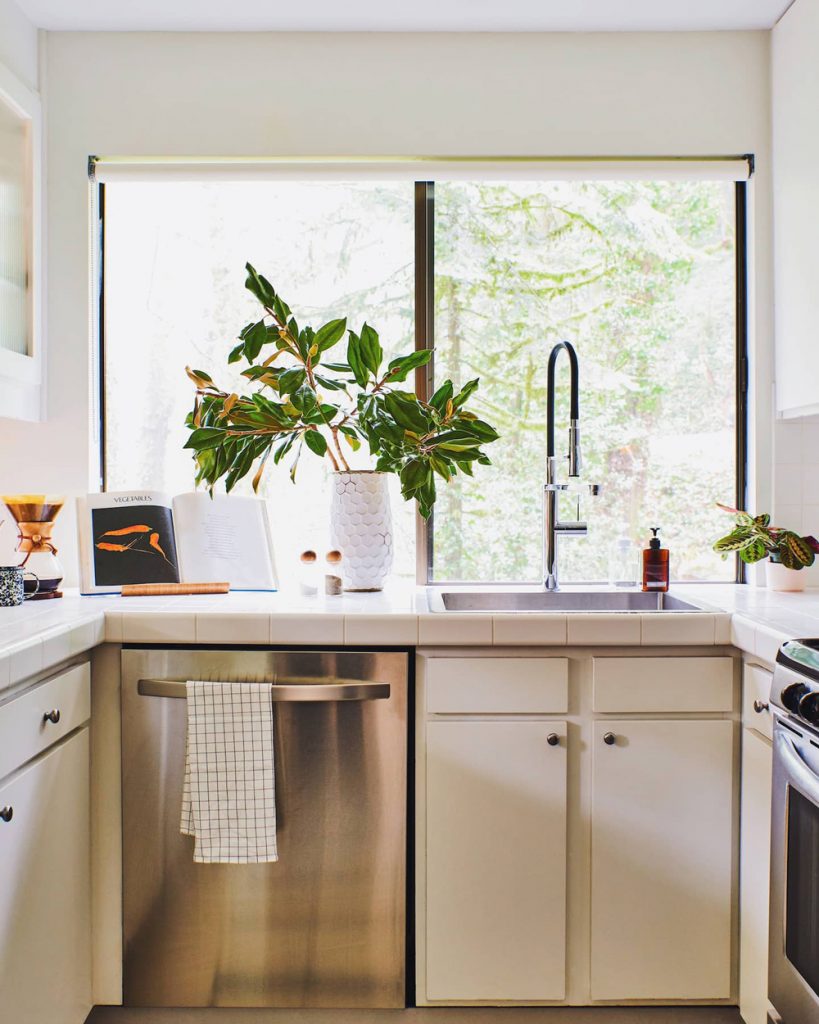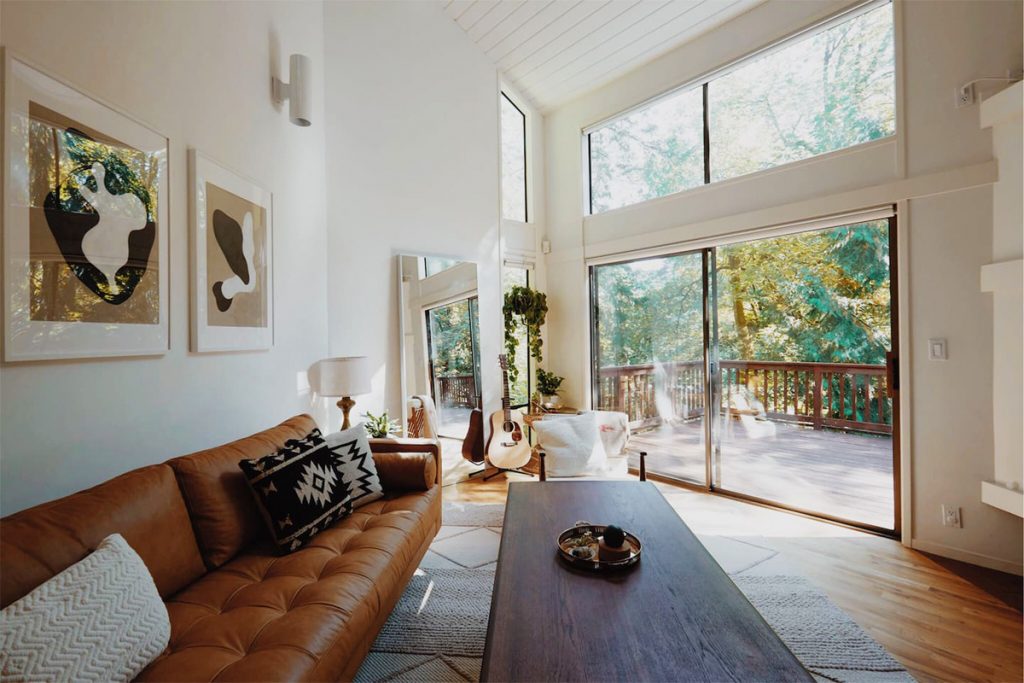 Experience the unique Portland lifestyle with the best of both worlds at Wald House Portland Cabin located in the Tualatin Mountains. This particular Pacific Northwest treehouse is an excellent option for those of you who want to stay close to the city. The property is located on a 5.5-mile bike-loop and sits next to a 178.25-acre park of beautiful forest featuring nine breathtaking hiking trails. Not the hiking type? Go for a scenic drive on the winding roads with stunning architecture or explore one of the many unique neighborhoods of Portland!
Location: Portland, Oregon
Sleeps: 5 guests
Pet friendly: no
Hot tub: no
Price: $250 / night
Read next: Incredible 24 Hour Itinerary For Cannon Beach Oregon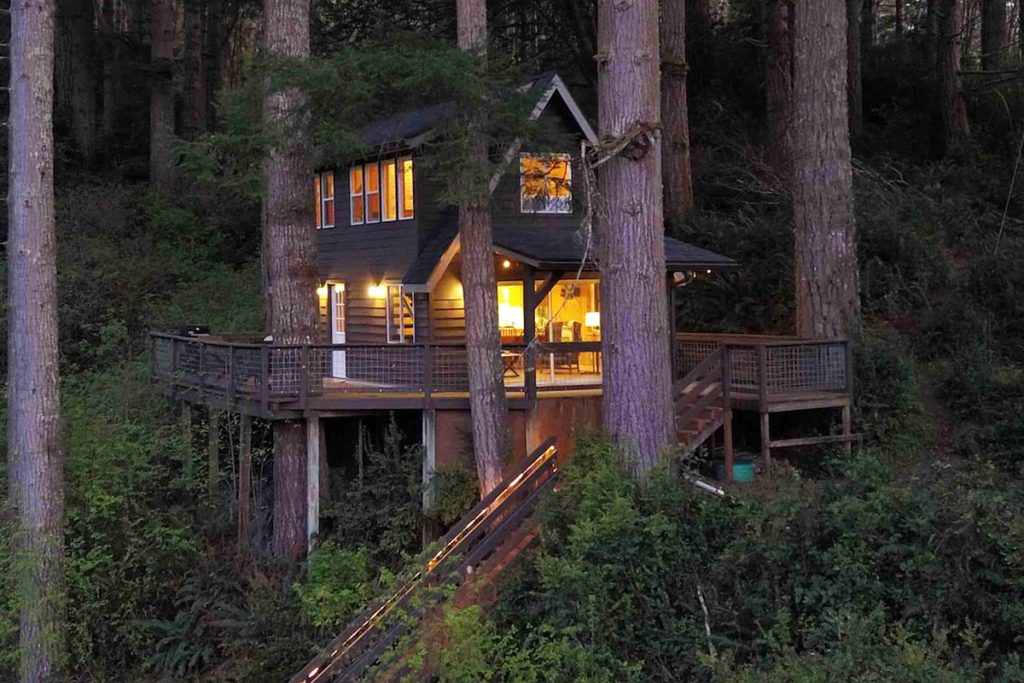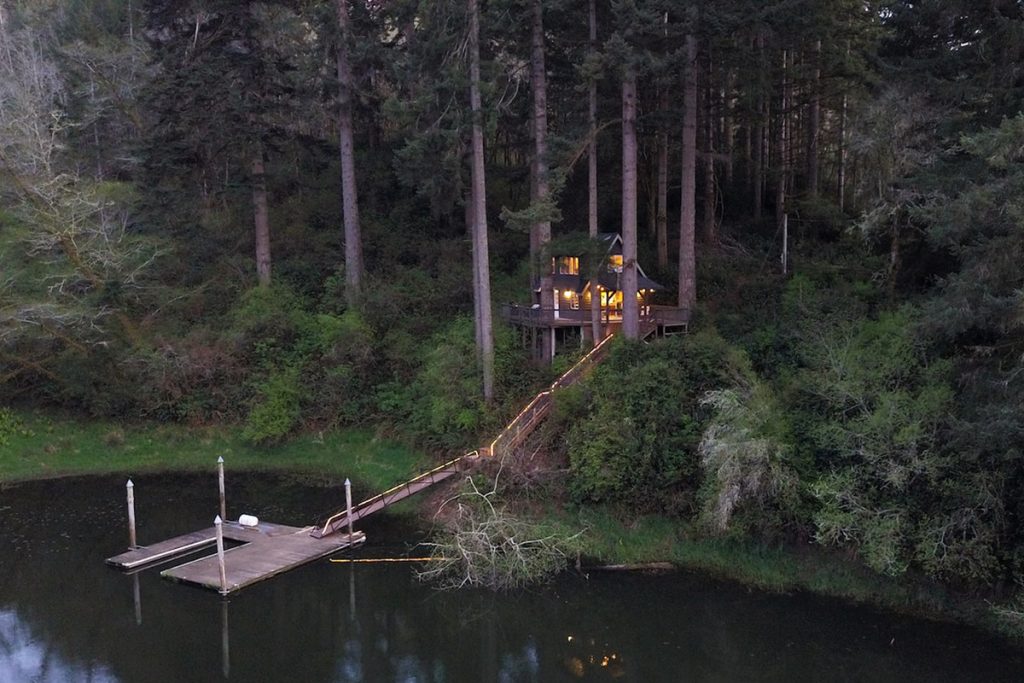 If there's one place you won't want to forget your fishing gear, it's here! For those of you who are ready to add a little more time in the water to your experience, this next treehouse is for you! The Cabin in the Trees is only accessible by boat. Upon arriving, you can look forward to a large kitchen, a patio that features a gas bbq, a patio table, and unlimited lake views. Memories made at this unique cabin location will last forever.
Location: Lakeside, Oregon
Sleeps: 4 guests
Pet friendly: no
Hot tub: no
Price: $150 / night
Best British Columbia Treehouse Rentals
The dense forests, flowing rivers and mountain peaks of British Columbia are amongst the most beautiful in the world. I can't think of a better way to experience BC's beauty than amongst the trees. Be one with nature in one of these stunning treehouse accommodations in the Great White North.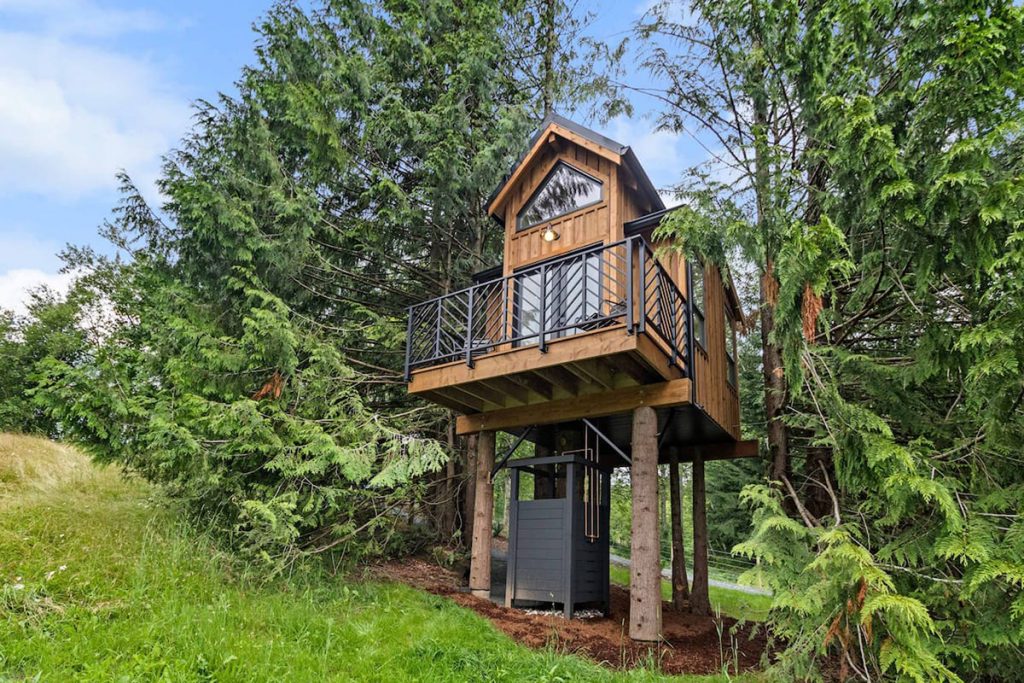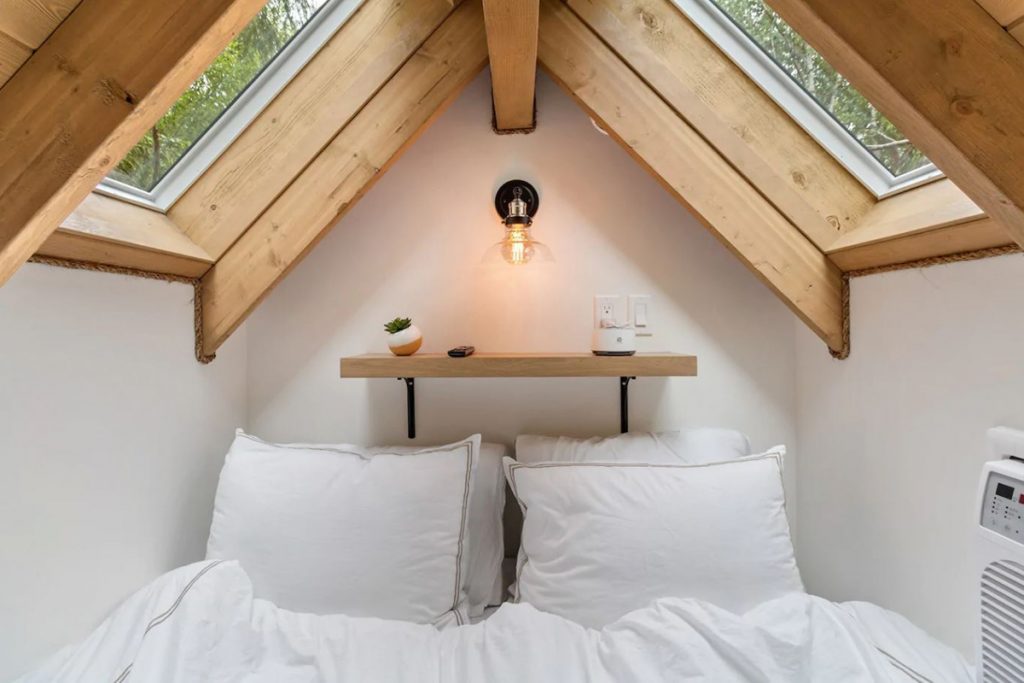 Oh, Canada! You never cease to amaze me, and your treehouses are no exception! Designed and built as a passion-project, this Pacific Northwest treehouse was crafted for relaxation, seclusion, and to connect with nature. One of my favorite unique features of The Birdhouse is the outdoor shower! The treehouse sits on its own private, fully fenced acre of land with a long winding driveway to the parking and campfire area. While staying here, you'll often see deer, cattle, coyotes and other wildlife. Bucket list worthy? Check!
Read next: Guide to Hiking Panorama Ridge in British Columbia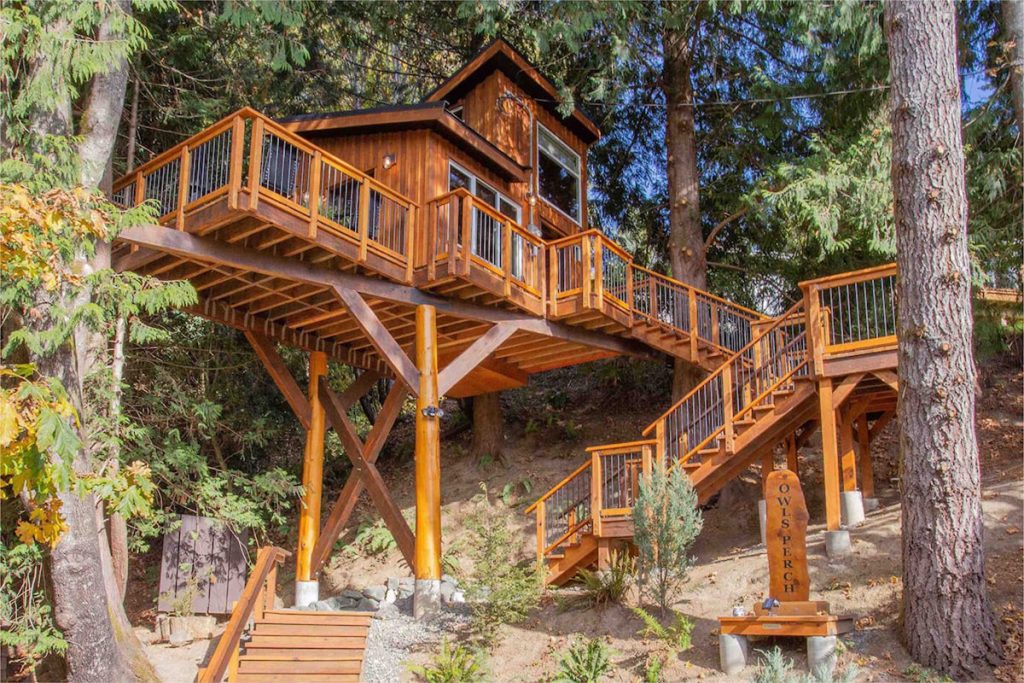 I have loved every minute of my adventures while exploring British Columbia, and I'm sure this next treehouse will inspire you to explore more! Nestled between large cedars and a giant maple, Owl's Perch Treehouse offers stunning views of the Salish Sea to the mountains of Washington state. This cozy treehouse reaches 30 feet off the ground, has a full bathroom and kitchenette, and provides maximum privacy. Pacific Northwest treehouses in Canada are a one-of-a-kind experience that you won't soon forget. Just be sure to book early so that you aren't left hanging!
Best Idaho Treehouse Rentals
Idaho's spring and summer seasons give the gift of warm sunshine and plenty of destinations to explore, but the winter and autumn season makes it the ideal time and place to curl up with a good book! No matter when you visit, you'll be sure to love your stay even more if it's in a treehouse!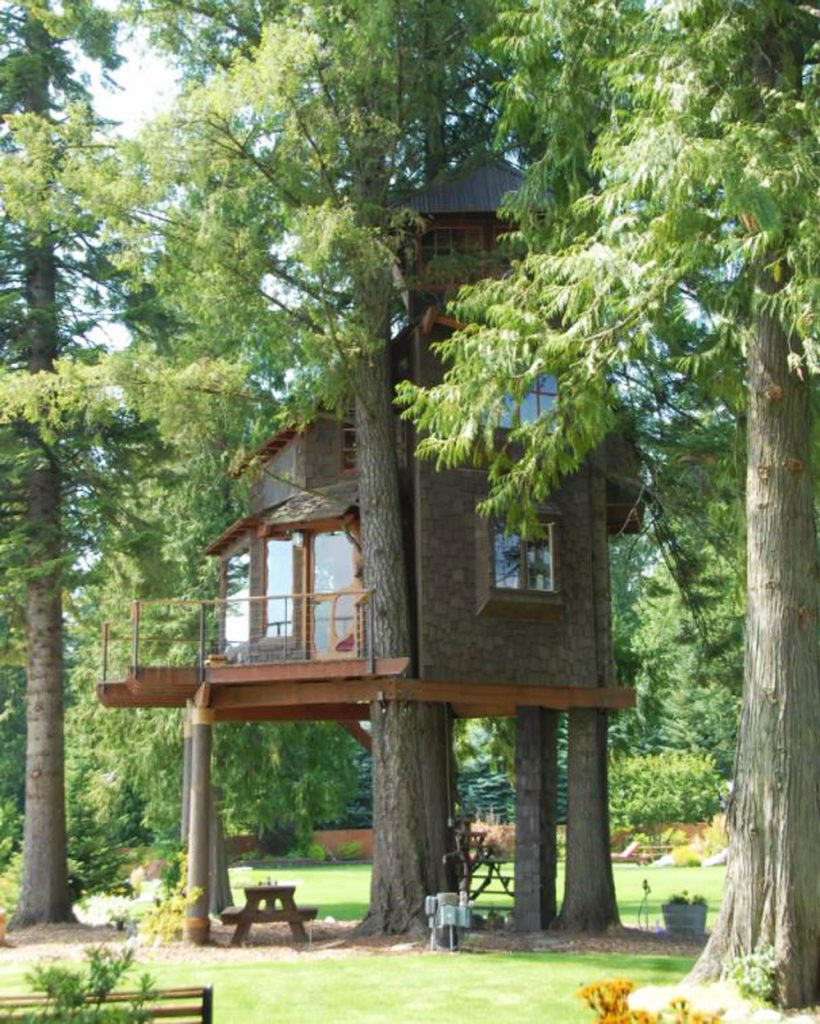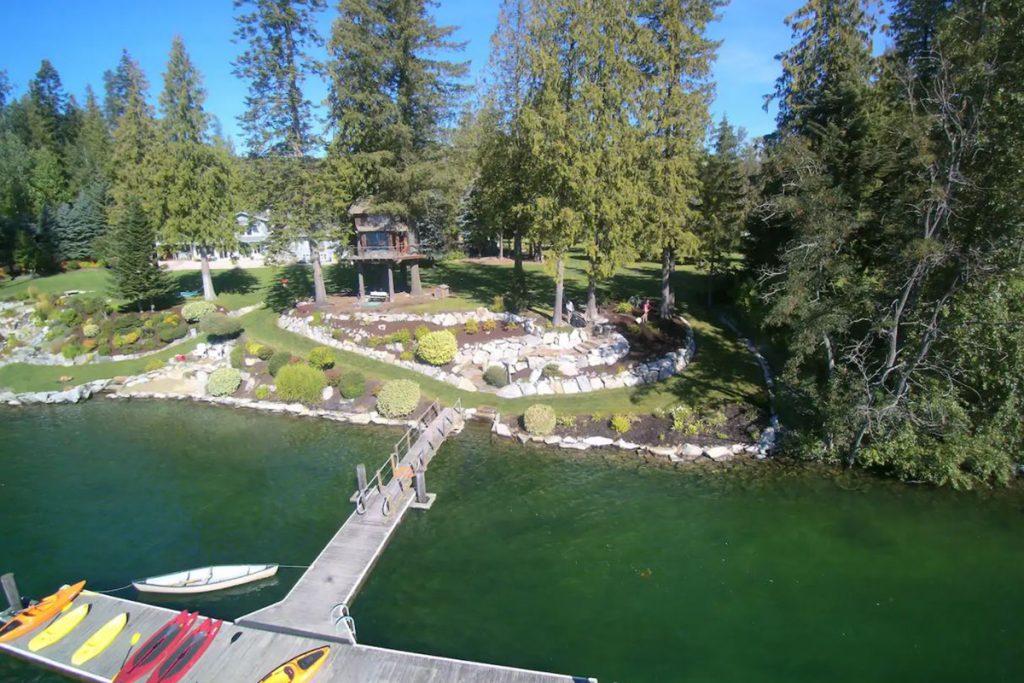 Treehouse on Lake Pend O'reille
If you've stayed in a one or two-story treehouse before, wait until you stay in a three-story treehouse! This Pacific Northwest treehouse rental takes your love for the great outdoors to new heights quite literally! Featured in Great Homes of Idaho and other publications, Treehouse on Lake Pend O'reille is close to local restaurants, shopping, galleries, antiquing, and nightspots, making it the perfect getaway without feeling too isolated.
Location: Sandpoint, Idaho
Sleeps: 2 guests
Pet friendly: no
Hot tub: no
Price:

$220 / night
Final Thoughts On Pacific Northwest Cabin Rentals
I hope that while you were reading this, you fell in love with some of the treehouses you can rent in the Pacific Northwest and are inspired to book a getaway of your own! Leave a comment if you do end up booking one of these rentals, I would love to hear about your experience 🙂
If you decide to take a road trip through the Pacific Northwest, check out my tips on how to Road Trip on a Budget!