Hiking and camping in Joffre Lakes Provincial Park is undoubtedly one of the most beautiful experiences in all of British Columbia, Canada. With its lush, emerald forests and vivid turquoise waters – Joffre is the Canadian explorers' dream. Before going myself, I had been told by many people that Joffre Lakes is a must-do hike in British Columbia – and they weren't wrong! My husband and I loved exploring these beautiful lakes and camping in the backcountry.
The Joffre Lakes Trail gives hikers an easily accessible opportunity to experience some amazing alpine scenery without having to trek into the British Columbia backcountry for days. This Joffre Lakes hiking guide will ensure you're prepared for an epic adventure to witness stunning turquoise water lakes and breathtaking glacier views.
Disclaimer: This blog post features some affiliate links, which means I get a small commission if you make a purchase (at no extra cost to you). It's one of the ways I can keep producing free guides and resources for my readers. Learn more about my affiliate policy here. Thank you for the support!
---
JOFFRE LAKES HIKING AND CAMPING GUIDE
In this Joffre Lakes hiking guide, I'll be covering everything you need to know before you go. One of the most asked questions I hear about this place is, "Is the water really that blue?" The answer is yes! The vivid blue waters of Upper, Middle, and Lower Joffre lakes were created from glacial silt and this reflects the blue and green wavelengths of sunlight, creating a vibrant turquoise color. This phenomenon, along with stunning icefields, jagged peaks, and cold rushing streams, granted Joffre Lakes park status in 1996.
To get the latest information about accessibility to the park and the latest COVID-19 updates, visit the official Joffre Lakes Provincial Park Website before planning your trip. Remember to always follow local rules, boundaries, and regulations. If you do choose to hike this trail, read up on the Leave No Trace Principles (LNT). These principles are guidelines that help people plan, prepare, and adventure more consciously. By practicing the LNT principles, you are reducing your impact when enjoying nature.
Click here to check if Joffre Lakes Provincial Park is currently open.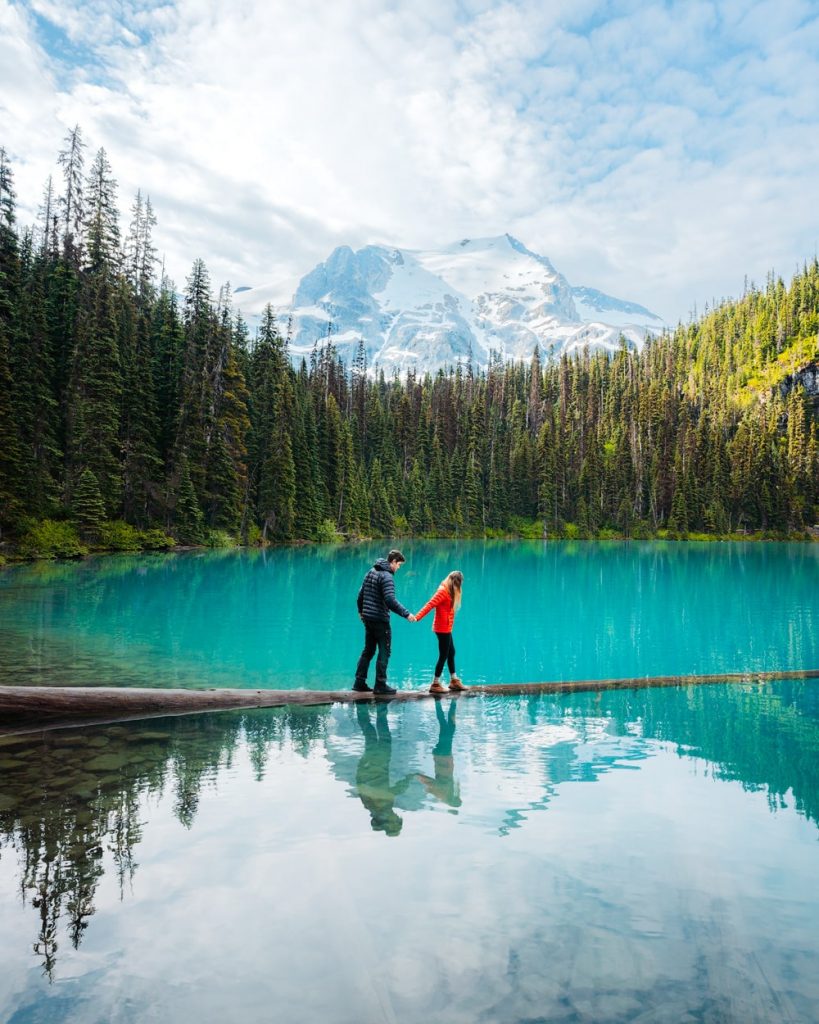 WHERE ARE JOFFRE LAKES LOCATED?
Joffre Lakes Trailhead is located in Joffre Lakes Provincial Park in the southwest region of British Columbia. Just about 2.5 hours drive from Vancouver Airport, it has become a bucket-list adventure for many explorers who visit British Columbia for its stunning picturesque turquoise lakes. If driving, the easiest way to get to Joffre Lakes is to take the Sea to Sky highway towards Whistler and Pemberton. The hike itself is a 9.2-kilometer / 5.7-mile roundtrip moderately trafficked out and back trail near Nesuch 3, Squamish. (All measurements were taken from tracking with Gaia GPS app).
For those interested in hiking Joffre Lakes but do not have their own transportation, The Joffrebus is a convenient and affordable bus service from Vancouver and Whistler to Joffre Lakes. It operates on weekends and most weekdays from May until October.
Parking at Joffre Lakes Provincial Park is minimal. Both the primary and overflow parking lots are ordinarily full by 9:00 am on a busy weekend, with parking on the side of the highway strictly prohibited. There is a weekend shuttle bus that connects Joffre Lakes to the Duffey Lakes Provincial Park Parking lot (located 16km away) that costs $10 per person. Note that the shuttle will be able to accommodate a limited number of visitors, so arrive early to increase your chance of securing a spot.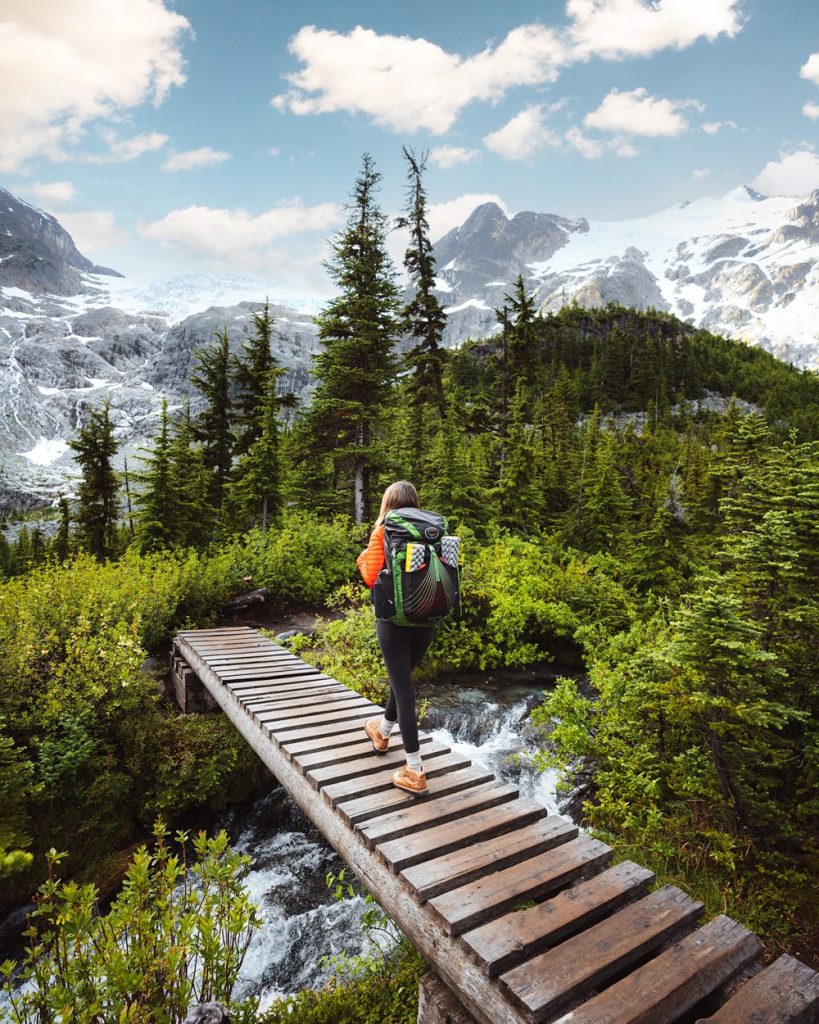 WHEN IS THE BEST TIME TO VISIT JOFFRE LAKES?
Joffre Lakes Provincial Park is open year-round to hike, thanks to upgrades in the hiking trail. However, most people like to visit the lake when the water has turned its signature glacier blue. You can only catch this stunning blue lake spectacle from mid-June to late September. The best time to hike Joffre is in July or August when the chances of a clear view of the mountains and water are best.
During summer, consider visiting Joffre Lakes during off-peak times (mid-week) for the best chance of having fewer crowds. If you arrive and aren't able to secure a parking spot, check out these nearby alternative destinations that make for amazing day trips.
Keep in mind that the lakes will be frozen over during the peak of winter. Backcountry skiing and snowshoeing opportunities exist in the winter for experienced experts who are properly equipped with avalanche safety gear. Note that coastal winter weather can change rapidly, affecting visibility and travel conditions. Winter camping is not available from November 1 – April 15 due to avalanche risk.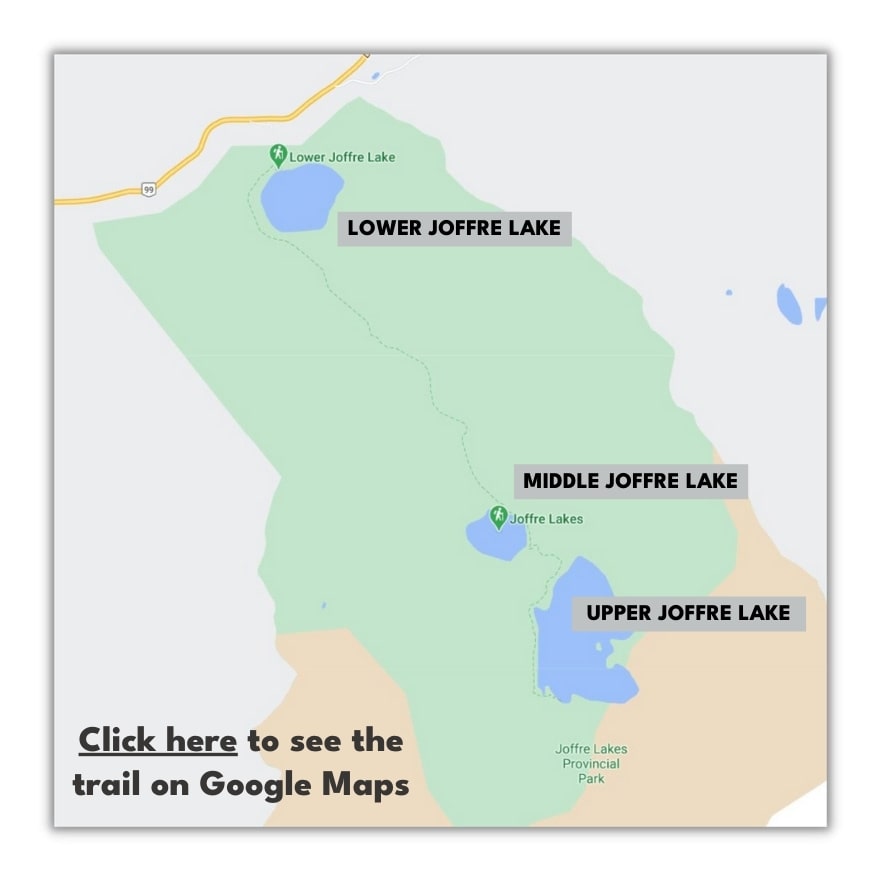 HOW FAR IS THE HIKE?
Hiking to all three Joffre Lakes can either be completed as a day hike, or you can purchase a permit to stay overnight at one of the camping sites. The 9.2-kilometer / 5.7-mile roundtrip hike takes about 3 – 5 hours, depending on your pace and the number of rest stops. You don't have to go all the way up to the third lake to enjoy the beauty of the park! Many visitors choose to turn around as the second hike. On average, the first lake takes about 5 minutes to reach from the parking lot, while the second lake takes 1.75 hours and the third lake 2.5 hours (one way). We will go into more detail about each lake in the next section.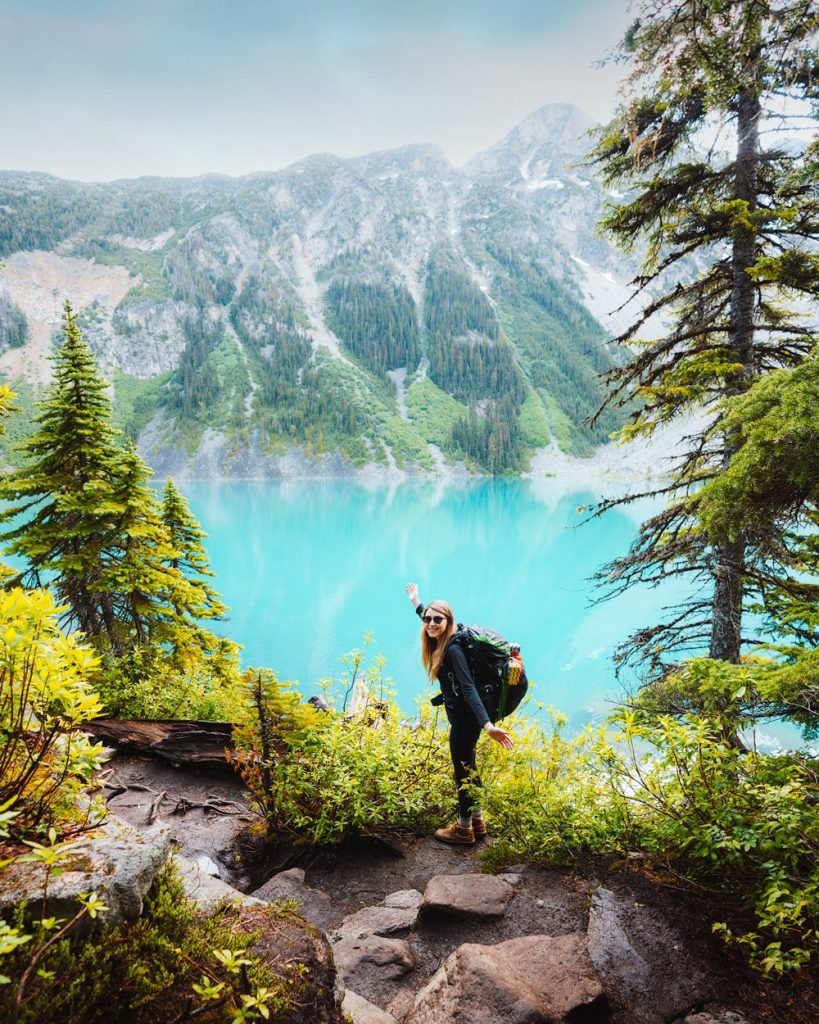 HIKING TO LOWER JOFFRE LAKES
The first lake, Lower Joffre Lake, is the most family-friendly option located a few minutes from the trailhead. The views from here give you an appetizer of what is to come, and you can see the glaciers from this viewpoint on a sunny day, perched high on the mountains. Once you've seen Lower Joffre Lakes, you can rejoin the trail and head back into the woods. If you choose to continue onwards, you'll get to a clearing with impressive views of the valley about 20 minutes into the hike. From Lower Joffre Lake, you will hike past creek crossings, a raging waterfall, and several viewpoints until arriving at Middle Joffre Lake.
Lower Joffre Lake Trail Stats
Difficulty: Easy
Distance: 0.2 km / 0.1 miles (roundtrip)
Elevation gain: N/A
(All measurements were taken from tracking with Gaia GPS app).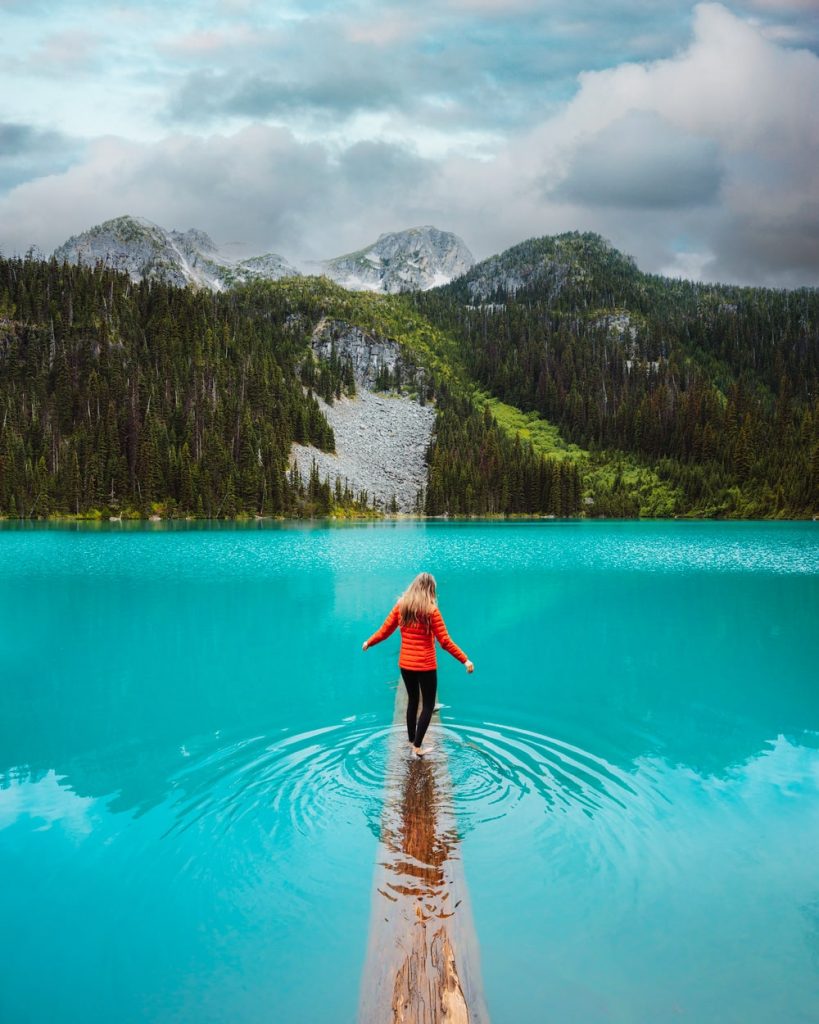 HIKING TO MIDDLE JOFFRE LAKES
The second lake you can visit while hiking to Joffre lakes is the most scenic and photogenic in my opinion, Middle Joffre Lake. There is a famous long log floating on Middle Joffre Lake that is a popular photo location and often has a line-up of people waiting to take a picture on it. Be safe, because if you fall in you will be submerged in 4 degrees celsius water! From here, if you choose to venture to the last lake, make sure to take the short path that diverts to the right, where you will see a powerful waterfall that connects the Middle Joffre and Upper Joffre Lakes.
Middle Joffre Lake Trail Stats
Difficulty: Intermediate
Distance: 5.5 km / 3.43 miles (roundtrip)
Elevation gain: 410 m / 1,348 ft
(All measurements were taken from tracking with Gaia GPS app).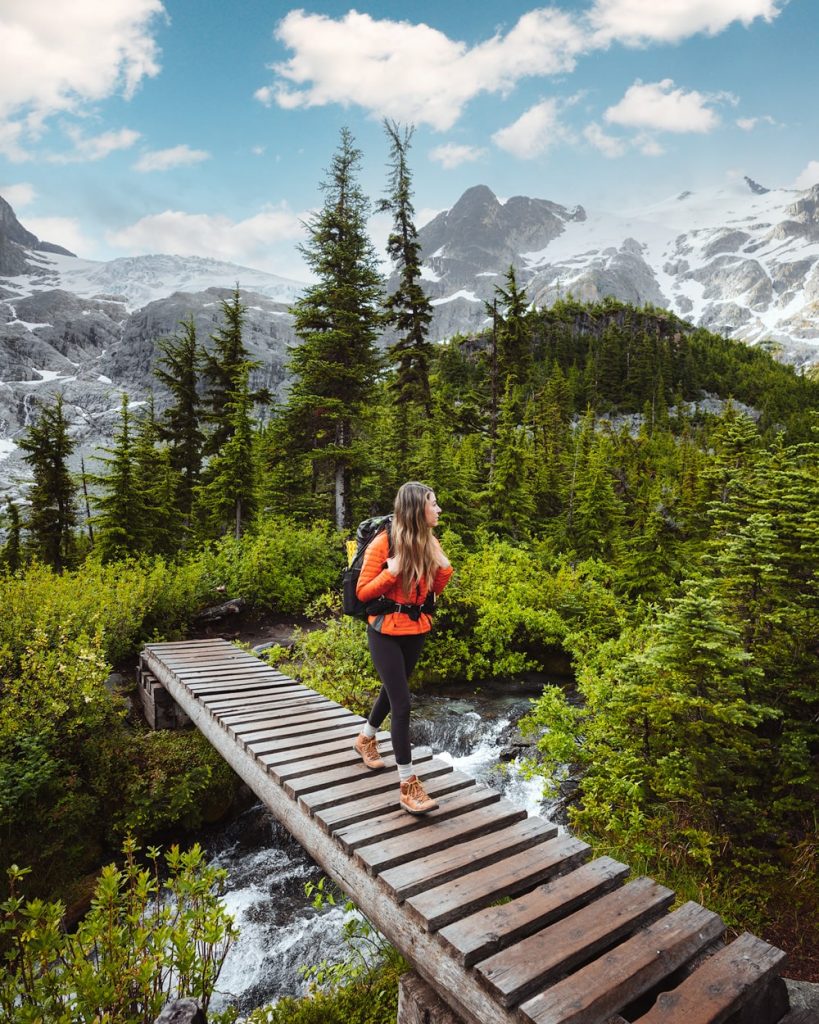 HIKING TO UPPER JOFFRE LAKES
The trail between Middle and Upper Joffre Lakes trail is one of the more scenic parts of the trail, passing by a beautiful waterfall. Although seeing this waterfall is a sign you're close, take your time as this part of the trail can be wet and slippery. The trail to Upper Joffre Lakes is quite steep in sections so ensure you can safely carry all of your camping supplies.
Upper Joffre Lakes is where you can camp on a first-come, first-serve basis (permit-required), and there are pit toilets located near the campsite area. One of the best things about camping at Upper Joffre Lake, besides the stunning views, is how private the campsites are even when it's busy. Since the lake is located at the base of several mountains, the designated camping sites are located at different elevations and private from each other. I'll share more information about backcountry camping in the next section of this guide.
Upper Joffre Lake Trail Stats
Difficulty: Intermediate
Distance: 9.2 km / 5.72 miles (roundtrip)
Elevation gain: 673m / 2,209 ft
(All measurements were taken from tracking with Gaia GPS app).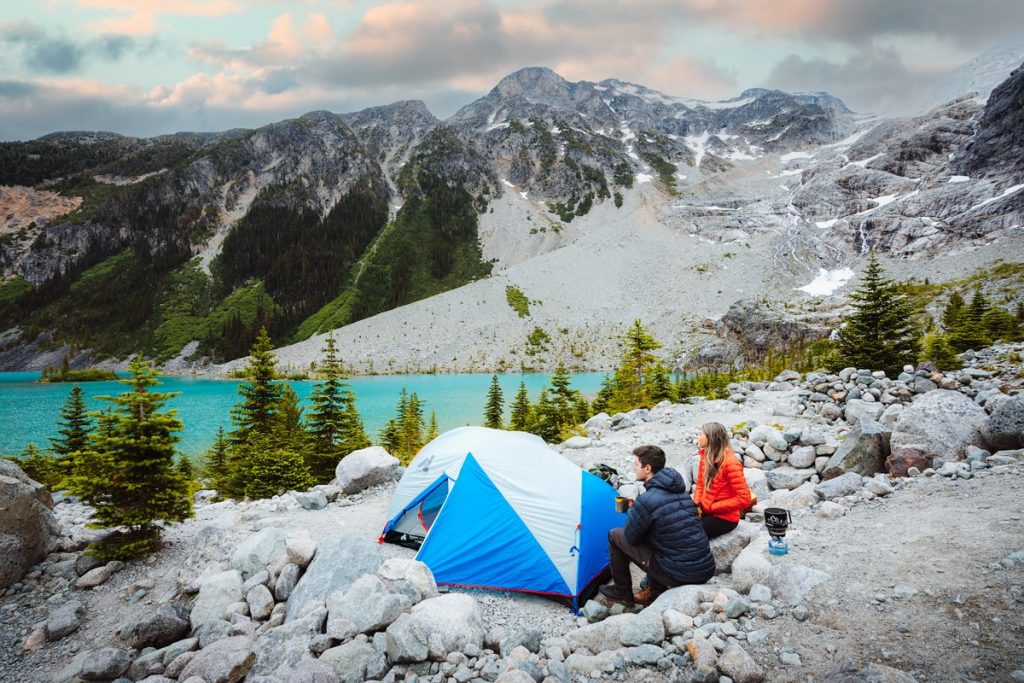 CAMPING AT UPPER JOFFRE LAKE
There are 24 campsites available on a first-come, first-serve basis at Upper Joffre Lake. If you are camping between June 1 and September 30, you will need to purchase a Backcountry Camping Permit here. You can book your reservation up to 2 months in advance of your arrival date. Make sure to bring two copies of your reservation with you as you will need to show the park rangers, and leave a copy pinned to your tent in a clear bag. Make sure to pack layers as the wind off the glaciers and lake gets very cold at night, even if it is 30 degrees celsius during the day.
Is there anything better than waking up in the backcountry, eating breakfast watching the sunrise? You can store your food in a bear-safe storage unit (provided on-site). Just remember that the food you pack must be taken back with you as there are no garbage cans throughout the park. Pack in and pack out to keep this park beautiful!
It's important to familiarize yourself with the rules and regulations before embarking on any hike. If you were planning on making some s'mores, you'll have to use a portable camping stove as campfires are strictly banned year-round. Be sure to bring plenty of drinking water as potable water is not available in the park. Before visiting, I suggest you read my beginner's guide to backpacking and all about how to follow leave no trace principles in the backcountry.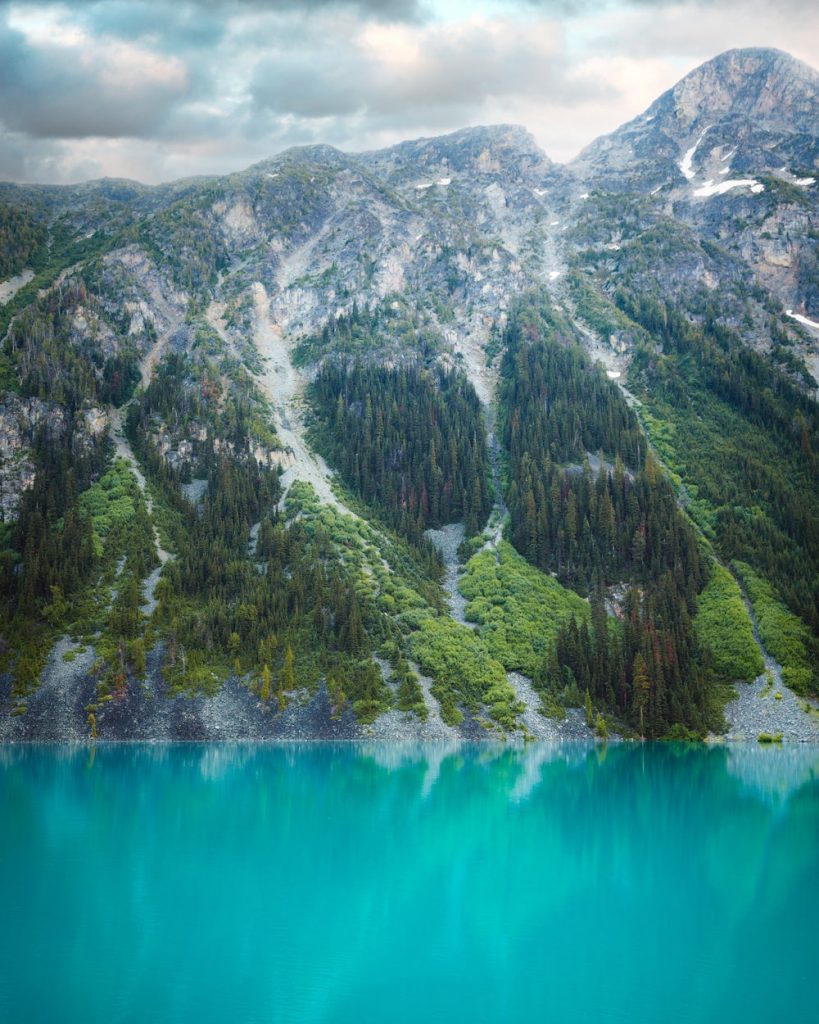 ESSENTIAL INFORMATION FOR VISITING JOFFRE LAKES
Due to its popularity, hiking the Joffre Lakes trail can get very busy. Expect to wait in long line-ups if you need to use the washrooms located at the beginning of the trail and be respectful of other guests visiting. If you're planning on bringing your furry friend, you'll have to make alternate arrangements as dogs are no longer permitted at Joffre Lakes Provincial Park. Park rangers will turn away any hikers with dogs visiting the park.
The glacial-fed lakes are very cold, so I don't recommend swimming, but the pristine waters make for great fishing for anyone with an appropriate license. Other wildlife such as deer, black bears, grizzly bears, and pikas mountain goats reside in the area. No emergency services are available, so all visitors must be properly equipped for self-rescue. Read my guide on hiking and camping in bear country.
While the trees at Upper Joffre Lake may look small, they have been struggling to grow for decades due to the climate. When visiting, DO NOT use these trees for campfires, as fires are illegal, and please leave your hammock at home.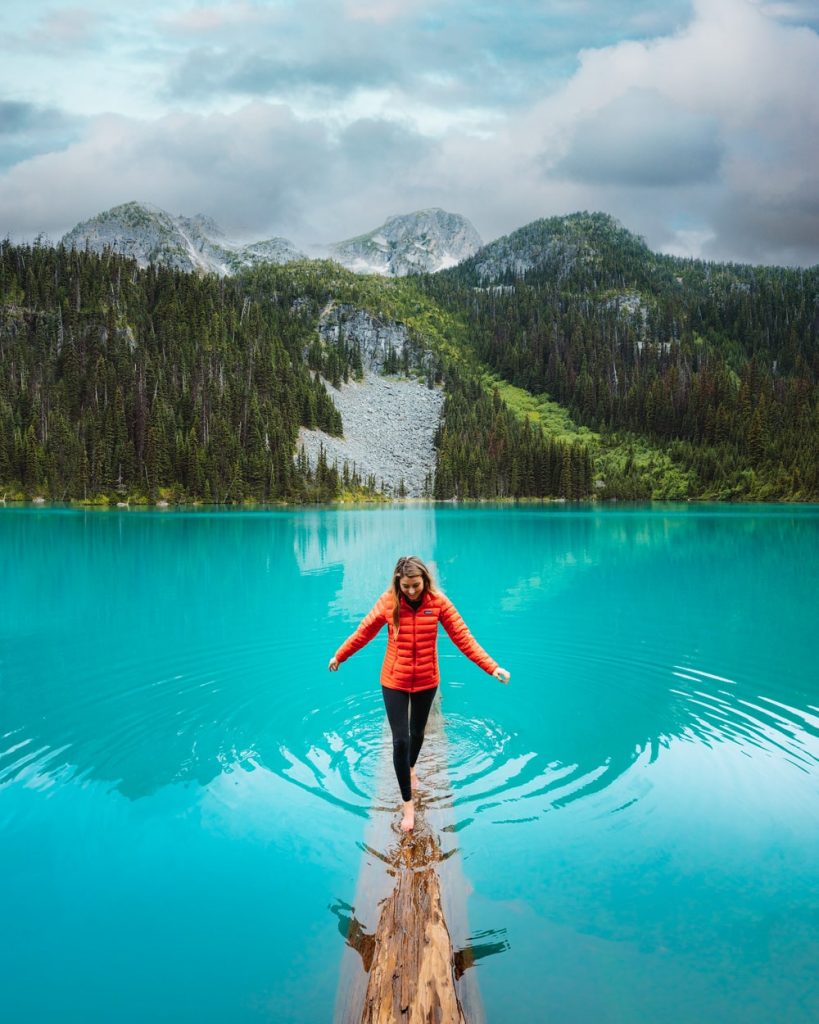 WHAT TO BRING TO JOFFRE LAKES
When hiking or backpacking Joffre Lakes, the below items are things to consider wearing and packing. I would recommend you check out these guides I created for more in-depth information: Beginners Hiking Guide, Beginners Backpacking Guide, What To Wear Hiking, Best Hiking Shoes for Women and Men. I also have a Guide to Snowshoeing if you are visiting Joffre Lakes during the colder months.
Be sure to keep in mind that every hiking and backpacking trip will be different, so use these as a guide and make adjustments according to your climate, length of trip, etc.
ITEMS TO WEAR AND PACK FOR A DAY HIKING TRIP
Hiking shoes
Trail runners or hiking boots will work best. Read my Guide on the best hiking shoes.
Merino wool socks
Wool socks are the best for preventing blisters and letting your feet breathe. Recommended hiking socks.
Hiking pants, leggings, or shorts
I typically reach for leggings, but choose whatever feels comfortable and practical for you. Recommended hiking pants; hiking shorts; hiking leggings.
Quick-dry hiking top
Merino wool is my favorite for its breathability and odor resistance. Recommended hiking top.
Hiking backpack
Choose something with hip and chest straps. Recommended hiking backpack.
Trekking poles
Optional but I personally swear by them! Recommended trekking poles.
Mid-layer
Layering is key when hiking and a mid-layer like a fleece will be perfect to pop on during rest breaks or if the weather cools down. Recommended mid-layer.
Insulated jacket
A must-have even on a warm day. The weather can change very quickly in the mountains. Recommended insulated jacket.
Rain jacket
Always good to have as a "just-in-case" item. Recommended rain jacket.
Navigation
Carry a physical map and compass, and/or a GPS app on your phone such as AllTrails, Gaia, and/or a GPS device like the Garmin InReach Explorer+ (also an emergency beacon).
Emergency beacon
Optional, but can give you and your loved ones some peace of mind. Recommended emergency beacon.
Headlamp + batteries
For hiking in the dark or in emergency situations. Recommended headlamp.
Drink bottle
Use either a water bladder inside your pack or a reusable water bottle. Avoid single-use plastics when possible.
Sun hat
Either a cap or wide brim hat to protect your face from the sun.
Sunscreen
Self-explanatory. Try to pick up a small tube so you don't add too much extra weight to your pack.
Sunglasses
Polarized sunglasses are best for eye protection and to see the gorgeous colors of the lakes! You may also choose to use a chain or lanyard.
Mosquito repellent
You can also opt to pack a bug head net if you hear reports of increased bugs.
First aid items
Always carry a small first aid kit with essential items like blister plasters and emergency supplies. Recommended hiking first aid kit.
Phone + ID
Always best to keep these on you.
Camera + batteries
Optional but trust me, you will want a camera to capture these beautiful lakes!
Swimsuit + towel
If you plan to go swimming. Warning – the lakes are VERY cold.
ITEMS TO PACK FOR A BACKPACKING TRIP
All the hiking items listed above are relevant for backpacking and camping at Joffre Lake. You should also consider adding the below items to your packing list:
Backpack + rain cover
A 40-50L backpack will likely suffice for an overnight backpacking trip. Recommended backpack.
Tent / shelter
1-2 person if you are solo hiking, 2-3 person if you're going with someone else. My husband and I prefer and 3-person. Recommended tent.
Sleeping pad
Go with something lightweight yet insulated. Recommended sleeping pad.
Sleeping bag
The rating you choose will depend on the time of year. Most people are comfortable in a ~30F bag in summer. Recommended sleeping bag.
Camp pillow:
Optional, but worth the tiny amount of extra weight in my opinion! Recommend camp pillow.
Spare pair of socks
In case your other pair get wet or you want a clean pair for sleeping. Recommended socks.
Thermal bottoms
For sleeping and to ensure you have something dry to change out of. Recommended thermal bottoms.
Thermal long-sleeve top
For sleeping and to ensure you have something dry to change out of. Recommended thermal top.
Camp sandals
Optional but I personally love to take my hiking boots off when I arrive at camp. Recommended camp sandals.
Beanie
For chilly mornings and evenings, and as an option to keep your head warm when sleeping. Recommended beanie.
Gloves
It's a good idea to pack lightweight gloves in even summer. Recommended gloves.
Water filter
All backcountry water sources will need to be filtered before drinking. Recommended water filter.
Bear spray
Optional but highly suggested in bear country. Recommended bear spray.
Food storage bag
There are bear-proof food storage boxes at camp but it's best to have your food in an easy-to-carry bag. Recommended food storage bag.
Meals + snacks
Choose items that are lightweight and won't spoil.
Backcountry stove + propane
Select something lightweight and made for backcountry cooking. Recommended stove.
Lighter / matches
You may need this for your stove, depending on the type you have. Also good to carry for emergencies.
Cooking utensils
You may want a camp mug, spork, and/or bowl, depending on what you are cooking.
Knife / multi-tool
Good for emergencies and cutting food. Recommended knife.
Repair kit
Bring along any necessary items to repair gear in the field. These may include a small amount of duct tape, a field repair kit for your sleeping pad, and other items.
Toothbrush + paste
Self-explanatory. Pack a travel-sized toothpaste or decant some into a small container.
Body / face wipes
Optional, but definitely nice to have after a long day hiking. Pack 1-2 in a smaller baggie rather than bringing the entire packet. Recommended wipes.
Toilet paper
There is a privy at Upper Joffre Lake but I suggest bringing your own toilet paper. Backpacking toilet paper.
Trail permit
Required for camping in Joffre Lakes Provincial Park.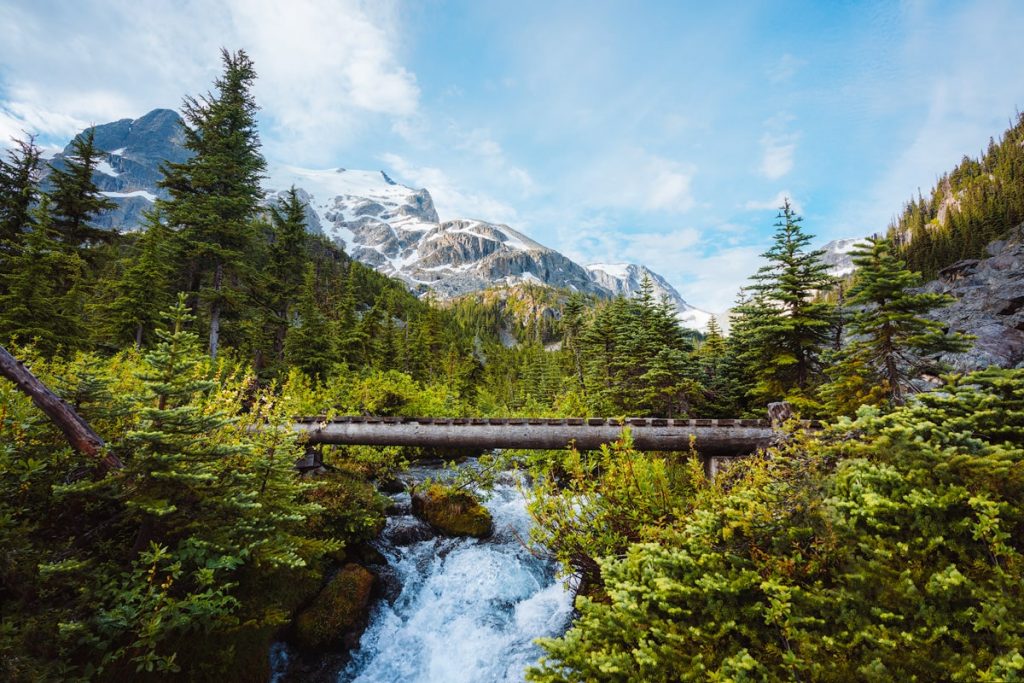 FINAL THOUGHTS ON HIKING JOFFRE LAKES
British Columbia is truly a dream destination for hikers and road trips, and Joffre Lakes is just one of the many beautiful spots in this gorgeous province! I hope this Joffre Lakes hiking guide has inspired you to visit or add this destination to your bucket list. If you've ever been, I would love to hear about your experience in the comments below!
---
PIN FOR PLANNING LATER!