Banff in winter is pure magic! Don't get me wrong, I LOVE visiting Banff during summer and autumn… but there is just something so special about experiencing it during the winter months. I think it's all the pretty snow, cozy atmosphere, comfort food, and fun winter activities!
I have now taken two winter trips to Banff, the first being a 7-day Alberta winter road trip, and the second being a 4-day winter trip specifically to the Banff area. Both visits were absolutely incredible and have given me insight into what everyone needs to know when planning a trip to Banff in winter. So read on to find out when to visit, where to stay, how to get around, what to pack, where to eat, and the best things to do!
Disclaimer: This blog post features some affiliate links, which means I get a small commission if you make a purchase (at no extra cost to you). It's one of the ways I can keep producing free guides and resources for my readers. Learn more about my affiliate policy here. Thank you for the support!
Planning a Trip to Banff in Winter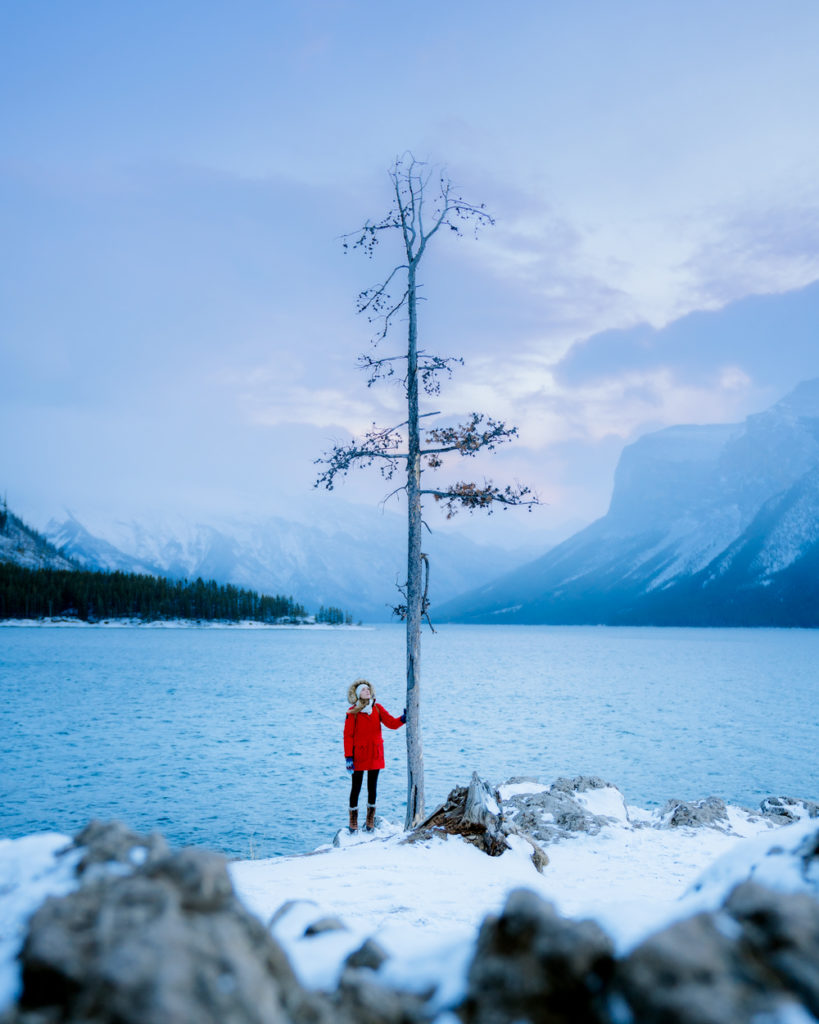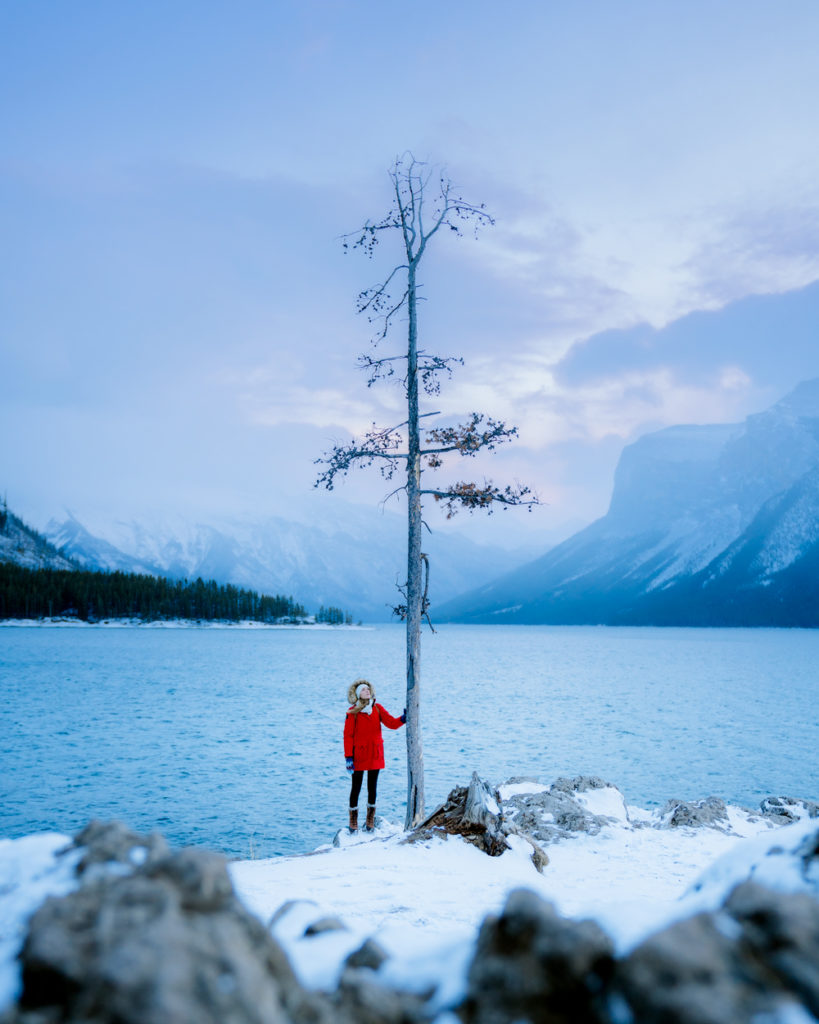 Exactly When To Visit Banff in Winter
If you are after Christmas vibes in Banff then I would recommend visiting in the second or third week of December (or even over Christmas!) There will still be some snow around but keep in mind that it might not quite be a winter wonderland yet. We visited during this time and found there to still be enough snow for hiking and skiing, but not quite enough for sledding around town. The first couple of weeks of December are considered "off-peak" so it's a good time to visit if you are looking for more affordable accommodation deals.
For those who really want to explore the snow and see Banff in the peak of winter – I would suggest visiting during February or March. Earlier last year we explored Banff in mid-February and absolutely loved the conditions for snowboarding, ice skating, snowshoeing, and dog sledding. Given that it will be peak skiing season, you may find accommodation to be a little pricier in Banff during this time.
Where To Stay in Banff
Between the choice of numerous hotels, lodges, chalets, and Airbnb's, it can sometimes feel a little overwhelming when deciding where to stay in Banff in winter. I've featured our favorite hotels in Banff and Lake Louise below, both of which we have stayed at multiple times and have had great experiences.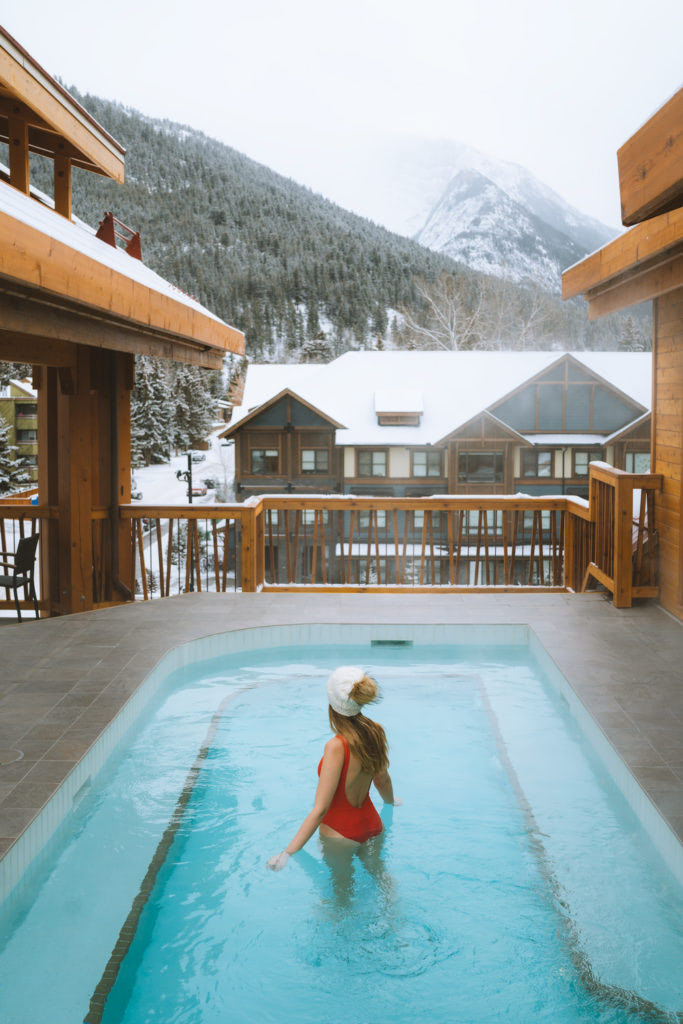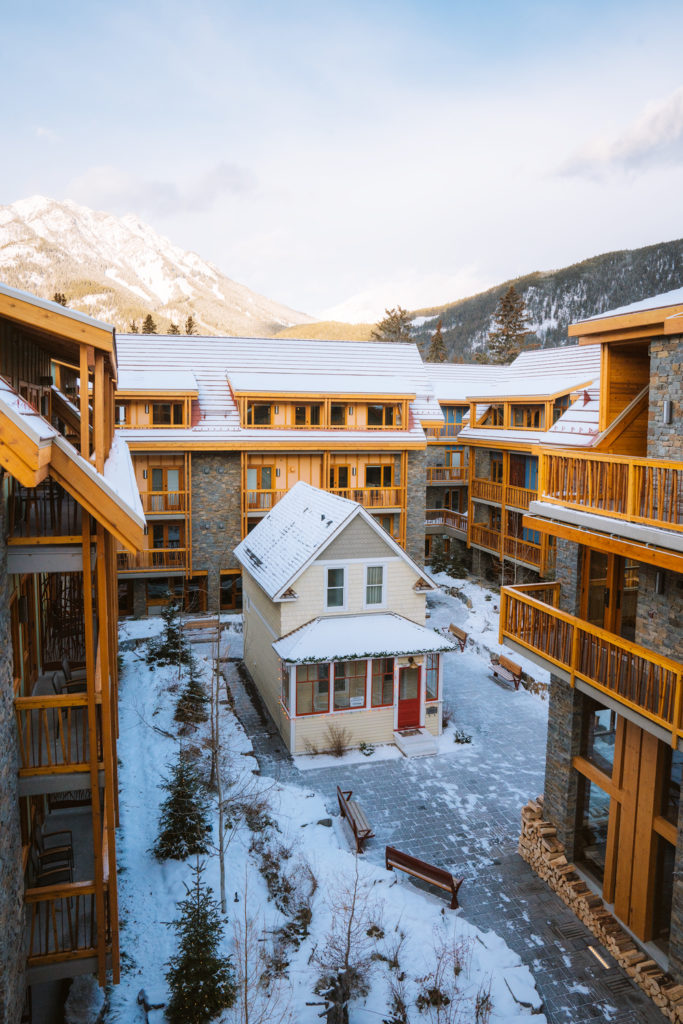 Moose Hotel and Suites
Our favorite place to stay in the town of Banff in winter is the Moose Hotel and Suites. This hotel is very modern, walking distance to everything in downtown, and the staff are super friendly. They also have some amazing rooftop hot tubs, fireplaces in all the rooms, and beautiful mountain views (see the photos above!) Both times we have stayed at the Moose Hotel and Suites has been a great experience and I know we will be back again.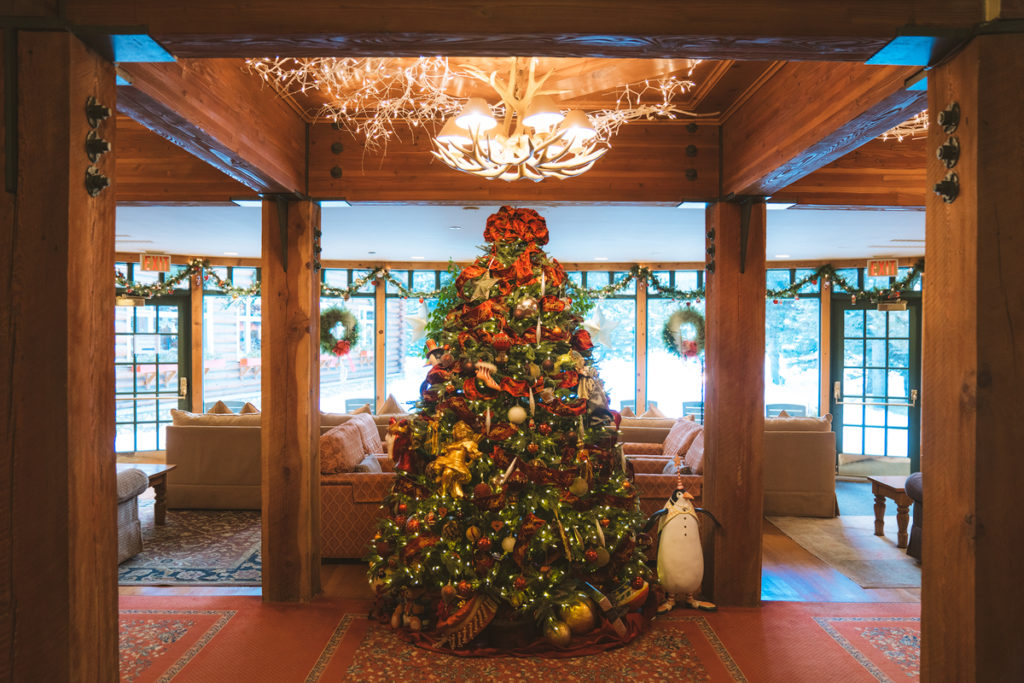 The Post Hotel
Both of our trips to Banff in winter have also involved staying a couple of nights in Lake Louise. This allows us to be closer to the Icefields Parkway, Yoho National Park, and beautiful Lake Louise. Our go-to option is the wonderful Post Hotel. We find their staff and service to be exceptional, the rooms are super cozy, and the location is central and convenient. Overall, we always love staying at The Post Hotel and always recommend it to our friends and family.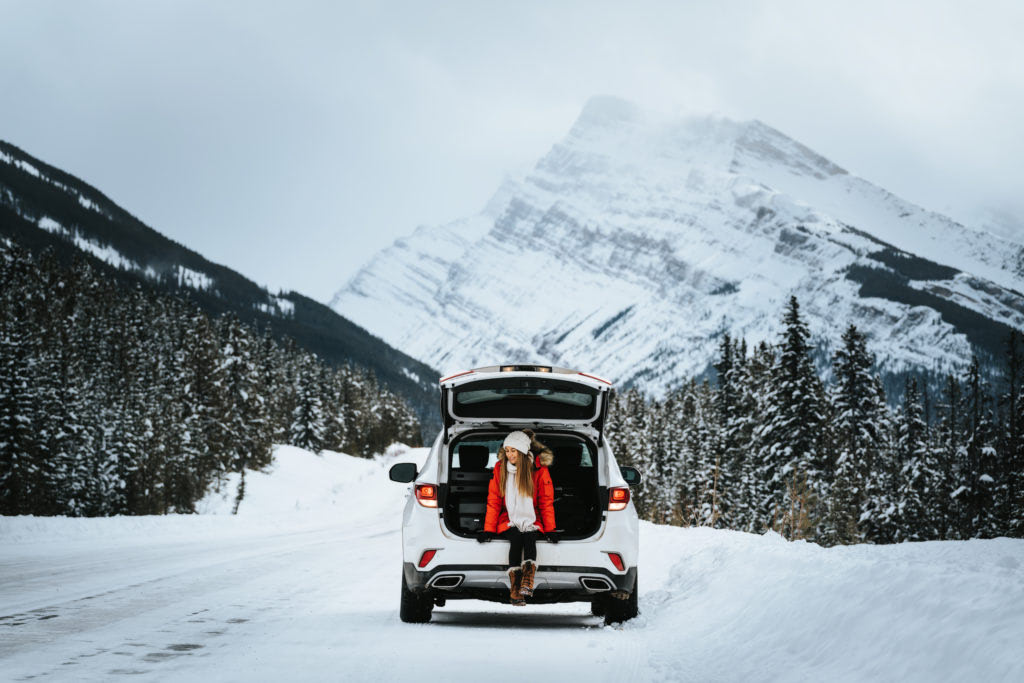 Getting Around Banff in Winter
I think the best way to get around Banff in winter is by renting a car. Most visitors fly into Calgary airport and it's easy to book and pick up a rental car right there after collecting your luggage. During winter it is best to opt for a vehicle that has all-wheel-drive and preferably winter tires. These can usually be inquired about at the time of booking. Note – we always use CarRentals to find the cheapest deals on rental cars!
On this most recent trip, we decided to drive our own car up from Seattle. It was approximately a 10.5-hour drive and we chose to stop and stay the night in Kamloops (about halfway) so that my nephew could have a break from the car. If it had been just my husband and me then we would have driven the entire way in one day. Do whatever feels right for you!
It goes without saying that you should drive carefully during the winter months in Canada. The roads will be icy at times and you should be prepared for all conditions.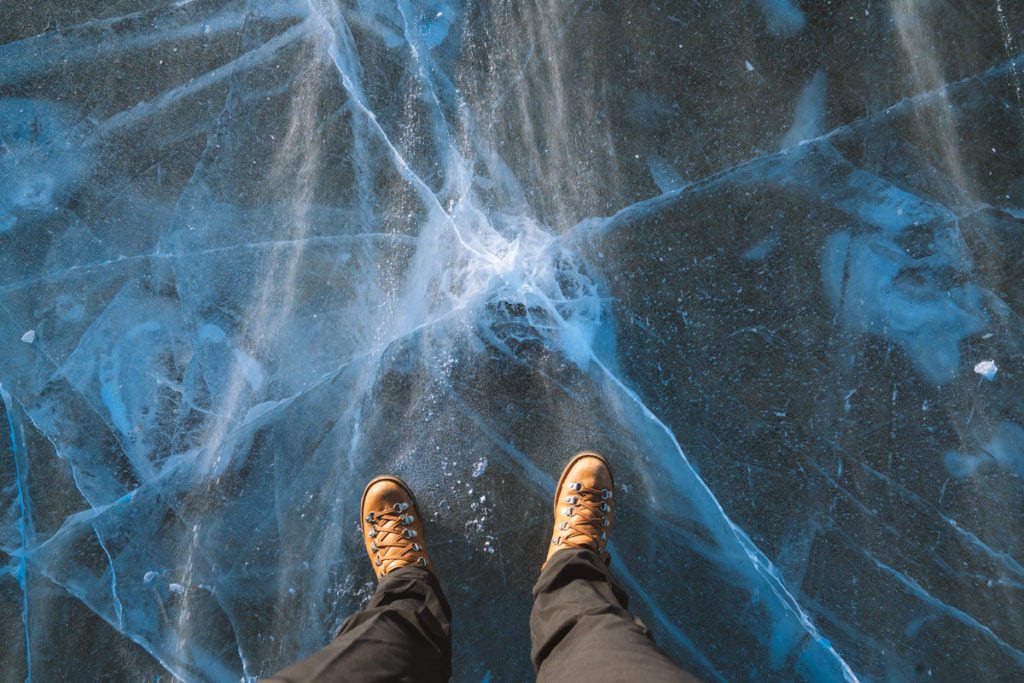 Best Things To Do in Banff During Winter
There is so much to see in Banff during winter! A good starting place is to explore the actual town of Banff and its main avenue with shops, restaurants, and bars. Banff is very pedestrian-friendly and you can spend hours strolling from one cute local store to the next (and eating way too much fudge!) There are also some short trails to take around town that provide scenic views, or you could try out tobogganing at some of the local hills (there is a fun spot at Spray Meadows Hill behind the Fairmont Banff Springs).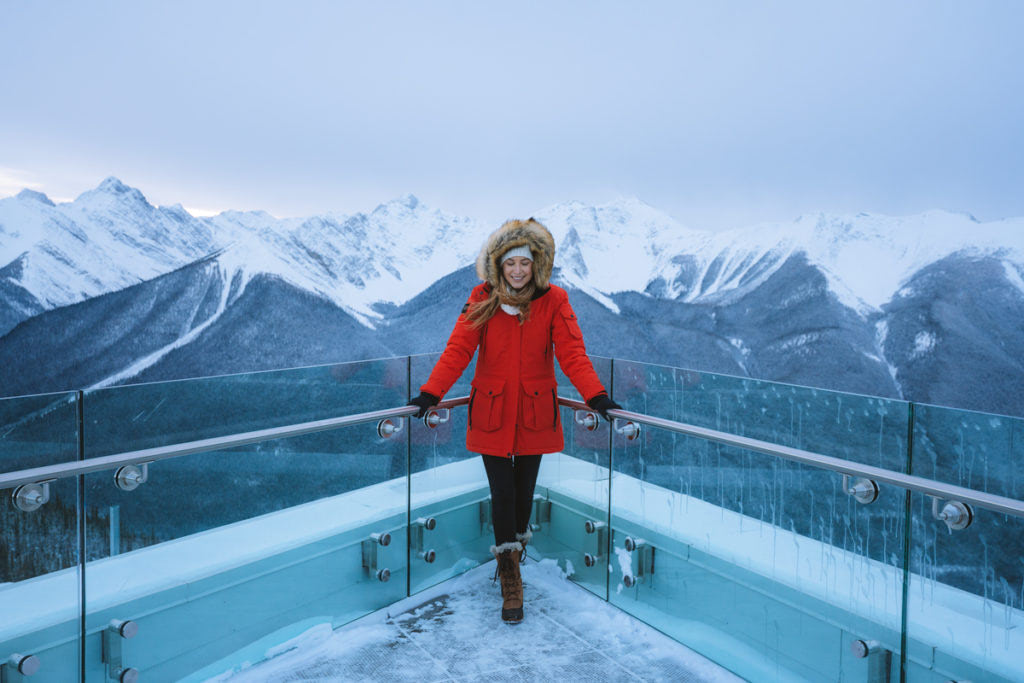 Ride The Banf Gondola
Another option close to town is the Banff Gondola, where you can access the summit of Sulphur Mountain and see some breathtaking views! At the top you can walk along the Banff gondola skywalk, explore the rooftop deck, check out the interpretive center, and even dine at the Sky Bistro. The Banff Gondola price is $58 CAD per adult when purchased in advance, or $49 for tickets after 5pm. There is also an option to hike up to the summit for free, but this can be kind of treacherous during the winter months.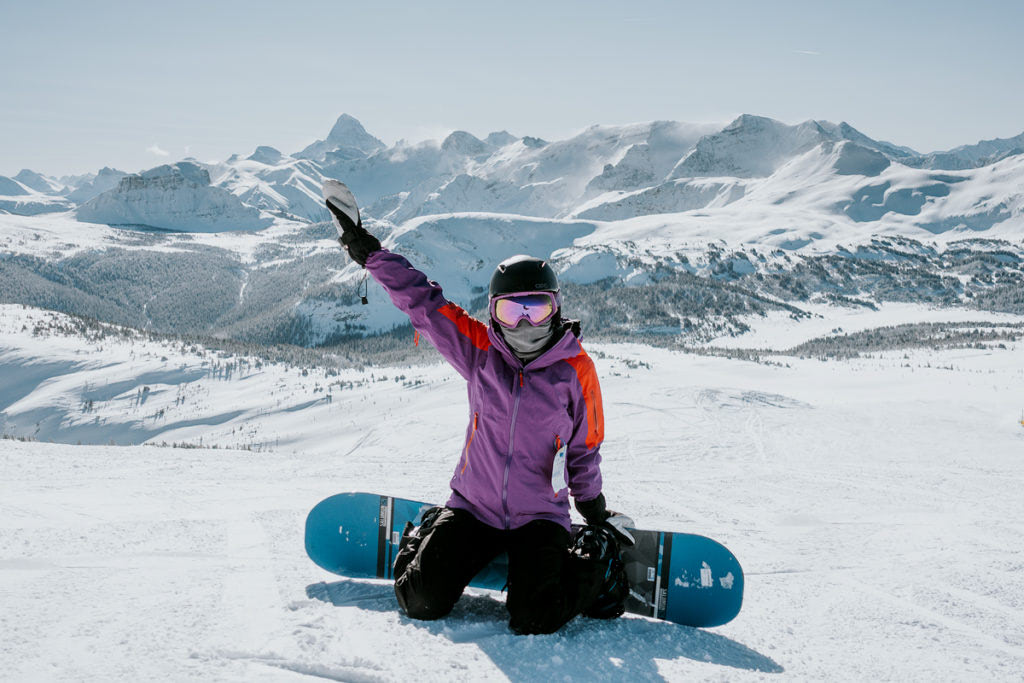 Go Skiing in Banff
A very popular winter activity in Banff is to ski the 3 main resorts – Banff Sunshine, Lake Louise, and Mt. Norquay. Let me tell you, these mountains have some of the best skiing views we have ever experienced! Many tourists opt to purchase a Ski Big 3 three day pass, that allows for time to explore each resort, complimentary shuttle rides from Banff, a pass to Banff Hot Springs, tubing, and other perks. A three day pass starts at around $300 CAD, with discounts for booking ahead of time.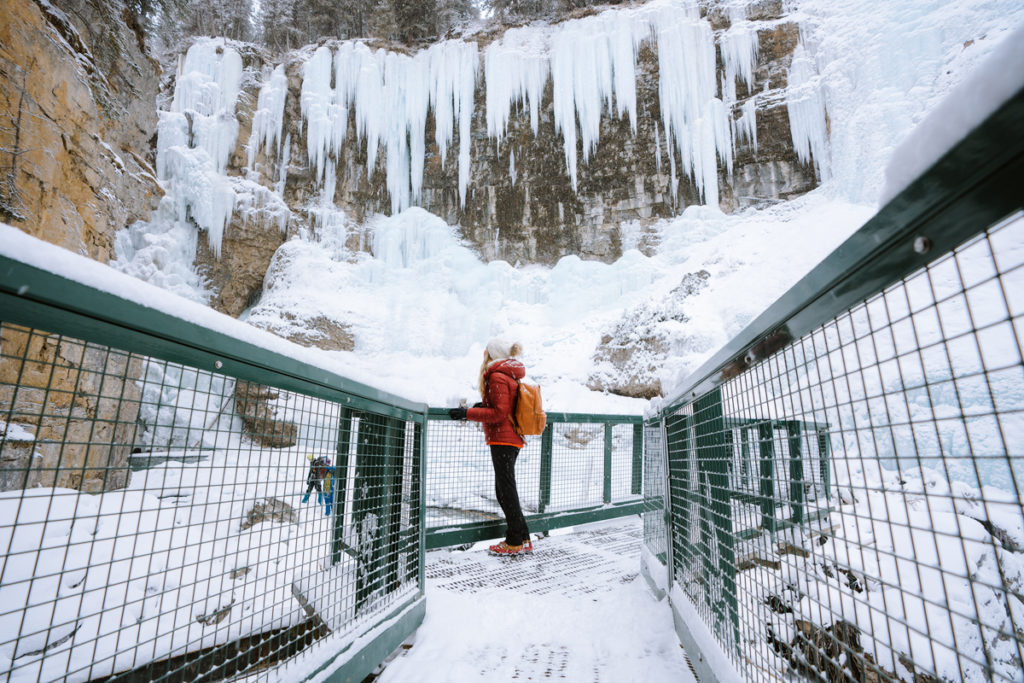 Hike Johnston Canyon
Hiking beautiful Johnston Canyon is a great day trip from Banff. A quick 20-30 minute drive out of town will bring you to the scenic Bow Valley Parkway and ample parking at the Johnston Canyon trailhead. There are options for a short walk, moderate hike or even guided ice climbing tours. We usually opt for the 5 km /3.1 mi roundtrip hike to both the Lower Falls and the Upper Falls. Visitors can marvel at frozen waterfalls, icy turquoise streams and snowy pine trees. Be sure to bring some shoe traction such as micro-spikes (these are the ones we use and love).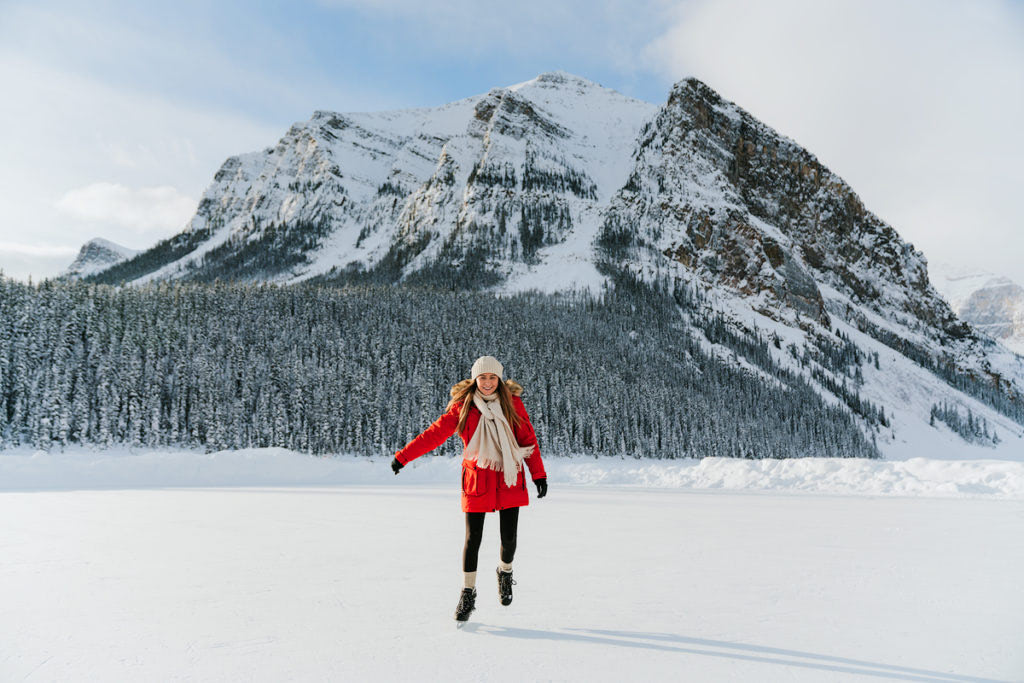 Visit Lake Louise
You simply cannot visit Banff National Park without seeing Lake Louise! It takes approximately 40 minutes to drive to Lake Louise from Banff, or like we did, you might opt to stay a couple of nights in the Lake Louise area. Whilst exploring the lake you can try out ice skating, go on a horse-led sleigh ride, go snowshoeing, cross-country skiing, dog sledding, or enjoy afternoon tea at the Fairmont Chateau Lake Louise.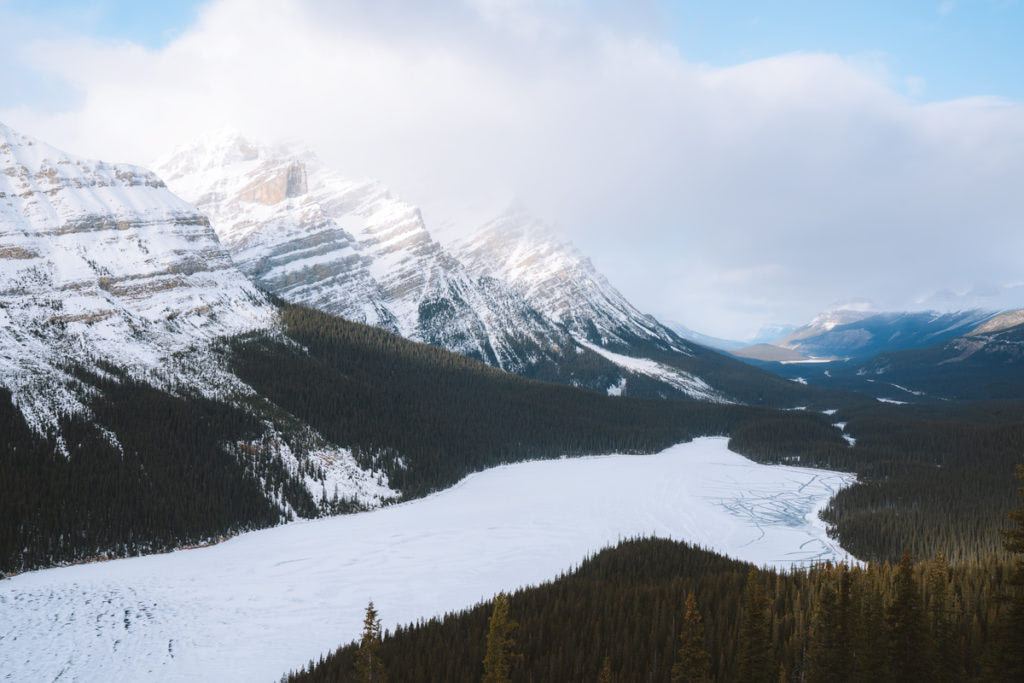 Explore the Icefields Parkway
This is a must-do! You can easily explore at least the first section of the Icefields Parkway (Highway 93) on a day trip from Banff, and even more easily if you are staying in Lake Louise. This stunning scenic drive will wind you past beautiful mountains and glacier-fed streams. Some must-see stops include Bow Lake, and Peyto Lake. You could even consider popping into British Columbia to check out Emerald Lake and Natural Bridge in Yoho National Park (along the Trans-Canada Hwy).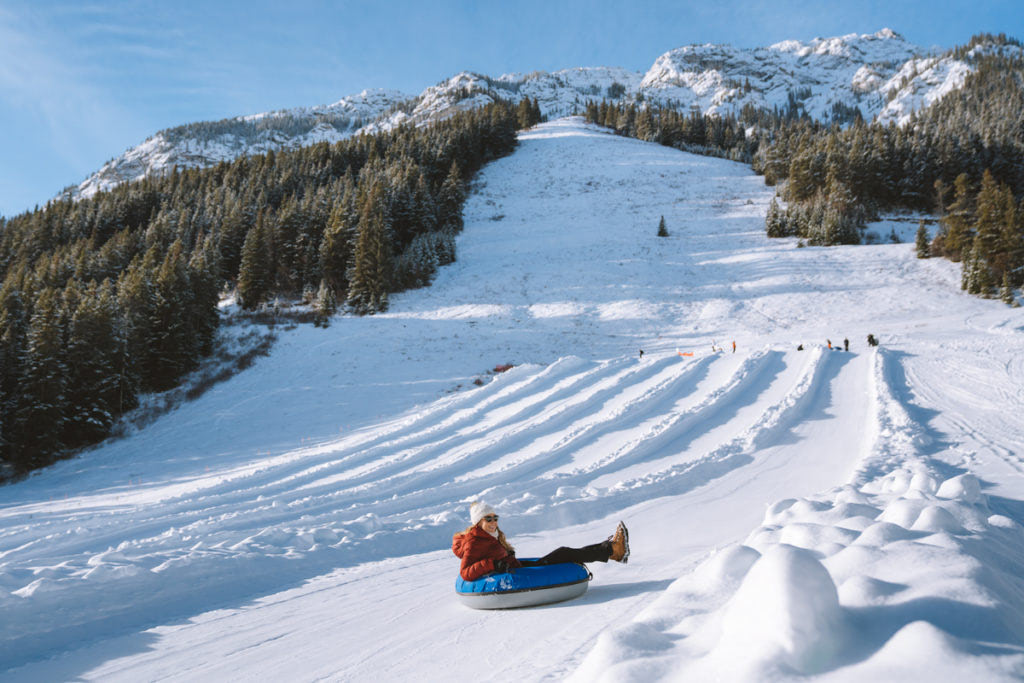 Go Snow Tubing
You don't need to be a skier or snowboarder to enjoy Banff in winter! We tested out the Mt. Norquay tubing park and had SO much fun! The tubes flew down the slopes surprisingly fast, yet always felt very safe. The Mt. Norquay tubing park is open every day, as well as Friday and Saturday nights from 5pm – 9pm. Those with a Ski Big 3 pass will be able to access the tubing park for free, otherwise it's $35 CAD per adult.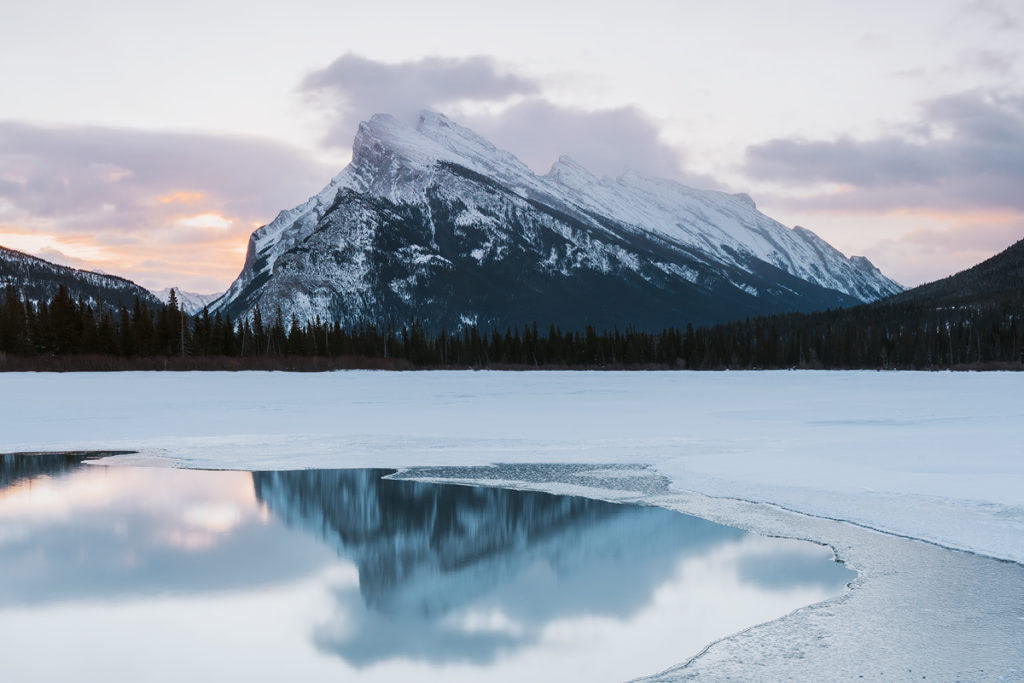 Take a Scenic Drive
We already mentioned the Icefields Parkway and Bow Valley Parkway for scenic drive options when exploring Banff in winter, but there are a few more to consider! We also love taking the drive to see Vermillion Lakes, Two Jack Lake, and Lake Minnewanka. You will see snow-capped mountains in all directions, beautiful frozen lakes, and potentially even wildlife! Be sure to keep your eyes peeled for elk, moose, bighorn sheep, and deer.
Check out this blog post for more ideas on winter adventures to take near Banff.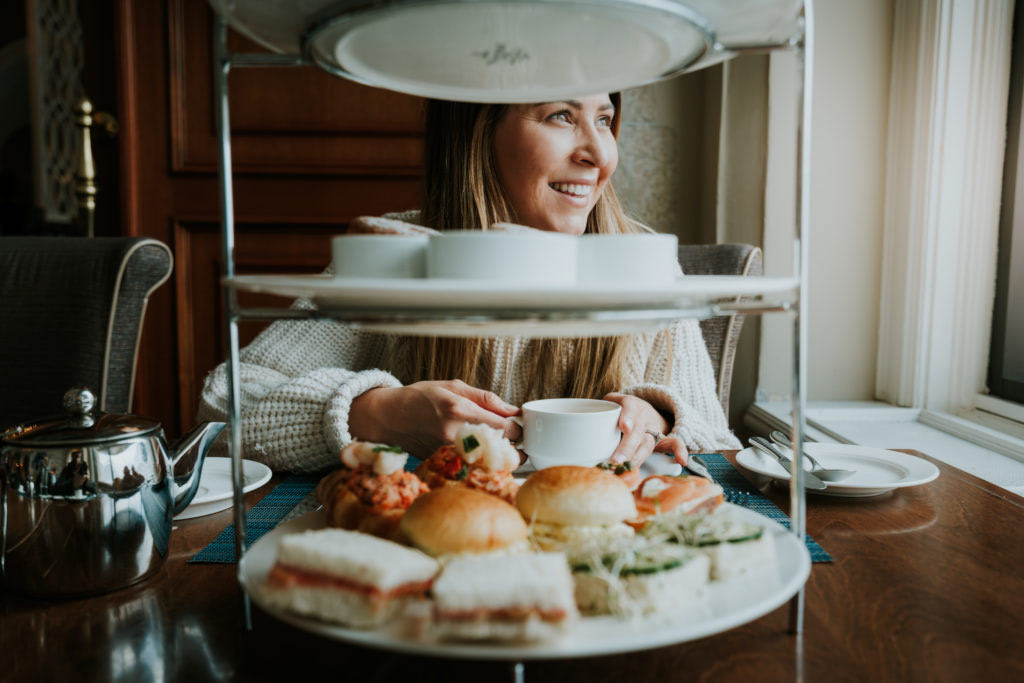 Best Places to Eat in Banff
We LOVE eating all the yummy food around Banff in winter! Some of our favorite places for dinner are Eddie Burger + Bar for the best vegetarian poutine (order it with added mushrooms), Bear Street Tavern for amazing pizzas, Indian Curry House for a warming meal after skiing, and classic cheese fondue at Waldhaus Restaurant.
A good option for a special dinner or celebration is the 1888 Chop House at the Fairmont Banff Springs. For brunch spots and cafes I would suggest Tooloulou's (breakfast until 2pm), The Juniper Bistro (#1 on TripAdvisor), and the Wild Flour Bakery. For sweets you cannot go wrong with a classic Beaver Tail (just try it!) or a stop by the Banff Sweet Shoppe.
During your time in Lake Louise I would recommend enjoying a breakfast wrap and coffee from the Trailhead Cafe, a hearty lunch at Bill Peyto's Cafe, a traditional afternoon tea at the Fairmont Chateau Lake Louise, and treat yourself to an exquisite dinner at the Post Hotel Dining Room.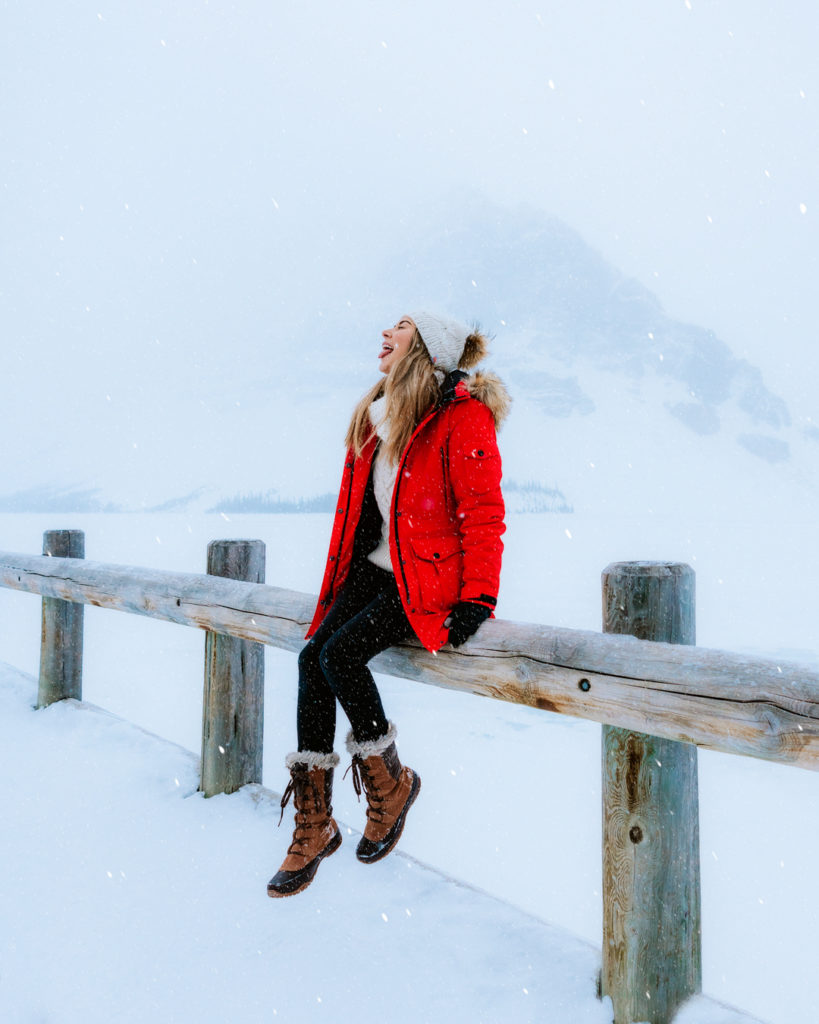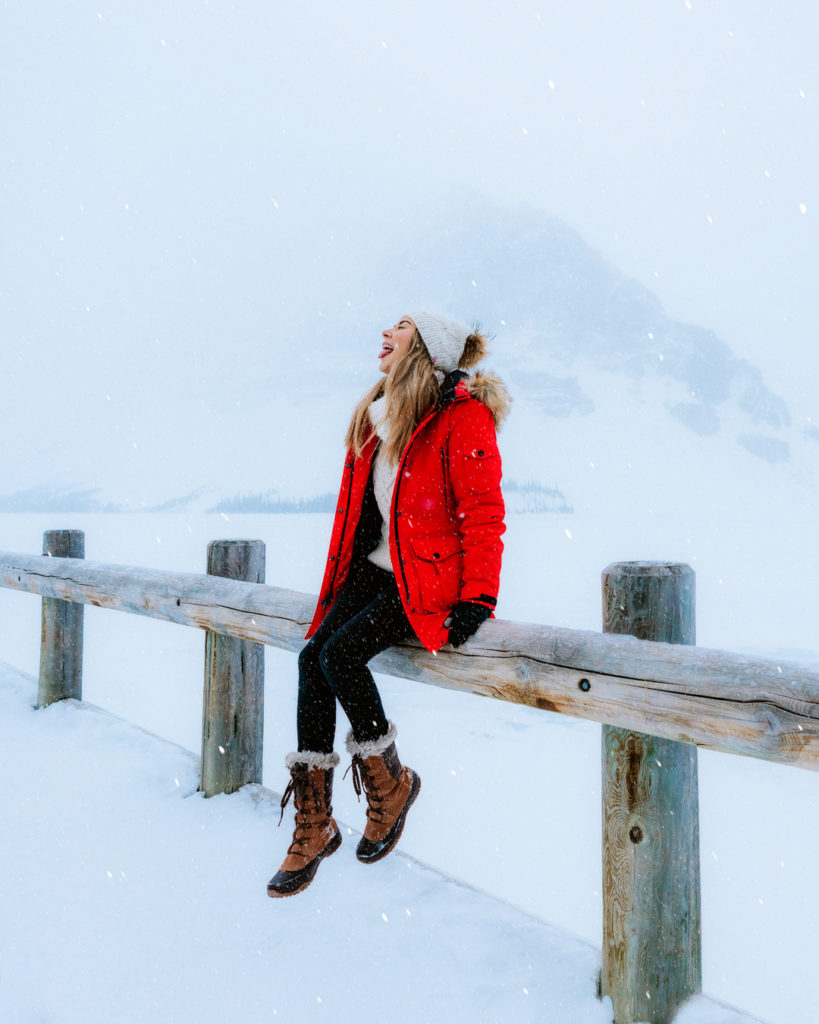 What To Pack for a Winter Trip to Banff
Banff in winter can get reaaalllly cold. I'm talking highs of around 25 F/ -4 C and lows of 7 F/ -14 C… so you need to pack appropriately! A general rule is to take a heavy parka or well-insulated jacket, thermal layers, beanie, gloves, a neck/face covering or scarf, waterproof boots, and warm socks. I always throw in some toe and hand warmers and like to bring along my microspikes for any icy hikes. Click here to access my free travel resource library and download your in-depth Banff winter packing guide!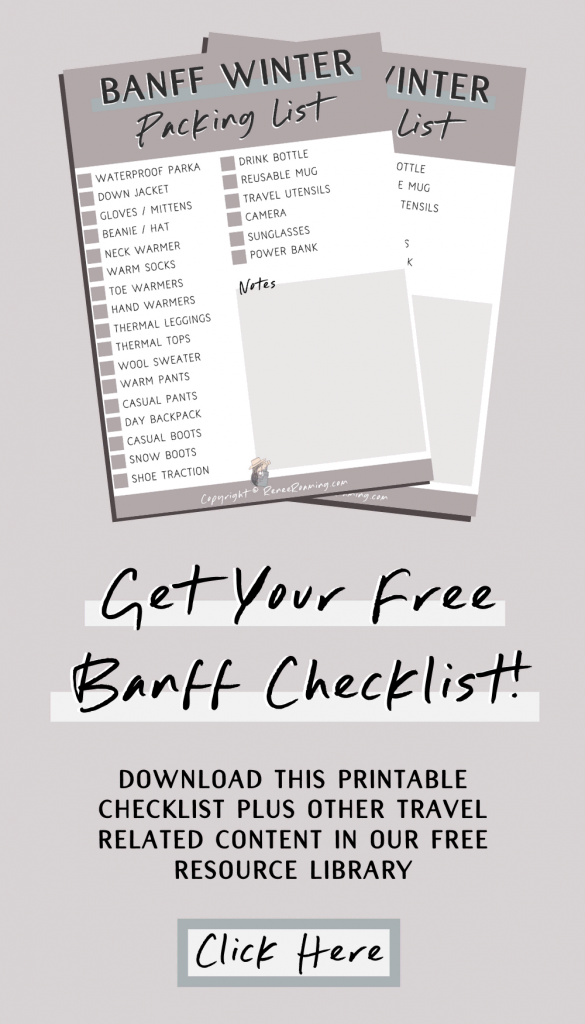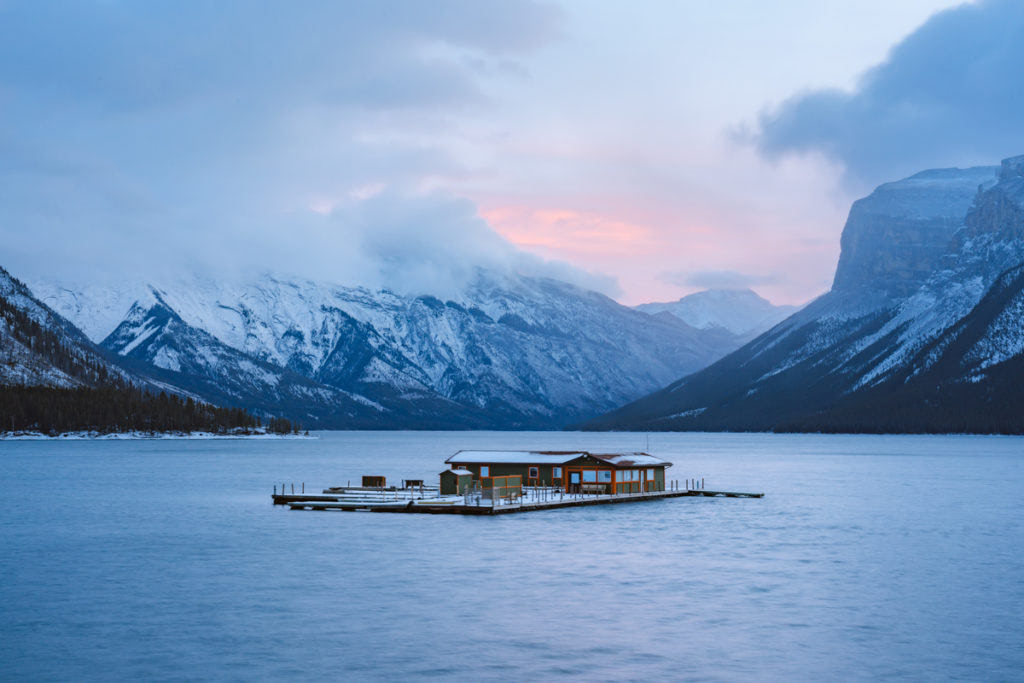 Banff Itinerary Planning Map
See the map below to where I have pinpointed a bunch of places to see, eat and stay during your time in Banff. Click the map for more info!
Visit Other Alberta Locations in Winter
You could also consider extending your trip to include a visit to beautiful Jasper, which is what we opted to do back in February last year. Here is our 7 day road trip itinerary, which started in Edmonton and ended in Calgary.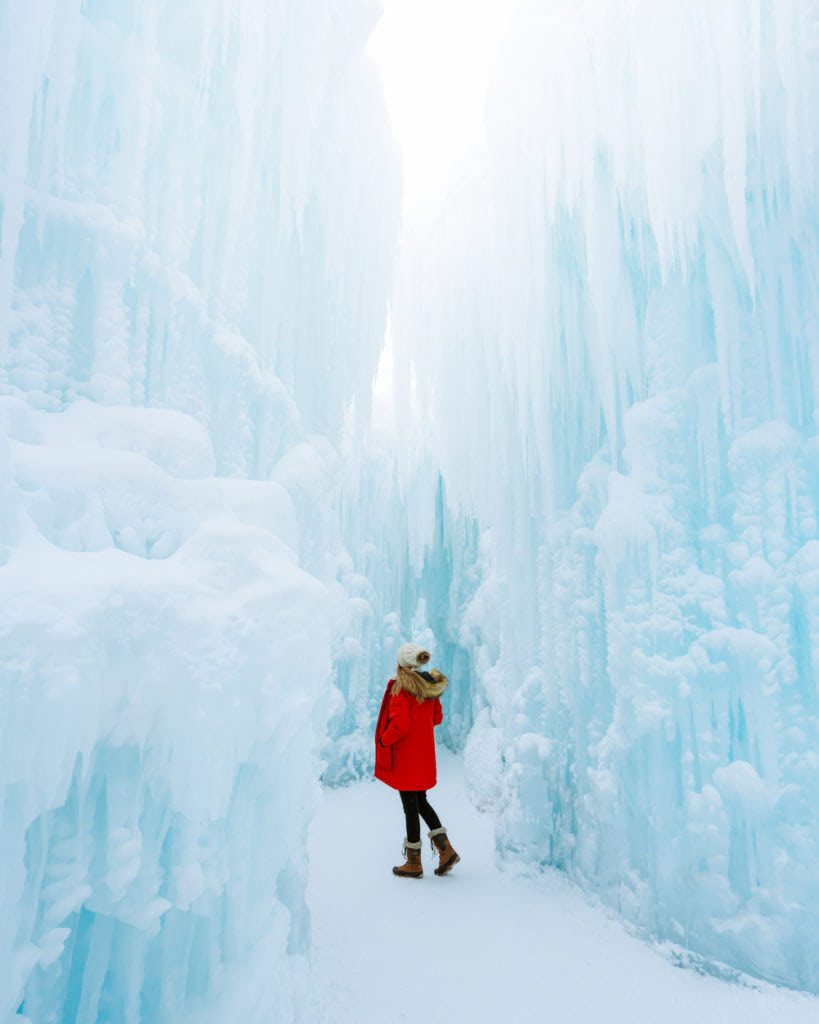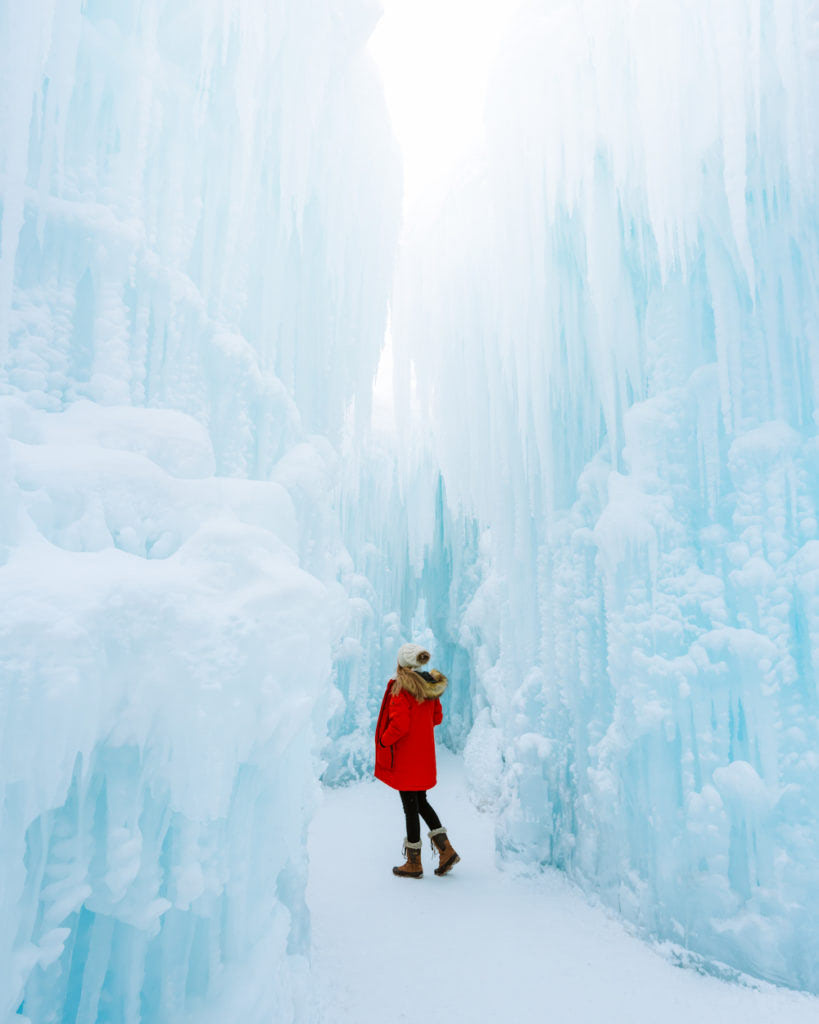 PIN for Planning Later