Alberta is like a real life Narnia during the winter months. Located in the Canadian Rockies, Alberta is home to 5 national parks, countless picturesque towns and endless opportunities for winter adventure! In this post I share the ultimate 7 day itinerary for exploring Alberta in winter, including how to get there, things to do, places to stay, where to eat, and more! Time to pack your bags!
Ultimate Winter Travel Guide to Alberta Canada – 7 Day Itinerary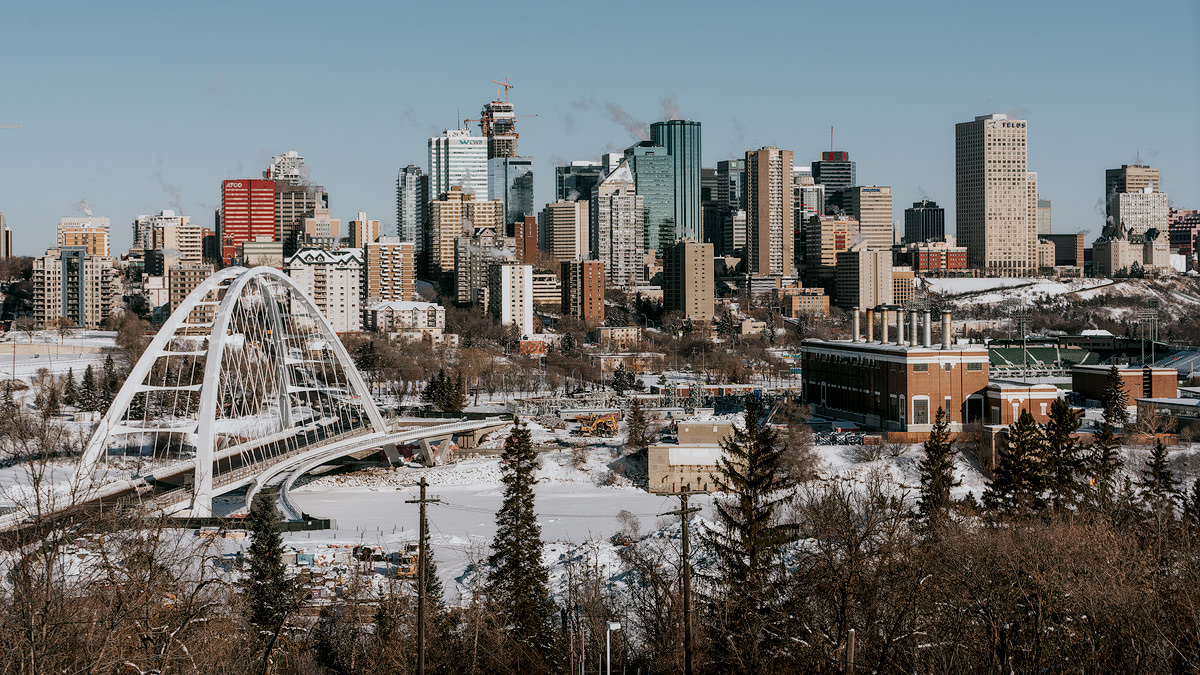 Day 1: Fly Into Edmonton 
Edmonton is a great starting place for an Alberta road trip. You can pick up a rental car right at the airport and waste no time beginning your wintery adventure. As you first drive into Edmonton, be sure to stop at the River Valley Overlook along Saskatchewan Dr, which provides beautiful views of the North Saskatchewan River and downtown Edmonton.
Next stop – the Ice Castles! Edmonton boasts an acre-sized winter wonderland of ice castles, caves, fountains, tunnels, and icy slides each winter in Hawrelak Park (late December – late February). The ice castles provide endless fun for families and the child in all of us (my husband and I had a blast trying out all the slides!) From a photographic stand point, the castles would best be explored in the late afternoon for fewer shadows and more ambient light. Those staying after dark will also be treated to a colorful light scene from LEDs embedded in the ice.
STAY – I would highly recommend the exceptional service and rooms at the Union Bank Inn.
EAT – Check out Pip for a yummy brunch and a Madisons Grill for a delicious dinner.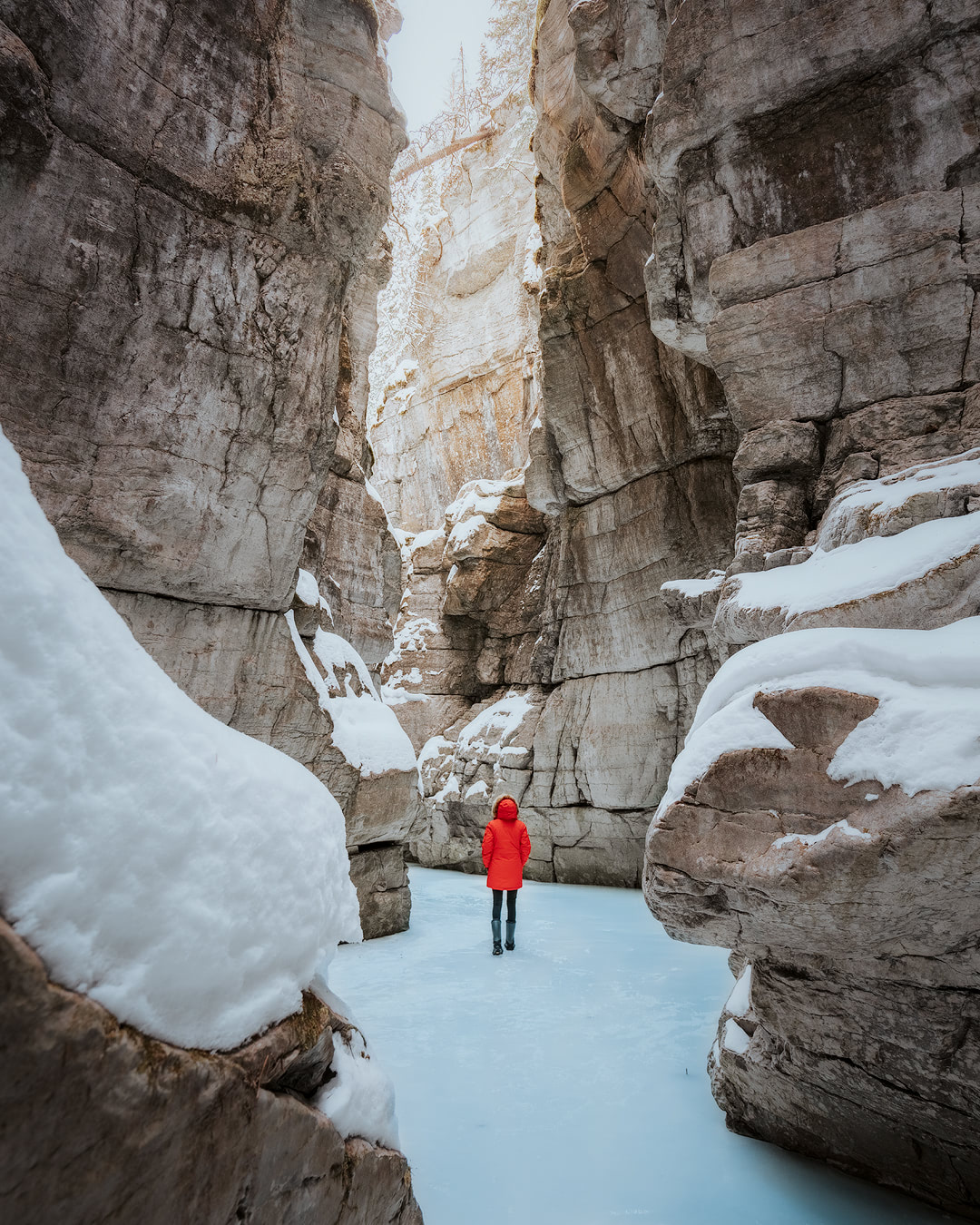 Day 2: Explore Jasper National Park
Onwards to beautiful Jasper! I hope you're ready for some stunning views because Jasper National Park is absolutely magical. Start by exploring Maligne Canyon, which is located about 15 minutes out of Jasper townsite. Maligne Canyon can only be walked during the winter months when the river and waterfalls are frozen (in summer you can view it from above). It's a surreal experience seeing the ice formations and peering up through the towering canyon walls. The canyon is best explored with a guide for safety reasons and ice cleats/micro-spikes are a must. Our guide, Gary, from SunDog Tours was a wealth of knowledge about the canyon and Jasper National Park. You can even take it up a notch and try ice-climbing one of the frozen waterfalls! (be sure to only do this with a guide unless you have ample experience and the required equipment).
Pyramid Lake is another must-explore area in Jasper National Park. Head there around sunset for a chilly stroll on the ice and epic mountain views. The bridge connecting Pyramid Lake Road and Pyramid Island is a great spot for photos and taking in the scenery.
STAY – You can't beat the stunning mountain and lake views at Pyramid Lake Resort!
EAT – Wicked Cup serves a delicious brunch and the pastries at Bear Paw Bakery are to die for! For dinner I would recommend Famoso's authentic Italian pizzas – so yummy!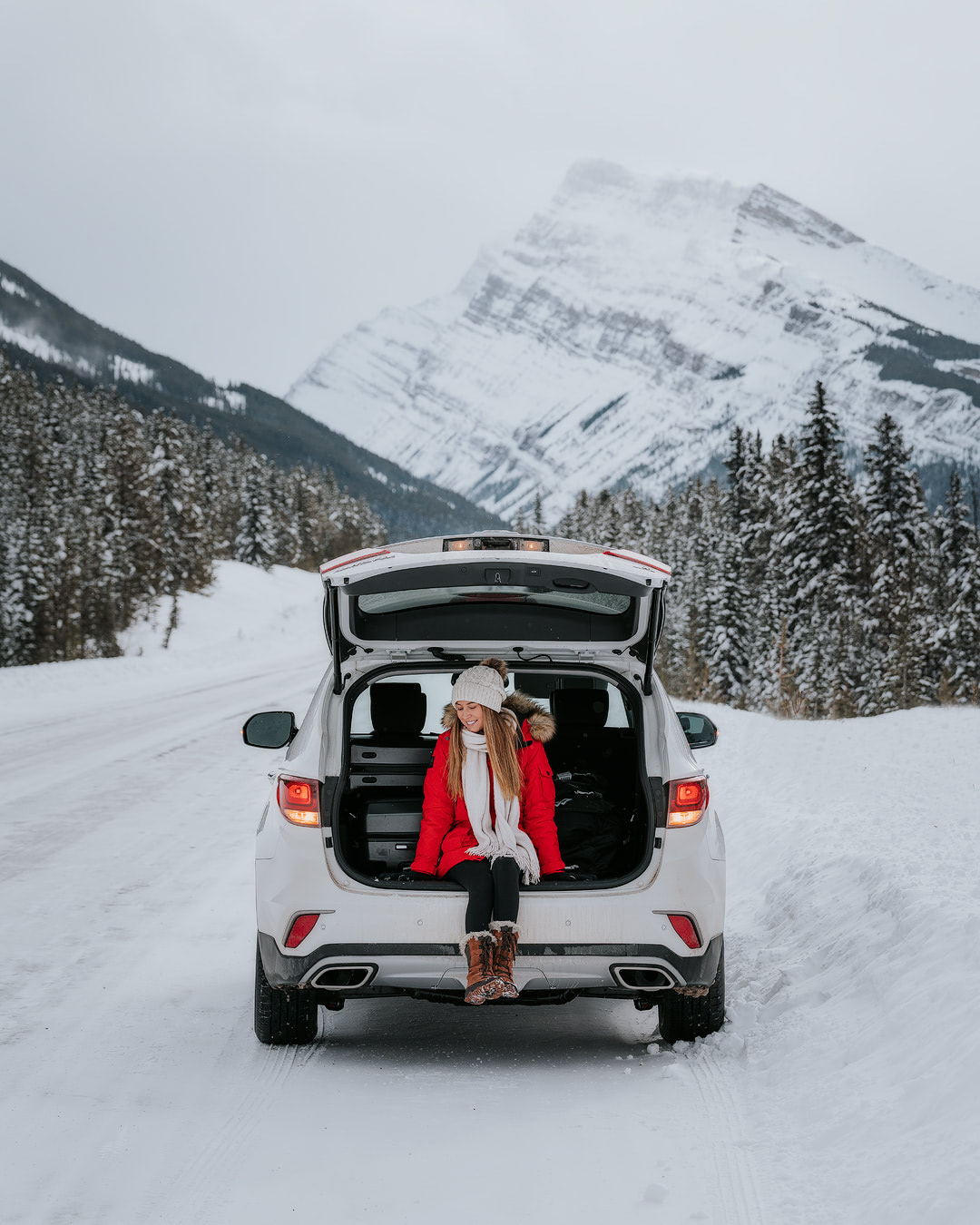 Day 3: Drive The Icefields Parkway
Connecting Jasper and Banff National Parks, the Icefields Parkway is world famous for its beautiful scenery and photographic opportunities. The 232 km road can be driven in one day with ample of time to take it all in. Some of the highlights include Athabasca Falls, Sunwapta Falls, Columbia Icefield, Bow Lake, and Peyto Lake. Keep your eyes peeled for ice-climbers traversing frozen waterfalls along the mountainsides!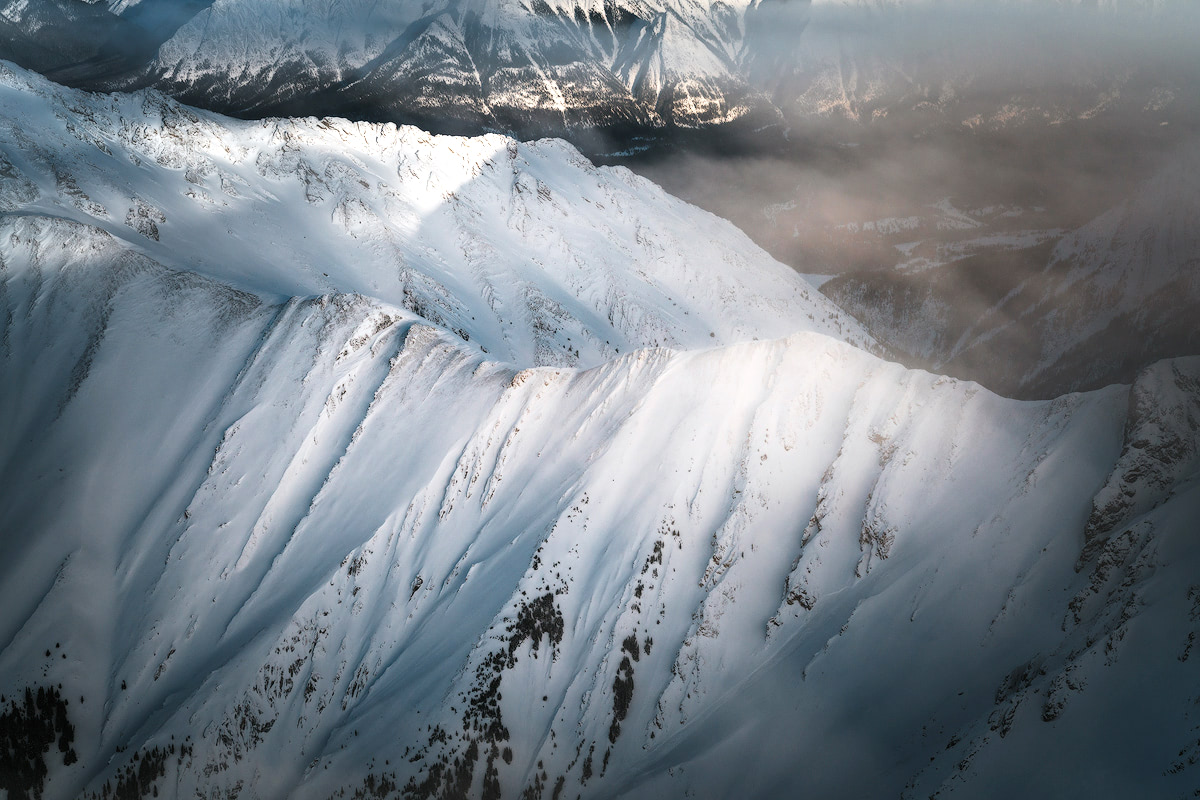 Want to see the mountains from 10,000 feet in the air? A 35 minute detour off the Icefields Parkway (down David Thompson Hwy) will bring you to Rockies Heli. Experiencing an aerial view of the Rockies is an unforgettable experience and will leave you pinching yourself for days. We took a 30 minute sunset flight followed by a delicious homemade dinner. From here you could stay the night in Cline River or continue on to Lake Louise.
NOTE – be sure to fill up gas before heading out on the Icefields Parkway. There isn't anywhere to fill up in winter between Jasper and Lake Louise (Saskatchewan Crossing is closed in winter).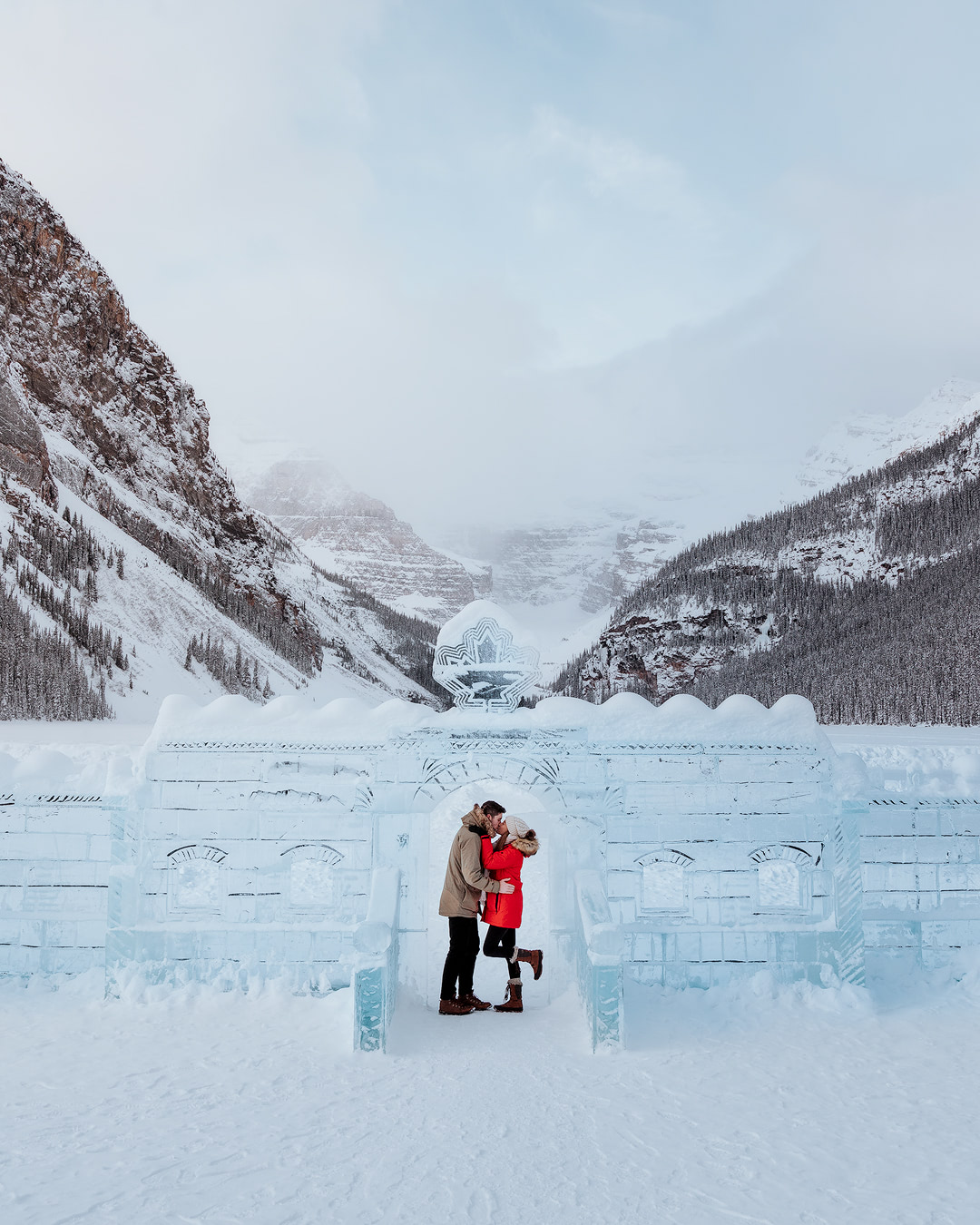 Day 4: Quintessential Lake Louise
Oh Lake Louise… you are even more magical in winter! Most people have seen photos of (or experienced) beautiful Lake Louise during summer, but few have been lucky enough to visit in winter. Winter is my new favorite time to visit! The frozen lake allows for ice skating, snow shoeing and even horse drawn carriage rides. My husband and I set out at sunrise to enjoy the (chilly) solitude and had an entire ice rink to ourselves! The winter months also bring the famous Ice Magic Festival to Lake Louise, with ice sculptures carved from artists all around the world.
STAY – The Fairmont Chateau Lake Louise is an idyllic place to stay, though Lake Louise also has numerous other wonderful options. We absolutely loved our stay at the Post Hotel & Spa, which had impeccable family-owned service, beautiful rooms, and the kindest staff.
EAT – Our favorite meal of the trip was dinner at the Post Hotel Dining Room – a worthy splurge! Be sure to try their incredible desserts! Oh and don't miss out on trying the Fairmont Chateau Lake Louise's Afternoon Tea – because where else in the world can you eat delicious scones to such a view?! Reservations are recommended.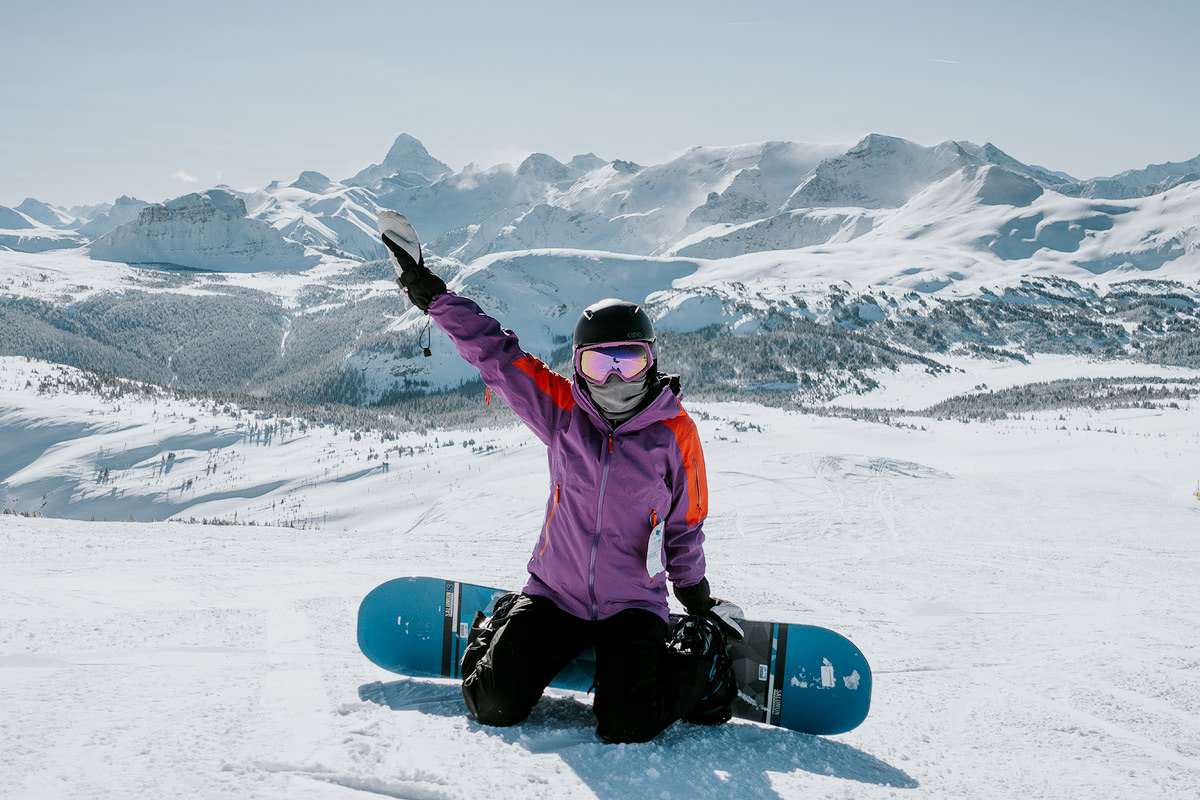 Day 5: Hit the slopes in Banff
Time to stretch those legs and take in the views! We had an amazing day snow-boarding at Sunshine Village – Banff's local ski resort. Located only 20 minutes from town, Sunshine Village has 12 lifts, 137 runs and the most epic resort views you will ever experience! My favorite view was from the summit of Lookout Mountain (accessed from the Great Divide Express Quad). Fun fact – you actually cross into British Columbia on that very chair lift, and then ski/board back into Alberta! For those coming from out of town, you can rent skis/boards before heading up on the gondola or from Sunshine Village itself. There are also plenty of places to eat and enjoy a warm drink whilst taking in the views.
---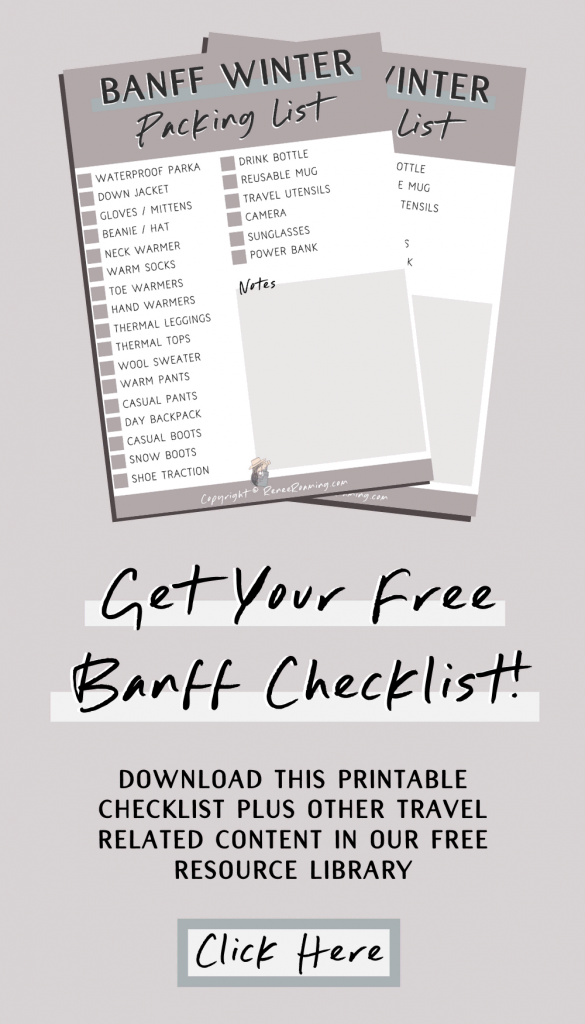 ---
Give those tired muscles a soak and finish the day off with a warm dip at Upper Banff Hot Springs. Located just out of town, visitors can soak in the outdoor hot springs whilst taking in views of beautiful Mount Rundle… all for only $7.30! (price for an adult)
STAY – Banff has a range of wonderful accommodation choices – with  the Moose Hotel and Suites and Fairmont Banff Springs being two of our favorites.
EAT – Try breakfast at Tooloulou's, lunch at Eddie Burger + Bar, and dinner at the Bear Street Tavern. If you are looking for a special night out, head to 1888 Chop House at the Fairmont Banff Springs – exceptional service and delicious food!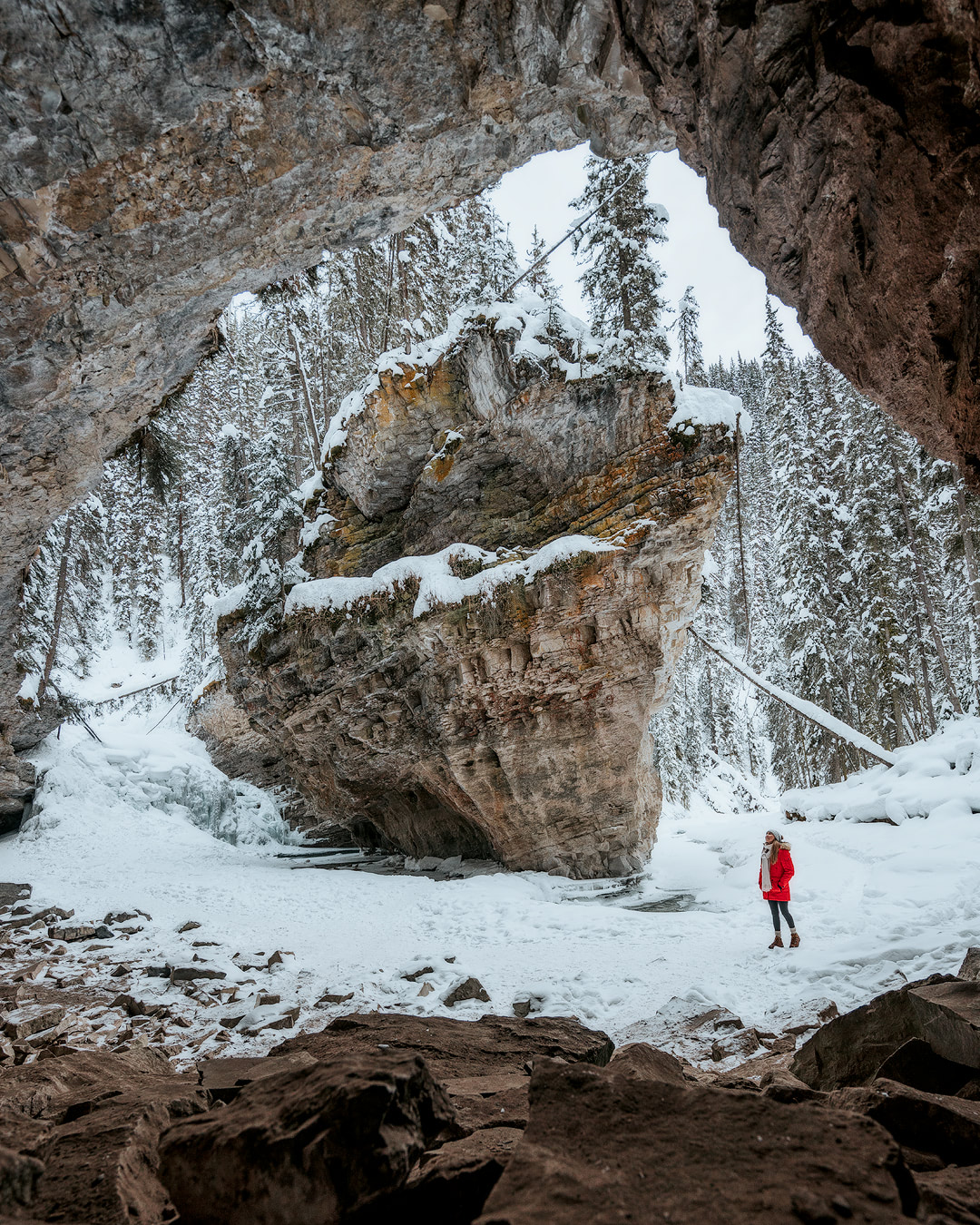 Day 6: Explore Banff National Park
There is so much to do within a short drive of Banff! One of my favorite day trips is along the Bow Valley Parkway, with stops at Johnston Canyon and Castle Mountain. The Bow Valley Parkway is also popular for viewing wildlife such as elk, deer, moose and wolf.
Located about 30 minutes from Banff townsite, Johnston Canyon can be hiked with our without a guide. I would recommend ice cleats/micro-spikes for your shoes regardless of how you explore the canyon. Johnston Canyon has two main trails – the Lower Falls (1.1 km's each way) and the Upper Falls (2.7 km's each way). Allow about 2.5 hours for hiking and sightseeing if you are planning to hike to both falls – highly recommended!
Castle Mountain is another beautiful photography location along the Bow Valley Parkway. You will come to a bridge right as you see a river flowing past Castle Mountain, pull over and park safely to the side of the road. There is a wildlife gate to get down to the river (left of the bridge) – make sure to keep it closed after entering and exiting. The river provides beautiful reflections for photographing Castle Mountain at sunrise or sunset.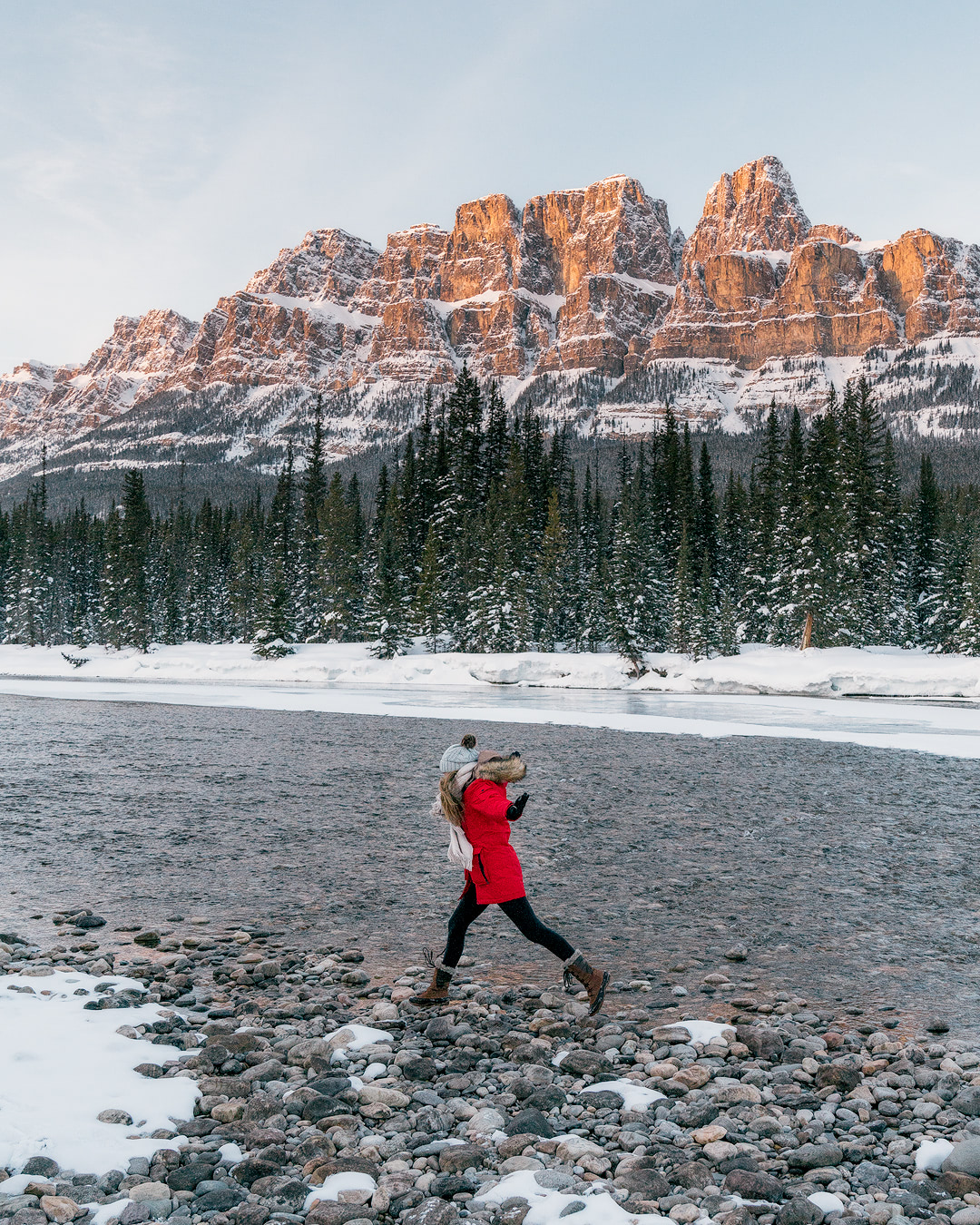 Day 7: Fly out of Calgary
Nooooooo… can we stay in Alberta forever?! Seriously though, you could spend much longer than one week exploring just Banff National Park, let alone Alberta's other amazing sights. We chose to drive the 1.25 hours from Banff to Calgary International Airport for our flight back to Seattle.
Some ideas for things to do the morning you fly out: head to Vermillion Lakes for sunrise, go tubing at Mount Norquay, or if time allows try dog sledding in Canmore!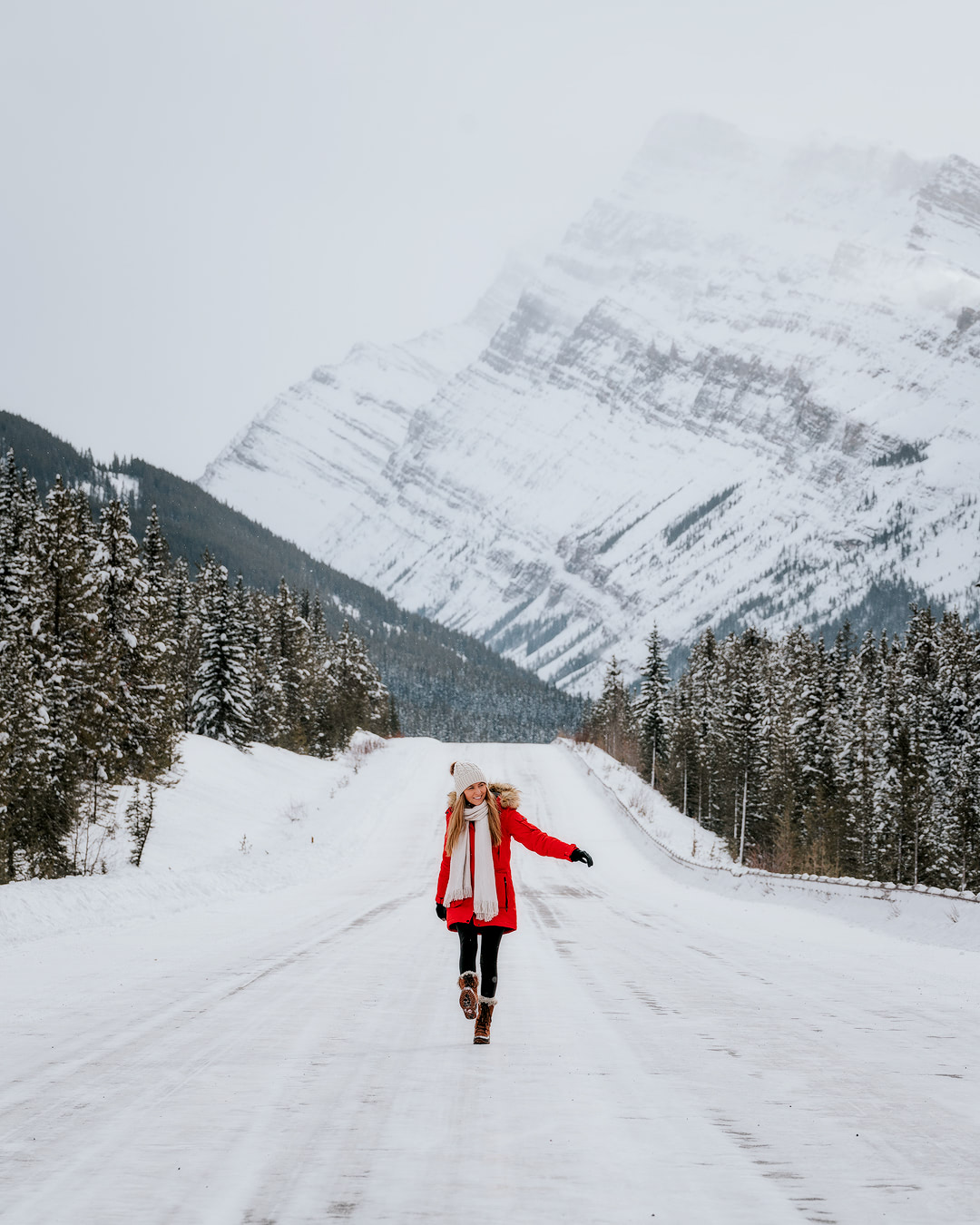 7 DAY ITINERARY MAPPED OUT
(click on the pins for more information)
Already started planning your trip?!
Check out these must-do winter activities in Banff National Park!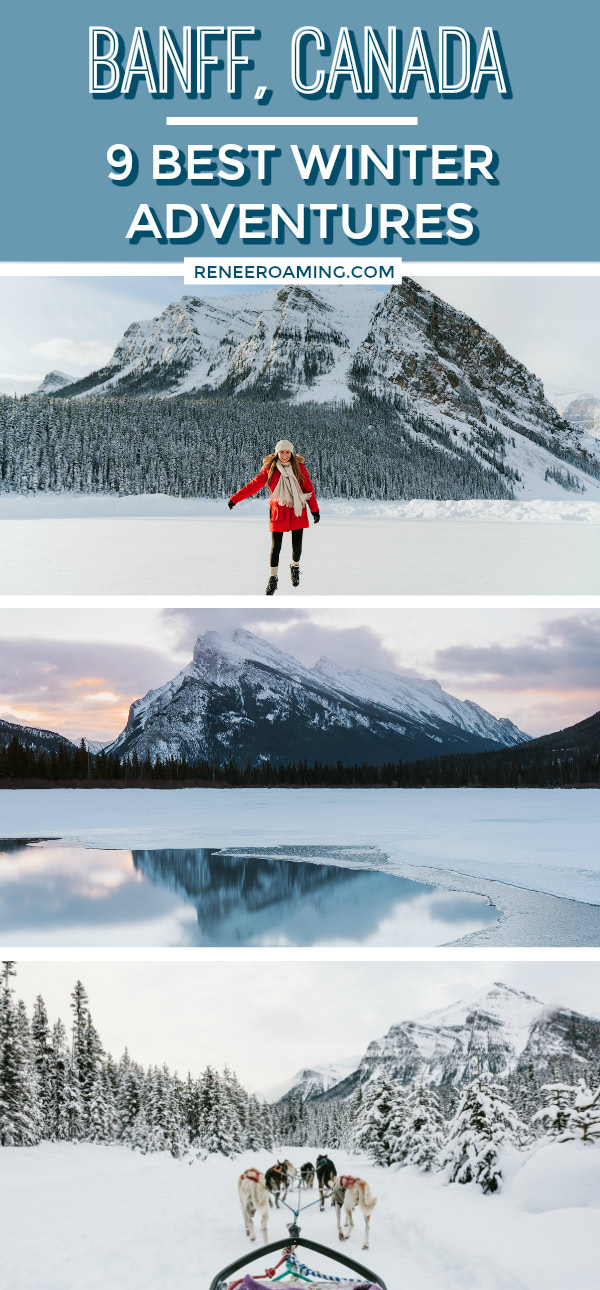 PIN FOR LATER!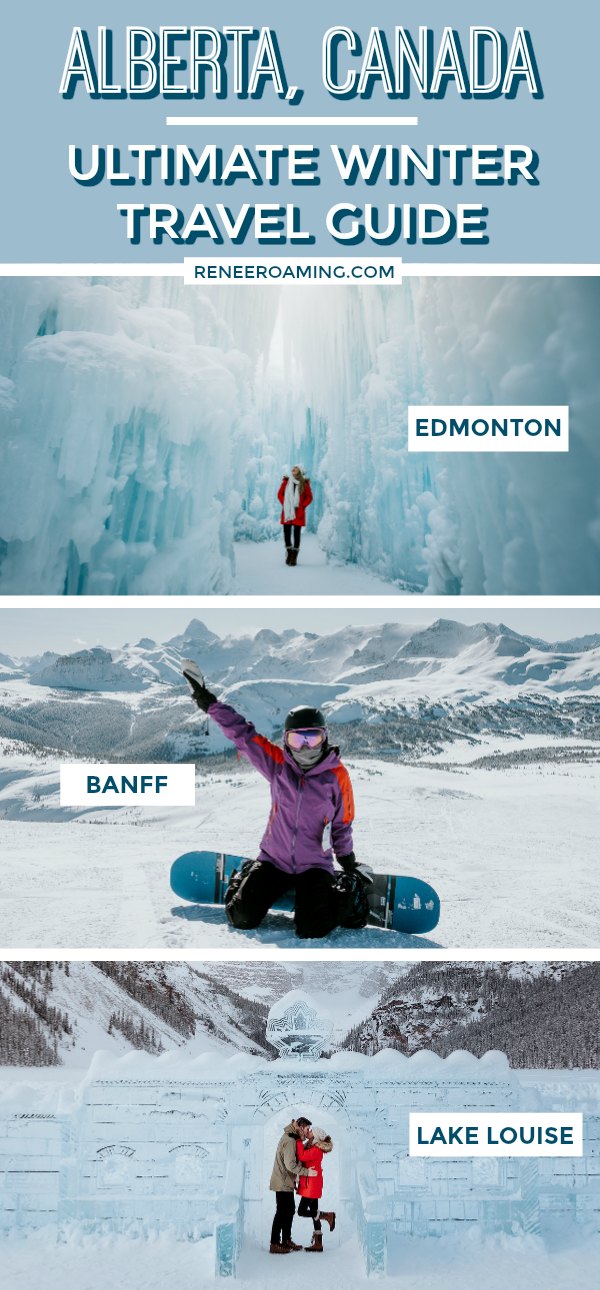 A massive thank you to Travel Alberta for making this trip possible. As always, all opinions and views are my own. Copyright all imagery – Renee & Matthew Hahnel, Hahnel Visuals Co.