Fall in Washington State is absolutely gorgeous! In my opinion, it's one of the best times to visit the Pacific Northwest for beautiful autumn foliage, prime hiking conditions, and epic whale watching. It's also a great time of year to enjoy pumpkin patches, corn mazes, festivals, and to take a cozy cabin getaway! In this blog post, I am sharing 7 bucket list-worthy outdoor things to do during fall in Washington State. Numerous of these activities only happen during the fall, so don't miss out!
Disclaimer: This blog post is in collaboration with Backcountry.com and features some affiliate links. This means I get a small commission if you make a purchase (at no extra cost to you). Use code RENEE15 to get 15% off your first Backcountry order (some exclusions apply). You can also learn more about my affiliate policy here. Thank you for the support!
7 Best Outdoor Things To Do During Fall In Washington State
Before we jump into the recommendations, keep in mind that many recurring events have still been postponed or cancelled, both in Washington and across the United States. Some festivals and fairs have been postponed, but I have done my best to only include suggestions that are going ahead.
Important – Please be respectful of local Washington communities when traveling during the fall. Follow social distancing guidelines, mask up, wash your hands, and don't travel if you are sick.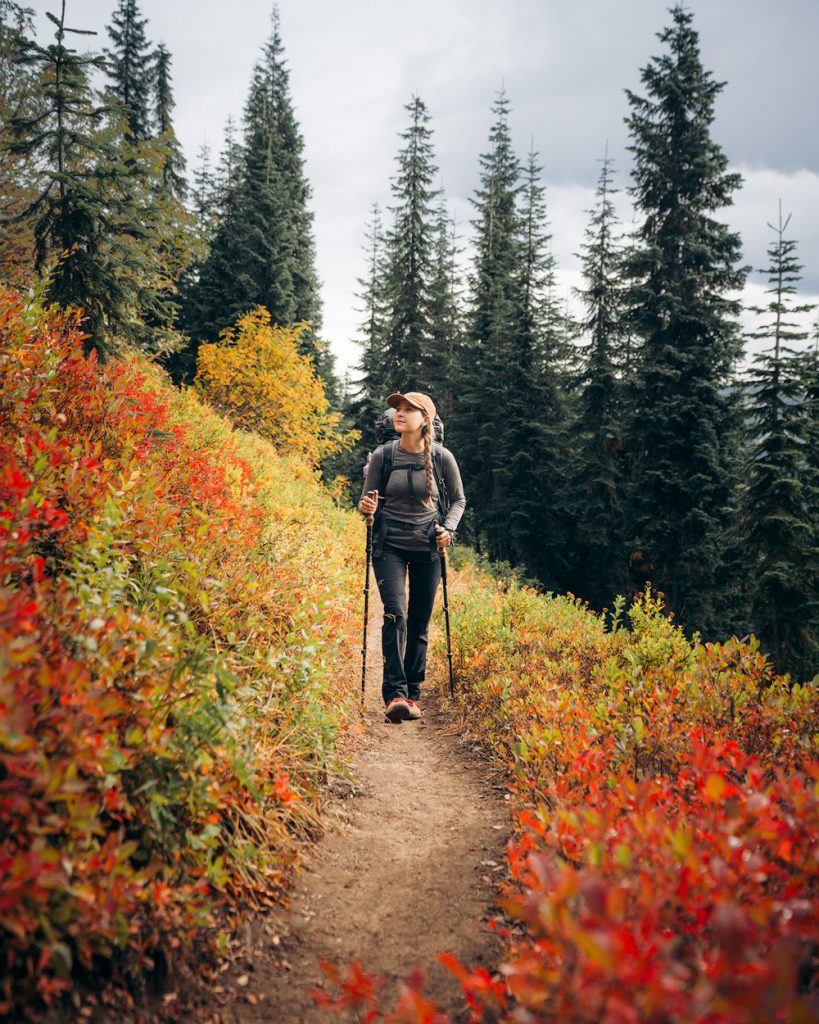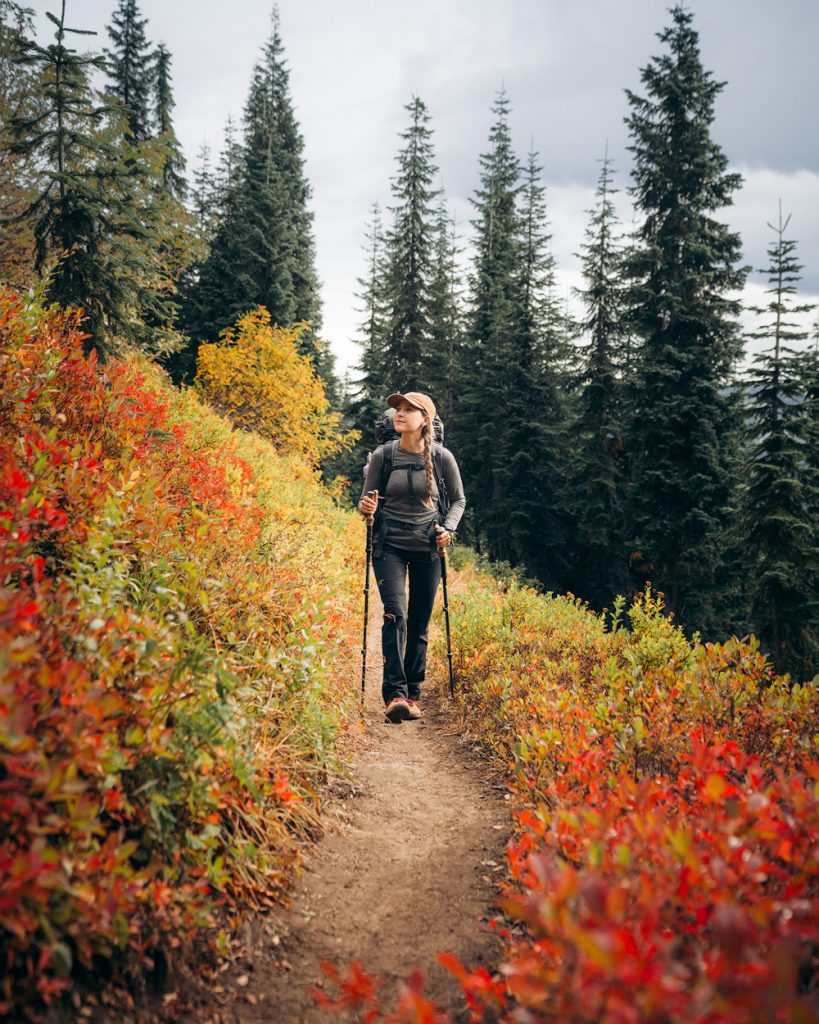 September is my favorite month for hiking in Washington. This is because the mosquitos are FINALLY gone, wild huckleberries and blueberries are ready to eat, and fall colors are beginning to peak. October is usually prime for peak fall foliage but can also be snowy in the mountains, depending on the year. It's important to check current conditions before going and plan accordingly for weather. These are some incredible hiking trails to consider during fall in Washington State:
Hiking related posts to read next: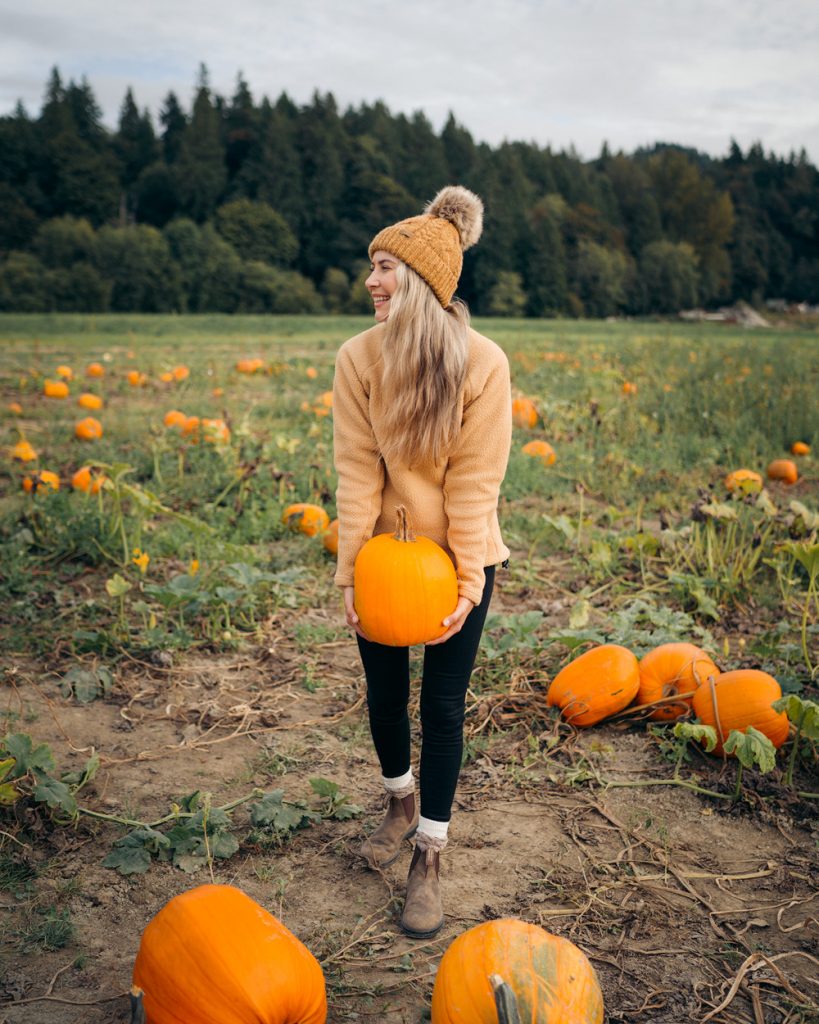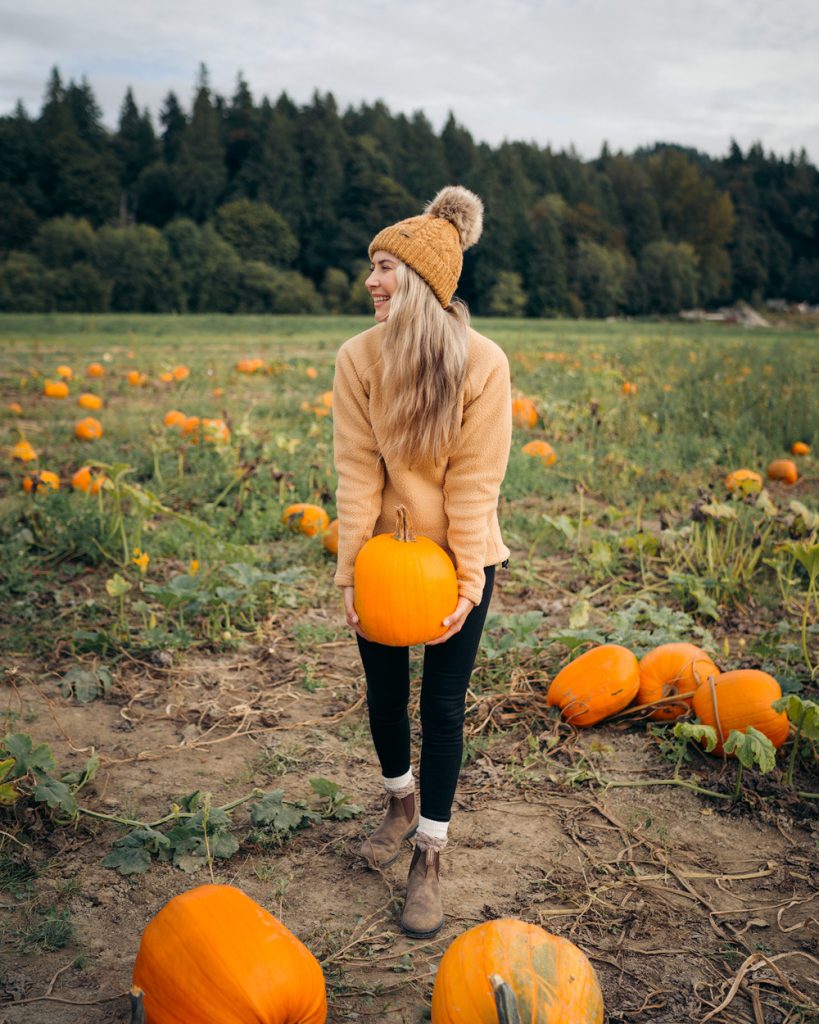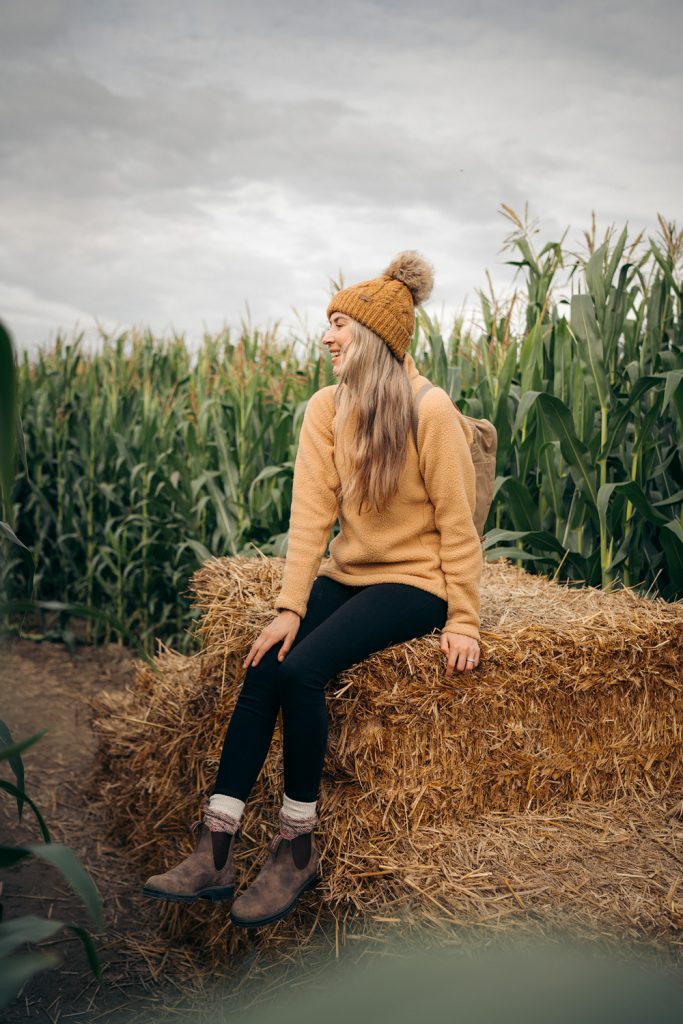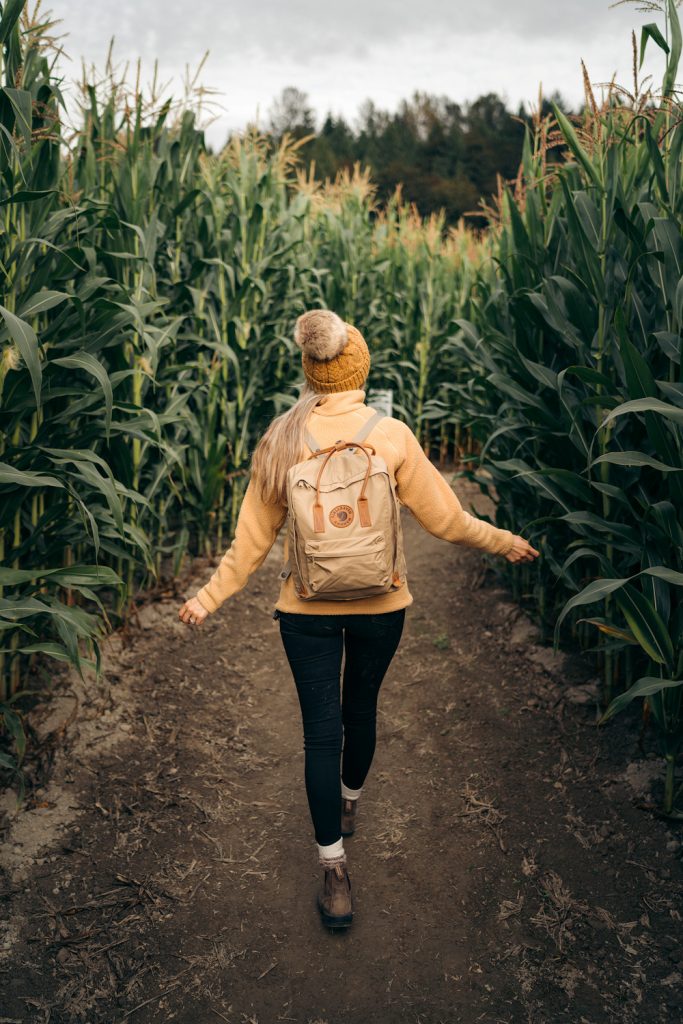 Visit a pumpkin patch and corn maze
Checking out a local farm is one of the top outdoor things to do during fall in Washington State. I mean… does it get much more festive than visiting a pumpkin patch and corn maze during fall?! It makes for a fun outing with friends, family, or a loved one. Here are some suggestions on where to find Washington pumpkin patches and corn mazes: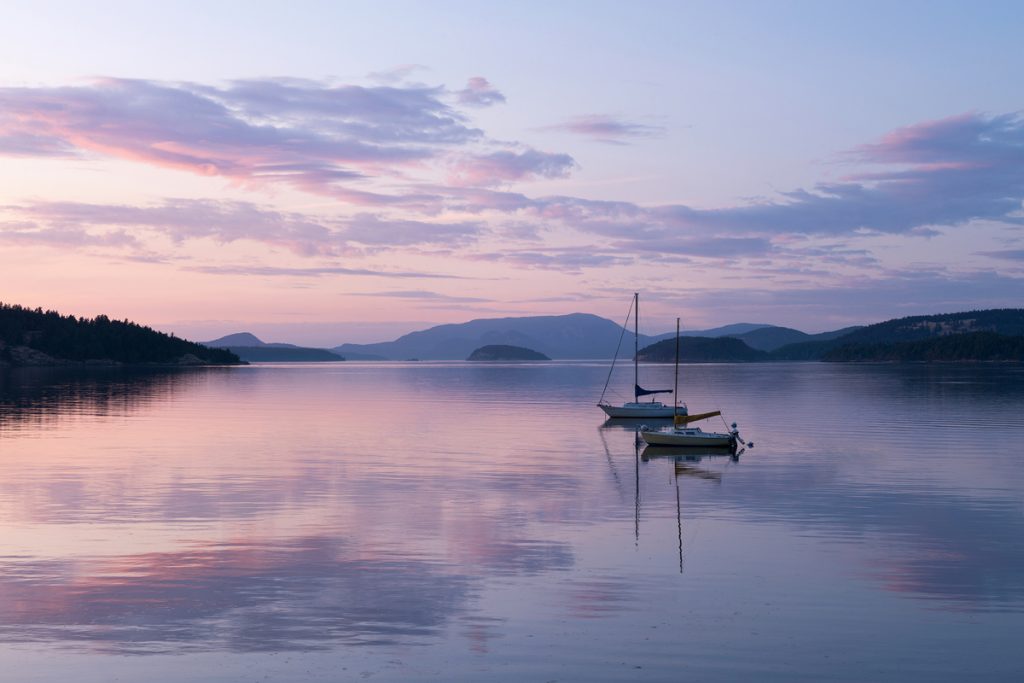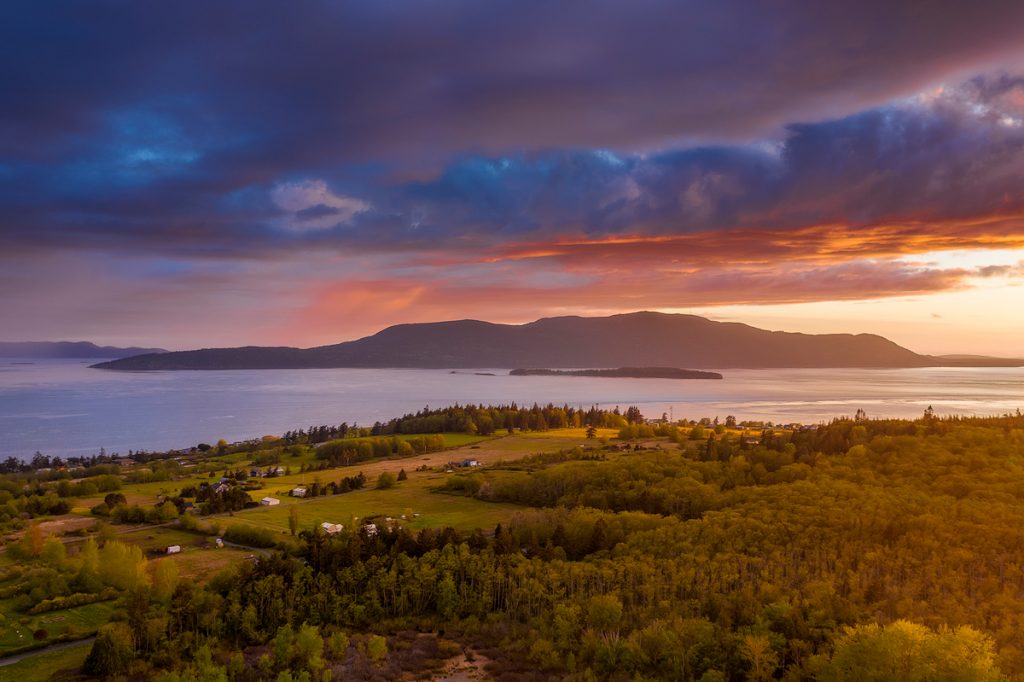 Explore the San Juan Islands
Another recommended thing to do during fall in Washington State is exploring the San Juan Islands. The islands are known for their farm tours, locally grown food, kayaking, hiking, and festivals. September – November usually sees plenty of sunny days on the San Juan Islands, with temperatures in the 60's and 50's.
Getting from Seattle to the San Juan Islands is best done by ferry or plane, with advance reservations recommended. Here are my top suggestions for fall activities when visiting the San Juan Islands:
Check out Cascade Falls Trail on Orcas Island, Young Hill Trail on San Juan Island, and Turtleback Mountain Ship Peak Loop Trail on Orcas Islands.
Fall is a great time to view whales in the Pacific Northwest! The next section of this blog post shares all the details about whale watching during fall in Washington State, so keep reading!
The San Juan Islands are home to world class kayaking and paddle boarding. You can either bring your own or rent a water vessel from numerous local businesses on San Juan, Orcas, or Lopez Island.
Savor the San Juans Festival
Attend the Savor The San Juans festival. There are events with local farmers, chefs, winemakers, and artists – find out all the details here.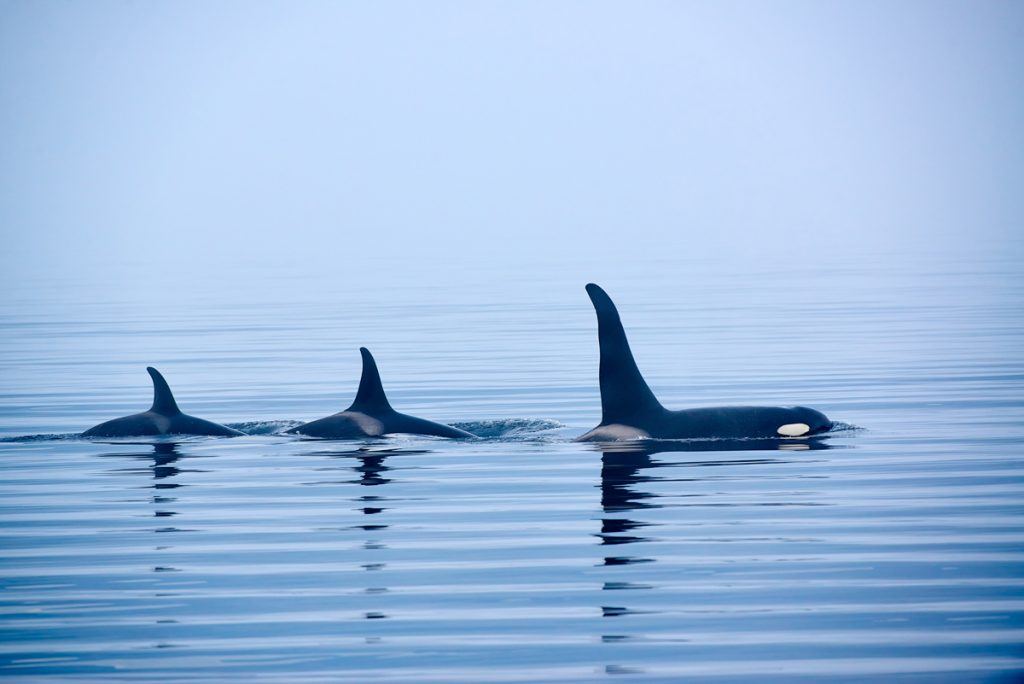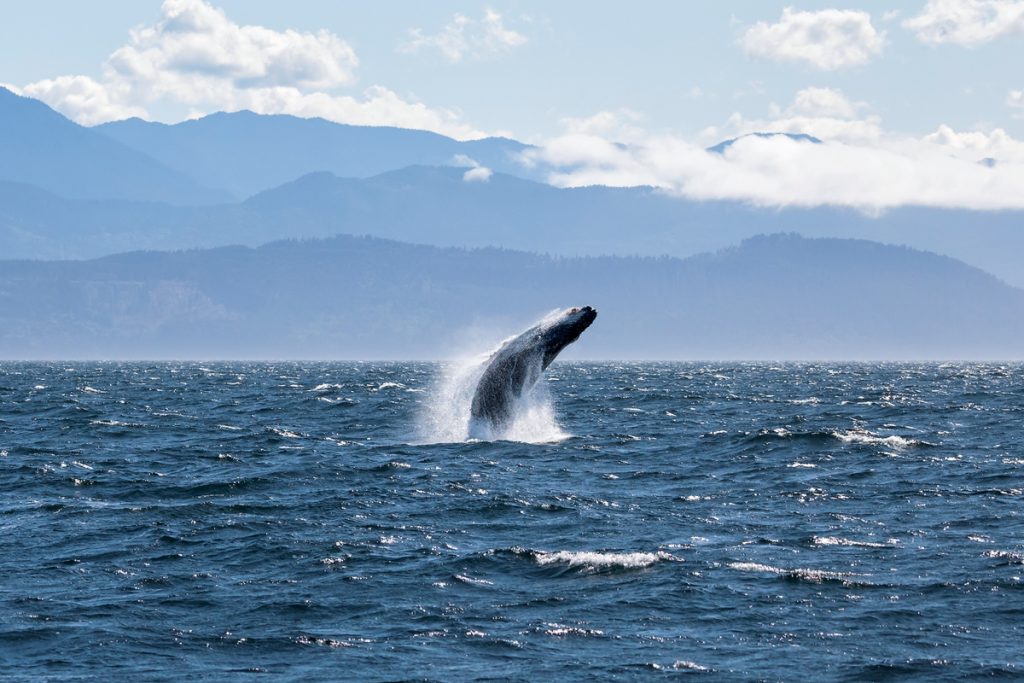 Washington's Puget Sound is famous for its whale watching! You can spot Orcas, gray, and humpback whales year-round in the Pacific Northwest, and early fall is typically a good time to spot southern resident Orcas traveling through the San Juan Islands. Suggested whale watching tour companies in Washington:
What to wear whale watching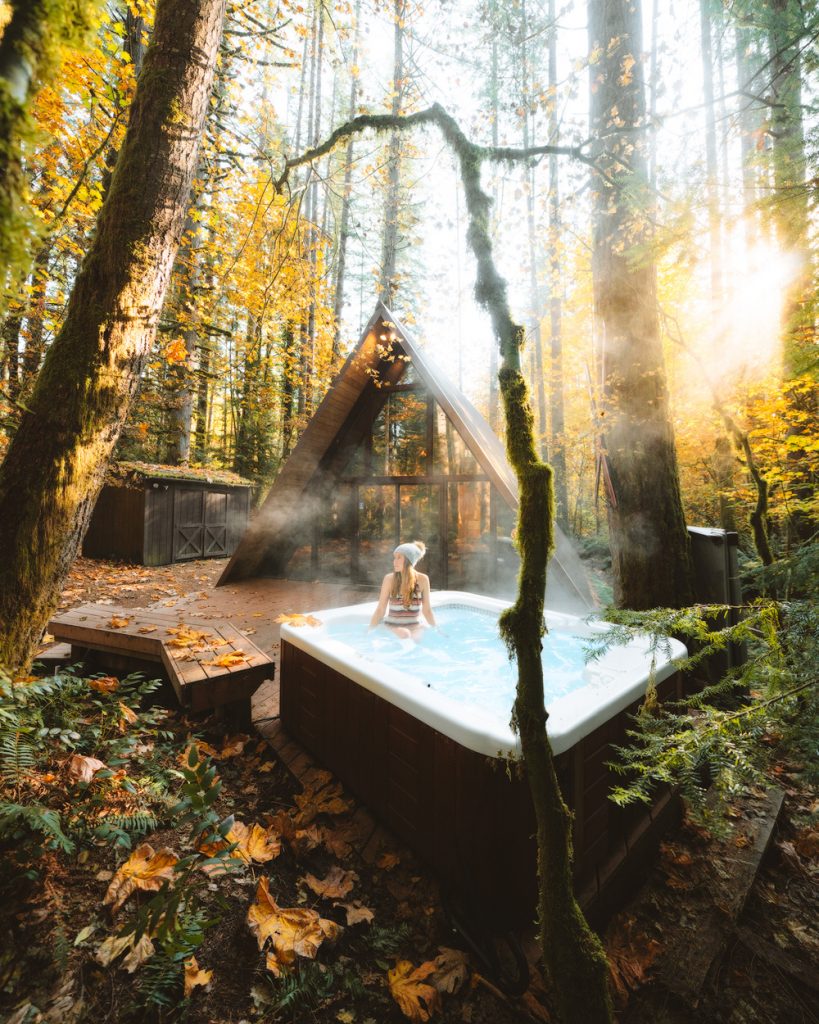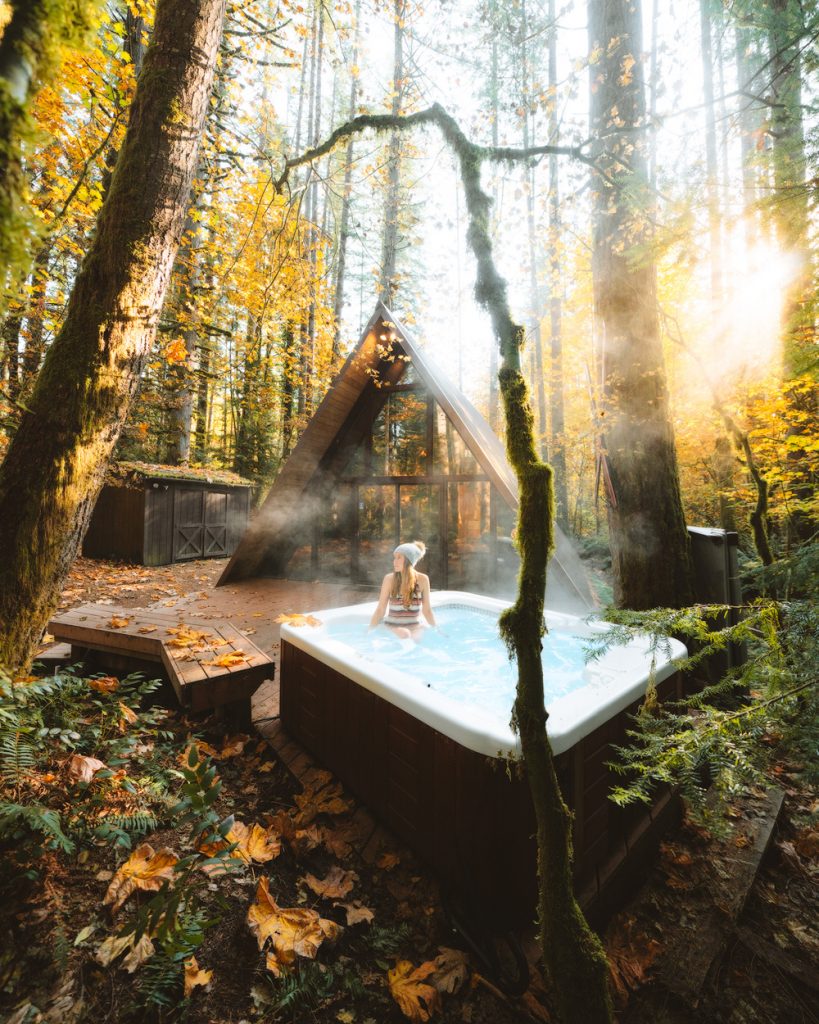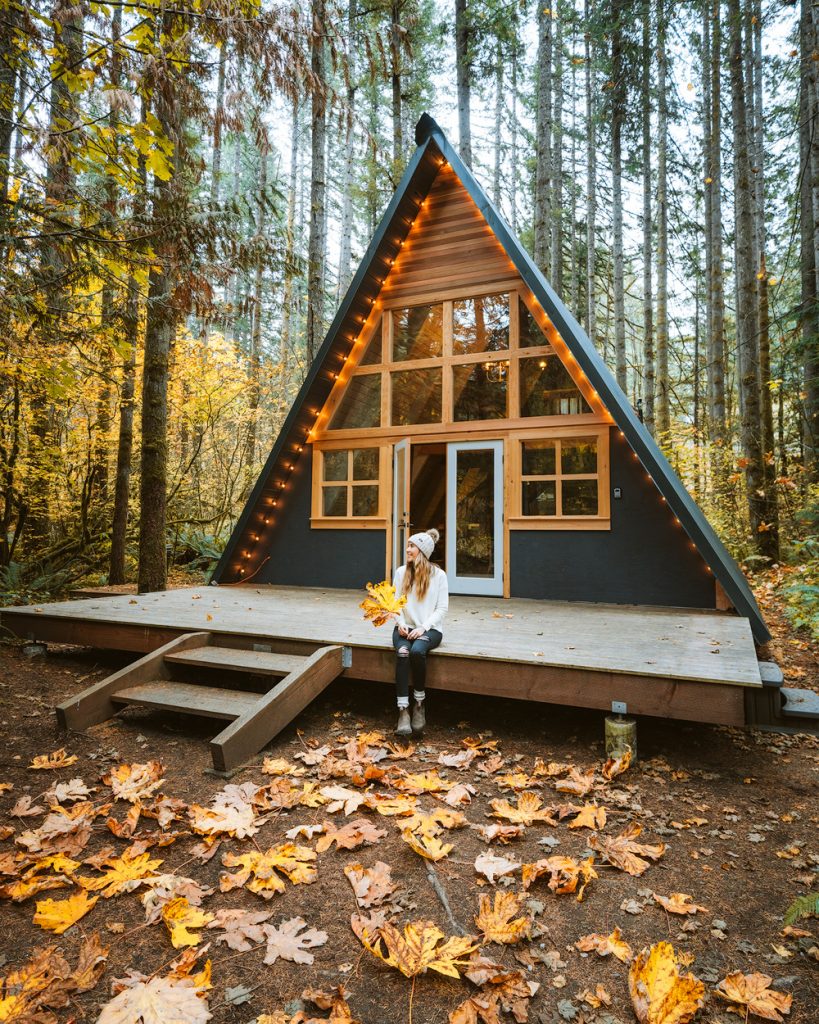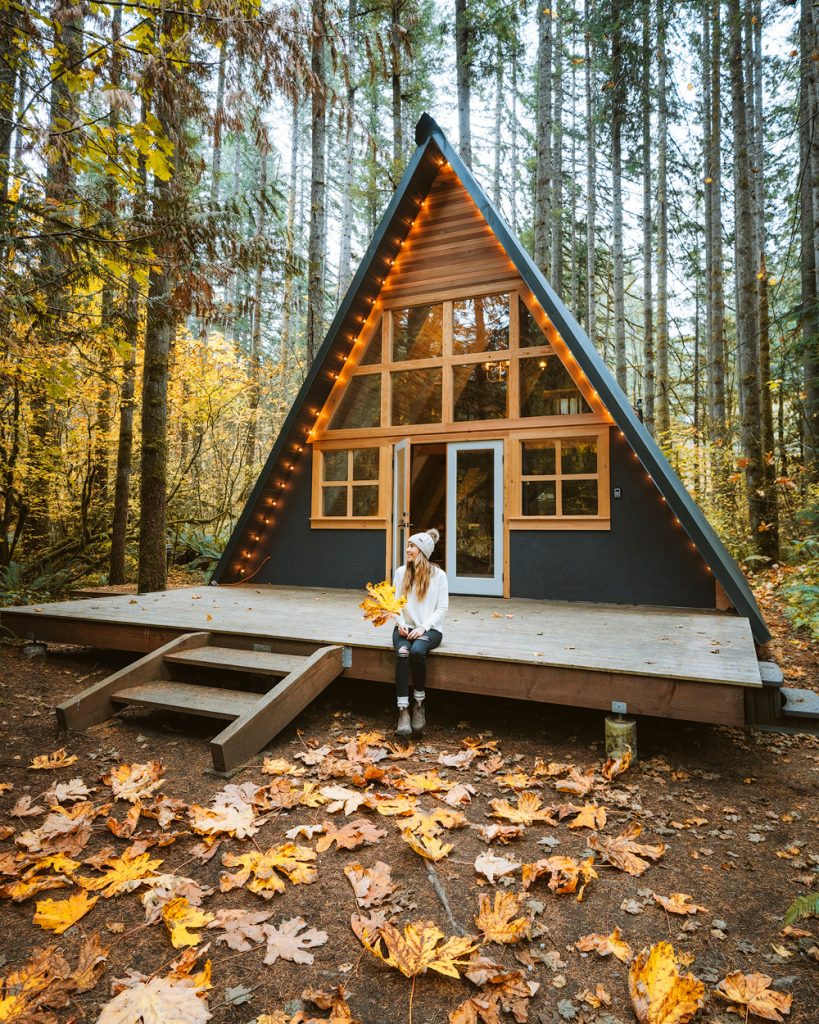 There are so many cozy cabins to choose from during fall in Washington State! I recommend choosing one with an outdoor hot tub so that you can spend time soaking whilst enjoying the fall foliage views (and maybe even sip a pumpkin spice latte while you're at it!) Read my guide featuring 24 Cozy Cabins and Treehouses to Rent in Washington State or check out my top suggestions below:
Cabin and treehouse suggestions: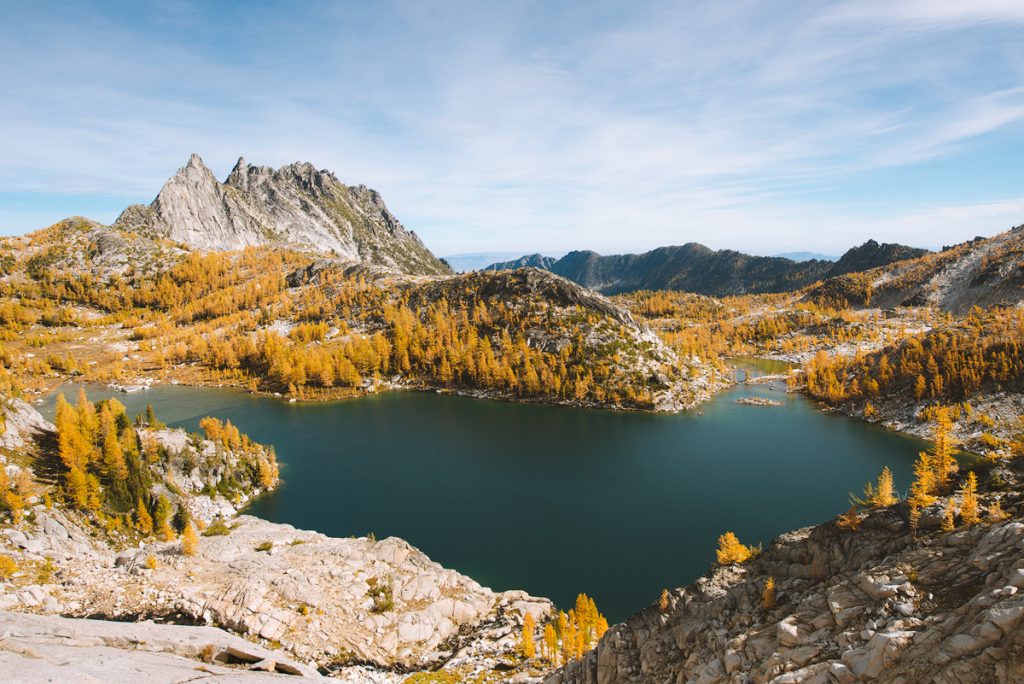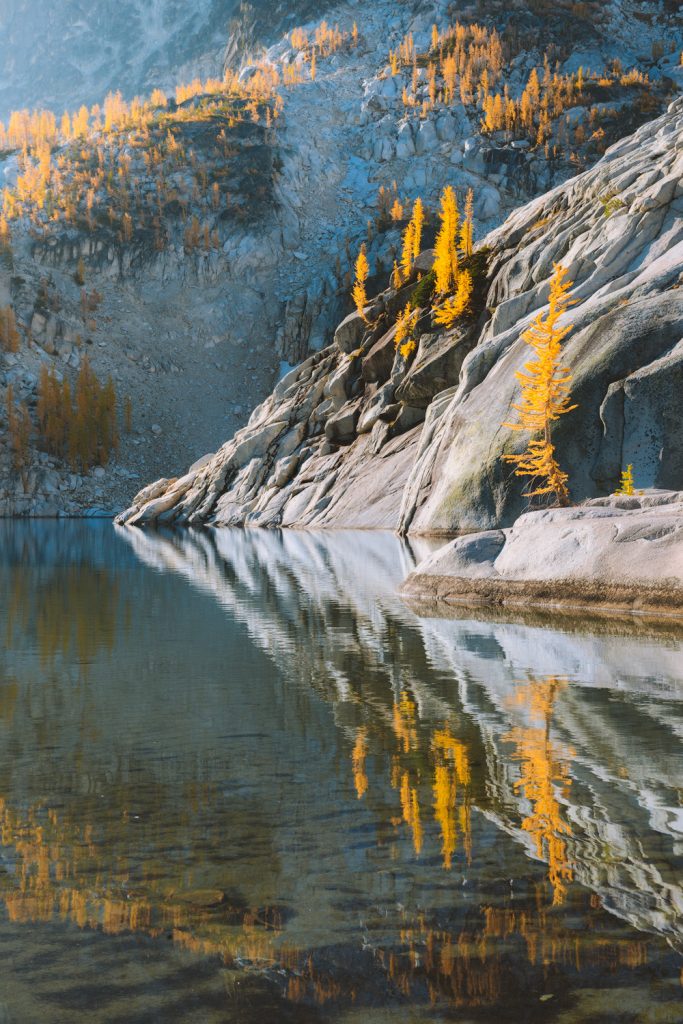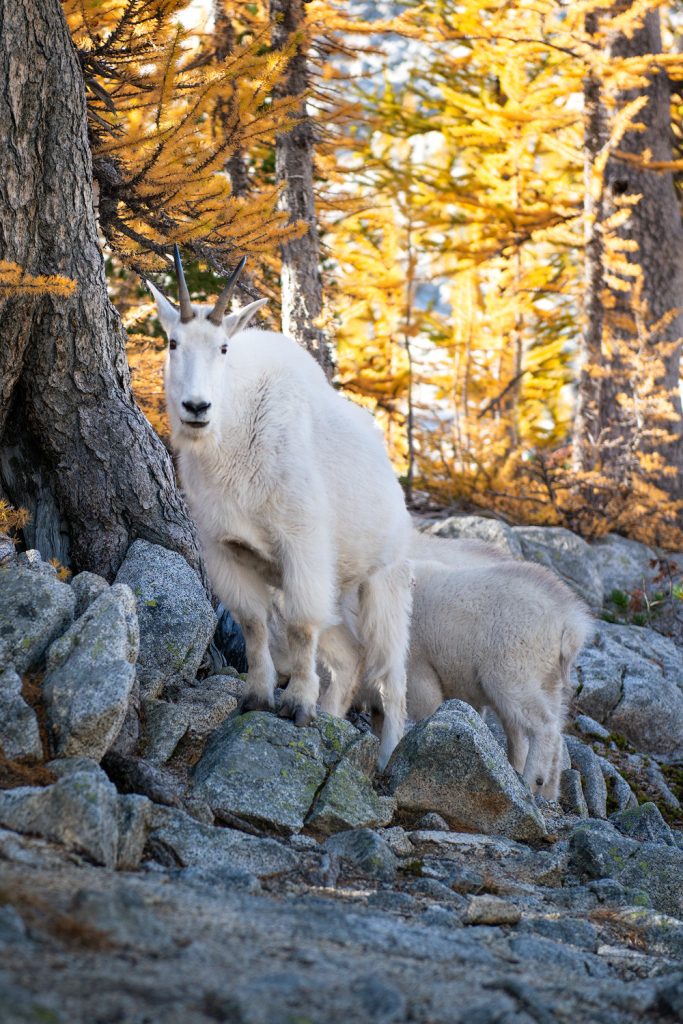 Next on our list of outdoor things to do during fall in Washington State is backpacking! September and early October is prime backpacking conditions and larch season in the mountains, and the entirety of fall is perfect for coastal camping on the Olympic Peninsula. These are two incredible backpacking trips to consider during fall in Washington State:
Backpacking gear suggestions
Suggested backpacking posts to read next: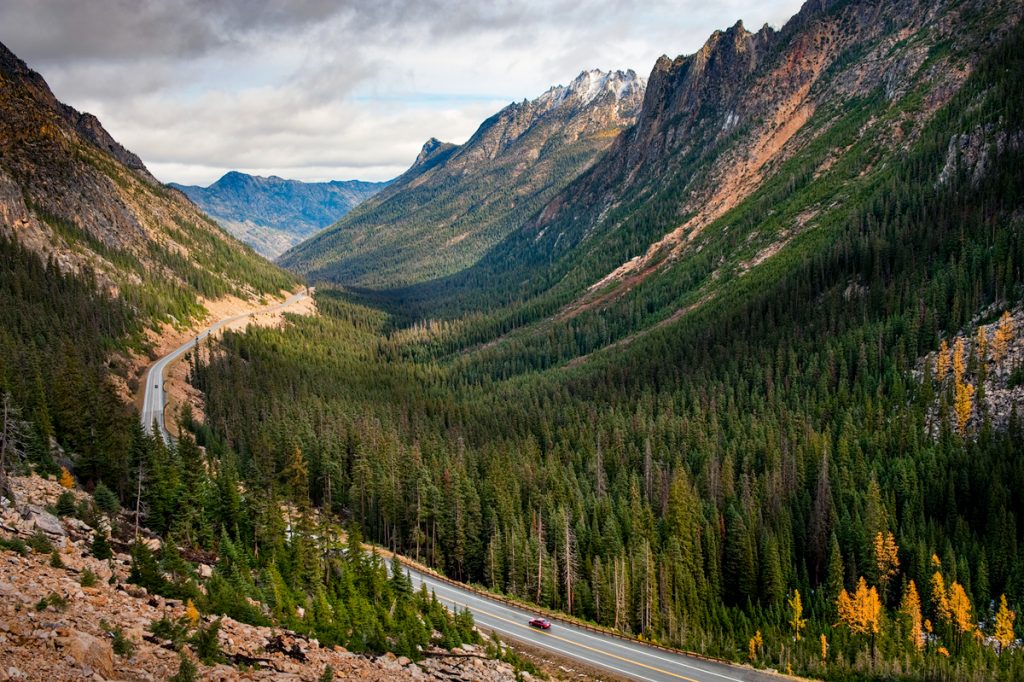 There are numerous scenic drives you can take during fall in Washington State and they make for the perfect day trip! My favorite is probably the North Cascades Scenic Highway (Hwy 20) because of its epic mountain views and various places to stop. Here are my top suggestions for things to see along the North Cascades Scenic Highway in the fall:
---