Nestled in the heart of New Mexico, White Sands National Park is a captivating and scenic destination. With picturesque views and hiking trails to sand sledding and surfing through the dunes, it is absolutely worthwhile to visit White Sands National Park. With a full day and proper planning, you can explore and experience most of the activities in the park. Here is my suggestion for an epic 1 day itinerary for White Sands National Park!
Disclaimer: This blog post may feature some affiliate links, which means I get a small commission if you make a purchase (at no extra cost to you). It's one of the ways I can keep producing free guides and resources for my readers. Learn more about my affiliate policy here. Thank you for the support!
Best Things To Do In White Sands National Park: Epic 1 Day Itinerary
Designated as a national park in 2019, White Sands National Park is one of the newest to join the ranks of America's prized adventure destinations. White Sands is home to a harsh desert environment, with diverse plant and animal life including lots of resilient desert fauna and flora like desert foxes and lizards. With such unique scenery, White Sands National Park is a paradise for explorers and photographers alike.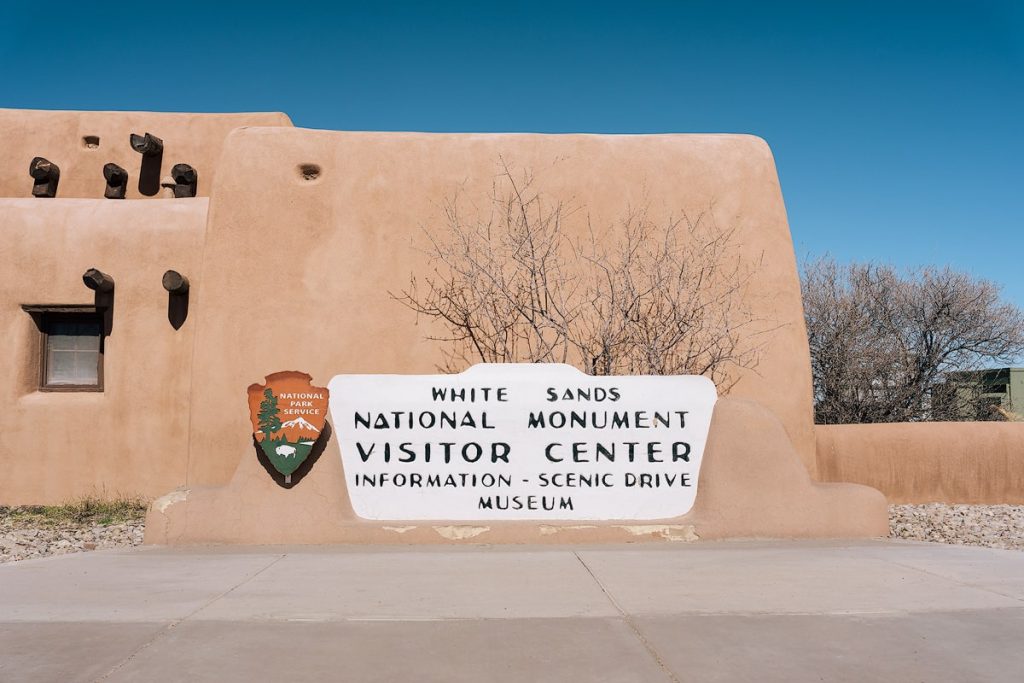 How to get to White Sands National Park
Located in southern New Mexico, about 15 miles from Alamogordo (the closest town), White Sands National Park is most easily accessible by car from El Paso (80 miles away) or Albuquerque (200 miles away.) I recommend using Skyscanner to book a flight into one of these airports, and then renting a car to pick up at the airport when you arrive. Or, tack White Sands National Park onto a larger national park road trip.
When to Visit White Sands National Park
Summers can get very hot in White Sands National Park, so I recommend visiting in the spring or fall. April/May and September/October are incredible months to visit with a pleasant climate and slightly less crowded with visitors. There is also a nearby missile testing facility (White Sands Missile Range) that can cause closures during missile testing, so be sure to plan ahead and check out the visitor center and park website for the latest information.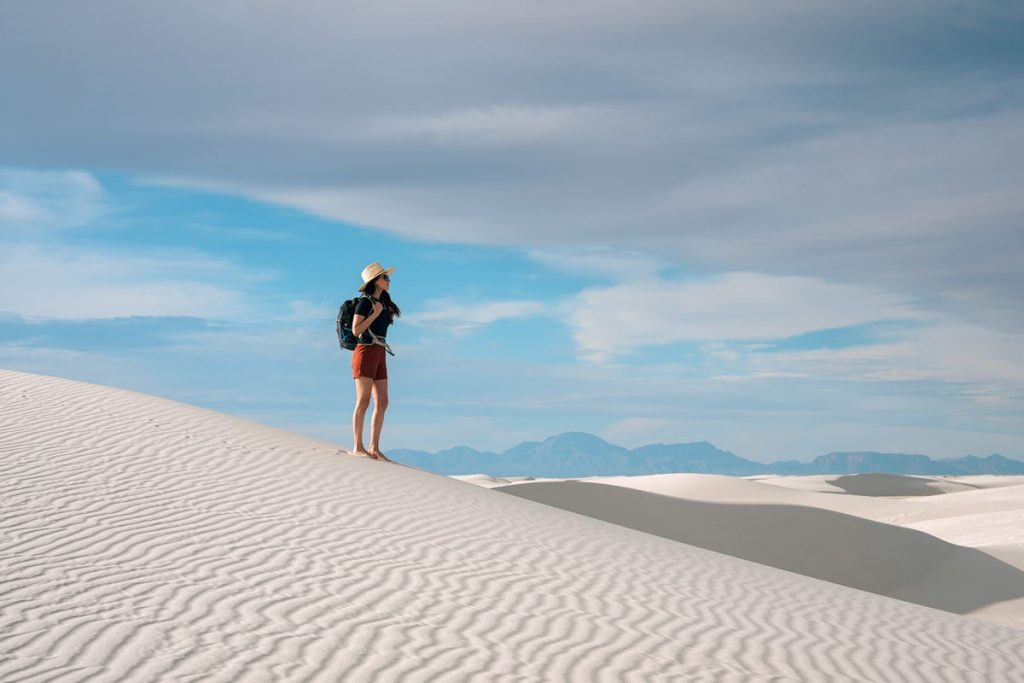 What to do in White Sands National Park
When you arrive in New Mexico, I recommend stopping at the visitor center in White Sands National Park. This will give you a good idea of current weather, any trail closures, and park rangers are excellent resources for local recommendations and tips to have the best adventures! Pick up a map while you're here, and plan the rest of your day. With plenty of picnic areas, as long as you plan ahead with snacks and lunch, you won't have to leave the park until you're done for the day.
Pro tip: Don't forget to pack (or purchase) your annual National Park pass! We forgot ours and had to pay the park entrance fee when we arrived.
Scenic drives in White Sands National Park
One of the best introductions to White Sands National Park is the iconic Dunes Drive. Take this scenic drive to start your adventure with scenic views of the white gypsum dunes. There are plenty of marked pullouts for photo opportunities along the way. I also recommend stopping to take a short walk along the Interdune Boardwalk. Here you can learn a bit more about the unique ecosystems at play here, and how they've adapted to the sandy, harsh desert environment. The boardwalk is wheelchair accessible, too!
Hiking in White Sands National Park
The Alkali Flat Trail is a great 5-mile loop hike through the heart of the sand dunes. You will observe the mesmerizing landscape of White Sands National Park and take in expansive views of the terrain. For a shorter hike, the Playa Trail is a nice 2.2-mile round-trip trail that visits a dry lakebed. This is a great hike to learn about some of the geology and unique features of the area.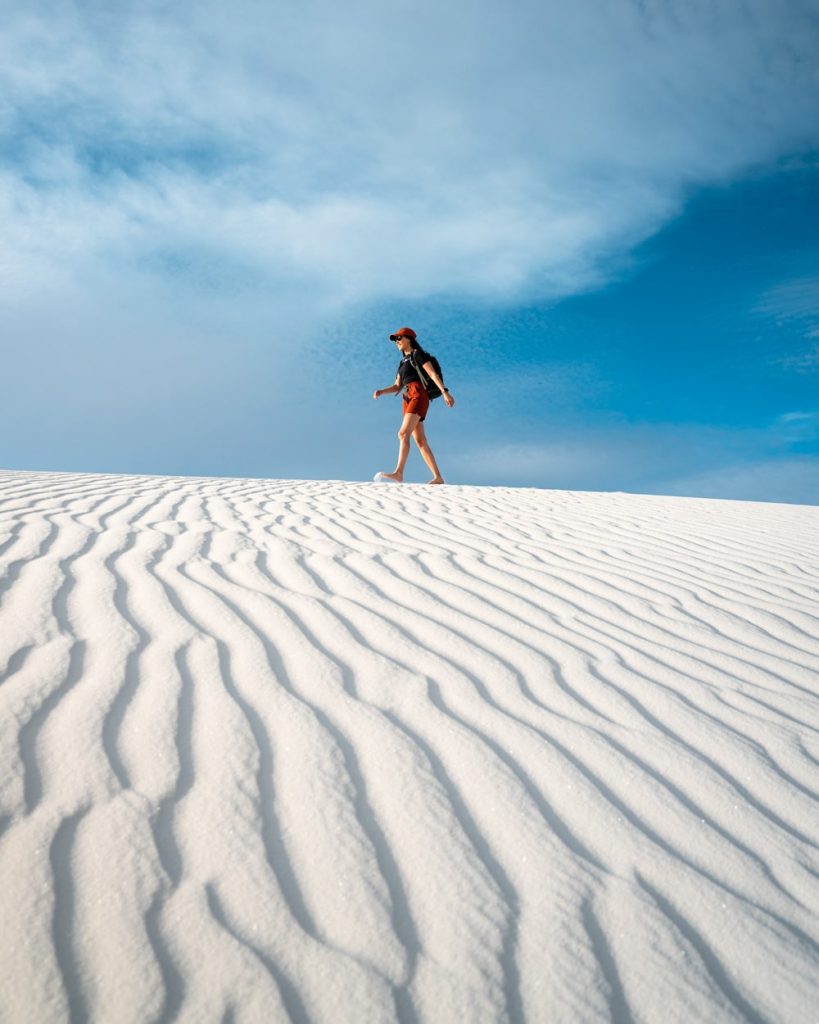 Sand Sledding in White Sands National Park
This one is a must! Rent sleds at the visitor center (where you started the day) and they will give you recommendations on where to go sand sledding in the white sand dunes. This is such a unique experience, I think everyone who visits White Sands National Park should try it!
Sunset in White Sands National Park
Watching the sunset from the dunes of White Sands National Park is another incredible, memorable experience. There are lots of places where you can find a private, secluded place to sit and watch the sunrise across the dunes. It's also a great place to take a sunset stroll and maybe practice some sunset photography. The park is also incredible after dark, with amazing star gazing in the night sky. If you can stay later, bring a blanket or camp chair to comfortably relax and watch the stars. You might even get a glimpse of the Milky Way!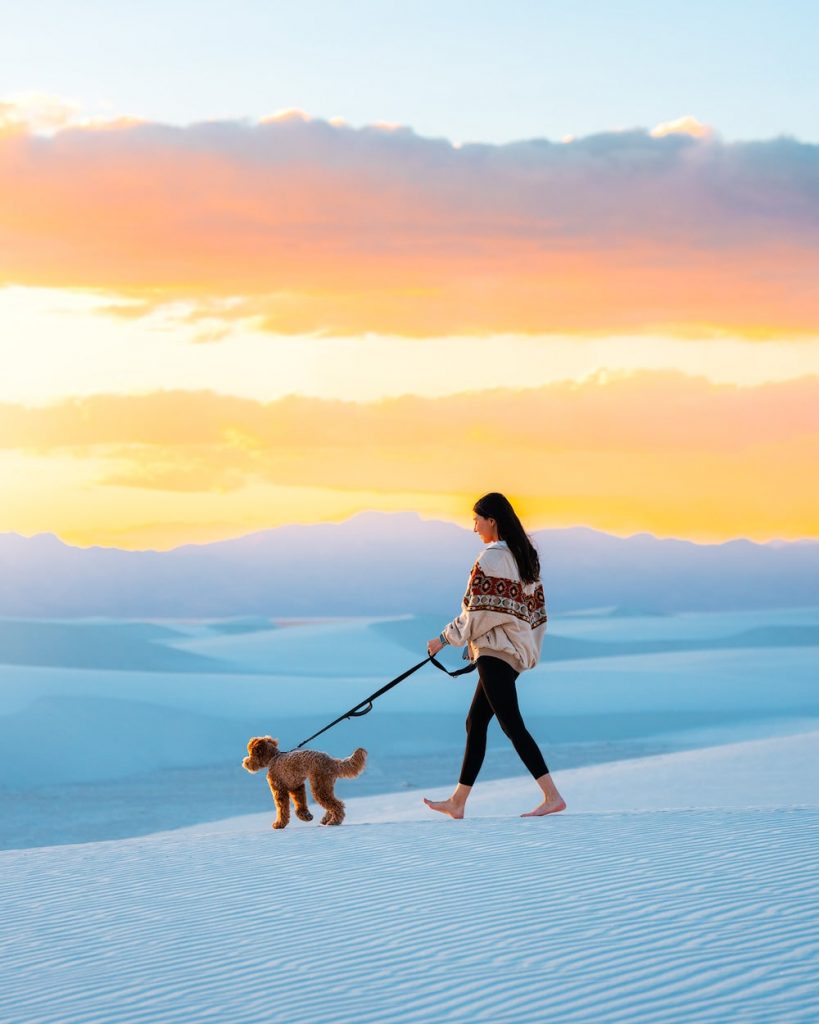 Where to Stay in White Sands National Park
There are no accommodations within White Sands National Park, so you'll need to look outside the park. I recommend hotels in Alamogordo (~15 miles away) or Tularosa (20 miles away.) Las Cruces is another larger town (60 miles away) with more amenities and attractions. There are quite a few more vacation rentals in Las Cruces. Cloudcroft is a great option as well – located in the Sacramento mountains it is a bit cooler, and offers some beautiful cabin rentals.
You can typically backcountry camp within the park, as of May 2023, this was currently not permitted to help rehabilitate some of the local ecosystems. There are nearby RV and campgrounds that you can explore as well if you'd like to camp, or rent a camper van for your road trip.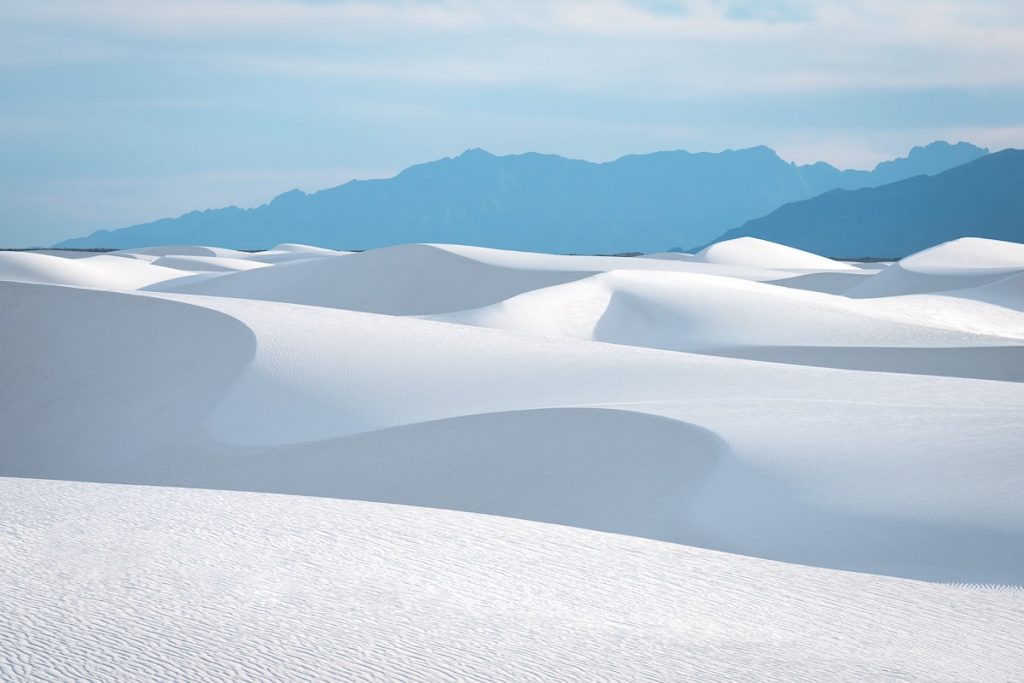 What to Pack for a Trip to White Sands National Park
Like any visit to a national park, what you pack will depend on your activities! If you plan on doing a bit of hiking, I recommend this Day Hiking Essentials Packing Guide. If you are planning on visiting White Sands National Park as part of a larger road trip, make sure you have all your road trip essentials.
Here are some of my essentials for this (and most) national park trips: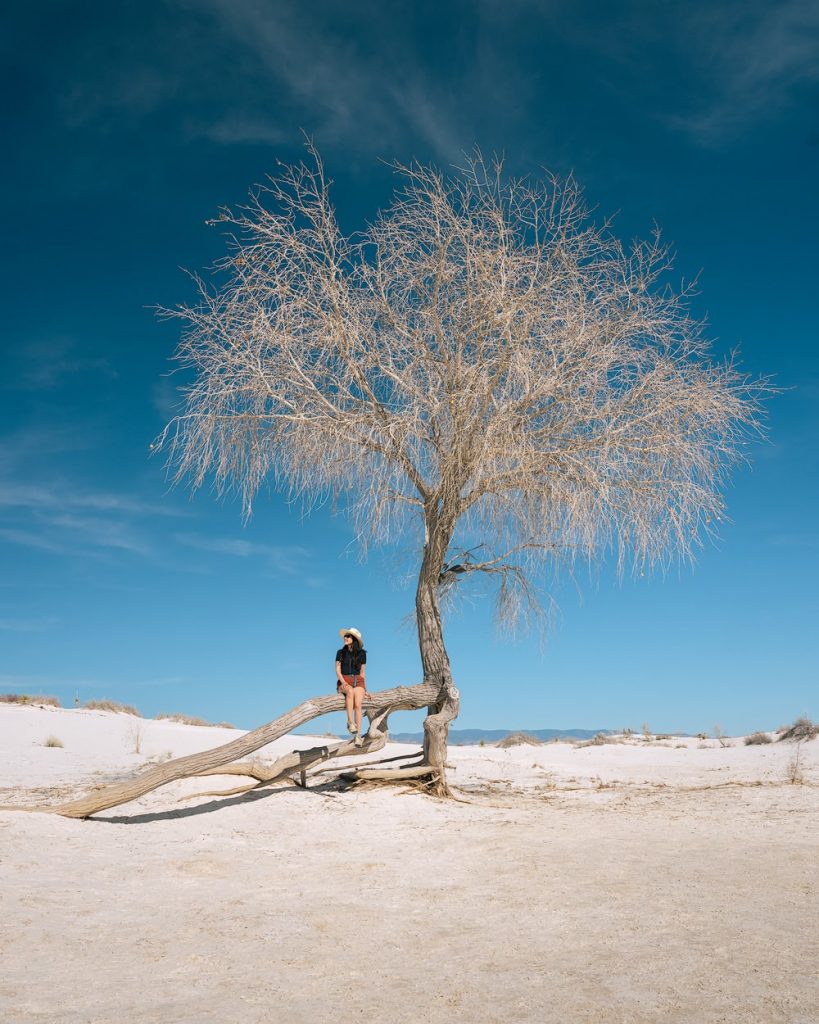 Time To Plan Your Trip To White Sands National Park!
You don't need a full week to explore every national park, and White Sands National Park is the perfect park to explore when you only have a day or two. As one of the few dog-friendly national parks, and with lots of roadside activities, White Sands is the perfect park for solo travelers and families alike!
---
PIN for Later!