There are items you absolutely need for a road trip (think bedding, food etc.) and then there are things that simply make your journey that little bit more special. This blog post is about the latter – items that I absolutely love having with me on road trips and that I get a lot of enjoyment out of.
Living in a van has it's challenges but having these items helps make the road feel like home.
My current road trip with Drink Evolve to all 59 US National Parks has been an absolute blast! When they heard about this post they jumped at the opportunity to give back to my readers. So head down to the bottom of the article for a chance to WIN some of my essentials! (now closed)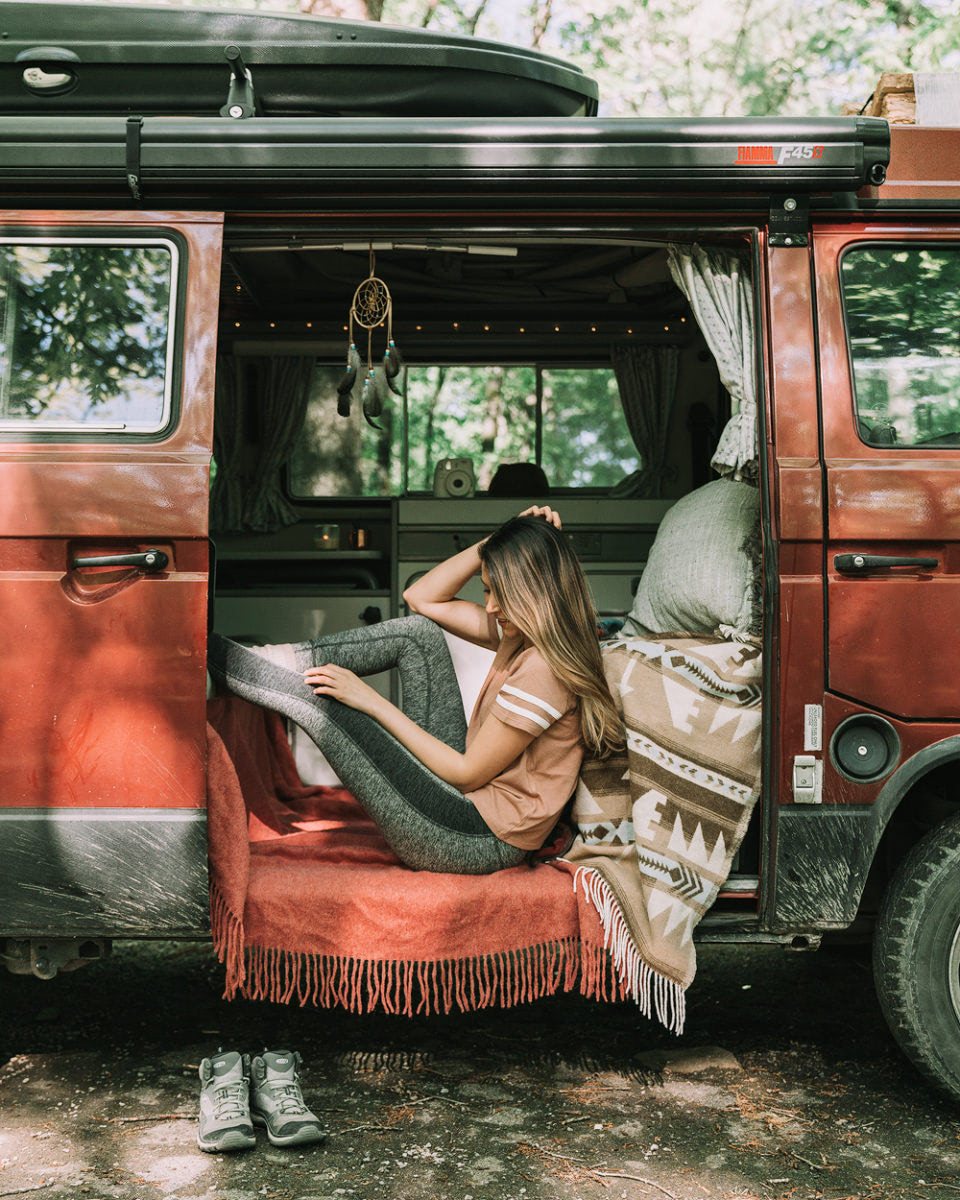 My Road Trip Essentials
GOOD TUNES
Everyone knows that good music makes or breaks a road trip. Recently some of my favorites artists have been Covenhoven, Lord Huron, Ira Wolf, Gregory Alan Isakov, Hollow Caves, Lorde, Frank Ocean & Vance Joy. Podcasts are also a fantastic option if you want to mix things up. I would highly recommend a portable speaker such as the Ultimate Ears Roll for keeping those tunes rolling in any setting. During this trip we have used ours in the van, around camp, rafting, and attached to our backpacks.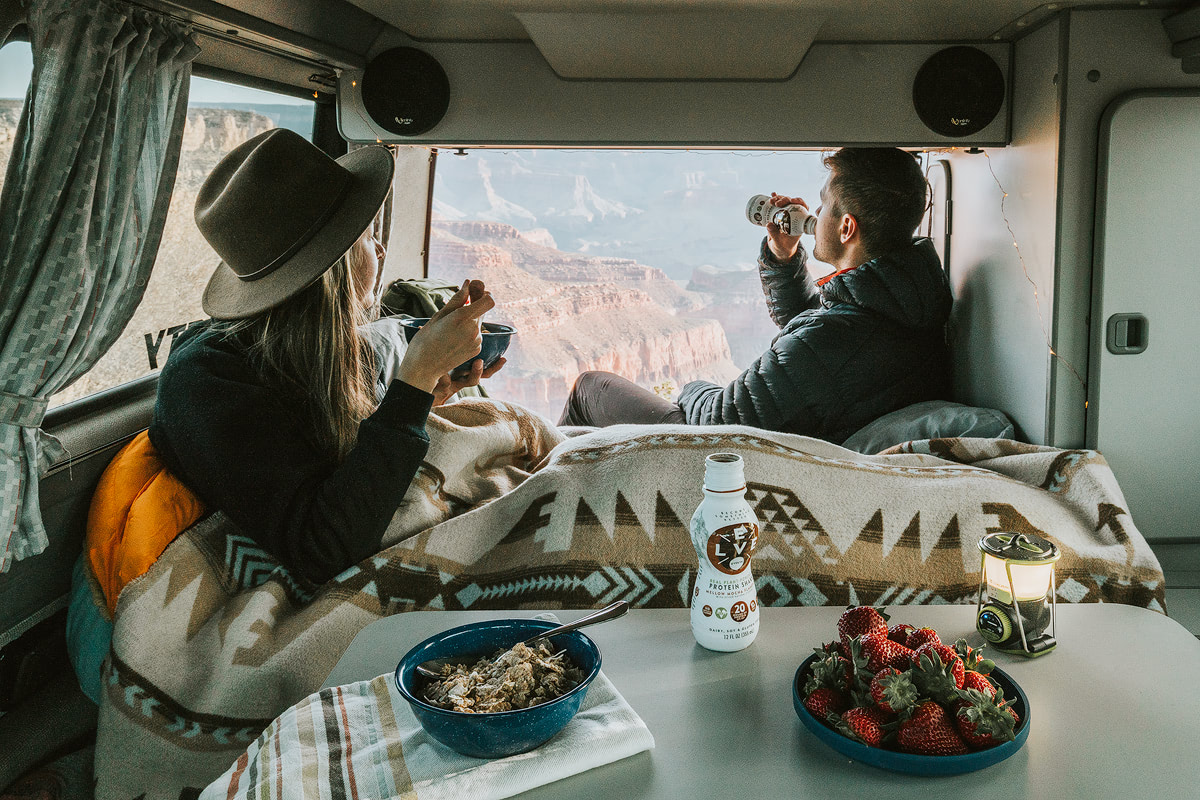 HEALTHY FOOD
Road trips can be go-go-go, so a quick and nutritious option for food is a must. I will often have an Evolve protein drink before heading out to shoot sunrise and I love making pancakes with some added chocolate protein powder. Staying healthy and fueled on the road is an absolute must for me!
COZY BLANKETS
Want to know the best way to turn any space into a cozy haven? Blankets! I love how they can be used for warmth and decoration in so many different ways. My favorite brand is Sackcloth & Ashes because they are super soft and give back to charity for every blanket sold. Blankets also make wonderful props for photos or hiding a messy trunk!

A CARRY-ALL
Everyone and their grandma knows what a backpack is used for and why they are a must for road trips… I choose to haul my stuff around in a Topo Designs Rover Pack and will sometimes add the camera cube to transport a selection of my photography gear.
BATHING SUIT
Every good road trip will call for a bathing suit at least once! I have recently pulled out my Albion Fit Weekender Swimsuit for jaunts in the Caribbean and some freezing alpine lakes. I find one pieces to be practical and this one in particular can double up as a jumpsuit/top underneath a skirt.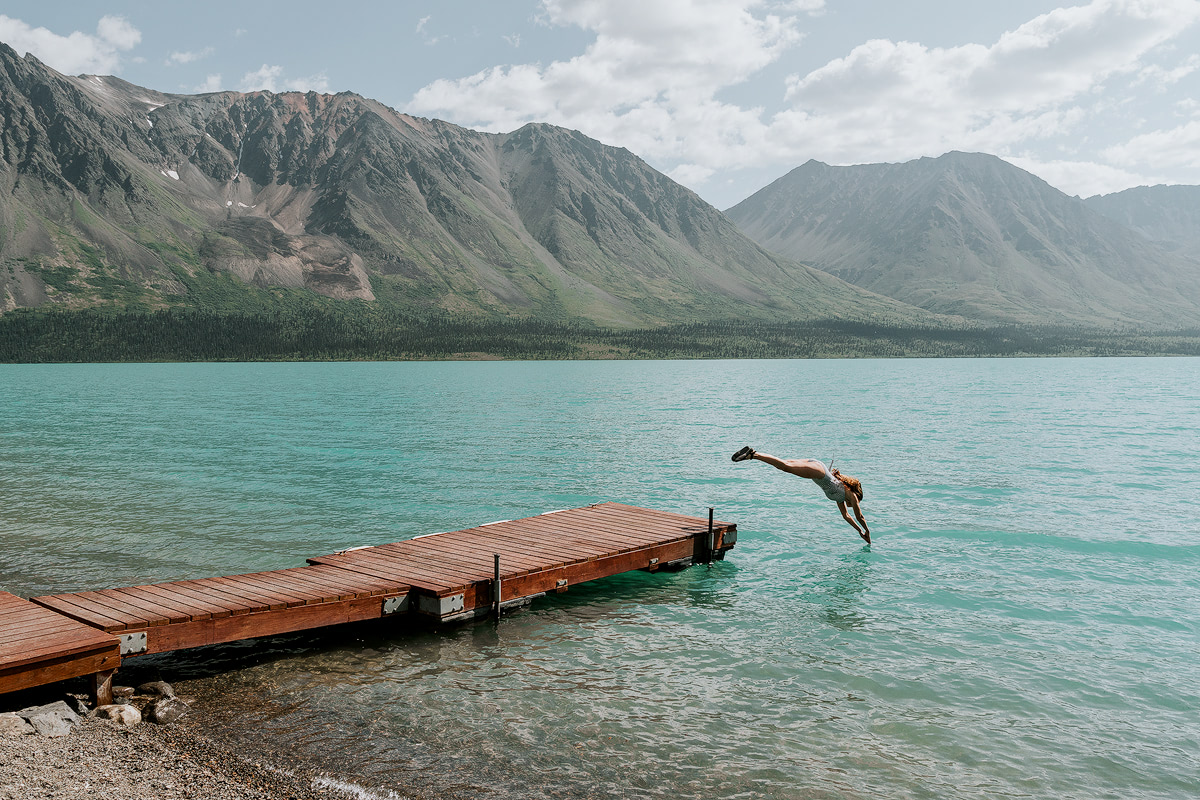 CUTE HATS & BANDANAS
Road trips often mean longer than usual stints without showering (the reality of #vanlife!) The best way to cover greasy or unruly hair is with a hat, headband, beanie, bandana or headscarf. I love my boater hat for sunny conditions, beanie or wool hat for cooler temperatures, or a cute bandana to help look more put together (or simply tie my hair back!) I also get a ton of use out of my Buffs (neck warmer, headband, eye mask, pillow cover, face cover, mini towel, etc.)
MOOD LIGHTING
Who doesn't love a good set of fairy lights?! We use a bunch like these in our van to help make everything cozier (bonus – they look great in photos!) We also have a Barebones lantern to help with lighting in the van and a Goal Zero mini lantern to take out camping.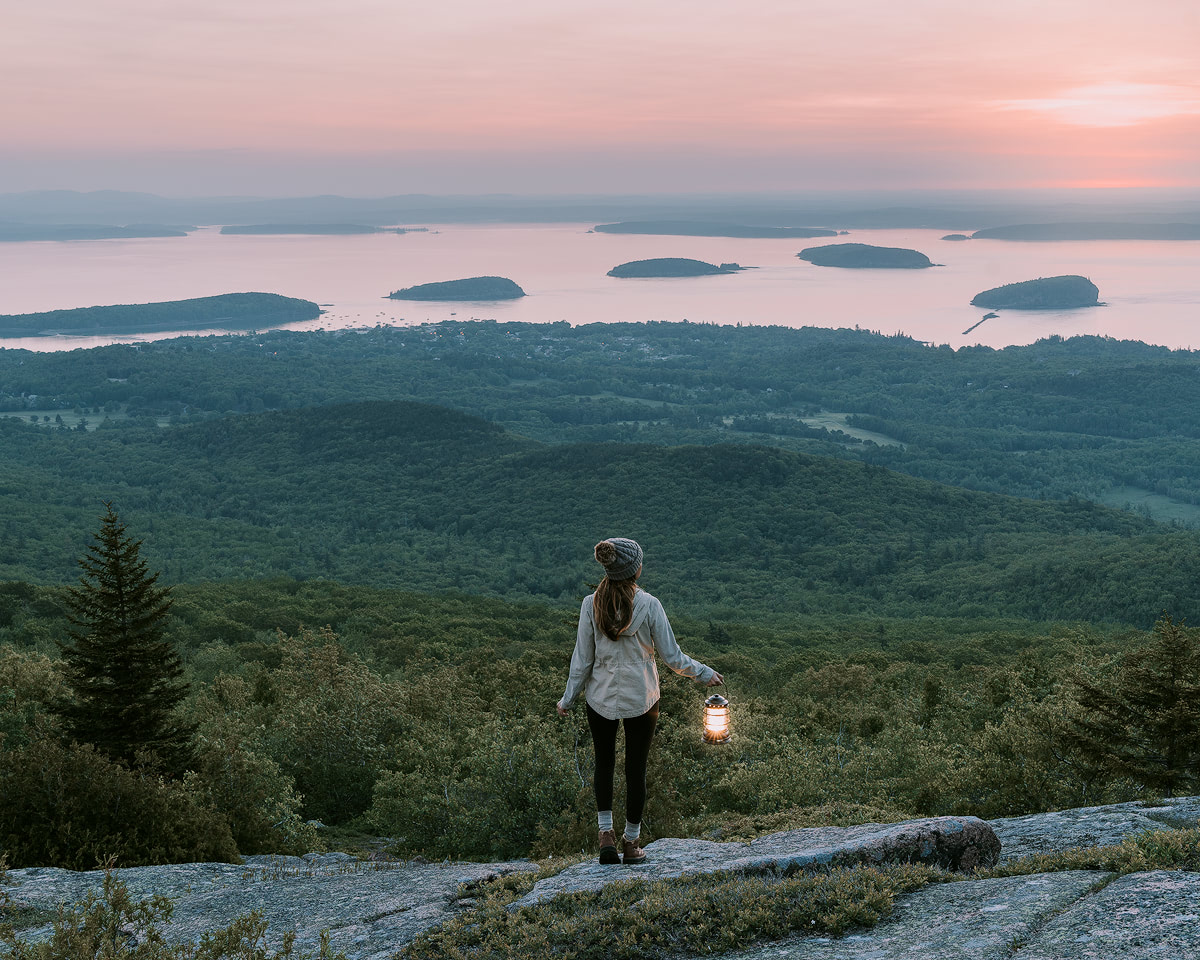 COMFY CLOTHES
I am all about comfort and try to find clothing items that are practical, durable and also look at least semi cute! My favorite items of clothing right now are my Vuori Leggings (plus I LOVE their joggers and shorts), my Columbia Saturday Convertible Trail Pants, and my Arc'Teryx Cerium LT Down Jacket. I am also really enjoying my Keen Terradora hiking boots, which are a great lighter weight option for travel.
CAMERA GEAR
Of course my camera gear is an essential for any road trip! You can read more about what I pack in my camera bag here.
ENTERTAINMENT
Road trips usually involve some down time and I personally enjoy having a break from adventuring and working every now and then. I love watching my favorite travelers and vloggers on YouTube – TIP: YouTube Red is the best for off-the-grid traveling as you can download videos and watch them offline. When watching videos on my phone I find using a pop-socket to be super helpful (seriously the best inventions!)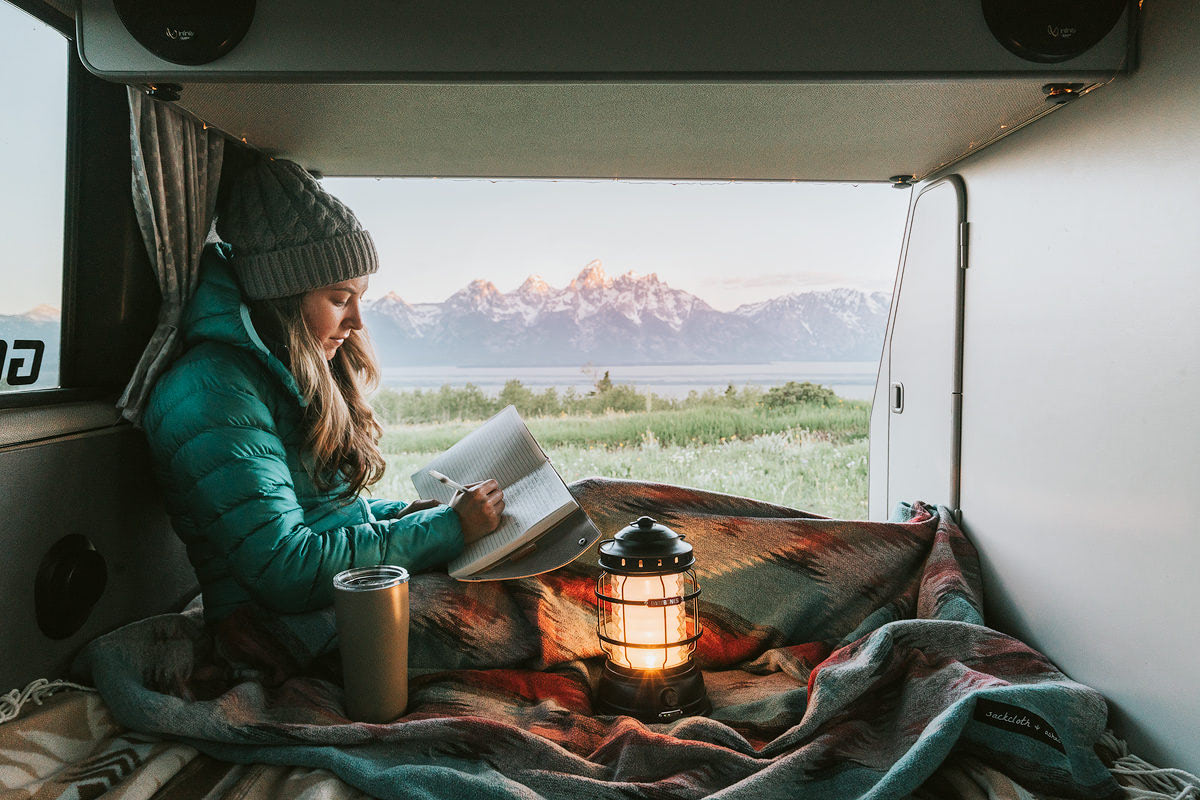 DRINKS!
There aren't too many things better than a warm drink on a crisp morning or a cool drink after a long sweaty hike. I use my Hydroflask & SicCup insulated water bottles and tumblers pretty much on a daily basis.
ZEN CENTRAL
Traveling and living on the road can get exhausting! I try to take time out to keep my mind and body as healthy as possible. Some ways I choose to do this is on a hike, sitting by the water, writing in my journal, stretching on my yoga mat, or burning/using some dōTerra essential oils.
GIVEAWAY! (CLOSED)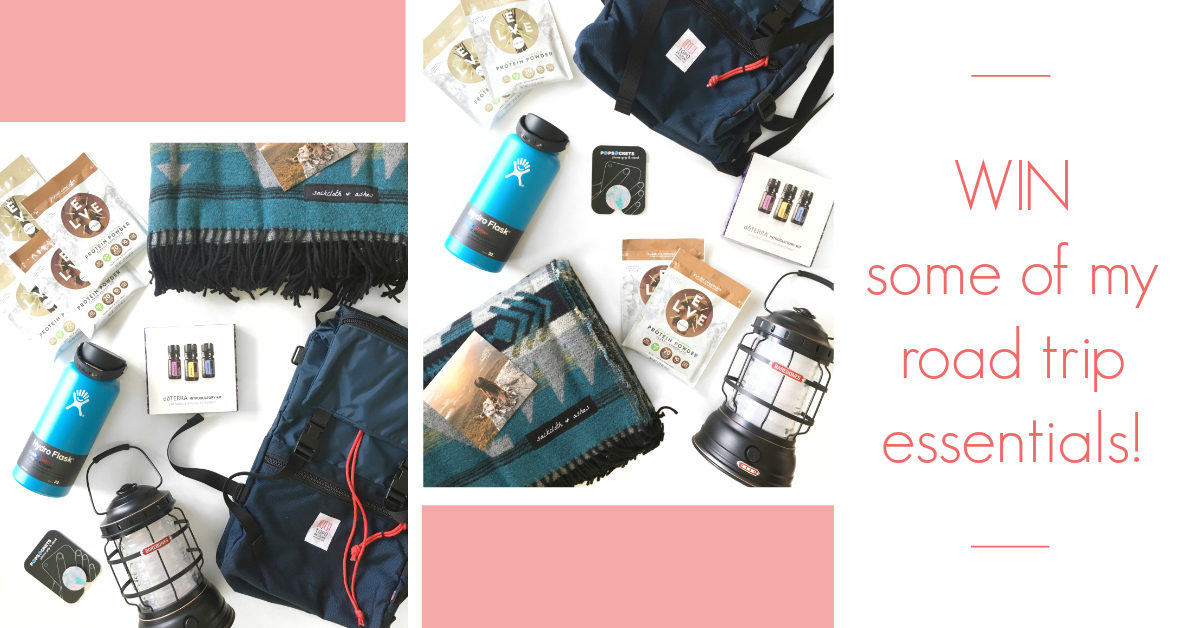 The awesome team over at Drink Evolve are offering my readers a chance to win a bunch of my essentials things!  They are giving away:
SOME delicious Evolve GOODIES!
Introduction essential oils kit by DōTerra
Phone pop-socket
Sackcloth & Ashes blanket 
Hydroflask drink bottle 
Barebones lantern
Topo Designs Rover Pack
Vuori Joggers 

HOW TO ENTER
Leave a comment below sharing one of your essential road trip items. Be sure to leave some sort of means to contact you (Instagram or Twitter handle).
BONUS ENTRY
Head on over to Drink Evolve's most recent Instagram post (click here) and follow the quick steps for entry!
A winner will be chosen at random and notified by July 28. The winner will also be announced on this blog post and Drink Evolve's Instagram Stories so be sure to follow along!
The winner was Dena from @itsacupcakelife! Congratulations!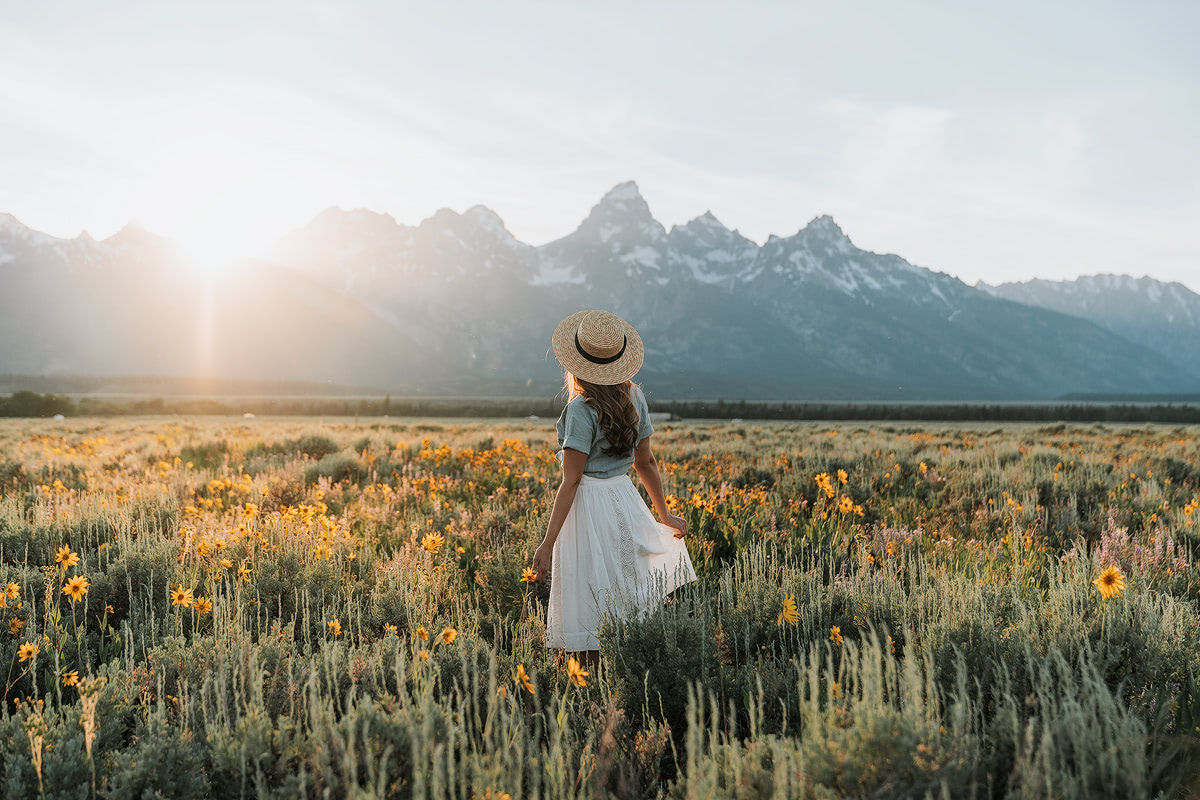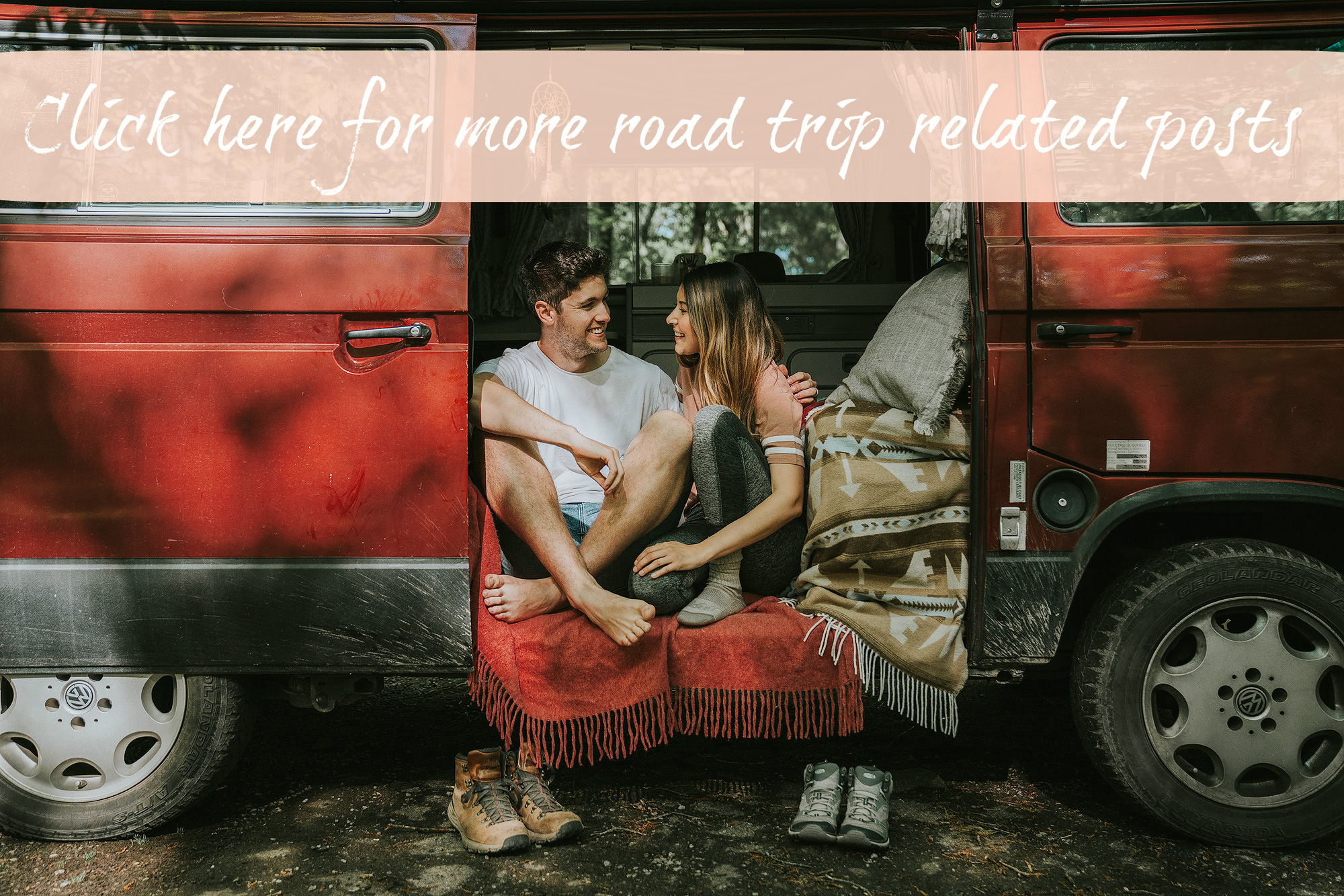 Disclaimer – The 59 National Parks Road Trip is sponsored by Drink Evolve and they have kindly offered to supply the items for this giveaway. Some of the links in this article are affiliate links, which means (at no cost to you!) I may get a small percentage of any purchases. Thank you for choosing to support my blog. As always, all opinions are my own and unbiased.