Oregon is one of my favorite road trip destinations. It is home to some of the most beautiful coastline, mountains, waterfalls, lakes, and hot springs in the United States! To help you explore it for yourself, I've put together a comprehensive Oregon 7 day road trip itinerary. You will also find optional add-ons in case you want to extend your trip, a packing guide, my top road trip tips, and more!
There are so many places to explore in Oregon and in this blog post I have put together an Oregon road trip itinerary based on what I personally think makes for an EPIC week long road trip. In saying that, you can of course tailor this to your own style of travel and add-on or exclude any stops you see fit.
As far as timing goes, I would recommend taking this road trip during summer or early fall. You can still access many of the areas during winter and spring, though snow may lead to some road and trail closures. Always look up local conditions before traveling! Ok, let's jump into the itinerary!
Disclaimer: This blog post is in collaboration with Backcountry.com and features some affiliate links. This means I get a small commission if you make a purchase (at no extra cost to you). Use code RENEE15 to get 15% off your first Backcountry order (some exclusions apply). You can also learn more about my affiliate policy here. Thank you for the support!
Scenic Oregon 7 Day Road Trip
Below you will find an itinerary map for your Oregon 7 day road trip. It features pins for each day's locations – including scenic stops, hiking trails, and places to eat. You can use this to help gauge daily driving distances and to plan for any additional detours you may want to take.
Oregon Road Trip Day 1 – Portland to Hood River
I recommend you start and end your road trip in Portland. It's a really fun city filled with great food and friendly people, so feel free to add on a day if you want to get a taste for the downtown area. It is also worth taking a boat trip on the river, there are options for a champagne brunch, lunch and dinner cruise each with a tour guide and onboard entertainment.
If you want to keep your feet on dry land but still explore the incredible food scene in Portland, there are some great food tours to help you discover the best the city has to offer. The food carts, pods and patios tour is great to explore and learn local history along the way, or for a boozier tour the craft brewery walking tour takes you to sample the best craft breweries in the Eastside craft brewery scene. For a more athletic take on a tour, this bridges, doughnuts, parks and roses bike tour samples history, culture, nature and art along the way.
On your first road trip day, plan to get up reasonably early, grab some breakfast, and leave Portland by about mid-morning. Pack something to eat for lunch and fill up your coffee mug as it's sometimes challenging to find food options along the Columbia River Gorge.
If you fly into Portland you can rent a car from the airport using Kayak to compare the best deals on the rental. I also like to use Skyscanner to see all the flights available rather than checking each airline individually.
Where to stay in Portland
Portland has some great places to stay and is definitely worth adding a day at the start or end of your Oregon road trip. The Park Lane Suites & Inn are a great budget option, the suites each have a kitchen and lounge area, perfect if you are looking for an apartment style. If you prefer hotels the Radisson has a beautiful hotel near the airport and surrounded by gardens and a lake, or if you prefer to stay downtown the Staypineapple offers spacious rooms with king size beds as standard.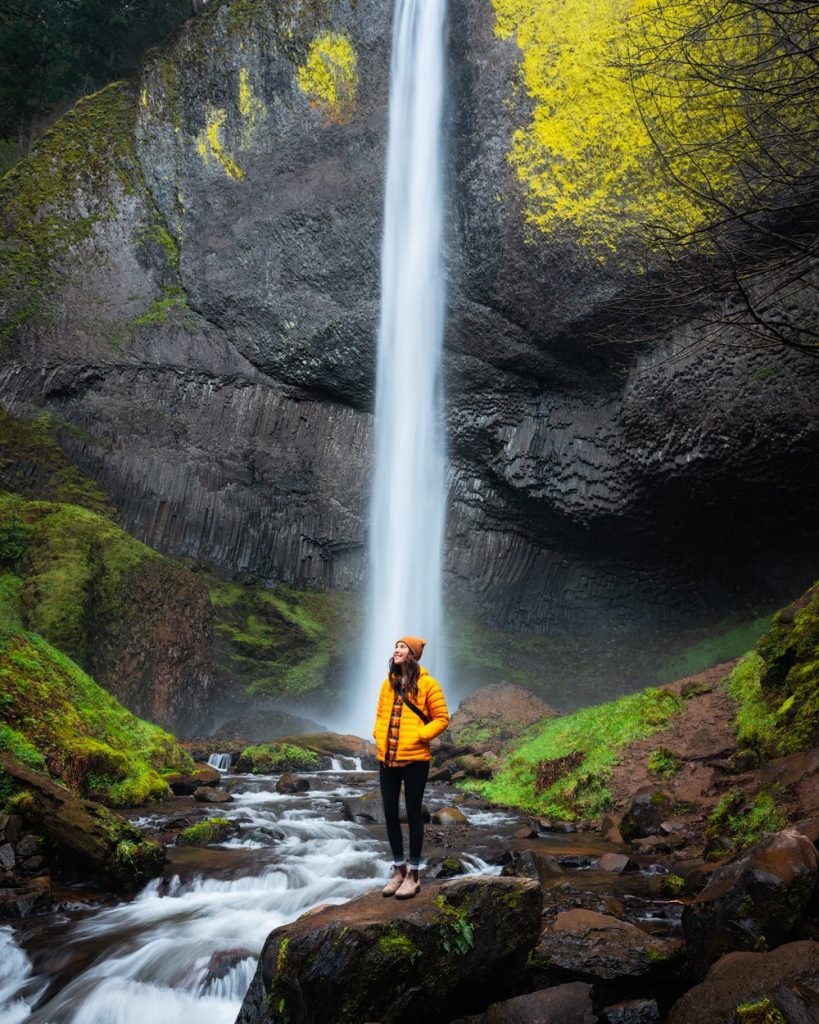 First stop: Latourell Falls
Head east from Portland along I-84 towards the Columbia River Gorge. Drive approximately 30 minutes and take Exit #28, then turn right on the Historic Columbia River Highway and travel west for approximately 3 miles to the Latourell Falls parking lot on your left. Latourell Falls is a beautiful scenic waterfall surrounded by lush foliage and you only have to walk a few minutes from the parking lot to see it! In saying that, there is a 2 mile loop hike that leaves from the same trailhead if you feel like stretching your legs and exploring more of the area. Latourell Falls is one of the featured stops on this Columbia Gorge Waterfalls tour!
Second stop: Bridal Veil Falls
Jump back into your car and drive 5 minutes back down the Historic Columbia River Highway until you reach Bridal Veil Falls State Park. The park features two different trails: an upper interpretive trail and a lower hiking trail to the falls. I recommend taking the lower hiking trail (1 mile roundtrip) so that you can best view Bridal Veil Falls (120′ tall).
Third stop: Multnomah Falls
Head back onto the Historic Columbia River Highway drive approximately 8 minutes northeast to Multnomah Falls. Parking can be a little tough to find here and definitely expect crowds! It's still worth stopping to see the falls if you are able to find a parking spot. You don't have to hike to see the falls (620′ tall), they are right there by the roadside. In saying that, there are options to hike 0.2 miles up to the historic Benson Bridge or 1.2 miles to the top of the falls. You can also enjoy this area without much planning by hopping on a half-day tour from Portland.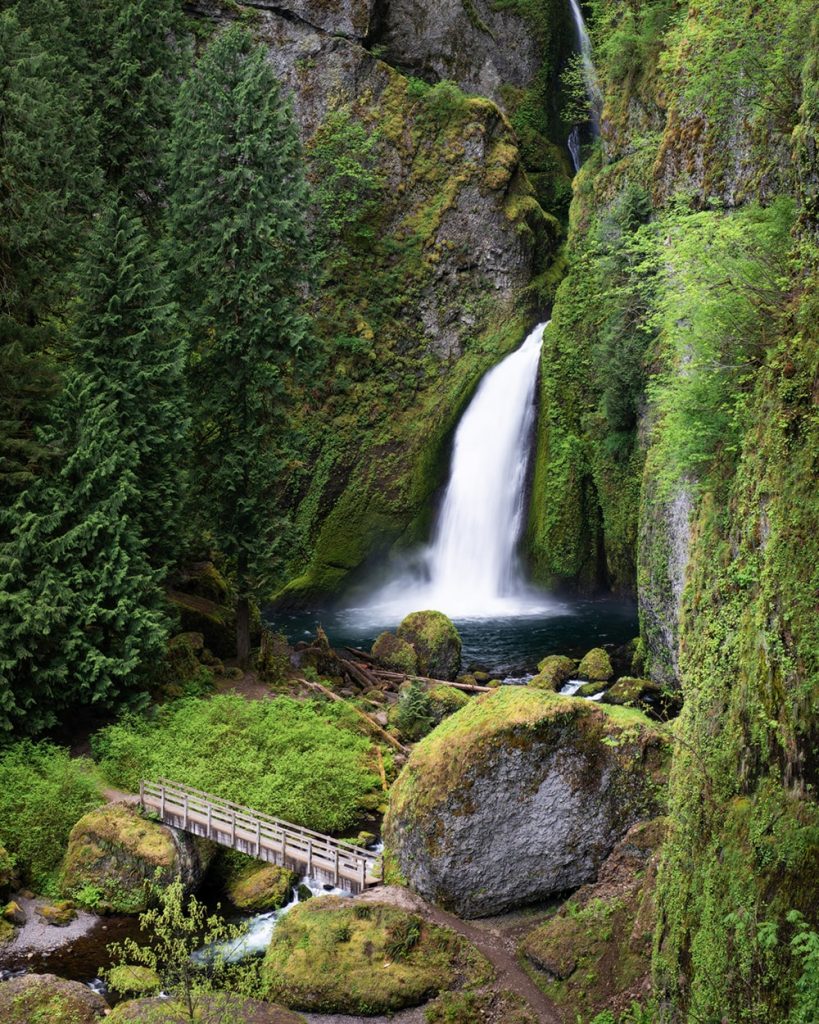 Fourth stop: Wahclella Falls
Next head back onto the I-84 and drive approximately 11 minutes northeast to the Wahclella Falls trailhead. From here take the 2.4 mile out-and-back trail to the falls, which is a relatively easy hike through a lush canyon. At the end of the trail you will be greeted by a beautiful 350′ two-tiered waterfall… one of my favorites in the Gorge! Note: this trailhead is notorious for car break-ins, so leave any valuables out of sight or take them with you on the hike.
After Wahclella Falls you can continue along I-84 for 25 minutes until arriving in the town of Hood River. If it's of interest, you could also stop and check out Bridge of the Gods and Cascade Locks. Hood River has various accommodation options and I can recommend Westcliff Lodge, booking a local cabin like this one with incredible views, or camping at Tucker Park Campground. For dinner I suggest checking out Solstice Wood Fire Cafe and Bar.
If you book camping book via The Dyrt and use my code Renee90 to get a free 90-day trial.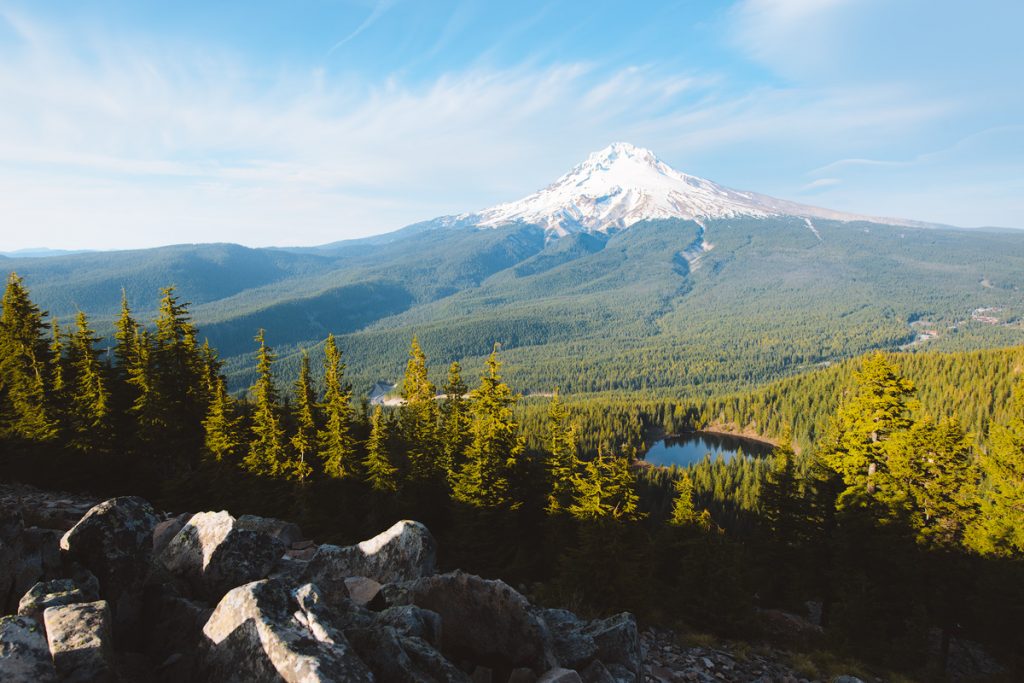 Oregon Road Trip Day 2 – Hood River to Bend
Wake up in beautiful Hood River and head into town to grab breakfast at Egg River Cafe. Once you are fueled up for the day, jump back into the car and prepare for another day of road-tripping. Again, consider packing a picnic lunch in a cooler for the day so that you aren't caught up trying to find somewhere along the way.
First stop: Trillium Lake
Head southwest on Hwy 35 for approximately 50 minutes and then turn left onto Trillium Lake road. Travel south for another 5 minutes before arriving at Trillium Lake. From here you will be treated to beautiful views of Mount Hood (11,350′) and lush foliage. There is a campground, vault toilets, picnic tables, and the easy 2-mile Trillium Shoreline Loop Trail – which I definitely recommend you hike! If you really enjoy your time at Mt Hood, you can always add on an extra day to take a full tour – this one arranges transportation from Portland which is pretty convenient.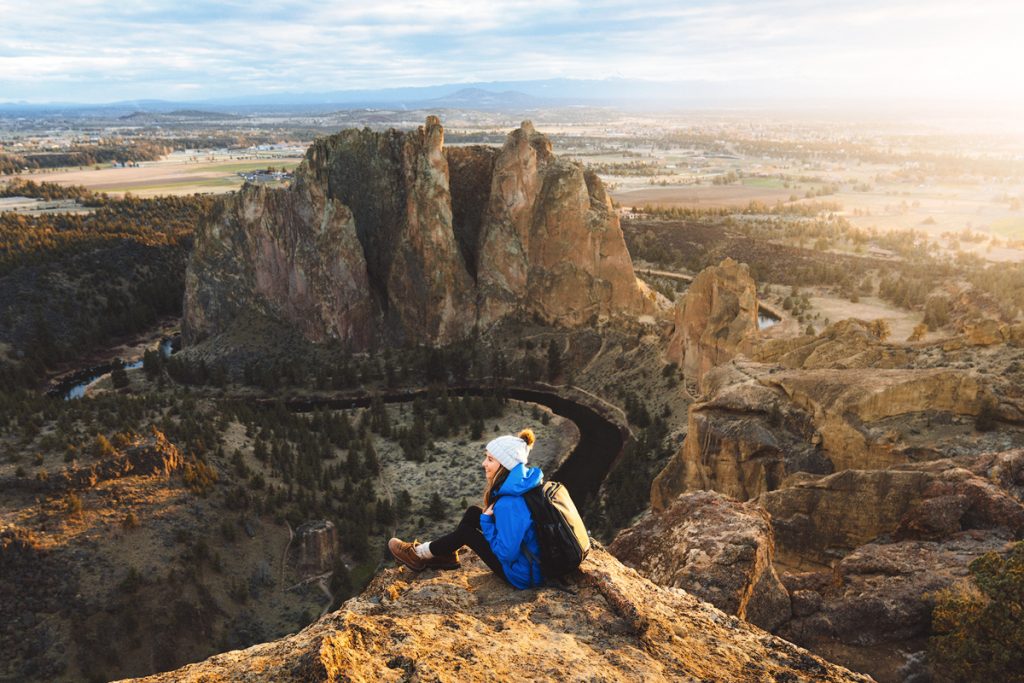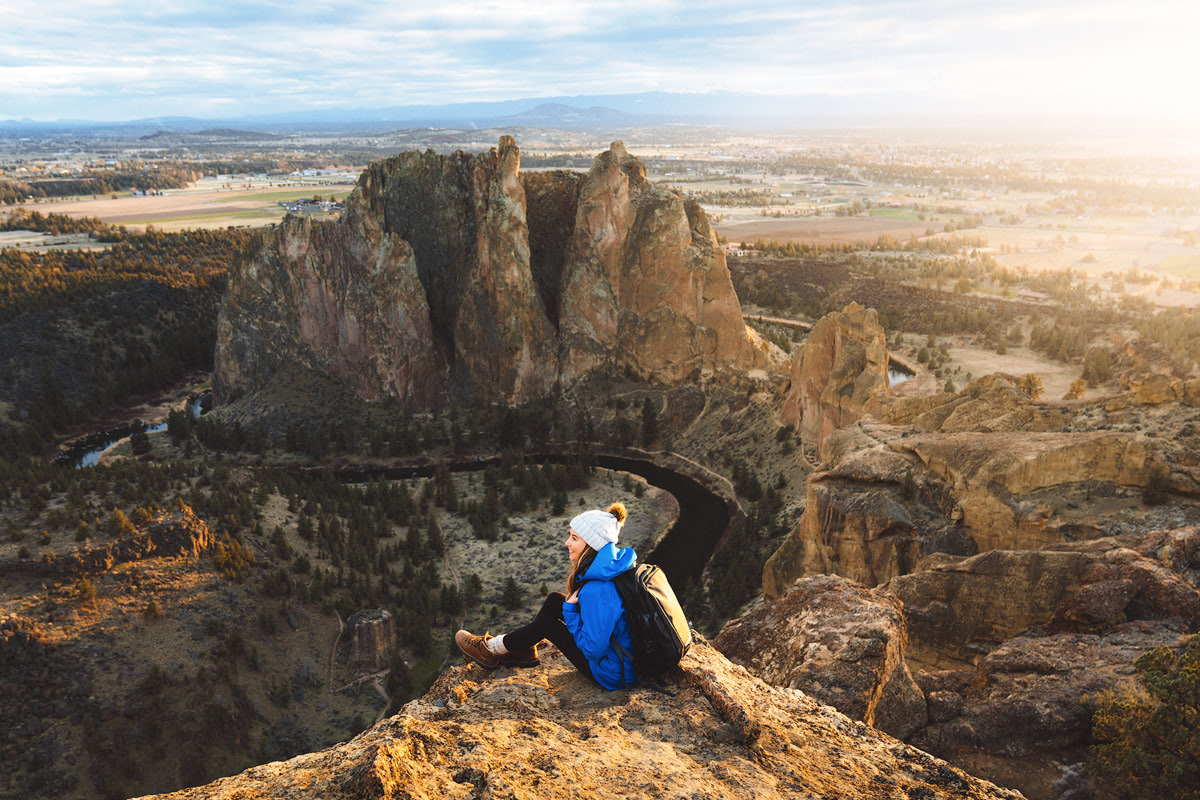 Second stop: Smith Rock State Park
After spending a couple of hours at Trillium Lake, jump back into the car and head southwest to Smith Rock State Park (approximately 1 hour, 40 minutes driving time). This is a really unique park, with deep river canyons, rock climbing, hiking trails, and beautiful scenic views. For an easy hiking option I would recommend the Rim Rock Trail (.5 miles) or the River Trail (2.5 miles). For spectacular views and a decent workout, I would recommend Misery Ridge and River Trail (4 miles).
Once you've finished up at Smith Rock State Park, drive 35 minutes south to the town of Bend. You will find a range of accommodation options downtown and also on the outskirts. For hotels I can recommend Springhill Suites Bend or Tetherow Hotel, and for camping I would suggest a free campsite in the Deschutes National Forest. Grab some dinner and a beer at Deschutes Brewery and finish the night off with gelato from Bonta… so good!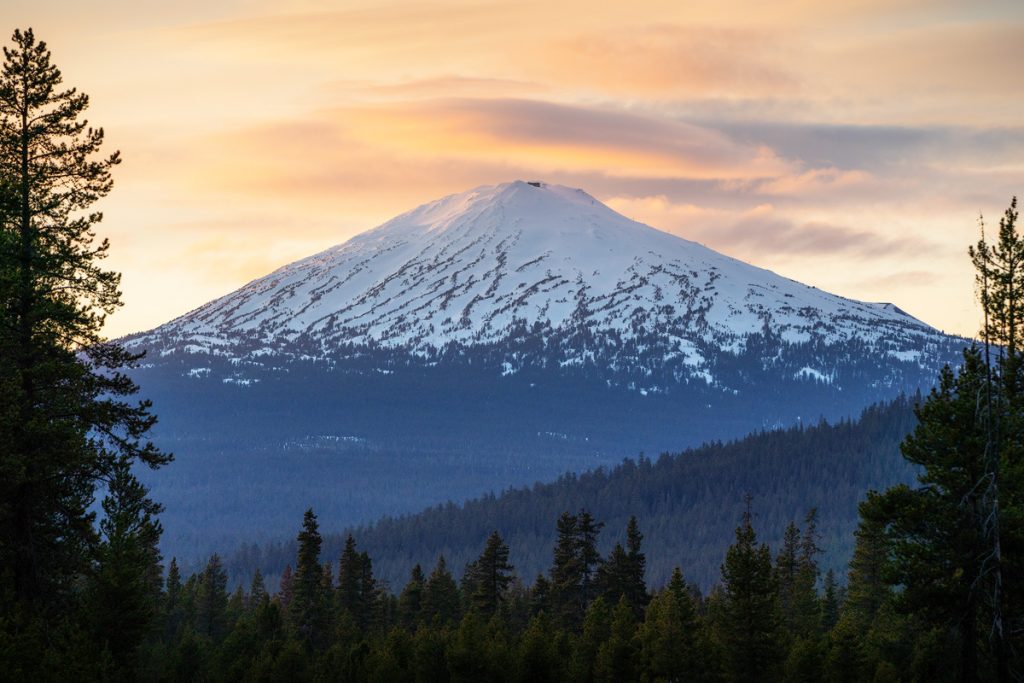 Oregon Road Trip Day 3 – Bend to Crater Lake
Wake up in Bend and grab a delicious breakfast from Mackay Cottage Restaurant. Make sure to leave with a couple of extra baked goods for the road!
Drive or hike 1 mile up to the top of Pilot Butte, a scenic lookout on the eastern part of town offering 360 views of Bend and the Cascade Range. The road is open mid-April and late fall and the hiking trail is open year round.
Your next stop will be Sparks Lake, located about 25 miles west of Bend off the Cascade Lakes Highway (40 minutes driving time). Note that the road is closed during winter and usually opens around May/June each year. Sparks Lake offers beautiful views of Mount Bachelor (9,068′) and has an easy scenic loop hike, the Ray Atkeson Loop Trail (2.3 miles). I recommend having a picnic lunch here before hitting the road again.
Third stop: Crater Lake National Park
After exploring Sparks Lake you will head south for about 2.5 hours until you hit Crater Lake National Park. There are sections of the park you can visit year round but to access all areas you will need to visit during the warmer months. It will likely be late in the day by the time you arrive at the park, so I would recommend opting for a short walk like the Sun Notch Trail. This quick 0.8 mile loop hike offers beautiful views over Crater Lake and Phantom Ship Island.
For accommodation in Crater Lake National Park, I recommend staying at the historic Crater Lake Lodge, in one of the Mazama Village cabins, or camping in one of the various park campgrounds. Both the Lodge and Mazama Village have options for dinner, as well as a grab-and-go cafe for snacks.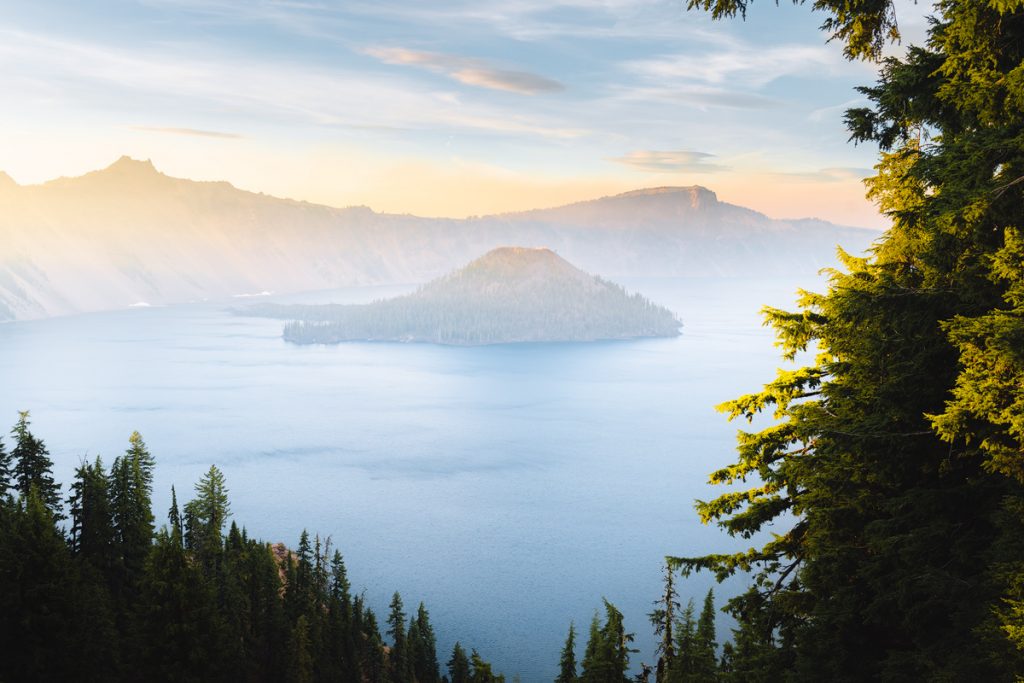 Oregon Road Trip Day 4 – Crater Lake
Today will be spent exploring Crater Lake National Park. You could technically drop this day from the itinerary if you were in a big rush, but I would recommend keeping it and giving yourself a day with less driving and a chance to truly see the area.
First stop: Cloudcap Overlook
Start day four of your Oregon road trip by driving approximately 32 minutes to Cloudcap Overlook, on the east side of Crater Lake. This lookout sits at 7,685 feet in elevation and provides spectacular panoramic views. In fact, Cloudcap is the highest road-access overlook on the Crater Lake rim… so a great way to orientate yourself to the lake's grandeur!
Second stop: Cruise the lake
Next you will be heading to the northeast section of the lake for a boat cruise! There are a couple of different boat cruise options on Crater Lake, ran by a park concessionary. I suggest taking the Wizard Island Tour that involves some cruising around the lake as well as some time spent exploring Wizard Island. Keep in mind that to get to the boat dock you will need to be able to hike the Cleetwood Cove Trail 1.1 miles downhill (700 ft / 213 m descent) and back up again after your tour.
Third stop: Watchman Overlook
Now it's time to loop your way around Crater Lake to the west side, where you will be visiting one of the best scenic pullouts along the Rim Drive – Watchman Overlook. From there you will have the option to hike the Watchman Peak Trail. This 1.6 mile out-and-back trail leads you to the Watchman Fire Lookout and breathtaking views over The Watchman and the surrounding area.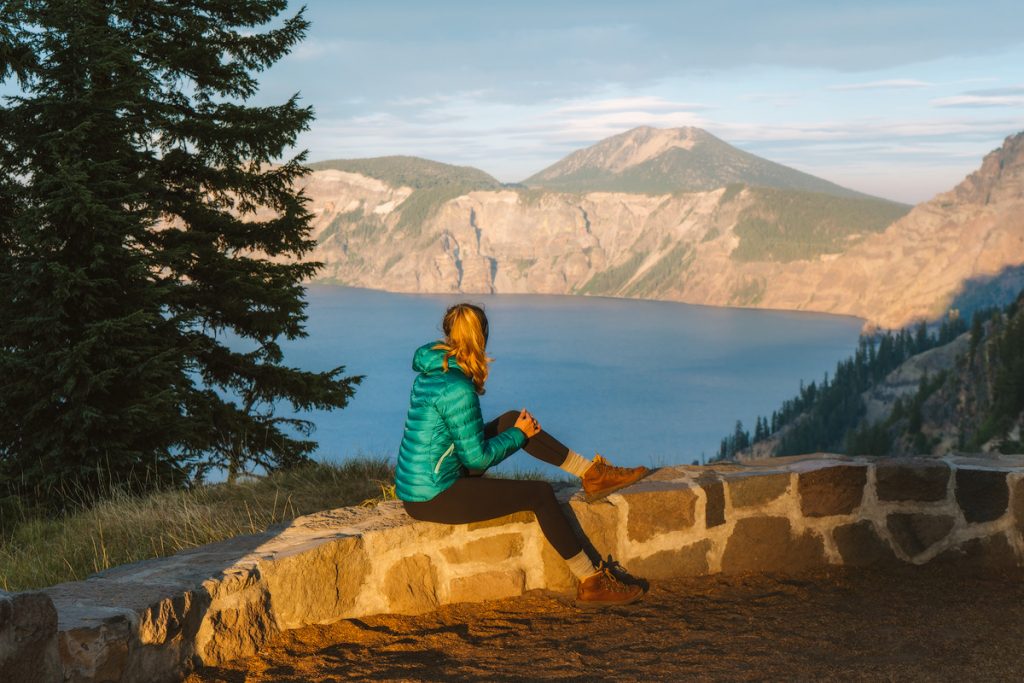 Fourth stop: catch sunset
Your last stop for the day will be to choose a destination to view sunset from! The most chill option is to enjoy sunset from Crater Lake Lodge's veranda (with or without a refreshing drink in hand). Another option would be to stroll along the pedestrian only zone along the rim edge just nearby the lodge. If you are feeling adventurous you could hike the 4-mile Discovery Point Trail for beautiful views looking northwest over the lake and The Watchman.
Grab some dinner at the Crater Lake Lodge Dining Room, play some boardgames in the lobby, and then head back to your accommodation and get some shut eye.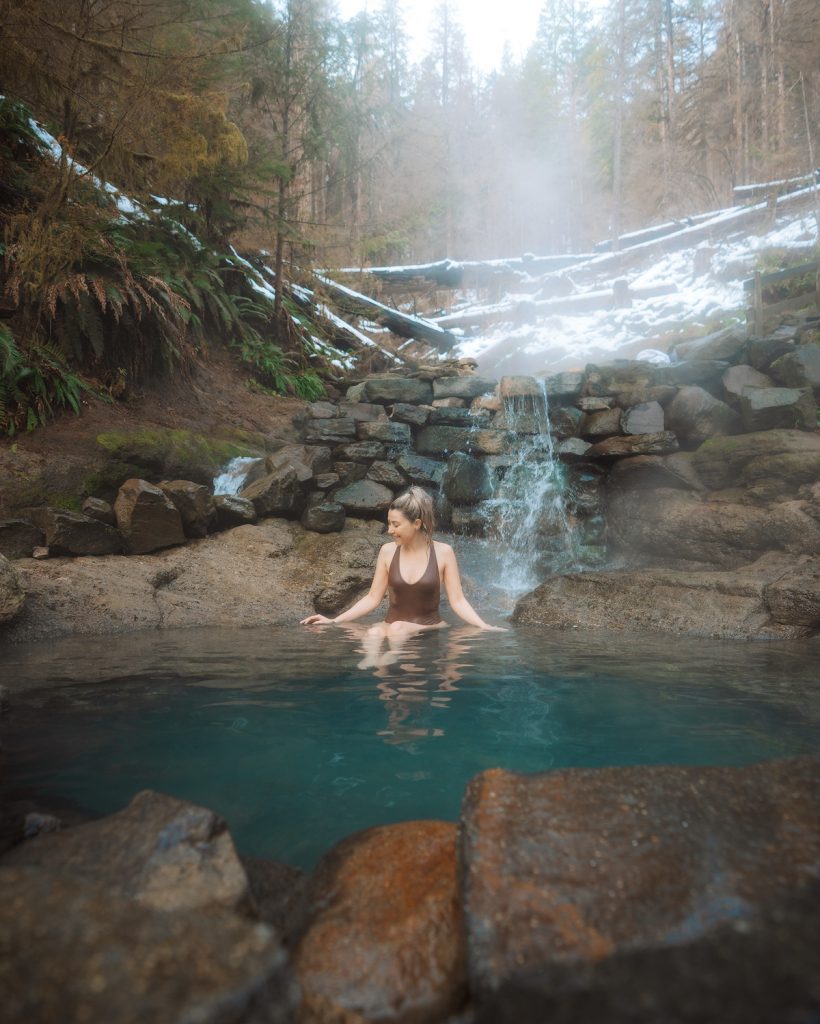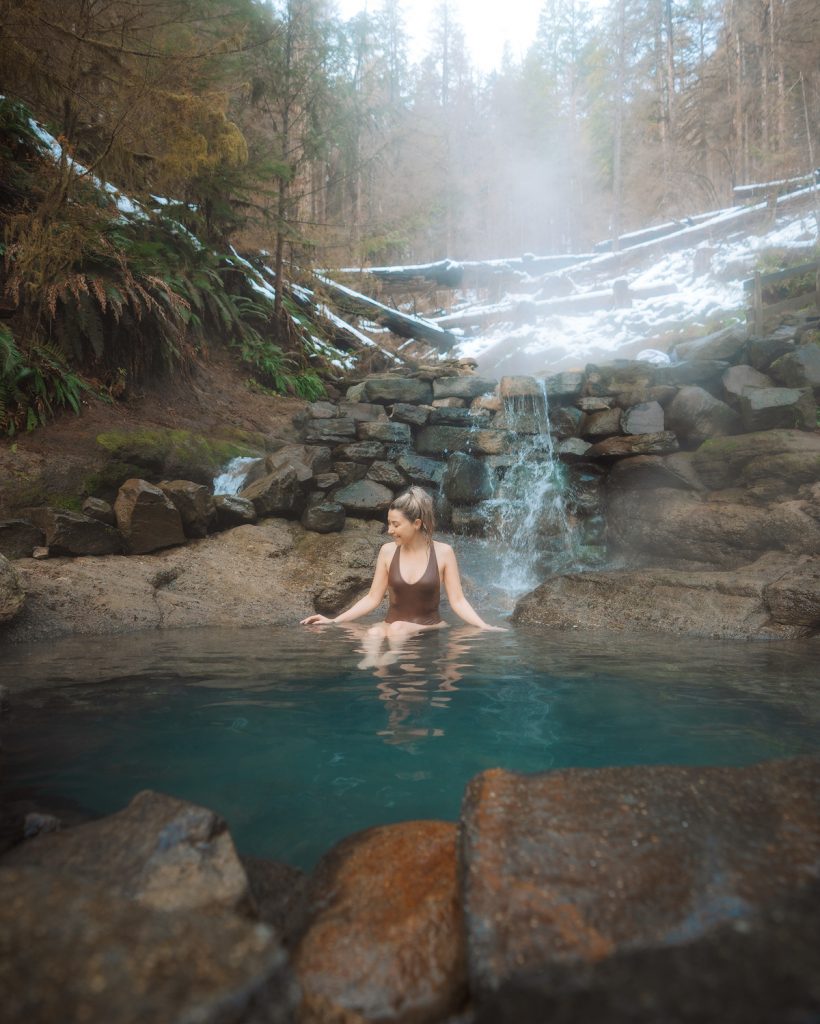 Oregon Road Trip Day 5 – Crater Lake to Cape Kiwanda
Hit the road relatively early today because you have some decent mileage to cover. You may even want to consider catching sunrise over Crater Lake as you leave the park (a great option in the Garfield Peak Trail).
First stop: Terwilliger Hot Springs
Terwilliger Hot Springs (also known as Cougar Hot Springs, pictured above) will be your first stop of the day, located approximately 3.5 hours northwest of Crater Lake. If you're not a natural hot spring fan then feel free to skip this stop and head straight to the coast. To get to the hot springs you will need to hike an easy 0.25 mile trail to the natural pools. There is a $7 entrance fee per person and keep in mind that the hot springs are clothing optional. Tip: the upper pool is the warmest but I would recommend trying them all! Please read up on hot spring etiquette before going.
MAY 2022 UPDATE: You may want to consider switching out Terwilliger Hot Springs for Wall Creek Hot Springs (also known as 'Meditation Pool') as it will require quite a lot less driving. To get there, navigate to Warm Springs Trail near Oakridge (43°48'10.1″N 122°18'37.3″W) and walk the 0.6 mile trail to the hot springs. Find out more on AllTrails.
From one of the above hot springs you will drive west to the town of Eugene and then make your way further north. I highly recommend stopping by Tacovore as you pass through town. They have a wide range of meat, veggie, and vegan options, and everything we have tried from there is DELICIOUS!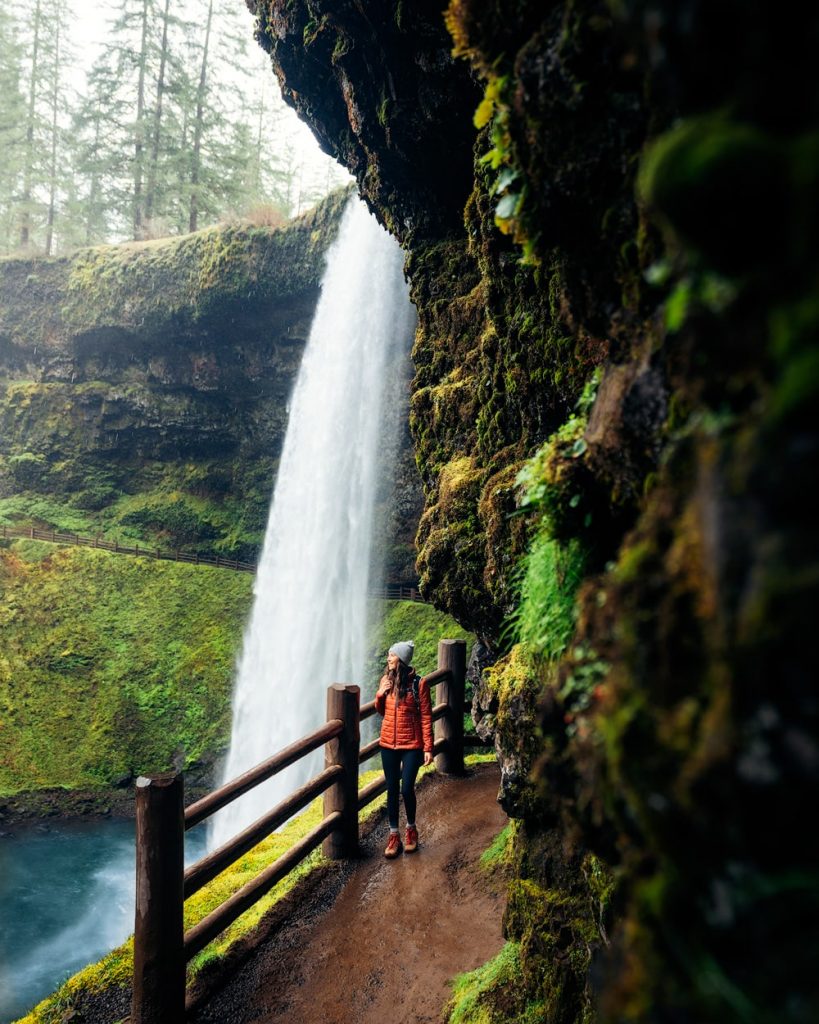 Third stop: Silver Falls State Park
You may or may not feel like you have time to include this stop in the Willamette Valley area, but I'd highly recommend it! Silver Falls State Park is a 50 minute (roundtrip) detour between Eugene and your next stop. The most popular thing to do in the park is to hike the 7.4 mile Trail of Ten Falls, but I will share an alternative time-saving option with you!
Park at the South Falls Lodge Trailhead and buy your $5 day-use parking permit. Walk a few minutes to spectacular South Falls, including walking behind the waterfall (such a cool experience!) If you're in a real time-crunch, head back to the car and continue on to the North Falls Parking Lot. If you have a little more time, I recommend hiking from South Falls to Lower South Falls and looping back on the Maple Ridge Trail (you'll also pass Frenchie Falls). Refer to this brochure for more guidance.
After exploring the South Falls area, drive to the North Falls Parking Lot and spend some time walking to both North Falls and Upper North Falls. Both of these are spectacular!
Fourth stop: Cape Kiwanda
Now it's time to head to the coast! Pacific City (home to Cape Kiwanda) will be your final destination for the day, though feel free to stop at any points of interest along the drive. If you arrive by sunset then I would recommend stopping by Pacific City Beach and watching the sun go down over the ocean… so magical!
There are a few options for Pacific City accommodations. Some great hotel options are the Inn at Cape Kiwanda and Headlands Coastal Lodge and Spa. For a more budget-friendly option you could stay at Hart's Camp Airstream Hotel and RV Park, or camp at Winema Wayside. For dinner I recommend checking out Pelican Brewing Company.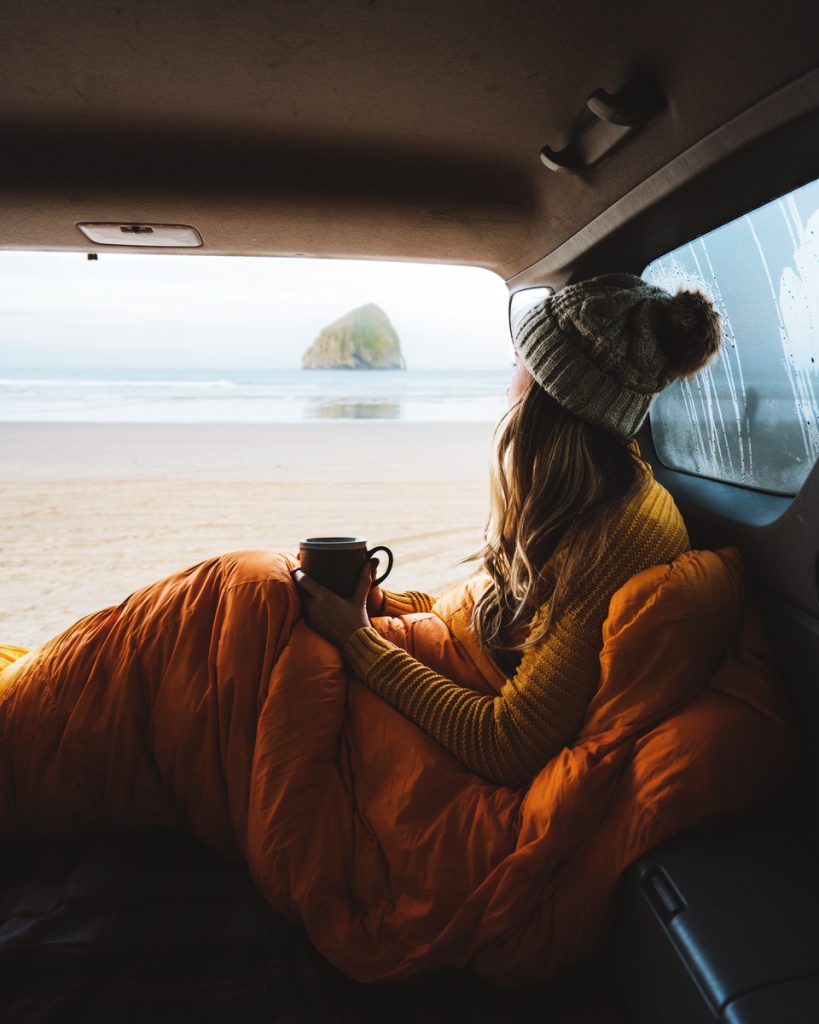 Oregon Road Trip Day 6 – Cape Kiwanda to Cannon Beach
Head for breakfast at The Grateful Bread Bakery & Restaurant. Do yourself a favor and make sure to try their freshly baked scones…. so good! Consider grabbing a take-out hot drink to sip on as your stroll along the beach during your first stop of the day.
Your first adventure of the day will be to explore more of Cape Kiwanda. The area is famous for its large sea stack off the Pacific City Beach and you can even drive your car onto the sand (would only recommend doing so if you have a 4×4). Take a morning stroll along the beach and venture up the sandy hill at the end of the beach. Caution: be careful around the sandstone cliffs as they are very fragile and prone to crumbling.
Second stop: Tillamook Creamery
Hit the road again and head north along the coast or Hwy 101. If you're an ice cream or cheese lover then I would recommend stopping by Tillamook Creamery, located about 40 minutes from Pacific City. You can see first hand how Tillamook makes their famous cheeses and ice creams… including samples! This Oregon Coast tour includes a stop at Tillamook, as well as Cannon Beach, and some of the other must-see coastal spots.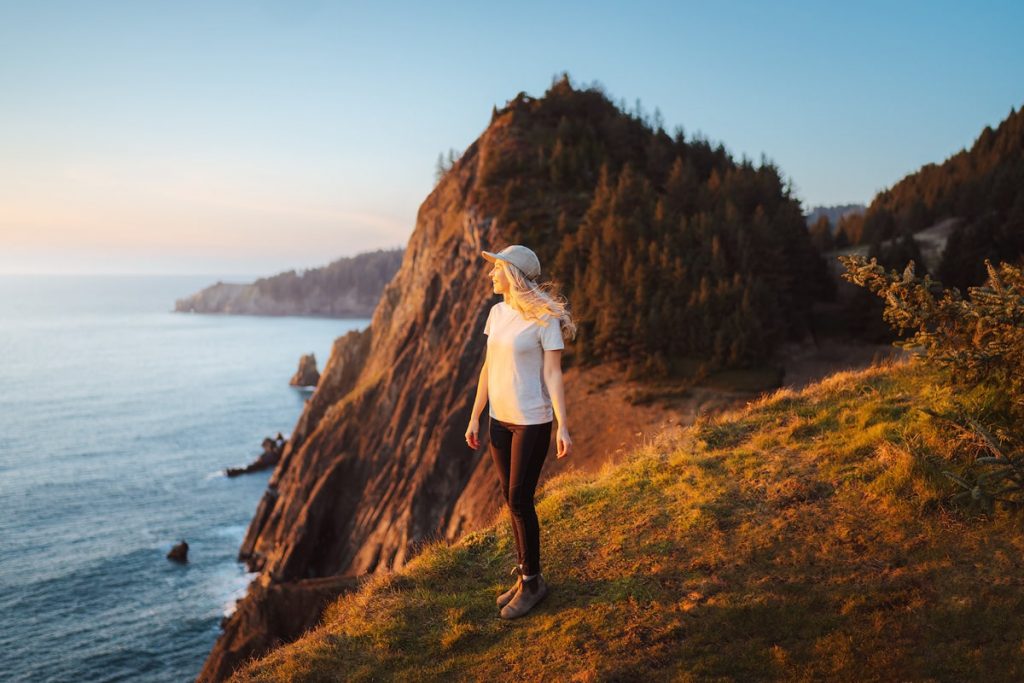 Third stop: Elk Flats Trail
Keep driving north for another 35-40 minutes until you hit Elk Flats Trail (GPS coordinates: 45.7483926,-123.9624048). You can skip this stop if you're not feeling up to hiking, but I'd highly recommend you check it out! The trail is 2.9 miles out and back and you'll be treated to stunning views of the ocean and seacliffs. Check out AllTrails for more trail information and keep in mind that to save time you can cut out the Devils Cauldron section and just hike the more southern fork of the trail… OR there is a pull-off just before the main trailhead that allows you to hike on a social trail out to the cliffs above Elk Flats (pictured above). Remember to always leave no trace!
Fourth

stop: Oswald West State Park
Onwards a few minutes further north and you'll reach Oswald West State Park, located just off Hwy 101. The park stretches along 4 miles of coastline and is home to temperate rainforest, a beautiful sandy beach, and miles of hiking trails. I recommend walking the 0.5 mile Short Sand Beach Trail and the 0.2 mile Old Growth Forest Trail. You may want to take a picnic lunch to have during this stop.
Next it is onwards to Hug Point State Recreation Site, located only 10-15 minutes north of Oswald West State Park. Hug Point is known for its picturesque sandy cove beach, caves, tide pools, and a seasonal waterfall. Consider hiking the Hug Point Trail (1.2 miles) or the Hug Point to Arch Cape Trail (4.5 miles). I would suggest checking the area's tide charts before venturing out on a hike.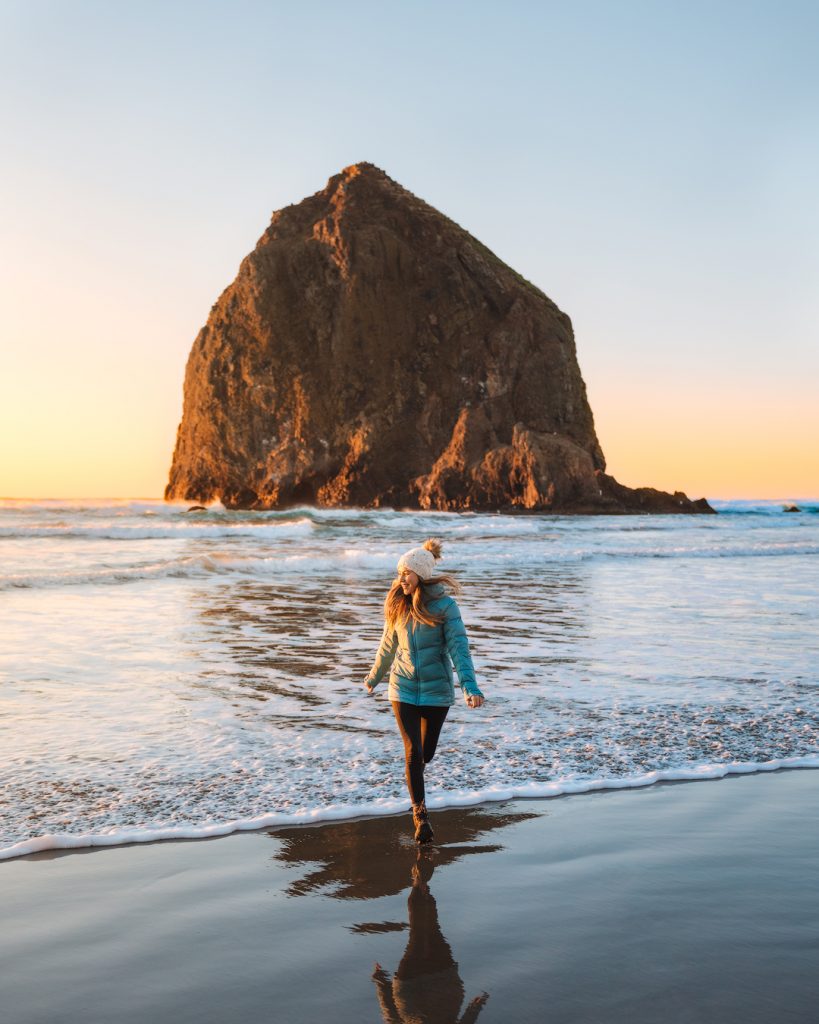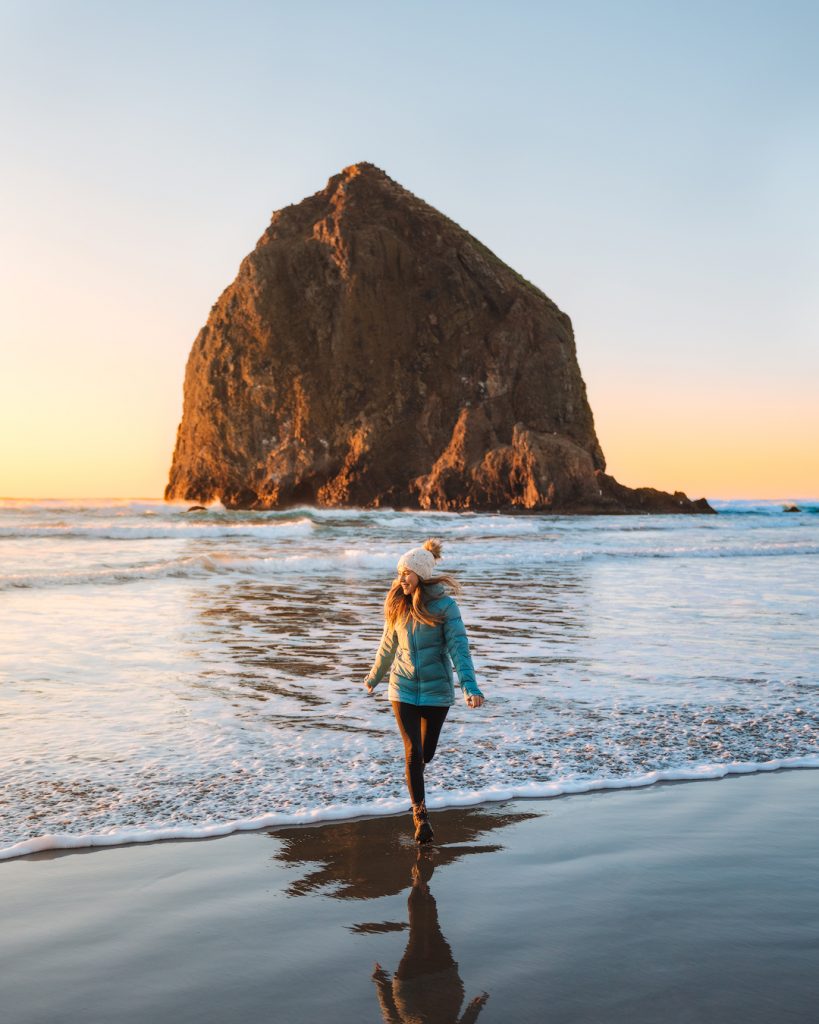 Head north towards Cannon Beach. If you are yet to have lunch then I would recommend stopping by Mo's Resturant for some fresh local eats. Continue on to the center of town and find yourself a parking spot. Cannon Beach is a really quaint town and it's worth spending some time wandering down the main street and checking out some local stores. I recommend heading to the Haystack Rock section of the beach for sunset… it's definitely one of Oregon's true coastal gems and 100% worth seeing! The best place to access the beach is here.
This will be the final night of your Oregon 7 day road trip and staying in Cannon Beach is the perfect way to end it! For Cannon Beach accommodation I recommend The Ocean Lodge or Surfsand Resort if you would like to be right on the beach. A more affordable option that is situated a little further down the beach is Tolovana Inn. For tent or car camping I can recommend Wright's for Camping. A great place in town to grab dinner is Castaways.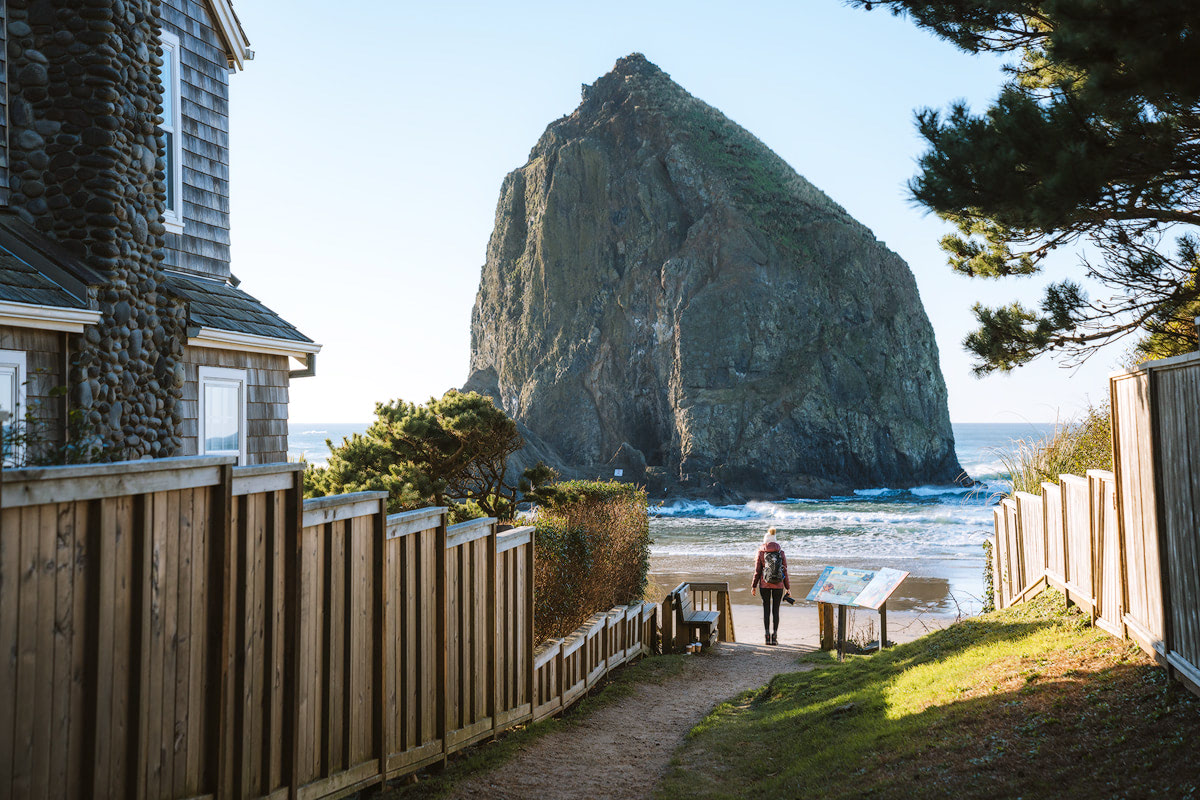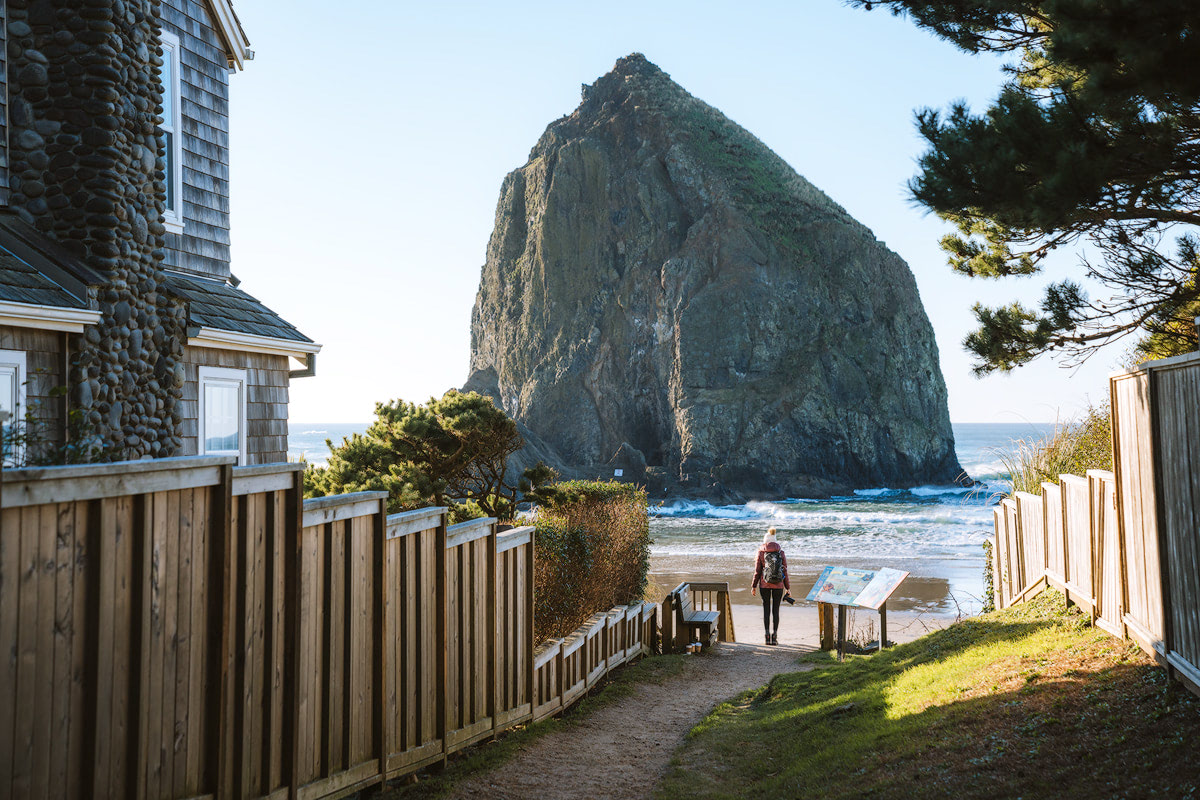 Oregon Road Trip Day 7 – Cannon Beach to Portland
It's the last chance to make the absolute most of your Oregon 7 day road trip! Wake up early and enjoy breakfast at Lazy Susan Cafe or Sea Level Bakery + Coffee (both are fantastic!)
First stop: walk the beach
Similar to yesterday, I suggest starting off your day by strolling along the beach… it's such a great way to wake up and feel connected to nature! Cannon Beach has many different sections you can stroll along and you could even consider exploring more of the Haystack Rock area.
Second stop: Ecola State Park
Next up you will be heading to Ecola State Park, located just 5 minutes north of Cannon Beach. Ecola Point/Crescent Beach and Indian Beach are the two main areas you will want to stop and explore. From the main parking lot at Crescent Beach you can opt to hike the Ecola Point to Crescent Beach Trail (1.25-miles) for beautiful coastal and sea stack views. Another trail to consider is the Clatsop Loop (2.8 miles) that provides stunning ocean views, wildflowers, and glimpses of Tillamook Lighthouse.
It's time to head back to Portland! The drive will take you approximately 1.5 hours, so make sure to factor that in if you have an afternoon flight out. In town I suggest grabbing a late lunch or dinner from Wolf and Bear's or Bollywood Theatre (north or east locations), followed by ice cream from Salt & Straw or donuts from Voodoo (or Blue Star!)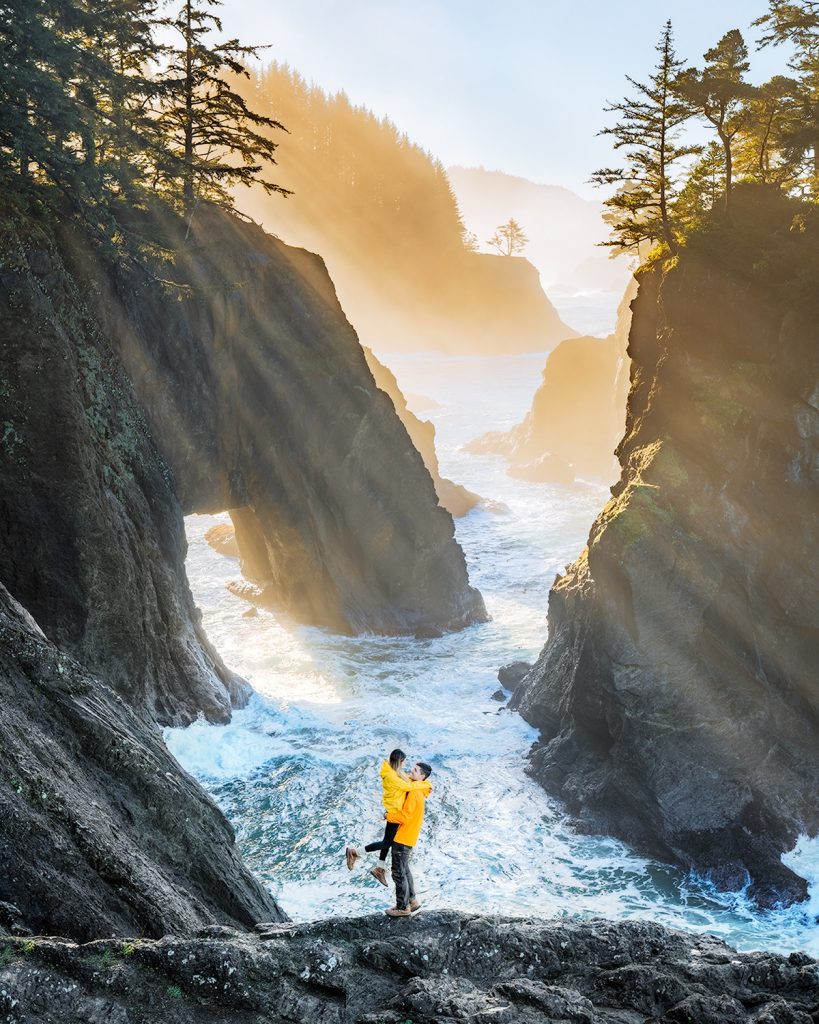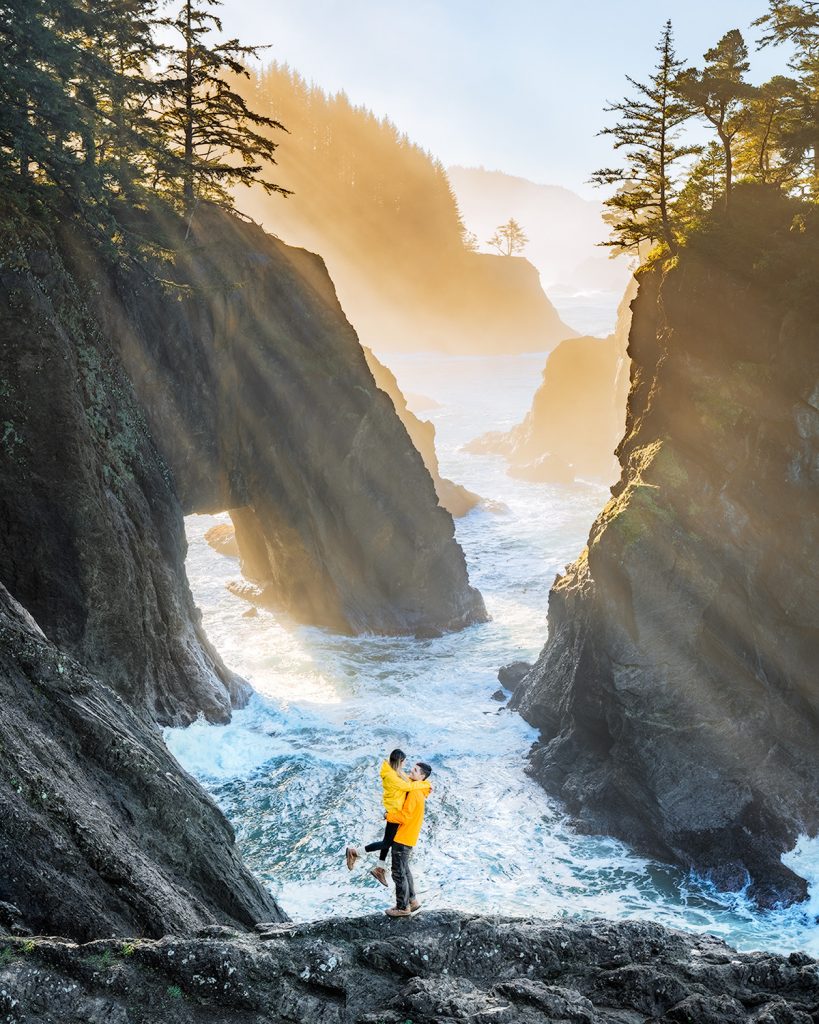 More Things To Do on an Oregon Road Trip
This Oregon 7 day road trip will have given you a taste of the state's epic mountains, lakes, and coastline. If you are still craving more then consider adding on some of the below destinations (or come back and explore them on another trip!)
Samuel H. Boardman State Scenic Corridor
If you enjoyed the sea stacks along the northern coastline of Oregon then you will LOVE the Samuel H. Boardman State Scenic Corridor. Located just north of California along the Oregon coast, this area is famous for rugged beaches, dramatic cliffs, sea stacks, and more. Drive south from Cannon Beach and stop in Newport for lunch and then visit Heceta Head Lighthouse on the central Oregon coast. Some other must-see stops are Secret Beach, Arch Rock, and Natural Bridges Cove. I definitely recommend extending a few days for this Oregon Coast road trip!
Located in the Willamette National Forest, Sahalie and Koosah Falls are definitely worth stopping by if you are nearby. The Waterfalls Loop is a 2.2 mile trail that provides beautiful views of both waterfalls, the Mckenzie River, and Carmen Reservoir.
Another stunning Oregon waterfall to visit is Toketee Falls, located east of Roseburg in the Umpqua National Forest. Take the 0.4 mile out-and-back Toketee Falls Trail for scenic views, with the option to also hike down to the bottom of the falls if conditions allow.
Nearby to Toketee Falls is one of Oregon's most unique finds – Umpqua Hot Springs. You can access these natural pools via the 0.3 mile Umpqua Hot Springs Trail (sometimes closed in winter when there is heavy snowfall). Please read up on hot spring etiquette before going.
Redwood National & State Parks
You can also head to northern California and visit Redwoods National Parks to see some of the tallest trees in the world. I have a full guide on visiting Redwoods here! If you feel like continuing your road trip down the west coast, I recommend driving through central California, visiting some wineries, and then driving the Big Sur coast. This is an epic road trip that should definitely be on your bucket list!
Okay, so also not Oregon, but worth a visit! Head north and spend a few days in Olympic National Park in Washington. With incredible mountain peaks, coastal beaches, and pacific northwest rain forests, the Olympic Peninsula is an amazing place to visit. There are my favorite things to do in Olympic National Park.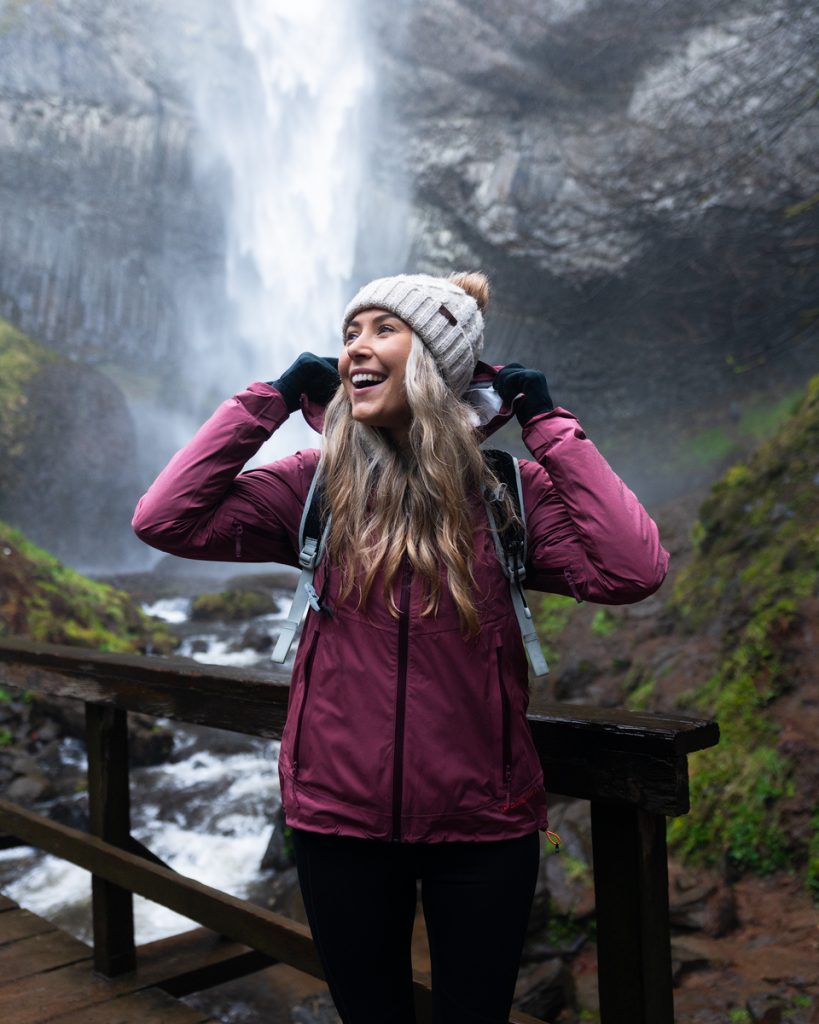 Oregon 7 Day Road Trip Packing Guide
You will want to consider a few things when packing for your Oregon 7 road trip. Specifics of what you bring along will depend on the season, though I feel that the below items are things you should bring regardless of the time of year. Even the summer months can get chilly in the mountains and along the coast… and it can rain any time of year in Oregon!
Below you will find my recommended gear items for an Oregon road trip. Backcountry.com is my go-to retailer for all things outdoors and travel. Use code RENEE15 to get 15th off your first order (some exclusions apply). Click here to shop my gear favorites.
As far out outwear goes I would recommend a rain jacket and some sort of insulated jacket. My husband and I own both the jackets featured below and can definitely recommend them for road trips, hiking, and everyday use.
FOR HER
FOR HIM
For hiking and everyday wear I would recommend layers that are comfortable and practical. You can't really go wrong with a classic t-shirt, pants, and fleece combo. For bottoms, I tend to opt for leggings whereas my husband prefers lightweight hiking pants… choose whatever you like best! Depending on the time of year you are traveling you may want to pack shorts, a lightweight wind layer, and/or thermal baselayers.
FOR HER
FOR HIM
Footwear will vary depending on what time of year you are traveling. For winter you may want to add in some traction such as snowshoes or microspikes, and for peak-summer you may opt for slightly lighter options. Both my husband and I wear the below hiking boots year round and reach for our outdoorsy sandals during the summer road trips.
We also both usually pack a pair of casual shoes for any dinners we may want to have out or other instances where our muddy hiking boots may not be appropriate. Blundstones are a great option for this as they are casual yet you could still wear them on a hike if needed. See below!
Don't forget to use code RENEE15 to get 15% off your first Backcountry.com order! (some exclusions apply) Click here to shop my favorites.
Many Oregon hot springs are clothing optional, but if that's not your thing then I would recommend packing a swimsuit. You'll also want to throw in a travel towel and dry bag for when you hop out of the water.
I pack these travel essentials on every trip I take, and this Oregon road trip is no exception! I recommend taking along a reusable water bottle, coffee mug, cutlery set, day backpack, sun hat, blister plasters, sunscreen, and mosquito repellent.
If you're planning to camp then you will obviously need to pack a few extra items! For sleeping in your car you will only need a sleeping pad, sleeping bag, pillow, and any cooking essentials. You will also need a tent if you are planning to sleep outside in designated campsites. These are some of my favorite car camping gear options.
Want more packing & gear tips? Check out our guides on what to wear hiking, car camping gear essentials, how to plan a national parks trip, and the best hiking shoes.
Oregon Road Trip Tips
When planning your Oregon 7 day road trip you will want to consider the following:
Some state parks and recreation areas require permits/passes to enter or use the parking lot. Be sure to carry some $1, $5, and $10 bills on you for those instances.
During the summer months you may want to consider booking ahead of time for accommodation or camping, especially for Crater Lake and Cannon Beach.
Renting a 4×4 vehicle will likely make your trip more enjoyable, especially for instances when accessing forest roads or dispersed campsites. Consider renting a van or RV for your road trip, this is a really fun way to take a trip!
Packing car-friendly snacks in a cooler is always a good idea… no one likes a hangry road trip partner 😉
Flying in and out of Portland is usually relatively affordable. Another option would be to fly into Seattle and road trip south (including stopping at a few other PNW gems along the way!) Use Skyscanner for finding the best flights and deals.
If you do decide to take an Oregon road trip during the winter months, I would suggest looking up any road and trail closures ahead of time and factoring that into your route. Also be sure to pack hiking shoe traction such as microspikes and extra clothing layers. My car camping checklist has all the essentials you will need.
I would highly recommend that you download Maps.Me for offline driving navigation when you don't have phone service, and Gaia GPS for offline hiking maps. Use this link to Gaia to get 20% off a premium membership.
Be Responsible on Your Oregon Road Trip
Please take the time to educate yourself on appropriate outdoor etiquette and Leave No Trace principles before you head out on your Oregon 7 day road trip. Some of the basics include:
Know the local regulations and special concerns for the area you are visiting.
Stay on established trails and durable surfaces.
Pack it in, pack it out (never leave trash on trails).
Examine, but do not touch cultural or historic structures and artifacts.
Leave rocks, plants and other natural objects as you find them.
Where fires are permitted, use established fire rings, fire pans, or mound fires.
Burn all wood and coals to ash, put out campfires completely, then scatter cool ashes.
Control pets at all times, or leave them at home.
Respect other visitors and protect the quality of their experience.
Be courteous. Yield to other users on the trail.
Observe wildlife from a distance. Do not follow or approach them.
Never feed animals.
Looking For More Road Trip Inspiration?
I hope this Oregon itinerary helps you start planning your next trip! If you're looking to add on a bit more, I definitely recommend visiting more of the pacific northwest on your road trip, and traveling down the west coast if you have time. There are so many incredible destinations for hiking, sightseeing, and eating in Oregon. I hope you plan a trip soon!
---
PIN for later!