Cannon Beach is a quaint town located on the beautiful Oregon coast. It's one of many scenic beaches in the Pacific Northwest but it may just be my all-time favorite! My husband and I recently took a quick 24 hour getaway to explore Cannon Beach and today I'm sharing what we got up to! Find out my tips on how to get there, the best things to do in the area, where to stay, and what to pack for your adventure!
This post is in partnership with with my good friends over at Backcountry. This season we've teamed up to encourage you all to get out and enjoy this beautiful world we live in, whether that's by taking more mini adventures like this one… or maybe something much bigger!
I've been a Backcountry customer since the first week I moved to the US and I'm stoked that they have started developing their own line of gear! You'll find some of my favorites throughout this blog post and they have kindly offered a discount code to my readers, to help you gear up for your own adventures this year! Use code RENEE15 for 15% off your first Backcountry.com purchase!
An Incredible 24 hour Getaway to Cannon Beach, Oregon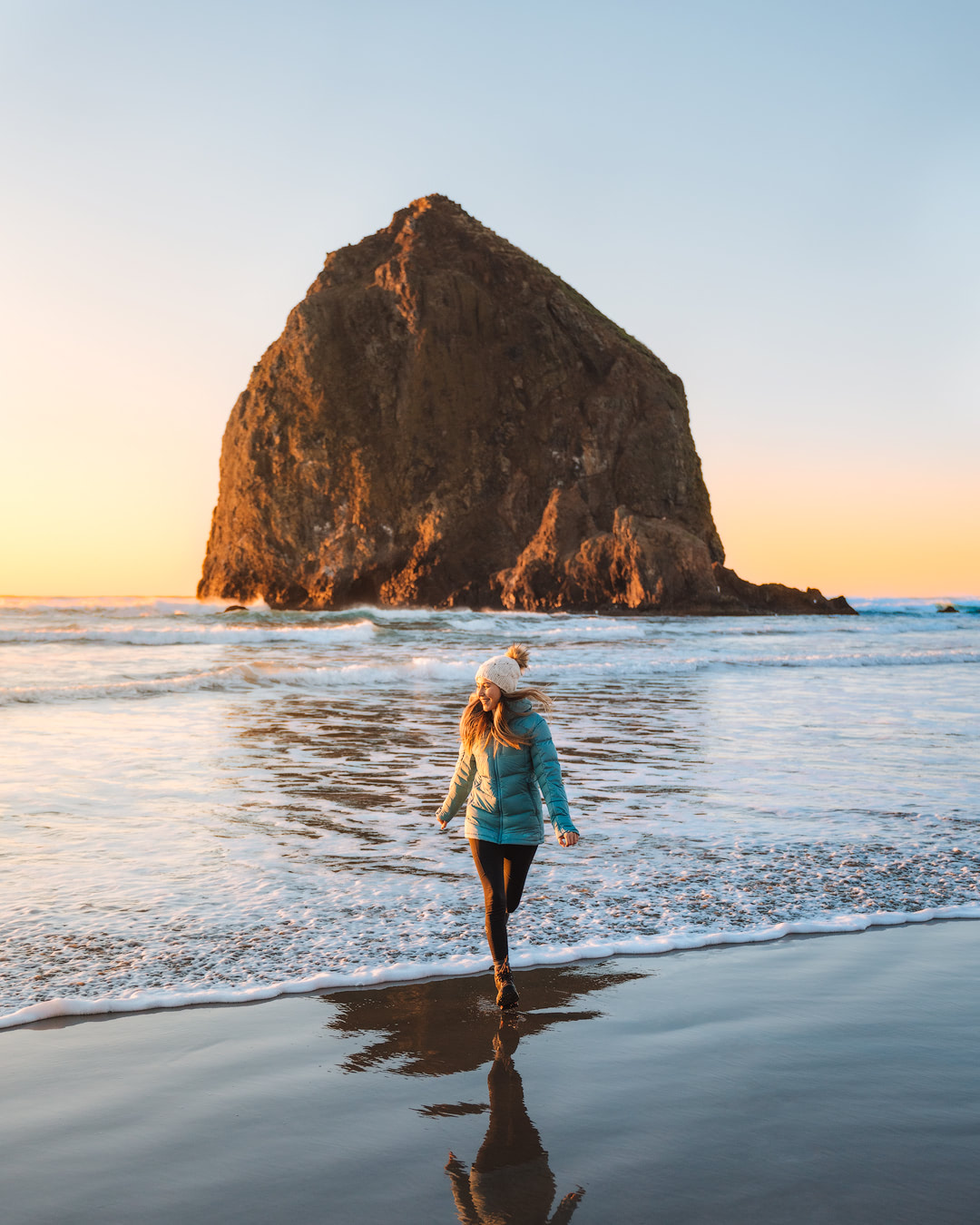 How To Get There
Cannon Beach is located along Highway 101, on Oregon's beautiful and rugged coastline. The town can be accessed via a short 1.5 hour drive from Portland or within about 4 hours from Seattle. I live in Seattle, so my husband and I left home around 9 am to ensure we would arrive with ample of time to explore before sunset (trip taken in January when the days are shorter).
Many people choose to explore the Oregon coast in one longer style road trip. This allows for stops at nearby places such as Cape Kiwanda, Oswald West State Park, the Tillamook Creamery, and more. We sadly didn't have time to take an extended trip, so I wanted to share what a quick 24 hour getaway could look like!
You could drive your own car if coming from somewhere relatively nearby, or consider renting one in Portland. There is also a major airport in Portland for those coming from out of state or overseas. Tip – make sure to stock up on road trip snacks from Blue Star Donuts on your way out of town!
Another thing to consider is when to visit Cannon Beach. Winter is a fantastic time as the crowds are smaller, accommodation is significantly cheaper, and it's not really a 'swimming' beach anyway. We loved the fresh winter air and crisp sunshine of visiting in January – just plan your visit when the forecast looks relatively rain-free!
Map of mentioned locations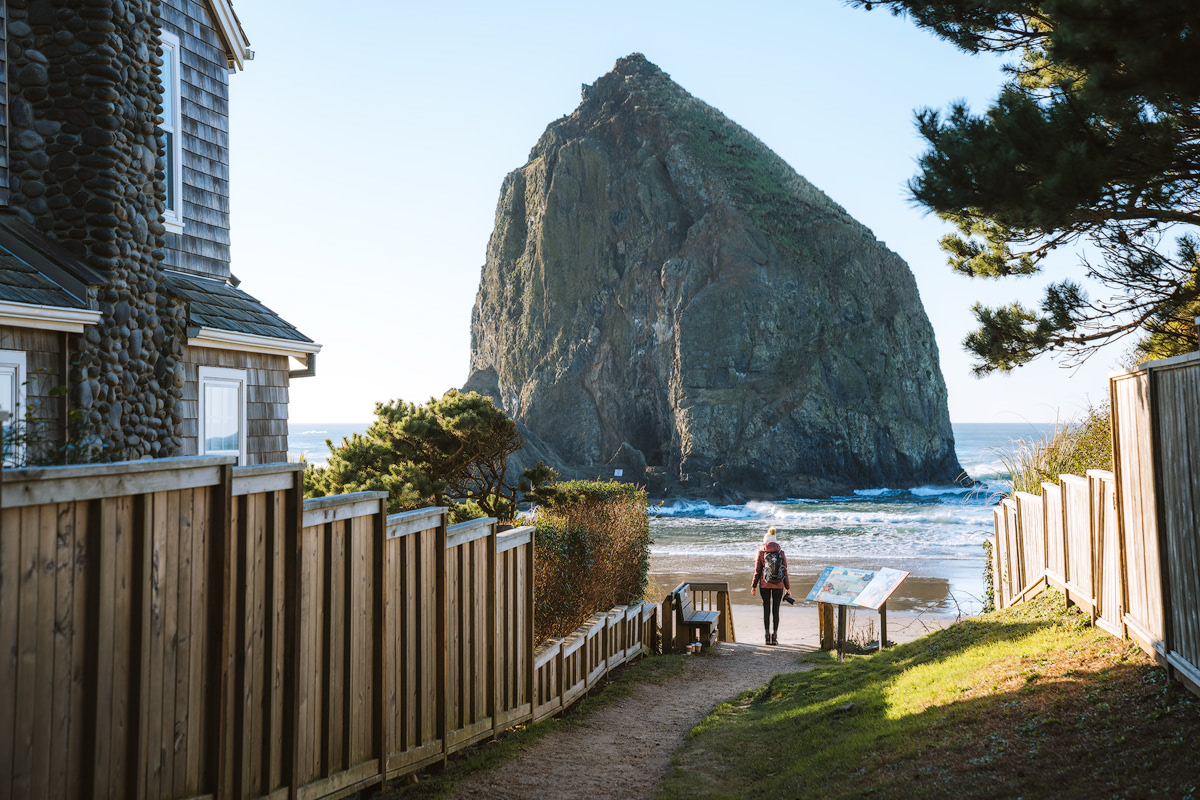 What To See
Cannon Beach is a really cute town! I loved all the architecture and beautiful seaside houses dotting the coast. In my opinon, the best thing to do on your visit to the area is to check out Haystack Rock!
Haystack Rock is a protected marine and bird life sanctuary located midway along the 2 mile stretch of beach between Ecola Creek and Tolovana Park. This famous rock rises 235 feet just off the beach and is home to tufted puffins. Even though Haystack Rock is probably the most popular attraction in town, it never feels too busy given how long and wide the beach is.
The best time to visit is for sunset and the hour or so leading up to it. We got very lucky and experienced some gorgeous golden light along the coast, which made for beautiful photos! You can look up the tide ahead of time, though the beach is usually accessible even during high tide. Some locals told us that it's a popular area to go tide-pooling, when the weather and tides permit.
Parking is fairly limited around Haystack Rock, but we found there to be a couple of public spots nearby a beach access walkway.
I have marked this spot on the map featured above. We also visited again during sunrise and didn't have an issue with parking either of those times. Note – sunrise is still absolutely beautiful but you typically don't get that same golden light that sunset provides.
Some other things to do in the area include exploring some more locals beaches, such as Arcadia Beach, Hug Point and Short Sand Beach. Ecola State Park is another popular spot for its scenic hiking trails (these are all marked on the above map).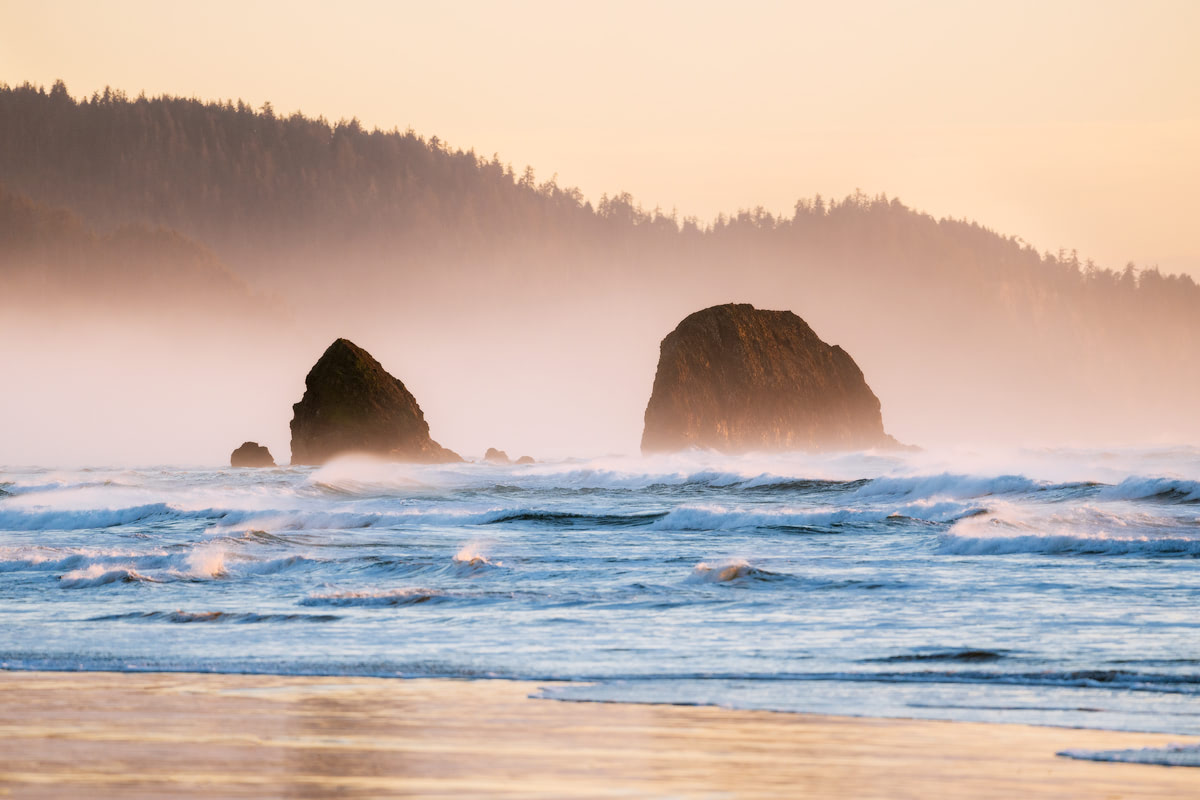 Where To Stay
Cannon Beach has a range of accommodation options in town and also nearby. We found an incredible deal at the Best Western Plus Ocean View Resort in Seaside, which is only 15 minutes away. I think we paid $40 USD for the night, which is a steal for a beachside 3 star hotel!
If you are looking to splurge, there are some really nice places to stay in Cannon Beach, including Schooner's Cove Inn, Cannon Beach Hotel, and Surfsand Resort. Airbnb also has a ton of options if you are looking for more of a home stay.
Another option would be to take your RV or camping equipment and stay at one of the local RV parks or campgrounds. We saw a bunch of options around!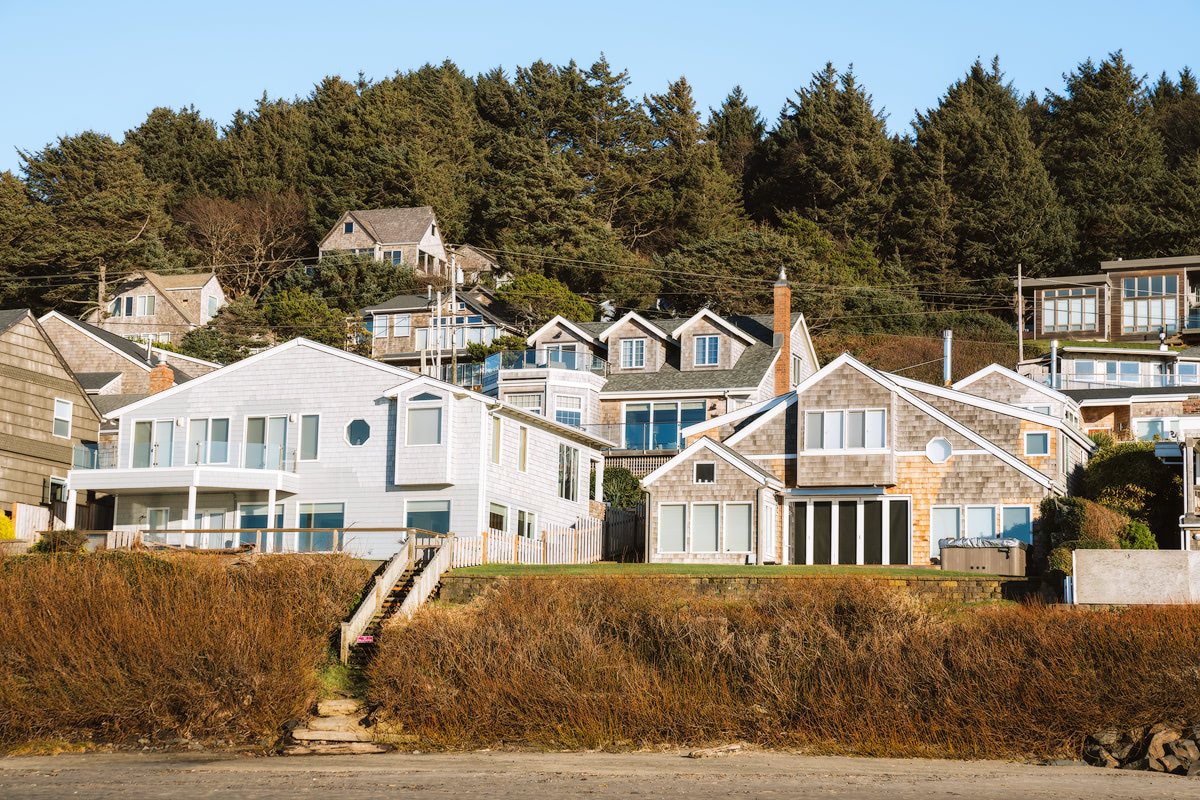 What To Pack
Packing for your Cannon Beach getaway will depend on the time of year, though some locals told us that it never really gets that hot. I'm going to share what I packed for our winter trip in January, but you could vary this depending on when you visit!
I took along a backpack filled with one spare outfit, pajamas, toiletries, and camera gear. Plus, I obviously also had the outfit I was wearing on the first day. We were only away for 24 hours so I didn't need to pack much!
I have been trying some of the Backcountry Gear and Apparel line these last few months, and having been loving their new pieces! In full disclosure, I have made it obvious that this post is sponsored by Backcountry but you guys know that I only share honest reviews and products that I have tried and LOVE!
Don't forget to use code RENEE15 to get 15% off your first Backcountry purchase!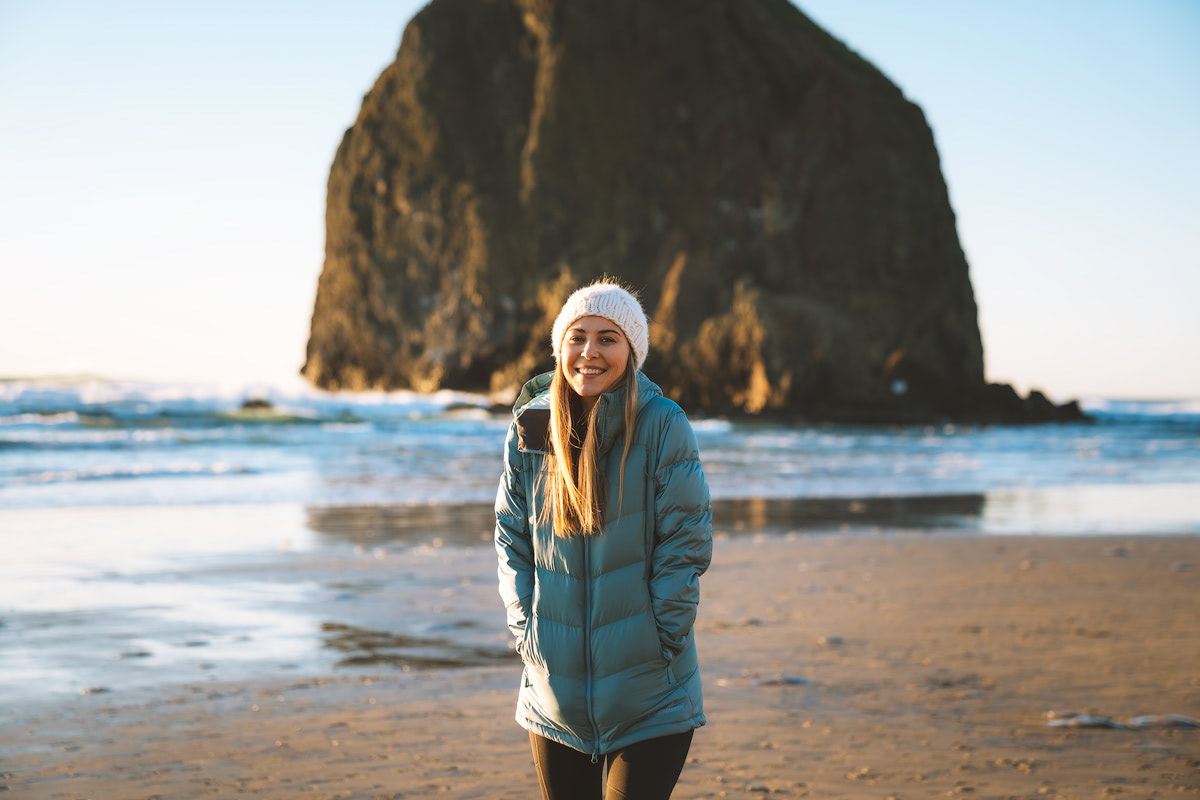 Outfit 1
This is the outfit I wore in the car and for sunset by Haystack Rock. By now you are all probably very aware that being comfortable is VERY important to me haha. These fleece lined Backcountry Sundial Tights are super soft and warm, and are now my go-to for when I want to wear outdoor tights in winter. I paired them with my Icebreaker merino wool baselayer, some Darn Tough hiking socks, the KEEN Revel III waterproof hiking boots, a cozy beanie, and some lightweight gloves.
I opted to wear my Backcountry Murdock 850 Down Jacket as an insulation layer, which I love for everyday adventures! It's slightly on the heavier side for things like backcountry camping, but I would highly recommend it for shorter adventures and everyday wear. I love all the convenient pockets, the hand covers, and the nifty side vents! Plus, the light turquoise color is really nice in person.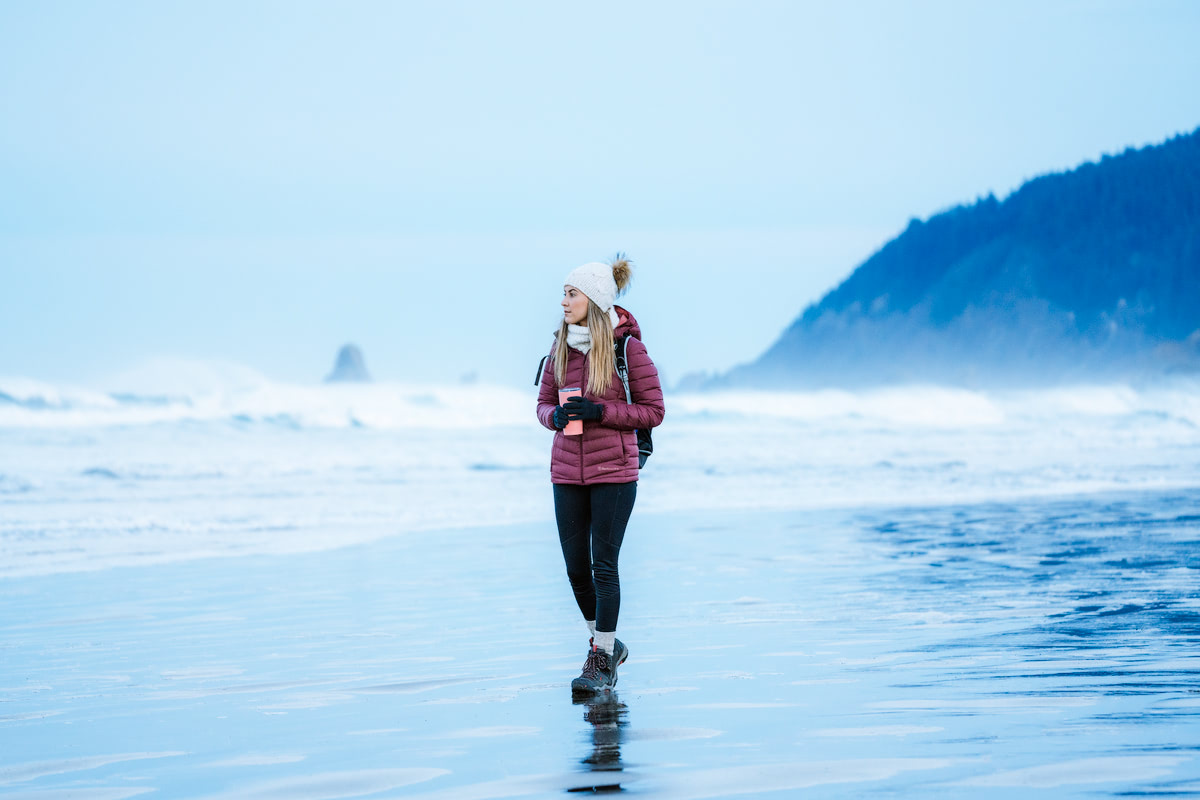 Outfit 2
My second outfit was for our sunrise adventure around Cannon Beach. I knew it was going to be chilly but I didn't know how much exercise we would be doing, so I opted for a few layers instead of one main jacket. I paired the Backcountry Matilda Baselayer Crew (wool is my favorite material for baselayers) with the Wolverine Cirque Insulated Jacket. Over the top I wore the Silver Fork 750 Down Jacket and found this trio to keep me toasty and allowed for delayering as the sun came out.
For bottoms, I opted for the same Sundial Tights but also layered the Matilda Baselayer Bottom underneath for extra warmth. I should note that I am a fairly cold person, so you may not need as many layers as me! Like above, I also wore a warm pair of socks, my KEEN boots, a cozy beanie, and a pair of lightweight gloves.
* Note – I wear a size small in the above featured Backcountry down jackets, but typically wear an XS in brands like Patagonia and Arc'teryx – so consider sizing up! 
Extra Items
Some of the miscellaneous or extra items I brought along included my Osprey day pack, a Hydroflask water bottle and coffee mug, a rain jacket in case the weather turned, and a pair of sunglasses. I also threw in a few snacks, my Kindle, toiletries, underwear, pajamas, and my camera gear.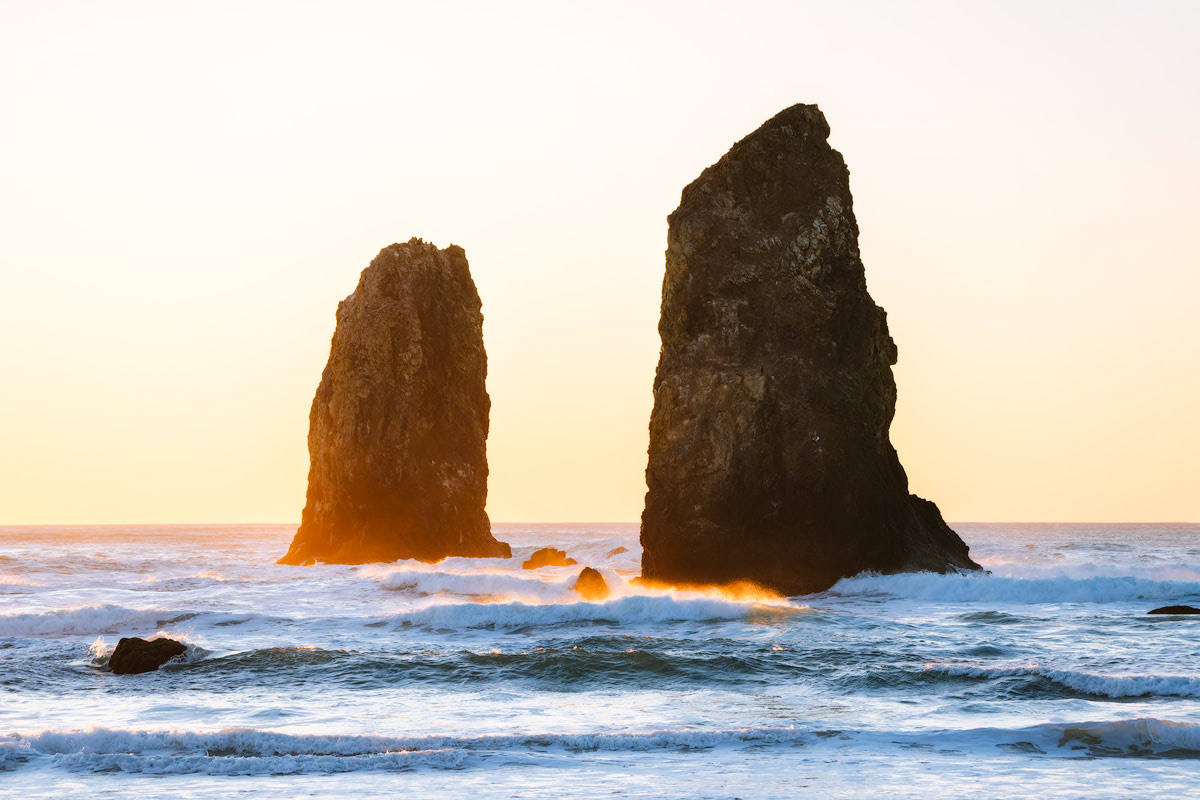 I hope you found this Cannon Beach trip guide to be helpful! Have you visited before? Leave your tips and suggestions in the comments below!
24 hour Getaway to Cannon Beach, Oregon
PIN For Later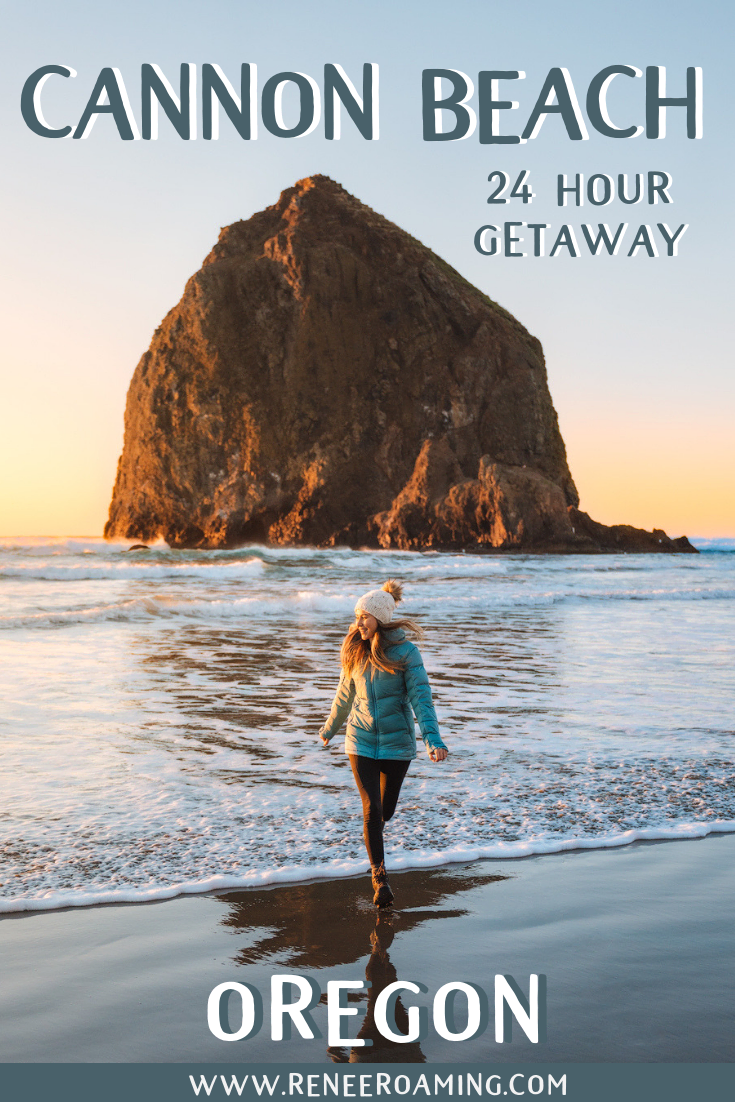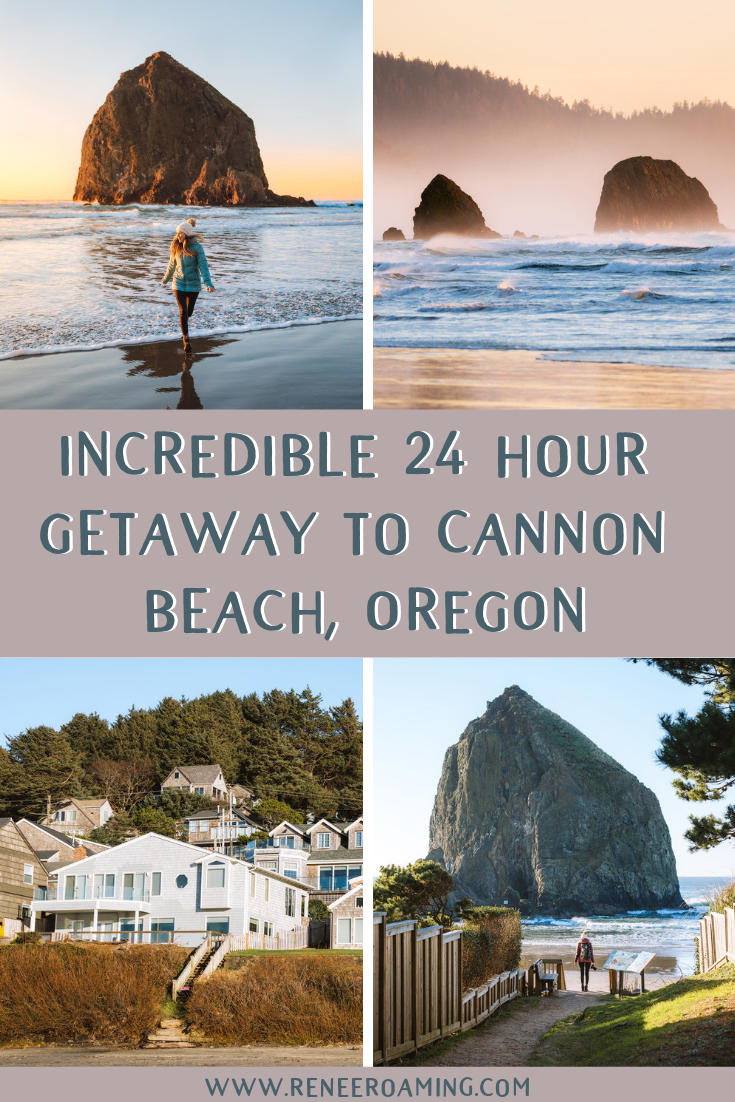 More Trip Inspiration!
Olympic National Park Adventure: 24 Hour Getaway from Seattle
The Ultimate Beginner's Guide to Winter Hiking and Camping
Wild Iceland: 15 Day Photography Road Trip Itinerary
Winter California Road Trip: Explore Yosemite & Redwoods
Make the Most of Your Trip to Tulum, Mexico: The Ultimate Guide
Disclaimer: Thank you to Backcountry for collaborating on this winter outdoor adventures blog post. As always, all opinions are my own. The offer of 15% off does not apply on top of any other offer or discount, and it's one use per customer. This post does contain some affiliate links, which means if you buy something my blog will receive a small commission at no extra cost to you.