Punta Gorda is one of Florida's hidden gems! Nestled in the southern part of the state, this small town offers an array of activities for all types of visitors to enjoy. Whether you're looking for unique outdoor adventures or fun indoor entertainment, Punta Gorda really does have something for everyone. Ok, let's dive into the best things to do in Punta Gorda, Florida!
Disclaimer: This blog post is in partnership with Visit Florida, though, as always, all opinions and recommendations are truthful and based on real-life experiences exploring the destination.
So why visit Punta Gorda? Located in a beautiful part of southwest Florida, Punta Gorda is a great vacation spot for numerous reasons. Firstly, Punta Gorda has a wide variety of different outdoor activities, including hiking, fishing, kayaking, paddle boarding, boating, and more. The area is home to numerous parks, beaches, protected nature reserves, and wildlife areas, so many people visit for unique outdoor experiences.
Another cool thing about Punta Gorda is the small crowds in comparison to more popular vacation spots. With that comes a more relaxing experience and small-town atmosphere.
A common reason why people choose Punta Gorda as a vacation destination is because of the gorgeous sunny weather during the winter months and shoulder seasons. It's the perfect warm weather escape during the rainy and cold winter months up north (like me in Seattle haha).
Lastly, many people visit Punta Gorda for its historical small town charm. The city offers unique shopping, dining, and cultural experiences including opportunities to visit historic sites, museums, art galleries, and antique shops.
Overall, Punta Gorda, Florida, is an excellent vacation destination for those who love the outdoors, a small-town atmosphere, and natural beauty. It is a place to relax, soak up some sunshine, and escape from the hustle and bustle of big city life.
If you are planning a trip to Punta Gorda, here are some of the best things to do: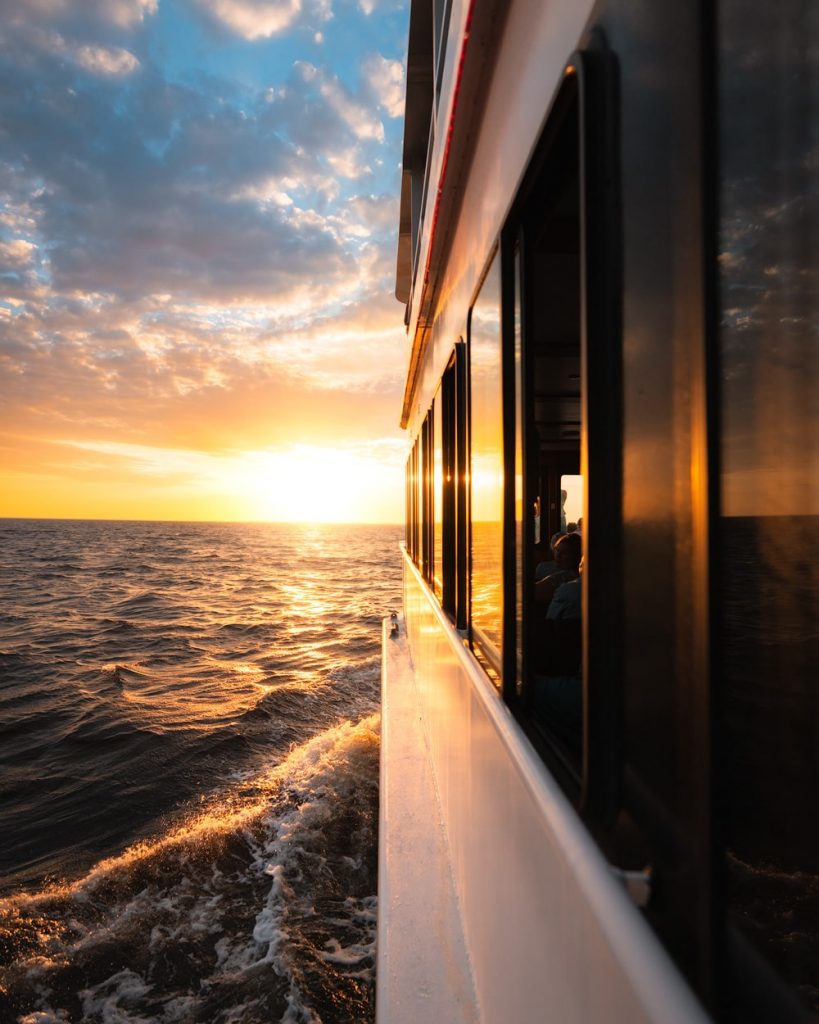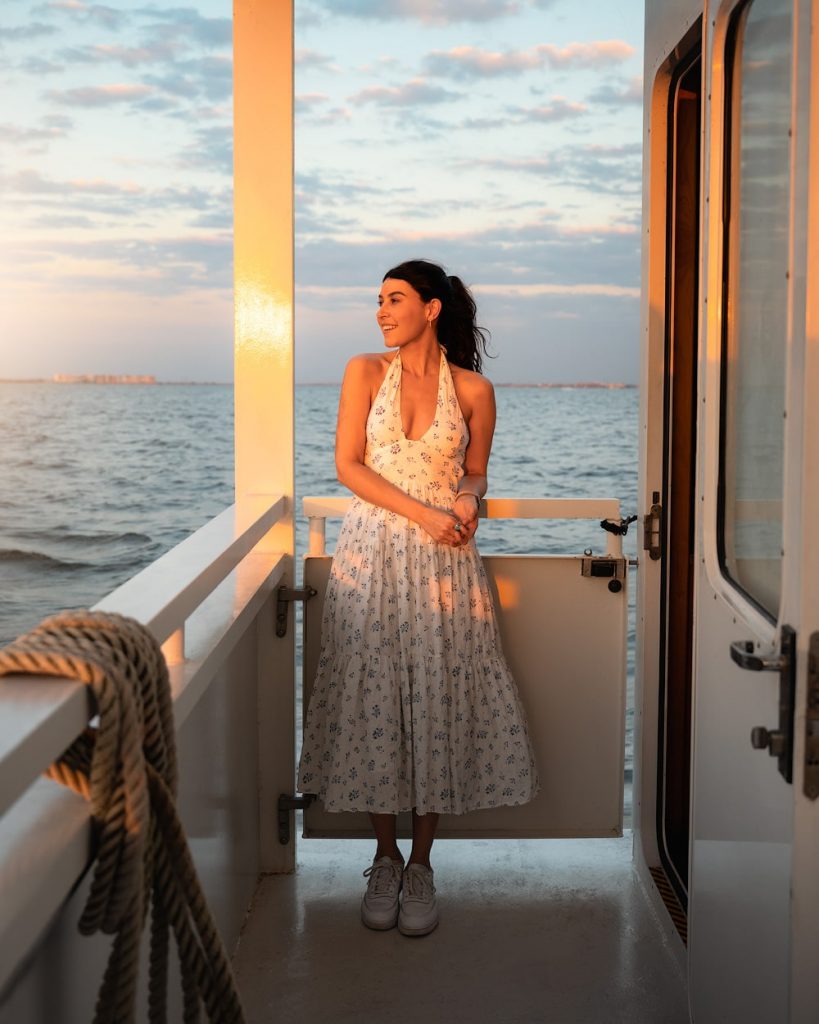 Take a Scenic Boat Tour or Charlotte Harbor Sunset Cruise
One of the best ways to experience the natural beauty of Punta Gorda is to take a scenic boat tour. Several local companies offer guided tours that allow visitors to explore the mangrove forests, barrier islands, and wildlife habitats of Charlotte Harbor. These tours also provide opportunities for fishing, bird watching, and dolphin spotting.
My husband and I opted for the sunset cruise with King Fisher Fleet and would highly recommend it! Tickets are only $35 for adults and $25 for children (infants ride free) and you're treated to a beautiful 90-minute scenic sunset cruise around the Charlotte Harbor waterfront. Drinks and snacks can be purchased onboard and the staff members were all phenomenal.
Insider's tip: the cruise departs from Fishermen's Village and check-in is 30 minutes before departure… but I suggest you arrive earlier than that if you want to secure a seat at the front of the boat or on the top deck.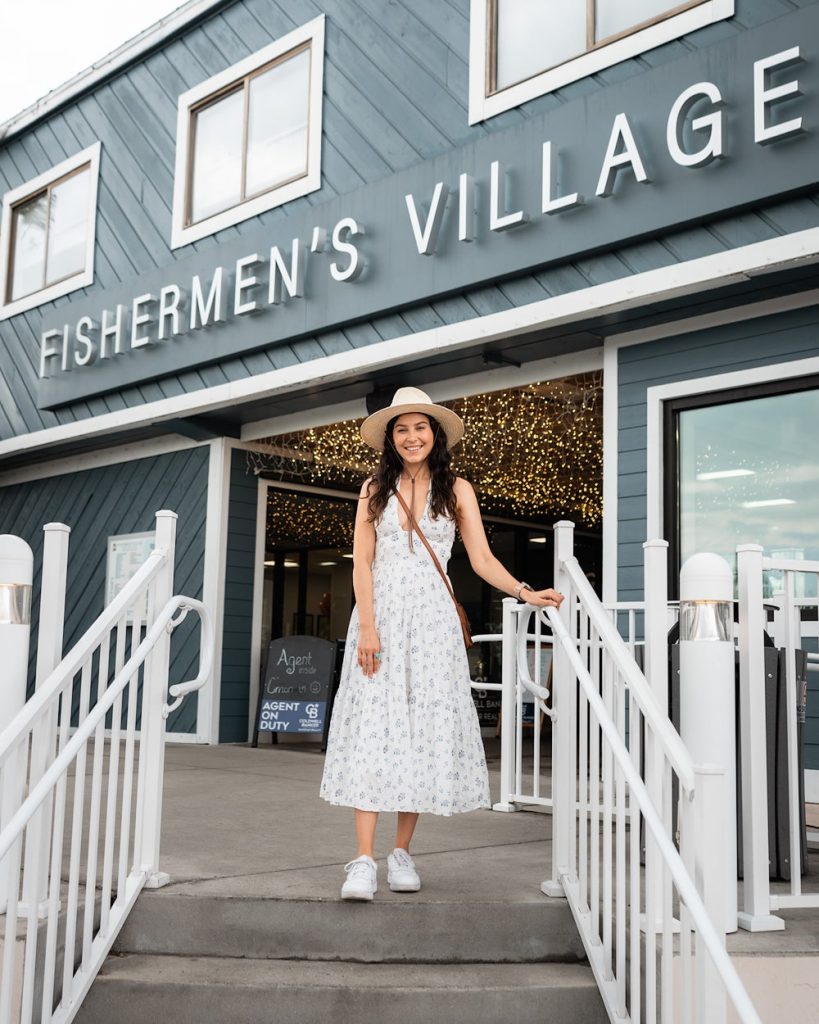 Visit Fishermen's Village
Fishermen's Village is located on the waterfront in Punta Gorda and is a great destination for shopping, dining, and entertainment. In fact, you can even stay right there for the utmost convenience by booking The Suites at Fishermen's Village. That way you can quite literally walk directly from your suite to a variety of specialty shops, gift shops, restaurants, galleries, and tour operators.
From Fishermen's Village, visitors can rent a boat from the marina, book local boat tours, take a dolphin-watching tour, or simply stroll around and admire the picturesque views of the harbor. The village also hosts many events throughout the year, such as art shows, car shows, and holiday festivities. Definitely a must-visit when you're in the Punta Gorda area!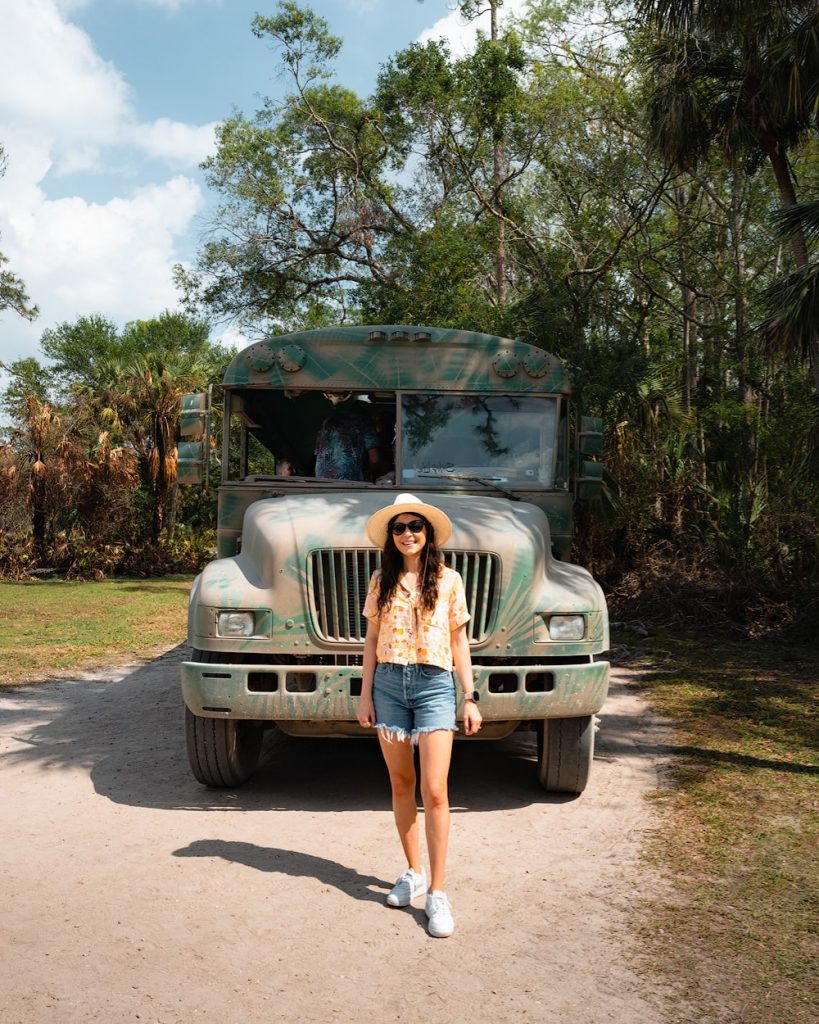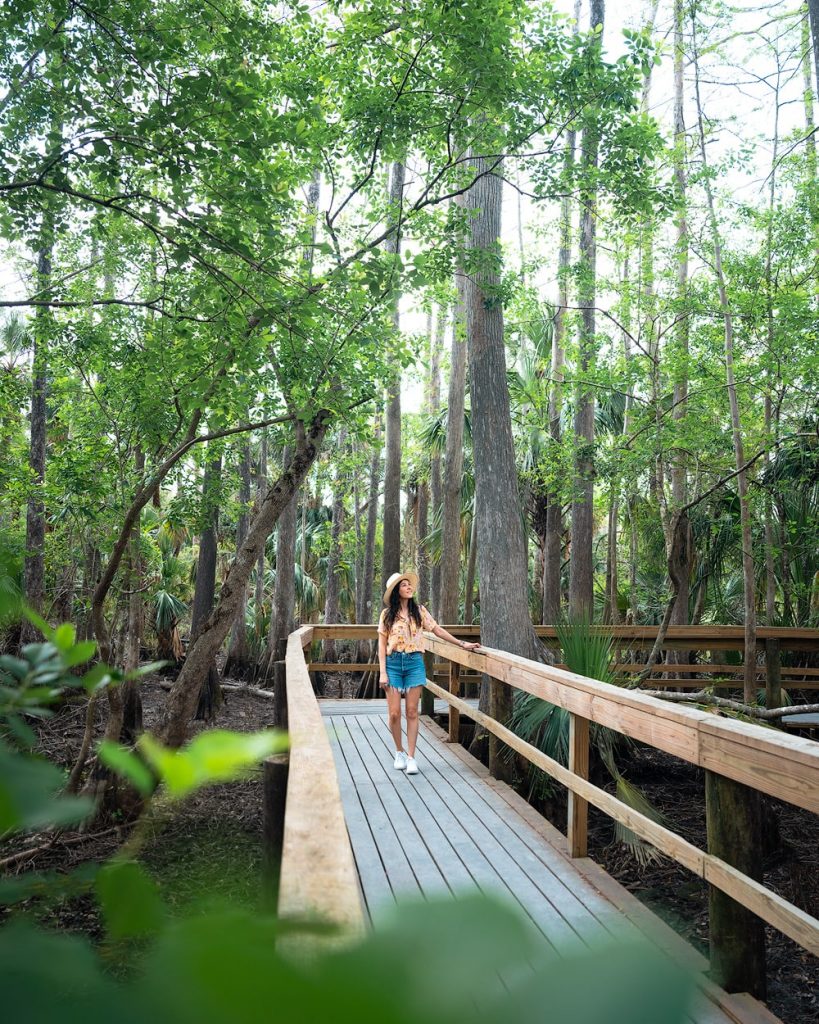 Take a Babcock Ranch Eco Tour
The Babcock Ranch Eco Tours are a must-do when visiting Punta Gorda. This unique experience takes you on a 90 minute guided tour through Babcock Ranch Preserve. You'll experience numerous ecosystems and a wide variety of wildlife, including alligators, panthers, and a variety of bird species (we even saw tiny wild piglets!) The tours take place in open-air "swamp buggy" vehicles, allowing for unobstructed views of the natural surroundings. Admission is great value at only $24 for adults and $16 for children (under 2 rides free).
Insider's tip: those feeling adventurous can sample alligator at the ranch's Gator Shack!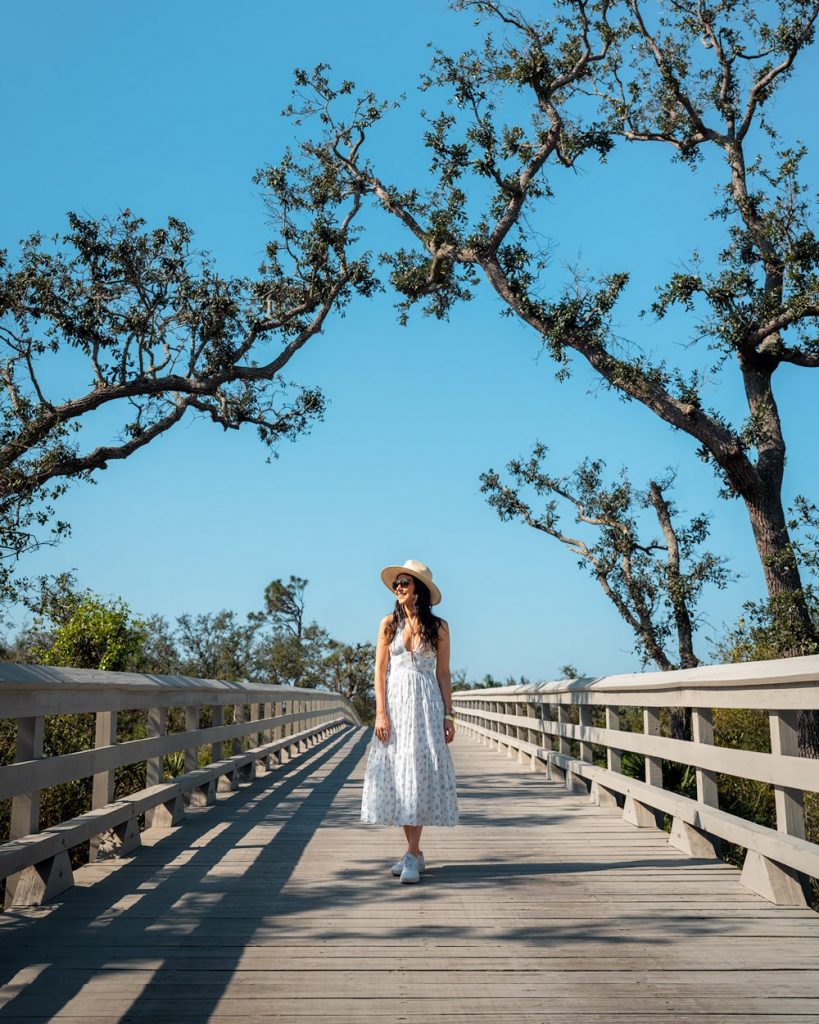 Tour Peace River Botanical and Sculpture Garden
Peace River Botanical and Sculpture Garden is a peaceful oasis in the heart of Punta Gorda. The botanical garden features a variety of plants and flowers from around the world and locally, as well as an extensive collection of sculptures by renowned artists. Admission costs are $18 for adults, $9 for students, and $15 for seniors.
Visitors can take a leisurely walk along the winding paths and admire the beautiful artwork, or attend one of the many educational programs offered throughout the year. Our favorite parts were the Butterfly House, Mangrove Boardwalk, and the Gazebo.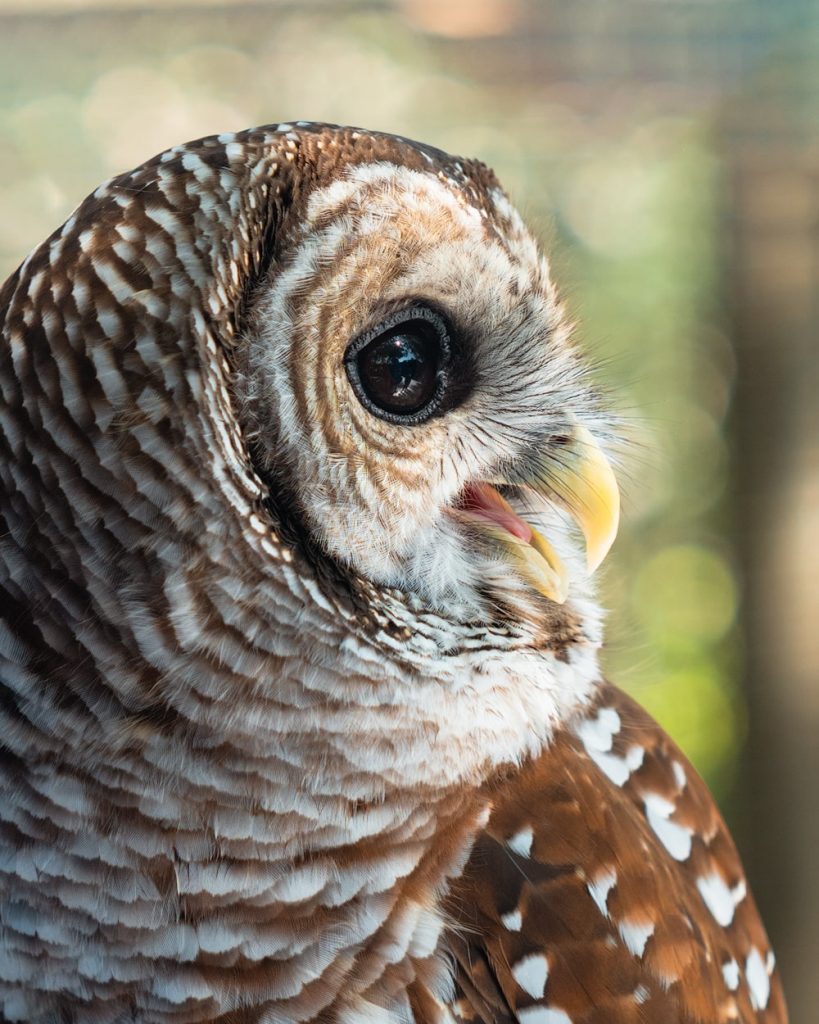 Visit Peace River Wildlife Center
Peace River Wildlife Rescue Center is a sanctuary and rehabilitation center for injured, orphaned, and endangered animals located in Punta Gorda. The rescue's mission is to provide rehabilitation and care to native wildlife with the goal of returning them to their natural habitat. Visitors can take a guided tour of the facility and learn about the animals' stories and the rescue's conservation efforts. Entrance is free but donations are encouraged.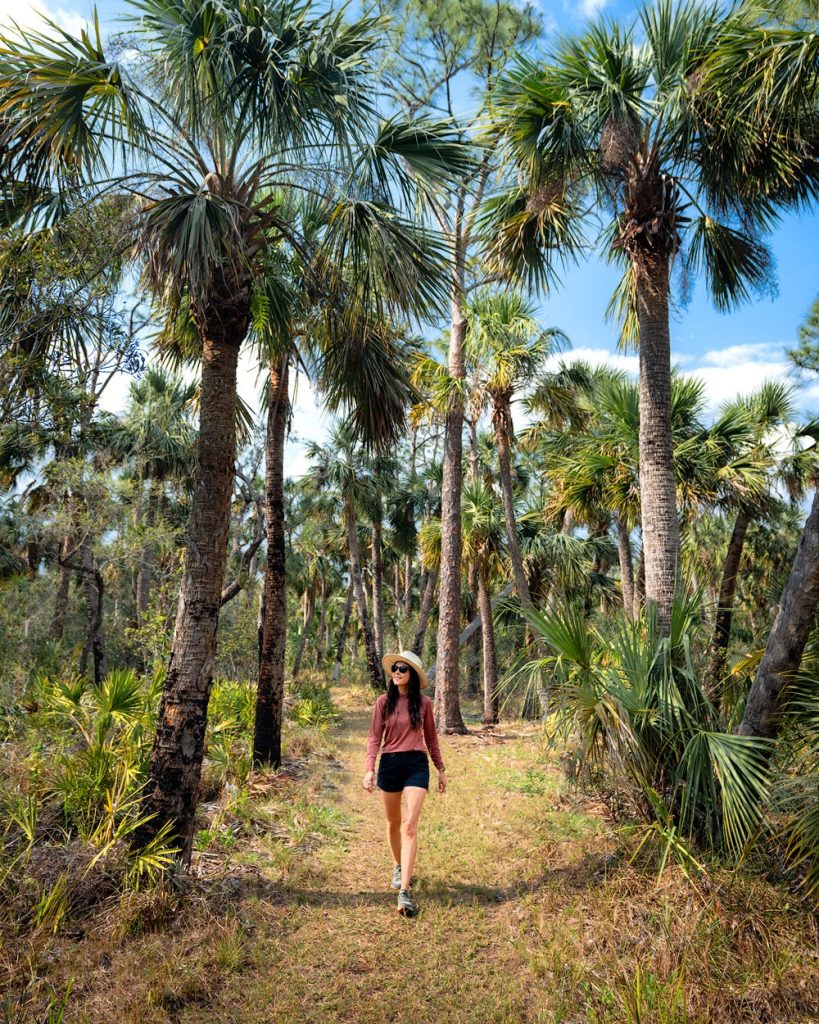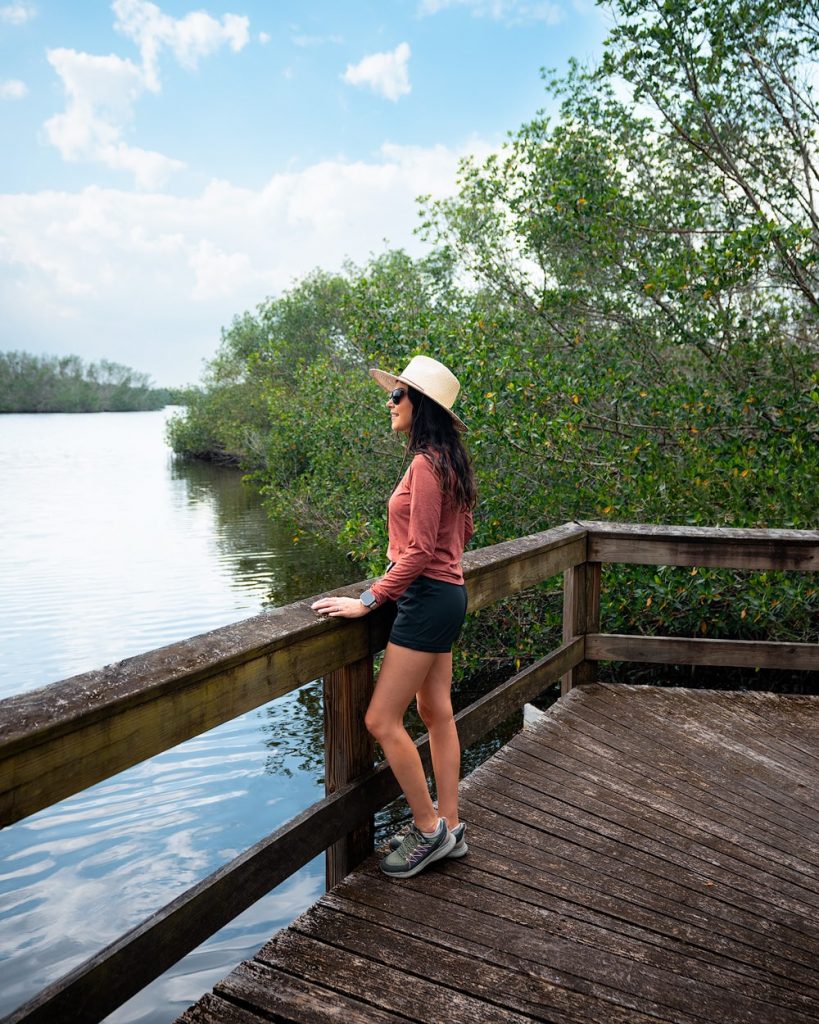 Go Hiking at Charlotte Harbor Environmental Center & Alligator Creek
Right by the Charlotte Harbor Environmental Center are some beautiful protected nature areas, including Charlotte Harbor Preserve State Park, Aligator Creek Preserve, and Peace River Preserve. The Alligator Creek Preserve is a particularly great hiking destination as it's home to 4+ miles of maintained nature trails.
We opted to hike the 1.7 mile Three Lakes Trail which is an easy walk through coastal wetlands and popular for viewing wildlife such as alligators, turtles, and wading birds. Although we didn't see any gators or turtles, we did see plenty of interesting birds (including eagles! and plenty of lizards…plus a couple of snakes. Our favorite part of the trail was walking along a secluded boardwalk surrounded by beautiful mangroves. I think we passed two other hikers the entire time, so it was very peaceful.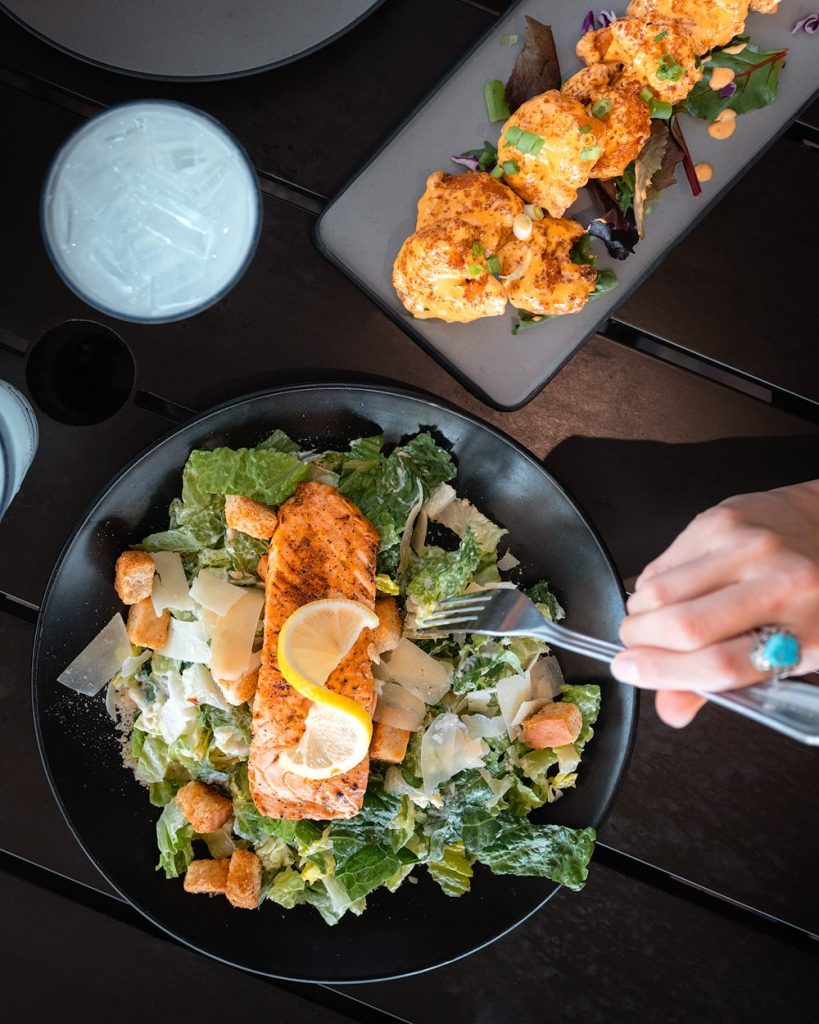 Sample the Local Food
Punta Gorda has a diverse culinary scene that is sure to please any palate. From seafood to burgers to healthy poke bowls, there is something for everyone. Here are some of the best places to eat in Punta Gorda:
Burg'r Bar
Burg'r Bar is not only a burger lover's paradise but also a delicious breakfast spot. The food and service is exceptional and we loved the family-owned and ran charm. Their burgers are made with grass-fed beef there is also vegetarian and vegan burger options.
Laishley's Crab House
Laishley's Crab House is situated on the waterfront and specializes in fresh seafood. The menu includes Alaskan king crab, blue crab, and soft-shell crab, among others. This was one of our favorite food stops in Punta Gorda!
Gorda Bowls
If you're looking for something healthy and fresh, Gorda Bowls is the place to go. They serve poke bowls made with fresh ingredients and a variety of proteins such as tuna, salmon, and tofu.
Leroy's Southern Kitchen & Bar
Leroy's Southern Kitchen & Bar is located in downtown Punta Gorda and serves classic southern dishes such as fried chicken, biscuits and gravy, and mac and cheese. They also have a great selection of craft cocktails.
Dean's South of the Border
Dean's South of the Border specializes in Mexican and Tex-Mex cuisine such as tacos, fajitas, and burritos. They also have a selection of margaritas to choose from and frequent live music. We really enjoyed their breakfast fare!
The Lakehouse Kitchen & Bar at Babcock Ranch
Although not technically in Punta Gorda, The Lakehouse Kitchen & Bar is worth the short drive. It is located in the Babcock Ranch development, which is a sustainable community that focuses on preserving nature. The menu includes farm-to-table dishes made with fresh ingredients such as salads, burgers, and seafood.
Village Brewhouse
Village Brewhouse is located at Fisherman's Village and offers a casual dining experience with a menu that has a wide range of options from sandwiches to salads. Their craft beer selection is extensive, and they have live music on certain nights.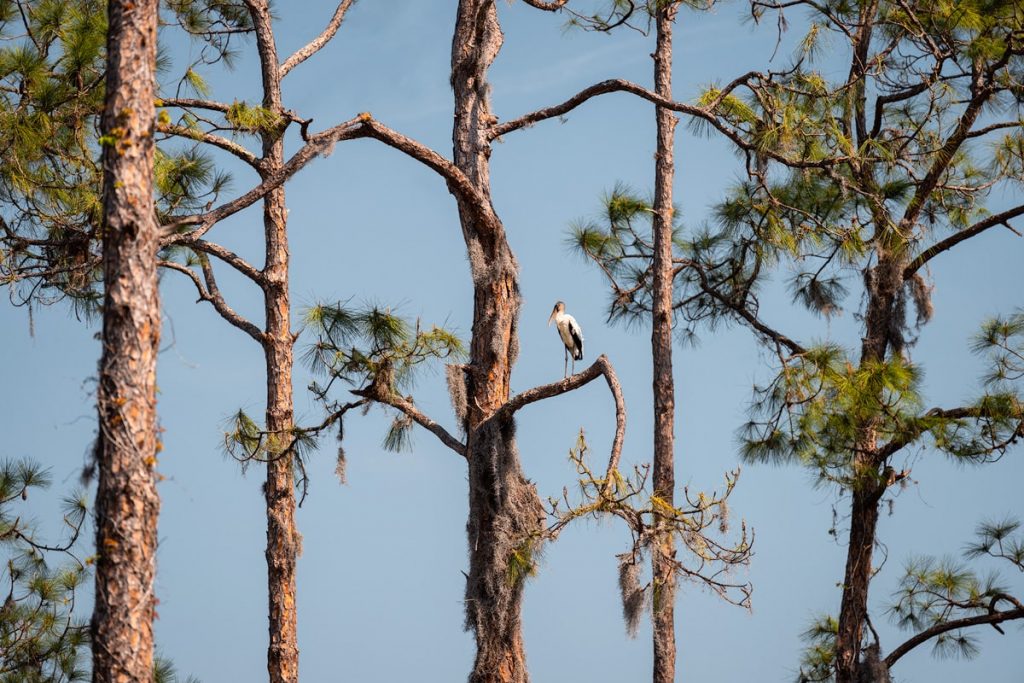 Best Time to Visit Punta Gorda
Punta Gorda is a year-round destination, though there are some key times when the weather is most optimal. The peak tourist season is from November to April when the weather is warm but not too hot, and the skies are clear. It's an ideal time to enjoy outdoor activities like fishing, boating, kayaking, and exploring local parks. The temperature during this time ranges between 70-80°F, which is perfect for those looking for a warm winter escape.
Another good time to visit Punta Gorda is during the summer months of June to August, especially if you love hot weather. Although the temperatures can reach up to 90°F, it's a great time to enjoy the beautiful beaches and water activities like swimming, snorkeling, and paddleboarding. The city becomes less crowded during this season, and hotel rates are relatively low.
If you're planning a trip to Punta Gorda in September or October, keep in mind that these months mark the peak of the hurricane season. The weather can get unpredictable, and there's a higher risk of storms and tropical weather systems. However, if you don't mind taking the risk, you can often find great deals on accommodations and activities during this time.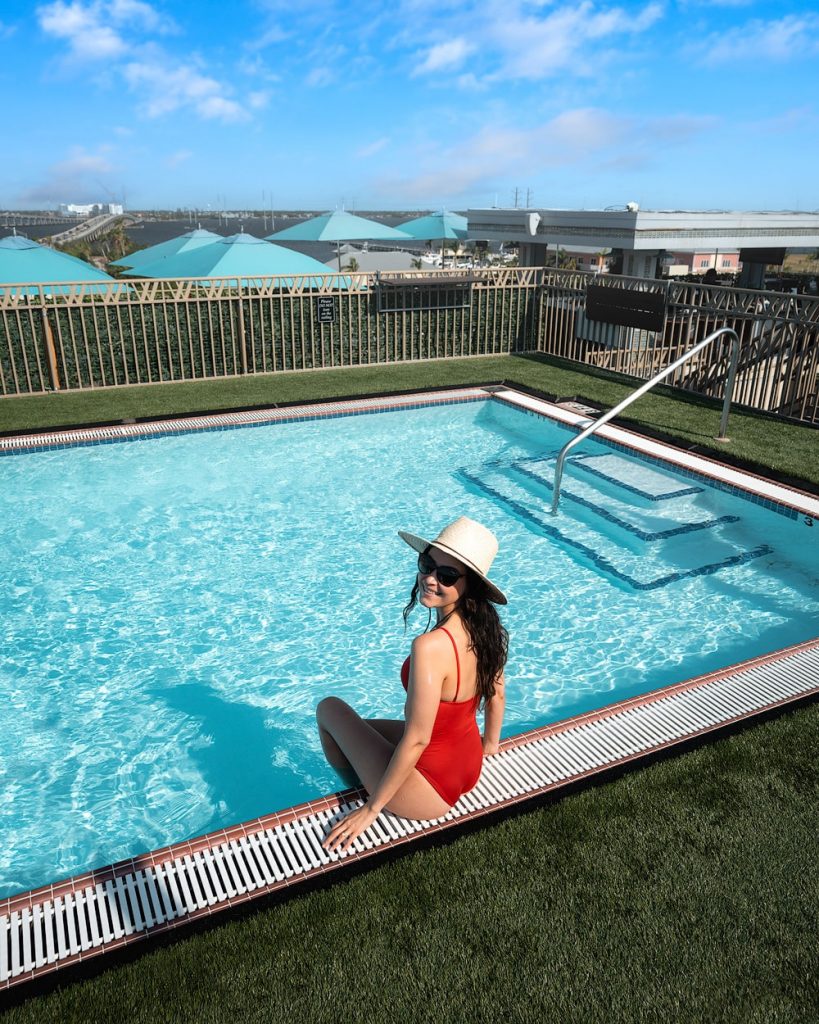 Where to Stay in Punta Gorda, Florida
Punta Gorda has lodging options to suit any type of traveler. Some to consider are:
The Wyvern Hotel
The Wyvern Hotel is a luxurious boutique hotel located in the heart of Punta Gorda's historic district. The hotel offers 63 elegantly appointed rooms and suites with modern amenities, including a rooftop pool, fitness center, and fine dining restaurant. We thoroughly enjoyed our stay there and would definitely recommend it.
The Suites at Fishermen's Village
Located in the picturesque Fishermen's Village, The Suites offers spacious accommodations with private balconies and stunning waterfront views. The suites come equipped with a full kitchen, living room, and dining areas. This would be a very convenient area to stay if you enjoy shopping, dining out, and plan to book a boat tour during your stay.
Four Points by Sheraton Punta Gorda Harborside
Located on the outskirts of Punta Gorda, the Four Points Sheraton is a popular choice for comfortable accommodations with modern amenities such as an outdoor pool, a fitness center, and a restaurant. It is also conveniently located near various restaurants and shopping establishments.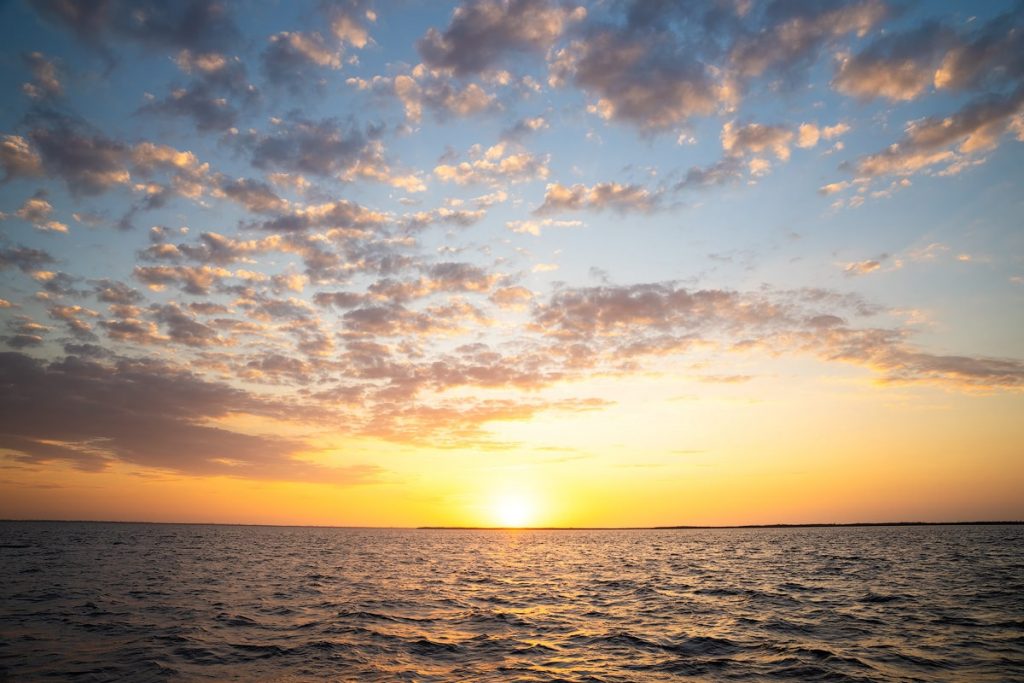 Final Thoughts on the Best Things To Do in Punta Gorda, Florida
Have I convinced you that Punta Gorda should be on your getaway bucket list? It really is such a great destination for a warm-weather vacation filled with exciting outdoor activities, cultural attractions, and delicious food. Already visited? Leave your suggestions in the comments for everyone!
PIN for Later Planning