Redwood National Park is home to some of the tallest trees on the entire planet. How cool is that? In addition, Redwood has almost 40 miles of rugged California coastline and plenty of beautiful rivers running through forests. There are even dry prairies to the east. In this Redwood National Park guide, I'm sharing my must-see places in northern California, as well as my recommended itinerary for visiting Redwood!
Disclaimer: This blog post is in collaboration with Backcountry.com and features some affiliate links. This means I get a small commission if you make a purchase (at no extra cost to you). Use code RENEE15 to get 15% off your first Backcountry order (some exclusions apply). You can also learn more about my affiliate policy here. Thank you for the support!
Ultimate Redwood National Park Itinerary and Guide
Redwood National Park and the surrounding state parks are incredibly scenic with amazing hiking trails. But there's quite a bit of history in this part of California, too! According to the National Park Service, only 5% of old-growth redwood forests remain since logging in California took off in the mid-1800s.
Fortunately, Redwood was established as a national park in 1968 and protections remain in place to keep the last sections of the old-growth forests alive for many years to come. It's so important that we practice Leave No Trace Principles when visiting Redwood National Park and on all our adventures. Being a good steward of the natural world helps protect the environments we love to visit, without risking harm to the natural ecosystems.
Where is Redwood National Park?
Redwood National Park is located in Northwestern California, not far from the Oregon border. Click here for Google Maps Directions. The closest town is Crescent City and the park sits almost exactly in between the two major cities of San Francisco (312 miles away) and Portland (318 miles away).
Is Redwood a National or State Park?
That's a trick question since the answer is both! Redwood is made up of a national park and 3 state parks – Del Norte Coast Redwoods, Jedediah Smith Redwoods, and Prairie Creek Redwoods State Park. The 4 park area is managed jointly by California Parks and Recreation and the National Park Service. The National Park Service has free maps available if you want to use them to orientate yourself.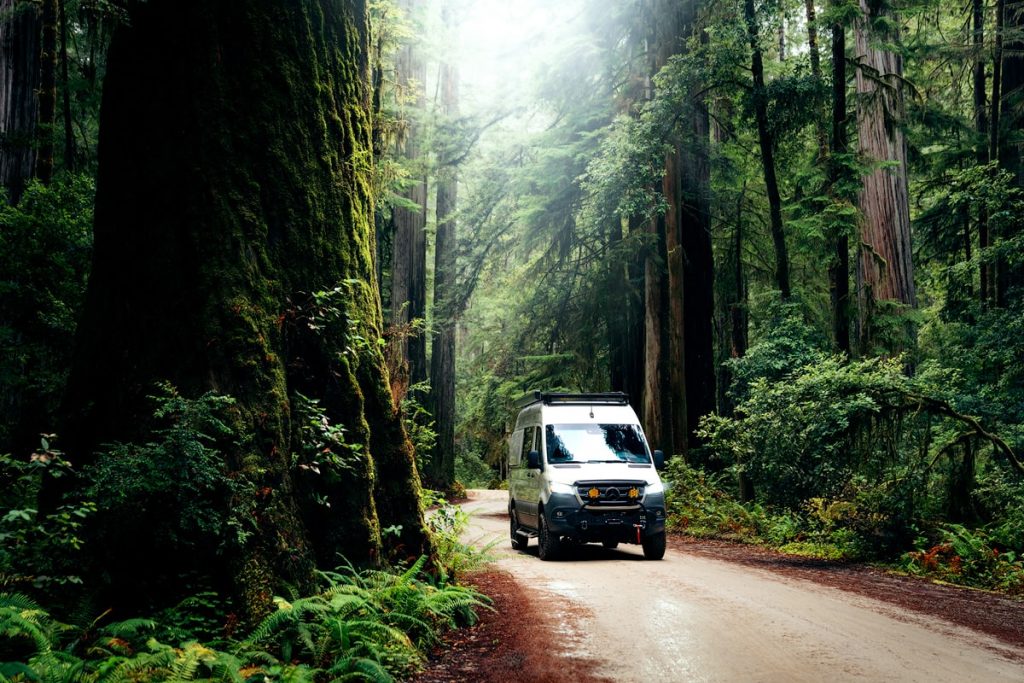 Getting to the Redwoods
Redwood National and State Parks are quite remote, and not really close to any large population hubs. The best way to visit Redwoods is on a road trip, visiting from either Portland (OR), Sacramento (CA), or San Francisco (CA). Many visitors add the Redwoods to their Highway 1 road trip when traveling from Los Angeles to the Pacific Northwest.
Closest Airport to Redwood National Park
The closest major airports in California are San Francisco and Oakland, and Portland, OR, which are all about a 6-hour drive from Redwood National Park. Additionally, there is a small, regional airport in Humboldt County, just less than an hour from the park.
My recommendation is to book a flight into San Francisco and spend a day enjoying all the city has to offer. From there, rent a car or camper van and begin driving the coastline north to Redwood National Park!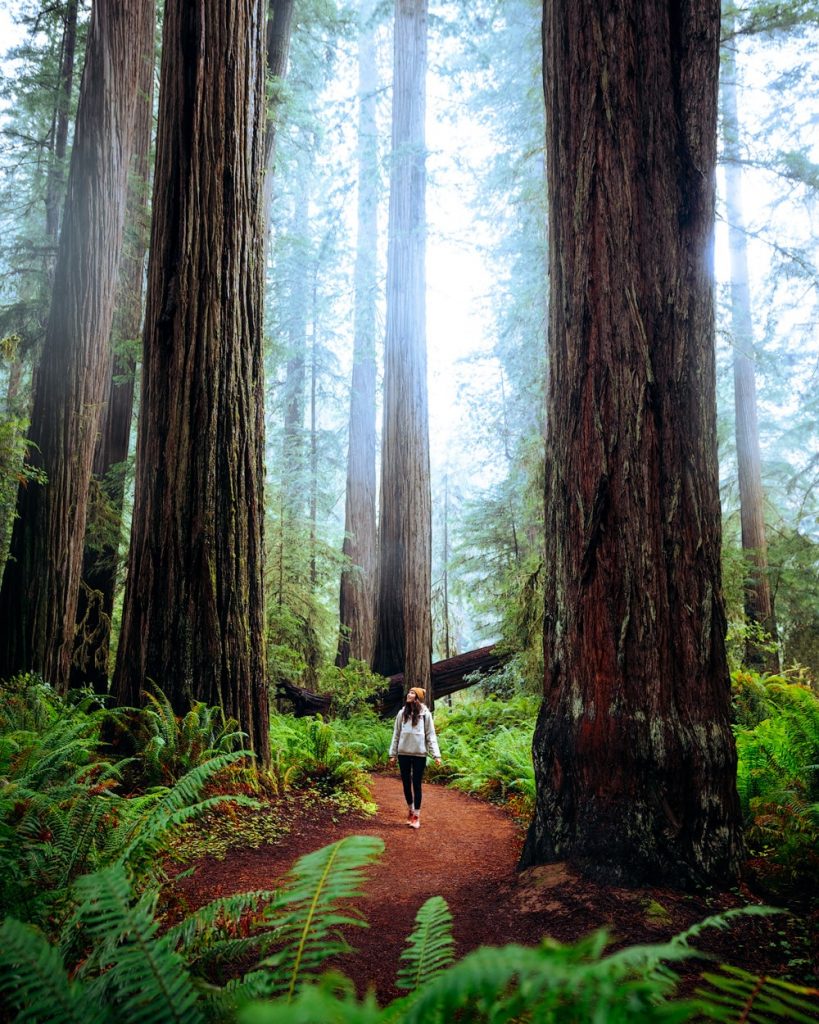 Getting Around Redwood National and State Parks
You'll need a car or vehicle to get around Redwood National Park. Between the national park and three state parks, you'll be covering a lot of ground! If you're going to fly in from a farther destination, be sure to reserve your rental car ahead of time for pick up at the airport.
Redwood National Park Entrance Fee
You will need a National Park Pass to visit Redwood National Park, year-round. I recommend the Annual National Park Pass which is valid at all National Parks for 12 months. This is a great way to get out and visit more national parks on your bucket list once you purchase the pass! This pass is also valid for entry to the California state parks. If you only plan on visiting state parks on your trip, you can also use a California State Park Pass.
Best Time to Visit Redwood National Park
In my opinion, spring is one of the best times to visit Redwood National Park. Spring typically isn't quite as rainy as winter in this area. But you will still get to see some of the fog and mist that makes the park feel like another planet. The summer heat tends to dry things out a bit, so visiting in spring guarantees you'll experience the area at its greenest and most lush. You might even be able to see the rhododendrons blooming, bringing a gorgeous pop of color to the emerald forests.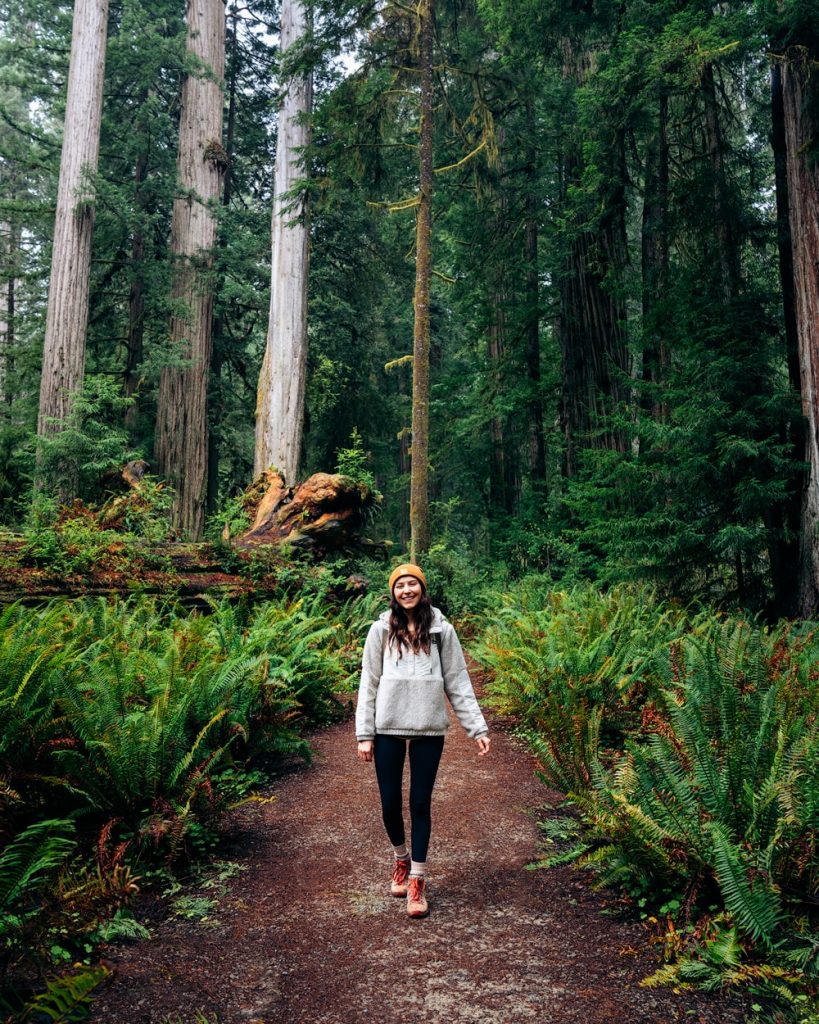 What To Pack to Visit Redwoods
What you pack for your visit to the California Redwoods will depend on what time of year you choose to visit. For example, if you visit during winter you will need to pack more layers and wet weather gear. Whereas if you visit during summer then a sun hat is a must!
This packing guide is also tailored towards people who enjoy hiking. If you don't plan to hit the trails, simply leave off the hiking-specific items when using the guide. For those choosing to camp, I have an entire guide and packing list for car camping essentials, so make sure to check that out!
Don't forget to use code RENEE15 to get 15% off your first Backcountry.com order! (some exclusions apply) Click here to shop my favorites.
Hiking shoes:
It can get pretty wet and muddy in the Redwoods, so you're probably best to bring a pair of waterproof hiking boots. The Columbia Newton Ridge Plus Waterproof Hiking Boots are a great choice. We also have a guide on all the best hiking shoes, so don't forget to check that out when shopping for new hiking boots!
Merino wool socks:
Wool socks are the best for preventing blisters and also letting your feet breathe. Recommended hiking socks.
Hiking pants, leggings, shorts, Skorts, Dresses:
I generally reach for leggings and I have also been loving skorts lately, but choose whatever feels comfortable and practical for you! Recommended hiking pants; hiking shorts; hiking skort, hiking dress, hiking leggings.
Quick-dry top:
Merino wool tops are my favorite due to their breathability and odor resistance. Recommended short-sleeve hiking top; long-sleeve hiking top.
Day pack/hiking backpack:
Choose something with hip and chest straps for optimal comfort and practicality. Recommended backpack.
Hip pack:
When taking short walks or exploring roadside stops I often prefer to opt for a small hip pack instead of a backpack. Just something to fit my phone, lip balm, sunglasses, and any other essentials. Recommended hip pack.
Trekking poles:
Optional but I personally swear by them for hiking! Recommended trekking poles.
Mid-layer:
Perfect for chilly mornings and evenings. So opt for something lightweight like a fleece or pullover. Recommended mid-layer.
Insulated jacket:
You will want something warmer for chilly days and during the mornings and evenings when visiting in summer. Recommended insulated jacket.
Rain jacket:
It rains a lot in the Redwoods, that's why it's so lush and green! Be sure to pack a rain jacket, even during summer. Recommended rain jacket.
Casual clothes:
Pack some casual and/or nicer outfits if you plan to eat out at restaurants. This is of course optional though! Check out my Favorites page on Backcountry for some recommendations.
Navigation:
When driving, have Google Maps or Maps.Me handy. For hiking, carry a physical map and a compass, and download offline maps onto your phone. I use Gaia GPS – click here to get 20% off a Premium membership!
Emergency beacon:
Optional, but can give you and your loved ones some peace of mind when hiking or traveling without phone service. Recommended emergency device.
Headlamp + batteries:
For hiking in the dark, camping, or in emergency roadside situations. Recommended headlamp.
Sun hat:
Pack either a cap, bucket hat, or wide brim hat to protect your face from the sun. Recommended cap; bucket hat; wide brim hat.
Sunscreen:
Self-explanatory. This one is reef safe and doesn't contain any chemicals that will harm you or the environment. Don't forget a lip balm with sunscreen too.
Sunglasses:
Polarized sunglasses are best for eye protection.
First aid items:
Always carry a small first aid kit with essential items like blister plasters and emergency supplies. Recommended lightweight first aid kit.
Phone + driver's license/ID:
Always best to keep these on you in case your car is broken into. Recommended lightweight wallet (or you can simply use a small binder clip!)
Camera + batteries:
Optional but trust me, you will want a camera to capture these beautiful parks! Check out the camera gear I use to capture my travel photos and the camera bag I pack it all in!
Snacks:
Every road trip requires snacks! Bring whatever your favorite snacks are or factor in time to stop at a grocery store / gas station. My go-to snacks.
Cooler:
There aren't a lot of places to buy food near Redwood National Park, so you might want to pack a cooler and bring along your own food and drinks. For a cooler, you can opt for a small/day trip size, or a larger cooler that's more conducive to car camping and longer road trips. Recommended day trip cooler; larger cooler.
Drink bottle + Water Jug:
Pack a reusable water bottle and you could also consider using a water bladder inside your backpack when hiking. I like to keep a larger water jug in my car so that I don't have to rely on finding water fillup stations. Lastly, I also like to hike with a lightweight water filter to ensure I don't get sick when drinking from streams.
Reusable coffee mug:
If you enjoy drinking coffee then it's best to bring along a reusable mug or tumbler. Recommended mug; insulated tumbler.
Reusable utensils:
Similar to above, having your own travel utensils / cutlery is a great way to cut down on single-use plastics when ordering take-out food.
National Parks Pass:
If you have one already, make sure to pack it! If not you can buy one when you arrive at the park or online before you go.
Road trip playlist + Podcasts:
Don't forget to download some good tunes and podcasts for your road trip. For music, check out my playlists on Spotify. For podcasts, we have an entire guide on the best road trip podcasts!
Want more packing & gear tips? Check out our guides on what to wear hiking, car camping gear essentials, how to plan a national parks trip, and the best hiking shoes.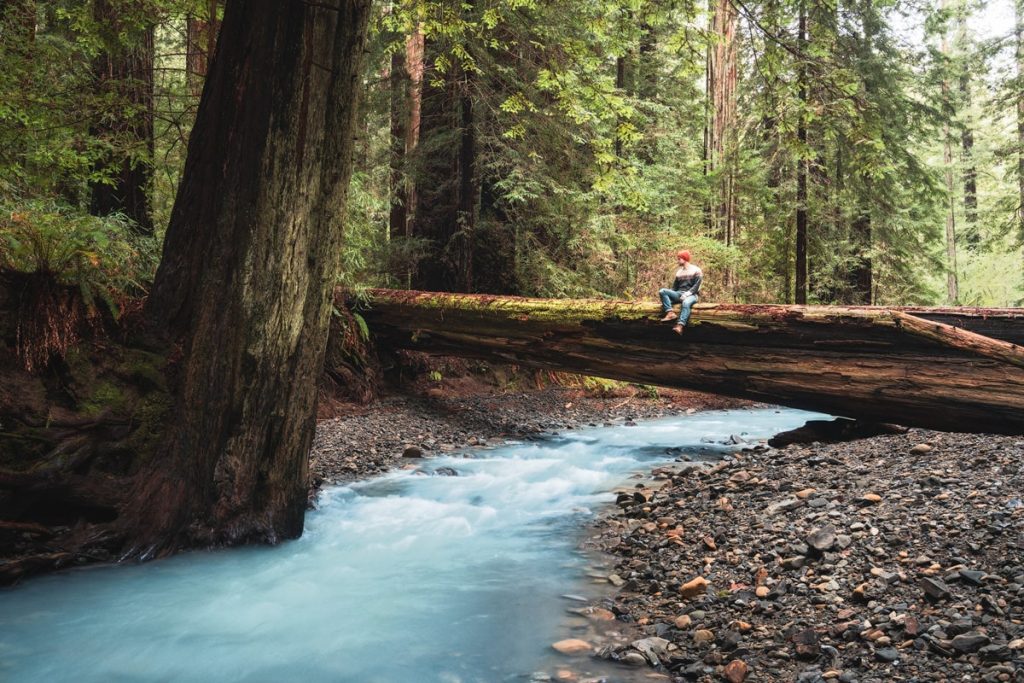 Where To Stay at Redwood National Park
There are no lodging options in Redwoods National & State Parks apart from 8 campgrounds. I recommend staying nearby in the closest population hubs, Crescent City or Eureka/Arcata. Note that there is no hotel lodging in the Orick area.
Redwood Hotel Lodging
You can find quite a lot of traditional accommodation and dining options in the surrounding area. The Oceanview Inn is a standard 2.5 star hotel located just outside of Crescent City. Further north in Brookings, OR is the Beachfront Inn, another 2.5 star waterfront hotel.
Vacation Rentals Near the Redwoods
Here are a few I recommend:
Best Camping In Redwood National Park
There are 8 developed campgrounds in the national park area for those who enjoy tent camping or sleeping in their car. Four are located at the campground in Jedediah Smith State Park and four at the campground in Prairie Creek Redwoods State Park. It would be a really fun adventure to rent an RV or camper van for your trip to Redwood National Park.
Interested in backpacking in the Redwoods? There are backcountry camping opportunities in Redwood National Park, though keep in mind that permits need to be requested online no more than 24 hours prior to your planned camping date (and up to 160 days in advance). Apply for a backcountry permit online.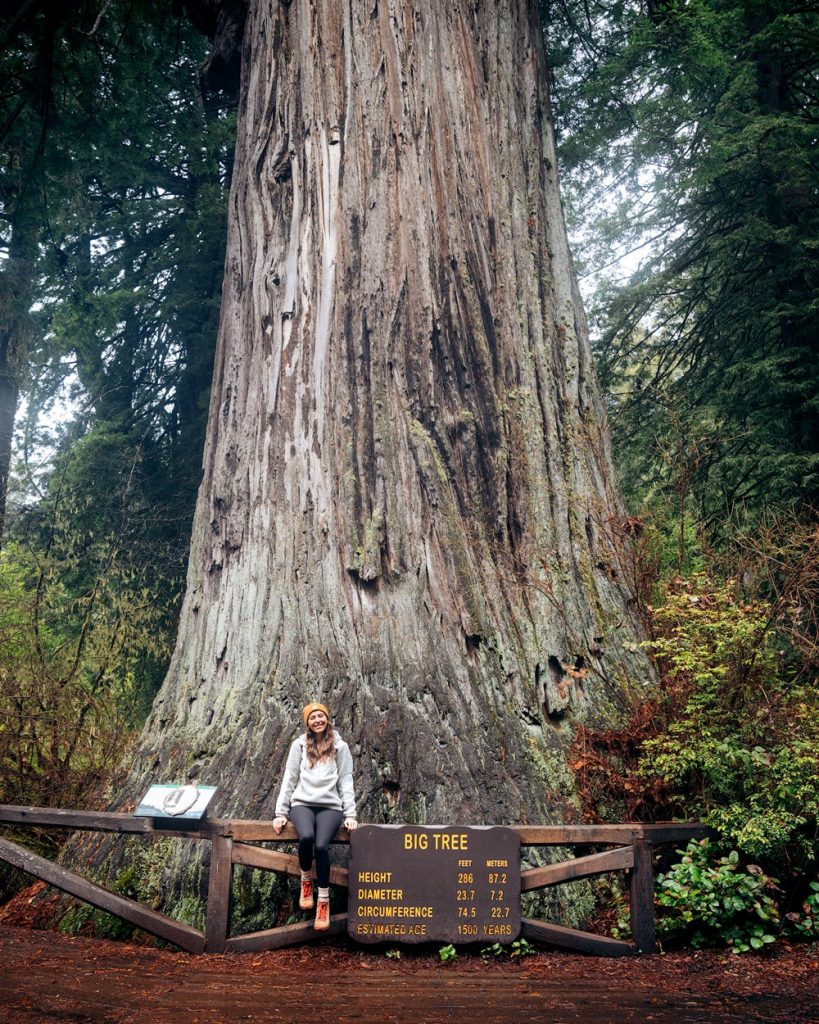 How Many Days to Spend in the Redwoods?
You can explore the California Redwoods in as little as half a day, or you could spend a week seeing every nook and cranny of the parks. Two days is probably the sweet spot in terms of experiencing the main highlights. See further down this guide for a suggested two-day Redwood National Park itinerary.
Best Things To Do in Redwood National Park
There are so many fun and interesting things to do in Redwood National and State Parks. The most well-known is probably the park's epic hiking trails that traverse through acres of old-growth Redwood forest. We highly recommend you try to walk at least one trail while you're exploring the Redwoods. Numerous of the park's trails are accessible (see notations in the next section).
Redwood National and State Park Hiking
There are over 200 miles of hiking trails in Redwood National & State Parks! I highly recommend downloading offline maps from Gaia GPS before you go. Certain areas of Redwood do not have the best signage, and maps are always a great resource. There are a few ADA accessible trails in Jedediah Smith and Prairie Creek State Parks.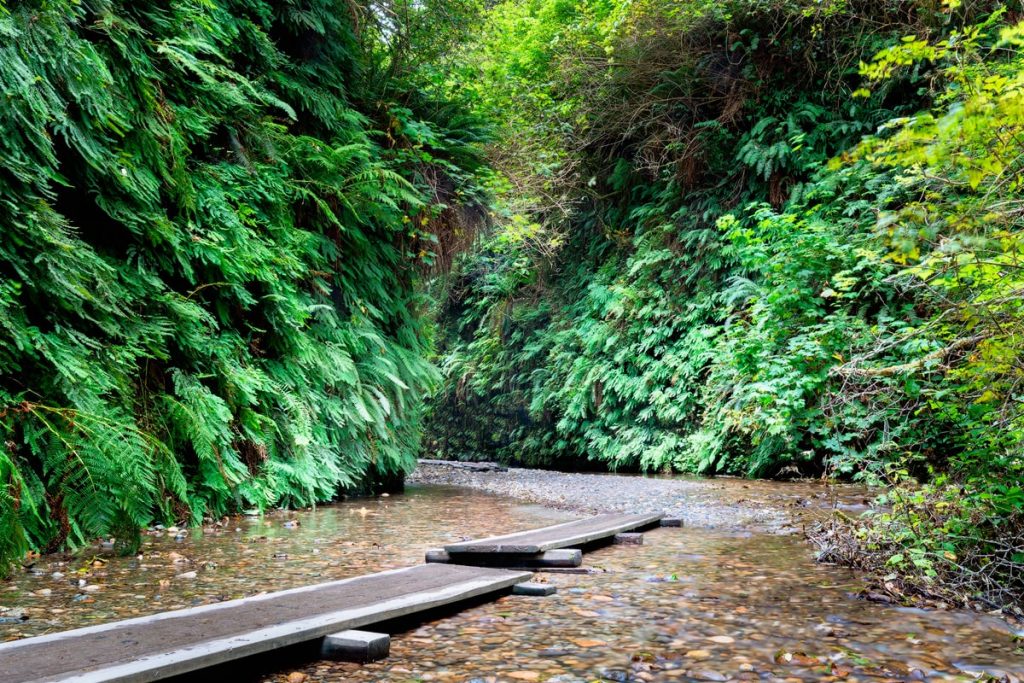 Fern Canyon Loop Trail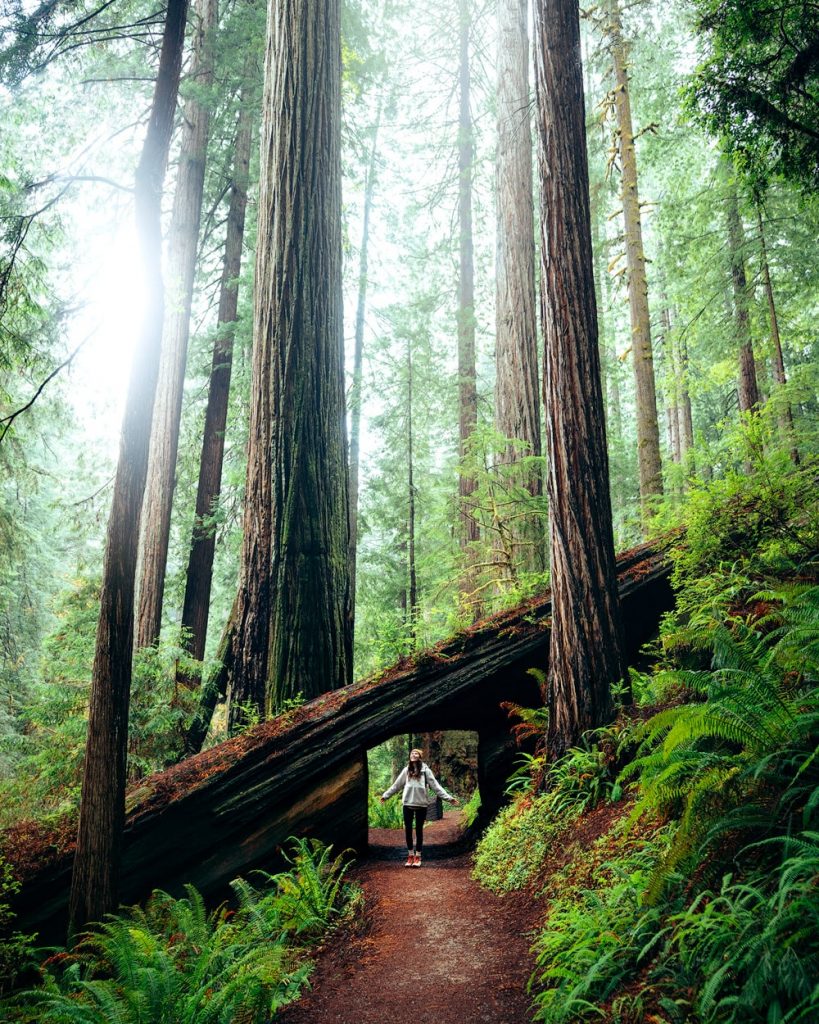 Prairie Creek and Foothill Loop (via 'Big Tree Wayside')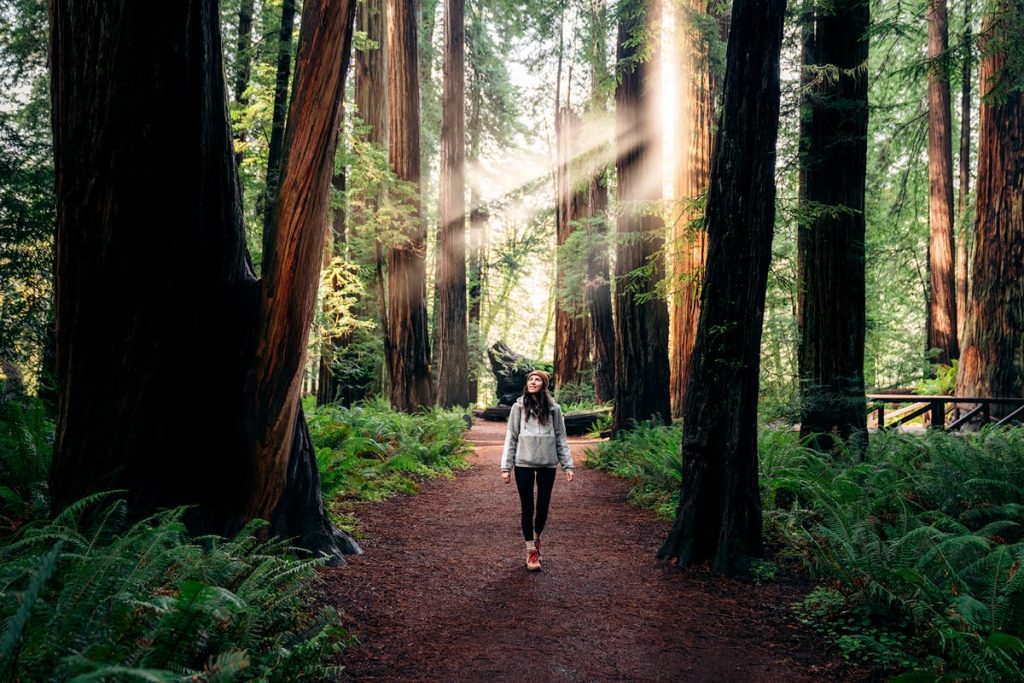 Stout Memorial Grove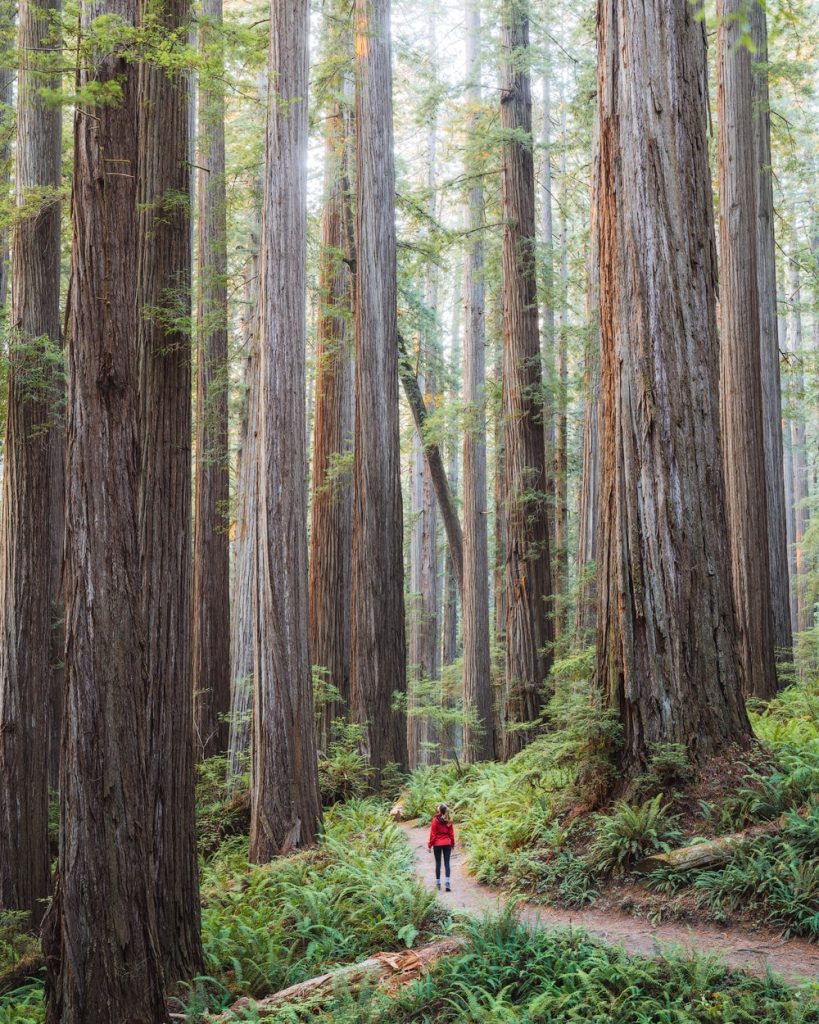 Boy Scout Tree Trail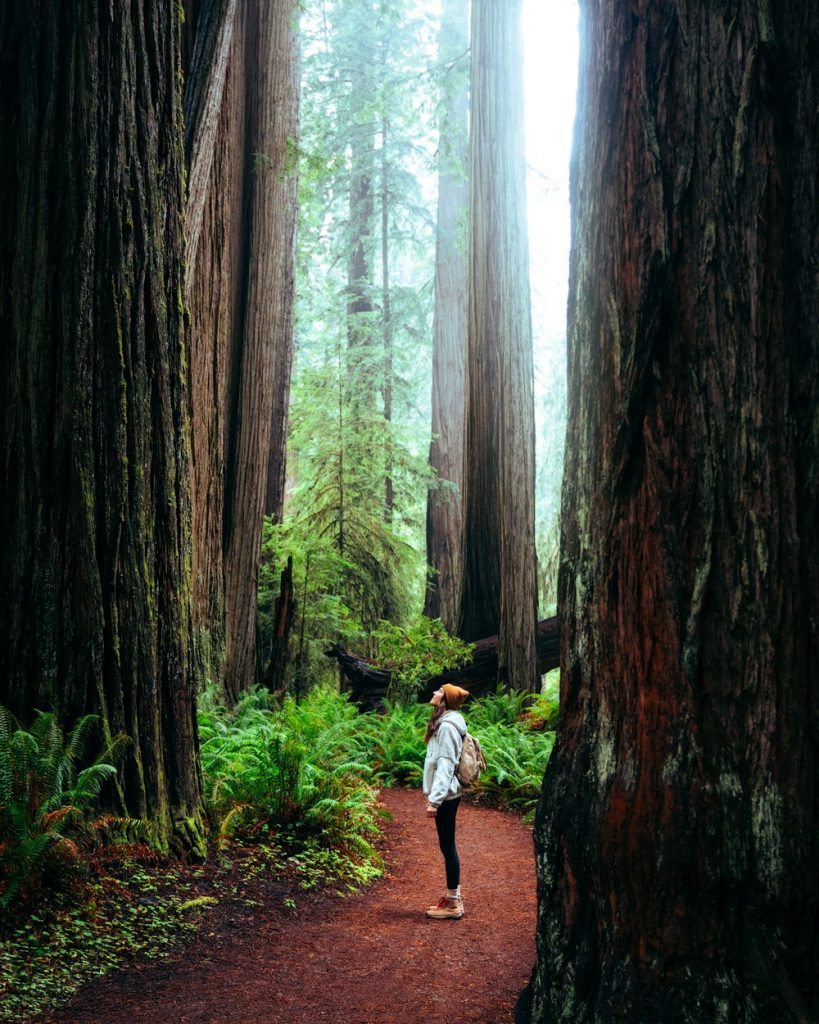 Simpson-Reed Trail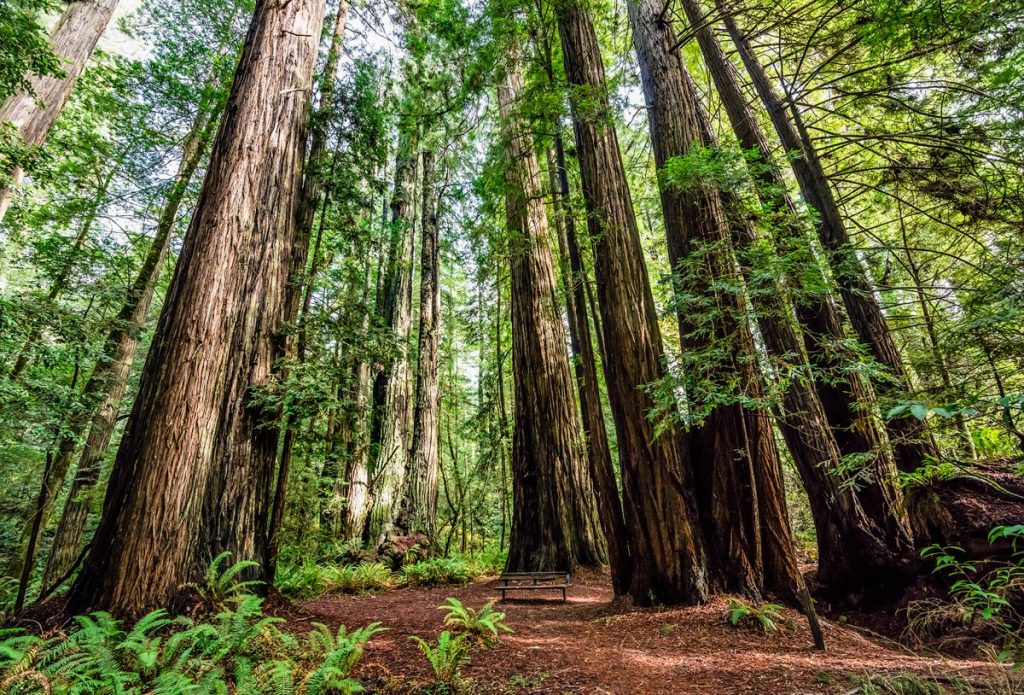 Tall Trees Grove Loop Trail
Fun fact: Tall Trees Grove is home to the world's tallest tree. Standing at 379 feet tall, 'Hyperion' is a true natural wonder.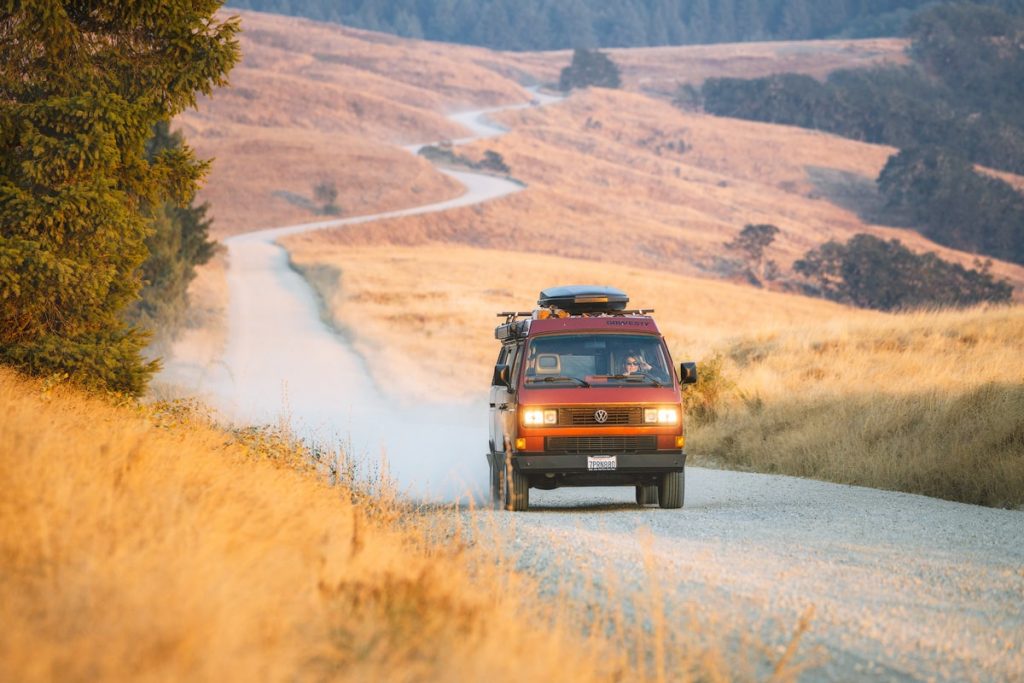 Redwood National Park Scenic Drives
Redwood National and State Parks offer some truly incredible scenic drives. From the heart of the tallest redwoods to the roaring Pacific coastline to the rolling northern California prairies, these scenic drives are a fantastic and accessible way to see a variety of ecosystems within the parks. I suggest checking current conditions before you plan your route since some roads can be closed for detours, repair, inclement weather, etc.
Bald Hills Road
For a more diverse view of the park, spend an hour or so driving the Bald Hills Road. With the Pacific Ocean to the west and mountains to the east, it's hard to beat the views across the prairies and redwood forests. The further east you drive on this 15+ mile stretch, the higher elevation you'll gain! This section of the road tends to be less busy and is great for wildlife sightings. Parts of Bald Hills Road are windy and narrow with unpaved sections, so it's not recommended for RVs or trailers.
Newton B. Drury Scenic Parkway
The paved Newton B Drury Scenic Parkway provides a smoother ride as it winds through thousands of old-growth redwoods in the center of Prairie Creek Redwoods State Park. This is a must-see when visiting Redwood!
Plan ahead: The Newton B. Drury Scenic Parkway is closed to vehicles on the first Saturday of the month from September-May for "Hike and Bike Days". You can't drive your vehicle here at these times, but you'll be able to enjoy the park by foot or bicycle without any motorized traffic.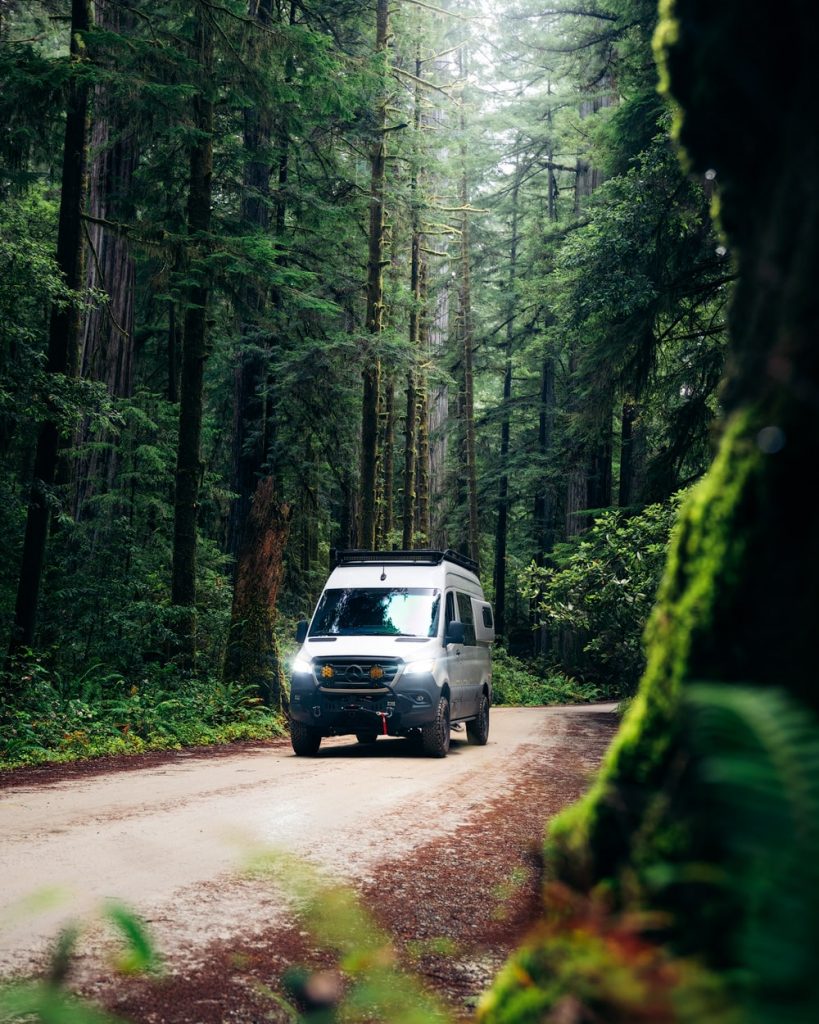 Howland Hill Road
Howland Hill Road is an incredible dirt road in Jedediah Smith Redwoods State Park. You will get up close with the Redwoods on this very narrow 10-mile drive! I suggest taking at least an hour to truly enjoy this scenic drive through the world's tallest trees and incredible ferns. Since this is an unpaved dirt road, conditions can vary, especially in springtime. Check-in with the National Park Service for current road conditions before you go. Not recommended for RVs and trailers.
Enderts Beach Road
This shorter coastal drive is one of my favorites in the park at just over 2 miles in length. With stunning ocean views, whale watching, and epic overlooks, Enderts Beach Road is a must! But keep in mind the ocean along the coastline here is intense. Huge waves and currents can be really dangerous, so swimming is not recommended at Enderts Beach. Instead, I recommend packing a picnic, enjoying the views, and exploring the tidepools.
Klamath Beach Road
This scenic drive hugs the northern California coastline for about 9 miles. The road can be pretty narrow and steep, with sharp curves, so keep your eyes on the road. You must stop at the High Bluff Overlook and spend some time enjoying the incredible views of the Pacific Ocean! Keep your eyes peeled for whales and pelicans in the surf, and you might even see osprey with fish in their talons for lunch.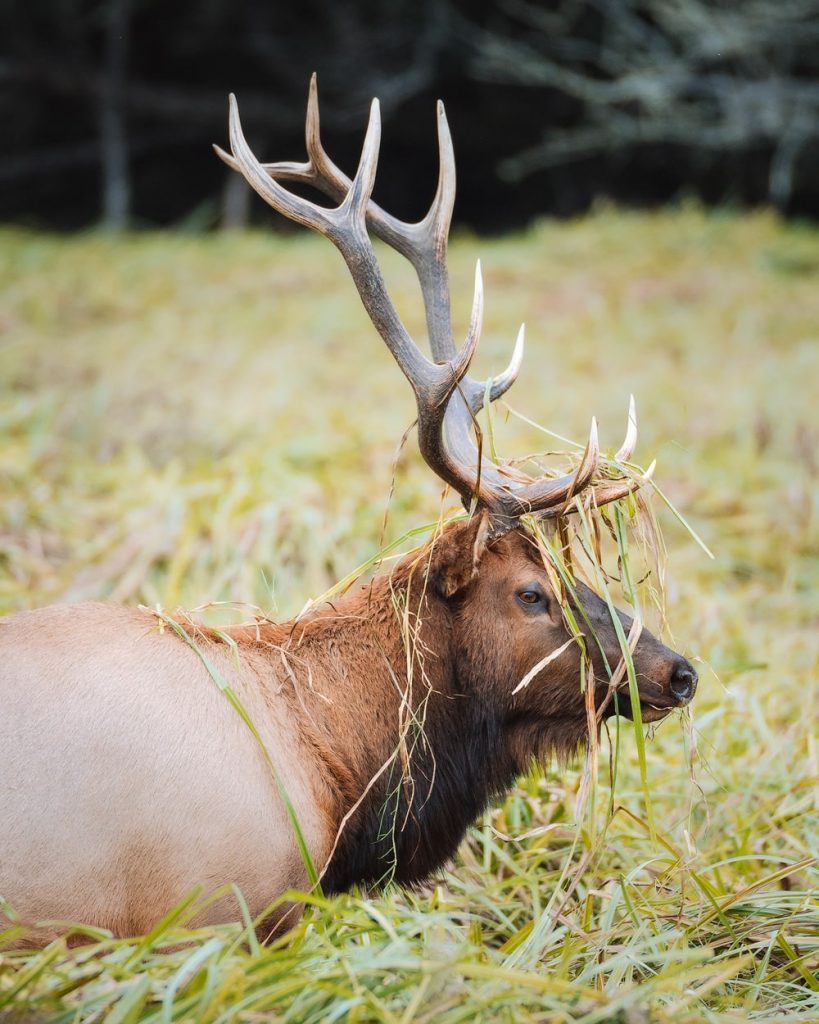 Wildlife Spotting in the California Redwoods
Northern California and Redwood National Park are home to incredibly diverse wildlife, both on land and in marine ecosystems. On any given day in the park you can see Roosevelt Elk (which were once almost extinct!), sea lions, migrating whales (gray whales, humpbacks, orcas), bald eagles, salmon, and river otters! Be sure to check out the tide pools on the coast for anemones, sea stars, crabs, and more marine critters.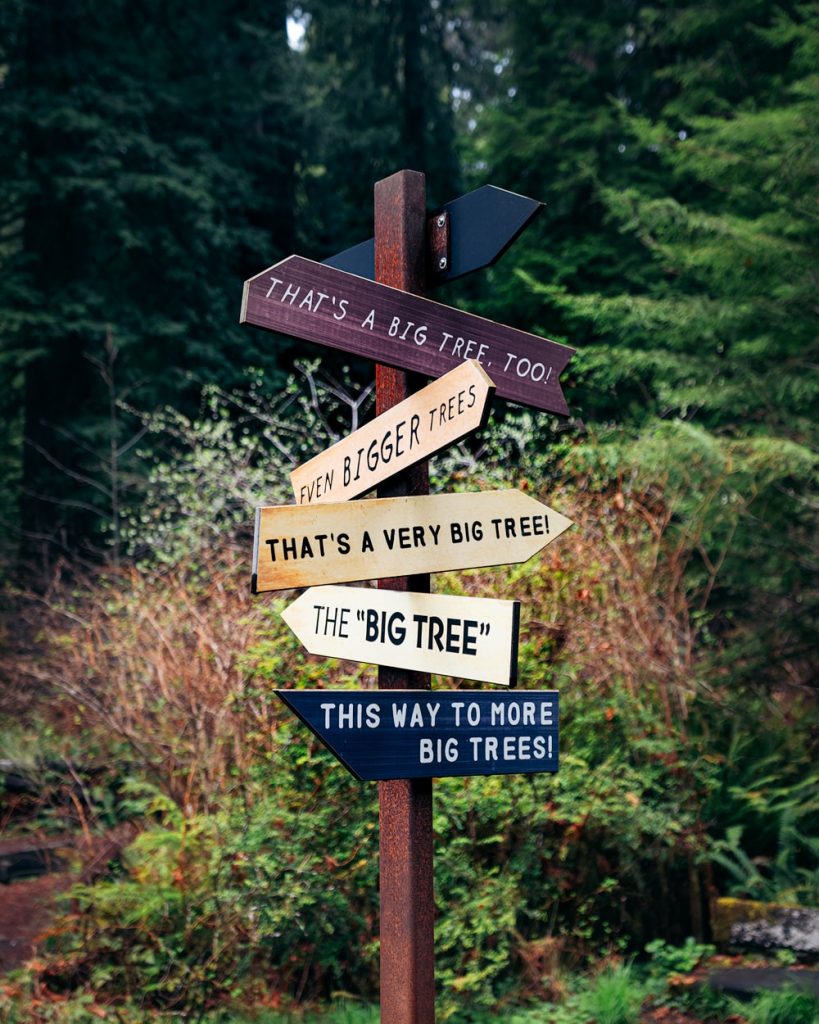 Redwood National Park 2 Day Itinerary
There are many ways to explore the California Redwoods, but this two day itinerary is the BEST approach in our opinion. You can customize the itinerary to suit your needs. For example, this itinerary includes lodging in Crescent City, but if you are camping in the park then you can move things around. Also, you may want to change the order of things if you are coming from Oregon versus from Southern California.
Redwoods Itinerary – Day 1
This itinerary starts in the Southern end of Redwood National Park. Choose how many miles you want to hike today. My top suggestions are Prairie Creek and Foothill Loop via 'Big Tree Wayside' (2.6 miles), Fern Canyon Loop Trail (1.1 miles), and Tall Trees Grove Loop Trail (3.3 miles).
If you're game, you could hike all 3 trails by starting with Tall Trees Grove and ending with Prairie Creek and Foothill Loop. This would make for a total of 7 miles of hiking and you will have seen some of the most magical areas in the entire country! If you are looking for a less strenuous option I would opt to hike Prairie Creek and Foothill Loop via 'Big Tree Wayside' and Fern Canyon Loop Trail – a total of 3.7 miles roundtrip. Keep in mind that Tall Trees Grove Loop Trail requires an online permit – apply online here.
Even if you don't hike in Prairie Creek Redwoods State Park, I definitely recommend driving the Newton B Drury Scenic Parkway for beautiful views of old-growth redwoods (~ 15 minute drive). Keep an eye out for Roosevelt Elk! Keep driving north and end your day in Crescent City.
Photographers Tip: Check the weather forecast and consider backtracking to Bald Hills Road for sunset photos. This area is at a higher elevation and feels almost like an entirely different park.
Redwoods Itinerary – Day 2
Day two of this Redwood itinerary will focus on Jedediah Smith Redwoods State Park. Start your day by walking the beautiful Simpson-Reed Trail (0.9 miles). After this drive to the southern end of Howland Hill Road and begin a scenic drive northeast through stunning Redwood groves and incredible ferns.
Stop and hike the Boy Scout Tree Trail. It's 5.3 miles roundtrip if you hike the entire way, or you can hike just the first portion of it (the most beautiful in my opinion!) Continue on Howland Hill Road until you get to the Stout Memorial Grove Trail, where you will enjoy your last walk of the day (0.7 miles).
After this you will have seen the BEST sights in the California Redwoods and can continue on to your next destination. Keep in mind that the above order of activities is presuming you will be driving north into Oregon after the Stout Memorial Grove Trail. If you are driving south or ending in Crescent City, I recommend beginning with Boy Scout Tree Trail and ending with the Simpson-Reed Trail (anticlockwise loop).
Places to See Nearby Redwood National Park
There are some amazing destinations nearby Redwood National Park. Here are two of my favorite half-day adventures to add on to any trip to visit California's Redwoods.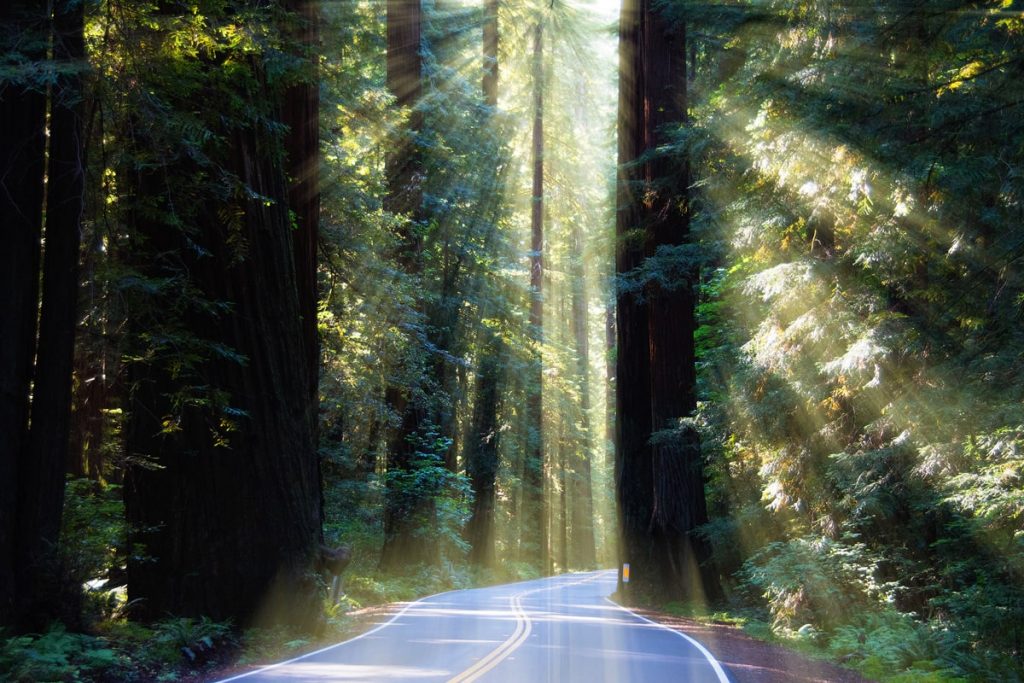 Avenue of the Giants
Located a little over an hour south of Redwood National Park, the Avenue of the Giants is 30 miles of gorgeous, forest-lined driving through Humboldt Redwoods State Park. There's lots of access to hiking trails that will take you deeper into the redwoods, as well as some incredible swimming and paddling spots. This scenic drive has been on many travelers' bucket lists for years, and I definitely recommend taking the time to visit!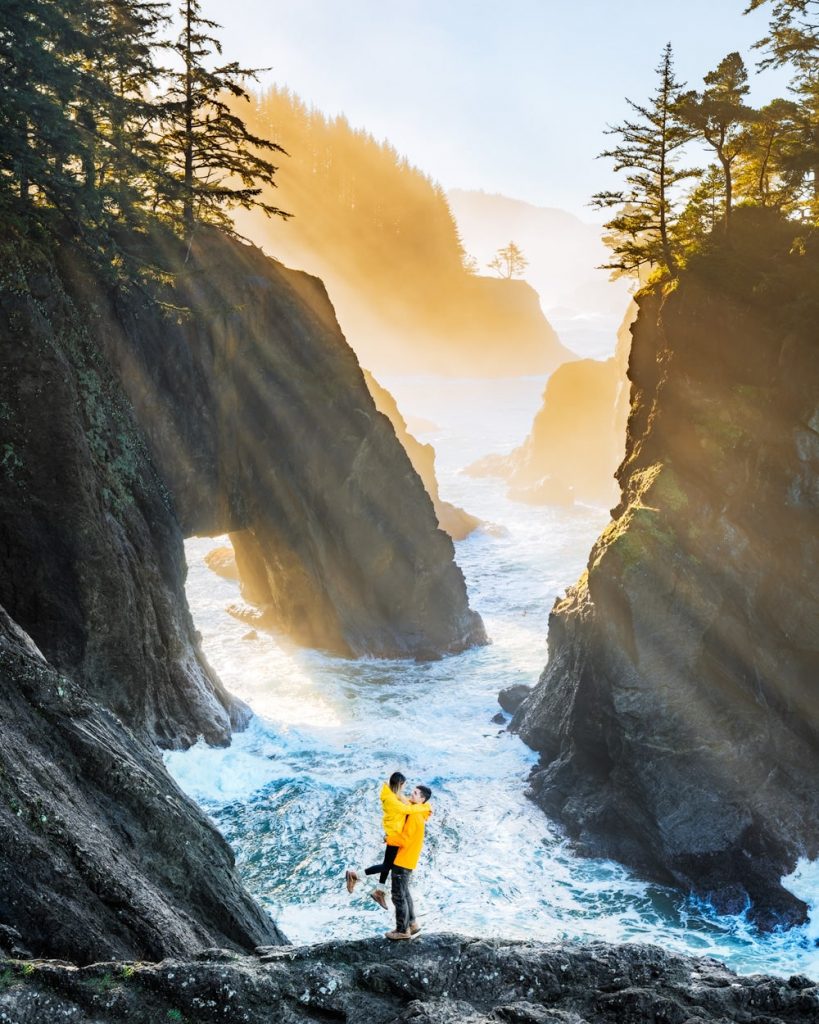 Samuel H. Boardman State Scenic Corridor
Hopping across the California/Oregon border to visit the Samuel H. Boardman State Scenic Corridor on the southern Oregon coastline is well worth it. This state park features 12 miles of rugged coastline with sharp cliffs, quiet beaches, and incredible rock formations in the ocean. It's even more picturesque in person!
There are many amazing hiking trails here that overlap with the Oregon Coast Trail. Whether you hike 15+ miles or opt for a picnic on the beach, I recommend spending at least an afternoon here watching waves crash against the rocky sea stacks and scouting for ocean wildlife.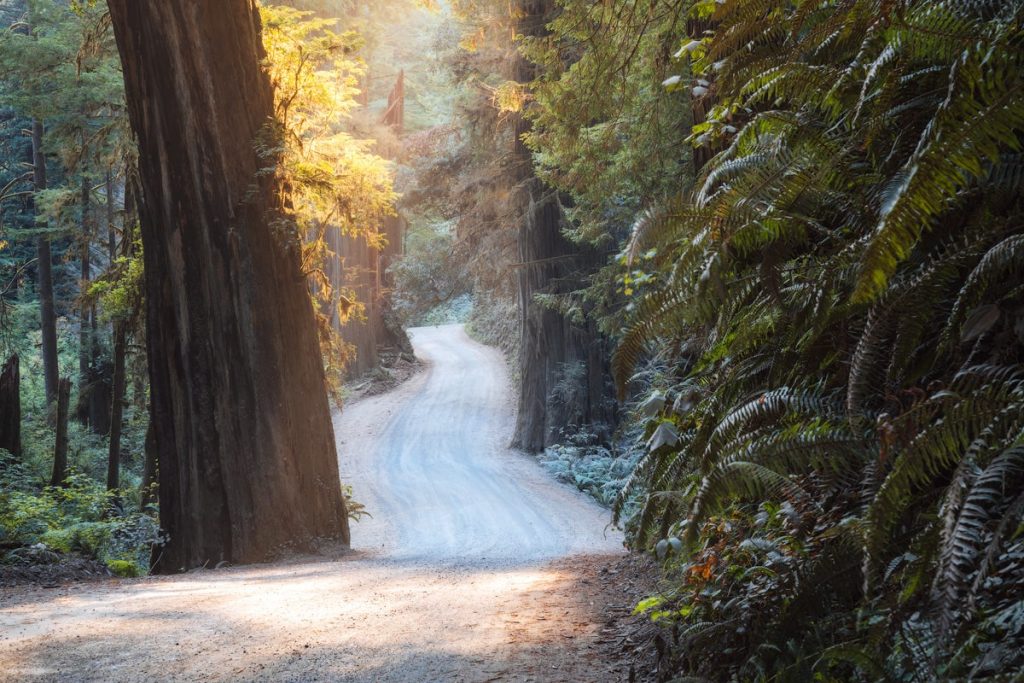 Tips for Visiting the Redwoods
Whether it's your first national park trip or your hundredth, there are always ways to plan ahead to make the adventure more enjoyable! I prefer to buy my America the Beautiful National Parks Pass in advance. You'll need to receive the physical copy in the mail, so plan early and leave yourself at least 5-10 business days. This is a good way to save time and avoid the hassle of purchasing it when I'm actually traveling.
Like most parks, the weather in northern California can change quickly and drastically, during all seasons. Come prepared with warm layers, rain gear, sunscreen, hats, etc. When you're walking amongst the planet's tallest trees, there won't be very strong cell service. Make sure you download any maps you want to use while in the park before you go. My favorite method is using the Gaia GPS app for offline maps. I share more of my top tips for planning a great national parks trip in this complete guide.
There are not many amenities inside the park, so it's a good idea to bring food and lots of water when you visit, especially if you'll be camping. The National Park Service is a great resource to check current trail and road conditions before (and during) your trip. You can always check in with a ranger at a local visitor center, too! As always, be a responsible traveler and observe Leave No Trace principles. The more we minimize our impact on the outdoors, the longer we will be able to preserve and enjoy these natural environments.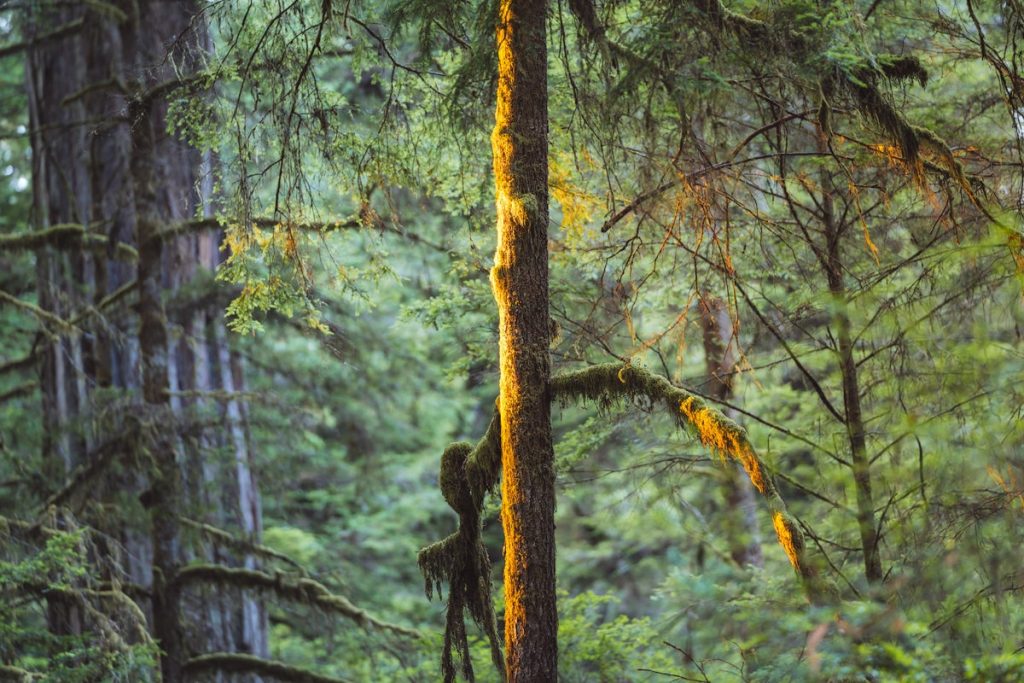 Frequently Asked Questions about Visiting Redwood National Park
These are some of the popular questions I get asked when I talk to people about visiting Redwood National & State Parks.
Is Redwood National Park Worth Visiting?
Yes! Redwood National Park is such a unique part of the country, and really, there's nowhere else like it in the world. It truly feels like you're on another planet when you wander amongst these 2000 year old giant redwoods. It's magical to think about all the different people that have wandered around the world's tallest trees during their long lifetime.
Where is the tallest Redwood Tree?
At 379 feet tall, Hyperion is the tallest redwood tree in the park. In fact, it's the tallest tree in the world! There is currently no trail to see Hyperion. Visitors to Hyperion have damaged the area so badly there are no longer any ferns growing at the base of the tree. Due to the fragile nature of the surrounding environment, the park service asks visitors to respect Leave No Trace principles and stay on established trails. There are many other giant trees to visit in the park!
Is It Worth Visiting the Coast in Redwood National Park?
Absolutely! The rugged California coast is spectacular, rain or shine. I love exploring the rocky beaches and exploring tide pools. You could even see a Killer Whale! They tend to be in the area when Chinook Salmon are entering the Klamath River.
Where are the Best Places to Take Photos in the Redwoods?
There are so many great spots to take photos in Redwood National and State Parks! A particularly photogenic area is the Boy Scout Tree Trail (there's an opening about halfway along the trail that has MASSIVE trees and it's very picturesque).
Prairie Creek and Foothill Loop Trail has a tree bridge/tunnel that makes for great photos! It can be found about 15 minutes into the trail if you walk in a clockwise direction. Bald Hills Road is beautiful at sunset and Stout Memorial Grove Trail is a good option for a selfie with a really large tree.
Can you See Redwood National Park in One Day?
Yes, you can definitely experience Redwood National Park in one day! On my most recent visit, I only spent about 6 hours in the park and still managed to hike Prairie Creek and Foothill Loop Trail (including seeing Big Tree Wayside), Simpson-Reed Trail, and Stout Memorial Grove Trail. Redwood is actually one of the best national parks to visit if you're short on time.
Is Redwood or Sequoia National Park Better?
While this isn't technically the answer to that question, I say visit both! Redwood is a great option to link onto a Pacific Northwest road trip, exploring Washington, Oregon, and Northern California. Sequoia and Kings Canyon National Park is a drier and more mountainous climate. Visiting Sequoia is convenient when you're in southern California, and can be added to a road trip to Death Valley, Joshua Tree, or Yosemite.
While both have species of redwood forest, the trees in Sequoia tend to be a bit wider and larger in volume. General Sherman is the world's largest tree by volume, measured at over 36 feet in diameter! While in Redwood National Park the trees tend to be taller and skinnier.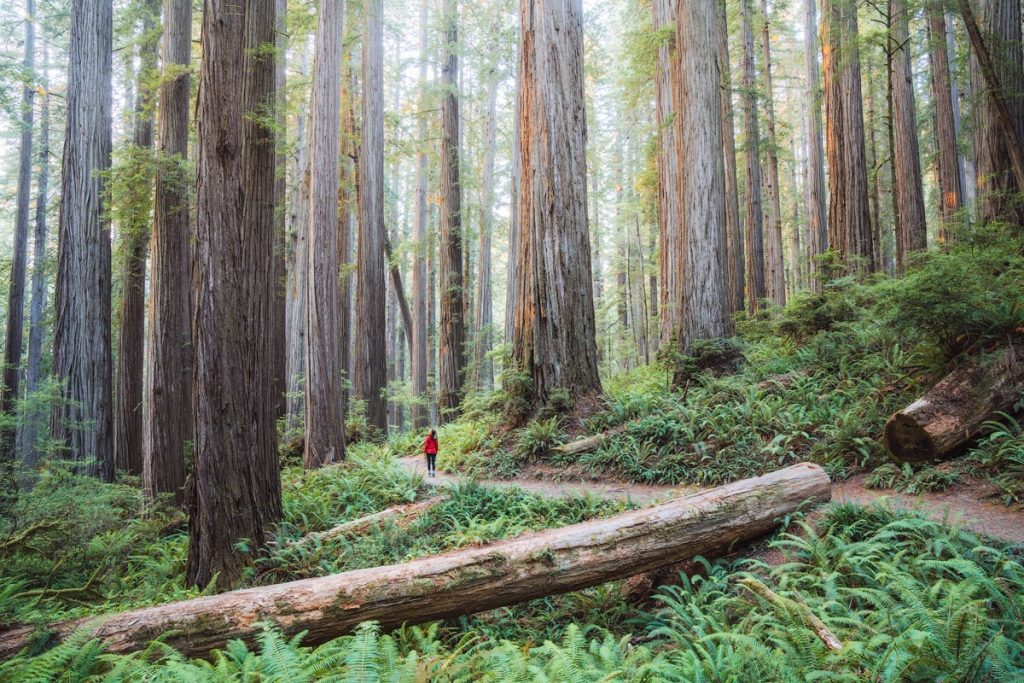 Final Thoughts on Visiting Redwood national park
Have I convinced you that Redwood National Park is worth a visit? I love these national & state parks, and I hope I've inspired you to plan a trip. Let me know what you think once you visit California's tallest trees!
---
PIN for Later!