Death Valley is one of the most underrated national parks in my opinion! There park is so diverse that even on your second or third visit you will easily find new things to do. Located in the Mojave Desert of California, Death Valley is famous for its rugged landscapes, extreme temperatures, and unique natural sights.
It's known to be one of the hottest and driest places on earth and for many Death Valley has truly lived up to its name… but don't let that fool you! There is so much beauty within the park and it truly is a bucket list destination. In this blog post, I am going to share everything you need to know to plan your own visit!
Disclaimer: This blog post is in collaboration with Backcountry.com and features some affiliate links. This means I get a small commission if you make a purchase (at no extra cost to you). Use code RENEE15 to get 15% off your first Backcountry order (some exclusions apply). You can also learn more about my affiliate policy here. Thank you for the support!
Ultimate Guide to Death Valley National Park
Given Death Valley is a whopping 5,270 mi², there are a lot of areas to explore and numerous things to consider when planning your trip. I wouldn't say it's the kind of park you want to just show and wing it. The reason being is that phone service is very limited within Death Valley and WiFi isn't easy to come by. It's best to know at least the basics of where you are going and where you plan to stay the night BEFORE you arrive at the park. The following guide will cover all that and more.
Before we jump into it, I would like to acknowledge the traditional landowners of this area, the Timbisha Shoshone People. Please be respectful of their land and consider your impact when visiting. I implore you to always follow Leave No Trace Principles and follow all local rules and regulations.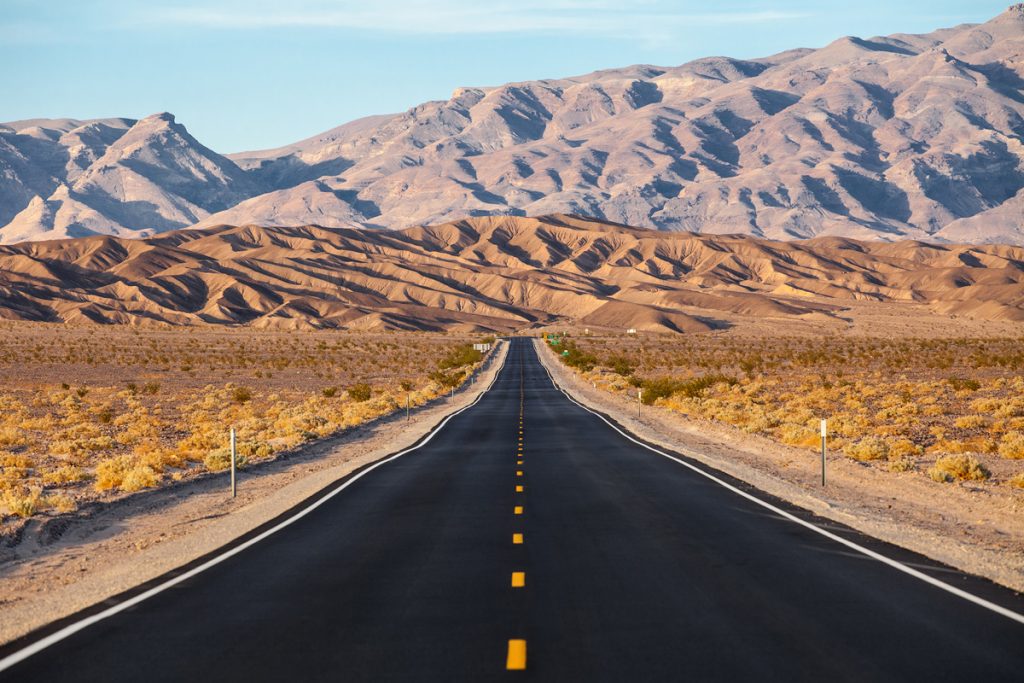 How To Get To Death Valley
Death Valley is located in the United States in a remote part of south-eastern California. The park also slightly stretches into western Nevada. Death Valley National Park can be accessed by the following means:
Car is the most common way visitors access Death Valley National Park. Most people will drive from Los Angeles and enter the park through the west entrance (4.5-hour drive to Furnace Creek), or from Las Vegas and enter the park through the east entrance (2.5-hour drive to Furnace Creek). A unique way to travel to and around Death Valley National Park is by renting a camper van. We have done two van trips through the park, once with our own van and once with Travellers Autobarn.
The closest commercial airport to Death Valley National Park is McCarran International Airport in Las Vegas (130 miles away). The second closest major airport is Los Angeles International Airport (270 miles away). There are also a few smaller airport options, including Inyokern County Airport (70 miles away), Furnace Creek Airport (inside the park), and Stovepipe Wells Airport (inside the park). I believe the two airports inside the park are options for private planes only. Use Skyscanner to compare flights from multiple airports and find the best option for you. If flying into one of these airports, you would need to rent a car and drive to the park, or take a guided tour that includes transportation.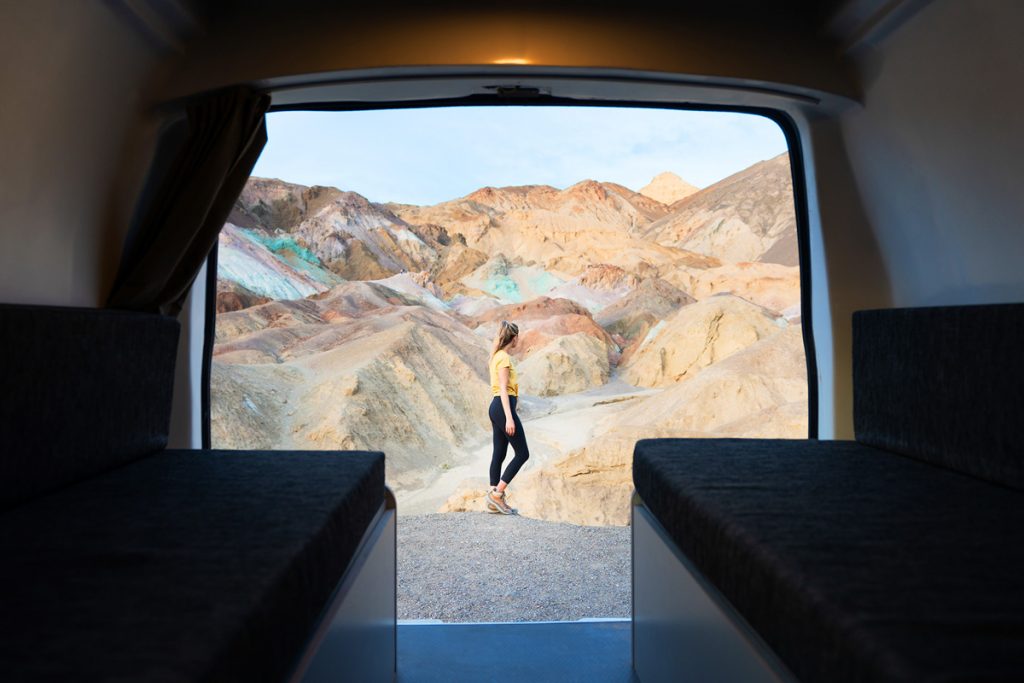 When To Visit Death Valley
The best time to visit Death Valley National Park is from October through April when temperatures are more moderate. Outside of these months, Death Valley can be extremely hot, and the summer months can be downright dangerous. Temperatures in July average a high of 103 degrees, and people have died of heat exposure due to lack of water and shade. As someone who doesn't like hiking in very hot weather, I completely avoid the park in summer and recommend you do the same.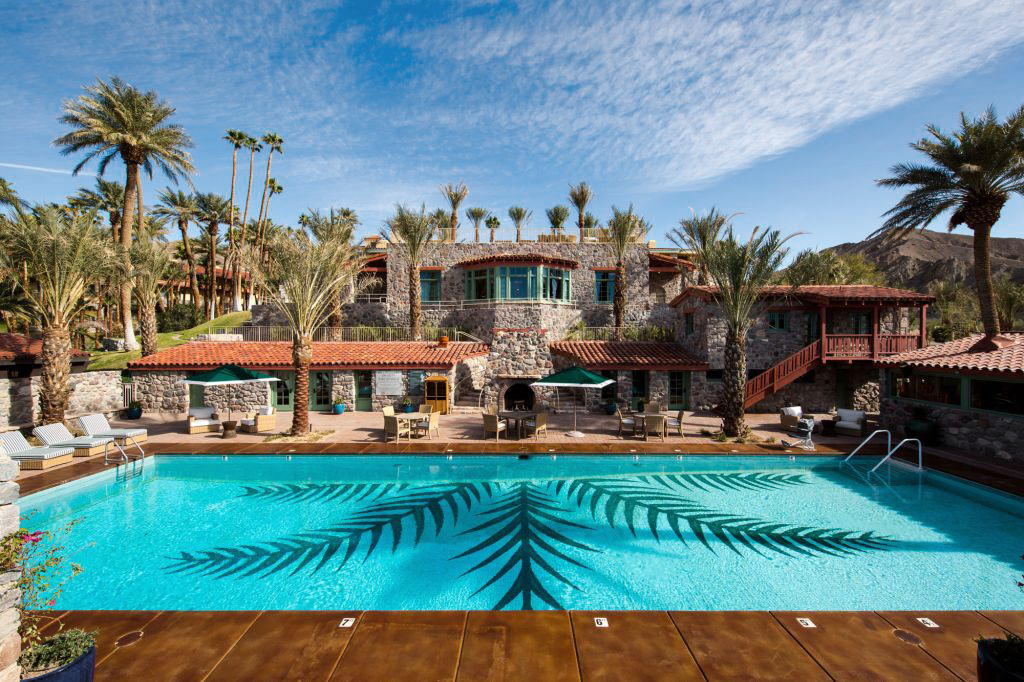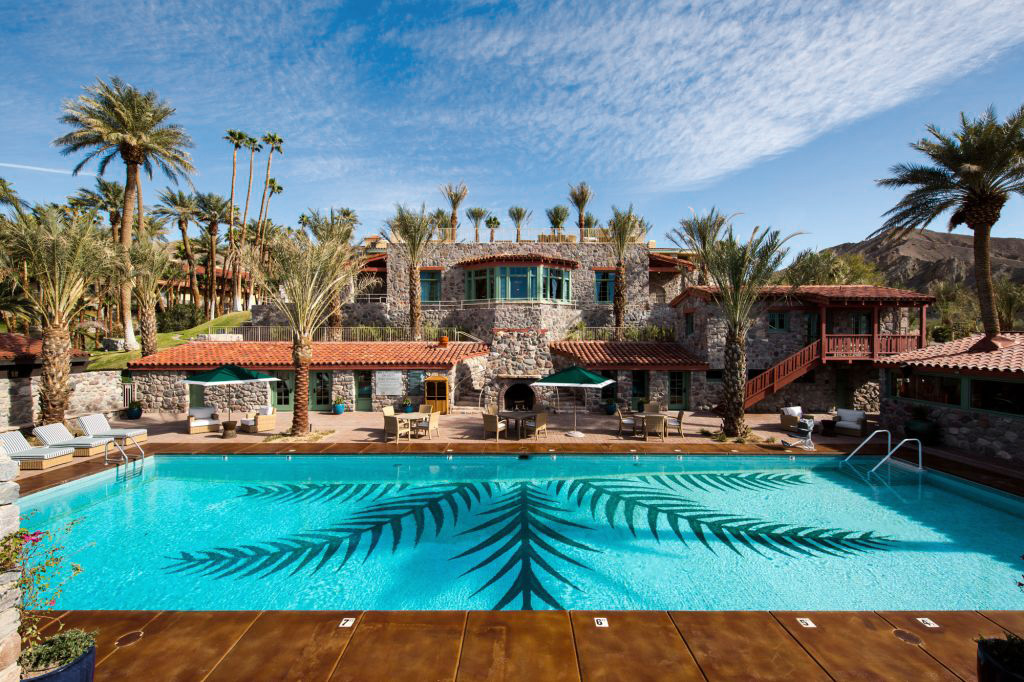 Where To Stay In Death Valley
There are quite a few options for lodging within the park, and where you stay will depend on what areas you plan to explore when visiting Death Valley. For most visitors, I recommend Furnace Creek for your lodging as it is closest to most of the main sight-seeing areas. With that being said, once you figure out what you want to see within the park you should plan ahead to avoid long and unnecessary drives (it's a huge park!).
The Ranch at Death Valley – This is the more basic and affordable lodging option in the Furnace Creek area. It features a restaurant, general store, café, pool, golf course, basketball court, tennis court, and a playground for the kids.

The Inn at Death Valley – This is the most luxurious lodging option in the whole park. It is centrally located in the Furnace Creek area, and has it's own restaurant, spring fed pool, exercise room, tennis court, spa, and sauna.

Stovepipe Wells Village – Located half an hour west of Furnace Creek, Stovepipe Wells Village is another good lodging option in the park and is right by the Mesquite Flat Sand Dunes. It's basic, but has all the necessities as well as has a restaurant, saloon, pool, general store, and campground.

Panamint Springs Resort – Panamint Springs is 1 hour drive west of Furnace Creek, and a good base for adventures on the western side of the park. It has a variety of room and cabin options, a campground, a restaurant, bar, and general store.

Campgrounds – The National Park also runs a bunch of campgrounds within the park. Most of these are seasonal (October 15 – May 15) due to the brutal summer heat, so check opening times before your visit. The most popular are Furnace Creek Campground Furnace Creek Campground (the only one that takes reservations), Sunset Campground (also at Furnace Creek) and Stovepipe Wells Campground, and Texas Springs Campground (just outside Furnace Creek). Book your campground via The Dyrt and use my code reneeroaming for a free 30 day trial.
Your other option is to stay outside the park, though I honestly wouldn't recommend it for most visitors. Death Valley is a huge park, and driving in and out of the park each day would not be enjoyable. With that being said, in the case that Furnace Creek lodgings are booked out, I've linked a couple of nearby options below that are only about 30 minutes away from the Furnace Creek Visitor Center:
For those staying in a campervan, RV, or the back of a car, Death Valley has a few options. You can stay at one of the campgrounds within the park, as mentioned above. Alternatively, there are also a couple of BLM (Bureau of Land Management) free camping areas just outside the park for those who don't mind roughing it. We have stayed at this spot in the past and found the location fairly convenient. Remember that you cannot stay the night at trailheads within the park.
Best Things To Do In Death Valley
Death Valley National Park has such a wide variety of landscapes to keep visitors busy during their stay. Although the dry and barren appearance of Death Valley may look pretty one-dimensional at a glance, there are so many unique areas to explore once you know where to look!
The following recommendations are for all types of visitors, including solo travelers, couples, families, and groups. You can tailor each adventure to suit your fitness level and schedule. I would say that Death Valley is a very child-friendly national park as long as you're following the recommended safety precautions and staying within your capabilities.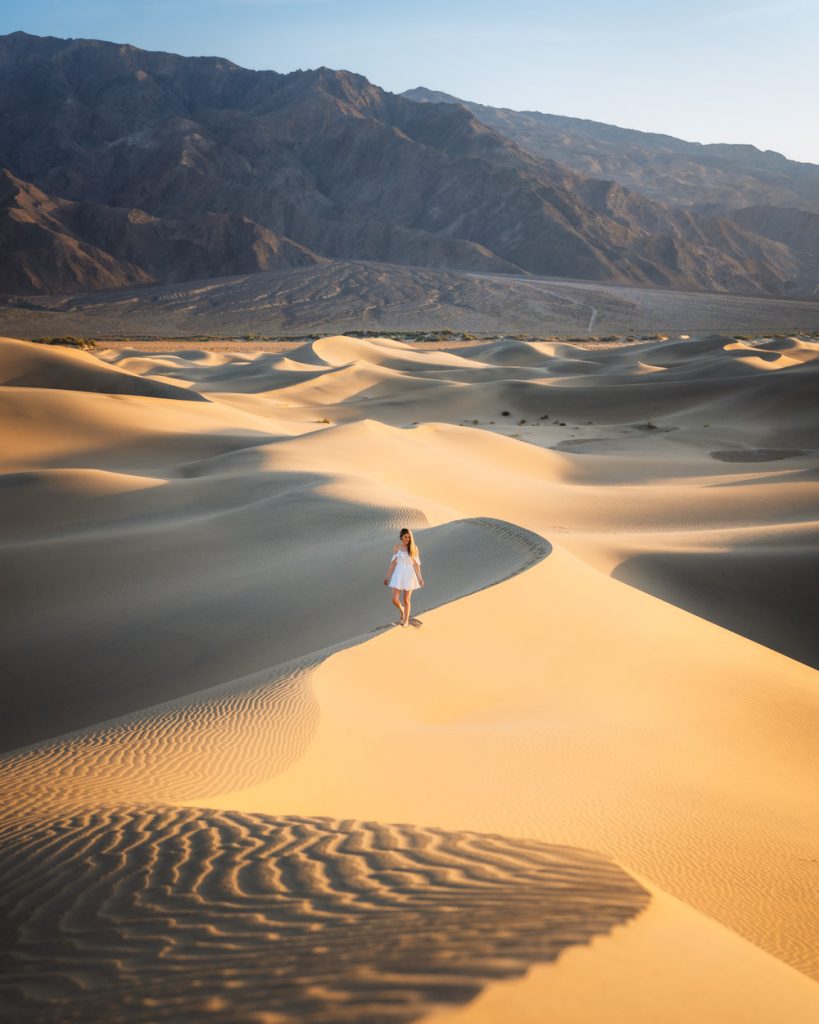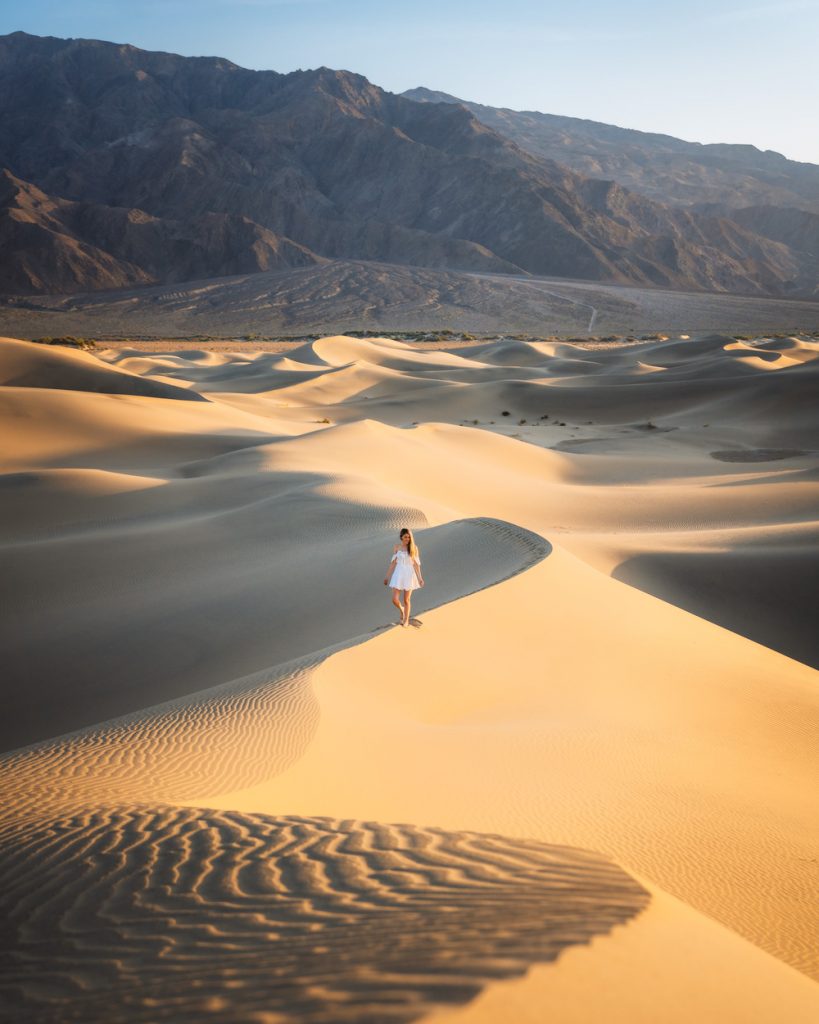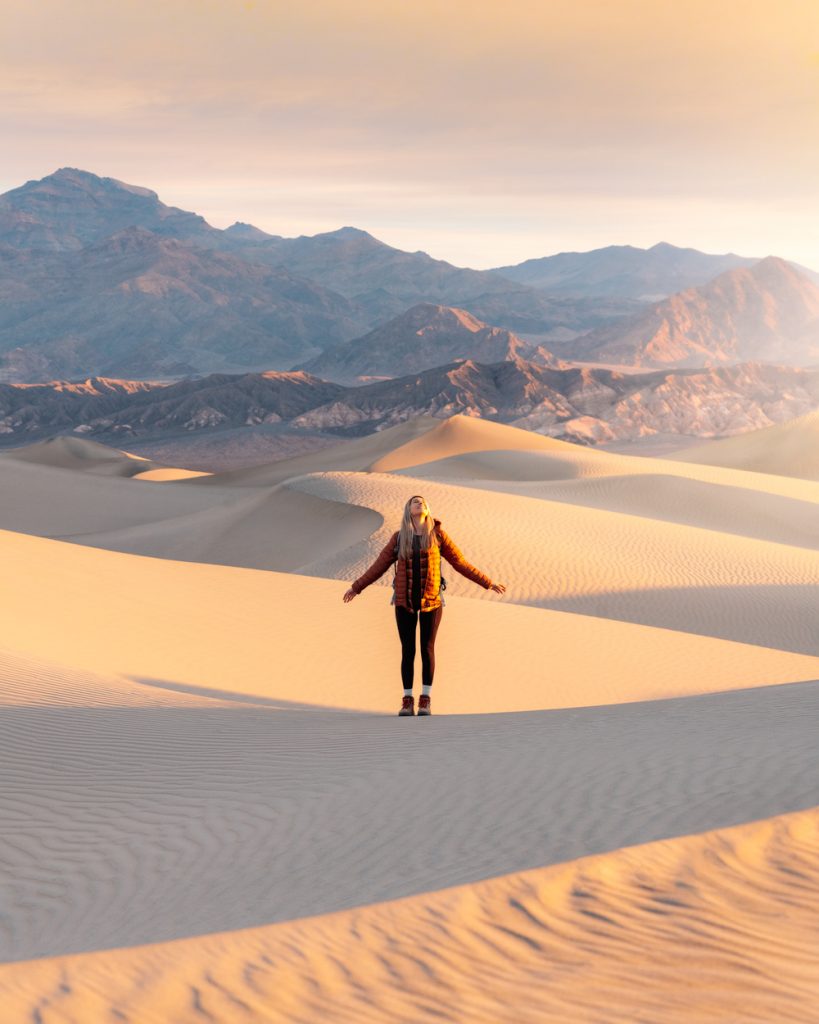 Mesquite Flat Sand Dunes may be my favorite area in the park. I have visited a handful of times now, and every time I'm here I am blown away by the beauty of the landscape. I recommend visiting during the early hours of the morning, or late hours of the afternoon as the low sun creates gorgeous shadows and shapes on the dunes. The further you walk out, the less footprints you will see, and you should be able to find your own little area of the dunes without anyone around. Although it's not easy walking on the dunes, the juice is worth the squeeze!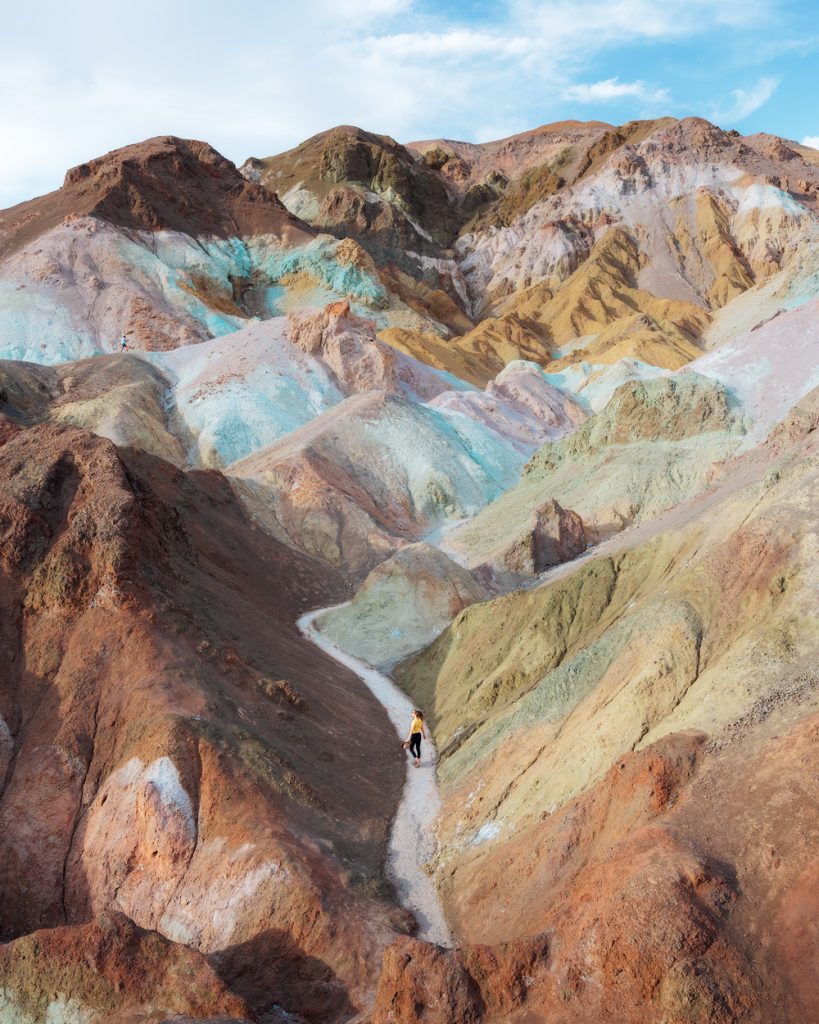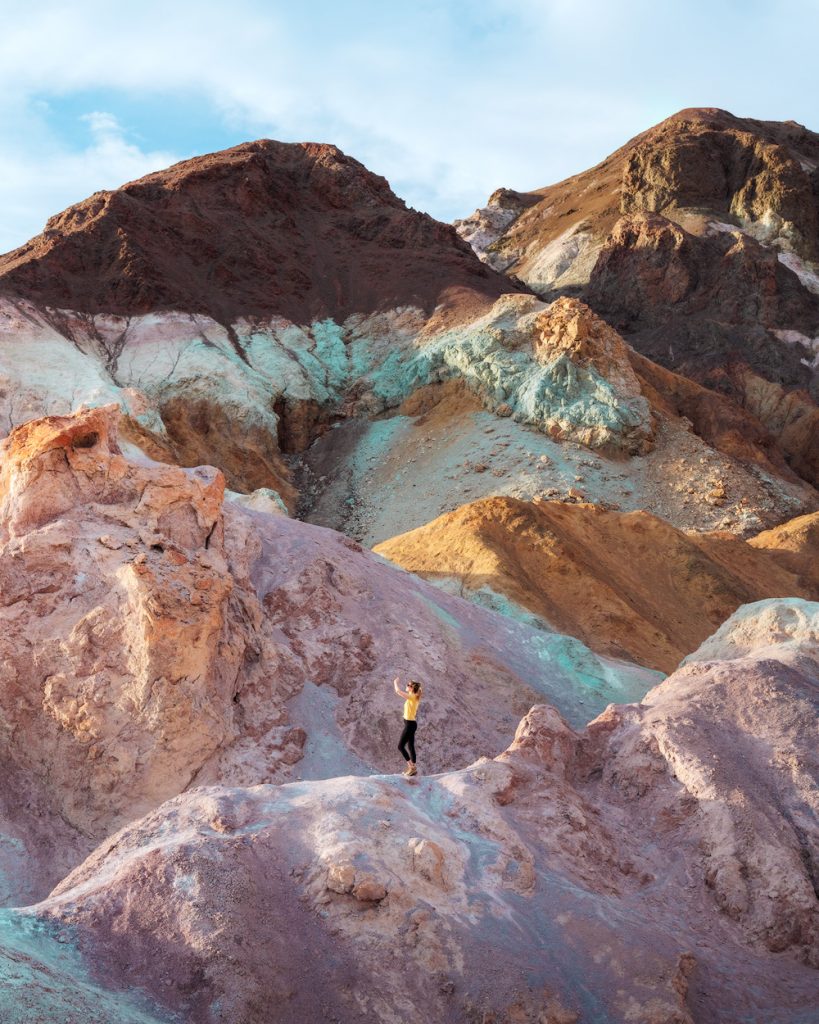 Artist Palette and Artist Palette Drive
This is one of the most unique areas in the park. Artist Palette Drive takes you off the main road and down a one-way, 9 mile long scenic drive through mountains and canyons. Some of these are covered in unique shades of blue, pink, and purple, hence the name "Artist Palette". You can stop along the drive in multiple spots to get out, take in the views and stretch your legs. Near the end of the drive is the main "Artist Palette" area, which you can view from the parking lot, or by taking a walk amongst the hills.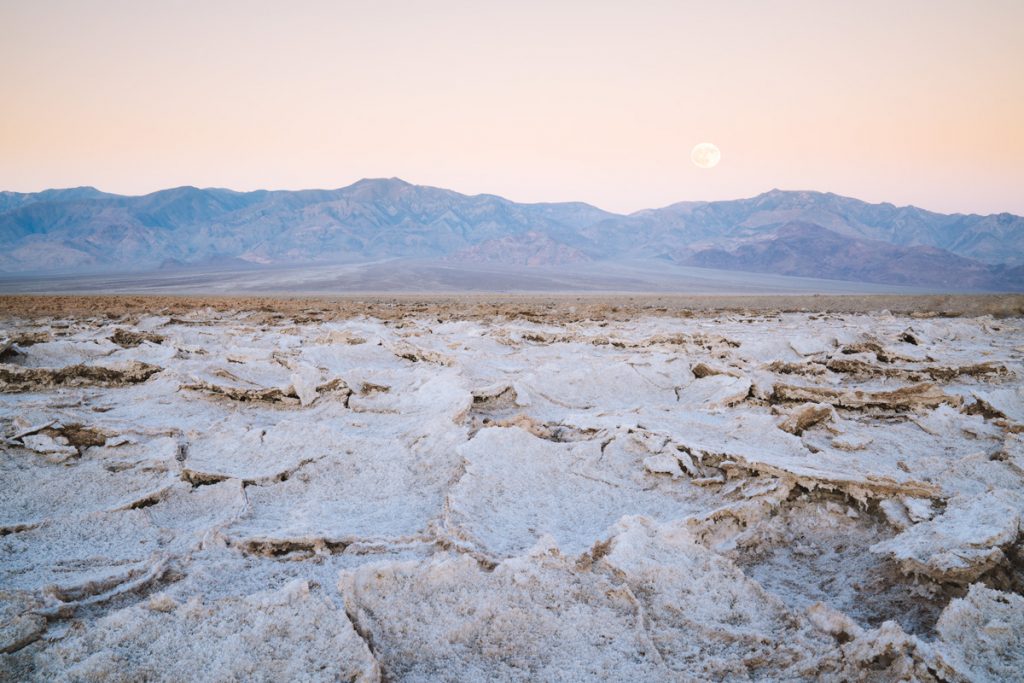 Badwater Basin is one of the most popular sights in the park. This is the lowest point in the whole of North America, 86m/282 feet below sea level! This area can be explored by parking at the Badwater Basin parking lot, and then walking down onto the salt flats. It's roughly a 15 minute walk out to where the salt flats really open up and you start to find the amazing textures and shapes the area is known for. Another amazing thing about the area is Telescope Peak (look to your west) is over 11,000 feet (3,500m) above you. The closeness of the vertical relief here is like no where else in America.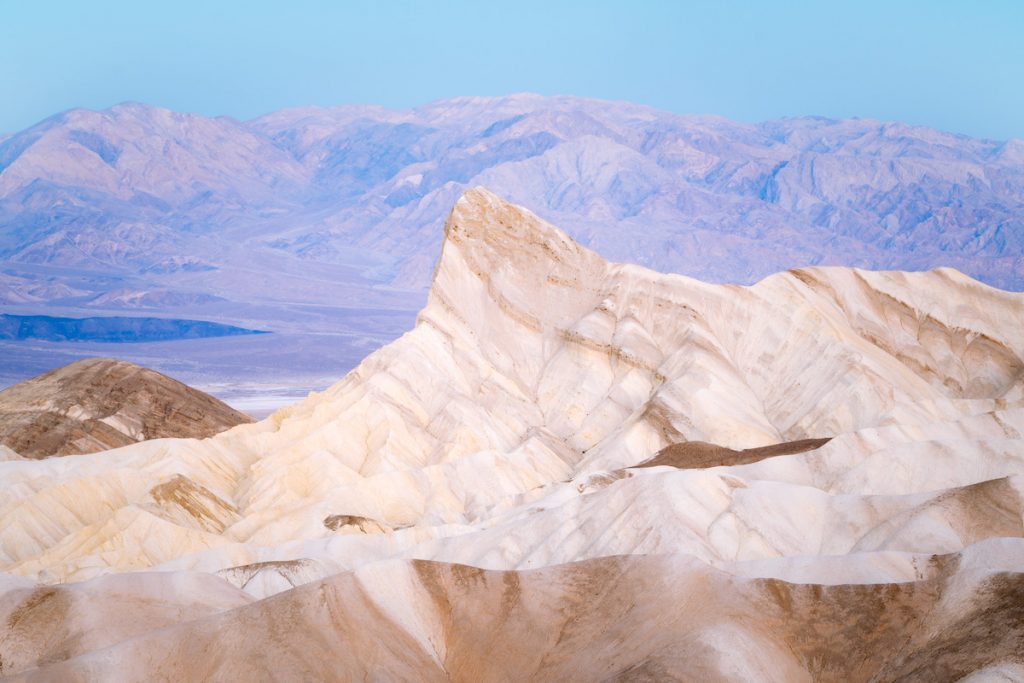 Another of my favorite spots in the park, Zabriskie Point is one of the most famous views in the park. There is a short walk from the parking lot to an overlook which gives you a panoramic view over colorful badlands, distant mountains, and the salt flats in the valley way below. If you're feeling adventurous, there's a trail down into the Badlands Loop Trail which will take you on a loop through the many gullies and hills of the area. You can make this as long as you want by choosing to connect it with Golden Canyon and/or Gower Gulch. I've gone into more detail on that below.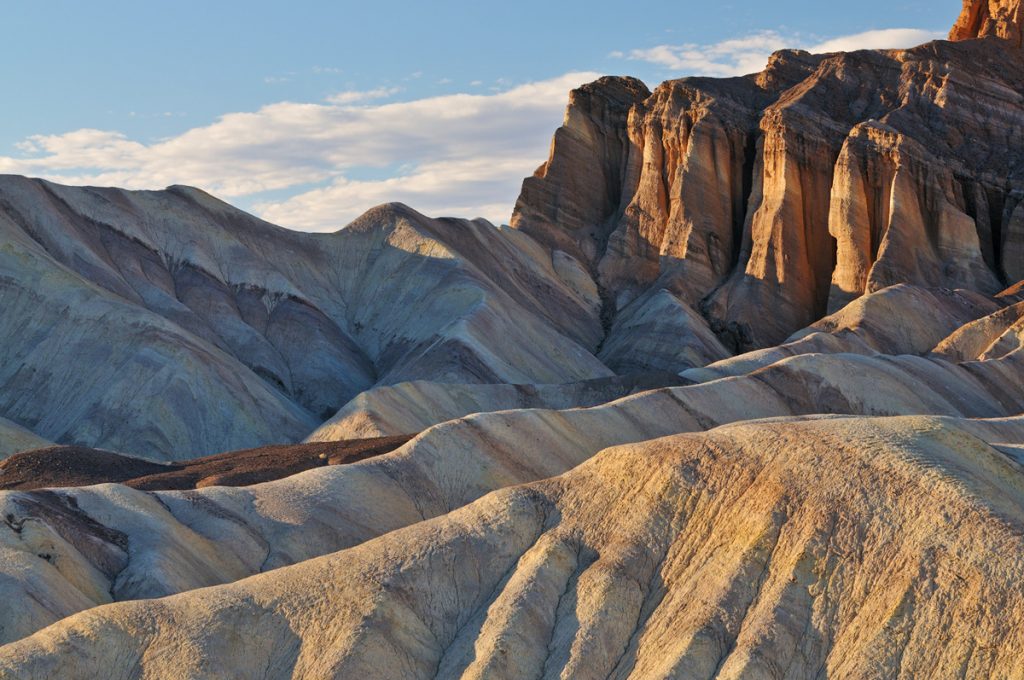 Golden Canyon and Gower Gulch
Golden Canyon is one of the best hikes in the park, and it's great because it can be connected with a couple of other trails to make it as long or short as you like. You can choose to go up Golden Canyon to the impressive Red Cathedral and back, which is roughly 3 miles total. Be prepared for some fun and easy scrambling up some 3-4 ledges where necessary. Another option is to go up Golden Canyon, then down Gower Gulch which is an awesome loop hike and just under 5 miles (7.5km). Lastly, the longest option is to go up Golden Canyon, around Badlands Loop, and down Gower Gulch, making a 7.8 mile (12.6km) loop through some absolutely gorgeous hills, canyons and gullies. Here is a map to help you better visualize the different options.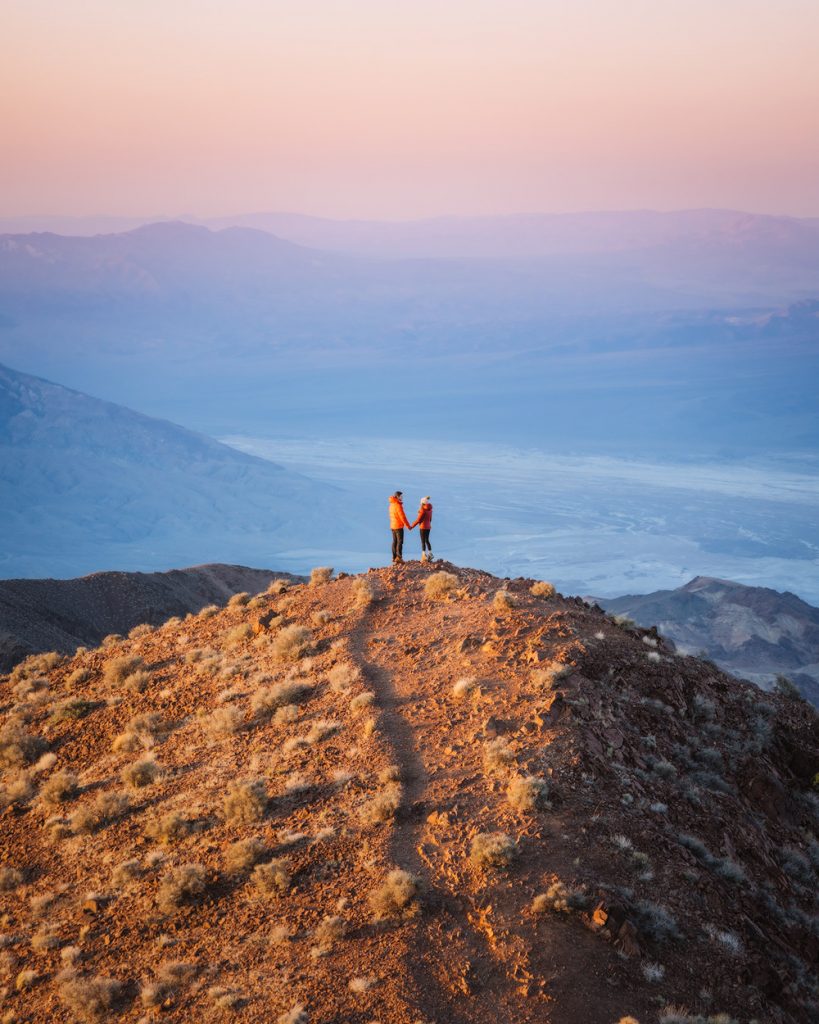 Dante's Peak is an overlook at the edge of the Black Mountains that provides an epic vista of the southern half of Death Valley National Park. Sitting at 5,450 feet (1750m), it is one of the best and most accessible high mountain lookouts in all of California. From the parking lot, you can take a short 1000 foot walk to a better viewing point to the south. Alternatively, you can do the half mile walk/scramble to the top of Dante's Peak to the north. Both of these will provide even better views and separate you from the crowds at the parking lot. I highly recommend trying to catch a sunrise or sunset up here, the final light fading from the surrounding peaks is amazing! Pro tip: This is one of the only spots in the park you will get decent LTE coverage, at least for Verizon.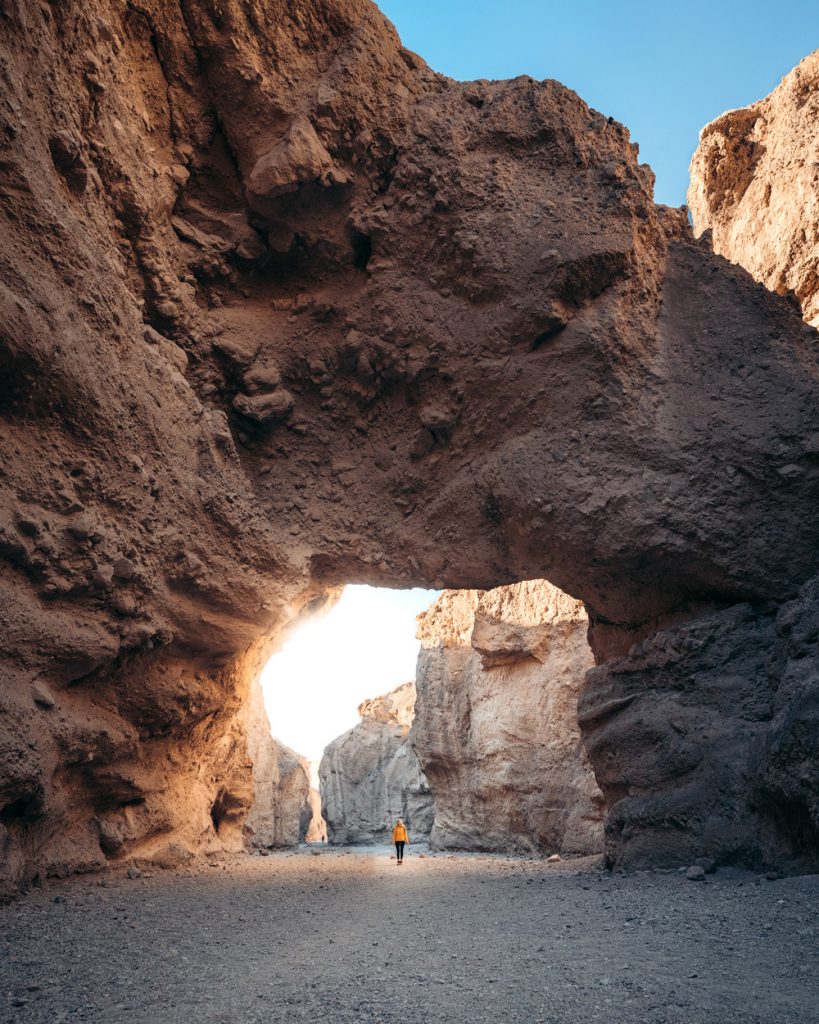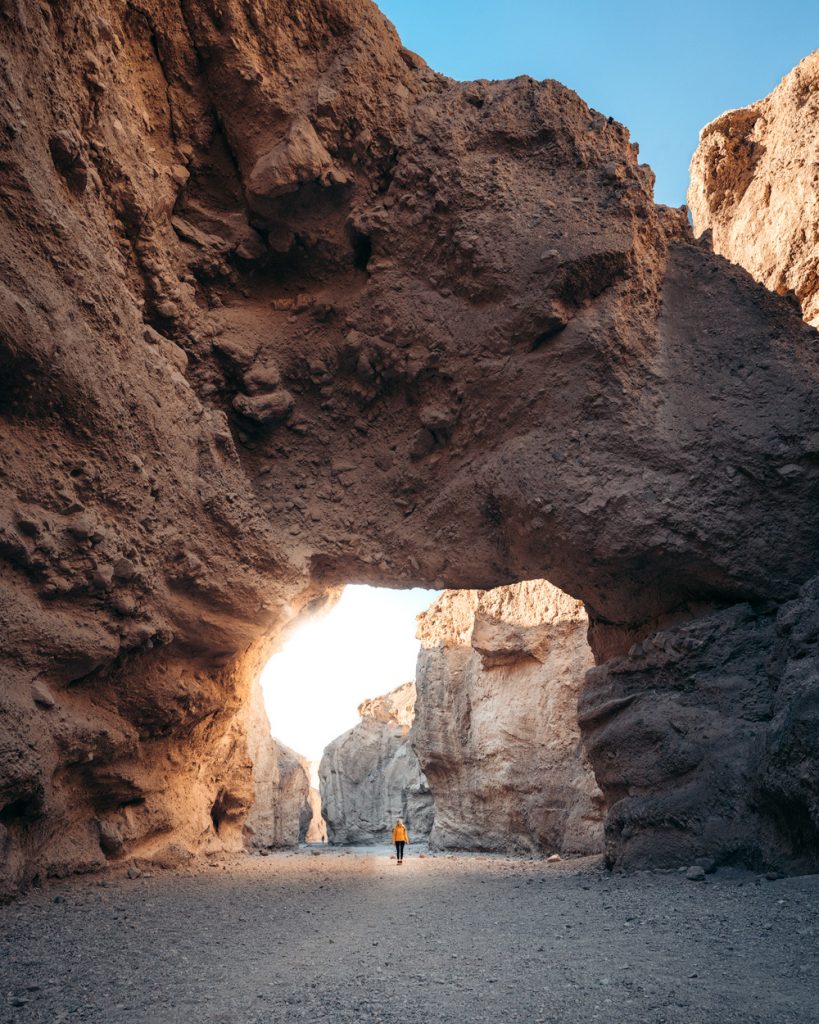 This is a short 2 mile roundtrip hike will take you up into Natural Bridge Canyon and give you a brief history on the geological history of Death Valley National Park. Natural Arch itself was really cool to see, and you can continue past it to see the dry waterfall, a remnant from where a stream used to flow through the canyon thousands of years ago.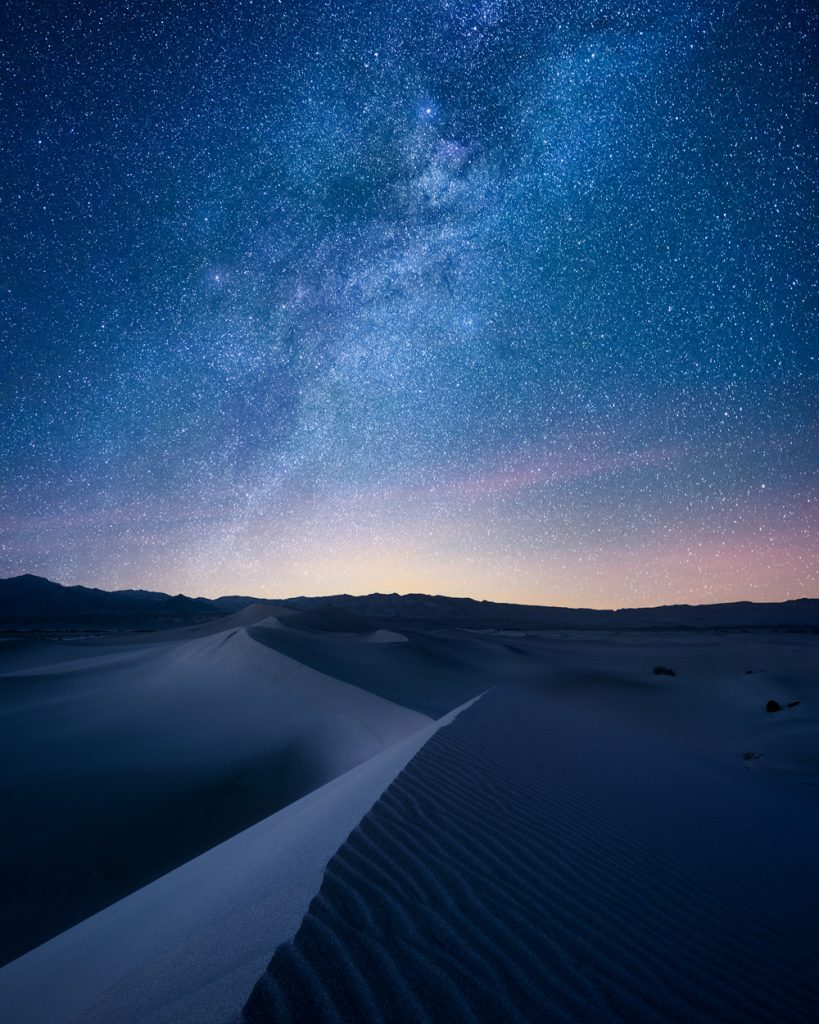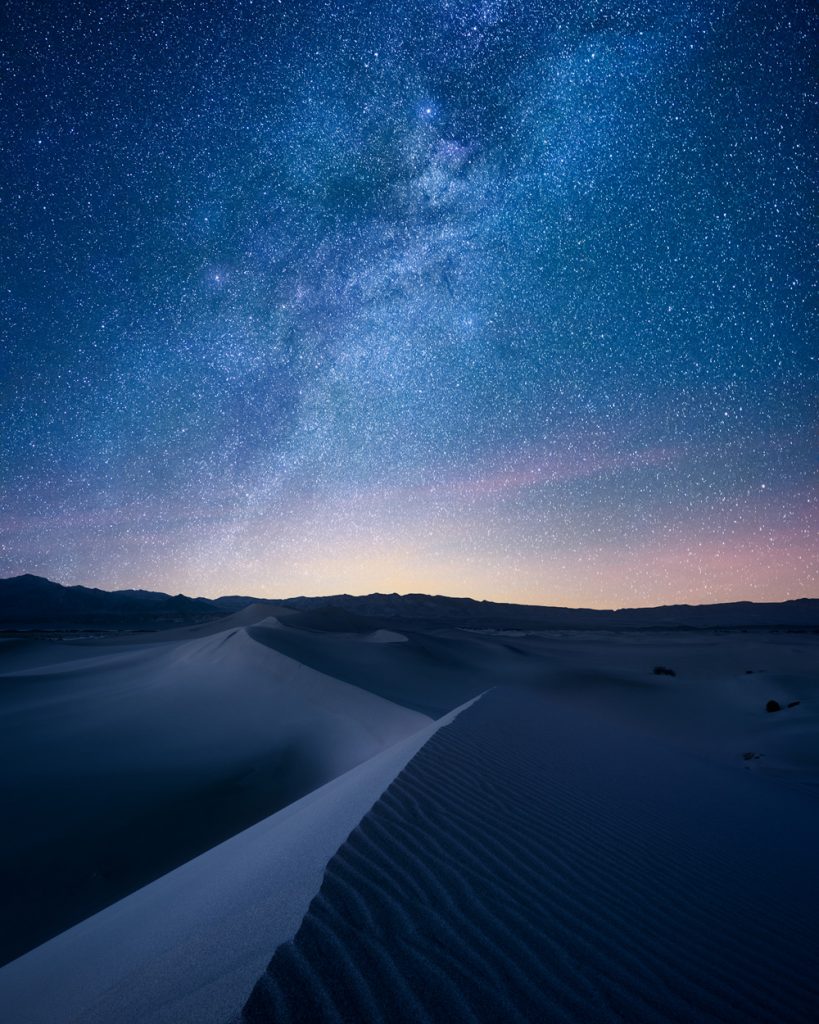 Death Valley is one of the best national parks for dark skies and stargazing. This is because the area has relatively low light pollution, especially when the moon isn't out. I recommend visiting places like Mesquite Flat Sand Dunes, Zabriskie Point, and Badwater Basin for epic night skies.
There are different tours you can take if you prefer to stay in Las Vegas and join a guided tour into Death Valley. This one covers night and day so you can see the endless stars at night, or this one is a wine tour in the Pahrump Valley as well as a guided tour of Death Valley, it also ends with stargazing in the valley.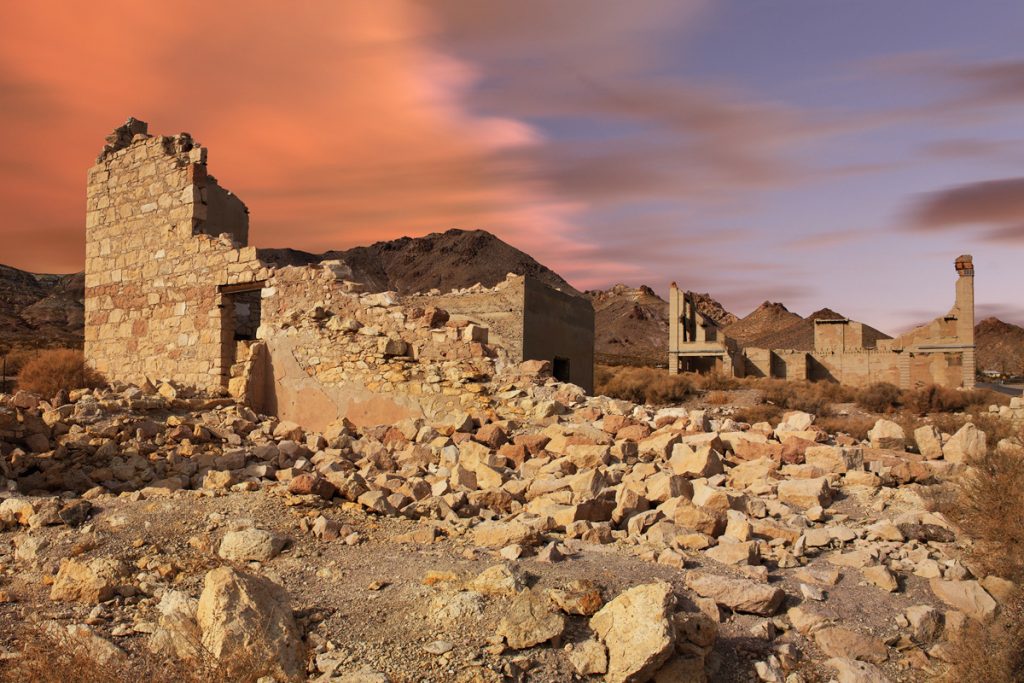 If you are staying in the park for a while and have some extra time, there are some other areas to consider visiting, including:
Ubehebe crater
Racetrack Playa
Devil s Golf Course
Scotty's Castle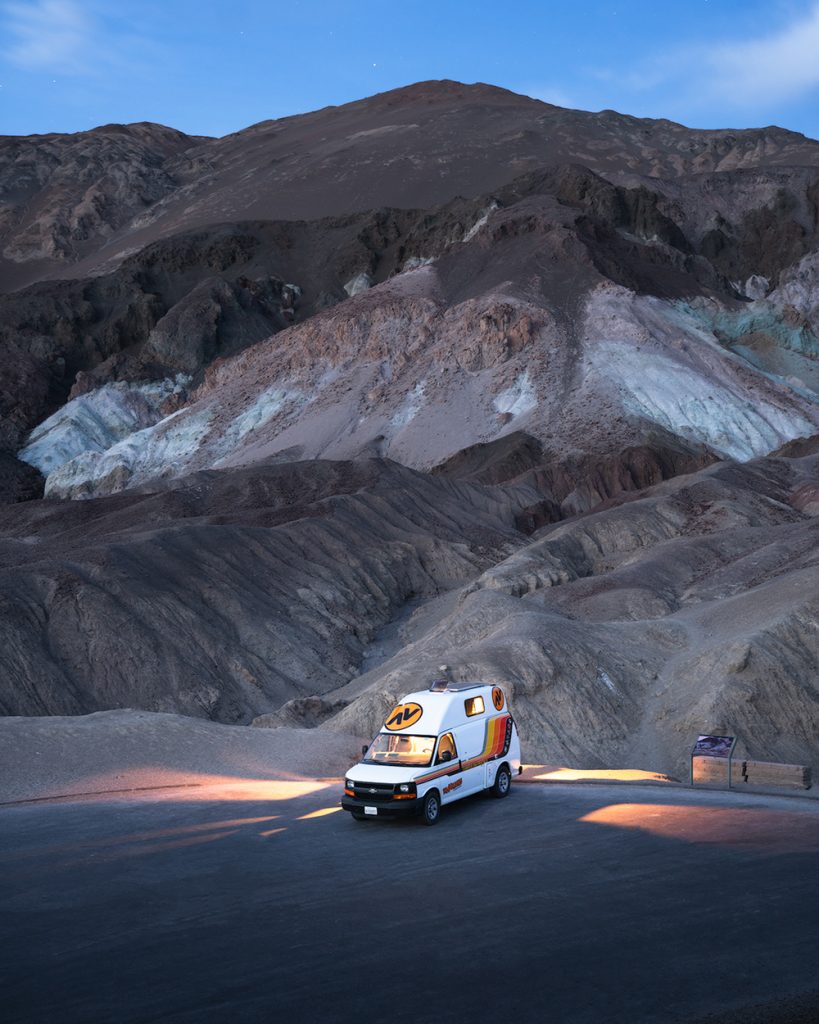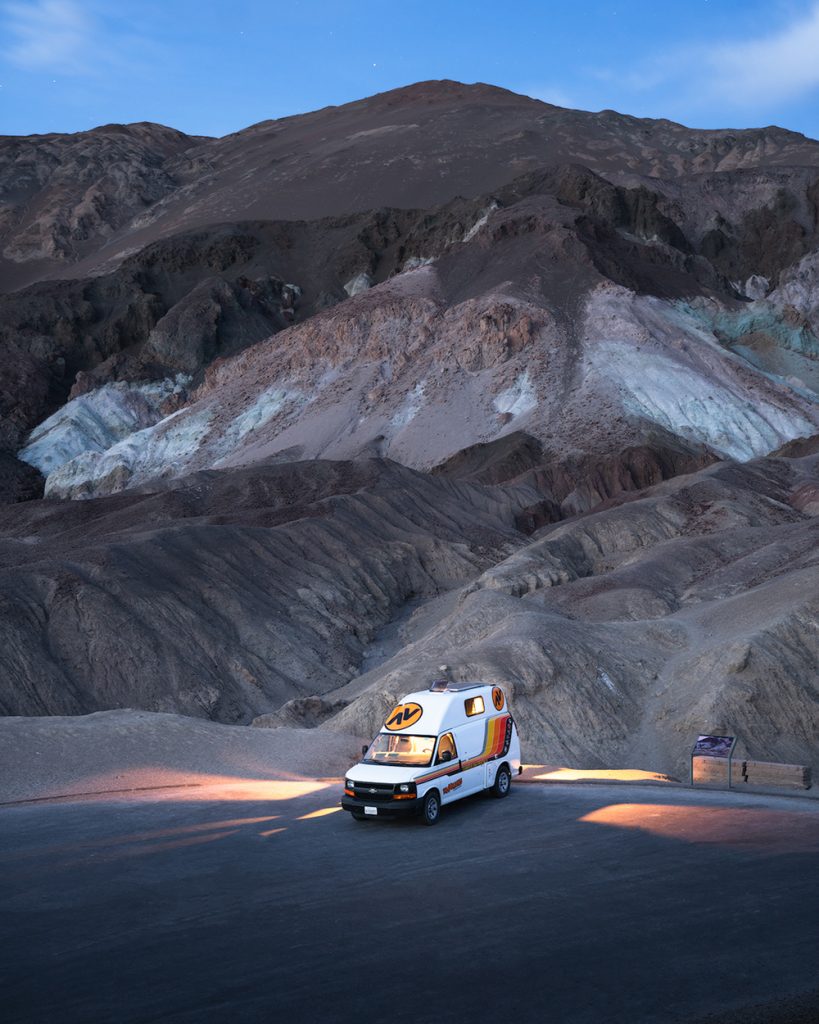 To enter Death Valley National Park you will either need to purchase a $30, 7 day vehicle pass, or $55 annual pass. Alternatively, you can enter on your annual America the Beautiful Pass, or purchase one at the entrance station for $80 which will cover 12 months of entrance fees into any National Park in the US.
To explore the park you will need to have your own vehicle. There is no public transportation into, or around Death Valley National Park. People have died on remote roads in Death Valley during summer months after breaking down and lacking shade and water, so carry extra h2o if passing through in the summer months. Fill up a water bladder and pack an emergency kit, compass and radio in case you get lost.

One main highway (SR-190) will take you through the park between the most popular east and west entrances, though you will also take Badwater Road to a few of the park's most popular locations. There are many dirt roads spread around the park that take you to lesser known spots, though some require 4×4 and high clearance.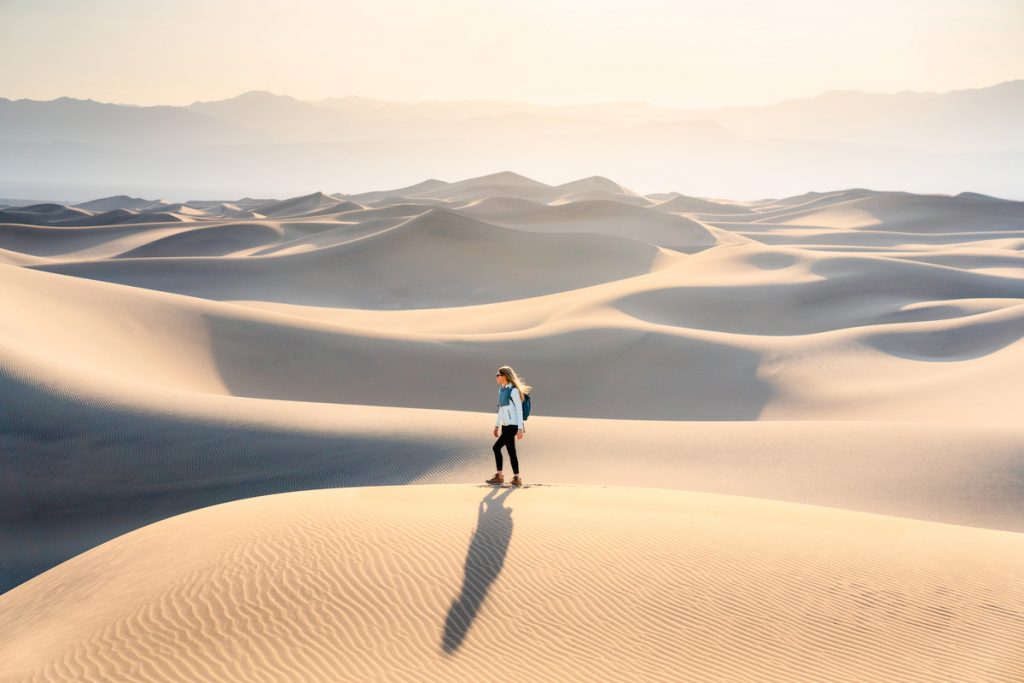 How To Stay Safe In Death Valley
Death Valley National Park can be a brutal and extreme place, especially in the summer months when temperatures can reach well over 100 degrees Fahrenheit. Year-round can see high winds and winter can bring below-freezing temperatures in higher parts of the park. Here are some tips to avoid unnecessary and dangerous situations in the park:
The National Park Service recommends drinking one gallon of water per day while in the park, especially in warmer months.
Avoid hiking altogether in the summer months.
If you start to feel dizzy, nauseous, or get a headache, get out of the sun immediately and seek shade.
Avoid lesser traveled dirt roads during summer. If you break down, it may be a long time before help comes and exposure can kill you fast.
Carry extra water in your vehicle in the case of an emergency.
Be wary of rattlesnakes, scorpions, and black widow spiders that inhabit the park. Do not put your hands where you cannot see them.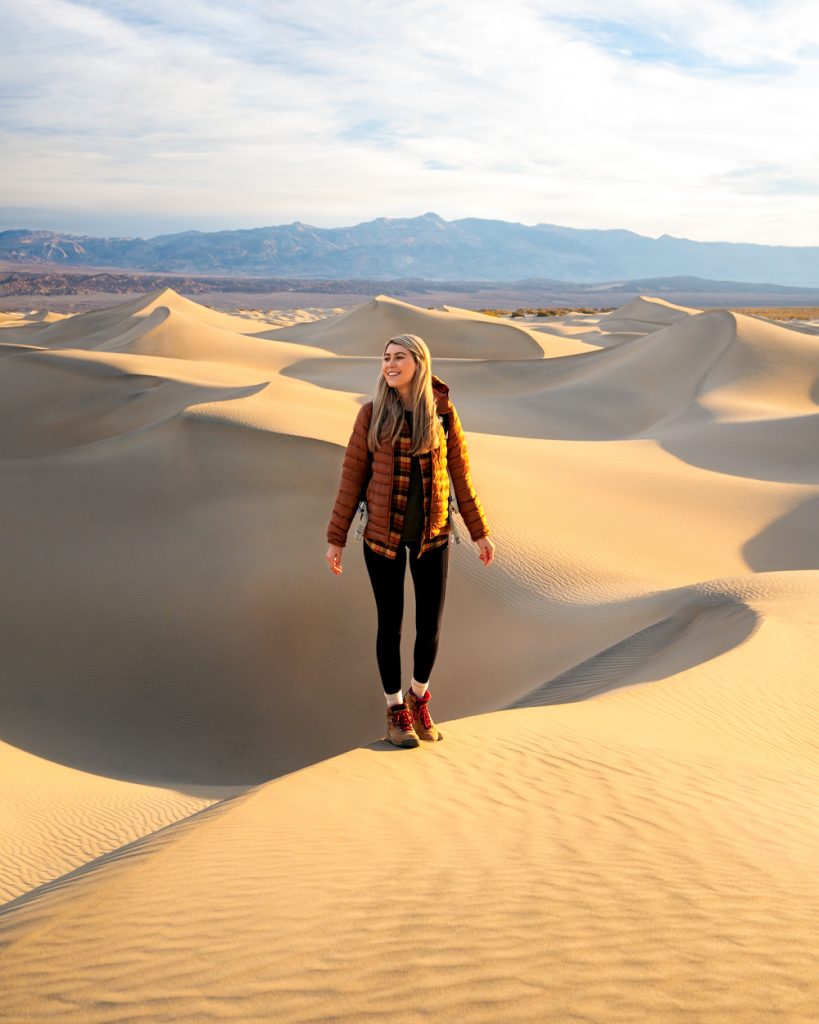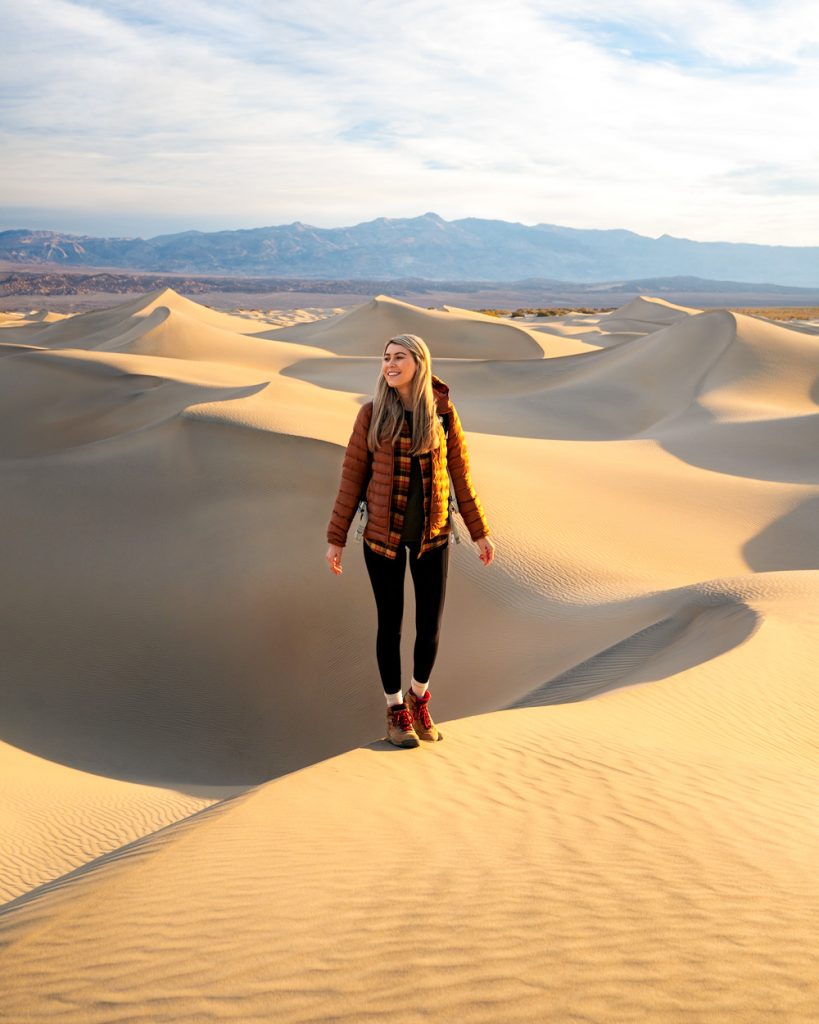 How to pack for your trip to Death Valley National Park will depend on a few factors. These include what time of year you are visiting, what activities you plan to do, and whether or not you are car camping. For those car camping, I recommend checking out my car camping essentials and packing checklist. For anyone planning to hike, reading my blog post about what to wear hiking will be a good starting place.
Now for some things to bring that are specific to Death Valley. Seeing as I do not recommend visiting in summer, I am going to share items you should pack for a shoulder-season or winter visit. Be sure to adjust this list to your own needs and the activities you have planned.
I personally purchase all of my outdoor gear from Backcountry because I love their wide selection of brands, fast shipping options, loyalty program, and 24/7 Gearhead advice. Use code RENEE15 to get 15% off your first online order!
Essentials To Bring

To Death Valley:
Sun Hat:
An absolute essential for Death Valley! Recommended sun hat.
Water Bottle:
You can fill up water at the Visitor Center, and/or pack in your own (suggested). Recommended water bottle.
Water Jug:
I highly suggest bringing your own water reservoir. Recommended water jug.
Day Pack:
Functional and lightweight is best, and I recommend choosing something with a hip strap. Recommended day backpack.
Hiking Shoes:
Lightweight is best, but whatever you already own will be sufficient. Check out my blog post on the best hiking shoes.
Hiking Socks:
Merino wool is ideal for its breathable and moisture wicking nature. Recommended hiking socks.
Sweat Wicking Shirts:
Merino wool is my favorite material because it stays odor-free. Choose long sleeves if you want extra sun protection. Recommended shirts.
Mid Layer:
This could be a fleece sweater or something like a flannel shirt. Recommended fleece sweater.
Lightweight Insulated Jacket:
Something packable and lightweight for cool mornings and evenings. Recommended insulated jacket.
Leggings or Hiking Pants:
I personally prefer hiking leggings, especially those with pockets! Recommended hiking leggings.
Hiking Shorts:
For warm mid-day hikes. Recommended hiking shorts.
Sports Bra:
Merino wool is great for minimizing odors. Recommended sports bra.
Wicking Underwear:
Again, merino wool blends are best. Recommended underwear.
Headlamp:
In case you hike before sunrise or after sunset. Recommended rechargeable headlamp.
First Aid Kit:
Small and lightweight first aid kit with blister plasters and other essentials. Recommended first aid kit.
SPOT Device:
If you plan to spend a lot of time in the backcountry. Recommended model.
Sunglasses:
It is sunny almost every single day in Death Valley! Consider polarized sunglasses as they offer better protection. Recommended sunglasses.
Sunscreen:
A must-have for Death Valley, year-round.
Snacks/food:
For hiking and in between meals.
Lip Balm:
The dry climate will have you reaching for this!
Portable Charger:
Keep your phone charged if you're adventuring all day! Recommended portable charger.
Camera Gear:
If you're interested, I have a whole blog post on what camera gear I use.
Phone + Maps:
Download Gaia on your phone for offline hiking maps.
ID + Wallet:
And any other personal essentials.
Death Valley is one of those national parks where I would suggest over-packing rather than under-packing. There aren't stores to buy outdoor gear, and even places to eat can be limited. Be prepared and pack extra snacks, water, and outfits. For more information about preparing for your getaway, check out my guide to planning a national parks trip.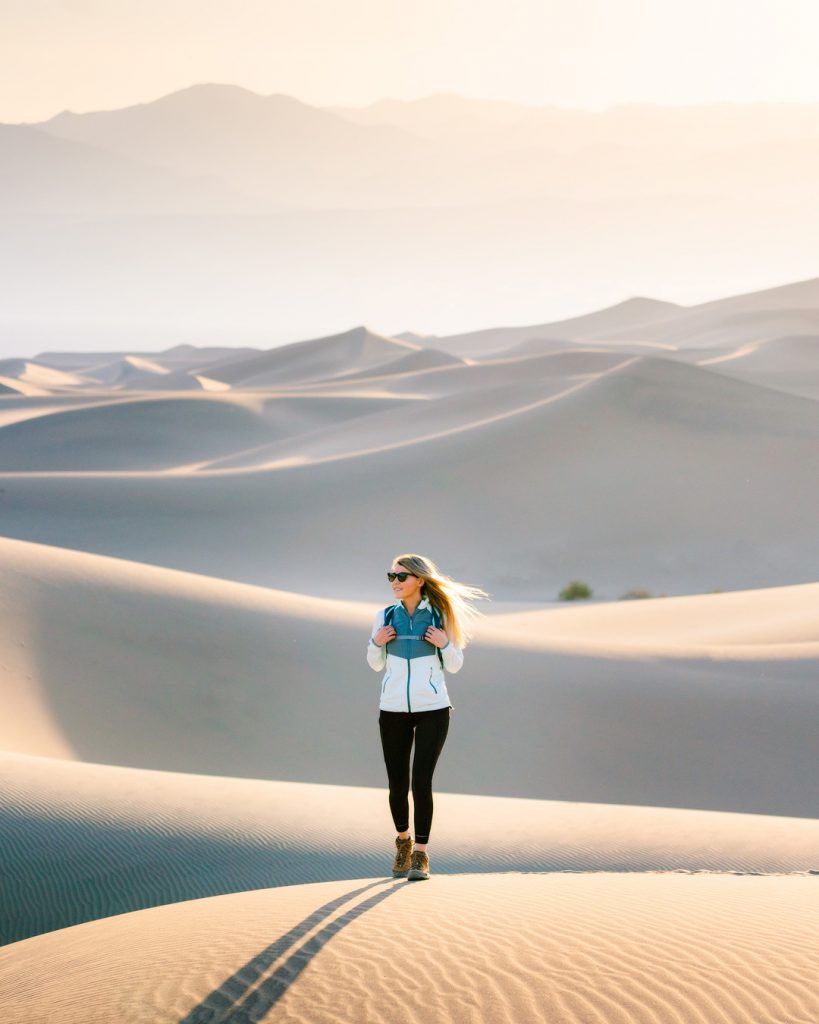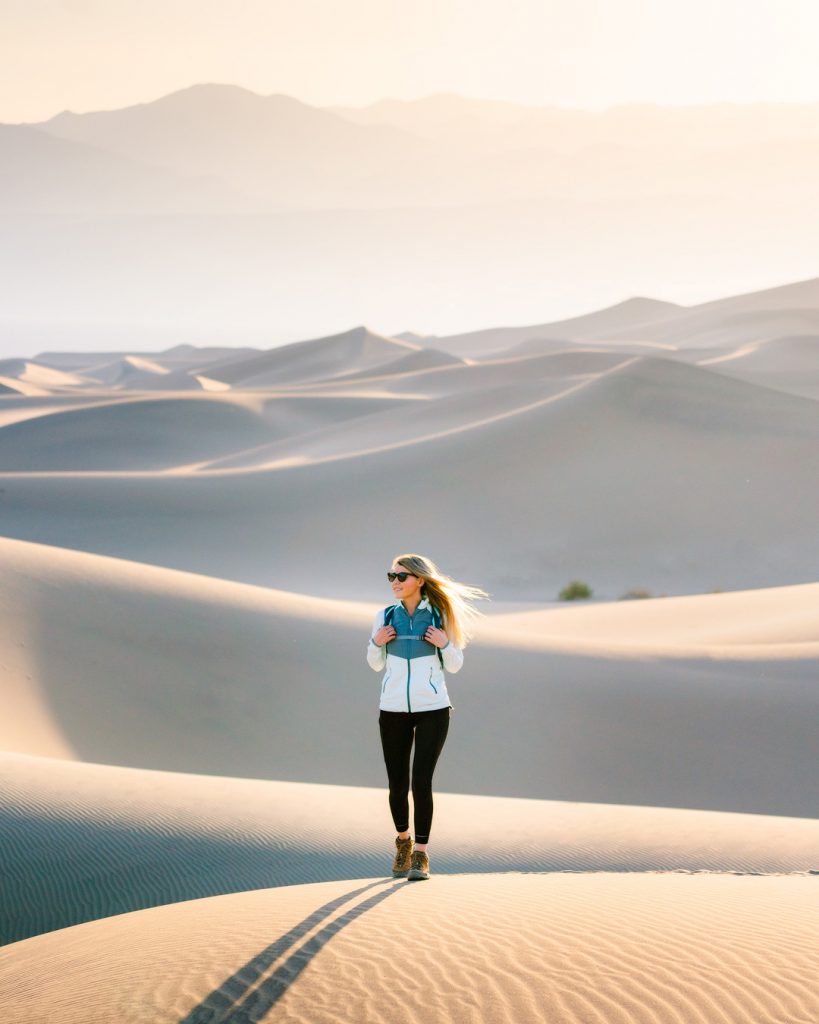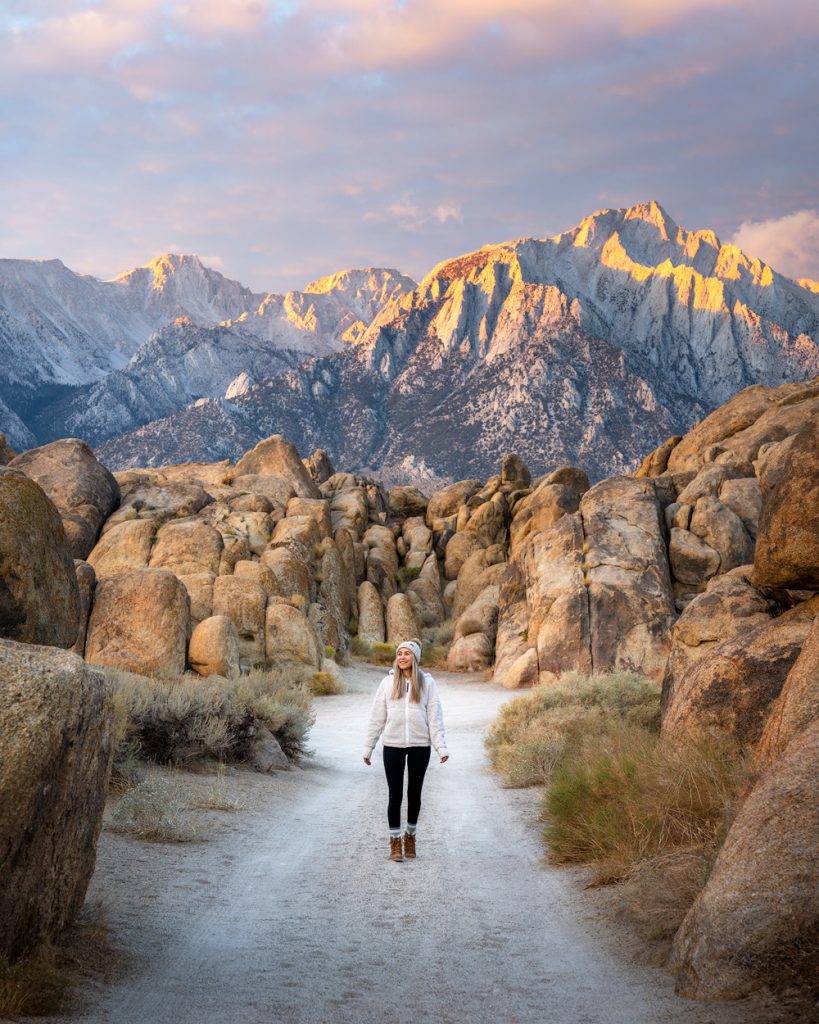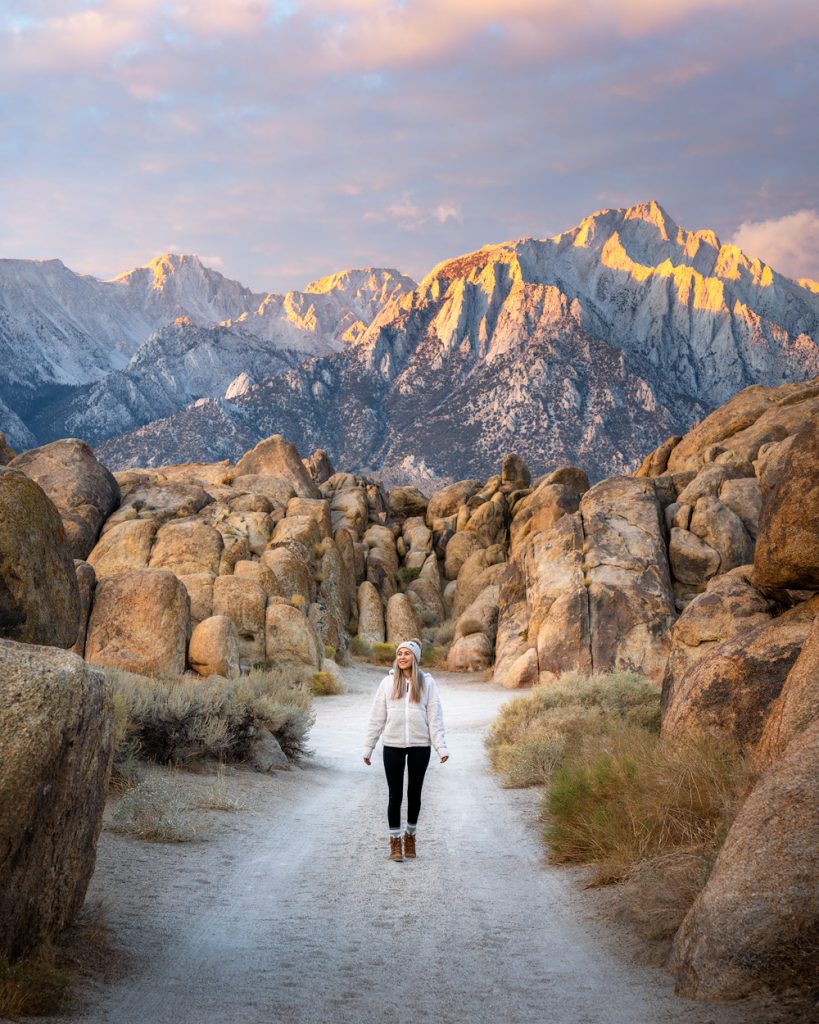 During your trip to Death Valley National Park, I would highly recommend taking time to visit some nearby areas. Some of my top reommendations include:
Alabama Hills
Mammoth Lakes
Sequoia National Park
Kings Canyon National Park
Valley of Fire State Park