Yosemite National Park truly is one of the most beautiful places on the planet! It was the very first national park I visited and I've returned to explore many times since. In fact, during our 2017 trip to all the national parks, my husband and I ranked Yosemite #6 in the country based on a variety of criteria (scenery, trails, facilities, photogenic, crowds/transport). Yosemite National Park should be on every adventure lover's bucket list, in my opinion. In this ultimate guide to Yosemite National Park I'm sharing everything you need to know to plan your own visit!
The Ultimate Guide to Exploring Yosemite National Park
Yosemite National Park is a hub for tourists, climbers, and backpackers from all over the world. There really is something for everyone in the park, no matter what age or ability level! In fact, over 4,000,000 visitors flock to the park each year to witness its grandeur, with the majority visiting Yosemite Valley.
The Yosemite Valley is a mile-wide, 7-mile-long canyon enveloped by ginormous granite walls and cascading waterfalls. Many tourists only visit the Valley but definitely keep in mind that the park has plenty more to see!
"No temple made with human hands can compare with Yosemite." — John Muir
Information about Yosemite National Park
Location: California, USA
Native Land: Ahwahneechee
Size: 748,436 acres (3,028.8 sq km)
Annual Visitors: 4.1 million (2018)
Established: Federal protection (1864); National Park (1890)
Visitor Centers: Yosemite Valley (year-round), Wawona and Big Oak Flats (May–October), Tuolumne Meadows (June or July–late September)
Entrance Fee: $30 per vehicle; $15 per individual. I recommend the America the Beautiful Annual Park Pass ($79)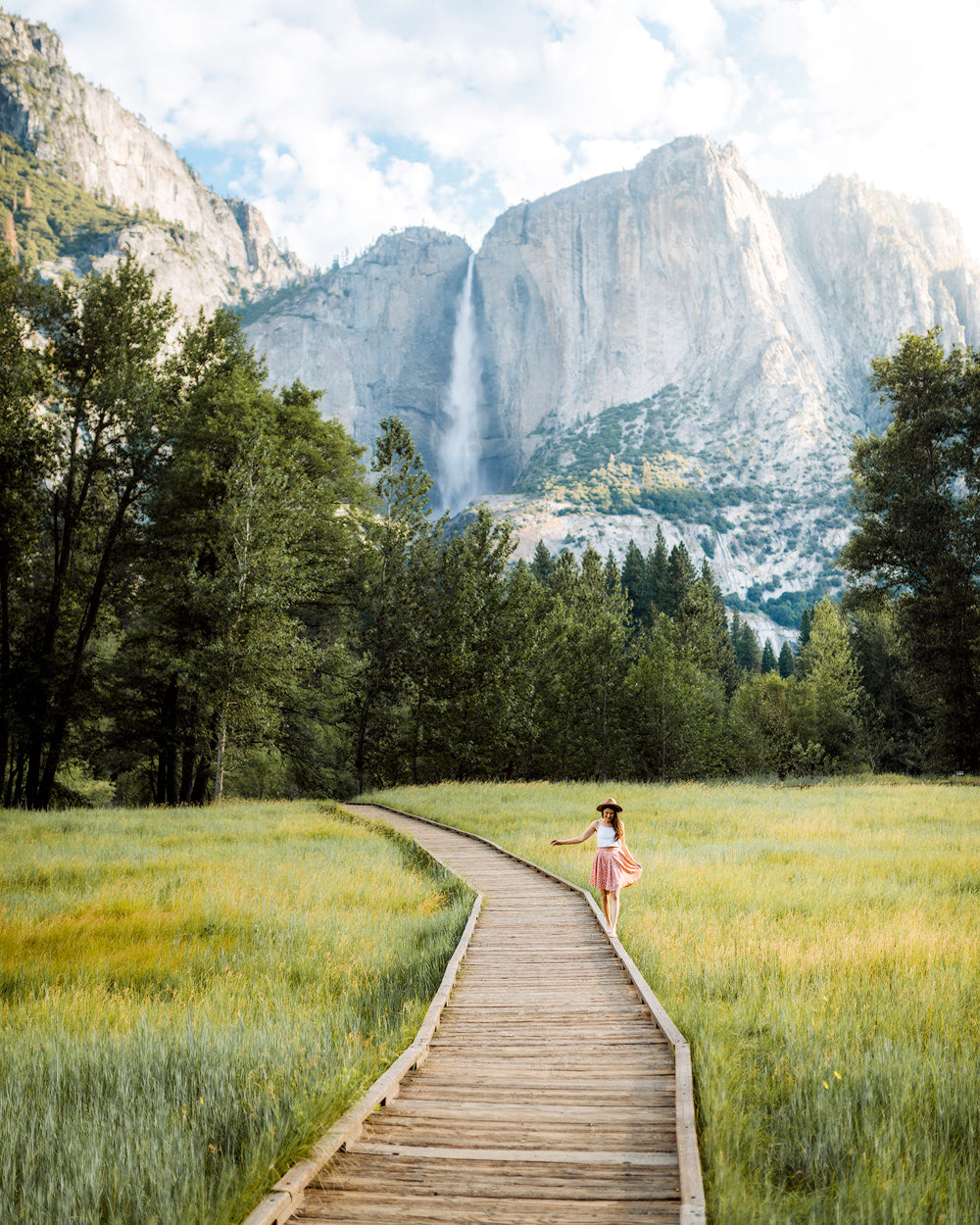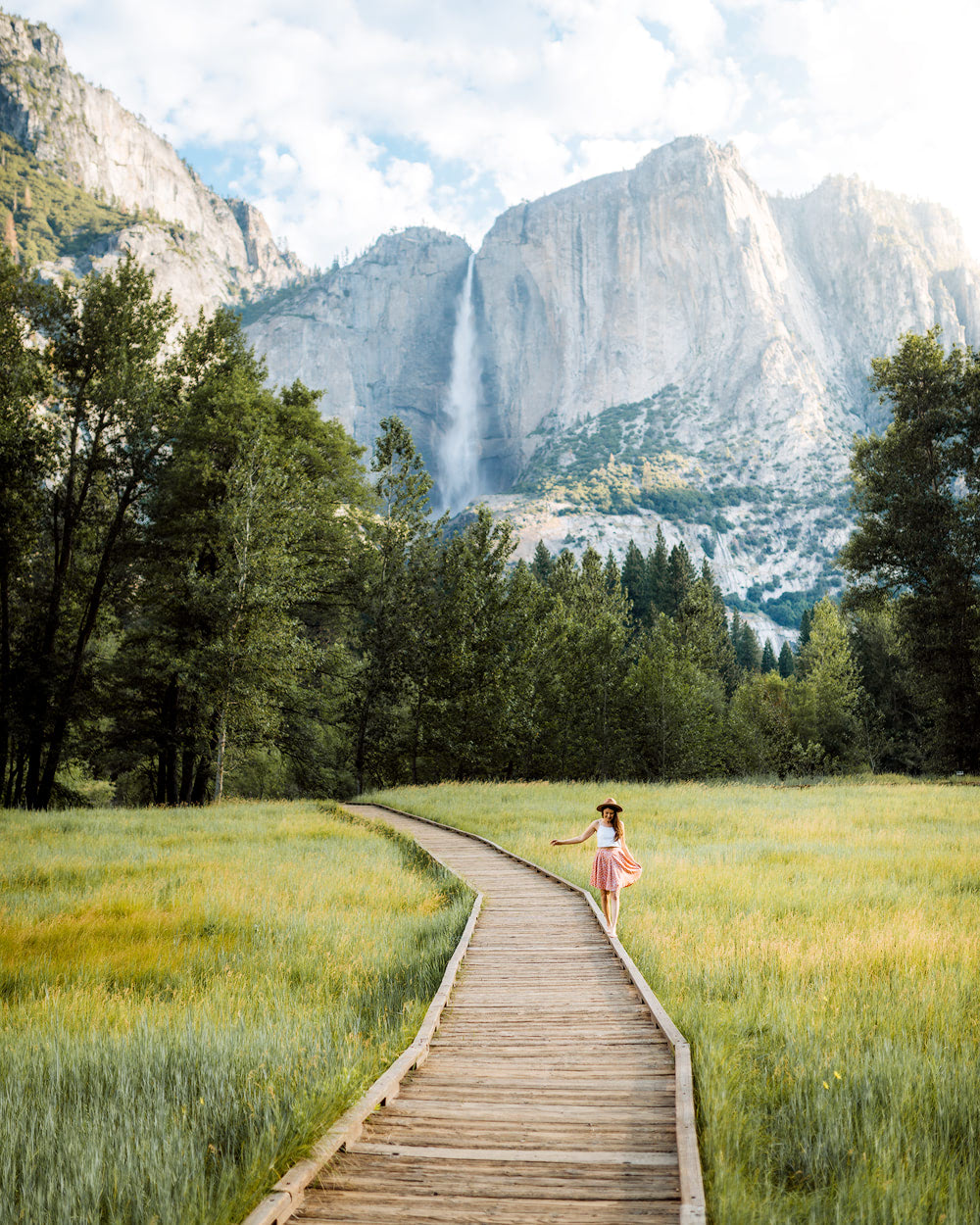 When to Visit Yosemite National Park
There isn't a right and wrong time to visit Yosemite, but there are some factors to consider when choosing your season. The Valley is open year-round and changes dramatically throughout the seasons.
Spring is a wonderful time to visit for flowing waterfalls
Summer is optimal for hiking and snow-free trails
Autumn is a photographer's dream with all the changing colors
Winter brings a tranquility over the usually bustling park
Keep in mind that late spring – early autumn will be your best bet for accessing hiking trails snow free, especially at higher elevations. Some sections of the park's road system are closed during the winter season, including most of the high-country, Glacier Pass Road, and Tioga Road.
My personal preference is to visit during the months of May-July to enjoy lush meadows, running waterfalls, and (mostly) snow-free hiking trails. These months are usually quite busy but I personally think it's worth it for the beautiful landscapes and hiking trail access.
FYI national park lovers – I put together a checklist of all the parks, so you can mark each off as you visit them! It's free to download via my travel resource library! Click the image below.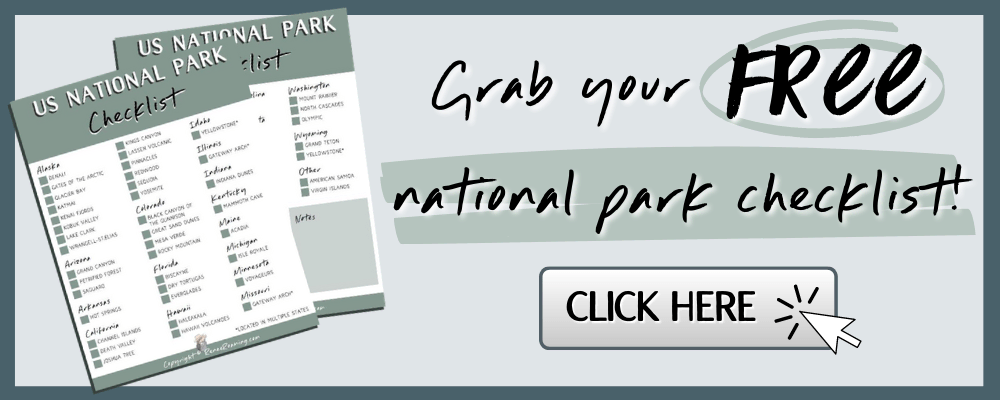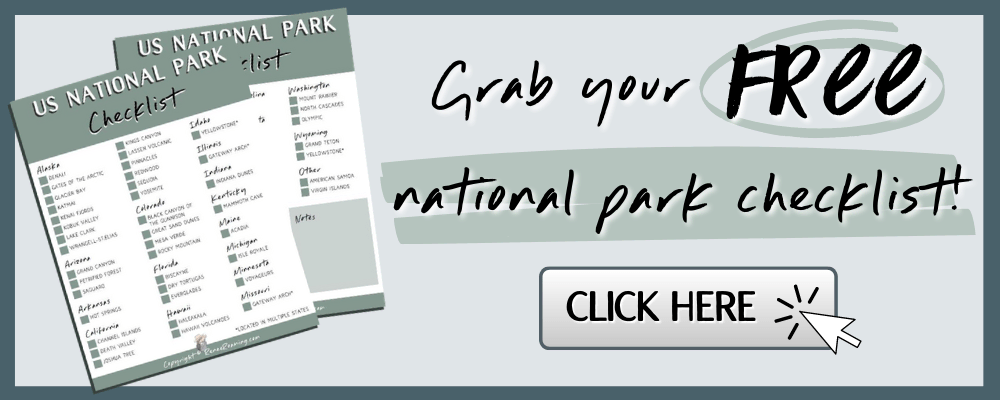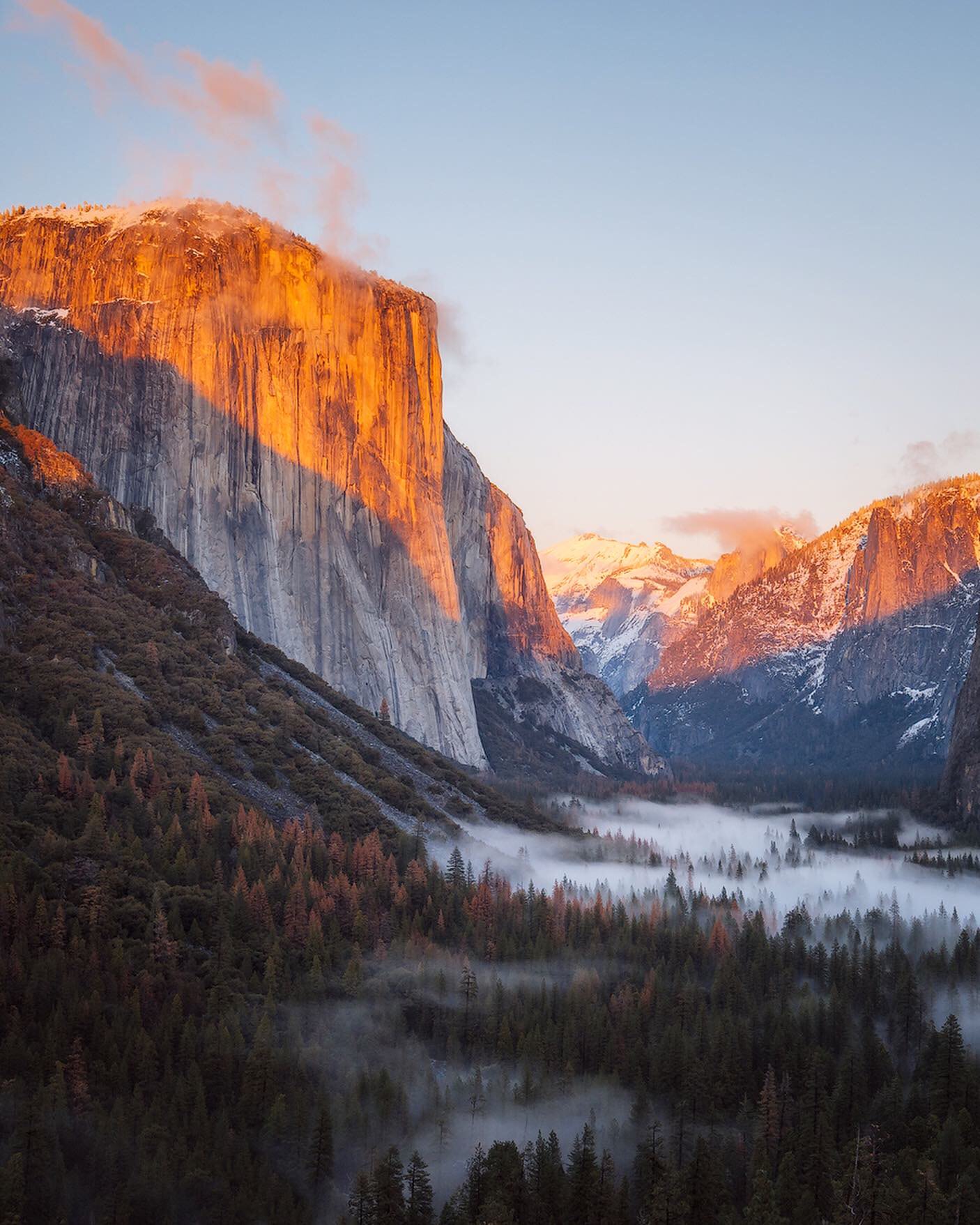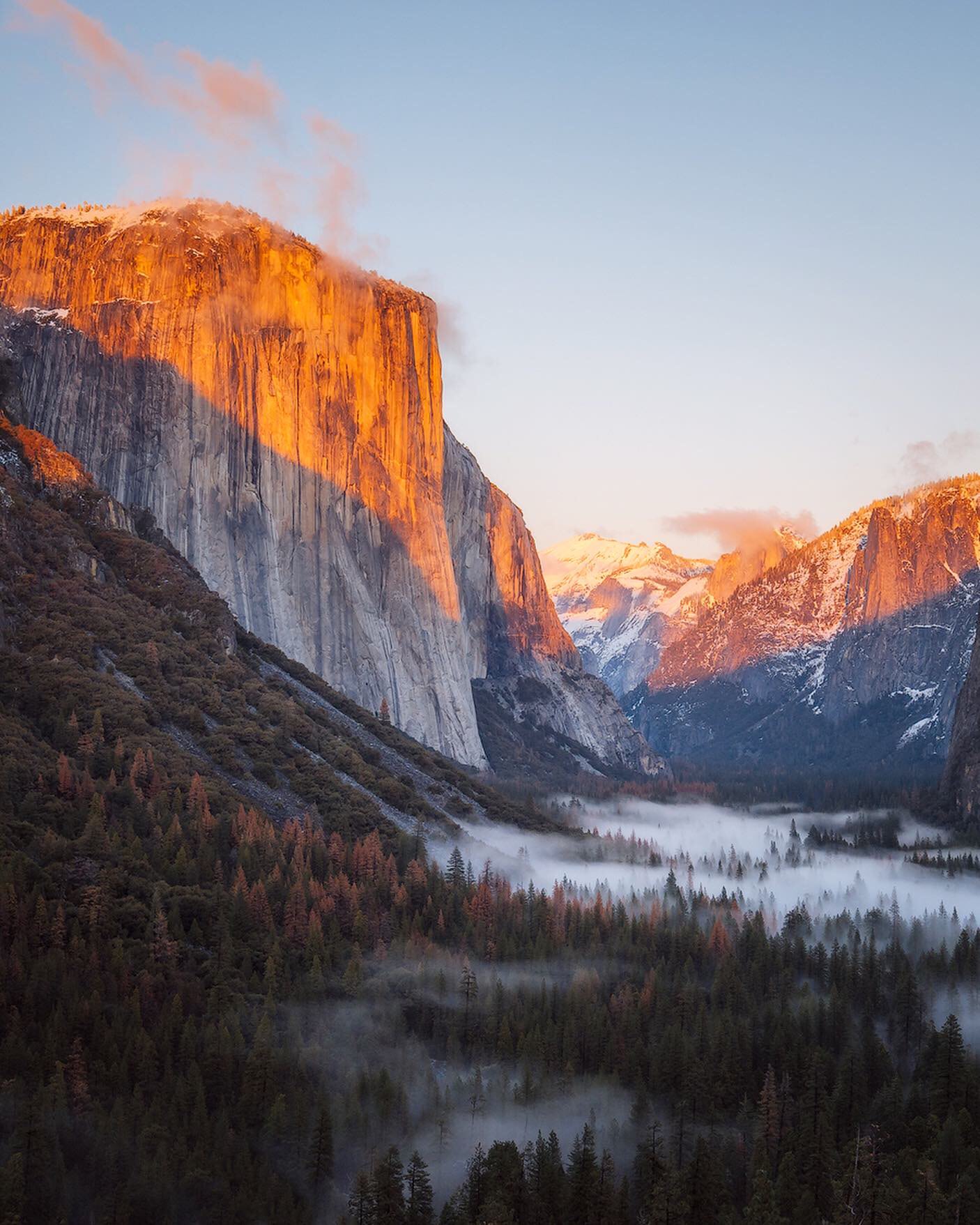 Most Iconic View in Yosemite National Park
Tunnel View is unarguably the most iconic view in Yosemite National Park. When driving into the valley and exiting the Wawona Tunnel, Yosemite appears before your eyes in all of its glory. You will definitely want to find a spot in the parking lot and get out of the car to enjoy the view!
Right by the parking lot there is a viewing overlook where visitors can witness famous sights such as Half Dome, Bridalveil Falls, El Capitan, and the entire Yosemite Valley. You can take in all of the highlights of Yosemite by booking a guided tour, such as this one that includes transportation from San Francisco.
Fun fact: El Capitan is considered the largest exposed granite monolith in the world, rising more than 3700-feet above the Valley. Those with binoculars may even spot the odd rock climber traversing the face of El Capitan, or see headlamps at night from climbers camping out on the wall. This orientation tour is a great way to see the park with an expert.
"There can be nothing in the world more beautiful than the Yosemite, the groves of the giant sequoias and redwoods…and our people should see to it that they are preserved for their children and their children's children forever, with their majestic beauty all unmarred." — President Theodore Roosevelt, 1905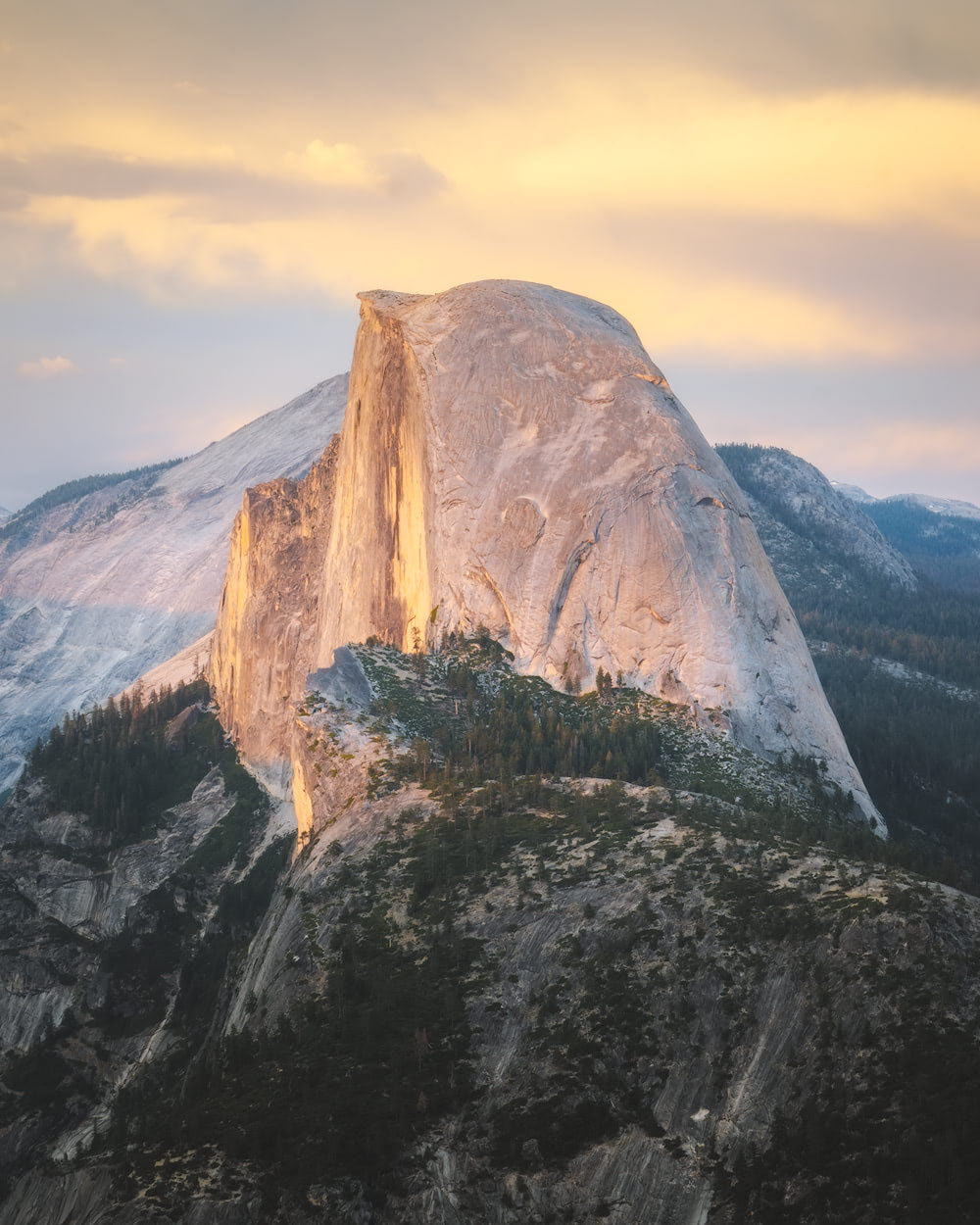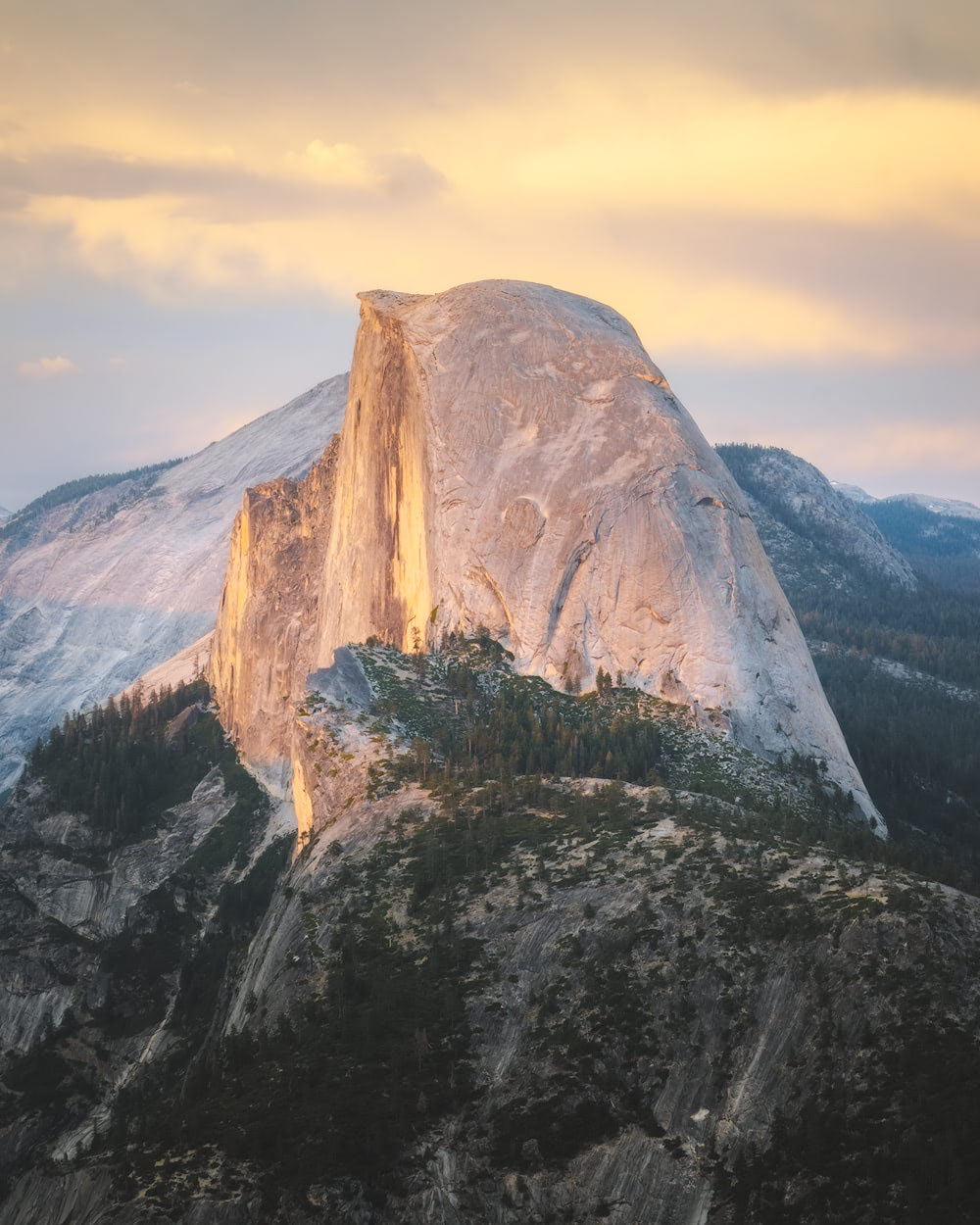 Must-Do "Easy" Yosemite Activities
There are many accessible and "easy' activities in Yosemite National park, many of which you don't even need to leave the car to experience. Here are some of my top recommendations:
Drive the Valley Floor Loop
Driving the Valley Floor Loop is a fantastic way to see a range of Yosemite's most famous sights. Visitors can stop at Yosemite Falls (option to walk the 1-mile Lower Yosemite Falls trail), El Capitan Meadow, Sentinel Bridge, Valley View, and various other pull-offs along the way. The Valley can also be explored on foot or via bicycle for those wanting to avoid traffic jams.
Explore Tioga Road
Tioga Road is another scenic drive for views of the Yosemite high-country. Tioga Road traverses west-east across the park and allows visitors to access both sides of the Sierras during summer. There are numerous overlooks along the way, including Olmsted Point, Tenaya Lake Scenic Overlook, and Tuolomne Meadow. This guided hike includes a van tour of Tioga Road.
Mariposa Grove
Yosemite is home to giant sequoia trees and they can easily be viewed by visiting the Mariposa Grove. The area has numerous walking trails ranging from very easy (Big Trees Loop), moderate (Grizzly Giant Loop), and strenuous (Mariposa Grove Trail). Fun fact: the area is home to over 500 mature giant sequoias!
Visit Glacier Point
Lastly, Glacier Point is a must-see location for anyone visiting Yosemite National Park. Glacier Pass Road allows easy access to a large parking lot for Glacier Point, with a short paved trail leading visitors to the overlook. Glacier Point provides panoramic views of Half Dome, Nevada Falls, Vernal Falls, and the valley floor.
Insider tip: Visit Glacier Point during the late afternoon and be sure to stay for an incredible sunset!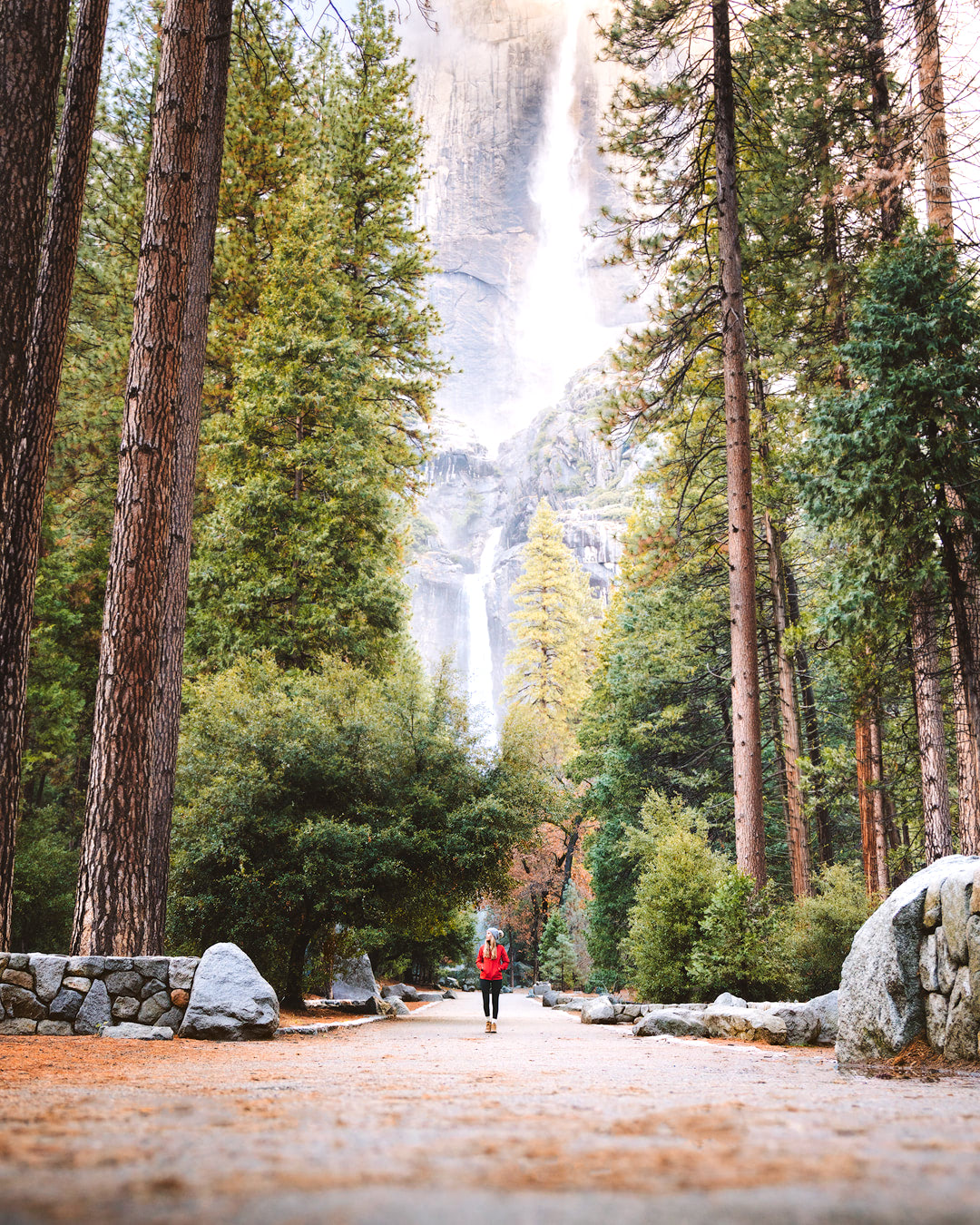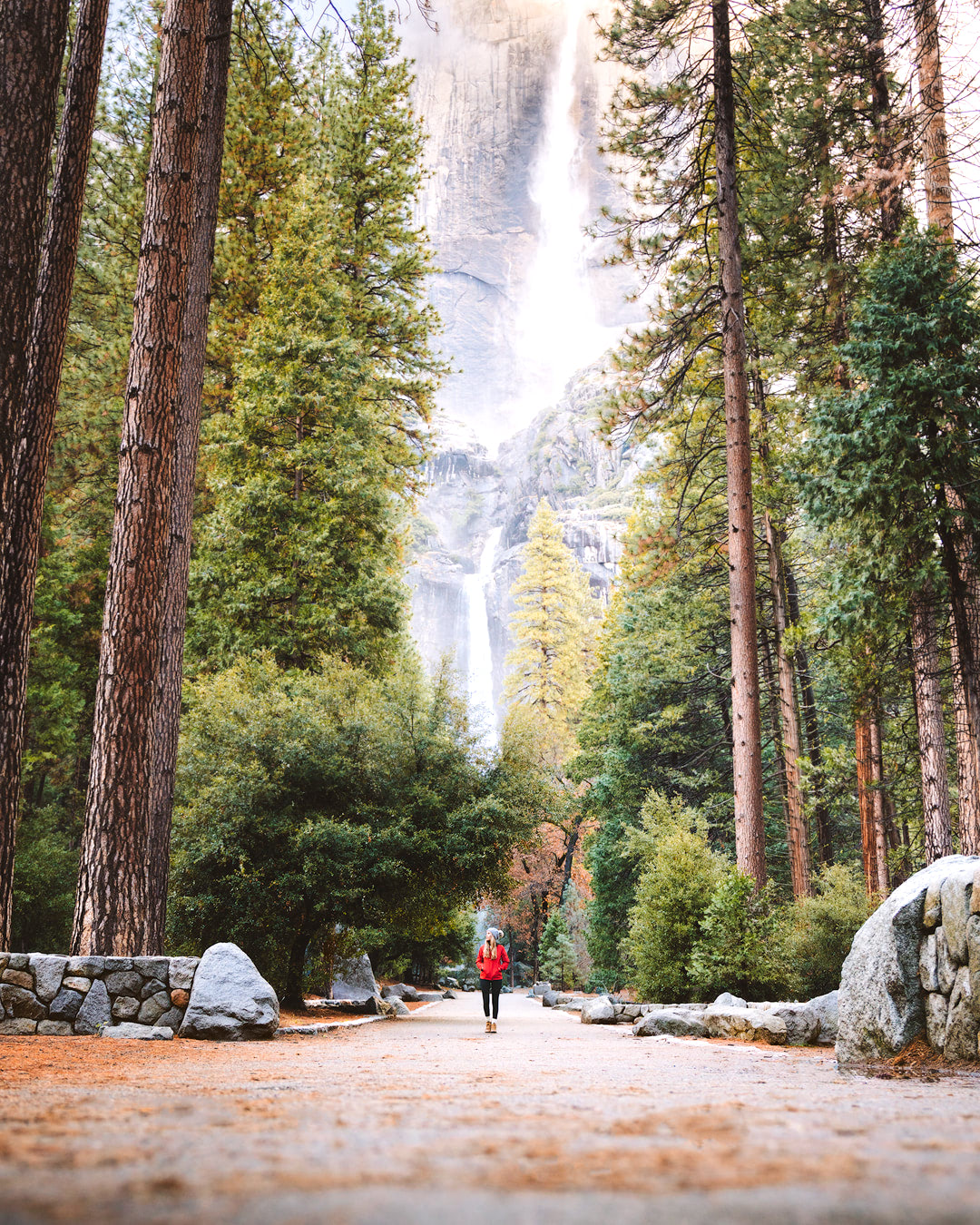 Best Yosemite Hiking Trails
Yosemite is home to some world class hiking trails! There are a range of short and easy options, a bunch of moderate trails, and some more strenuous and challenging routes. I suggest you choose a couple from the list below that are within your fitness range: You can also book a hiking tour if you prefer exploring with a guide.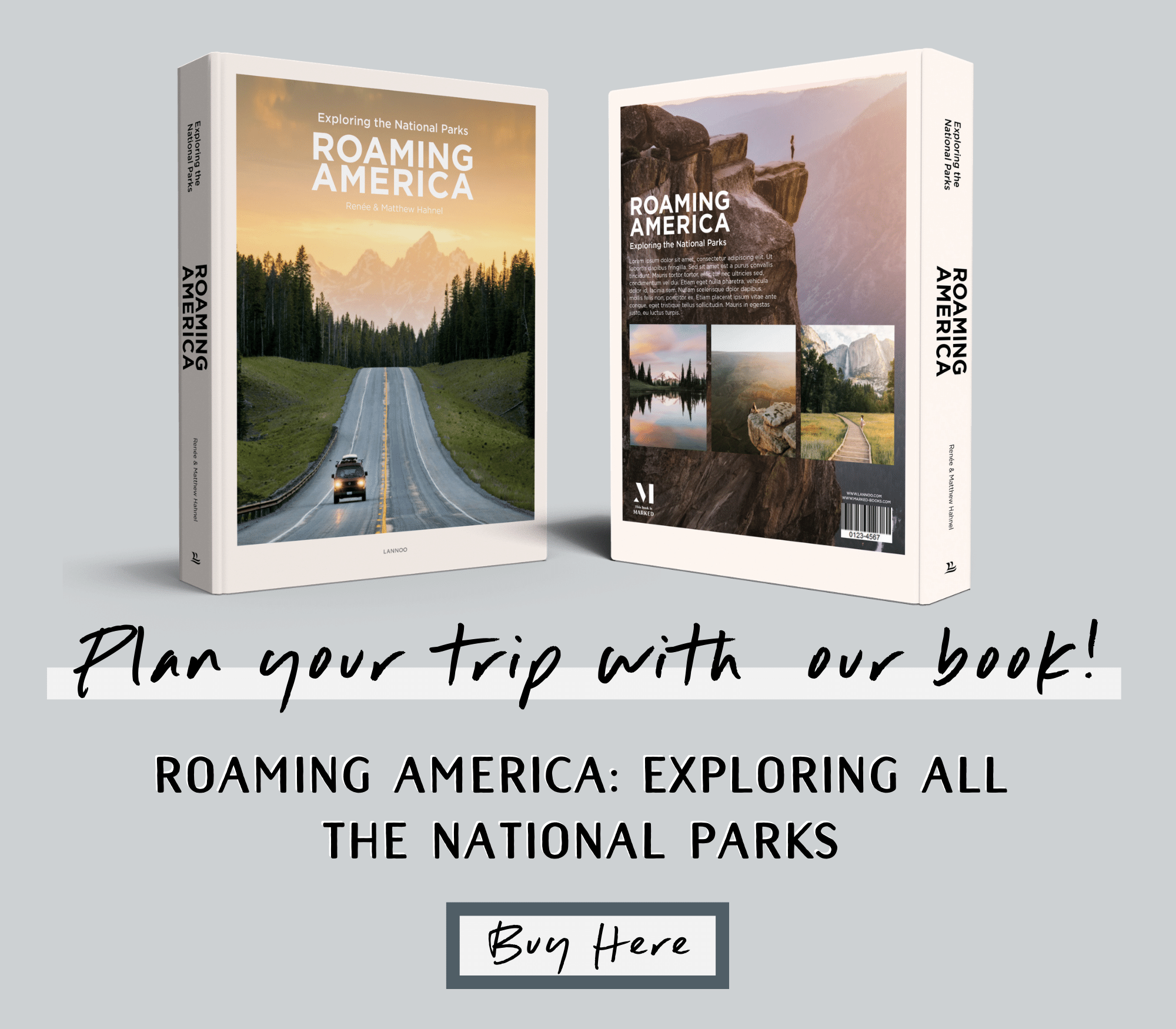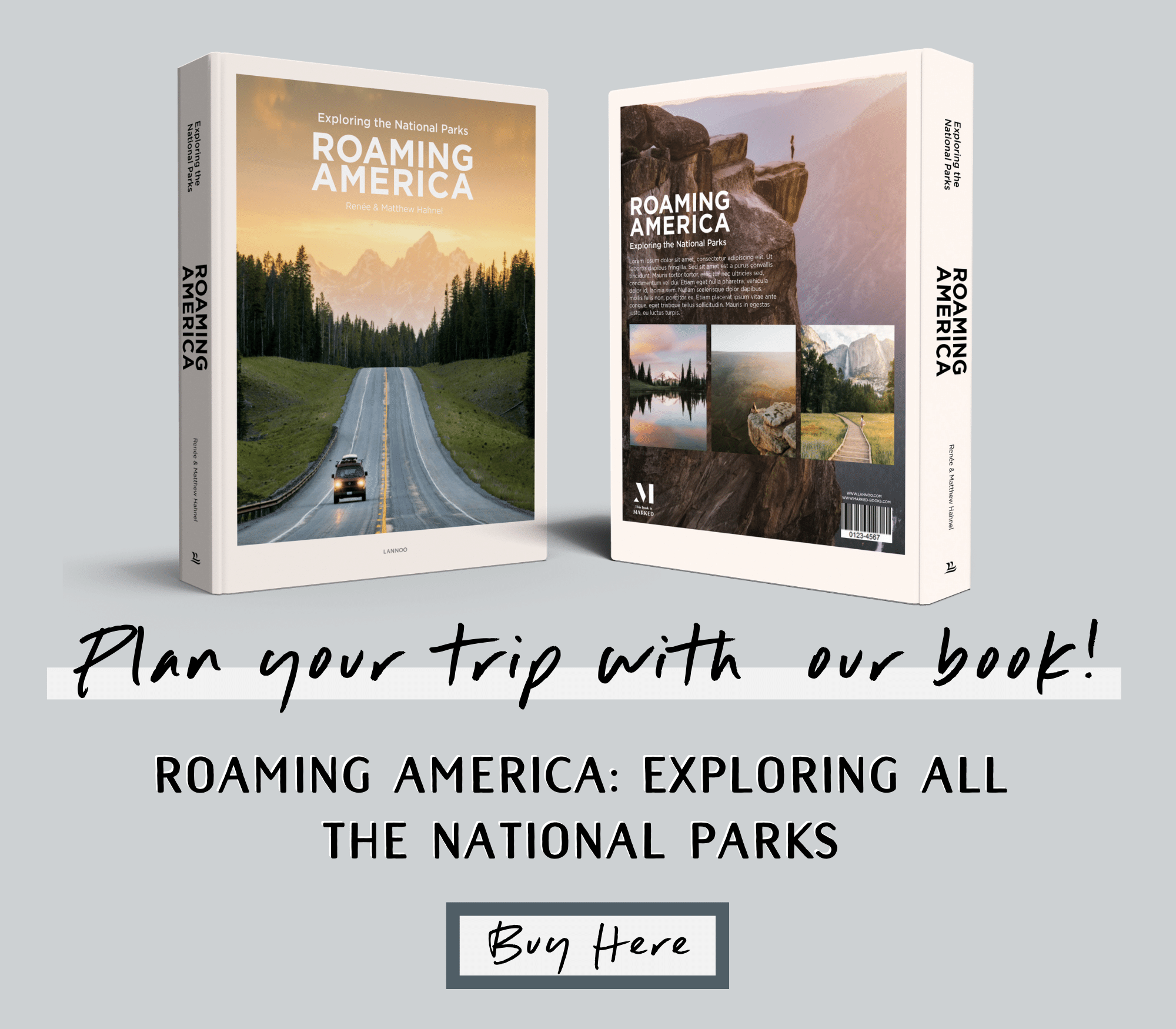 Leave No Trace
It's also important to remember the guidelines for recreating responsibly. As with many national parks, crowds can get quite large during peak seasons and on the weekends. It's important that you be mindful of your impact on the area and consider the below guidelines.
Pack out all your trash
This one is fairly self-explanatory – do not leave behind any trash, fruit peels, nutshells, toilet paper, human waste, etc. Bring along a bag so that you can take home all your own garbage (and any that others have left on the trail). Be sure to read up on the 7 Leave No Trace Principles if you haven't already.
Be Respectful of Wildlife and Other People
Never feed wildlife and be sure to observe them from a distance. Do not touch or pick up wild animals. It's also important that you be respectful of other hikers enjoying the trails. We cover the basics in our guide on hiking etiquette rules. Some of the main tips to consider are giving way to others, keeping noise to a minimum, and being respectful when taking photos.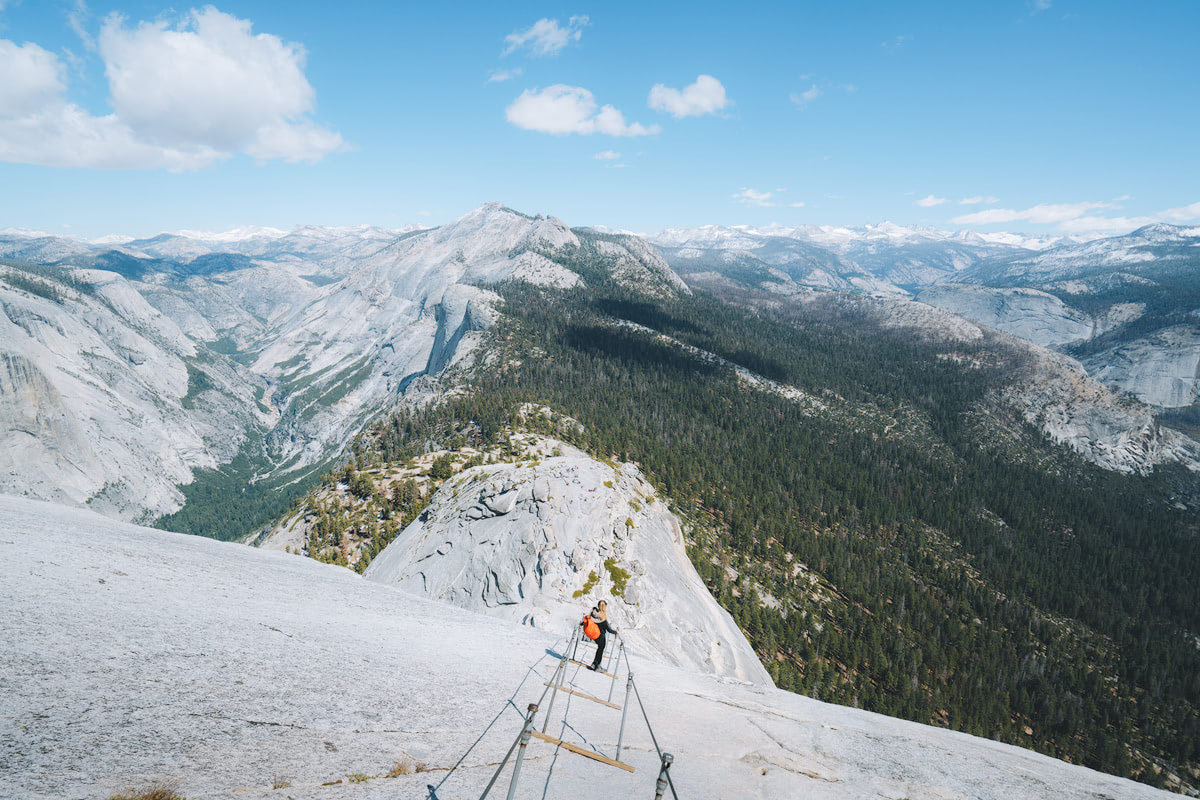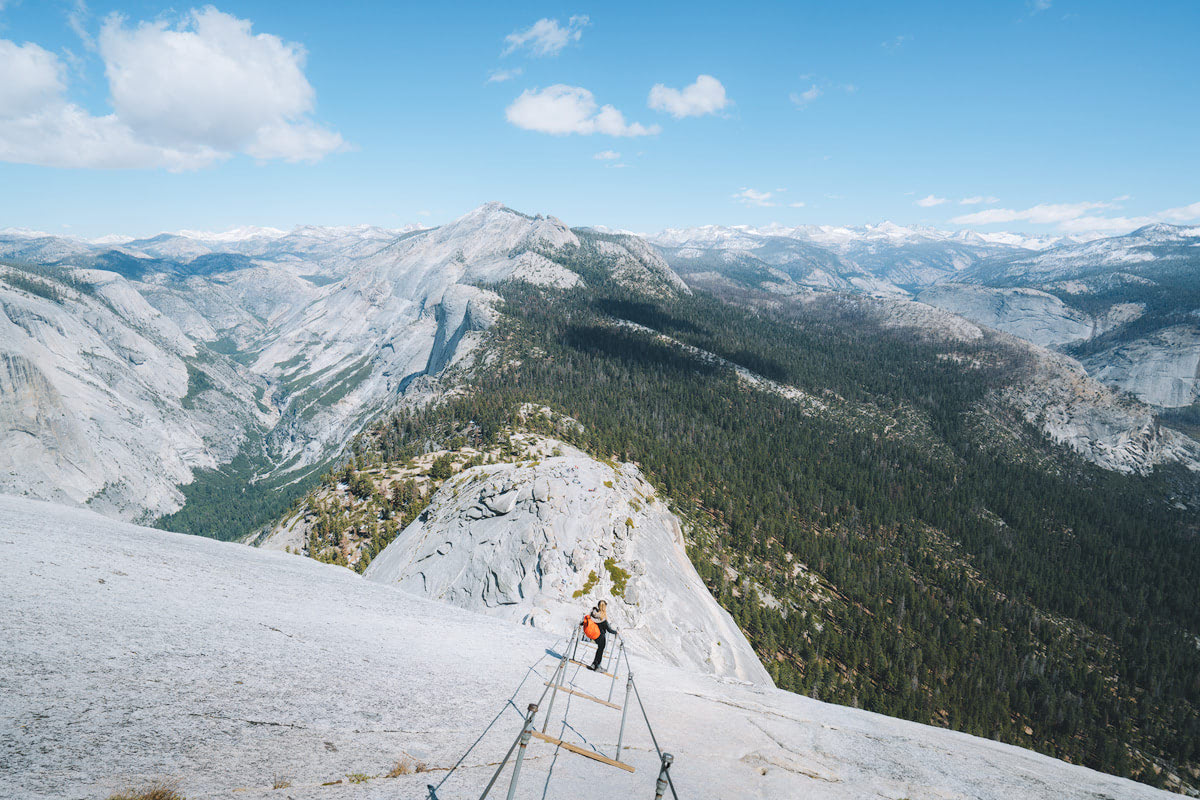 For the Adventurous Yosemite Explorer
Yosemite is teeming with opportunities for adventure and one of the most sought-after is bagging the summit of Half Dome. Day hiking Half Dome has become a popular activity, with a permit system now in place to regulate its access. The summit can be accessed via a 14 to 16.5-mile trail (roundtrip, depending on which route you take) from the valley floor or via other high-country routes. Check out this blog post that discusses the different routes.
There are metal cables to assist climbers up the side of Half Dome and it is recommended that you bring gloves to protect your hands. This is not a hike for the fainthearted or unfit – be prepared for a strenuous trek, exposed sections and steep drops. If you do make it to the top, the views from Half Dome are absolutely breathtaking!
For one of our trips my husband and I opted to take a 3-day adventure in the Yosemite backcountry. We spent our first night camping at Upper Cathedral Lake, then two nights base-camping nearby Sunrise Lakes. We used this location to day-hike to Half Dome and Clouds Rest and felt really immersed in the Sierras. I would highly recommend! You can even book a guided multi-day camping trip while you're visiting Yosemite National Park.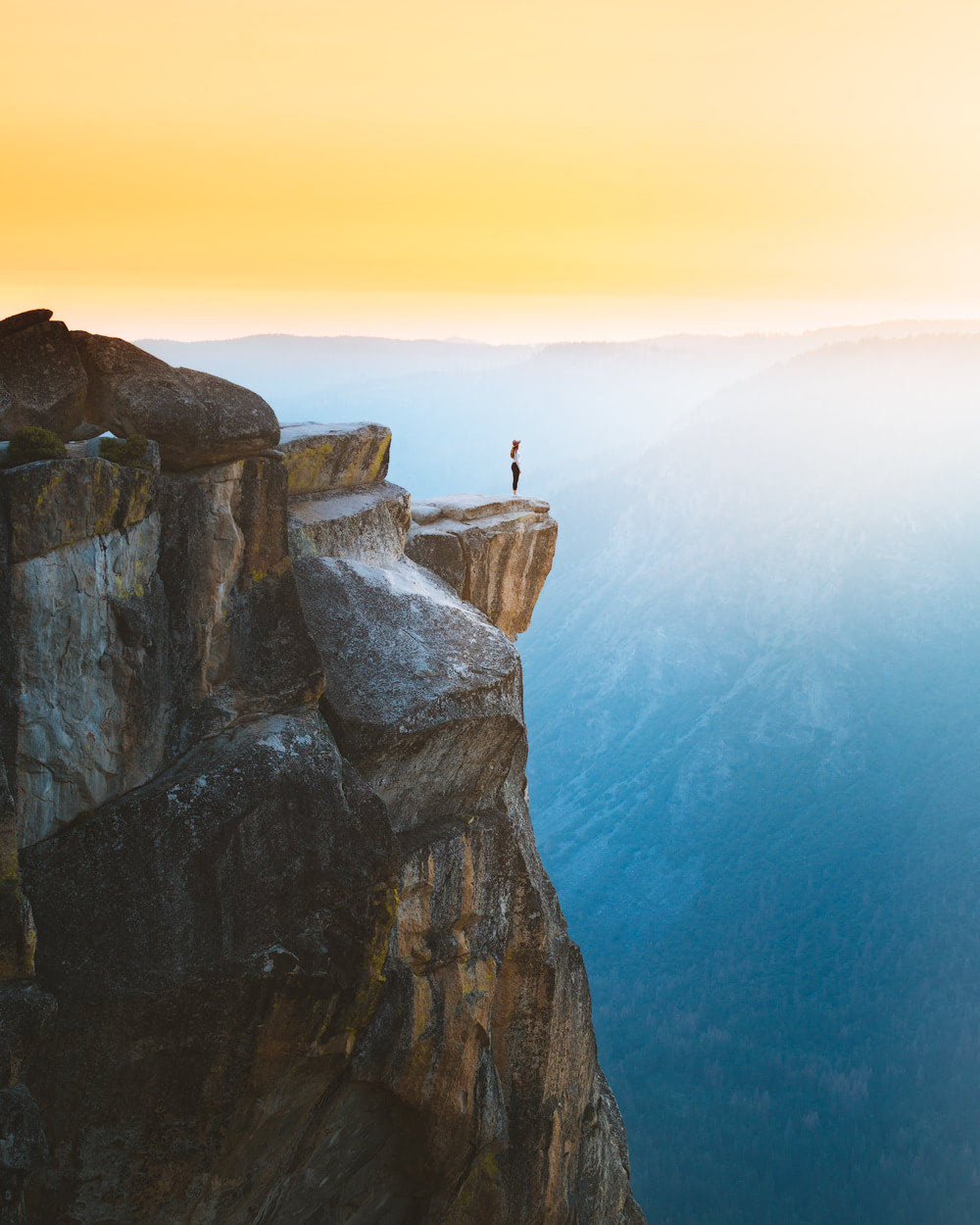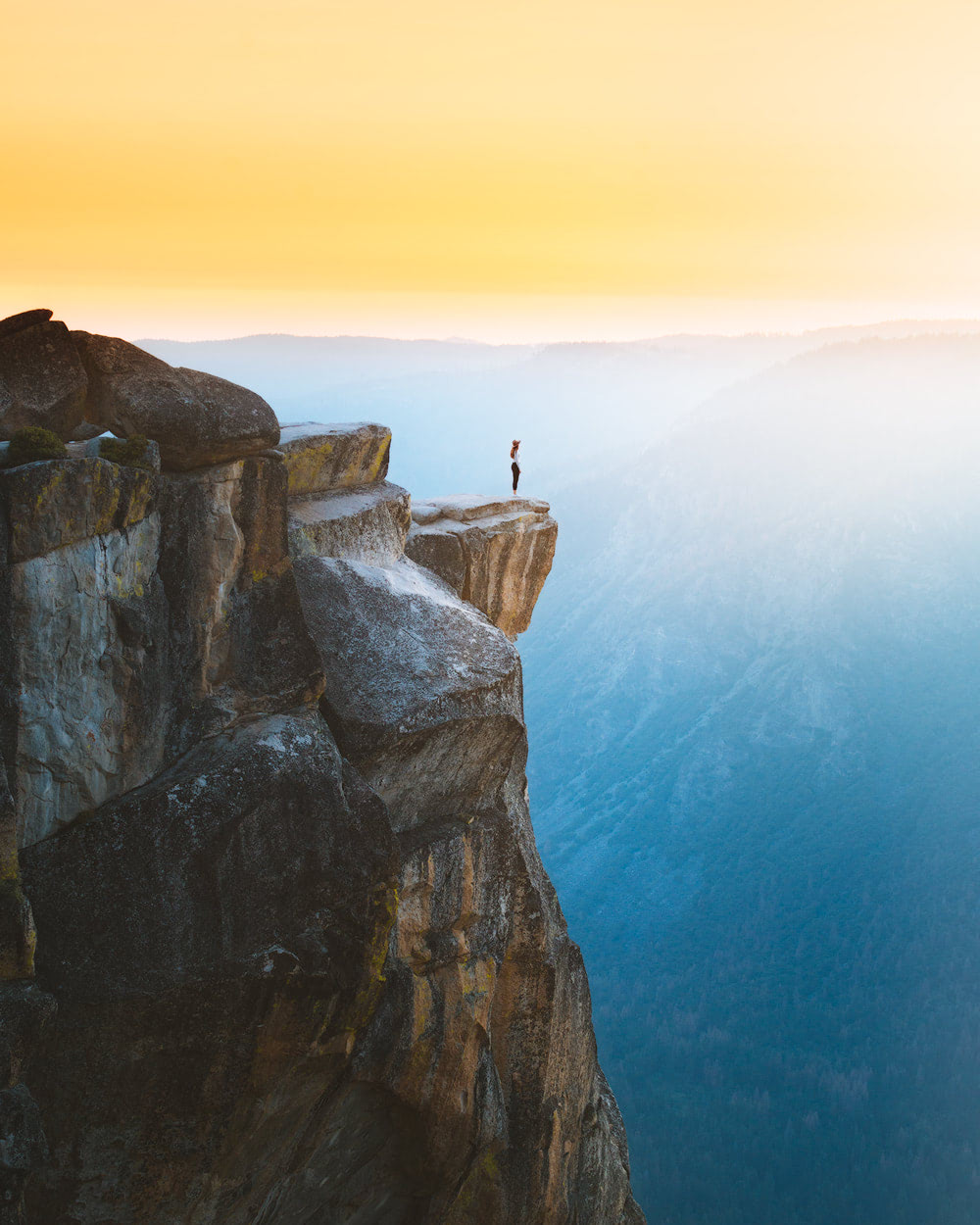 Best Photo Spots in Yosemite National Park
As mentioned earlier in the blog post, Tunnel View is an absolute must-see in Yosemite, and it's also a wonderful photography opportunity. Ansel Adams captured some now very famous images of Tunnel View back in the 1930s and 1940s, which have continued to inspire generations of photographers. Tunnel View can be photographed at sunrise or sunset, with both times providing unique and beautiful light.
Some more photography spots include:
Valley View: best at sunrise but also pretty in the late afternoon/sunset.
Cathedral Beach: best at sunrise, especially after some snow fall.
Artist Point: best at sunset when golden/pink light is hitting El Capitan.
Yosemite Falls: good in a variety of light.
Taft Point: best captured at sunset for golden light over the valley.
Glacier Point: best captured at sunset for gorgeous views of Half Dome.
Firefall at Horsetail Falls: a phenomenon that happens around the second week of February, when light hitting Horsetail Falls makes it appear like lava or fire.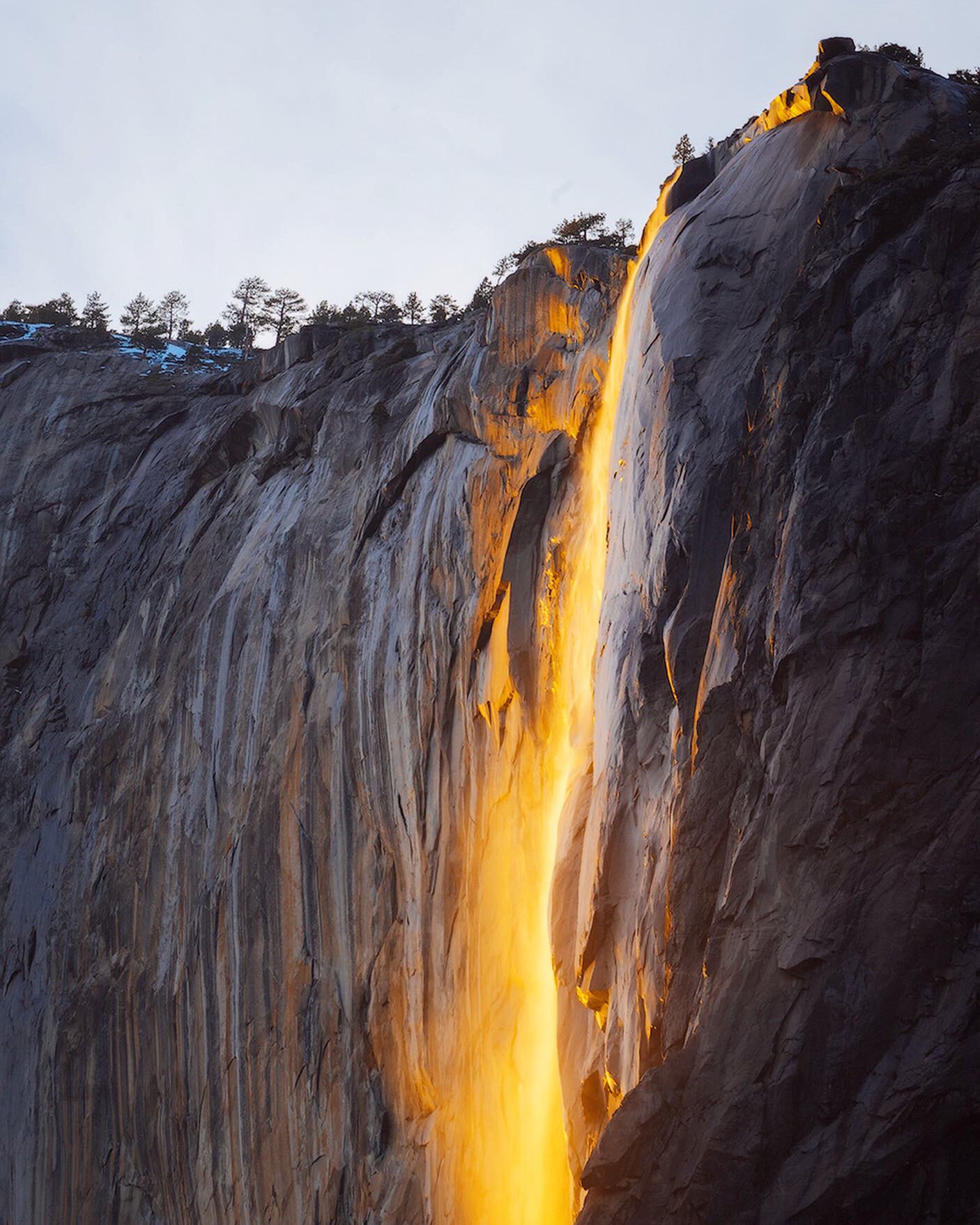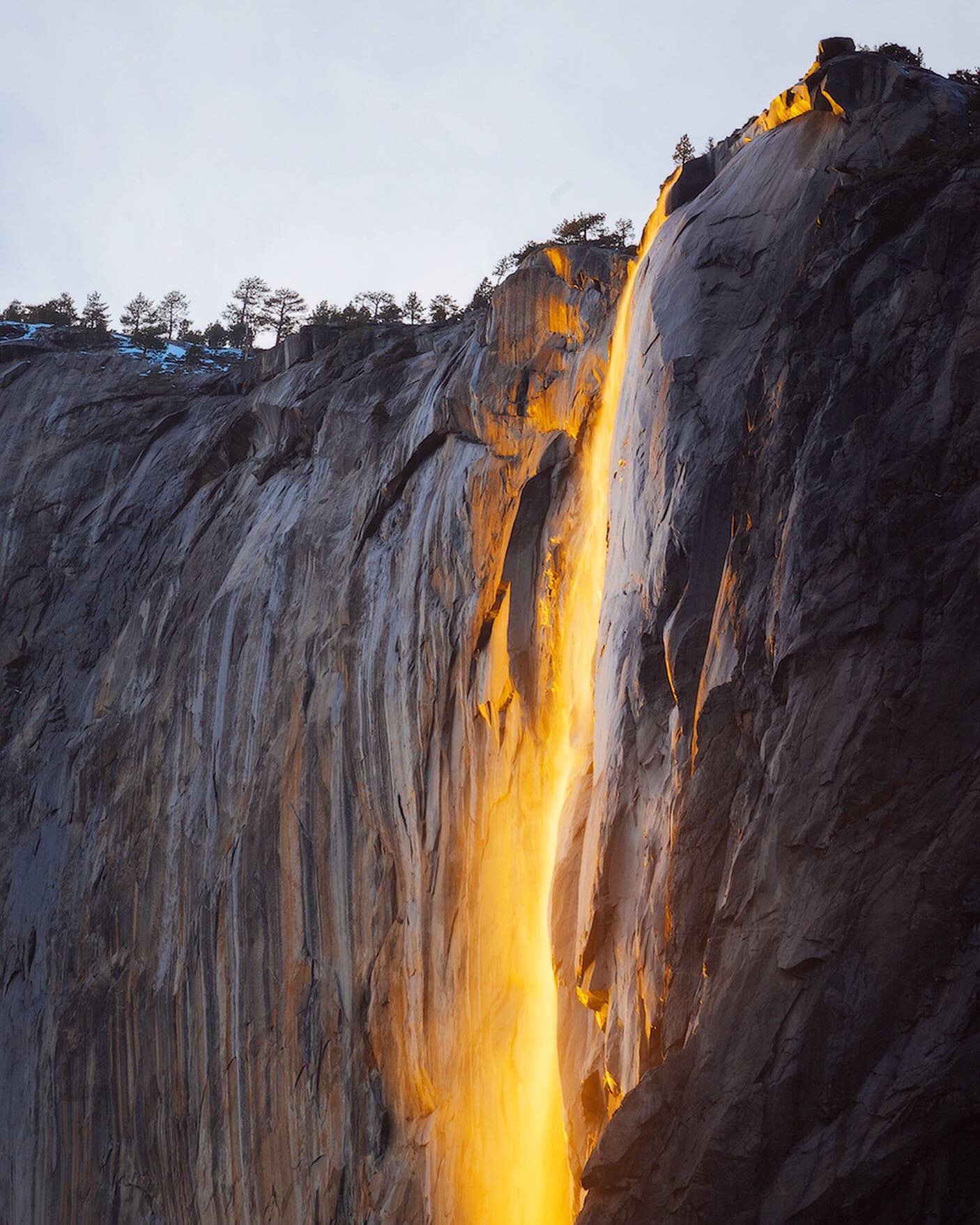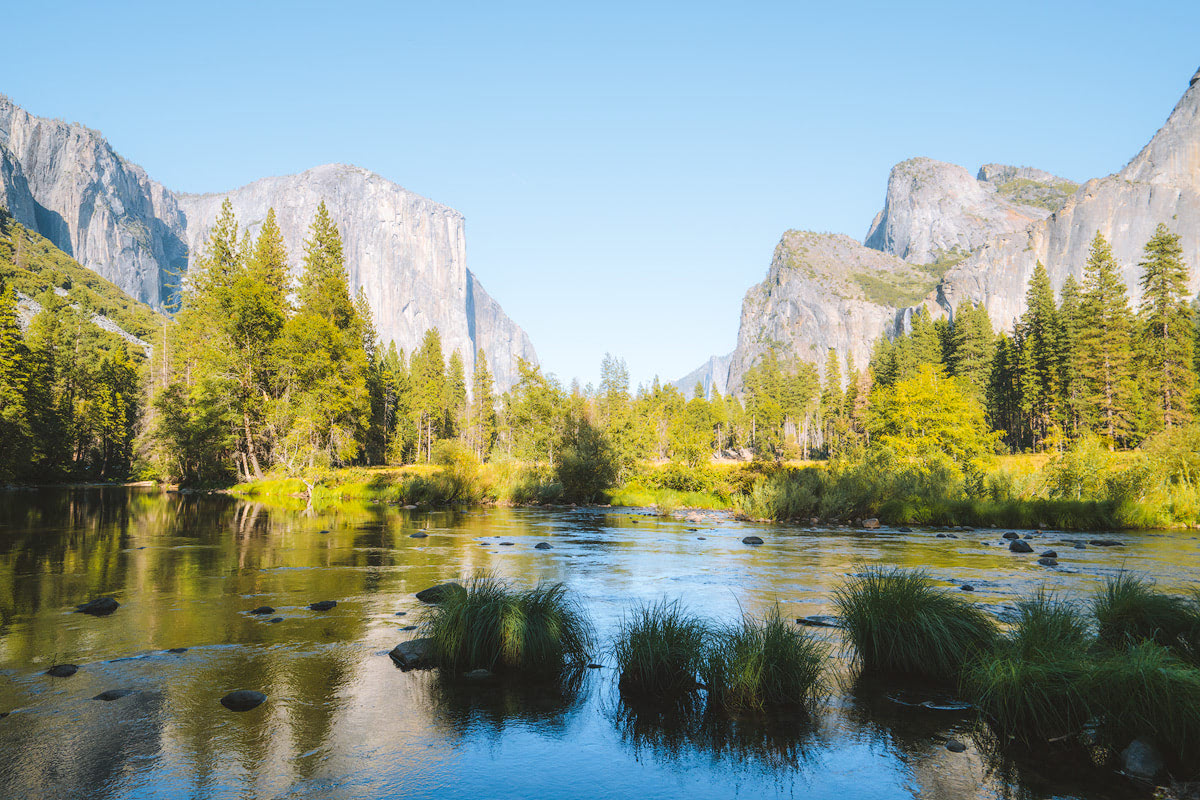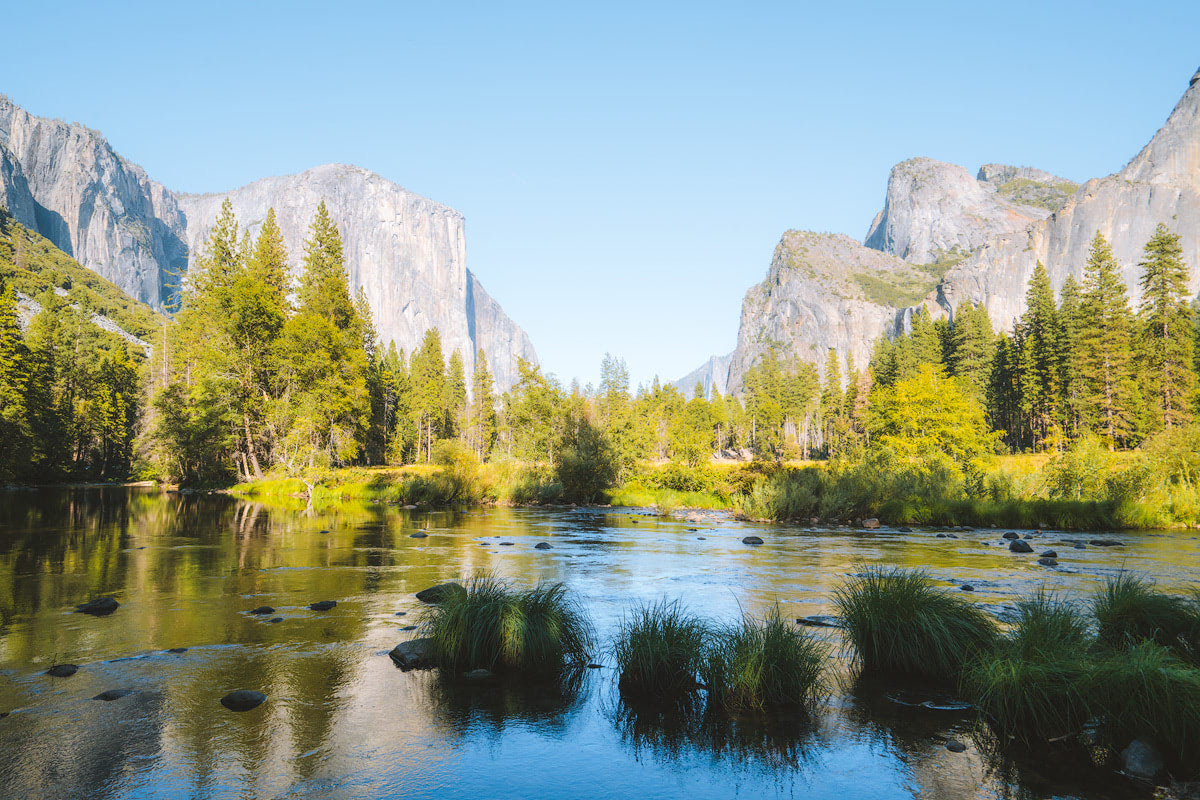 Where to Stay in Yosemite
As a popular destination, Yosemite offers quite a few options for places to stay. From beautiful hotels and cabins to backcountry camping, there are plenty of places to choose from for your accommodations when you visit Yosemite National Park.
Hotels
There are options for both hotels and cabins inside the park, of varying comfort levels. Most well known, The Ahwahnee Hotel is a historic park lodge in Yosemite Valley featuring a restaurant, pool, and bar. Curry Village has tent cabins, cabins, and Stoneman House rooms with a pool, showers, and a restaurant. For a more historic stay, there's the Wawona Hotel a vintage 1876 wilderness retreat with a pool, golf course, and restaurant. The Yosemite Valley Lodge offers motel-style accommodation in the village. If you're up for hiking to a cabin, I highly recommend the High Sierra Camps. There are six remote tent-cabin camps along the John Muir Trail in eastern Yosemite, accessible only by hiking.
Camping
Thirteen campgrounds are spread across the park, including Yosemite Valley, Wawona, and Tuolumne Meadows. Reserve through recreation.gov. These campgrounds have options for tent camping as well as camper/RV parking. You can also use The Dyrt to compare campgrounds, use my code reneeroaming for a free 30-day trial.
Outside the Park
There are a few beautiful lodges outside the park. The Evergreen Lodge is a historic 1920s resort near Hetch Hetchy and Big Oak Flats. For more luxury, try the Tenaya Lodge seven miles south of Wawona. There are also quite a few vacation rentals within a short drive of the park, like the Lupin Cabin, The Hideaway, and the Yosemite Refuge.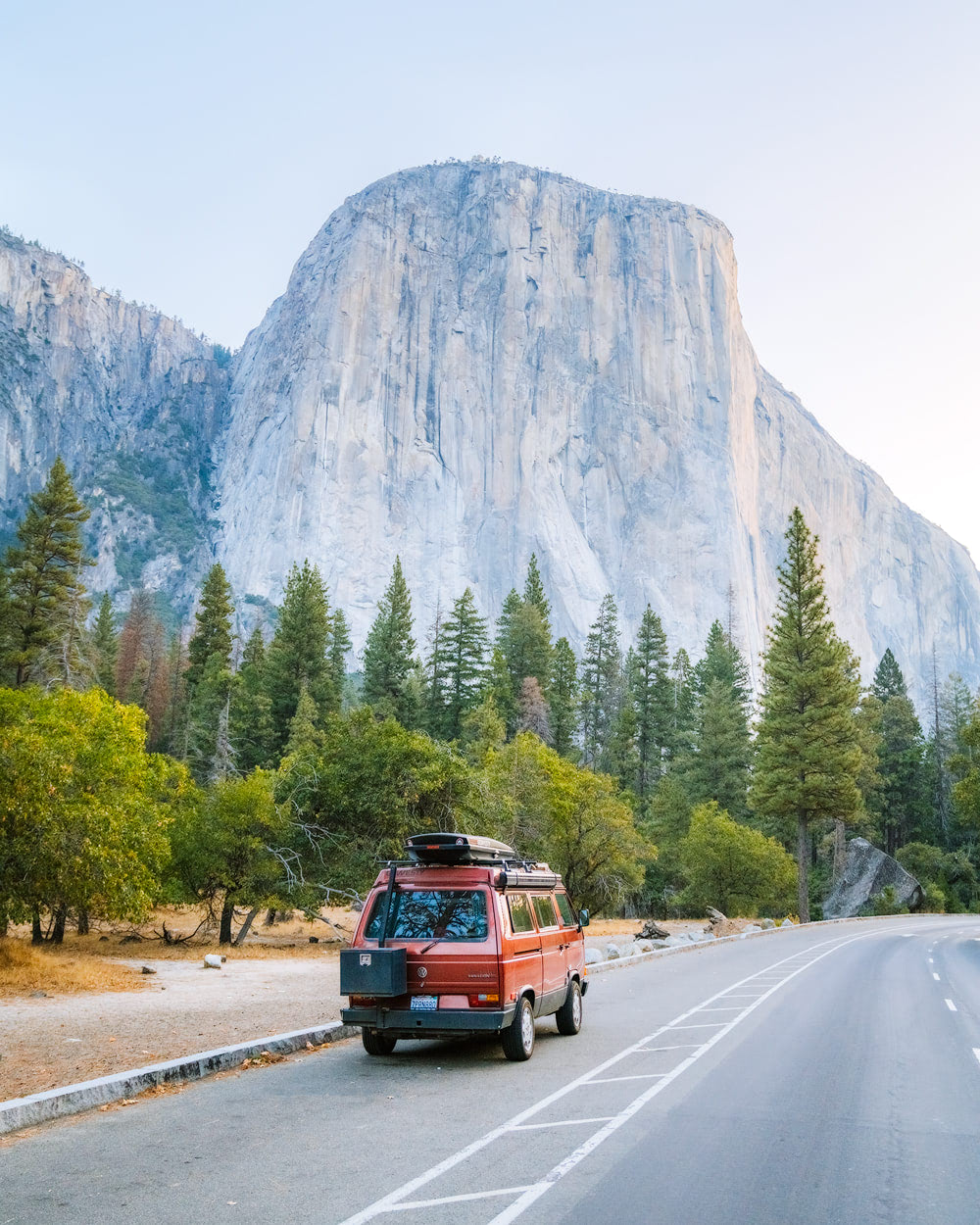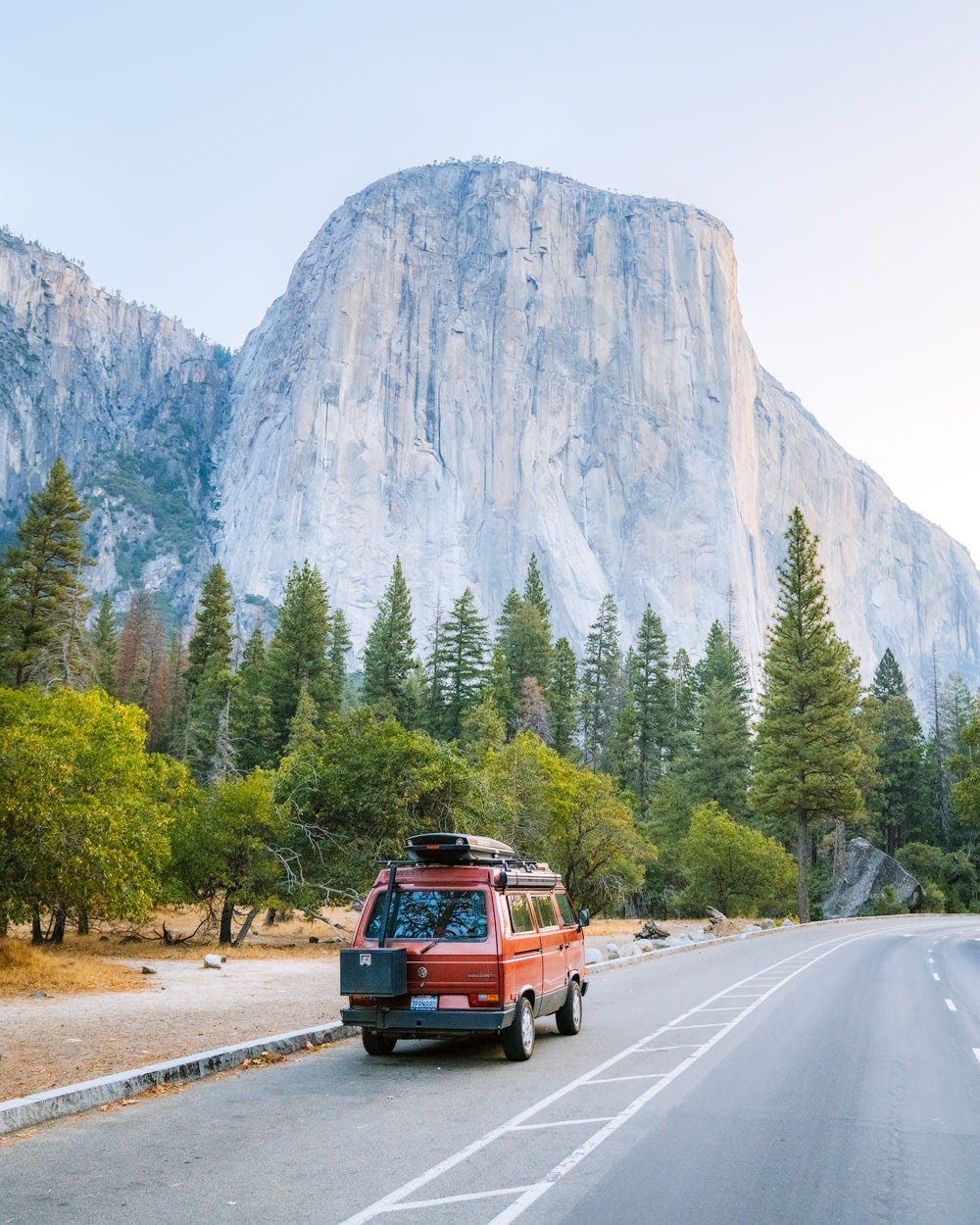 Getting To & around Yosemite National Park
If you don't live nearby, you'll likely want to fly into San Francisco or Oakland airports. I recommend using Skyscanner to find the best deals on flights. After renting a car (or maybe even renting a camper van!) you can start the approximately 3-hour drive to Yosemite National Park.
There are a few options for how you can explore Yosemite National Park once you arrive. You can access the park with your own car and use that to get around. Or you can drive into the Valley in your own vehicle but then opt to take the park shuttle buses to various trailheads and lookouts. You can ride your own bicycle around the Valley or rent one once you arrive in the park. Another option would be to take a day-tour from somewhere like San Francisco, which usually involves a large tour bus and less flexibility.
My personal preference is to drive my own vehicle but then access various spots on foot or shuttle bus if necessary due to crowds. I find that arriving at trailheads early in the morning will usually result in finding a parking spot, though it does depend on the time of year.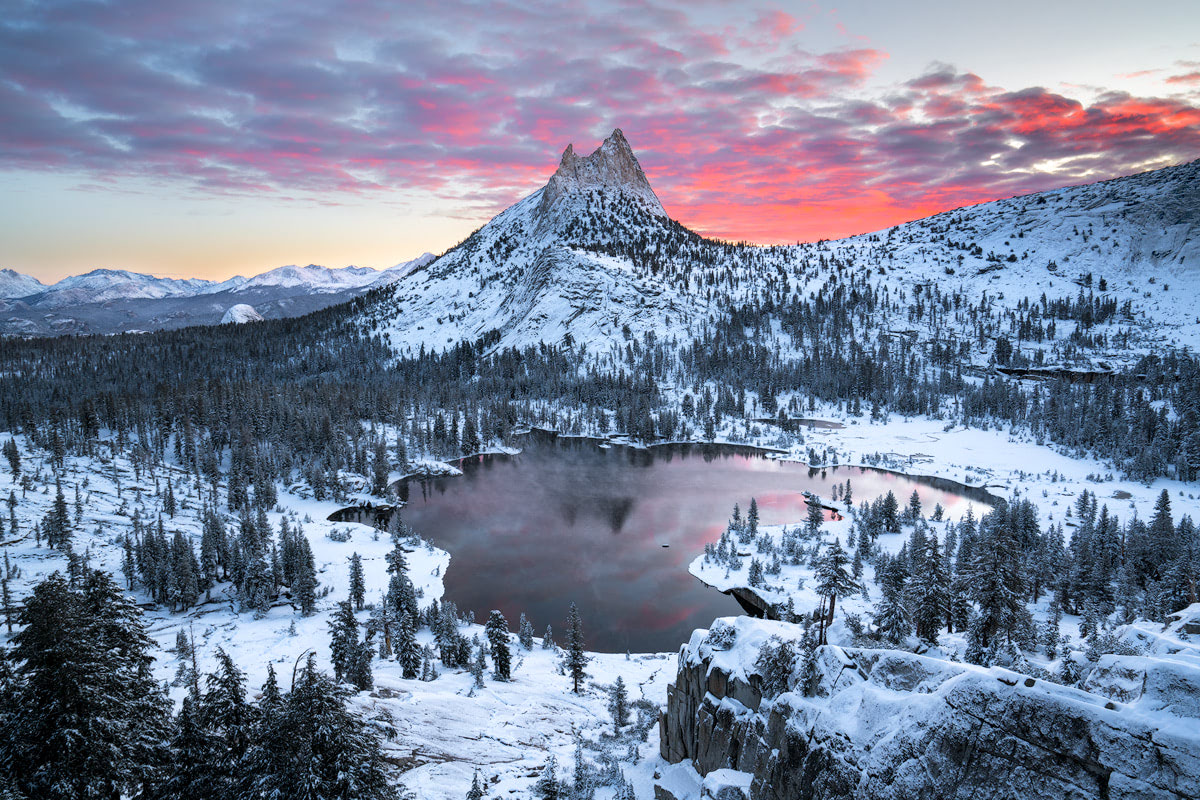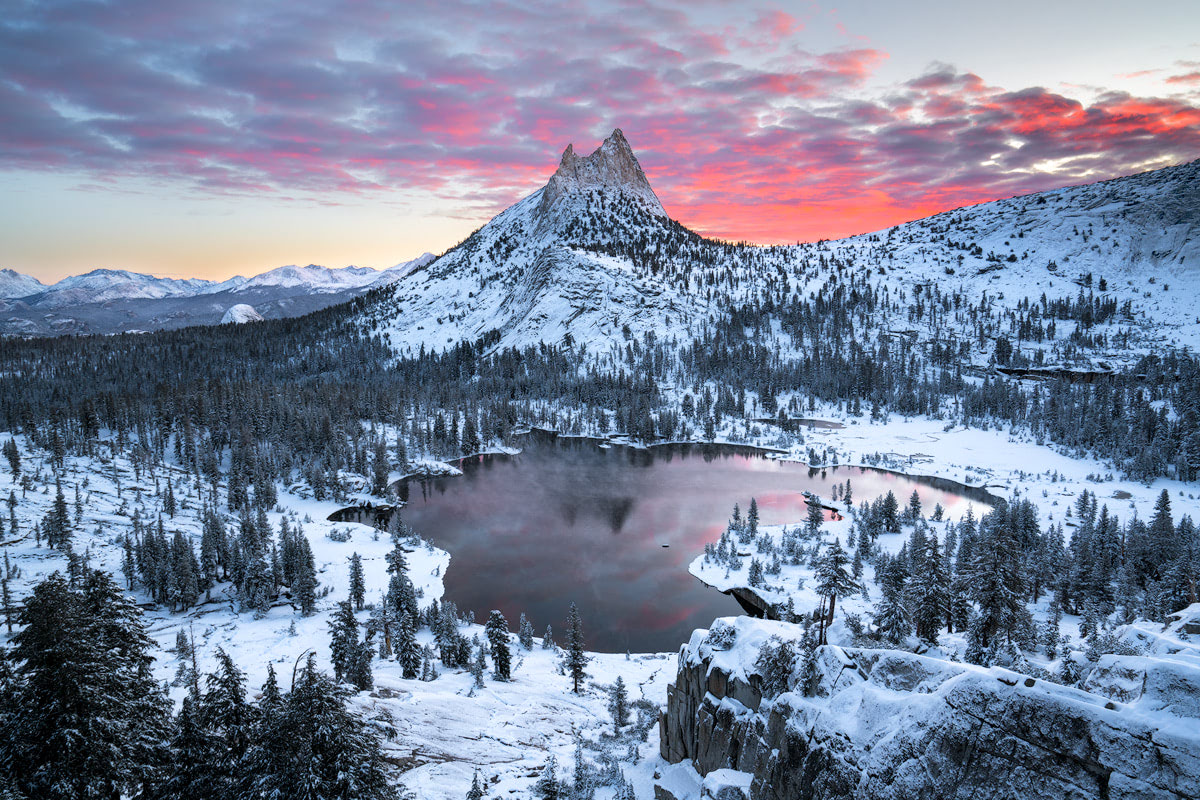 Others Places to Explore near Yosemite
Yosemite National Park is located in the perfect area to explore many more California and nearby gems. Here are some suggestions for places to add-on to your road trip: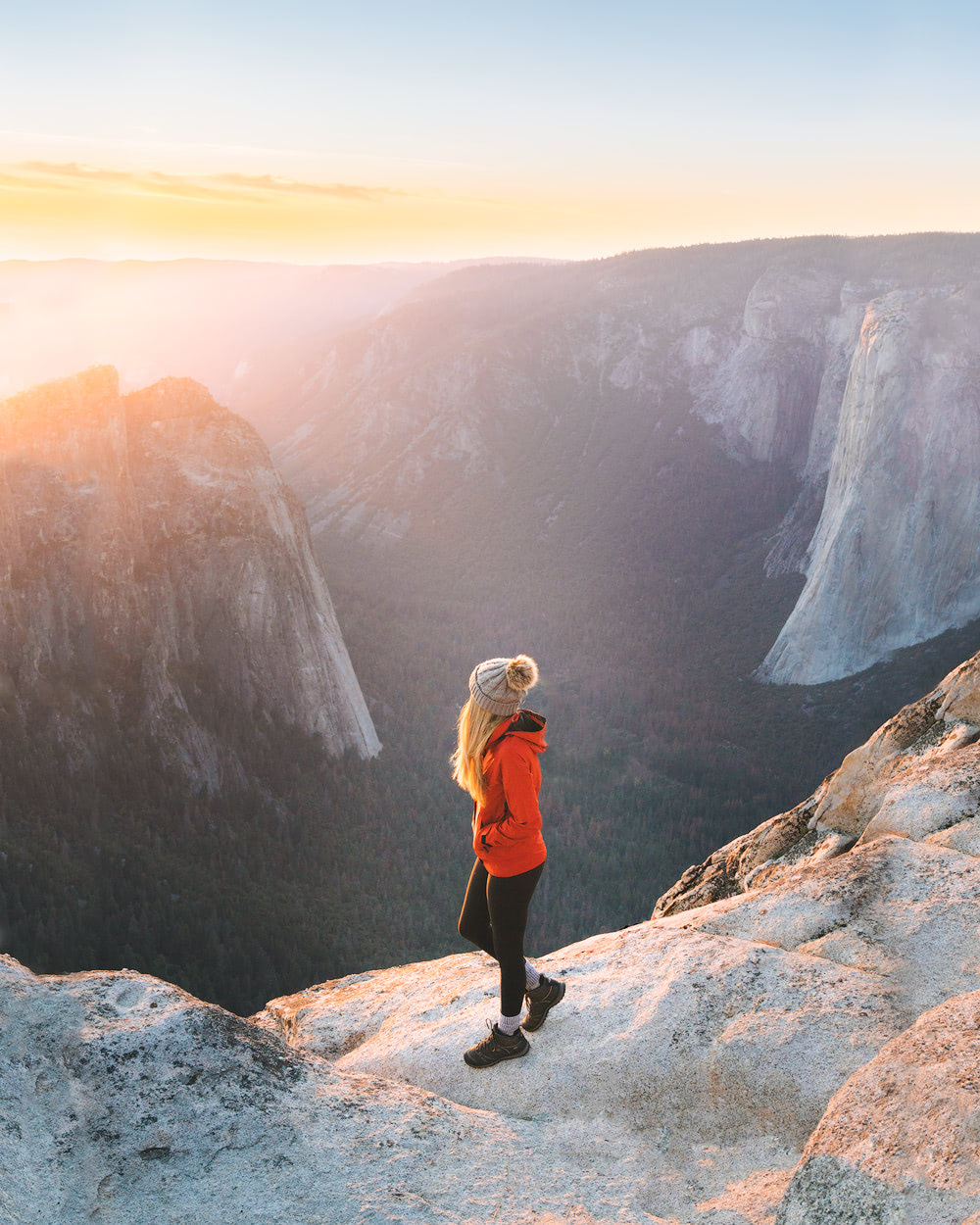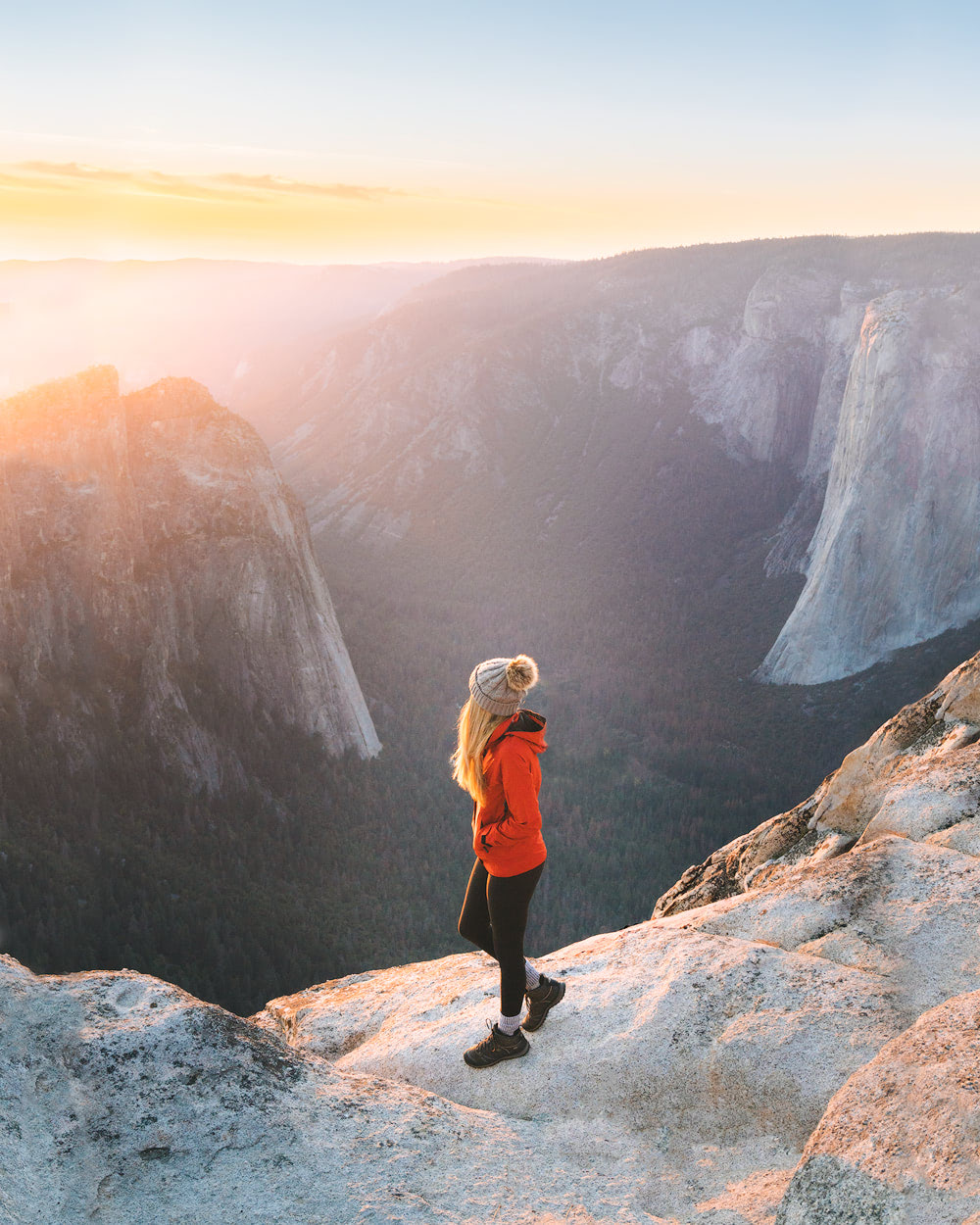 Fun Facts about Yosemite National Park
I hope this Yosemite National Park guide helps you plan an amazing, bucket list trip to visit one of my favorite national parks. And if you aren't quite convinced yet, here are some final fun facts about Yosemite National Park that might convince you it's time to plan your next adventure.
Yosemite was designated a National Park in 1890, and in addition became a UNESCO World Heritage Site in 1984.
Before it became National Park, Yosemite had been home to the Ahwaneechee Native Americans for over 4,000 years. The California Gold Rush and trappers were the reason the Ahwaneechee people left the area in the mid 1800s.
Yosemite Falls is the tallest waterfall in North America, with an impressive 2,425-foot drop to the valley floor. The month of May is the best time to view the falls at their peak flow.
Tioga Pass is the highest pass in California and the Sierra Nevada.
Wildlife found within the park include black bears, coyotes, mule deer, bighorn sheep, red foxes, chipmunks, squirrels, mountain lions, and many more.
Yosemite National Park employs 1,200 summer and 800 winter National Park Service staff.
PIN to read later