Following proper hiking trail etiquette rules can help create a positive outdoor experience for both you and others on the trail. While many of these are common courtesy, it is important to know what to do when presented with large crowds or in scenarios where you may find it difficult to proceed on the trail without being rude to others. It is also important to know what to do while outdoors to keep the environment and the hiking trails looking their best so others can enjoy them as well. In this article, I will be sharing the top hiking trail etiquette guidelines to know and follow!
Disclaimer: This blog post features some affiliate links, which means I get a small commission if you make a purchase (at no extra cost to you). It's one of the ways I can keep producing free guides and resources for my readers. Learn more about my affiliate policy here. Thank you for the support!
Hiking Trail Etiquette Rules
One of the main goals of hiking is to enjoy the trail and being out in nature. Just like you want to enjoy your time outdoors, so do others! These hiking trail etiquette rules are in place to help create a positive atmosphere for everyone and to ensure we protect nature the best we can.
When planning a hiking trip, it is important to research local guidelines beforehand. Not every location has the same guidelines, so the following recommendations are general rules to follow and can be adapted to local regulations.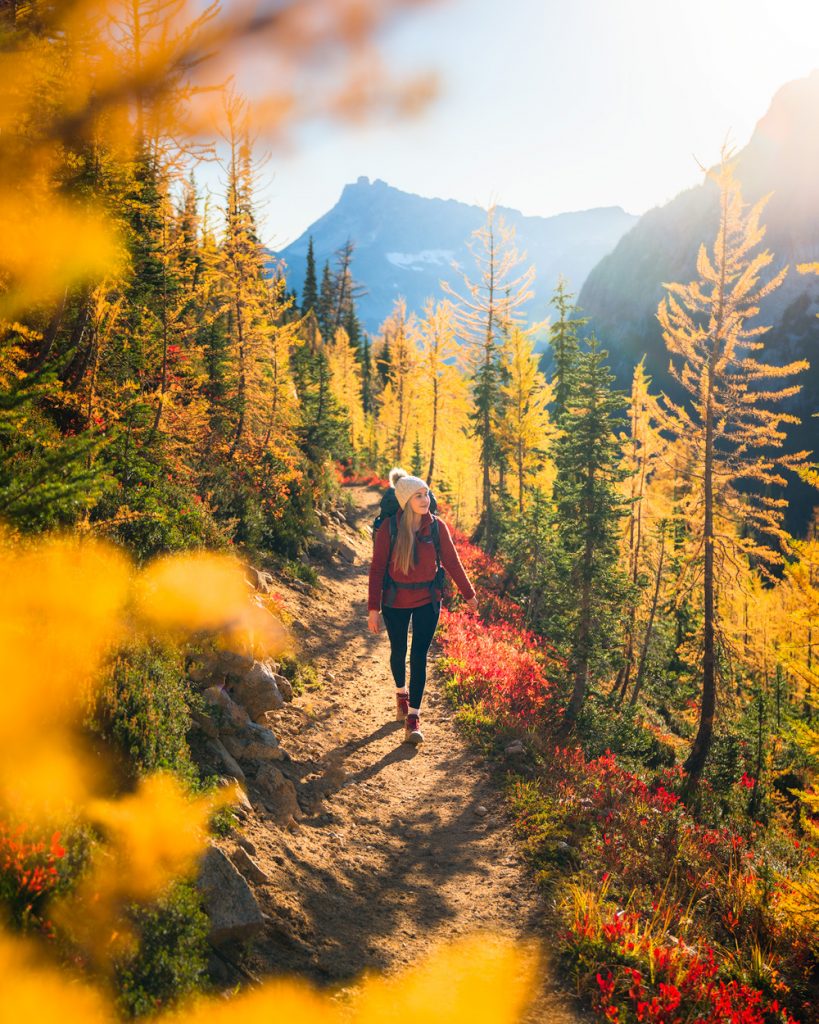 Know Your Right Of Way On The Trail
When starting a hike it is important to check for signage at the trailhead as these will often mention the correct right of way yields. These signs may vary from park to park and in some instances there won't be any present. If there are, be sure to read over the recommendations for that specific park or trail. Below are the general guidelines for yielding on the trail in different scenarios.
Do Uphill or Downhill Hikers Give Way?
Downhill hikers give way to uphill hikers. The reason behind this is because hikers that are going uphill have a limited field of view. These hikers are focusing on where they are stepping and what is in front of them. They are also working hard to keep a good pace while fighting gravity as they work their way up. Downhill hikers on the other hand have gravity in their favor and also have a wider range of view as they go downhill. For this reason, downhill hikers yield to uphill hikers.
If you are an uphill hiker trying to pass another uphill hiker that is going at a slower pace than you, it is important to yield cautiously. The best way to pass another uphill hiker is by making sure that you don't sneak up on them, kindly ask to pass them, and by passing at wider areas of the trail versus narrow areas.
Who Do Bicyclists Yield To?
Technically, bicyclists yield to hikers. However, if you see a biker coming you can also step aside to make way for them. It is important to keep in mind that it is harder for a bicyclist to stop and yield for a hiker than it is for a hiker to step aside quickly to let them pass especially when going uphill. As a bicyclist, you should always ride within your limits and abilities. Also keep in mind that if you are stepping off the trail for a hiker or cyclist, be mindful of the plants around you.
As a bicyclist, keep in mind that you are traveling at a faster pace than hikers on the trail so they may not see you coming. Don't try to rush pass them as you can accidentally hit a hiker or even injure them. Yield to them and wait till there is room to pass. You do have the large equipment so making sure that your bike fits through the trail without hitting a hiker is very important. You don't want to be rude and zoom pass a hiker especially on a narrow trail.
Do Horses and Pack Stock Have Ultimate Right of Way?
Hikers yield to horses and stock animals. Horses and pack stock can get startled easily so it is important that as a hiker to always give them the right of way. The reason being, when horses get startled they can lose their footing on rough terrain. This can lead to potential injuries to both the animal and the rider like a sprained ankle on a horse or even a fall.
Should Solo Hikers Move For Groups?
A solo hiker should always move for a hiking group. As a hiking group, all the hikers of that group should be hiking in a single file line versus bunched up taking up a lot of room on the trail. The best way to look at this is by thinking of the way we yield when driving. Hikers should keep to the right and pass on the left. When passing, make yourself known and be considerate of the group as you pass alongside them. It is best to pass in wider areas of the trail to make sure everyone fits especially if there are oncoming hikers.
Read next: Beginners Guide to Hiking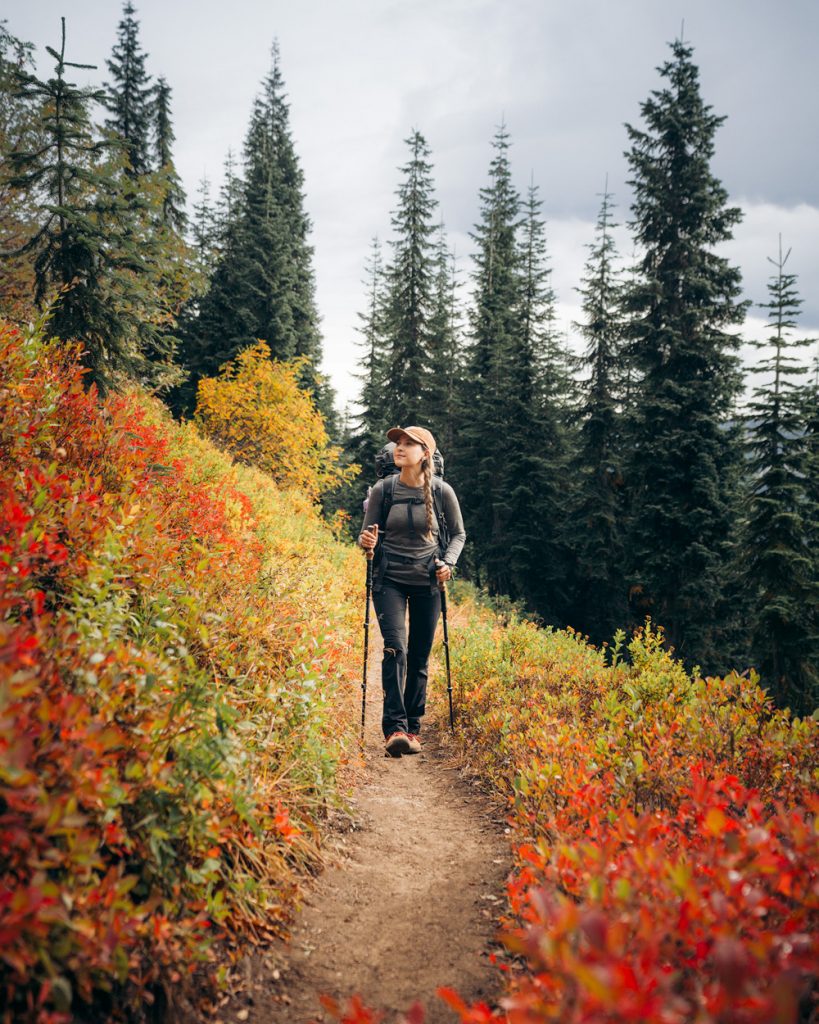 Be Respectful Of Other Hikers
While on the trail, a very important hiking trail etiquette rule to practice is showing respect for others. Things like saying "hello" or a simple head nod can make people feel comfortable and will help create a positive atmosphere out on the trail. The outdoors is for everyone and it is our responsibility to make people of all races, ages, sizes, and abilities feel welcome.
If listening to music or a podcast whilst hiking, it is important that you use headphones and keep noise to a minimum. This helps others have a fun experience on the trail as well. It's also respectful to wildlife such as birds, who rely on hearing audio signals for communication and survival.
And last but not least, using common sense around other people can go a long way. Just be friendly, courteous, and respectful to others on the trail. Yield when needed and always be kind to others.
Read next: What To Wear Hiking As A Woman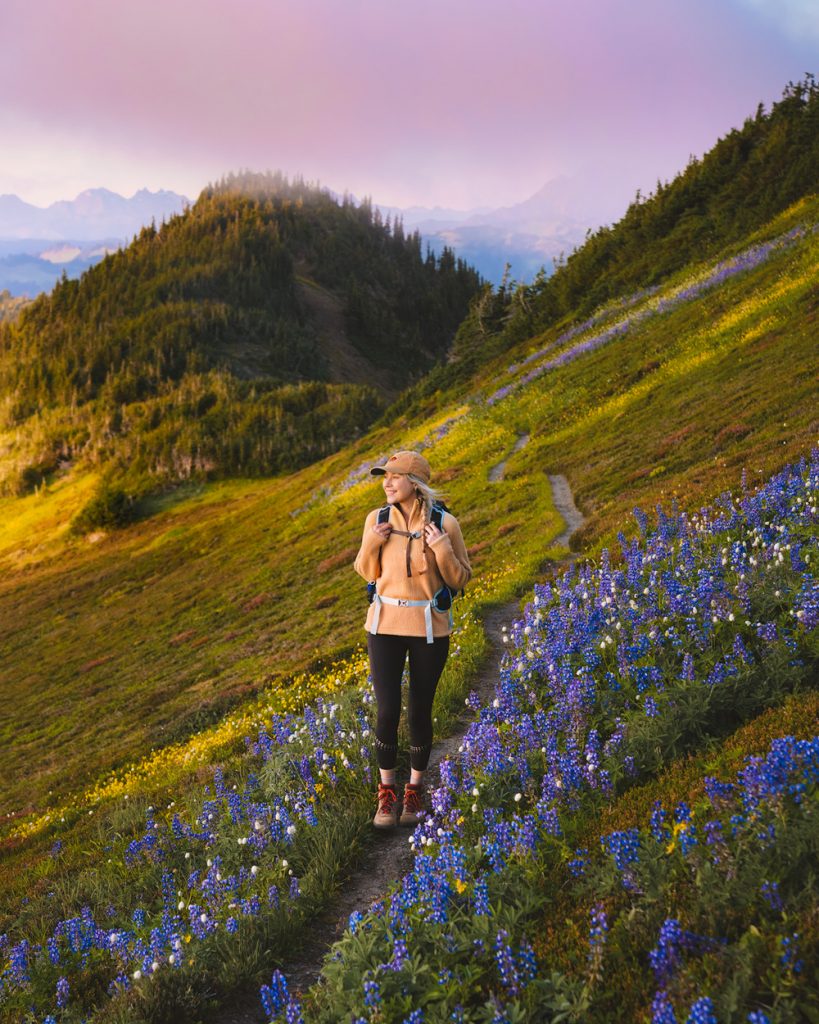 Be Respectful Of Nature and Wildlife
When hiking it is important to be respectful of nature and wildlife. Some important key points that you should know are:
Stay on the trail and when you yield to another hiker, bicyclist, or horses and horseback riders, be mindful of where you step when stepping off the trail. Don't step on delicate plants or small animals.
DO NOT DISTURB WILDLIFE! If you find an animal or even a nest do NOT touch it or mess with it in any way. Never feed wildlife, and always be cautious of your surroundings.
Beware of bears and other predatory animals. Don't mess with them or tease them. This can lead to attacks and possible injury to you and other hikers on the trail. Read up on bear safety here.
Don't leave your mark. There is never a reason to leave graffiti or wood carvings anywhere outdoors.
Don't build cairns. Leave all the rocks placed where they are at. Building a cairn can cause a negative experience to others and also affect the area you are hiking at.
Read next: Must Know Bear Safety for Hiking and Camping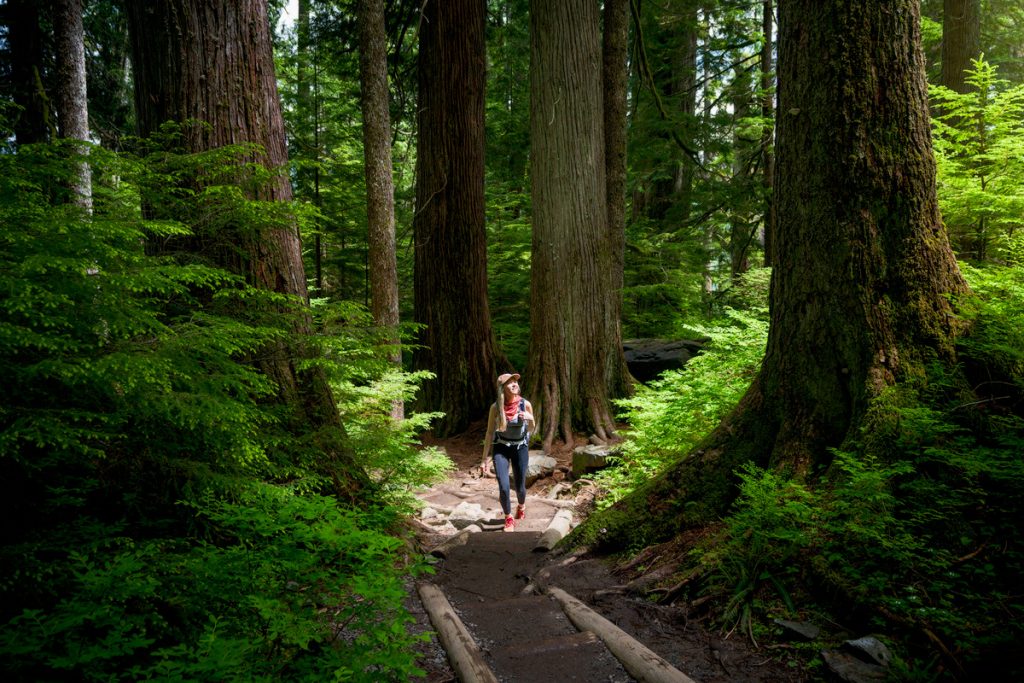 Going To The Bathroom Outdoors
I recommend using the bathroom before you hit the trail but it sometimes happens that you still have to use the bathroom outdoors. That's obviously fine to do… as long as you do it correctly! When peeing and pooping outdoors make sure to do it at least 200 feet away from any hiking trail, waterways, and campsites. When pooping you should always dig a hole at least 6 inches deep into the ground to bury your feces and then cover it with dirt and a rock. Always pack out your trash…. no one wants to see your leftover toilet paper or tissues, so dispose of it properly. Click here for more information about going to the bathroom outdoors.
Things to bring in your pack to ensure hiking trail etiquette:
Toilet paper: You can also bring a Kula Cloth, pee rag, bandana, or wipes.
A trash bag to carry your waste out in. You can also use a wet bag.
A trowel or small shovel to dig your cat hole. You can also use a stick.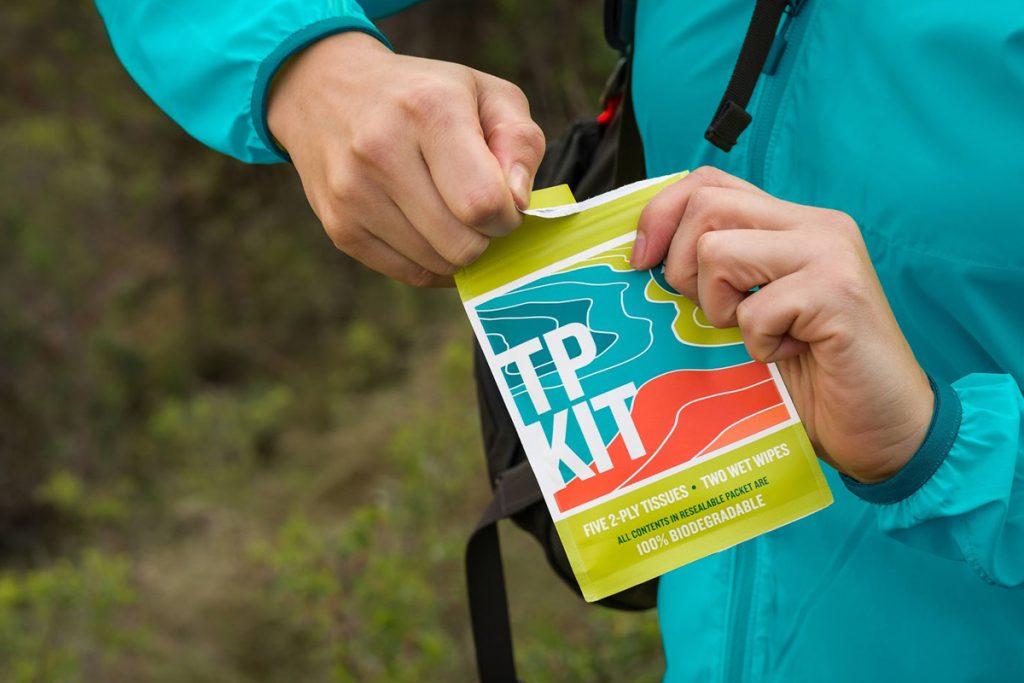 A great day-hiking item to pack is a TP Kit. These little kits have some toilet paper, two wet wipes, and a sealable bag to pack out everything.
Read next: Eco-Friendly Outdoor Hygiene Tips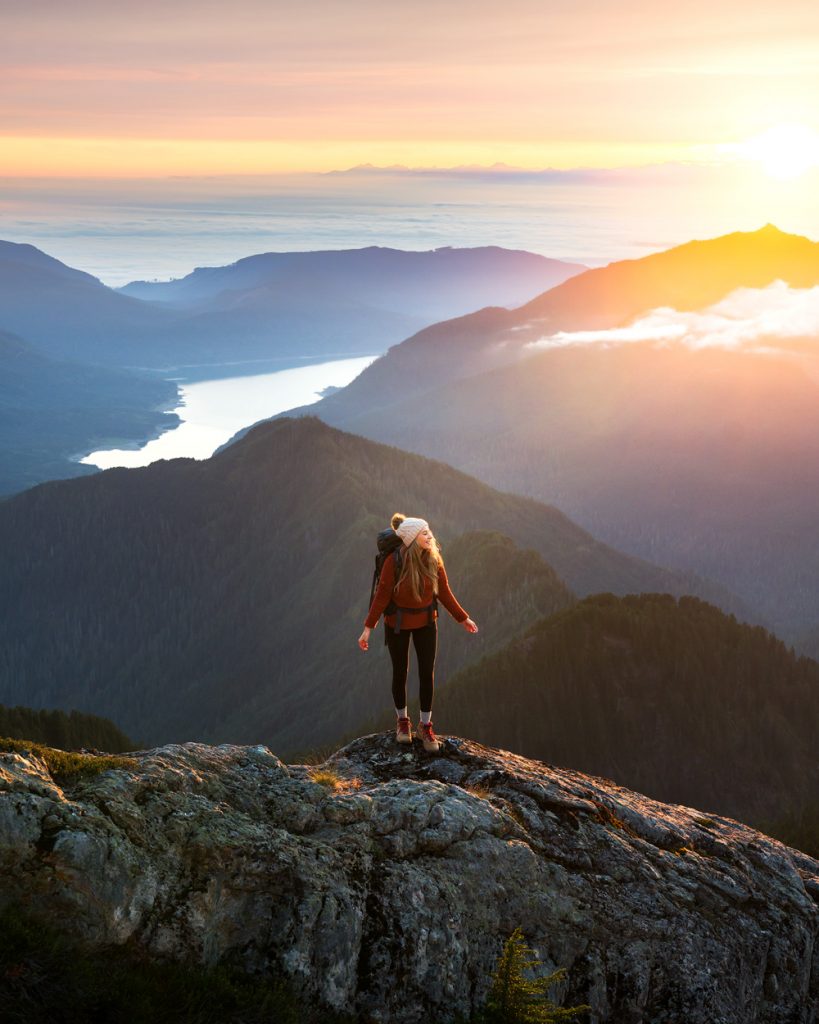 Hiking Trail Etiquette For Dogs
If you are hiking with your dog it is important to follow the proper hiking trail etiquette. Not all hiking trails allow dogs so make sure to only select dog-friendly trails and follow the rules for that specific park.
Always keep your dog on a leash unless there is a sign saying that off-leash is allowed. When your dog is off-leash make sure that your dog is always in line of sight and under your voice command. When another hiker approaches make sure to have control of your dog (leashed or by voice command) and let other hikers know that he/she is friendly. If you see that the other hiker has a dog on a leash, don't allow your dog to approach the other dog without your consent, even if it means putting your dog on a leash until you are both a safe distance away. Remember that not all dogs are friendly and some may not be fully trained yet, so it is best to play it safe and avoid a bad situation.
Remember that by playing it safe you are also creating a positive atmosphere once again for other hikers that are hiking with or without a dog.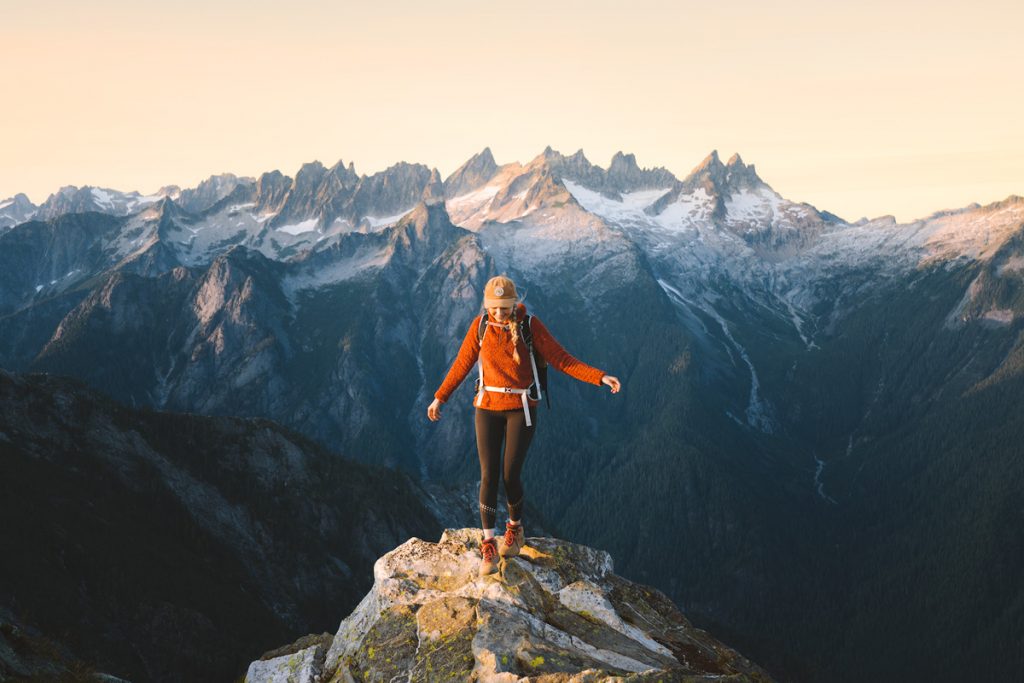 Hiking Trail Etiquette and Leave No Trace
Leave No Trace are some additional guidelines to follow when displaying proper hiking trail etiquette. There are seven principles to consider and by following these guidelines you are helping leave the trails, scenic views, and areas you visit looking beautiful for others who visit after you. These principles help preserve nature keep wildlife safe. The key points to follow for proper hiking etiquette are:
Read next: Leave No Trace: The Seven Principles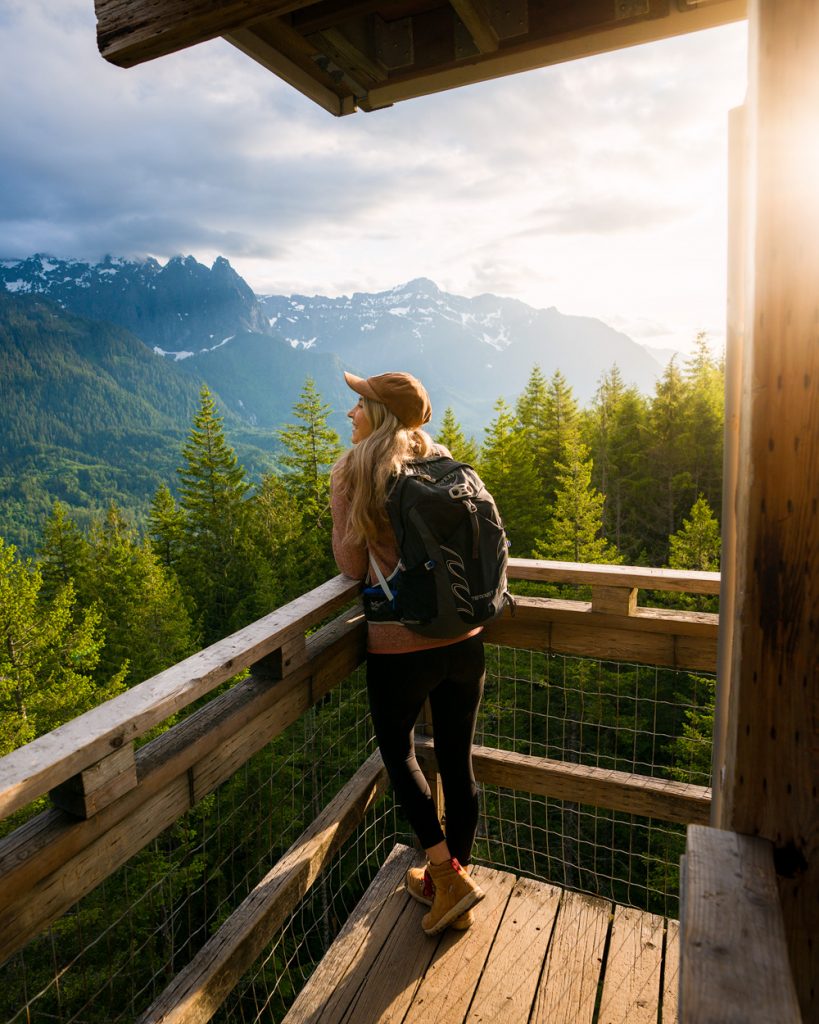 Final Thoughts On Hiking Trail Etiquette
In summary: remember to always be considerate of others, yield properly for others on hiking trails, follow Leave No Trace principles, and use common sense. Together we can make a positive atmosphere on the trail simply by following hiking trail etiquette. A smile, friendly gesture, kindness, respect, and being considerate to others can go a long way. Happy and hiking!
PIN for planning later!