With many smartphone cameras now offering great optics to capture high-resolution images, there are many free and paid photo apps available to make everything from planning shoots to editing on the go a breeze! This best photography apps guide gives you a breakdown of some of my favorite apps, including basic camera and sharing tools, social media must haves, full-featured photo editing apps, and organization tools to better store images on your mobile phone.
Disclaimer: This blog post may feature some affiliate links, which means I get a small commission if you make a purchase (at no extra cost to you). It's one of the ways I can keep producing free guides and resources for my readers. Learn more about my affiliate policy here. Thank you for the support!
15 Best Photography Apps
Photography apps aren't just valuable for photographers – they've given many people the ability to create on the go, without heavy gear, and can challenge your skills in new ways. Not a photographer? No problem! This blog isn't specific to photographers but was created for anyone looking to help level up their skills and those looking for unique ways to share their images. While your first photography love might always be your camera gear, I hope this list of the best photography apps proves you don't necessarily need the latest gear to get creative!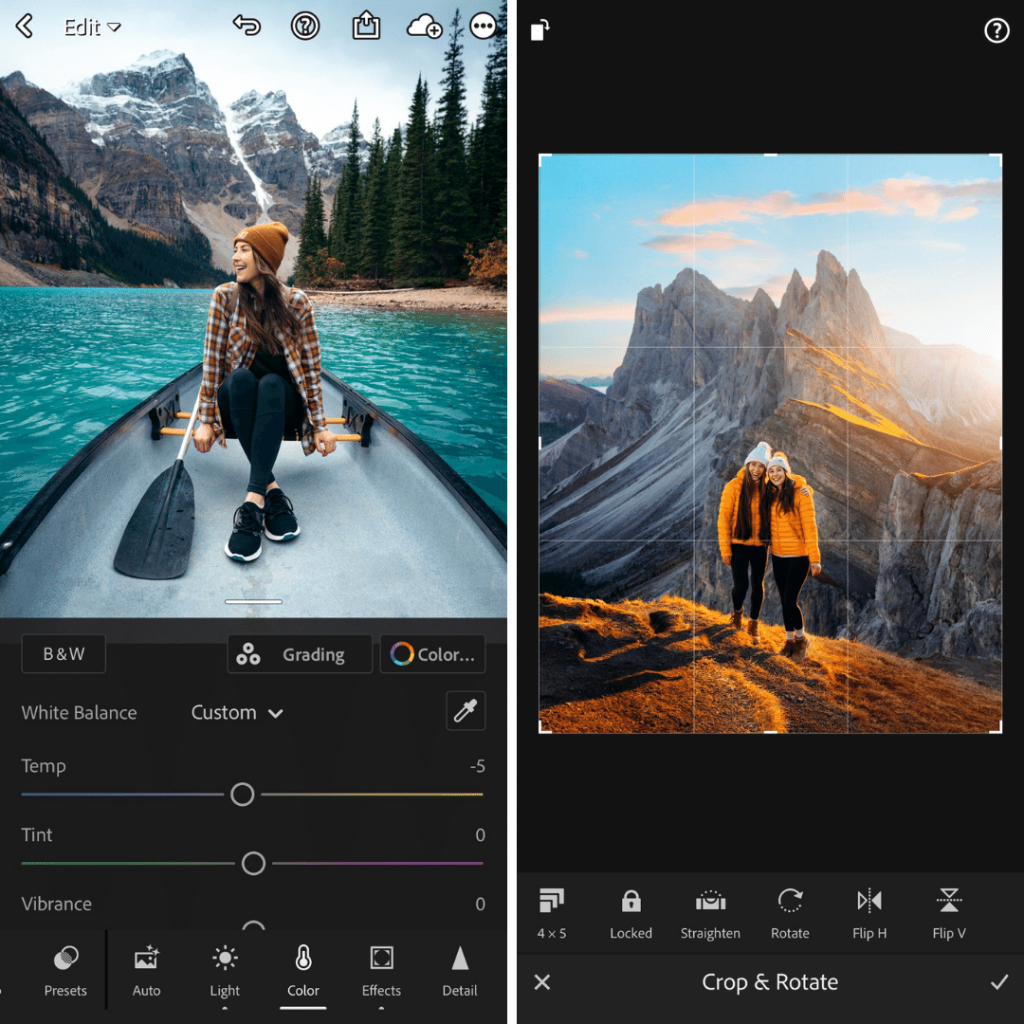 1. Photography app: Adobe Lightroom
When you need the powerful editing tools of Adobe Lightroom, but you're on the go and not by a computer, Lightroom Mobile will be your new best friend. I love being able to edit my photographs with the same love and precision as our camera photos and the ability to use familiar tools like the healing brush. As a bonus, the capability to shoot in RAW with the Lightroom camera is pretty remarkable. Another added benefit of downloading this app is its ability to sync with Lightroom CC on your computer!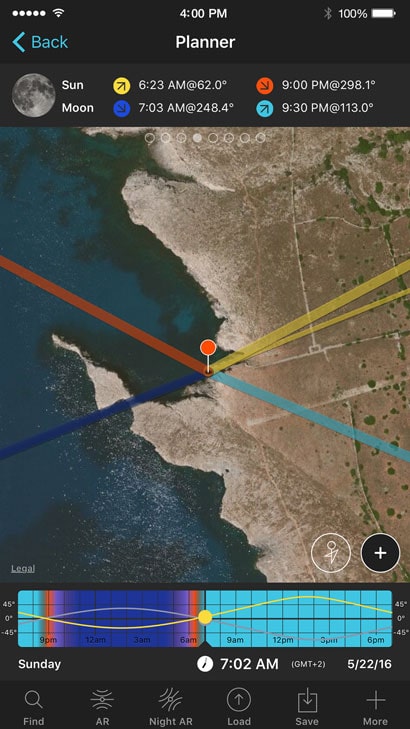 2. PHOTOGRAPHY APP: PhotoPIlls
Photography is undoubtedly a little easier with the right tools, and that's why I love planning my photos using PhotoPills! This app helps you plan your photos ahead of time… So you're always at the right place at the right time to capture the best image possible. Some of my favorite features are the Celestial Almanac tool which includes information about the sun, moon, and Milky Way's rise & set times, locations, strength, azimuth, brightness, etc. It even has an augmented reality mode, so you can see where they will be throughout the day!
Another great feature is the astrophotography tool – if you struggle with properly exposing images of the stars, this tool will be a lifesaver. It allows you to find the proper exposure times to avoid star trails. There's even a Night AR mode that will overlay celestial objects on your phone's camera, so you can see where the Milky Way will be throughout the night.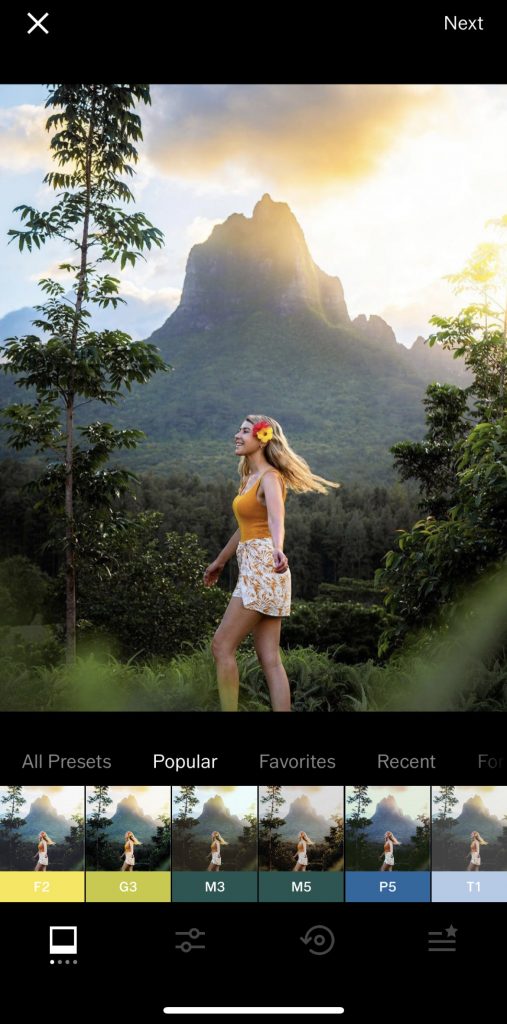 3. PHOTOGRAPHY APP: VSCO
Using VSCO filters is a quick and easy way to edit on the go to give your photos a polished look. While it's not as sophisticated as Lightroom and has fewer tools, it is extremely easy to use! The app is actually so popular that its branded hashtag #vscocam is now one of the most-used hashtags on all of Instagram! If you're looking for a consistent look and feel to your photos, using the same VSCO filters repeatedly is a quick and easy way to start. As a bonus, the community page of VSCO is a great place to source inspiration for your next shoot.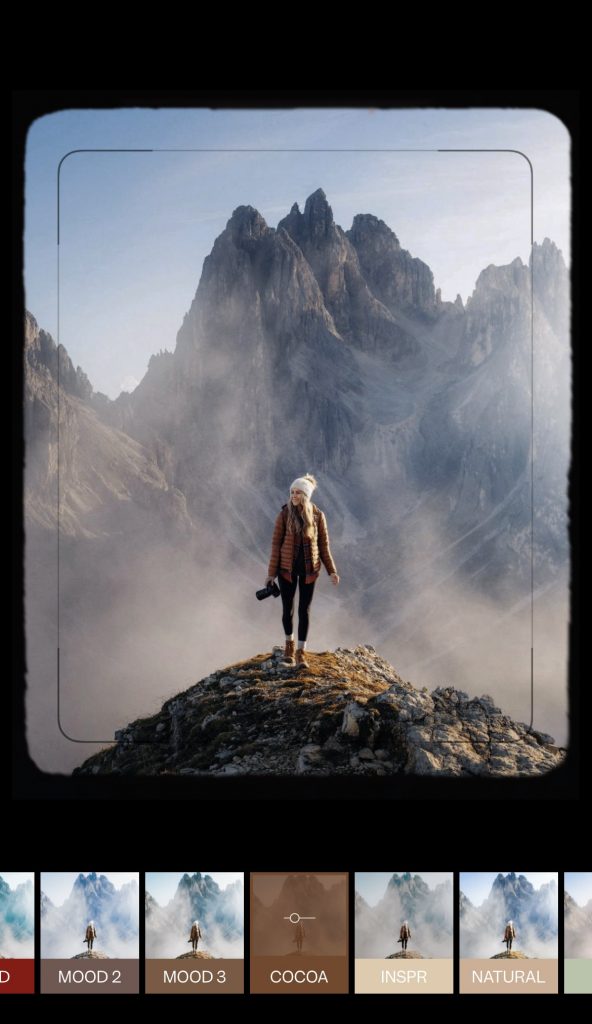 4. PHOTOGRAPHY APP: Tezza
This next photography app is great for editing photos and videos on the go, and offers story templates to showcase your work in a unique way! The Tezza app has some of the most atmospheric presets in the game — as well as a simple to use set of editing tools that make it easy for anyone to get creative. Similar to VSCO, the filters and video effects you can add to your photos make this app unique. It's great for a one-tap edit that you can later refine in Lightroom which has more adjustment options.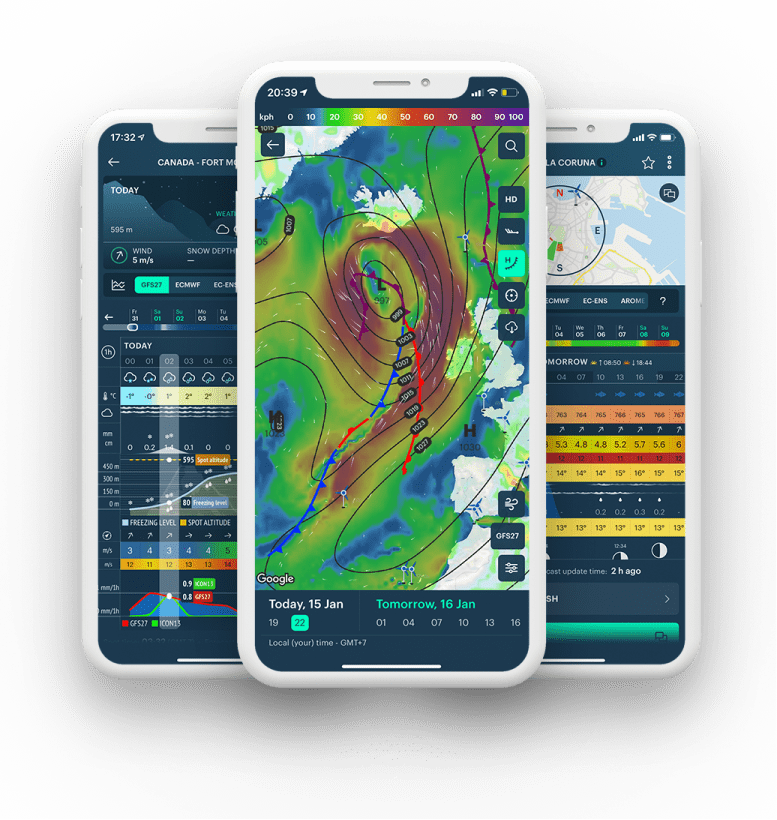 5. PHOTOGRAPHY APP: Windy
Weather forecasting is a vital tool for ALL photographers, not just landscape photographers. While I have tried many different apps, the most accurate one that I regularly use and recommend is called Windy. The uniqueness of Windy lies in the fact that it brings you better quality information than the other weather apps' pro-features, while being absolutely free without ads! Overlays include waves, swells, wind, lightning, cloud base, visibility and much more.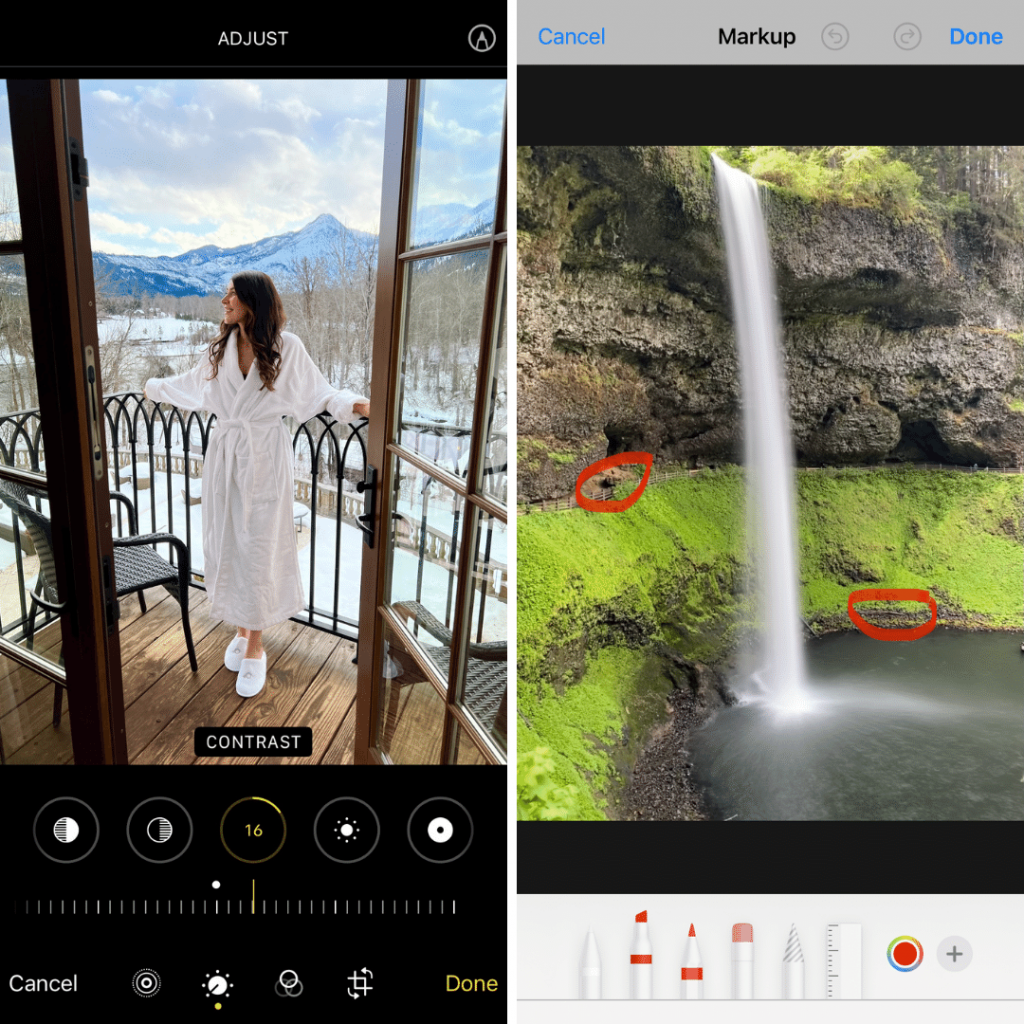 6. PHOTOGRAPHY APP: iPhone 'photos'
The iPhone Photos app is where all the amazing photos you take with your iPhone live. And in recent years it has become more advanced and personalized with intelligent new features that help you find, edit, and share your best shots. You can now import and edit RAW images from Photos on iPhone or iPad models with an A9 chip or later.
One of my favorite aspects of the iPhone is the newer night mode and long exposure option for editing afterward! To achieve a long exposure effect, make sure the Live Photo option in your Camera app is switched on. In default Night Mode the camera will decide the shutter speed automatically, but you can manually adjust the Night Mode exposure time by tapping the Night Mode icon and using the slider above the shutter button to choose a longer duration.
Another great feature of the iPhone Photos app is the "Markup" tools. These are things like colored pens, markers, and erasers. It's a handy feature when trying to explain a scene to someone or when sharing feedback.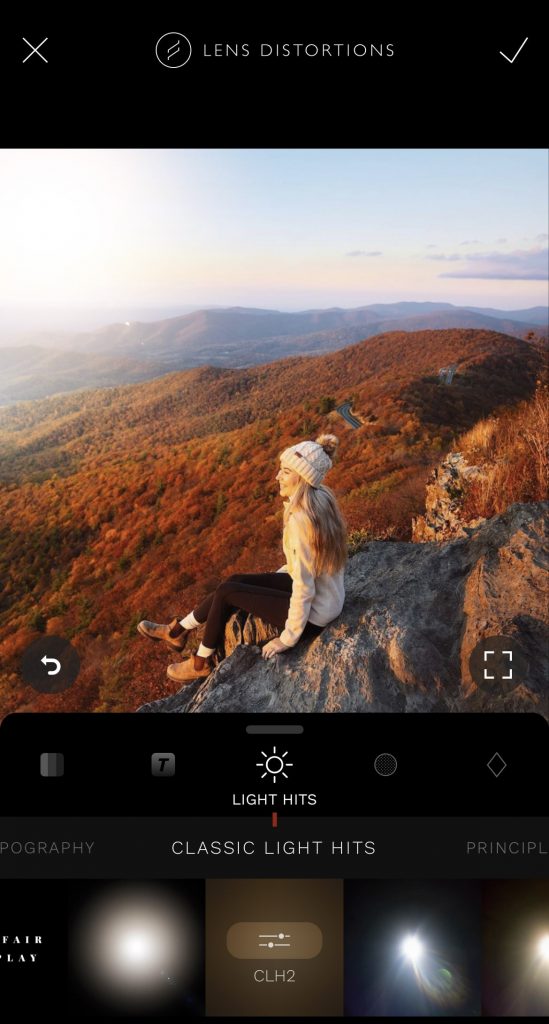 7. PHOTOGRAPHY APP: Lens Distortions
For those of you looking to enhance your photos with overlays, you'll definitely want to check out Lens Distortions! This app offers a unique editing platform, allowing you to combine subtle blur effects, snow, fog, rain and mist filters, light leaks, textures, and overlays to help you tastefully enhance your shot. The great thing about this app is you can add in these effects exactly where you want them placed to add depth and focal points to your images to create the exact mood you're looking to achieve.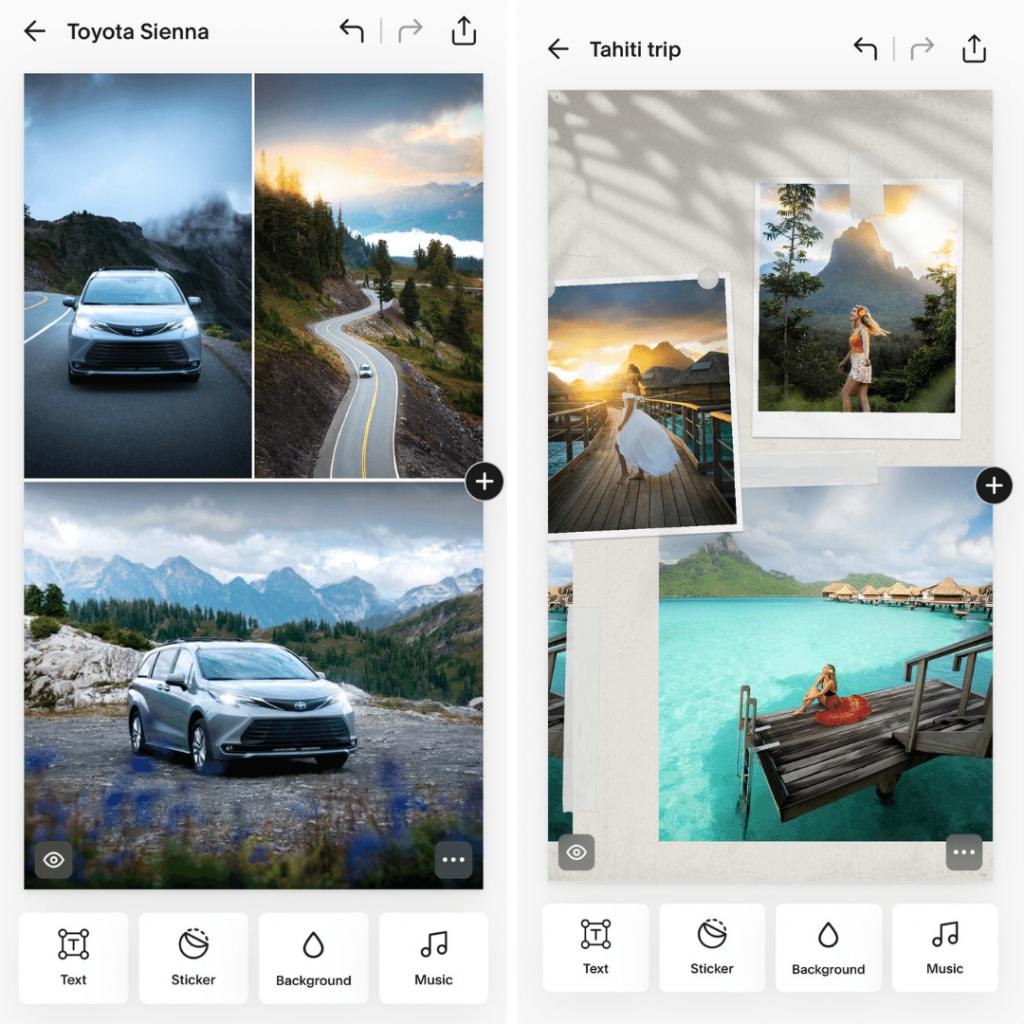 8. PHOTOGRAPHY APP: Unfold
Unfold is an amazing app if you're looking for help creating Instagram Stories, collage-style posts, or editing content (photo + video capabilities). There are both free and premium features and numerous fun templates to choose from. You can now even create animated Stories!
The Unfold app also has a feature called "Bio Sites", which is a link-in-bio tool useful to photographers wanting to feature different things on their social profiles. A feature new to the app is their "Feed Planner". This allows you to plan out your Instagram feed in advance and helps creators ensure their posts stay consistent and inline with their brand aesthetics.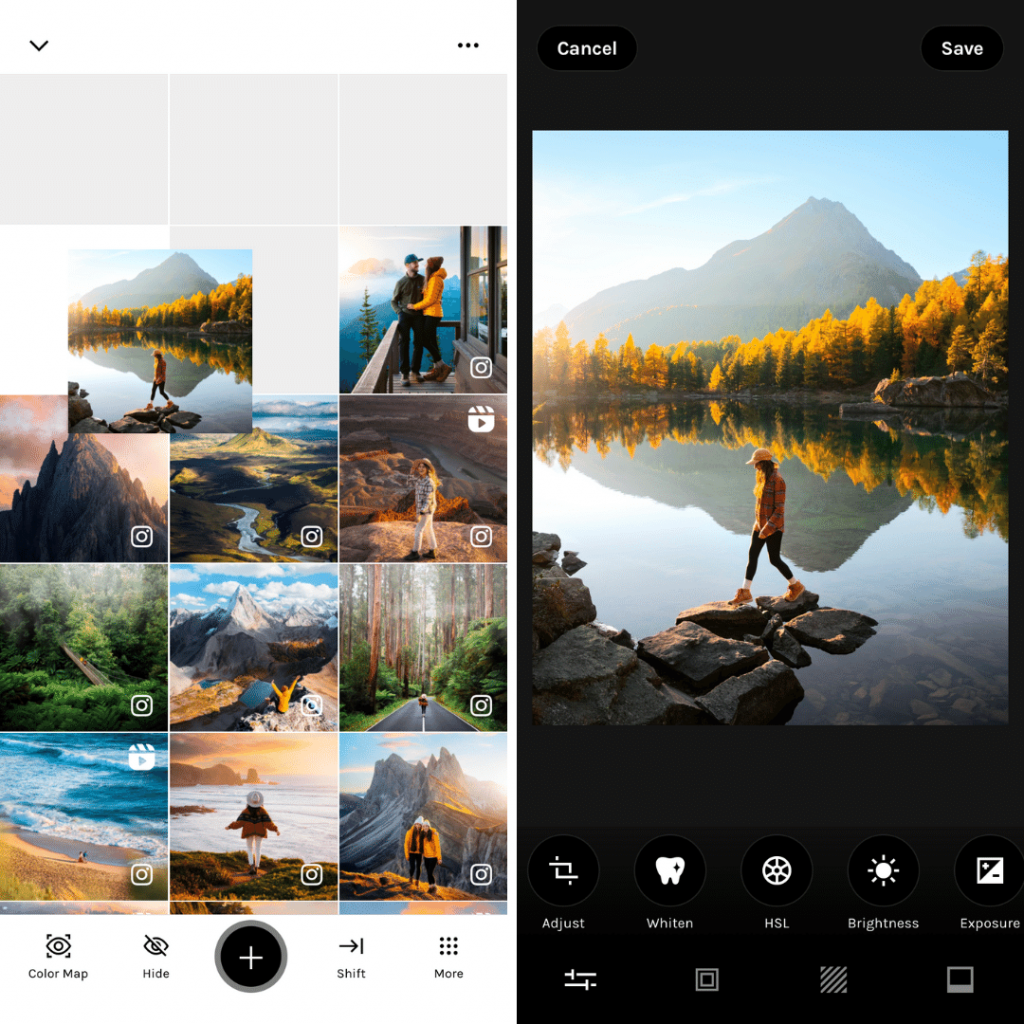 9. PHOTOGRAPHY APP: UNUM
As one of the more creative planning apps on the market, UNUM is my preferred Instagram planning tool because of the fact you can easily see your grid and include Reels. UNUM has filters and tools to edit your images in-app, as well as some editable templates for creating Instagram stories. You can create multiple versions of your grid and drag-drop to arrange the order of your posts. You can even schedule posts in advance and track post insights. Later.com and Planoly are two other good options if you're looking for help planning your feed.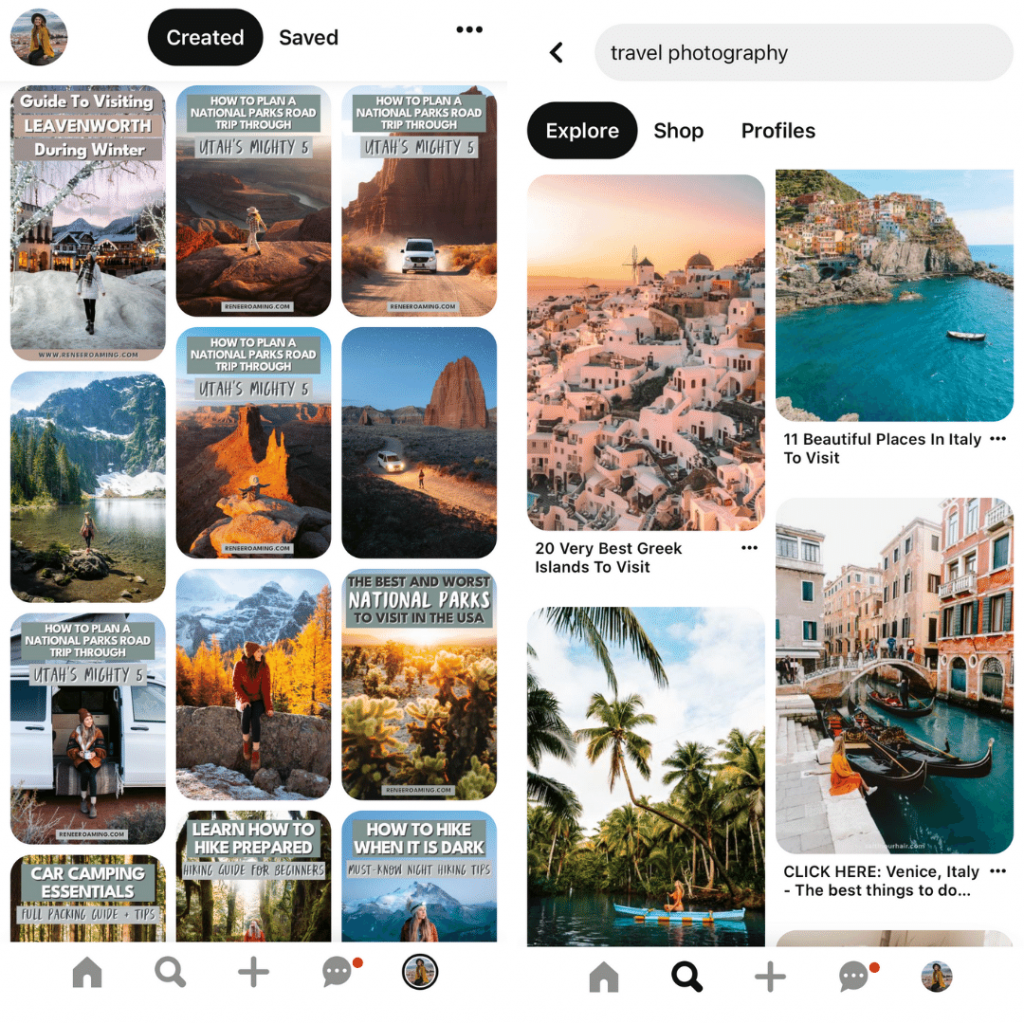 10. PHOTOGRAPHY APP: Pinterest
While Pinterest has been around for a while, and might already be on your radar, it's a great tool to use to get inspired before a photoshoot, and to post your work on a less traditional medium to get more website traffic. Travel photography is one of the highest ranking topics on Pinterest so sharing your work here is a great way to diversify to be on multiple platforms. I recommend creating a mood board for each of your shoots and referencing it during the photoshoot to make sure you get the shots you wanted! Pinterest is also a great research tool – you can use Pinterest and sites such as Pexels and Unsplash to look up what shots other photographers have taken at the location you're visiting.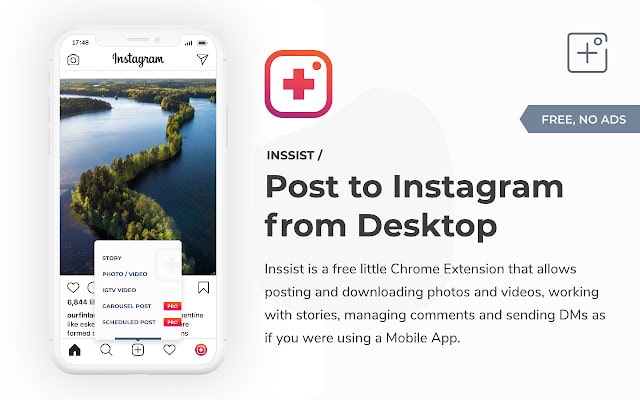 11. PHOTOGRAPHY APP: inSsist
While Inssist may not be an app, it's a great tool to use if you dislike using Instagram on your phone! Inssist is a free Chrome plugin that lets you post photos, videos & stories to Instagram from your Desktop, download and schedule posts in a grid, monitor unfollowers, gain competition insights and more. One of the unique features of Inssist is "Ghost Mode" which allows you to read someone's DMs without notifying them. There's even an optional paid Zen mode that makes your home feed look much less cluttered and stylish. Definitely worth checking out!
Cost: Free version or Pro for $7.99 a month
Download: N/A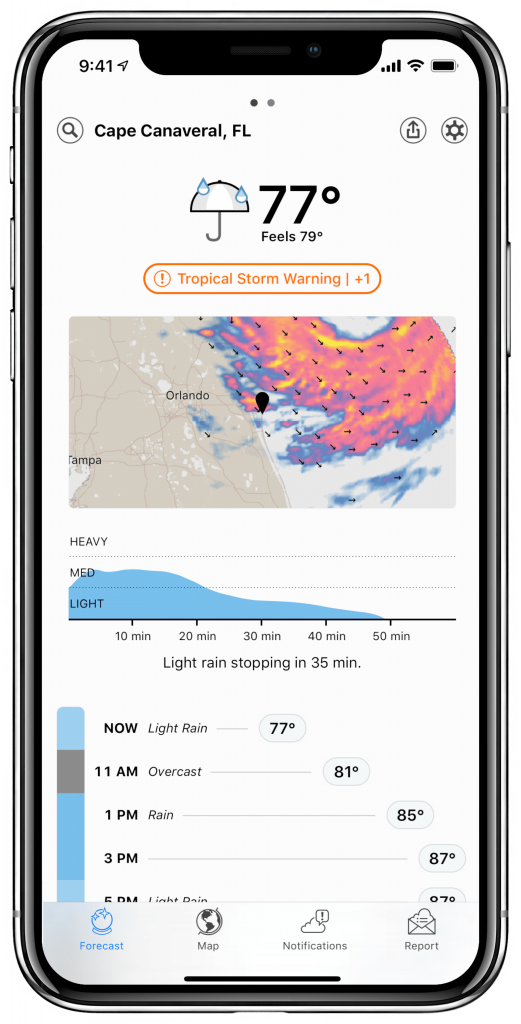 12. PHOTOGRAPHY APP: Dark Sky
Nighttime photography consistently produces some of the most stunning photographs on the planet, but it can definitely be tricky to time and expose! Dark Sky helps you optimize your astrophotography. To use Dark Sky, simply select your Camera, and the focal length of your lens, and Dark Sky will use the 600 rule to calculate how long of an exposure you can have. Nighttime photographers will find this night photography app incredibly useful to shoot photos of star formations without having to worry about long star trails.
Cost: Free
Download: iOS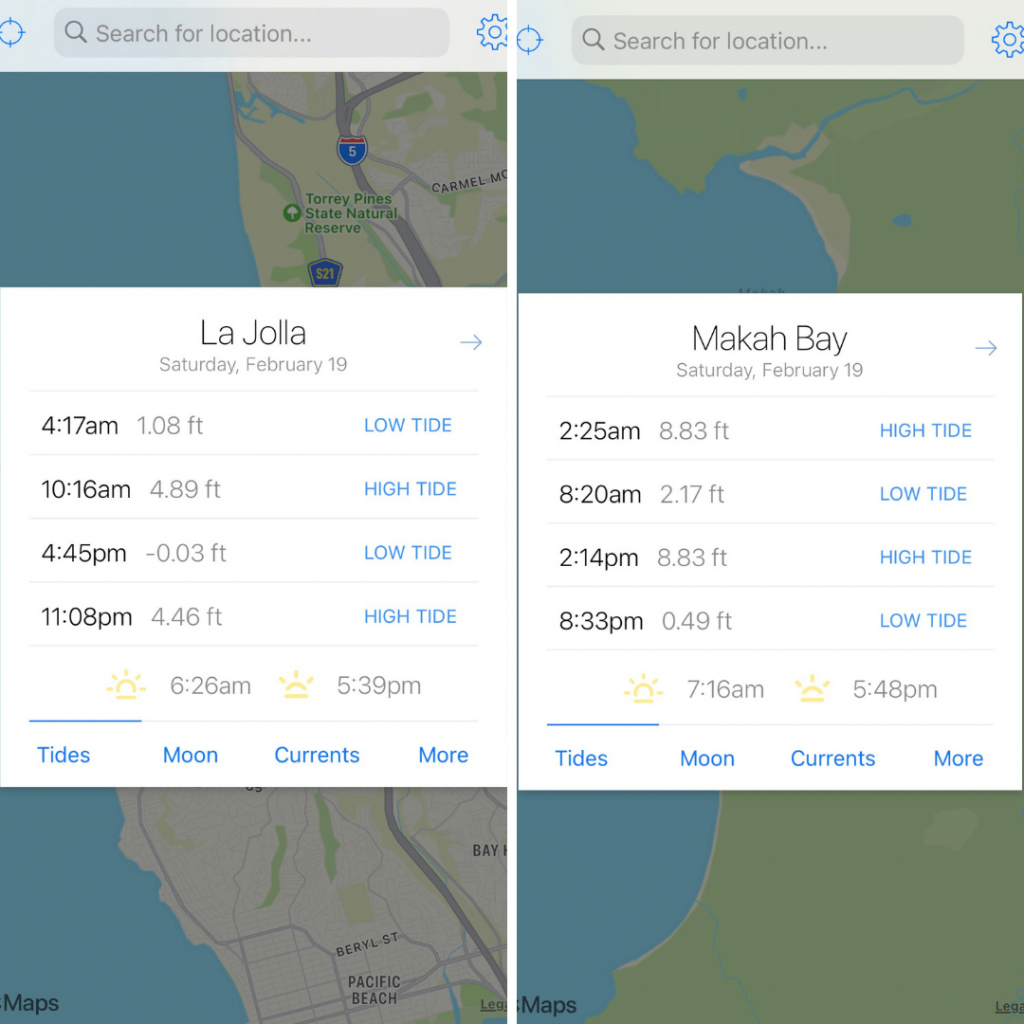 13. PHOTOGRAPHY APP: My Tide Times
For anyone who likes to shoot by the ocean, this app is a must! My Tide Times shows you the high and low tide times, tide heights, as well as the sun and moon rise/set times. The fully automated tide tables, charts, and predictions are incredibly helpful to know ahead of time so that you can prepare your shoot accordingly for optimal conditions.
Cost: Free
Download: Android and iOS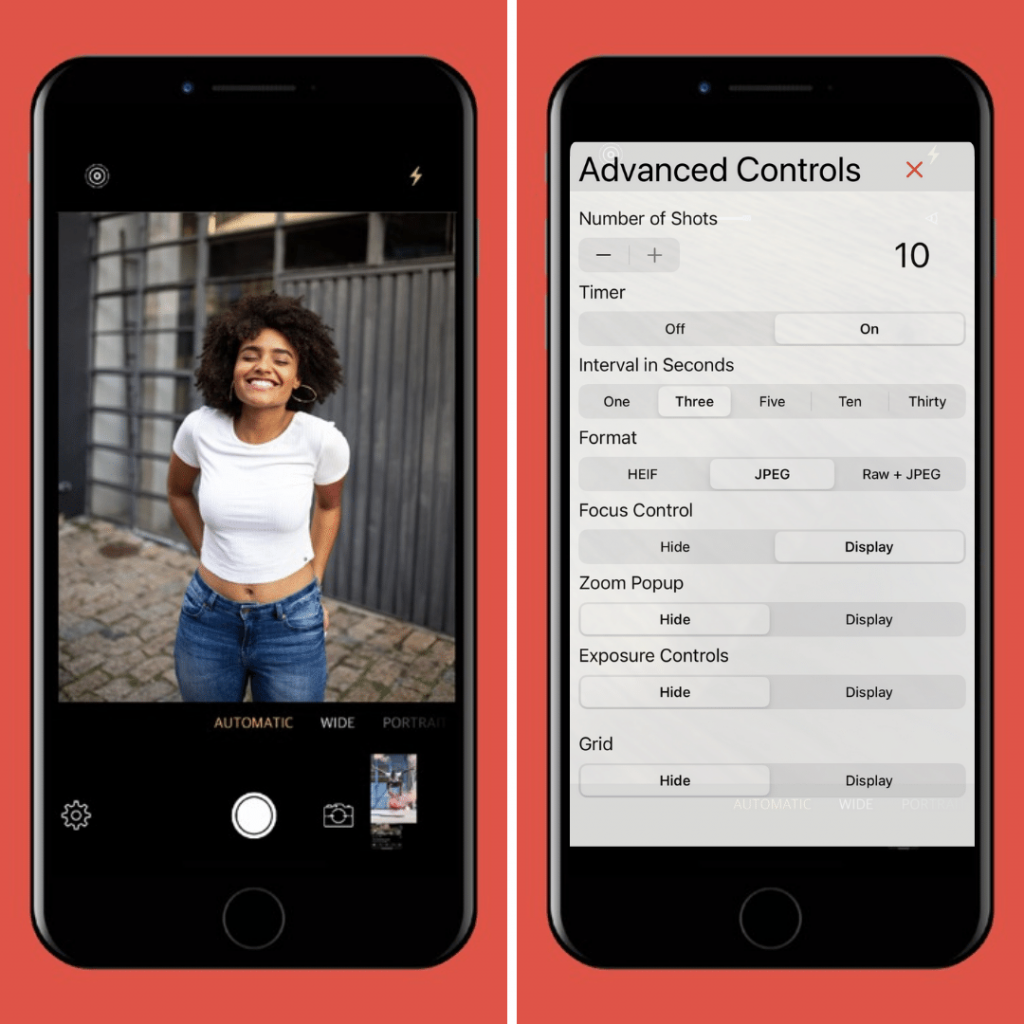 14. PHOTOGRAPHY APP: Lightning Lens
This next photography app is an intervalometer for your phone, with a number of adjustment options and features! Lightning Lens is a premium camera app for photographers and is easy enough for anyone to pick up and use. One of the handiest tools is the custom interval setting so you can choose how fast your photos will be taken. It also includes features like a timer to delay photo capturing at a chosen amount, and the ability to choose output format including RAW, JPG, and HEIF. Having trouble finding Lightning Lens in the App Store? A similar app is Lens Buddy (also free.)
Cost: Free
Download: iOS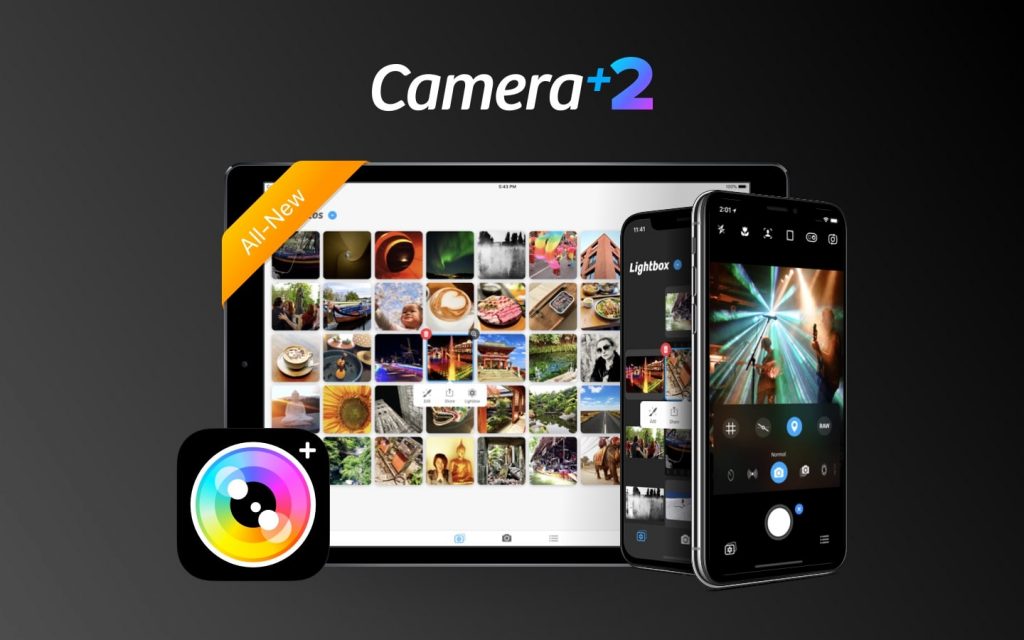 15. PHOTOGRAPHY APP: Camera+2
Whether you're a seasoned photographer or someone who has barely touched a camera, Camera+2 provides you with all the tools you need. This app allows you to shoot in RAW, play around with long exposures, white balance, and manual focus, and it even has a macro mode. ProCamera is another great alternative to this app!
Cost: Free
Download: iOS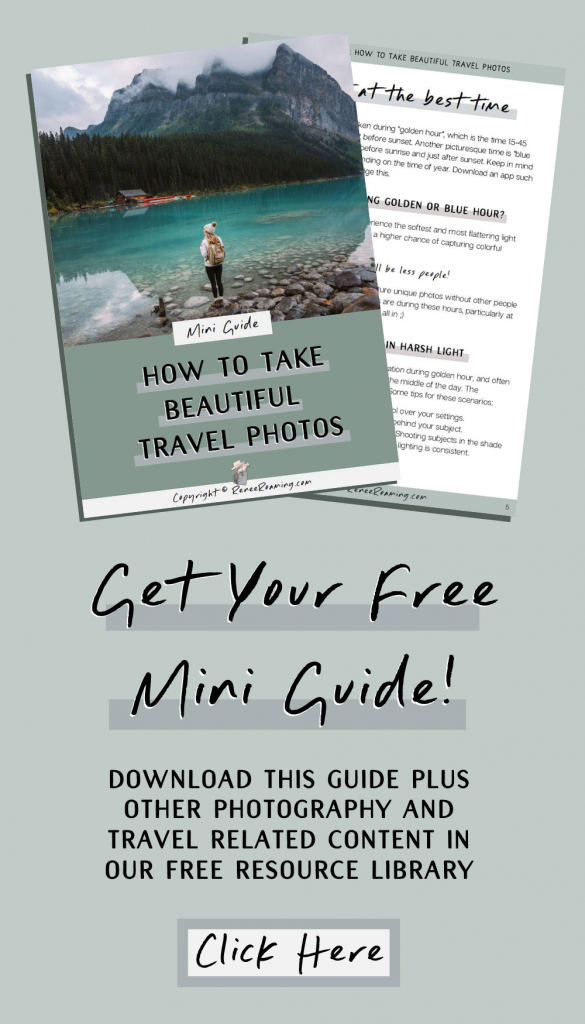 How To Take Better Photos
Want to take better photos? These tips have massively helped me over the years when capturing travel moments. I love being able to look back and reminisce on our adventures and have those memories to keep for years to come. In our guide to taking better travel photos we've shared with you our best tricks for taking stunning travel photos! Here are a few of them:
Shoot in manual mode for more control over your settings
Shoot at "Golden Hour' for optimal lighting conditions
Don't forget about composition! Look for leading lines, symmetry, and depth of field
Use a tripod with a self timer if you don't have anyone to take your photo for you
Shoot in RAW rather than JPG to allow more control when editing
Remove distractions and look for ways to simplify your image
Final Thoughts on the Best photography apps
Photography is a whole lot more fun when you can create images that meet your true vision, and to do that you need the right apps to help you along the way. I hope that these photography apps can help boost the quality of your posts — and save you time. If you use any of these apps regularly or discovered a new one from this blog post, I'd love to hear what you think in the comments!
---
PIN for Later!