Sleeping in your car can turn any road trip into a more budget friendly adventure. Plus, it's a super convenient way to travel with a high level of freedom and independence!
Over the years I have road tripped and lived in all types of vehicles: 4×4's, sedans, tiny hatchbacks, campervans, and small RVs. Some of those car camping trips have been local and some overseas (with the extra challenge of packing a limited amount of gear!)
During those adventures I made a lot of mistakes and learned a thing or two about sleeping in cars! When it's done right = FUN… but when it's done poorly = definitely puts a dampen on your trip. Keep reading to avoid those preventable slip-ups and find out my top tips for sleeping in your car on road trips!
Disclaimer: This blog post is in collaboration with Backcountry.com and features some affiliate links. This means I get a small commission if you make a purchase (at no extra cost to you). Use code RENEE15 to get 15% off your first Backcountry order (some exclusions apply). You can also learn more about my affiliate policy here. Thank you for the support!
Top Tips for Sleeping In Your Car on Road Trips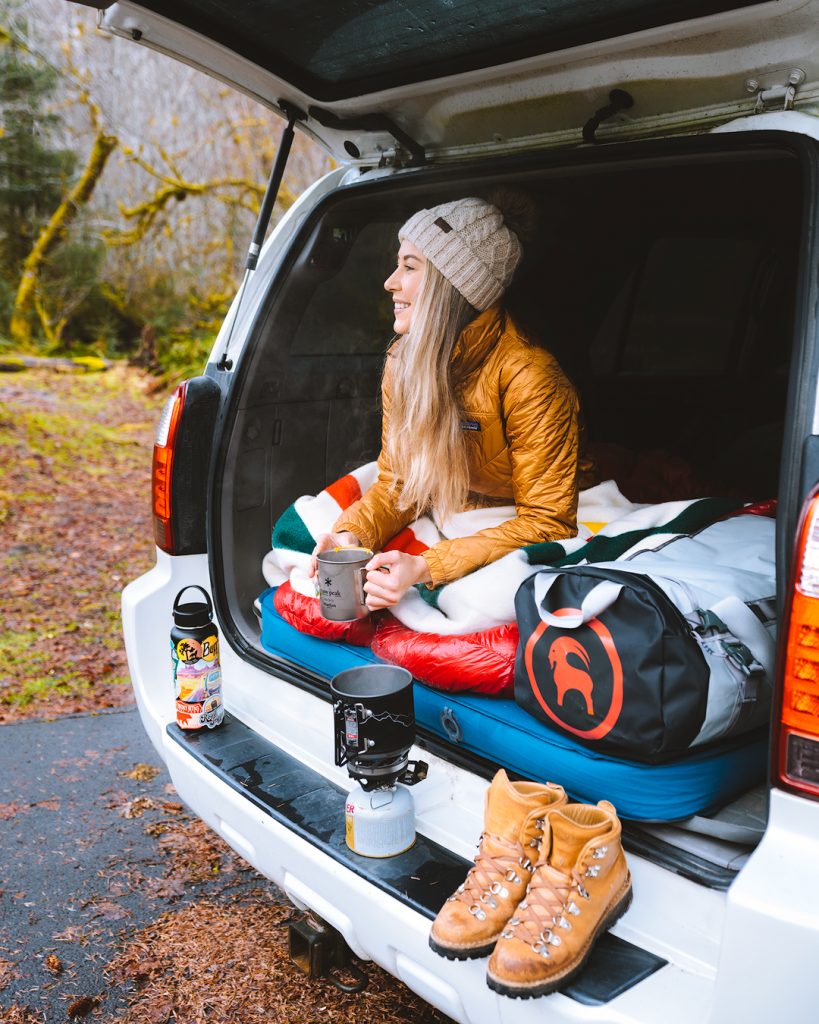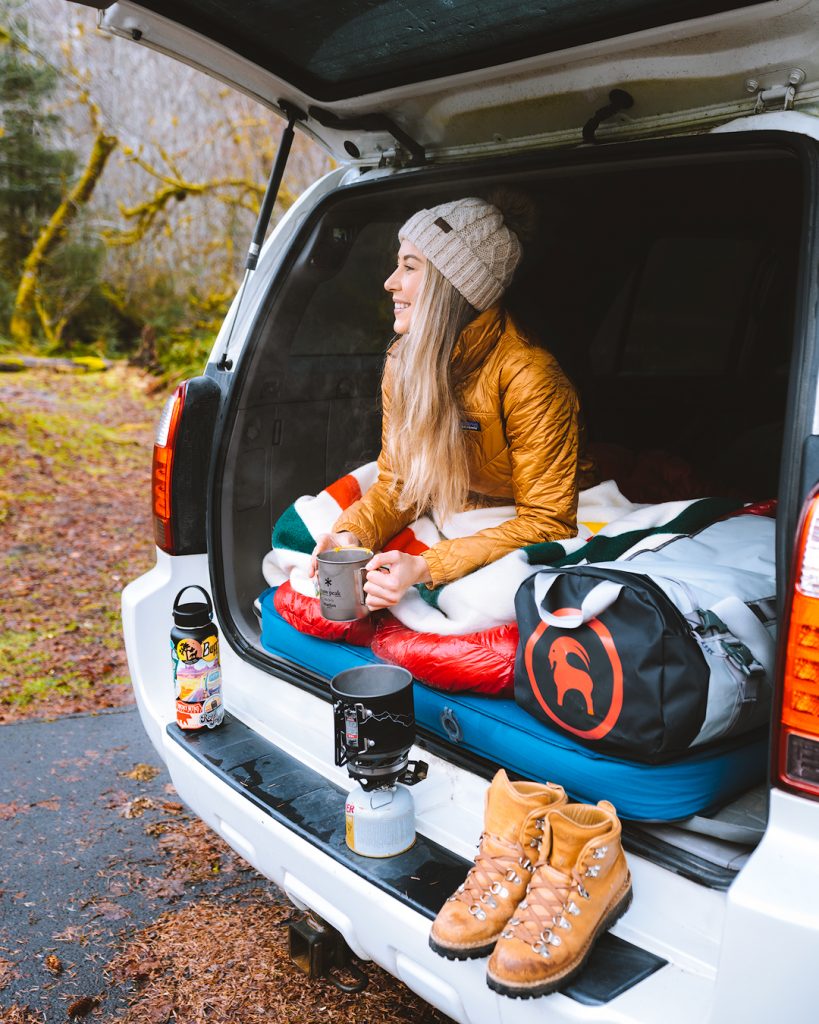 Sleeping in your car when local vs far away
One of the top questions I get asked is about car camping on international trips. I get it! When you haven't done it before it can seem very overwhelming. I remember my very first overseas car camping trip (Iceland 2014) and not having a clue what to pack. I've since worked out a pretty good system and here are my top tips for international travelers planning to sleep in a vehicle on their next adventure:
Invest in lightweight gear
If you think there is a chance that you may want to undertake a mix of local and far away adventures then I would definitely consider investing in lightweight gear. When I say lightweight I am literally meaning lighter and more packable items. Think tent camping at a campground vs in the backcountry, same concept!
The thing is, you can also use lightweight gear when you take local adventures so in my opinion is usually better to start with a lightweight system and then branch out when you can afford more comfort pieces.
RELATED: A Beginners Guide Backcountry Camping
Pack the bare bones
When you are packing a car camping set-up for overseas travel, you will need to keep everything as light and compact as possible. Firstly, it helps if you're traveling with another person and can split the load. Secondly, you may need to let go of a few comfort items and really just focus on taking the essentials: sleeping pad, sleeping bag, pillow, small camp stove, spork, water bottle, headlamp, etc. (more on that below)
Using compression sacks and packing cubes will help you get your gear as compact as possible, but be cautious to remain under the airline weight limit. Use your check-in, carry-on, and personal item to your full advantage and wear heavy/bulky items on the plane (hiking boots, jacket, etc.)
Buy food at your destination
Unless you have dietary restrictions, it's probably best to skip on packing heavy food items and instead buy them on arrival. You may not even be able to take in certain food items depending on the country, so it might also save you some hassle. In saying that, I will usually pack a handful of protein bars just in case it takes a day to stock up on groceries.
SUGGESTED ADVENTURE: Oregon 7 Day Road Trip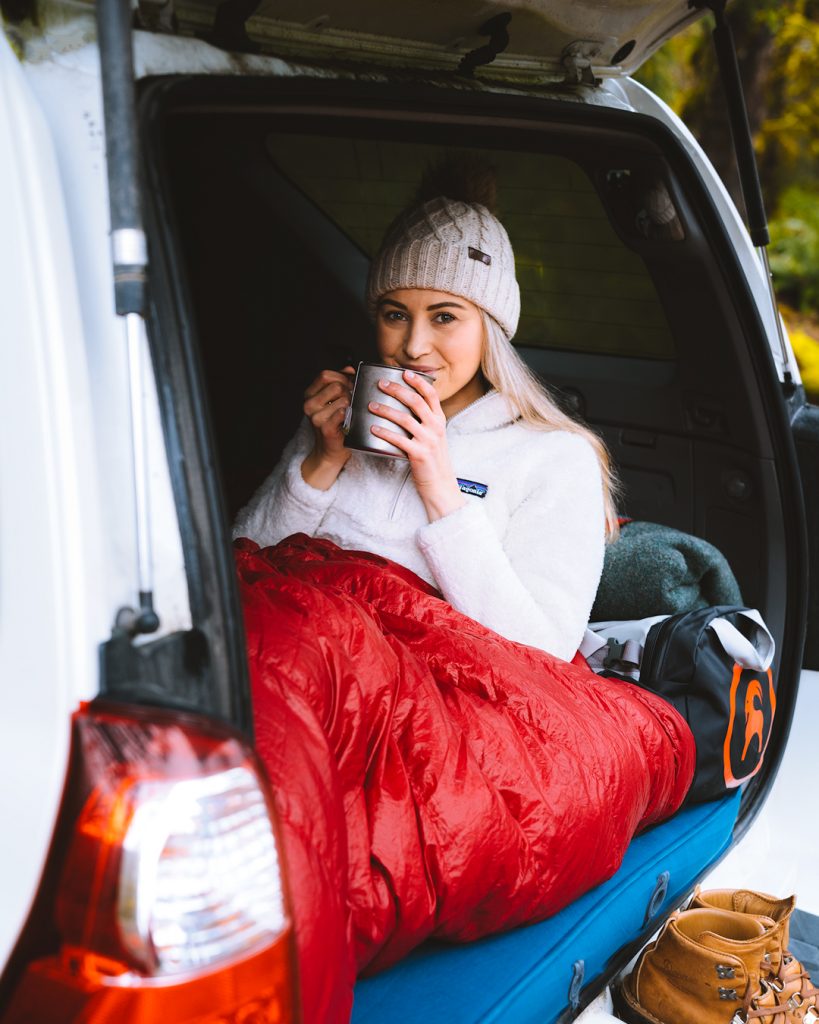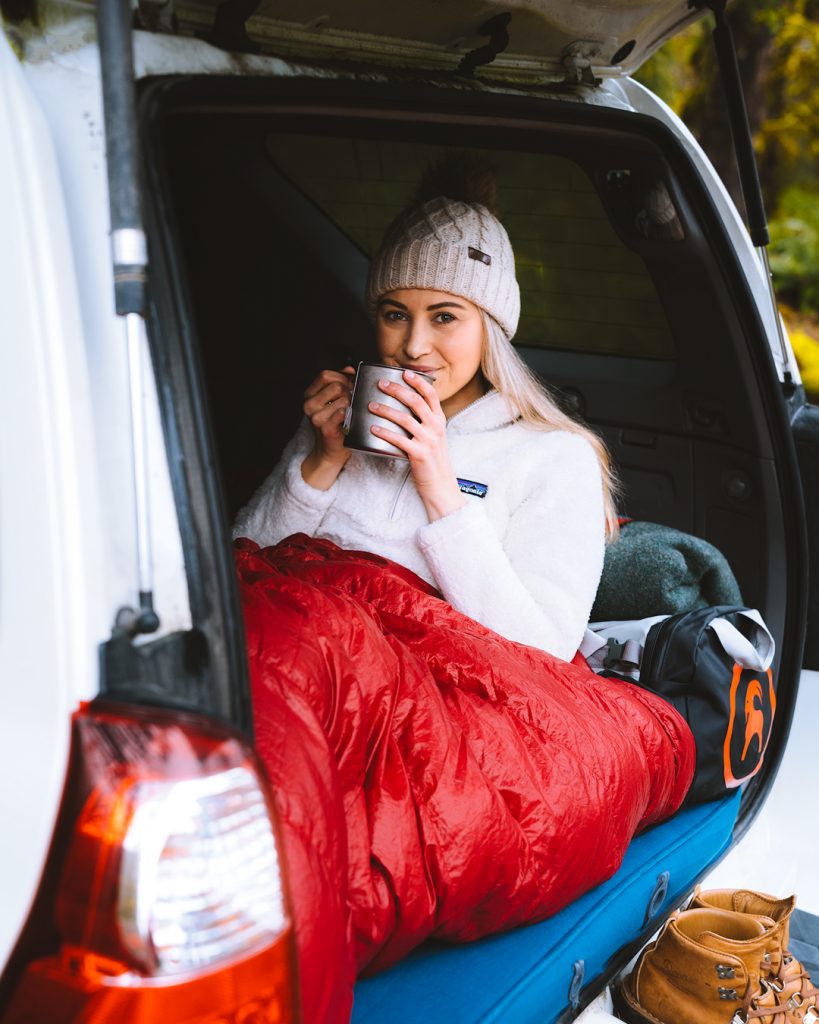 Is it safe to sleep in your car?
Yes, it is safe to sleep in your car! In my experience anyway. As I said earlier, I have lived on the road for numerous periods over the last 5 years (probably almost 2 years total if you add it all up). Not once in all that time have I experienced a sketchy situation that made me think I was unsafe.
Sure, I have always been with my husband so that alone is safer than solo road tripping, but I have plenty of friends (male and female) who live on the road by themselves. I think the number one consideration is to just use common sense.
If you arrive somewhere that seems a little weird, move on to another spot. Lock your doors, sleep with your keys close by, and always leave your drivers seat empty and accessible for an instance where you may need to leave in a hurry. I have friends that carry bear/pepper spray as a weapon, in case they ever needed to use it (they haven't).
Tell friends and family where you are going and stay within areas with phone service if you are worried. Keep valuables like camera gear and laptops out of sight when leaving you car (best yet, take them with you in a backpack). And it goes without saying, but always research and follow the rules.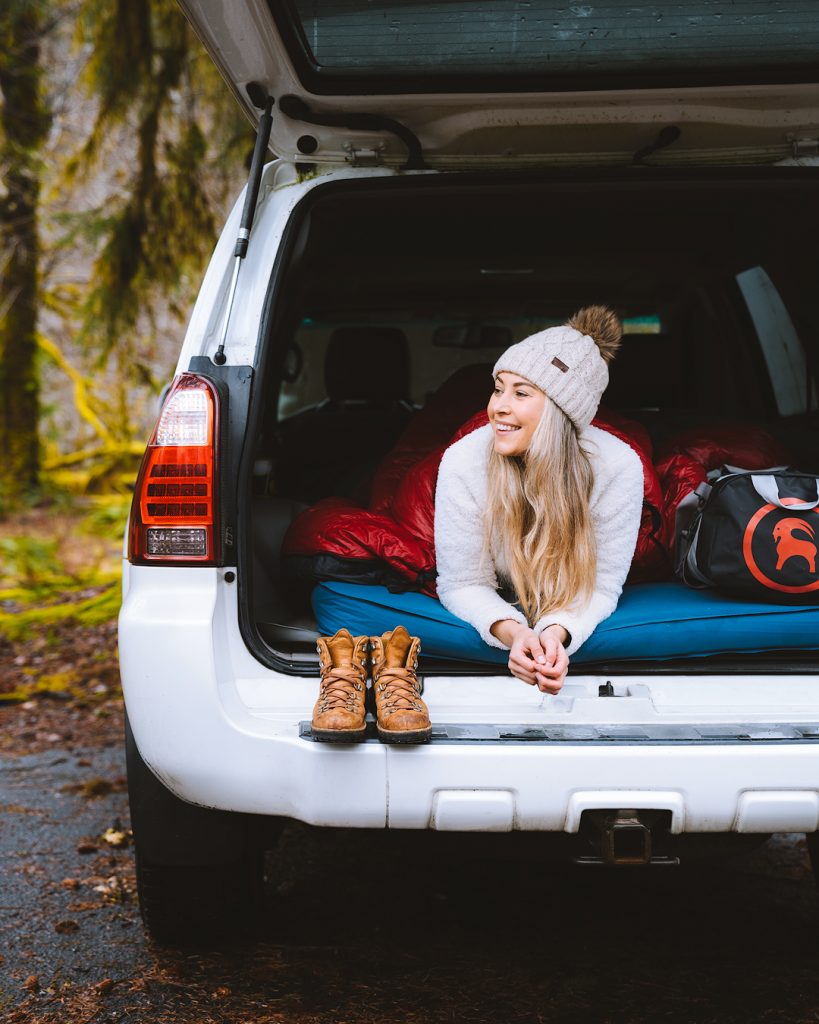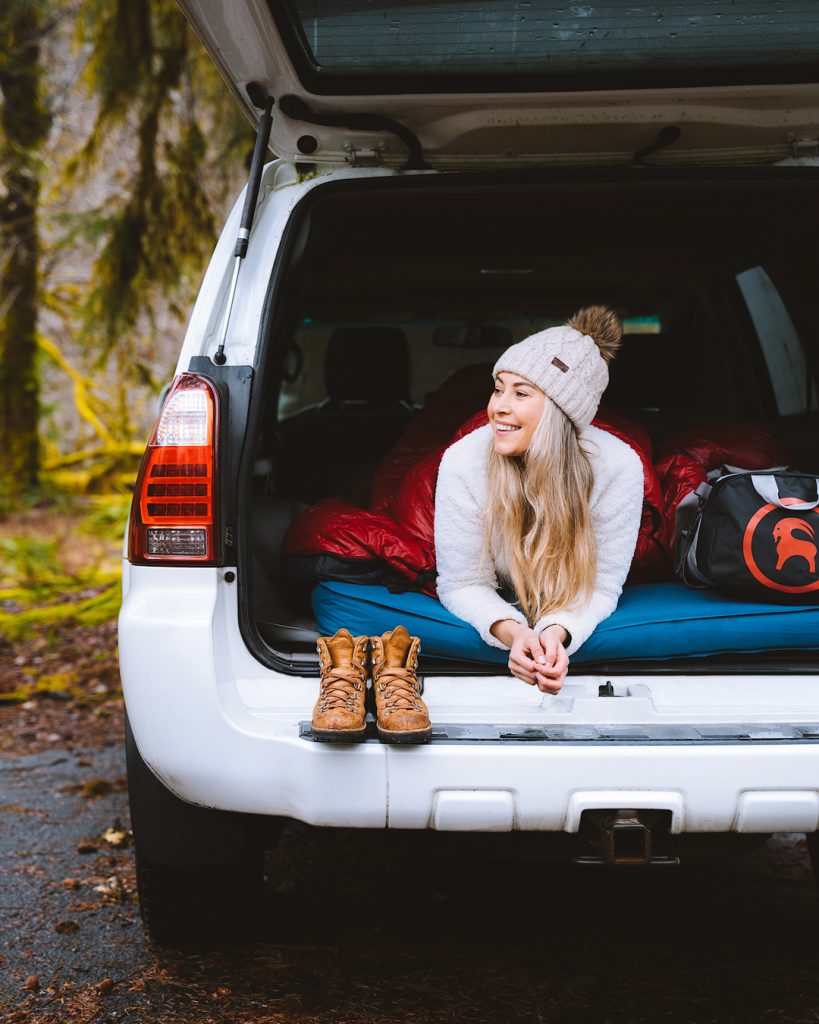 Finding places to stay when car camping
Finding places to sleep in your car can be easy or challenging, depending on where you are. I find that there are ample options here in the USA… you just have to know where to look!
To find spots for car camping, I personally like to use apps such as AllStays, iOverlander, and US Public Lands, and websites like freecampsites.net and HipCamp. Word of mouth or asking on social media platforms can also be helpful when done right.
Here are places that you can car camp:
BLM land
BLM stands for Bureau of Land Management and it's a sector run by the US Department of the Interior. When it comes to recreation, BLM means public lands that are accessible for activities such as hiking, camping, climbing, mountain-biking etc.
There is BLM land all over the U.S. and the Western states have a particularly high density. Car camping is quite easy on BLM land and accessible in many areas if you know what to look for. Options include free dispersed camping as well as campgrounds with basic facilities (and a small fee to cover running costs).
Check out the BLM camping help page for more information and always ask a local ranger if you are unsure about regulations.
Wanting an option for outside the US? I find that many countries have something similar to BLM land and a quick google search usually brings that up. Countries like Iceland and New Zealand have "freedom camping" or "wild camping" rules, but again, you're best to research each specific destination before going.
Campgrounds
We touched on BLM campground above, but there are many other options. You will find established campgrounds in state and national parks (can often be reserved via recreation.gov in the US) as well as privately run campgrounds.
In my experience the more you pay for a campsite the more facilities you usually have access to. Some private campgrounds offer showers, laundry services, indoor cooking facilities, electrical hook-up etc. These sorts of campgrounds are handy to access whenever you are in the need for a freshen up and recharge.
Business parking lots
Oh yes, the good ol' Walmart parking lot! Not ideal but these kind of options can come in real handy when you're passing through a town and need a last minute place to stay. Plus, they are free!
Some places in the US that often allow overnight parking (with links to locations) are Walmart, Costco, Sams Club, Home Depot, Lowes, Cabelas, Cracker Barrel, Kmart, rest stops, casinos, and religious buildings. If you're unsure, just ask the manager and ALWAYS be respectful.
Appropriate etiquette in these situations include checking for signage about overnight parking rules, parking your vehicle out of the way (usually in the back row or to the side of the parking lot), only spending one night, and limiting parking to overnight and leave quickly in the morning (don't stay all day!)
Another courteous thing to do would be to spend some money at the particular store you are parking at. For example, if you park at a Walmart it would be courteous to grab some groceries while you are there.
Neighborhoods + backstreets
It is possible to sleep in your car in urban settings, though it does often require some extra searching. Firstly, make sure to read up on the local regulations. There isn't a nationwide law that prohibits sleeping in your car in urban settings, but some states and cities have regional laws that make it illegal.
If you have established that it's legal, your next step will be to find a quiet street that is out of peoples way. Don't draw attention to yourself, be respectful to the neighborhood, and don't linger longer than you need to.
Another option is to ask friends or family you may have if it's okay to park in their driveway as you pass through town. My husband and I have done this on numerous trips and it's actually a really fun way to catch up with people without encroaching on their space.
RELATED: Leave No Trace: The Seven Principles
Privacy tips for sleeping in your car
It can feel a little weird sleeping in your car! My number one tip is to try and park places that are private and quiet. If that's not an option then at least arrive at your destination in the dark, set up your sleeping arrangement, and turn your lights off quickly (this will limit how long people can see inside your vehicle).
Another option is to make some makeshift curtains out of clothes or a sheet. This article shows a really easy and affordable way to do it! If you want a more durable and long term option then I would suggest making customized reflectix coverings like shown in this video and this blog post.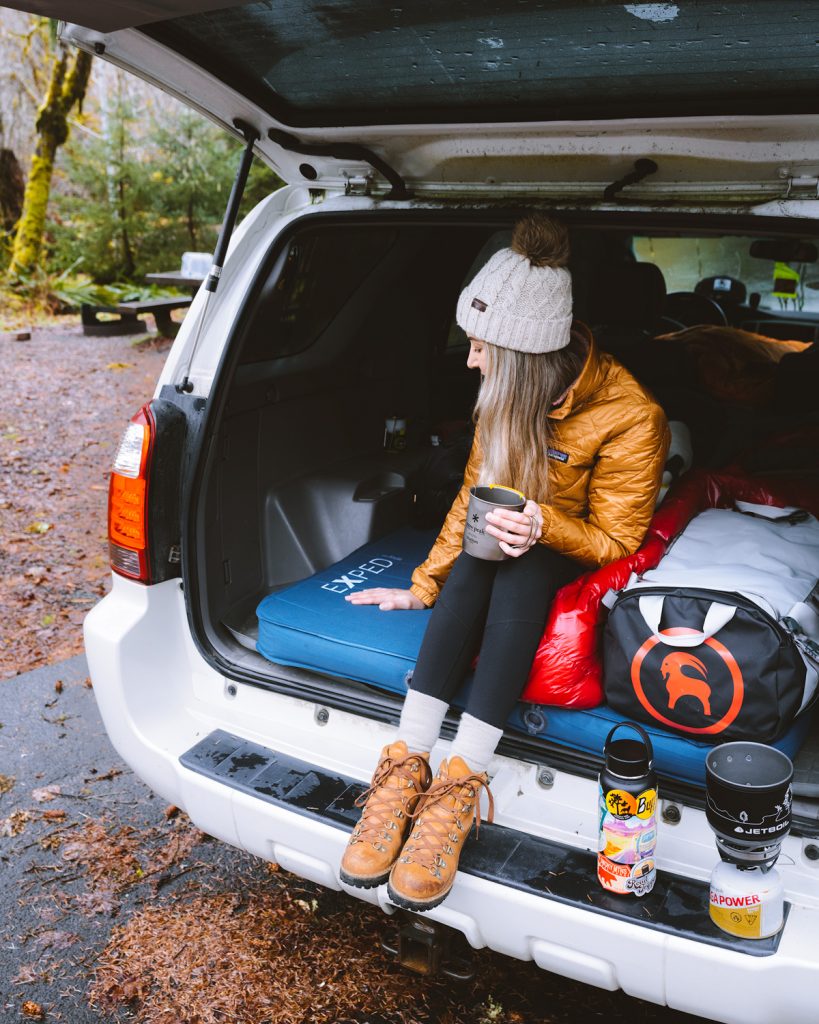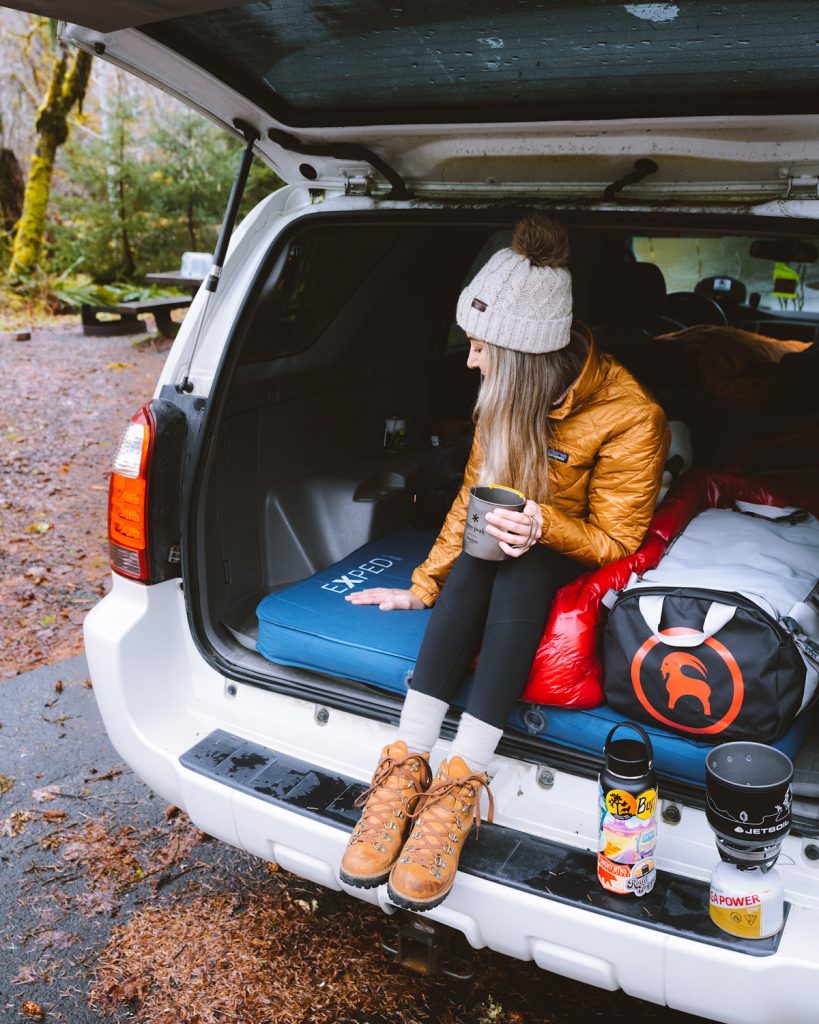 Gear for sleeping in your car
There isn't a whole lot of gear that you need to sleep in your car, but certain items definitely make the whole experience a lot more cozy and safe. Below are the gear items I would recommend for sleeping in your car, along with lightweight options for when you are traveling overseas and need to pack minimally:
Comfy sleeping pad
Having a comfy sleeping pad makes all the difference! There are essentially three different avenues you can take. The first is to use a lightweight inflatable sleeping pad that you would use in the backcountry and packs down super small. This option is perfect for when you flying to your destination and renting a car or if you don't want to invest in extra gear and already own a camping pad.
Recommended lightweight sleeping pads: Exped SynMat UL, Backcountry x NEMO Verata Sleeping Pad, Exped Synmat HL Duo Sleeping Pad (2 person)
The second avenue is to use a thicker and bulkier car camping mattress. These are generally comfier, often cheaper, but do take up much more room in your vehicle when not in use. They are also too large to travel on planes with. This option is my go-to for car camping trips if I am driving from my home and don't need to fly.
Recommended car camping sleeping pads: Exped DeepSleep Mat 7.5 Sleeping Pad, Kelty Tru.Comfort Camp Bed Doublewide (2 person), Exped Megamat Duo 10 Sleeping Pad (2 person)
The third avenue is to use a spare mattress you may have at home if it fits in your vehicle. An example of this is a small memory foam mattress you may keep for when visitors stay, or a regular child sized mattress. This option will obviously depend on how large your vehicle is and what you have at home.
TIP: measure your car before buying anything! My husband and I enjoy sleeping in the back of our 2008 Toyota 4Runner and find that only a certain size mattress fits in between the wheel wells. Don't make the same mistake as us and order something before you do your measurements 😜
Sleeping bag / blankets
The next piece of required gear for sleeping in your car is some sort of insulation to keep you warm. Similar to above, there are a few options:
Your first option would be to use a lightweight sleeping bag that you may already own for backcountry camping/hiking adventures. These are light, compact and perfect for packing when you have limited room or need to fly to your destination.
Recommended lightweight sleeping bags: Backcountry x NEMO Chigu Women's Sleeping Bag, Backcountry x NEMO Chigu Men's Sleeping Bag, Big Agnes Torchlight UL Sleeping Bag
The second option would be to invest in a sleeping bag more purposely made for car camping. These are usually more affordable, bulkier/heavier, cozier, and can often be shared between two people. This is a great option for when you're driving from your home but not so much for flying to your destination.
Recommended car camping sleeping bags: Kelty Kush Sleeping Bag, Big Agnes Camp Robber Down Bedroll, The North Face Eco Trail Bed Double Sleeping Bag
Lastly, the third option would be to bring blankets, a comforter, or duvet from home. When driving from home I personally prefer to pack a sleeping bag as well as a few blankets, that way I will be 100% covered for warmth and also feel cozy.
Recommended cozy blankets: Pendelton Glacier National Park Blanket, Pendelton Roll-Up Blanket, Rumpl Sherpa Blanket
RELATED: My Holy Grail Hiking and Camping Gear
Camping pillow
Again, there are a few options as far as pillows go for sleeping in your car. It really just comes down to your budget, style of trip, and comfort preference.
The first option is to stick to a lightweight backcountry camping pillow. These are absolutely tiny and weigh almost nothing, making them perfect for air travel. You can cozy them up by covering them with a neck gaiter or t-shirt and stuffing a down jacket in between (I explain how to go about doing that in my "9 Tips for Getting a Good Night's Sleep When Backcountry Camping" blog post).
Recommended lightweight pillows: Exped Air Pillow, Sea To Summit Aeros Ultralight Pillow, Sea To Summit Aeros Ultralight Deluxe Pillow
Your second option will be a car camping specific pillow that is a little comfier but also slightly bulkier. These may be compressible enough for air travel depending on which one you choose.
Recommended car camping pillows: Kelty Camp Pillow, Backcountry x NEMO Kiko Pillow, NEMO Equipment Inc. Fillo Luxury Pillow
Then your third option would be to bring along your pillows from home. This is my personal preference when I'm leaving from my house as it's just overall the comfiest and doesn't cost anything. I will also throw in some extra pillow cases so we can switch them out half way through the trip.
Light source
You're going to need a source of light when sleeping in your car. In my experience, it is best not to rely on your interior light as that can drain your car battery and also be insufficient for certain tasks.
Your best bet will be to pack a headlamp, which you can also use for bathroom breaks, hiking, and other adventures on your trip. You can use this headlamp for tasks where you need a bright direct light source or hang it from somewhere in your car to light up a larger area. I have owned the Petzl Actik Headlamp for years and it hasn't let me down yet. You can also use something like the BioLite Light Diffusing Stuffsack to diffuse the light of your headlamp when hanging from your car ceiling or seat.
I would also suggest investing in a small lantern for some ambient lighting and for when you need a larger space lit up. My husband and I LOVE the Goal Zero Lighthouse Mini V2 and have traveled with it on countless road trips (local and overseas), backpacking trips, and hiking adventures. A small carabiner or string can come in handy for hanging lanterns around your car.
Some other options include using fairy lights or a system such as the Goal Zero Light-A-Life Mini 4-Pack. Cozy vibes!
Charging device
Now, you're probably wondering how to keep all your devices charged on the road. One option is to charge things while you drive, which is usually enough when you plan to spend a lot of time getting from one place to the next. If you will be in the same place for a while then you may need to get something more heavy duty, and potentially a solar option.
Recommended charging devices: Goal Zero Venture 70 Recharger, Goal Zero Sherpa 100AC Portable Power Bank, Goal Zero Yeti 150 + Nomad 14 Plus
Extra accessories
There are some extra things you may want to invest in to make sleeping in your car that little bit more comfortable and organized.
I personally pack an eye mask or headband/neck gaiter for bright mornings or instances when it's a full moon, a Kindle for reading anywhere and everywhere, mini first aid kit as a just-in-case precaution, toilet paper, coins for pay showers, a small dopp kit for toiletries, quick-drying travel towel, and a small-medium duffel bag to stash everything in.
RELATED: Eco-Friendly Outdoor Hygiene Tips for Every Hiker and Camper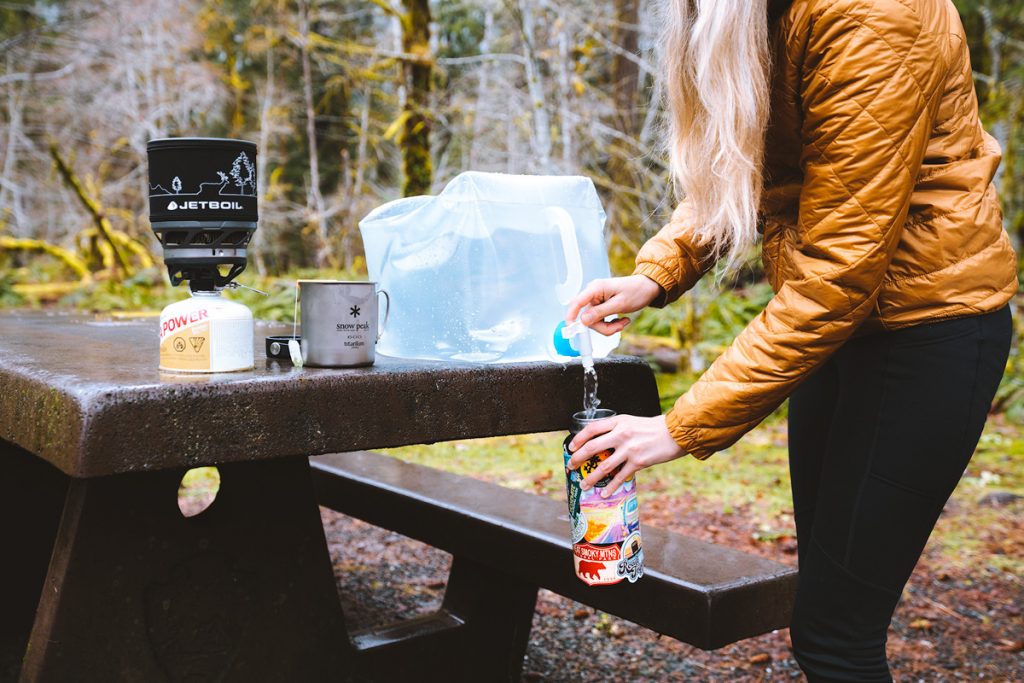 Cooking on road trips
You don't have to cook on the road when sleeping in your car, but it does give you more options for going off the grid and saving money. I typically pack lightweight cooking items similar to what I would take on a backpacking trip in the mountains, but you can take as little or as much as you want. Below are some of the gear items I would recommend for cooking on the go:
Camp stove
As I said above, my personal preference is to pack a small and lightweight camp stove like the Jetboil MiniMo. That way it doesn't take up much room in my car and I can take it on local or international adventures. If you are planning a longer road trip then I would recommend a more in-depth set-up like the Snow Peak GigaPower Two-Burner Stove and a camp table to go along with it.
Reusable water jug
A reusable water jug, drink bottle, and mug are must-haves in my opinion. Not only will it save you money in terms of constantly buying single-use bottles, but it will cut down on plastic waste considerably. Most campsites have water stations and often places like gas stations, visitor centers, local parks etc. will have options for filling up water jugs/bottles.
Eating utensils and accessories
As far as utensils go I would at least pack the basics: a bowl/plate, spork, small knife, reusable straw, and some biodegradable soap + small towel for washing up. If you plan on doing a lot of cooking then add on things like spatulas, coffee making kit, food storage containers, and a larger range of cutlery.
Meal options
Meal options on the road can range from basic pb&j sandwiches right through to almost restaurant quality dishes. Some blogs with amazing camp meal suggestions are: Fresh Off The Grid, Amanda Outside, and Camping for Foodies.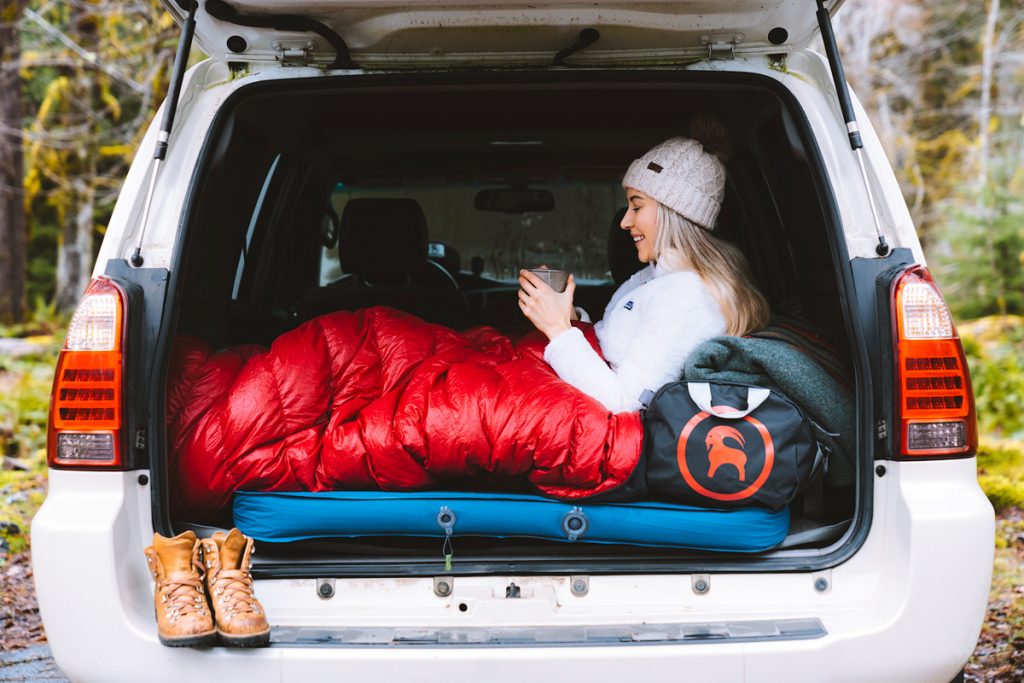 Do's and Don'ts for sleeping in your car
DO crack a window and let in some air
DON'T disrespect the land or local people during your stay
DO lock your doors and keep your keys nearby
DON'T forget a reusable water bottle and water jug
DO download some movies and have your own little cozy film night
DON'T forget to pee before getting into bed for the night
DO tell someone where you are roadtripping
DON'T forget to charge your headlamp or pack spare batteries
DO try to stay calm and not presume every sound is a bear
DON'T leave your car running while you sleep
DO have fun and remember what a privilege it is to be so close to nature!
Enjoy this guide? PIN it for later!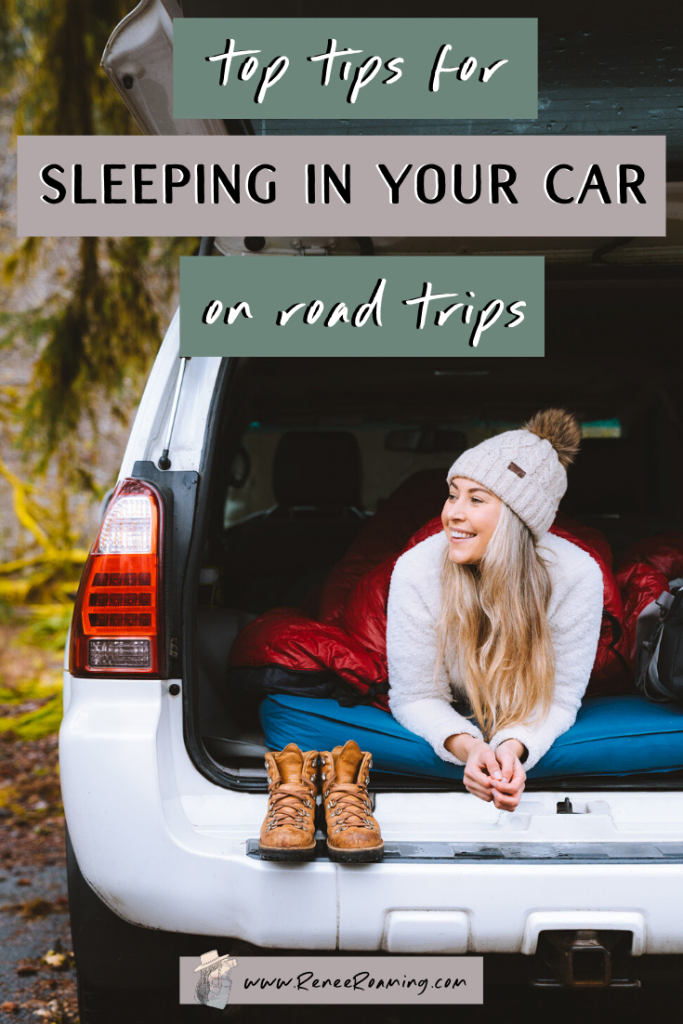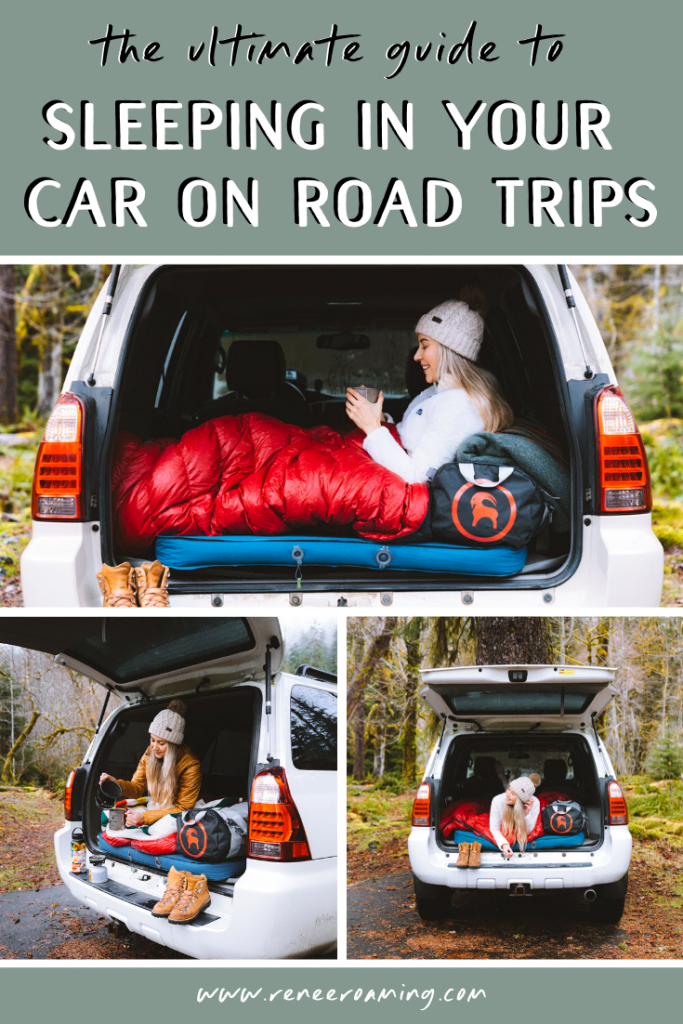 Road trip inspiration