One of my favorite ways to travel is taking road trips! Specifically, car camping road trips. I love how many benefits there are to car camping and the flexibility that comes with this style of travel. Another big draw is that car camping cuts down on the cost of travel as you can easily park your vehicle in locations where you can camp for free or at campgrounds that charge a small fee. It's also an exciting way to enjoy more time outdoors. Instead of staying at a hotel or a resort, you get to spend the night outdoors in a more secluded location and surrounded by nature.
There are many ways you can camp while on the road, including tent camping and sleeping in your car. I personally love camping in my car because it's super easy, comfortable, and requires minimal time to set up camp. Sleeping in your car makes car camping a breeze since your car is already set up and ready to make quick stops along the way!
In this car camping basics guide, I am going to go over everything that I have learned throughout the years on how to plan your first car camping trip. From tent vs car camping, to finding free campgrounds, all the essentials that you need, camping hygiene, Leave No Trace, and how to plan your trip… this guide has you covered!
Disclaimer: This blog post is in collaboration with Backcountry.com and features some affiliate links. This means I get a small commission if you make a purchase (at no extra cost to you). Use code RENEE15 to get 15% off your first Backcountry order (some exclusions apply). You can also learn more about my affiliate policy here. Thank you for the support!
---
Car Camping Basics: How To Plan Your First Car Camping Trip
If you're a beginner and looking to start car camping then this guide is for you! Car camping has many benefits and one of the biggest upsides is being able to bring as much gear as you want (as opposed to plane travel with 1-2 suitcases). This will allow you to have exactly what you need for your trip without having to leave anything behind.
Another massive pro of car camping is that get to eat outside and enjoy fresh camp meals directly from your cooler or a warm meal from your camp stove. No need to go far to grab a bite to eat or to spend tons of money on restaurants. Car camping is one of my favorite ways to travel across the USA and even in other countries because it provides so many options and flexibility to our trips.
One way that I start planning for a car camping trip is by brainstorming a rough itinerary. Am I going to travel to one single destination and stay in that area for a few days? Or am I going to multiple locations throughout my road trip? Once I know what my travel plans are I can start getting an idea of my route and what locations I want to stop at. This will help me determine where I want to find a campsite(s) and what I may want to pack.
Looking for drive-up campsites is pretty easy once you know what to do.
I will go over exactly how to find free camping and where to go car camping in more detail below. One thing to keep in mind is if you want to stay at that camping area for a quick overnight stay or for several days. This will determine where to look and will help you to be more budget-friendly when planning. For instance, if you just need a place for the night to split your drive time, you may consider stopping at a rest stop or truck stop for the night versus a campground with a fee.
Now that you have an itinerary in place you can start creating a packing list of what to bring. Before starting your packing list I would recommend checking the weather conditions for your trip and always packing a few extra things to be prepared. I will go over all the car camping essentials in detail below as well as what to bring for your camp kitchen. Don't forget to grab our free car camping essentials checklist found on this post.
Planning a national parks trip? You may find these guides useful:
---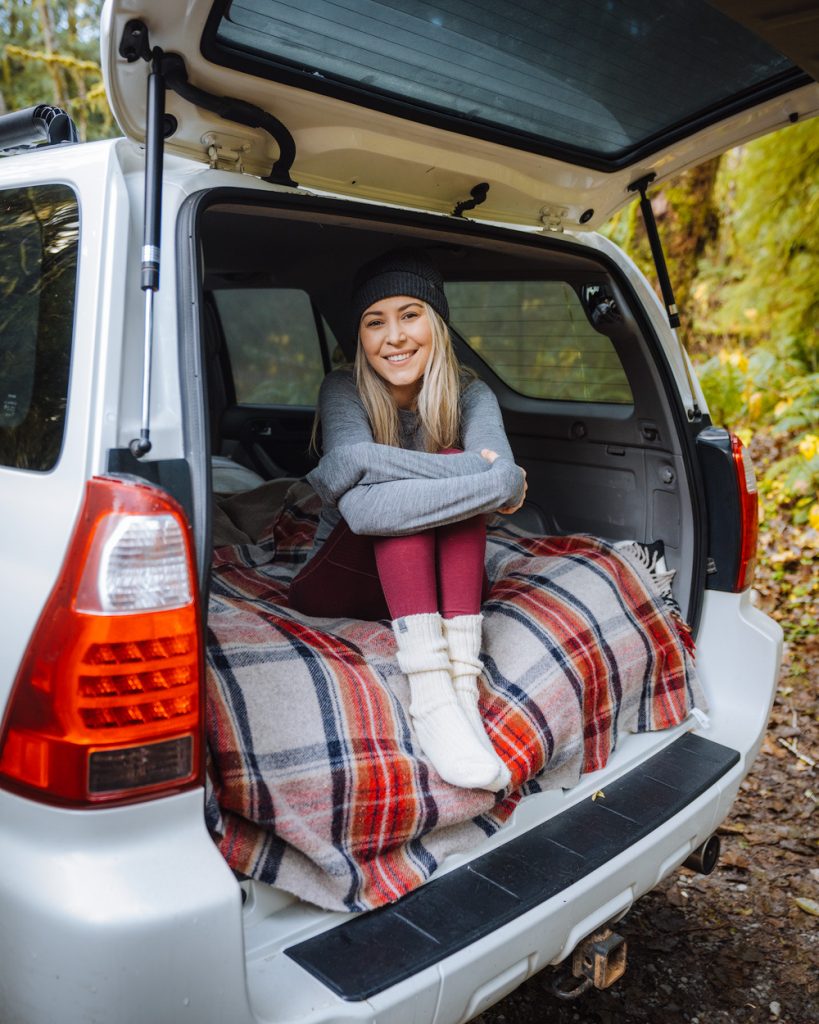 Where To Go Car CampIng
There are many options for where you can go car camping, especially in the USA. Some car camping options are free and others charge a small fee. Either way, you are going to be saving a significant amount of money in comparison to staying in hotels! It may seem intimidating at first to find a place to stay, especially for free, but once you learn about it, it will be easier to start planning your camping trips.
places you can Typically car camp for free:
Bureau of Land Management (BLM)
Forest Service Land (USFS)
Other Public Lands: State parks, city parks, county parks, and smaller US federal agencies.
Business Parking Lots: Wal-Mart, casinos, home improvement stores, Cracker Barrel, Camping World, 24 hour Fitness Centers.
Rest Stops: This is good for overnight parking.
Truck Stops: Loves, Pilot, TA Travel Centers of America. These stops are good for overnight parking as well along your trip.
Neighborhoods and Backstreets: I would leave these as a last resort. These are best for a quick overnight parking. Just make sure to scope the area out and to not park in private property. Follow your gut instinct. If you feel uneasy about the area, play it safe and find a better camping spot.
How To Find Free Campsites
There are many ways to find these free campsites in the USA. You can use a variety of resources such as phone apps, guide books, Google Maps, blog posts, and more. Keep in mind that some of these resources may not always get you a free camping spot, but they can help you find campgrounds that charge a smaller fee. I have an entire guide on how to find free campsites in the USA, check it out!
Resources to Find free campsites:
Phone apps: Free Roam, iOverlander, Campendium, US Public Lands, Outly
Online websites: Casino Camper, BLM, USFS, Free Campsites
Google Earth and Google Maps
Paper maps
Guide books
Travel and camping blog posts
Road trip guides
Word of mouth
---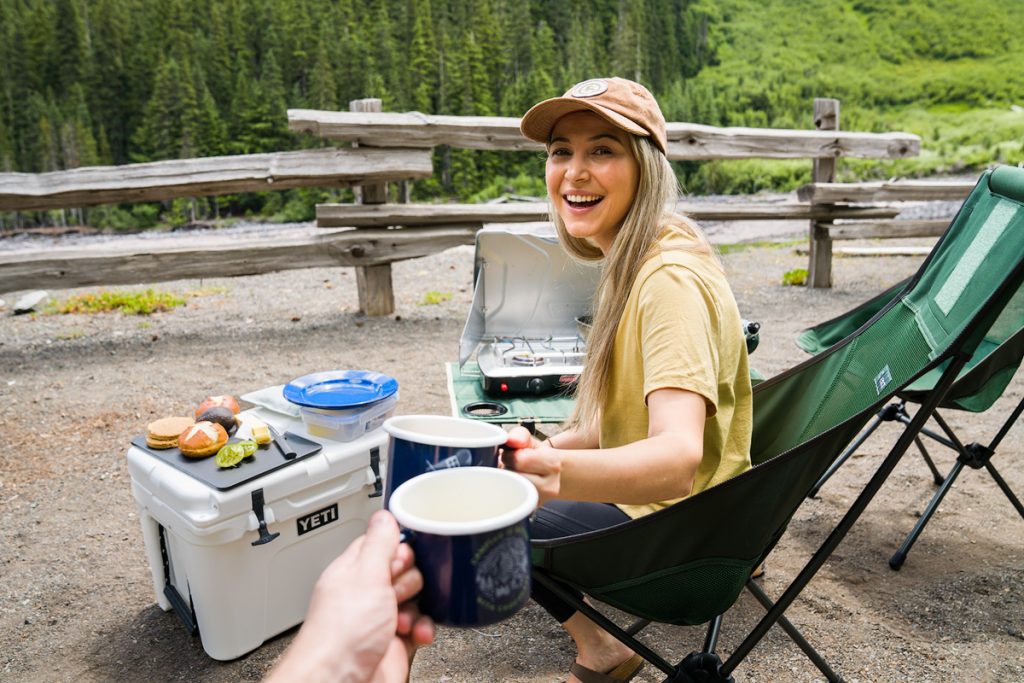 What To Bring car Camping
When planning a car camping trip you need to first decide what your sleeping situation will be. Specifically, will you be sleeping in a tent or in your car? I would recommend checking the weather and the terrain to help you get an idea of what to expect of the area. Your packing list will be slightly different if you decide to camp outside in a tent versus sleeping in your car.
If you do decide to camp in a tent you will need to bring the essentials for tent camping, including stakes, a patch kit, and a few other things. But if you sleep in your car you won't have to worry about the extras that come with staying in a tent. Both experiences are great and have their own benefits. I highly recommend experiencing both at some point during your adventures! In the next section, we are going to cover all the car camping essentials you will need regardless of how you plan to sleep.
Don't forget that you can use code RENEE15 to get 15% off your first Backcountry order (some exclusions apply)
Car camping Sleeping Essentials
Below you will find recommendations for sleep-related items like tents, sleeping bags, sleeping pads, and pillows. You may notice that I frequently recommend the Stoic brand. The reason behind this is that I believe it's a great budget-friendly option that is still high-quality and durable.
Tent:
Size will depend on your group. The Stoic Madrone 2 Tent is an affordable option for a 1-2 person tent, the Stoic Madrone 4 Tent is great for a 2-4 person tent, and the Stoic 6 Person Dome Tent is ideal for families or if you want tons of room (3-6 people).
Tent sleeping pad:
The Stoic Groundwork Sleeping Pad is a good option for year round camping, and the Stoic Ultra Light Airpad is ideal if you'll be flying to your destination and need something more compact.
Air mattress:
The Stoic Single Cloud Camp Bed is a great option for solo trips where you will be sleeping in your car. A double option is the Sea To Summit Comfort Plus SI Double Sleeping Pad (be sure to measure the back of your car before ordering!) These can also be used inside tents if you don't mind something taking up more room.
Sleeping bag:
For solo camping I recommend the Stoic Basecamp Bivy Quilt Single or the Stoic Groundwork Sleeping Bag. Some good double options are the Stoic Basecamp Bivy Quilt Double and the Stoic Groundwork Double Sleeping Bag. If you are being extra budget-conscious then you could use your bedding and blankets from home.
Pillow:
I typically bring my pillows from home but if I need something smaller then I recommend the Sea To Summit Aeros Premium Pillow.
---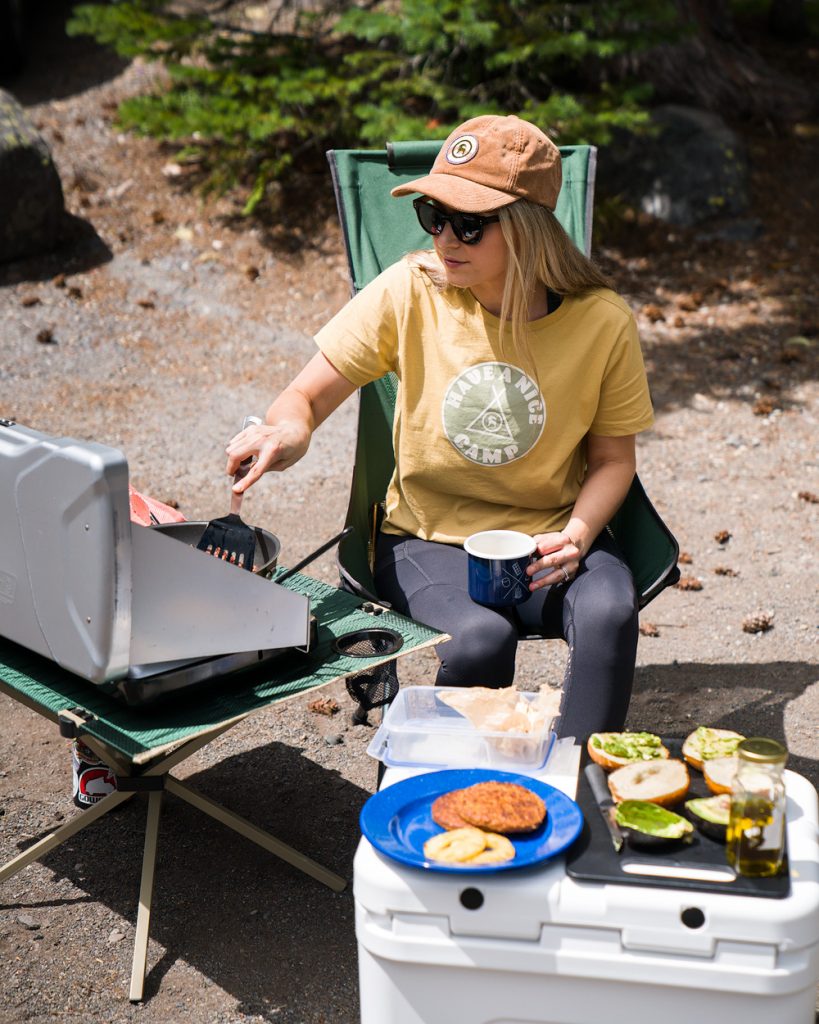 Car camping Kitchen Essentials
Having all the key essentials for your camp kitchen can make preparing meals much easier and more enjoyable. Below are some of the items that I have in my camp kitchen packing list. Please keep in mind that this all depends on the meal plan for your trip and what items you need for preparing each meal.
Stove and fuel:
A basic two burner camp stove will do the trick for car camping. They are affordable, propane is cheap and easy to come by, and they don't take up a huge amount of room in the car. You can find propane to power the burner from most sports stores, outdoor stores, and even some gas stations. I recommend the Primus Profile Campground Stove or similar.
Cooler:
It's hard to beat drinking a cool beverage back at camp after a long hike. Having a cooler also gives you a lot more options for cooking at camp, allowing you to bring along veggies, eggs, etc. I recommend a Yeti or Stanley cooler.
Water storage:
Sometimes you may not have access to clean drinking water at camp, so filling up a 2-gallon water tank before you leave home (or civilization) will keep you hydrated during those times. I love using the Stanley Adventure Fast Flow Water Jug.
Table:
Having a reliable surface to sit and eat is nice for when there aren't picnic tables. For something on the compact side, I like using the ALPS Mountaineering Spirit Table (it's super cheap!) And I like the Eureka Camp Kitchen for a larger option.
Pots + pans:
This is the kind of thing you can bring from home, but I have a separate camp set so I'm not dinging up my nice home ones. I recommend the GSI Outdoors Pinnacle Frypan and the GSI Outdoors Pioneer Sauce Pan. Or you can opt for a set like the Stanley Adventure Even-Heat Camp Pro Cook Set or the Primus Campfire Cookset.
Dinnerwear:
Something like the Stoic 4-Person Enamelware Set will have you covered for plates, bowls, and mugs. Or for solo adventures I recommend the Sea To Summit Delta Camp Set.
Eating utensils:
You could bring these from home or opt to get a camp-specific set like the Primus Campfire Cutlery Set or the Sea To Summit Delta Cutlery Set.
Cooking utensils:
The MSR Alpine Deluxe Kitchen Set is a great little set with key camp utensils and more, or you can buy just the utensils – MSR Alpine Folding Utensils. The GSI Outdoors Nylon 3 Piece Ring Cook Tool Set is another good option.
Cutting knife:
A good cutting knife is key for any type of cooking. I recommend the Primus CampFire Knife or the Primus CampFire Cutting Set.
Cutting board:
The MSR Alpine Deluxe Cutting Board is a great packable option, or the Barebones Maple & Steel Cutting Board is perfect for if you want something a little fancier.
Cup / mug:
I love my Stanley Legendary 12oz Camp Mug for hot drinks. For cold drinks the Hydro Flask 16oz Tumbler or 10oz Rocks Cup are great options. For a wine glass I would recommend the Hydro Flask 10oz Wine Tumbler or the GSI Outdoors Nesting Wine Glass Set.
Drink bottle:
I also suggest packing a drink bottle for any adventures away from camp. The Hydro Flask 24oz Wide Mouth Trail Lightweight Water Bottle is my favorite drink bottle ever, it keeps my water cool, it's durable, lightweight, and you won't get any plastic taste like from other bottles. For something around camp that is easy to drink from, I would recommend the Stanley IceFlow Flip Straw 30oz Tumbler.
Camp kettle:
Not a requirement (you can just use a pot) but handy to have. A good option is the Primus Litech Coffee/Tea Kettle.
Coffee maker:
The Stanley Perfect-Brew Pour Over makes camp coffee easy and delicious. Just sit it on top of a mug or thermos and voila! Read next: How To Make Coffee While Camping.
Camp Kitchen Sink:
More established campgrounds may have communal sinks, but many don't. The Sea To Summit Ultra-Sil Kitchen Sink is a nice, portable sink to help wash your dishes at camp.
Dish Soap and Sponge:
Bring some dish soap from home in a small travel container such as the Eagle Creek Pack-It Silicone Bottles. Use earth-friendly / biodegradable detergent.
Trash bags
Paper towels or rags
Cooking oil
Spices and condiments
Containers for leftovers
Plastic bins for storage
---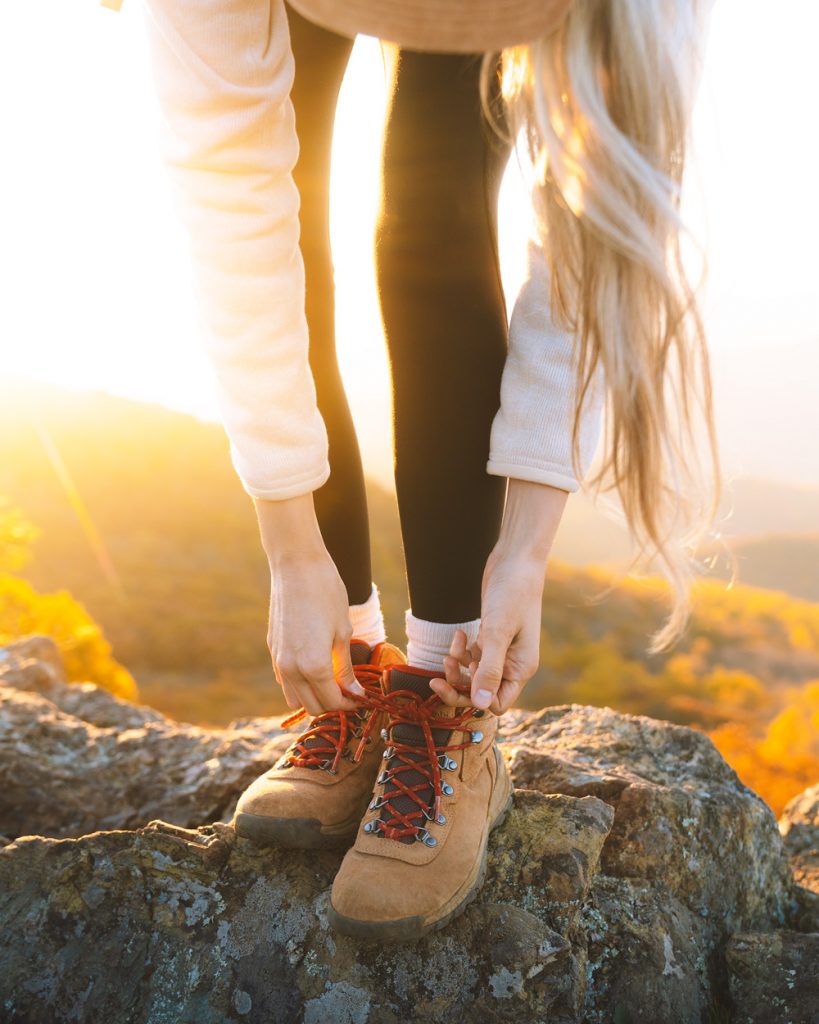 Car camping Clothing
It goes without saying that packing clothing will be essential for your camping trip. Below you will find my recommendations, but make sure to research conditions ahead of time and pack appropriately.
Clothing for sleeping:
I typically sleep in merino wool long underwear and a merino wool top. These are super comfortable, warm, and breathable. They also odor resistant, so can be worn for multiple days without getting smelly.
Clothing for camp:
Around camp, you will want to wear something cozy. My go-to is typically some leggings and a fleece sweater, but this will depend on the season.
Clothing for outdoor activities:
Obviously this will depend on the activity. For hiking, I recommend checking out this blog post: What To Wear Hiking.
Wool socks:
I LOVE merino wool socks. They are moisture-wicking, odor-resistant, and super comfortable. Darn Tough and Icebreaker are my go-to choices.
Underwear:
Similar to above, I would recommend sticking with merino wool for its moisture-wicking and odor-resistant nature. In particular, I recommend Icebreaker's range.
Insulated Jacket:
I've owned the same Arc'teryx Cerium LT down jacket for years now. It's on the pricier side, but it packs up tiny, is super lightweight, and also great for all kinds of outdoor adventures. A more affordable option is the Backcountry Stansbury Down Hooded Jacket.
Rain Jacket:
You don't want to be locked inside your tent (or car) if it rains, so having a good rain jacket is important. I like the Arc'teryx Zeta SL because it's lightweight, rainproof, and fits great. I find a lot of rain jackets to be super boxy but not this one! A more affordable option is the Marmot PreCip Eco Jacket, which I also own and love!
Sun Hat or Beanie:
Pack whatever suits the conditions best (or both!)
Bandana or Buff:
A bandana or buff can have so many uses around camp. I use my buff to keep my neck warm on cold days, but also to cover my plastic feeling camping pillow to make it more comfortable.
Sunglasses:
Remember that you may very much still want sunglasses in the winter months. SMITH sunglasses are my go-to.
Hiking/Outdoor Shoes:
For hiking, I recommend checking out this blog post: Best Hiking Shoes for Men and Women.
Camp Sandals:
When sitting around camp on a summer day the last thing I want is a heavy pair of hiking boots on my feet. Having some camp sandals handy is also great because it's so much quicker to take on and off when moving from the tent to outdoors. I am a big fan of Zero Shoes Sandals for camping and backpacking.
---
Car camping Toiletries
These are some hygiene items that I often bring along on car camping adventures. I wouldn't say that they are all car camping essentials, and I would suggest looking over the list and packing what you feel is necessary. I also have a blog post specifically about outdoor hygiene tips: Eco-Friendly Outdoor Hygiene Tips for Hikers and Campers.
Toilet Paper
Toothbrush
Toothpaste
Baby Wipes
Brush/Comb
Camp Shower
Shampoo
Soap
Towel
Sunscreen
Lipbalm
Bug Repellent
Hand Sanitizer
Deodorant
Sanitary Products
Mirror
Medications
Ear Plugs
Eye Mask
Cosmetics
Contact Lens Supplies
---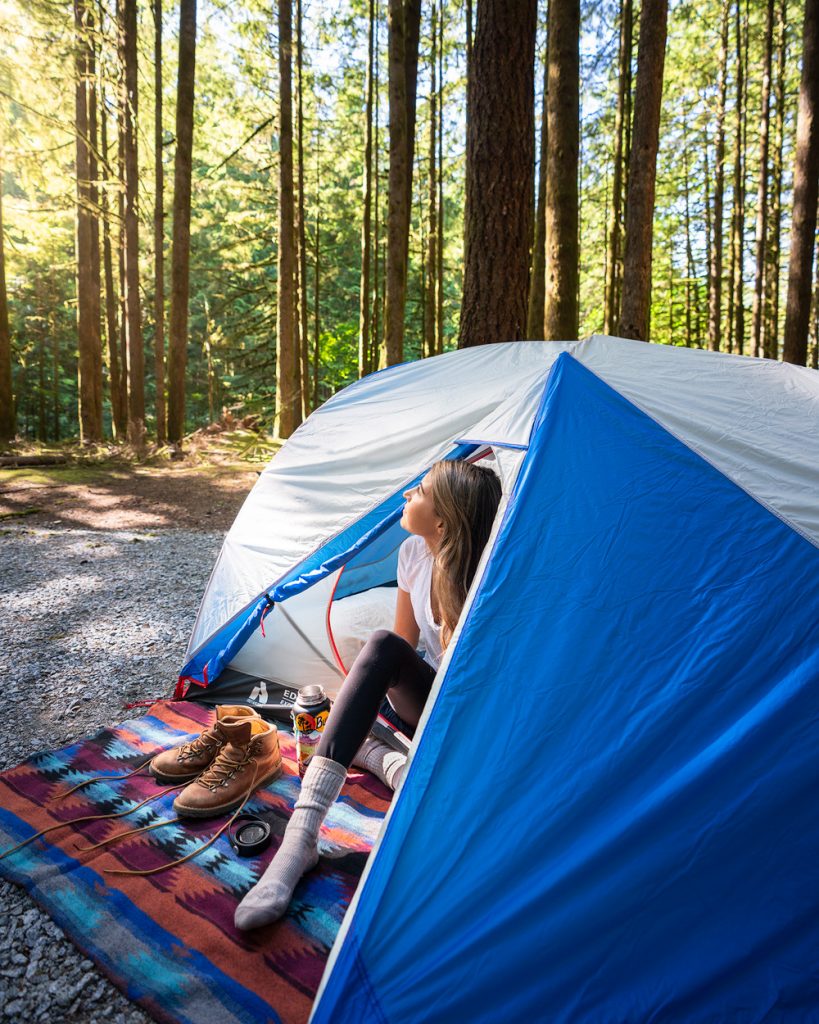 Other Car camping NECESSITIES
The following items are necessities to keep you safe and ready for anything. Pick and choose what you think you'll need for your type of camping and destination.
Headlamp:
A good headlamp will make your life so much easier when it gets dark, don't forget to pack one! I find this one has a nice amount of light, and the rechargeable battery is super nice. Suggested headlamp: Petzl Actik Core Headlamp
Lighter:
A lighter has a lot of uses around camp. Lighting a stove if the igniter goes out, lighting a campfire, etc. I always have one with me.
Duct Tape:
Super useful for fixing anything that breaks. I've used duct tape for the most random things, and if you don't have any with you, eventually there'll be a moment that you'll regret you didn't bring some along.
Multi-tool:
A high-quality multi-tool is useful in so many situations. This one has pliers, a screwdriver, blade, saw, file, wire stripper, bottle opener, and more. Click here for multi-tool options.
Scissors:
Bring some from home, or use the ones on the multi-tool.
First Aid Kit:
This is a necessity when camping. You never know what might happen when camping, and having a first aid kit at the ready can be a lifesaver. Suggested first aid kit: Adventure Medical Mountain Series Medical Kit
Patch Repair Kit:
A patch repair kit is another thing you might not think about, that is until you wake up in the middle of the night on the ground because your inflatable mattress somehow got a hole. Bring one of these!
Paracord:
Paracord has so many uses, but you must have some knowledge of knots to really take advantage of it. Don't bother bringing it if you don't.
Extra Tent Stake:
Trust me, you'll lose a tent stake at some point. Bring a spare for when that moment comes.
Water Filter:
This is a must when camping. If you run out of water and don't have any potable water around, you're going to need to filter some from a river, lake, etc. Never drink from a natural water source without filtering it first or you may be exposed to bacteria and get sick. I like the Katadyn BeFree Water Filtration System
Bear Spray:
Bear spray will give you peace of mind in bear country. It's also good for other predators such as mountain lions, or in an emergency, can be used to deter a fellow human. If the campsite has bear-proof bins you will also want to use these. Read: Bear Safety for Campers and Hikers.
ID and Cash
---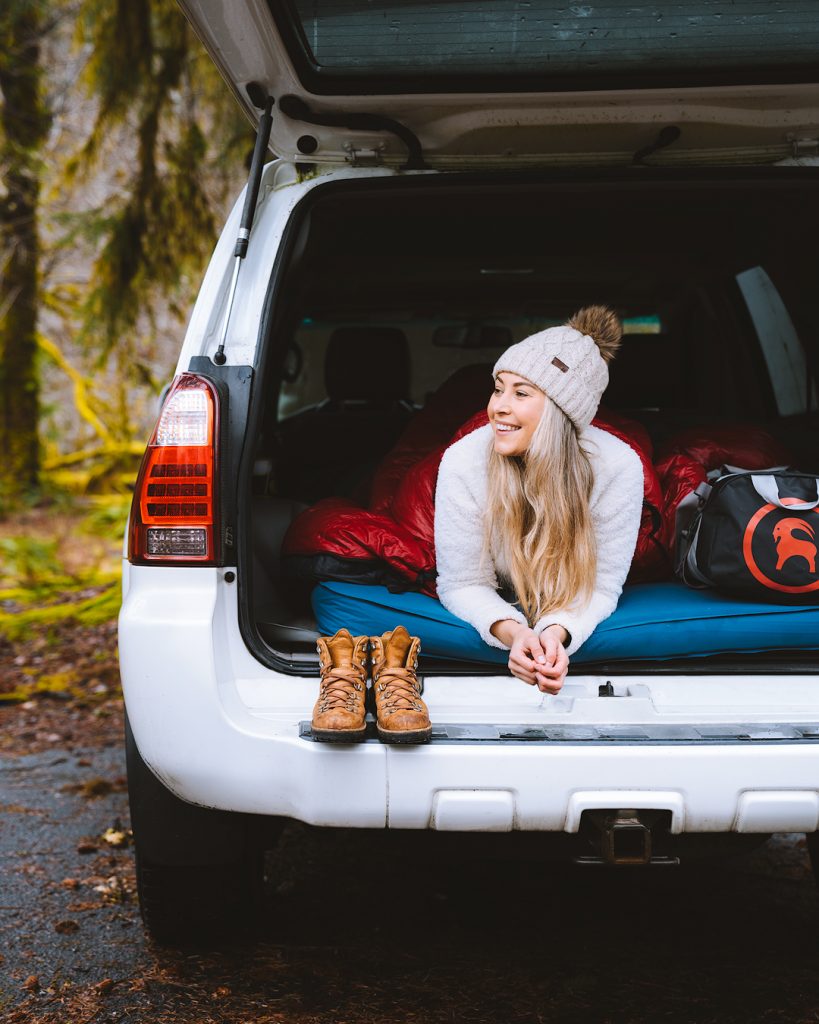 Car camping Comfort Items
We all have our favorite comfort items when camping. Here are a few of my favorites to have from time to time to make my camping trip more comfortable and cozy.
Camp chairs:
Some more established campgrounds will have picnic benches, but often you won't have that luxury. Having some portable folding chairs are such a nice thing to have around camp. For something big and comfy I would recommend the Stoic Fireside Five O'Clock Chair and for something more compact I suggest the Helinox Sunset Camp Chair.
Lantern:
A good lantern is so useful around camp after dark. The Barebones Forest Lantern is a great option and you could also opt for some cozy twinkle lights such as the Luci Lights by MPowerd Solar String Lights or these globe string lights.
Blankets:
I have so many uses for a blanket on car camping adventures. I sometimes use them as an additional layer to stay warm at night, to sit on when I'm on the ground, and on cold mornings in the car I'll often put it over my legs to help warm up. These also look cute around the house, bonus! I love the Pendleton Yakima Camp Blanket and the Pendleton Eco-Wise Wool Washable Blanket.
Firewood:
A lot of established campgrounds will have fire rings for you to have a campfire. I only ever have a campfire if there's a fire ring already there. Creating a new fire will damage the area and is more likely to cause a wildfire than using an established fire ring. You can buy firewood at a lot of gas stations away from the city, grocery stores, etc.
Firestarter:
Fire-starter will make getting your fire going a lot easier. Try to stay away from the stuff typically sold at sports stores and gas stations as it's terrible for the environment. These eco-friendly fire starter bundles are easy to use and very affordable.
Bug head net:
If you know the area will be buggy then I suggest a head net like this one.
Hammock:
A hammock is SO nice to have around camp. It's hard to beat lounging in a hammock on a sunny day, or at night and watching the stars. The Eagles Nest Outfitters DoubleNest Hammock is super comfortable and comes in a bunch of colors.
Camp games:
Bringing along a deck of cards will take up pretty much no room in your car and provides hours of good times. Or try out Coghlan's 3-In-1 Tower Game.
Portable charger:
The Goal Zero Yeti 150 is awesome! It's powerful enough to charge your camera, phone, laptop, tablet, etc. You can buy solar panels to keep this thing topped off and running for days. Goal Zero sells a wide range of sizes depending on how much power you need.
Car sun shades:
I personally love the Weather Tech Sun Shades Full Vehicle Kit for car camping adventures where I choose to sleep in my car. They give me privacy and also keep me warmer at night. Plus, you can use them during the day to keep your car cooler.
Car window bug covers:
If you plan to sleep in your car then I would highly suggest buying some bug window covers. This allows you to have fresh air without mosquitoes biting you all night long!
Car window deflectors:
I have the Weather Tech Side Window Deflectors on my back windows so that I can keep them open a little during rainy nights (when I'm sleeping in my car). Fresh air is important to prevent condensation.
Car organizer:
I suggest using storage bins to keep everything organize and easy to find. I love this car organizer because it's perfect for pulling in and out of the car and can be customized a couple of different ways. These car seat headrest hooks are also really useful when taking road trips.
Portable mirror:
I enjoy taking along a folding travel mirror that has an illumination function. This is useful for hygiene routines, make-up application, or whatever else you may need a mirror for.
---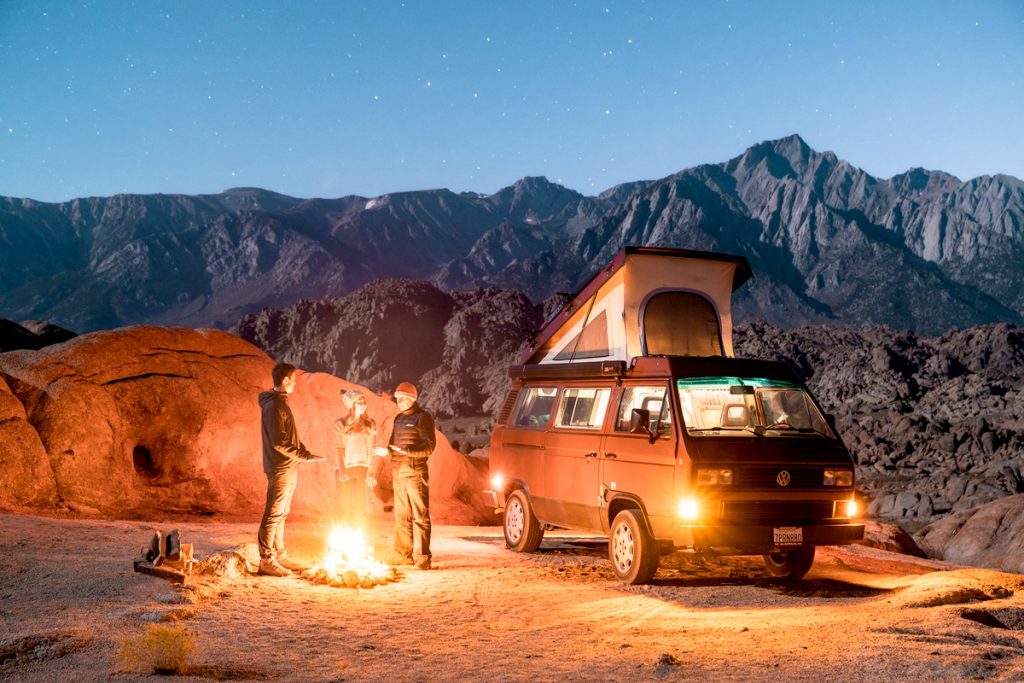 Beginner Car Camping Tips
I have been taking car camping adventures for several years now and have learned a lot of things along the way! One of the main takeaways from my experiences is to always be prepared and do your research before leaving on a trip. Wherever you plan to go camping, it is important to know the regulations for the area and to follow these beginner car camping tips to be safe and prepared for your trip.
Must-Know Car Camping Tips:
Always fill up your gas tank before leaving. Some highways won't have gas for long stretches so it is important to know where the next gas station will be.
Follow fire regulations at all times and get a fire permit if needed. If no campfires are allowed please do not make one. It is important to follow these regulations to help prevent wildfires.
Always turn off the lights inside your car to make sure to not drain your car battery.
Make sure to pick a safe spot for your tent on a designated tent area. Remove any large rocks to prevent damage to the tent. If there is no designated tent area, choose a spot that is not on vegetation, if possible. Always set up your tent at least 200 feet away from any water sources such as rivers and streams.
Always try your best to stay organized by cleaning up and putting things away in plastic bins, storage containers, or drawers. This will help you find your things quickly especially in the dark. I find this car organizer and these car seat headrest hooks to be really useful when car camping.
It is important to always store food properly especially in bear country. You can store your food in established bear bin, bear canisters, in your car, or in bear bags (follow the area's guidelines). Always dispose of trash properly before going to bed as this can also attract bears. You can learn more about bear safety when camping here.
Before you leave, always clean up your campsite and make sure to never leave trash behind. Always aim to leave the campsite looking how it was or if not better then when you arrived. When camping or spending time outdoors anywhere it is important to always follow the 7 Principles of Leave No Trace.
---
Final Thoughts on Car Camping Basics
I really hope this car camping guide helps you plan for more outdoor adventures! When planning a car camping trip remember to do your research and plan ahead. Pack according to the weather and terrain and a little extra just in case things change. Always meal prep to make things easier when packing your camp kitchen and prepping meals during your trip. And make sure to follow the Leave No Trace Principles during all of your outdoor adventures. Don't forget to sign up for my resource library and grab your free car camping essentials checklist to keep handy!
---
More Camping and Road Trip Resources
---
PIN for later Planning!