Car camping is such an amazing way to experience nature without having to work too hard for it. You can pack more luxury gear as opposed to backpacking, and you can just drive right up to your camping spot! It's also a great way to take a much-needed break from the hustle and bustle of everyday life and perfect for introducing people to the outdoors. When starting out car camping it can be a little confusing what to pack. In this guide, I am sharing a thorough car camping essentials list, including a printable checklist to make packing a breeze!
Disclaimer: This blog post is in collaboration with Backcountry.com and features some affiliate links. This means I get a small commission if you make a purchase (at no extra cost to you). Use code RENEE15 to get 15% off your first Backcountry order (some exclusions apply). You can also learn more about my affiliate policy here. Thank you for the support!
CAR CAMPING ESSENTIALS LIST
Let's first clarify what car camping actually is… I view car camping as heading out somewhere that you will be sleeping either inside your vehicle or at a campsite right next to your vehicle. The distance you sleep from your vehicle is what sets it apart from backcountry camping. Car camping trips are a blast and can be an entirely different experience from backcountry camping. Since you don't have to hike with your gear to your camp spot, you are able to bring "luxury items" that would otherwise be too big and heavy.
Car camping is also a great way for beginners to get more used to camping and sleeping outside! When car camping, you'll often have close access to facilities such as toilets, clean drinking water, fire pits, picnic tables, etc. Unfortunately, that also means you're more likely to be around other people. A lot of campgrounds do a great job of having enough separation between sites for this to not be too much of an issue, but you do still run into the occasional group of loud and disrespectful campers.
Keeping reading for a printable car camping essentials checklist, tips for finding campsites, and a breakdown of everything you will need to pack. Let's jump into it!
PRINTABLE CAR CAMPING CHECKLIST
I have created a free car camping essentials checklist that you can download and print. Click the link below to download!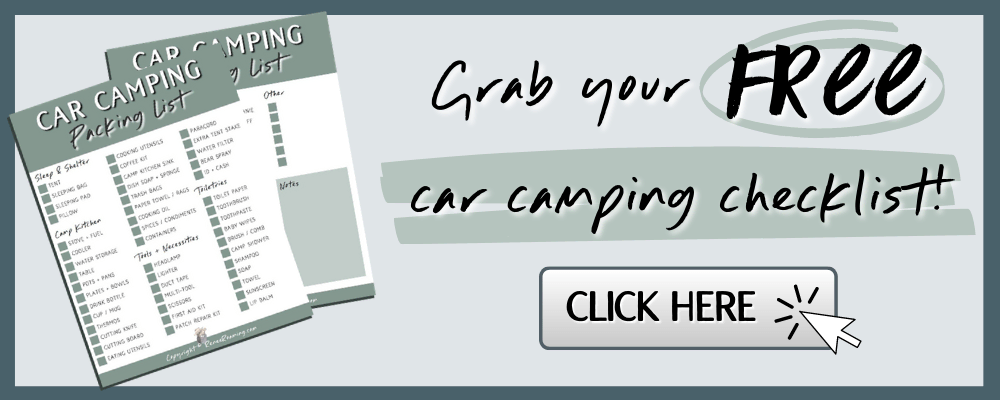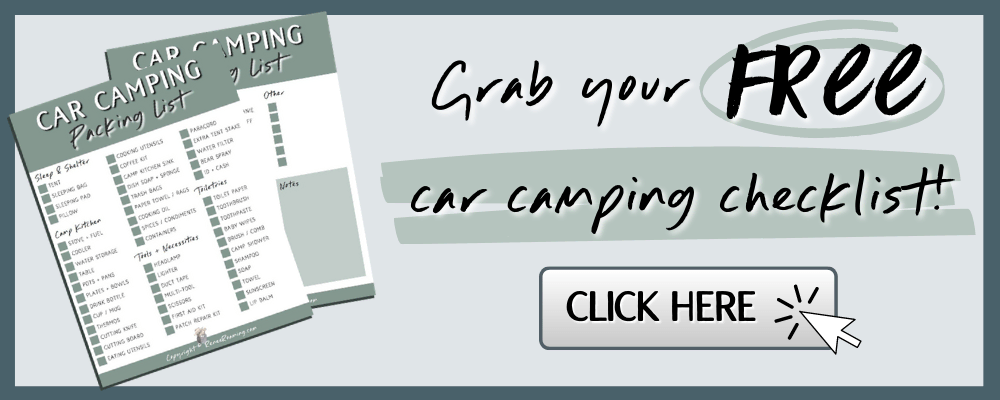 HOW TO FIND & BOOK YOUR CAMPSITE
With the rise in popularity of camping and outdoor activities in recent years, it has become increasingly important to book ahead. This is especially important when visiting popular locations such as national parks in the summer months.
NATIONAL PARKS, FORESTS AND STATE PARKS
For campgrounds on public lands such as national forests, national parks, state parks, etc, the most used website for reservations is Recreation.gov. Here you will find a reservation system for a lot of the public land across the US. Simply search for the location you are headed, and it will show you the options for camping on a map. You can then click on the campground to make a reservation. Reservations aren't always required for these campgrounds as there are often some first-come-first-served sites, but I highly recommend a reservation if visiting a national park during busy months to avoid disappointment.
Some campgrounds in national parks have a small amount of "walk-up" permits to hand out each day. This is a way for them to get some campers a reservation even if they missed out online. Again, this is most necessary in summer when crowds are at their highest at most parks. To get one of these, you often will need to show up at the campground well before they open the reservations desk and line up. We've done this before, and it's not the most fun thing to do, but we have been successful in securing campsites this way when we had no other options. Make sure to check the national park website to see how this works in the particular park you are planning to visit.
There are also many campgrounds on public lands that have no system for reservations. This isn't common in busy national parks, but it is more-so in national forests. These are usually first-come, first-served campgrounds. To secure your campsite, you usually will stop at a sign/station at the entrance to the campground, fill out a little ticket with your information, drop in some cash, and tear off the tag on the ticket to place on your campsite. Pretty easy!
PRIVATE CAMPGROUNDS
Another option is privately run campgrounds. These can be found all around the country, and will often show up when you search "campgrounds" on GoogleMaps in the area you are visiting. Most of these will have a website for reservations or require you to call in. Make sure to check the reviews!
FREE CAMPSITES
Finally, there are also lots of free camping areas on BLM (Bureau of Land Management) land around the country, especially in the western US states. These are often more remote, and without facilities, but they are free and can be a great way to find peace and quiet. These require no reservation and are first-come, first-served. Please respect other visitors to these areas, don't park too close to others, and follow all regulations. Click here to find out exactly how to find free campsites in the US!
HELPFUL RESOURCES
There are many apps and websites out there to help you find campgrounds and campsites. Some of my favorites include:
The Dyrt – free 30 day trial with this link or using my code reneeroaming. The Pro Membership Perks include a camping road trip planner, free dispersed camping with map layers, offline access anywhere, and camping and gear discounts.
iOverlander – Great for finding free campsites and boondocking areas.
Recreation.gov – For finding and booking campgrounds in national parks, national forests, etc.
Freecampsites.net – A great website to find free campsites.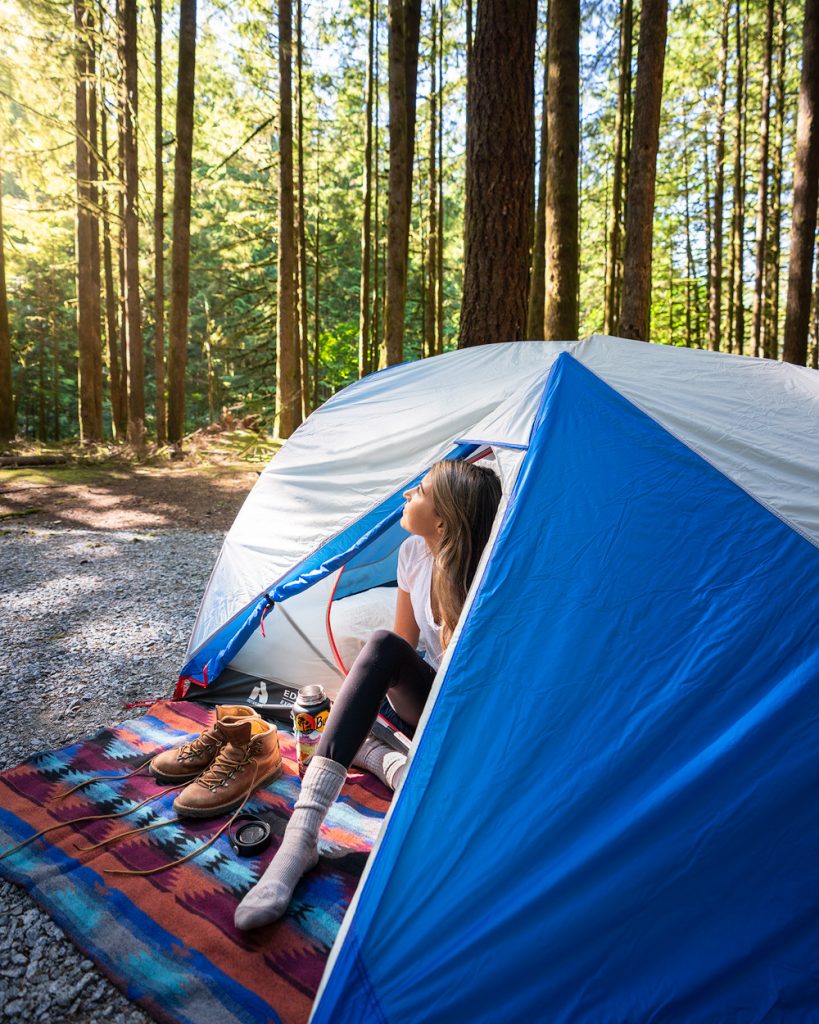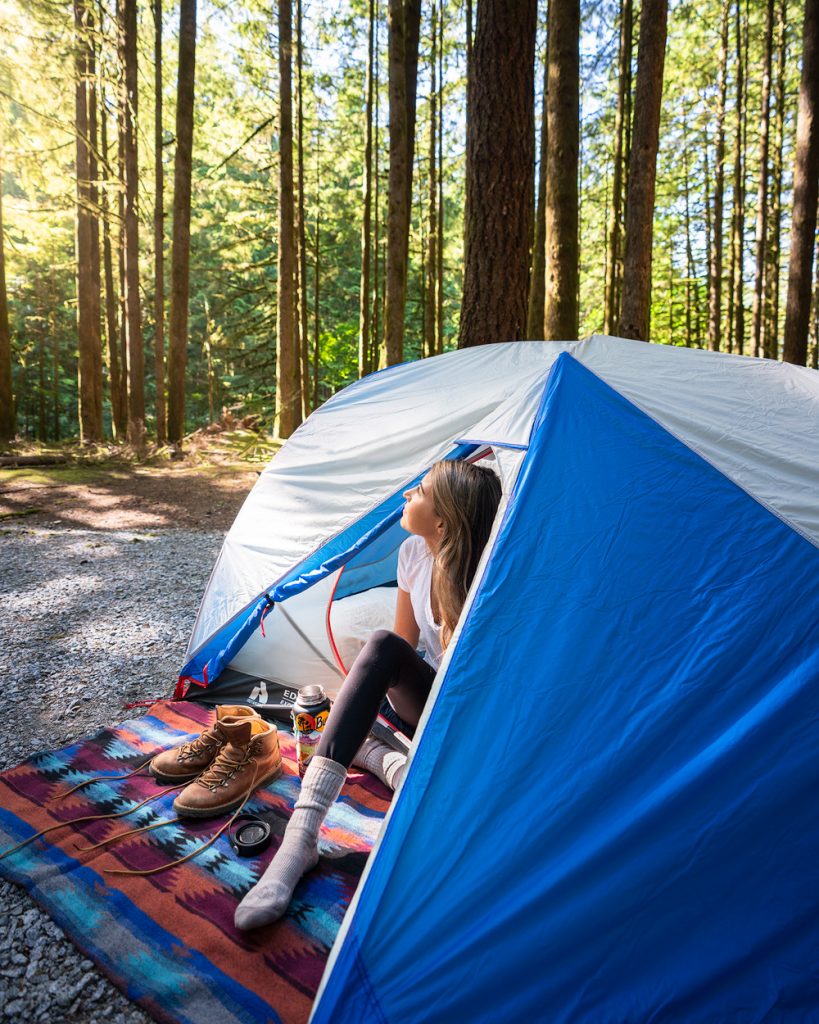 CAMPING ESSENTIALS: SLEEP AND SHELTER
When you go car camping you have a few options too choose from for sleeping. You can sleep inside your vehicle, in a tent, a hammock, in a roof-top tent, or even cowboy camp on the ground. Because it's most common to sleep in a tent, I'm going to focus mostly on that for this blog post. You can find information specific to sleeping in your vehicle in my Sleeping In Your Car On Road Trips guide.
CHOOSING THE RIGHT GEAR
Before investing in car camping gear, I would ask yourself if you have any interest in backpacking in the future. The reason being is that car camping doesn't require super light gear but backpacking definitely does. Many people like to own just one type of tent, sleeping bag etc., and therefore choose to invest in lighter gear that can be used for both car camping and backpacking.
The good news is that if you plan to stick with car camping, you will be able to find much more affordable gear in contrast to lighter weight backpacking options. The biggest reason for this is that a lot of technology and research goes into making lightweight, high-quality backpacking gear. Removing the need to keep an item lightweight means it's easier and cheaper to make, which means cheaper for you to buy! Also, when you car camp you can often use things from home, such as pillows, utensils, and other common items which will help save you some extra cash.
When recommending gear for car camping shelter and sleep, I have provided budget options that are ideal for just car camping, as well as lighter options that could be used for both backpacking and car camping.
Tent
When buying a tent, the most important thing is to choose one based on the amount of people that will be sleeping inside. Tents sizes are usually rated "per person", meaning if you and a partner will be sleeping inside, you will want to buy a "2 person" tent. Another thing to consider is what conditions you will typically use the tent in. Most people won't be using their tent in a blizzard and heavy snow, so a "3 season" tent is by far the most popular.
Budget option: The Stoic Driftwood is a good basic option. It's quite heavy, but it will keep you dry and protected from critters. It's also pretty reasonably priced! You wouldn't really want to take this backcountry camping as it's just too big and heavy for backpacking.
Best option: The Nemo Hornet Ultralight 2 Person Tent is the most recent version of the tent I typically use for car camping. It's super lightweight, has lots of pockets for storage, keeps me dry, and packs super small to fit in the car or my backpack.
Luxury option: The Big Agnes Big House Deluxe tent is for those who plan to stick to larger, more established campgrounds. It's tall, big enough to stand in, has lots of pockets for storage, and can fit a bunch of your extra luxury items such as chairs etc. The downside is it may not fit in smaller campsites, and it will take up a lot more room in your car. It also takes a bit longer to set up.
SLEEPING BAG
It might seem obvious, but the most important thing is to get a sleeping bag that will keep you warm. You will want to get an idea of the type of weather you plan to camp in regularly and get a bag rated for those temperatures. For most people in the US, a bag rated to 20 degrees or 30 degrees Fahrenheit (-6 or -1 Celsius) will suffice in most 3 season conditions (spring-fall). Seeing as you are car camping, you can always throw an additional blanket or duvet from home over your bag to get some extra heat when necessary.
Budget option: The Stoic Groundwork will be the cheapest option and also keep you warm. However, it won't be ideal for backcountry camping trips due to its weight and size.
Middle option: The Kelty Kush 30F Synthetic Sleeping Bag is in the middle price-wise. It will pack slightly smaller and be lighter than the budget option. This one is a good option for shoulder seasons as it gives a little more warmth. It won't be quite as small or lightweight as the one below, which is best for backpacking too.
Best option: The Big Agnes Torchlight UL Sleeping Bag will be perfect for both car camping and backcountry adventures. It's super warm, incredibly lightweight, and packs down very small to fit in your backpack. This is definitely the best option if you have the cash to burn.
SLEEPING PAD
Having a comfortable sleeping surface is key to a good night sleep. There are so many different options out there for sleeping pads. Sleeping pads are rated for certain temperatures using the "R" scale. A pad with an "R value" of between 2-4 is middle of the pack for warmth, and fine for most 3 season applications. If sleeping in a tent, I would recommend sticking to an inflatable sleeping pad designed for camping. If you are sleeping in your car, there are some great inflatable/air mattress options that can fit perfectly in the back of your vehicle. Alternatively, you could buy some memory foam and a topper, cut it to size, and throw a sheet on there.
pillow
A comfortable pillow is a vital part of a good night's sleep for me. Luckily, when car camping you can save money and just bring along one from home. Alternatively, you can go with a pillow designed specifically for camping. These pack up TINY, and blow up in a few seconds. While they aren't quite as comfy as a full-sized pillow, you don't have to worry about them getting ruined, and you can also take them into the backcountry if you go backpacking for a good night's sleep there too. Here are a few recommendations:
Lightweight option: The Exped Air Pillow is great for if you also plan to go backcountry camping. It packs super tiny and is incredibly lightweight. Personally, I deflate the pillow to about half or 2/3 full, stuff it into a Buff, then fill it with a down jacket at night. This takes the comfort to the next level, and saves you weight by using things you would bring along anyway!
Luxury option: The Sea To Summit Aeros Ultralight Deluxe Pillow is much more comfortable without having to make any modifications like I do with the Air Pillow, but is a bit more expensive. You could still take this one backpacking if you want to carry it!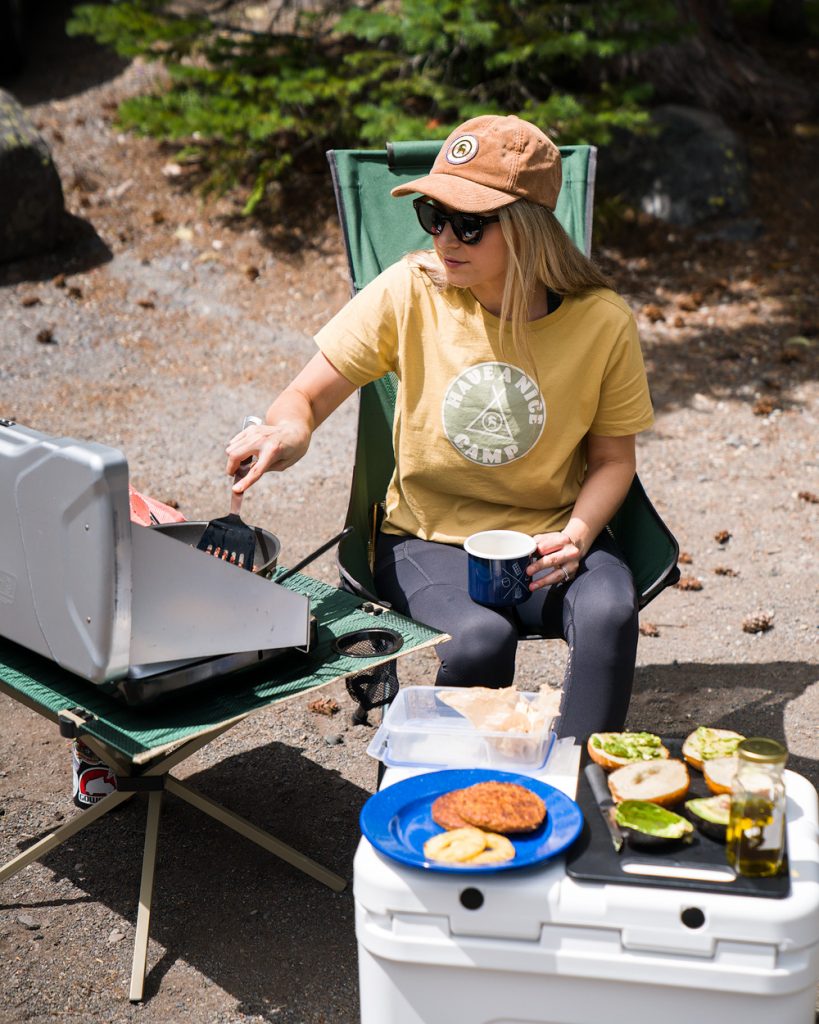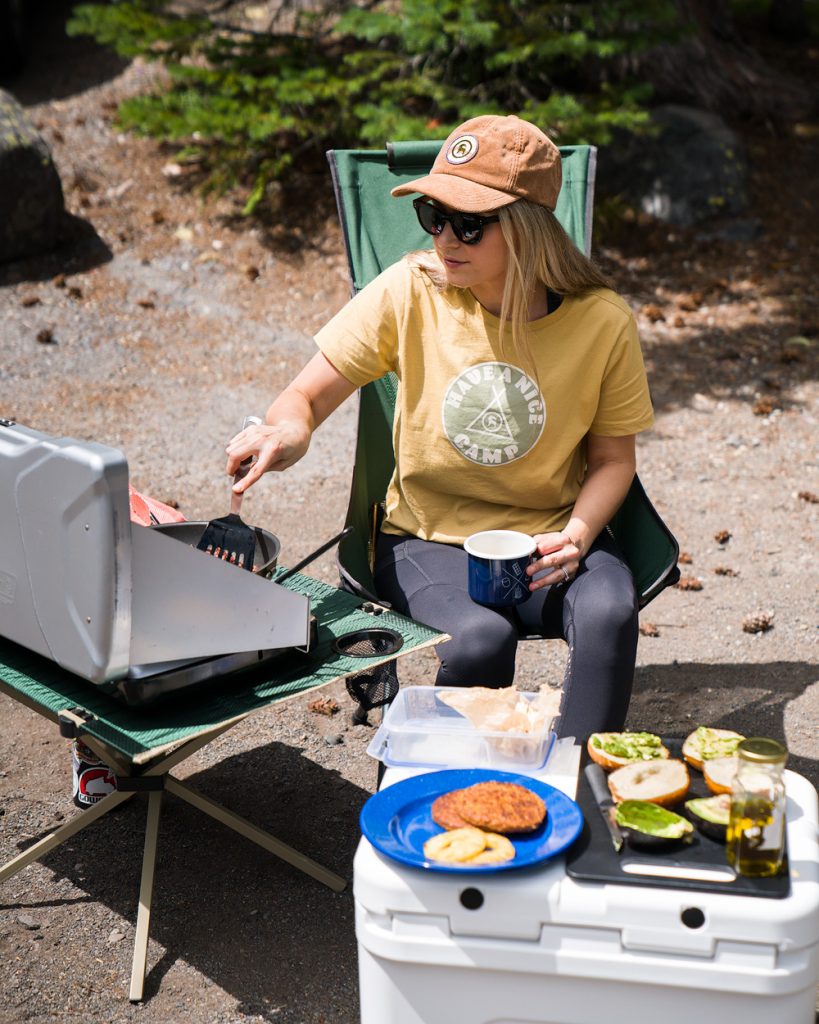 CAMP COOKING ESSENTIALS: KITCHEN
One of the best things about car camping is that you can bring pretty much everything you need to cook delicious camp meals. It really is satisfying cooking and eating out in nature with a beautiful view. If you're looking to save money, you could bring a lot of this stuff from home, but personally, I like to have separate a camp set up for cooking so I don't ruin my nice stuff from home. It's also really easy to just store all these items in a bin together and they're ready to put in your car for your next adventure. Here are some car camping essentials for cooking:
Reusable Water bottle: This Hydro Flask is my favorite water bottle ever! It keeps my water cool, isn't terribly heavy, and you won't get any plastic taste like from other bottles.
Cup/Mug: This little mug is super handy around camp. It is insulated to keep your coffee warm or your cocktail cold.
Thermos: A reusable coffee thermos a great way to keep your coffee warm for an extended period of time. If I need my coffee to go, this is my preferred method.
Cutting knife: This is a nice camp-inspired cutting knife. Good for just about anything.
Cutting board: Just bring one from home.
Cooking utensils: This set is nice for camping, and the foldable handles means they don't take up as much space. Alternatively, just bring some from home.
Coffee kit: This Stanley pour-over makes camp coffee easy. Just sit it on top of a mug or thermos and voila!
Camp Kitchen Sink: More established campgrounds (like some found in national parks) may have communal sinks, but many don't. This is a nice, portable sink to help wash your dishes at camp.
Dish Soap and Sponge: Bring some dish soap from home in a small travel container such as this. Try to use earth-friendly and biodegradable soap. Any sponge will do.
Trash bags
Paper towels or rags
Cooking oil
Spices and condiments
Containers for leftovers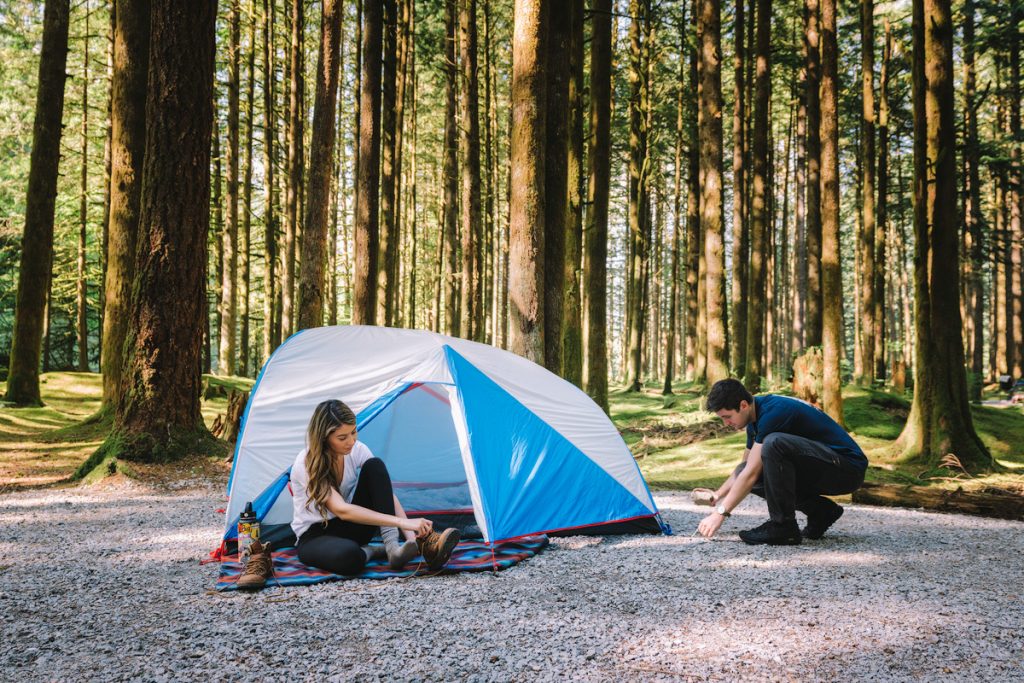 CAMPING NECESSITIES AND TOOL KIT
The following items are necessities to keep you safe and ready for anything. Pick and choose what you think you'll need for your type of camping and destination.
Headlamp: A good headlamp will make your life so much easier when it gets dark, don't forget to pack one! I find this one has a nice amount of light, and the rechargeable battery is super nice. I prefer a headlamp to a flashlight since you can use it handsfree.
Lighter: A lighter has a lot of uses around camp. Lighting a stove if the igniter goes out, lighting a campfire, etc. I always have one with me.
Duct Tape: Super useful for fixing anything that breaks. I've used duct tape for the most random things, and if you don't have any with you, eventually there'll be a moment that you'll regret you didn't bring some along.
Multi-tool or pocket knife: A high-quality multi-tool is useful in so many situations. This one has pliers, a screwdriver, blade, saw, file, wire stripper, bottle opener, and more.
Scissors: Bring some from home, or use the ones on the multi-tool.
First Aid Kit: This is a necessity when camping. You never know what might happen when camping, and having a first aid kit at the ready can be a lifesaver. A simple kit of bandaids/bandages, blister patches, gauze, and tape goes a long way in an emergency.
Patch Repair Kit: A patch repair kit is another thing you might not think about, that is until you wake up in the middle of the night on the ground because your inflatable mattress somehow got a hole. Bring one of these!
Paracord: Paracord has so many uses, but you must have some knowledge of knots to really take advantage of it. Don't bother bringing it if you don't.
Extra Tent Stakes : Trust me, you'll lose a tent stake at some point. Bring a spare for when that moment comes. A pole splint is another good one to have on hand in case you break a tent pole.
Water Filter: This is a must when camping. If you run out of water and don't have any potable water around, you're going to need to filter some from a river, lake, etc. Never drink from a natural water source without filtering it first or you may be exposed to bacteria and get sick. Purification tablets are good in a pinch, too.
Bear Spray: Bear spray will give you peace of mind in bear country. It's also good for other predators such as mountain lions, or in an emergency, can be used to deter a fellow human. If the campsite has bear-proof bins you will also want to use these.
Small wallet: You always want to keep ID on you, and a good idea to keep some cash or a credit card as well.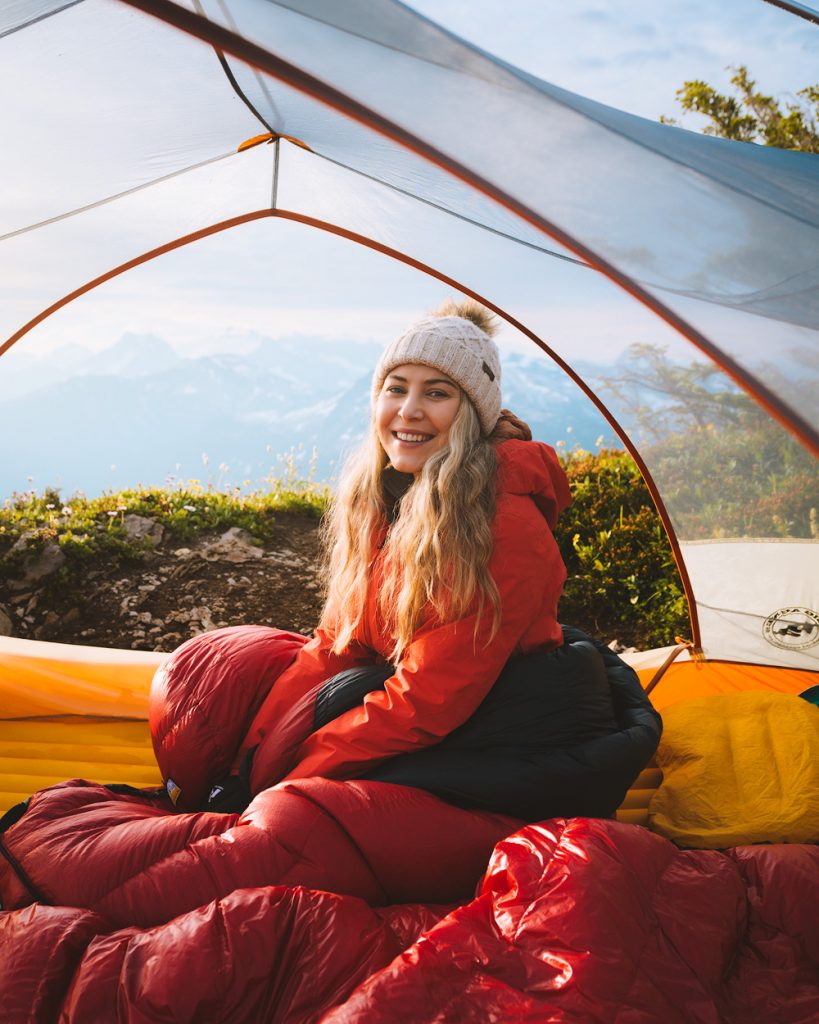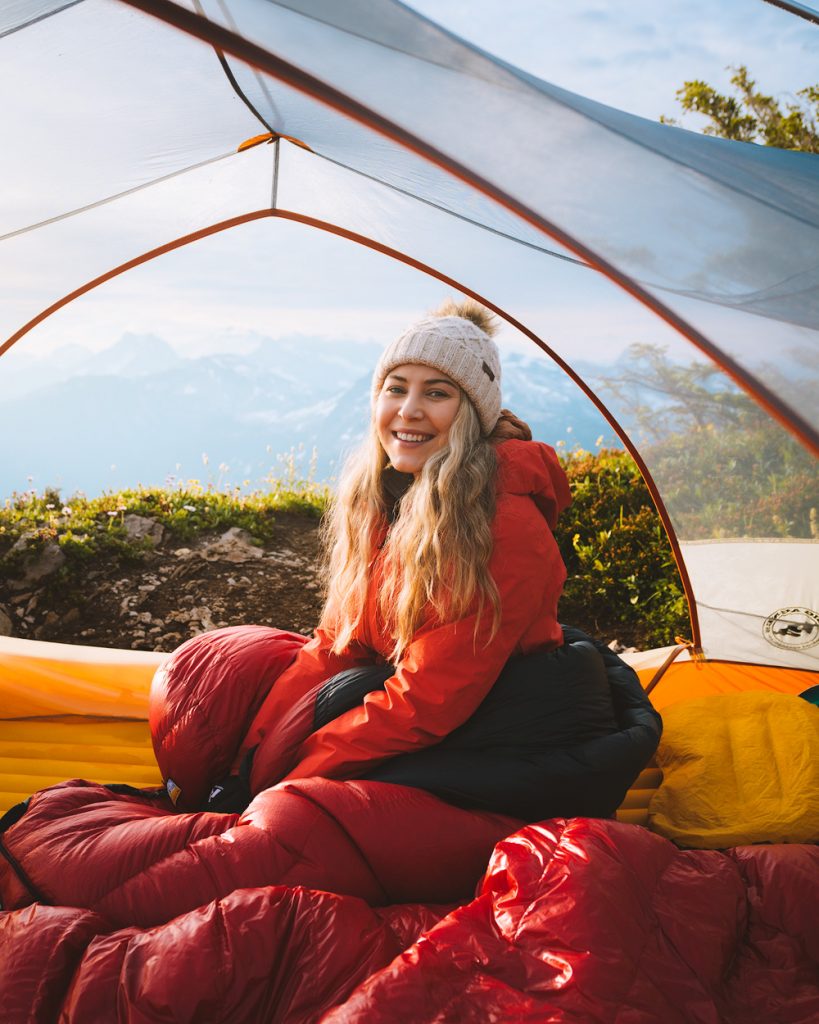 CAMP HYGIENE: TOILETRIES
These are some hygiene items that I often bring along on car camping adventures. I wouldn't say that they are all car camping essentials, and I would suggest looking over the list and packing what you feel is necessary.
Toilet Paper
Toothbrush
Toothpaste
Baby Wipes
Brush/Comb
Camp Shower
Shampoo
Soap
Towel
Sunscreen
Lipbalm
Bug Repellent
Hand Sanitizer
Deodorant
Sanitary Products
Mirror
Medications
Ear Plugs
Eye Mask
Cosmetics
Contact Lens Supplies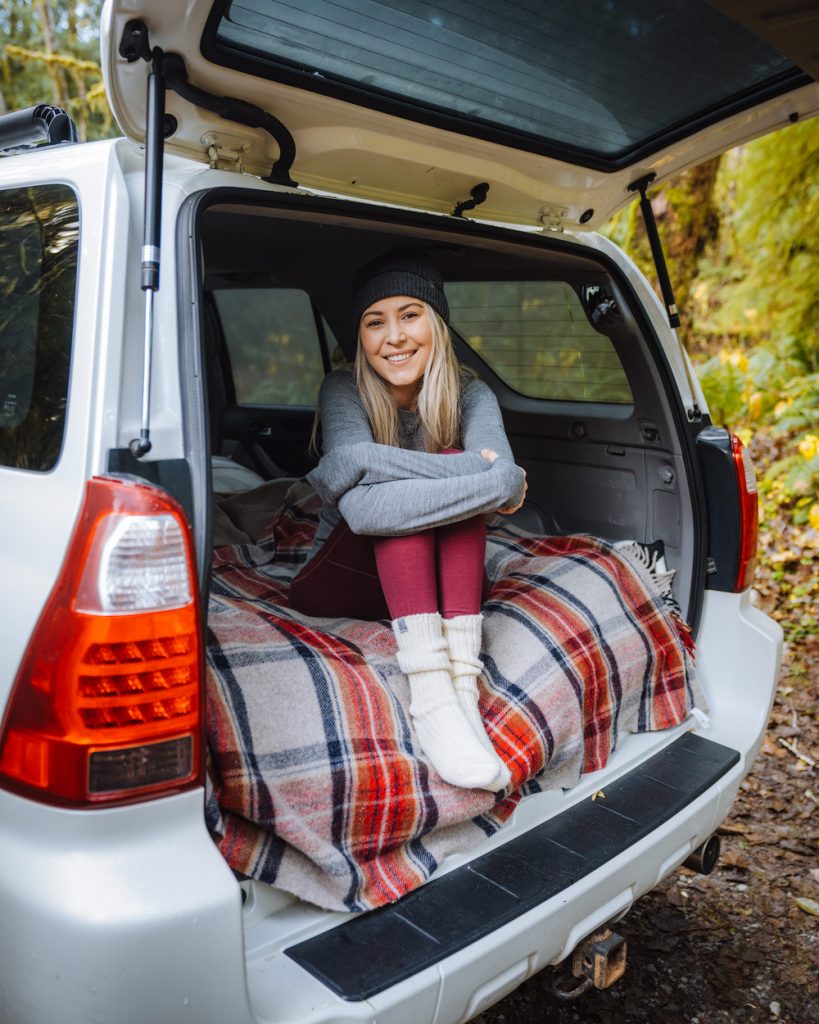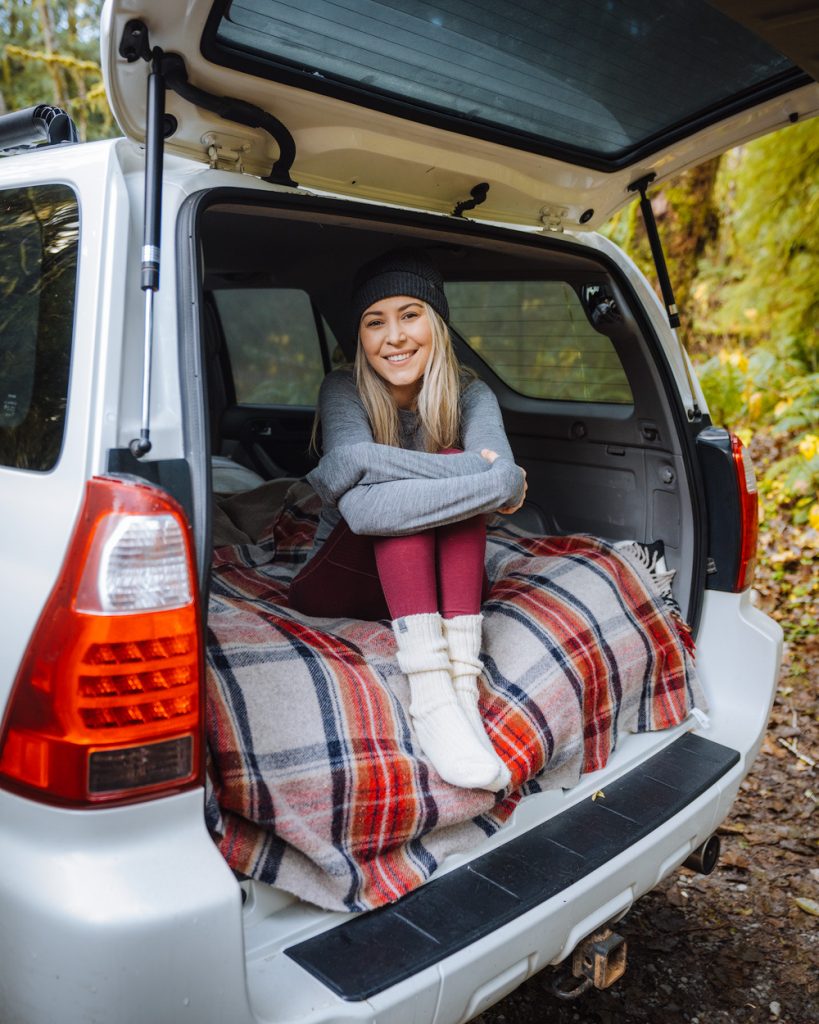 CAR CAMPING ESSENTIALS: CLOTHING
It goes without saying that packing clothing will be essential for your camping trip. Below you will find my recommendations, but make sure to research conditions ahead of time and pack appropriately.
Want more packing & gear tips? Check out our guides on what to wear hiking, car camping gear essentials, how to plan a national parks trip, and the best hiking shoes.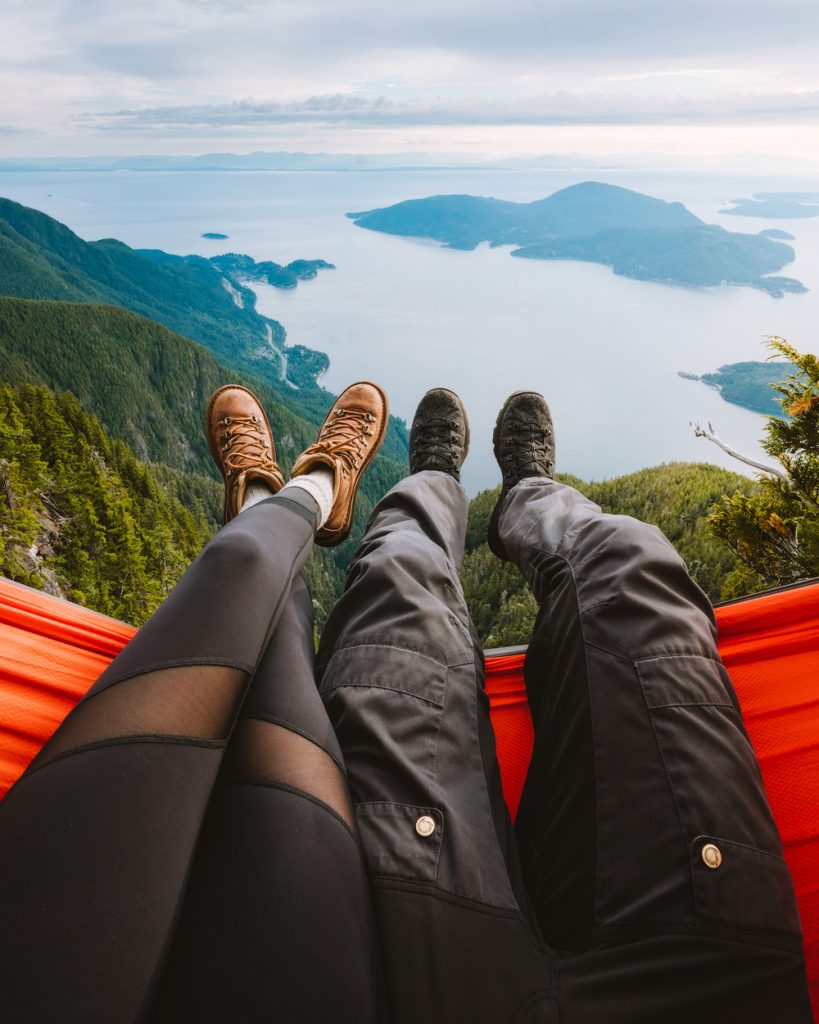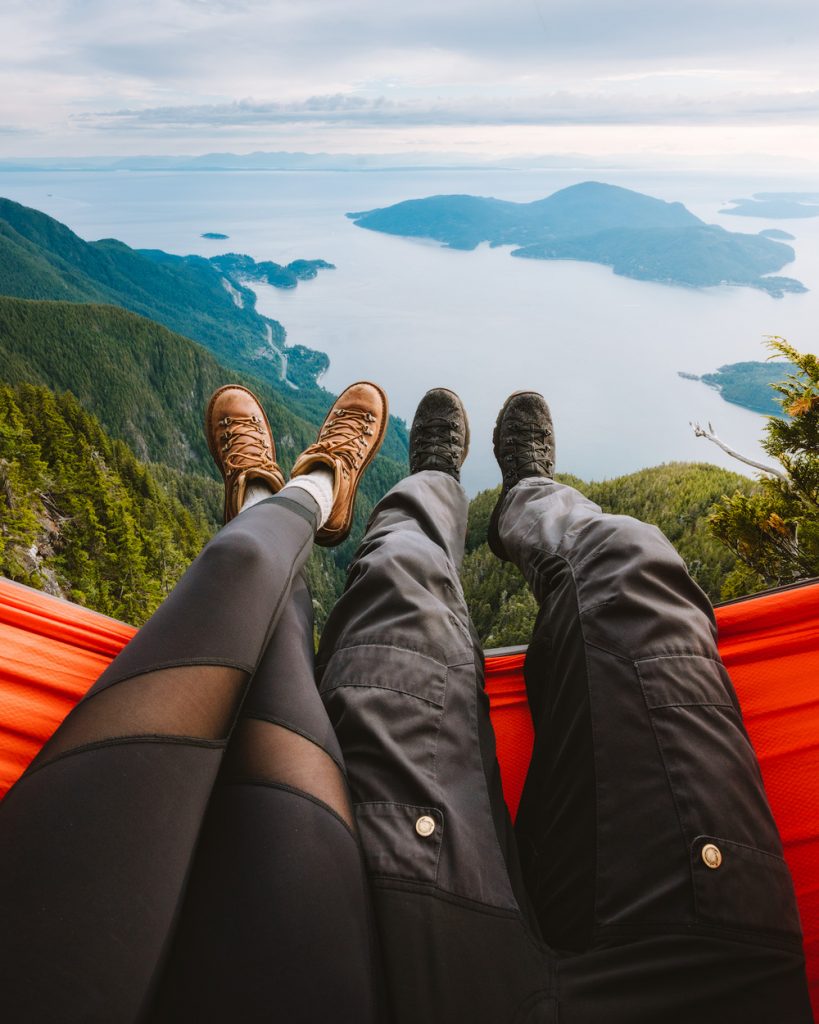 CAMP COMFORT: EXTRA ITEMS
These items definitely go beyond the car camping essentials list, but when you have the space to bring along some more luxury items, why not! Even avid backpackers enjoy car camping, especially when you are able to bring some of the following items to really kick back and relax.
Camp chairs: Some more established campgrounds will have picnic benches, but often you won't have that luxury. Having some portable camp chairs that pack down really small are such a nice thing to have around camp. These Stoic ones are amazing because they pack down super small, and are really comfortable. You can pick up some much cheaper from places like Walmart, but they pack down a lot larger and in my opinion aren't as comfortable.
Lantern: A good lantern is so useful around camp after dark. This one has a hook at the top, so it can be hung from just about anywhere. It also has a rechargeable built in battery. SO handy!
Blankets: I have so many uses for a blanket on camping adventures. I sometimes use them as an additional layer to stay warm at night, to sit on when I'm on the ground, and on cold mornings in the car I'll often put it over my legs to help warm up. These also look cute around the house, bonus!
Firewood: A lot of established campgrounds will have fire rings for you to have a campfire. I only ever have a campfire if there's a fire ring already there. Creating a new fire will damage the area and is more likely to cause a wildfire than using an established fire ring. You can buy firewood at a lot of gas stations away from the city, grocery stores, etc.
Firestarter: Fire-starter will make getting your fire going a lot easier. Try to stay away from the stuff typically sold at sports stores and gas stations as it's terrible for the environment. These eco-friendly fire starter bundles and easy to use and very affordable.
Hammock: A hammock is SO nice to have around camp. It's hard to beat lounging in a hammock on a sunny day, or at night and watching the stars. This one is super comfortable and comes in a bunch of colors.
Camp games: Bringing along a deck of cards will take up pretty much no room in your car and provides hours of good times. These ones are waterproof, so less likely to get ruined on your adventures.
Portable charger: The Goal Zero Yeti 150 is awesome! It's powerful enough to charge your camera, phone, laptop, tablet, etc. You can buy solar panels to keep this thing topped off and running for days. Goal Zero sells a wide range of sizes depending on how much power you need.
Final thoughts on car Camping essentials
I hope this guide and packing list help you get excited to plan a car camping trip! With these car camping essentials, you're guaranteed a good night of comfortable sleep, tasty meals, and lots of fun memories. What other questions do you have about planning or packing for a car camping trip? I'd love to know what are some of the must-have items you never leave home without when you go car camping. Let me know in the comments below!
---
Pin for Later planning!