Utilizing free camping around the USA is a budget-friendly and convenient way to take road trips! Not only can it help cut back on travel costs, but staying at free campsites typically provides gorgeous views, solitude from other people, and a quick way to make an overnight stop while on the road.
There are many ways to find these free camping spots, so it can be a little overwhelming at first when you begin to plan your trip. This article should bring ease to your travel planning by providing the resources to help you find these free campsites! From phone apps, websites, packing, and even more, I will cover everything you need to know to be prepared and plan ahead!
Disclaimer: This blog post features some affiliate links, which means I get a small commission if you make a purchase (at no extra cost to you). It's one of the ways I can keep producing free guides and resources for my readers. Learn more about my affiliate policy here. Thank you for the support!
Exactly How to Find Free Campsites across the USA
The majority of campgrounds charge a fee for camping at their location. These fees range in cost depending on the location of the campground, how many people are in your party, the type of vehicle you are arriving in, and the amenities that the campground provides. You have already invested quite a bit of money on camping gear, food, fuel, etc… and now camping fees too. For this reason, I want to share with you all the tips on how to find free campsites so you can have a much more budget-friendly trip!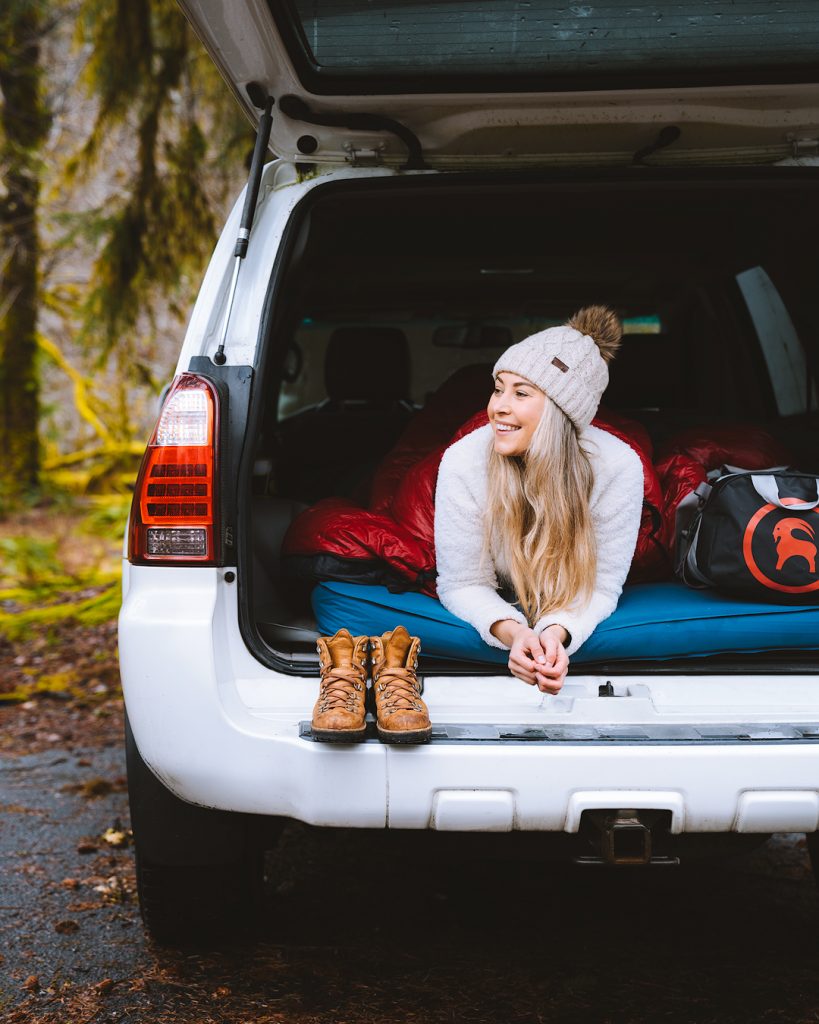 What is 'free camping'?
So what exactly is free camping? Free camping is when you camp for free overnight in your camper, RV, tent, van, or even in your car. There are various different types of free camping across the United States and different names to go with each of them. Here is what you need to know:
Boondocking: This is the most popular term for 'free camping.' It refers to all styles of free camping. The term boondocking is widely used on forums and amongst RVers, roadtrippers, and other long-term travelers in the United States.
Dispersed Camping: This is the official term used by the National Forest Service (NFS) and Bureau of Land Management (BLM land). If you are searching for free camping sites on either an NFS or BLM website, you will search for "dispersed camping" to find free camping sites on these grounds. As a tip for when looking for free campsites at National Forest Service or Bureau Land Management locations, call the ranger and specifically ask about 'dispersed camping.' When looking on a US government website, search for the term 'dispersed camping' as well.
Stealth Camping: Stealth means to be cautious, unobtrusive, and to have a secretive way of moving or proceeding intended to avoid detection. With this said, when doing stealth camping, you are trying to blend in with your surroundings. People that stealth camp usually set up camp in parking lots, neighborhoods, etc., and try to blend in for their own protection and to respect locals.
Dry Camping: This term is used when you get a free campground without any water or electrical hook ups.
Backcountry Camping: This is a term occasionally used for free camping but usually is used more when you are wilderness backpacking. This is when you pack all of your gear, clothing, etc into a backpack and carry it out on foot deep into the wilderness to camp out there instead. People pack light for this style of camping so they can have more space for the equipment and the bare essentials needed.
Primitive Camping: This is just another name for backcountry camping.
Wild Camping: This is the same term as for backcountry camping but it is mainly used in the countries of Canada, Australia, and New Zealand.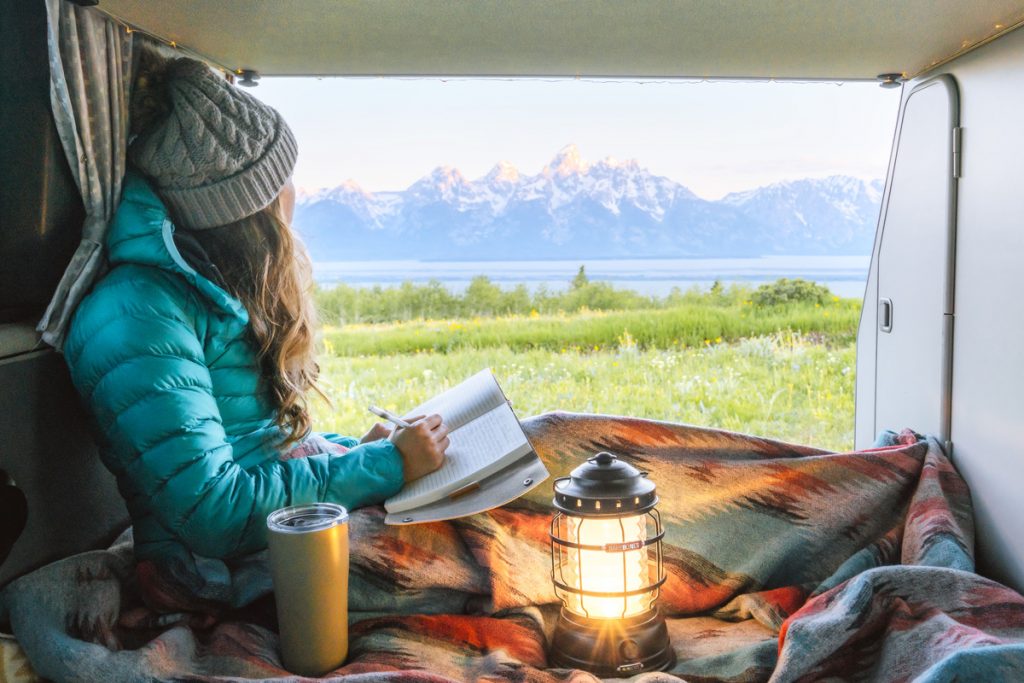 The Benefits of free camping
Free camping has many benefits for traveling. On the top of the list is saving money! You're not paying for the campsite so it's completely FREE! Another few benefits are:
Solitude and seclusion: You won't be seeing as many people in these free campsites compared to in a campground. I personally love this aspect of free camping as I enjoy the seclusion.
No need to make reservations ahead of time: This can be a good benefit because it gives you the flexibility to go with the flow of your trip. You don't have to stress about booking your campsite ahead of time to beat the crowd.
Flexibility: Without having to be on a timeline with reservations, it also grants you flexibility in your travels. If you need to stop you can stop at any of the free camp spots for the night without worrying about missing a reservation or adding days to your trip.
Perfect for last-minute plans: Free camping is perfect for those last-minute, spur-of-the-moment trips. Sometimes you just pack up your bags and leave for the weekend. Getting a free campsite allows you to not worry about missing out on a fun destination due to not having made plans ahead of time. They are also good for emergency situations like getting a flat tire and needing to stop for the night.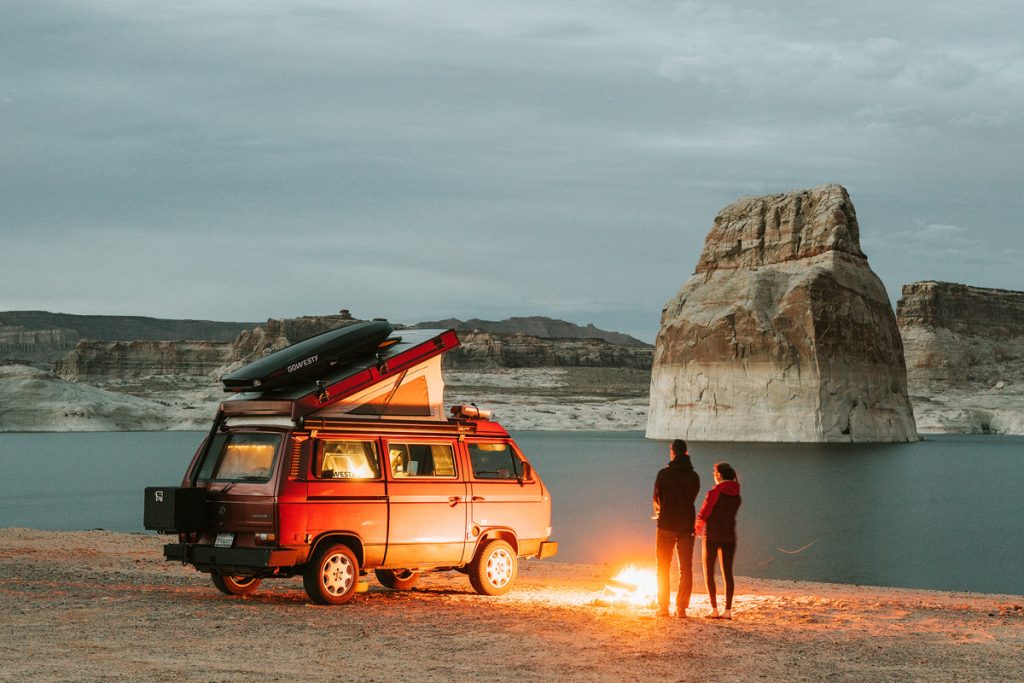 What to Expect when Free camping
Free camping comes with its perks such as solitude and saving money but it also comes with its fair share of disadvantages. Expect a different environment when camping for free. Some of the things to consider are:
Campsite Development: Free campsites will most likely not be developed, e.g. rough ground, lack of amenities, etc.
Camp Amenities: There may not be any of the camp amenities like restrooms, showers, picnic tables, fire rings, no added comforts, and no electrical and water hookups.
Road Conditions: Roads can be rough leading to free camping areas. Some areas you may even have to hike out to depending on the location that you have chosen. When choosing where to camp you have to consider the road and the type of vehicle you are traveling in (RV, van, truck, SUV, etc.) to make sure you can make it in and out of the campsite. Also, keep in mind that the weather conditions can affect the road conditions.
Cell Service: Many free campsites are in remote locations so cell service will be spotty. I would recommend checking in with your loved ones or doing any cell service-related activity before arriving at your campsite.
Water Availability: Most free campsites won't have a water hook up and many campgrounds won't even have a communal water spout. I would recommend always packing a few jugs of water for drinking, cleaning, and hygiene-related tasks.
Dump Facilities: Many free campsites won't have dump facilities. So it is very important to pack out your own trash and dispose of it properly. Always follow Leave No Trace Principles.
Fire Regulations: Many free campsites don't have a fire ring. It is important to check on the fire regulations for that area before arriving and following any local guidelines. If a campfire is allowed, bring some fire-making essentials and follow all local rules. You should know how to make a campfire safely and put it out before you leave to avoid any wildfires.
Leave no Trace and Free Campsites
Whenever you are outdoors or traveling it is very important to always follow the Seven Leave No Trace Principles. By following these you are making sure you leave your campsite and trails looking better than before so others can enjoy them too. You can learn more in detail about Leave No Trace here and how you can implement these seven principles in your travels. Important tips include packing out all your trash if the area where you camp does not have trash cans, disposing of pet and human waste properly, and not disturbing natural flora and fauna. Setting up your tent or camping area on durable surfaces helps to keep disruption to a minimum when you're camping in nature or the backcountry.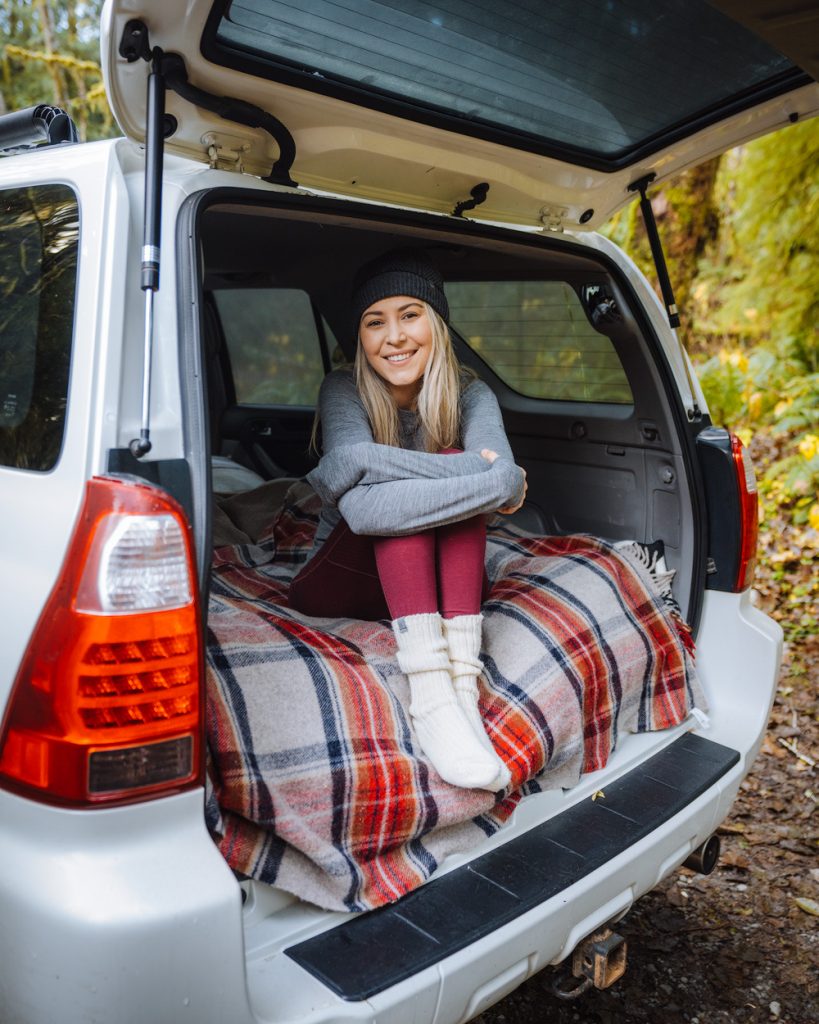 Where to find free campsites
There are numerous ways to find free campsites during your trip. You can camp for free in parking lots, rest stops, public lands, Forest Service lands, and much more. Let's go over each one of these so you can have a better understanding!
Bureau of Land Management (blm)
The Bureau of Land Management (BLM) is responsible for managing public lands. These lands are used for a variety of purposes such as livestock grazing, recreation, energy development, maintaining natural, cultural, and historic resources, and more. While they do have developed campgrounds that you can pay a fee to use, they mostly have dispersed camping available.
These campsites are good for tent camping but can also be used for RVers, vans, campers, and other styles of camping. To camp on BLM grounds, you need to know a few things first. These are stated on the BLM website as well.
Dispersed camping is allowed on BLM public lands for no longer than 14 days within a 28 consecutive day period.
BLM dispersed campsites are usually located along secondary roads and may not be marked, meaning that they may be a little hard to find. Making sure you have a map of the location will greatly help you find your campsite. The best way to know that it is a free camp spot is to for signs that it has been previously used (flat/cleared ground, fire ring, tire marks). Some of these campsites you will have to walk in a little way to set up camp.
Campers should dispose of all of their waste properly and not pollute any of the surrounding areas. Learn about Leave No Trace Principles here.
Come prepared, there will be no picnic tables, showers, fire rings, restrooms, or electrical and water hookups. In some locations, you can obtain a fire permit if there are no fire restrictions in place.
When disposing of human waste make sure to dig a cat hole 6-8 inches deep and at least 200 feet away from any water source. These can include streams, creeks, rivers, etc.
When setting up camp make sure to do it at least 200 feet away from any water sources.
Search BLM's interactive map here so you can find free camping areas that will suit your needs. You shouldn't depend on Google Earth for BLM locations as they are not shown on their maps.
Forest Service Land (Usfs)
The United States Forest Service (USFS) is an agency that belongs to the U.S. Department of Agriculture and manages over 193 million acres of land across the U.S. You can find some locations where they allow dispersed camping but there are a few key points that you need to know before doing so. You can view these key points on their website here along with some of their rules and regulations.
No amenities are provided.
You can camp in a dispersed area up to 16 days.
Always follow the Leave No Trace Principles.
Only set up camp in dispersed camping areas.
Only have campfires in fire rings and follow their tips for safe, low impact campfires.
Search on USFS's interactive map here so you can find free dispersed camping areas.
Other Public lands in the us
You can mainly find free camping in national forest land (USFS) and BLM locations, you can also camping spots for free in other lands as well such as:
State parks
City parks
County parks
Smaller US federal agencies
However, some may need reservations ahead of time depending on the location. Please also keep in mind that NOT all parks have free camping and it may be much harder to find free camping spots at these locations but it is an option.
Business Parking lots
Another great option for free camping is overnight parking at business parking lots. Some businesses allow people to park in their parking spaces overnight for free. However, one thing that you can do is talk to the manager of the business to get approval. Here are some of the businesses that allow overnight parking:
Costco, Sam's Club, Walmart Parking Lots – I recommend calling ahead to see where they would prefer for you to park at and to get prior consent from the store manager.
Casinos – You can check on casinocamper.com to see which casino locations allow free overnight parking. Their interactive map makes it easy to find a location close to you.
Home improvement stores – Home Depot, Lowes, Menards, to name a few, will generally allow overnight parking.
Cracker Barrel – Most locations allow you to overnight park. However, keep in mind that Cracker Barrel opens early for breakfast and you want to make sure you don't get closed in by customers. It is best to choose a restaurant with a large enough parking lot or to park in an area that won't be inconvenient for their customers and staff.
Camping World – If there is a Camping World near you, you can call ahead and see if they will allow you to park overnight at their location. Some even offer free electrical and water hookups too.
24 Hour Fitness Centers – Planet Fitness, 24 Hour Fitness, and Anytime Fitness are other businesses that allow overnight parking. These are best for smaller vehicles since their parking lots tend to be smaller in size. It is best to have a membership so you can shower and use the restroom in there, or even get a workout in. Some places will even have wifi connection too.
Something to keep in mind when overnight parking at businesses is that some cities may have laws against sleeping in your car or camping. Always be sure to research any local laws and abide by them. It is best to call and speak with a business manager if you have any questions about that specific location as well as checking the laws against sleeping in your car or camping in that area.
Rest stops and truck stops
These are great options for free overnight parking, especially when you driving long distances and need to stop due to drowsiness (ALWAYS stop if you feel tired, it's not worth risking your own life or someone else's).
Rest stops and truck spots are two very common locations that you see while driving on any interstate highway across the country. However, each of these can slightly vary. Truck stops usually offer travel amenities such as fuel, food, restrooms, and sometimes even showers. Some of the most popular truck stops include:
As for rest stops, they can be a little more tricky. Rest stops are made so that drivers can stop and get a rest. However, not all rest stops allow overnight parking, so it is important to do some research beforehand. To make things a little easier for you, you can check out the list found on Interstate Rest Areas website to find the right rest stop for you.
Neighborhoods and backstreets
Neighborhoods provide a safe place to park overnight but it is best to stay only if you know someone that lives in the area. Usually, if you don't know anyone that lives in the neighborhood, other neighbors may end up calling the police on you for suspicious activity. I would recommend that if you do know someone in the neighborhood, park in front of their home. Also, always be respectful, quiet, and don't leave trash behind.
Backstreets is another good option but it is best to play it safe. Make sure to abide by any rules or laws that are set in place for that location. Also make sure that you don't park in the way of any other cars, be respectful, clean up after yourself, and travel prepared.
WHERE IT'S
NOT

OKAY TO FREE CAMP
While there are a lot of places where you can camp for free, there are also many places where you shouldn't. Some of these places are prohibited due to risk to either yourself, children and/or minors, or because it is military land. These include locations such as:
Parks with playgrounds
Military Bases or near the gates entering the base
Airports
Power Plants
Schools, Universities, and Community Colleges
Private Property (unless you have permission from the owners or the land manager)
Utility Warehouses
Construction Sites
Any locations that have signs stating no overnight parking
Businesses that don't allow overnight parking
These are just a few of the locations that you should avoid when looking for free camping areas. I highly recommend you trust your instincts when looking for an overnight camping spot. It is always better to play it safe if you get a bad feeling about an area.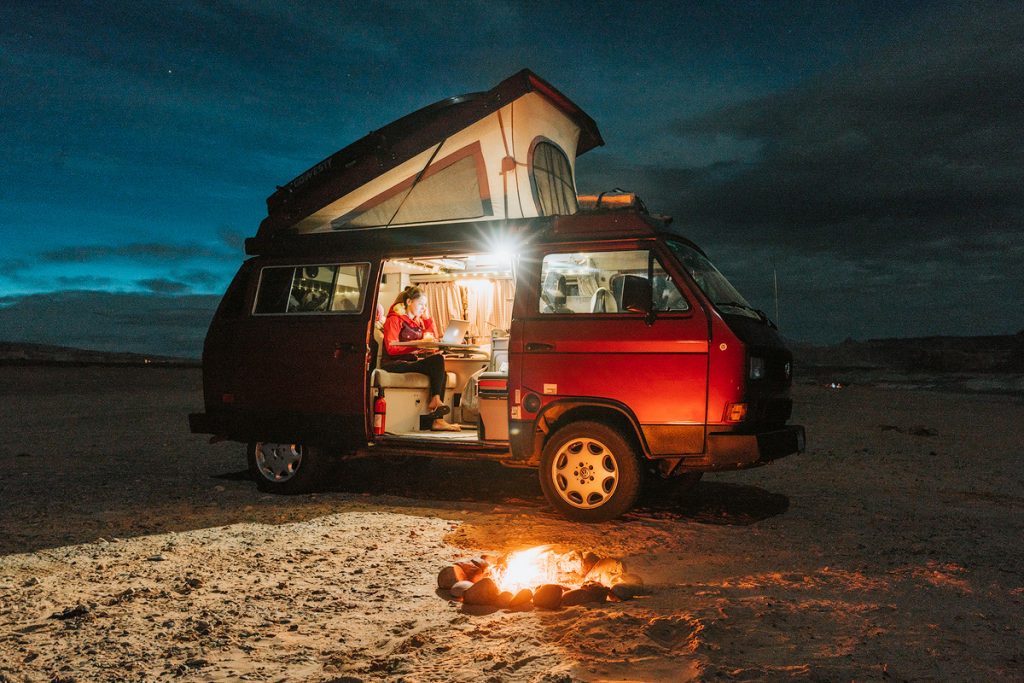 HOW TO FIND FREE CAMPSITES NEAR ME
There are many ways to find free campsites nowadays. From phone apps, websites, guide books, blogs, and much more, there will always be a way to find a spot for you to stay at. Let's break this down to make it easier for you to be prepared and plan ahead if needed.
PHONE APPS TO FIND FREE CAMPING
Phone apps are a great way to find free camping while on the road, and there are numerous apps to choose from! Here are a few of the best apps that I highly recommend for finding free camping:
The Dyrt – free 90 day trial with this link or using my code Renee90. The Pro Membership Perks include a camping road trip planner, free dispersed camping with map layers, offline access anywhere, and camping and gear discounts. You can also find free campsites on their website here.
Free Roam – free: You can also use their interactive map on their website.
iOverlander – free: You can also use their interactive map on their website.
Campendium – free (iPhone only): Campendium can be used both on their iPhone app and on their website here.
US Public Lands – $2.99 (iPhone here or Android here)
Outly – there is a free and a paid version for their app: They also have an interactive map on their website that you can use.
FreeCampsites.net – free (Android): Their app and their website both have an interactive map that you can use.
Boondockers Welcome – coming soon: This app is in the works and one to be excited for! In the meantime, you can use their website to find free campsites in your area.
Ultimate Public Campgrounds – $3.99: This app is $3.99 to use and includes US Public Campgrounds, Canada Public Campgrounds, and US Military Campgrounds for active and retired military members. The US Military Campgrounds app is free to use though but keep in mind that the campsites that are listed on this free app are for military members and retired veterans so you will need proof of military service or a military/veteran ID.
Online websites to find free campsites
While many of the apps listed above feature a website version of their apps, not all websites have a cell phone app for you to download. Searching online is another great way to find free campsites. Many websites even have interactive maps or even PDF maps that you can download. These are some of the websites that I recommend checking out:
Google Earth and google maps
Google Earth and Google Maps are both great tools when researching the campsites you are interested in staying at. You can use the satellite view on Google Maps to see the locations and the terrain. Just zoom in on the GPS coordinates or the address of the camping spot you wish to learn more about so you can see the conditions of the roads, parking, and what to expect upon arrival. Please keep in mind that Google doesn't update its views frequently so the conditions may be from a different season.
Paper Maps and Guide books
You can find so much free information online about free camping but due to cell service being spotty, it is always good to have a paper map or even guidebooks on hand for when you might be off-grid. Knowing how to use a paper map is very important especially if your first plan of action fails. Here are some paper maps and guidebooks that I recommend you have on you during your road trip:
Blog Posts and Road trip guides
Blog posts and road trip guides are a great way to find free campsites. I often find fun things to do in the area by researching other guides and blogs. You can find these on social media platforms by following travel influencers and bloggers and also on Pinterest by searching for travel guides for specific destinations. I share a few travel guides on my website that can help you find free camping and fun road trips. For example, on my Death Valley National Park Guide I feature tips on places where to stay, things to do, and also include my favorite nearby BLM camping spot. I also have an in-depth guide about How To Sleep In Your Car On Road Trips.
Word of Mouth
Do you know any travel enthusiasts? Road trippers? RV'ers? Feel free to talk to them about how they travel and what awesome tips they have to share with you about finding free campsites. Most people are open and excited to share their adventures with you and help you get started on your own free camping journey!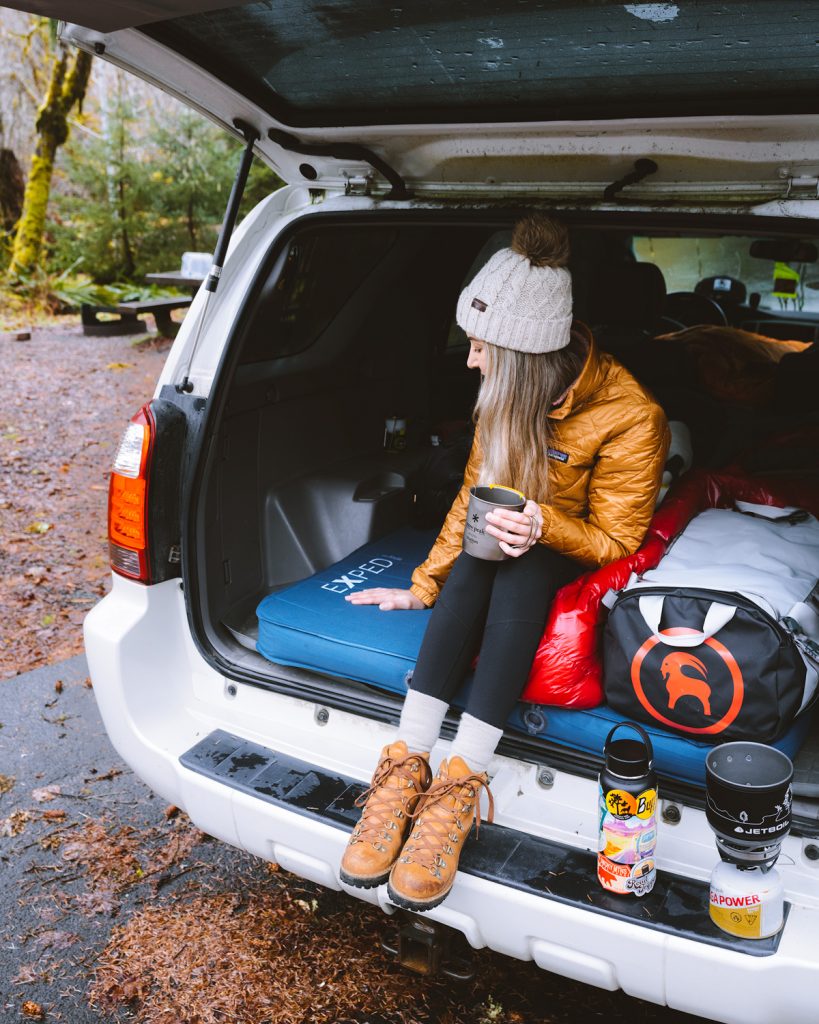 What to pack for free camping
When camping for free you have to take into consideration that many of the places will not have amenities. Because of this, you have to be prepared and pack to be a self-sufficient camper. The list of items for you to bring can range from person to person and type of camping that each individual plans on doing (car camping, tent camping, backpacking, etc.) but for the most important items I would recommend bringing these essentials:
Portable water for showers and other hygiene needs.
Water filtration system for drinking water
Outdoor hygiene essentials – You can read my full Outdoor Hygiene Guide for more tips and tricks.
Car Camping Essentials – I have a full Car Camping Essentials guide here that you can read for more details on what you need. There is also a free packing list for you to download and use. It covers everything you need for car camping including the best sleeping gear and camp kitchen items as well.
Camp Kitchen items
Extra fuel for your vehicle and camp stoves.
Safety items such as a First Aid Kit, Tire Traction Kit, Portable Power Bank and Car Jump Starter, window coverings, and more.
Items for sleeping such as a sleeping bag, pillow, pad, blanket, etc. This all depends on your method of camping. If you plan to sleep in your car then you should check out my Top Tips For Sleeping In Your Car On Road Trips.
Items for comfort – This can include items such as folding chairs, a small camping folding table, a canopy, etc.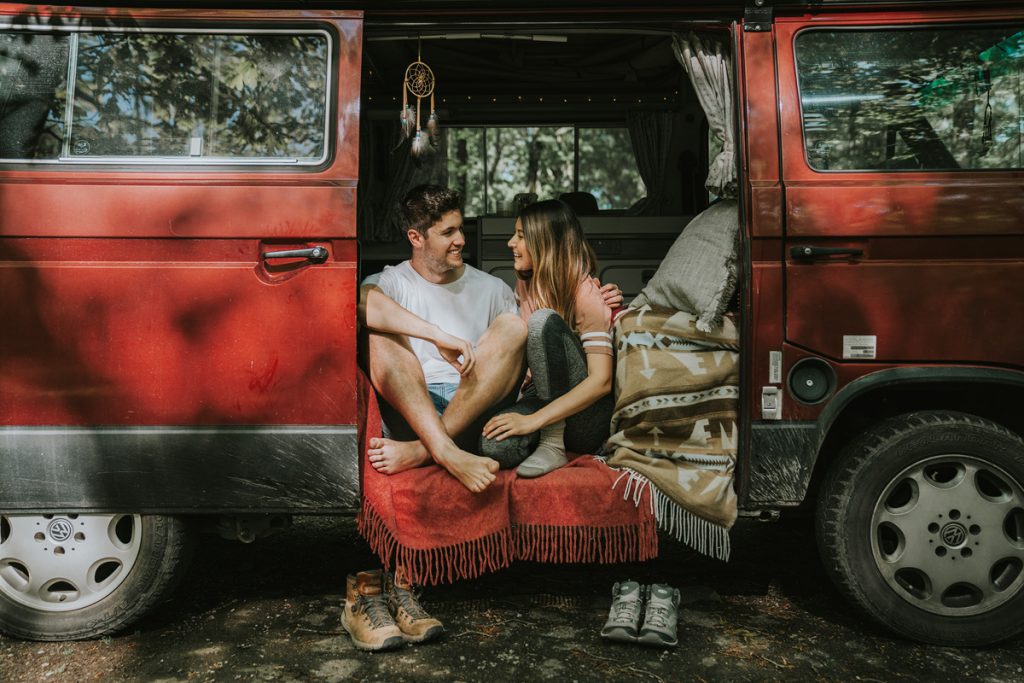 Staying Safe when Free Camping
When traveling it is always important to put your health and safety first. There are a few simple things that you can do to stay safe when camping and on your road trips, here is a breakdown:
Always trust your instincts. If you have a bad gut feeling about a location, trust it and search for another option.
Always let someone know your location at all times. Whether you are on the road or at your campsite, it is important to let someone know where you are at and where you are planning to go. Leave them a road trip itinerary with destinations, tentative camping spots, and a time frame. If things change, keep them in the loop so they know about your whereabouts at all times.
Do your research. It is ideal to read reviews, read news articles, and check crime rates on the different locations you plan to stay at. Play it safe. Many of the websites and apps I mentioned above have reviews about the different free campsites.
Be careful of what you show to the outside world. Keep high-value items in a safe compartment and away from sneaky eyes. Don't show items that may hint that you are traveling, on a long road trip, etc.
Keep your windows covered whenever possible. If you are at a rest stop or at a location that is populated, cover your windows so people cannot tell that you are camping out of your vehicle. This also helps to keep your valuables safe.
Make it easy to leave quickly. When setting up it is important that you make it easy to leave as quickly as possible in case of an emergency or urgent situation.
Have an emergency plan in place. When camping it is important to have a plan in place. Know the entry and exit routes to the campsite, have a plan B, and always be prepared.
Talk to the locals in the area. If you are stopping at a gas station or a store you can talk to some locals just to get a quick vibe of the place. The best locals to talk to are gas station attendants, camp hosts, store managers, restaurant employees, etc. Remember to always be careful what you tell others and keep your travel plans as secret as possible.
Talk to your campsite neighbors. This is a good way to get a gut feeling about who your campground neighbors are. Remember to trust your gut when doing this and always be careful what you say. I never share that I am traveling alone, and recommend that most solo travelers do the same if anyone asks.
Have a weapon. This can be anything that can help you fight off an intruder. I recommend always having mace and bear spray handy. You can learn more about Bear Safety here. You can also have a knife on you at all times for safety. Or another good option is an electric taser. Choose whatever you feel comfortable traveling with.
Stay private and quiet on social media about your travel plans. It is important to not post about your travels on social media in real-time. Wait a few days or a week or two before posting instead.
Always lock up. Never leave your doors unlocked. This makes it harder for your items and even your vehicle to be stolen. If you have a bike or overhead luggage rack make sure that it is safely secured and locked with the proper tools to prevent theft or loss.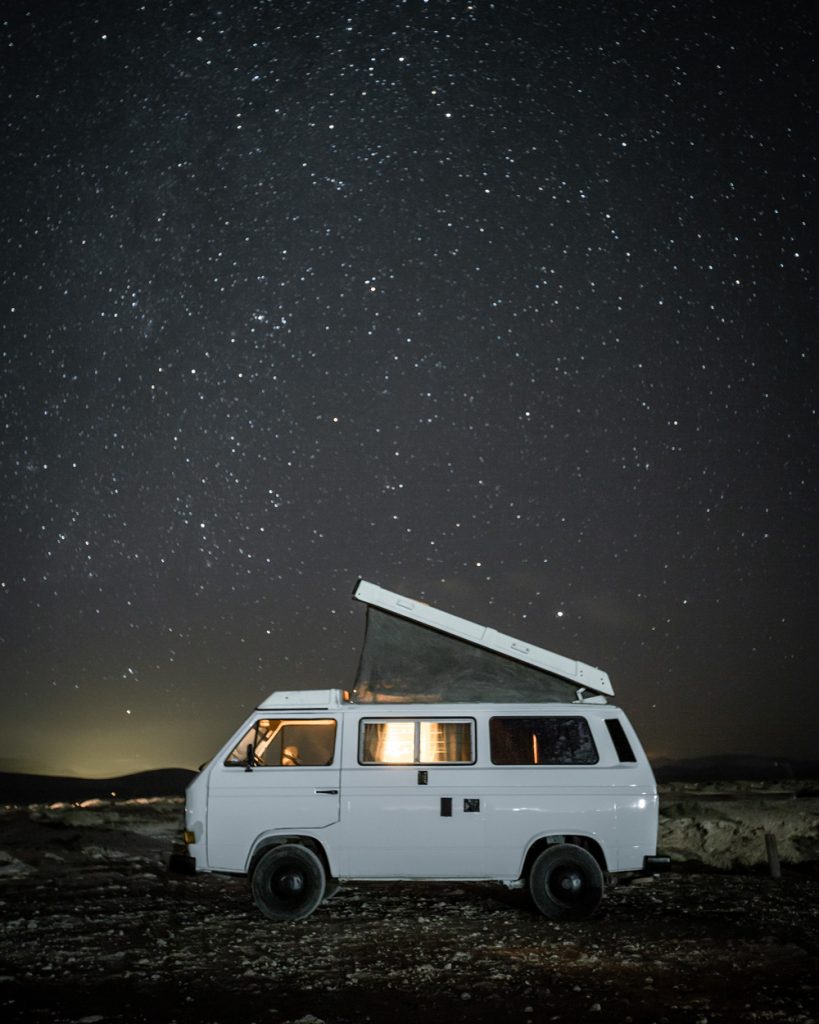 Final Thoughts on Finding Free Campsites
I hope that this free camping guide was helpful and aids you in future trip planning. Remember to always be prepared, do your research, play it safe, and most importantly, have fun on your trip! Let me know your favorite ways to find free campsites on road trips. Can't wait to hear about your adventures!
---
Pin to read later!