Spring is a beautiful time all around the country, but is it a good time to visit our national parks? The answer is yes, well… mostly! Not every national park is at its best during the spring, but for most of them, spring provides perfect conditions for travelers stoked to get out after a long winter indoors. Manageable crowds, blooming wildflowers, and moderate temperatures are just a few of the reasons for this.
In this blog post, I am sharing the 9 best national parks to visit in spring. I hope to inspire your spring travels and help you make the most of your upcoming national park adventures!
Disclaimer: This blog post may feature some affiliate links, which means I get a small commission if you make a purchase (at no extra cost to you). It's one of the ways I can keep producing free guides and resources for my readers. Learn more about my affiliate policy here. Thank you for the support!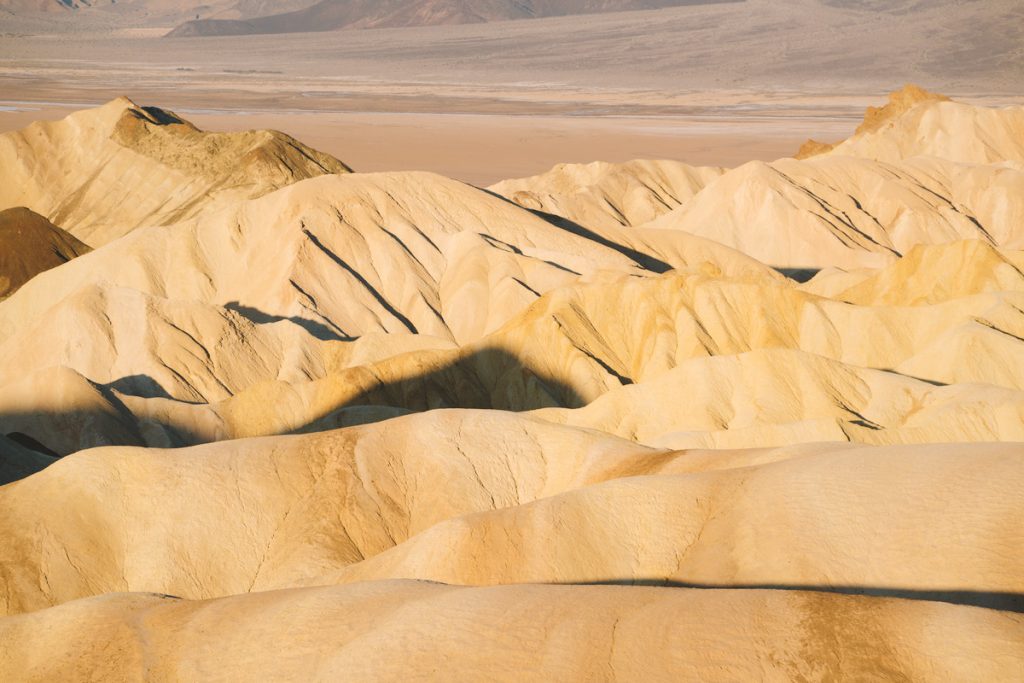 9 BEST NATIONAL PARKS TO VISIT IN SPRING
In 2017 I visited every single US national park with my husband. We lived in a van for 7 months and you can check out our national parks itinerary and route here. We have gone on to visit many of the national parks numerous more times, so you can rest easy that our recommendations are from firsthand experience.
This blog post is all about the best national parks to visit in the springtime. If you're looking for more national park inspiration, I also have guides on other times of the year and how to prep for a parks trip:
And if you're on a quest to visit as many national parks as possible, I would highly recommend grabbing my free printable national park checklist!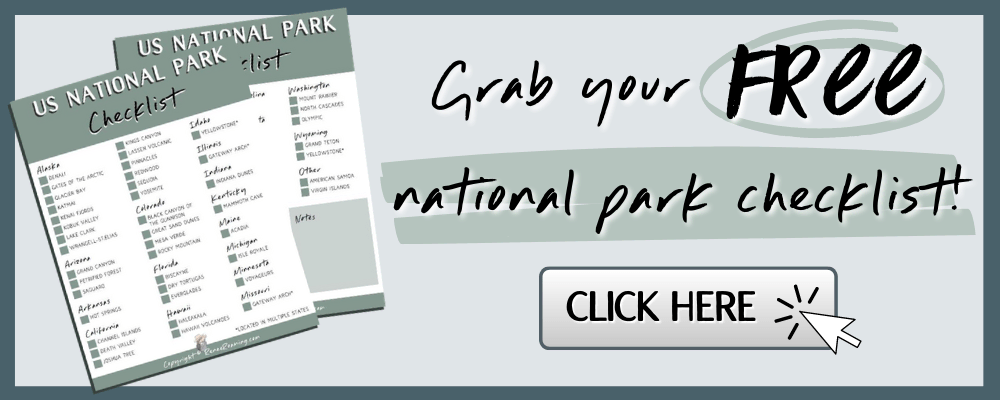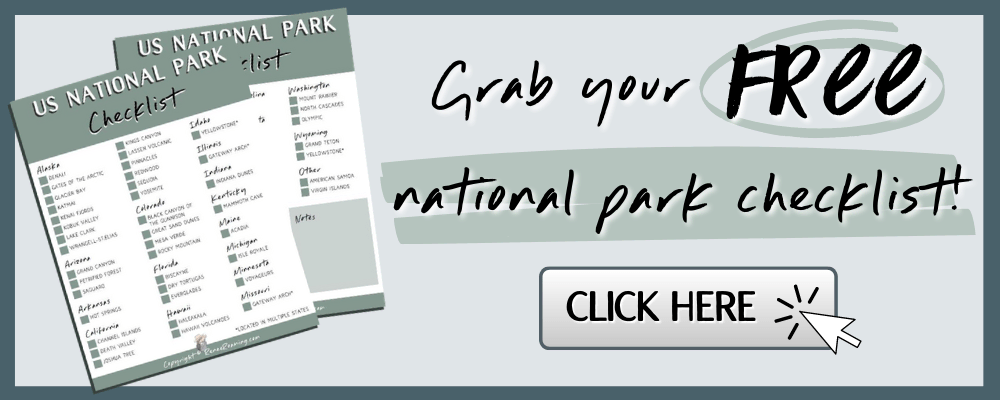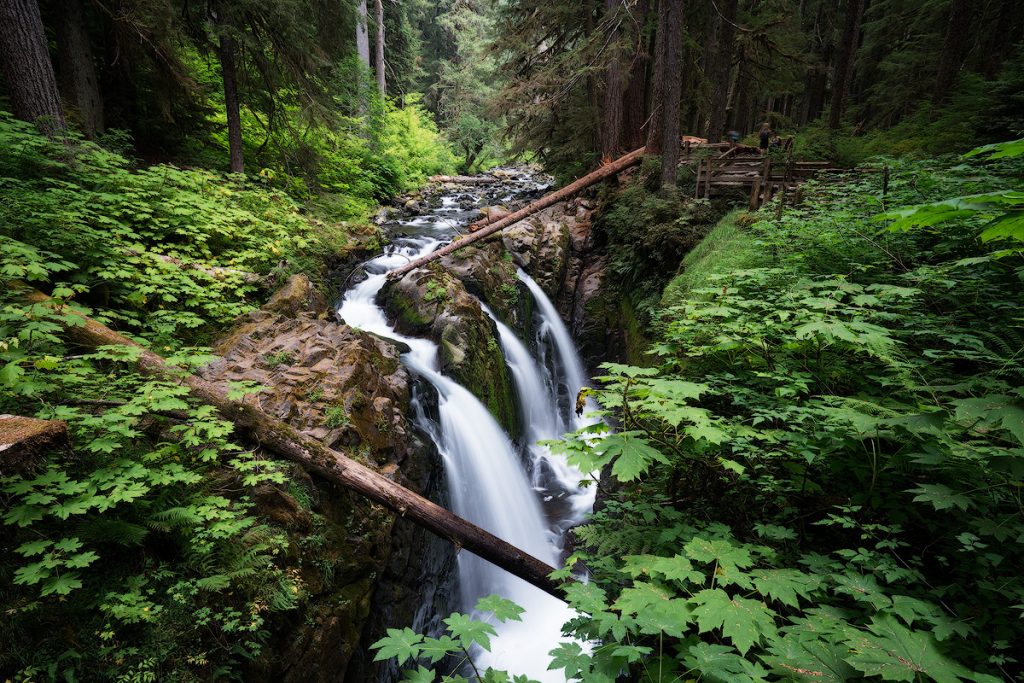 OLYMPIC NATIONAL PARK
One of the best national parks to visit in spring is Olympic National Park. In my opinion, it's one of the most diverse national parks in the country. A single day in the park offers visitors the chance to experience high alpine mountains, one of the largest temperate rainforests in the US, and the rugged coastline along the northwest tip of the lower 48. Due to its unique climates, Olympic National Park can be a great place to visit year-round. But spring is definitely my favorite time to visit the coastal and rainforest areas of the park.
In the springtime, the Hoh Rain Forest is at its most lush. Vibrant layers of moss cover the trees and morning dew burns off with the rising sun. The coastline has also escaped the wet grasp of winter. Visitors enjoy more sunny days and mostly avoid the blanketing sea fog that is common in the summer months.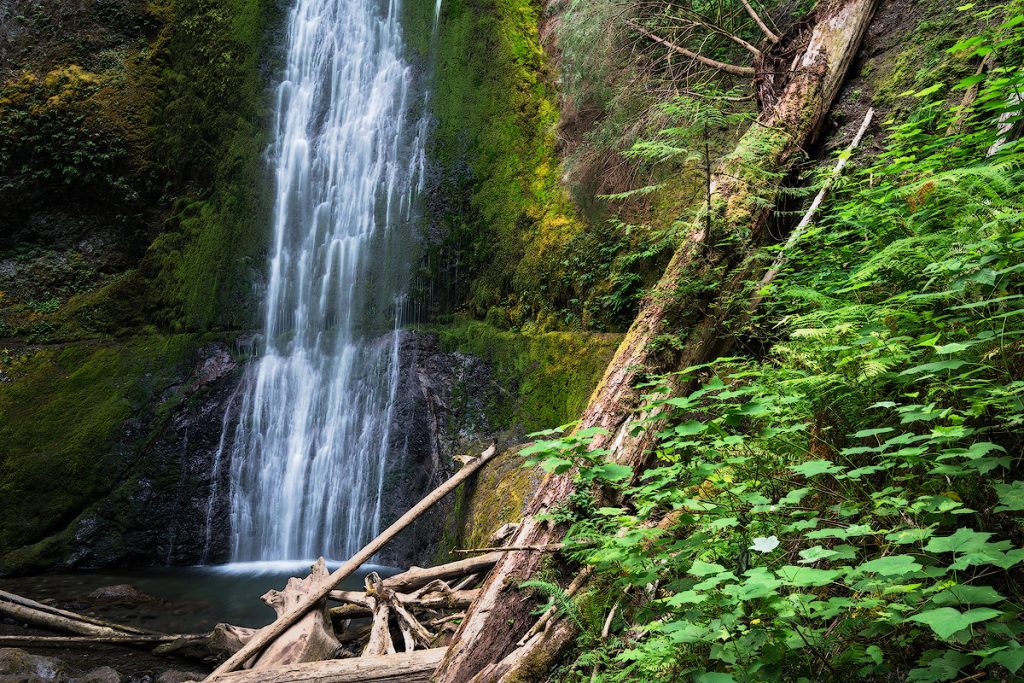 Location
North-western Washington State, on the Olympic Peninsula. Click here for Google Maps directions.
HOW TO GET TO OLYMPIC NATIONAL PARK
Olympic National Park is most often visited via a drive from Seattle. From Seattle, you can drive onto a ferry and float across Puget Sound to skip some of the drive. Alternatively, you can brave the traffic and continue south around Puget Sound. I highly recommend taking the ferry, especially if it's your first time. The views of Mount Baker and Mount Rainier can be amazing on clear days! Drive times can range from 3-4.5 hours depending on which area of the park you head to first and whether you take the ferry.
If you are flying into Seattle you can rent a car from the airport and then drive to the park. Use Skyscanner for the best flight comparison deals.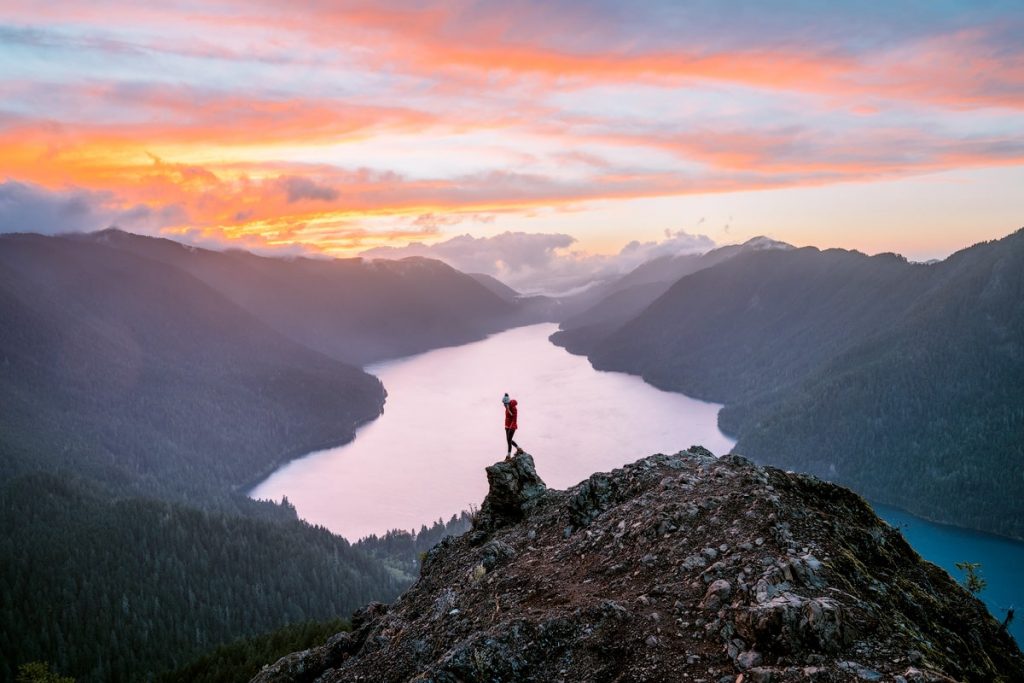 WHERE TO STAY IN OLYMPIC
As the park is quite spread out, you will probably want to stay in a couple of different areas. To explore Hurricane Ridge, stay in the nearby town of Port Angeles. Here you have many accommodation and dining options. When exploring the Hoh Rainforest or the coast, I recommend staying in the town of Forks. There you will be close to the action while still having a few different options for lodging and restaurants.
For hotels and vacation rentals in Port Angeles I love the Olympic Lodge and the Red Lion Hotel for well priced rooms with beautiful views. If you opt for a hotel or vacation rental in Forks check out the Kalaloch Lodge on the edge of Kalaloch Beach or try The Hideaway and Sol Duc Den for cozy private accommodation.

Alternatively, there are many great campgrounds all around the Olympic Peninsula. There are campgrounds in Port Angeles, Forks, at the bottom of Hurricane Ridge, right at the Hoh Rain Forest, and even along the coast. If you are willing to camp, you will be able to stay closer to the action, though you will obviously be more self-reliant for food. Search for campgrounds in one place using The Dyrt and use my code reneeroaming for a free 30 day trial.
BEST THINGS TO DO DURING SPRING IN OLYMPIC
There are plenty of things you can do on your own and the park is beautiful to explore at your own pace. But if you prefer a guided tour you can take one from Seattle, or if you want to combine an activity opt to take a guided fishing and hiking tour.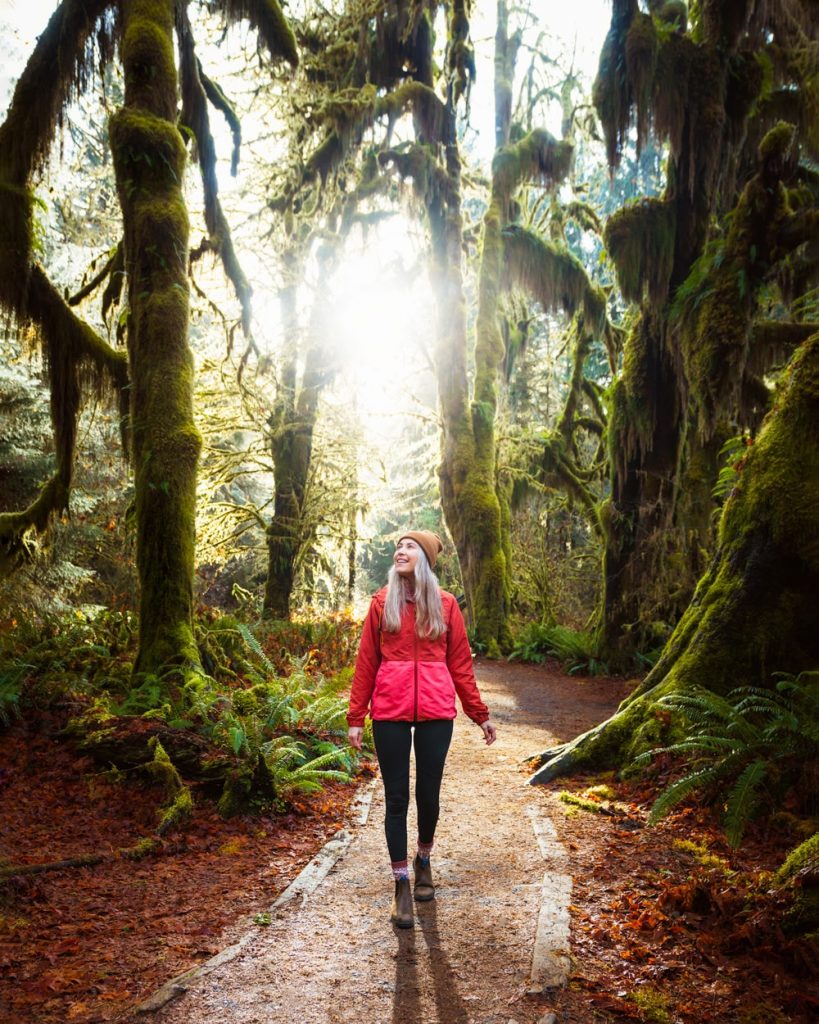 VISIT THE HOH RAIN FOREST
My favorite thing to do in spring in Olympic National Park is to take a walk through the Hoh Rain Forest. This place really feels like walking through a fairy-tale. Giant moss-covered trees line the trail and lush greenery covers the forest floor. Catching it on a cool morning as the springtime sunshine first hits the forest floor is my absolute favorite as you will get to see the most beautiful light rays and mist. This is also a great thing to do because it is short and rather flat, so visitors of almost all fitness levels will be able to enjoy the sights here without much trouble.
Insider tip: Hall of Mosses is a must-hike when exploring the Hoh Rainforest. The trail is only 0.8 miles roundtrip, but you can add on the Spruce Nature Trail for a longer walk (1.2 miles roundtrip).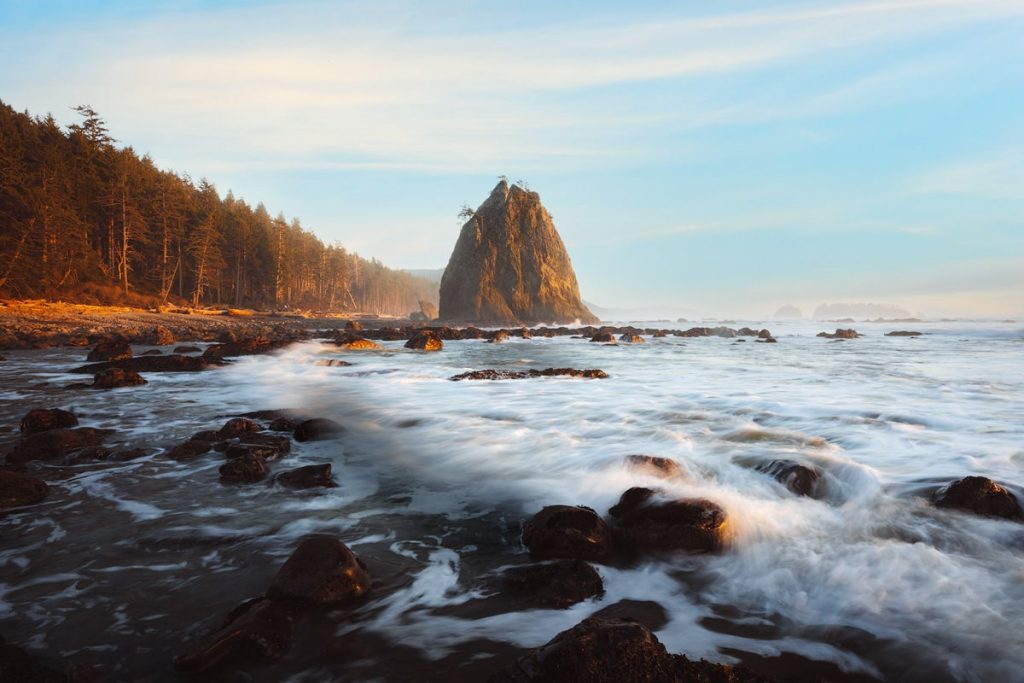 STROLL ALONG THE BEACH
Another of my favorite things to do in the springtime is taking a coastal walk along one of the many beaches within the national park boundary. A few of my favorites include Ruby Beach, Shi Shi Beach, Rialto Beach, and Second Beach.
At each of these, you are able to make your own adventure and hike as far as you like. Most have their best views at about 3-4 miles round-trip in length. They are all flat, so they make an awesome half-day trip and can be done by people of almost any fitness level. This is a great opportunity to go tide pooling, and you may even spot some migrating whales (gray whales, orcas, humpback whales).
Insider tip: Hole-in-the-Wall is a really cool natural formation found along Rialto Beach. It's a "easy" 4 mile roundtrip walk, though keep in mind that walking on sand is more tiring than a typical dirt trail.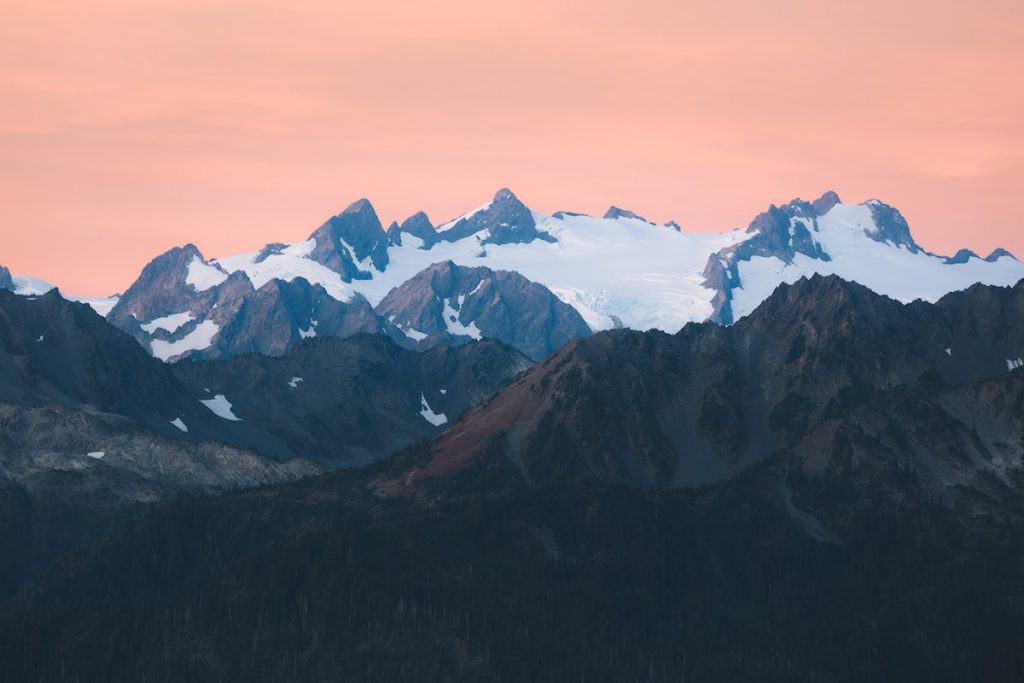 DRIVE UP HURRICANE RIDGE
A classic Olympic National Park adventure is driving the beautiful road from Port Angeles up to Hurricane Ridge (almost a mile high!) From up here, you will see incredible 360-degree views of epic mountains and the Salish Sea. On a clear day, you can even see out towards Mount Baker in the distance! There are some gorgeous hikes that leave from the parking lot as well. A short, paved trail leads up to Sunrise Point, and this is a great walk to stretch your legs and be rewarded with some beautiful views.
Alternatively, the paved hike to Hurricane Hill is a little longer, around 3.2 miles roundtrip, but has some more breathtaking views and will take roughly 2 hours roundtrip.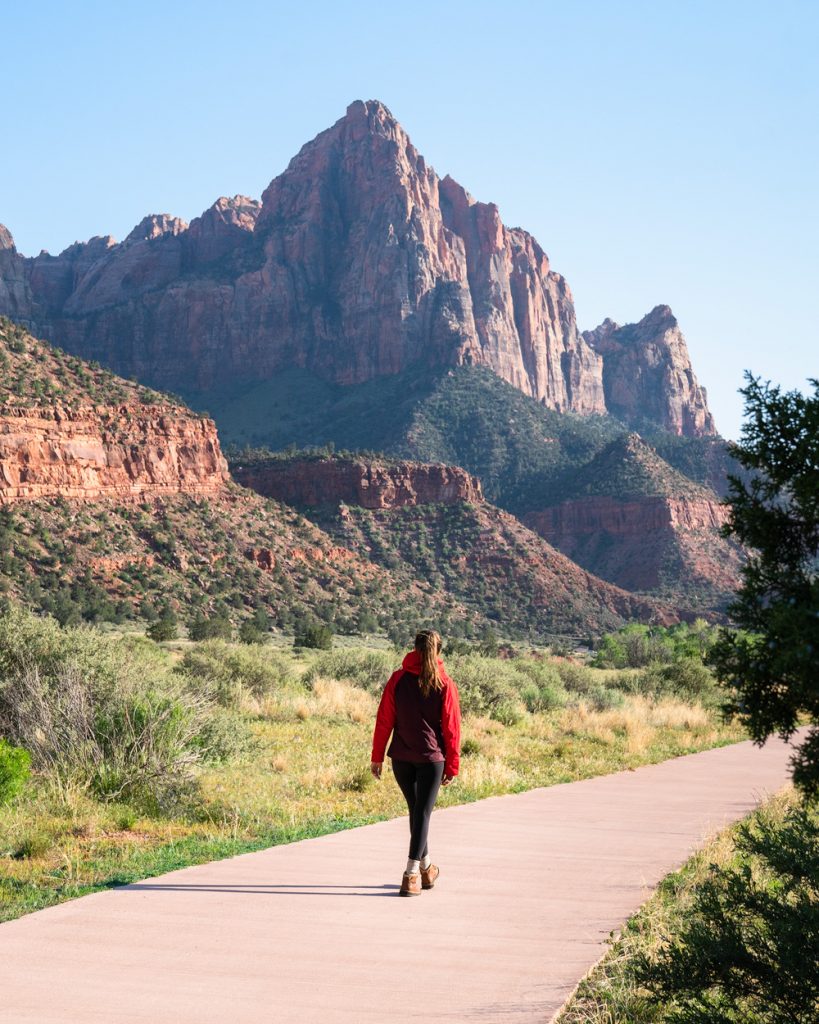 ZION NATIONAL PARK
In my opinion, Zion National Park is one of the most beautiful and unique parks in the country. Zion offers something for everyone year-round, but spring is definitely one of my favorite times to visit. Temperatures are great for hiking, the trees are getting their leaves back, and crowds can be a little more manageable than during the summer holidays. Spring is also the perfect time to do a greater Southwestern USA road trip. Visiting nearby Bryce Canyon National Park, Capitol Reef National Park, and Arches National Park can easily be added to the itinerary making for an epic trip!
During spring in Zion, visitors can drive the main road through the park from east-west or vice versa. Though they must use the park's shuttle system to access Zion Canyon where many of the popular hikes are. This runs all day from the Zion National Park visitor center and has numerous stops throughout Zion Canyon.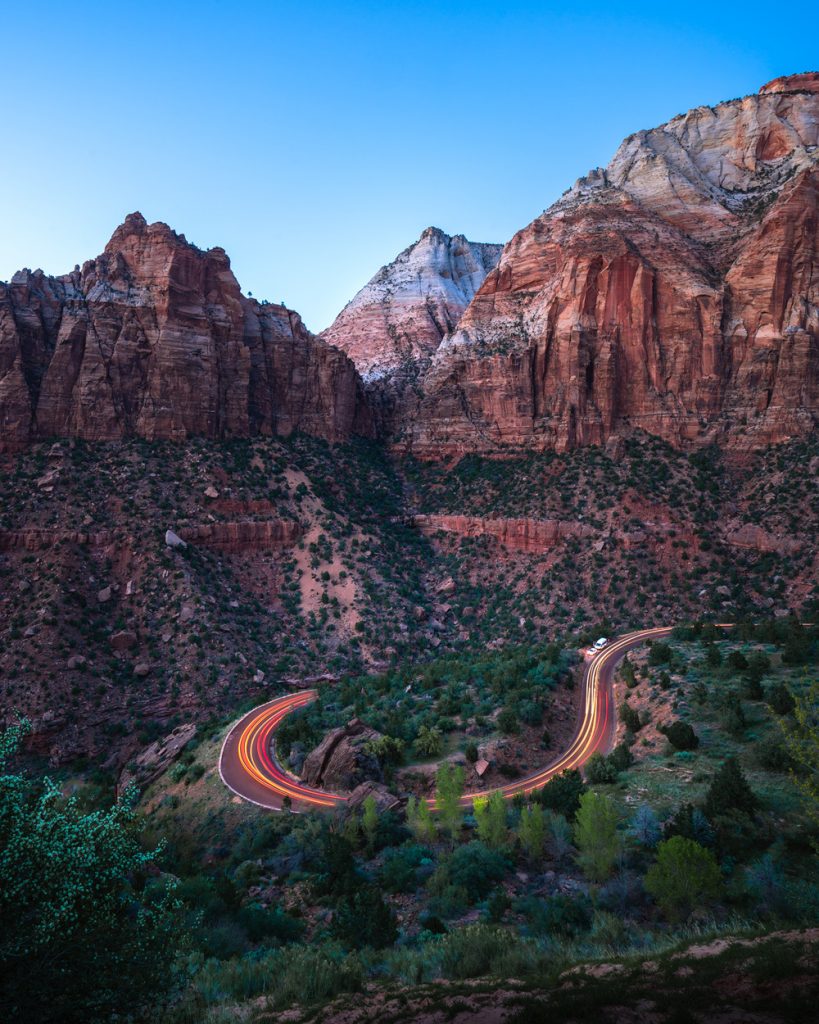 LOCATION
Southwestern Utah, near the border of Arizona and Nevada. Click here for Google Maps directions.
HOW TO GET TO ZION
The closest large cities to Zion National Park are Las Vegas (2.5 hours) and Salt Lake City (4 hours). Most visitors drive from here and often pass through as part of a large southwestern USA road trip to multiple national parks.
If you are flying in you can use Skyscanner for the best flight comparison to find the best airport to fly to and then rent a car from the airport to drive to the park.
WHERE TO STAY IN ZION
There are multiple options within the park itself, including 3 campgrounds (Watchman, South, and Lava Point) and the famous Zion Lodge. The Watchman Campground and South Campground are in the most popular area of the park, and the campgrounds I recommend most for visitors. With that being said, they fill up fast, so book early to avoid disappointment. Daily walk-up permits are available, but you will often need to line up very early to try and get one of these. I love using The Dyrt to search for campgrounds. You can use my code reneeroaming for a free 30-day trial!
Zion Lodge is inside Zion Canyon and gives visitors the unique ability to skip the park's shuttle system and drive their personal vehicle up the canyon. Again, book early to avoid disappointment if you have your heart set on this option.

Alternatively, the town of Springdale sits just outside the park and has many lodging and dining options. A couple I can recommend include:
A fun and unique accommodation option is to try out glamping at Under Canvas or The Zion Wildflower. Both companies have beautiful, large canvas tents with epic views of Zion National Park and the surrounding desert in the distance.
BEST THINGS TO DO DURING SPRING IN ZION
Zion National Park has some of the most beautiful and unique hiking terrain in the world, and spring is an excellent time to explore these natural wonders. Below I have listed a few things that I HIGHLY recommend you do while you are in the area. For more ideas on things to do check out my Ultimate Guide to Exploring Zion National Park.
If you are short for time or want to splash out on an epic aerial tour of Zion National Park book this helicopter tour for a trip you will never forget. Springtime is actually considered peak season in the southwest since you're able to beat the high temperatures of summer. Because Utah's national parks can be a popular spring break destination, it's a good idea to plan your trip early. Booking guided tours can guarantee you get the most out of your vacation without having to do as much planning yourself!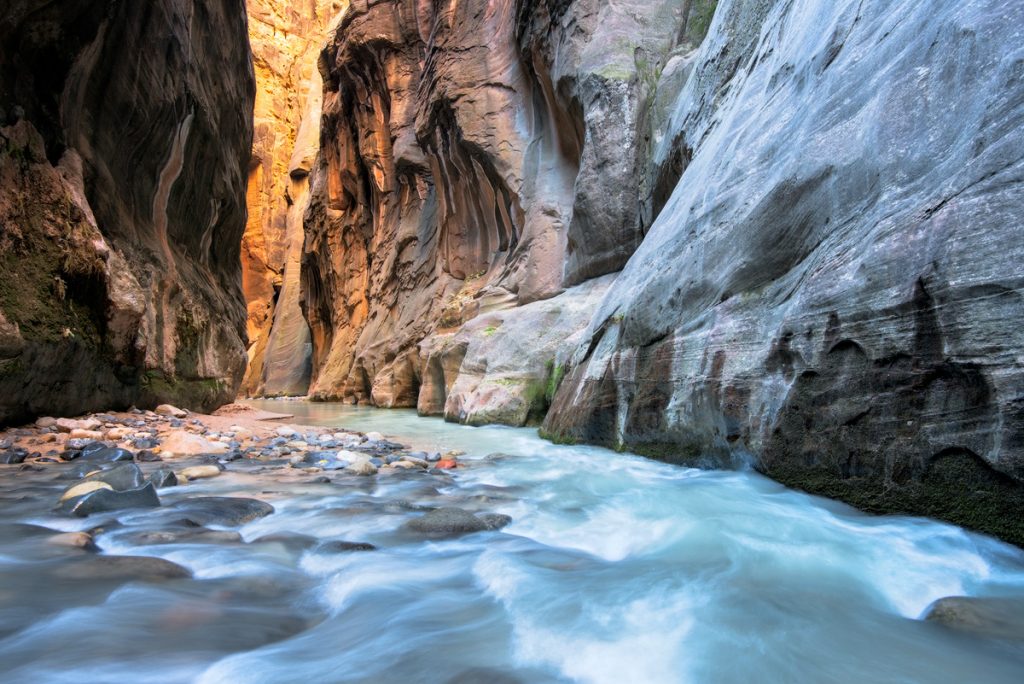 HIKE THE NARROWS
The Narrows hike will take you through the narrowest section of Zion Canyon. This is the most popular hike in Zion and will have you surrounded by colorful vertical cliffs, and wading through the Zion River at times. Plan on being wet, because you can't escape it on this one! Actually, that's a big part of the fun and what makes this hike so unique.
The average hiker will go 3-4 miles up the canyon to a famous and beautiful area nicknamed "Wall Street". If you're not up for the 8 miles roundtrip, you can really walk as far as you'd like, making the hike a bit shorter. Some water shoes and hiking poles will make this hike a lot easier, and you can even bring your own or rent waders at outfitters in Springdale to help avoid getting wet. If you prefer a guide you can book one here.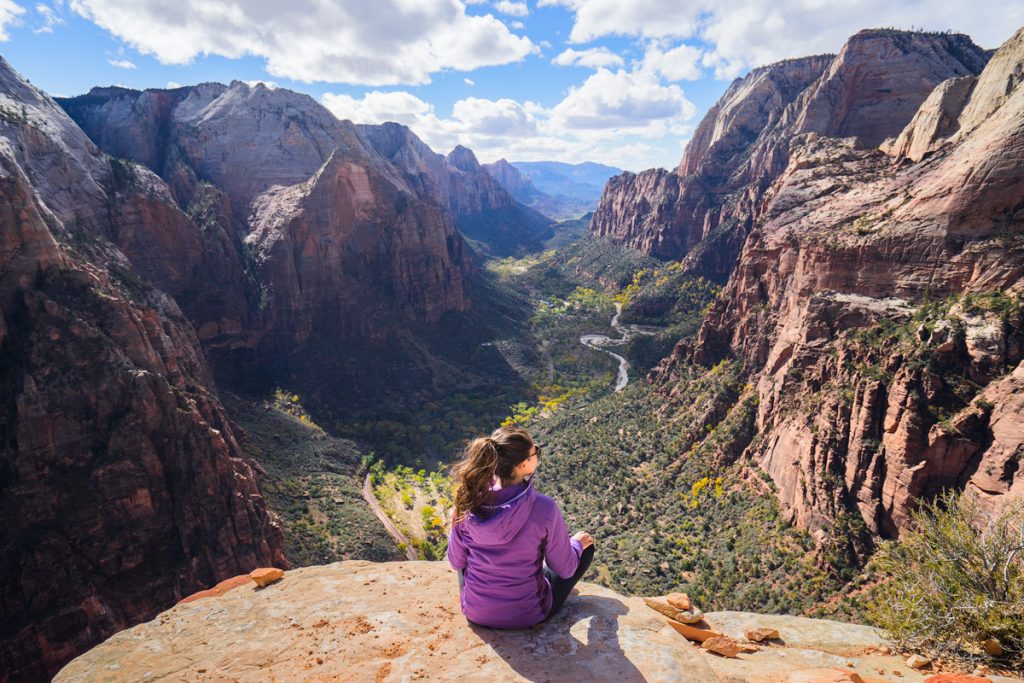 HIKE ANGELS LANDING
Angels Landing is not for those who freeze up at the sight of heights, but the reward at the top is breathtaking. The hike to the top of Angel's Landing is 5 miles round-trip, with 1500 feet of elevation gain. What makes this hike so unique is that once you near the top, you will need to navigate steep cliffs with sheer drops lined with chains to guide you.
Anyone in average physical shape can do this hike, but make sure you are mentally prepared for some exposure to heights as that's the most challenging part of the hike. I've done this hike a couple of times now and it blows me away every time. Such a fun and beautiful trek!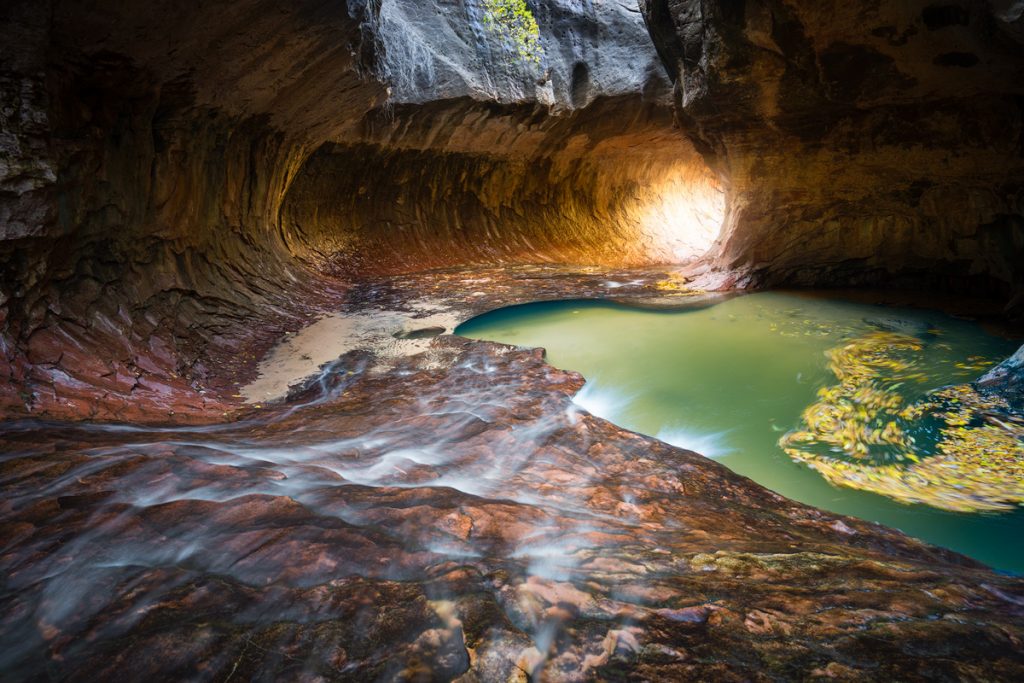 HIKE TO THE SUBWAY
Another of my favorite hikes in Zion, The Subway is a popular canyoneering route, but it can also be done as a regular hike from the Left Fork Trailhead. From here, it's an 8 mile round-trip hike up the Left Fork of North Creek to the famous "Subway". I recommend this one more for experienced hikers as you have to walk over some slippery surfaces, uneven ground, and through the river in parts. A permit is required and can be obtained here.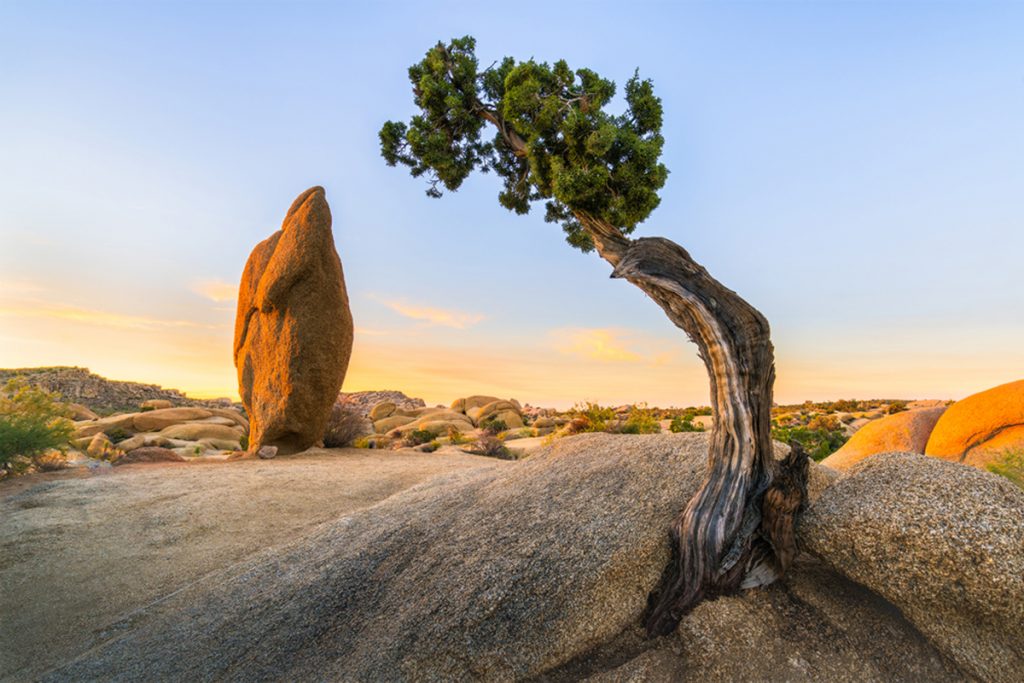 JOSHUA TREE NATIONAL PARK
Joshua Tree is next on our list of the best national parks to visit in spring. Being so close to Los Angeles, Joshua Tree is the perfect escape from the hustle and bustle of life in the city. The park is a meeting point of the Colorado and Mojave deserts, creating an area rich with joshua trees, crazy rock formations, saguaro cacti gardens, and rugged desert cliffs.
Early spring is the perfect time to visit, with daytime temperatures in the early-mid 80s (25-30 Celsius) and nighttime temperatures around 50 Fahrenheit (10 Celsius). You may be lucky enough to catch the cacti flowering, which typically happens in March and April, another big advantage of spring time in the park.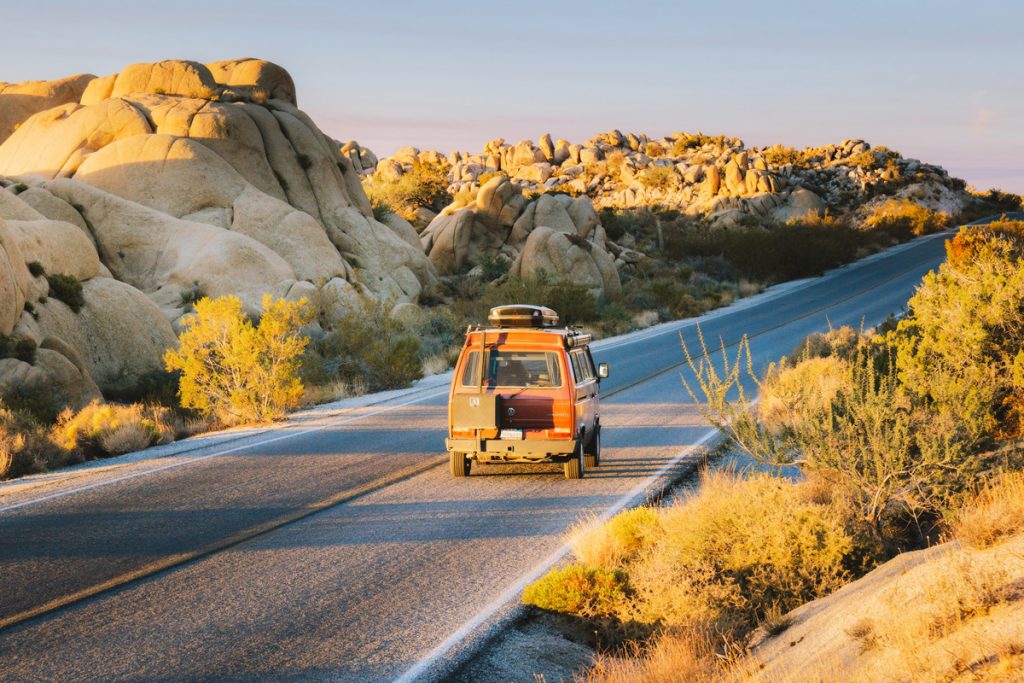 LOCATION
East of Los Angeles, Southern California. Click here for Google Maps link.
HOW TO GET TO JOSHUA TREE
Most people will visit Joshua Tree from the greater Los Angeles and San Diego areas. Both are around 3 hours drive from the park.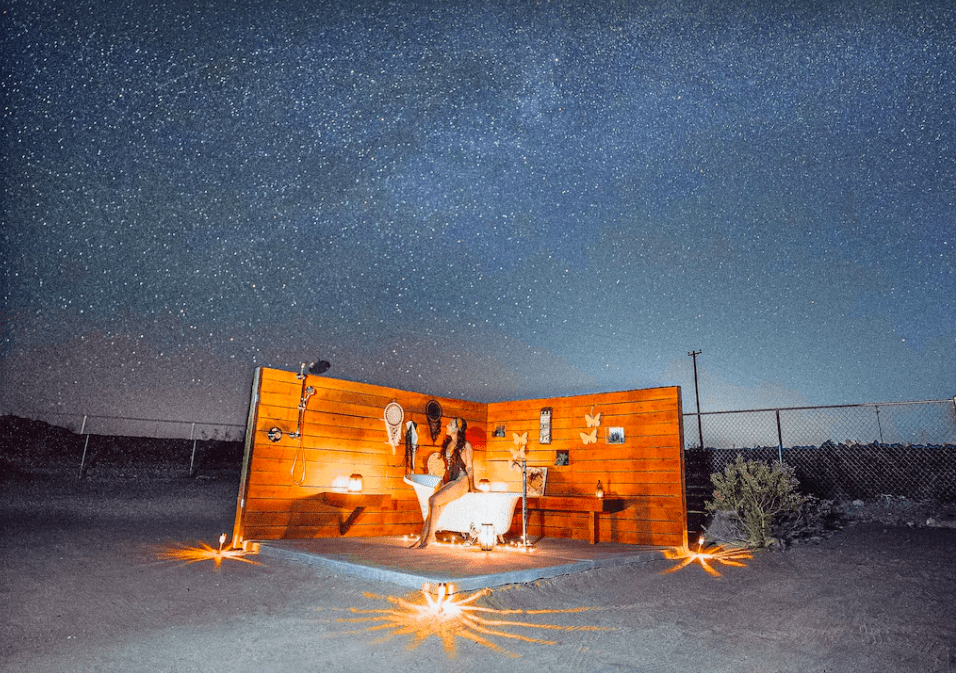 WHERE TO STAY IN JOSHUA TREE
There's no traditional lodging within the park, but there are 8 campgrounds for those who prefer camp. Five of these are open to reservations, while the rest are first-come, first-served. The most popular campground is Jumbo Rocks, and as the name suggests, is surrounded by some really cool large rock features. We really enjoyed our time there, and I recommend checking it out if you can get a reservation. Compare campgrounds using The Dyrt and use my code reneeroaming for a free 30 day trial.
Lodging can be found in the nearby towns of Twenty-nine Palms, Joshua Tree, and Yucca Valley. These towns are a short drive from the park, so they make a good place to base yourself during your visit. One of my favorite things about Joshua Tree National Park is just how many unique and amazing vacation rentals are sitting just outside the entrance! They make such an awesome escape from the city for a couple of days. I definitely recommend checking them out rather than just a regular boring hotel. I have linked some of my favorites below: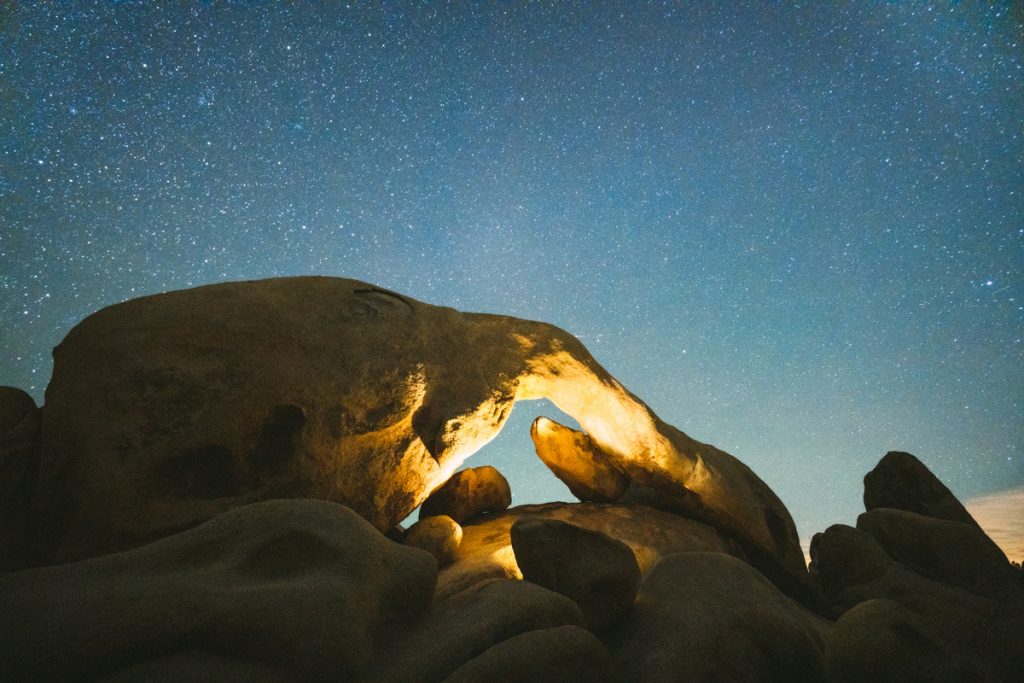 BEST THINGS TO DO DURING SPRING IN JOSHUA TREE
Joshua Tree is famous for its stargazing. People from the nearby population hubs of Los Angeles and San Diego flock to Joshua Tree to catch a glimpse of the night sky free from the light pollution of the big cities. If you have a telescope, bring it along and try to find some constellations. If you don't, see if you can spot the milky way! It should be visible during the springtime on a clear night.
There are also plenty of hiking opportunities in Joshua Tree. Spring is a great time to hike in the park, especially before temperatures start getting to brutal summer highs. Some of my favorite hikes in the park include the Ryan Mountain Trail (3 miles roundtrip), Barker Dam Nature Trail (1.3 miles roundtrip), and the Lost Palms Oasis Trail (7.1 miles roundtrip). I'd also check out the short walks to Arch Rock, Skull Rock, Cholla Cactus Garden, and Barker Dam.
If you prefer to drive around the park you can book this Driving Tour or a Self Guided Audio Tour.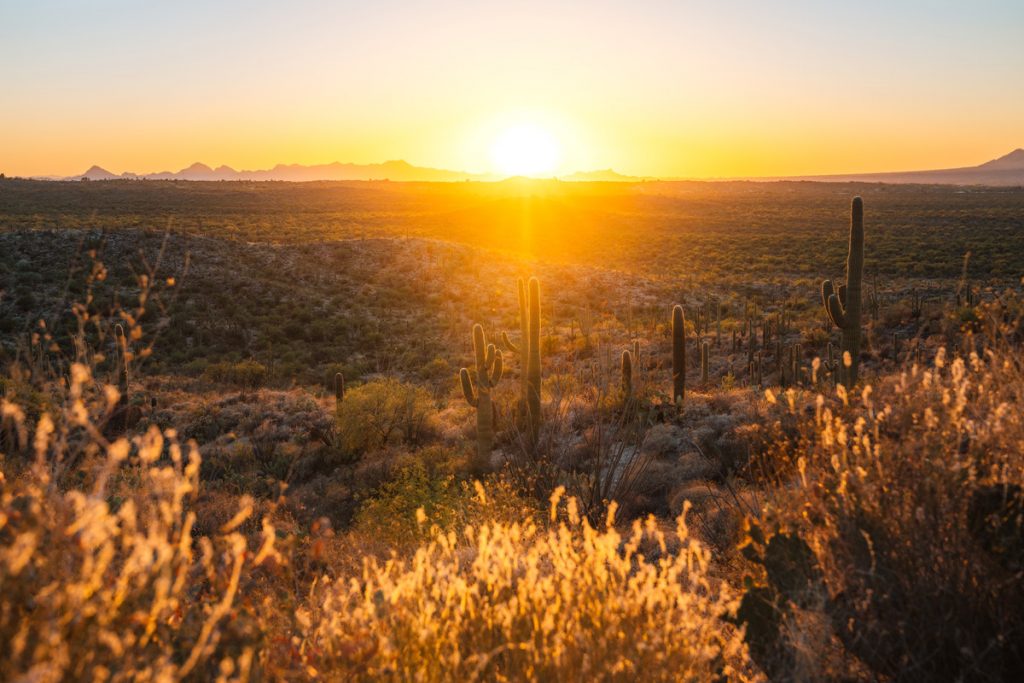 SAGUARO NATIONAL PARK
Saguaro is another incredible national park to visit in spring. "Where?!" you say? A lot of people I speak to don't know that Saguaro National Park even exists, which is a shame because it's really beautiful! Founded in 1994, Saguaro National Park was formed to protect the country's largest and most iconic cacti, the Saguaro. These cacti grow up to 40 feet (12 meters) tall and thrive in this area of the Sonoran Desert.
This park is unique in that has two different sections, an east section (Rincon Mountain District) and west section (Tucson Mountain District), separated by the bustling city of Tucson, AZ. Early spring (dry season) is a great time to enjoy Saguaro National Park before the scorching summer temperatures set in. Visitors in March-April may even be lucky enough to spot vibrant wildflowers blooming. In May and June you should be able to see the saguaro cacti flowering!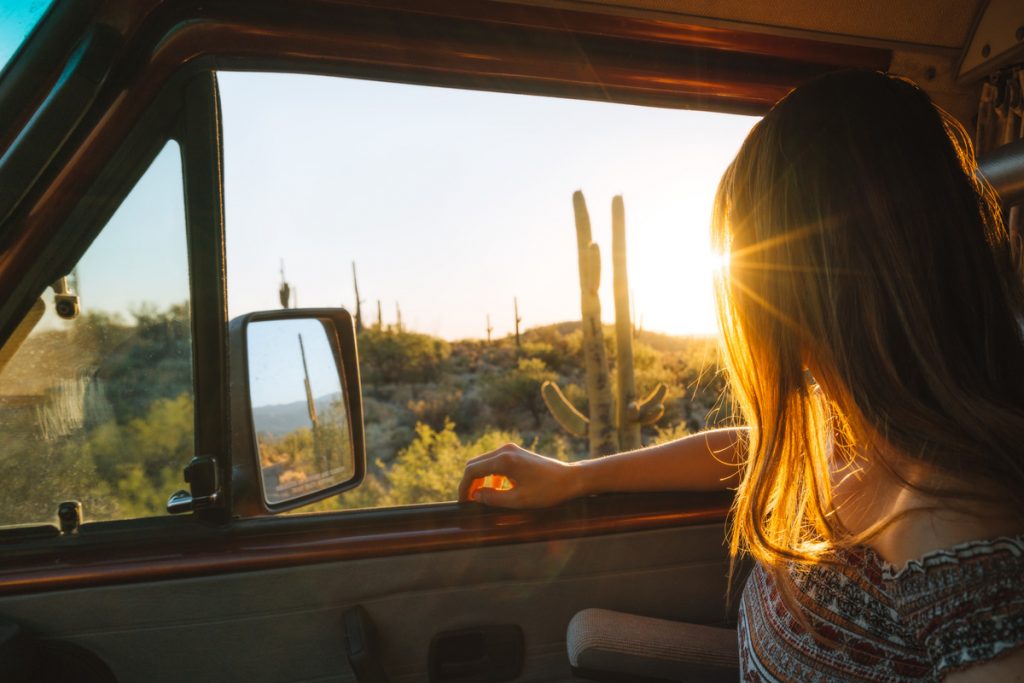 LOCATION
Southern Arizona, near Tucson. Click here for the Google Maps directions.
HOW TO GET TO SAGUARO
Saguaro National Park is most often visited from the nearby population center of Tucson. It's about a 1.5 hour drive from the large city of Phoenix, AZ. It is a one hour drive between the east and western districts of the park.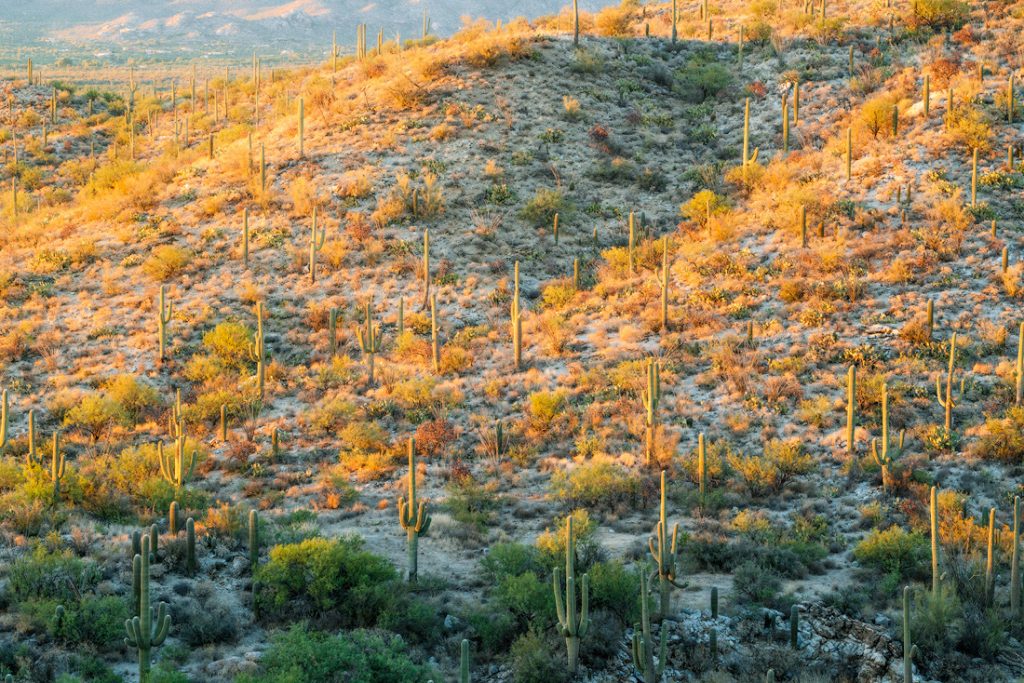 WHERE TO STAY NEAR SAGUARO
There are no accommodations in the park which can be accessed by vehicle, only small backcountry campgrounds. Most visitors will stay in the nearby city of Tucson, where there are plenty of hotels to choose from. Here are a few options I recommend: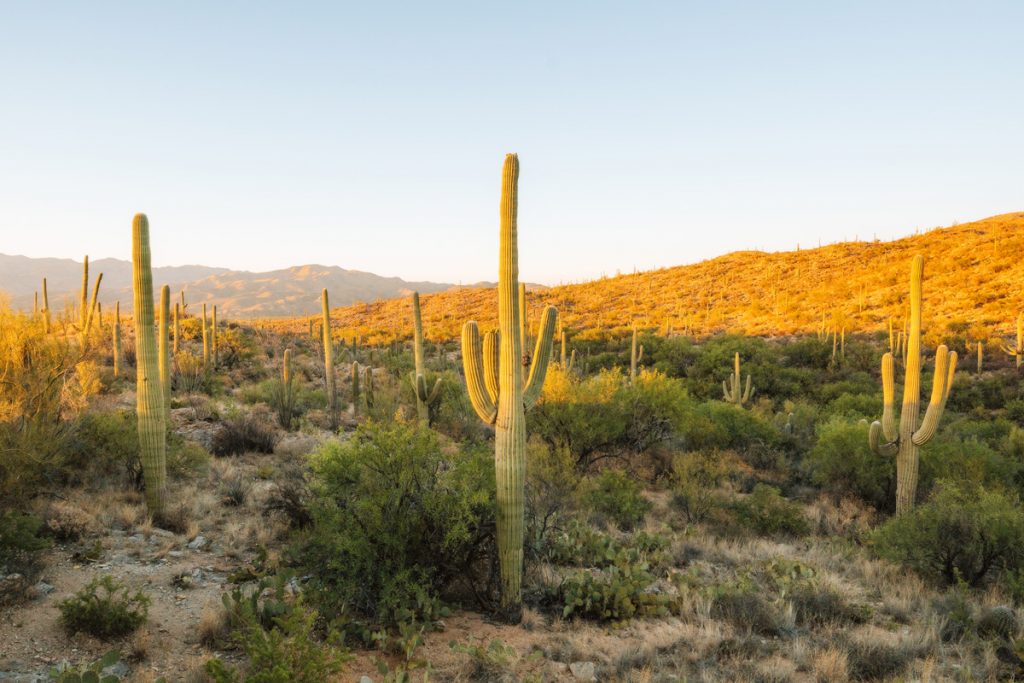 BEST THINGS TO DO DURING SPRING IN SAGUARO
Saguaro is very accessible, with great scenic driving roads and plenty of easy hiking opportunities for people of all fitness levels. There are also some great longer hiking trails into the surrounding mountains to keep the adventure lovers happy, as well as some backcountry camping opportunities. Below are my top recommendations for things to do in spring.
TAKE A SCENIC DRIVE
Taking a scenic drive through the park is the most popular activity and for good reason. Both the west side (Bajada Loop Drive) and east side (Cactus Forest Drive) offer a beautiful scenic loop road through the park. This is a great way to get an idea of the landscape in a short amount of time and effort. There are pull-offs if you want to stop to enjoy the views and take some photos along the way.
GO ON A PICNIC
Another popular activity in the park is packing a picnic and taking the short 0.5 mile (.8km) hike to the Signal Hill Picnic Area. Along the way you will even see many ancient petroglyphs! Enjoy a meal up top with gorgeous views of the surrounding mountains, cactus, and rock features. If you cannot make the 0.5 mile hike, there are more accessible picnic areas spread along Golden Gate Road in the west section of the park.
TAKE A HIKE
If you're looking for some adventure, there are numerous hiking trails in both the west and eastern sections. Hiking to the top of Wesson Peak via the Sweetwater Trail (El Camino Del Cerro trailhead) will reward you with epic 360 degree vistas of the surrounding landscape. It's a 9.3 mile roundtrip trek with quite a bit of uphill walking, so pack plenty of water, snacks, and sun protection. For something a little easier, walk through giant cacti on the 1 mile roundtrip (1.5km) Valley View Overlook Trail. You'll end up at a beautiful view overlooking the valley below and mountains in the distance. Great for a quick sunset walk!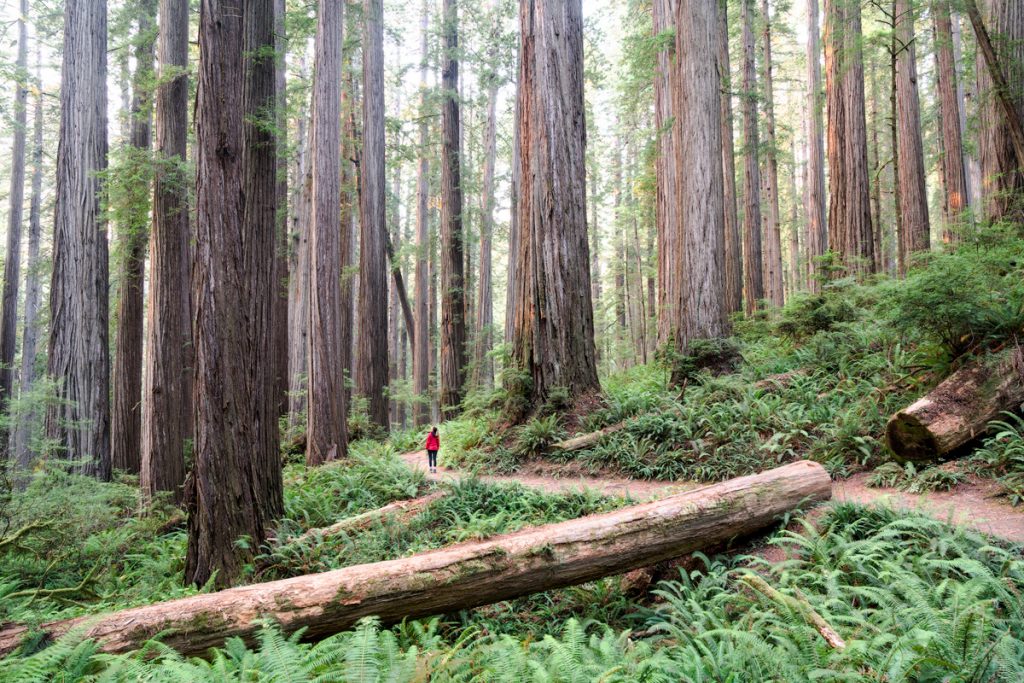 REDWOOD NATIONAL & STATE PARKS
Redwood National and State Parks are some of the most magical destinations in the United States. This area is home to some of the tallest and oldest trees on the entire planet! These trees can live up to 2000 years old and grow over 300 feet (90 meters) tall! Walking through these old-growth forests sparks a level of wonder that is hard to beat. It can truly feel like walking through a fairytale at times! On top of the amazing old-growth forests, Redwoods National & State Parks also protect 37 miles of rugged coastline, making it a very diverse park for visitors to explore.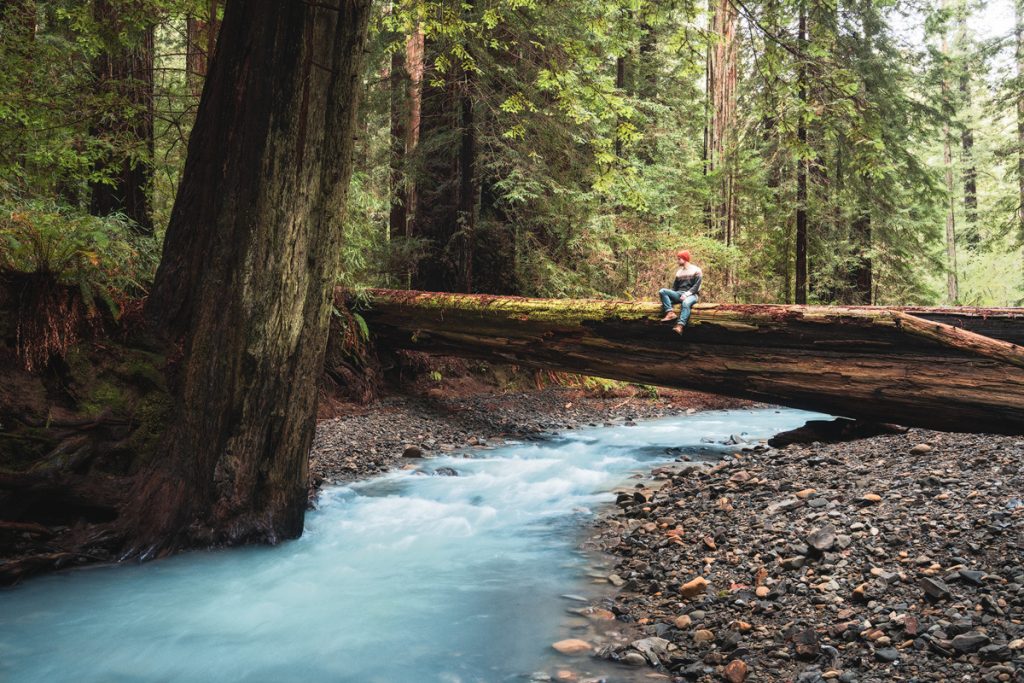 Redwood is one of the best national parks to visit in spring in my opinion. This is for a few reasons. Firstly, the weather is perfect for exploring the dreamy redwood forests. It's less rainy than winter, but you will still often get a moody atmosphere that really brings the forest alive. Secondly, all of the deciduous trees have their leaves back, making spring the most vibrant time of the year before the summer heat dries things out a little. Thirdly, from May – mid June the rhododendron flowers bloom, bringing a beautiful pink accent to the forests. Read our comprehensive Redwoods itinerary and guide!
One thing to note is that Redwoods National & State Park is made up of multiple different parks. Redwood National Park, Jedediah Smith State Park, Prairie Creek Redwoods State Park, and Del Norte Coast Redwoods State Park are a few of my favorite areas to explore here! They are all special in their own right, so I recommend not just sticking to the national park itself. In fact, some of our favorite trails are located in Jedediah Smith and Prairie Creek.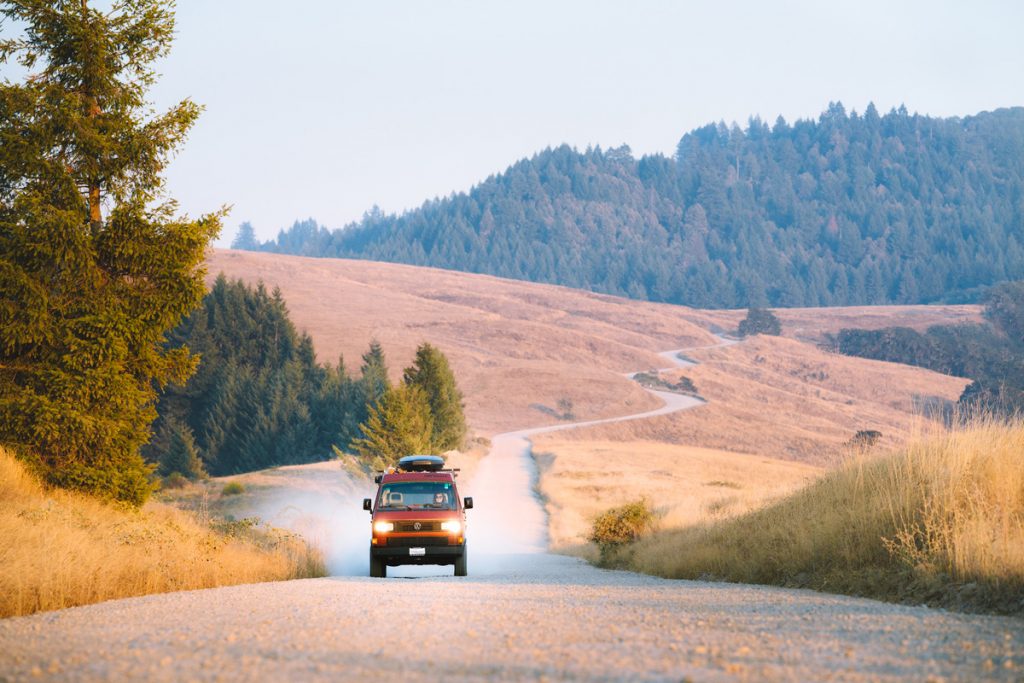 LOCATION
Northwestern California, not far from the Oregon border. Click here for Google Maps Directions.
HOW TO GET TO THE REDWOODS
Redwood National and State Parks are quite remote, and not really close to any large population hubs. The best way to visit Redwoods is on a road trip, visiting from either Portland (OR), Sacramento (CA), or San Francisco (CA).
WHERE TO STAY NEAR THE REDWOODS
There are no lodging options in Redwoods National & State Parks other than the 8 basic campground cabins. 4 are located at the campground in Jedediah Smith State Park and 4 at the campground in Prairie Creek Redwoods State Park. Compare campgrounds using The Dyrt and use my code reneeroaming for a free 30-day trial. The largest population hub near the area is Crescent City, CA. Here you can find quite a lot of traditional accommodation and dining options. Here are a few I recommend: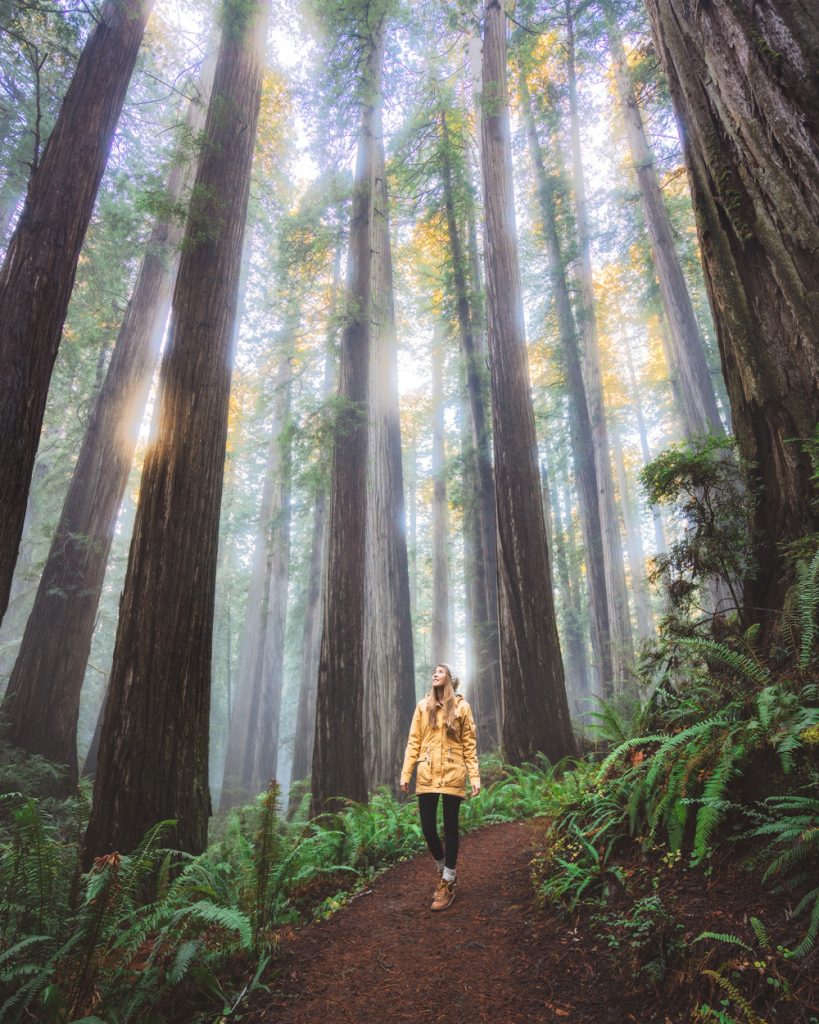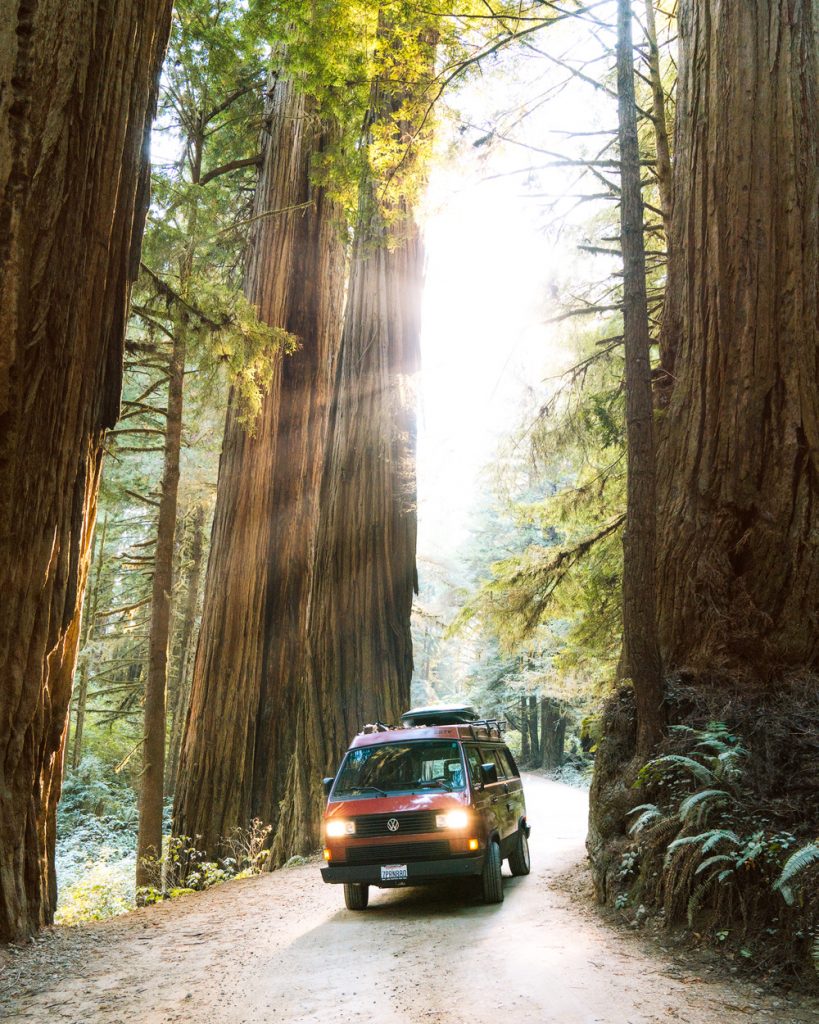 BEST THINGS TO DO DURING SPRING IN THE REDWOODS
Exploring with your vehicle is a great way to cover ground if you don't have a lot of time. I highly recommend driving down Howland Hill Rd in Jedediah Smith State Park. It takes you down a one-way dirt road through some absolutely beautiful forest and trees. You can make a stop on this drive to do the 5.5-mile (8km) round-trip Boy Scout Trail, one of my favorites in the area! If you need to rent a car use Kayak for price comparison on deals.
Bald Hills Rd is another fantastic driving experience in the park. Along this road you will pass by trail access to Tall Tree Groves, another of my favorite hikes in Redwood National and State Parks (you will need to reserve a permit online). From here you will continue up a steep road to a beautiful open view of rolling hills, meadows, and the Pacific Ocean in the distance. Definitely save this one for a nice weather day for the best visibility.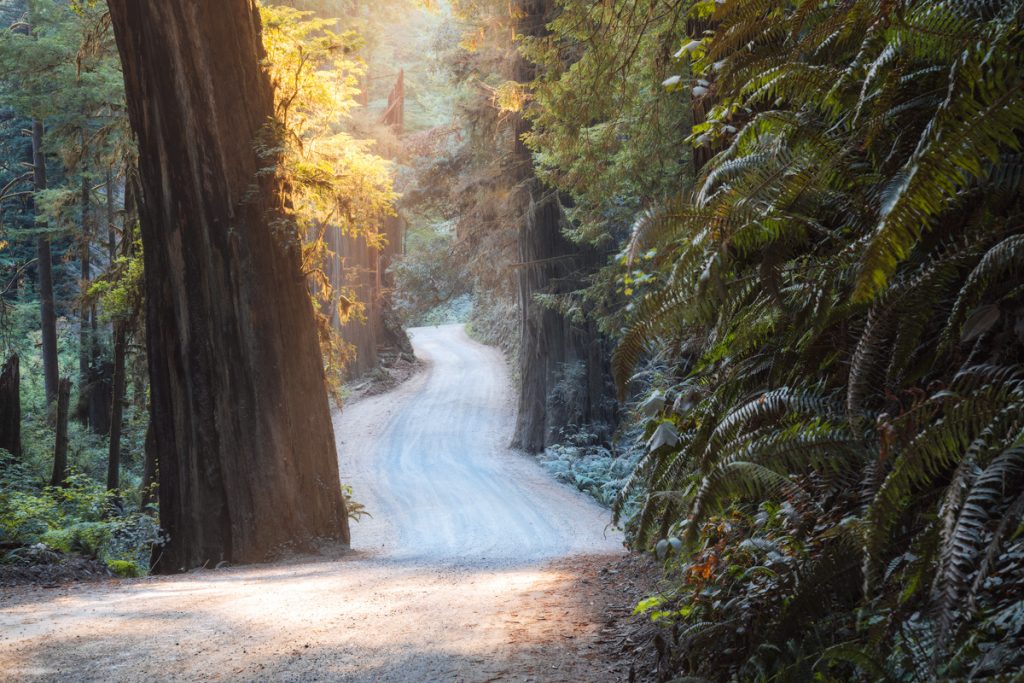 Another of my favorite drives is the Newton B Drury Scenic Parkway through Prairie Creek Redwoods State Park. This is a stunning route and will take you to the visitors center where you can begin the Big Tree Loop Trail. This hike takes you past some of the tallest trees in the area which are sure to blow your mind! While in Prairie Creek Redwoods State Park, drive down Davison Rd and do the gorgeous Fern Canyon Trail, another absolutely magical area worth checking out.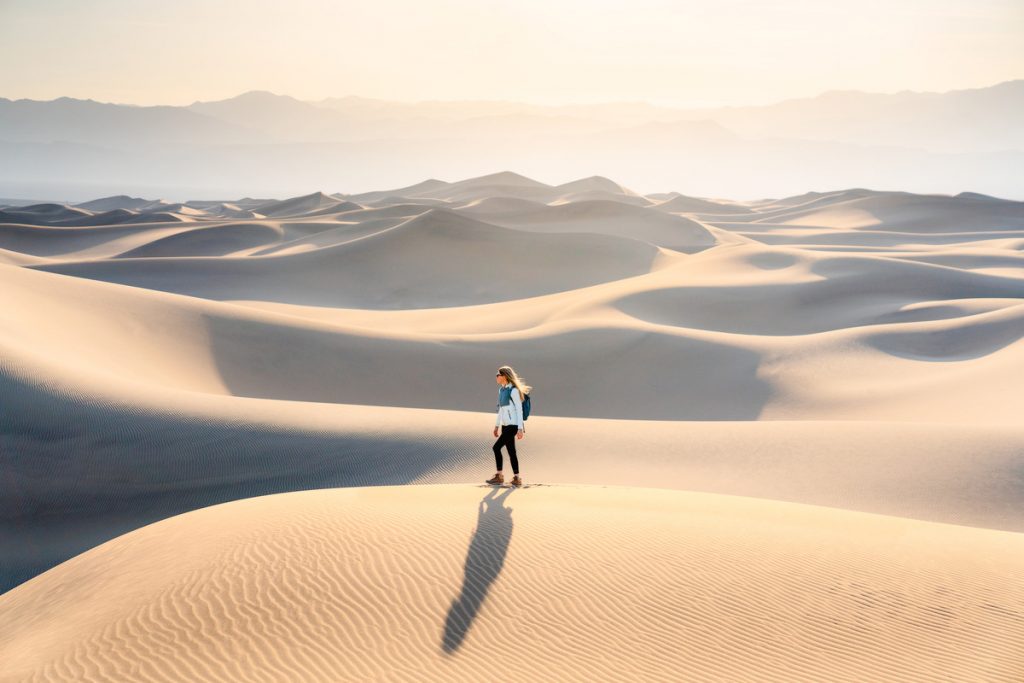 DEATH VALLEY NATIONAL PARK
Death Valley is home to some of the most unique natural beauty you will find in the United States. With vibrant colored hills, arid desert basins, and high mountain peaks, the park offers visitors something new to see around every corner. Personally, we've been to Death Valley National Park a few times now and still feel like we have plenty left to see!
Death Valley is one of the hottest places on earth, and in my opinion, it's definitely a place to be avoided during summer. It also gets quite cold in winter, making the shoulder seasons the best time to visit. Early spring (March-May) is about as perfect as it gets in the park, allowing you to hit the hiking trails in warm weather without the brutal heat of summer.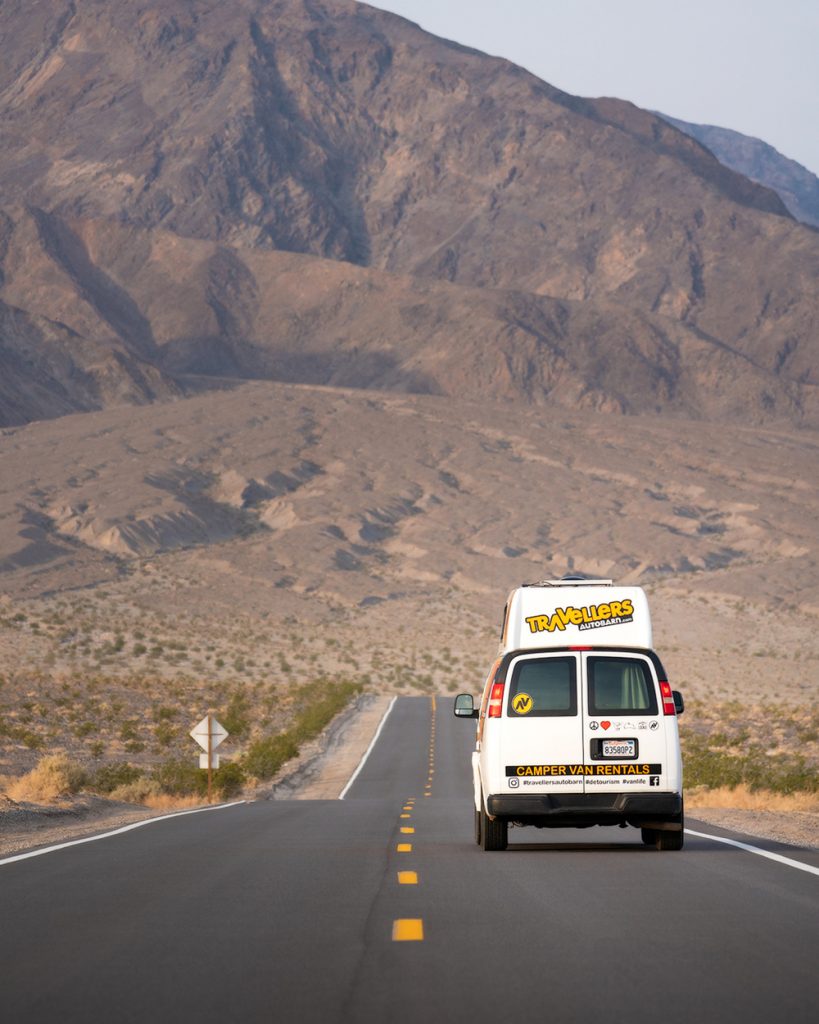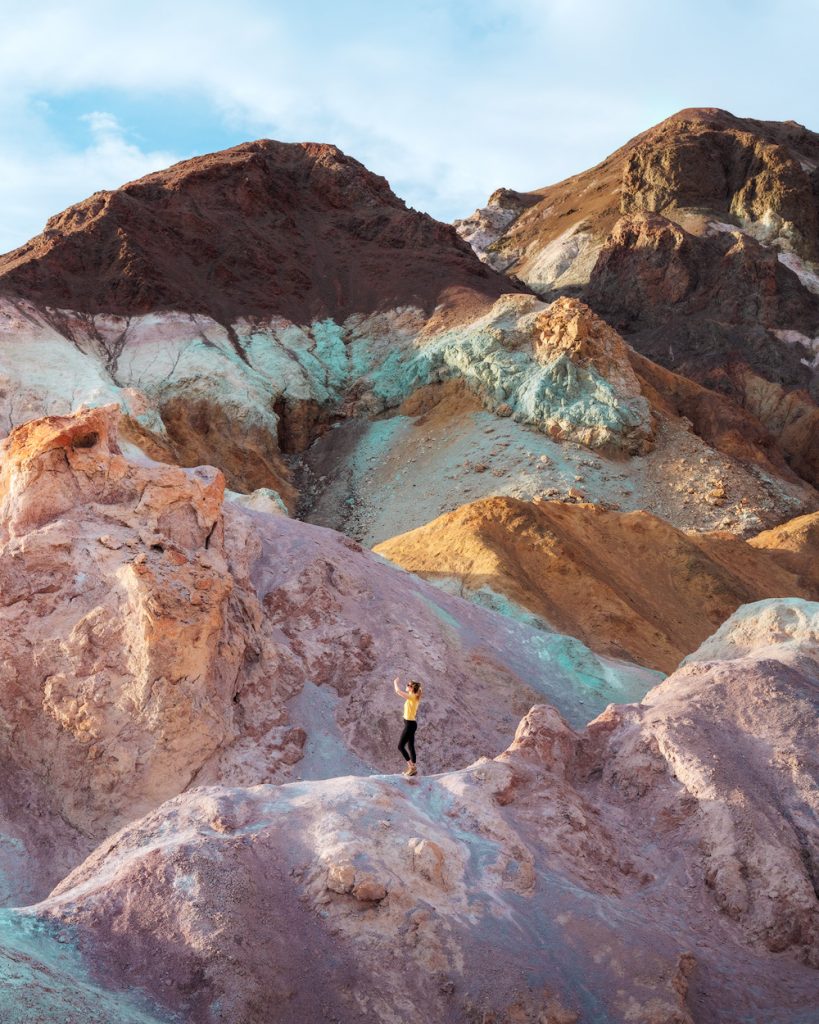 Location
Southern California, on the border of California and Nevada. Click here for Google Maps directions.
HOW TO GET TO DEATH VALLEY
The nearest large city to Death Valley is Las Vegas to the east, roughly 2 hours away. Los Angeles is the next closest, around 4 hours to the west. These will be the closest access points for most visitors. If you choose to fly in you can use Skyscanner to compare deals for multiple airports and then book a rental car.
WHERE TO STAY IN DEATH VALLEY
There are a few lodging options in Death Valley National Park including Stovepipe Wells Village, The Inn at Death Valley, The Ranch at Death Valley, and Panamint Springs Resort. The Inn at Death Valley and The Ranch at Death Valley are the closest to most of the popular areas, including Furnace Creek, so these would be my ideal choice of lodging.
Alternatively, there are a few campgrounds in Death Valley if you prefer to camp. The most popular are Furnace Creek Campground (most centrally located), Sunset Campground, and Stovepipe Wells Campground. Use my code Renee90 for a free 90-day trial.
BEST THINGS TO DO DURING SPRING IN DEATH VALLEY
Below I have recommended things to do if you prefer to travel at your own pace. But if you stay in Las Vegas there are different tours you can take and join a guided tour into Death Valley. This one covers night and day so you can see the endless stars at night. This one offers a wine tour in the Pahrump Valley as well as a guided tour of Death Valley that ends with stargazing in the valley.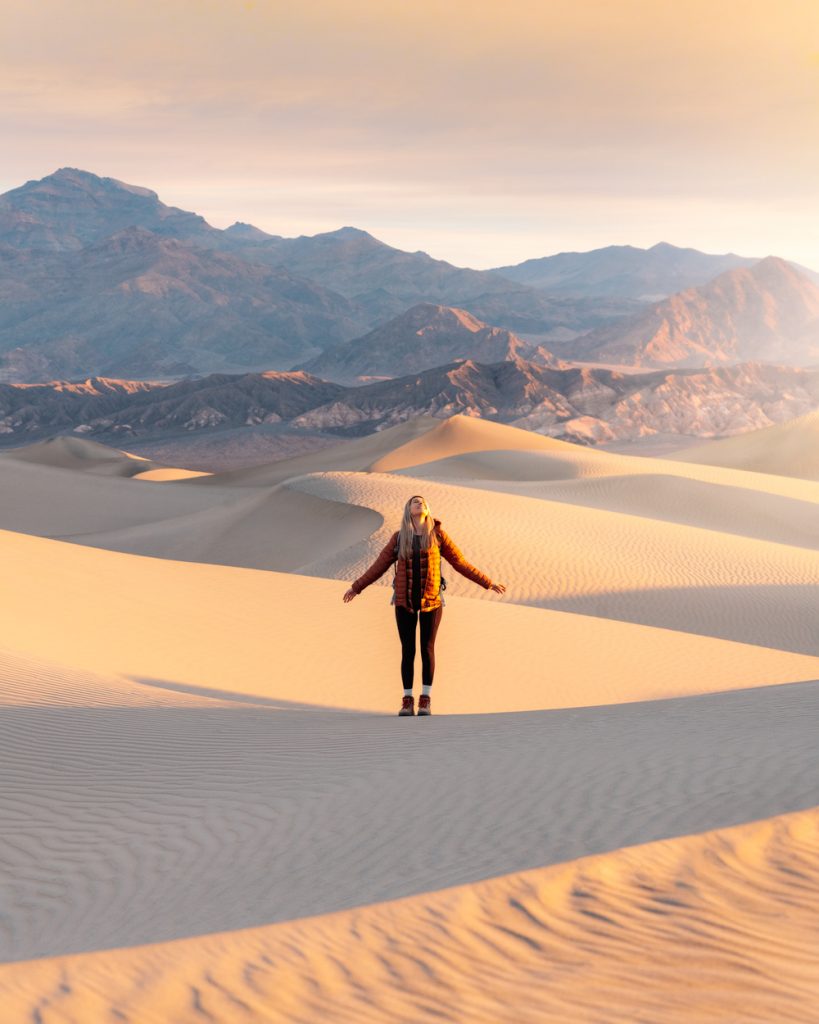 HIKE THE MESQUITE FLATS SAND DUNES
My absolute favorite thing to do in Death Valley is to hike the Mesquite Flats Sand Dunes. The dunes are one of the most popular sights in the park, but you can find some peace and quiet depending on how far you walk out. My favorite time to hike out there is at sunset. This is because the setting sun makes the dunes glow an incredibly vibrant orange.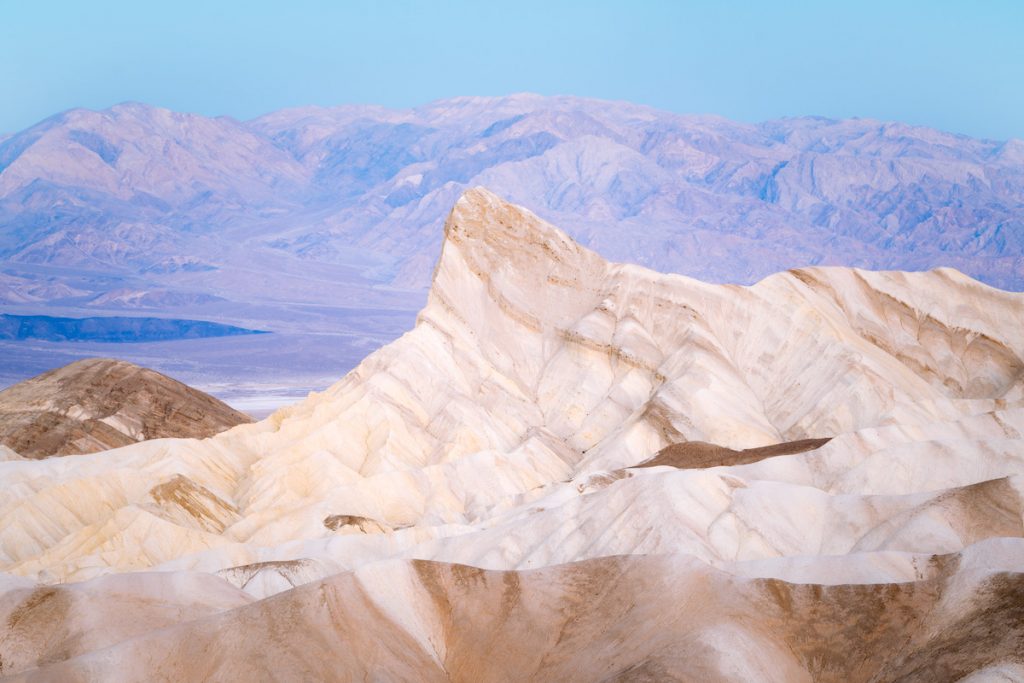 EXPLORE ZABRISKIE POINT
Zabriskie Point is another great hiking area in the park. There is an overlook just a short stroll from the parking lot, but I recommend taking the really beautiful Badlands Loop (2.5 miles) trail which starts from the overlook and guides you through the colorful canyons and gulleys in the area.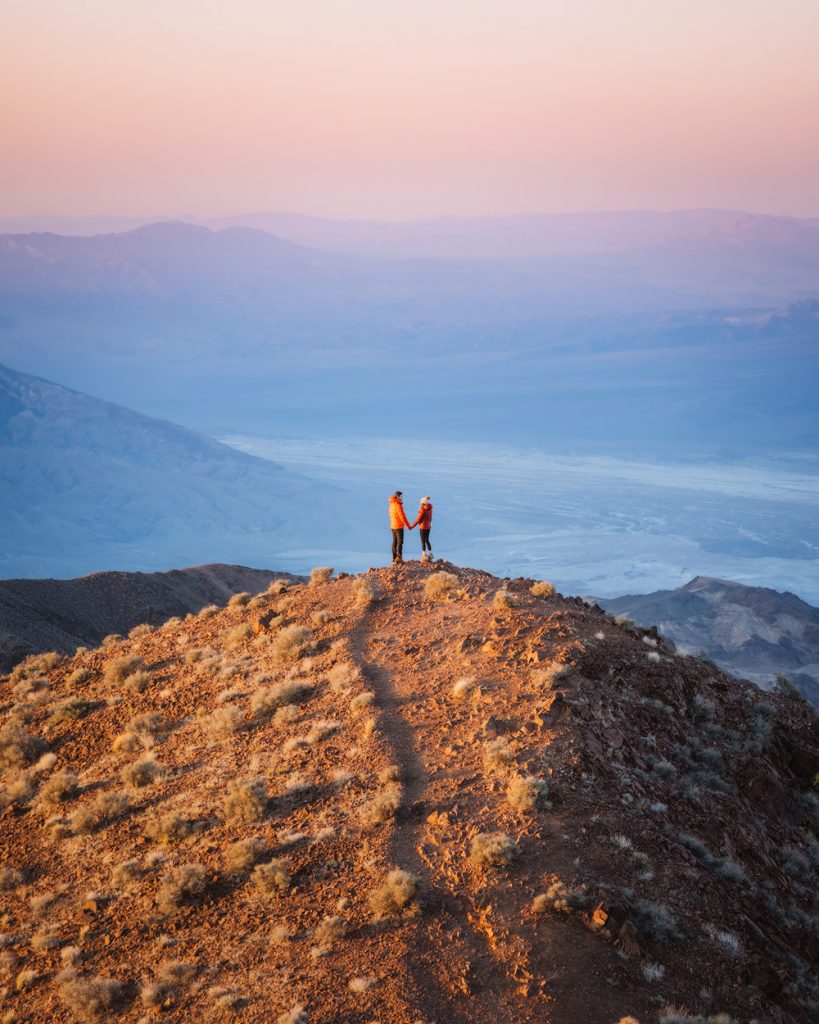 DRIVE UP TO DANTE'S VIEW
Death Valley is a very accessible park, with some really great roadside views. Don't miss Dante's View, an overlook that sits around 5500 feet above the valley floor. It can get cold up this high, so don't forget to bring a warm jacket just in case.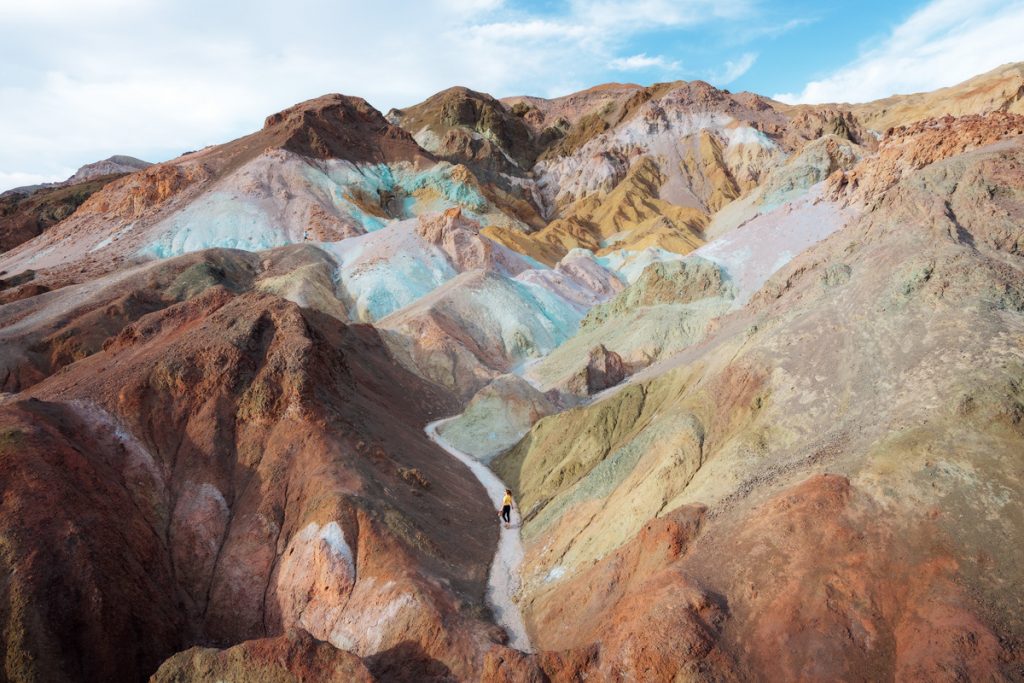 VISIT ARTIST PALETTE
Another of my favorites is the unique Artist's Palette area that is filled with colorful hills and cliffs. Most visitors just drive up to view this area from the parking lot, but there is a short .5 mile walk through the small hills if you want to stretch your legs.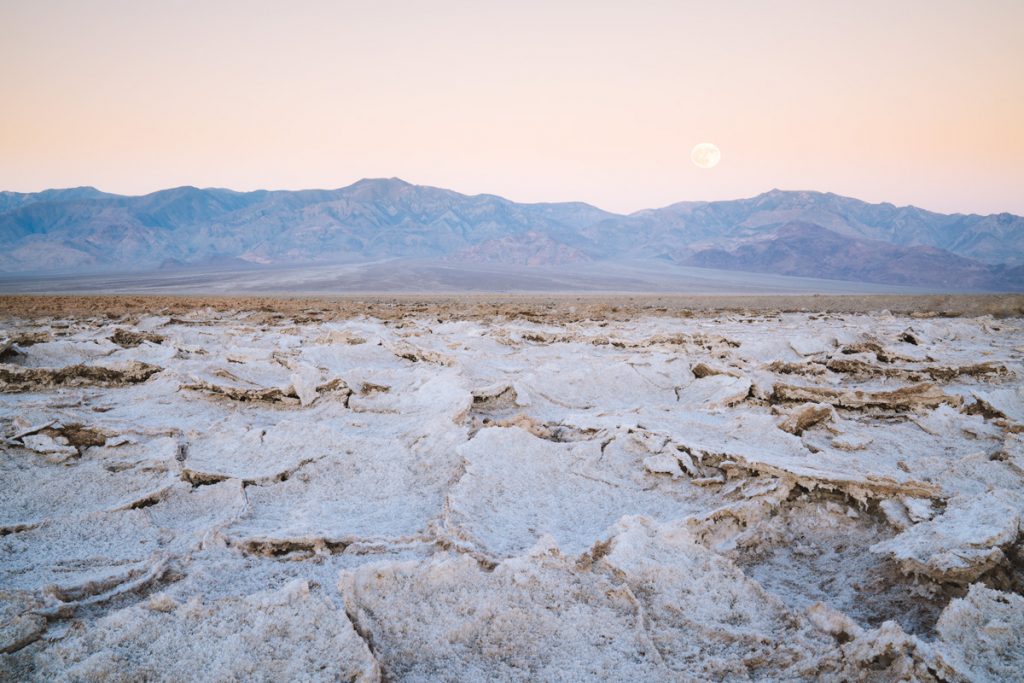 EXPLORE BADWATER BASIN
Lastly, no visit to Death Valley is complete without a visit to the lowest point in the USA, Badwater Basin. There is a short boardwalk that will take you to some informative signs about the area, and after that you are able to walk out onto the salt flats. Head out as far or as little as you like, but I find the most beautiful area starts around a 20 minute walk from the parking lot.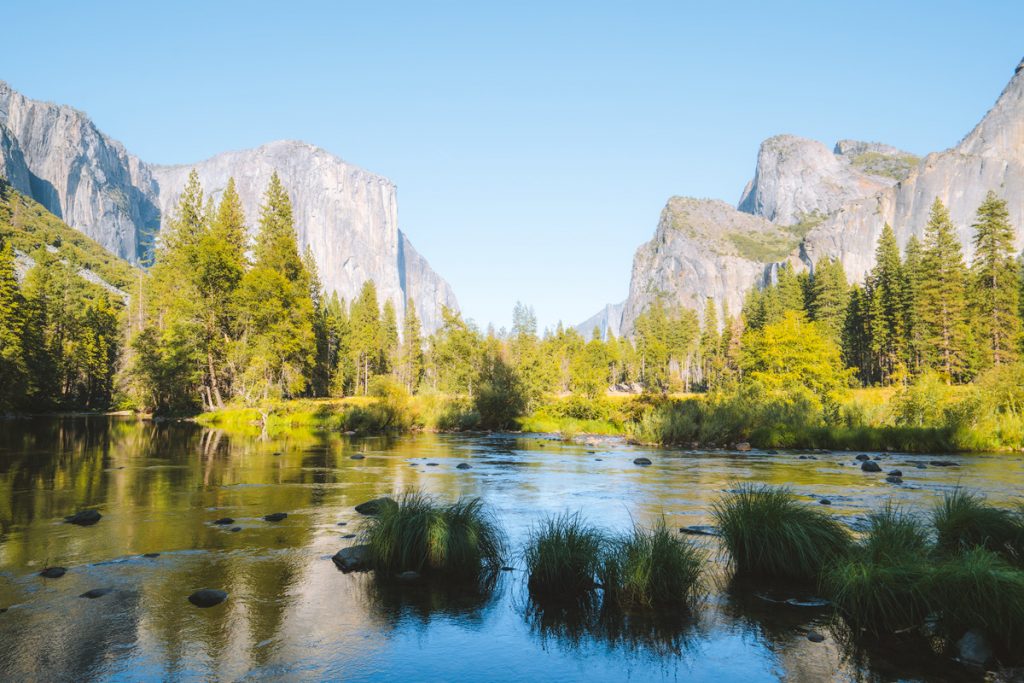 YOSEMITE NATIONAL PARK
I still remember my first time driving into Yosemite National Park and being absolutely mesmerized by the towering granite cliffs and waterfalls. After half a dozen return visits since, that feeling hasn't changed! It really is one of the most beautiful national parks we have in the United States, and I could spend an entire lifetime exploring it if I lived nearby.
Whenever someone asks me what the best time to visit Yosemite is, I pretty much always recommend mid-May to mid-June. This window of time gives you the best combination of avoiding peak summer break crowds, seeing the raging waterfalls created by quickly melting snow, lush green grasses filling the valley. You'll also get a decent shot of driving Tioga Pass and Glacier Point Roads which open sometime in spring (date varies by year) after winter closures. You may even get lucky and spot the infamous Yosemite black bear who should now be out of hibernation.
LOCATION
Sierra Nevada Mountain Range, California. Click here for Google Map directions.
HOW TO GET TO YOSEMITE
The three largest and closest population hubs are Sacramento (3.5 hours), San Francisco (4 hours), and Los Angeles (5.5 hours). Most visitors will fly into and drive from one of these cities.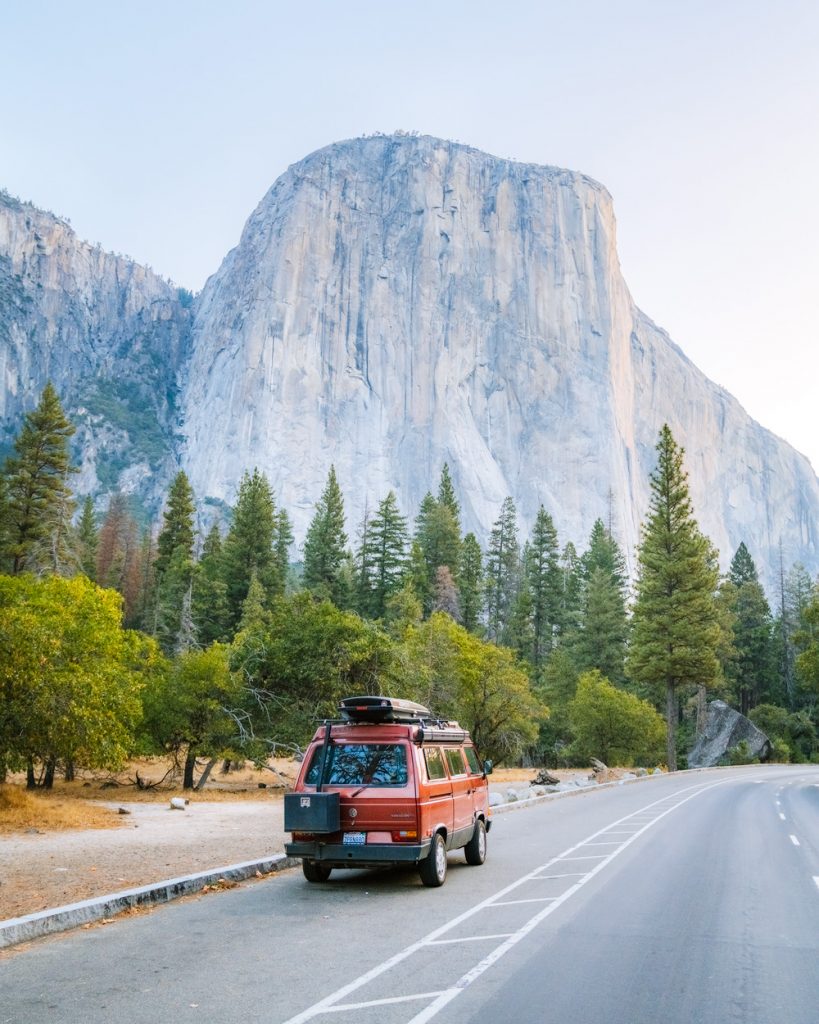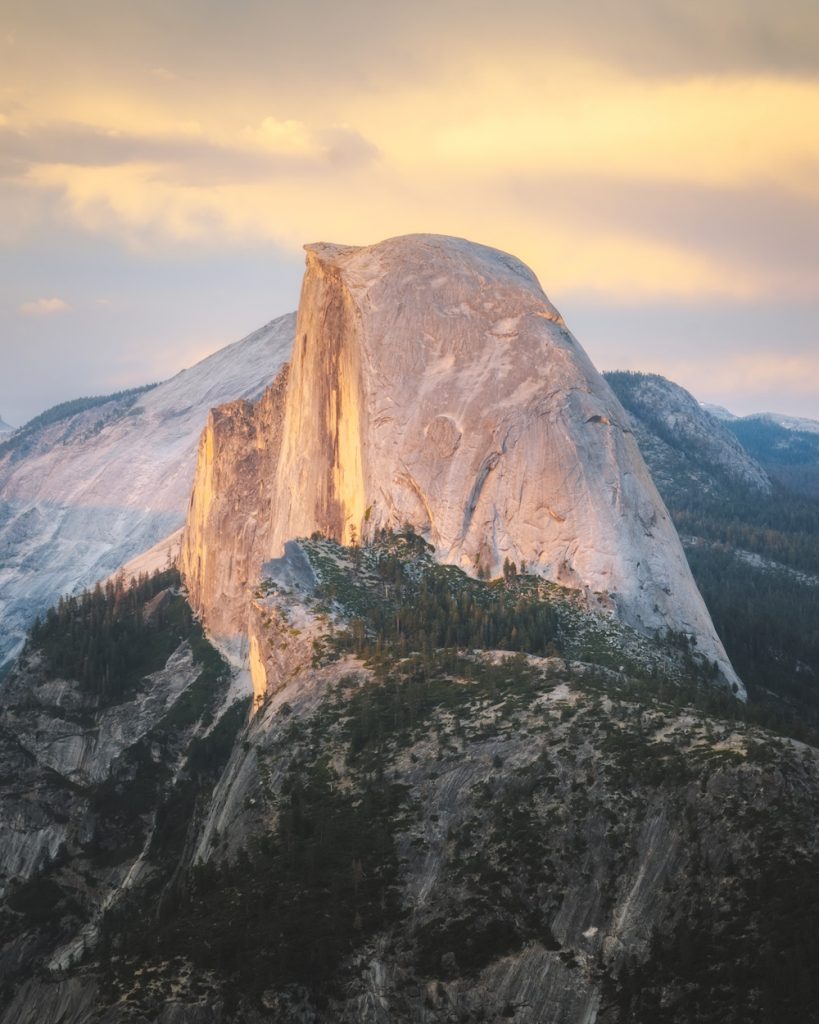 WHERE TO STAY IN YOSEMITE
You have various lodging options when staying at Yosemite National Park. The Ahwahnee luxury hotel is worth the splurge for those with deeper pockets, offering fancy rooms and fine dining. The Yosemite Valley Lodge is another great spot to stay and is a more affordable option than The Ahwahnee. For those looking for a more budget-friendly option, the more basic Curry Village cabins might suit your needs best. Lupin Cabin is also a quaint alternative within the park and just 15 minutes to the valley floor.
There are 13 different campgrounds in Yosemite National Park, but their opening dates change yearly depending on snowfall. All four of the campgrounds inside Yosemite Valley should be open come spring, including Upper Pines, North Pines, Lower Pines, and Camp 4. Check this link for up-to-date information and use my code reneeroaming on The Dyrt for a free 30-day trial.
Alternatively, you can stay in nearby towns. My favorite is Yosemite West, which is closest to the action. There is a myriad of vacation rentals here and it's only a short drive back into the park each day. Here are a few options: Yosemite Condo, Hummingbird Raven House, Storybrook Chalet and Serenity Suite
Yosemite View Lodge and Cedar Lodge are in El Portal, just outside the most popular Yosemite entrance and are good options if everything else is booked.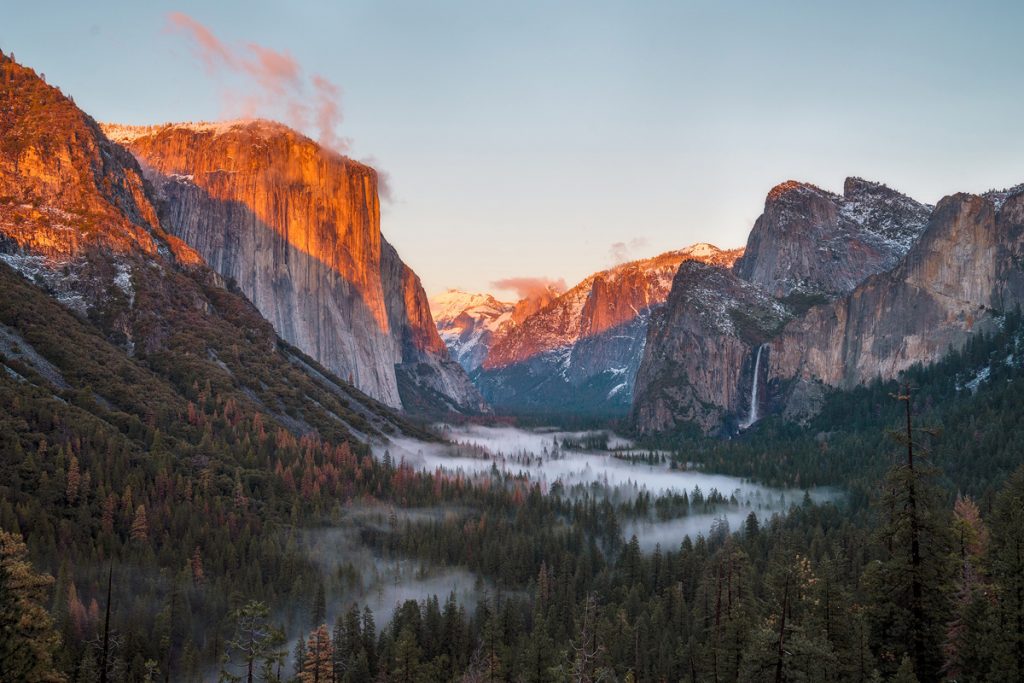 BEST THINGS TO DO DURING SPRING IN YOSEMITE
No surprise here, but my favorite thing to do in Yosemite during spring is to strap on my boots for a hike! Yosemite is home to some of the most famous and beautiful hiking in the world, and I am blown away every time I visit and hit the trails. If you prefer to hike with an experienced guide you can book a guided hiking tour.
HIKE THE MIST TRAIL
The Mist Trail is a spring classic! At 7 miles (11km) roundtrip (11km) and 1900 feet (600m) of elevation gain, this trail takes you up past the thundering Vernal and Nevada Falls. Both of these waterfalls are raging in the spring months due to snowmelt, making it my favorite season for this hike. Pack a rain jacket if you don't want to get wet because the spray from these falls can be intense!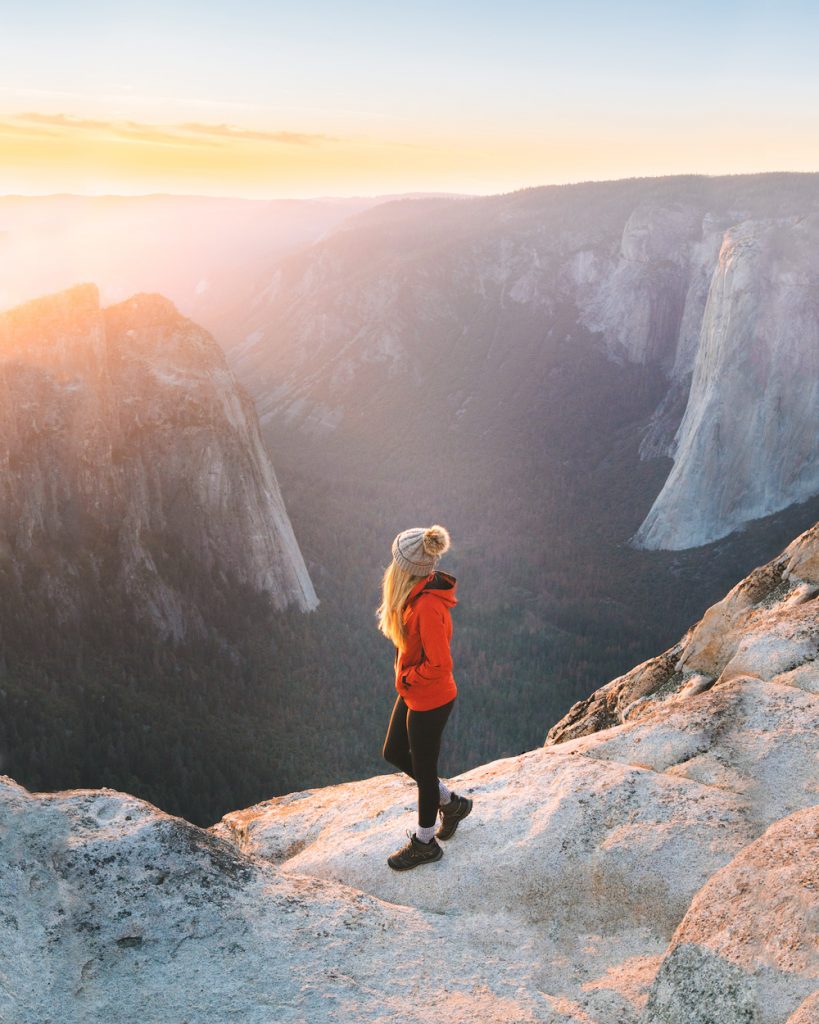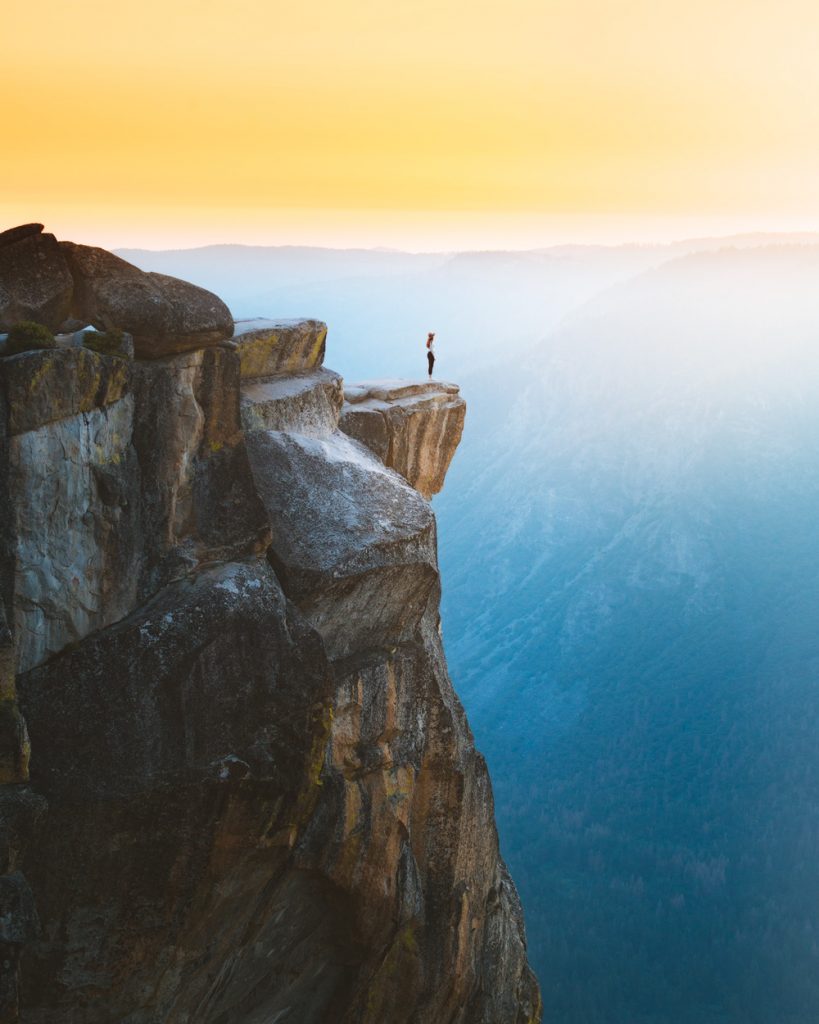 HIKE TO TAFT POINT AND SENTINEL DOME
Another of my favorite spring hikes is out to Taft Point and then onto Sentinel Dome (5.1 miles/8km and 1,100 feet/350m of elevation change). The road to Glacier Point, which is how you will access the Sentinel Dome trailhead, can open anywhere between March and June depending on snow conditions, so check road conditions before attempting this one. The road itself provides incredible views of the valley and overlooks Half Dome, another iconic Yosemite hike. I have more tips on hiking Half Dome, which is on many Yosemite bucket lists, in my Yosemite guide.
2022 & 2023 update: According to the National Park Service, Glacier Point Road will be closed to all traffic in 2022 to rehabilitate and improve the road. The only access to Glacier Point will be via the Four Mile, Panorama, and Pohono Trails, all of which are strenuous hikes. There will be 30-minute delays in 2023.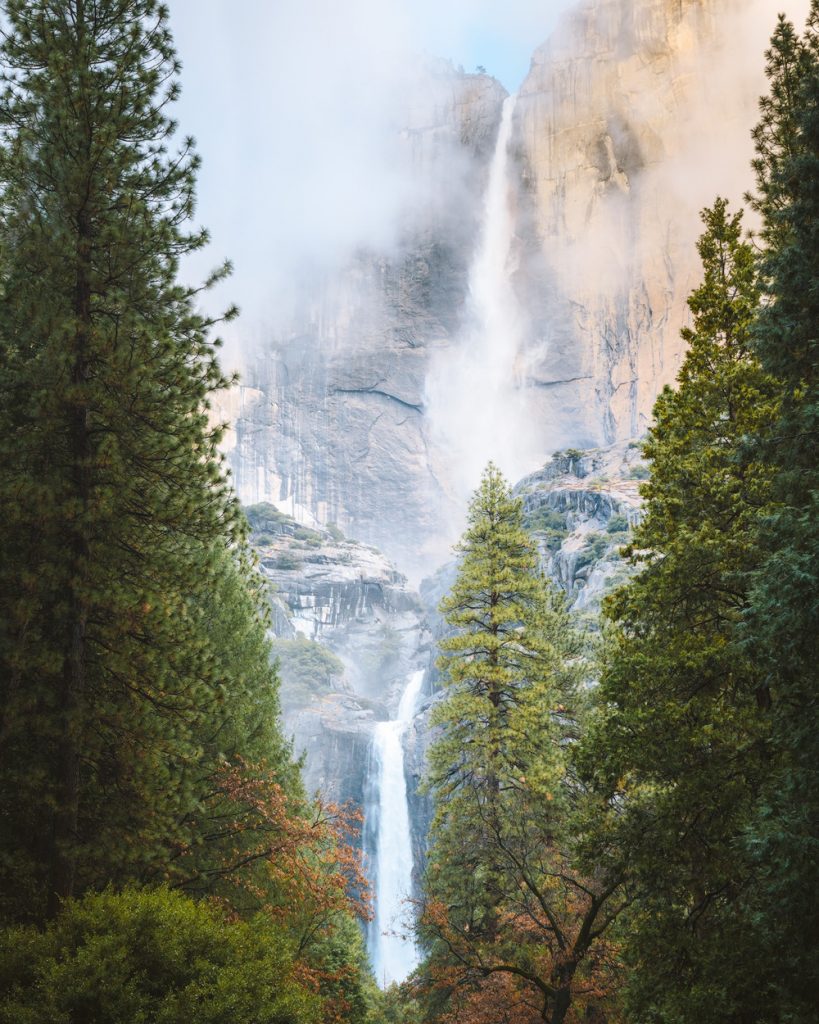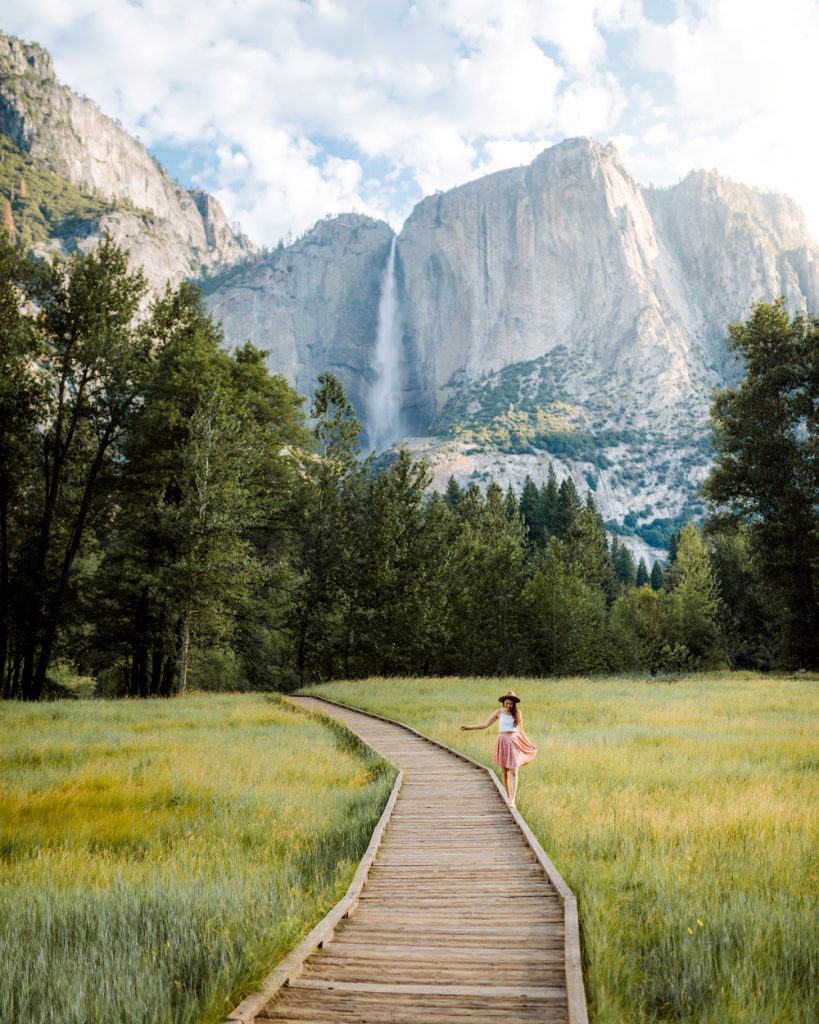 MUST SEE Spots IN YOSEMITE VALLEY
Yosemite can also be enjoyed from the comfort of your vehicle, stopping at many of the jaw-droppingly beautiful viewpoints along the way. Some of my favorites inside the valley are Tunnel View, Valley View, Lower Yosemite Falls, and Swinging Bridge. Olmsted Point and Tenaya Lake (both Tioga Pass Road), and Glacier Point (Glacier Point Rd) are also amazing, but make sure to check if the roads are open first.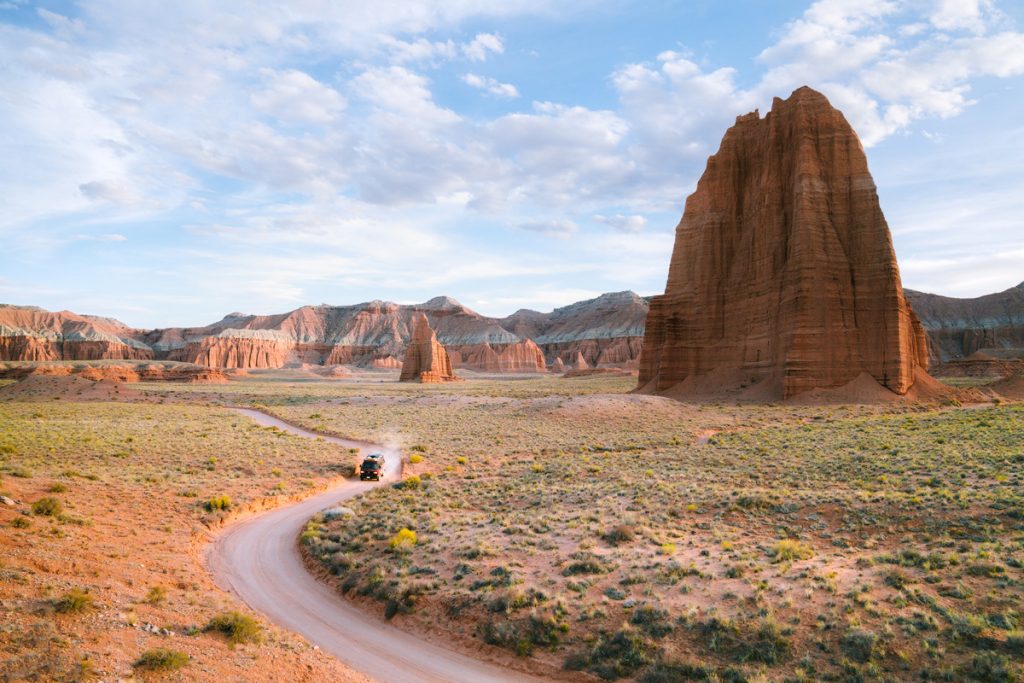 CAPITOL REEF NATIONAL PARK
Capitol Reef National Park may be one of the least talked about in the park system, but it definitely has its share of natural beauty. We first visited the park back in 2017 on our road trip to all of the national parks. After that visit, we marked it down as somewhere we needed to get back to and explore deeper. We loved it for its striking red sandstone cliffs, deep canyons, and interesting rock features. Because Capitol Reef's location in south-central Utah means very hot summers and very cold winters, spring is the perfect time of year to visit.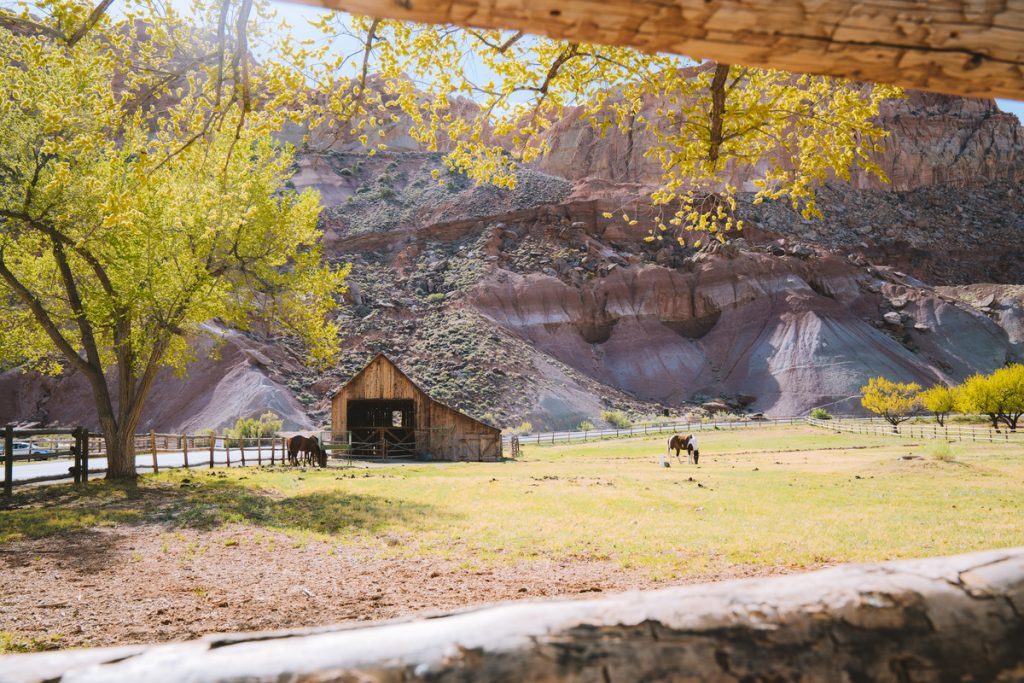 LOCATION
South-central Utah. Click here for GoogleMaps directions.
HOW TO GET TO CAPITOL REEF
Most visitors to Capitol Reef National Park will come from the nearest large cities of Salt Lake City (3.5 hour drive) or Las Vegas (5 hour drive).
WHERE TO STAY IN CAPITOL REEF
There is no lodging within Capitol Reef National Park, but there is the Fruita Campground for those who want to camp. Alternatively, the nearby town of Torrey has a few hotel and dining options and would be a good base for guests to explore the park. A few hotel options include: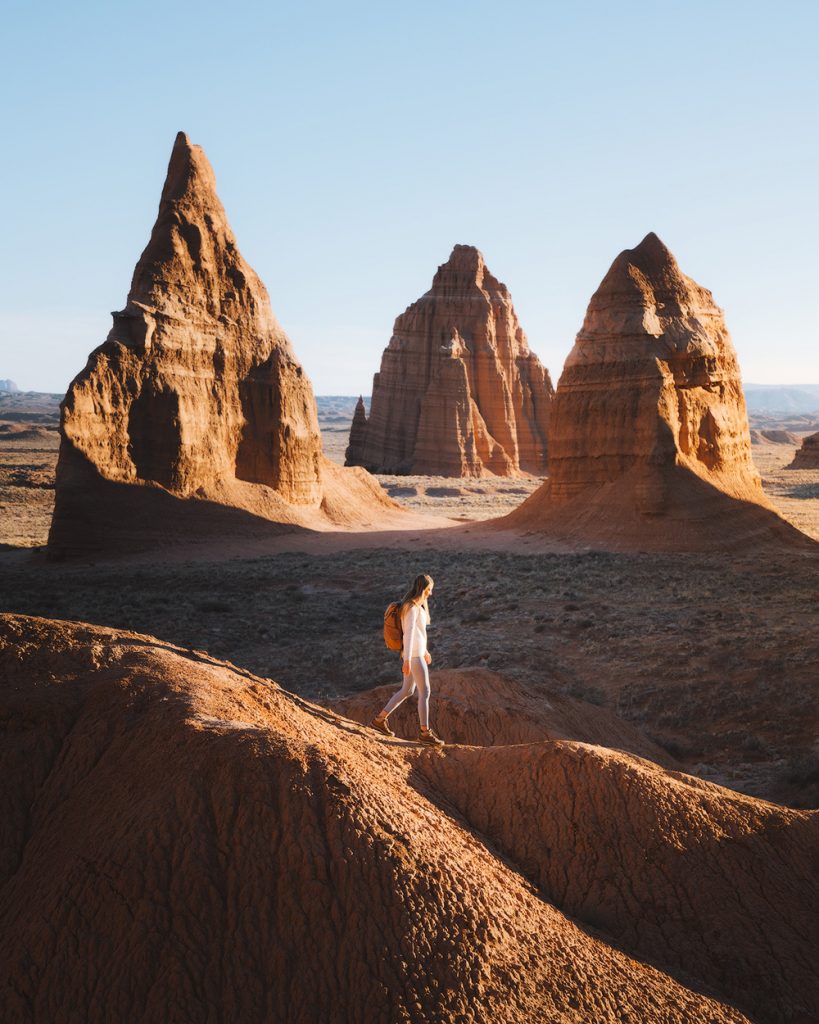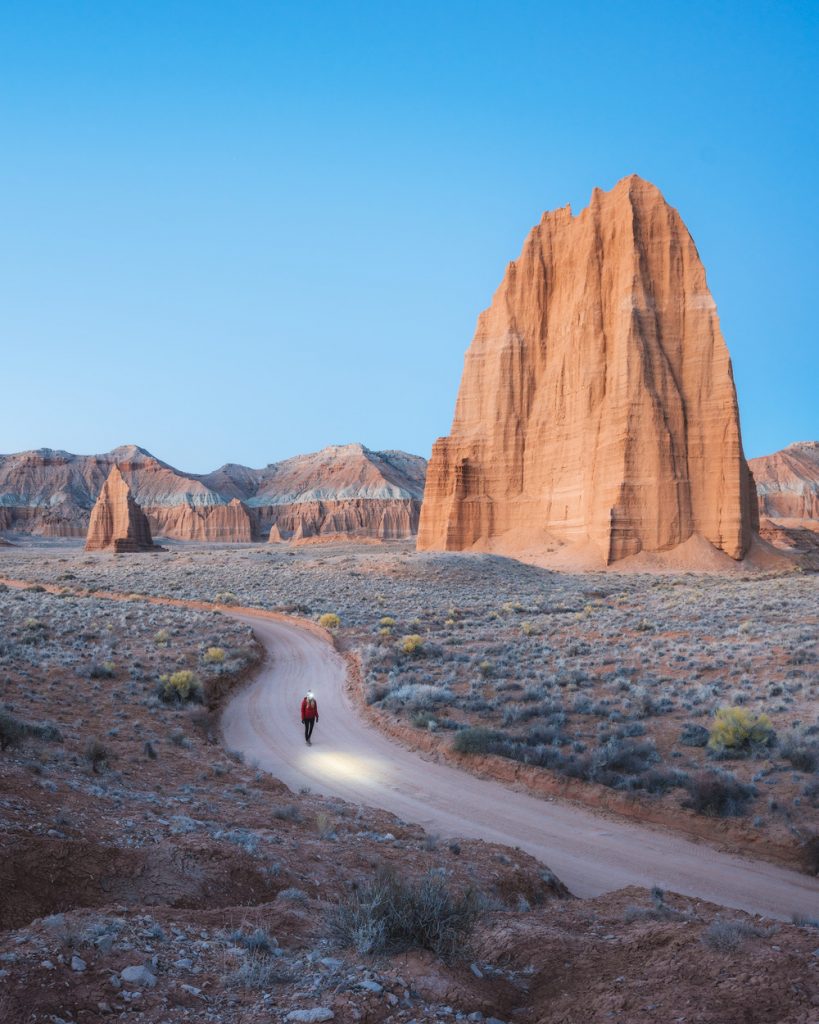 BEST THINGS TO DO DURING SPRING IN CAPITOL REEF
One of our favorite stops in Capitol Reef National Park was checking out the historic Gifford Farm. This farm was built in 1908, and operated as a means of income for the family who owned it. They raised animals, and later planted fruit orchards which are still there to this day. The property was sold to the National Park Service in the 1960s, and renovated to current safety guidelines for visitors to enjoy. Today, you can enjoy some DELICIOUS home-made pie from the Gifford House store. Don't forget the side of homemade ice cream as well! This was seriously one of the best pies I have ever tried. They also sell other baked goods, snacks, coffee, tea, etc.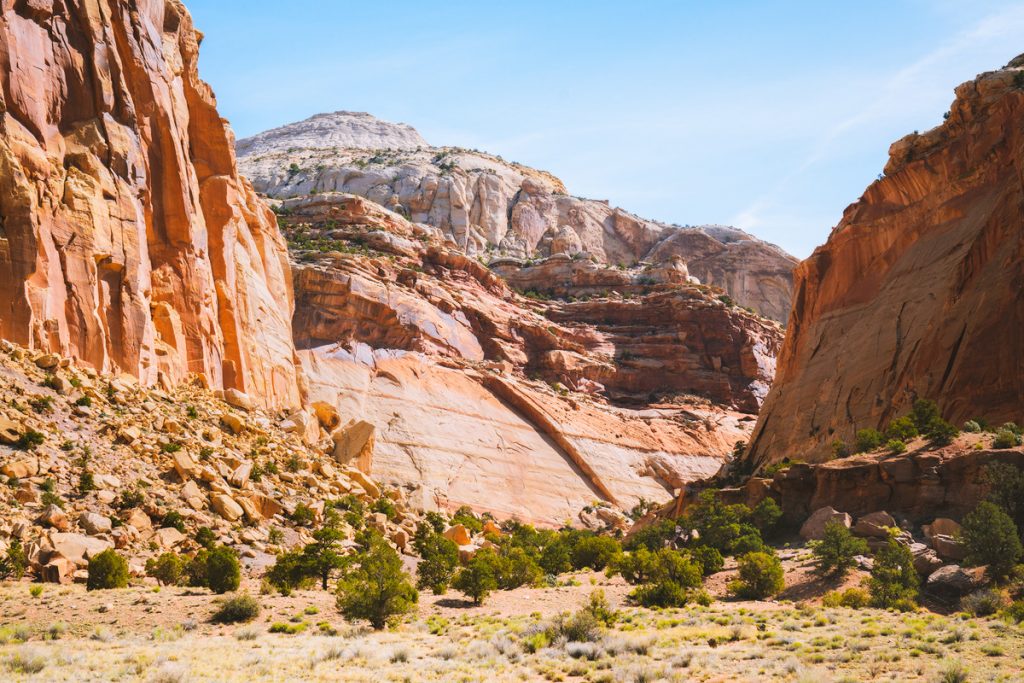 Another of our favorite stops in Capitol Reef was hiking the Cassidy Arch Trail. This was only 3.1 miles (5km) roundtrip and a great way to see the natural beauty of Capitol Reef National Park. If you're looking for something a bit longer, the Navajo Knobs Trail is 9.1 miles (14.5km) roundtrip with 2100 feet (630 meters) of elevation gain. This will get you to a more elevated view of the park, with beautiful ridge lines and mountain views.
Finally, I'd definitely recommend checking out the Cathedral Valley District. It's more remote and requires a 4×4 vehicle and experience, but if you have the tools it is arguably the most beautiful part of the park. One of my favorite ways to see a new park is with a self-guided tour. This lets you go at your own pace and spend as much time as you want at your new favorite spots!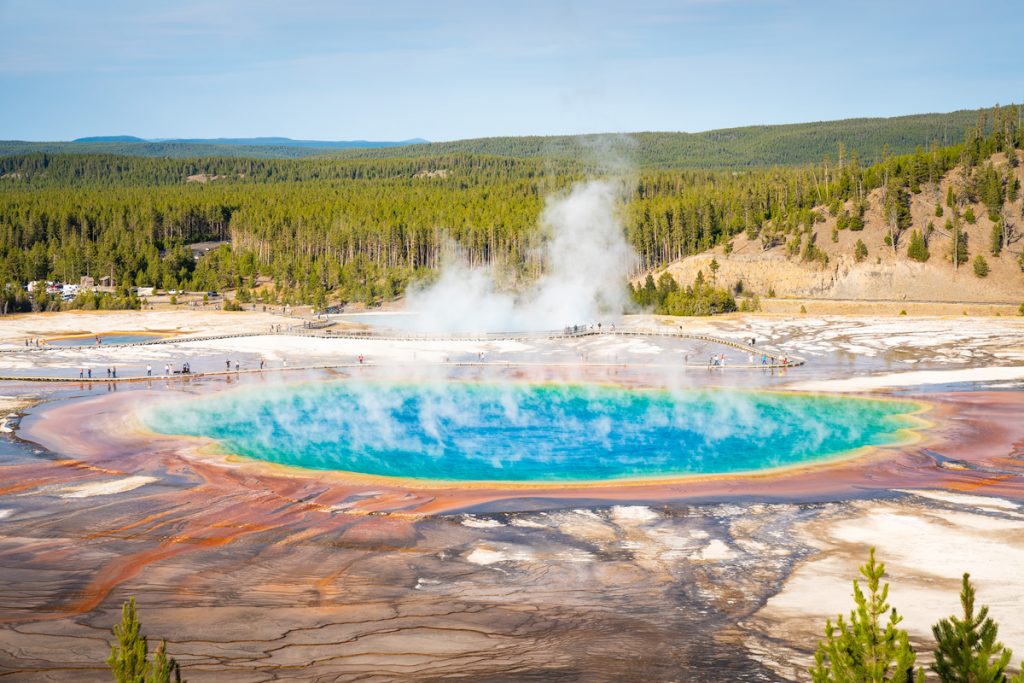 YELLOWSTONE NATIONAL PARK
Yellowstone is one of the most unique and impressive national parks in the United States. So impressive in fact that in 1872 it was designated the first national park in the entire world, paving way for a future of protecting our most beautiful natural spaces.
One of the biggest draws for visitors is Yellowstone's immense amount of hydrothermal features, around 10,000 total. Home to the world's tallest geyser, and some of the densest geyser basins in the world, Yellowstone's rich volcanic past and present leave a lasting impression on guests. The other biggest draw for travelers is Yellowstone's abundant wildlife. Nowhere else in America are you likely to see such a large amount of diverse wild animals.
Spring is one of the best times in the park! Mid to late May is a great time to visit when the roads usually open after winter closures. During this time you can experience the park without the insane summer crowds that can definitely leave a sour taste in the mouths of some travelers. The peaks are also still often lined in snow, and the valleys are filled with lush green grass, adding to the incredible natural beauty. While you're in the area you should also consider visiting Grand Teton National Park. Be sure to check out our EPIC itinerary for exploring both parks!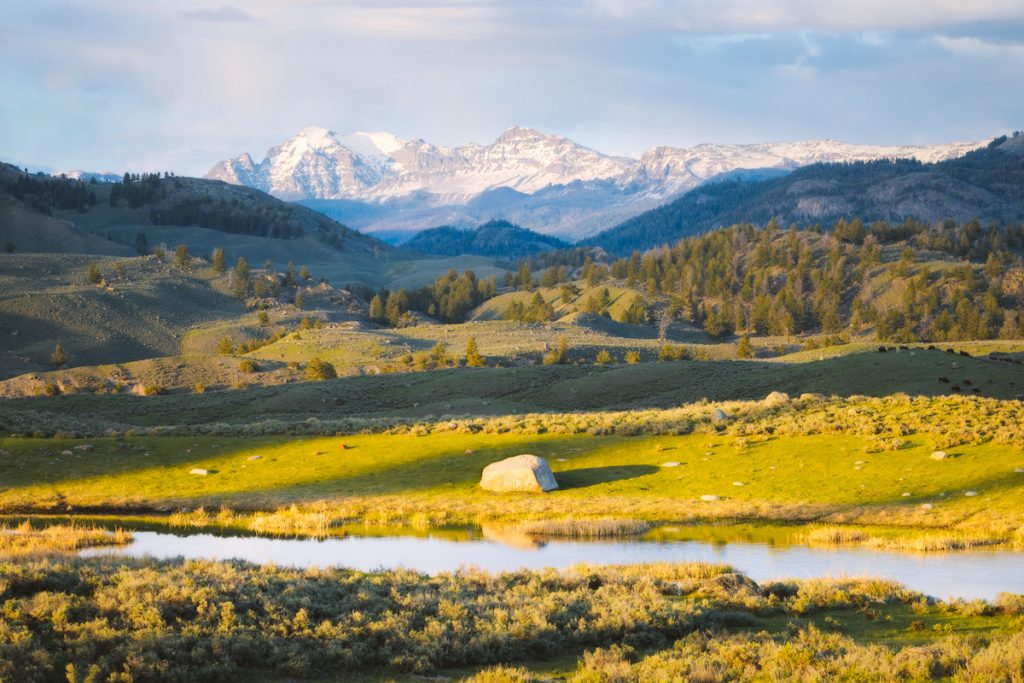 LOCATION
Northwest Wyoming, with small crosses into Montana and Idaho. Click here for GoogleMaps directions.
HOW TO GET TO YELLOWSTONE
The Yellowstone region is in a pretty remote area of the country. Salt Lake City is the nearest major city, almost 5 hours from the closest park entrance. There are numerous ways for guests to access the park by car or plane.
Arrive to Yellowstone By Car
Yellowstone has five entrance stations that are each located in different sections of the park. Depending on where you are driving from will determine which of these you will want to enter. The most popular entrance is West Yellowstone as it is the quickest entrance to reach from Salt Lake City. Salt Lake City is the nearest major city from which you can fly into and rent a car. Another popular way to enter the park is the south entrance station which is just a short drive from Grand Teton National Park and Jackson Hole Airport.
Arrive to Yellowstone By Plane
While you cannot fly directly into Yellowstone National Park, you can fly into one of a few nearby towns. The closest is West Yellowstone, only a short 5 minute drive from the West Yellowstone entrance. Bozeman (MT) and Jackson Hole (WY) are a couple of alternate options, both less than a 1.5 hour drive from Yellowstone entrances. Use Skyscanner to compare prices across multiple airports and then book a car using Kayak for car rental comparison deals.
You can also book a guided tour from your accommodation in Jackson or Teton Village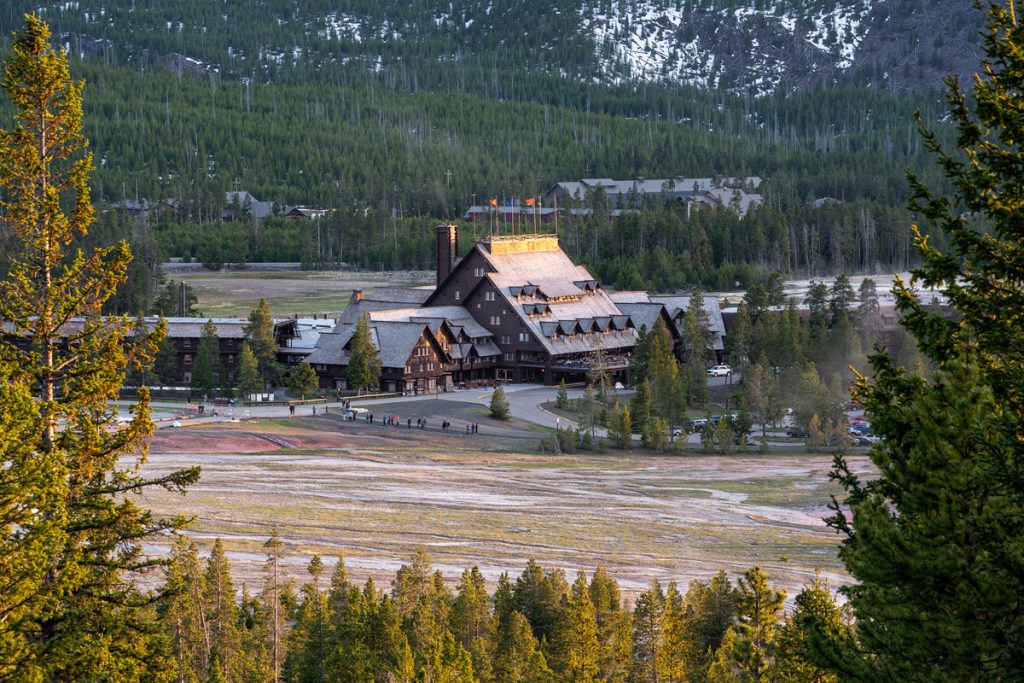 WHERE TO STAY IN YELLOWSTONE
Travelers have many options for accommodations during their visit to Yellowstone National Park. You can choose to stay in an RV, tent, or something more luxurious such as a stay at the historic Old Faithful Inn.
Yellowstone Camping
Stay Outside of the Park
There are many options outside the park, but the closest are in the towns of West Yellowstone (MT), Gardiner (MT), and Cooke City (MT). Here are a few recommendations:
Yellowstone Vacation Rentals
Below are some suggested vacation rentals close to Yellowstone National Park, with options near the west, north, and north-east entrances.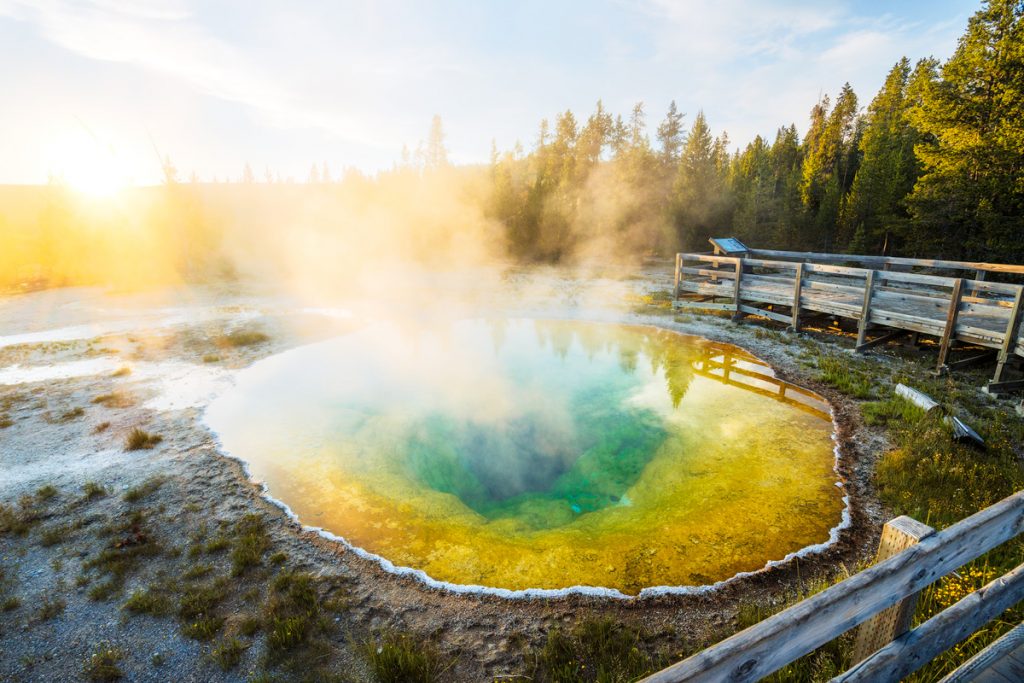 BEST THINGS TO DO DURING SPRING IN YELLOWSTONE
Yellowstone is one of the largest known volcanoes in the world, and with that comes some incredible geological features. While in the park, you cannot miss checking out some of the famous geysers and springs. There are so many different areas worth visiting for this, but one of my absolute favorites is the Upper Geyser Basin area.
Here you will find the famous "Old Faithful" geyser and Old Faithful Lodge, as well as a whole bunch of other geysers and springs spread around an easy 3 mile loop hike. The geysers all erupt with different frequencies. Thankfully the nearby visitor center has a handy time chart to plan what time to arrive at each geyser.
There are many other geyser basins and spring areas worth checking out in the park. A few more of my "must-sees" include Norris Geyser Basin, Biscuit Basin, Midway Geyer Basin (home to the famous Grand Prismatic), and Mammoth Hot Springs. Click here for my in-depth guide on the best things to do in Yellowstone.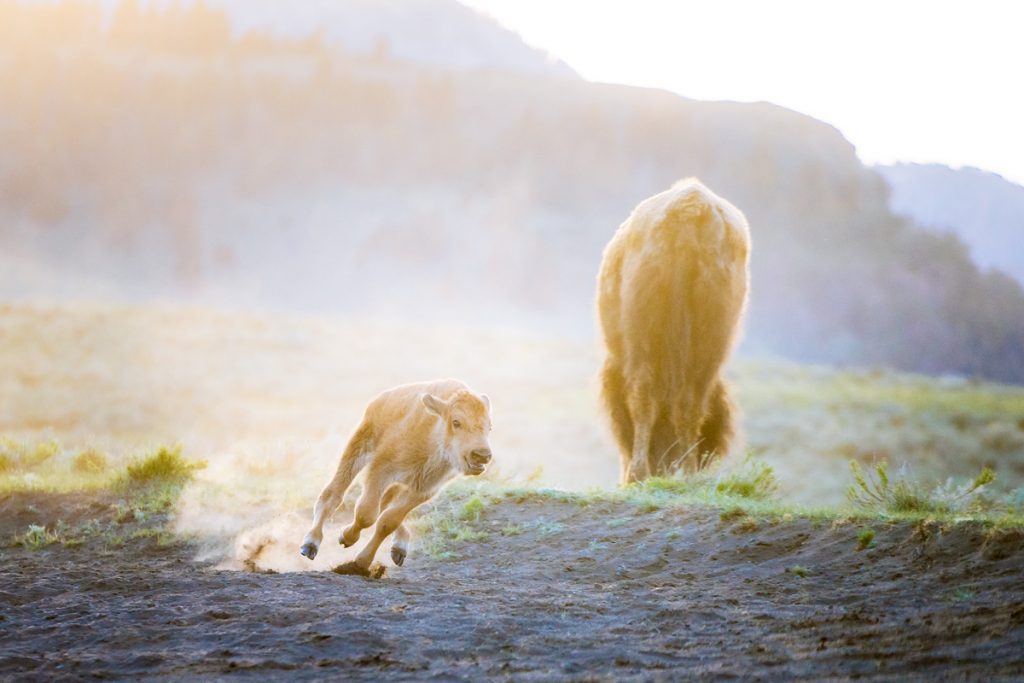 Wildlife viewing is another big reason for Yellowstone's worldwide fame. Here you can spot a large portion of North America's most impressive wildlife. You can see grizzly bears, black bears, wolves, bison, moose, elk, bighorn sheep, and much more! You may see wildlife anywhere around the park during your adventures, but the most popular areas for seeing wildlife are the Lamar Valley and Hayden Valley. Both feature huge valleys surrounded by mountains and teeming with wildlife.
Personally, my favorite is Lamar Valley as I have been lucky enough to see more diverse wildlife during my visits to that area. You can even book a guided wildlife tour in the Lamar Valley! I also find the natural beauty there more impressive, but it's definitely worth checking out both if you have the time!
FINAL THOUGHTS ON THE BEST NATIONAL PARKS TO VISIT IN SPRING
I hope this guide gave you an idea of which national parks to visit in spring! There are definitely more parks that are amazing to visit during spring, such as Great Smoky Mountains National Park, Shenandoah National Park, Big Bend National Park, Great Sand Dunes National Park, Everglades National Park, and Grand Canyon National Park. Stay tuned for more guides being added! Lastly, leave a comment below if you have another park to recommend. That way we can all learn from each other's travel experiences!
---
PIN FOR LATER PLANNING!