Yellowstone National Park is world-renowned for its epic landscapes, unique wildlife, and fascinating natural history. Each year millions of people come from all over the globe to witness Yellowstone's wonders, and for some, it has been a lifetime dream. In this blog post, I am sharing everything you need to know to plan your own trip to Yellowstone National Park, including all the best things to see and do!
If you're new to my blog you may not know that I visited all the US national parks in 2017, so this guide truly comes from firsthand experience. To date I have visited Yellowstone National Park five times, and I plan to visit many more times in the future!
Disclaimer: This blog post features some affiliate links, which means I get a small commission if you make a purchase (at no extra cost to you). It's one of the ways I can keep producing free guides and resources for my readers. Learn more about my affiliate policy here. Thank you for the support!
Yellowstone National Park Guide
Yellowstone National Park has a rich history. It was established as a national park by US congress in 1872, and signed into law by president Ulysses S Grant. This was the first national park in the entire world, and paved the way for the protection of future national parks all over the globe.
Today, Yellowstone remains as probably the most well-known of the US national parks, and in recent times has opened its gates to roughly 4 million people each year. It sits in the north-western portion of Wyoming, but a small part of the park extends into both Idaho and Montana. Within the boundaries of the park also happens to be the Yellowstone Caldera, a 34 x 45 mile super volcano within the national park. With this comes extreme volcanic and seismic activity, the reason for its thousands of geothermal features, geysers, and springs.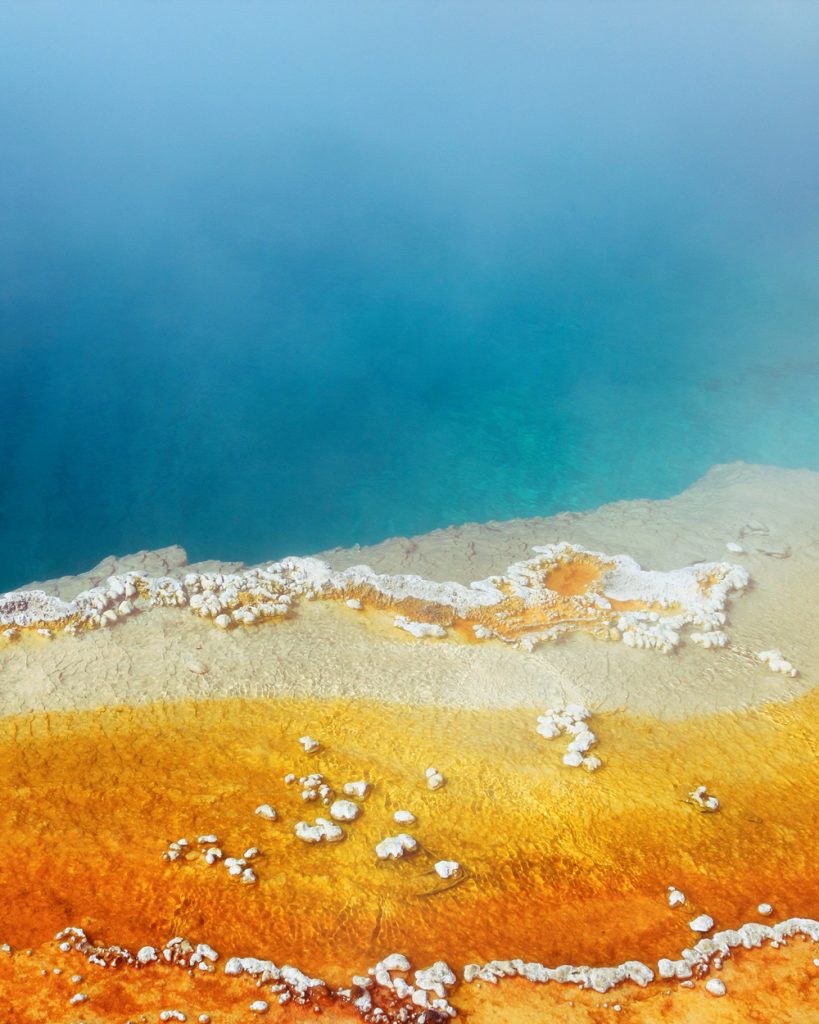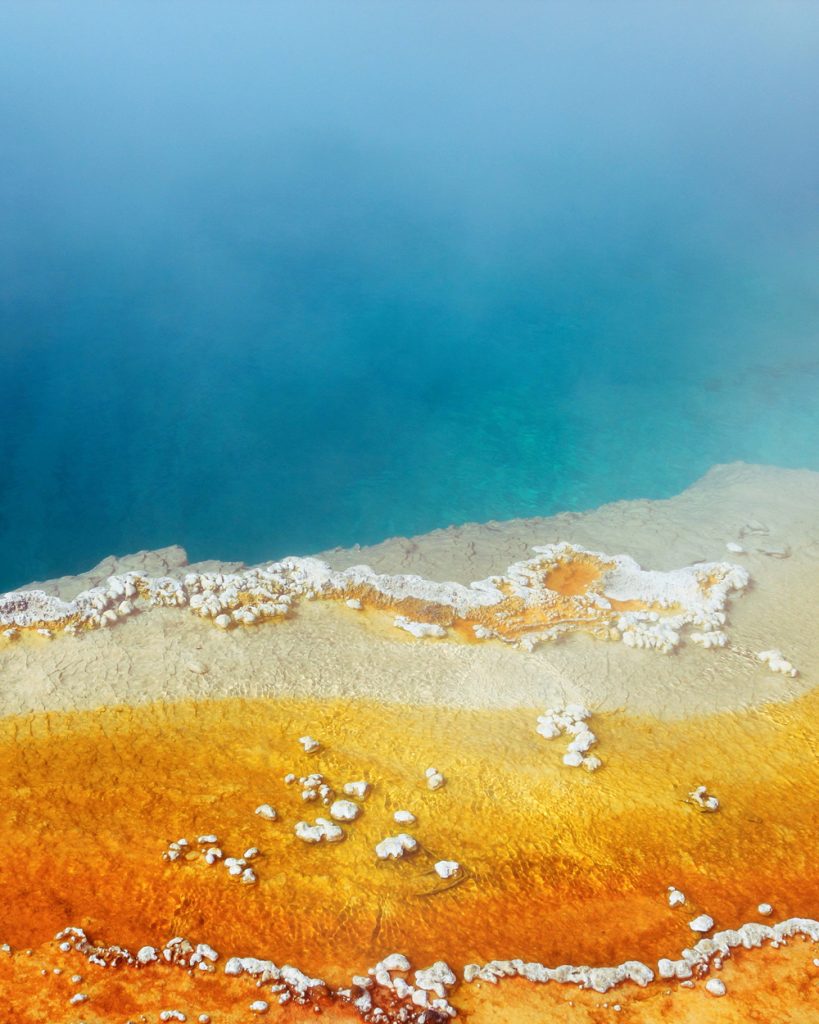 Taking a road trip to Yellowstone is a dream for a lot of Americans, and it's also a huge draw for visitors from all around the globe. Thankfully it is quite easy to get around Yellowstone, and can be rather affordable if you are willing to camp or plan ahead. In this guide I will go over everything you need to know, including how to get there, where to stay, the best things to do, photography tips, and more! I hope this is able to make your Yellowstone adventure the best it could possibly be.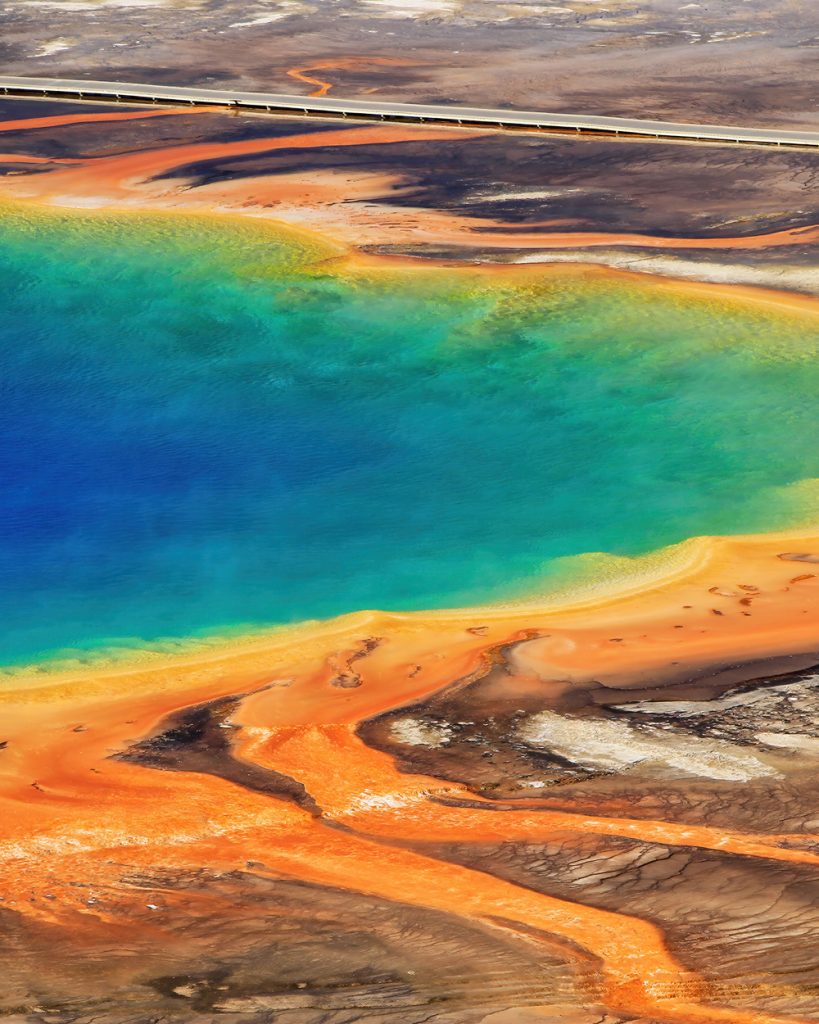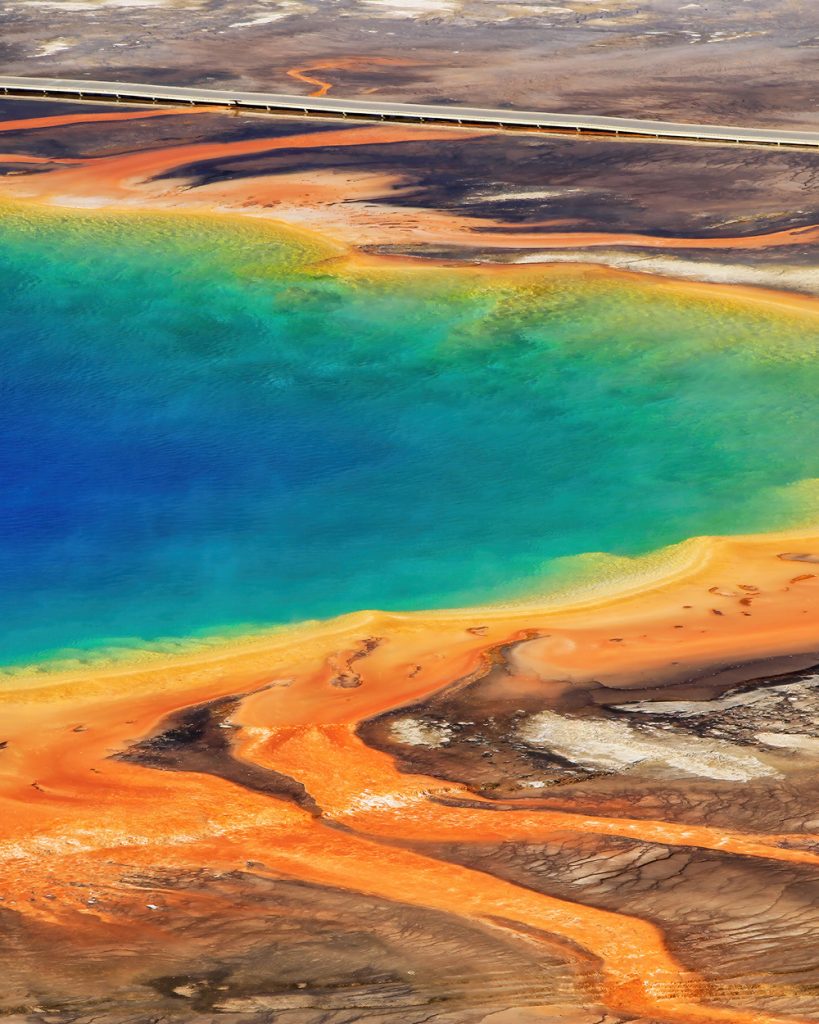 When to visit Yellowstone
Yellowstone is technically open year-round, but there are a lot of closures during the winter period in the park from October till May. The most popular times to visit are June through August, but personally my favorite months in the park are May, September, and early October when the crowds are smaller and it should be free of snow.

You can still visit Yellowstone during the winter, but personal vehicles will be limited to the road between Gardiner (MT) and Cooke City (MT), the only part of the park where the road is open and maintained in winter. To reach the other parts of the park you will need to have a means of cross-snow travel such as a snowmobile, or take a tour through the park on one of the snow-cats.

Be sure to check out the park's website to research road closures before visiting as dates change every season depending on the weather.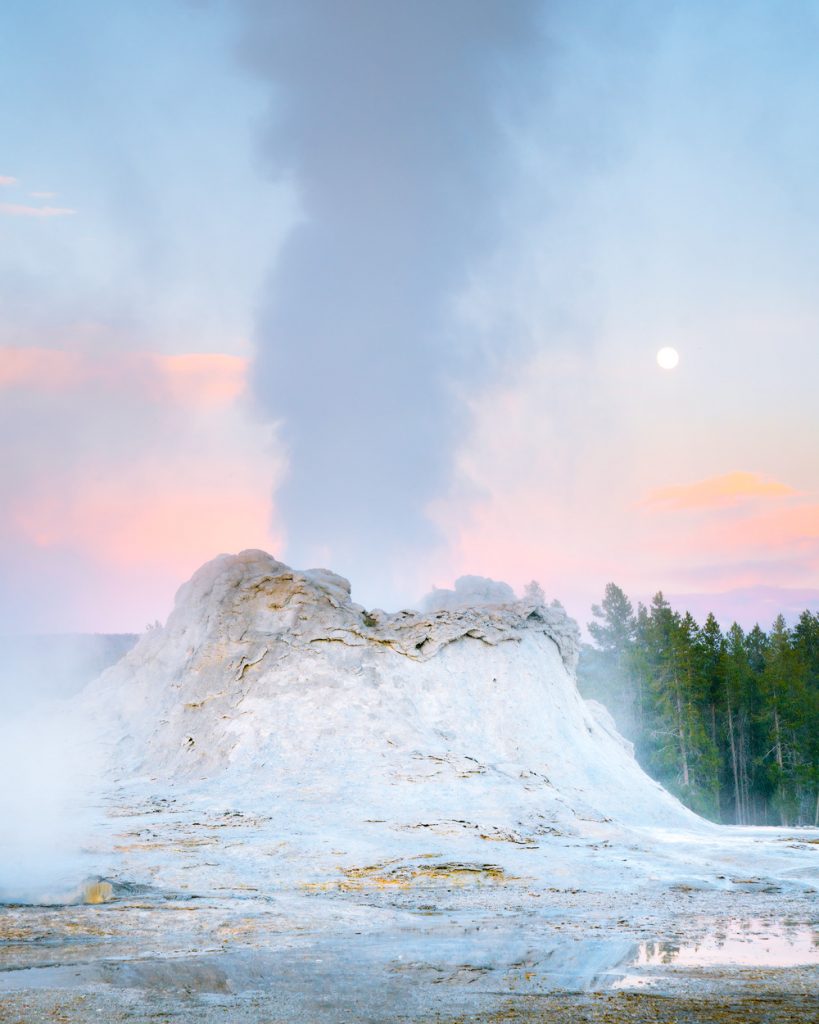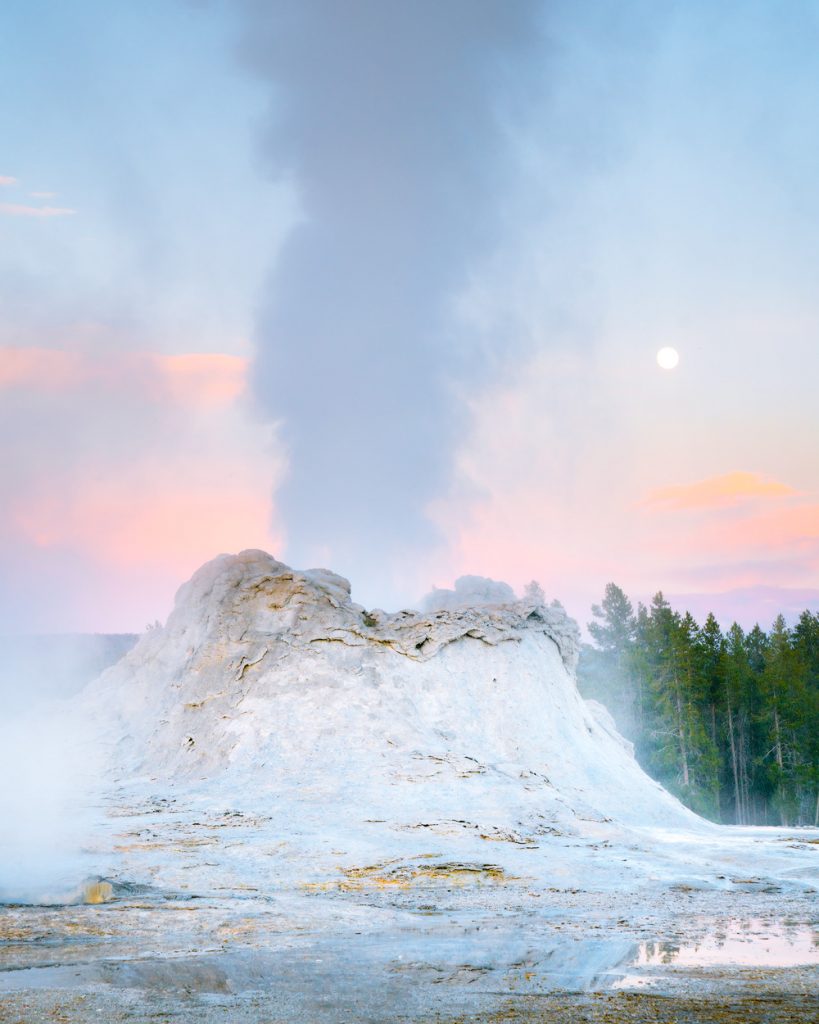 How to get to Yellowstone National Park
The Yellowstone region is in a pretty remote area of the country, located almost 5 hours from the nearest major city (Salt Lake City). There are a number of ways for guests to access the park, and I will go into detail about some of them below.
Yellowstone has five entrance stations that are each located in different sections of the park. Where you are driving from previously will determine which of these you will want to enter. The most popular entrance is West Yellowstone as it is the quickest entrance to reach from Salt Lake City (4.5-5 hour drive). Salt Lake City is the nearest major city from which you can fly into and drive from. Another popular way to enter the park is the south entrance station, being just a short drive from Grand Teton National Park and Jackson Hole Airport.
While you cannot fly directly into Yellowstone National Park, you can fly into one of a few nearby towns. The closest of which is West Yellowstone, only a short 5 minute drive from the West Yellowstone entrance. Bozeman (MT) and Jackson Hole (WY) are a couple of alternate options, both being less than a 1.5 hour drive from Yellowstone entrances.
There are a variety of options if you would prefer to visit the park on a guided tour. The advantage of this is that the logistics are all sorted for you! Here are some amazing sounding tours: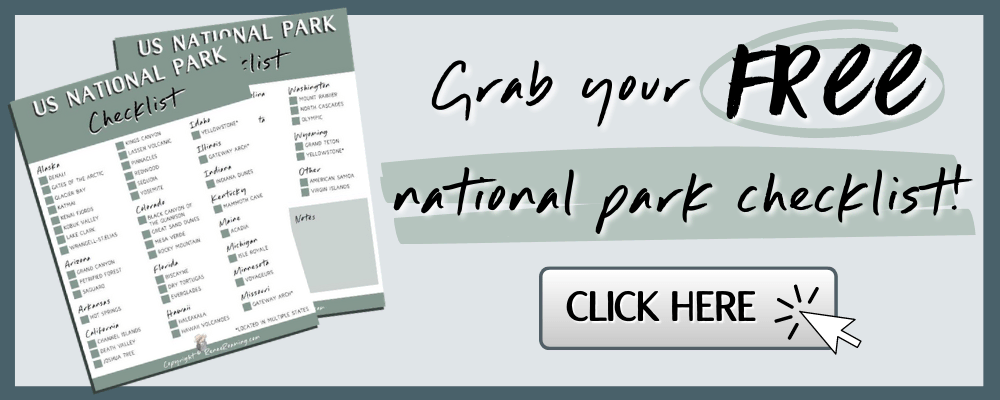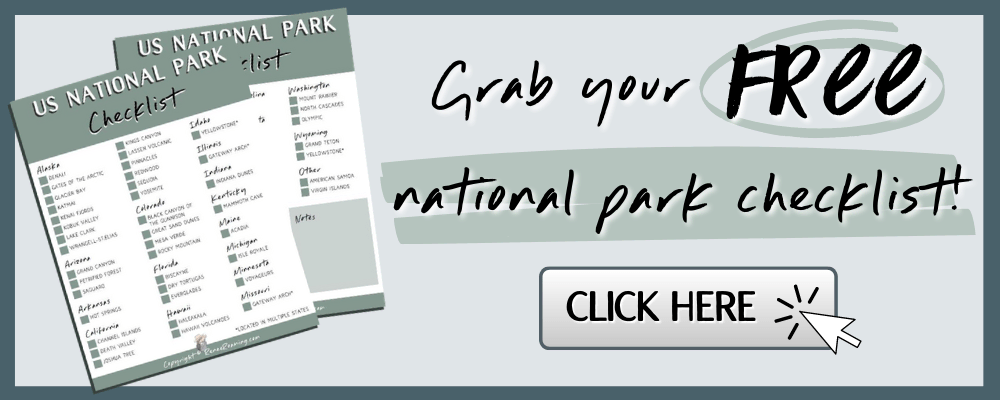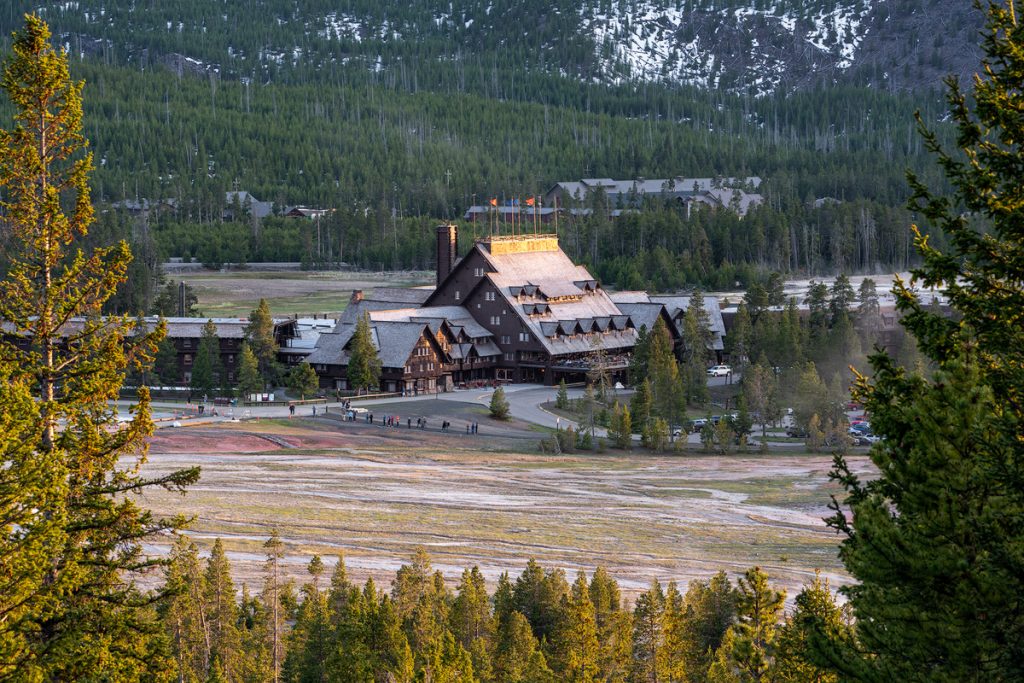 Guests have a range of options for accommodation during their visit to Yellowstone National Park. You will have the choice to stay in Anything from camping in a tent to a stay at the historic Old Faithful Inn,
Old Faithful Inn: historic lodge located in the most popular part of the park. Walking distance to Old Faithful Geyser, as well as many others on the Upper Geyser Basin Loop. Also features a beautiful dining hall, cafeteria, gift shop, and coffee cart. Lodge rooms and suites available.
Mammoth Hot Springs Hotel and Cabins: famous hotel located near the Mammoth Hot Springs. Options for hotel rooms, suites, or cabins. Walking distance to Mammoth Hot Springs area and nearby dining hall, general store, and gift shop. One of two accommodations open in the winter, and the only accessible by car in winter.
Canyon Lodge & Cabins: Largest hotel in the park, featuring more than 500 rooms, restaurants, and a gift shop. Options for cabins, suites or standard lodge rooms.
Old Faithful Snow Lodge & Cabins: beautifully located right next to the Old Faithful Geyser. One of only two accommodation options in the park in winter, and only accessible by snow cat in winter. Has a dining room, grill, and gift shop.

Other options include Lodge Lake Cabins, Old Faithful Lodge Cabins, Lake Yellowstone Hotel and Cottages, Roosevelt Lodge & Cabins, and Grant Village.
Twelve campgrounds located in the park. Five can be reserved through here (options to tent camp or stay in a camper van/RV), rest are first-come, first-served.
Nearby dispersed camping can be found through freecampsites.net, Campendium, and iOverlander
There are a range of options outside the park, but the closest are in the towns of West Yellowstone (MT), Cooke City (MT), and Gardiner (MT). Here are a few of my recommendations:
Crosswinds Inn: comfortable and affordable hotel that is walking distance from West Yellowstone restaurants, and a 3 minute drive from the west entrance station.
Under Canvas Yellowstone: try out glamping and be located just 10 minutes from Yellowstone's west entrance.
Travelodge by Wyndham Gardiner: affordable accommodation just a few miles from the north entrance station.
Alpine Motel of Cooke City: basic accommodation in the heart of beautiful Cooke City. Great base for wildlife viewing at the Lamar Valley.
Nearby Airbnbs / vacation rentals
Below are some suggested vacation rentals close to Yellowstone National Park, including near the west, north and east entrances:
Best things to do in Yellowstone National Park
Yellowstone National Park is a huge park, with so many stops along the way to keep visitors busy. As such, below you will find each area broken down into it's own section along with my top recommendations.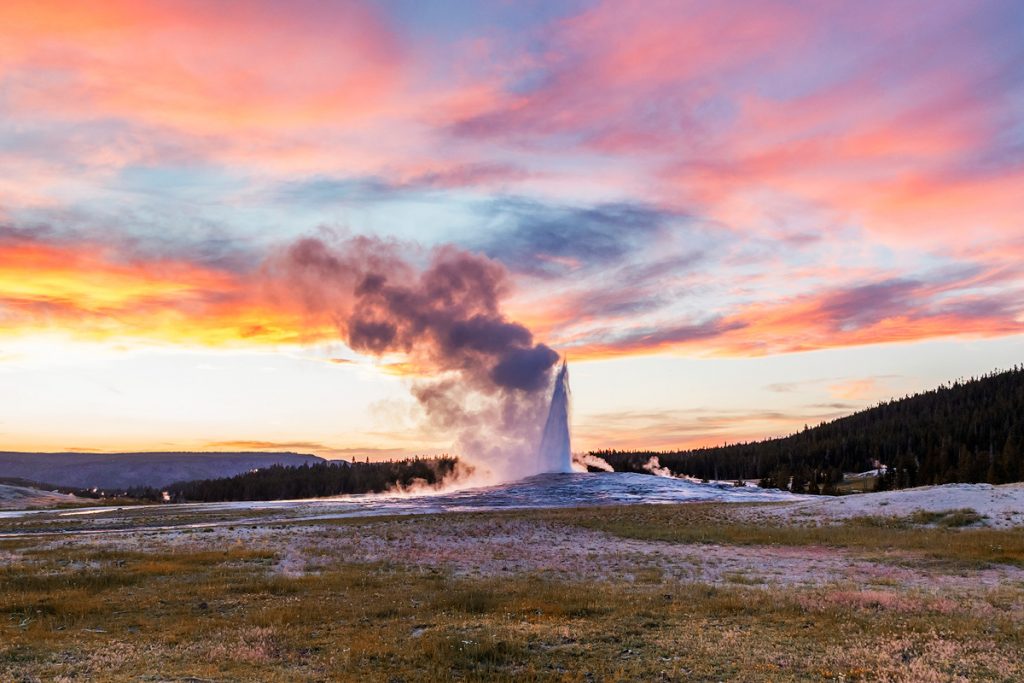 Old Faithful / Upper Geyser Basin
Upper Geyser Basin is the busiest area of the park, and for good reason! Here there is ample parking, a gas station, lodging, a variety of food options, and access to many hiking trails.

It is also home to the famous Old Faithful Geyser, which was first discovered in 1872 and named for its long history of predictable eruptions. This is one of the biggest tourist attractions in the park, and can get very busy. I recommend visiting it in the early morning or later in the evening when it will be a little quieter. You can see the estimated time of the next eruption on the board at the nearby visitor center..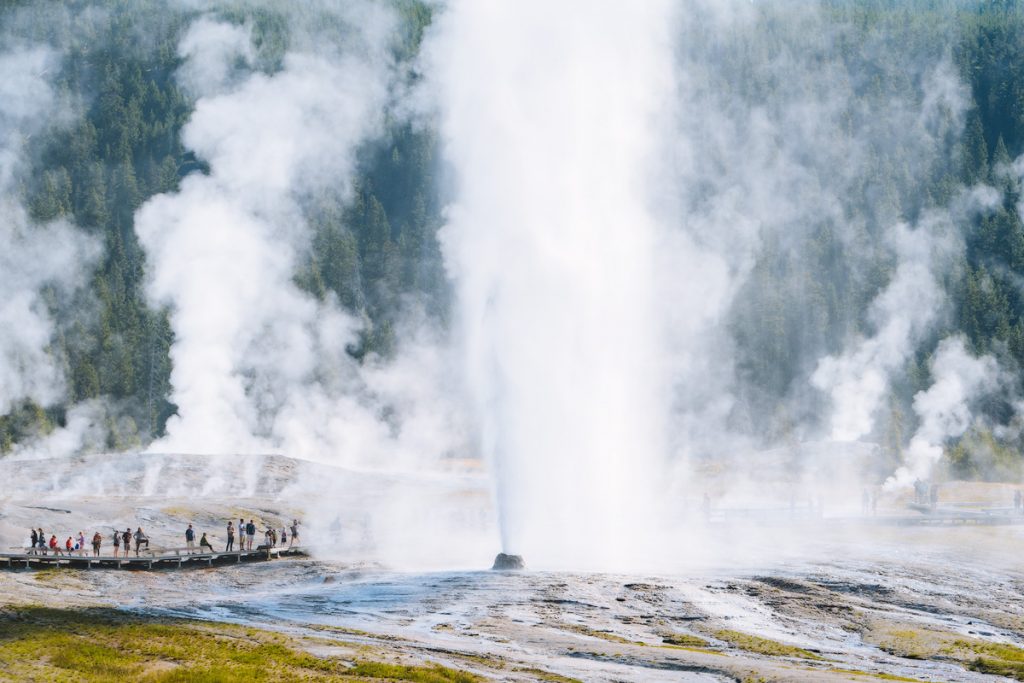 This area is also home to the most densely populated geyser basin in the world, the Upper Geyser Basin. It can be seen via an easy 3 mile loop, and is one of my absolute favorite things to do in Yellowstone National Park.
Many of these geysers along this walk go off at regular, predictable intervals, so be sure to check in at the Old Faithful Visitor Center before beginning your hike to help you plan when to see the eruptions. Some of the must see stops are Castle Geyser, Riverside Geyser, Grotto Geyser, and Morning Glory Pool. Beehive Geyser is incredible if you can catch it going off!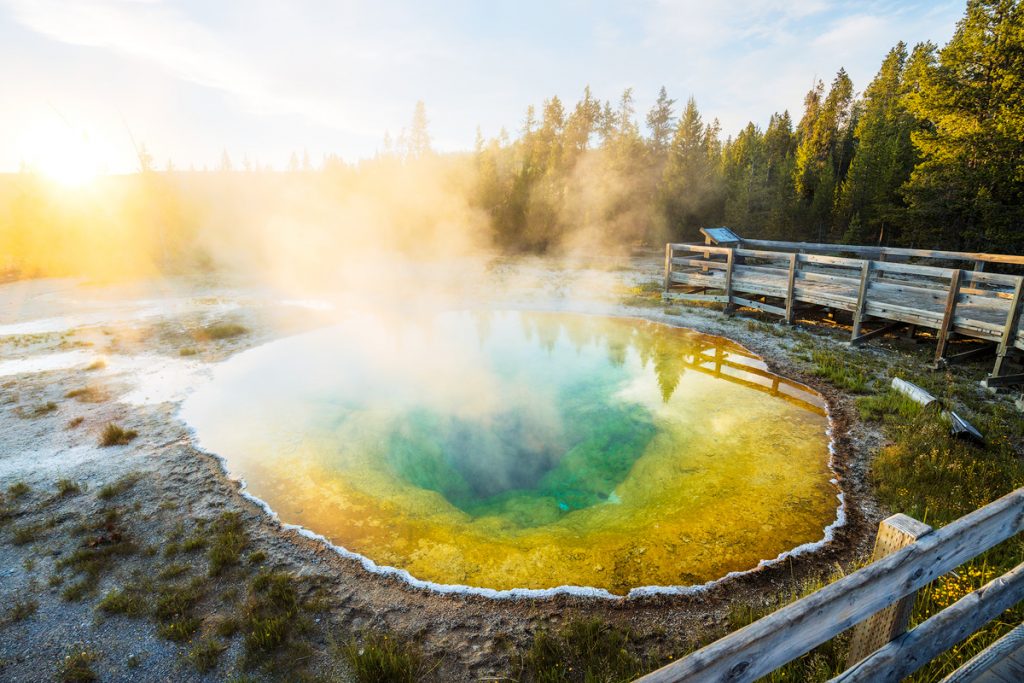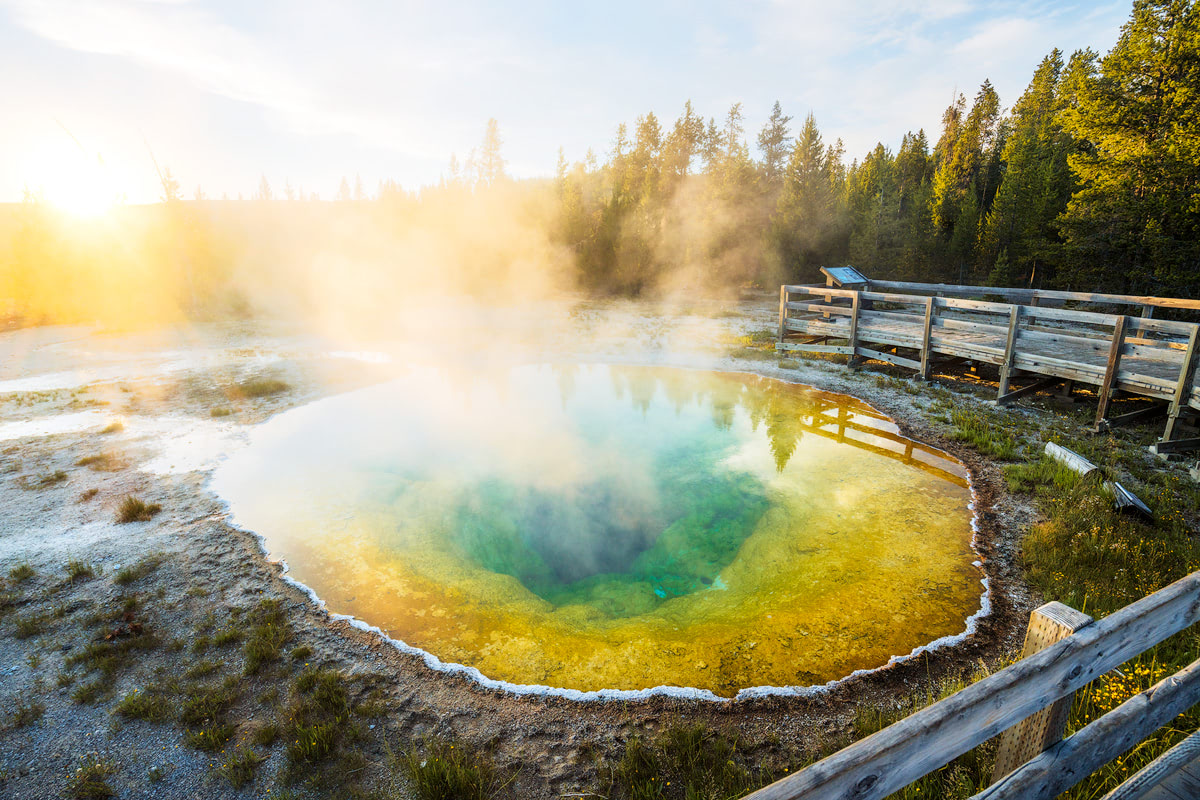 While you are in the area, I also suggest you going inside the Old Faithful Inn, even if you are not staying there.
Built in 1903 using local wood and stone, this is considered the largest log construction in the world and is absolutely stunning. The dining hall food is also quite delicious if you're feeling hungry! If you are after something a little faster and cheaper, the Old Faithful Lodge Cafeteria on the other side of Old Faithful geyser has some great options.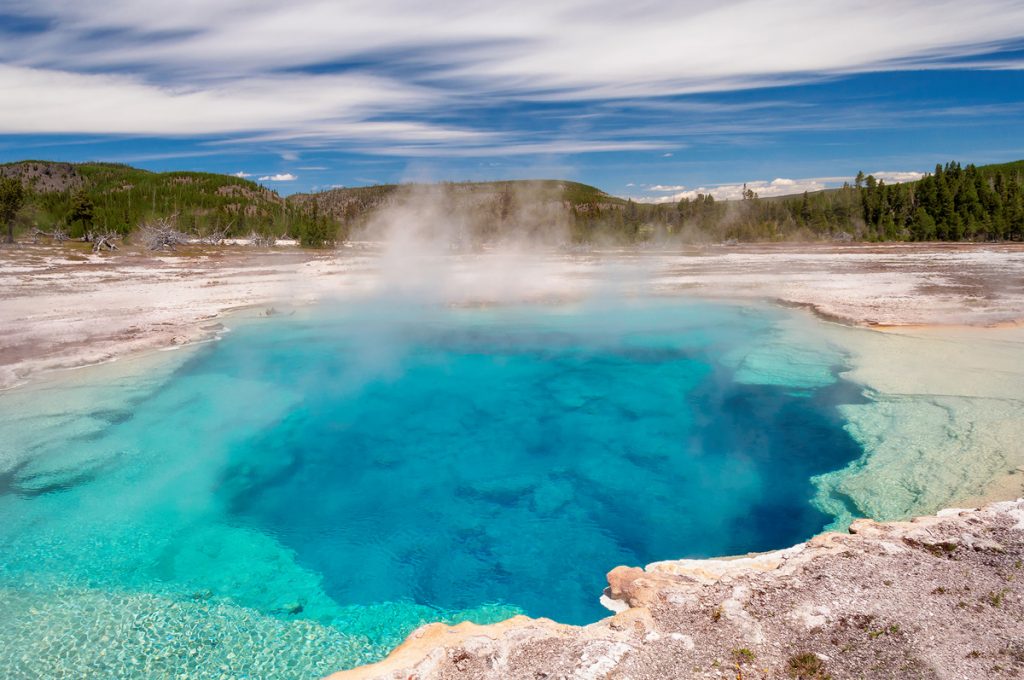 Just north of the Old Faithful is another beautiful part of the Upper Geyser Basin, Biscuit Basin. The best way to explore Biscuit Basin is via its short loop trail (0.65 miles). Along the way you will see geysers and colorful hot pools, including Black Opal Pool, Jewel Geyser, Sapphire Pool, Shell Spring, Mustard Spring, Avoca Spring, and Black Pearl Geyser.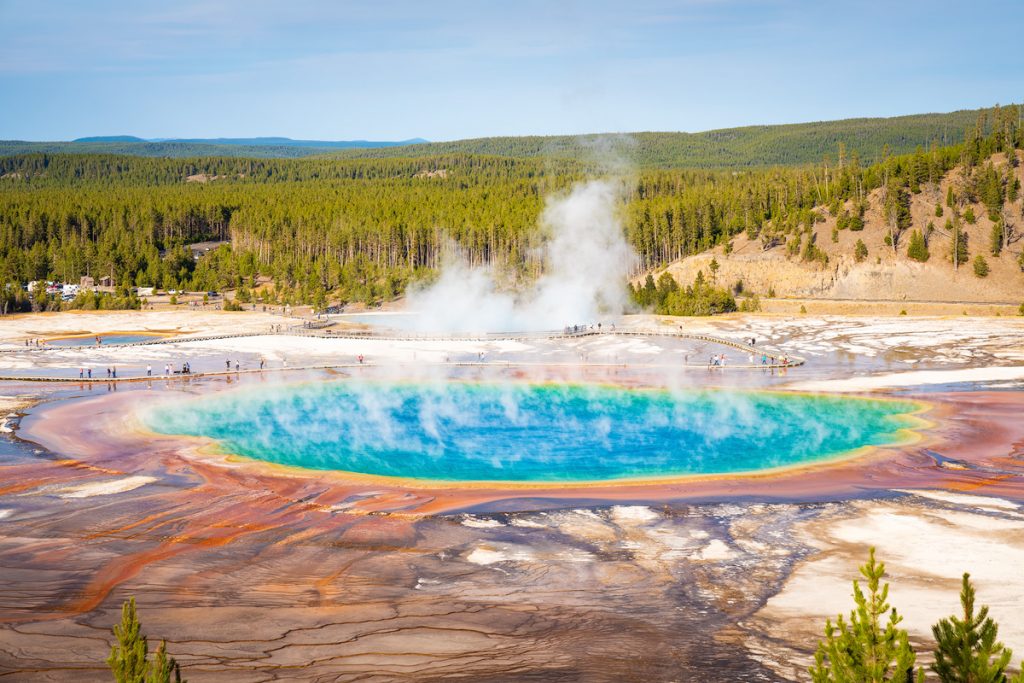 The Grand Prismatic Spring is possibly the most recognizable feature in all of Yellowstone. Due to its popularity, I recommend getting here early in the morning or later in the afternoon so it's a little quieter in terms of crowds.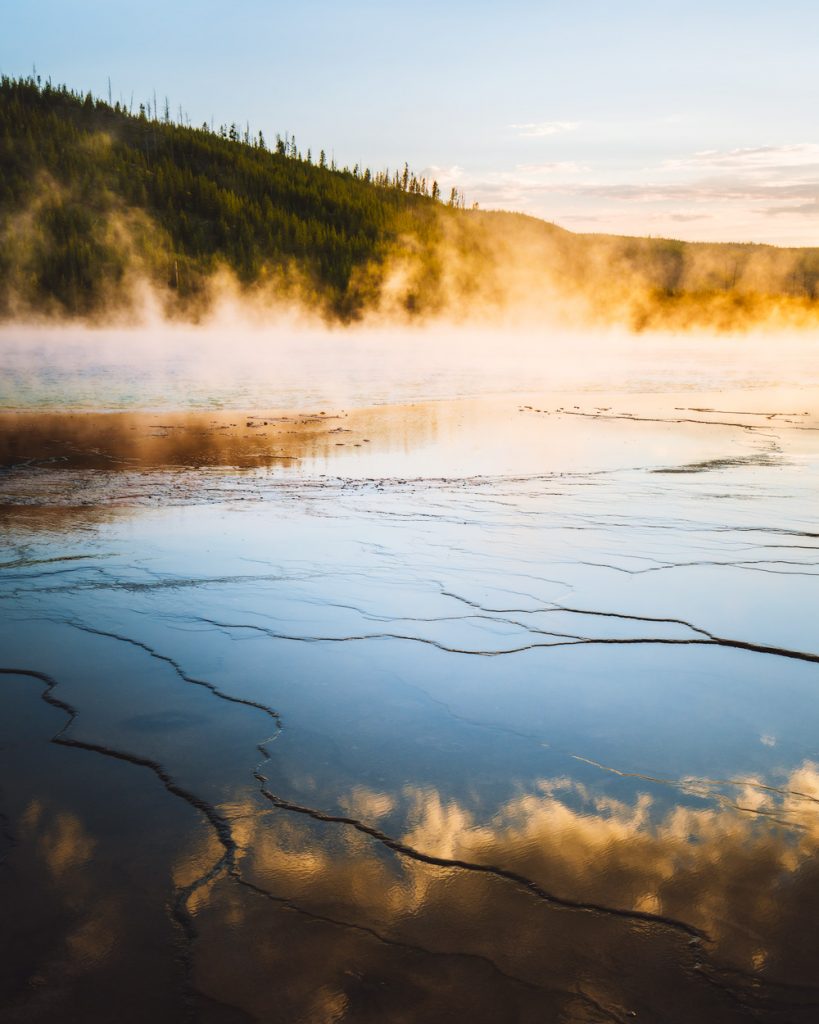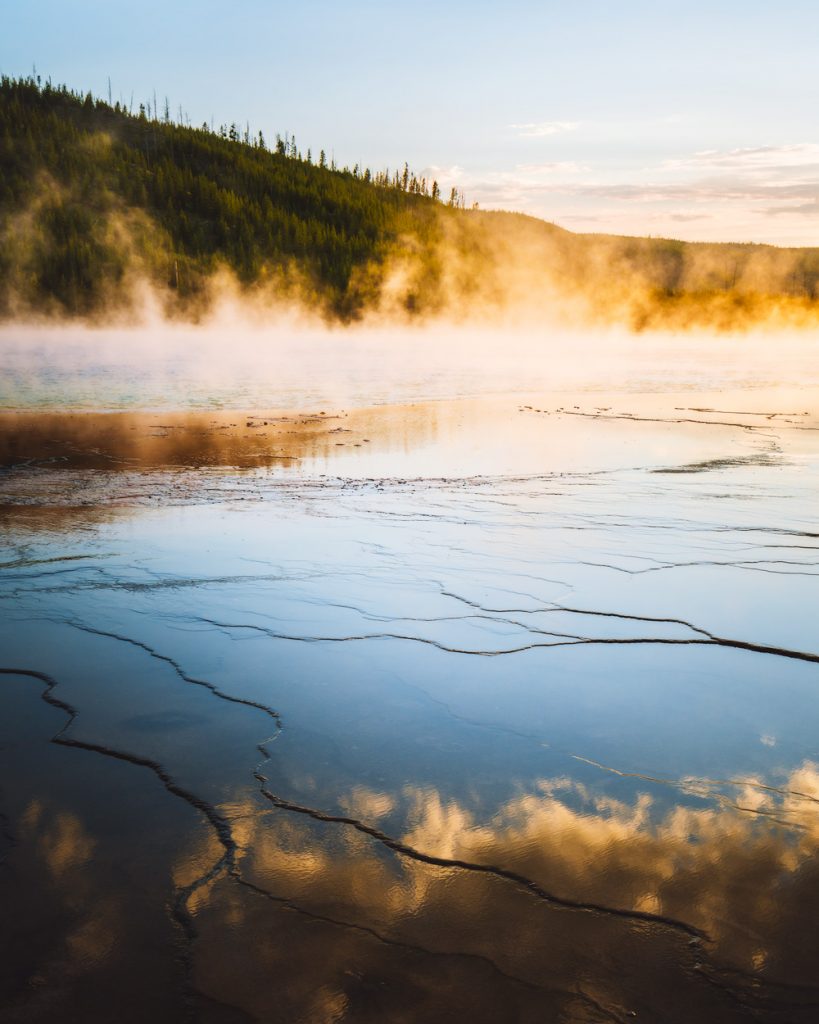 There are two ways to see the spring. The first way is to park at the Grand Prismatic Spring Parking Lot and take a short boardwalk loop trail that goes right by the spring. This is beautiful, but if you will also want to see that famous postcard viewpoint from. To do this you will need to park at the Fairy Falls Trail Parking Lot and hike a short 1 mile round-trip trail to the overlook. Be aware there is a short but relatively steep uphill section, so those with difficulties walking may want to stick to the boardwalk mentioned previously.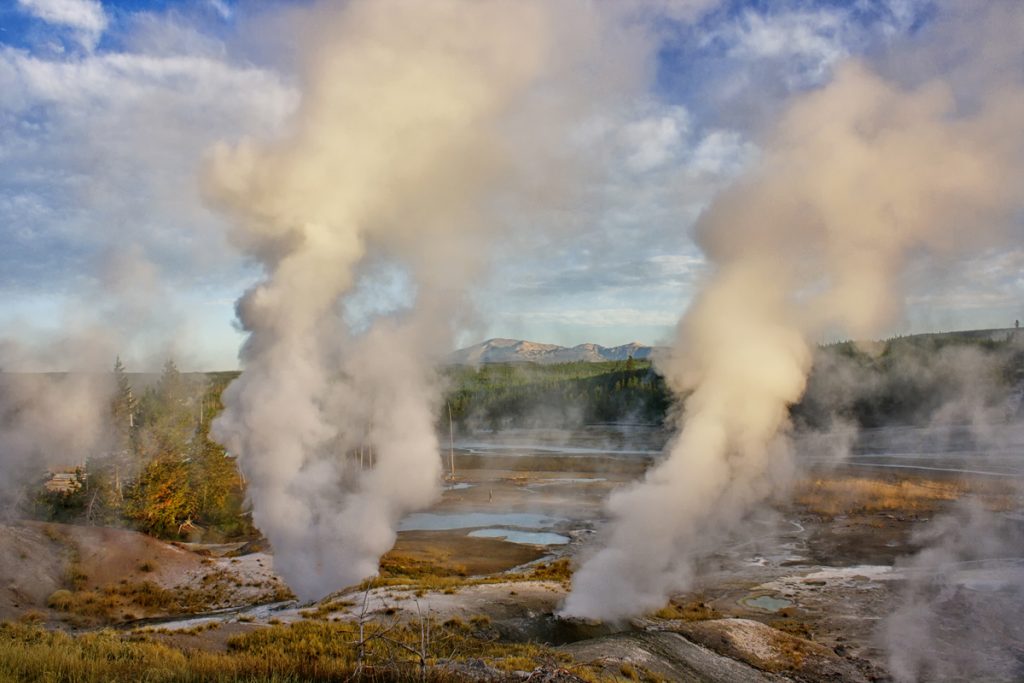 The Norris Geyser Basin is one of the most impressive geyser viewing areas of the park. It is home to the hottest and oldest of the geysers in the park, with some thermal features in the area dating back at least 115,000 years. It is also the home of Steamboat Geyser, the tallest geyser in the world, which can erupt up to 400 (120m) feet high! Unfortunately Steamboat's eruptions are not on a predictable schedule, but you might just get lucky!

There are two sections to explore in the Norris Geyser Basin, one being the Porcelain Basin (3/4 mile, 1.2km), and the other being the Back Basin (1.5 miles, 2.4km). I recommend checking both out as they are relatively short walks and both have some really unique features worth seeing. If you only have time for one, Porcelain Basin would be my pick.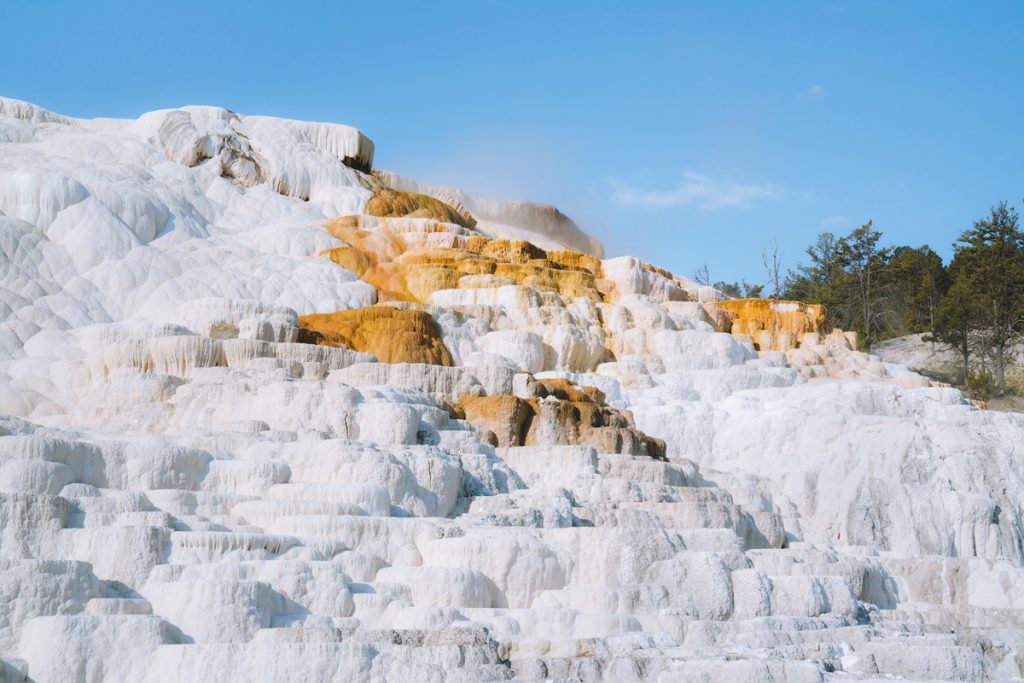 The travertine terraces of Mammoth Hot Springs are a unique and beautiful sight within Yellowstone National Park. The soft, earthy tones here and so pleasing to the eye, and there are some really amazing textures throughout the landscape which are always really cool to see. The area has a few different parking lots that you can use to park for exploring these terraces, just pick one that has space and walk as far as you like. There's a nice boardwalk that takes you from the parking lots to all of the features, but do be aware there are quite a few stairs.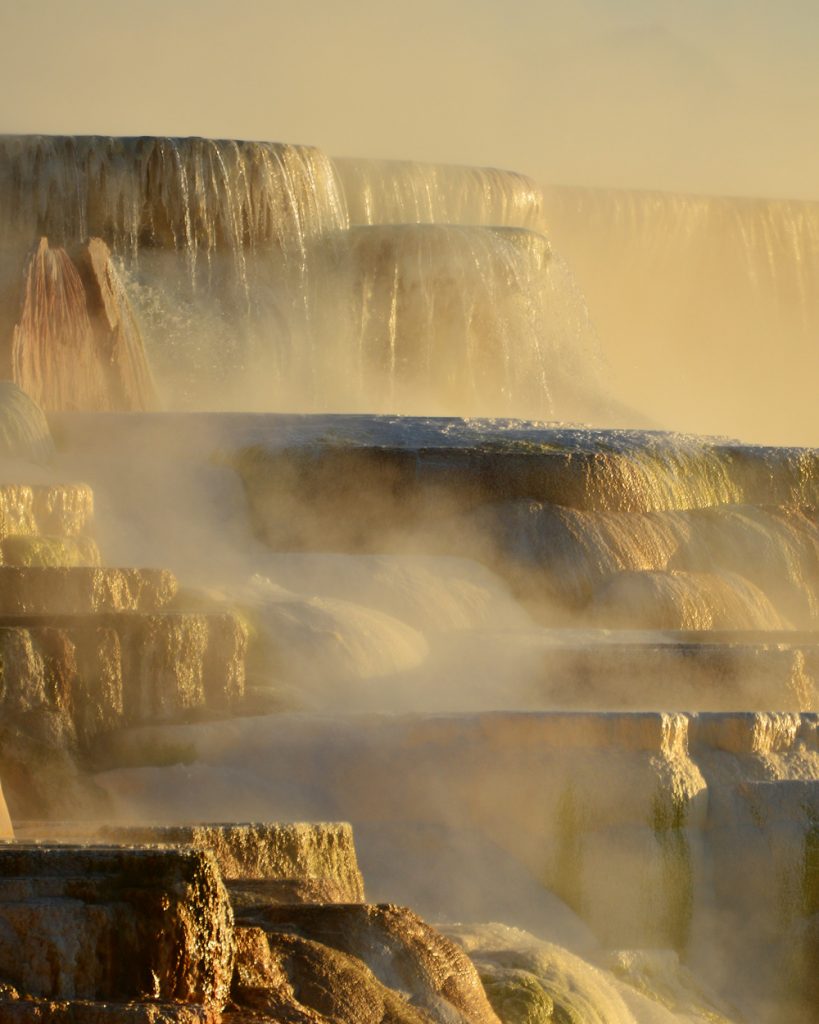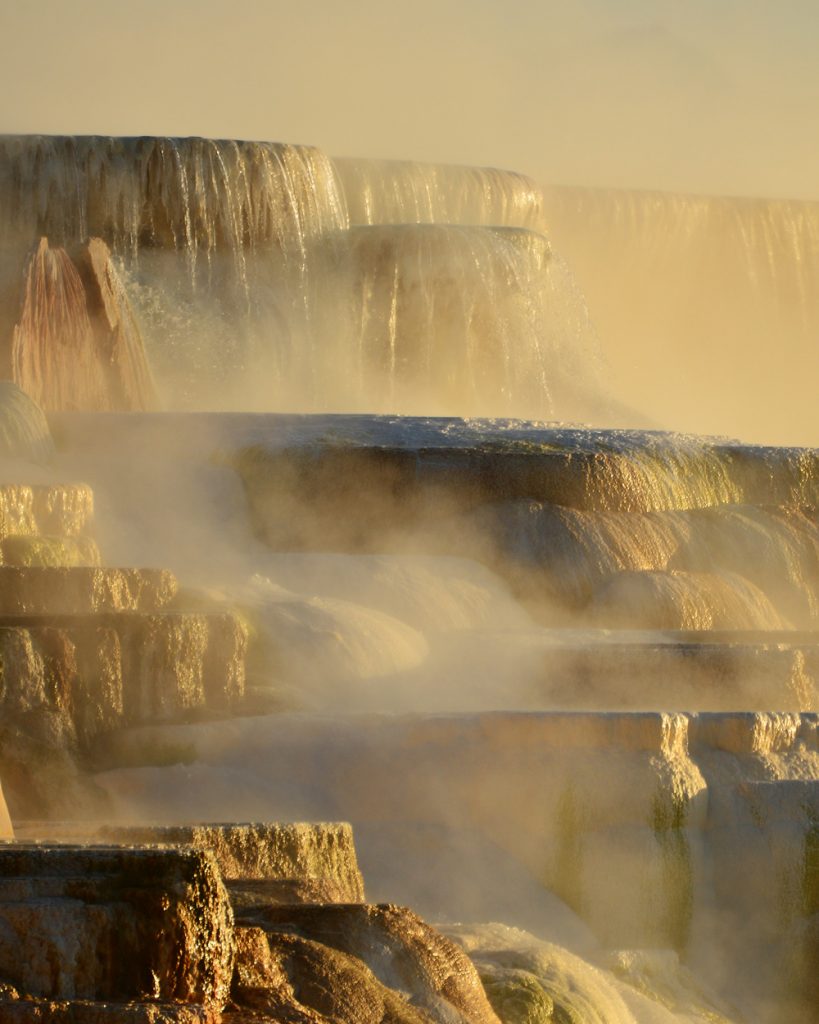 If you're a history buff, you can also check out the historic Fort Yellowstone. In the early days of the national park US soldiers were sent into Yellowstone by the Secretary of Interior after issues with poaching, vandalism, etc. Their living quarters remain to this day and tours are available through the park.

In this area is also the Mammoth Hot Springs Hotel, as well as a gas station, public restrooms, cafeteria, dining hall, gift shop, and general store.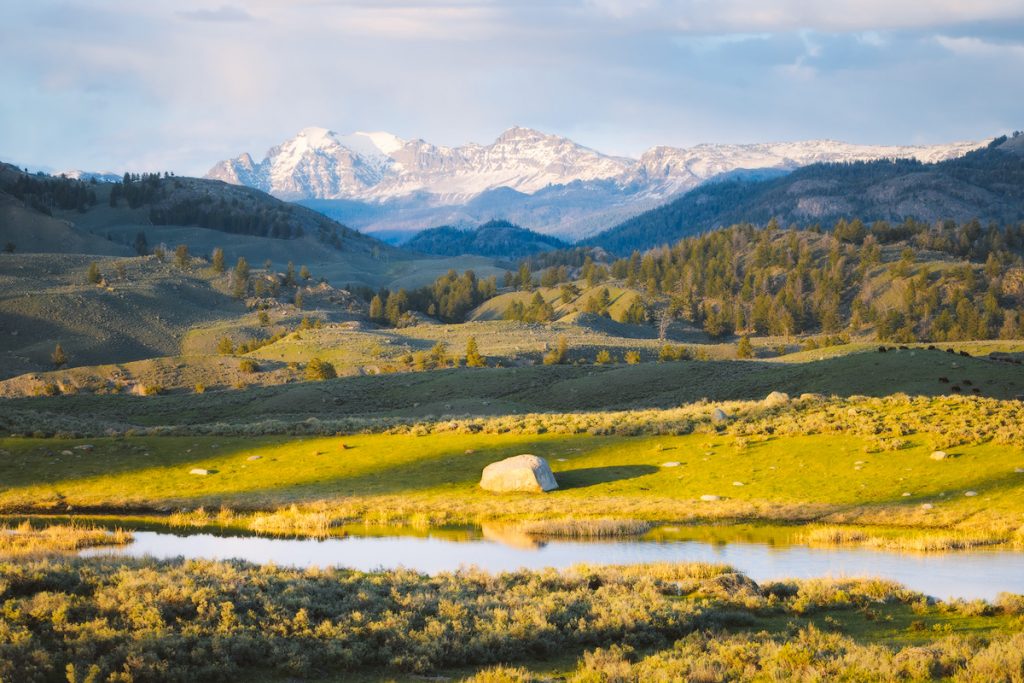 America's Serengeti – this is a name often used to describe Lamar Valley. This is probably my favorite part of the whole national park, and one that I spend a lot of time in with each visit. The Lamar Valley is a large river valley surrounded by mountains and filled to the brim with wildlife. It is home to the famous Junction Butte and Lamar Canyon wolf packs, as well as huge herds of bison, pronghorn, grizzly bears, badgers, bald eagles, and more.

What I love about the Lamar Valley is that you are always bound to see something exciting. Whether it's being held up by a large herd of bison crossing the road, a lucky encounter with one of the wolf packs, or getting to see a grizzly bear cross the Lamar River, I've always been left in awe by this place. Your best chance at these special sightings is getting there very early in the morning, or staying out close to sunset as the animals are more active during these times.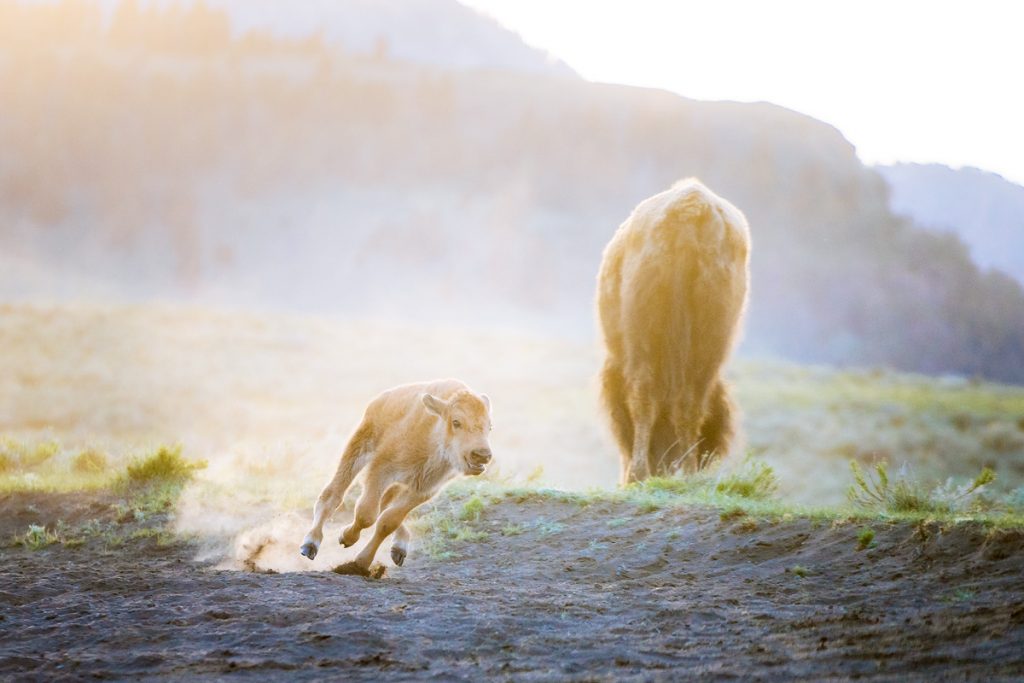 There are no hotels in the Lamar Valley, but there are a couple of small primitive campgrounds (Slough Creek and Pebble Creek). These are first-come first-served, and are definitely hard to secure with their limited availability, so plan to get there very early if you want to snag a site. another option is to stay in nearby Cooke City.

One of my favorite things to do in Yellowstone is to head to the Lamar Valley in the late afternoon, drive up and down watching wildlife until sunset, and then finish up the day by driving north-east out of the park to Cooke City (MT) and getting a delicious pizza at the Miner's Saloon… SO GOOD!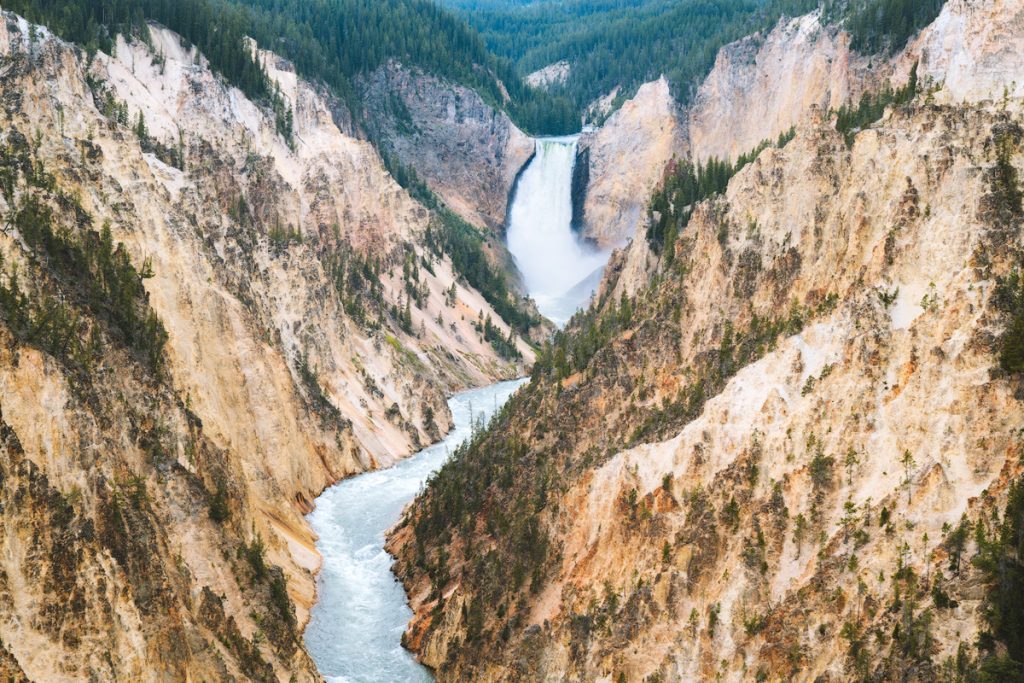 Grand Canyon of the Yellowstone
The Grand Canyon of the Yellowstone is one of the most dramatic views in Yellowstone National Park. I remember the first time I saw it I was blown away. The powerful Lower Falls drop into a gigantic canyon, which is accented by steaming thermal features and colorful walls.
Yellowstone's Grand Canyon can be viewed from many viewpoints, but the classic view is from Artist Point. Another of my favorite viewpoints is from Uncle Tom's Point which requires you traveling 328 stairs down (and sub sequentially back up) 500 feet of elevation to the overlook. The payout is a really close view of the impressive lower falls, and on a sunny day you will probably even get a beautiful rainbow!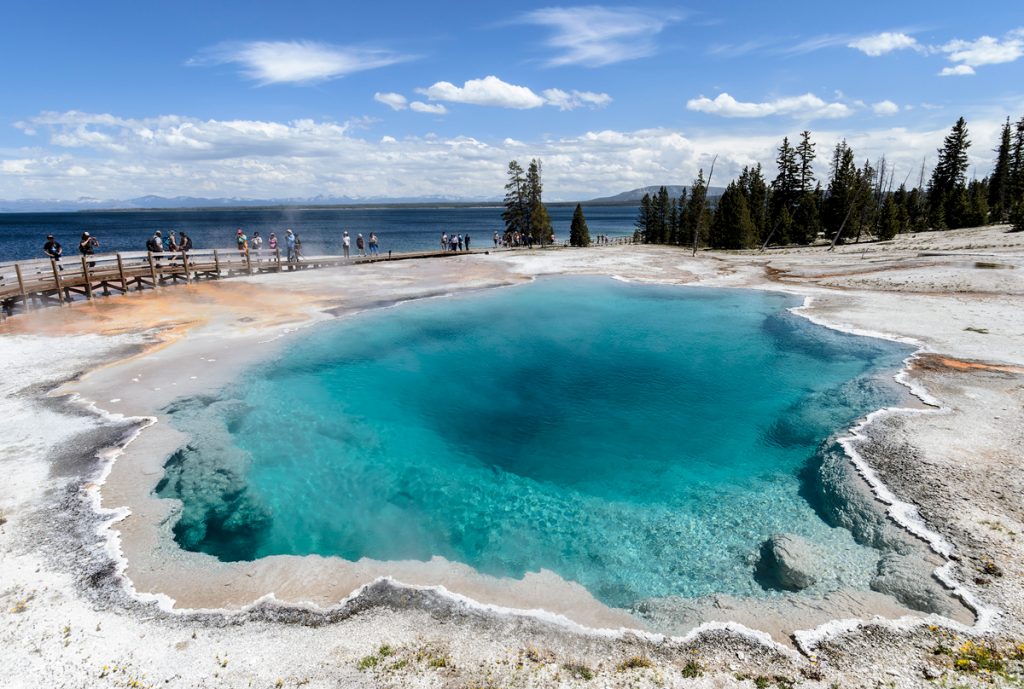 West Thumb Geyser Basin is the first large geyser basin that visitors coming up from the south will encounter. Although in my opinion there are more impressive geyser basins in other areas of the park, West Thumb is unique in that it sits right next to the gigantic Yellowstone Lake which provides some pretty epic views. The two most beautiful and impressive features in West Thumb Geyser Basin are the Abyss Pool, Black Pool, Collapsing Pool, and Fishing Cone, so make sure to check these out!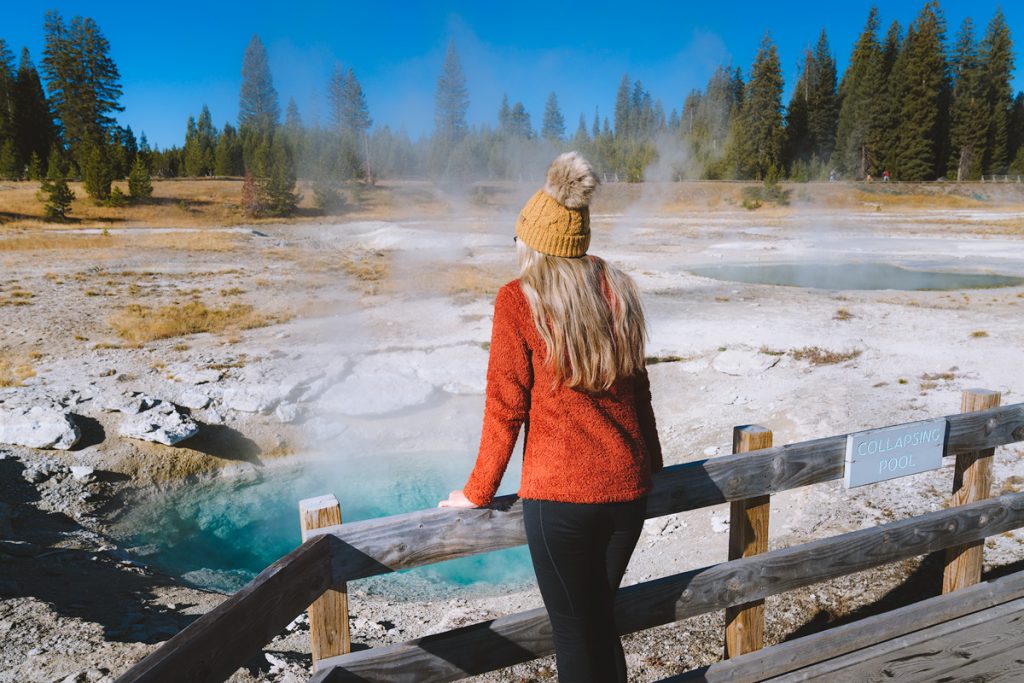 Fun fact – Fishing Cone was named in the old days when visitors would catch a fish from the lake, then cook it while still on the hook over the geyser. This is now prohibited and actually has been found to be unhealthy, so please don't try to replicate this haha.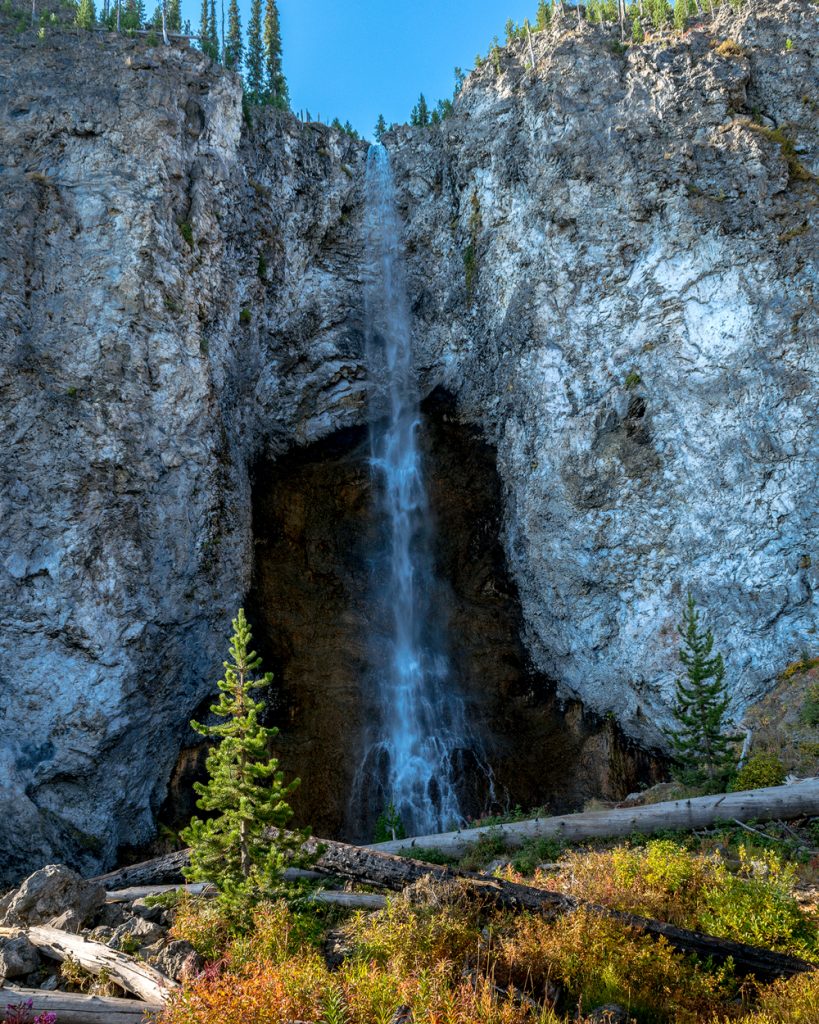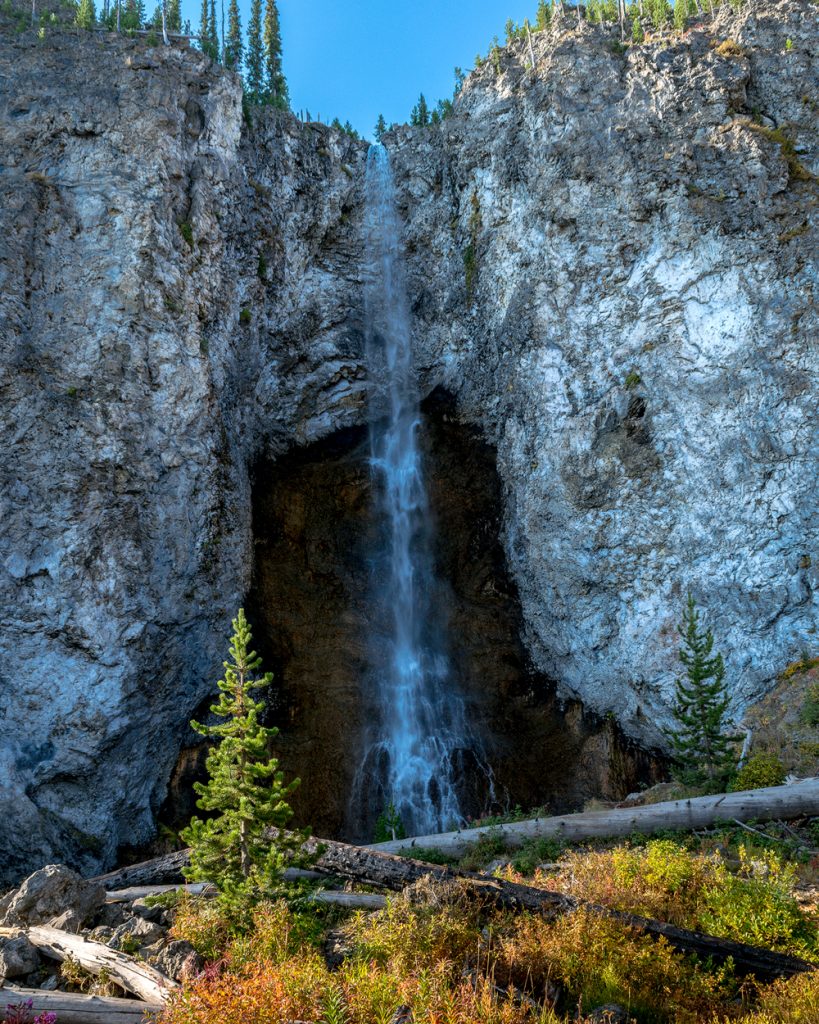 Hiking trails in Yellowstone
Yellowstone, although a very beautiful national park, is not one that's famous for its hiking trails. Due to the geothermal activity in the area and abundance of wildlife, trails are kept to a minimum in the park. In saying that, there are still some really great options for those wanting to get out and move their legs. Here are a few hiking trails I recommend:
Dunraven Pass to Mount Washburn
Dunraven Pass to Mount Washburn is 6.5 miles (10.4km) roundtrip and has 1400 feet of elevation gain. One of the most famous in the park, this hike takes you to an old fire lookout at the summit of Mount Washburn. Keep an eye out for Bighorn Sheep that are known to frequent the area!
Bunsen Peak out-and-back is 4.6 miles (7.4km) roundtrip and has 1285 feet of elevation gain. This hike has great 360 degree views at the top including the Gallatin Range and Mammoth Hot Springs area.
Trout Lake is 1.2 miles (1.9km) and located near the north-east entrance. This hike is an short loop trail that takes you to a picturesque lake that has plentiful wildflowers surrounding it in the summer. Not surprisingly, this is also a great lake to fish for trout (make sure to have the right permit!).
Avalanche Peak is 4.7 miles (7.5km) round-trip and has 2073 feet of elevation gain. It's a fun, steep hike up to Avalanche peak which features epic views down to Yellowstone Lake and beyond.
Fairy Falls is 4.9 miles (7.8km) and has 216 feet of elevation gain. This is a classic Yellowstone hike that is mostly flat and a great one to get out and see the park by foot. Fairy Falls at the end is also a pretty great payoff for the exercise.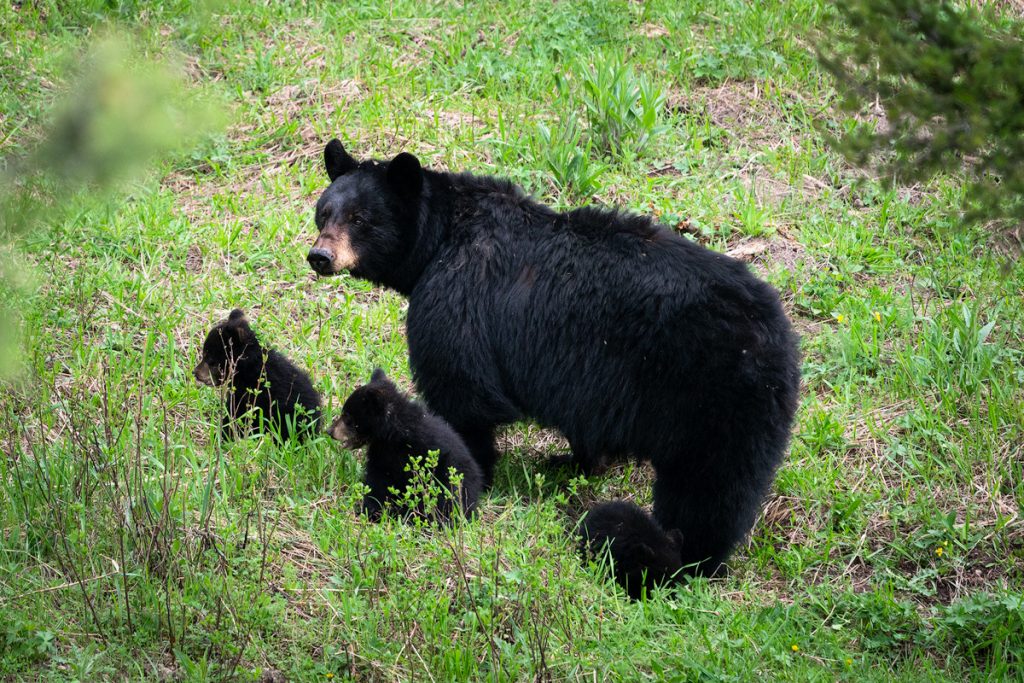 Yellowstone photography tips
Yellowstone National park is famous for its wildlife viewing and photography. Large game roam free throughout the valleys and mountains here, and you are guaranteed to come across something cool on your visit here. Not only that, but the vibrant springs and dramatic geysers also make for great photography subjects. Below you will find tips to help you capture images you will be proud of during your visit to Yellowstone!
My tops tips for Yellowstone photography
Bring a zoom lens. Something like a 100-400mm will be great for capturing wildlife while still staying at a safe distance. A 70-200mm lens can work for animals like bison and elk where you only need to keep a distance of 25 yards (25ish meters), but most likely won't be enough for bears/wolves.
A teleconverter can help to give your current lens some extra range. I use a 1.4x teleconverter often when photographing wildlife and it definitely helps me capture some images I otherwise wouldn't be able to.
Always have your camera set up and ready to go. Wildlife can appear at the most unexpected times, so having your camera ready to go will help you capture those fleeting moments instead of having you miss them while you fumble through your camera bag.
Explore Lamar Valley and Hayden Valley for the golden hours just after sunrise, and just before sunset. The light during these times is beautifully dramatic and golden, much better for photography than the harsh light in the middle of a sunny day.
Try using a wide aperture to create separation between the animal and the background. This will help create better photos in busy scenes and also has the benefit of helping to draw the viewers eye to the subject.
Pack a wide angle lens (like a 16-35mm) so you can also capture images of the various hot springs and geysers.
Bring a circular polarizer (like this one). These are fantastic at cutting annoying glare that you might get on the springs, helping you see deeper into them and assisting to bring out more of the natural colors. It also often helps bring some more definition to the eruptions from the geysers.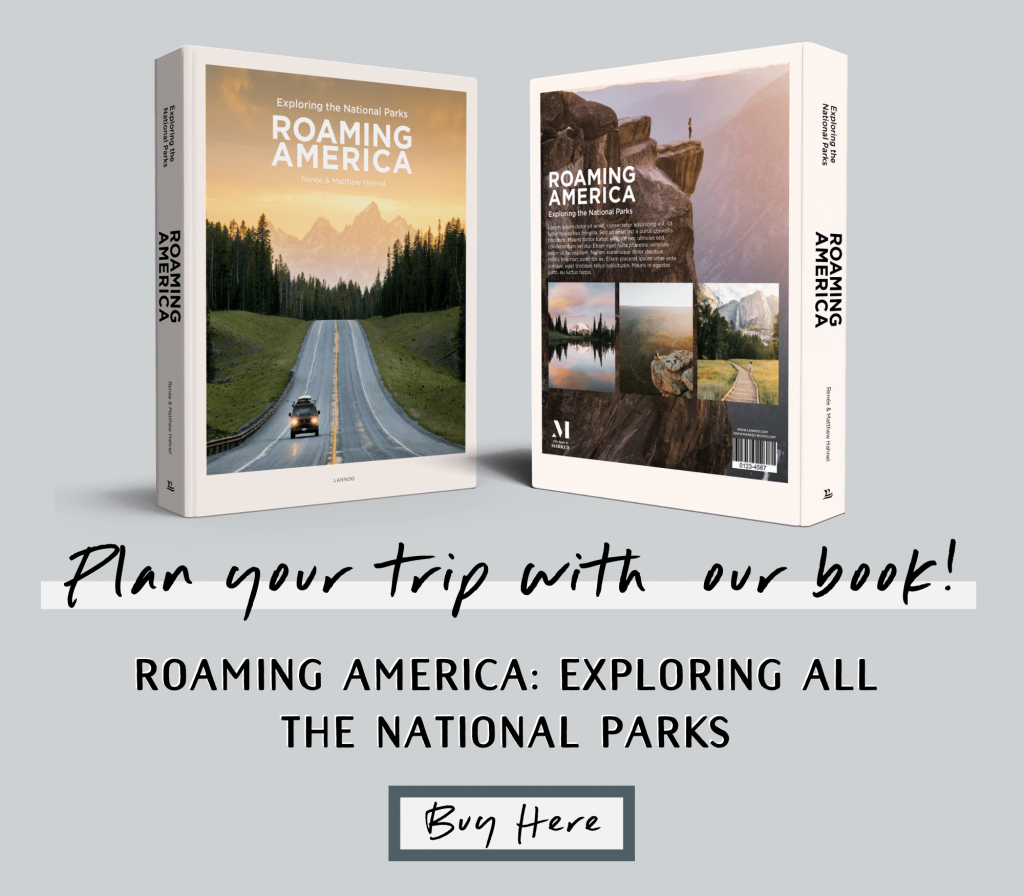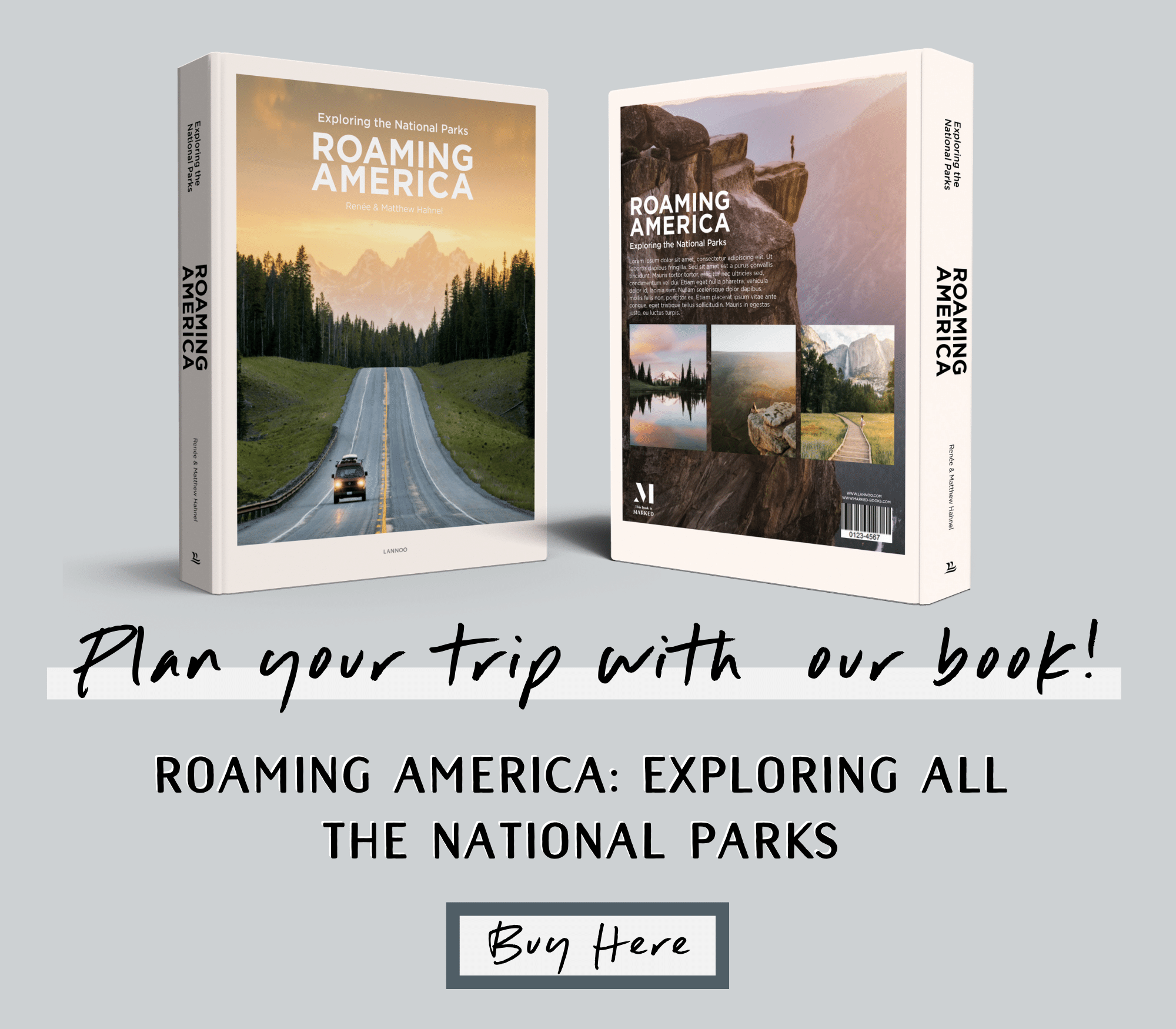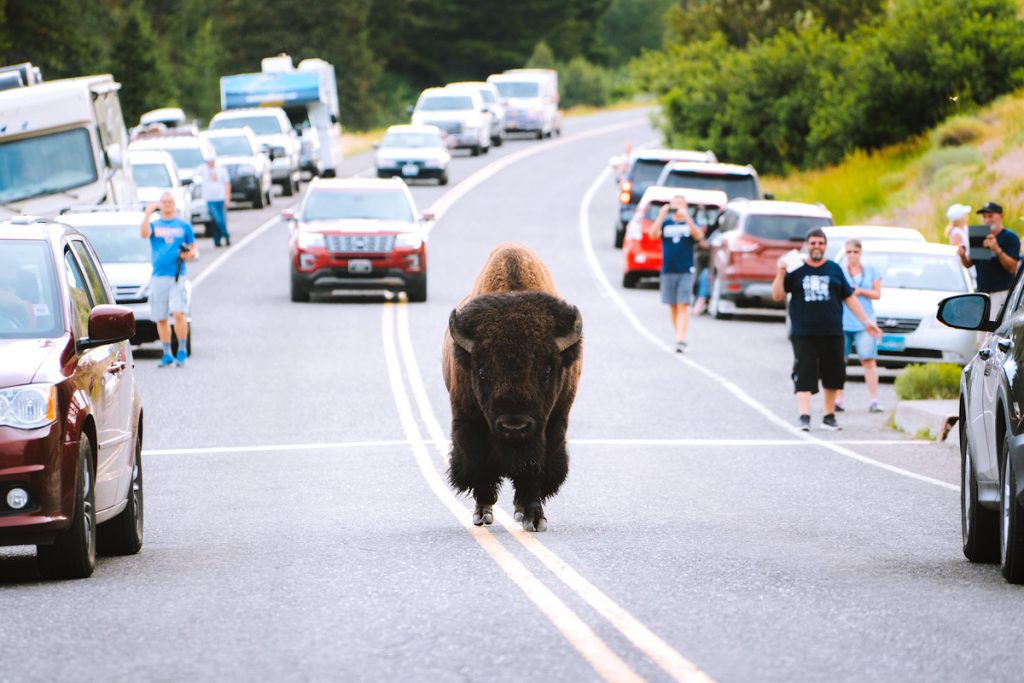 Yellowstone is a big park (the largest of the national parks in the lower 48 states to be exact!) and it can be confusing to navigate. Below you will find all the insiders tips for getting around!
Firstly, to enter Yellowstone National Park you will need to purchase a 7 day Yellowstone pass which will cost $35 for a private vehicle, or an annual Yellowstone pass for $70. Alternatively, you can use the America The Beautiful pass which covers you for all National Parks (+ other places) for a year. These can be purchased for $80, and is the best option if you plan to visit a variety of national parks in a 12 month period. Read this blog post for tips on how to plan your trip.
Yellowstone is an easy National Park to drive around from May-October. Depending on the season, most/all roads should be open during these months, and they are all well maintained. Parking lots can fill up and be pretty crazy during the busiest months of June-August, so I recommend getting to the most popular areas such as Old Faithful and Grand Prismatic early in the morning or later in the afternoon.
As I spoke about earlier, it is much more difficult to travel around Yellowstone in the winter once the snow settles in. All roads are closed to private vehicles, except the one up north between Gardiner (MT) and Cooke City (MT). To visit any other parts of the park during this time, you will need to take a tour on one of the snow cats, or have your own cross-snow travel vehicle.
Something unique to Yellowstone is the "bison jam". Sometimes you may come across a herd of bison that just decided to cross the road when you arrived. Give them space, snap a few photos, but be sure to move on as soon as it is safe to go around them so you don't hold up traffic. Please also make life easier on the rangers (and fellow visitors) by pulling completely off the road whenever you want to stop, and only doing so in purpose built pull-outs. Just because you see something cool doesn't give you the right to block traffic, find a safe spot to pull off and walk back if necessary.

Be sure to check for and observe all road closure before your visit to Yellowstone National Park.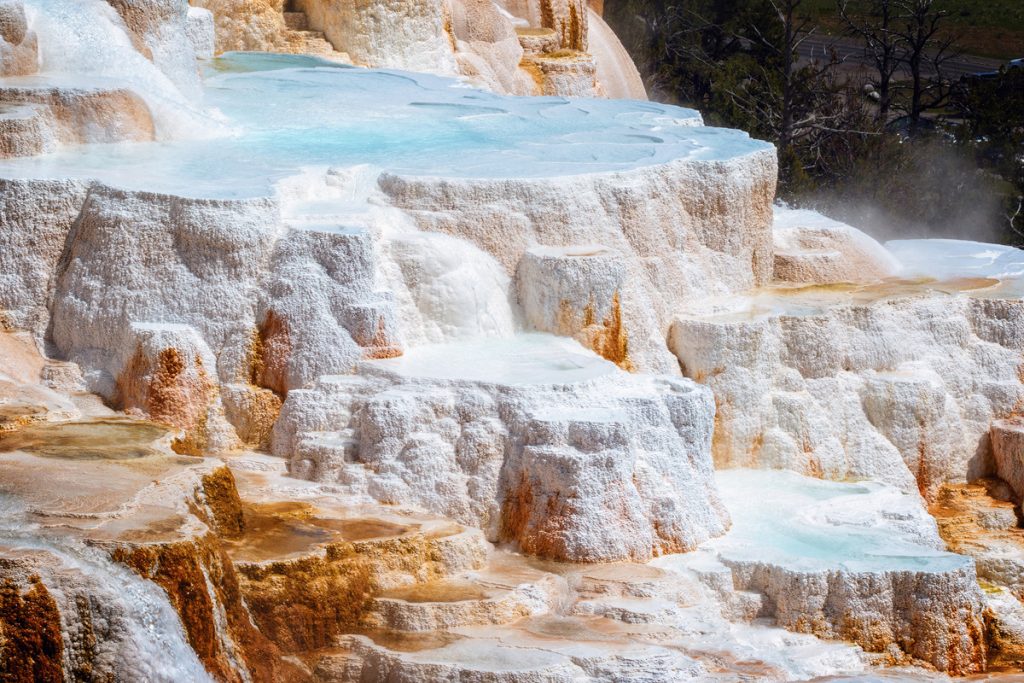 Yellowstone National Park itinerary
There are numerous itineraries you could take for exploring Yellowstone National Park. In my opinion three nights / four days is the perfect amount of time to explore the park, so that is the itinerary I have created for you below! This itinerary is perfect for spring through fall when the park roads and accommodations are open.
3 night / 4 day Yellowstone itinerary
Keep in mind that I chose West Yellowstone as a starting point because it is the most popular entrance to the park. In saying that, you can tailor the itinerary to suit wherever you are coming from.
Enter Yellowstone National Park via the west entrance station. You can get to West Yellowstone by driving or flying and I suggest arriving as early in the day as possible.
Your first stop will be Lower Geyser Basin where you will take the Fountain Paint Pot Trail. Spend about 30 minutes strolling past hot pools, mudpots, steaming fumaroles, and erupting geysers.
Next stop by Midway Geyser Basin to explore Grand Prismatic Spring. I suggest stopping at both the main boardwalk and also take the hike up the Grand Prismatic Overlook Trail (via the Fairy Falls Parking Lot). I would allow at least one hour to explore both these areas, but you may want longer.
A quick stop to walk the Biscuit Basin Loop will be the next thing on your list. This short boardwalk trail will take approximately 15 minutes and you will see plenty of colorful hot springs and spurting geysers.
Your last stop of the day will be at Old Faithful Inn, where you will stay the night. Check into your accommodation, make a dinner reservation, and check the lobby for predicted geyser eruption times. Then spend the last remaining hours of the day viewing Old Faithful Geyser and walking as much of the Upper Geyser Basin Loop (3 miles) as possible. I highly recommend viewing Castle Geyser, Riverside Geyser, Grotto Geyser, and Morning Glory Pool.
Set your alarm early because today will be busy! If you didn't get a chance to properly explore Old Faithful and Upper Geyser Basin, be sure to do that this morning. Then check out of the Inn and start driving east.
Your first stop will be West Thumb Geyser Basin. Take a short walk around the area (about 30 minutes) and be sure to stop by Abyss Pool, Black Pool, Collapsing Pool, and Fishing Cone.
Jump back in the car and start heading north to the Canyon area of the park. On the way you will see beautiful views of Yellowstone Lake and the Hayden Valley. Be sure to look out for wildlife!
Next up you will be exploring the Grand Canyon of the Yellowstone. I suggest viewing the canyon via Artist Point. If you are feeling adventurous then also take the short walk to Uncle Tom's Point (keep in mind that it requires walking up/down 328 stairs).
The day isn't over yet! Get back in the car and start driving northeast towards the Lamar Valley. On the way you should definitely look out for wildlife as we have spotted numerous bears between the Canyon and Tower Roosevelt areas.
You will want to arrive in the Lamar Valley at least a couple of hours before sunset. Take your time driving around valley as you take in the beautiful landscapes and wildlife. You are almost guaranteed to see bison and may very well also see moose, antelope, wolves, and bears.
After sunset make your way out of the northeast entrance and stay the night in Cooke City. I suggest having dinner at the Miner's Saloon.
Wake up early so you can be driving back through the Lamar Valley at sunrise or just after. That will give you the highest chances for wildlife watching and enjoy the valley with beautiful golden light.
Once you are done exploring the Lamar Valley you can start heading west towards Mammoth Hot Springs. This is a great time to get a Yellowstone hike in. Some suggestions are Trout Lake (1.2 miles) or the Dunraven Pass – Mount Washburn Trail (6 miles).
Make your way over to Mammoth Hot Springs and spend the rest of your day exploring the Mammoth Hot Springs Terraces. Walk as far or as little as you want and if you're a history buff you can also check out nearby historic Fort Yellowstone. Stay the night in Mammoth Hot Springs or Gardiner.
Your first stop today will be Norris Geyser Basin. There are two sections to explore in this area, one being the Porcelain Basin (3/4 mile, 1.2km), and the other being the Back Basin (1.5 miles, 2.4km). I recommend checking both out as they are relatively short walks and both have some really unique features worth seeing. If you only have time for one, Porcelain Basin would be my pick.
Next up you will have some time to explore anything you missed on day 1 (e.g. Lower Geyser Basin or Grand Prismatic Spring) before driving back out to West Yellowstone.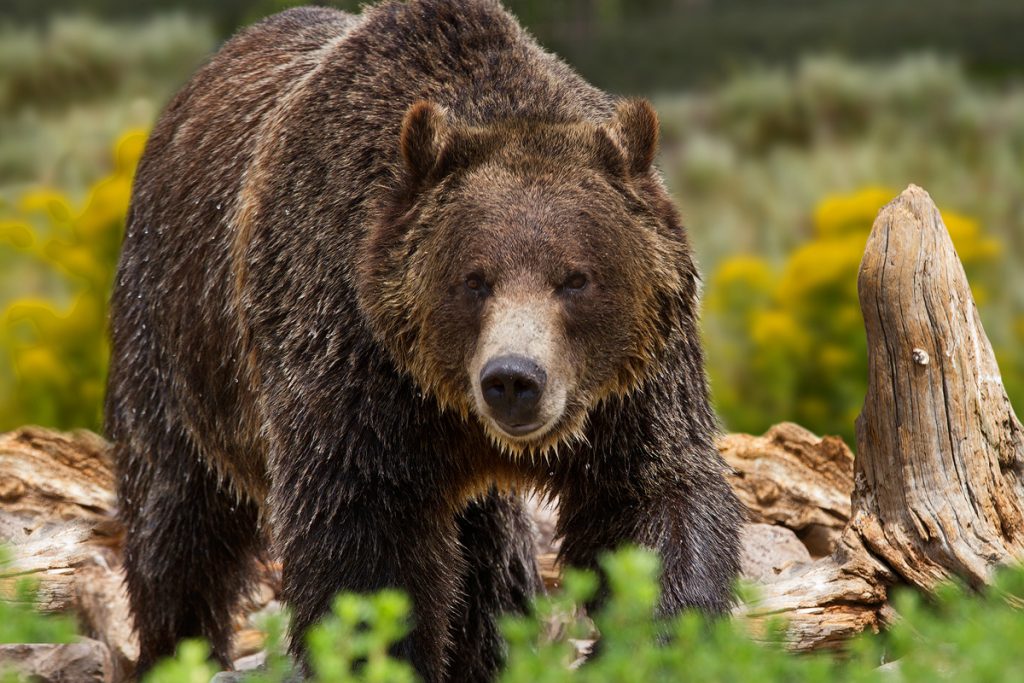 Yellowstone National Park hosts some of the most breathtaking, but also some of the most dangerous natural sights on the planet. As such, it is vital to follow the National Park Service's rules when visiting the park.
Firstly, never stray from the path. Yellowstone's geothermal activity spreads all throughout the park, and falling through what looks to be safe ground into a boiling hot spring is not a nice way to go. Many people have died or become disfigured as a result of this, so for the safety of yourself and the protection of these areas, stick to the trail.
Keep your distance from wildlife
Secondly, give wildlife space. They are called WILDlife for a reason, and these animals are unpredictable. They may look cute, but if you get too close and they feel threatened, they may threaten your life in retaliation. The national park recommendations are to keep a distance of 100 yards (90m) from bears and wolves, and 25 yards (23m) from bison and other animals. If you get too close and an animal attacks, not only are you in trouble, but the animal is likely to be destroyed in response. Give them space.
It is important to note that Yellowstone is home to some large predators, including grizzly bears. You shouldn't need to worry too much in busy geyser basin areas, but if you are planning on hiking less busy trails it is recommended you hike in groups of three or more, and carry bear spray with you at all times. Bears should not be feared, but you do need to take extra caution when hiking through a region like this with such a high population of them. Check our my bear safety blog post for more in-depth information.
What you should pack for a trip to Yellowstone will depend on the time of year you visit and the activities you have planned. Below you will some general items that everyone should consider bringing on their trip.
It's a good idea to bring a pair of binoculars to Yellowstone. These will allow you to see wildlife from a safe distance and zoom in on the interesting geothermal landscapes. Invest in a pair (like these) or rent them once you arrive at the park.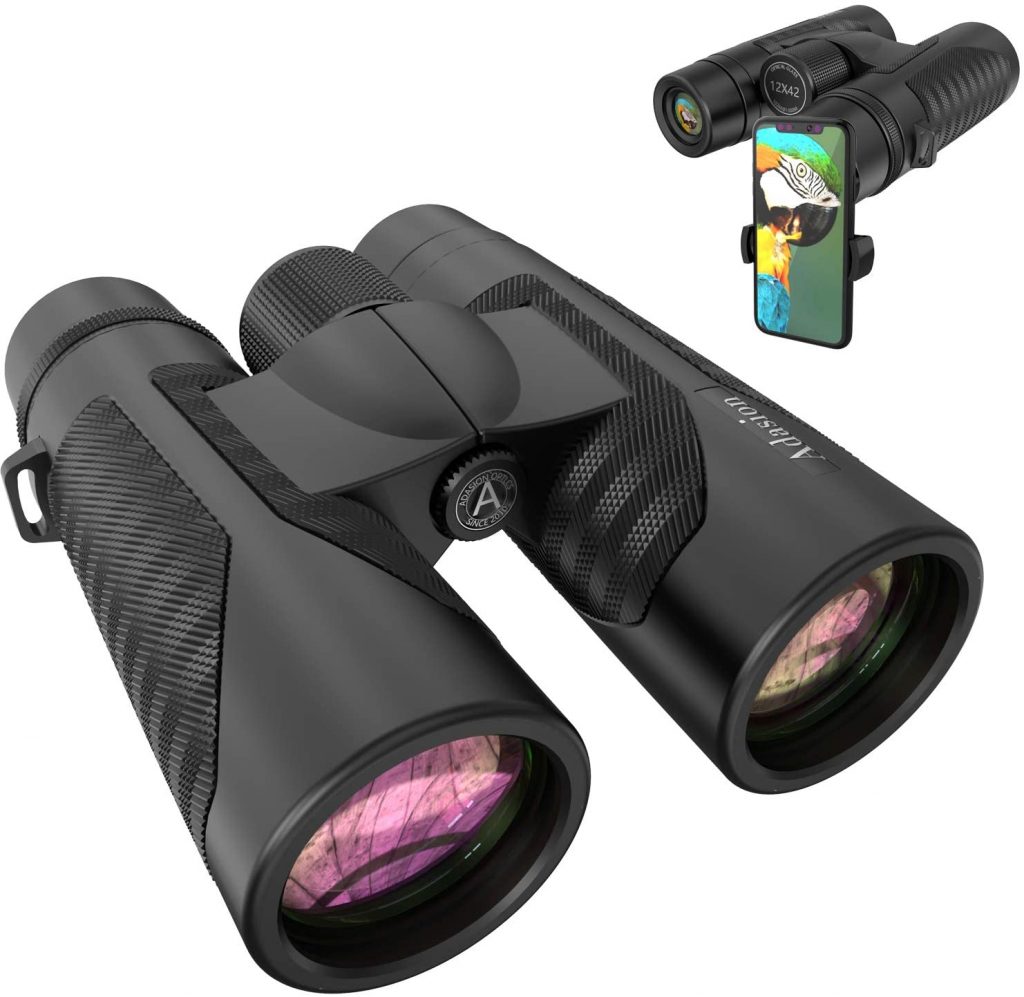 There are free water bottle refill stations almost everywhere in Yellowstone, so be kind to the environment and bring a reusable water bottle on your trip. Some of my favorites include those by Hydroflask, Nalgene, and Stanley.
Even if you don't plan to hike, you will be wanting a pair of walking shoes when exploring Yellowstone. The boardwalks can sometimes get slippery and some trails may be muddy, so a waterproof and grippy pair of shoes will be ideal. I also have a blog post all about the best hiking shoes for men and women to help you choose what is best for your needs.
What you pack for layers and outerwear will heavily depend on what time of year you visit. During the summer months I would recommend a lightweight windbreaker or light down jacket. For the spring and fall I would suggest a warmer insulated jacket as the temperatures can get down to freezing. For winter I would recommend a heavy insulated parka.
Even winter can bring sunny (but cold) days in Yellowstone and sun protection should be a consideration year round. I would suggest packing sunglasses, a sun hat, and sunscreen.
You will definitely want to pack your phone or a camera to capture pictures in Yellowstone! Click here to read all about what's in my camera bag.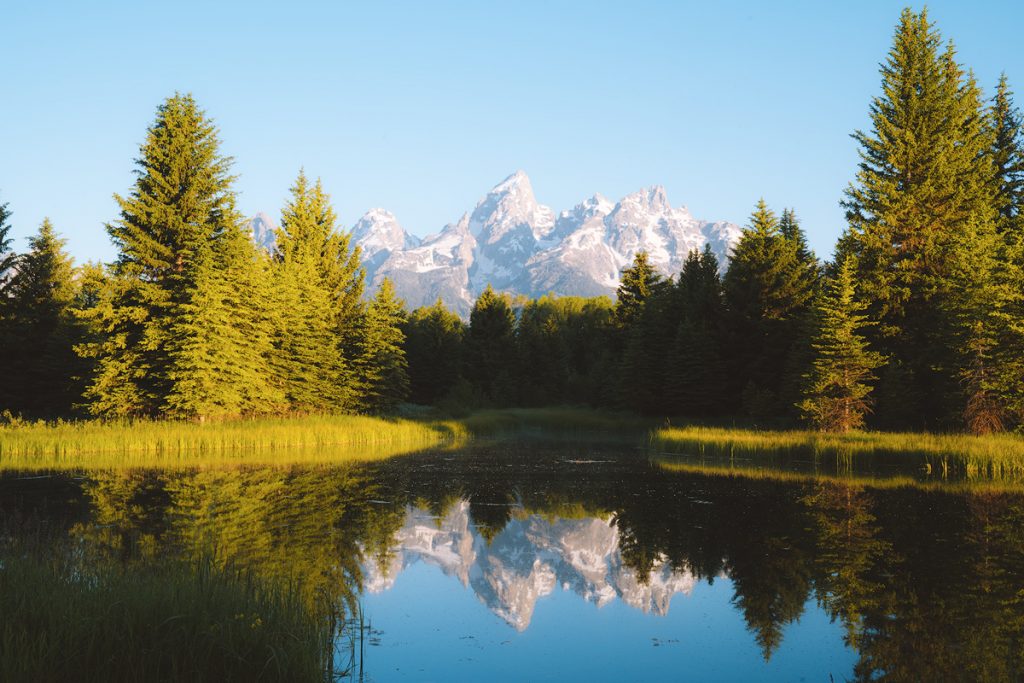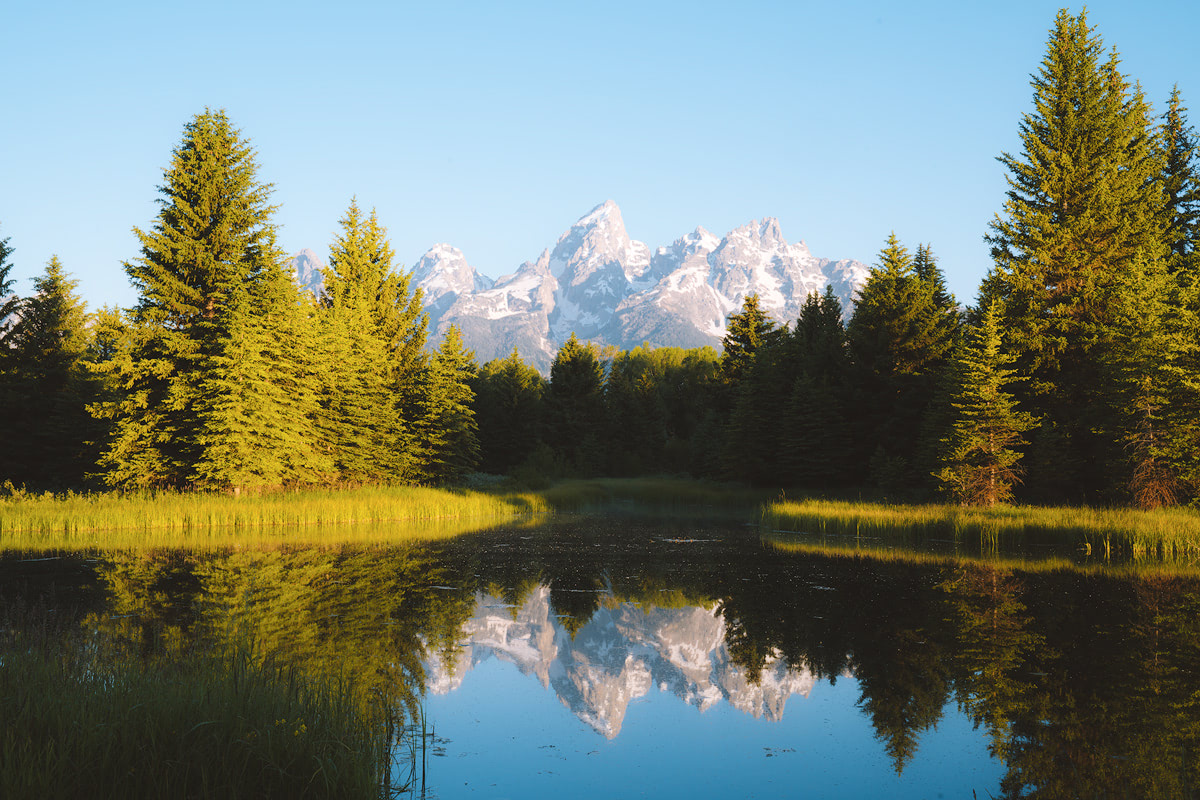 Yellowstone is located relatively close to many other incredible destinations. These are some of my top recommendations for nearby places to explore:
Grand Teton National Park (read my in-depth park guide)
Jackson Hole, Wyoming
Glacier National Park
Yellowstone Hot Springs
Big Sky, Montana
Cody, Wyoming
Stanley, Idaho