I had heard stories about California's famous Big Sur road trip and always wondered if it would live up to the hype. But after visiting all I can say is… you need to put this road trip on your bucket list! Visit California's rugged Pacific coast, drive down Big Sur along Highway 1, see some of the gorgeous California state parks, and I promise this will be a trip you will never forget.
This Big Sur road trip guide and itinerary will help you plan the best trip down the California coast. Whether you have 1 day or 1 week, there are endless ways to experience the natural beauty of this unique area.
Disclaimer: This blog post may feature some affiliate links, which means I get a small commission if you make a purchase (at no extra cost to you). It's one of the ways I can keep producing free guides and resources for my readers. Learn more about my affiliate policy here. Thank you for the support!
Epic Big Sur Itinerary: Explore California's Pacific Coast
Road trips can be an amazing adventure, but there are often a ton of things to plan! In this guide, I'm going to help you determine where you should go, what to pack, how long you should visit Big Sur, and share my favorite parts of my Big Sur road trip. I'm even sharing my recommended itinerary for a day trip to Big Sur, as well as a longer, multi-day road trip along the coast.
What is Big Sur?
You've probably heard people talk about Big Sur, but maybe you've always wondered what it actually is. Big Sur is most well known as California's most scenic drive. Highway 1, also known as the Pacific Coast Highway, connects the towns of Carmel-By-The-Sea and San Simeon across a 90 mile stretch of gorgeous, undeveloped coastline with incredible views of the Pacific Ocean. The Pacific Coast Highway alone has amazing views, but adventure enthusiasts love Big Sur for the miles of hikes through redwood forests, craggy cliffs, stunning beaches, and many amazing California state parks.
How To Get To Big Sur
If you'll be traveling from the greater California area, you are likely best off driving from home. If you live further away you will need to fly to one of California's major cities. San Francisco is the closest major city, but Los Angeles is another option as well. Big Sur is a 90-mile scenic drive, so you'll definitely want to rent a car. If you have the time and the means, I highly recommend making your trip to Big Sur part of a larger West Coast road trip! Consider visiting Yosemite National Park and Redwood National Park while you're on the west coast.
From San Francisco to Big Sur
The easiest way to get to Big Sur is by flying into San Francisco. I recommend using Skyscanner to find the best rates on flights, and then renting a car through Kayak. It's about a 2 hour drive from San Francisco to Carmel at the north end of Big Sur.
From Los Angeles to Big Sur
Alternatively you could fly into Los Angeles, rent a car and drive to San Simeon, the southern end of Big Sur. The drive from Los Angeles to Big Sur typically takes about 4 hours, although that definitely depends on traffic in the LA area. Keep reading for the reasons why I recommend starting your Big Sur road trip from the north side in Carmel.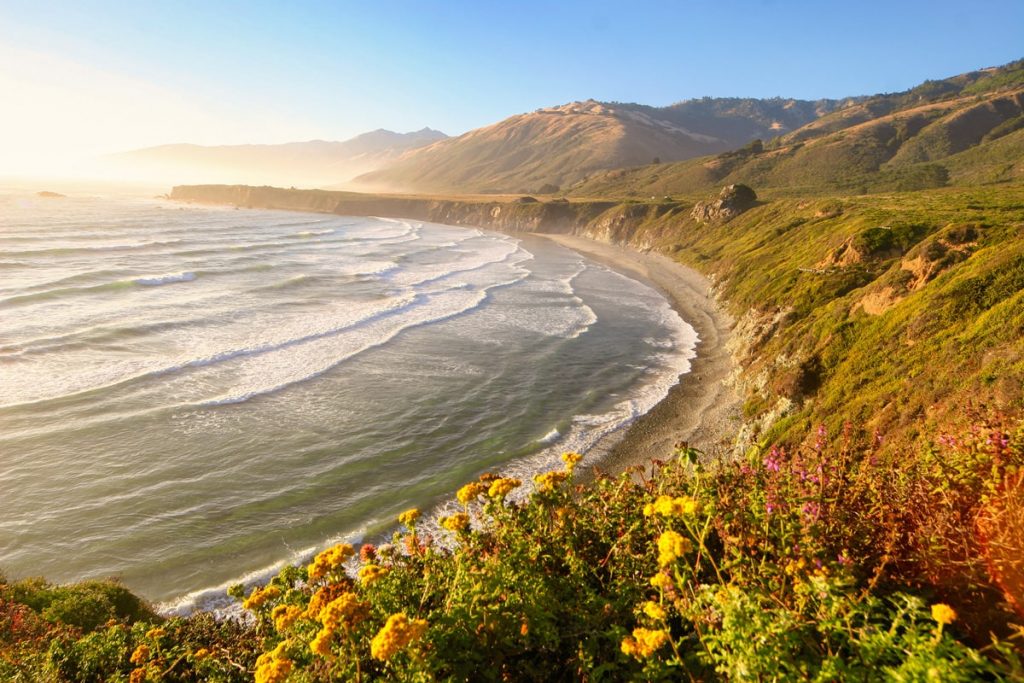 Best Time of Year to Take a Big Sur Road Trip?
This part of the California coast stays pretty mild all year, so you can definitely visit Big Sur year-round. Visiting in the spring months is probably the best time to visit since it's not too hot yet. Plus, you'll see incredible wildflowers in bloom if you visit in April! The crowds are typically the busiest during the peak season in summer, so consider a fall visit in October or November. You'll get incredibly mild temperatures and avoid the busy season.
How Long Does it Take to Drive Big Sur?
It is possible to drive Big Sur in one day, but many people like to spend longer exploring the area. These are the most common ways to take a Big Sur road trip:
Start and finish in Carmel-by-the-Sea but only drive as far as McWay Falls (78 miles of driving)
Start in Carmel-by-the-Sea and finish in Morro Bay (120 miles of driving)
Start and finish in Carmel-by-the-Sea, including driving the entire Big Sur Coast and taking the inland route on the way back (268 miles of driving)
Start and finish in Carmel-by-the-Sea, including driving the entire Big Sur Coast and taking the coastal route on the way back (240 miles of driving)
In an ideal world, you would spend a week meandering down the coast and stop at every single viewpoint. But I know that's not possible for most people. So in this guide, I will provide a suggested itinerary for a Big Sur day trip and suggestions on how you could extend for more days.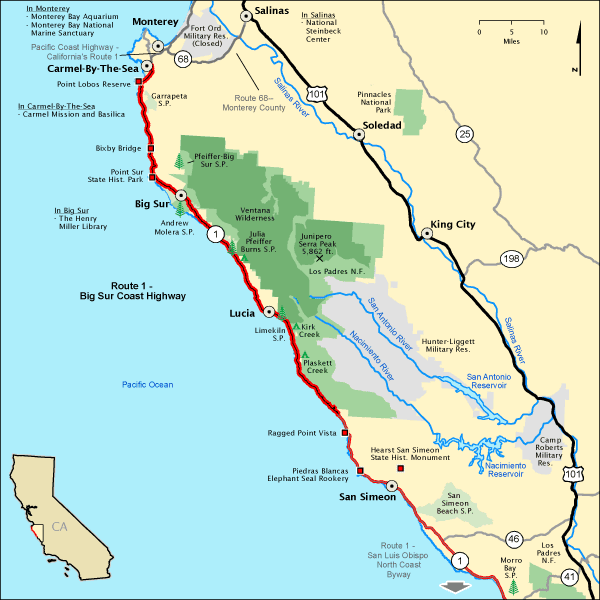 Which Direction Should You Drive Big Sur?
Either direction works, but if you want the BEST Big Sur views then I recommend driving north to south. So if possible, start your Big Sur road trip in the Carmel-By-The-Sea area. As I touched on above, you can drive Big Sur on just a day trip or you can spend a week (or more) exploring this area. The options really are endless and that's one of the reasons Big Sur is such a quintessential USA road trip.
Big Sur Road Trip Tips
Many travelers have Big Sur on their bucket lists, for good reason. But it can tend to get crowded, especially at some of the most famous viewpoints and areas with limited parking. If you have the flexibility, try to plan your visit to Big Sur during the week to avoid most of the crowds.
The beauty of the Big Sur coastline is that it feels truly remote, and in a lot of ways, it is! Phone service is inconsistent at best, so don't plan on relying on your smartphone for GPS. Download offline maps ahead of time so you'll always have them handy, even when you lose service. Gaia GPS is my favorite way to save and download hiking and off-road maps for access when I don't know if I'll have service. One of my favorite Gaia features is the cellphone coverage maps, so you can plan where you'll need those downloaded hiking maps!
Since you'll be traveling a fairly remote stretch of coastline, there are limited amenities. With limited restaurants and stores, you should bring food and water. On road trips, I always pack a reusable water bottle, a larger water jug for refilling, and a cooler with plenty of yummy snacks. It's a good idea to fill up your gas tank before you start your drive to avoid that pesky low fuel light popping up when you're in the middle of nowhere.
Insiders Tip: Poison Ivy is aplenty on a lot of trails in the Big Sur area. Keep your eyes peeled, and even better, keep your skin covered to avoid the risk of rash!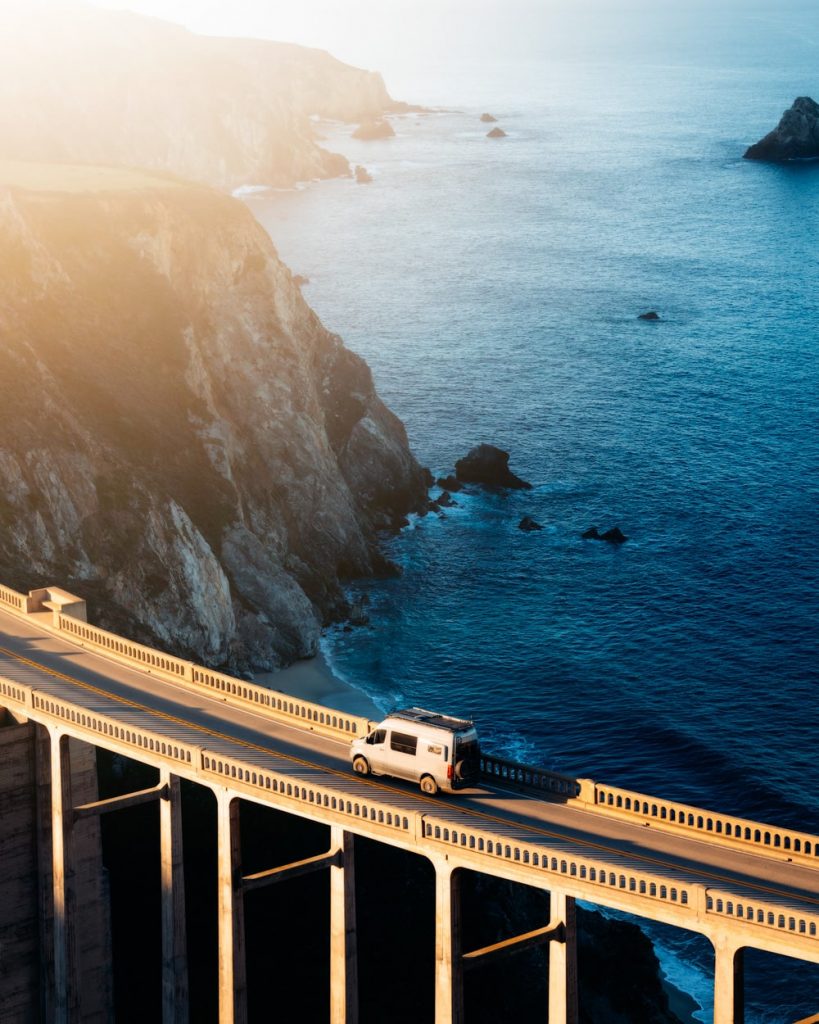 Big Sur Road Trip Itinerary
The coastal scenery is truly gorgeous along Big Sur and the California coastline. With craggy cliffs and pounding waves, it's dramatic, but it's also quite fragile! The coastal ecosystem is consistently eroded by weather, waves, and unfortunately, human visitors. You should always observe and respect all posted barriers and roped-off areas. Practicing Leave No Trace principles while traveling is one of the most important ways we can preserve the natural world where we love to adventure.
Carmel-by-the-Sea
Carmel is the cutest little oceanside village. There are some great restaurants and shops so this can be a good place to begin your road trip. Fuel up for the day with the scones from Tuck Box. They're SO tasty!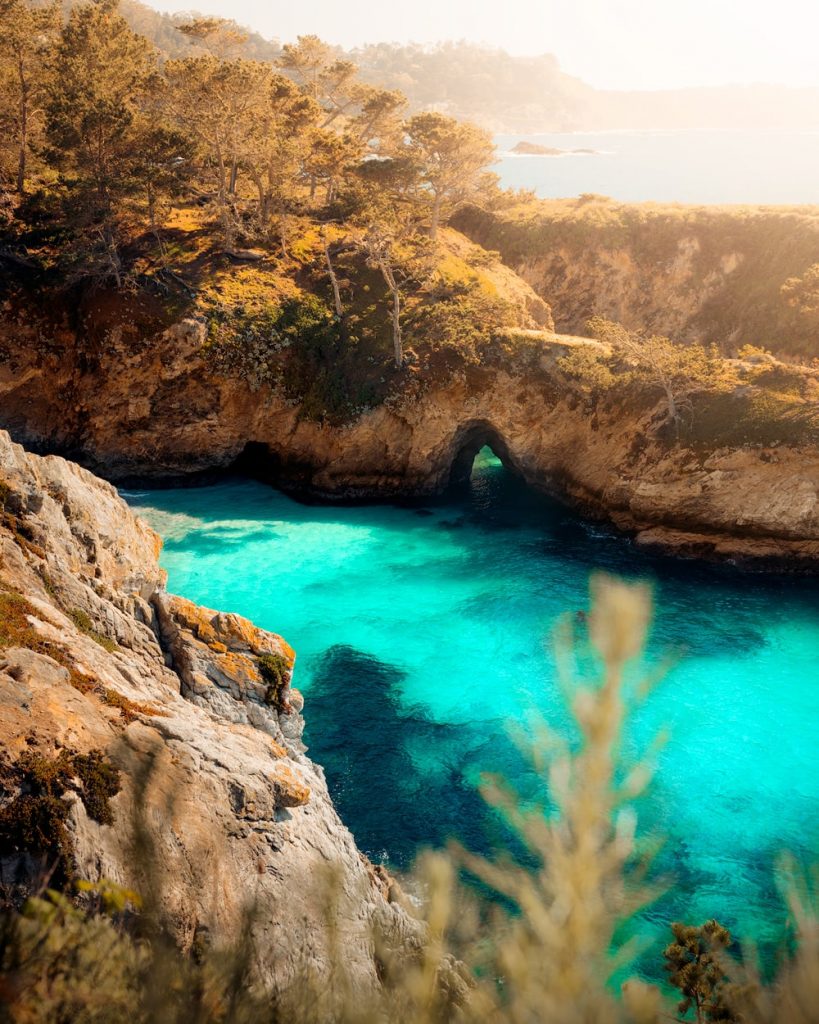 Point Lobos State Natural Reserve
One of many state parks in the area, Point Lobos is a must-visit whether you have one day or a week! With incredible wildlife and miles of hiking trails along the coastline, Point Lobos State Natural Reserve is the perfect first stop on your road trip. There is a $10 entry fee for this reserve and you can purchase this upon entry.
From the southernmost parking lot, take the short Bird Island Trail to a coastal overlook and a small white sand beach in China Cove. The water in China Cove is an incredible emerald green color and the cove is surrounded by eroding cliffs. Keep an eye out for harbor seals, sea lions, sea otters, cormorants, gulls, pelicans, and herons.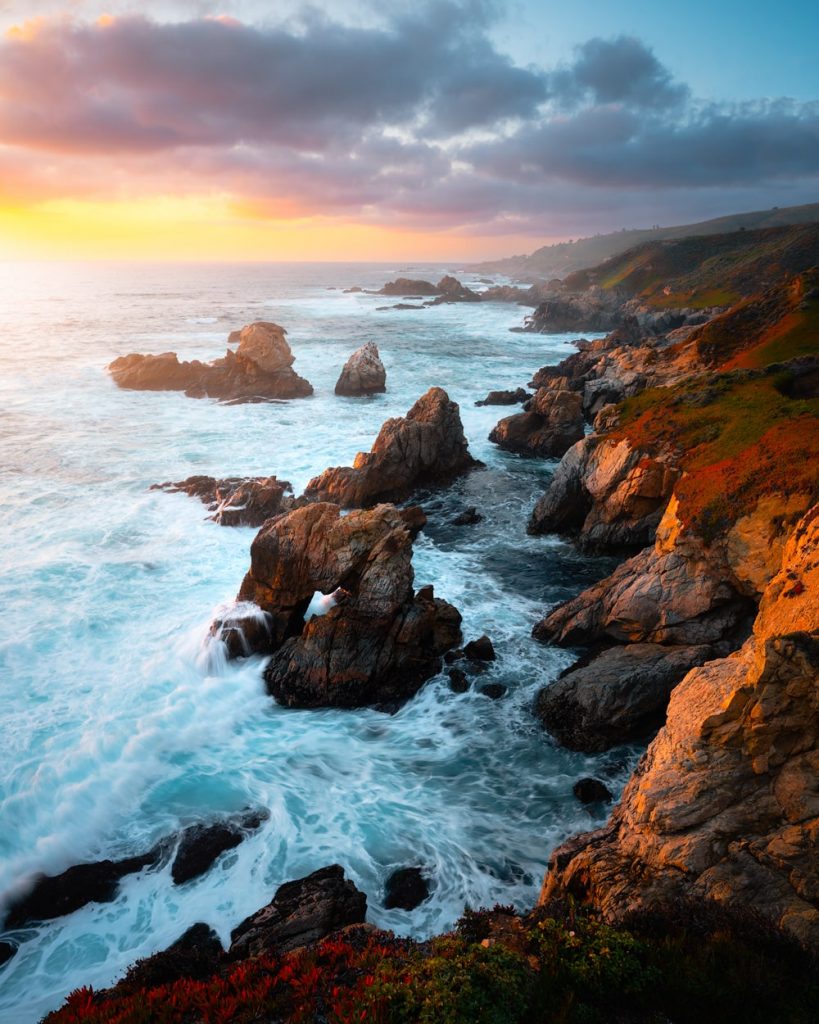 Garrapata State Park
Continue down Highway 1 to Garrapata State Park. Another incredible coastal park, Garrapata is tucked into the base of the Santa Lucia Mountains and features both rocky coastline and stunning redwood canyons up in the hills. Even if you're pressed for time, I recommend hiking the Garrapata State Park Bluff Trail. Less than a mile round trip, you'll get incredible views of Soberanes Point to the south and panoramic views of the Pacific ocean. If you visit in spring, you'll be treated to incredible wildflowers all along these trails.
It's also worth checking out the Soberanes Point Trails, which you can connect onto from the Park Bluff Trail for a longer hike. The trails here have lots of options to make loops of different distances. For an added bonus, climb Whale Peak and get a great view of the Pacific Ocean!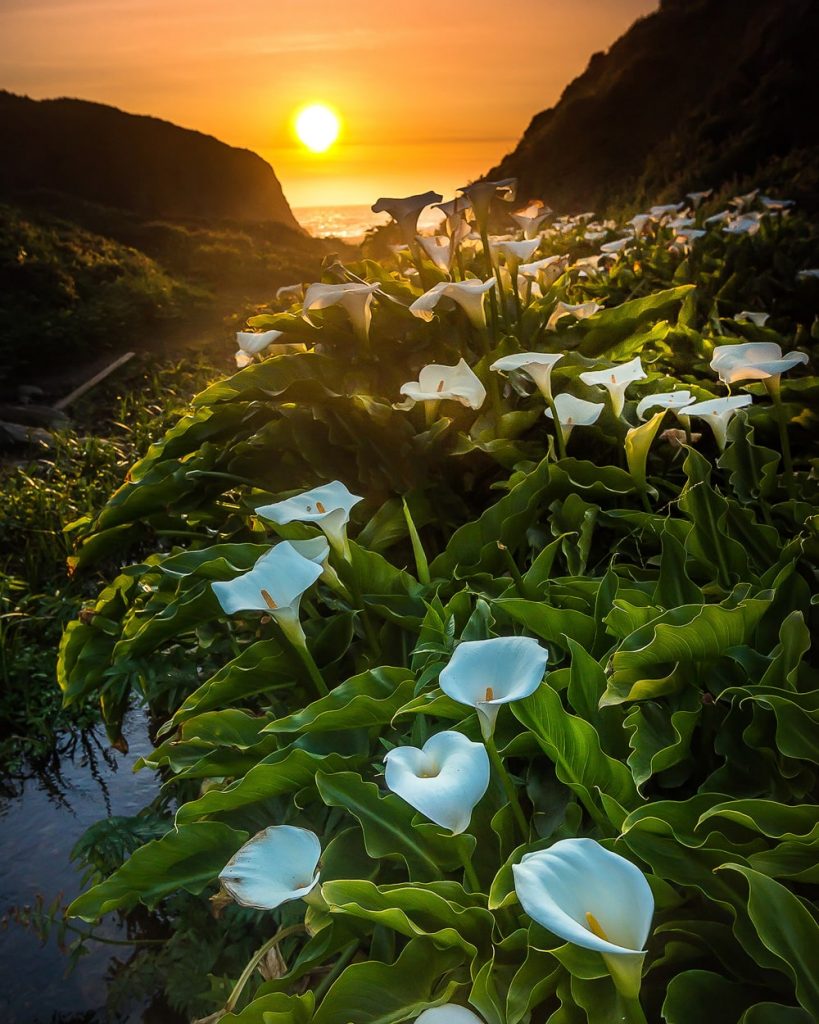 GarraPata Beach and Calla Lily Valley
The famous Calla Lilies typically bloom from mid-Feb to mid-March and can be accessed via a short walk along the Garrapatta Trail. Be mindful that it's a really small area and it can get VERY busy on weekends. Be respectful of other people and do not trample or pick the flowers.
While you are down exploring the Calla Lilly Valley, be sure to stroll onto Garrapata Beach. This is a beautiful spot to watch the sunset!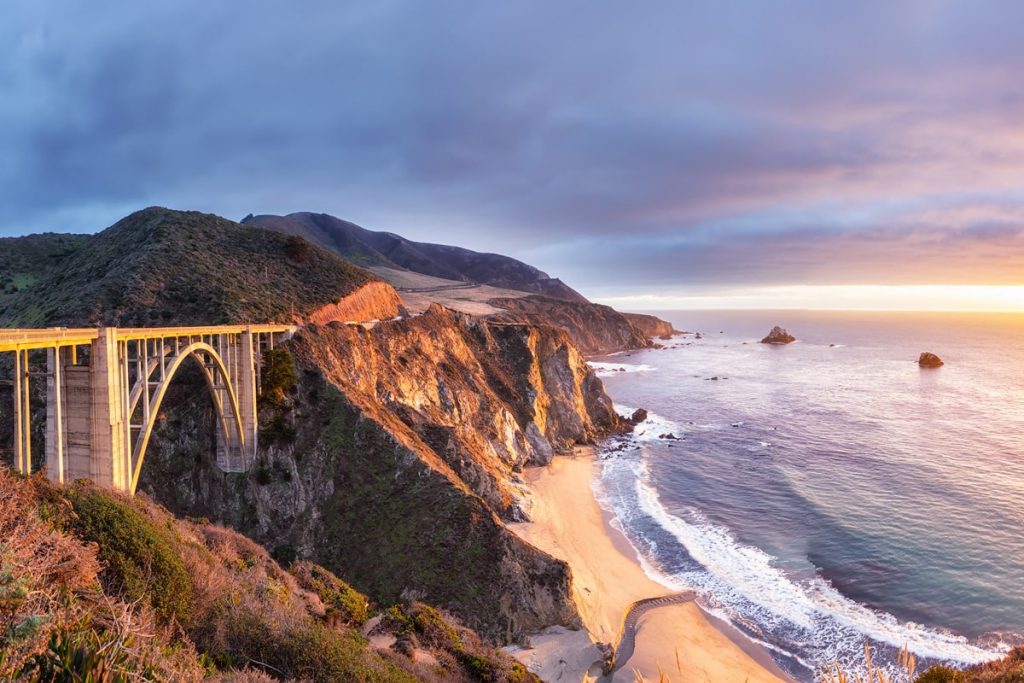 Bixby Creek Bridge
Probably Big Sur's most iconic landmark, the Bixby Bridge is a 279 foot tall concrete bridge that connects the rocky cliffs on the highway. With the Pacific Ocean to the west and the long stretch of coastline into the distance, this is a great spot to take photos, particularly at sunset. But it is definitely a popular location, so plan accordingly!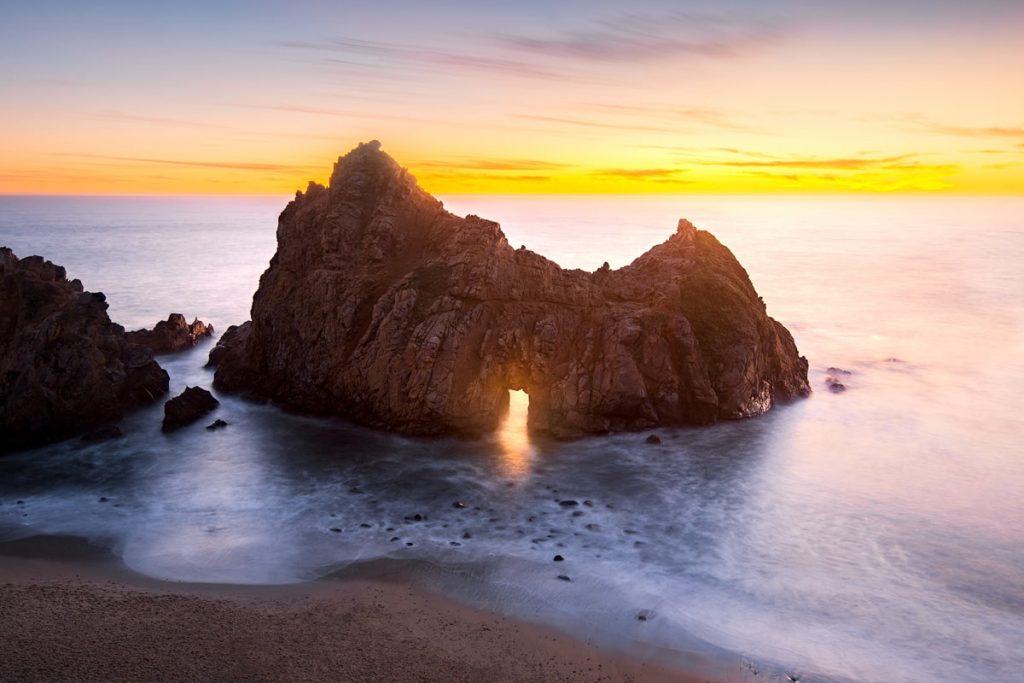 Pfeiffer Beach
The highlight of Pfeiffer Big Sur State Park, another incredible state park on the California coast, is Pfeiffer Beach. The coastline here is beautiful any time of the day, but sunset is particularly magical. A few weeks each winter, a natural phenomenon perfectly lines up sunset through Keyhole Arch, resulting in a magnificent light show (and a photographer's dream!) Pfeiffer Beach is also known for its purple sand, or at least it appears that way in certain light.
Continue down the Pacific Coast Highway to McWay Falls, but be sure to stop at the Big Sur Taphouse on your way. Their fish tacos are DELICIOUS and the outdoor patio is a vibe!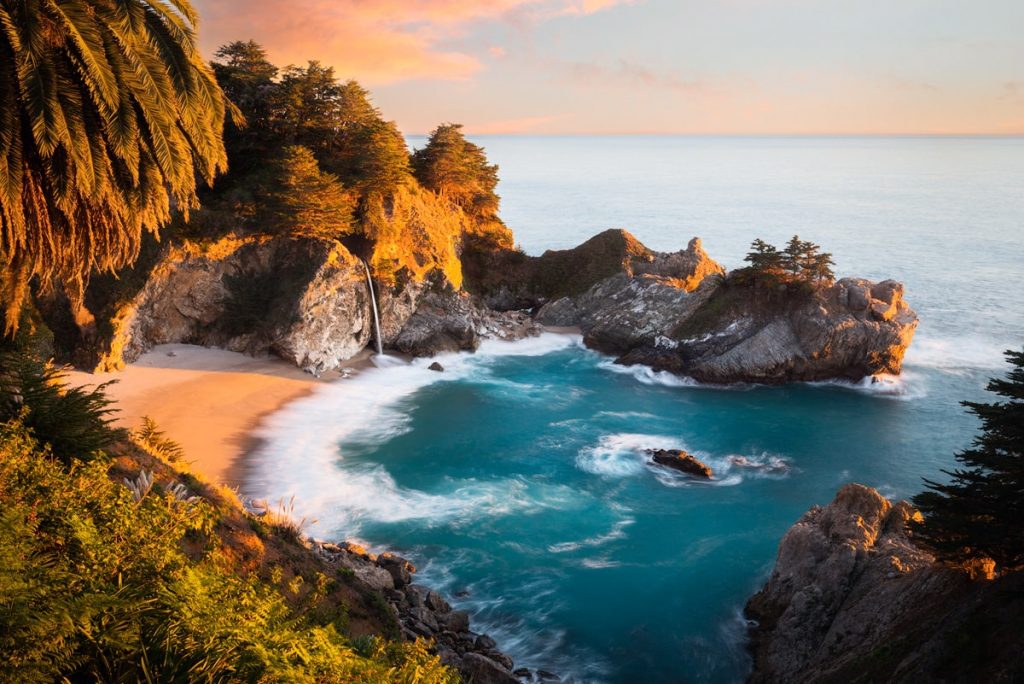 Julia Pfeiffer Burns State Park and McWay Falls
About halfway down the Big Sur coast lies Julia Pfeiffer Burns State Park, another incredible state park with both coastal and forested trails. You'll find another Big Sur icon here, McWay Falls, an 80-foot waterfall that cascades right onto the beach! The waterfall is spectacular year-round and this spot provides a unique viewpoint of the waterfall, the white sandy beach, and the crystal clear ocean. This state park also has a $10 entry fee, but I definitely think this one is worth it too. Where else can you see a waterfall into an ocean?!
Insiders Tip: The best view of McWay Falls is usually from the roadside! The main viewing platform is currently undergoing renovations, so you're actually best off viewing the falls from the roadside vantage points as you approach the main parking lot. Just be careful of traffic as you walk along the road!
Must See Stops on a Big Sur day trip
Because Big Sur is relatively accessible from San Francisco, it is a popular day trip. If you only have 24 hours (or less) to visit, here are my most recommended suggestions for your adventure listed from north to south on the Pacific Coast Highway.
China Cove walk at Point Lobos State Natural Reserve
Walk part of the Garrapata State Park Bluff Trail to Painters Point
Stop and view Bixby Bridge
Experience McWay Falls
Exploring Big sur with multiple days
Maybe you're lucky enough to have multiple days to explore the Big Sur coast. You should definitely still visit the spots I mentioned above, but here are my suggestions to add on a few more days of hiking, scenic drives, and exploring.
Hike Soberanes Canyon, a longer hike through redwood forests
Stop to see the Calla Lilies and Garrapatta Beach
Stop at Andrew Molera State Park
Walk along Pfeiffer Beach
Explore Limekiln State Park and Limekiln Falls
Stop at Sand Dollar Beach
Enjoy Salmon Creek Falls
Stop by Piedras Blancas Light House
Spot seals at Elephant Seal Vista Point 
Visit the famous Hearst Castle
If you have the time, I definitely recommend making your Big Sur road trip part of a larger Pacific Coast trip. Head up north to spend some time in Redwood National and State Parks and visit some of the tallest trees in the world.
Where To Stay in Big Sur
Big Sur would be a great adventure to rent a camper van. We drove our California coast road trip in our Sprinter Van, so I can definitely recommend visiting Big Sur as a van trip. This is a good way to save on your accommodation budget too. RVs are great, too, but Highway 1 can be pretty narrow and windy which could end up being stressful in a large RV.
There are plenty of hotel and resort options in the Carmel and Monterey areas, just north of the Big Sur coastline. For something a little different, you can book private vacation rentals through VRBO, too! Here are some adorable rentals in the area that I would love to stay in on my next trip:
Big Sur also has tent camping options for those who prefer a more rugged experience. Some popular campgrounds are Ventana Campground, Pfeiffer Big Sur Campground, and Big Sur Campground & Cabins. There are limited free camping locations along Big Sur. Use our guide to learn how to find the best free camping in the USA.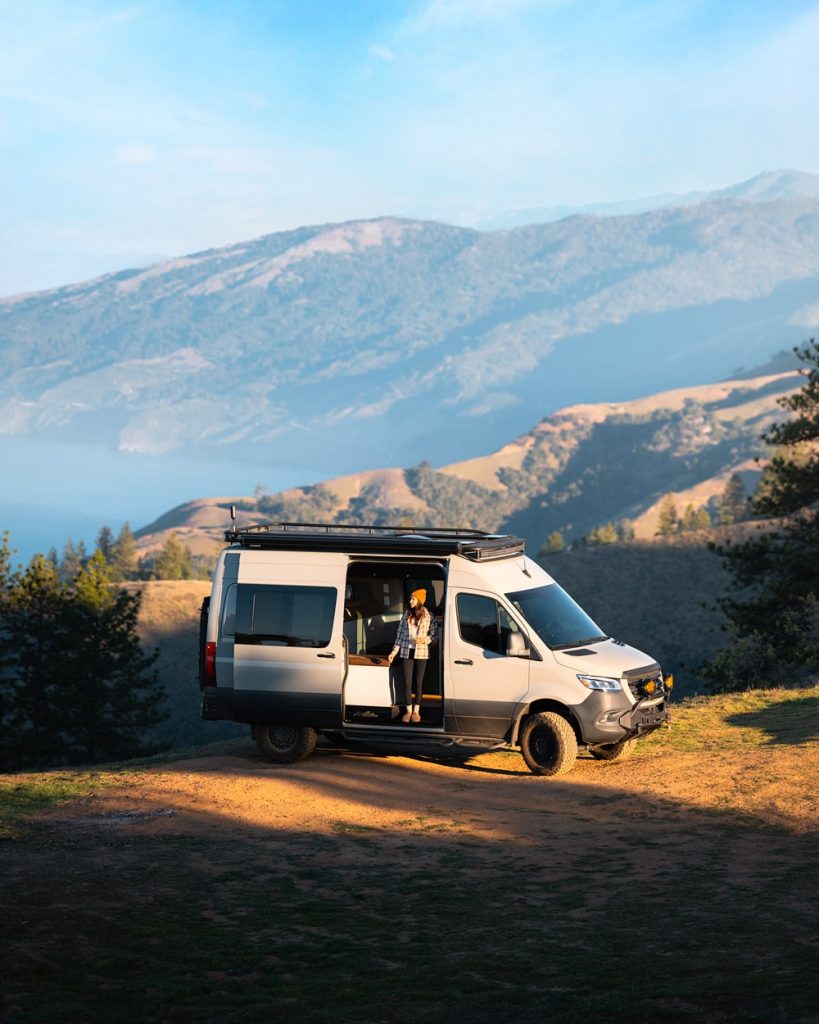 What To Pack for a Big Sur Road Trip
What you pack for your Big Sur road trip will depend on what time of year you choose to visit. For example, if you visit during winter you will need to pack more layers and wet weather gear. Whereas if you visit during summer then a sun hat is a must!
This packing guide is also tailored towards people who enjoy hiking. If you don't plan to hit the trails, simply leave off the hiking-specific items when using the guide. For those choosing to camp, I have an entire guide and packing list for car camping essentials, so make sure to check that out!
Don't forget to use code RENEE15 to get 15% off your first Backcountry.com order! (some exclusions apply) Click here to shop my favorites.
Hiking shoes:
If you're visiting in summer then a pair of trail runners or lighter hiking boots should do the trick, such as the La Sportiva Bushido II Trail Running Shoe. If visiting during the winter months or if you plan to hike muddy trails, it's best to bring a pair of waterproof hiking boots. The Columbia Newton Ridge Plus Waterproof Hiking Boots are a great choice. We also have a guide on all the best hiking shoes, so don't forget to check that out when shopping for new hiking boots!
Merino wool socks:
Wool socks are the best for preventing blisters and also letting your feet breathe. Recommended hiking socks.
Hiking pants, leggings, shorts, Skorts, Dresses:
I generally reach for leggings and I have also been loving skorts lately, but choose whatever feels comfortable and practical for you! Recommended hiking pants; hiking shorts; hiking skort, hiking dress, hiking leggings.
Quick-dry top:
Merino wool tops are my favorite due to their breathability and odor resistance. Recommended short-sleeve hiking top; long-sleeve hiking top.
Day pack/hiking backpack:
Choose something with hip and chest straps for optimal comfort and practicality. Recommended backpack.
Hip pack:
When taking short walks or exploring roadside stops I often prefer to opt for a small hip pack instead of a backpack. Just something to fit my phone, lip balm, sunglasses, and any other essentials. Recommended hip pack.
Trekking poles:
Optional but I personally swear by them for hiking! Recommended trekking poles.
Mid-layer:
Perfect for chilly mornings and evenings. So opt for something lightweight like a fleece or pullover. Recommended mid-layer.
Insulated jacket:
You will want something warmer for chilly days and during the mornings and evenings when visiting in summer. Recommended insulated jacket.
Rain jacket:
The weather can change quickly along the coast, and Big Sur is known for getting quite windy! Be sure to pack a rain jacket and/or windbreaker, even during summer. Recommended rain jacket, recommended windbreaker.
Casual clothes:
Pack some casual and/or nicer outfits if you plan to eat out at restaurants. This is of course optional though! Check out my Favorites page on Backcountry for some recommendations.
Navigation:
When driving, have Google Maps or Maps.Me handy. For hiking, carry a physical map and a compass, and download offline maps onto your phone. I use Gaia GPS – click here to get 20% off a Premium membership!
Emergency beacon:
Optional, but can give you and your loved ones some peace of mind when hiking or traveling without phone service. Recommended emergency device.
Headlamp + batteries:
For hiking in the dark, camping, or in emergency roadside situations. Recommended headlamp.
Drink bottle + Water Jug:
Pack a reusable water bottle and you could also consider using a water bladder inside your backpack when hiking. I like to keep a larger water jug in my car so that I don't have to rely on finding water fillup stations. Lastly, I also like to hike with a lightweight water filter to ensure I don't get sick when drinking from streams.
Sun hat:
Bring along either a cap, bucket hat, or wide brim hat to protect your face from the sun. Recommended cap; bucket hat; wide brim hat.
Sunscreen:
Self-explanatory. This one is reef safe and doesn't contain any chemicals that will harm you or the environment. Don't forget a lip balm with sunscreen too.
Sunglasses:
Polarized sunglasses are best for eye protection.
First aid items:
Always carry a small first aid kit with essential items like blister plasters and emergency supplies. Recommended lightweight first aid kit.
Phone + driver's license/ID:
Always best to keep these on you in case your car is broken into. Recommended lightweight wallet (or you can simply use a small binder clip!)
Camera + batteries:
Optional but trust me, you will want a camera to capture these beautiful parks! Check out the camera gear I use to capture my travel photos and the camera bag I pack it all in!
Cooler:
There aren't a lot of places to buy food along Big Sur, so you might want to pack a cooler and bring along your own food and drinks. For a cooler, you can opt for a small/day trip size, or a larger cooler that's more conducive to car camping and longer road trips. Recommended day trip cooler; larger cooler.
Snacks:
Every road trip requires snacks! Bring whatever your favorite snacks are or factor in time to stop at a grocery store / gas station. My go-to snacks.
Reusable coffee mug:
If you enjoy drinking coffee then it's best to bring along a reusable mug or tumbler. Recommended mug; insulated tumbler.
Reusable utensils:
Similar to above, having your own travel utensils / cutlery is a great way to cut down on single-use plastics when ordering take-out food.
National Parks Pass:
If you're going on a larger road trip and planning on hitting some of California's incredible national parks, make sure to pack your park pass if you have one already! If not you can buy one when you arrive at the parks or online before you go.
Road trip playlist + Podcasts:
Don't forget to download some good tunes and podcasts for your road trip. For music, check out my playlists on Spotify. For podcasts, we have an entire guide on the best road trip podcasts!
Want more packing & gear tips? Check out our guides on what to wear hiking, car camping gear essentials, how to plan a national parks trip, and the best hiking shoes.
Final Thoughts on Planning a Big Sur Road Trip
I have so many amazing memories from my Big Sur road trip, and I hope this guide helps inspire you to plan one soon. Let me know what your favorite parts from your Big Sur road trip are in the comments below!
---
PIN for Later!