Olympic National Park has it all – beautiful coastline, lush rain forests, and soaring mountains. It's one of my favorite national parks in North America, and probably one of my most frequently visited! The Olympic Peninsula is full of natural beauty, diversity, and endless things to do. So, to help you plan an epic trip of your own, I'm sharing 14 amazing things to do in Olympic National Park.
Located in the northwestern corner of Washington State, the Olympic Peninsula is only a 3-hour drive from Seattle and can also be accessed via ferry from various points (including Canada!) Put this Pacific Northwest gem on your bucket list and start planning your next trip!
Disclaimer: This blog post may feature some affiliate links, which means I get a small commission if you make a purchase (at no extra cost to you). It's one of the ways I can keep producing free guides and resources for my readers. Learn more about my affiliate policy here. Thank you for the support!
14 Amazing Things To Do in Olympic National Park
In 2017 I visited every single US national park with my husband. We lived in a van for 7 months and you can check out our national parks itinerary and route here. We're now based full-time in the Pacific Northwest and consider Olympic National Park one of our home bases! I've been to the Olympic Peninsula at least 10 times at this point, and I fall more in love each time I return. We're so lucky to live close by this incredible national park!
Every time I visit Olympic National Park I try to explore a new area. This guide is the perfect road map to experience all that Olympic has to offer with options for every season. Whether you have a weekend or a whole month to explore, here are my favorite things to do in Olympic National Park!
As one of the most popular national parks in the country, visitors can have a huge impact on the natural environment here. I recommend familiarizing yourself with Leave No Trace Principles before you visit the Olympic Peninsula (or any other national park!) Being a responsible traveler helps protect the environments we love to visit by minimizing our impact.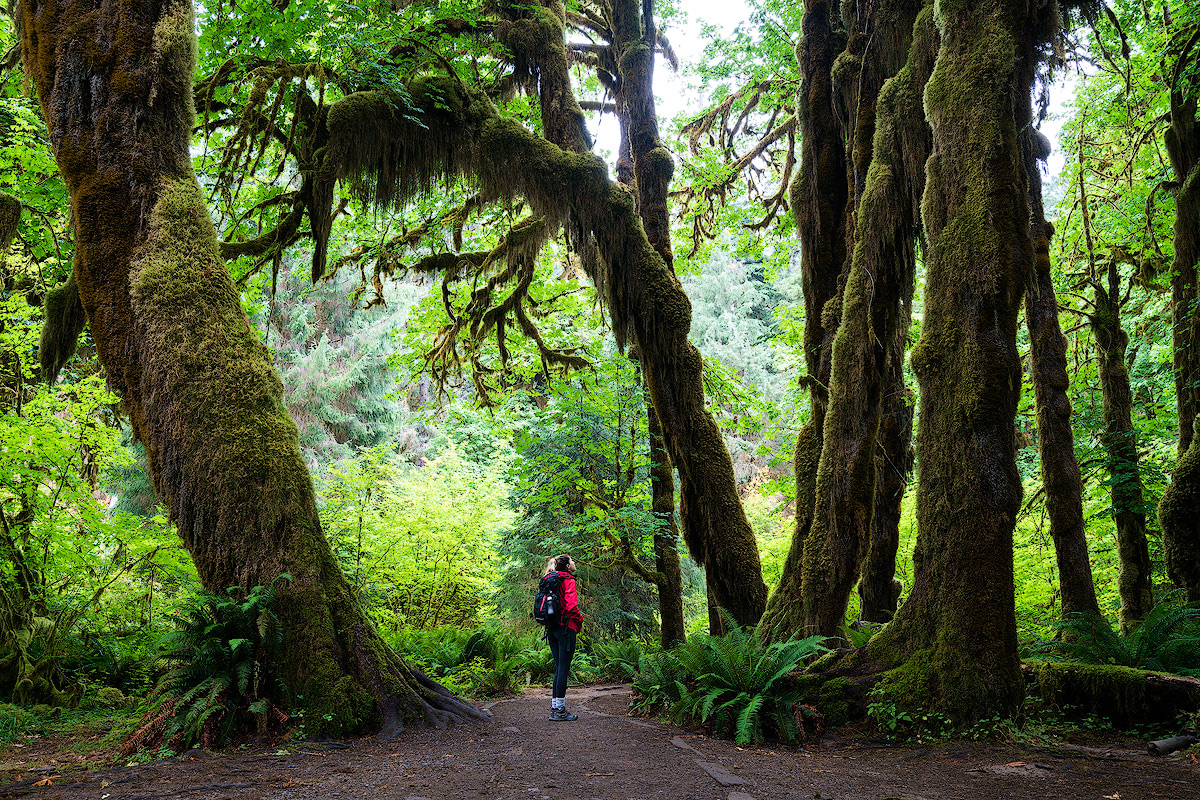 Hoh Rain Forest
The Hoh Rain Forest is one of the largest temperate rainforests in the United States and an absolute must-see when visiting Olympic National Park. Rain falls frequently in the Hoh Rain Forest, contributing to a yearly precipitation total of 140 to 170 inches each year! The outcome is an incredibly lush canopy of mosses and ferns that blanket almost every visible surface.
The Hall of Mosses Trail is the most popular trail in the Hoh Rain Forest – and rightfully so! The enchanting 0.8-mile trail traverses under maples draped with large growths of spikemoss. You can also find the Spruce Nature Trail (1.2-miles) nearby, which offers various interpretive signs along the forest scenic walk. Have a question about trail conditions? The Hoh Rain Forest Visitor Center is right at the parking lot and the park rangers are always super helpful!
If you're up for a challenge, you could consider hiking the Hoh River Trail to Five Mile Island or backpack to Blue Glacier. Note that both of these are considered strenuous.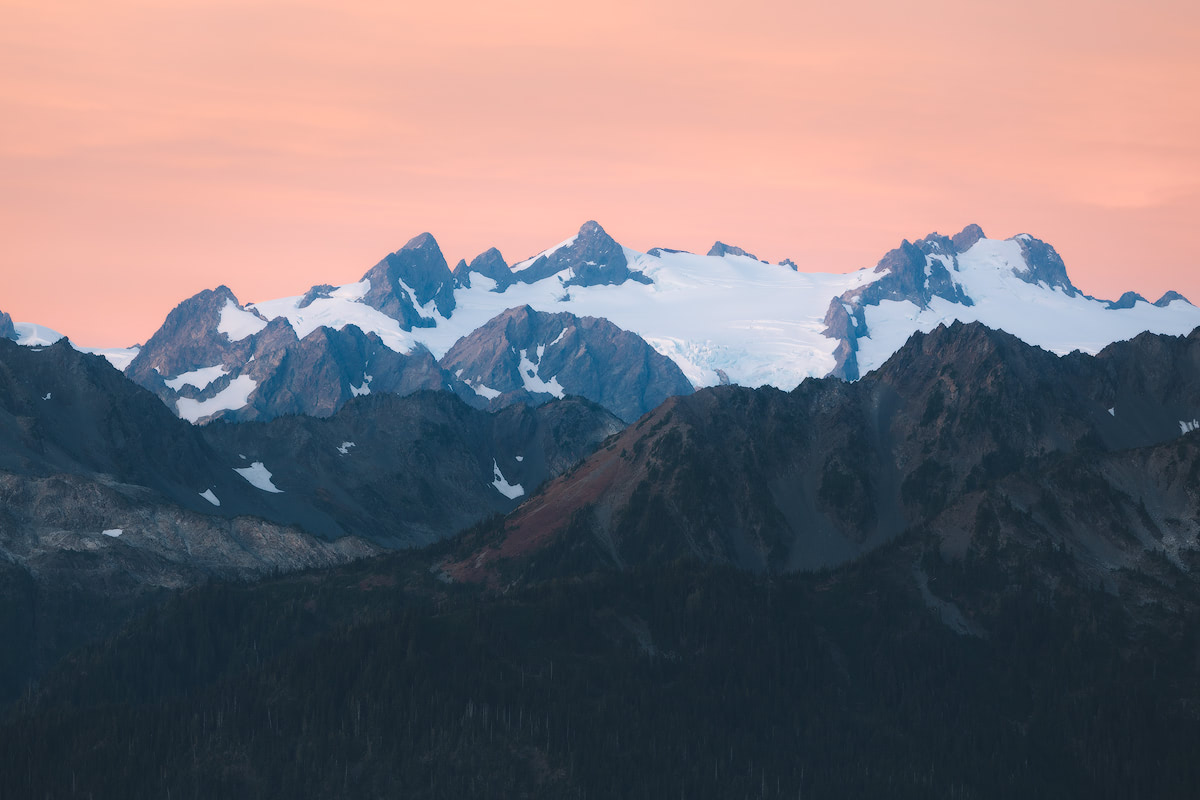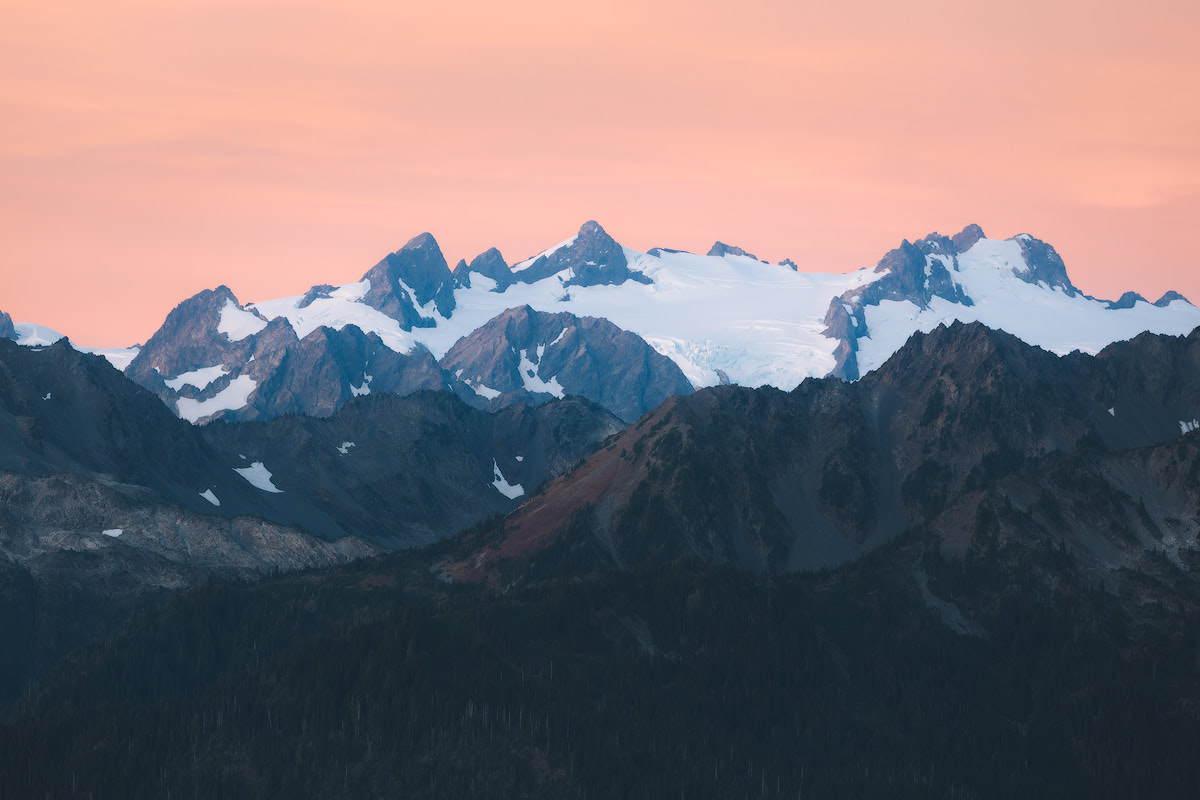 Hurricane Ridge
Hurricane Ridge provides panoramic views of the park and surrounding areas. You can drive the scenic road and easily witness jaw-dropping views of mountain peaks right from the parking lot. Catch incredible views of the peaks of the Olympic Mountains, the Strait of Juan de Fuca, and even parts of Canada.
There are also some short (and longer) walks in the area for those wanting to stretch their legs. The road is open throughout summer and Friday-Sunday during the winter season. You can always check the current road conditions online or by checking in with a park ranger.
Insider's Tip: You can downhill ski and snowboard here in the winter! Hurricane Ridge is one of just a few ski resorts located within national park boundaries.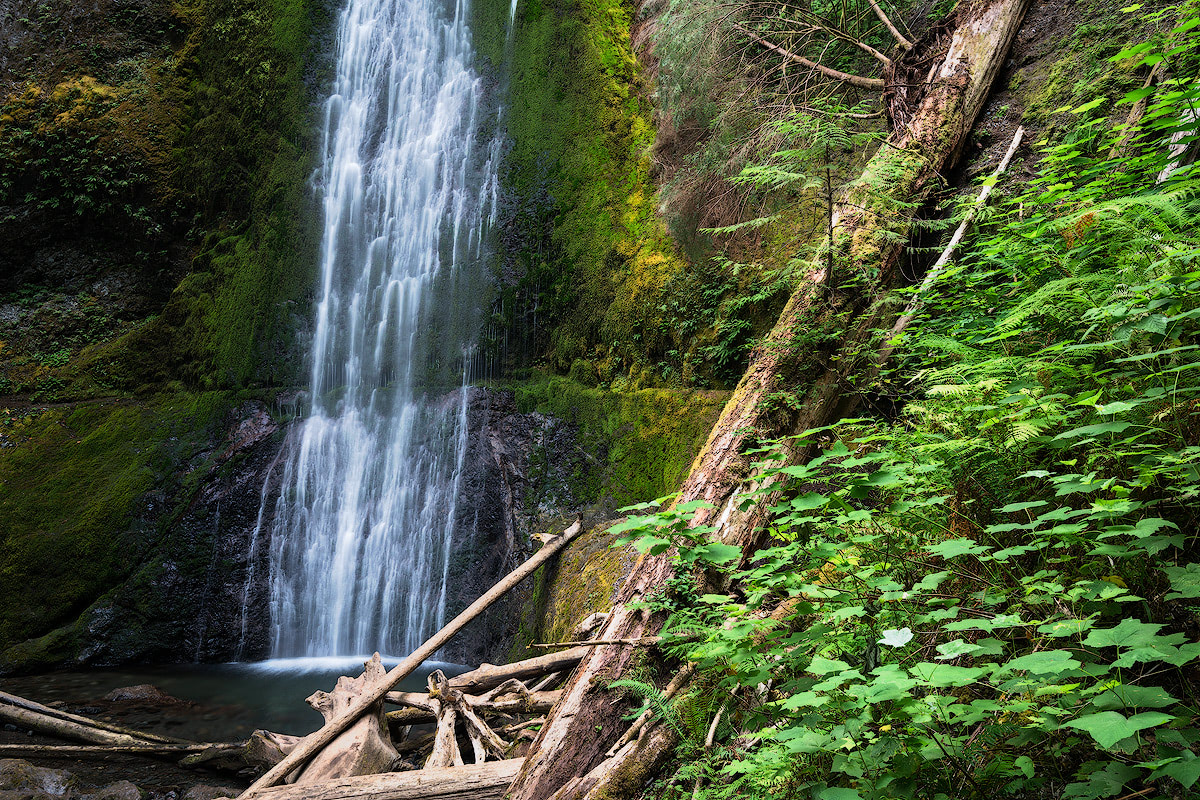 Marymere Falls
The Marymere Falls Trail is a wonderful and short (0.9-mile) walk through old-growth forest, across log bridges, and by flowing streams. The endpoint provides visitors with views of Marymere Falls – dropping 90 feet into a mossy, fern-laden ravine. Marymere Falls is especially spectacular in the spring when snowmelt from the high mountains feeds the falls.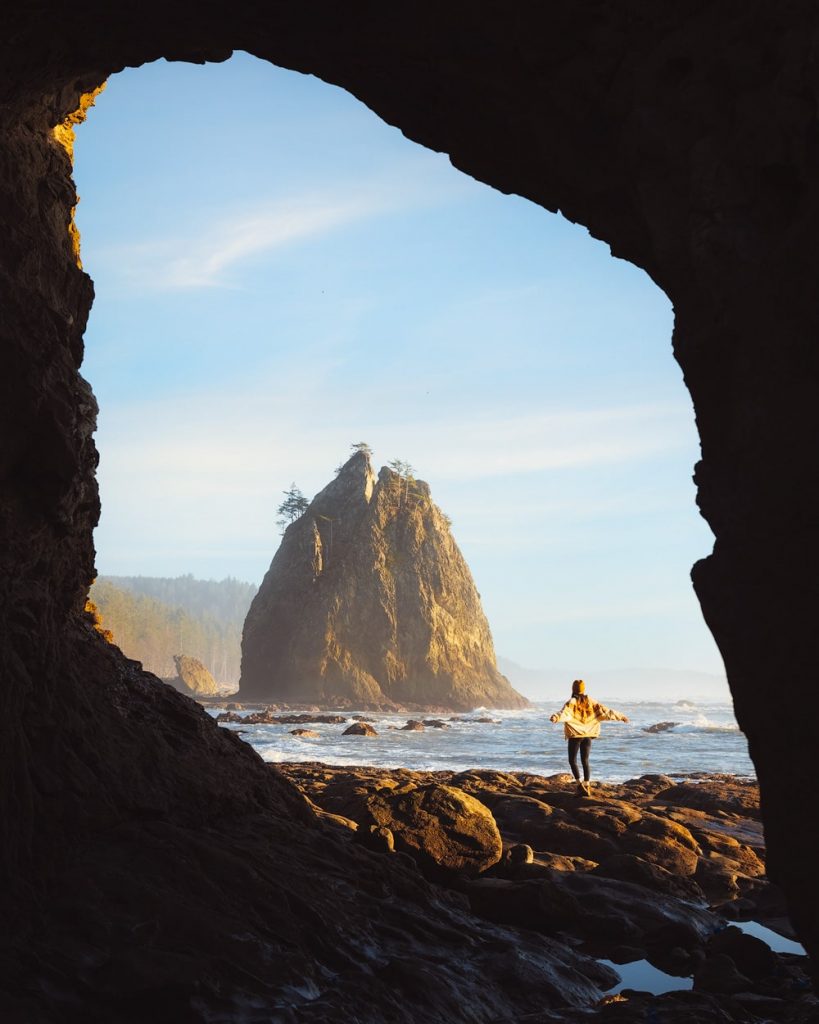 Rialto Beach and Hole-in-the-Wall
I finally visited Rialto Beach and hiked to the Hole-In-The-Wall on my most recent visit to Olympic National Park. I can't believe it took me this long! The hike to the famous rock archway is about two miles with consistently great views of the incredible sea stacks, wildlife, and tide pools to explore. Rialto Beach is a must-visit!
Insider's Tip: Have you always dreamed of sleeping on a wild beach right on the Pacific Ocean? You can backcountry camp on Rialto Beach! Permits are required and information can be found here.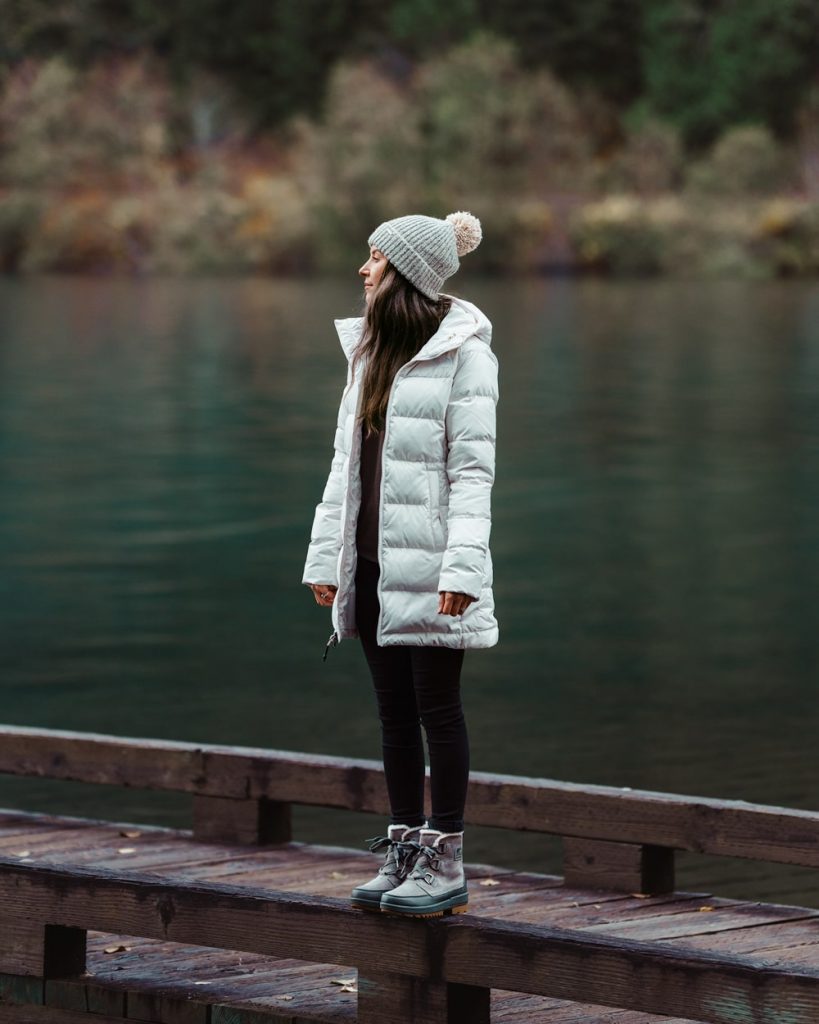 Lake Crescent
Lake Crescent is a crystal clear glacial lake tucked into the base of the Olympic Mountains. There are lots of incredible hikes that start in this area, including Mount Storm King (see the next activity!) It's a great place to paddle, picnic, hike, or just hang out! There is a campground at Lake Crescent if you prefer to sleep in the open air. For something a little less rustic, you can stay at the historic Lake Crescent Lodge.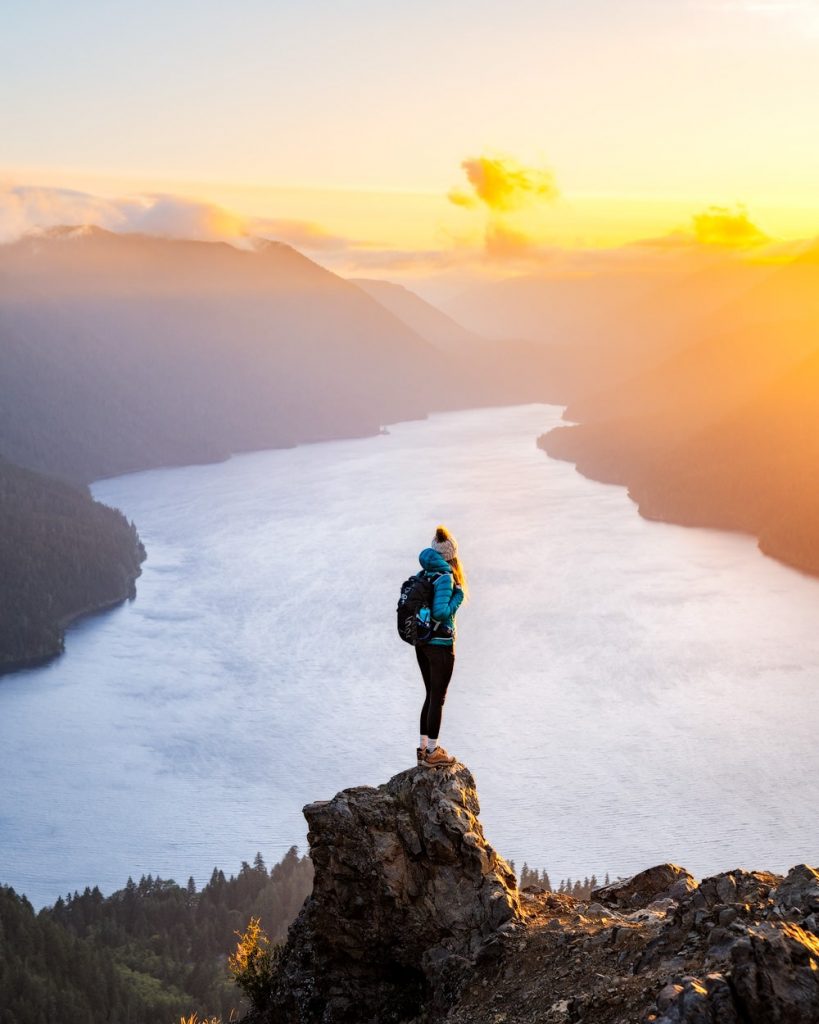 Mount Storm King
At 4 miles roundtrip, Mount Storm King isn't too long of a hike, but it's steep and strenuous. You'll start out at the picturesque Storm King Ranger Station near Lake Crescent and start climbing almost right away. The last part of the trail is unmaintained and features some exposed areas with ropes to assist your climbing. I would not recommend climbing past this part in rainy or stormy weather. You can read more info about the hike and current trail conditions here and I have another guide that shares our experience hiking Mount Storm King during fall.
Insider's Tip: You can combine Mount Storm King and Marymere Falls to hit two iconic Olympic National Park spots in one hike!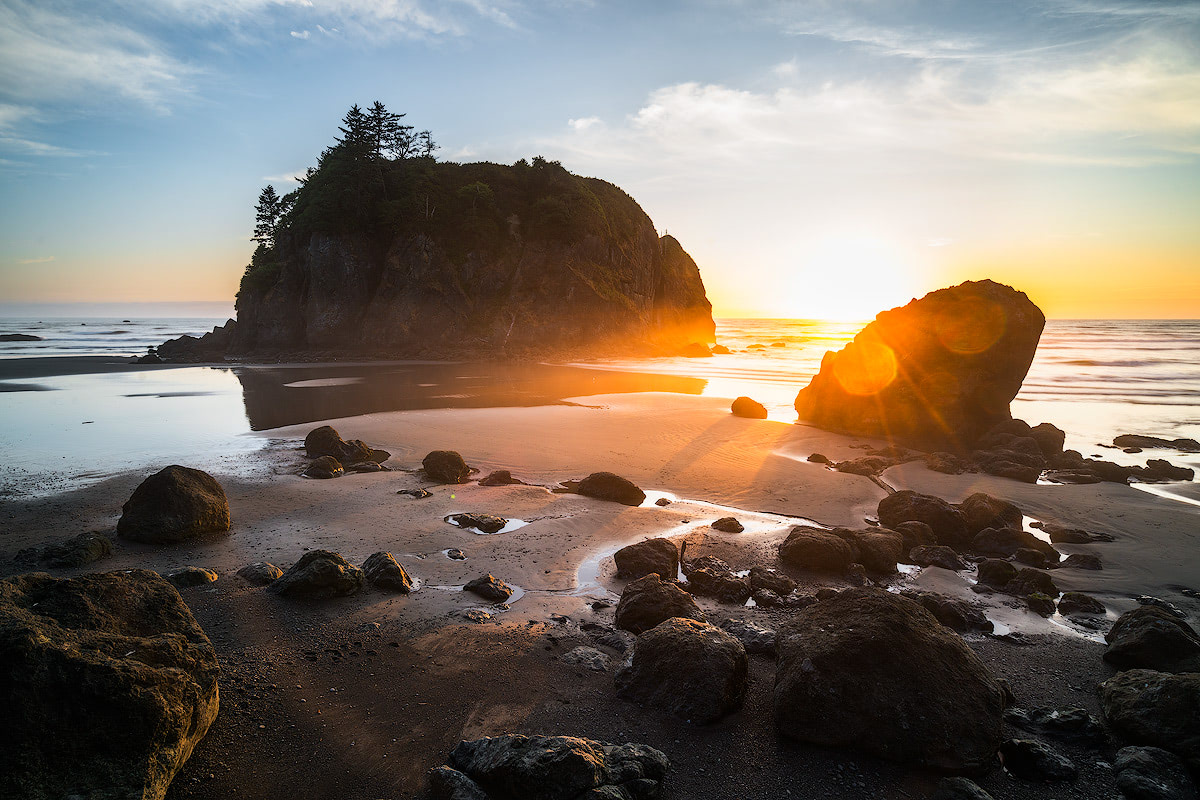 Ruby Beach
One of my favorite things to do in Olympic National Park is find incredible spots for photography. Ruby Beach is a very popular spot for amazing coastal photography on the Olympic Peninsula. It's easy to access Ruby Beach and there's a variety of photography opportunities – sea stacks, tide pools, marine life, driftwood formations, migratory birds, and colorful starfish.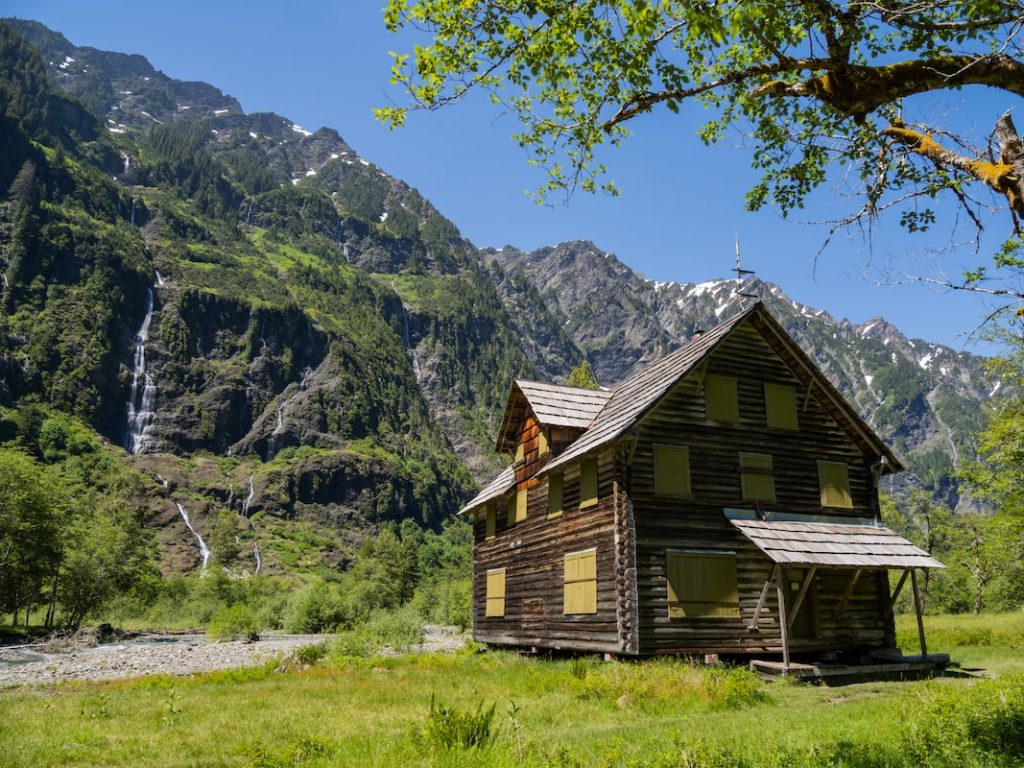 Enchanted Valley
Another backpacking option in Olympic National Park is the 18-mile High Divide Loop Trail through the Enchanted Valley. Said to be the "quintessential alpine experience", the High Divide Loop sees hikers traverse mountain passes, travel through forests of douglas firs and hemlocks, explore wildflower meadows, and camp in some of the most scenic spots in Washington. This hike shouldn't be missed for any backcountry lover!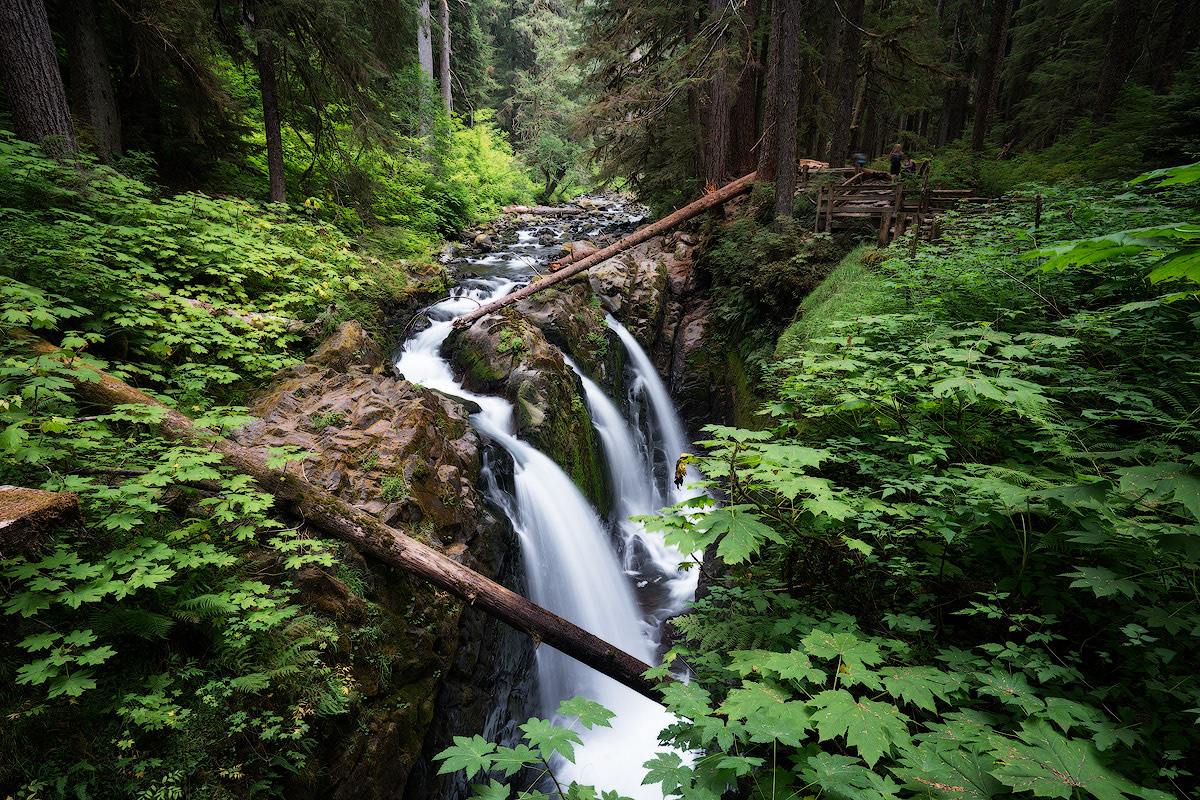 Sol Duc Falls
There are some great hikes in the Sol Duc area, including Sol Duc Falls. Meander through old-growth forests and mossy rainforests before you get to the roaring falls. This a great spot for waterfall photography. After your hike, visit the nearby Sol Duc Hot Springs and spend the rest of the day relaxing.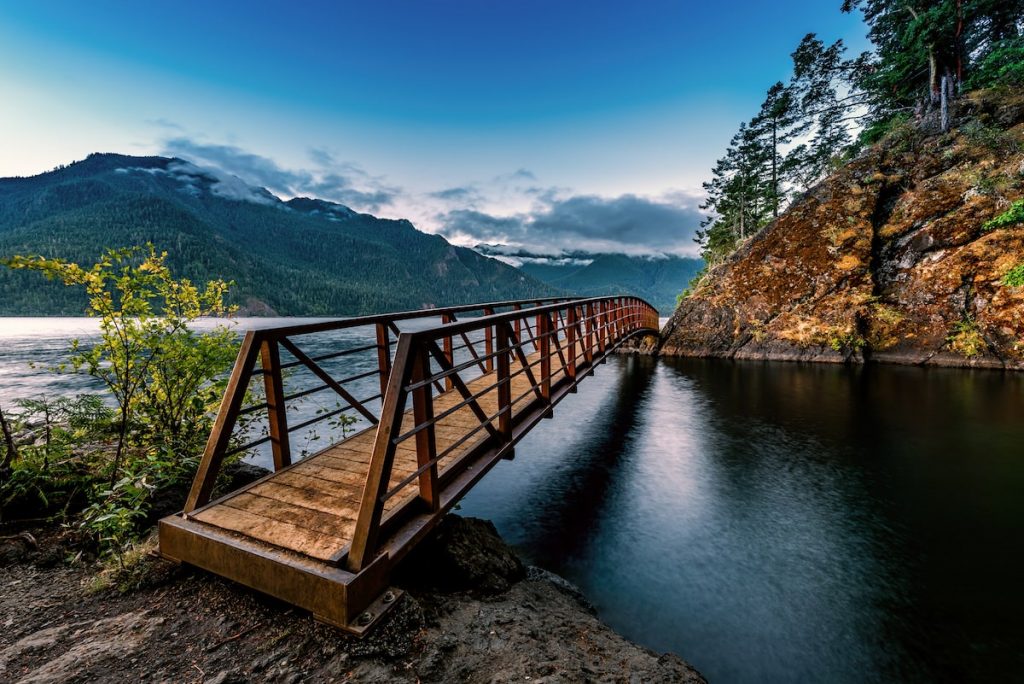 Spruce Railroad Trail
This trail around Lake Crescent is the perfect family-friendly activity for a day in Olympic National Park. The Spruce Railroad Trail is mostly paved making it more accessible, and it's an amazing path for hiking and biking! You can travel up to 10 miles round trip, or just bike as far as you'd like and turn around. There are great forest and lake views to be had the whole way as you wind around the shore of Lake Crescent. This is one of my favorite spots on the Olympic Peninsula!
Insider's tip: Take the short detour to Devil's Punchbowl for magnificent lake views and a fun bridge to cross.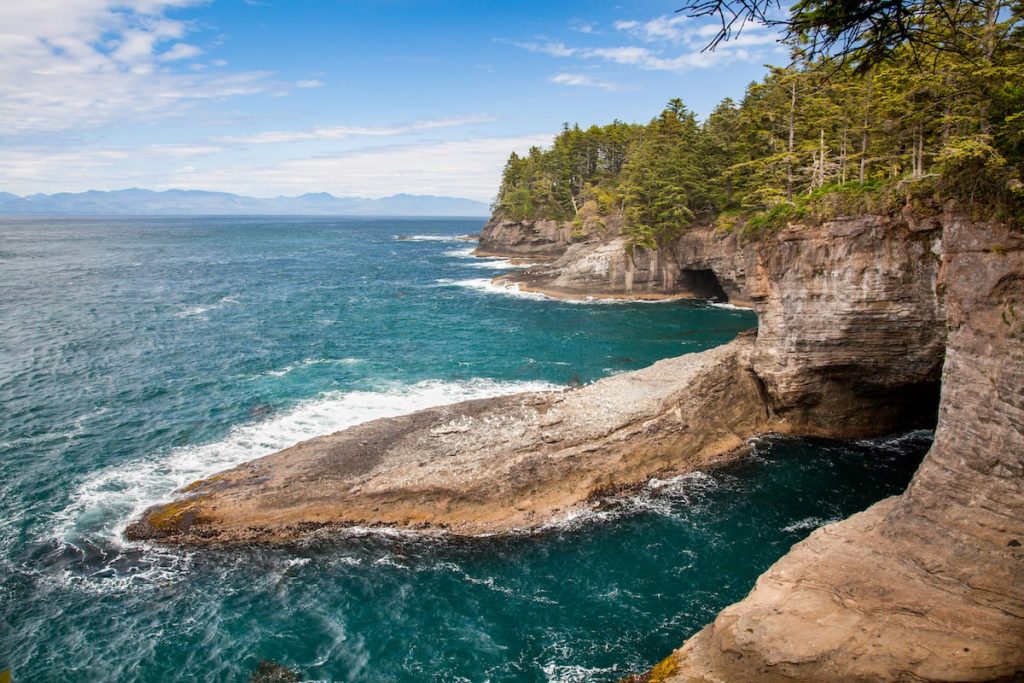 Cape Flattery
It's a short hike (under a mile each way!) to Cape Flattery to see some of the most incredible views on the Olympic Peninsula. Standing here you're at the northwest most point in the lower 48, pretty cool! You'll need a Makah Recreation pass to visit this coastal wilderness area on the Makah Reservation. You can buy a pass at the general store in Neah Bay for $20, and it's good for the whole year.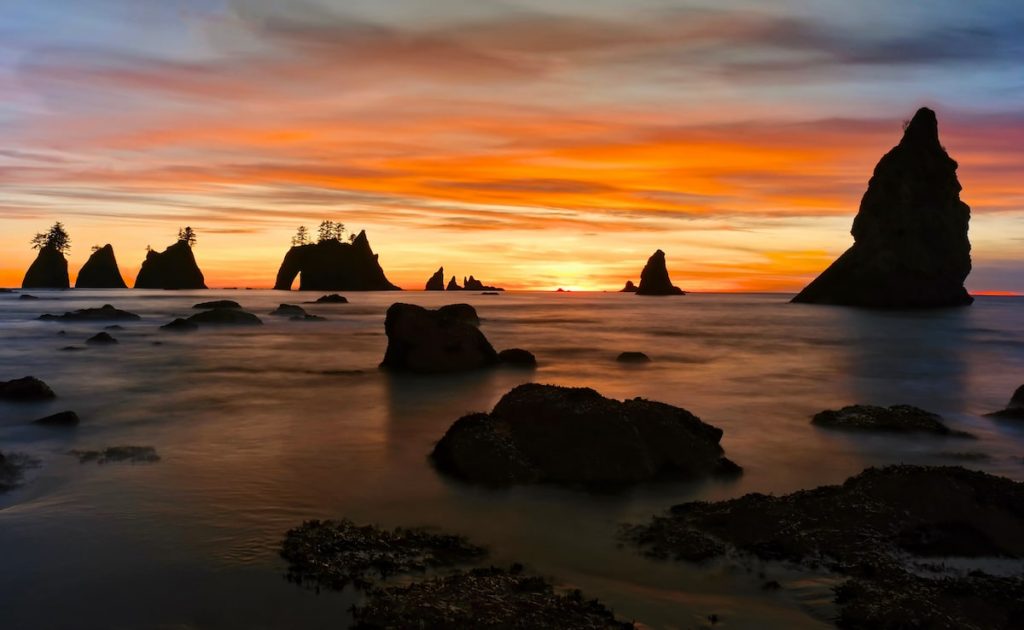 Shi Shi BEach
Shi Shi Beach is a coastal beach popular for camping. Traditionally this area has gotten quite crowded with campers on summer weekends and holidays, so plan accordingly. You'll need to get a Wilderness Camping Permit to stay overnight here. In addition, you'll also need a Makah Recreation here as well.
Insider's tip: The drive to the Northwest point of the Olympic Peninsula is a haul, so plan on spending a whole day exploring Cape Flattery, Neah Bay, and Shi Shi Beach.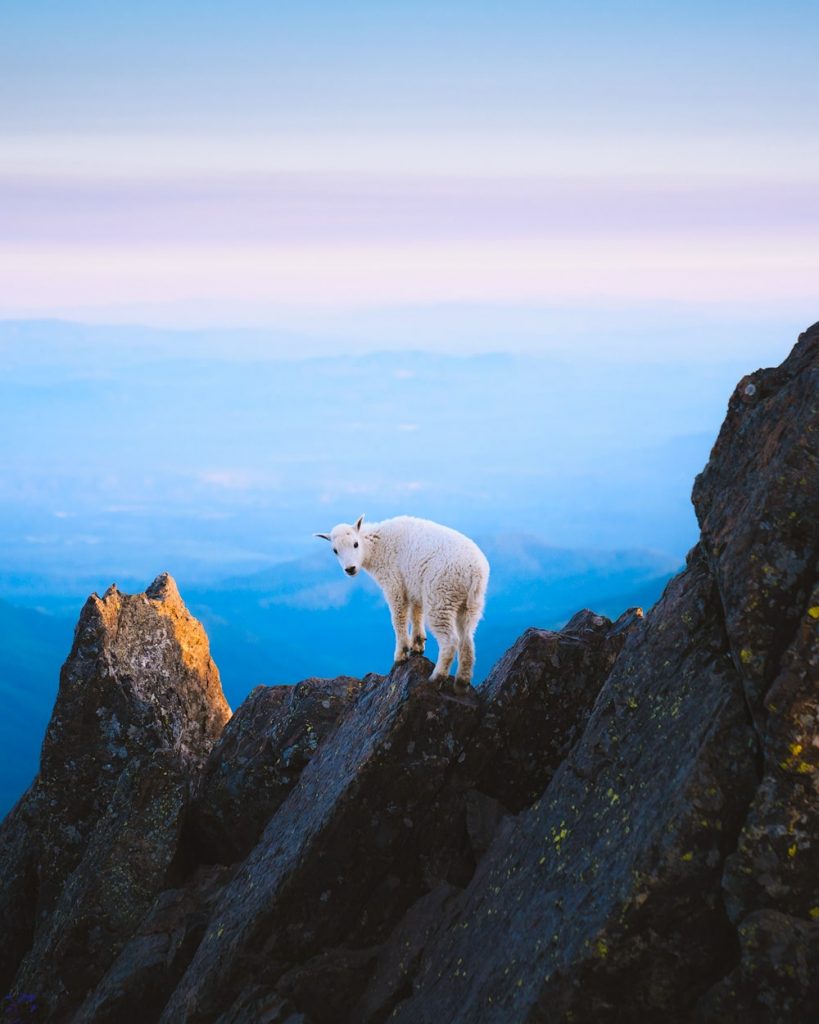 Mount Ellinor
One of my favorite things to do in the Pacific Northwest is hike, and Olympic National Park is the perfect place for it. The views from Mount Ellinor can't be beat! There are two trailheads to choose from for this hike. One is a bit longer at 6.2 miles round trip, with a more gradual ascent, while the other is shorter and significantly steeper at 3.2 miles round trip. Choose your own adventure, but you're guaranteed great panoramic views and a fantastic hike with either trail. You might even be lucky enough to see a mountain goat!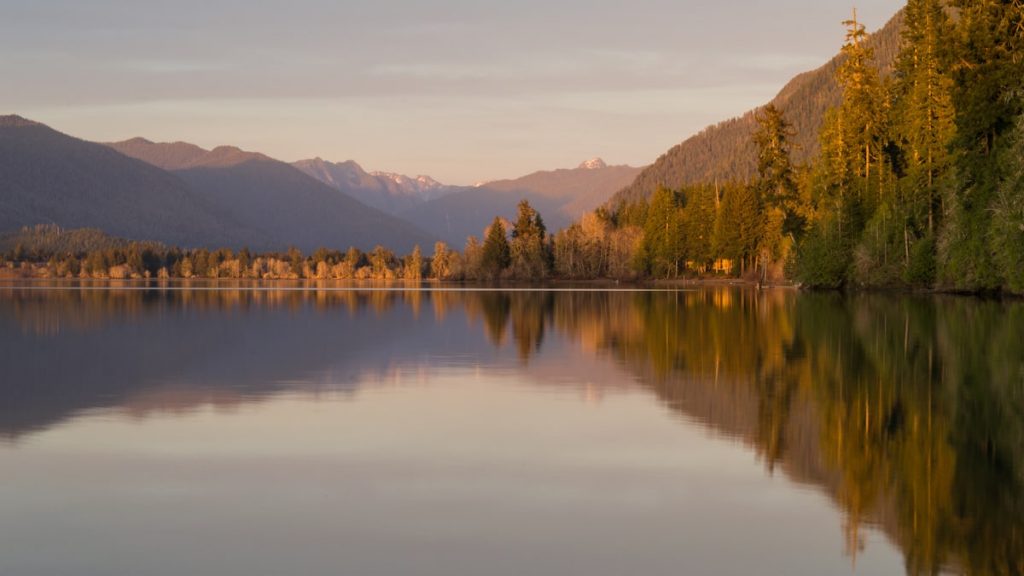 Lake Quinault
Lake Quinault is considered the "southern gateway" to Olympic National Park. There's a little of everything in this area – rainforest, crystal clear glacial lakes, and amazing hiking trails. You can also visit, or stay at, the historic Lake Quinault Lodge while you're in the area. I suggest soaking in the views of the lake from the lawn of the rustic lodge – it was built way back in the 1920s!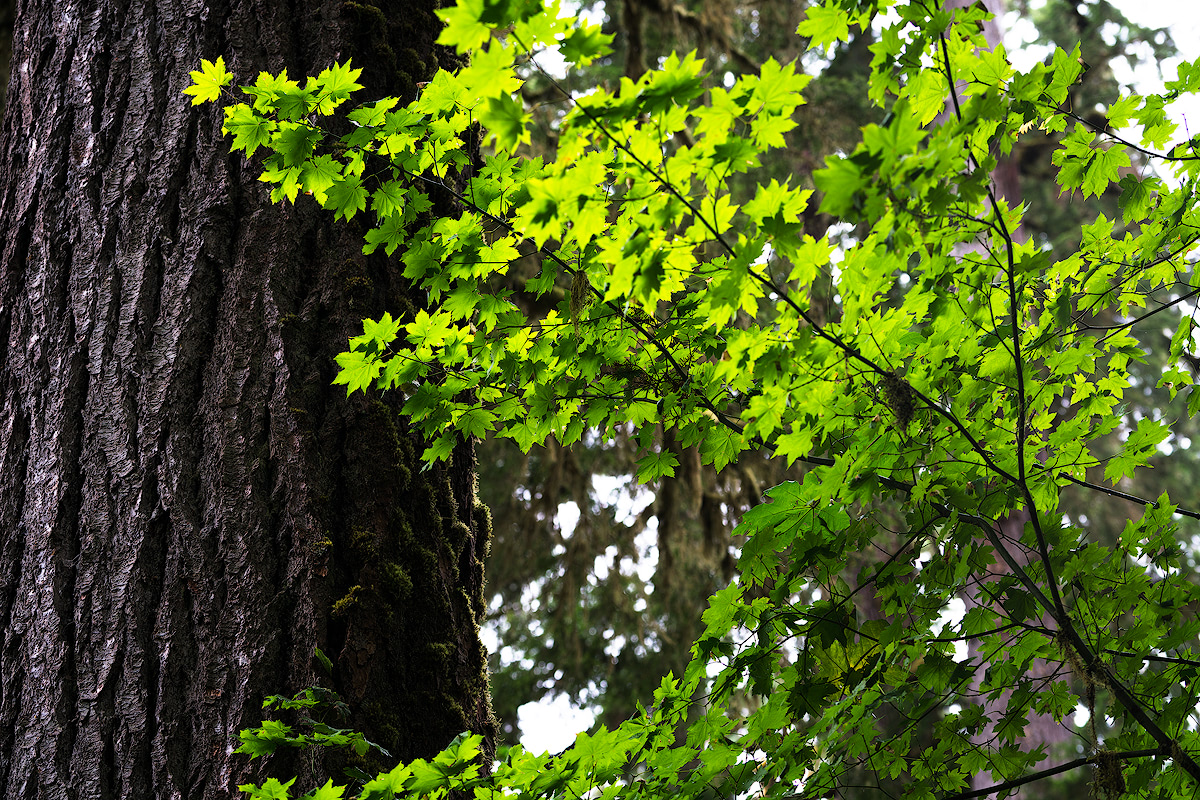 Best Time to Visit Olympic National Park
Because of its diverse climates, Olympic National Park can be visited year-round (although some of the higher altitude areas may be snow-covered.) That said, I love visiting the Olympic Peninsula in springtime! The trees and mosses are all incredibly bright and lush, and it is such a delightful break from the grey, overcast spring days that we tend to see here in the Pacific Northwest. You might not think of Washington when you think of "spring break", but it truly is an incredible place in the springtime!
Insider's Tip: Visit during April and May to catch the rainforest at its most green and the waterfalls at their peak flow. For hiking at higher elevations, August and September are best to guarantee trails will be clear of snow and mud.
Where to Stay on the Olympic Peninsula
Forks and Port Angeles are the best options and you could split your time between both. Sequim, Port Townsend and Olympia are other options but a further drive from the best things to do in Olympic National Park.
As the park is quite spread out, you will probably want to stay in a couple of different areas. To explore Hurricane Ridge, stay in the nearby town of Port Angeles. Here you have plenty of accommodations and dining options. When exploring the Hoh Rainforest or the coast, I recommend staying in the town of Forks. There you will be close to the action while still having a few different options for lodging and restaurants.
Lodging in Forks
If you opt for a hotel or cabin rental in Forks check out the Kalaloch Lodge on the edge of Kalaloch Beach or try The Hideaway and Sol Duc Den for a cozy private accommodation.
Lodging in Port Angeles
For hotels and vacation rentals in Port Angeles I love the Olympic Lodge and the Red Lion Hotel for well priced rooms with beautiful views.
camping In Olympic National Park
There are many great campgrounds on the Olympic Peninsula, but most of ones within the park boundaries are first come first serve. The four campgrounds within Olympic National Park that you can make reservations at are Fairholme, Kalaloch, Mora, and Hoh Rain Forest. There are more campgrounds in Port Angeles, Forks, along the coast, and on nearby Olympic National Forest land (read our guide on how to find free campsites).
If you are willing to camp, you will be able to stay closer to the action, though you will obviously be more self-reliant for food. Search for campgrounds in one place using The Dyrt and use my code reneeroaming for a free 30 day trial. Don't forget to read up on all the car camping essentials to pack!
How Many Days to Spend in Olympic National Park
The Olympic Peninsula covers an incredible amount of land and you could really spend years exploring every nook and cranny. Like I said, I've visited at least 10 times now and every time I see something new! You can see most of the highlights (Hoh Rain Forest, Hurricane Ridge, Crescent Lake) in a 2-3 day weekend. If you have the time, I definitely recommend spending a few more days to hike some longer trails or backpack, and drive to some of the more remote areas, like Cape Flattery.
Map of the Best Things To Do in Olympic National Park
What To Pack for Olympic National Park
What you pack for your visit to Olympic National Park will depend on what time of year you choose to visit. For example, if you visit during winter you will need to pack more layers and wet weather gear. Whereas if you visit during summer then lighter layers are a must! But even in the summer, I never travel in the Pacific Northwest without my trusty rain gear. You never know when the weather will change!
This packing guide is also tailored towards people who enjoy hiking. If you don't plan to hit the trails, simply leave off the hiking-specific items when using the guide. If you want to camp during your trip to the Olympic Peninsula (which I definitely recommend!), I have an entire guide and packing list for car camping essentials, so make sure to check that out!
Don't forget to use code RENEE15 to get 15% off your first Backcountry.com order! (some exclusions apply) Click here to shop my favorites.
Hiking shoes:
It can get pretty wet and muddy in Olympic National Park, so you're probably best to bring a pair of waterproof hiking boots. The Columbia Newton Ridge Plus Waterproof Hiking Boots are a great choice. We also have a guide on all the best hiking shoes, so don't forget to check that out when shopping for new hiking boots!
Merino wool socks:
Wool socks are the best for preventing blisters and also letting your feet breathe. Recommended hiking socks.
Hiking pants, leggings, shorts, Skorts, Dresses:
I generally reach for leggings and I have also been loving skorts lately, but choose whatever feels comfortable and practical for you! Recommended hiking pants; hiking shorts; hiking skort, hiking dress, hiking leggings.
Quick-dry top:
Merino wool tops are my favorite due to their breathability and odor resistance. Recommended short-sleeve hiking top; long-sleeve hiking top.
Day pack/hiking backpack:
Choose something with hip and chest straps for optimal comfort and practicality. Recommended backpack.
Hip pack:
When taking short walks or exploring roadside stops I often prefer to opt for a small hip pack instead of a backpack. Just something to fit my phone, lip balm, sunglasses, and any other essentials. Recommended hip pack.
Trekking poles:
Optional but I personally swear by them for hiking! Recommended trekking poles.
Mid-layer:
Perfect for chilly mornings and evenings. So opt for something lightweight like a fleece or pullover. Recommended mid-layer.
Insulated jacket:
You will want something warmer for chilly days and during the mornings and evenings when visiting in summer. Recommended insulated jacket.
Rain jacket:
It rains a lot in the Pacific Northwest, that's why it's so lush and green! Be sure to pack a rain jacket, even during summer. Recommended rain jacket.
Casual clothes:
Pack some casual and/or nicer outfits if you plan to eat out at restaurants. This is of course optional though! Check out my Favorites page on Backcountry for some recommendations.
Navigation:
When driving, have Google Maps or Maps.Me handy. For hiking, carry a physical map and a compass, and download offline maps onto your phone. I use Gaia GPS – click here to get 20% off a Premium membership!
Emergency beacon:
Optional, but can give you and your loved ones some peace of mind when hiking or traveling without phone service. Recommended emergency device.
Headlamp + batteries:
For hiking in the dark, camping, or in emergency roadside situations. Recommended headlamp.
Sun hat:
Pack either a cap, bucket hat, or wide brim hat to protect your face from the sun. Recommended cap; bucket hat; wide brim hat.
Sunscreen:
Self-explanatory. This one is reef safe and doesn't contain any chemicals that will harm you or the environment. Don't forget a lip balm with sunscreen too.
Sunglasses:
Polarized sunglasses are best for eye protection.
First aid items:
Always carry a small first aid kit with essential items like blister plasters and emergency supplies. Recommended lightweight first aid kit.
Phone + driver's license/ID:
Always best to keep these on you in case your car is broken into. Recommended lightweight wallet (or you can simply use a small binder clip!)
Camera + batteries:
Optional but trust me, you will want a camera to capture these beautiful parks! Check out the camera gear I use to capture my travel photos and the camera bag I pack it all in!
Snacks:
Every road trip requires snacks! Bring whatever your favorite snacks are or factor in time to stop at a grocery store / gas station. My go-to snacks.
Cooler:
You might want to pack a cooler and bring along your own food and drinks. For a cooler, you can opt for a small/day trip size, or a larger cooler that's more conducive to car camping and longer road trips. Recommended day trip cooler; larger cooler.
Drink bottle + Water Jug:
Pack a reusable water bottle and you could also consider using a water bladder inside your backpack when hiking. I like to keep a larger water jug in my car so that I don't have to rely on finding water fillup stations. Lastly, I also like to hike with a lightweight water filter to ensure I don't get sick when drinking from streams.
Reusable coffee mug:
If you enjoy drinking coffee then it's best to bring along a reusable mug or tumbler. Recommended mug; insulated tumbler.
Reusable utensils:
Similar to above, having your own travel utensils / cutlery is a great way to cut down on single-use plastics when ordering take-out food.
National Parks Pass:
If you have one already, make sure to pack it! If not you can buy one when you arrive at the park or online before you go.
Road trip playlist + Podcasts:
Don't forget to download some good tunes and podcasts for your road trip. For music, check out my playlists on Spotify. For podcasts, we have an entire guide on the best road trip podcasts!
Want more packing & gear tips? Check out our guides on what to wear hiking, car camping gear essentials, how to plan a national parks trip, and the best hiking shoes.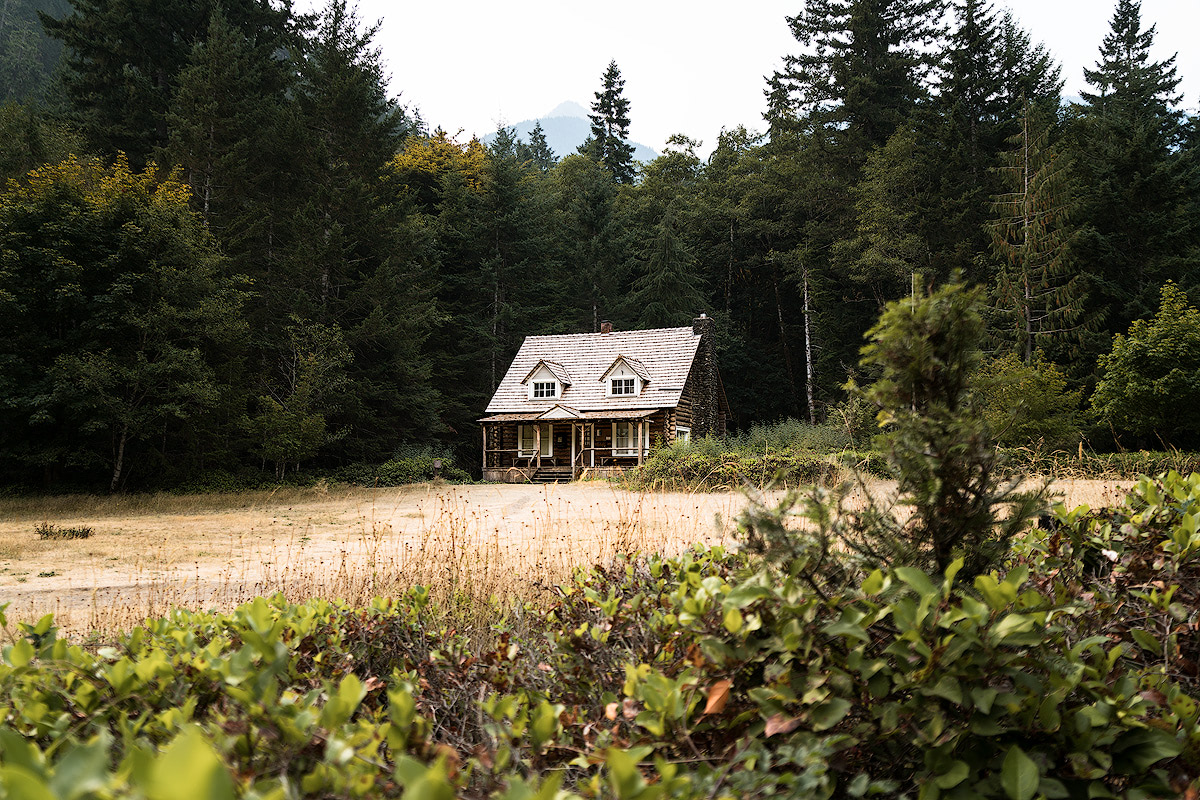 Interesting Facts about Olympic National Park
Olympic was designated a National Park on June 29, 1938.
There are 8 Native American tribes in the Olympic region, including the Jamestown S'Klallam, Elwha Klallam, Hoh, Makah, Port Gamble S'Klallam, Quileute, Quinault, and Skokomish.
Wildlife found within the park include elk, mountain lions, black bears, black-tailed deer, foxes, coyotes, skunks, marmots, lynx and mountain goats. Marine life includes whales, dolphins, sea lions, seals, otters and more. There are also more than 600 species of birds in the park!
The highest peak in the park is Mount Olympus – standing at 7,980 feet.
The very popular Twilight vampire books/movie series was set in the towns of Forks and La Push. Some of the movies were even filmed in the Hoh Rain Forest.
In 2021, Olympic National Park had 2,718,925 visitors according to the National Park Service. Olympic is reportedly one of the most visited national parks in the country.
---
Pin for later!