If you love hiking, a trip to Mount Rainier National Park should be high on your bucket list. The national park covers a wide variety of landscapes and hiking trails, so I always recommend spending a few days exploring if you can. With hundreds of miles of hiking trails to choose from, here are my recommendations for the best hikes in Mount Rainier National Park! From day hikes to longer treks (everything in between) Mount Rainier truly has a trail for hikers of all experience.
Disclaimer: This blog post is in collaboration with Backcountry.com and features some affiliate links. This means I get a small commission if you make a purchase (at no extra cost to you). Use code RENEE15 to get 15% off your first Backcountry order (some exclusions apply). You can also learn more about my affiliate policy here. Thank you for the support!
17 Breathtaking Hikes in Mount Rainier National Park, Washington
In a park as massive as Mount Rainier National Park with hundreds of miles of hiking trails, it can be challenging to make a decision on where to hike! The good news is, it's pretty hard to go wrong with any hike in the park here. One of my favorite things about Mount Rainier is the amount of variety in hiking trails and scenery. You can hike up to the glaciers on the mountain, visit alpine lakes, wildflower meadows, or beautiful waterfalls. This list of best hikes in Mount Rainier National Park is organized by park entrance/area to help you plan your trip!
Best Hikes Near Paradise
Paradise is where you'll find Mount Rainier's main visitor lodge, which is definitely worth a visit when you arrive in the park. The hiking trails in Paradise have incredible wildflowers, and this area also had a ranger station and the Paradise Inn.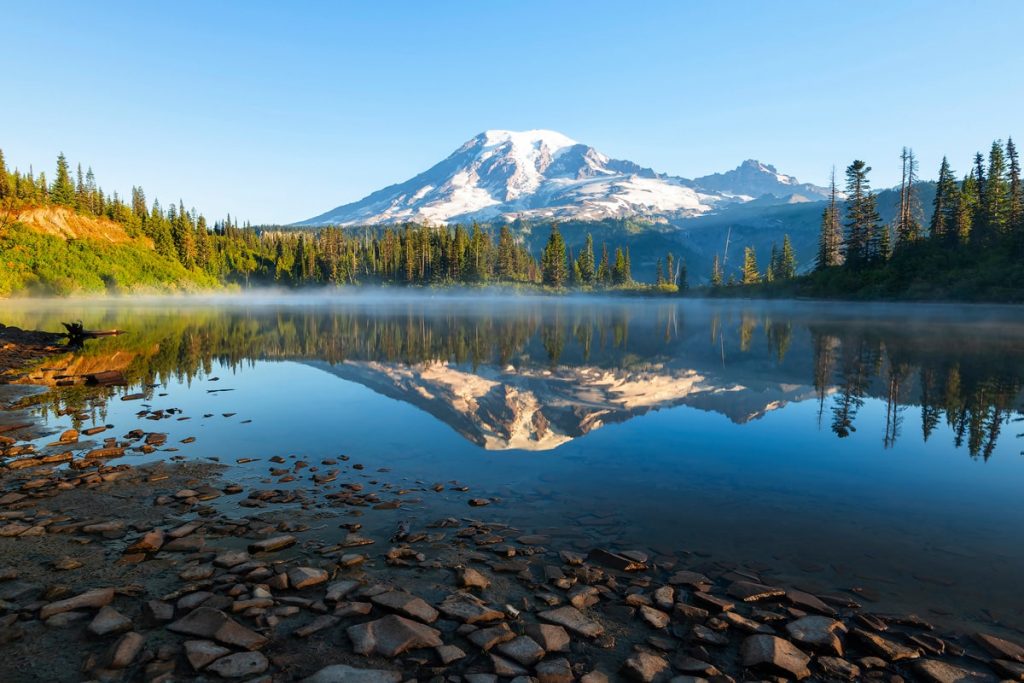 Bench and Snow Lakes
The trail to Bench and Snow Lake Trail is relatively mellow. In 2.5 miles round trip (and 610 feet elevation gain), you can hike to two stunning alpine lakes. On a clear day you'll have great views looking back over Bench Lake at Mount Rainier. I recommend packing a swimsuit, especially if you plan on visiting Snow Lake on a hot summer day. You'll definitely want to jump in for a swim!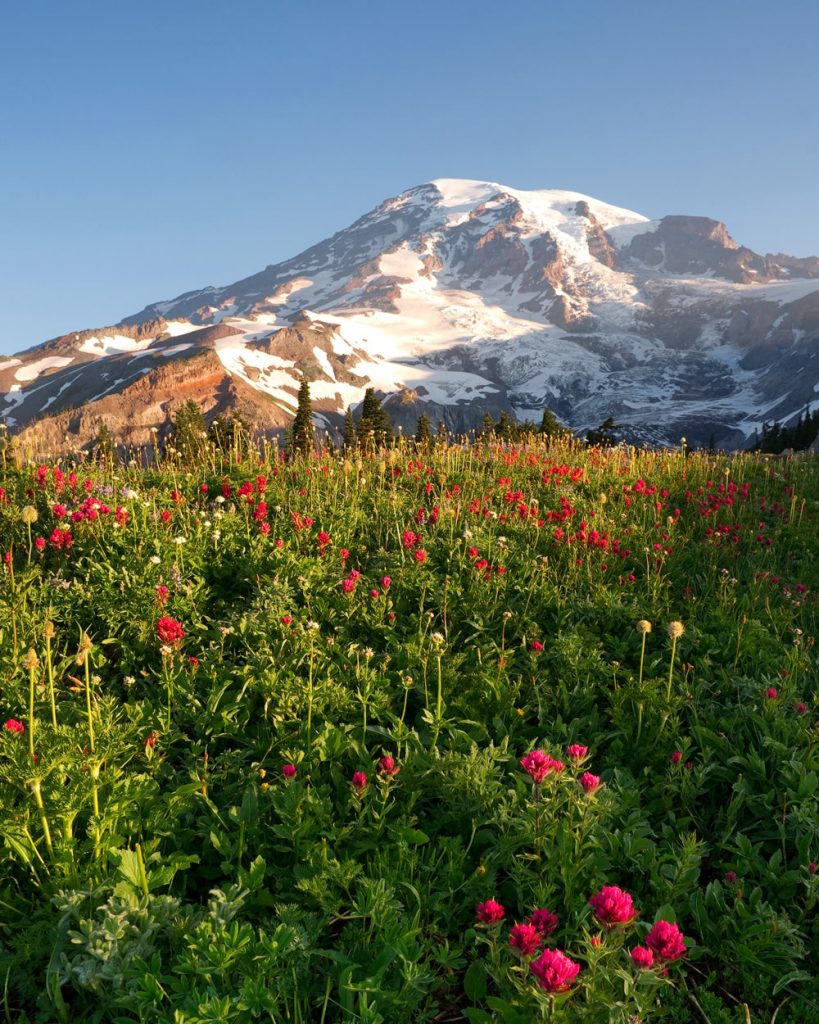 Skyline Trail Loop
The Skyline Trail Loop is one of the more popular hikes in Mount Rainier National Park, and for good reason. In the peak summer months, this hike provides epic views of waterfalls, alpine meadows, and majestic glaciers. Panorama Point is a popular resting spot on this trail, and it even has a pit toilet available in the summer. While the full Skyline Loop Trail is 5.5 miles and climbs 1450 feet, you can hike as far or short as you like and still enjoy a beautiful hike.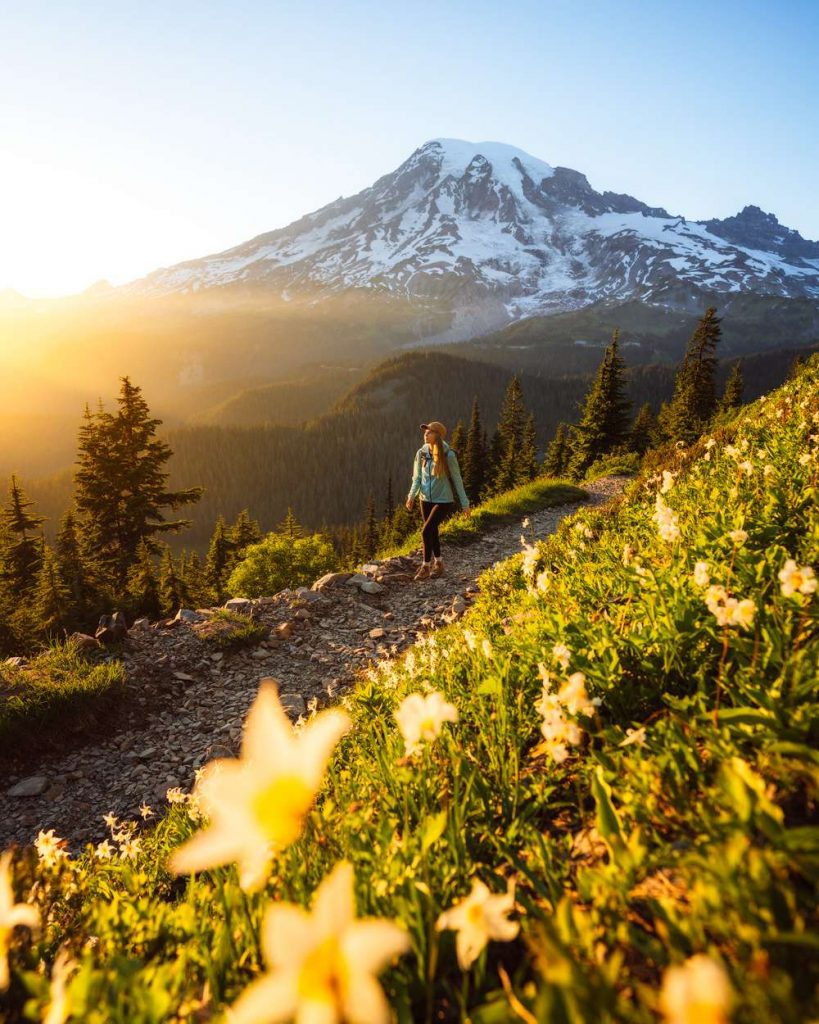 Pinnacle Peak Saddle
Although this trail seems short at only 2.5 miles roundtrip, you should be prepared for a steep climb up! Good hiking footwear is recommended on this trail as it often has snow late into the summer. After the steep 1,000 foot climb up to the Pinnacle Peak saddle, you'll be treated to 360-degree views. With Mount Rainier to the north, Adams and St. Helens to the south, you can even often see Mount Hood in the distance too. The views alone are worth this steep hike!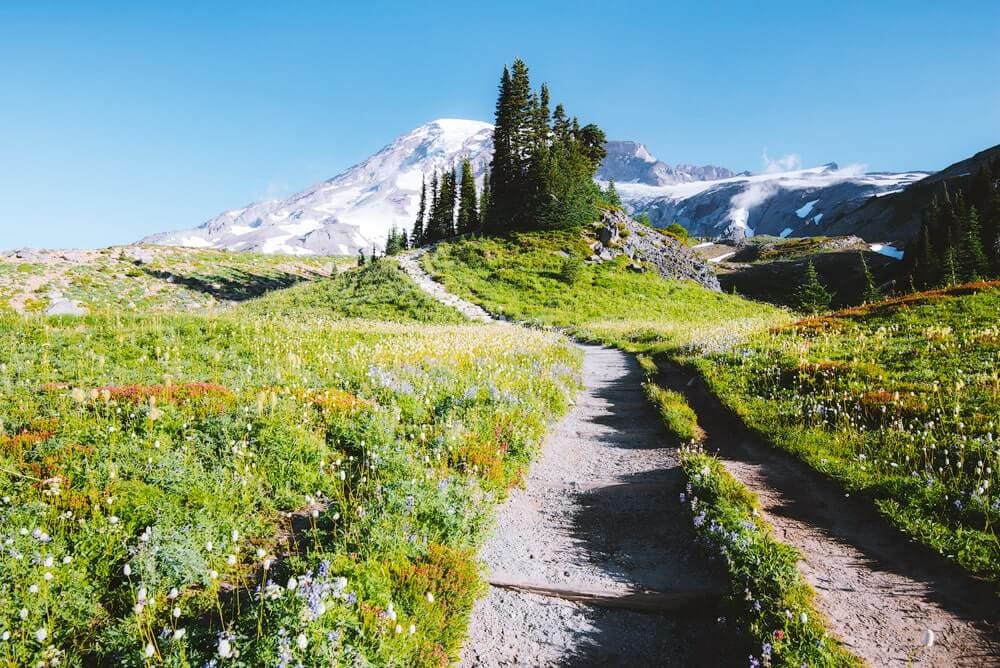 Mazama Ridge Trail to Faraway Rock
The Mazama Ridge Trail is another hike with breathtaking views of Mount Rainier. In peak wildflower season you'll likely have beautiful flowers surrounding you for the entirety of the 5.2-mile hike! The Mazama Ridge Trail can also be added on to the Skyline Trail Loop for a longer day hike.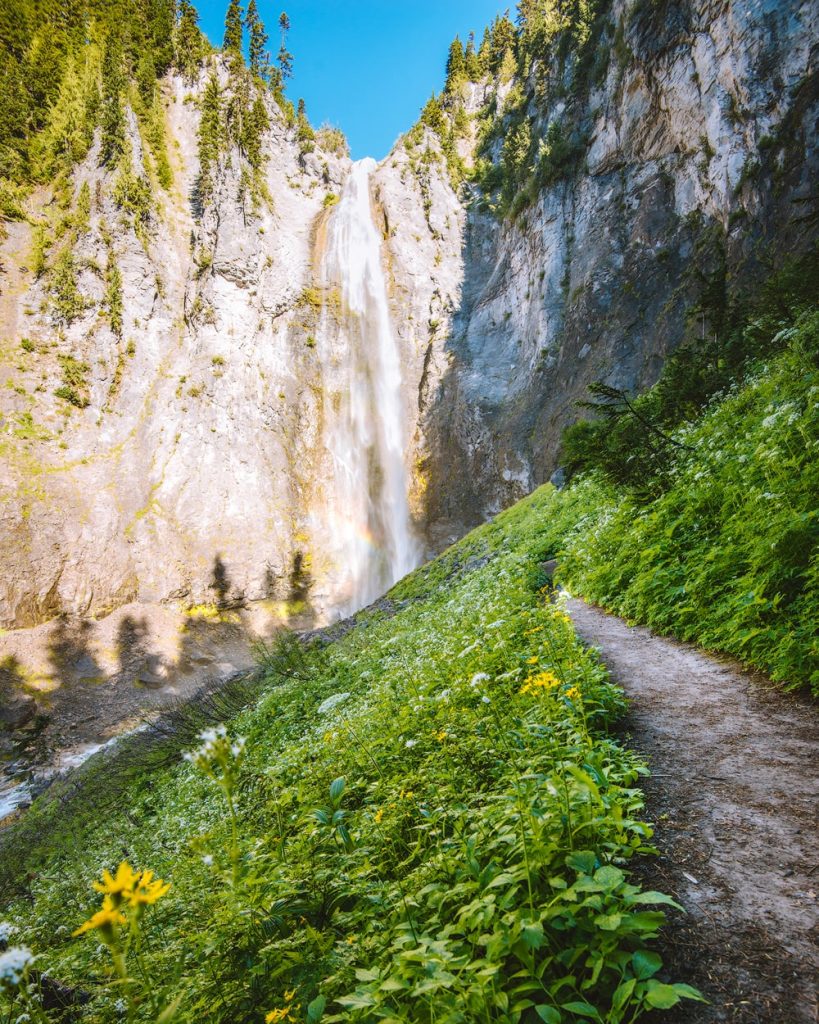 Comet FAlls
This is a stunning hike that takes you past multiple creeks, streams, and waterfalls on your way to Comet Falls. At over 300 feet tall, Comet Falls is one of the taller waterfalls in the park. This hike is 3.8 miles round trip, and with a few bonus waterfalls (such as Christine Falls), it's definitely worth the trip! Always be cautious when hiking near waterfalls and rivers as the trail and rocks can become quite slippery.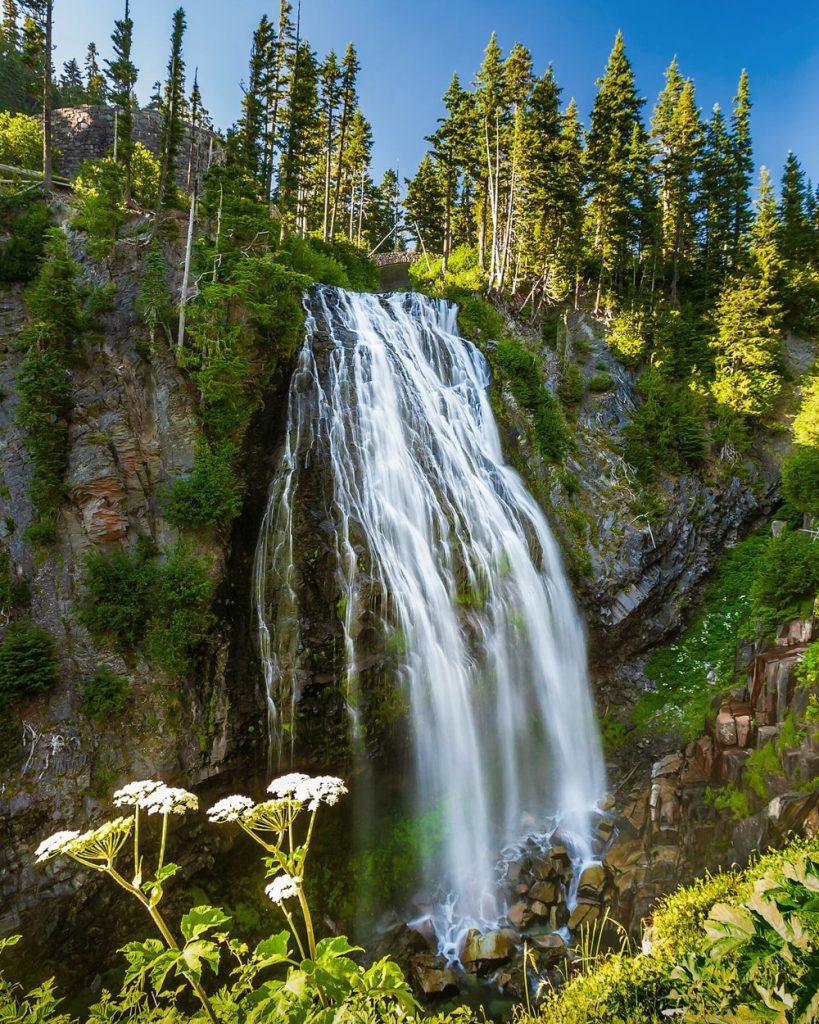 Narada FAlls
The short hike (just 0.2 miles round trip!) to Narada Falls is a must-do for all visitors to Mount Rainier National Park. The trail here can get slippery from the mist from the falls, so be mindful and have a good pair of hiking shoes! The Narada Falls trail can also link up to the Wonderland Trail and other hikes in this area.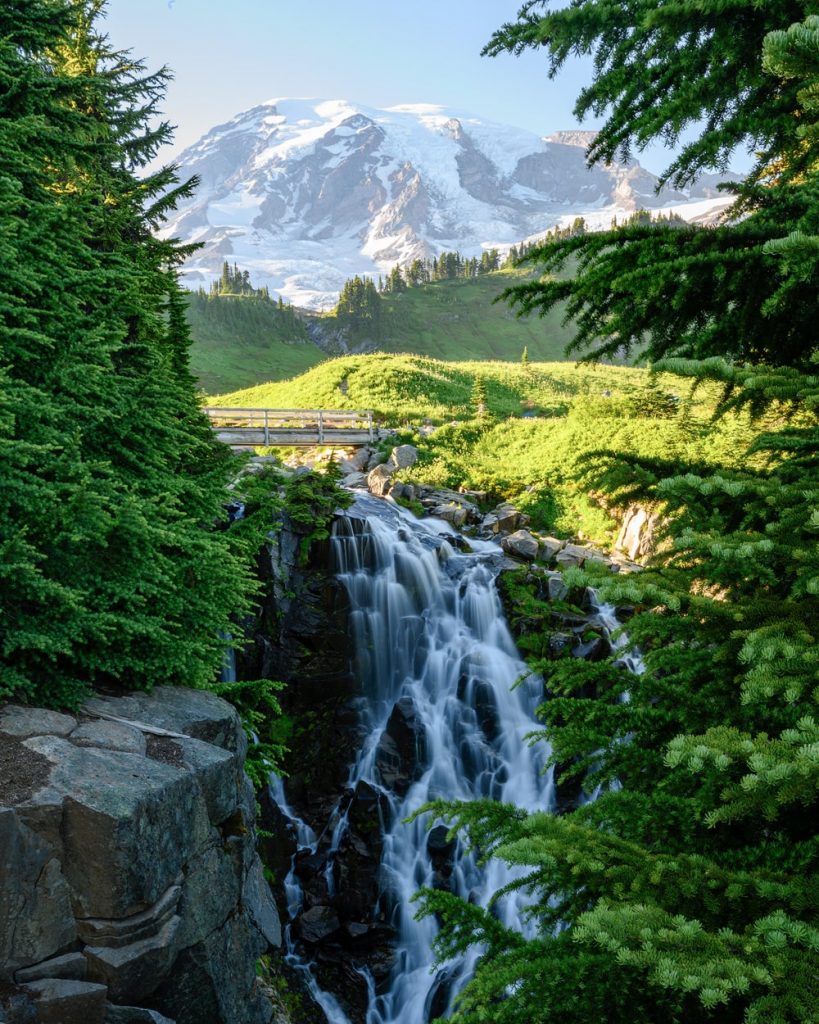 Myrtle FAlls
Myrtle Falls is another great option for a short hike in the Paradise area. Less than a mile round trip, the Myrtle Falls trail follows the paved Skyline Trail with minimal elevation gain. It's a great option for most visitors to the park and has great views to watch the waterfall cascade.
---
Best Hikes Near Sunrise
The Sunrise area and entrance of Mount Rainier National Park is a great place to explore wildflower meadows with incredible views of the mountain. This area also has the Sunrise Visitor Center, Sunrise Day Lodge, and White River Campground. Sunrise is the highest elevation in the park that you can access by driving, at 6400 feet!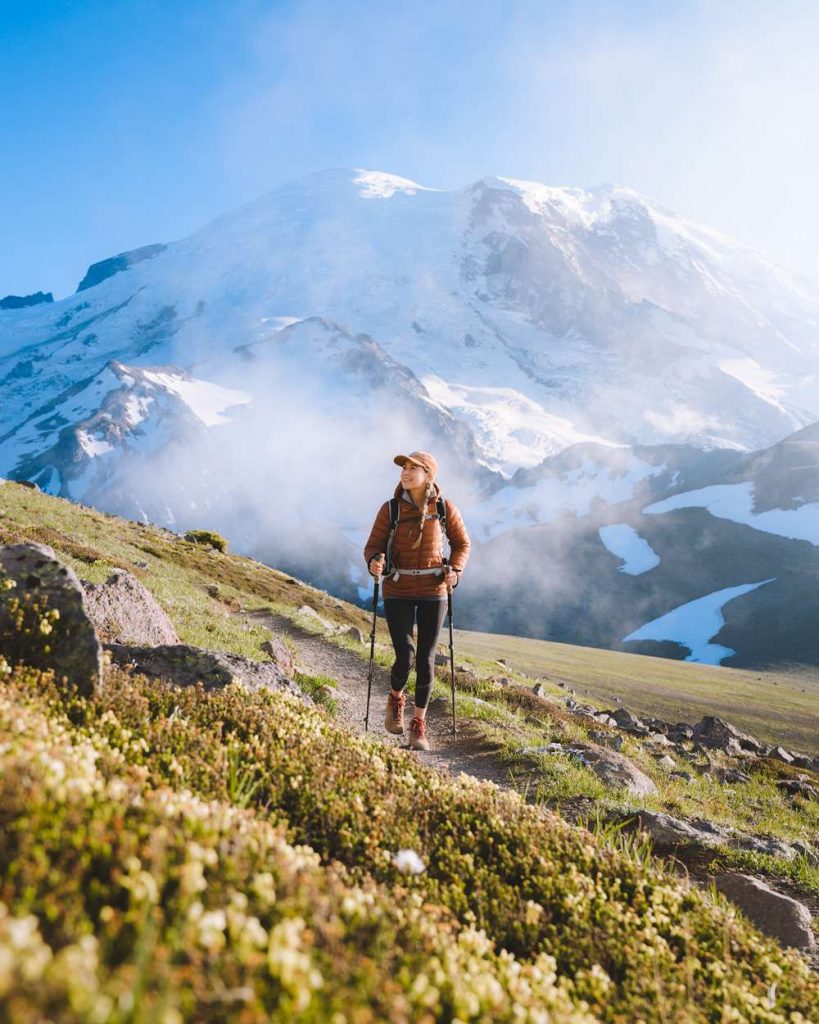 Burroughs Mountain Loop
The Burroughs Mountain Trail is a challenging, but incredibly rewarding hike. This is one of my favorite hikes in Mount Rainier National Park! The 9 mile roundtrip hike yields stunning views of Mount Rainier, incredible flora, and often quite a few marmots. If you don't feel like hiking the full 9 miles, I recommend hiking at least the first 3 miles of this trail (for a 6 mile roundtrip hike) to get a taste of the full adventure!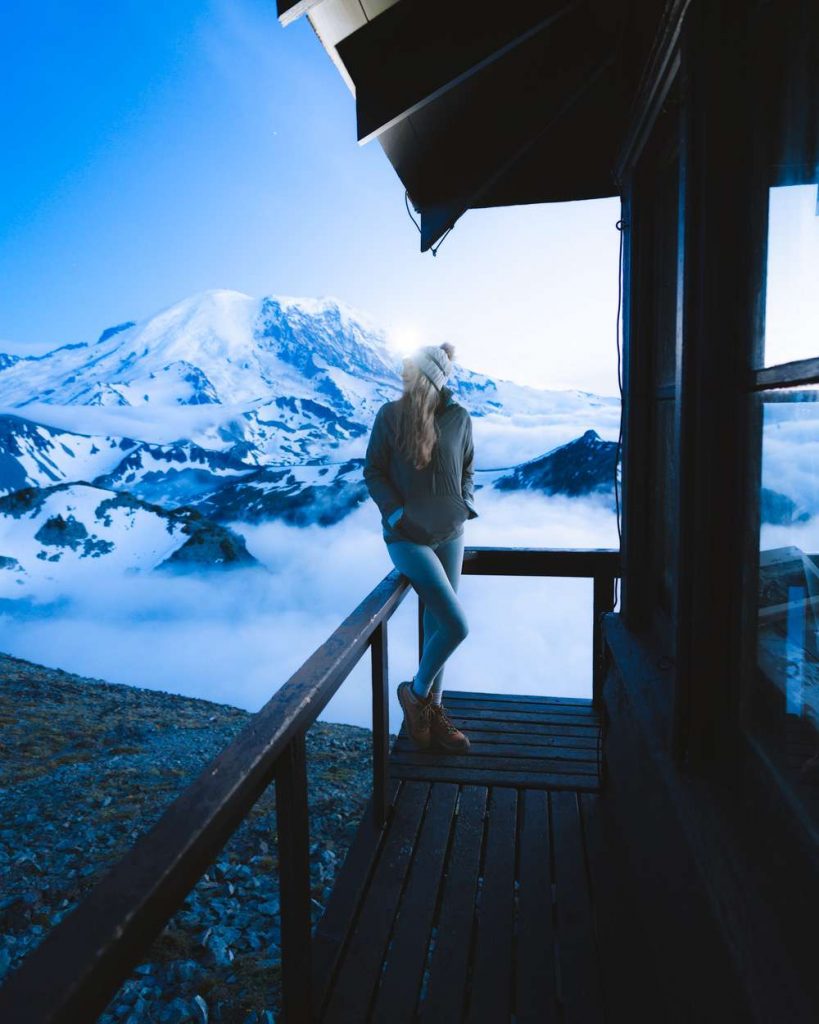 Mount Fremont Lookout
One of Washington's iconic fire tower hikes, the Mount Fremont Lookout Trail should definitely be on your bucket list. The 5.6 mile round trip hike brings you to the historical fire lookout, built back in 1934! The mountain views are pretty incredible, but be sure to watch the meadows for wildlife, too. There's not much shade on the majority of this trail, so pack sun-smart clothing (like a sunshirt) and extra sunscreen.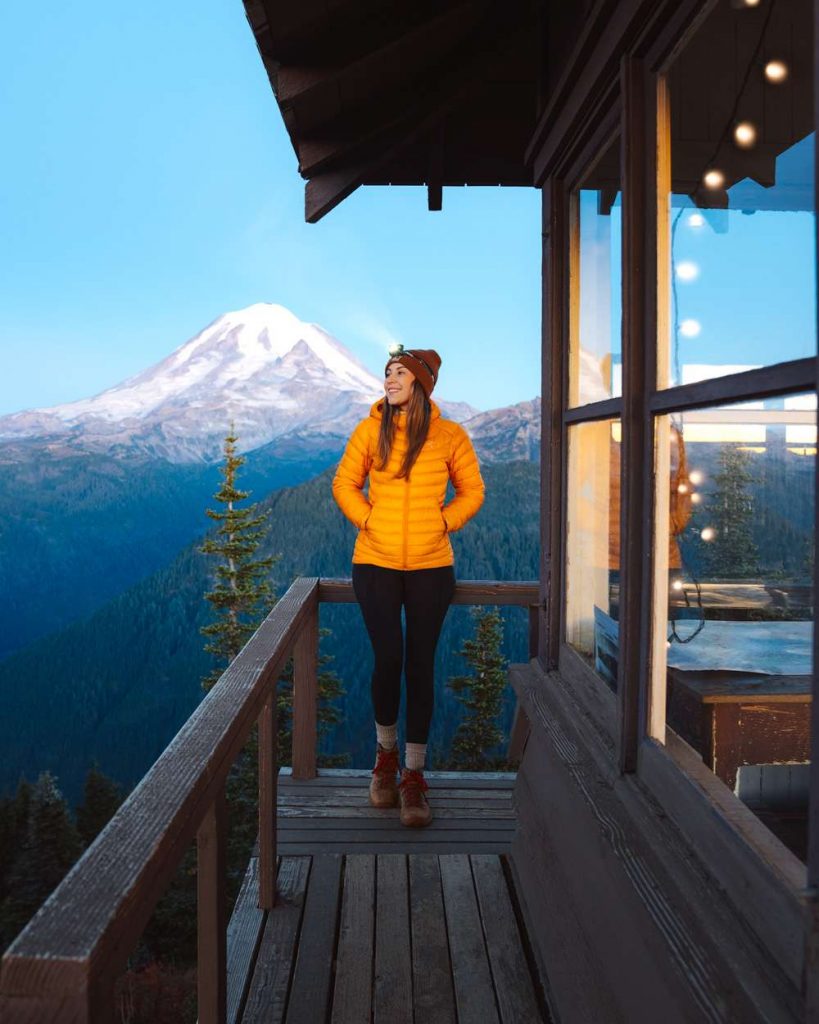 Shriner Peak Lookout
The hike to Shriner Peak Lookout is strenuous at 8.5 miles roundtrip and almost 3500′ of elevation. But if you're up for a challenge this is one of the best hikes in Mount Rainier National Park! Since it's so steep, this trail is often a bit quieter than some of the other popular hikes in the park. Be sure to pack extra water for this hike in the summer, as it gets pretty hot and dusty!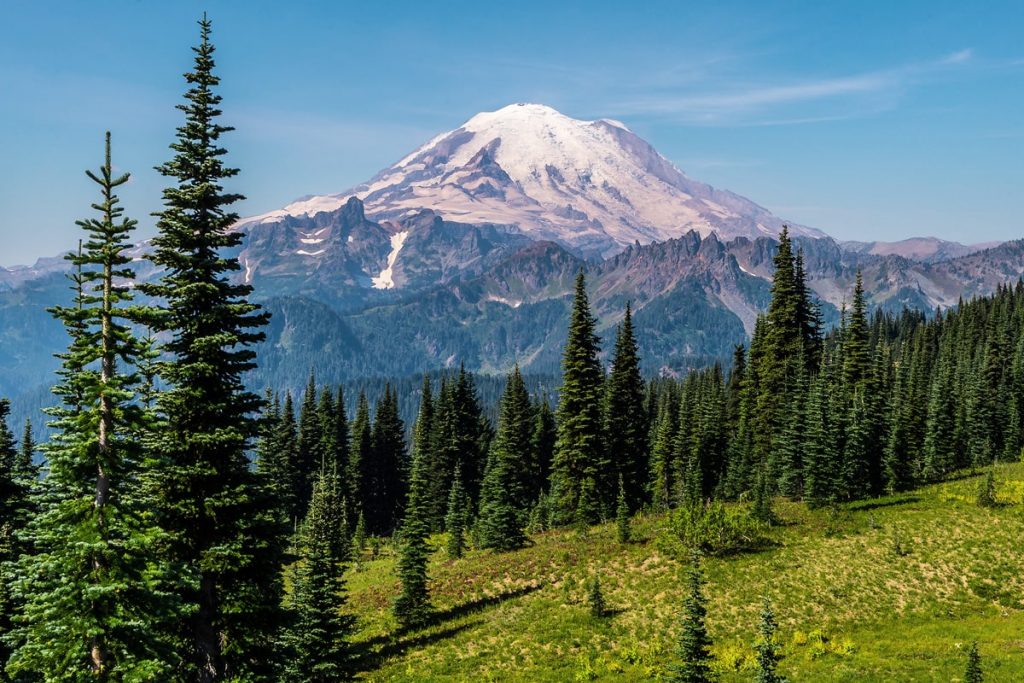 Naches Peak Loop
The Naches Peak Loop Trail is a good option for a quick hike that leaves from the scenic Tipsoo Lake. The trail is just 3.2 miles round trip with minimal climbing, but provides gorgeous scenery, wildflowers, and even a beautiful viewpoint of Dewey Lake. Though the hike is just a few short miles, you'll likely find yourself stopping often to take photos or just take in the scenery.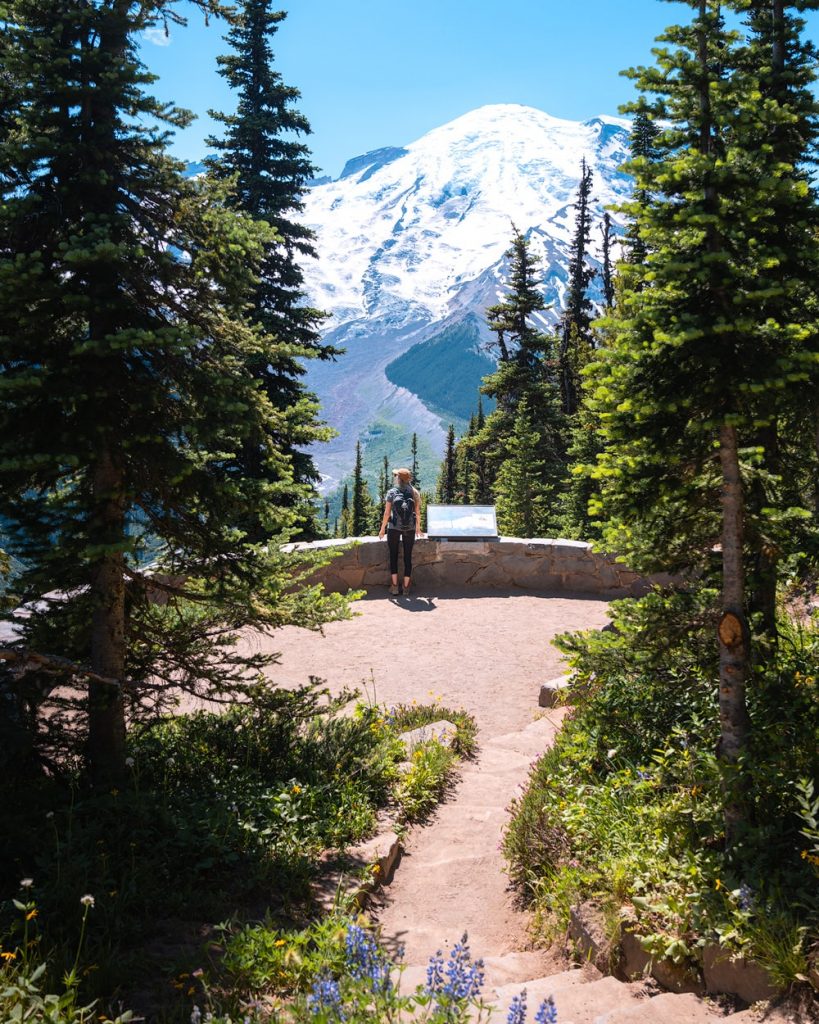 Silver Forest Trail and Emmons Vista Overlook
The Silver Forest Trail is another shorter hike in Mount Rainier National Park, that typically doesn't see quite as many crowds. You'll enjoy a 2.5 mile roundtrip hike through incredible douglas firs and pine forest. When you reach the overlook, the view is predominantly of the Emmons Glacier on Mount Rainier. You may even be able to see where the White River begins at the bottom of the glacier!
---
Best Hikes Near Ohanapecosh
Ohanapecosh is home to Mount Rainier National Park's old-growth forest, as well as a visitor center and campground.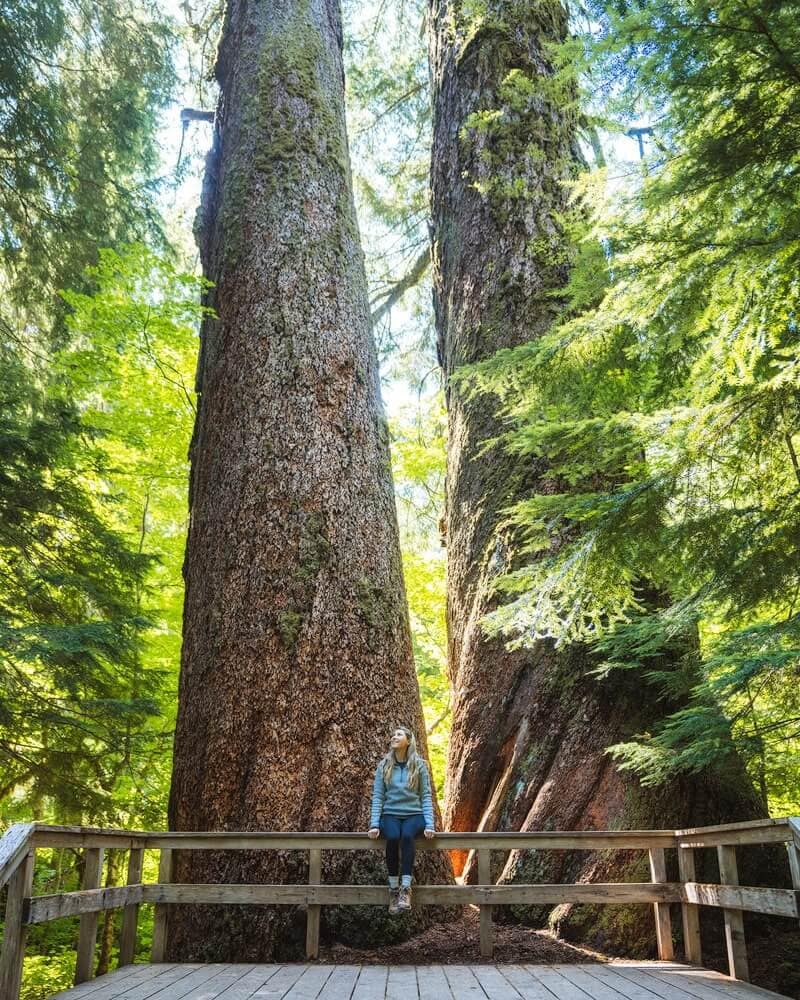 Grove of the Patriarchs
This is a great option for an easy hike at just 1.5 miles roundtrip with minimal elevation gain through the Grove of the Patriarchs. You'll stroll in awe of the giant trees here, with some as large as 40 feet in diameter and 300 feet tall! There's even a suspension bridge you'll get to cross, as the ground here is quite boggy. But don't worry, the trail follows a wooden boardwalk throughout the grove.
Important note: This trail is closed for the 2022 season. Check here for opening information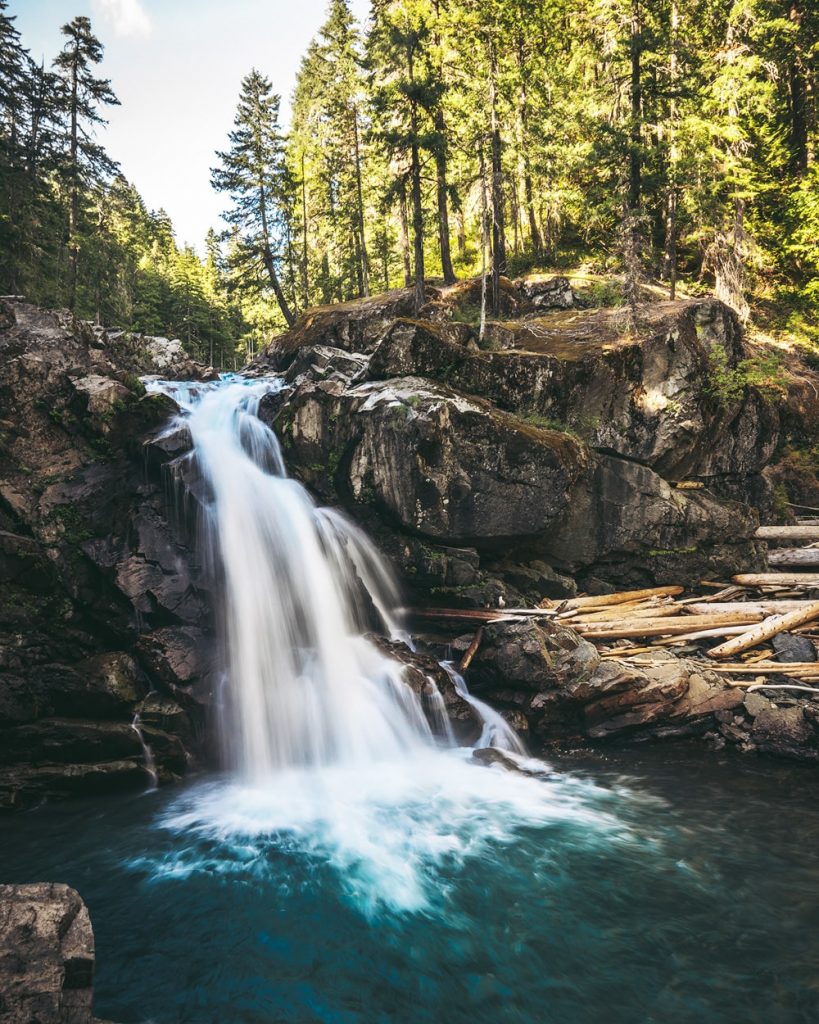 Silver Falls Loop
The Silver Falls Loop leaves from the Ohanapecosh Campground and follows a brief 3-mile roundtrip loop along the Ohanapecosh River. There are interpretative signs that share some of the history of this area along the way. The crystal clear water is spectacular to watch as you hike, and looks especially stunning once you arrive at Silver Falls.
Best Hikes Near Carbon River
The Carbon River entrance to Mount Rainier National Park is in the northwest corner of the park. This area of the park is known for incredible hiking trails and the Mowich Lake Campground. This is a great place to car camp and make your home base for a few days of hiking in the park.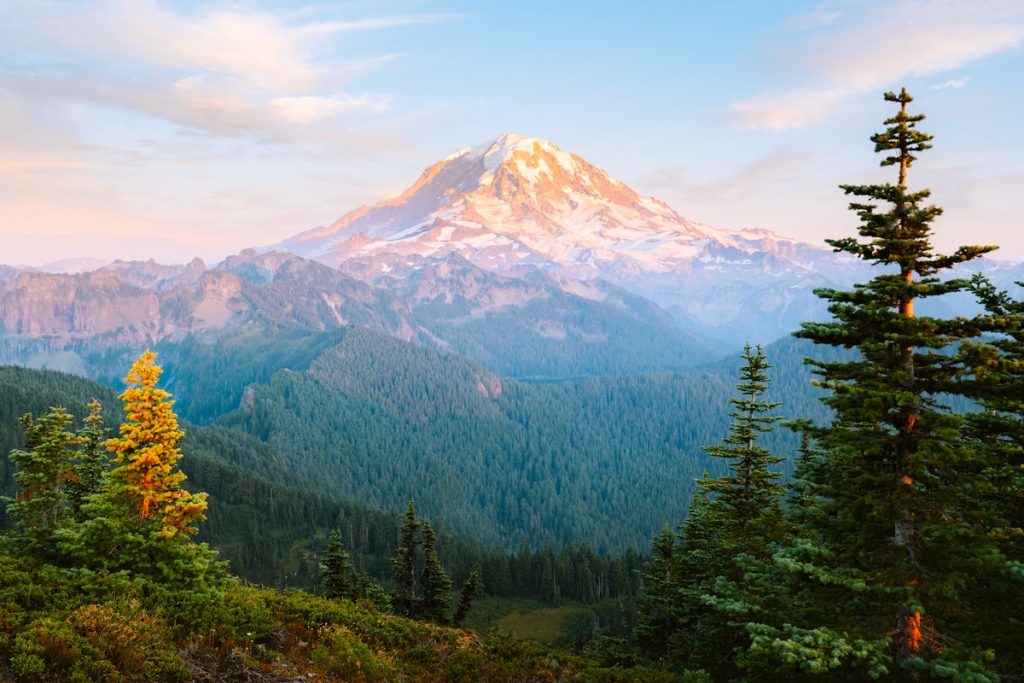 Tolmie Peak Lookout
The Tolmie Peak Fire Lookout is another of the iconic fire tower hikes in Mount Rainier National Park. The views from the lookout across to Mount Rainier, as well as down to Eunice Lake, make the 7.5 mile trek absolutely worthwhile. The trailhead departs from the Mowich Lake Campground, which is a great place to camp and is first-come, first-serve.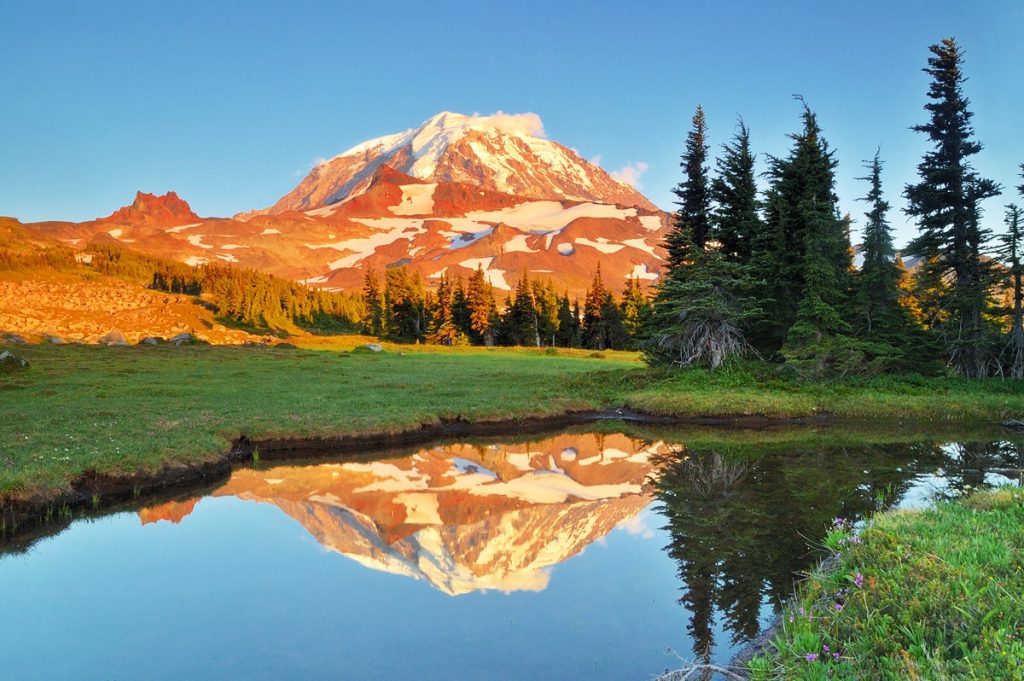 Spray Park
The trailhead for Spray Park takes a bit of a drive to access, so this is a great hike if you like to try to avoid crowds. The hike is 8 miles roundtrip with 1700′ elevation gain, so you'll want to be prepared for a longer day on trail. The views from Spray Park on a clear day cannot be beat.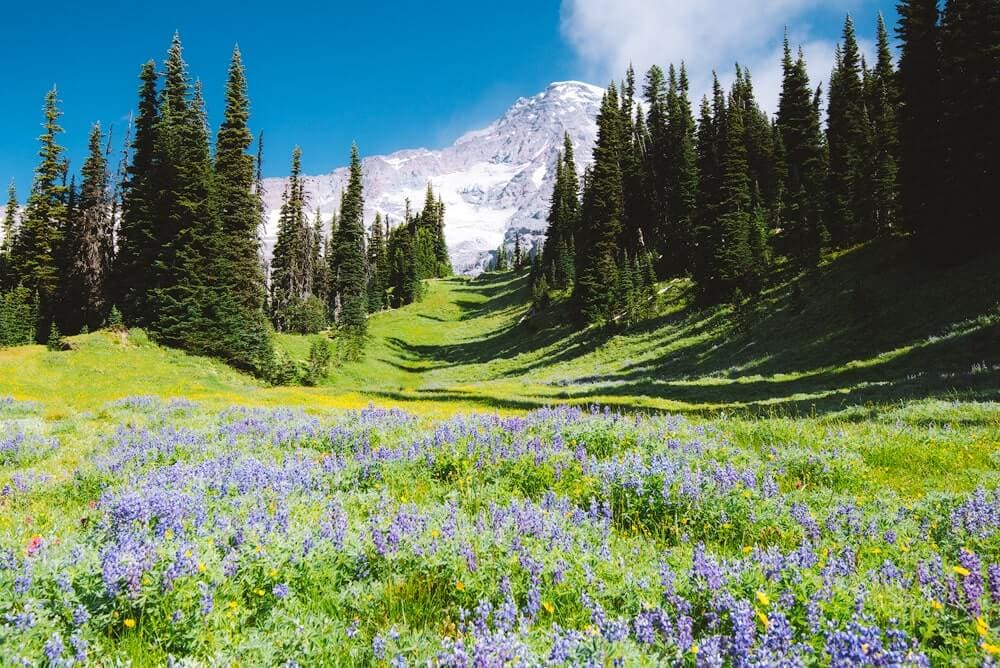 Wonderland Trail
The Wonderland Trail is a series of trails that circumnavigate Mount Rainier in approximately 93 miles with 22,000′ of elevation gain. If you enjoy long-distance hiking and thru-hiking, the Wonderland Trail should absolutely be on your bucket list! You can also enjoy shorter hikes along the Wonderland Trail by day hiking a section, or even spending a few nights on the trail. Rampart Ridge is one of my favorite sections to day hike on the Wonderland Trail.
---
What to Pack for A Trip To Mount Rainier National Park
Unless you're planning a more extensive hike or camping trip, like a backpacking trip on the Wonderland Trail, you'll likely be packing for a day hike. You can check out my Ultimate Day Hiking Essentials Guide to help prepare for your trip to hike some of the best trails in Mount Rainier National Park. Below are some of the essentials that I use and love for hiking!
Don't forget to use code RENEE15 to get 15% off your first Backcountry.com order! (some exclusions apply) Click here to shop my favorites.
Hiking shoes:
If you're visiting in summer then a pair of trail runners or lighter hiking boots should do the trick, such as the La Sportiva Bushido II Trail Running Shoe. If you prefer a more solid, supportive hiking boot the Columbia Newton Ridge Plus Waterproof Hiking Boots are a great choice. We also have a guide on all the best hiking shoes, so don't forget to check that out when shopping for new hiking boots!
Merino wool socks:
Wool socks are the best for preventing blisters and also letting your feet breathe. Recommended hiking socks.
Hiking pants, leggings, shorts, Skorts, Dresses:
I generally reach for leggings and I have also been loving skorts lately, but choose whatever feels comfortable and practical for you! Recommended hiking pants; hiking shorts; hiking skort, hiking dress, hiking leggings.
Quick-dry top:
Merino wool tops are my favorite due to their breathability and odor resistance. Recommended short-sleeve hiking top; long-sleeve hiking top.
Day pack/hiking backpack:
Choose something with hip and chest straps for optimal comfort and practicality. Recommended backpack.
Hip pack:
When taking short walks or exploring roadside stops I often prefer to opt for a small hip pack instead of a backpack. Just something to fit my phone, lip balm, sunglasses, and any other essentials. Recommended hip pack.
Trekking poles:
Optional but I personally swear by them for hiking! Recommended trekking poles.
Mid-layer:
Perfect for chilly mornings and evenings. Opt for something lightweight like a fleece or pullover. Recommended mid-layer.
Insulated jacket:
You will want something warmer for chilly days and during the mornings and evenings when visiting in the spring or fall. Recommended insulated jacket.
Rain jacket:
It's always a good idea to pack a rain jacket and/or windbreaker, especially at higher elevations in the Pacific Northwest. Bonus – windbreakers are great for keeping mosquitoes away, too! Recommended rain jacket, recommended windbreaker.
Navigation:
When driving, have Google Maps or Maps.Me handy. For hiking, carry a physical map and a compass, and download offline maps onto your phone. I use Gaia GPS – click here to get 20% off a Premium membership!
Emergency beacon:
Optional, but can give you and your loved ones some peace of mind when hiking or traveling without phone service. Recommended emergency device.
Headlamp + batteries:
For hiking in the dark, camping, or in emergency roadside situations. Recommended headlamp.
Drink bottle + Water Jug:
Pack a reusable water bottle and you could also consider using a water bladder inside your backpack when hiking. You'll want to bring plenty of water on all of your hikes. It can get quite hot and you definitely do not want to become dehydrated. Lastly, I also like to hike with a lightweight water filter to ensure I don't get sick when drinking from streams.
Sun hat:
Bring along either a cap, bucket hat, or wide brim hat to protect your face from the sun. Recommended cap; bucket hat; wide brim hat.
Sunscreen:
Self-explanatory. This one is reef safe and doesn't contain any chemicals that will harm you or the environment. Don't forget a lip balm with sunscreen too.
Sunglasses:
Polarized sunglasses are best for eye protection.
First aid items:
Always carry a small first aid kit with essential items like blister plasters and emergency supplies. Recommended lightweight first aid kit.
Want more packing & gear tips? Check out our guides on what to wear hiking, day hiking essentials, car camping gear essentials, how to plan a national parks trip, and the best hiking shoes.
Best Time to Visit Mount Rainier National Park
While some areas of the park are open year-round, I definitely recommend visiting in the summer or fall months. Most of these hikes should be open (and free from snow!) from July-October. You can also often catch alpine wildflowers on a lot of these hikes during these months. Keep in mind that Mount Rainier is a large park with huge variations in elevation, so always research trail conditions and be prepared for changing conditions.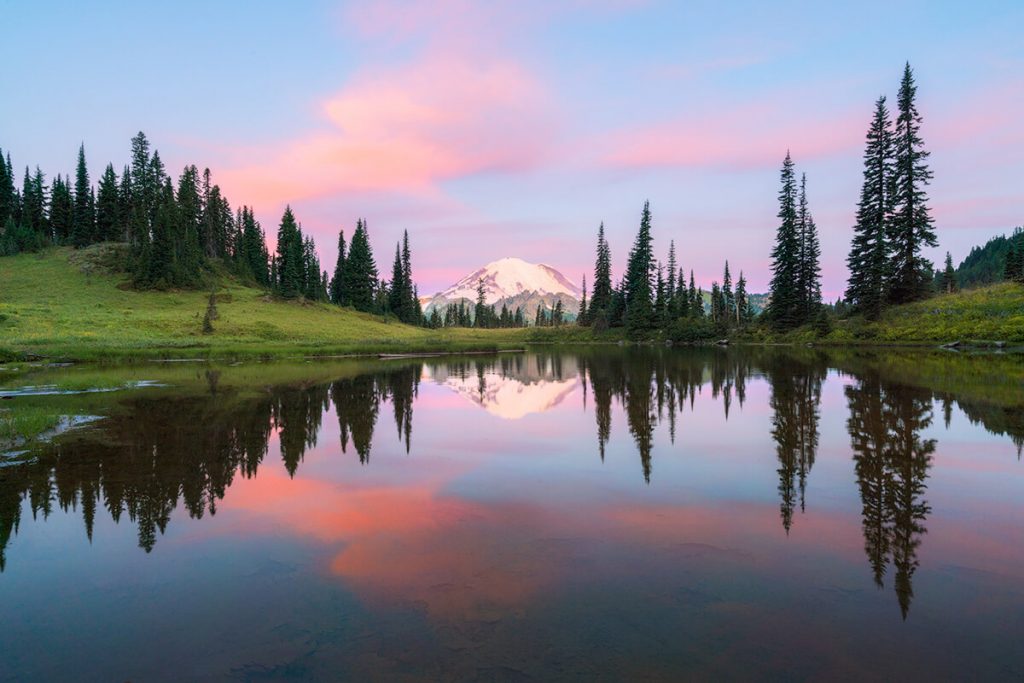 Need help planning a trip to Mount Rainier National Park?
Now you have the list of the best hikes in Mount Rainier National Park to bookmark for your next trip! If you need more help planning where to stay, other things to do, and insider tips from a Pacific Northwest resident, be sure to check out my Ultimate Mount Rainier National Park Guide. For more Washington hiking recommendations, I have a guide on the Best Hikes Near Seattle as well as a guide to Beginner Friendly Hikes in Washington.
---
PIN for Later!