I've been taking regular backpacking trips for about 6 years now and have made my fair share of mistakes! In fact, thinking back on my first beginner backpacking trips, I probably made more mistakes than I even realized at the time. From carrying the wrong gear, to choosing a bad campsite, and sometimes putting myself in precarious situations… this is the blog post I should have read as a beginner backpacker!
You're not alone, we all make mistakes when starting out backpacking! Some of these mistakes can be so minor that they don't affect your trip all that much. But other mistakes can quickly make your trip go from fun to awful, or even life-threatening. The good news is that these common backpacking mistakes are avoidable with proper planning and guidance.
Keep reading to find out the 9 most common backpacking mistakes to avoid and what to do instead!
Disclaimer: This blog post is in collaboration with Backcountry.com and features some affiliate links. This means I get a small commission if you make a purchase (at no extra cost to you). Use code RENEE15 to get 15% off your first Backcountry order (some exclusions apply). You can also learn more about my affiliate policy here. Thank you for the support!
---
9 Backpacking Mistakes to Avoid
Before we jump into the 9 most common backpacking mistakes to avoid, I want to first mention that this blog post isn't here to scare you or prevent you from taking outdoor adventures. In contrast, this guide should help you feel empowered and educated to take backpacking trips! If you still have questions after reading this post, be sure to check out my other hiking and backpacking resources.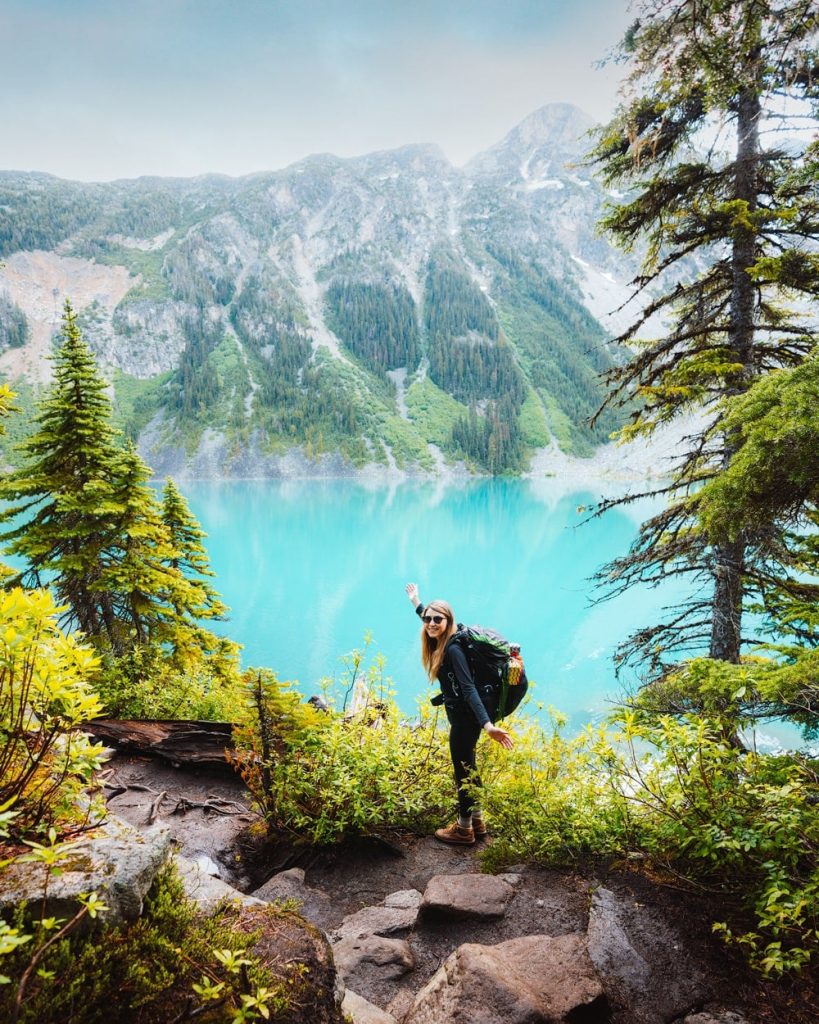 Skimping On Planning
Backpacking trips are not something you just take on a whim and leave planning to the wayside! That could lead to a potentially dangerous situation for yourself and others (e.g. the search and rescue crew who may need to come to save you). You don't need to go overboard with planning, but some basic things like the following are vital: knowing where you're going, how long you'll be gone for, the mileage you'll hike (plus elevation gain), what the weather forecast looks like, how you will find your way, and items you'll need to pack.
Planning For a Backpacking Trip
Let's cover some basics for planning a backpacking trip so that you'll feel more prepared and confident when hitting the trails!
How To Find a Place to Go Backpacking
I know the feeling of not knowing where to start when choosing where to go backpacking. When just starting out, I would recommend selecting a backpacking location close to home. Google some local trails or consider calling the ranger station at a nearby park and asking for recommendations based on current trail conditions.
Some helpful resources to find backpacking trips in your local area include The Outbound and All Trails. For those based in Washington State, I would also recommend Washington Trails Association. I find it useful to read recent trail reports and hear about current conditions for the area (e.g. muddy trails, bugs, snowpack, etc.)
How Many Days To Go Backpacking
If you're a beginner backpacker then I would suggest taking an overnight trip for your first time. Choose a trail that is relatively short and within your capabilities. You will be carrying extra gear, so choose something shorter than you would typically walk for a day hike.
Once you have gained more confidence then you can graduate to a 2-night backpacking trip! Your first 2-night trip could involve camping at a single campsite for both nights, but doing some day hiking during that second day before returning back to the same camp. After that, you could try out a 2-night backpacking trip where you hike to a different campsite each day (more hiking with a pack, so definitely harder than a basecamp option).
How To Find An Accurate Weather Forecast
I highly recommend the website/app Windy when researching weather conditions for hiking and backpacking. For each day of your trip, look for things like the expected temperatures (highs and lows), wind, potential rain, cloud cover, and humidity.
If you're a beginner backpacker then I would suggest starting out with summer and shoulder season camping. Winter camping is awesome but definitely more challenging and risky. Start with warmer weather adventures and work your way up to winter backpacking.
Preparing Adequate Navigation
We will go into more detail about this in another section, but some basics are:
How to Know What to Pack
I have an entire blog post on what to pack for a backpacking trip, be sure to give that a read! I've also featured an in-depth backpacking gear list further down this blog post, including suggested items. Plus, you can download this printable backpacking checklist!
---
Not Getting The Right Fitting Hiking Shoes
A major backpacking mistake to avoid is choosing the wrong hiking shoes! Having adequate hiking shoes will make your backpacking experience so much more pleasant and will also help prevent injuries. Let's cover what to look for below.
How To Choose Hiking Shoes
The first thing you will need to think about is the type of hiking shoes that will best suit your needs. There are essentially 3 different types of hiking shoe categories: hiking boots, trail runners, and hiking sandals. Within these categories, you have choices like waterproof vs not waterproof, low profile boots versus high profile/more support, etc. I recommend asking yourself the following questions:
Will you be using these shoes for day hiking AND backpacking, or just backpacking?
What kind of terrain do you typically choose for backpacking trips?
What season/kind of weather do you plan to go backpacking in?
How far will you be hiking each day and in total during your backpacking trip?
Do you prefer more ankle and knee support?
Are you prone to rolling your ankles?
Do your feet get super hot when hiking?
Do you like your gear to be ultra-lightweight?
As a general rule of thumb, below is the general direction you will want to head in when selecting hiking shoes for backpacking. Keep in mind that personal preference varies greatly and not everyone will like the same type of shoes!
Trail runners: hot weather, dry conditions, longer mileage, less rocky trails, preference for lightweight gear, durability less of a concern, you get hot feet when wearing boots.
Low profile hiking boots: need a more durable shoe, potentially rockier terrain, may need waterproofing, don't need extra ankle support, colder weather.
Mid/high profile hiking boots: heavier backpacking loads, prefer more ankle and knee support, may need waterproofing, need a durable boot, wet weather conditions, cold weather conditions, rocky or steep terrain.
Trail sandals: short mileage, river crossings, very hot conditions, you get hot feet when wearing shoes.
How To Make Sure Your Hiking Shoes Fit Correctly
The two key things to consider when fitting hiking shoes are length and width. You do not want your toes hitting the end of your shoes when you walk downhill. You also want enough room in your shoes to allow your feet to swell and expand when hiking, especially in hot weather. The image below shows some key things to consider when sizing hiking shoes, courtesy of the New York Times.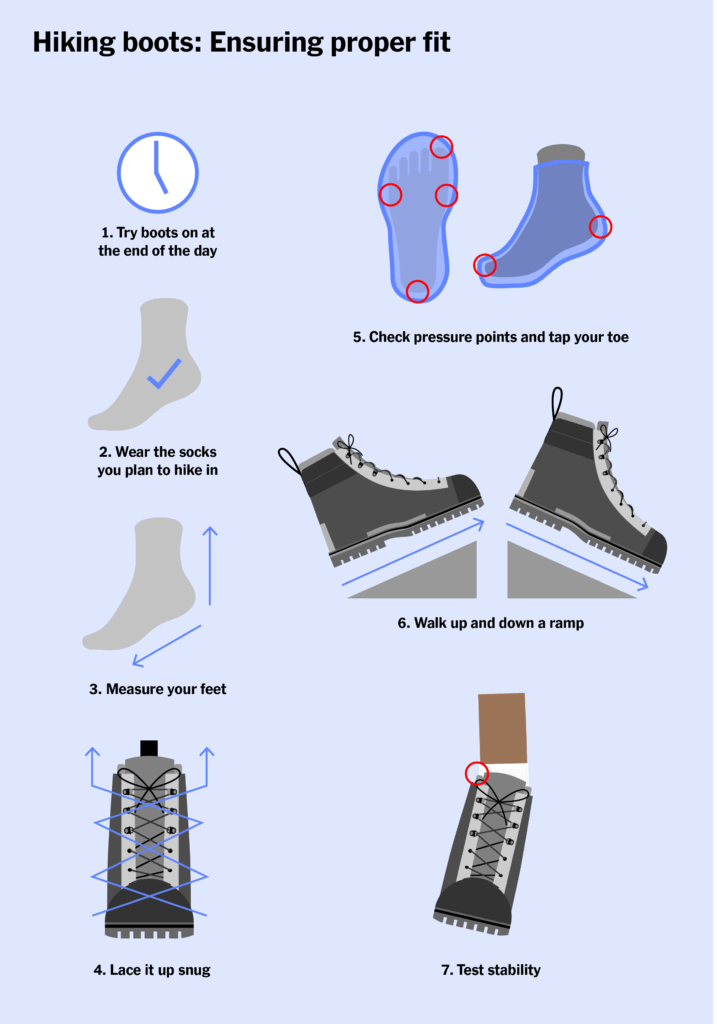 Best Hiking Shoes for Women and Men
If you are yet to check it out, I have an entire blog post on the best hiking shoes for women and men. Some of my top recommendations are featured below:
How To Prevent Blisters When Backpacking
Blisters are no fun! One of the best things you can do to prevent them is to wear your hiking shoes off-trail before you wear them backpacking. Walk around your neighborhood in them or try out a local walk where you can be close to your car if blisters start forming.
There are various products you can use to prevent blisters or treat them in the early stages.
These are some of the most common:
Already have a blister? This is a great article on how to treat blisters.
Another really key thing to prevent blisters is wearing merino wool socks. Why? Because they are breathable, moisture-wicking, quick-drying, and comfortable. I usually opt for socks that have a small amount of cushioning as I find it helps prevent pressure blisters, but do whatever feels right for your feet and shoes.
My favorite sock brands are Icebreaker, Smartwool, and Darn Tough. If I am wearing a lower profile shoe I will typically opt for ankle socks, but otherwise mid/crew length are my preference.
The graphic below provides some helpful tips on choosing the right pair of hiking socks.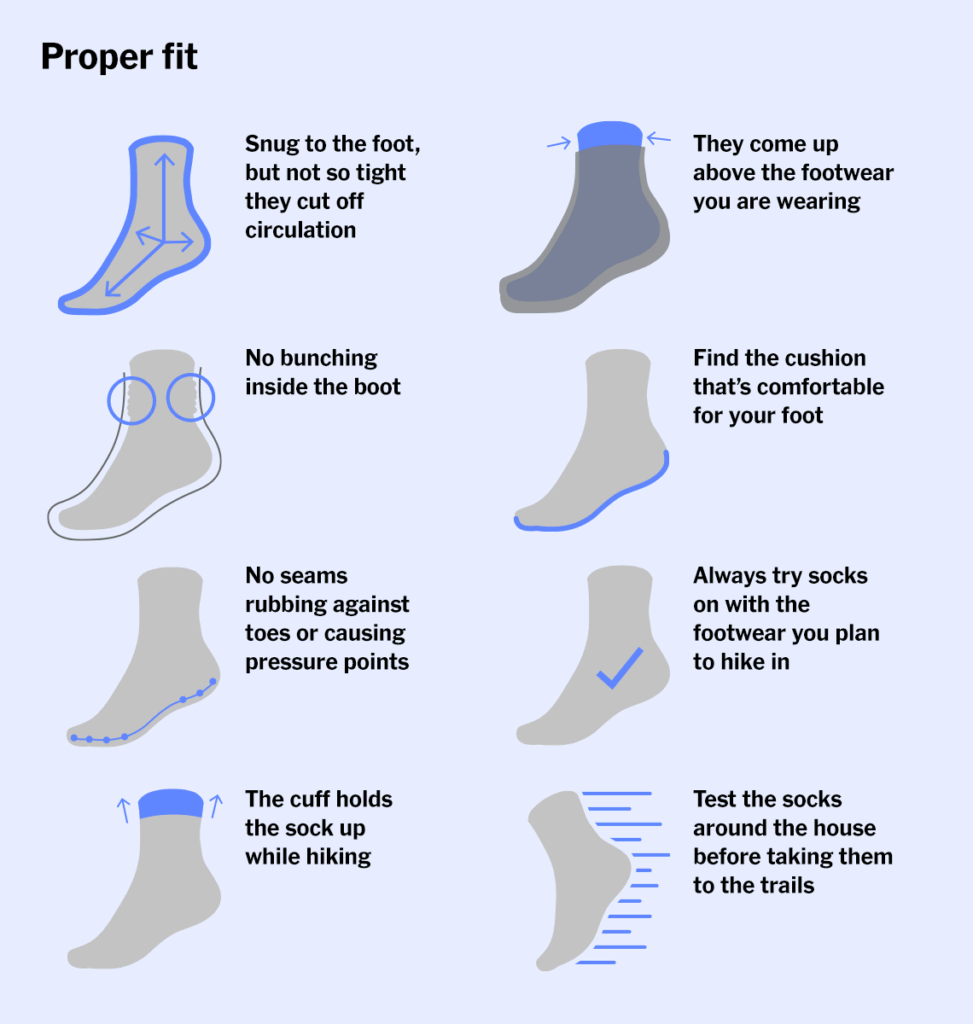 ---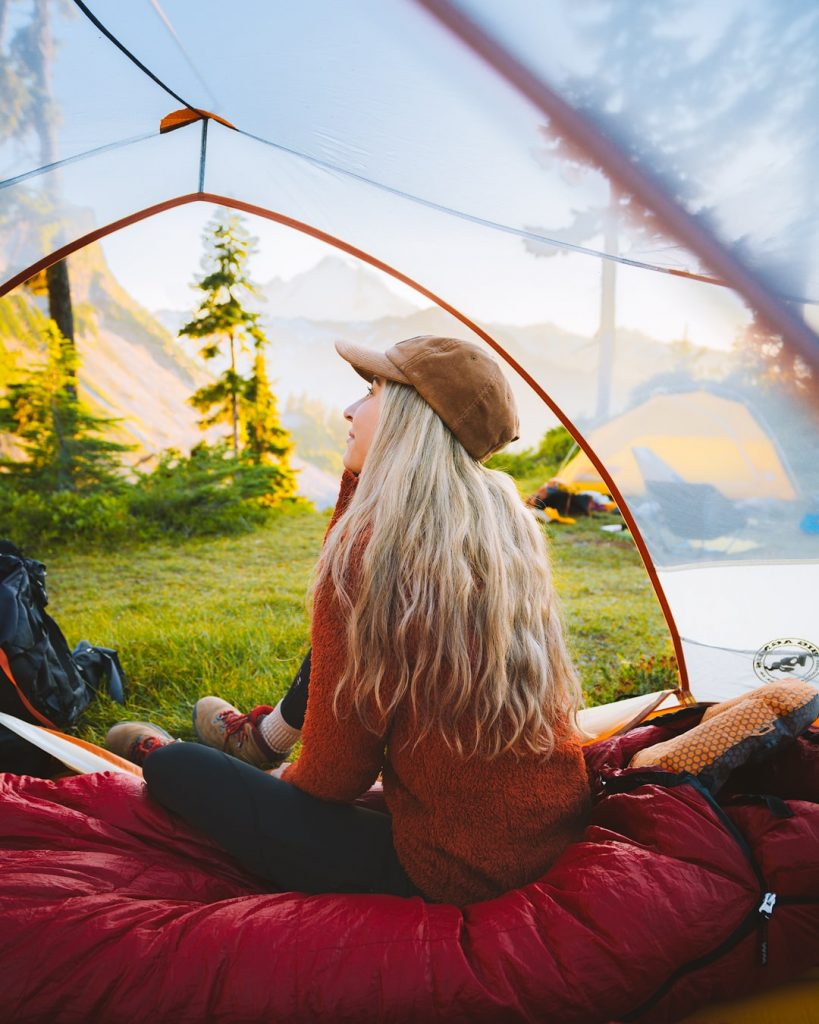 Bringing Too Many Items Backpacking
One of the most common beginner backpacking mistakes to avoid is packing too many items! I definitely struggled with this when first starting out backpacking, and to this day have to remind myself that less is more. Don't get me wrong though, packing the essentials is vital! I am more referring to packing extra items that aren't really necessary or choosing heavy items instead of lightweight backpacking gear.
Do Not Pack These Items When Backpacking
Below are the most common things that people unnecessarily pack for backpacking trips. I would suggest you avoid these items and keep your backpack as lightweight as possible. In saying that, I often bring 1 or 2 small "luxury" items when backpacking (e.g. my Kindle), so you do you! Just make sure you can carry everything without ruining your body or making it an unpleasant experience.
More than one hiking outfit. Trust me, for a short backpacking trip you definitely do not need more than one hiking outfit. It's common practice to hike in the same shirt and pants/shorts everyday because packing a change of clothes for each day is way too heavy.
Physcial books. Again, this is a personal preference, but I would suggest reading on your phone or a lightweight Kindle and to leave heavy paper books at home. These days you can download most guidebooks in ebook format and use apps like Gaia GPS for navigation. Click here to get 20% off a Gaia GPS membership.
Heavy camp sandals (e.g. 2 lbs chacos). This is one of the easiest things to cut down weight on! Either skimp on the camp shoes or opt for something much lighter in weight, like Xero Z Trek Sandals (5 ounces a pair), Xero Z Trail EV Sandals (9 ounces a pair), or lightweight clogs style sandals (6 ounces).
Full-sized toiletries. Make sure to decante things like suncreen, bug spray, face cream, etc. into smaller sized containers so that you're not lugging around heavy/large bottles. I like using the Nalgene 1 oz containers and GoTubbs. I would also ditch things like deodorant unless you have a very small travel sized version. Click here for more outdoor hygiene tips for hikers and backpackers.
What To Pack For a Backpacking Trip
I have an entire blog post on what to pack for a backpacking trip, be sure to give that a read! I've also listed the key items below, which you can download as a printable backpacking checklist here! Note that my suggestions are for three-season/summer camping and information about what to wear when backpacking is listed in the next section. If you want to know more about winter backpacking then be sure to check out my winter-specific guide to hiking and backcountry camping.
Some other backpacking items you may want to consider:
What To Wear Backpacking
Below are the items I would recommend you wear on your body when hiking or backpacking. You will obviously need to tailor this list to suit the type of trip, weather conditions, etc. For example, in colder weather, you may wear your fleece or a wind jacket (featured in the section above).
---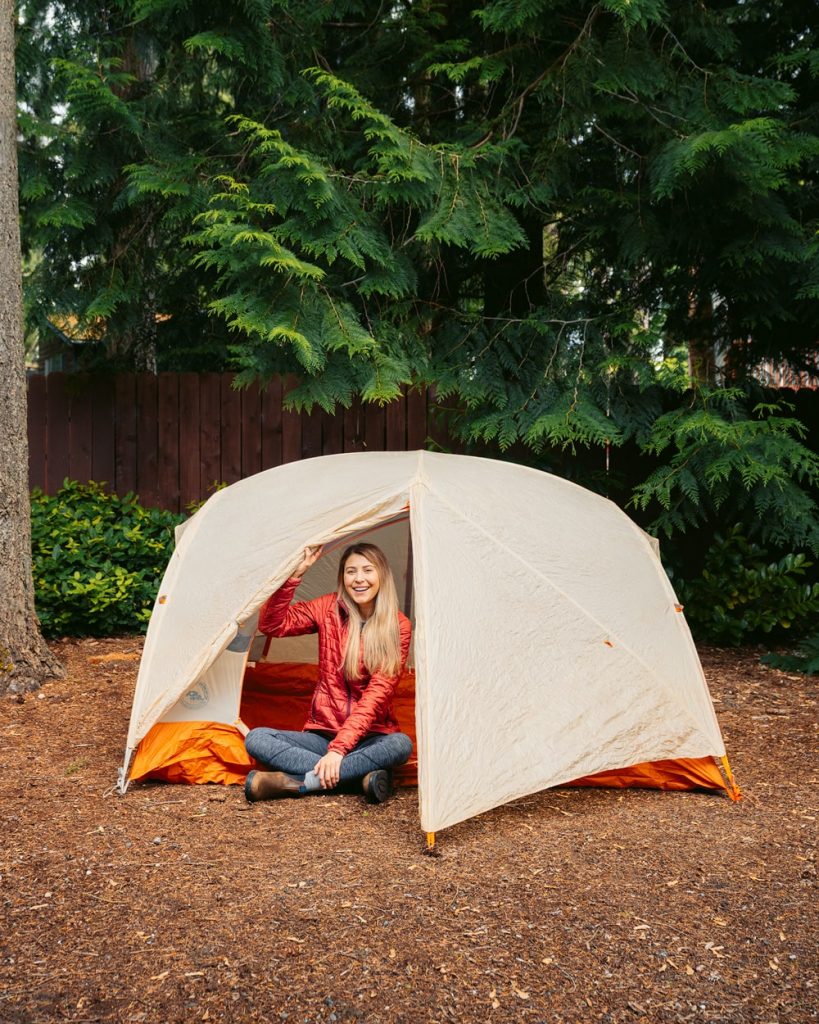 Not Testing Out Your Gear Beforehand
A lot of beginners make the mistake of buying equipment and trying to set it up for the first time in the backcountry. This is not a good idea! I recommend you test each piece of gear in your house or backyard before taking it out on an adventure. This will give you the chance to work out any kinks with setting it up, as well as make sure all pieces are there and in good condition. The last thing you want is to get into camp after a long day hiking to realize your new tent is missing a piece or a pole is broken.
I also like to do this same step at the beginning of each backpacking season, just to make sure all my gear is working and to see if I need to repair anything. Insider tip: Inflatable sleeping pads can easily develop small holes, so I like to blow mine up in the living room, leave it for a night, and then check in the morning to see if it deflated at all.
---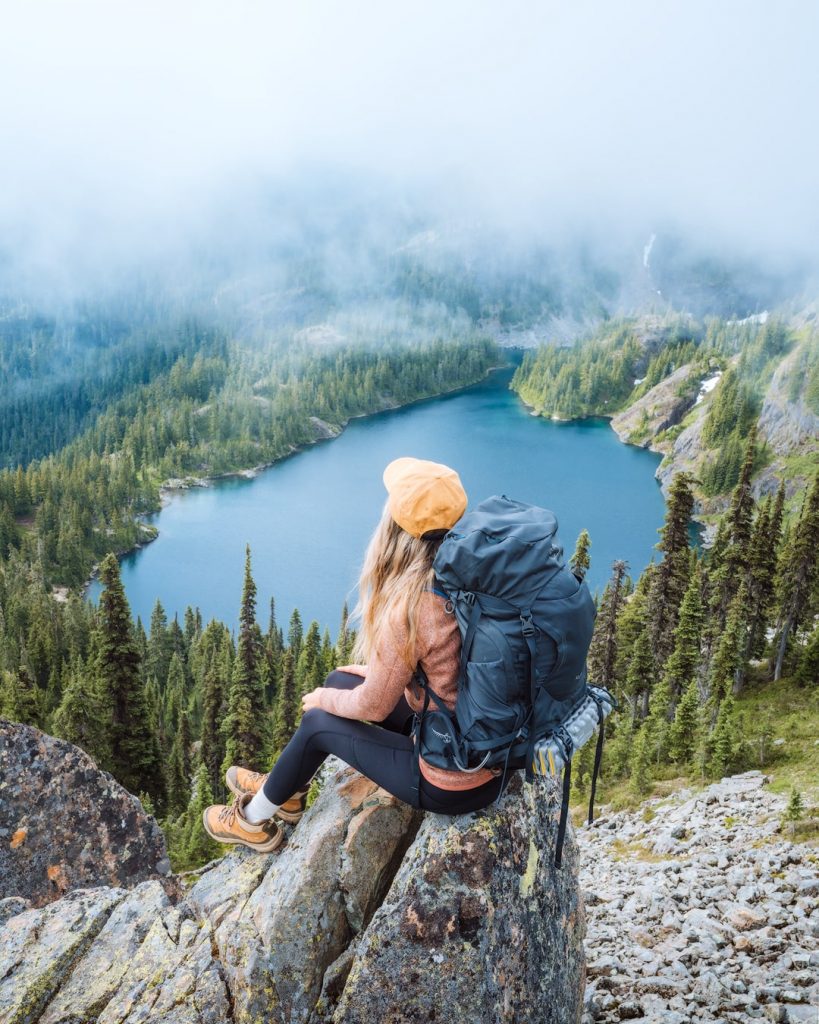 Letting Your Gear get Wet
Another important backpacking mistake to avoid is letting your gear get wet! In fact, this can very quickly turn a trip from enjoyable to uncomfortable, and even downright dangerous. Below I will share a couple of ways to make sure this doesn't happen.
How To Keep Your Gear Dry
A reliable waterproof pack cover will stop your pack and gear from getting wet in the rain. Many backpacks these days include a waterproof pack cover or have one for an additional cost that will seamlessly fit your backpack. But if you don't have one, you can improvise by lining the inside of your pack with a garbage bag and putting everything inside that.
During trips that you expect a lot of rain or will be doing a lot of river crossings, lightweight dry sacks can be incredibly useful. Putting your sleeping bag, puffy jacket, and electronics inside a dry sack gives added protection and will also keep them dry no matter what.
You will also want to make sure to have a rain jacket with you to keep your hiking layers dry in the wet. Waterproof rain pants are also an option, but the biggest priority is keeping your core dry and warm.
---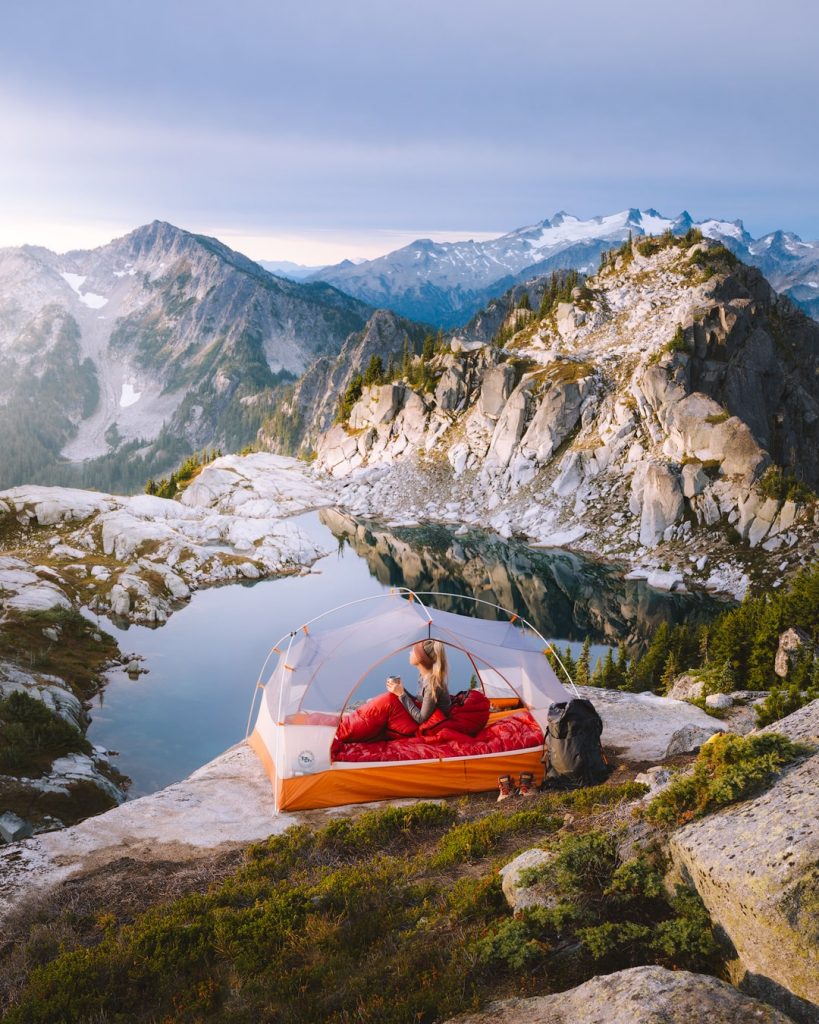 Getting Lost
Getting lost is one of the scariest situations for a new backpacker, and heading out on a trip without proper navigation tools is one of the most dangerous backpacker mistakes you can make. Below are a few tips to make sure you stay on the trail and avoid putting yourself in a dangerous situation.
Navigation For Backpacking
Tell a friend or family member where you are going, as well as a timeframe for your return.
Instruct them to call emergency services if they don't hear from you by a particular time. Make sure to check in with them when you get home.
This is a great tool to ensure you stay on route, and also allows you to track other useful information such as the speed you are hiking, elevation gained, distance hiked, etc. It's also useful to carry a small battery pack for your phone and save it in case you get low on battery and need to use one of these apps to get out of a sticky situation.
Carry a compass and map, and know how to use them.
Apps are great, but you may find yourself with a dead battery or damaged phone. There are many great resources that can teach you how to use a topogrpahic map, such as this one.
As a beginner, it's important to stay on trail.
Most people get lost because they lose the trail and end up continuing on in the wrong direction until they are completely lost. Stick to the trail so in a worst-case scenario, you can always just backtrack your way back to the car.
Be observant.
Take in your surroundings as you hike. If you get lost, this will make it easier to get back on route.
In a worst-case scenario where you are completely lost, you can hit the button and a search and rescue crew will be sent out to get you.
---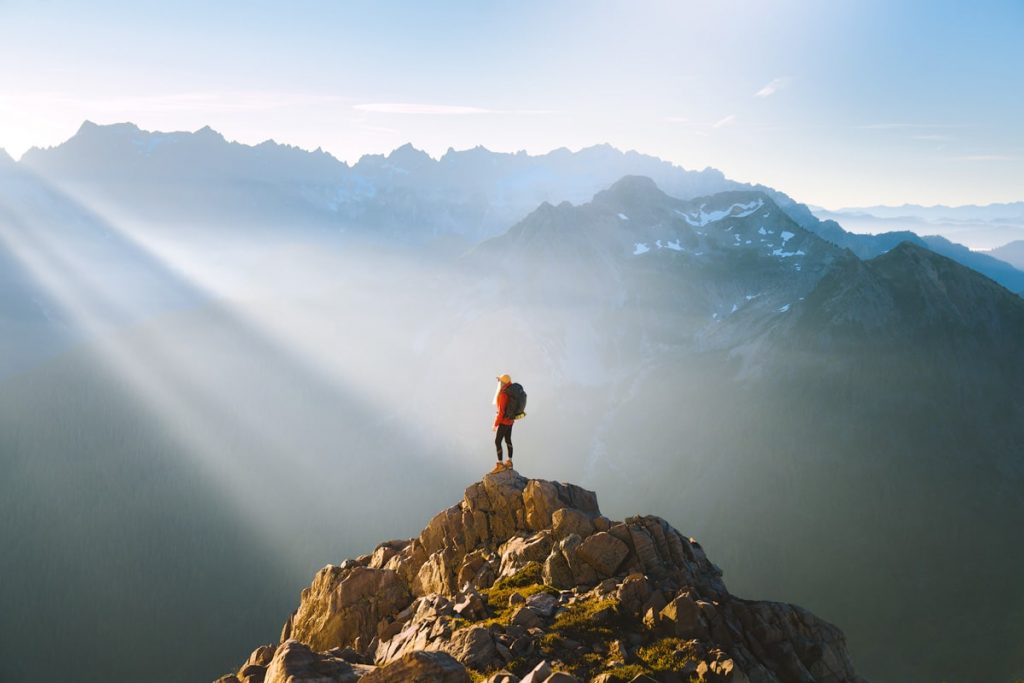 Ignoring The Weather
Another backpacking mistake to avoid is going into the backcountry without checking the weather. Knowing what weather to expect on your trip is one of the most important aspects of planning any backpacking adventure, and even experienced hikers should not skimp on this step!
Why You Should Check The Weather
If the weather is going to be bad, you may choose to postpone the trip and wait for better weather. In my experience it is hard to enjoy a backpacking trip when it rains the whole time!
You can tailor your gear to the expected weather. This also helps to make sure you don't carry too much or too little into the backcountry.
Knowing if there's a chance of storms means you can plan to be away from high and exposed areas during those times.
Certain areas (especially in Utah and Arizona) are susceptible to flash flooding. You don't want to enter a narrow canyon if there's heavy rain expected upstream of these areas.
It helps you to plan whether it will be worth getting up early to watch the sunrise.
With all of that said, mountainous areas can bring extremely unpredictable weather. Experience will help you pack more efficiently over time, but until then it's better to be overprepared than underprepared.
Best Apps for Weather Forecasts
A simple google search is often not accurate enough for backcountry adventures, and so I recommend using apps or websites with more accurate location-specific forecasts for remote areas. A few of my favorites include OpenSummit, Windy, and the National Oceanic and Atmospheric Administration (NOAA) website.
---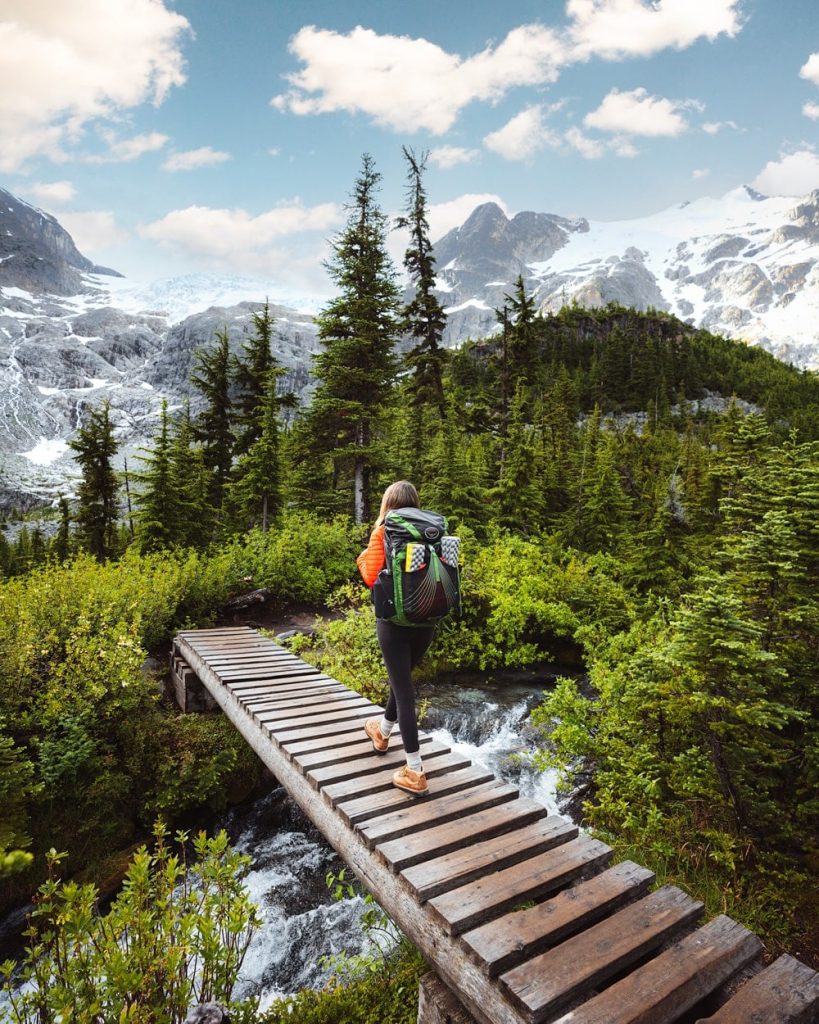 Not Packing The 10 Essentials
Another backpacking mistake to avoid is not packing the 10 essentials. These are items that keep you safe in the outdoors and could potentially save you from a very bad situation (e.g. getting lost, hypothermia, etc.) The National Park Service (NPS) has a great article on the 10 essentials, but I've also run through them below
What Are the 10 Essentials?
1. Navigation (map, compass, GPS system).
You will use your navigation system to help plan your trip/route, as well as to stay on track during your hike. Be sure to know how to read a topographic map and use a compass before needing to rely on one!
2. Sun protection (sunglasses, sunscreen, hat).
These items will protect you from harsh UV rays that can lead to sunburn and skin cancer. I always wear a sun protection when hiking (let's make wide brim hats cool again!) and would also recommend wearing longsleeves if you are particularly prone to sunburn.
3. Insulation layers (jacket, hat, gloves, rain gear, thermal underwear/baselayers).
These will depend on the type of weather and season you are hiking in, but always be prepared for sudden changes in conditions. The NPS recommends you pack an extra layer of clothing that reflects the most extreme conditions you could encounter.
4. Illumination (headlamp, lantern, flashlight).
You will need some sort of lightsource for night hiking, around camp, and in case you get lost. Be sure to pack extra batteries if your device is battery opperated.
5. First aid supplies (lightweight first aid kit).
Be prepared for emergencies and have a mini first aid kit with you on all hikes and backpacking trips. I personally bought a pre-made kit and then added a few extra items that were specific to my needs and the type of trip.
6. Fire starter (matches, lighter, fire starters).
This is in regards to emergency settings where you may need to use fire as a signal, to keep warm, or to cook food. Otherwise I recommend using a camp stove and avoiding open fires (always make sure to adhere to burn bans).
7. Repair kit and tools (duct tape, knife, scissors, multi-tool etc).
Having some basic repair items will help if a gear item breaks or in other emergency situations. Bring any tools/repair items specific to your trip.
8. Shelter (tent, space blanket, tarp, bivy).
Adequate shelter will help protect you from severe weather conditions and exposure during an emergency survival situation.
9. Food (meals, snacks).
Make sure you have enough food for your trip length, plus a little extra (e.g. a day's extra supply). Think about the calorie density to weight ratio and avoid heavy food items that will weigh down your pack.
10. Hydration (water, water filter).
Remember to drink water often and before you feel thirsty. I also recommend using electrolytes when sweating (Ultima Lemonade is my favorite). Water filtration is another consideration as it is best to avoid drinking unfiltered water. My go-to water filter is the Katadyn BeFree 1L Water Filter Bottle.
---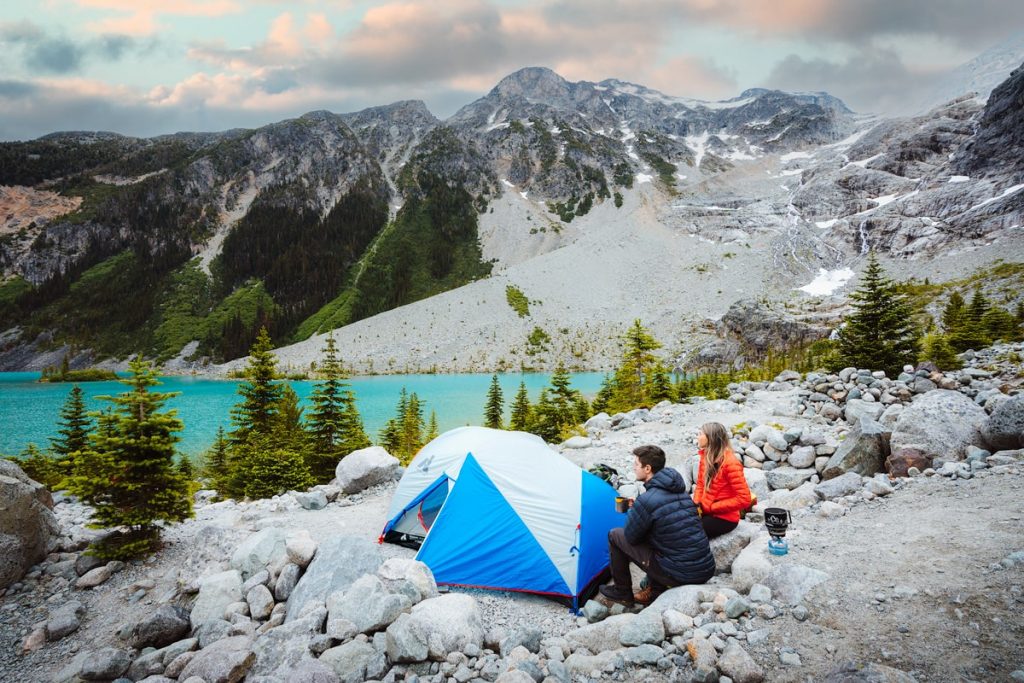 Leaving A Trace
Lastly, one of the most important backpacking mistakes to avoid is leaving a trace. This essentially means leaving somewhere worse than you found it. A way to avoid doing this is by following the 7 Leave No Trace principles. I will outline them below and you can also read my in-depth Leave No Trace guide for more information. I also recommend reading up on proper hiking trail etiquette and how to use the bathroom outdoors.
Leave No Trace Considerations
Know the regulations and special concerns for the area you are visiting.
Travel and camp on established trails and durable surfaces.
Pack it in, pack it out (do not leave any trash int the backcountry).
Deposit solid human waste in catholes dug 6 to 8 inches deep, at least 200 feet from water, camp and trails.
Pack out toilet paper and hygiene products.
To wash yourself or your dishes, carry water 200 feet away from streams or lakes and use small amounts of biodegradable soap. Scatter strained dishwater.
Examine, but do not touch cultural or historic structures and artifacts.
Leave rocks, plants and other natural objects as you find them.
Where fires are permitted, use established fire rings, fire pans, or mound fires.
Keep fires small. Only use sticks from the ground that can be broken by hand.
Burn all wood and coals to ash, put out campfires completely, then scatter cool ashes.
Control pets at all times, or leave them at home.
Respect other visitors and protect the quality of their experience.
Be courteous. Yield to other users on the trail.
Observe wildlife from a distance. Do not follow or approach them.
Never feed animals.
---
More Beginner Backpacking and Hiking Resources
I hope you found this guide helpful! If you're looking for more beginner backpacking and hiking resources then definitely check out some of other articles listed below:
---
PIN for Later Planning