Getting a decent nights sleep is one of the biggest things people struggle with when they first start out backcountry camping.
I began taking regular overnight and multi-day camping trips about 5-6 years ago. Back then I remember wondering how the heck I would get a good night's sleep whilst laying on the ground, likely in the cold, and surrounded by man eating animals 😆
Well, I have learned a thing or two about backcountry camping over the years and I'm excited to share my tips with you all! Keep reading and you'll be sleeping like a champ when camping in no time!
9 Tips for Getting a Good Night's Sleep when Backcountry Camping
In collaboration with Backcountry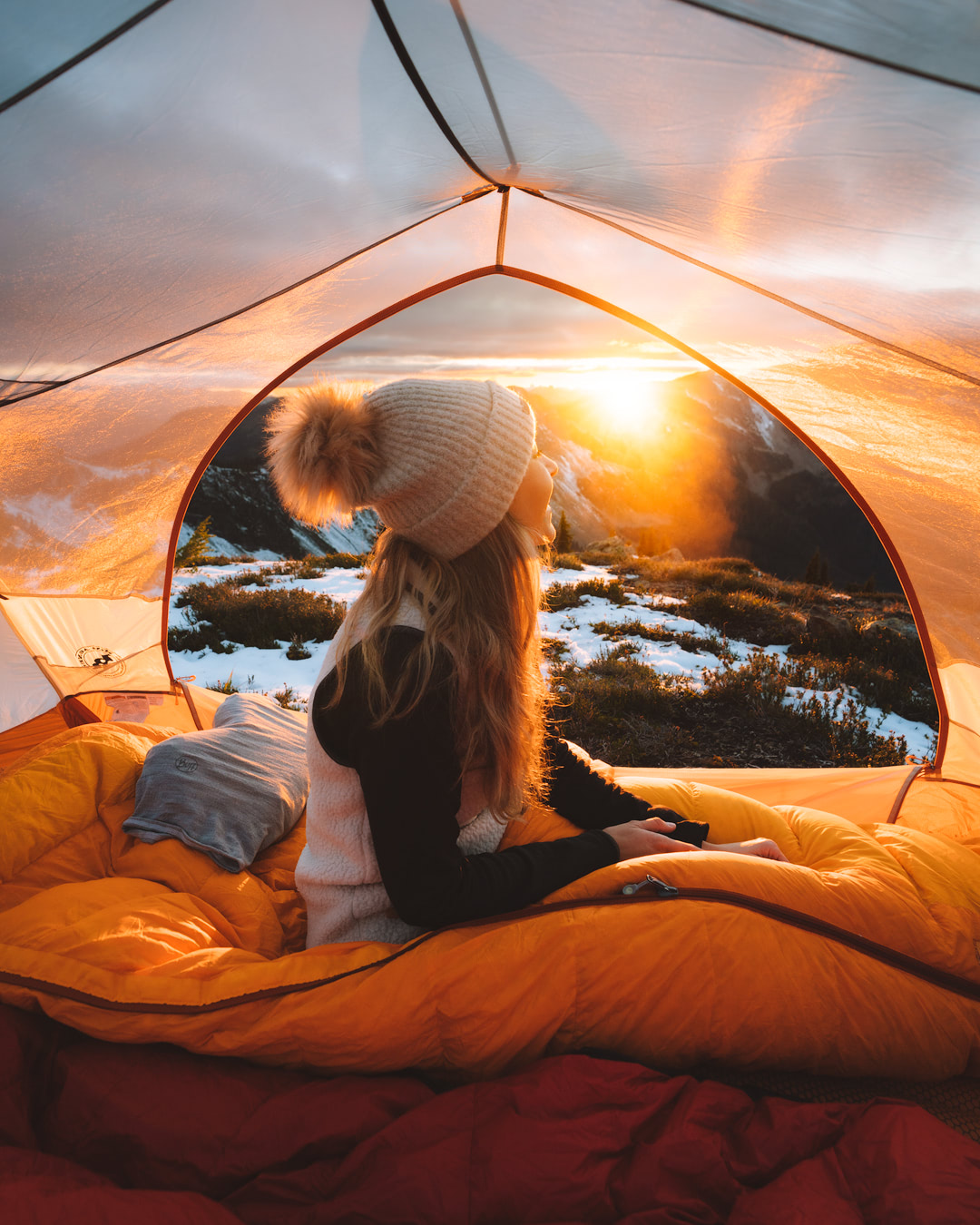 This blog post is in collaboration with Backcountry.com, who are my go-to for purchasing hiking and camping gear. They offer free 2-day shipping on orders over $50, easy returns, 24/7 advice from their amazing Gearheads, and they support incredible causes like The Nature Conservancy. Backcountry have kindly offered my readers 15% off first-time online orders using code RENEE15! *some exclusions apply
If you're new to my blog, I would also suggest checking out my other hiking and camping guides: Beginners Guide to Hiking, Beginners Guide to Backcountry Camping, Ultimate Winter Hiking and Camping Guide, and my Holy Grail Hiking & Camping Gear.
Now, let's get into my tips for getting a good nights sleep when backcountry camping! 👇🏻
---
1. Choose a good campsite
There are many factors that go into choosing a good campsite, and this is one of the most important things you can do to get a good nights sleep in the backcountry.
Here are some important things to consider:
Be close to a water source, but not too close. It is good practice to camp at least 200 feet away from water sources, but be sure to camp within a reasonable walking distance so you can easily access fresh water around camp. Also note that not only is camping close to a water source not recommended from a leave no trace perspective, but it also will increase your chance of bad condensation forming in the tent overnight. I also find loud streams quite challenging to sleep nearby just from a noise perspective.
Make sure your campsite is level. It's never fun trying to sleep on uneven ground, and your fellow adventure buddy won't appreciate you rolling down onto them during the night.
Try to set up your campsite with trees surrounding you to help block any wind that may cause noise on the side of your tent. Be sure that the trees around your tent are healthy and not likely to fall. In cases of extremely high winds it's best to avoid camping near trees altogether, though in that case you probably won't be sleeping well no matter what you do 😜
Camp away from human and game trails. This will reduce the chance of being woken up by other hikers or animals.
Ensure your campsite is placed in a location that is not at risk of avalanches, rockfall, flash floods, changing tides etc.
Click here to read about ways to reduce your campsite's impact on the environment around you.
Also, I know some of you will want to know what tent I use. During summer and shoulder seasons, my husband and I use the Big Agnes Copper Spur UL3 Classic 3-Person 3-Season Tent. During winter our go-to the Nemo Equipment Chogori 2-Person 4-Season Tent.
---
2. Pack an eye mask & ear buds
New-comers to backcountry camping almost always start out struggling to sleep due to noises they hear outside of the tent. Our brain will twist every little sound to be a bear or something scary, but the truth is that 99% of the time the noise is nothing but the wind or something else that is completely harmless.
I often wear ear-buds when camping because it blocks out all of the little noises that might keep me awake. An alternative option to this is quietly playing music on your phone or use one of the many available white noise apps. Another thing I find helpful is using a Buff, bandana, or travel eye mask over my eyes to block out light from the moon or the rising morning sun.
---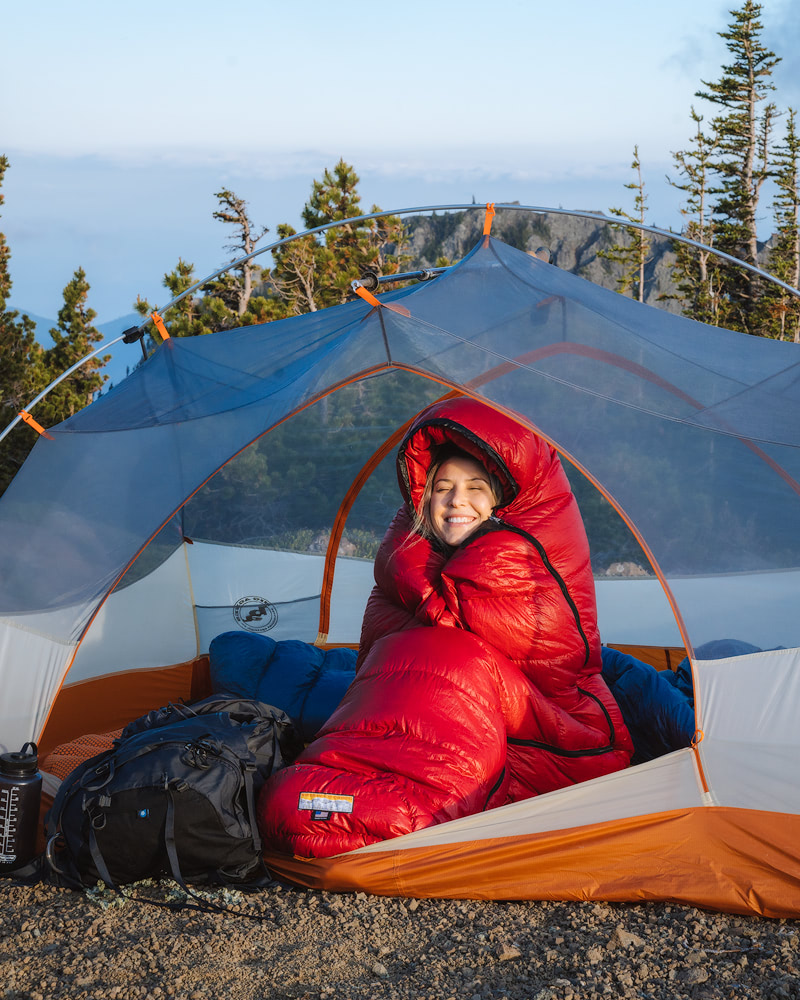 3. Stay warm
Not being warm enough is one of the most common reasons that someone might not sleep well when backcountry camping. The best way to combat this is to make sure you research what kind of weather you can expect on your trip and plan accordingly.
This means making sure your sleeping bag and pad are rated to handle the temperatures you expect, and that you have enough clothing layers to keep you warm. I personally sleep cold so I have learned to invest in gear that is rated quite warm for each season. For example, I use the Western Mountaineering Apache MF 15 Degree (Fahrenheit) Sleeping Bag even during the summer months in the Washington mountains (when it rarely gets down to freezing temperatures).
Then during winter you will usually find me using the Marmot Ouray 0 Degree (Fahrenheit) Sleeping Bag, even when the temperatures are only just below freezing. My husband on the other hand can generally use gear that is rated closer to the actual outside temperatures… so do whatever suits you best!
If you sleep cold, carrying a pair of lightweight down booties can be a lifesaver because often it's your feet that can be the hardest to keep warm. Another little camp hack is making a camping hot water bottle. To do this, you simply carry a Nalgene water bottle, use your stove to boil water, pour it into the bottle, secure the lid tightly, slip it inside your sleeping bag, and voila = instant toasty goodness! I find it tends to stay warm most of the night and really provides a great temperature boost, especially during winter.
---
4. Comfort is Key
Being comfortable is vital to getting a good nights sleep when backcountry camping. This can be achieved in many ways, but the most important factors are your sleeping pad and pillow.
For a sleeping pad in 3 season conditions, I use the Exped Synmat HL Sleeping Pad and find this to be the perfect weight to comfort ratio. During winter I use the Therm-a-rest NeoAir Xtherm, which has the necessary insulation to protect me from the snow. In addition to this, in winter I also carry a super lightweight Therm-a-rest Z Lite Sol for extra protection as I found myself still getting cold sometimes with just the one pad when the temperatures are below freezing.
For a pillow, I use the Exped Air Pillow UL, and then I put a Buff over the top and tuck my down jacket inside (see photos above). I find this setup to be extremely comfortable and way nicer than just the pillow alone. If you would prefer an all-in-one option, or in the winter when you may want your jacket on, the Exped Down Pillow is a nice compromise between comfort and weight/size.
---
5. Use Nature's bathroom
One of my least favorite things when backcountry camping is waking up in the middle of the night and needing to use the bathroom. It means I have to crawl out of my warm sleeping bag, go out into the cold, and then try to warm up again when I get back into the tent… BUT don't put it off. In my opinion, you are much better off just getting up as soon as you have the urge rather than laying there for hours thinking about it. I have even heard that having a full bladder can make you colder when the temperatures are freezing.
One way you can limit the need to get up in the middle of the night is by making sure you use the bathroom right before heading to bed. Another is by limiting your water intake 1-2 hours before you plan to sleep, though that is probably not ideal after you have been hiking all day and are potentially dehydrated.
My key point though, if you do happen to wake up and feel the need to go – just do it. 
---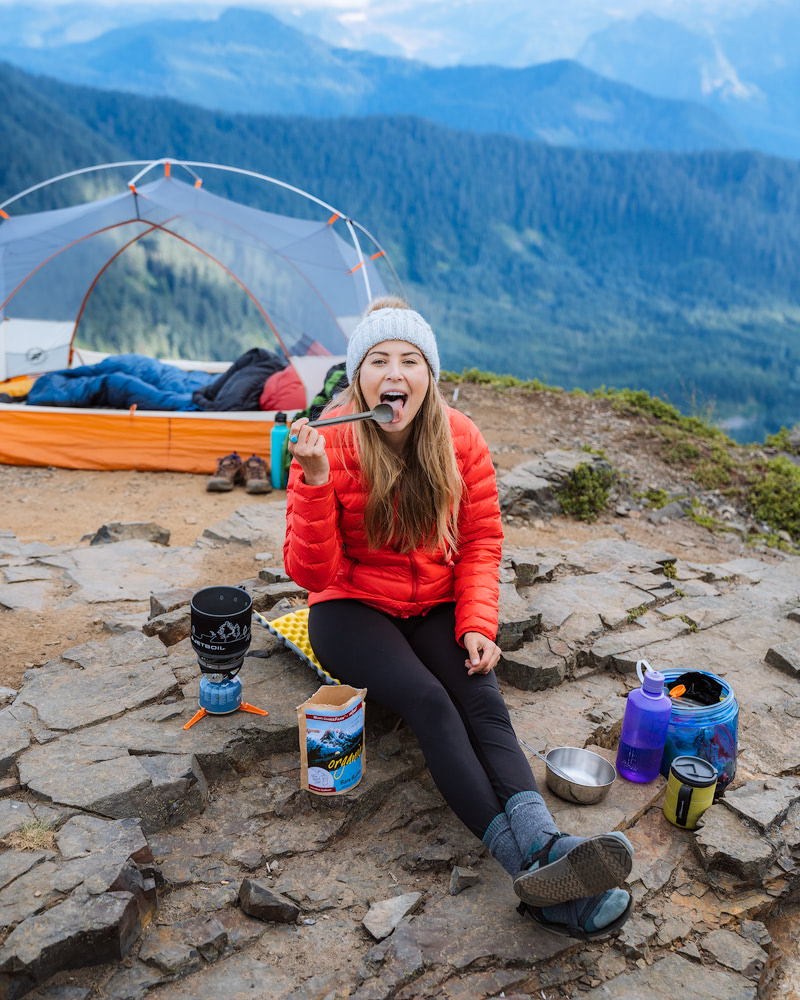 6. Don't go to bed hungry
Eating a hot meal before bed will help put you to sleep and will ensure that you are not laying there with a grumbling stomach keeping you awake. In particular, I typically find that eating a hearty carbohydrate heavy meal will make me the most sleepy.
You can either pack every day food (though this can get heavy) or you can opt for dehydrated meals. Some I can recommend are AlpineAire Macaroni and Cheese, Good-To-Go Thai Curry, and Backpackers Pantry Pasta Primavera. Another trick is to make yourself a cup of chamomile tea or a hot chocolate to help fill you up and get you winding down for bed. I would recommend avoiding caffeine.
---
7. Try Supplementing
Taking a natural sleep supplement is one thing that I find helps me fall asleep when backcountry camping. I often take a melatonin tablet or sleep tonic before going to sleep in the backcountry. I find it helps my body wind down and also makes me that little bit extra sleepy.* I also find that deep, relaxed breathing and/or meditation can help me drift off to sleep.
*Please note that I am not a doctor. I am only recommending products that have worked for me and you should consult your healthcare practitioner before making decisions regarding your own health.
---
8. Strength in numbers
As humans, we generally feel safer when we are with others. I would consider going backcountry camping with a buddy, especially when you first start out. Not only is it fun to go camping with friends, but it should also help you sleep when you know you have someone to assist in the case of an emergency. I know that I personally sleep A LOT better in the wilderness when I am in the company of others.
Another option is to pack bear spray for that added level of protection and peace-of-mind (especially for any solo female hikers out there). Just make sure you know how to safely store and use it.
---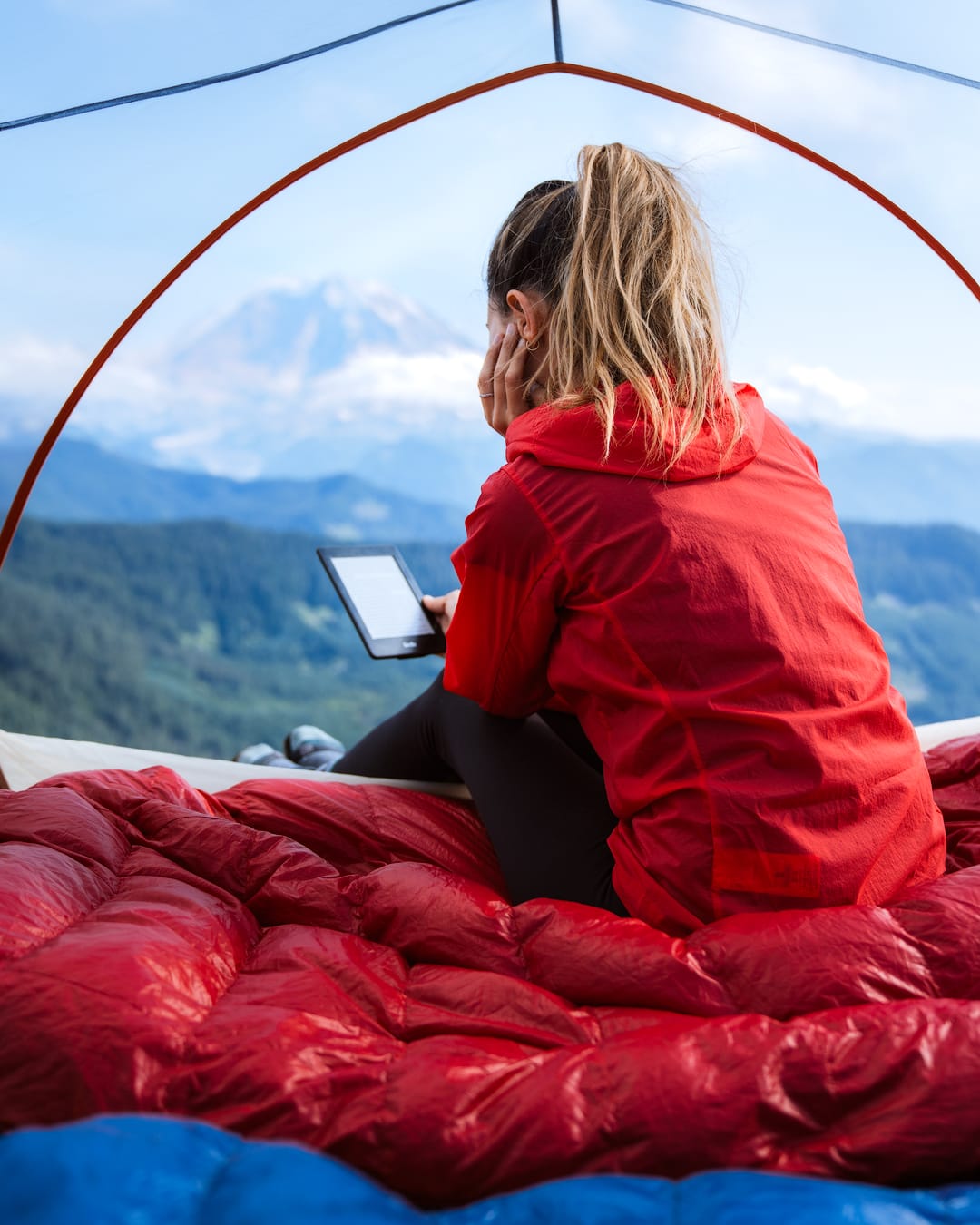 9. Relax & Wind Down
When I am home I read for a little while before bed to wind down, and I continue this tradition when in the backcountry. I take my Kindle Paperwhite (6.1 oz) on most backpacking adventures which is definitely a luxury item, but my pack is generally light enough that I can afford to bring it along. You may prefer something like listening to a podcast or some music before bed, so in that case bring your phone and a small pair of earbuds with you.
---
I hope these tips help you get a great night's sleep in the backcountry! Don't be disheartened if the first few times you go out camping you struggle to sleep… We almost all go through a process of learning what works for us (and coming to terms with the fact that not everything out in the wilderness is there to kill us 😜). Take these tips, apply them, and tweak them to suit your needs. Good luck!
---
Be Respectful of the Outdoors
Before you go… if you're going to be out in nature it's important that you strive to protect it and follow Leave No Trace (LNT) principles. Please be sure to educate yourself on proper hiking and camping etiquette before heading out. Listed below are some guidelines taken directly from the Leave No Trace Center for Outdoor Ethics, known as The Seven Principles.
---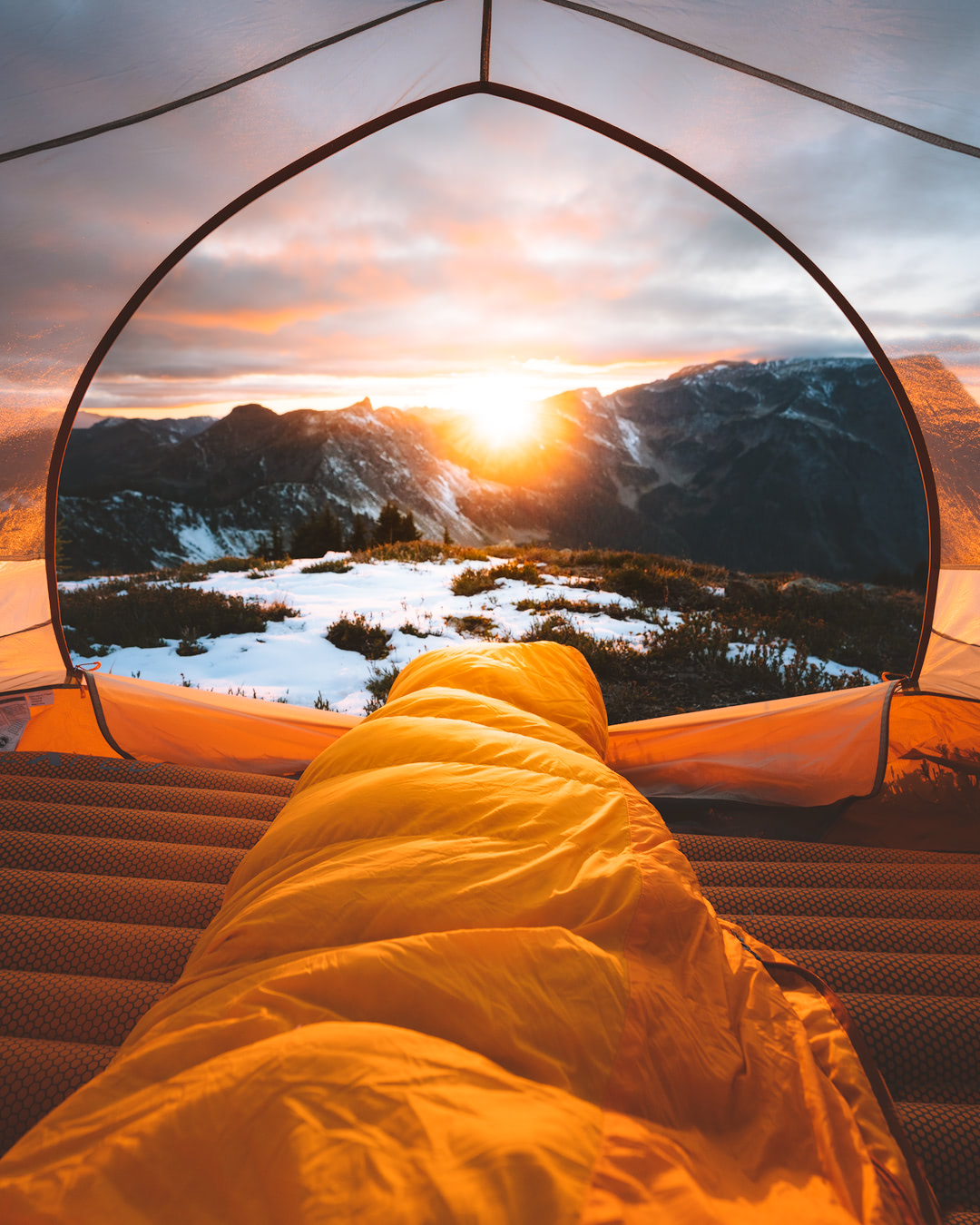 ---
More Hiking and Camping Posts
A Beginners Guide to Backcountry Camping
The Ultimate Winter Hiking and Camping Guide
Holy Grail Hiking and Camping Gear – 2019
5 Epic Alaska Hiking and Backpacking Adventures
---
9 Tips for Getting a Good Night's Sleep when Backcountry Camping
PIN to Read Later!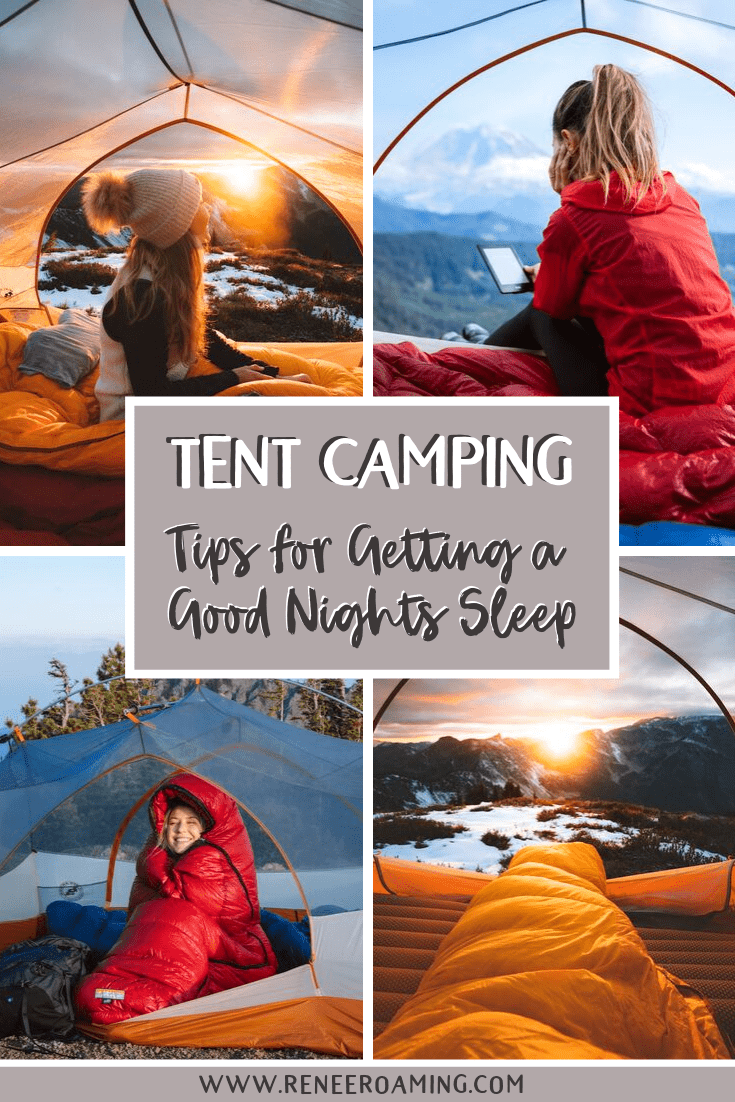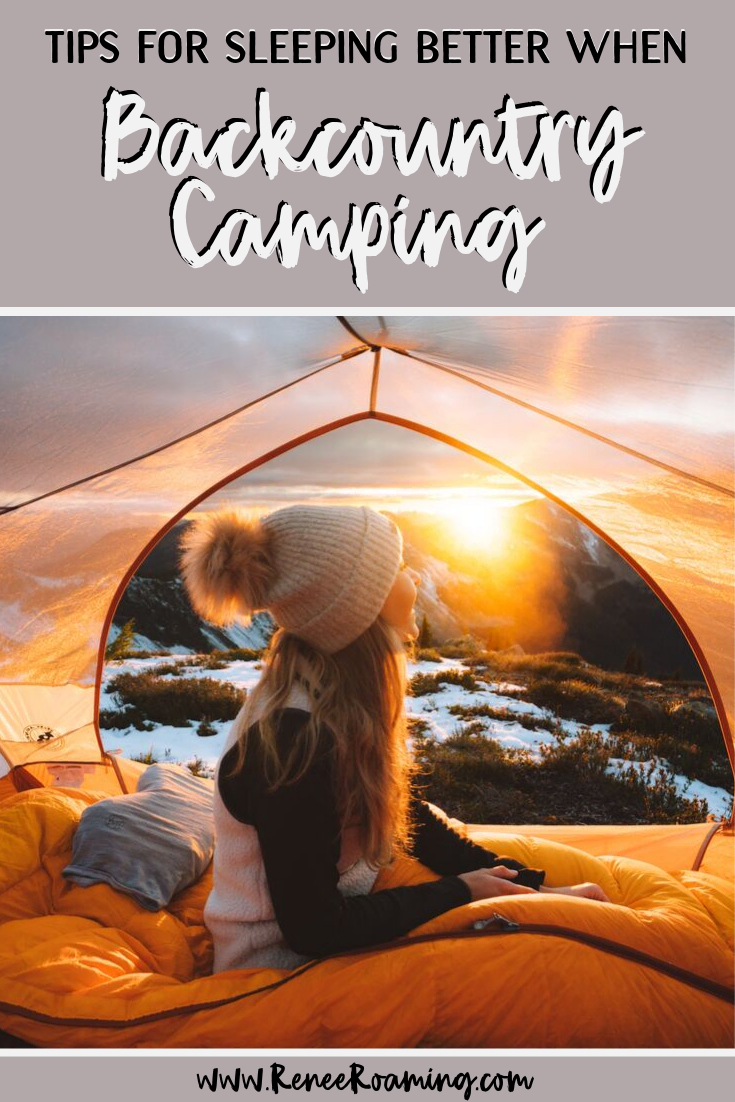 ---
Disclaimer: Thank you to Backcountry for collaborating on this blog post. As always, all opinions are truthful and my own. The offer of 15% off does not apply on top of any other offer or discount, and it's one use per customer. This post contains some affiliate links, which means if you buy something my blog will receive a small commission at no extra cost to you.