There are so many amazing things to do in Washington state during winter, but the absolute best (in my opinion) is to snowshoe to Artist Point! Located in the Mount Baker area of the North Cascades, Artist Point is a relatively accessible adventure for the winter months. In this blog post I am sharing all the tips on how to get there, when to go, gear recommendations, and more!
Disclaimer: This blog post is in collaboration with Backcountry.com and features some affiliate links. This means I get a small commission if you make a purchase (at no extra cost to you). Use code RENEE15 to get 15% off your first Backcountry order (some exclusions apply). You can also learn more about my affiliate policy here. Thank you for the support!
Snowshoe to Artist Point
I know, winter makes you feel like staying indoors with a cozy blanket and hot drink while binge watching Netflix… BUT I can guarantee you that getting out and snowshoeing to Artist Point will not disappoint. I have completed the hike 4 times now in winter, twice for day hikes and twice for overnight winter camping trips. Every time was magical in its own way.
The main reason you should snowshoe to Artist Point is for the incredible panoramic views. When visibility is good, the scenery really is breathtaking! You will be treated to views of Mt. Baker, Mt. Shuksan, Table Mountain, and other peaks in the North Cascades.
Another reason to snowshoe to Artist Point is that it is one of the "easier" winter adventures you can take in Washington, especially for the payoff! At about 2.5 miles each way, it's a relatively short trail and even those new to snowshoeing can enjoy the hike. Plus, the roads leading to the trail head are plowed and accessible all winter long!
Ok, let's jump into all the details on how to actually get to Artist Point!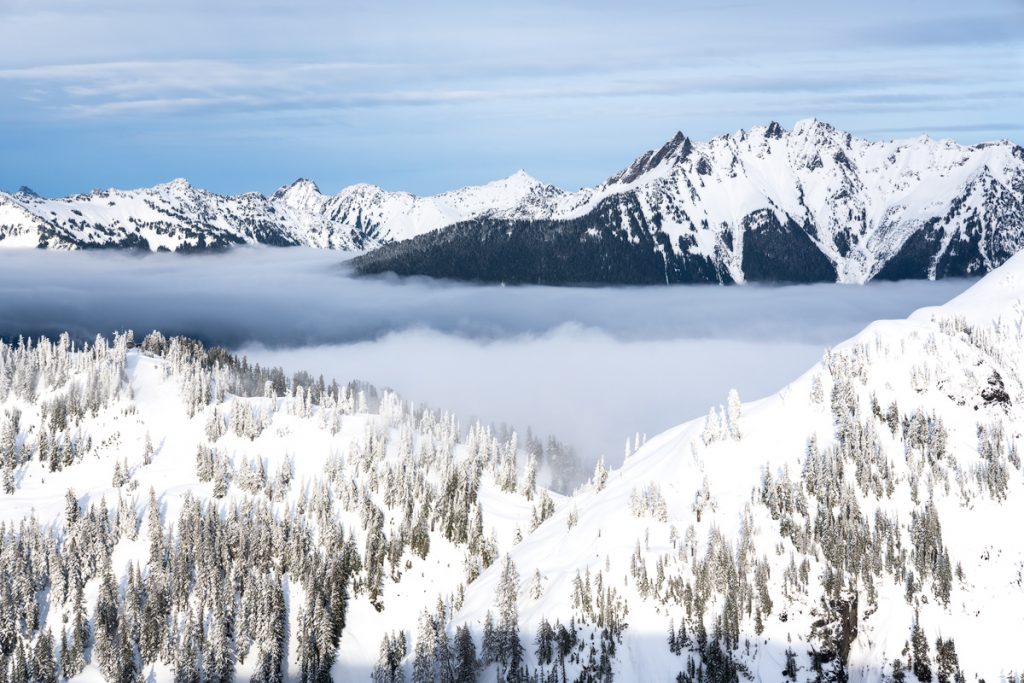 Information about ARtist Point Snowshoe
Location: Mt. Baker Ski Area of Washington's Mount Baker-Snoqualmie National Forest.
When to go: snowshoeing is possible when there's adequate snow pack (winter months).
Getting there: drive to the end of Mount Baker Highway

(WA Hwy 542).

Hiking distance: approximately 4 – 5 miles (round trip), depending on how far you go.
Elevation gain: approximately 1,000 feet, again depending on how far you go.
Difficulty: easy-moderate, depending on conditions.
Avalanche risk: always check conditions before you go.
When to snowshoe to Artist Point
Cars can typically drive all the way up to the Artist Point parking area from about July until late September. During the rest of the year Mount Baker Highway is only plowed up until the ski area at Heather Meadows, and thus Artist Point can then only be accessed via snowshoeing or skiing.
The fact that Artist Point is located so far north and relatively high in elevation (5,100 feet), adequate snow coverage usually means snowshoeing is accessible from November to June. It's always best to research conditions before you go as each season can vary. I recommend checking the Mount Baker Ski Area Snow Report for current snowpack conditions and Northwest Avalanche Center for avalanche risk.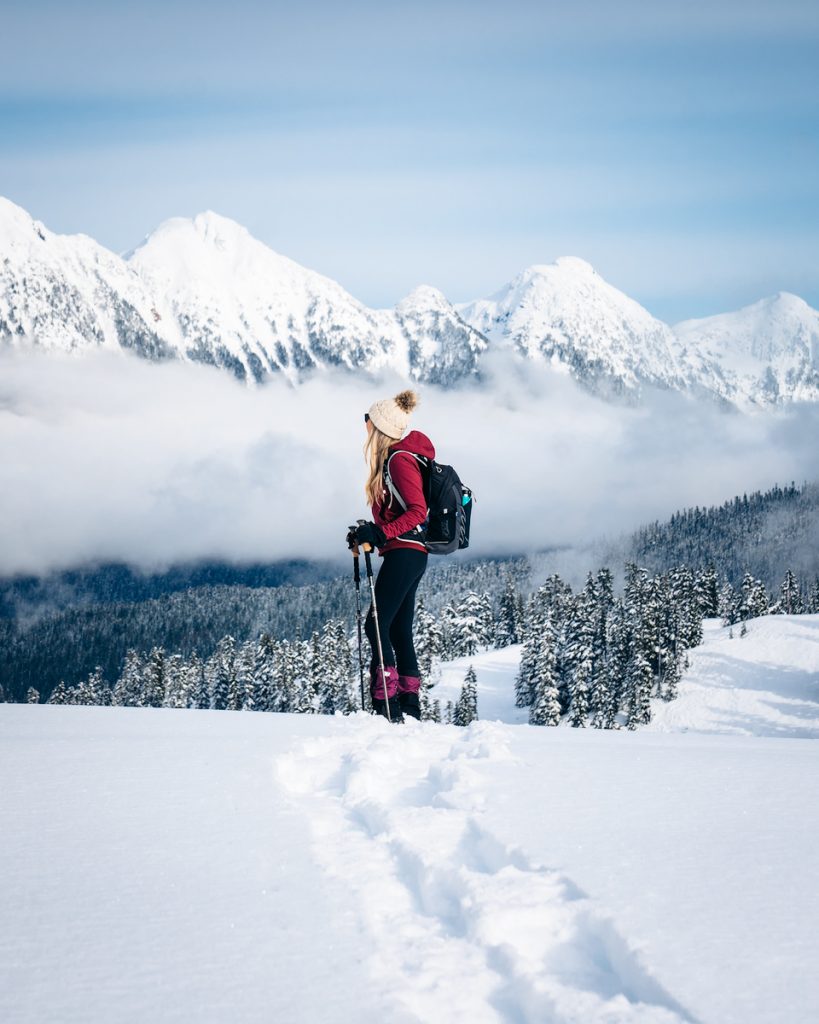 Location of Artist Point
Artist Point is by the Mt. Baker Ski Area of Washington's Mount Baker-Snoqualmie National Forest. This is at the very northern tip of the state (I even get Canadian phone service at the trail head!) and on the west side of the Cascade Range.
Driving distance from Seattle to Mt. Baker Ski Area is approximately 2.5 to 3 hours, or 1.5 hours if you are coming from Bellingham. The main access road is via Mount Baker Highway (WA Hwy 542), which is maintained year long. Depending on conditions you may prefer to have a 4-wheel drive vehicle and/or snow chains when driving the upper areas of Hwy 542.
Fun Fact: Mt. Baker is one of the snowiest places on Earth! In 1999 the area had 1,140 inches of powder fall in the ski area, hitting the world record for snowfall in a single season.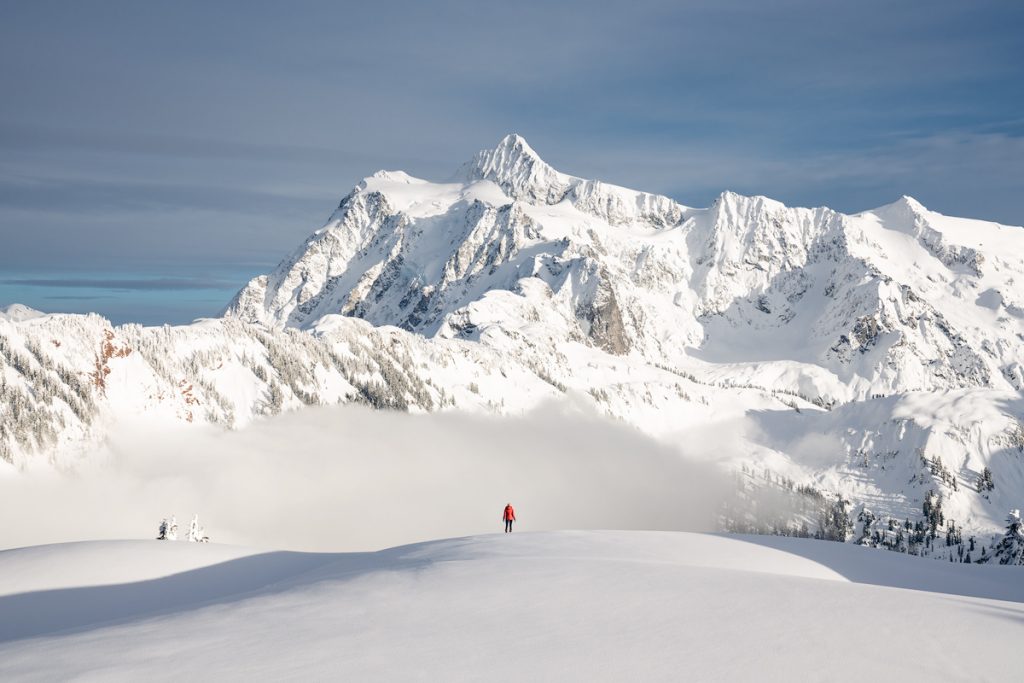 Where to find the Artist Point trail head
To find the Artist Point trail head, you will want to drive Mount Baker Highway until the very end when you reach the Mt. Baker Ski Area. Continue to the uppermost parking lot (GPS coordinates: 48.8619716, -121.6820668). It's free to park and there are vault toilets for hikers to use before and after their trek. From here you are at the trail head! Use the bathroom, have a snack, strap on your snowshoes, and get ready for an adventure!
How To: Snowshoeing to Artist Point
Artist Point is a little different to most other snowshoe hikes I have done. The reason being is that you don't really follow a set trail as such. There is a general direction you go in but the ridge line itself can be accessed via a range of paths all relatively close to each other.
You will also find conflicting mileage numbers for Artist Point. This is because of the different paths you can take to get there and also because some people prefer to hike further up the ridge than others. I have personally found that 4.6 miles is the distance I take to hike from the parking lot to the ridge and back.
Finding The TraIL
If you are in the parking lot and facing the vault toilets, you will see the end of a ski run to your left. There will be a sign to the right of the roping that says "up hill traffic this way" or something along those lines, head in that direction.
The first part of the hike will mostly follow the roped western boundary of the ski area, with the groomed ski runs on your left, and Bagley Creek to your right (it may be completely covered with snow). Unless it is snowing profusely, you should be able to see plenty of tracks from other hikers. Follow them!
As you come to the last part where the snowshoe and downhill ski paths run alongside each other, you will encounter a short very steep section. This is the most difficult part of the hike… don't worry though, it will be over before you know it!
The trail will level out again for a little while before you climb one last section up to the ridge. I would recommend hiking the entire way for the best 360-degree mountain views.
every part of the trail has insane views if you get a clear day
Once you are at the top you will see Mount Shuksan to the east and Mount Baker to the west, along with many other peaks of the Cascade Range. Have a snack, be sure to drink some water, and enjoy the unparalleled views before heading back down to the car (or you can camp up there… keep reading for more info!)
Avalanche Safety
As always, being avalanche conscious is a must. This area does receive A LOT of snow so I recommend you check avalanche conditions via the Northwest Avalanche Center before you snowshoe to Artist Point. NWAC offers free, 90-minute Avalanche Awareness classes geared towards those new to winter adventures. For those spending more time in avalanche terrain, I recommend taking an AIARE class for safety and preparation. These courses are great for both snowshoers and backcountry skiers and snowboarders.
Safety tip: When in the backcountry, I always use some sort of GPS device. My preference is to download the area's offline map via the app GAIA, though you could use an actual GPS device such as the Garmin InReach Mini. Use the GPS coordinates 48.846181, -121.692327 when plugging Artist Point in and have that to help guide your way.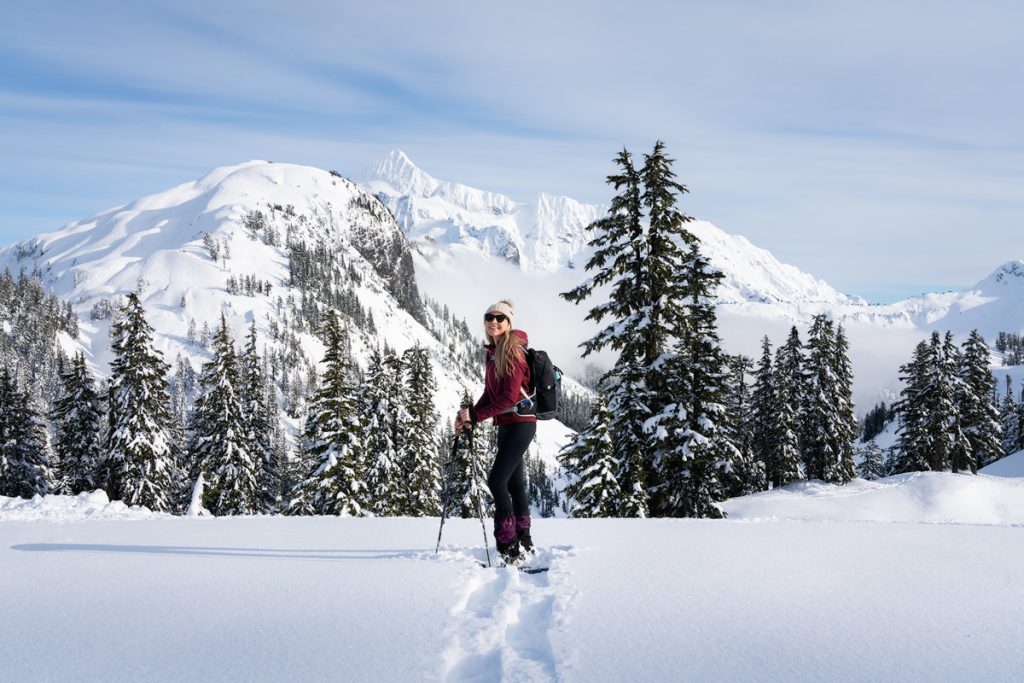 gear for snowshoeing to Artist Point
I love that snowshoeing is a relatively low-barrier activity when it comes to enjoying the winter months. You can either purchase your own snowshoes (recommendations below) or look into renting them. I bought my own pair about 5 years ago now and definitely feel like I have got my moneys worth, but do whatever suits your budget. Below you will also find gear tips on what to wear and items to pack for your snowshoe to Artist Point.
This blog post is in collaboration with Backcountry.com. Like me, they are strong believers in encouraging people to get outside and experience this beautiful world we live in. For years now Backcountry have been my go-to online retailer for purchasing gear so that I can make these outdoor adventures happen. They partner with a range of sustainable brands, support incredible causes like The Nature Conservancy, and their Gearheads are always available to give advice and recommendations. Backcountry have kindly offered my readers 15% off first-time online orders using code RENEE15! *some exclusions apply
Snowshoes
There are a range of options for purchasing snowshoes, right from beginner and more budget-friendly, through to high-tech and more on the pricier side. I would recommend checking out this article for selecting the right pair for your needs – How to Choose the Right Snowshoes. There are essentially 3 types: hiking snowshoes, backcountry snowshoes, and running snowshoes. I personally own a pair of backcountry snowshoes by MSR as I like to do a mix of packed and deeper snow hikes.
You could technically hike Artist Point in any of the 3 types, though hiking snowshoes would likely be the best suited. I have included links to some recommended snowshoes below, including some handy snowshoeing starter kits that come with snowshoes and poles. These are great for beginners!
Never gone snowshoeing before? No stress, there isn't much of a learning curve. It's just a matter of learning to walk in oversized shoes, thus taking your strides a little wider and being mindful not to clip the snowshoes. I've definitely done that a few times, but snow makes for a soft landing! I have an entire Beginners Guide to Snowshoeing, so be sure to check that out!
What To WeaR Snowshoeing
How you dress to snowshoe to Artist Point will depend on the conditions. I have been on sunny and relatively warm days and ended up hiking in a t-shirt… and I have been on COLD days and worn a down jacket the entire time. I recommend looking up the weather forecast before you go and use that to plan accordingly.
As a general rule I would recommend wearing a long sleeve breathable base layer (merino wool is my favorite) and hiking pants / fleece-lined tights. That might be enough to keep you warm on the uphill but it's likely that you will also need some sort of fleece layer or lightweight jacket, especially on those colder days. If you run very cold like me then you may also want to consider layering a pair of thermal bottoms underneath your hiking pants.
For footwear I would recommend waterproof winter hiking boots (the Columbia Newton Ridge Boots are my go-to for snowshoeing) and a pair of gaiters to keep snow out of your boots. For socks I would suggest a medium weight pair made for hiking, and potentially some toe warmers for those really chilly days.
As far as extra gear goes, you will also need some sort of hiking backpack to store your water bottle, snacks, phone, camera, car keys, etc. I love using Osprey hiking packs and usually opt for the Tempest 24L if I am going on a day hike (also comes in 34L and 40L versions if you plan to backcountry camp).
Some other items to consider wearing are gloves, a neck/face cover, sunglasses, and a hat. I also personally prefer to hike with trekking poles when using snowshoes as I find they help me keep my balance.
What To Pack When Snowshoeing
Firstly, if you aren't actively using any of the above suggested items during your hike then they should definitely be in your bag. Don't skimp on things like gloves and a beanie… you may regret it if the weather changes quickly!
Next, you will want to make sure you have adequate insulation layers. I personally always take a minimum 3 layers with me on winter hikes: fleece jacket, heavier weight down jacket, and wind/rain shell. When it's really cold I will take two down jackets with me… but I do feel the cold more than most people seem to!
Some more items you should pack include a drink bottle (insulated is best to prevent your water freezing), snacks, head lamp, thicker gloves/mitts, hand warmers, sunscreen, basic first aid kit, and some sort of map and compass. You may also want to consider taking an emergency device such as the Garmin InReach Mini, especially if you are out snowshoeing on your own.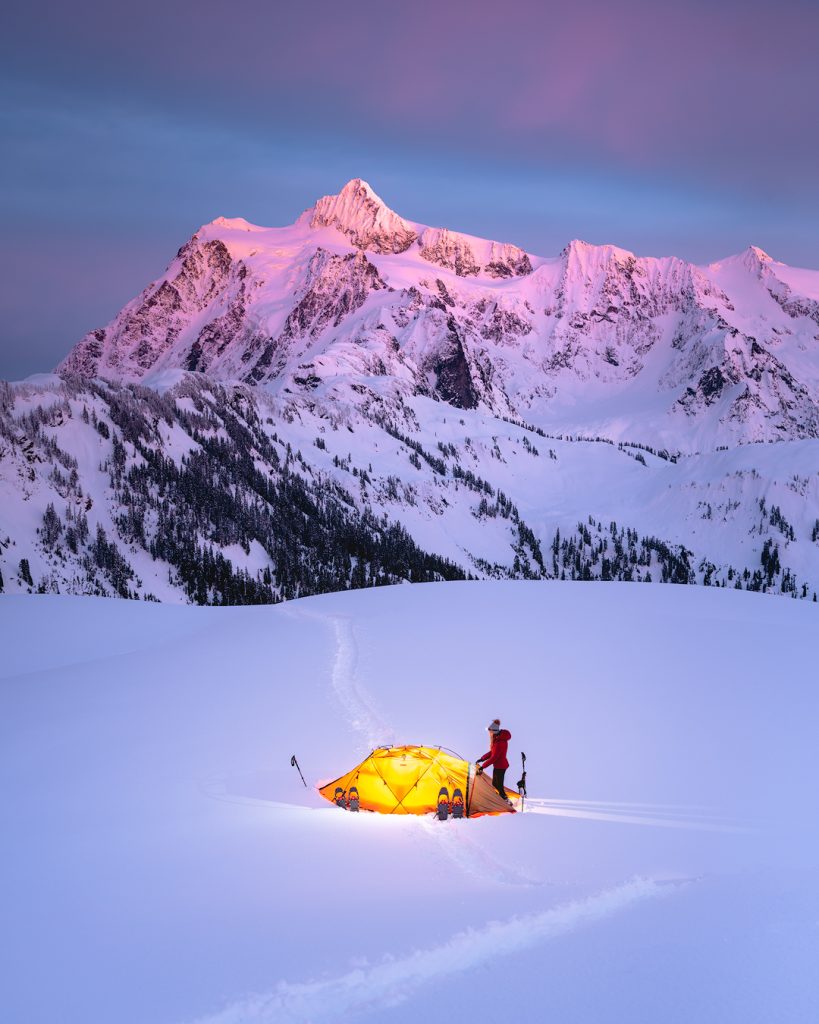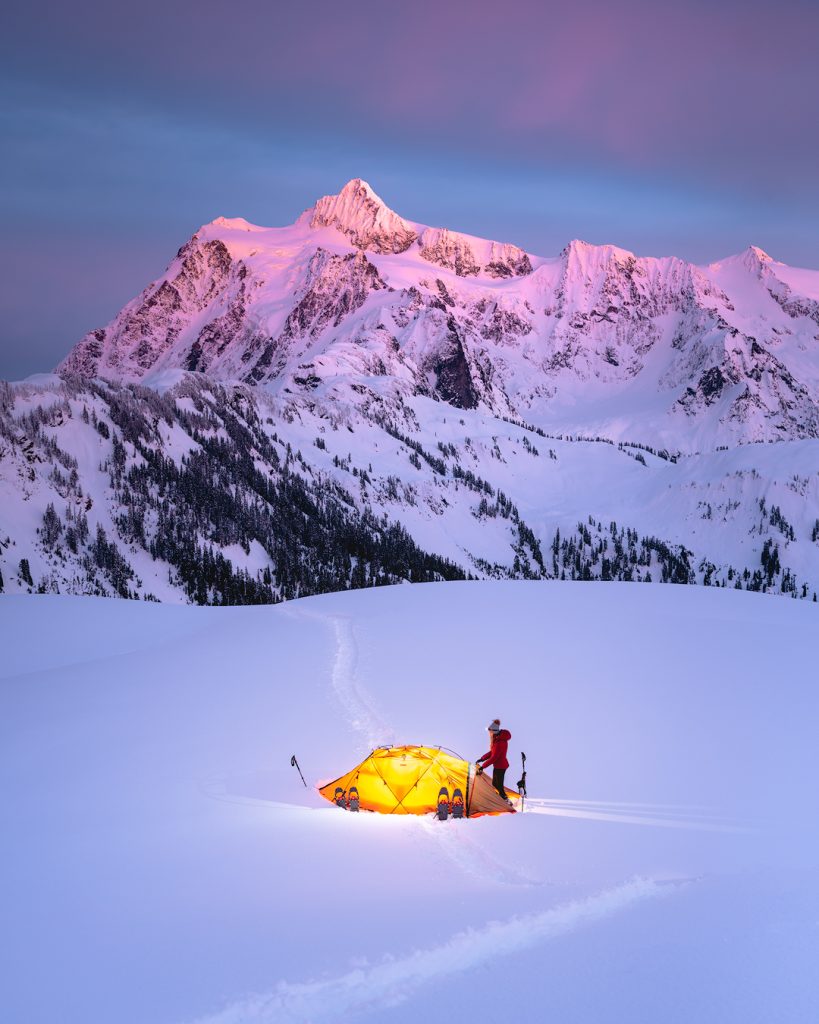 Winter Camping at Artist Point
Fancy trying out winter backcountry camping? Artist Point is a great spot for it! I've camped up there twice now and would highly recommend it for a short yet rewarding winter camping spot. Be sure to read up on my recommended winter camping gear and tips before you go. Also, you will need a Northwest Forest Pass to park your car in the lot overnight. You can buy an annual pass here for only $30.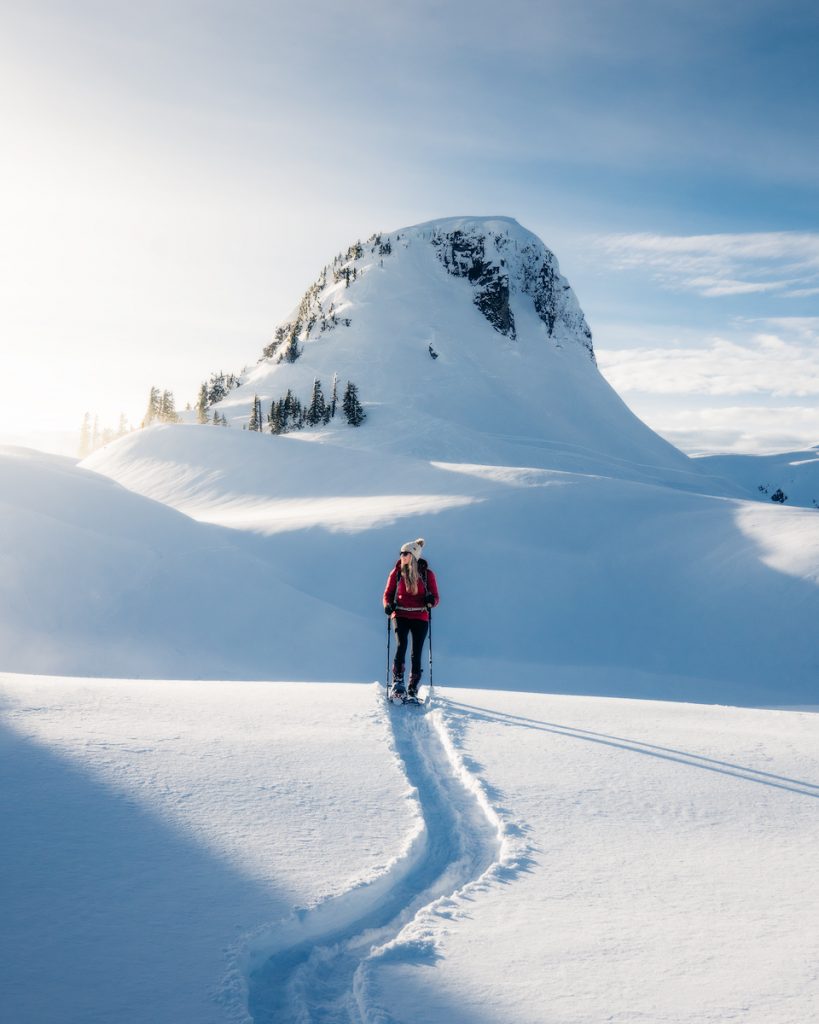 Leave no trace
If you're going to be out in nature, it's important that you follow Leave No Trace principles. Please be sure to educate yourself on proper winter hiking and camping etiquette before you snowshoe to Artist Point. I have a whole blog post on this topic (check it out here), or read up on the winter-specific guidelines below:
Know the area and what to expect; ALWAYS check avalanche and weather reports prior to departure. Consult maps and local authorities about high danger areas, safety information, and regulations for the area you plan to visit.
Prepare for extreme weather, hazards and emergencies.
Monitor snow conditions frequently. Carry and use an avalanche beacon, probe and shovel in areas that require it.
Educate yourself by taking a winter backcountry travel course.
Visit the backcountry in small groups, but never alone. Leave your itinerary with family or friends.
Repackage food into reusable containers.
Use a map and compass to eliminate the need for tree markings, rock cairns or flagging.
TRAVEL AND CAMP ON DURABLE SURFACES
Stay on deep snow cover whenever possible; in muddy spring conditions, stay on snow or walk in the middle of the trail to avoid creating new trails and damaging trailside plants.
Travel and camp away from avalanche paths, cornices, steep slopes and unstable snow.
Choose a campsite on durable surfaces- snow, rock or mineral soil- not tundra or other fragile vegetation.
Camp at a safe, stable site out of view of heavily-traveled routes and trails.
Keep pollutants out of water sources by camping at least 200 feet (70 adult steps) from recognizable lakes and streams- consult your map.
DISPOSE OF WASTE PROPERLY
Pack It In, Pack It Out. Pack out everything you bring with you. Burying trash and litter in the snow or ground is unacceptable.
Pick up all food scraps, wax shavings and pieces of litter. Pack out all trash: yours and others.
Pack out solid human waste.
Use toilet paper or wipes sparingly. Pack them out.
If necessary, use small amounts of biodegradable soaps for dishes. Strain dishwater into a sump hole.
Inspect your campsite for trash and evidence of your stay. Dismantle all snow shelters, igloos or wind breaks. Naturalize the area before you leave.
Leave all plants, rocks, animals and historical or cultural artifacts as you find them.
Let nature's sounds prevail. Keep loud voices and noises to a minimum.
MINIMIZE CAMPFIRE IMPACTS
Campfires cause lasting impacts in the backcountry. Always carry a lightweight camp stove for cooking.
Use dead downed wood if you can find it. Put out all fires completely. Widely scatter cool ashes.
Do not cut or break limbs off live, dead or downed trees.
Winter is an especially vulnerable time for animals. Observe wildlife from a distance. Do not follow or approach them.
Never feed wildlife or leave food behind to be eaten.
Protect wildlife and your food by storing rations and trash securely.
BE CONSIDERATE OF OTHER VISITORS
Be respectful of other users. Share the trail and be courteous.
Yield to downhill and faster traffic. Prepare for blind corners.
When stopped, move off the trail.
Separate ski and snowshoe tracks where possible. Avoid hiking on ski or snowshoe tracks.
Learn and follow local regulations regarding pets. Control dogs. Pack out or bury all dog feces.
(Taken directly from the Leave No Trace Center for Outdoor Ethics)
Pin for Later Planning!