Kenai Fjords National Park is a uniquely wild place and definitely a must-visit destination in Alaska. It was one of our favorite national parks from our trip to visit all of them in 2017. In fact, Kenai Fjords ended up ranking at number 2 when we rated all the national parks from best to worst!
Not only is Kenai Fjords famous for its glaciers and abundant wildlife, but it's also popular for being so accessible. The park is only a 2.5-hour drive south of Anchorage and the town of Seward serves as the perfect base for sightseeing. The Harding Icefield is one of the biggest reasons people visit Kenai Fjords National Park, but keep reading to find out all the best things to do in the park, where to stay, when to visit, where to take photos, and more!
Disclaimer: This blog post may feature some affiliate links, which means I get a small commission if you make a purchase (at no extra cost to you). It's one of the ways I can keep producing free guides and resources for my readers. Learn more about my affiliate policy here. Thank you for the support!
The Ultimate Guide to Exploring Kenai Fjords National Park
Kenai Fjords National Park is best known for its dramatic glaciers. Over 40 of them make their way down from the Harding Icefield, many cascading down to meet pacific ocean in a jaw-dropping display of beauty. This part of Alaska is also famous for its wildlife. Seals, bears, whales, birds, and many other animal species are abundant, which is part of what makes Kenai Fjords National Park so unique.
Maybe my favorite thing about Kenai Fjords National Park is the wide variety of ways you can choose to explore. You can take a boat tour to see the glaciers and wildlife, explore on smaller watercraft such as kayaks, hike some of the most beautiful terrain in the world, or see it all from the air.
This tour is a great way to take the view from the air, cruising around the canopy on a ziplining tour, explore across multiple ziplines and suspension bridges.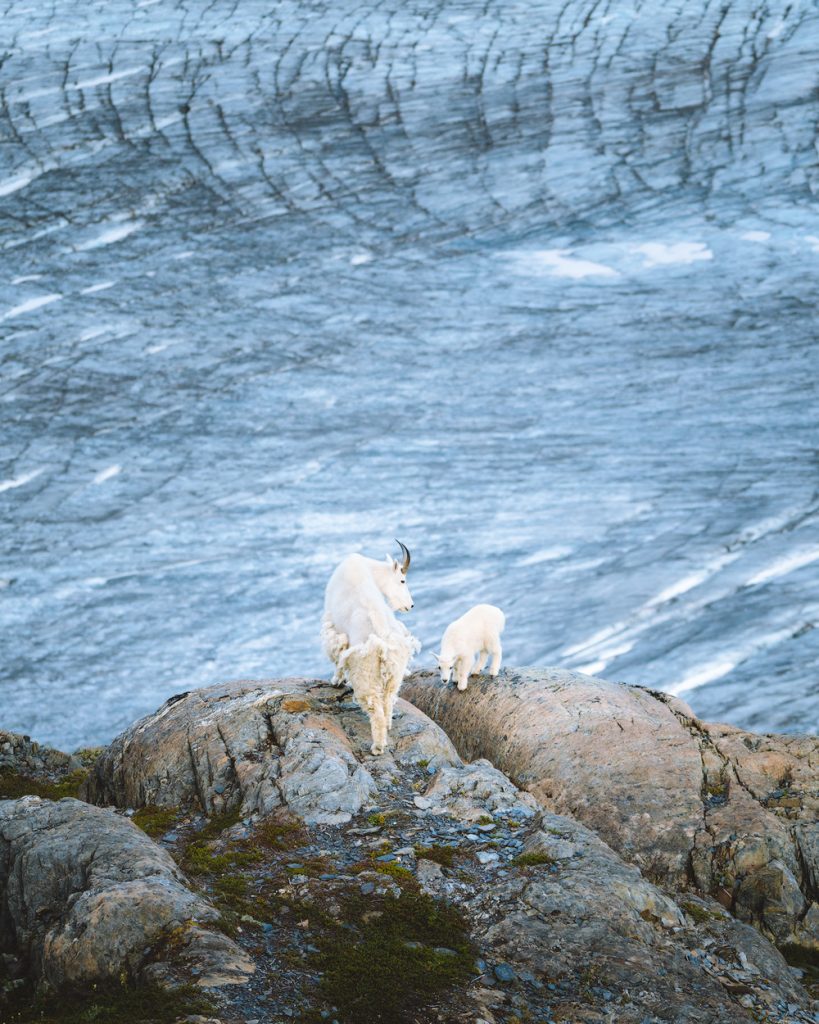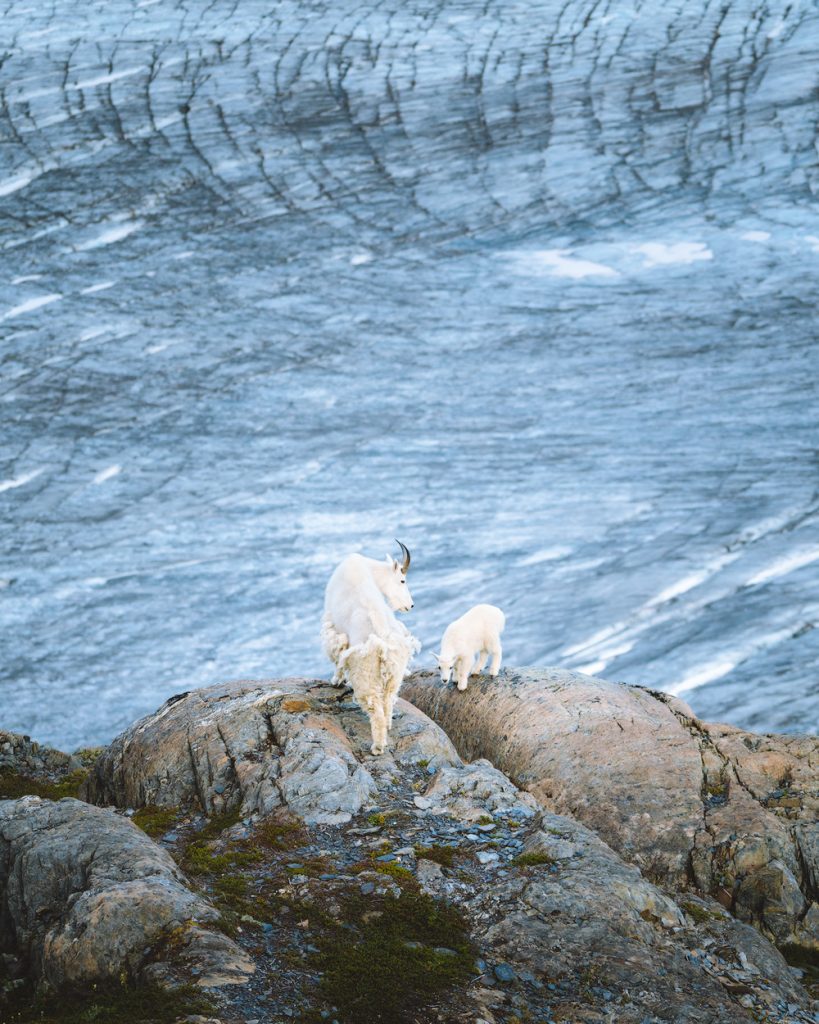 Quick Facts about Kenai Fjords
Location: Kenai Peninsula, Alaksa
Native Land: Sugpiaq
Size: 601,839 acres (2435 sq km)
Annual Visitors: 356,601 million (2019)
Established: National Park (1980)
Visitor Centers: Kenai Fjords National Park Visitor Center
Entrance Fee: Free
Get directions to Kenai Fjords National Park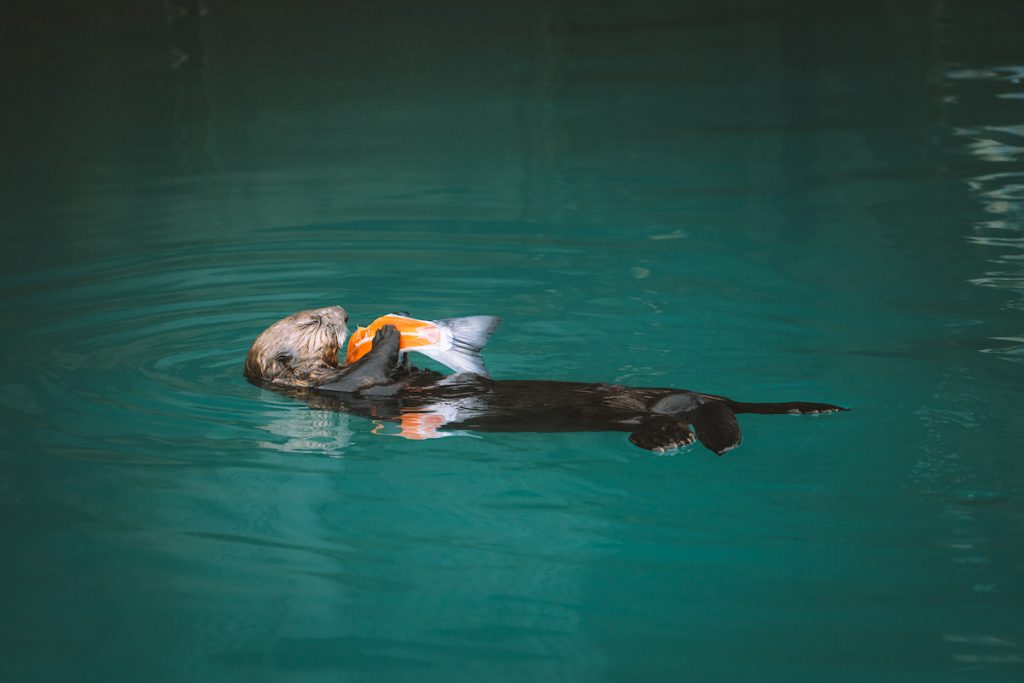 When to visit Kenai Fjords
While the park is technically open year-round, Kenai Fjords National Park is best visited in the summer months of June, July and August. Many of the park's main attractions are closed during winter months due to rough seas and heavy snow. Services are still open during the shoulder months of May and September, but may be limited depending on the conditions.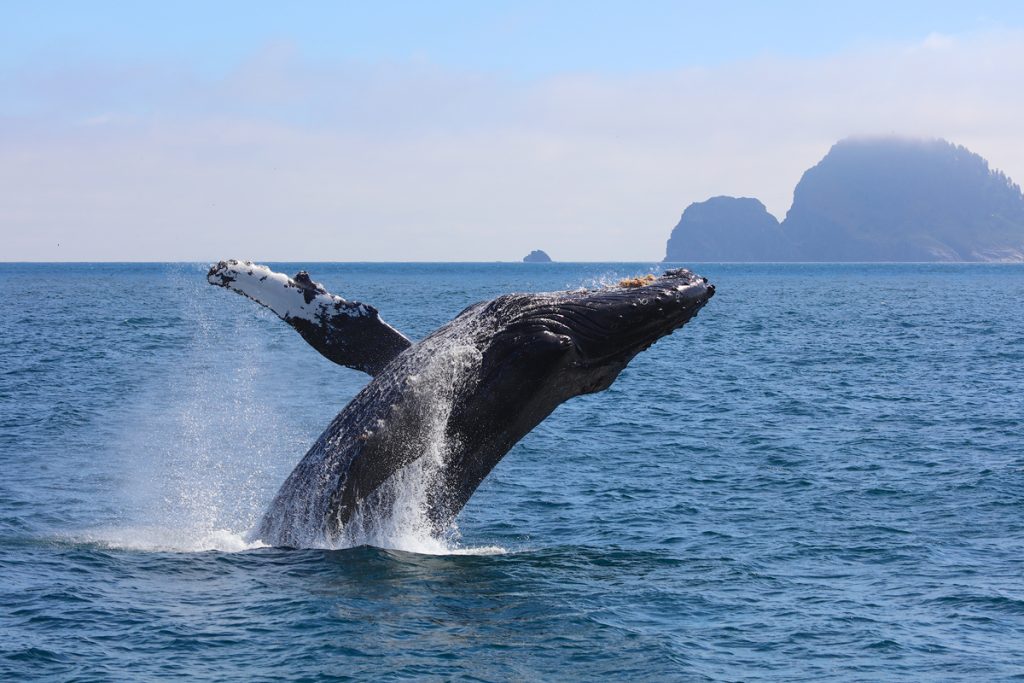 Getting to Kenai Fjords
Getting to Kenai Fjords requires a simple, and absolutely beautiful 2.5 hour drive from Anchorage. Most people choose to rent a car in Anchorage and make the drive themselves, but there is also the option to catch a scenic train ride. If you want something more luxurious then consider booking an Anchorage Airport to Seward round-trip private transfer.
What to see and do
There are numerous incredible things to do in Kenai Fjords National Park and along the Kenai Peninsula, including hiking, boat cruises, kayaking, fishing, scenic flights, and more! Keep reading for in-depth details on each activity and tour recommendations.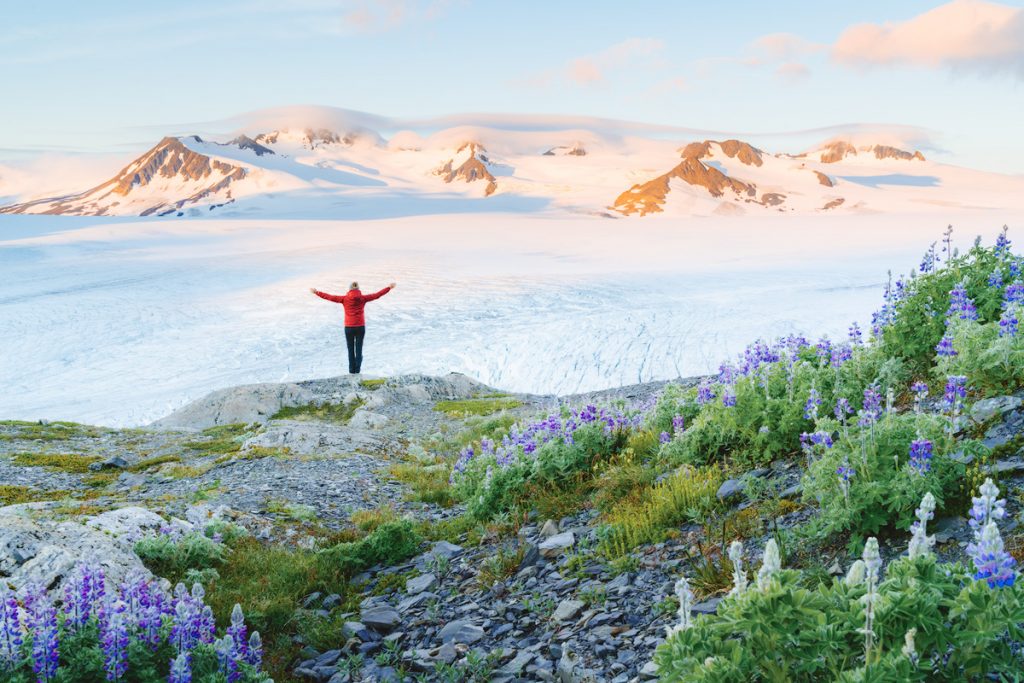 The jewel of Kenai Fjords National Park is the magnificent Harding Icefield. From this massive 700-square-mile icefield, countless tidewater glaciers pour down, carving fjords and icebergs. Over 30 glaciers of different size and type flow from the Harding Icefield, with some terminating in lakes (e.g. Skilak Glacier), some ending on land (e.g. Exit Glacier), some ending in lagoons (e.g. Bear Glacier), and some being tidewater (e.g. Aialik Glacier).
The Icefield may be a remnant of the Pleistocene ice masses that once covered half of Alaska. Visitors can witness the Harding Icefield itself via a steep hike from the Exit Glacier area of the park, via aircraft, or numerous of its glaciers can be viewed from a boat tour or watercraft. I think the most epic has to be via a scenic flight, but keep reading for more suggestions on how to best see the Harding Icefield.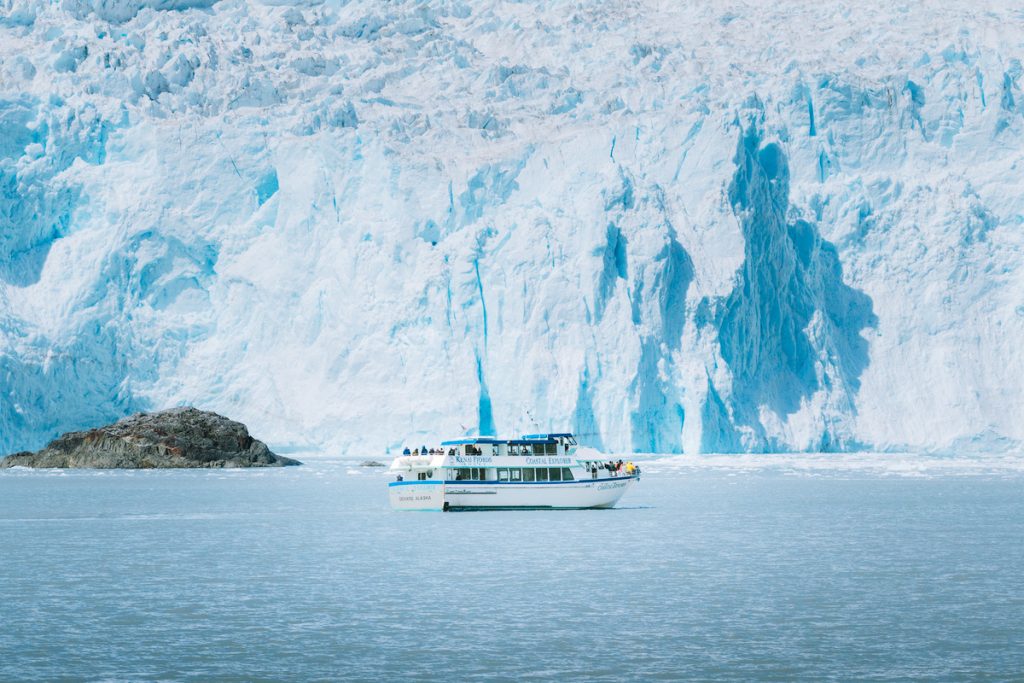 Take a boat tour of the fjords
This is probably the biggest attraction in the park, and for good reason. Taking a boat tour out to see the giant glaciers entering the ocean is something you are sure to remember forever. You might also be lucky enough to spot wildlife while on the boat, including whales, harbor seals, bald eagles, sea lions, sea otters, and other marine mammals. Suggested tour: Kenai Fjords National Park Cruise from Seward.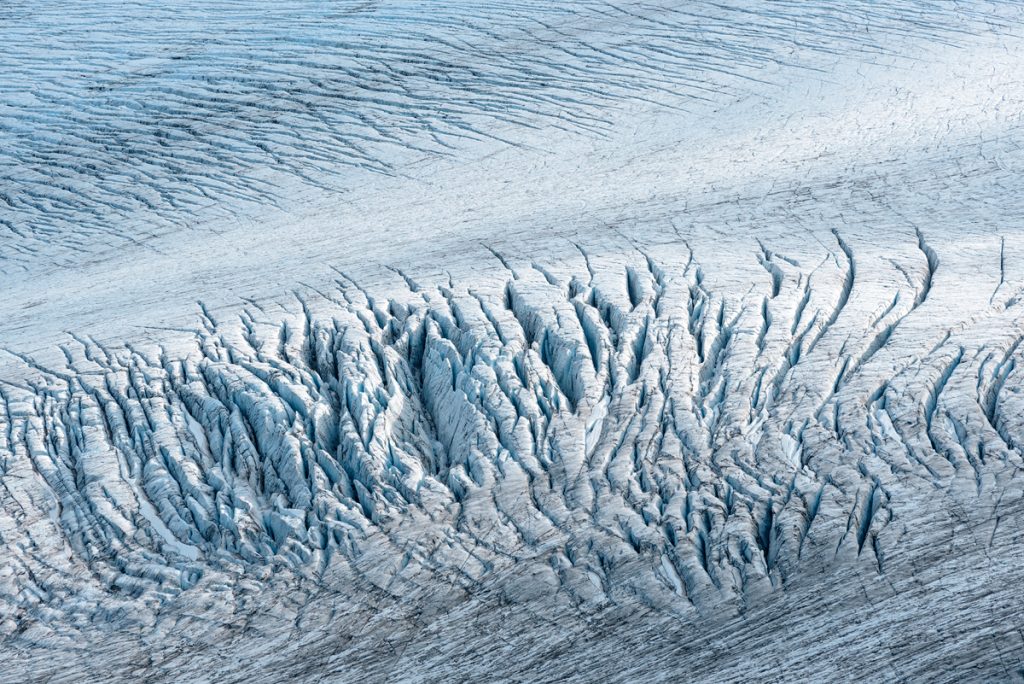 Exit Glacier is another of the most popular spots in Kenai National Park. In the summer months you can drive right up to the base of the glacier… well, kind of. Due to our warming climate and the recession of the glacier, you will now need to walk a short distance to the base from the parking lot, but it's not very far and the views are incredible! Suggested tour: Exit Glacier Ice Hiking Adventure.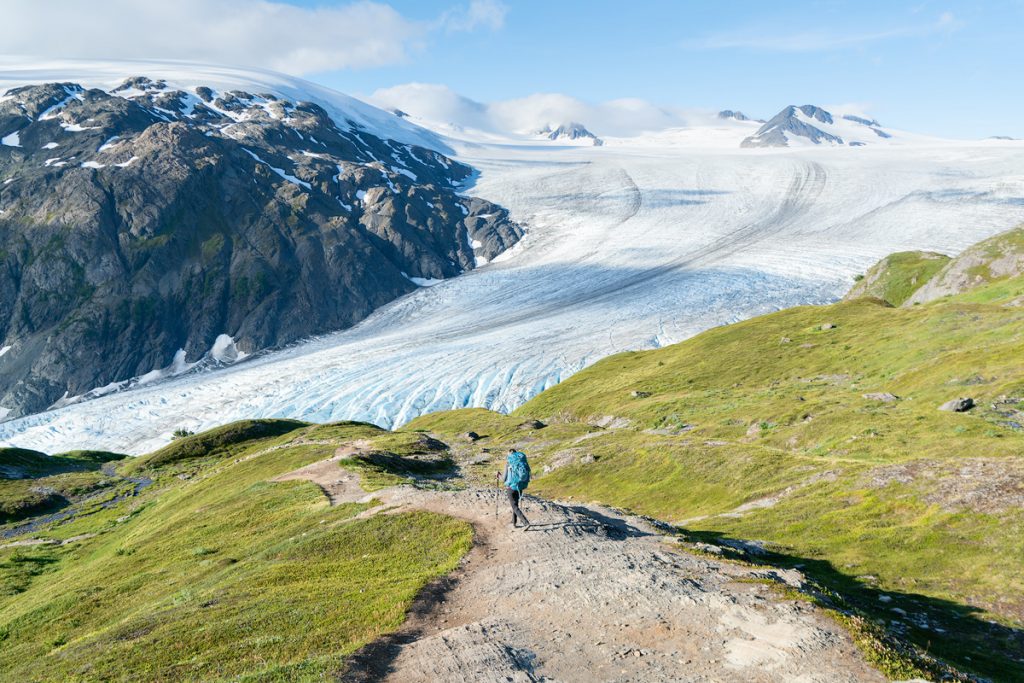 Kenai Fjords doesn't have a lot of "maintained" hiking trails.. in fact there are only two official trails listed by the National Park Service:
Despite there only being two official trails, there are many "pick your own adventure" style hiking options for those with more experience in navigation and back-country travel. Many travel from all over the world for Alaska's rugged wilderness, and exploring off the beaten path offers views that are hard to beat. Do note this is not for your average hiker and extra precaution and knowledge is required, remember to bring hiking poles and decent hiking shoes. If in doubt stop by the visitors center and ask for help. Looking for a unique hiking day trip? Check out these guided hiking tours: Hiking Tour in Kenai National Wildlife Refuge with Scenic Boat Ride; Seward Wilderness Hiking Tour.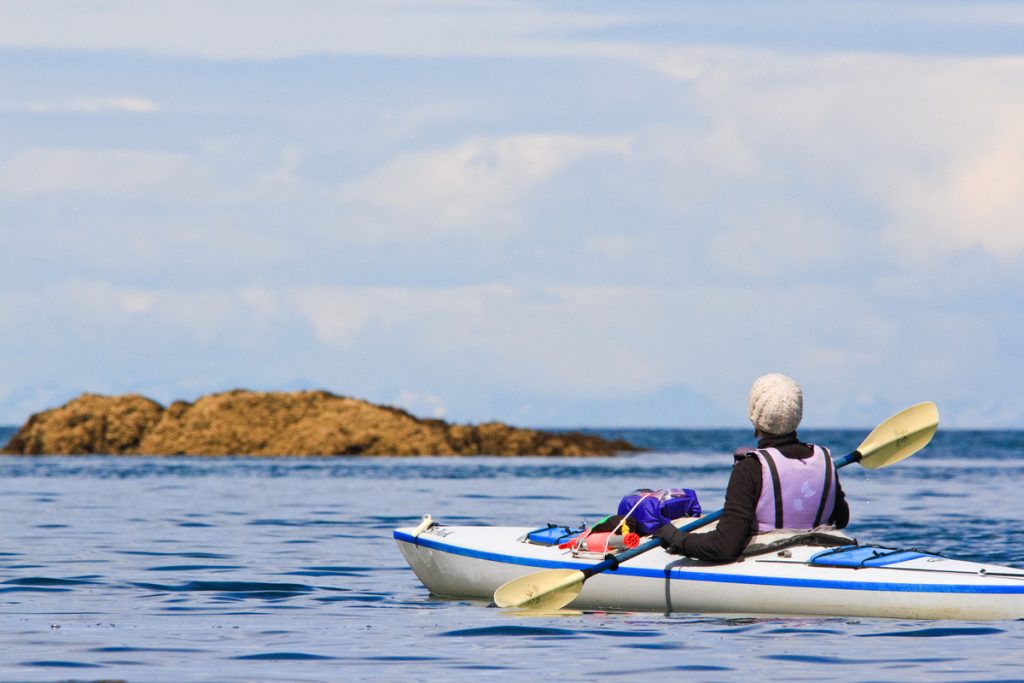 There are many companies that offer kayak trips within Kenai Fjords National Park. These range from leisurely paddles to more extreme kayak/backpacking trips. Shop around to find something that suits your needs. Suggested tours: Bear Glacier Kayaking Adventure; Aialik Northwestern Fjords Explorer Glacier Kayaking; Kenai Fjords National Park Wildlife Cruise & Glacier Kayak Combo Adventure.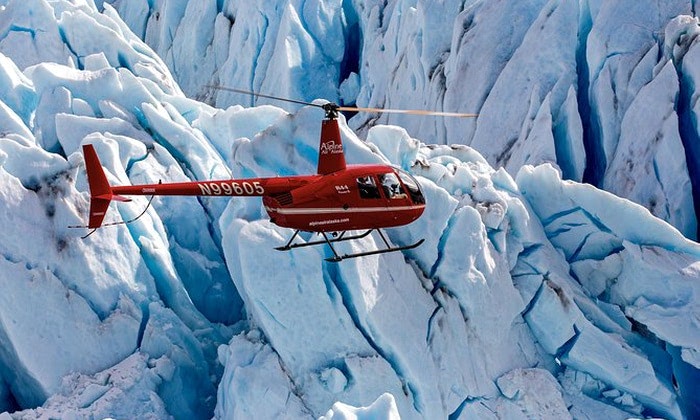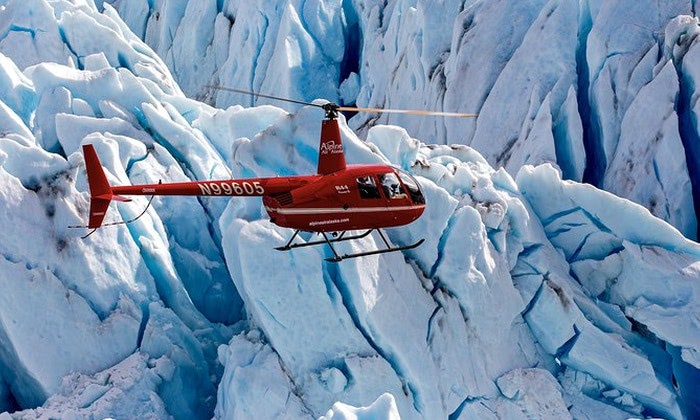 One unique way to experience Kenai Fjords National Park is by air! This is the only way to see the whole of the Harding Icefield, so if you have the spare cash (this is quite pricey) it's an incredible experience. There isn't many things more Alaskan than taking a ride in a small plane or wilderness helicopter!
There is also a shorter cheaper helicopter flight available with a landing on the Knik Glacier. The flights are definitely a pricey activity, but well worth treating yourself to this unforgettable experience. This 60 minute scenic flight is another great splurge that flies over Kenai Fjords and Chugach National Forest.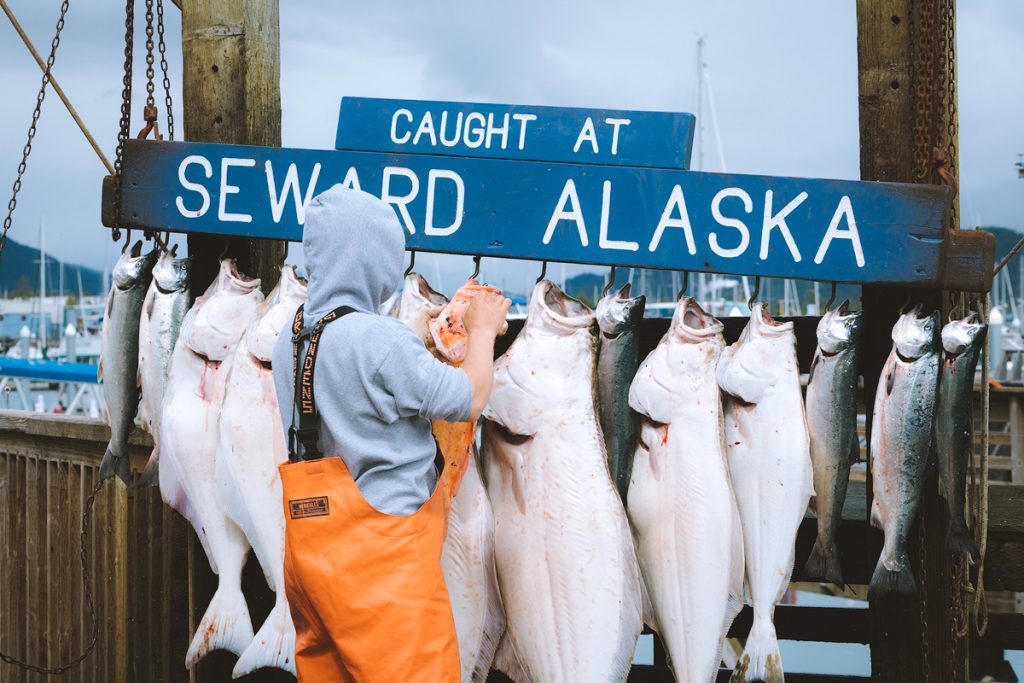 Kenai Fjords National Park and its surrounding areas are home to some incredible fishing. You can fish right from the shoreline at Seward, or take a boat tour out to some of the captain's favorite locations. There are even fresh water options at some of the lakes in the area. Don't forget your Alaska state fishing license! Suggested tour: Guided Ice Fishing Tour.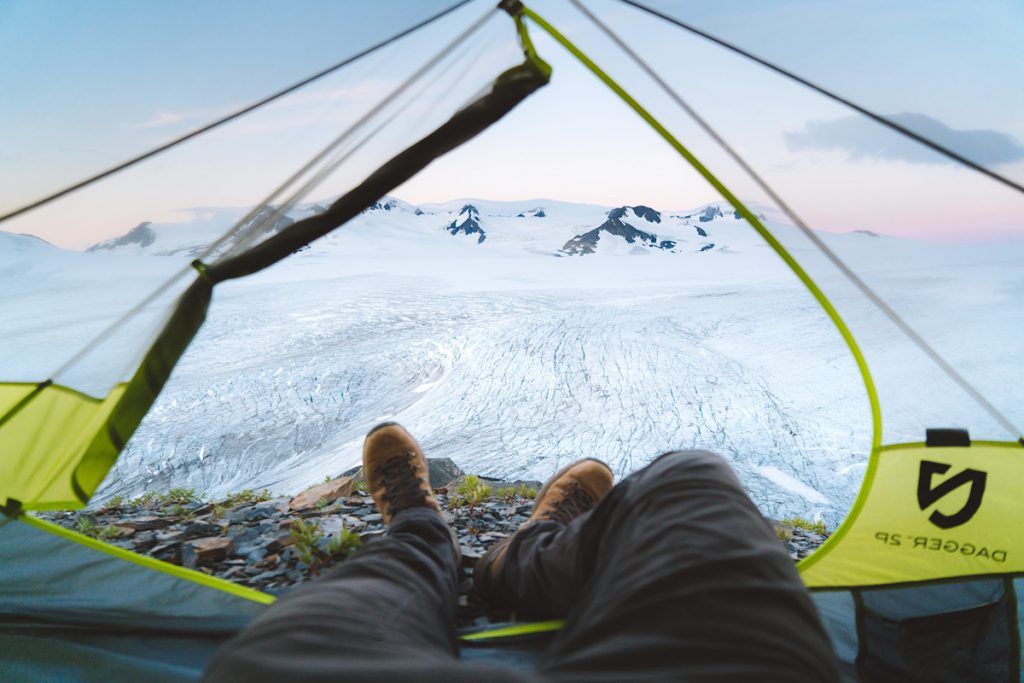 During our visit to Kenai Fjords National Park, my husband and I chose to do an overnight backpacking trip on the Harding Icefield trail. It's a steep, 8.2 mile round-trip hike that takes you along a ridge overlooking the famous Exit Glacier. The trail ends at a flatter area of the mountainside where you can enjoy a breathtaking view of the Harding Icefield below you (and probably some mountain goats!) Do note that the terrain here is very rocky, and it can be difficult to find a flat spot for a tent. Be prepared with proper grizzly and black bear safety precautions + food storage, and always leave no trace!
Read next: Must Know Bear Safety for Hiking and Camping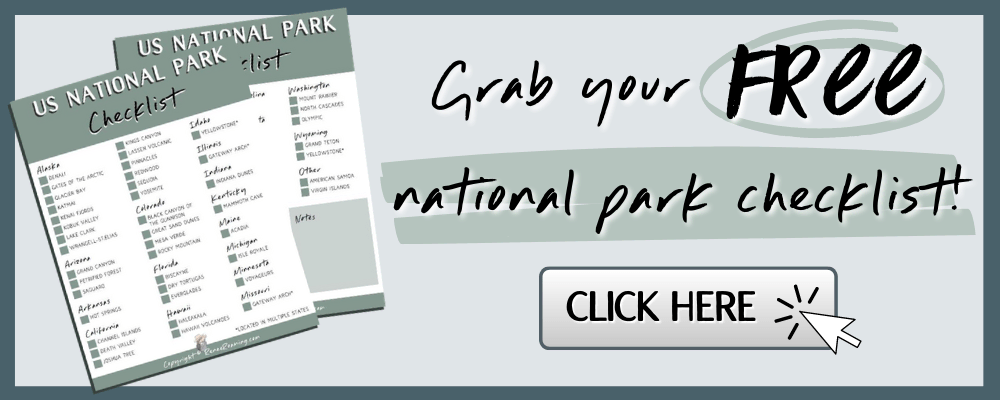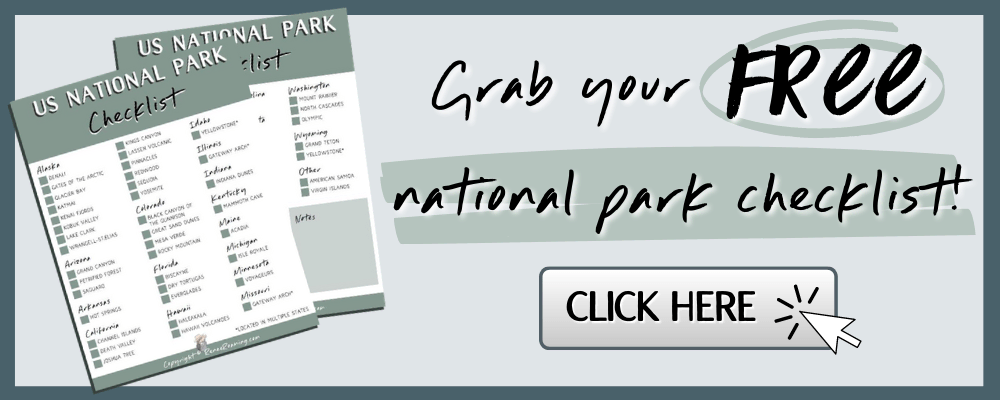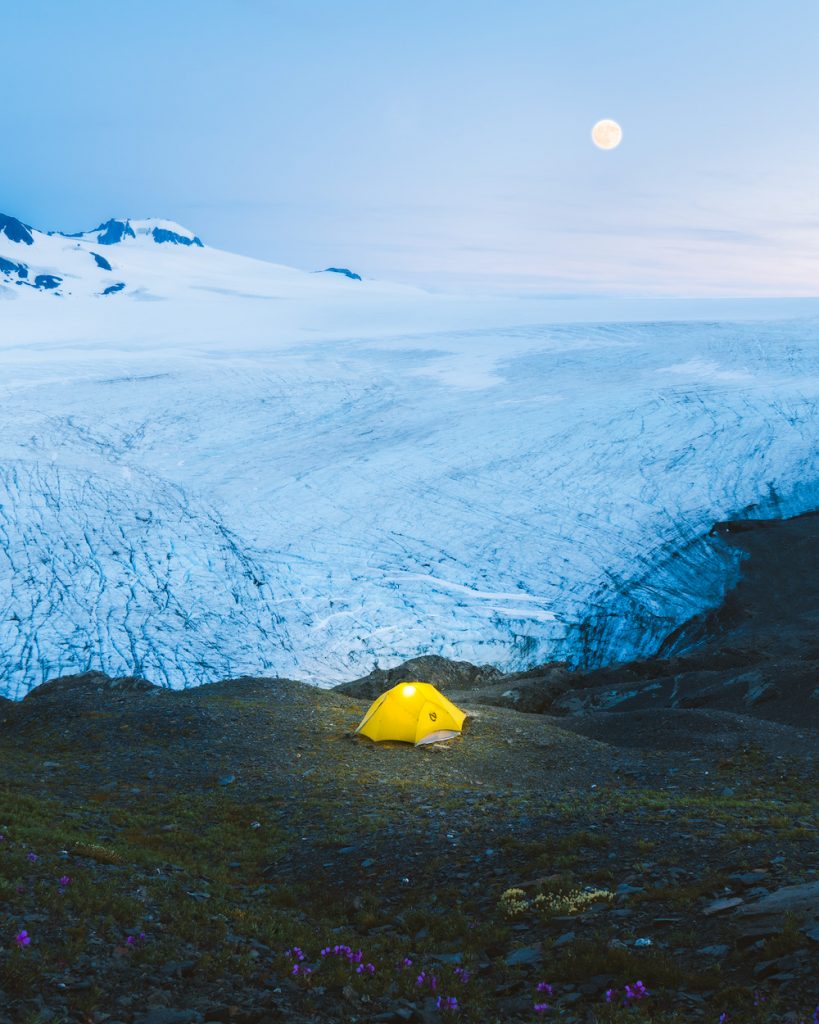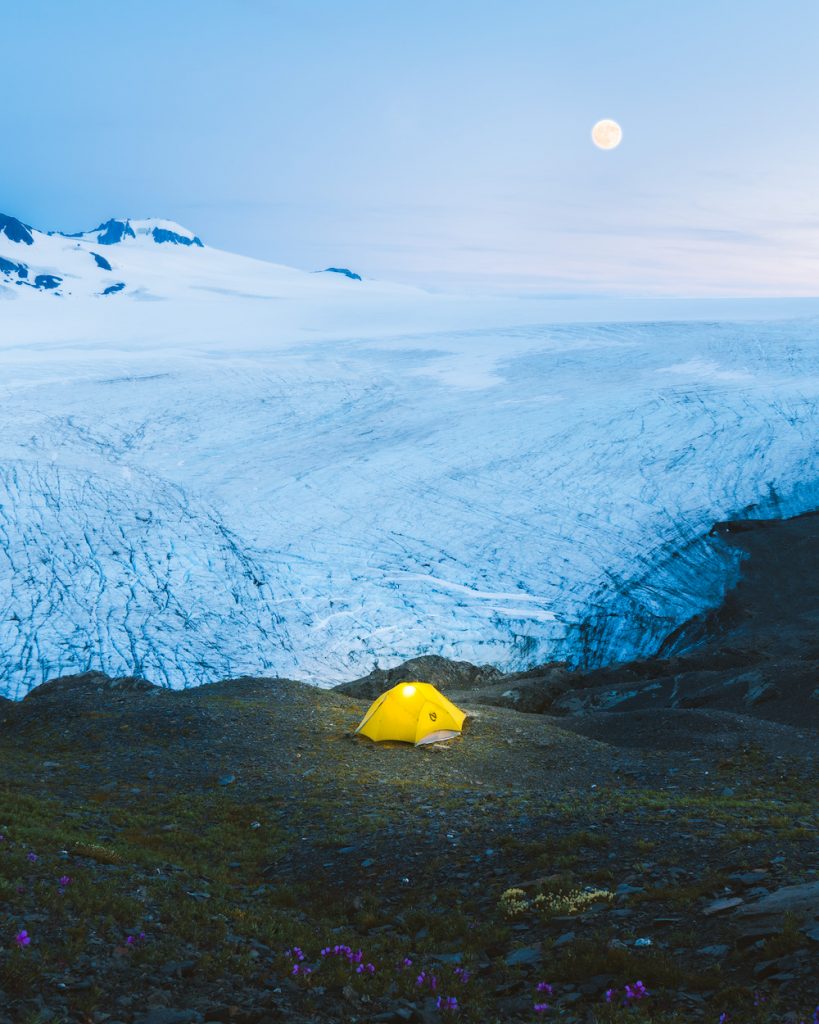 Best photo locations
While there aren't a lot of "iconic" Kenai Fjords photography spots, there's plenty to photograph in the park… you just might have to be a little more creative. Below you will find some suggestions on the best places to take photos in Kenai Fjords National Park.
Photograph the Harding Icefield
The Harding Icefield is obviously stunning, and I recommend you hike the Harding Icefield Trail if you are wanting to take some photos of the icefield and Exit Glacier from above. My husband and I camped overnight so that we could capture photos at both sunset and sunrise, but it's beautiful even during the day. You can't fly drones in national parks but consider taking a scenic flight for some aerial photography! Suggested tour: 60 Minute Scenic Flight over Kenai Fjords and Chugach National Forest.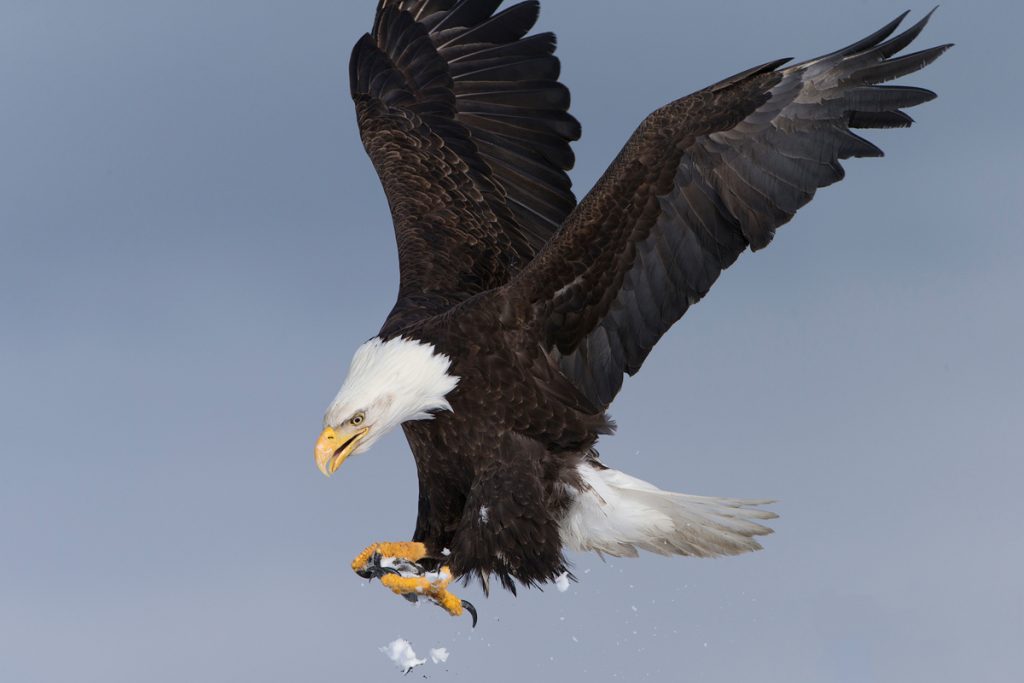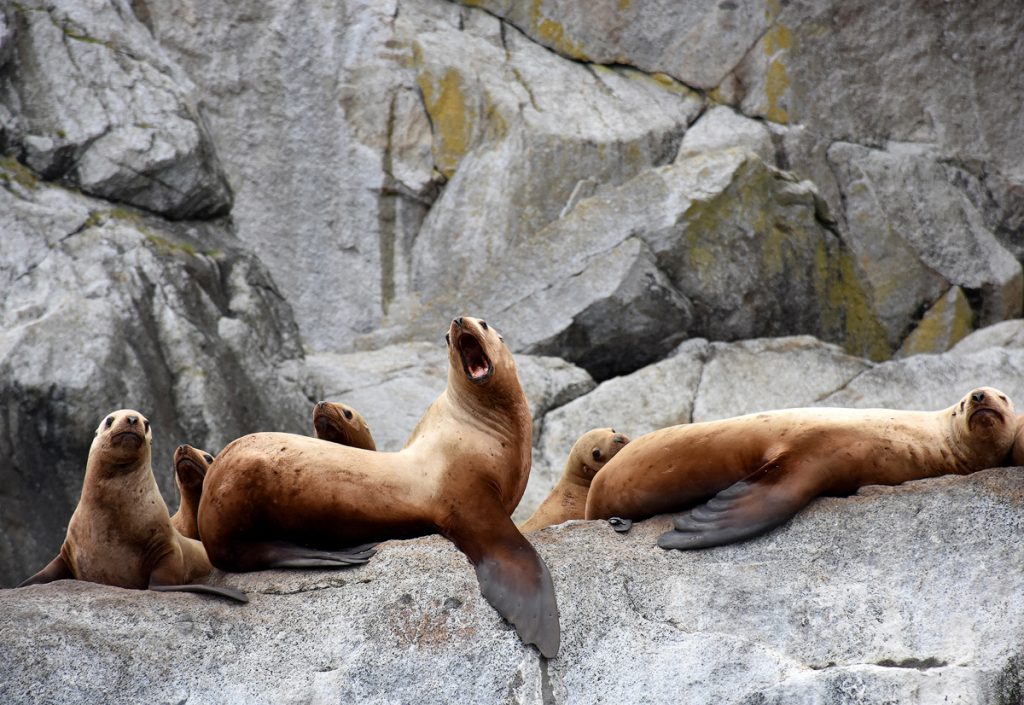 Wildlife and glacier photography
Another way you will be able to capture some great photos in Kenai Fjords National Park is by boat. If you take one of the sightseeing boat tours, you will be brought right up close to the glaciers, providing some epic photography opportunities. On the boat tours you may also be lucky enough to spot some wildlife such as whales, seals and bald eagles, which adds another great photography element. The dream is combining both the wildlife and glaciers in one photo, let's see if you can get lucky! Suggested tours: Kenai Fjords and Resurrection Bay Half-Day Wildlife Cruise; 4 Hour Kenai Fjords Wildlife Cruise.
Want to see more Alaskan wildlife, including puffins, sea lions, and other marine mammals? Check out the Alaska SeaLife Center. Suggested: Skip the Line: Alaska SeaLife Center Admission Ticket.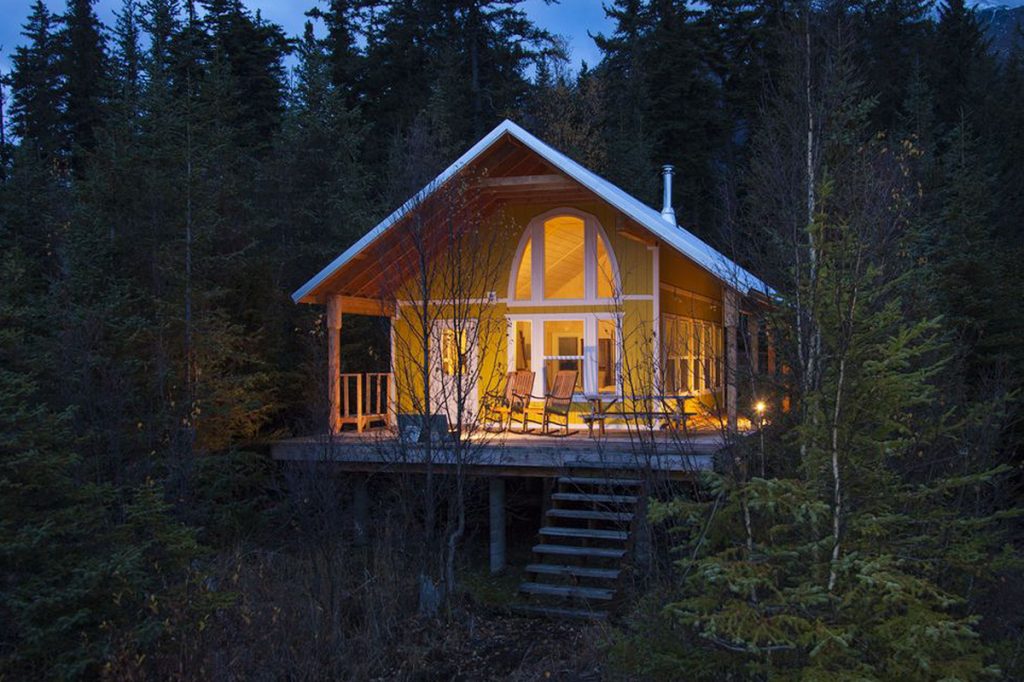 Where to stay
The National Park itself only has one campground (Exit Glacier) and a couple of public use wilderness cabins as options for accommodation, but thankfully there are other options. As mentioned earlier, Kenai Fjords National Park has the advantage of being situated right next to Seward, a large Alaskan town known for its fishing and tourism industries. This gives visitors an abundant choice of accommodations ranging from campgrounds, vacation rentals, camper/RV parking, and even some nice lodges. Below are a few options of different price points to get you started.
Kenai Fjords vacation rentals
There are so many cute cabins and unique vacation rentals close to Kenai Fjords National Park! Here are my top picks:
Kenai Fjords hotels and lodges
There are various hotel style accomodation options in downtown Seward as well as lodges located a little further out of town. Here are my top picks:
Kenai Fjords campgrounds and RV parking
Book via The Dyrt for campground reviews and comparisions, use my code reneeroaming for a free 30 day trial.
What to pack
Packing for your trip to Kenai Fjords National Park will depend on what time of year you visit and what activities you plan to undertake. Some must-pack items for every visitor no matter what time of year are: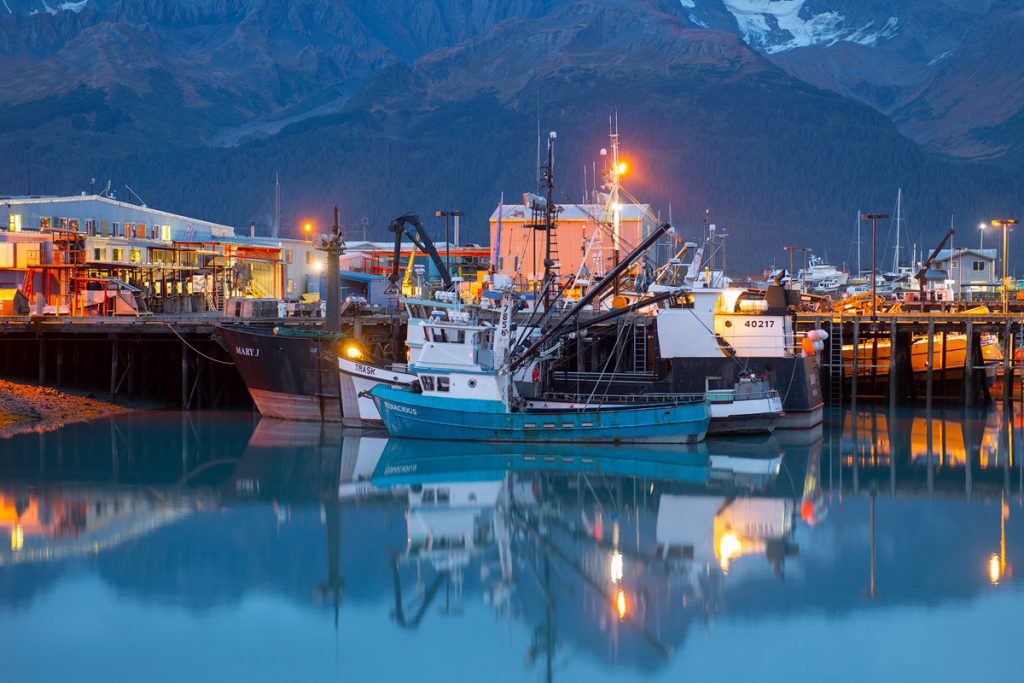 Getting around Kenai Fjords National Park
There's only one road into Kenai Fjords National Park itself, and that's the road out to Exit Glacier. At times, the Exit Glacier parking lot may get overcrowded, so there is a shuttle service that runs the 12 mile stretch of road between Seward and Exit Glacier to help with overflow and people without vehicles.
Other than that one road, you will be exploring the Kenai Fjords Peninsula by watercraft, the air, or on foot. As mentioned above, I recommend you check out some of the boat tours, scenic flights and hiking trails to make the best of your time in Kenai Fjords National Park. There are many online resources for researching these activities, or you can drop into the visitors center on arrival and pick up some pamphlets to help with your decision making.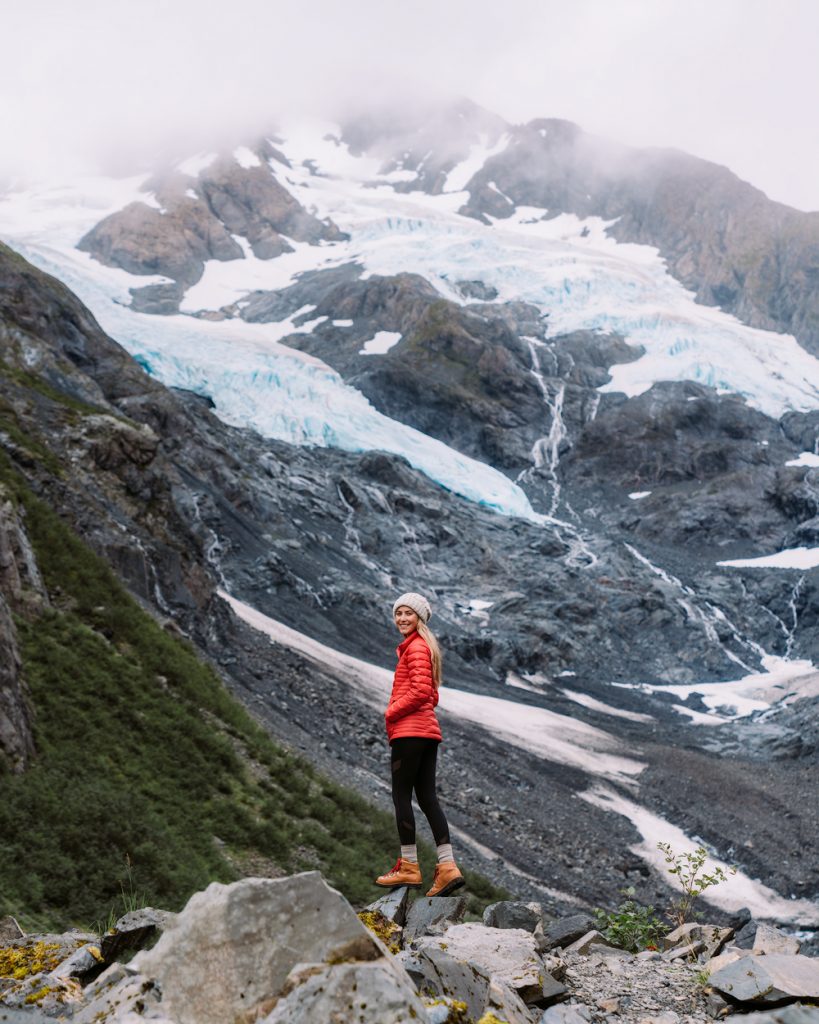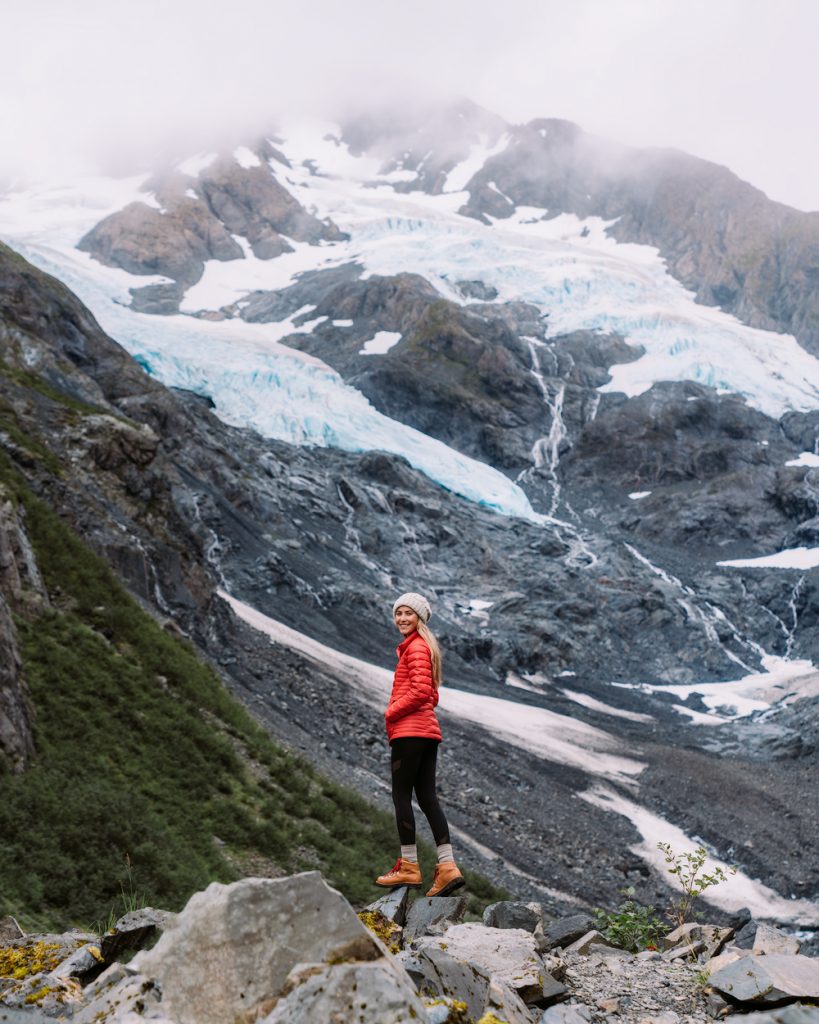 Nearby places to explore
Kenai Fjords National Park is out on its own peninsula, and doesn't have a whole lot around it that is easily accessible. With that being said, you will pass through Chugach State Park on your drive from Anchorage. The Chugach mountains have endless recreation activities, and if you're still craving more after your visit to Kenai, this is a great area. Below are a few more places worth checking out if you have the time. I also have some hiking and backpacking suggestions in this Alaska blog post.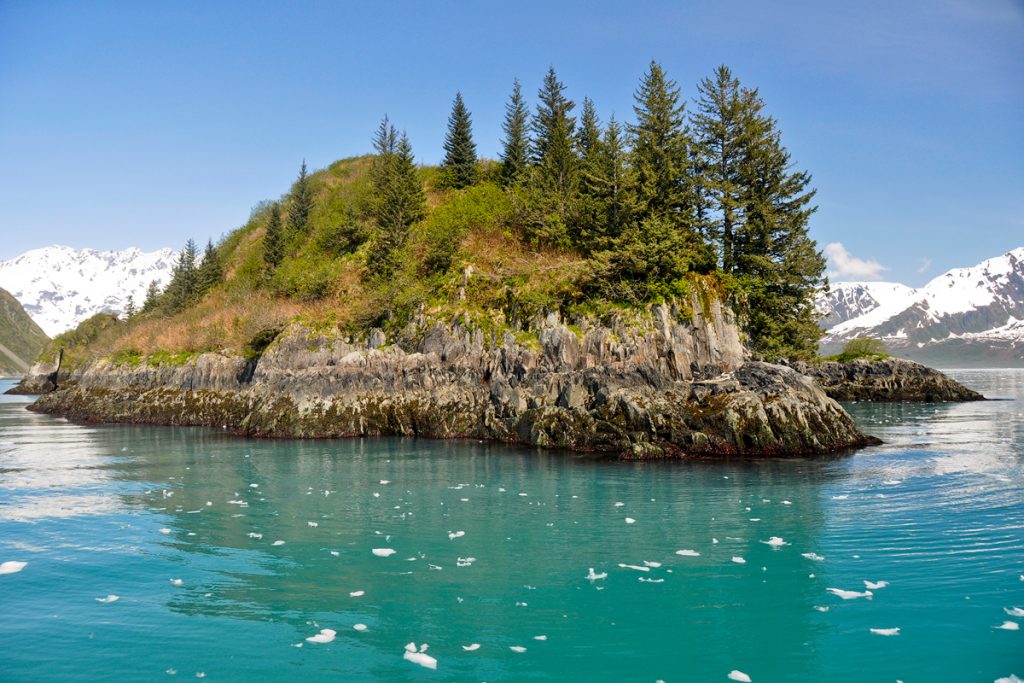 How to be a responsible traveler
It's important when traveling and exploring the outdoors to be respectful and responsible with your actions. Alaska has very fragile ecosystems and we need to take care of them for future generations to also be able to enjoy the state's natural wonders. Read my guide on 12 Ways To Be a Responsible Traveler and How To Follow Leave No Trace Principles.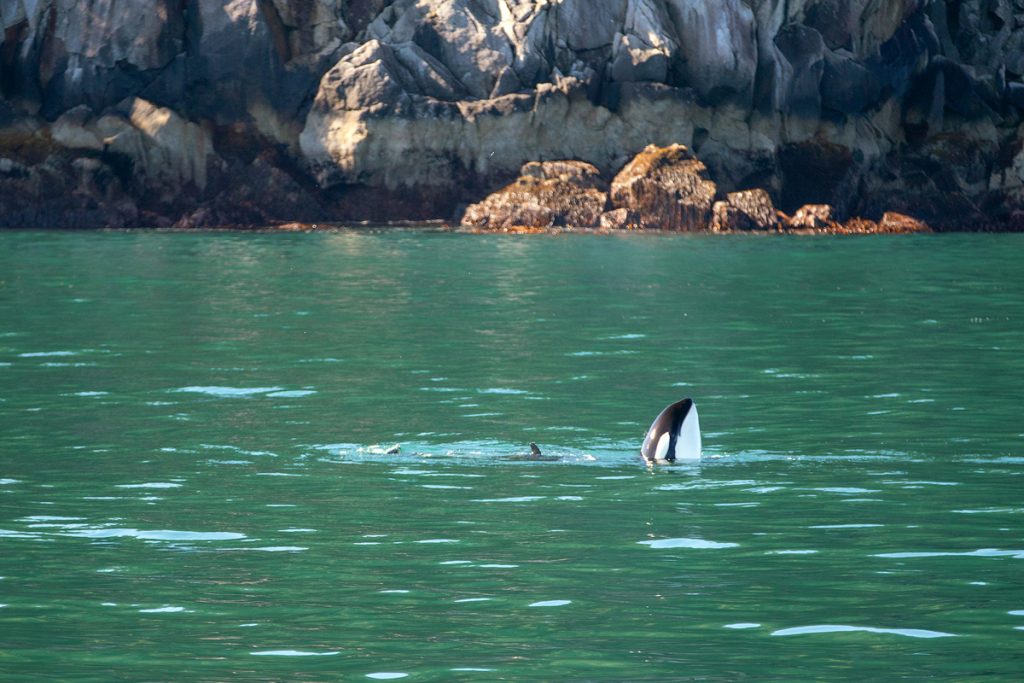 Fun facts about Kenai Fjords National Park
Roughly 50% of Kenai Fjords National Park is covered in ice.
The highest point in Kenai Fjords National Park is Mt Truuli at 6,612 feet.
Kenai Fjords is one of the few National Parks with no entrance fee.
Kenai Fjords is quite famous in the birding community, and many flock (pun intended) to this region for the sole purpose bird viewing.
At the time Kenai Fjords was first designated a national momument, only one ranger was assigned to protect its lands.
The name 'Kenai' originated from the word 'kena' which means 'open area with few trees, flat, meadow'.
PIN for later planning!