Capitol Reef is a highly underrated national park! I remember the first time I visited and being shocked that I hadn't heard more about this beautiful part of Utah. In my opinion, it's one of the top spring and fall hiking destinations in the USA! To help you with your travel planning, I'm sharing the 5 BEST hikes in Capitol Reef National Park. The majority of these hikes are rated "easy-moderate" and are suitable for most skill levels, including families!
Disclaimer: This blog post is in collaboration with Backcountry.com and features some affiliate links. This means I get a small commission if you make a purchase (at no extra cost to you). Use code RENEE15 to get 15% off your first Backcountry order (some exclusions apply). You can also learn more about my affiliate policy here. Thank you for the support!
5 Best Hikes in Capitol Reef National Park, Utah
It was challenging to choose the 5 best hiking trails in Capitol Reef because there truly are so many amazing hikes in the national park. Having visited Capitol Reef a handful of times now, I decided to share the trails that have the most "bang for your buck" in terms of mileage to value ratio. So even if you only have just one day to explore the park, choosing some of these hikes will ensure you have an amazing Capitol Reef experience! Now, before we get to the hikes, it's important to cover some leave no trace considerations.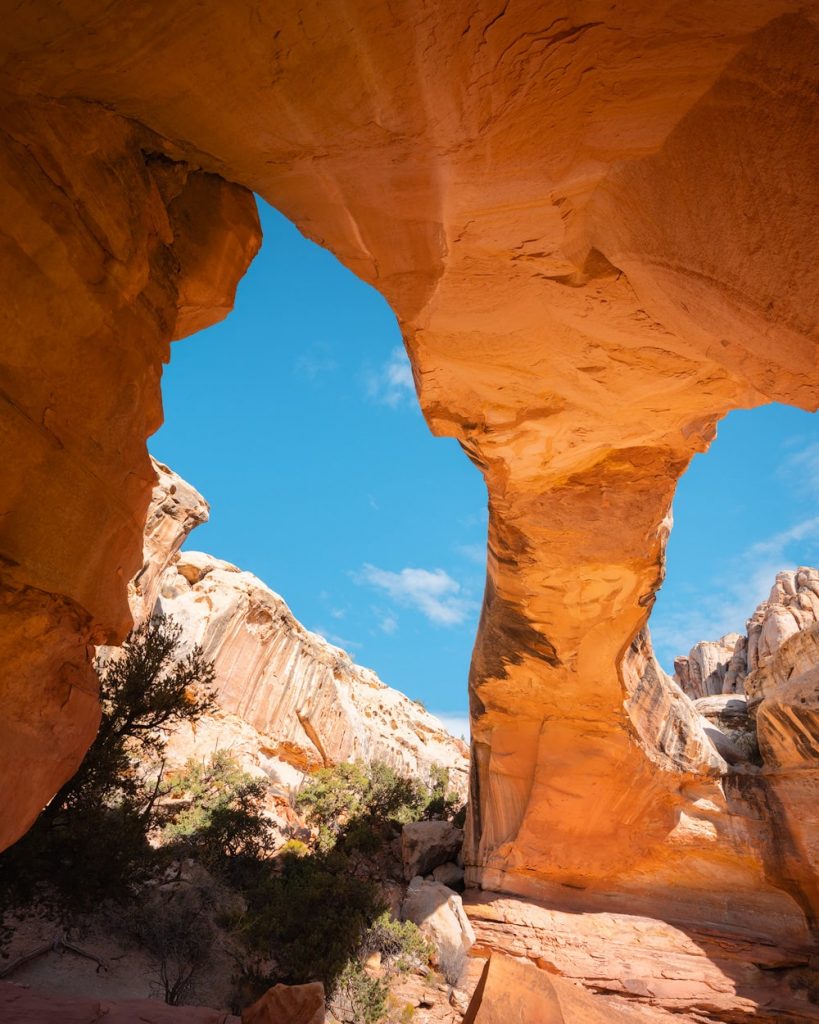 Capitol Reef Hiking and Leave No Trace
Before we get to the best Capitol Reef hikes, let's go over some guidelines for recreating responsibly. It's important that we all do our part when it comes to keeping these trails beautiful. Please be mindful of your impact on the area and consider the below guidelines when hiking in Capitol Reef National Park.
Pack out all your trash
This one is self-explanatory: do not leave behind any trash, fruit peels, nutshells, toilet paper, human waste, etc. Bring along a trash bag so that you can pack out all your own garbage (and any that others may have left on the trail). Be sure to read up on the 7 Leave No Trace Principles if you haven't already.
Be Respectful of Wildlife and Other People
Never feed wildlife and be sure to observe them from a safe and respectful distance. Do not touch or pick up wild animals. It's also important that you be respectful of other hikers enjoying the trails. We cover the basics in our guide on hiking etiquette rules. Some of the main tips to consider are giving way to others, keeping noise to a minimum, and being conscientious when taking photos.
Stay on the Trail
Most hikes in Capitol Reef National Park have good signage and are well-maintained. Stay on the trail and when you yield to other hikers, bicyclists, or horses and horseback riders, be mindful of where you step when stepping off the trail. Don't step on delicate plants or small animals.
Do Not Touch Petroglyphs
Capitol Reef has beautiful natural rock formations and abundant Native American history, such as petroglyphs sites. Leave areas as you found them – there is never a reason to leave graffiti, rock markings, or wood carvings anywhere outdoors. Avoid touching and leaning against petroglyphs. I also urge you not to build cairns and leave all rocks placed where you found them. Building a cairn can cause a negative experience for others and also affect the ecosystem of the area you are hiking in.
Going to the Bathroom Outdoors
Use the restroom before you begin hiking (many trailheads have vault toilets). If you need to go during your hike then there are some best practices to follow. When peeing and pooping outdoors make sure to do it at least 200 feet away from any hiking trail, waterways, and campsites. Pack out all human waste and toilet paper as Capitol Reef is not a suitable destination for burying your waste. Click here for more information about going to the bathroom outdoors.
Things to bring in your pack for using the bathroom outdoors:
Toilet paper – you can also bring a Kula Cloth, pee rag, bandana, or wipes. A great day-hiking item to pack for peeing outdoors is a TP Kit. These little kits have some toilet paper, two wet wipes, and a sealable bag to pack out everything.
A zip lock bag/trash bag to carry your waste out in (a Reusable Smell Proof Waste Bag is also great to have to go alongside this). Instead, you can use a RESTOP™ 2 Wilderness Kit.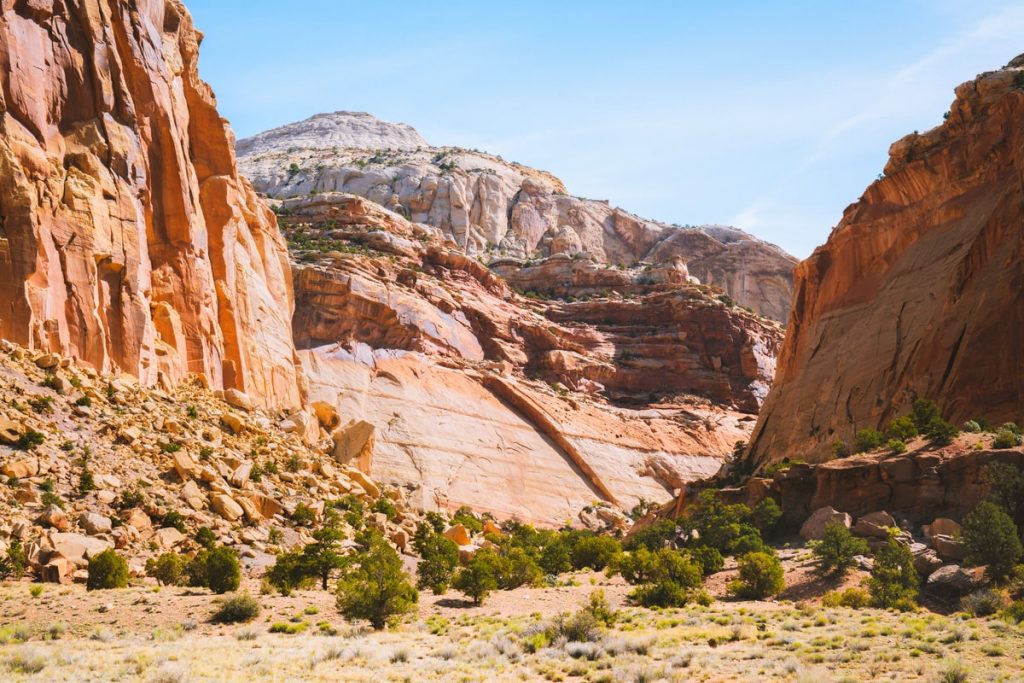 Hiking With Dogs in Capitol Reef
According to the park website, pets are allowed on a leash (6 feet or 1.8 meters or shorter) in the developed areas of Capitol Reef National Park. The only hiking trail dogs and cats are allowed on in the park is the Fremont River Trail from the campground to the south end of Hattie's Field (where there is a gate). Pets are not permitted on other Capitol Reef hiking trails, in public buildings, or in the backcountry.
Leaving your pet in the car? Keep in mind that car temperatures can rise rapidly in the sun, even on cooler days. Pets can easily die of heat exhaustion. If you are leaving a pet in the car, crack the windows as much as possible and leave out water to drink. It can be deadly to leave pets in the car when temperatures are above 68 degrees, even with the windows cracked.
What about service animals? In Capitol Reef, service animals are permitted everywhere visitors are permitted to go. Owners are encouraged to identify their working service animal, such as with a vest. Identification is not required but helps prevent unwarranted "dog on trail" complaints from other visitors.
Purchase a National Park Pass
Don't forget that Capitol Reef has an entrance fee if you plan to travel the park's Scenic Drive beyond Fruita Campground. All passes are listed below and are valid for 7 days. You can purchase a park pass digitally before you arrive or at the park visitor center.
Individuals: $10.00 (for person with no car, e.g. bicyclists)
Private vehicle: $20.00 (one non-commercial vehicle and all occupants)
Motorcycles: $15.00 (one non-commercial vehicle and its riders)
Planning to visit multiple national parks this next year? I recommend purchasing an America The Beautiful Pass (annual national parks pass) as that allows you to visit Capitol Reef and all other federal fee areas at no additional cost.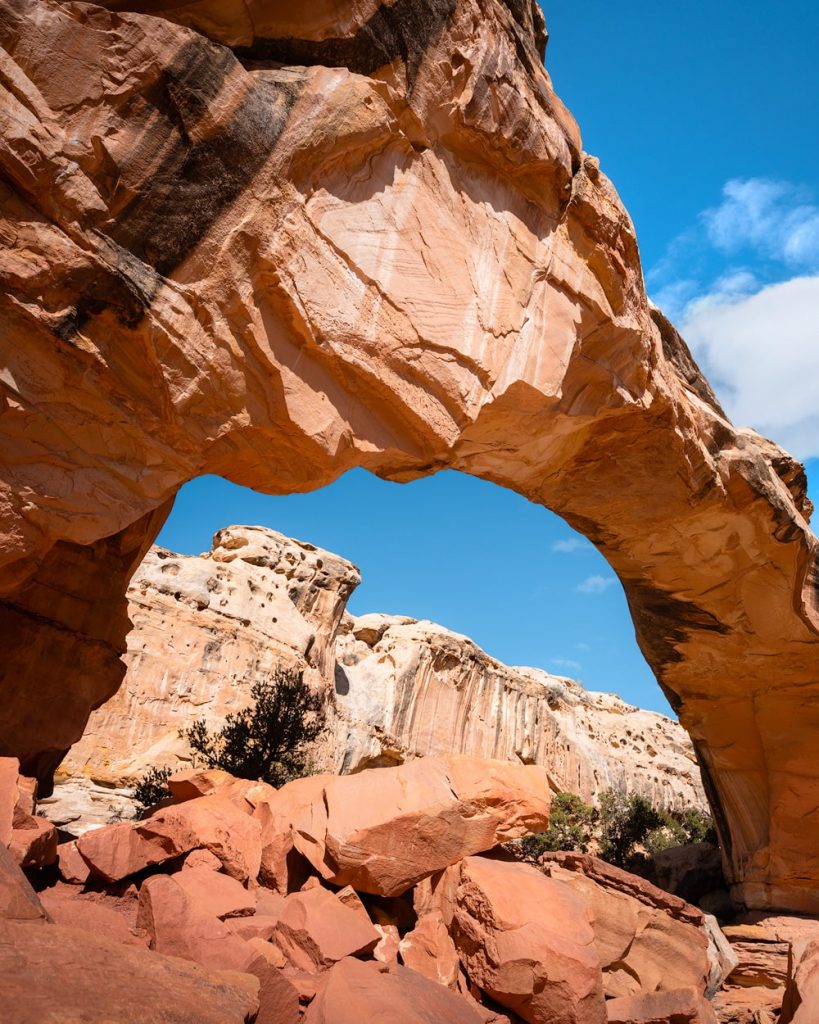 Hickman Bridge Trail
The Hickman Bridge Trail is one of the most popular in the park. This is because it's relatively quick and easy (1.7-miles roundtrip) and has stunning views. You'll meander along the Fremont River and then loop back towards Hickman Bridge. The natural bridge has a 133-foot span and the trail walks right underneath it… very cool! Please do not carve your name into any rocks or attempt to climb on the bridge.
Note that the parking lot can fill up quickly during peak times and on weekends. Arrive early to secure your spot and begin hiking before the heat of the day sets in. If you're feeling up for a challenge, this same trail includes a side trip to the Rim Overlook and Navajo Knobs Trail (4.5-miles roundtrip to Rim, 9-miles roundtrip to Navajo Knobs).
Distance: 1.7-mile roundtrip
Type of trail: Out-and-back
Elevation gain: 416 feet
Difficulty: Easy-moderate
Water access: None, bring all you need
Road access: Paved, suitable for all vehicles
Pet friendly: No pets allowed
Park permit required: No
Trailhead facilities: Vault toilet and an interpretive trail guide you can purchase
Trailhead location: Located directly off Utah State Route 24 – get directions on Google Maps
Insider Tip: Pick up the interpretive trail guide at the beginning of the hike (50 cents). This guide has trail markers and teaches you interesting facts about the area as you go. My husband and I enjoyed using it and thought it would be particularly fun for families and kids. Share the love by passing your guide on to another hiker once arriving back at the trailhead!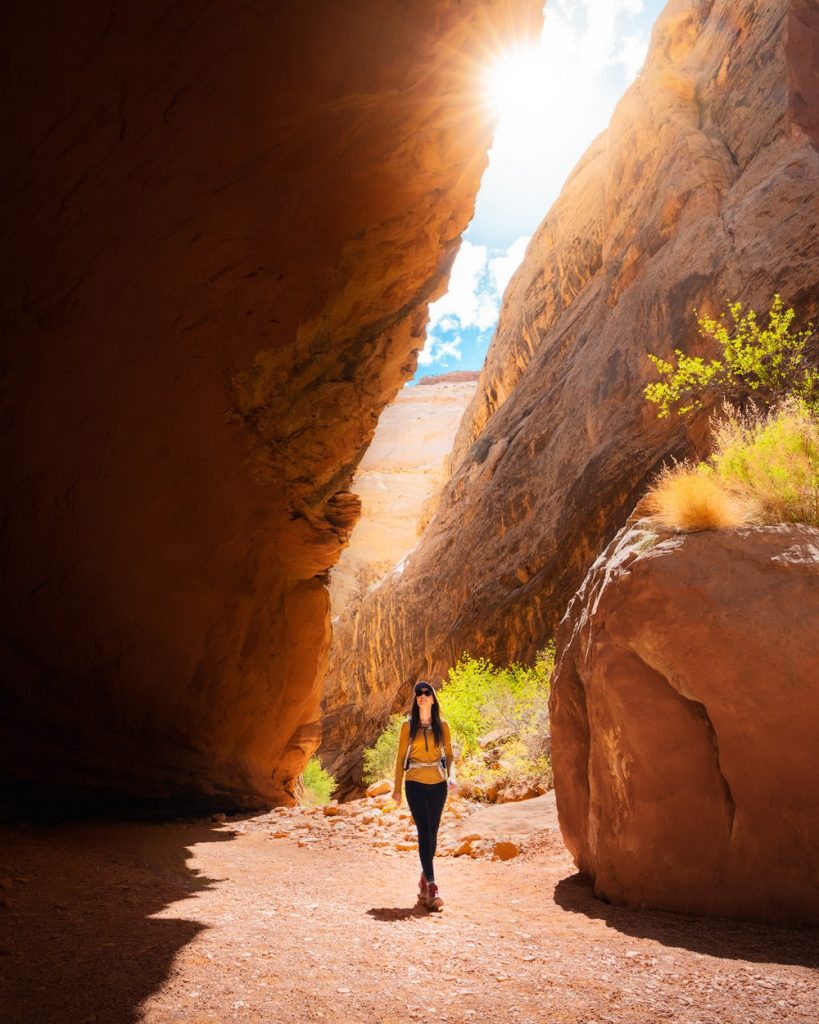 Grand Wash Trail
Grand Wash is another popular Capitol Reef hiking trail, and for good reason! It can be hiked in its entirety (4.5-miles roundtrip out-and-back), cut down to about ~2 miles out-and-back for a shorter family-friendly hike, OR you can also opt to hike just one direction if you have two cars. Let me explain what I mean by that…
Most people begin Grand Wash Trail at the parking area off Utah State Route 24 / Highway 24 (at mile post 83.9) and this is often named the Lower Trailhead (because it sits at a lower elevation). From here you only need to hike 20-30 minutes to get to the beautiful Narrows section of Grand Wash, which is famous for its towering canyon walls. Then you can either keep going or turn around and head back to the car. My husband and I kept hiking until we felt we had seen enough of the Narrows and then we opted to return to the car. Grand Wash is absolutely STUNNING but once you experience some of the Narrows section you don't necessarily need to see every single nook and cranny.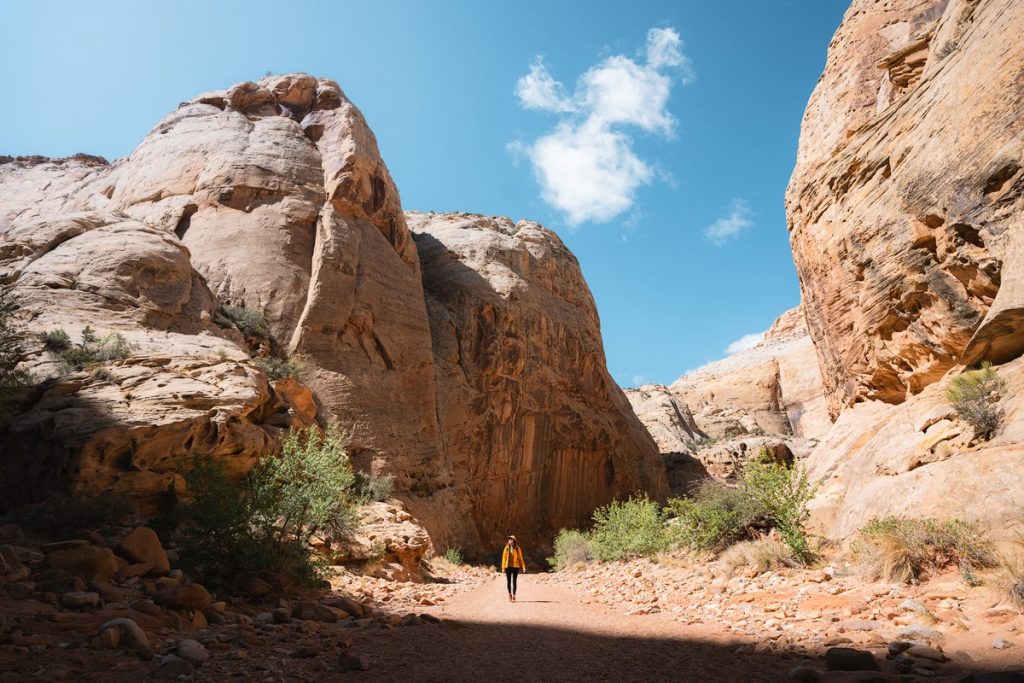 If you're traveling in a group and have access to two cars, I recommend leaving one at the Lower Trailhead off Utah State Route 24 and shuttling to the Upper Trailhead, which is essentially Cassidy Arch Trailhead at the end of E Grand Wash Road. Begin Grand Wash Trail from here and hike one way gradually 341 feet down to the Lower Trailhead. You'll only have to cover 2.25-miles and will get to experience the entire trail! You could also opt to hike the Cassidy Arch Trail right beforehand (3.1-miles roundtrip).
Keep in mind that this area can experience flash floods and the National Park Service frequently closes the Upper Trailhead road during storms, however flood danger isn't usually an issue unless an exceptionally big storm passes through.
Distance: 4.5-miles roundtrip (but can be significantly shortened)
Type of trail: Out-and-back or one-way
Elevation gain: 341 feet
Difficulty: Easy
Water access: None, bring all you need
Road access: Road to Upper Trailhead is unpaved and suitable for most vehicles other than large RVs + trailers. Lower Trailhead is suitable for all vehicles.
Pet friendly: No pets allowed
Park permit required: Not required at lower, required at Upper
Trailhead facilities: None at Lower, vault toilet at Upper
Lower Trailhead location: Located directly off Utah State Route 24 – get directions on Google Maps
Upper Trailhead location: Located at the end of E Grand Wash Road – get directions on Google Maps
Insider Tip: Bring layers on this hike! The more open sections of the trail will likely be sunny and warm, and the more narrow sections can feel very cold. Pack a mid-layer and/or an insulated jacket.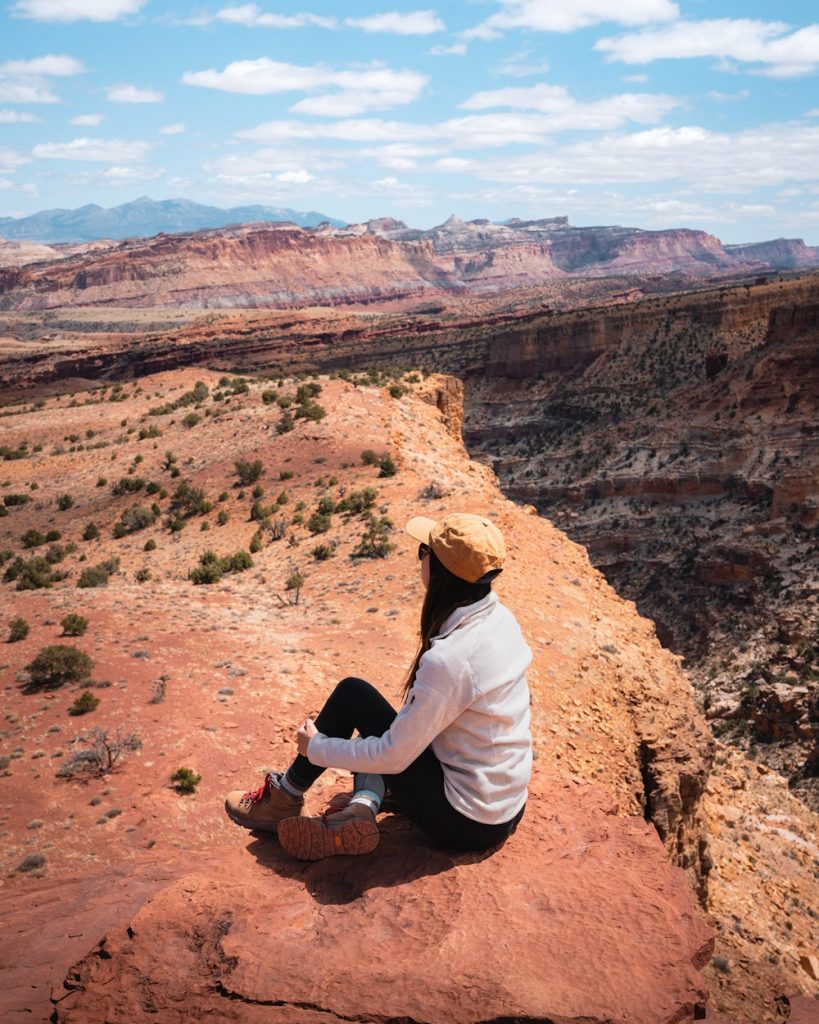 GooseNecks Overlook and Sunset Point
This next suggestion is technically two hikes but they are so close to each other that most people consider them one trail. Located at the end of Goosenecks Road you will find a small trailhead. From here you can talk two short trails, one to Goosenecks Overlook (0.2-miles roundtrip) and one to Sunset Point (0.6-miles roundtrip).
Arrive 30-60 minutes before sunset and take the short walk out to Goosenecks Overlook (the trail can be found at the south end of the parking lot). You will come across a fenced section offering views of Sulphur Creek Canyon and the "Goosenecks". Walk back to the parking lot and start along the Sunset Point Trail (found on the east side of the parking lot). You will come across a bench about mid-way along, which is a nice spot to sit and enjoy the views. Continue on to the end of the trail where you will be treated to a viewpoint of the park, including Waterpocket Fold, Chimney Rock, Ferns Nipple, Boulder Moutain, and Mount Ellen. Stay and watch the sunset, but don't forget to bring a warm jacket and headlamp. We have a guide all about hiking in the dark after sunset – be sure to check it out!
Another overlook option nearby is Panorama Point, though I think Sunset Point has superior views, especially at sunset! Goosenecks Road is a dirt road and access to Panorama is paved, so that may be a better choice for RVs and trailers.
Distance: 0.8-miles roundtrip
Type of trail: Out-and-back
Elevation gain: 544 feet
Difficulty: Easy
Water access: None, bring all you need
Road access: Unpaved, not suitable for large RVs + trailers
Pet friendly: No pets allowed
Park permit required: No
Trailhead facilities: None
Trailhead location: Located at the end of Goosenecks Road – get directions on Google Maps
Important: Remember to stick to the trails and do not damage the cryptobiotic crust (which is made up of living organisms such as algae, cyanobacteria, and fungi). This living soil has taken thousands of years to build and one footstep in the wrong place can do more damage than you realize.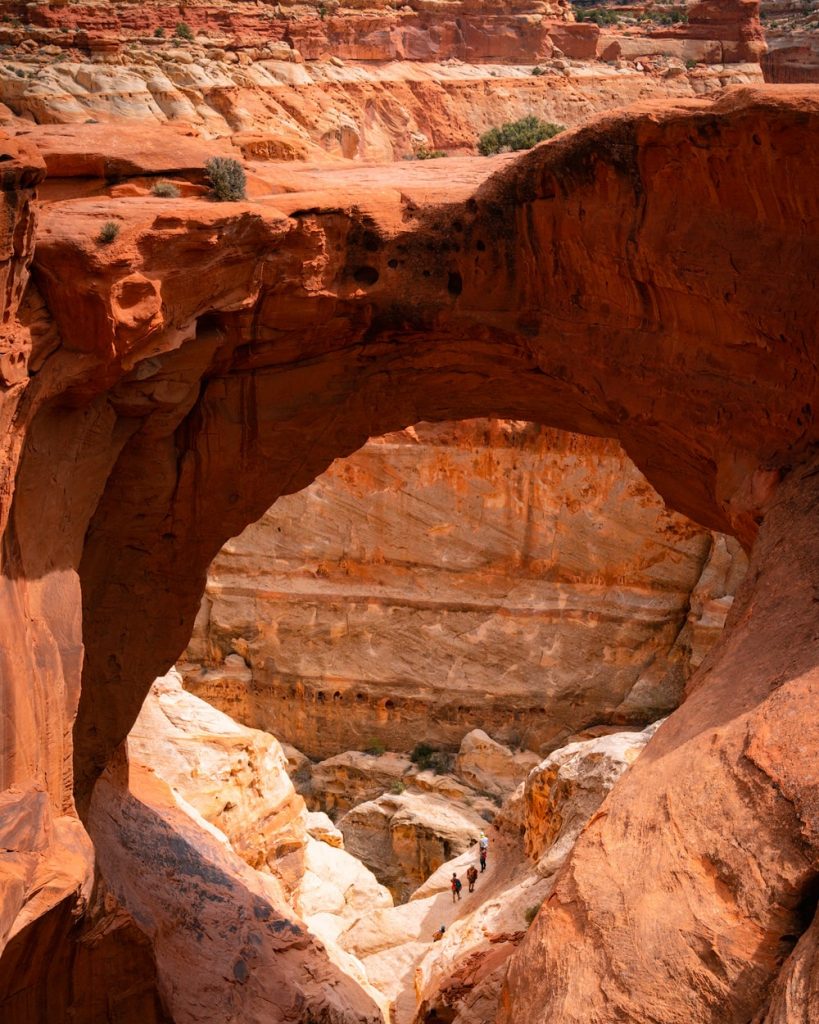 Cassidy Arch Trail
Many visitors consider Cassidy Arch Trail to be the best hike in the park, and I would probably agree with them! This 3.4-mile roundtrip trail has gorgeous views of Capitol Reef's unique landscapes, including over the Grand Wash area. You can view Cassidy Arch from afar (pictured above) as well as walk straight over the top of it!
Keep in mind that Cassidy Arch Trail is rated moderate (with some considering it strenuous) and does involve some short sections of switchbacks. Another thing to consider is that the last section of the trail can be a little tricky to follow. I recommend downloading offline hiking maps on Gaia GPS or AllTrails, and make sure you're heading in the right direction. I personally use Gaia GPS – click here to get 20% off a Premium membership!
The first 0.2 miles of the Cassidy Arch Trail is along the Grand Wash Trail and some visitors like to complete both in one day. Be sure to pack ample water, snacks, and appropriate layers if you do this! And do not hike Cassidy Arch or Grand Wash Trail in the rain or when there are storms in the area. Slot canyons should be avoided in those conditions due to risk of flash floods.
Distance: 3.4-mile roundtrip
Type of trail: Out-and-back
Elevation gain: 670 feet
Difficulty: Moderate
Water access: None, bring all you need
Road access: Unpaved
Pet friendly: No pets allowed
Park permit required: Yes
Trailhead facilities: Vault toilet
Trailhead location: Located at the end of E Grand Wash Road – get directions on Google Maps
Fun Fact: This arch was named after the infamous outlaw Butch Cassidy (aka Robert LeRoy Parker) because he used this area as one of his many hideouts.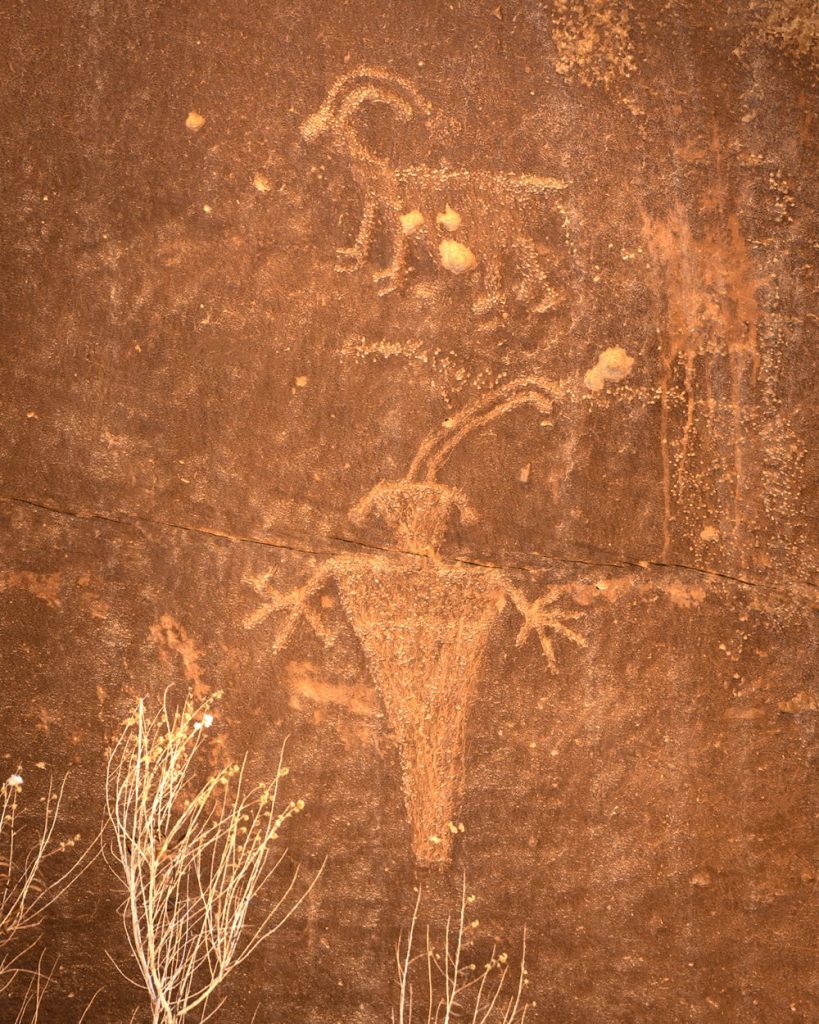 Capitol Reef Petroglyph Trail
Last but certainly not least, the Capitol Reef Petroglyph Trail is a must-do when visiting the park. The trailhead for this short 0.3-mile boardwalk can be found directly next to Utah State Route 24. There is even a small platform with petroglyph views right at the beginning of the walk, which is wheelchair and stroller friendly.
This boardwalk trail is shaded by beautiful cottonwood trees and provides views of anthropomorphic and geometric petroglyph designs, etched into the rocks and cliffs above. Archeologists believe these petroglyphs were created by Ancestral Puebloan people and native people of the Fremont Culture, dating back between 300 and 1300 Common Era (CE). These native peoples left records of their existence in the area in the form of pictographs (painted on rock surfaces) and petroglyphs (carved or pecked into the rock surface) on the Wingate sandstone cliffs and rocks. Designs may have recorded migrations, religious or mythological events, resource locations, hunting trips, travel routes, celestial information, and other important knowledge.
Distance: 0.3-mile roundtrip
Type of trail: Out-and-back
Elevation gain: 49 feet
Difficulty: Easy, wheelchair + stroller friendly
Water access: None, bring all you need
Road access: Paved, suitable for all vehicles
Pet friendly: No pets allowed
Park permit required: No
Trailhead facilities: None
Trailhead location: Located directly off Utah State Route 24 – get directions on Google Maps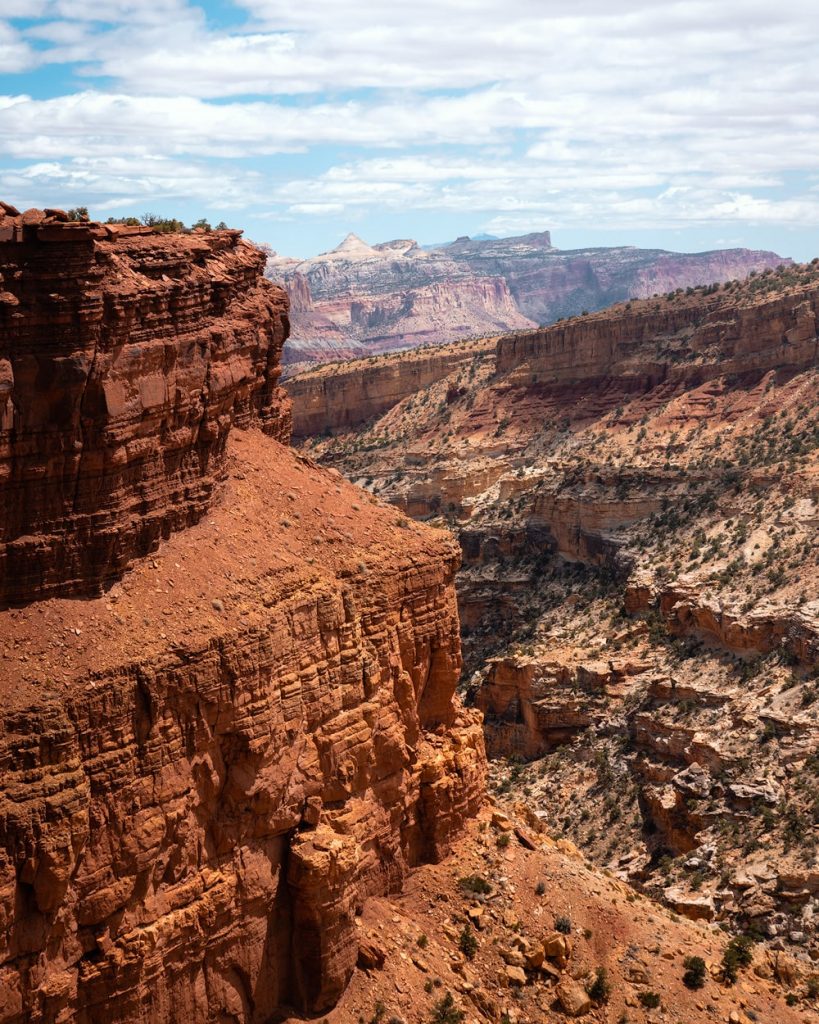 More Incredible Capitol Reef Hikes
There are so many amazing hiking trails in Capitol Reef National Park! You could stay for a week near the park and hike multiple trails every day. Some more to add to your list include:
Rim Overlook Trail
Frying Pan Trail
Cohab Canyon Trail
Capitol Gorge Trail
Chimney Rock Loop Trail
Upper Cathedral Valley Overlook Trail
Another must-do activity in Capitol Reef is getting pies from Gifford House. I'm not exaggerating, the pies are INCREDIBLE from this park store. You can also pick up some ice cream, jams, salsa, and gift items. You can also check out the nearby orchards where the park allows you to pick your own fruit (read about the rules and regulations here).
More nearby Things To Do
Whilst in Utah you could also consider hiking in some other nearby national parks, such as Zion, Bryce Canyon, Arches, and Canyonlands. Check out our Utah Mighty 5 road trip itinerary for all the best stops! Sedona is another destination relatively close to the Southern Utah parks. Be sure to read our Sedona hiking guide when planning your trip!
If you prefer guided tours there are numerous amazing options nearby to Capitol Reef: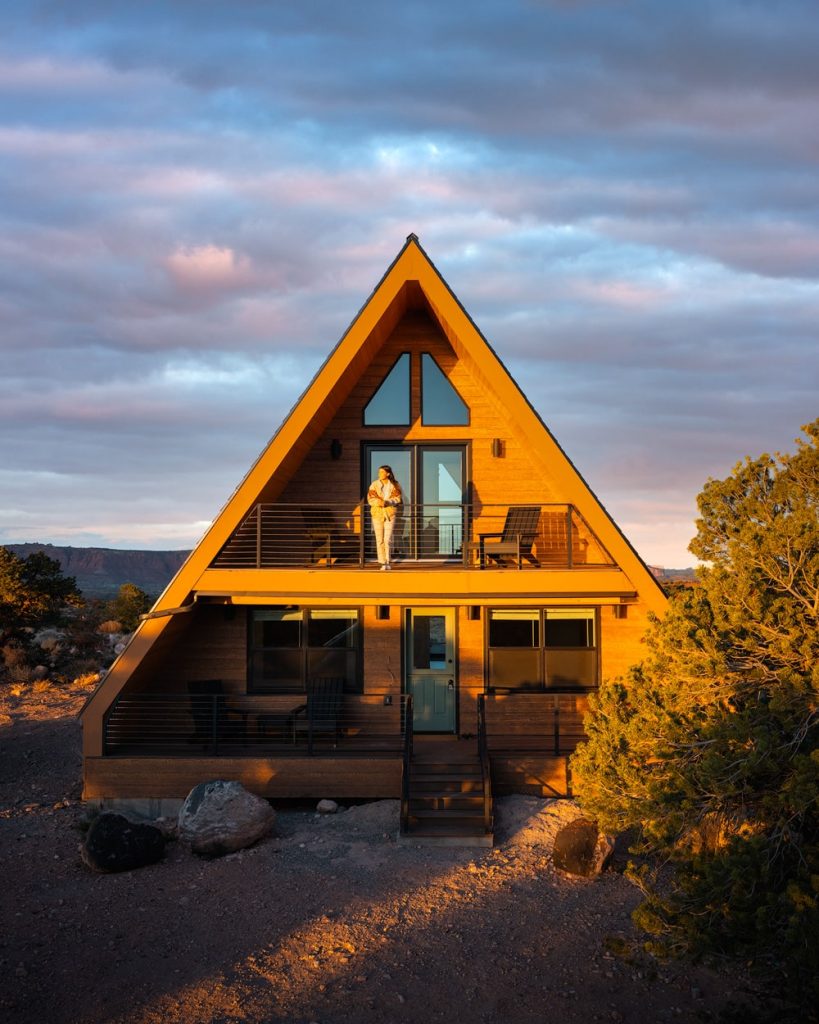 Where To Stay Near Capitol Reef
Capitol Reef only offers a campground as far as accommodation goes. All other types of lodging can be found outside of the park in the nearby town of Torrey. My top recommendations for hotel-style accommodation are Capitol Reef Resort, Cougar Ridge Lodge, and Austin's Chuckwagon Motel. If you prefer vacation rentals or are traveling in a large group, I highly recommend the Cabins at Capitol Reef or Torrey Springs Home.
Prefer tent camping or camper van style travel? Fruita Campground is open year-round and is located in the middle of the park surrounded by historic orchards. There are 71 sites, each with a picnic table and firepit and/or above ground grill, but no individual water, sewage, or electrical hookups. There is a RV dump and potable water fill station near the entrance to Loops A and B. Restrooms feature running water and flush toilets, but no showers. Accessible sites (non-electric) are located adjacent to restrooms. The campground costs $25 per night and is reservable from March 1 – October 31, via www.recreation.gov. From November 1 – February 28, all campsites are first come, first served.
There are also plenty of free camping options close to Capitol Reef. Read our guide on how to find free campsites in the USA for tips on how to research these. And don't forget to double-check that you have all the required camping essentials!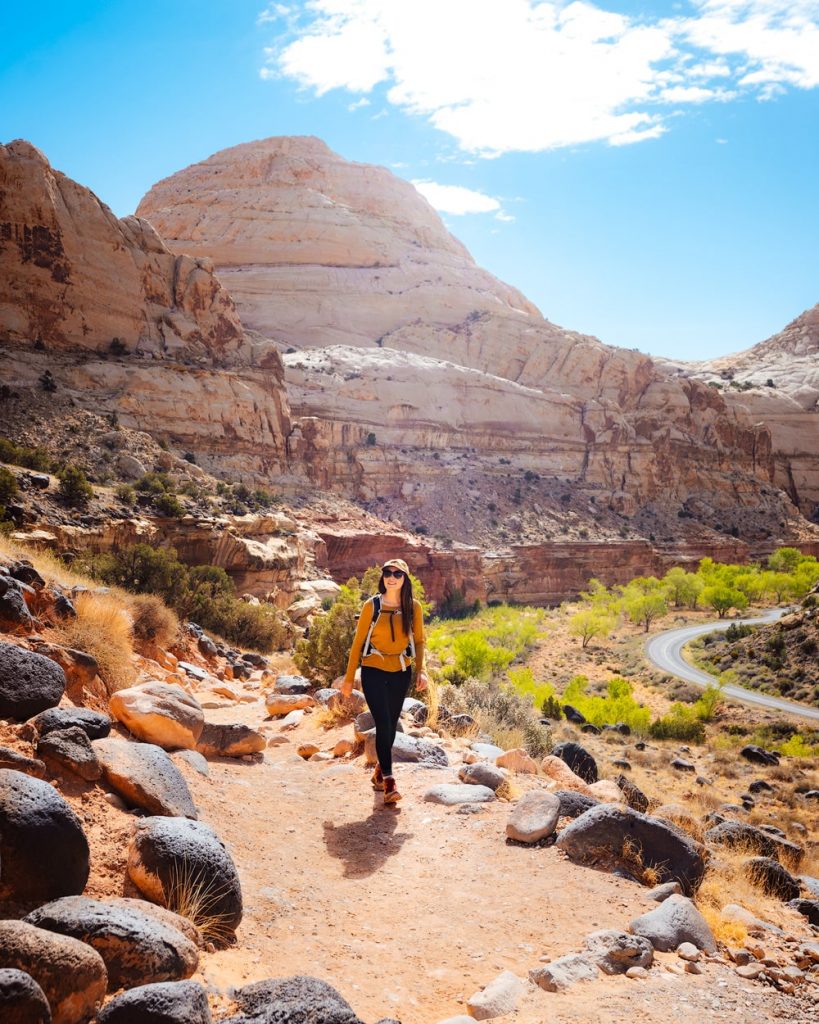 What To Pack for a Capitol Reef Hiking Trip
What you pack for your Capitol Reef trip will depend on what time of year you choose to visit. For example, if you visit during the summer months then light layers, a sun hat, and sunscreen are a must! Whereas if you travel to the area during winter then you will need to pack more layers and gear. Keep in mind that the mornings and evenings are often chilly in Capitol Reef, even during the warmer months, and it gets below freezing in winter.
Below you will find my recommend gear items for visit to Capitol Reef. Backcountry.com is my go-to retailer for all things outdoors and travel. Use code RENEE15 to get 15% off your first order (some exclusions apply). Click here to shop my gear favorites.
Hiking shoes:
A good type of hiking shoe for Capitol Reef is something lightweight and breathable. Some trails can get quite rocky and slick, so it's best to opt for a shoe with good traction. The Danner 2650 Hiking Shoes are my favorite hiking boots for terrain like this. If you prefer a more solid, supportive, and waterproof hiking boot the Columbia Newton Ridge Plus Waterproof Hiking Boots are a great choice (especially for the colder winter months). We also have a guide on all the best hiking shoes, so don't forget to check that out when shopping for new hiking boots!
Merino wool socks:
Wool socks are the best for preventing blisters and also letting your feet breathe. Recommended hiking socks.
Hiking pants, leggings, shorts, Skorts, Dresses:
Your bottom layer can be anything that suits the weather and something you feel comfortable in. I generally opt for leggings when hiking, but shorts are another great option for the warmer months. The Stoic Zip Off Pants are my favorite for those days when I want to quickly transition from pants to shorts. I have also been loving skorts lately, but choose whatever feels comfortable and practical for you! Recommended hiking pants, hiking skort, hiking dress, hiking leggings.
Quick-dry top:
Merino wool tops are my favorite due to their breathability and odor resistance. Here are my recommended short-sleeve hiking tops and long-sleeve hiking tops. If you want less material in the hot weather, other good options are lightweight tank tops or sports bras. But make sure to apply and reapply lots of sunscreen to avoid sunburns! I also like to have a long sleeve sun shirt to avoid unnecessary sun exposure if I do feel like I am getting burnt. This one is lightweight and provides UPF protection.
Day pack/hiking backpack:
Choose something with hip and chest straps for optimal comfort and practicality. Recommended backpack.
Hip pack:
When taking short walks or exploring roadside stops I often prefer to opt for a small hip pack instead of a backpack. Just something to fit my phone, lip balm, sunglasses, and any other essentials. Recommended hip pack.
Trekking poles:
Optional but I personally swear by them for hiking longer and steeper trails! Recommended trekking poles.
Mid-layer:
Perfect for chilly mornings and evenings. Opt for something lightweight like a fleece or pullover. Recommended mid-layer.
Insulated jacket:
You will want something warmer for chilly days and during the mornings and evenings when visiting in the spring or fall. Recommended insulated jacket.
Rain jacket:
Though it tends to be dry in Capitol Reef, it's still a good idea to pack a rain jacket and/or windbreaker. Recommended rain jacket, recommended windbreaker.
Casual clothes:
Pack some casual and/or nicer outfits if you plan to eat out at local restaurants or for other trip outings. This is of course optional though! Check out my Favorites page on Backcountry for some recommendations.
Navigation:
When driving, have Google Maps or Maps.Me handy. For hiking, carry a physical map and a compass, and download offline maps onto your phone. I use Gaia GPS – click here to get 20% off a Premium membership!
Emergency beacon:
Optional, but can give you and your loved ones some peace of mind when hiking or traveling without phone service. Recommended emergency device.
Headlamp + batteries:
For hiking in the dark, camping, or in emergency roadside situations. Recommended headlamp.
Drink bottle + Water Jug:
Pack a reusable water bottle and you could also consider using a water bladder inside your backpack when hiking. You'll want to bring plenty of water on all of your hikes in Capitol Reef. Since it can get quite hot it's a lot easier to get dehydrated. Electrolyte aids are a great addition when hiking in warm climates (they're great for travel/flying, too!) I like to keep a larger water jug in my car so that I don't have to rely on finding water fillup stations. Lastly, I also like to hike with a lightweight water filter to ensure I don't get sick when drinking from streams.
Sun hat:
Bring along either a cap, bucket hat, or wide brim hat to protect your face from the sun. Recommended cap; bucket hat; wide brim hat.
Sunglasses:
Polarized sunglasses are best for eye protection.
Sunscreen:
Self-explanatory. This one is reef safe and doesn't contain any chemicals that will harm you or the environment. Don't forget a lip balm with sunscreen too.
First aid items:
Always carry a small first aid kit with essential items like blister plasters and emergency supplies. Recommended lightweight first aid kit.
Don't forget to use code RENEE15 to get 15% off your first Backcountry.com order! (some exclusions apply) Click here to shop my favorites.
Phone + driver's license/ID:
Always best to keep these on you in case your car is broken into. Recommended lightweight wallet (or you can simply use a small binder clip!)
Camera + batteries:
Optional but trust me, you will want a camera to capture the incredible landscapes and natural rock formations! Check out the camera gear I use to capture my travel photos and the camera bag I pack it all in!
Cooler:
You might want to pack a cooler and bring along your own food and drinks during your trip. It's especially refreshing to have a cold drink waiting for you in the car after a hot hike in Capitol Reef. For a cooler, you can opt for a small/day trip size, or a larger cooler that's more conducive to car camping and longer road trips. Recommended day trip cooler; larger cooler.
Reusable coffee mug:
If you enjoy drinking coffee then it's best to bring along a reusable mug or tumbler. Recommended mug; insulated tumbler.
Reusable utensils:
Similar to above, having your own travel utensils / cutlery is a great way to cut down on single-use plastics when ordering take-out food.
Snacks:
Every hiking trip requires snacks! Bring whatever your favorite snacks from home to save a little extra on your trip budget. My go-to snacks.
National Parks Pass:
If you're going on a larger road trip and planning on hitting some of the incredible national parks in the Southwest, make sure to pack your park pass if you have one already! If not you can buy one when you arrive at the parks or online before you go.
Road trip playlist + Podcasts:
Don't forget to download some good tunes and podcasts for your road trip. For music, check out my playlists on Spotify. For podcasts, we have an entire guide on the best road trip podcasts!
Want more packing & gear tips? Check out our guides on what to wear hiking, car camping gear essentials, how to plan a national parks trip, and the best hiking shoes.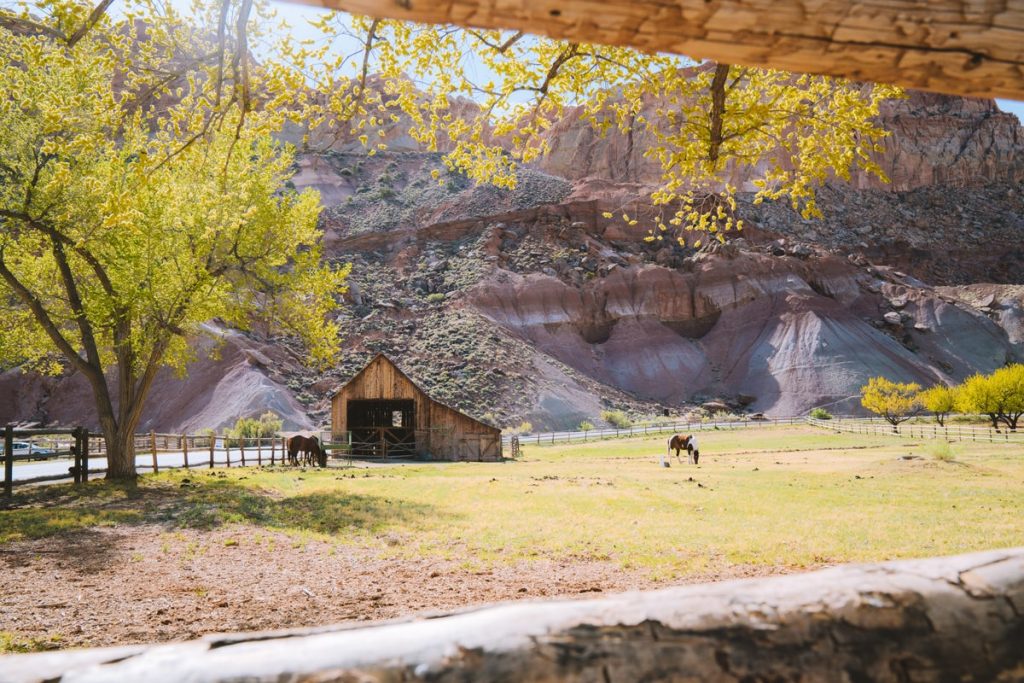 Final Thoughts On The Best Hikes In Capitol Reef
Have I convinced you yet that you need to go hiking in Capitol Reef National Park? There are so many amazing trails in Capitol Reef and you can hike numerous of them in just one day! Have you already spent some time exploring Capitol Reef? If so, I'd love for you to share your favorite spots in the comments below.
---
PIN for Later!