The Northeast USA is arguably one of the most beautiful places in the entire world during fall. For that reason you NEED to add a New England fall road trip to your bucket list!
Prior to this trip, exploring the northeast had been on my travel radar for the longest time. I am stoked to say that New England definitely lived up to the hype and I am excited to share this New England fall road trip itinerary with you all! (3 day, 5 day and 7 day itineraries)
Read on to find out all the must-see places for fall foliage, where to stay, what to pack, the top hikes to take, photography inspiration, and more! I even provide you with a handy map to use for planning and navigation. In my opinion this is the BEST New England fall road trip and I hope you get the chance to take it!
Disclaimer: This blog post may feature some affiliate links, which means I get a small commission if you make a purchase (at no extra cost to you). It's one of the ways I can keep producing free guides and resources for my readers. Learn more about my affiliate policy here. Thank you for the support!
New England Fall Road Trip Itinerary
Before we jump into it, I do want to add a disclaimer that this road trip was my own experience during the 2018 fall season. Every year is different, some more magical, and others less so.
I will do my best to help you plan the perfect New England fall road trip itinerary, but you will need to go in with an open mind! Honestly, some of the best trips I have ever taken have been when things haven't gone to plan. Sometimes all the planning in the world cannot change the weather!
Okay, let's jump into how to plan a fall New England road trip!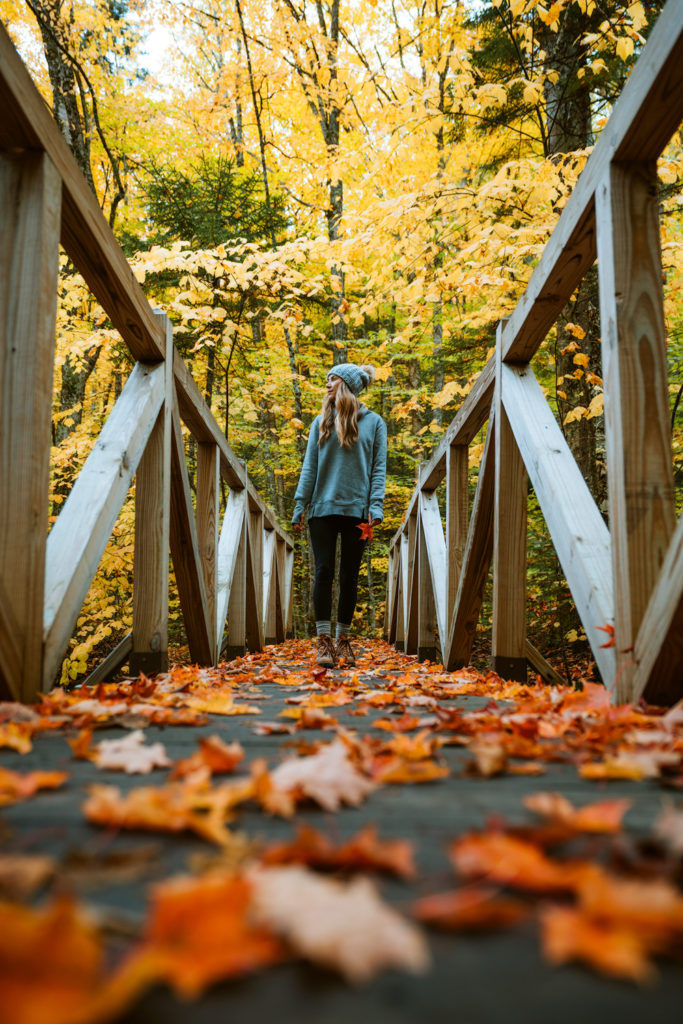 How to plan a New England fall road trip
There are generally two ways to approach planning for a New England fall road trip. The first is to meticulously plan everything in the attempt to not waste a moment, and the second (the option we went with) is to pretty much not plan at all. Sounds weird right? Why would you not plan and wouldn't that potentially waste you time and money? Well, at this time of the year, it kind of works in the opposite way.
The reason for this is that fall colors gradually change from green, to yellow (or orange, red, purple) until they fall off. Not all trees in an area change at the exact same time. There's a point in the fall transition where most trees are changed to their beautiful shades of yellow, orange or red prior to falling off and with minimal green trees. This is considered "peak fall foliage" or "peak fall color".
Peak color doesn't happen at the exact same time every year (usually varying a week or so either way). It can vary due to a variety of factors but this is mostly due to weather. By not booking hotels or camping prior to your Northeast fall road trip, this allows you to be flexible. You can go to the areas that are at "peak color" rather than spend time in a spot that isn't yet fully changed or worse, the leaves have fallen.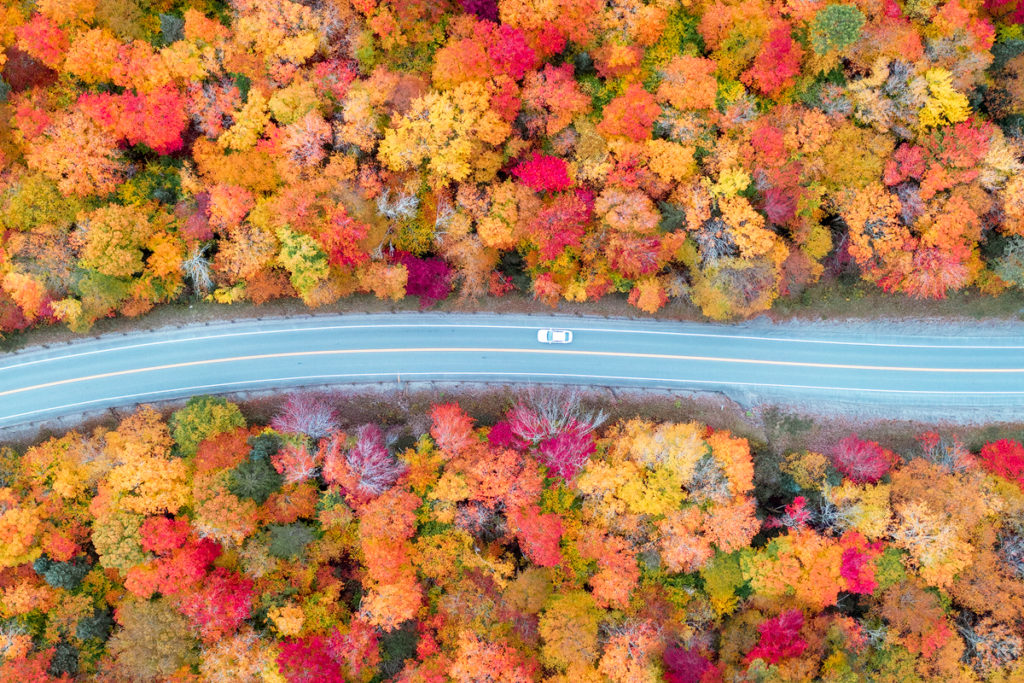 When to start planning your New England fall road trip itinerary
Advantages and disadvantages come with this method of not planning. The major advantage of not booking all your accommodation in advance is flexibility. You won't miss the colors because they happened to be a week late or earlier than expected. You can drive to wherever the colors happen to be best in that moment.
This comes with a downside though… accommodation prices and availability. Fall is extremely busy in this part of the country. Like you, many others choose to take East Coast fall road trips in the hope of seeing the incredible beauty that comes with the changing of seasons. This means hotels and vacation rentals can book out well in advance, leaving the remaining last-minute bookings quite expensive.
We ended up opting to mostly find accommodation as we went along, including some last-minute vacation rentals and hotels/motels. We tried to stay at a budget of around $80-150 USD per night, which did narrow down our search a little but overall the places were more than adequate, use Expedia to get price comparisons across multiple booking sites and save you time searching for a place to stay. A couple of times we did have to drive to places slightly further out of town to find a more affordable price but this was an okay compromise to have the extra flexibility.
If you need to rent a car, check out Kayak for price comparisons from rental agents. Or you could use this road trip to test out van life! Rent an RV or camper from Outdoorsy, and you won't have to worry much about accommodations.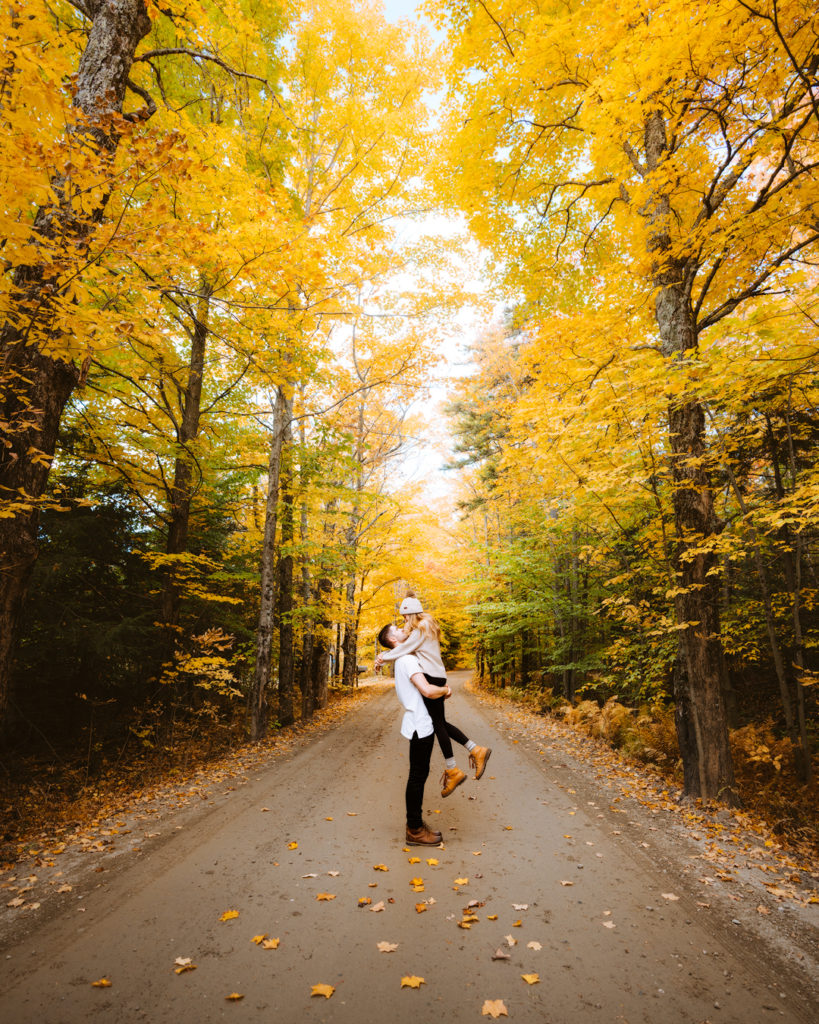 Another option is to bring camping gear.
Keep in mind though, at this time of the year some of the campgrounds are beginning to close. Some places we traveled through didn't seem to have many tent camping options. In saying that, there was the possibility of sleeping in your car. I have a guide all about sleeping in your car on road trips – check it out!
If you are thinking of camping, you can check sites in the area on The Dyrt where you can see which are open and the facilities available as well as reviews from previous campers. Click here, or use my code reneeroaming for a free 30 day trial.
With all that being said, how you want to plan your Northeast fall road trip is up to you. Do you want to take the chance of potentially missing the peak colors and pre-book more affordable/convenient accommodation? Or do you want to pay slightly more for accommodation and make sure you are seeing the best of the colors? It's up to you. Either way, we found this be the most accurate and up-to-date map of where the colors are peaking.
Mid-October is often the best time to take a New England road trip for leaf peepers, but it's helpful if you can be flexible with your date. For reference, we took our fall New England road trip on October 8 – 12, 2018. But don't take those dates as a sure thing because peak color can change year to year! Just remember to pack your camera to capture those autumnal colors. You can see the equipment I use further down in the post.
Best New England fall road trip itinerary
Below I'm sharing a suggested itinerary for your New England fall road trip, based on our own adventure. First off, here is a map with all the best spots linked and pins for each day of the itinerary, see below.
Now let's talk through the day-to-day itinerary…
Day 1 – Dixville Notch State Park
Fly into Boston, Massachusetts and pick up a rental car. From here, drive 4 hours north to Dixville Notch to begin your New England fall road trip. Dixville Notch is a very small area, but for what it lacks in size it makes up for in beauty!
The main road that travels over Dixville Notch initially winds its way past some cute farmland surrounded by rolling hills. The drive then passes stunning Lake Gloriette, up over Dixville Notch and down the other side of the pass-through incredible fall foliage to a couple of serene picnic areas and walks.
Plan to do the stunning Table Rock trail which is a short one at only 1.5 miles round-trip, but a relatively steep 700 feet climb. This gives you epic 360-degree views over Dixville Notch from above, and the photos are beautiful! If you have timed it right, you might even be able to enjoy sunset from up there.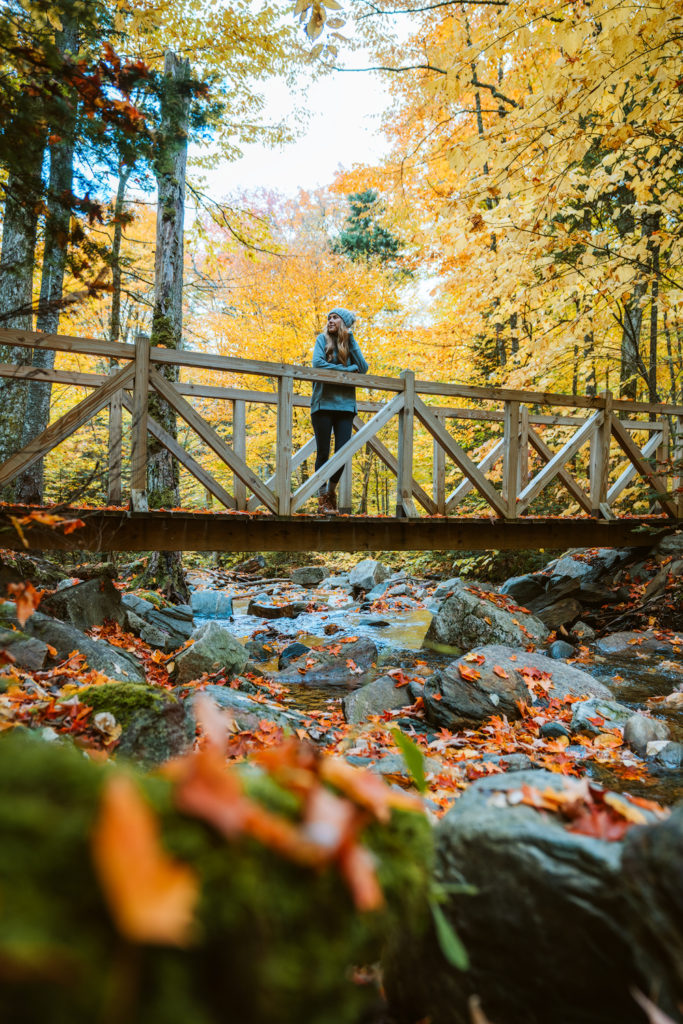 Unfortunately when we were there, the clouds were low and covering the views.
Instead, we parked at what is labeled Whittemore Family Cemetery on GoogleMaps and hiked a short trail that leaves from the parking lot. This is a great alternative if the weather is not cooperating.
This trail made its way through a vibrant forest that leads to a cute little bridge and stream. The hike would only take 10-15 minutes round-trip without stopping. It was a great way to stretch the legs and take a moment to snap some photos of our first glimpse of fall colors.
After finishing your hike at Table Rock, or the alternative trail, head back to nearby Colebrook for dinner and a good night's rest in your hotel. You can also book into this great cottage on a farm or Tentrr's Signature Site for luxury glamping.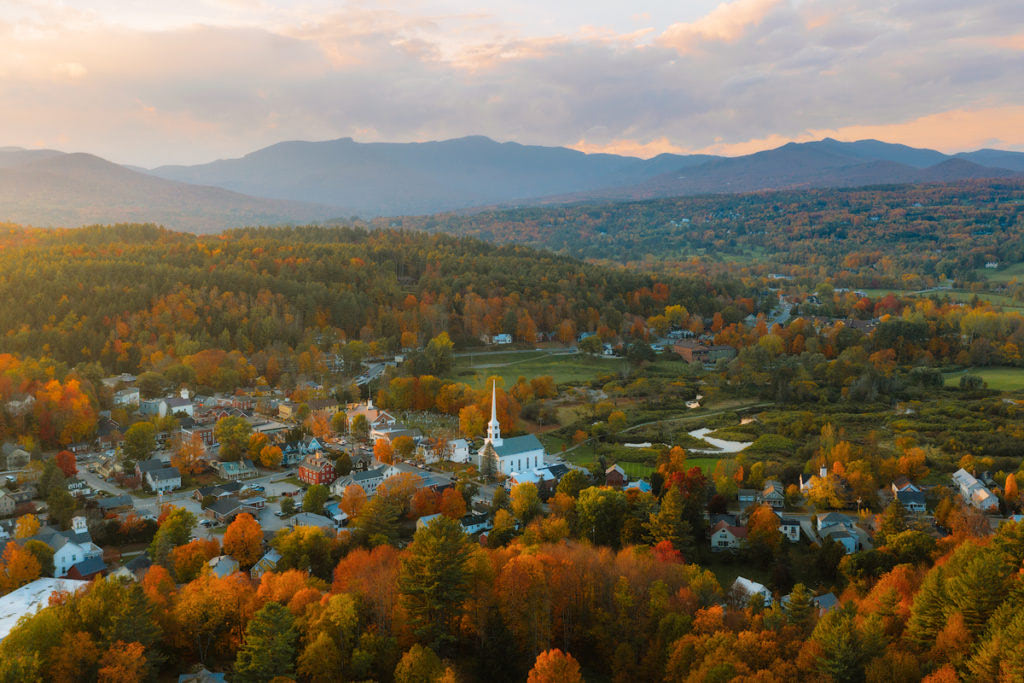 Wake up early, grab some breakfast at Mostly Muffins in Colebrook (so yummy!) and then drive west towards Stowe, Vermont. On the way, you will pass loads of beautiful fall foliage and small rural towns including the memorable Island Pond. The Great Vermont Corn Maze is also a fun stop if you're into that sort of thing.
After a beautiful drive to Stowe, you can spend the rest of the day exploring its charm, cute gift stores, and scenic walks. We had lunch at the Green Goddess Cafe and it was amazing! We then took a quick walk along the bike path which leaves from behind the Stowe Community Church and runs along the river. You can also take a brewery tour in Stowe to sample locally made beer, spirits and ciders.
From this vantage, there are some great views of the church worth photographing. Finish the night off with a delicious pizza at Piecasso in town – we definitely recommend this restaurant! Stay the night in Stowe at The Green Mountain Inn or in The Loft at Hobble Inn.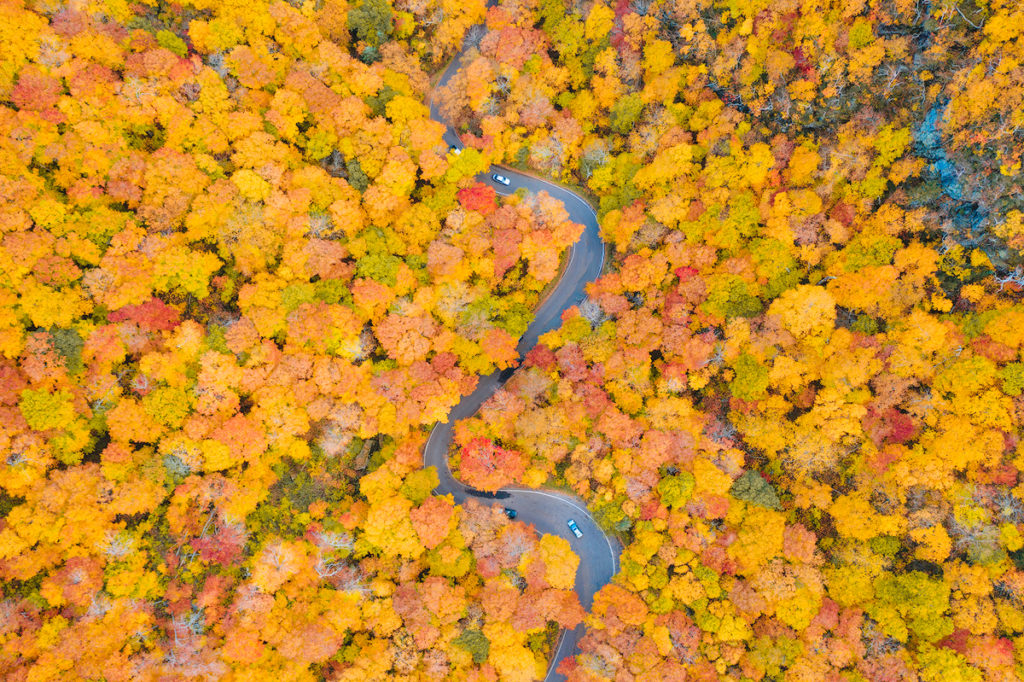 Day 3 – Smugglers Notch & White Mountains
Day 3 of your Northwest fall road trip will be a busy one! Wake up early and head to Smugglers Notch. This area has a road that goes up and through a small gap between two mountains (referred to as a "notch"). It is quite similar to Dixville Notch, but in my opinion, Smugglers is even more spectacular.
This was one of the spots we were most looking forward to on our New England fall road trip, and it didn't disappoint! The mountains on either side are HUGE, and there are so many beautiful twists and turns in the road to photograph and check out.
Definitely drive this to the other side and back before moving on to your next location. Another option is taking the Gondola SkyRide at the Stowe Mountain Resort, for beautiful aerial mountain views.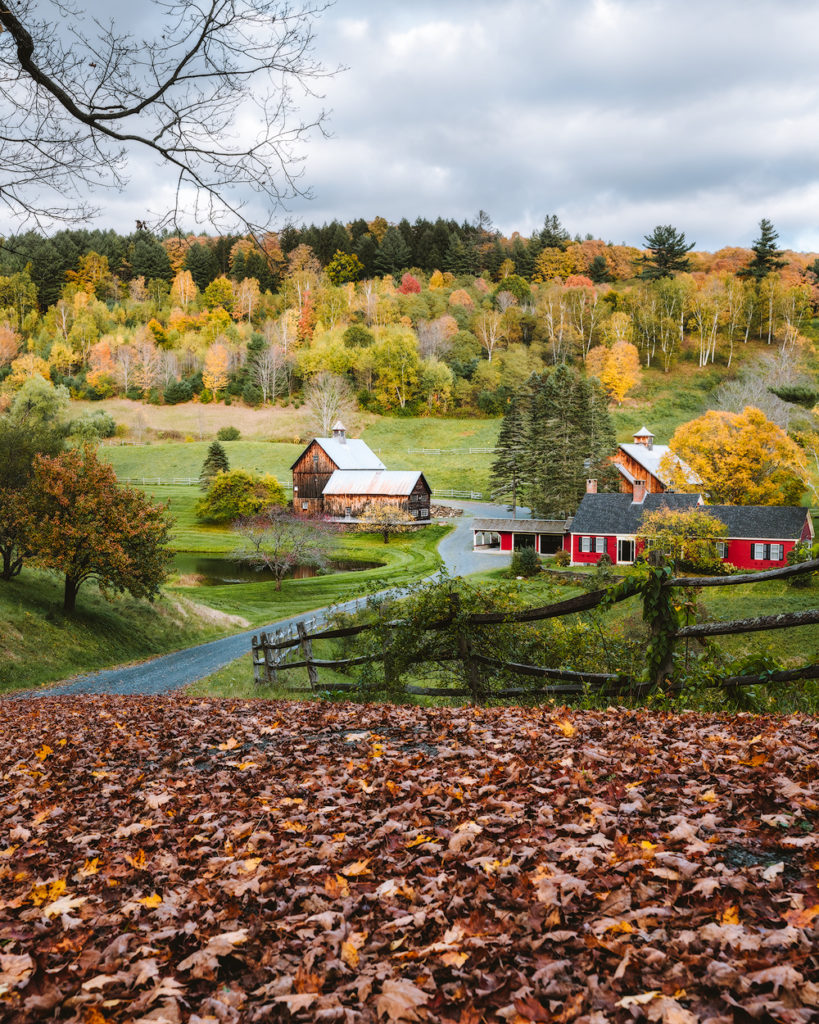 From Smuggler's Notch, drive south to Pomfret, Vermont.
Taking Cloudland Road south from Pomfret to Woodstock will take you along cute dirt roads lined with fall colors, rolling hills, and quaint farms. A necessary stop along this route is the farm located opposite "Elm Grove Farm" on GoogleMaps, often referred to as "Sleepy Hollow Farm". It's a great little photography stop that captures one of the most photogenic farm properties you will ever see.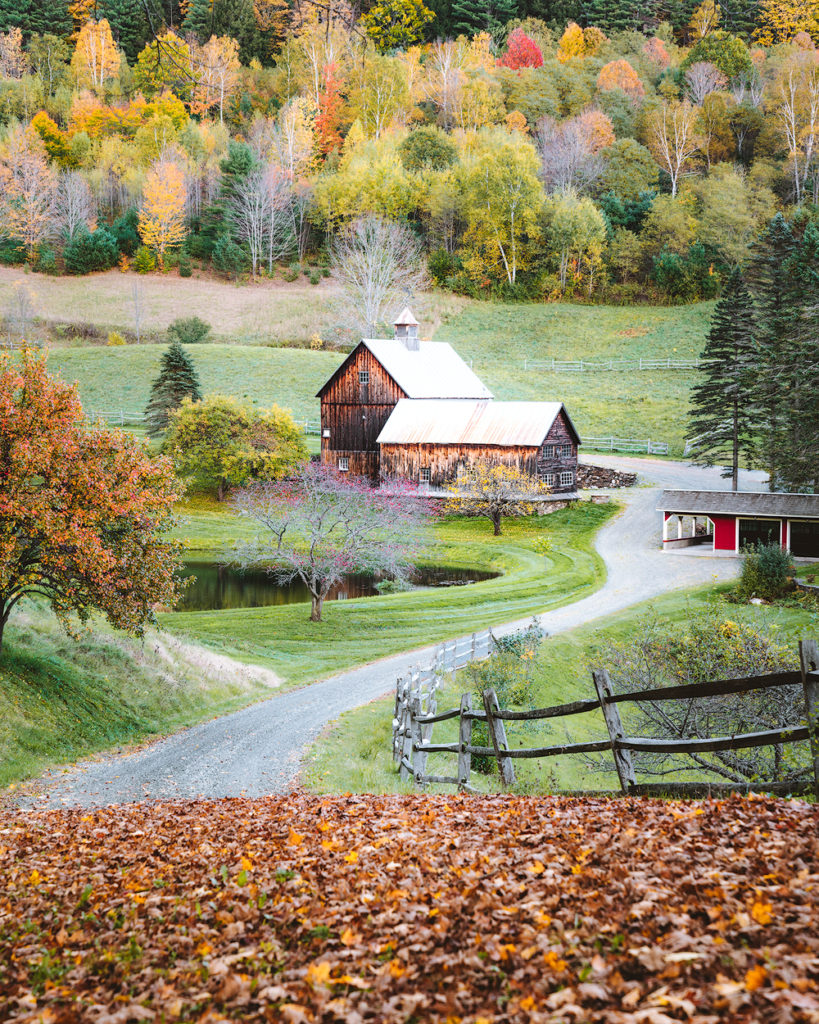 Sugarbush Farm is another local property you can visit, though we didn't go there ourselves. I hear their maple syrup is delicious!
Now, time to head back to New Hampshire! Your scenic drive today will take you through Franconia Notch State Park. At the base of the White Mountains, the town of Lincoln is a good place to end day 3 of your New England fall road trip. Stay at Woodwards White Mountain Resort or the Loon Mountain Apartment.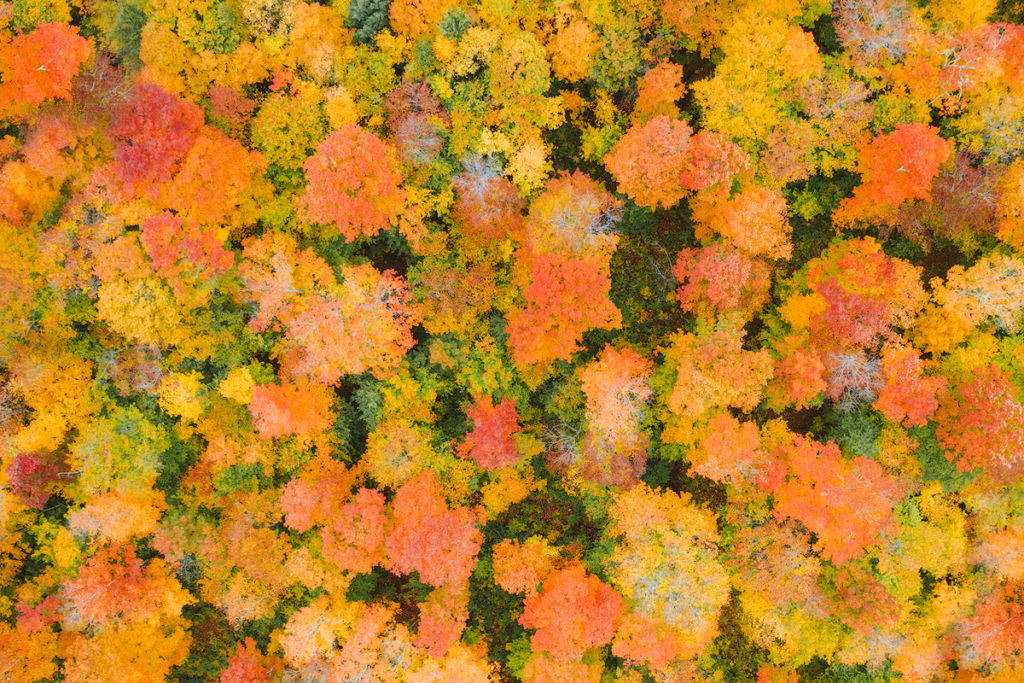 Your New England fall road trip would not be complete without a drive along the famous Kancamagus Highway. Leaving early on day 4 from Lincoln, there are a lot of epic road-side views on this stretch of road. A number of pull-outs also allow for some great photo opportunities. Continue east until you hit the Rocky Gorge Parking Lot. Here you can take a walk along the beautiful Swift River and get views of the beautiful Falls Pond. North Conway is a cute town on the east end of the Kancamagus Highway, and a great spot for lunch or a stroll around town.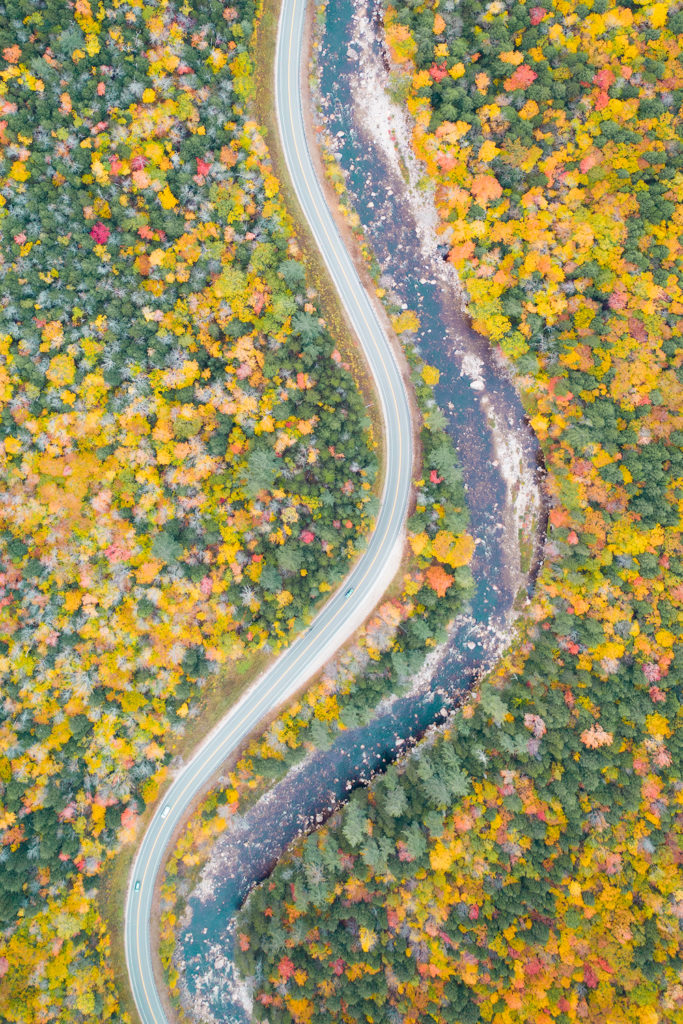 From Rocky Gorge, we backtracked a short distance to drive up Bear Notch Road. Bear Notch provides a scenic drive along a mountainside and more roadside pullouts for some gorgeous photo opportunities.
At the end of Bear Notch Road, drive north to Crawford Notch State Park. Here, you can explore the backroads and snap photos of all the beautiful fall colors. A side-trip option in this area is a hike up the Mount Willard trail. It's a relatively steep, but short 3.2-mile round-trip hike to a clifftop overlooking Crawford Notch. The views from there are unreal! Again, unfortunately, the weather wasn't cooperating so we had to skip this one.
Next, continue north where you have the option of taking a short detour to the Mt Washington Cog Railway. Here, you can catch an old-school train up to the summit of Mount Washington, the tallest mountain in the northeastern US at 6,289 feet. Due to the bad weather, we kept driving, but if you are a fan of trains then this should not be missed!
To end your day, depending on availability you can stay in the nearby towns of Carroll, Franconia, Littleton, or Bethlehem.
We stayed in Franconia ourselves and chose to drive to Bethlehem to have dinner at the Cold Mountain Cafe. It if works out with timing, we highly recommend it as a delicious way to end a busy day.
There are great hotels to chose from, the Hampton Inn in Littleton and Stonybrook Motel & Lodge in Franconia are lovely options or you can opt for vacation rentals. On the Mountain Suite in Carroll, Rustic Log Cabin in Sugar Hill and Kilburn Place in Littleton are worth checking into.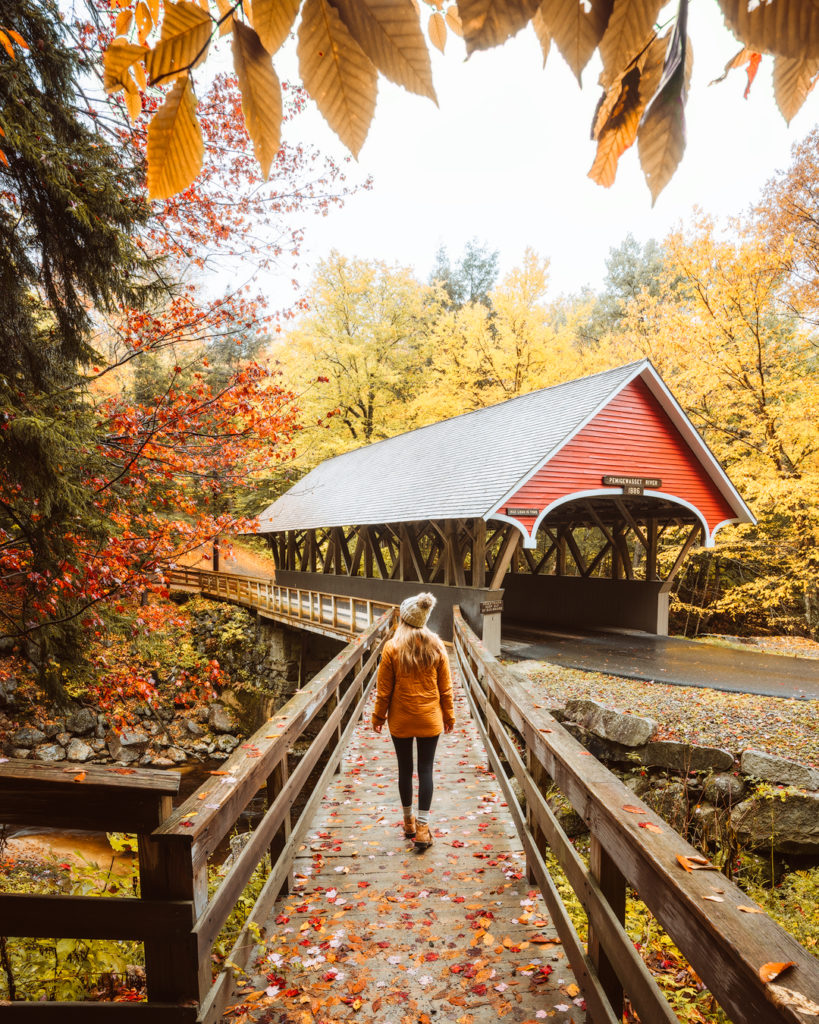 Day 5 is the last day of your New England fall road trip, and what better way to start than with a sunrise hike up to Artist's Bluff. This is a short 1.4-mile walk up to a stunning hilltop that overlooks Echo Lake, and the fall foliage here is insane! Unfortunately, it was raining when we drove past here (a common theme on our trip!) so we opted to skip the hike as the clouds were hiding most of the views.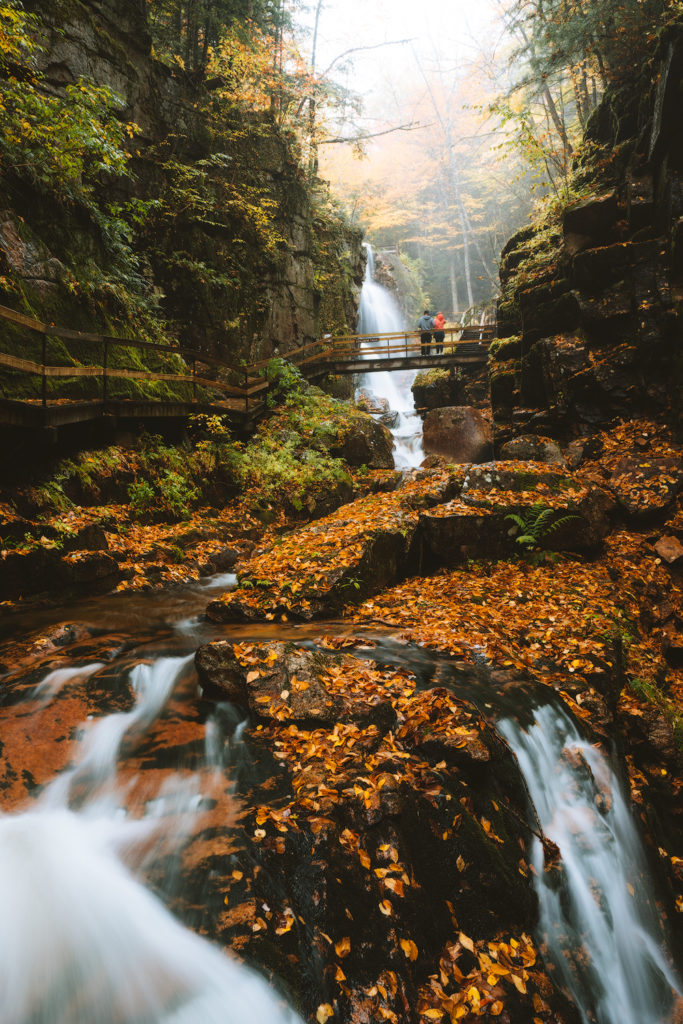 We continued on to Flume Gorge which is a relatively easy 2-mile loop hike and one of our favorite stops of the trip. Multiple waterfalls, streams, and covered bridges keep the eyes entertained for the whole 2 miles. Do note that there is a $18 per person entry fee (I definitely recommend making advance reservations) but we felt it was very much worth it. In fact, we spent a couple of hours exploring this area and even in the rain it was absolutely gorgeous!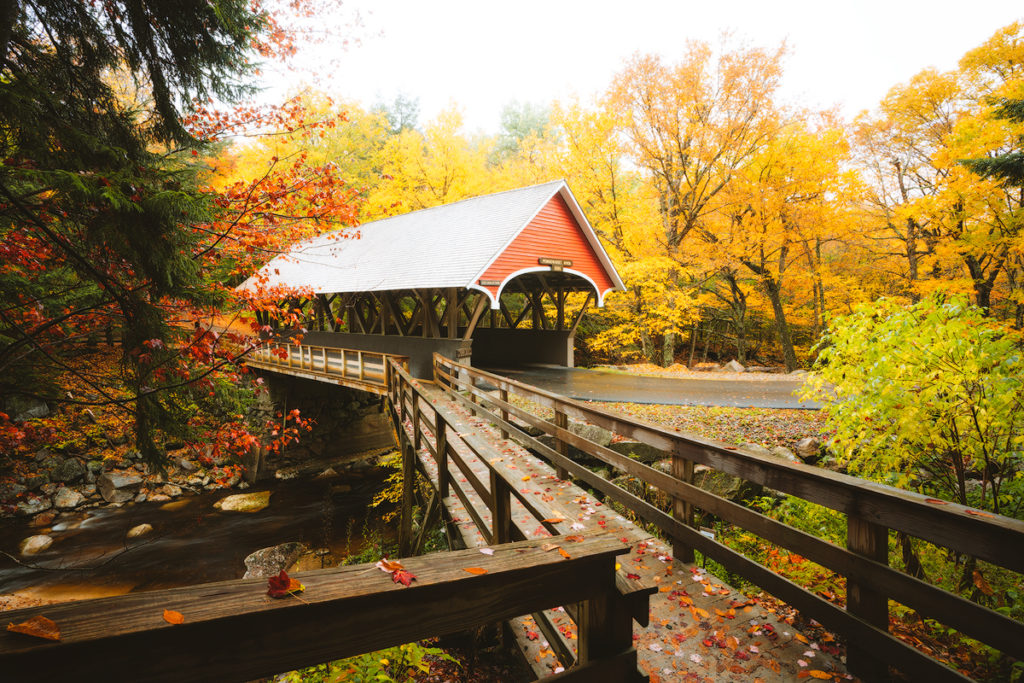 By now your Northeast fall road trip is coming to an end. It's probably time to head back towards Boston to catch your flight… or onward to your next destination (see more below!)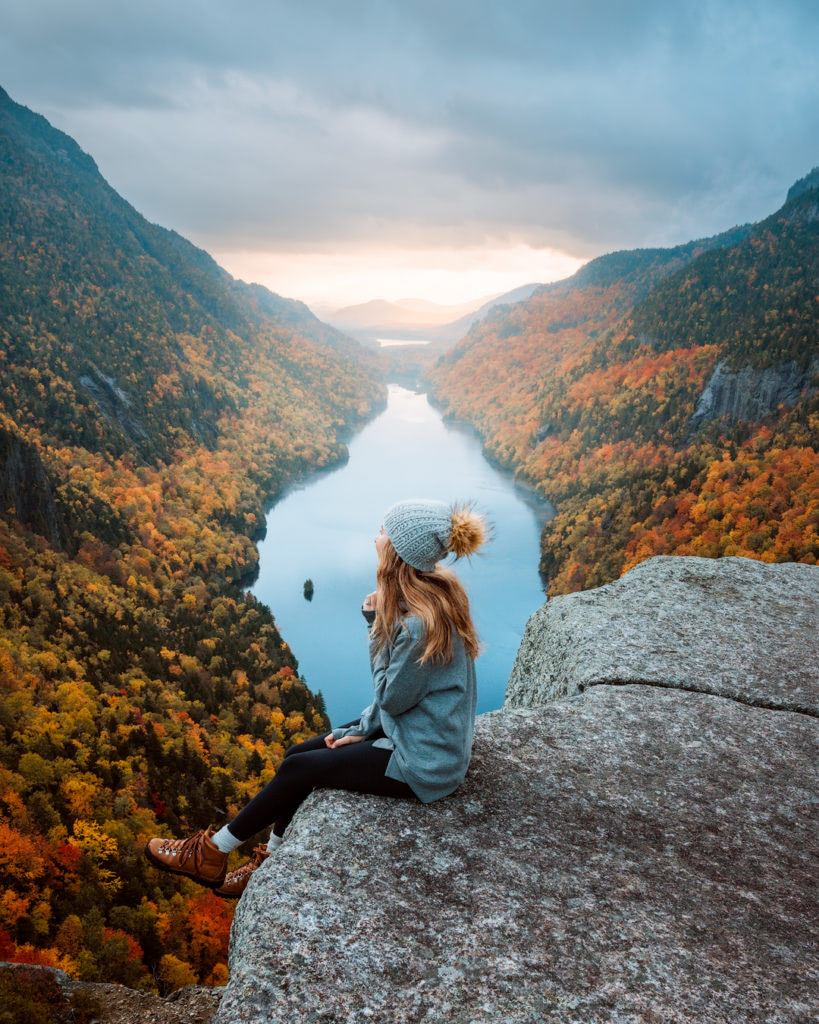 7 day East Coast fall road trip
If you really want to take an incredible Northeast fall road trip and have some extra days (1 week total), here is what I would recommend. Add a couple of days in between Stowe/Smuggler's Notch and the White Mountains. It would be fun to spend a day in Burlington and walk along Lake Champlain, or check out Waterbury, Vermont. With these extra days, you can drive further into Upstate New York and the Adirondack Mountains, where the colors were absolutely incredible. There are also abundant hiking opportunities, and the beautiful town of Lake Placid to explore. Lake Placid has some amazing accommodation options and beautiful views so it is definitely worth spending a night there. Try the Crowne Plaza or this Rustic Room or search cabins in the area for larger groups.
As an alternative to the Adirondacks, you could scoot over to Maine and visit Bar Harbor and Acadia National Park. Acadia has some really unique scenery, boasting both coastal views and mountain tops! Bar Harbor has plenty of great vacation rentals available.
Check out my blog, How To Prepare for Hiking Trips, ahead of time to prepare!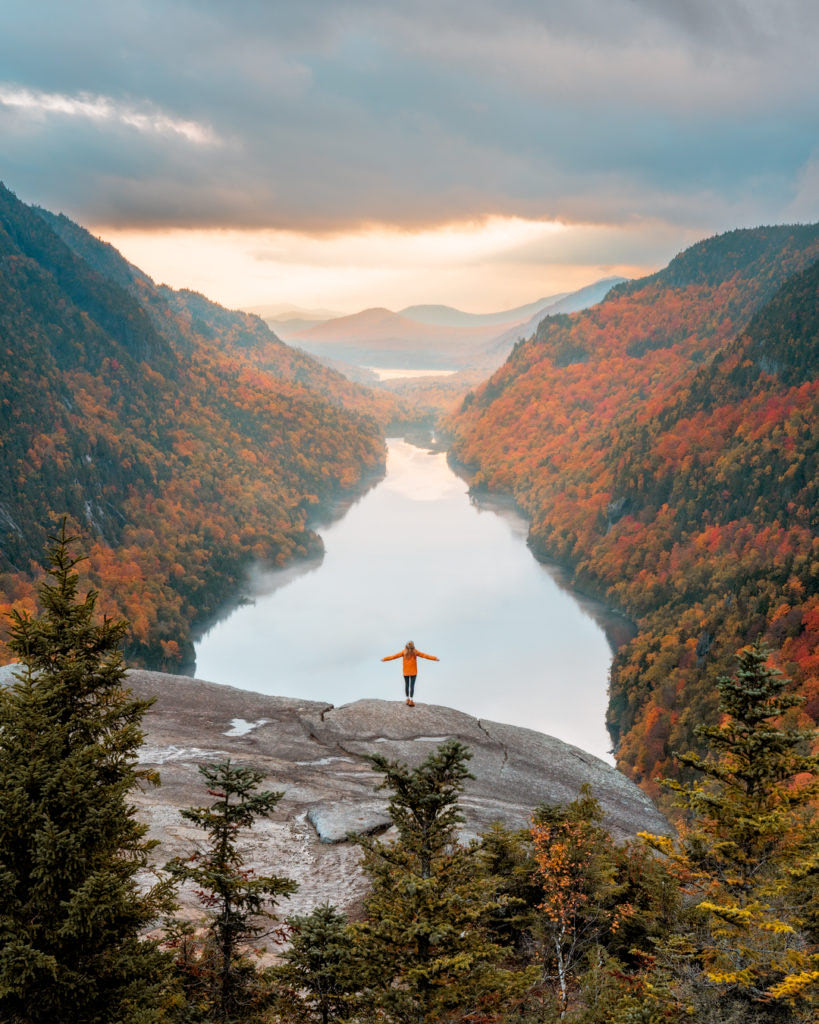 As I know many of you will ask, we opted to take a sunset hike in the Adirondacks (see photo above), however I have been asked by locals to please not share the exact location. There are some concerns about the potential damage of increased trail traffic and it was pointed out to us that parking spots are also very limited.
I urge you to be responsible and always abide by Leave No Trace Principles when exploring the outdoors. You can read my blog, Hiking Trail Etiquette Rules You Should Know, to learn more and click here to read my in-depth guide on How To Follow Leave No Trace Principles.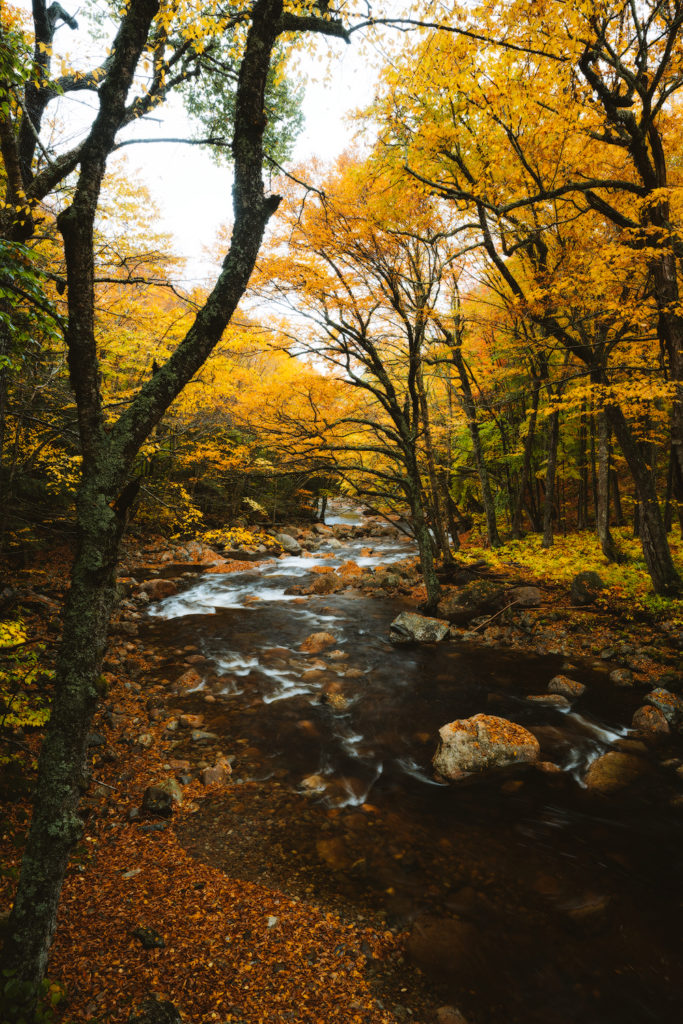 3 day New England Road Trip
You could do this New England fall road trip in 3 days with some adventurous spirit! It would be kind of rushed, and you wouldn't always be able to be in the best spots for sunrise or sunset. That being said, if it's all you have, go for it! It's definitely doable and would also be a blast. I hope you don't mind missing out on some sleep though 😉
Some options to put together a shorter Northeast fall road trip itinerary would be to cut out the Pomfret / Sleepy Hollow Farm section, as that does add some driving hours. Another way to cut downtime would be to combine your visit to Stowe and Smuggler's Notch into one day.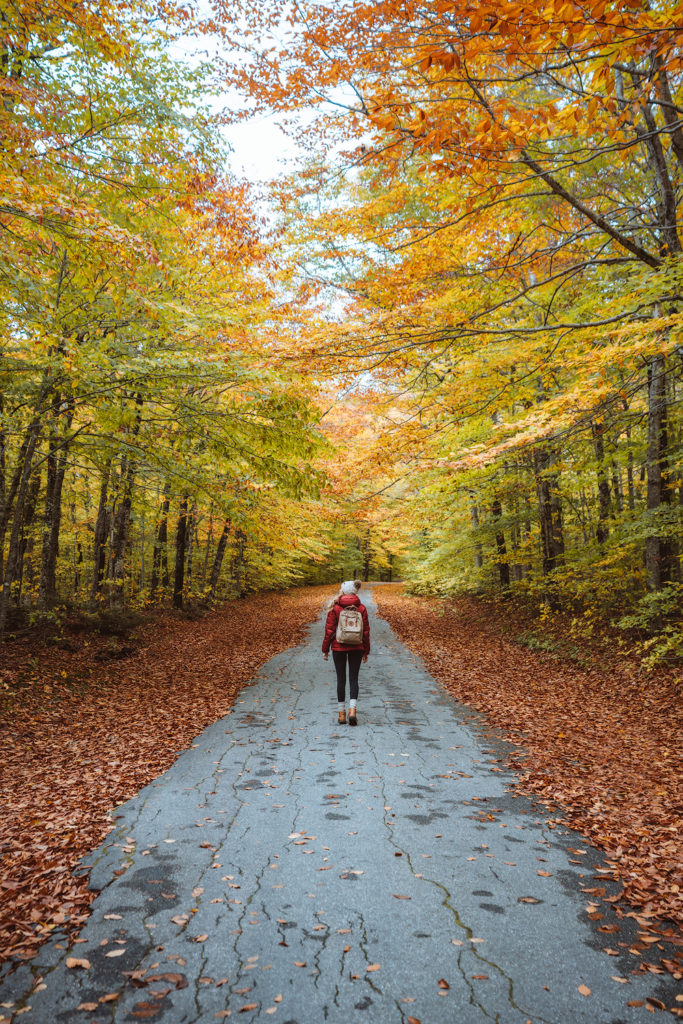 New England fall road trip packing guide
There are some essential items you should pack for your Northeast fall road trip to make it as enjoyable as possible! I hadn't explored much of New England or Upstate New York before this trip and found the weather to be a little up and down. In fact, one minute it was sunny and the next freezing and rainy! You'll definitely want to pack some additional layers for your leaf peeping adventures.
This packing guide is also tailored towards people who enjoy hiking. If you don't plan to hit the trails, simply leave off the hiking-specific items when using the guide. For those choosing to camp, I have an entire guide and packing list for car camping essentials, so make sure to check that out!
Mid-layer:
Perfect for chilly mornings and evenings. Opt for something lightweight like a fleece or pullover. Recommended mid-layer.
Insulated jacket:
It's likely to get colder than you are expecting, especially if you plan to be out during sunrise and sunset hours. In fact, it even snowed in New Hampshire towards the end of our trip! So I would highly recommend packing a puffy jacket or a parka that has insulation. Recommended insulated jacket.
Rain jacket:
Do not attempt to take a Northeast fall road trip without a rain jacket/coat! It rained at least once every day we were on the East Coast. Although it didn't ruin our trip, it could have if we didn't have adequate rain protection. Recommended rain jacket, recommended windbreaker.
Casual clothes:
Pack some casual and/or nicer outfits if you plan to eat out at restaurants. This is of course optional though! Check out my Favorites page on Backcountry for some recommendations.
Hiking shoes:
I was VERY happy that I packed waterproof boots for our East Coast fall adventure! We experienced wet, muddy, and cold conditions and waterproof boots made a huge difference. I suggest choosing a pair that can be worn both casually and also when hiking. If you prefer a more solid, supportive hiking boot the Columbia Newton Ridge Plus Waterproof Hiking Boots are a great choice. We also have a guide on all the best hiking shoes, so don't forget to check that out when shopping for new hiking boots!
Merino wool socks:
Wool socks are the best for preventing blisters and also letting your feet breathe. Recommended hiking socks.
Hiking pants & Leggings:
Don't stress too much about bottom layers, just make sure they are comfortable and practical for road tripping. I personally like wearing leggings, jeggings, or comfy jeans on road trips, as then I can transition from car, to around town, to hiking, and more. Choose whatever feels comfortable and practical for you! Recommended hiking pants; hiking shorts; hiking skort, hiking dress, hiking leggings.
Beanie & Gloves:
As I mentioned above, it even snowed during our New England fall road trip! I would highly suggest packing a beanie and some warm gloves.
Day pack/hiking backpack:
Choose something with hip and chest straps for optimal comfort and practicality. Recommended backpack. When taking short walks or exploring roadside stops I often prefer to opt for a small hip pack instead of a backpack. Just something to fit my phone, lip balm, sunglasses, and any other essentials.
Navigation:
When driving, have Google Maps or Maps.Me handy. We often lost phone service when driving in the mountains of New England and down back roads. For hiking, carry a physical map and a compass, and download offline maps onto your phone. I use Gaia GPS – click here to get 20% off a Premium membership!
Camera + batteries:
Optional but trust me, you will want a camera to capture the incredible fall foliage! Check out the camera gear I use to capture my travel photos and the camera bag I pack it all in!
Snacks:
Every road trip requires snacks! We found it challenging to find food between towns and also after hours. Bring whatever your favorite snacks like nuts, seeds, granola bars, dried fruit, etc. My go-to snacks. If you enjoy drinking coffee then it's best to bring along a reusable mug or tumbler. Recommended mug; insulated tumbler. Having your own travel utensils / cutlery is a great way to cut down on single-use plastics when ordering take-out food.
Road trip playlist + Podcasts:
Don't forget to download some good tunes and podcasts for your road trip. For music, check out my playlists on Spotify. For podcasts, we have an entire guide on the best road trip podcasts!
Want more packing & gear tips? Check out our guides on what to wear hiking, car camping gear essentials, how to plan a national parks trip, and the best hiking shoes.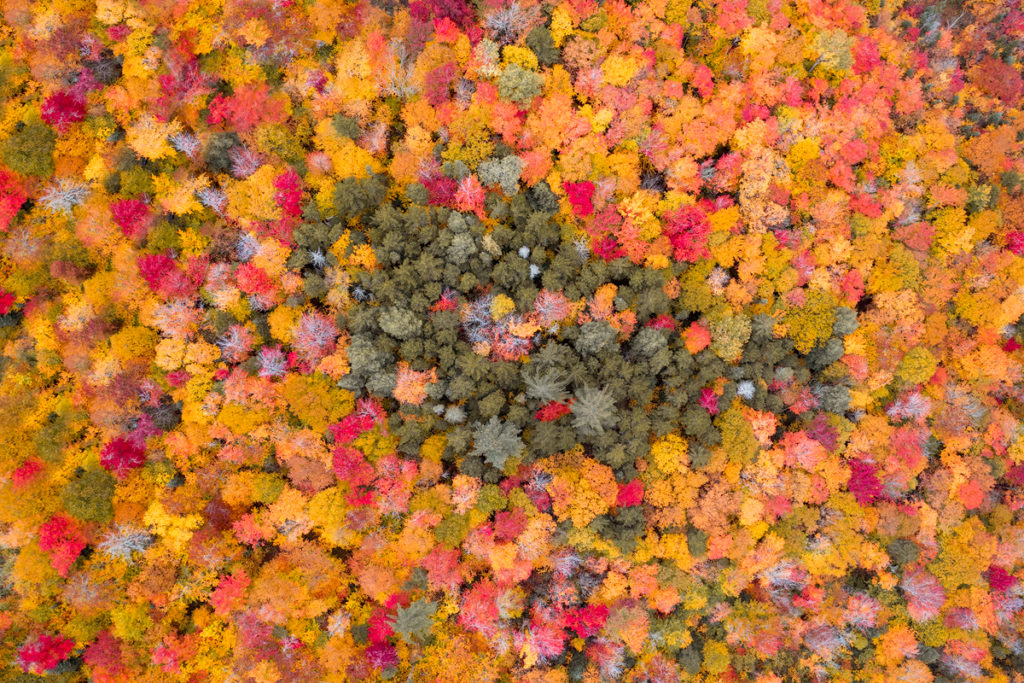 I hope that helps you plan an incredible New England fall road trip! With a little flexibility you're guaranteed to have an epic road trip, even if the weather doesn't cooperate the whole time. Have an amazing time and feel free to leave a comment and let me know how you got on 😊
---
PIN for later planning!