Acadia National Park ranks high on many travel bucket lists, and I have to agree! Acadia is the only national park in New England and it boasts many unique features to make it worth a visit. With rugged cliffs of granite along the coast and miles of forested trails, this Maine gem is the perfect place to get outside. In this blog, I'm sharing 9 of the best things to do in Acadia National Park. From biking the historic carriage roads to hiking Cadillac Mountain or kayaking on Jordan Pond, Acadia truly has something for everyone!
Disclaimer: This blog post may feature some affiliate links, which means I get a small commission if you make a purchase (at no extra cost to you). It's one of the ways I can keep producing free guides and resources for my readers. Learn more about my affiliate policy here. Thank you for the support!
9 Absolute Best Things To Do in Acadia National Park
Acadia National Park was on my bucket list for years before I saw it with my own eyes… and upon arriving I instantly understood what all the hype is about! It's one of those parks that can be visited again and again and has something incredible to offer in every season. My biggest personal takeaway during my time in Acadia was "I need to plan another trip" haha. So I'm naturally super excited to be helping you experience this magical park for yourself!
Now, before we jump into the best things to do in Acadia, let's first review some practical park information and planning tips.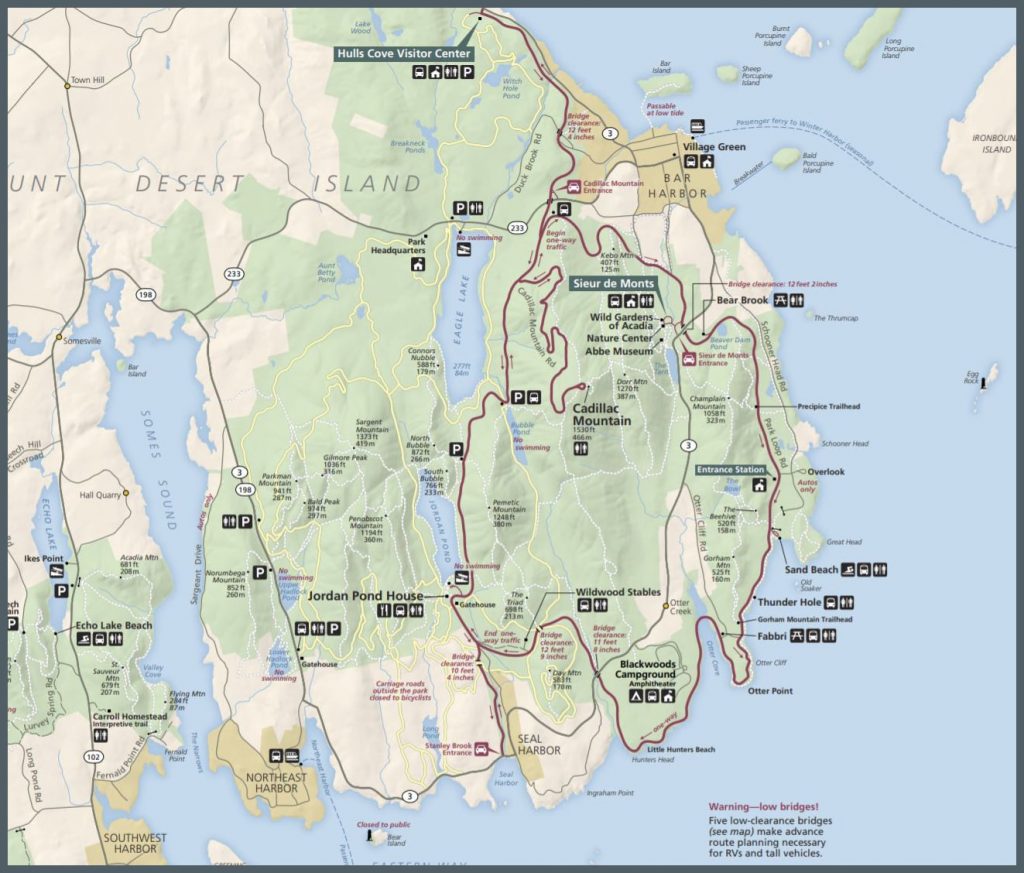 Where is Acadia National Park?
Acadia National Park is located off the Atlantic coast in Maine and occupies the majority of Mount Desert Island and some accompanying smaller islands. The region is often broken down into 6 areas – Winter Harbor, Bar Harbor, Northeast Harbor, Southwest Harbor, Bass Harbor, and Isle au Haut. Click here to access a full park map, courtesy of the National Park Service. You can also pick up maps and guides when visiting the park visitor centers in person.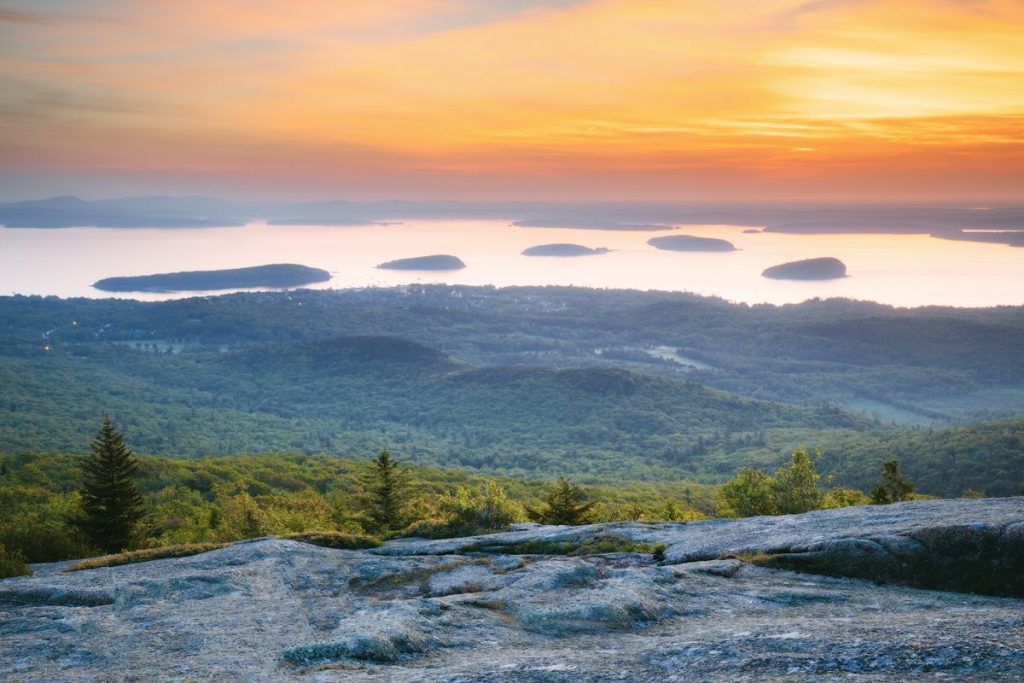 How Do You Get To Acadia National Park?
The beauty of Acadia National Park is that it feels so remote! With miles of coastline along the Atlantic Ocean, Acadia is like nowhere else in the world. That said, it can be a journey to arrive! Since the park is pretty sprawling, I recommend driving or renting a car so that you have one to get around the park. Mount Desert Island is located about 4.5 hours drive north of Boston.
The other option is flying! You can fly into Bangor, ME, which is about 1 hour from Acadia. This is a good spot to pick up your rental car. Another option is to fly to Portland, ME where you can rent a car for the rest of the drive north to Acadia National Park. It takes about 3 hours to drive from Portland to Acadia. I like to use Kayak and Skyscanner to find reasonable rates on flights.
When Is The Best Time To Visit Acadia?
Acadia is popular in the summer for bicycling, kayaking, camping, hiking, and swimming. Winter tends to draw crowds for cross-country skiing and snowshoeing. There are many activities year-round in the park, but keep in mind some amenities may be closed from October through May. Fall is an incredible time to visit Acadia to admire New England's famous fall foliage. Truthfully, it's hard to go wrong visiting this stunning national park during any season!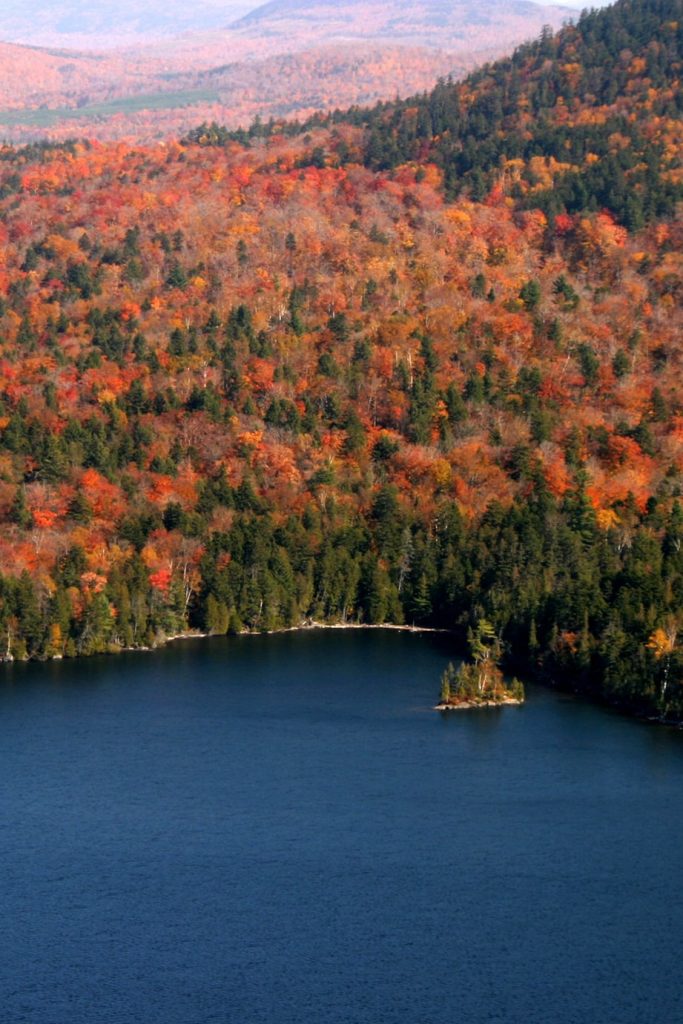 Where Is The Best Place To Stay in Acadia?
There are a handful of campgrounds inside the national park, along with private campgrounds outside the park limits. Pack up your camping gear or rent a camper van to get the full Acadia National Park experience! I love camping at Blackwoods Campground since there are hiking trails that leave directly from the campsites (be sure to try and snag a reservation in advance if possible).
For a pretty remote area, there are a lot of options for hotels, inns, and rentals. Bar Harbor is a great place to stay if you want to be within walking distance of shops and restaurants. This is a good option May-October, but many of these amenities will close during the winter months.
Acadia can be a popular destination in the summer so it's a good idea to plan your trip early! If you can't find a place to stay right near the Acadia, try looking for lodging outside the park near Ellsworth, Northeast Harbor, or Winter Harbor. VRBO has so many cute cottages for the perfect Acadia National Park getaway.
What Does it Cost to Visit Acadia?
You will need an Acadia Park Pass or a National Park Pass to visit Acadia National Park, year-round. I recommend the Annual National Park Pass which is valid at all National Parks for 12 months. This is a great way to get out and visit more national parks on your bucket list once you purchase the pass! You can also purchase an Acadia Pass which is good for 7 days.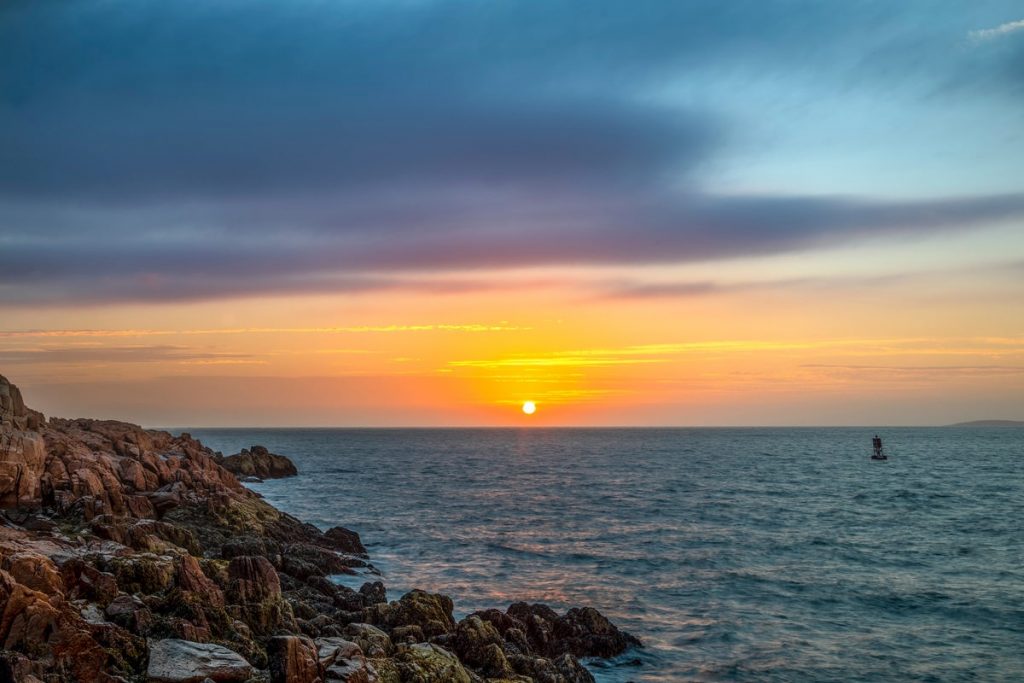 Best Things To Do in Acadia National Park
There is a wide range of things to do in Acadia National Park and nearby. This travel guide will cover some of the most popular things to do in the park, but I will also share some local knowledge of how to get off the beaten path and explore some of Maine's hidden gems.
Biking in acadia National Park
There are over 40 miles of carriage roads perfect for biking around Acadia National Park! It's a good idea to get familiar with park rules when you're visiting. The National Park Service provides some good tips on how to stay safe, especially when the park is busy.
Fantastic Hikes in Acadia National Park
Hiking is a great way to experience the natural beauty of the park and maybe even see some wildlife! Note that some trails close in the spring for Peregrine Falcon nesting. So it's a good idea to check in with a park ranger before you head out on your hike. I'll share some of my favorite hikes in Acadia further down in this guide!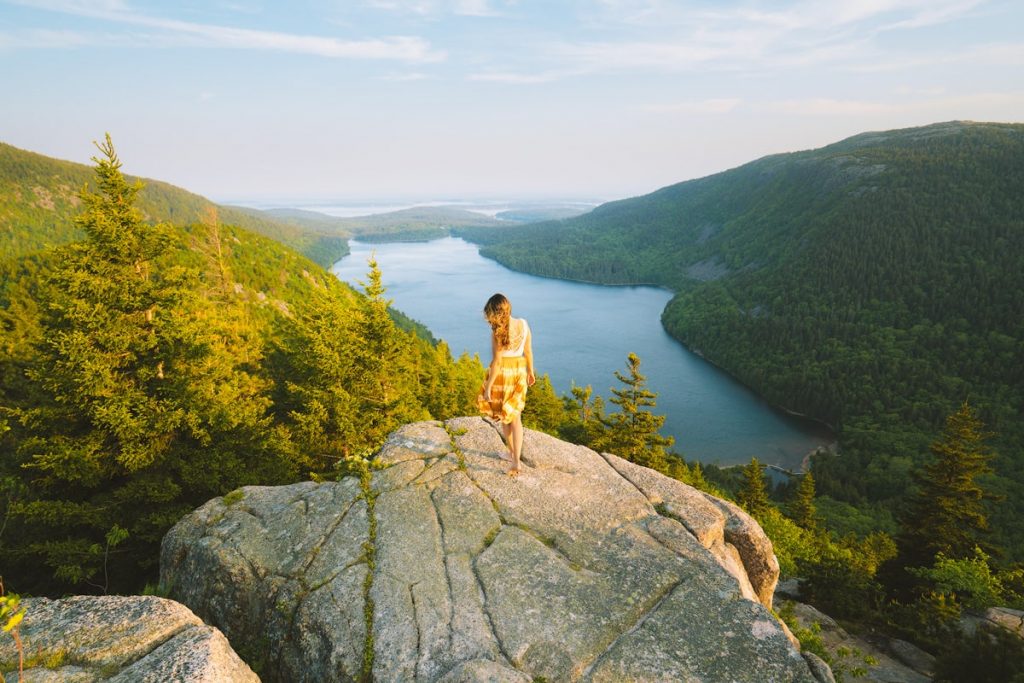 Paddling in Acadia
As you might expect from a national park with many ponds, kayaking is a great way to explore the coastal areas of Acadia. Take a paddle down Somes Sound, the only fjord on the East Coast, and you may spot some lobster boats and schooners sailing up the sound. This area makes me feel like I've been transported to Alaska! Other local favorite spots to paddle are Jordan Pond, Eagle Lake, and Long Pond. Even on the busiest days in the park you can find some quiet and solitude on the water. If you don't own kayaks, consider supporting a local business and renting equipment!
It's always a good idea to be a responsible traveler, so brush up on the Leave No Trace Principles before your next trip. These are designed to minimize the impact we have on the natural world and preserve it for many more generations. Some things might seem harmless, like feeding a wild bird or taking home a few rocks as souvenirs. But when millions of people visit our national parks every year, these actions can harm the natural environment. Plan ahead, travel responsibly, and mother nature will thank you!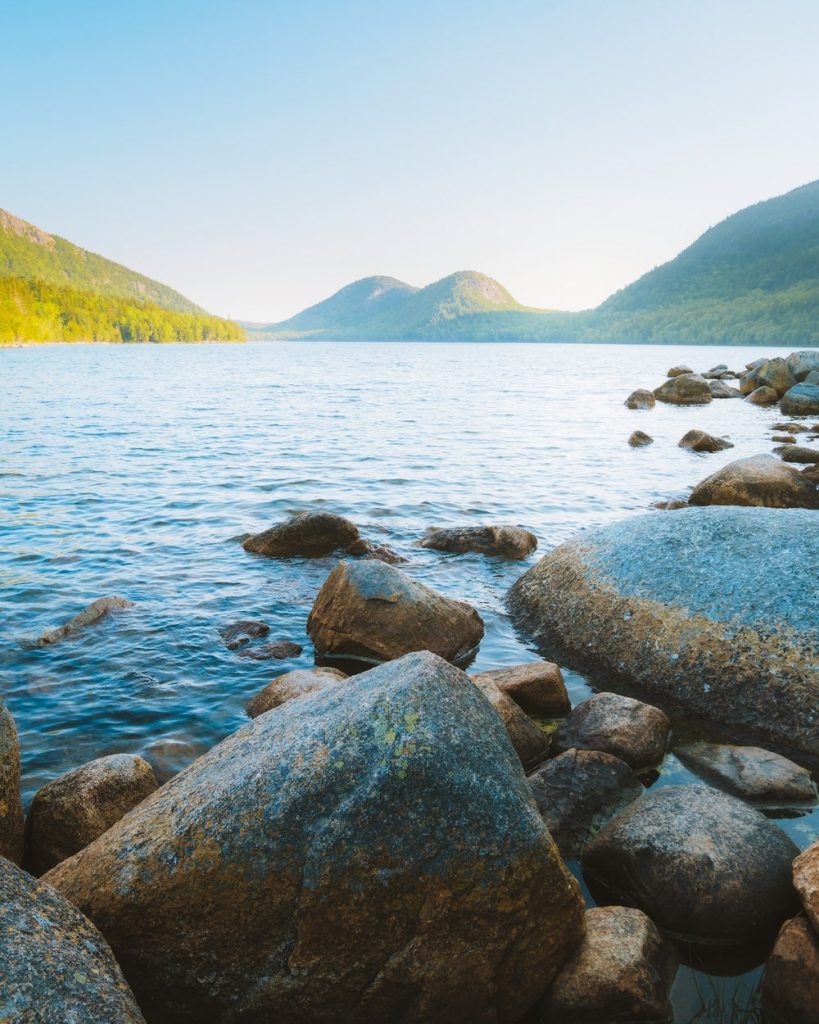 1. Jordan Pond
Jordan Pond is a wonderful spot to relax, enjoy the lake and mountain views, take a short stroll or have a bite to eat. The Jordan Pond House has been serving popovers (scones) and tea since the 1890s and to this day remains a well-loved location to enjoy a delicious afternoon tea. Plan on visiting between May and October, as the Jordan Pond House is not open year-round.
Want to take a hike near Jordan Pond? The Jordan Pond Path is a mellow option with minimal vertical gain that follows the path and boardwalks around Jordan Pond. It's important to note that Jordan Pond is a public water supply source so although you can paddle here, there is no swimming allowed. Many of the trails in the Jordan Pond area intersect with other trails so it's easy to get creative and plan some fun loop hikes. Grab a trail map and get planning!
For more of a challenge, the Jordan Cliffs Loop is a strenuous 5-mile hike and not for the faint of heart! I recommend avoiding this hike if you have a fear of heights. You'll climb along steep cliffs and slick rocks with the assistance of metal rungs. This is not a good trail during inclement weather or the snowy seasons, and may even be closed during Peregrine Falcon nesting season! Be sure to check trail status online or with a local ranger before you go.
The North Bubble Trail is only 1.1 miles roundtrip but consists of almost 500-feet elevation gain and some large steps, so be prepared for a steep trek. The summit is a wonderful place to rest and take in the peaceful views of Jordan Pond and surrounding areas. Add on the South Bubble Trail to hit both peaks!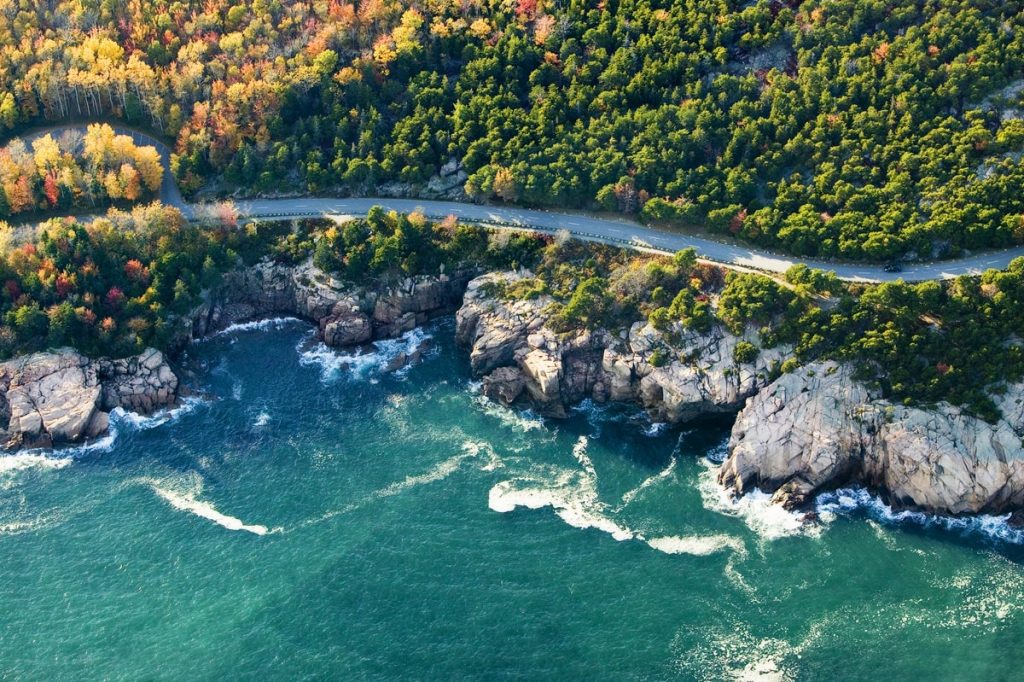 2. Drive Park Loop Road
Acadia has miles of historic motor roads and the most well-known is the scenic 27-mile Park Loop Road that connects the area's lakes, mountains, and seashore. The loop road can be explored via car, bicycle, or on the park's shuttle bus – the Island Explorer. This is one of the most well-known things to do in the park, so plan ahead. It can be wise to save this adventure for later in the day to avoid crowds during peak times.
The shuttle bus runs from late June through early October and provides transportation around the Park Loop Road. It also provides access to many other destinations in the park and surrounding communities. The shuttle is a great option to get around the park without having to worry about parking during busy times of the year. You can also use the shuttle to plan end-to-end hikes without worrying about finding a ride back at the end! Popular stops along the Park Loop Road include Sand Beach, Thunder Hole, Otter Point, Jordan Pond, and Cadillac Mountain.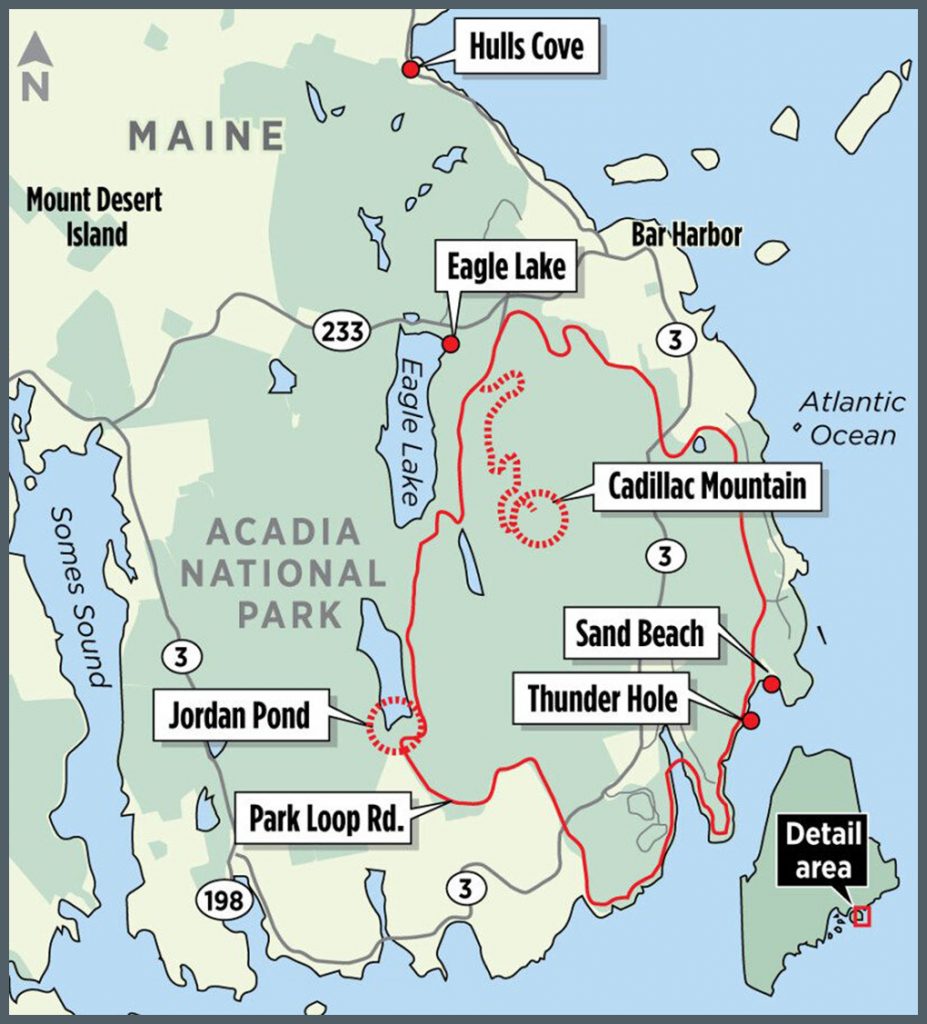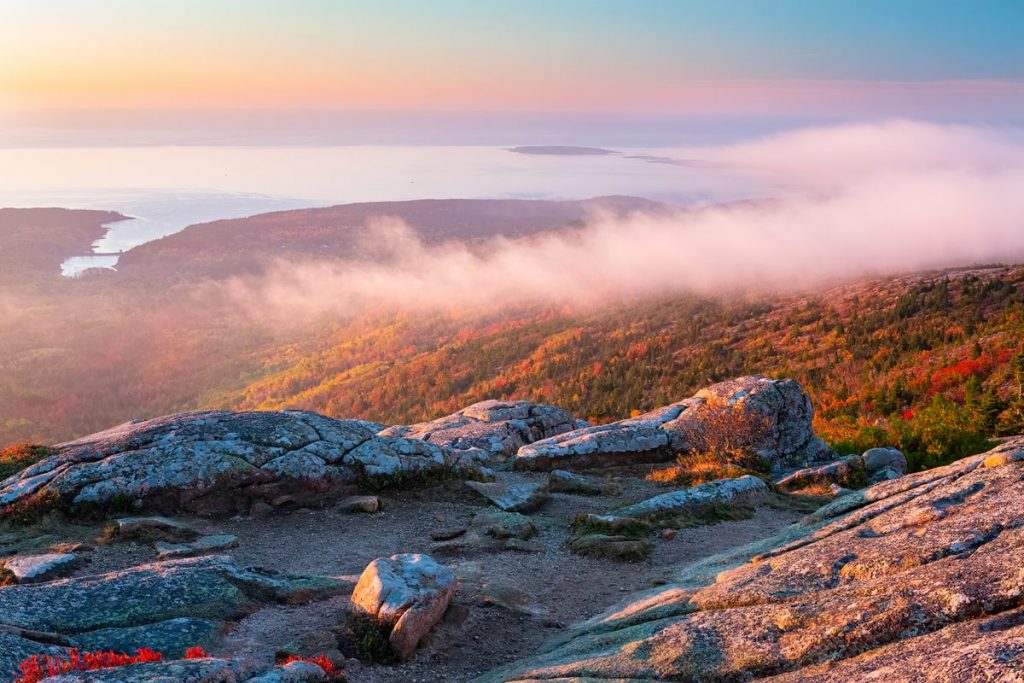 3. Cadillac Mountain
One of the most well-known sights in the park is Cadillac Mountain. Standing at 1530 feet tall, Cadillac is the highest point along the North Atlantic seaboard. It is also the first place to view sunrise in the United States from October 7 through March 6. The summit can be accessed via an easy 3.5-mile drive or a challenging 7.7-mile hike (mentioned in more detail below).
Visitors flock to the top of Cadillac Mountain each morning in hopes of catching sunrise and witnessing the stunning panoramic views. On a clear day, you can see Western Bay and Eagle Lake to the northwest, the Cranberry Islands to the south, Bar Harbor, the Porcupine Islands, and the Schoodic Peninsula to the northeast.
You can also hike to the summit of Cadillac Mountain! Although it's a challenging activity, it's definitely rewarding (and will save you navigating parking!) The Cadillac Mountain South Ridge Trail is a 7.7-mile roundtrip hike that rises more than 1,500 feet in elevation. You'll be able to get some of the trail to yourself on the way up (until you hit the summit.)
Those who make it to the summit are treated to epic panoramic views of the Atlantic Ocean and bragging rights of climbing the tallest peak in the park! Hike the same trail back to Blackwoods Campground, or take a shorter hike down the North Ridge Trail and ride the shuttle back to your car.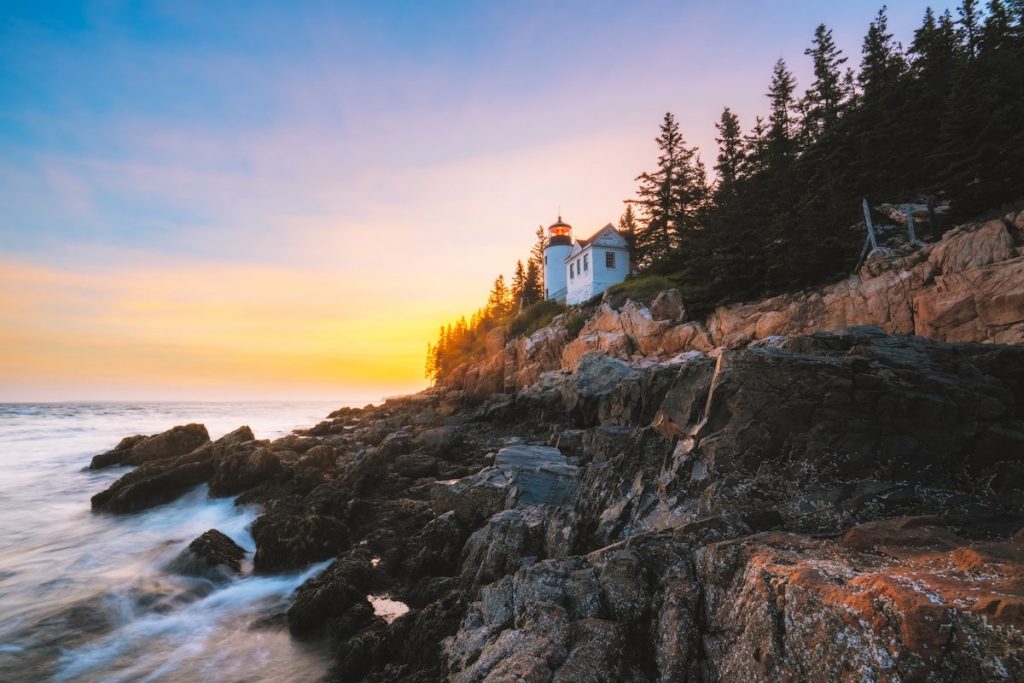 4. Bass Harbor Head Lighthouse
Bass Harbor Head Lighthouse is another accessible sightseeing location to explore when visiting Acadia National Park. Located 35 minutes from Bar Harbor, the Bass Harbor Head Lighthouse is an integral part of Maine's coastal and maritime history. This popular attraction was built in 1858, far before Acadia was dedicated as a National Park! Settled upon a granite outcropping on the southwestern shoreline of Mount Desert Island, the lighthouse can be viewed via a short trail and a small set of stairs, though visitors often enjoy scrambling across the large boulders below for a better view.
Insider tip – Visit Bass Harbor Head Lighthouse at sunset for beautiful views. Be sure to arrive early because it can get BUSY, especially on summer weekends and public holidays.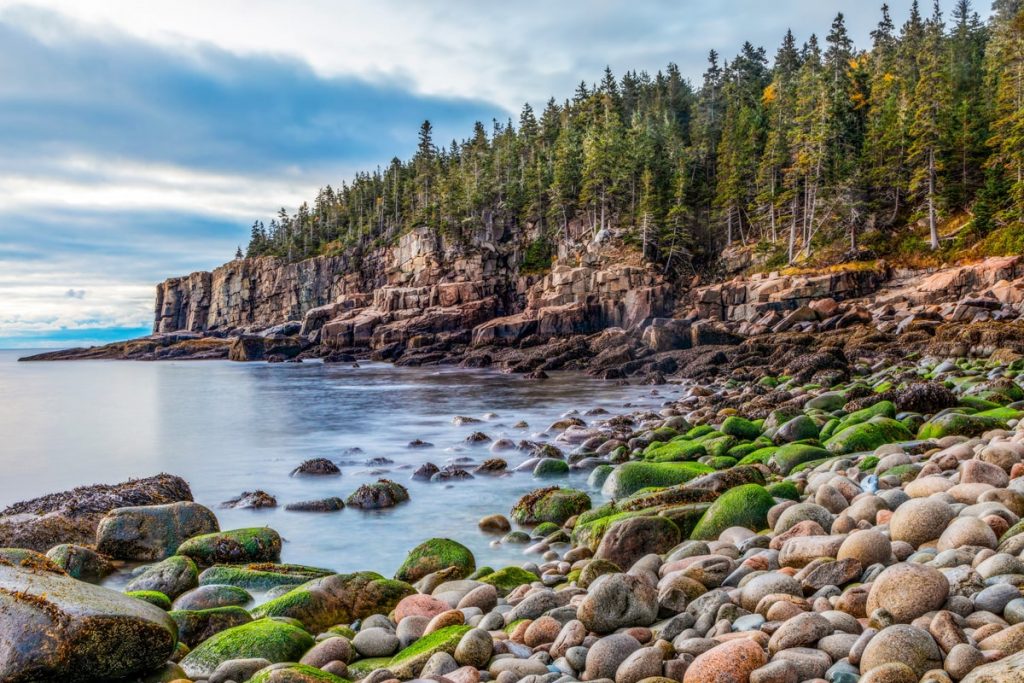 5. Thunder Hole and Sand Beach
Most of the coast of Acadia National Park is made up of sharp, granite cliffs. But Sand Beach is a narrow stretch of beach tucked between two headlands. Remember, this is the North Atlantic Ocean, so even in the warmest summer months, the water is still pretty chilly!
Start at Sand Beach and stroll the coastline on the Ocean Path to Thunder Hole where you can marvel at the crashing waves. Keep walking south and you'll pass the unofficially named "Boulder Beach". This is named for the round rocks along the coast, smoothed from years of erosion by the ocean. This is a great spot for sunrise photography since it's easy to access from the road. The colors in the granite come to life under the first rays of daylight!
Further down you'll come to Otter Cliff where the landscape gets even more dramatic! You can frequently spot rock climbers on these steep cliffs. The trail ends at Otter Cove, a good spot to look for tide pools and enjoy the sunshine. Hop on the shuttle bus or walk 1.5 miles back to Sand Beach where you started.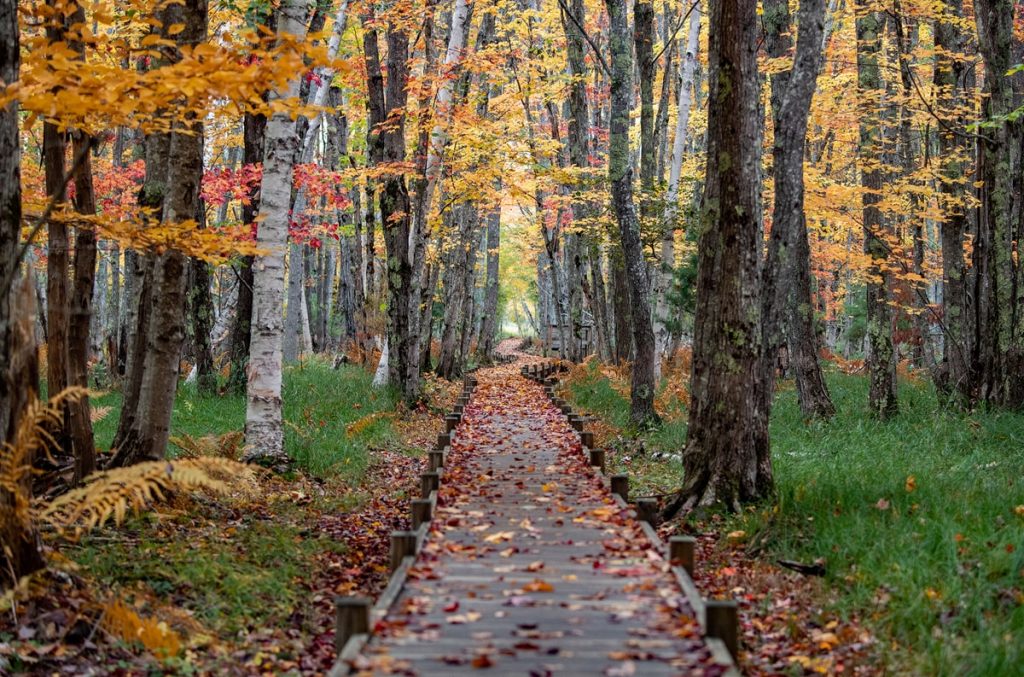 6. Go Hiking
Hiking is one of the most popular activities when visiting Acadia National Park, and for good reason! There are so many incredible trails with views of the ocean, granite cliffs, acres of lush forests, and lots of chances for wildlife sightings. Previously, I shared some of my favorite hikes at Jordan Pond. Next, I'll share some of my other favorite areas of the park to explore.
Explore the diverse forests with a hike on the Jesup and Hemlock Path Loop which is a mostly flat walk along gravel paths and boardwalks. The Beehive Loop is a more adventurous hike with iron rungs to climb, granite staircases, and exposed cliffs. The Precipice Trail is another, aptly named, steep hike with lots of climbing to get to the summit of Champlain Mountain, another of Acadia's highest peaks. I suggest hiking these as loops. It's much easier to climb up the steep sections and descend via another route.
One of my favorite ways to get in a long hike is by looping together Cadillac Mountain and Dorr Mountain. Start from the east side and climb up the Ladder Trail. Another of the highest peaks in the park, Dorr has great views in each direction. From here, keep making your way up to the summit of Cadillac Mountain! Choose which way you descend based on where you parked or pick up the shuttle to get home at the end of the day.
Head over to the Schoodic Peninsula for more great trails that are a bit more off the beaten path. The Buck Cove Trail is one of my favorite hikes on this side of the park to explore the woodlands, summit Schoodic Head, and take in the views.
When hiking in Acadia National Park always remember to Leave No Trace and follow all local guidelines.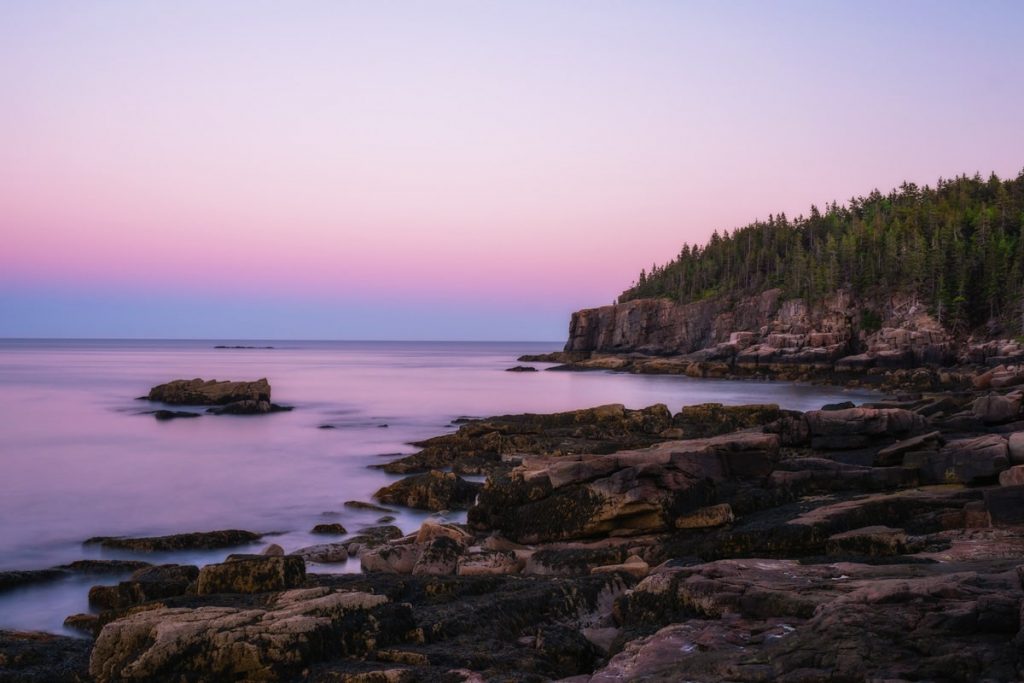 7. Schoodic Peninsula
Most travel guides focus exclusively on Mount Desert Island's part of Acadia National Park. But the Schoodic Peninsula, considered the mainland side of the park, is not to be overlooked! Even on the busiest weekends of summer, the Schoodic side is reliably a bit quieter with similarly spectacular forests and granite landscapes. If you're looking for an escape from the bustle of Bar Harbor, look no further!
There's biking and hiking galore on this side of the park. This is even where some of the most dedicated birdwatchers go when they visit Acadia National Park, so bring a pair of binoculars with you. Keep your eyes peeled for everything from sea birds like scoters and eiders to snowy owls and bald eagles!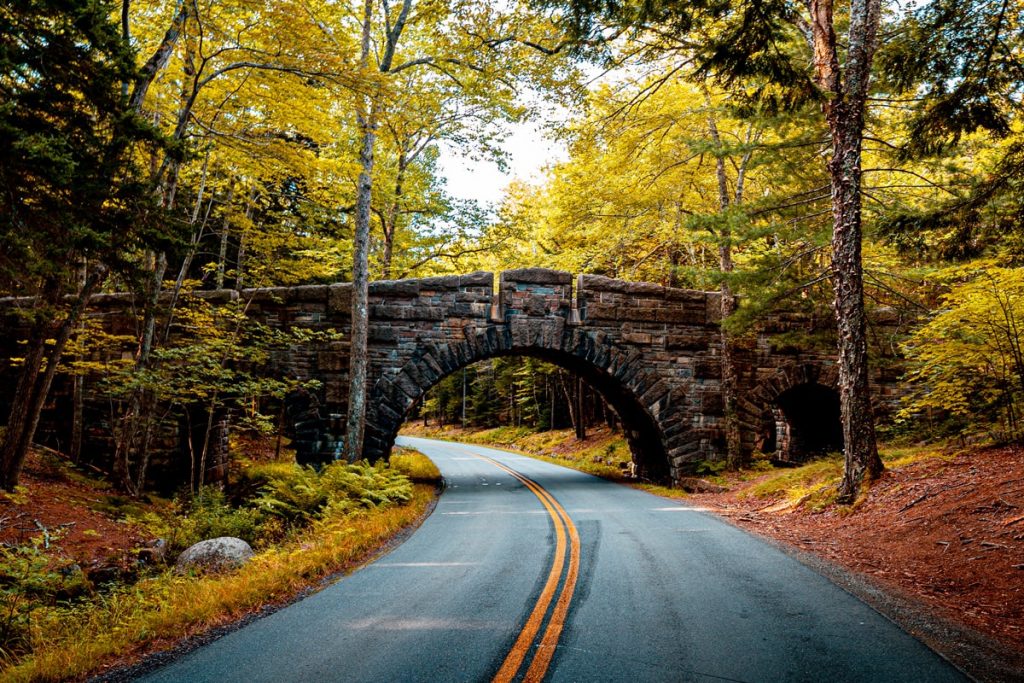 8. Carriage Roads and Bridges
With 45 miles of trails, the Carriage Roads are the perfect way to explore the park. Most of these routes were built in the early 20th century as a way to see the park by horse and carriage. Once in a while, you can still see horses on these roads today! Some of these trails can be popular with hikers, bikers, equestrians, and people with pets, so it's a good idea to brush up on the park rules for safe travel.
This Carriage Road Map is a good place to start to orient yourself in the park and decide where you'd like to go. The Maple Spring/Hadlock Pond loop is one of my favorite ways to explore the carriage roads. Note that some of the carriage roads and trails were damaged in 2021 after heavy rainstorms, so some trails may be temporarily closed or under construction.
If you're thinking of visiting Acadia National Park in winter, the carriage roads are the perfect place to cross-country ski and snowshoe! It's hard to beat the natural beauty of the quiet forest and snowy landscapes in winter. You might even spot animal tracks in the snow!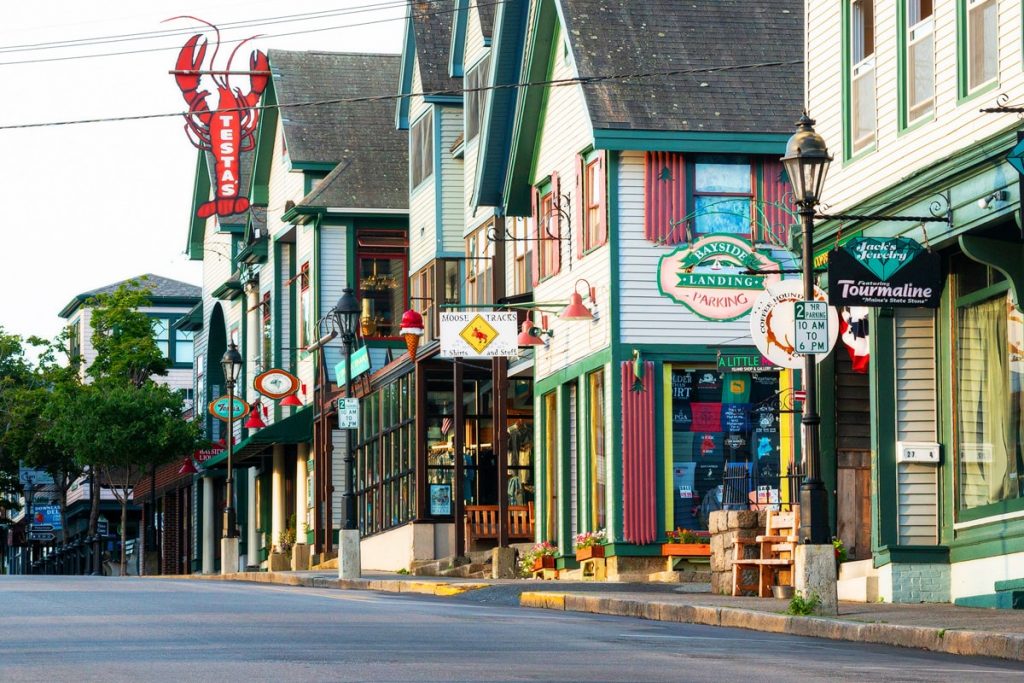 9. Visit Bar Harbor
A trip to Acadia National Park isn't complete without a stop in Bar Harbor, the quintessential Maine coastal town. If you want to stretch your legs, take a stroll along the Shore Path and take in the waterfront and surrounding islands. Bar Harbor is a popular spot for whale watching and kayaking, and cruise ships even pull into port here!
Learn a little more about the local land with a visit to a museum while you're in Bar Harbor. The Abbe Museum is dedicated to sharing the Indigenous history of Mount Desert Island and the stories of the Wabanaki and other local Native communities. Learn about the natural and environmental history of the area at the Dorr Museum, dedicated to the "father" of Acadia National Park, George Dorr. He was almost singlehandedly responsible for the preservation of Mount Desert Island as a national park!
You can even take a ferry ride from Bar Harbor to the Schoodic Peninsula! I recommend parking on the Winter Harbor/Schoodic side. From there, take the ferry into Bar Harbor for an afternoon of walking, perusing local shops, and lots of eating! Make sure you fill up on blueberry pancakes, lobster rolls, and ice cream to fuel your next adventure.
Map of Best Things To Do in Acadia
How To Avoid Crowds in Acadia
As you might expect, Acadia is like many other national parks that see their busiest days on summer weekends and holidays. If you have the flexibility, plan your trip around off-peak days to avoid crowds. Midweek is always a safe bet to find the park a little bit quieter.
Sometimes you simply cannot avoid planning a national park trip on a busy weekend or a summer holiday. And that's ok! There are so many areas of the park to visit that you can still find quiet and solitude even on a busy weekend. Take a drive to Northeast Harbor and visit Asticou Gardens, a gorgeous garden preserve inspired by traditional Japanese design.
When visiting some of the busier spots on the island, I try to go early in the morning before everyone else is awake, or later in the afternoon when the crowds are dwindling. The beauty of summer is that there are plenty of hours of daylight to explore the island!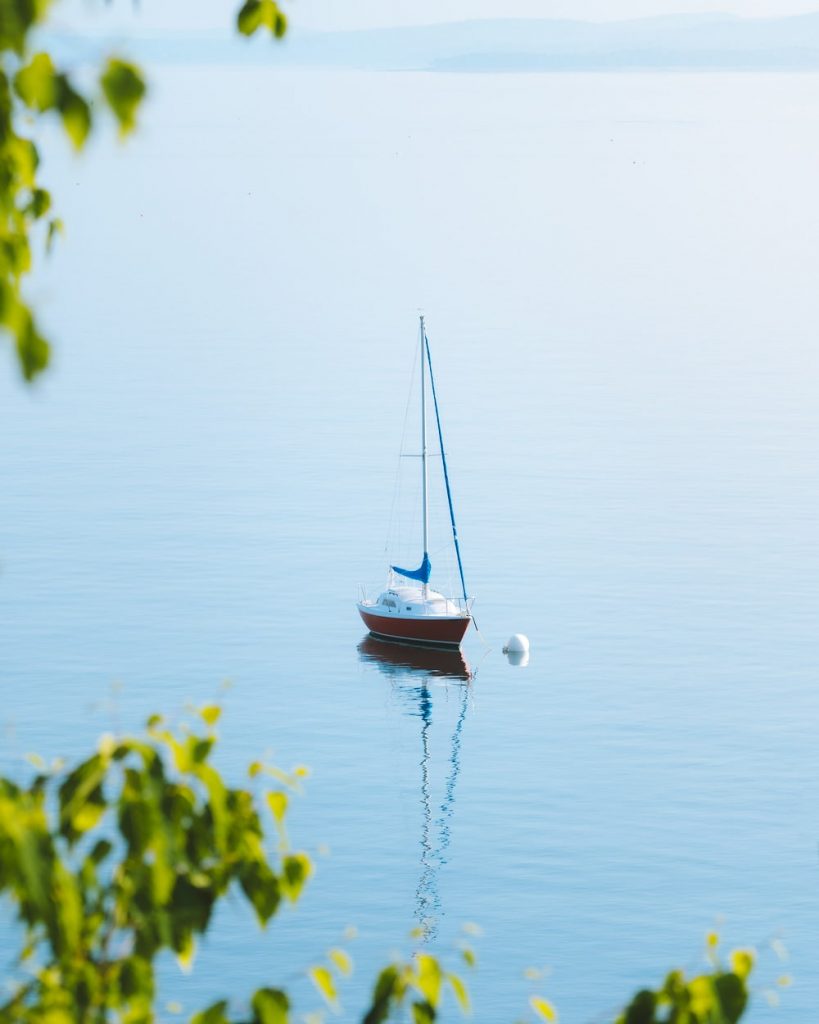 Best Photo Spots in Acadia National Park
Acadia National Park is a magnificent location to capture beautiful and diverse photographs. Two of the best sunrise locations include Cadillac Mountain and Jordan Pond. The most popular sunset spot is Bass Harbor Head Lighthouse – though be prepared for many other photographers during summer! The park is also a popular location for bird photography.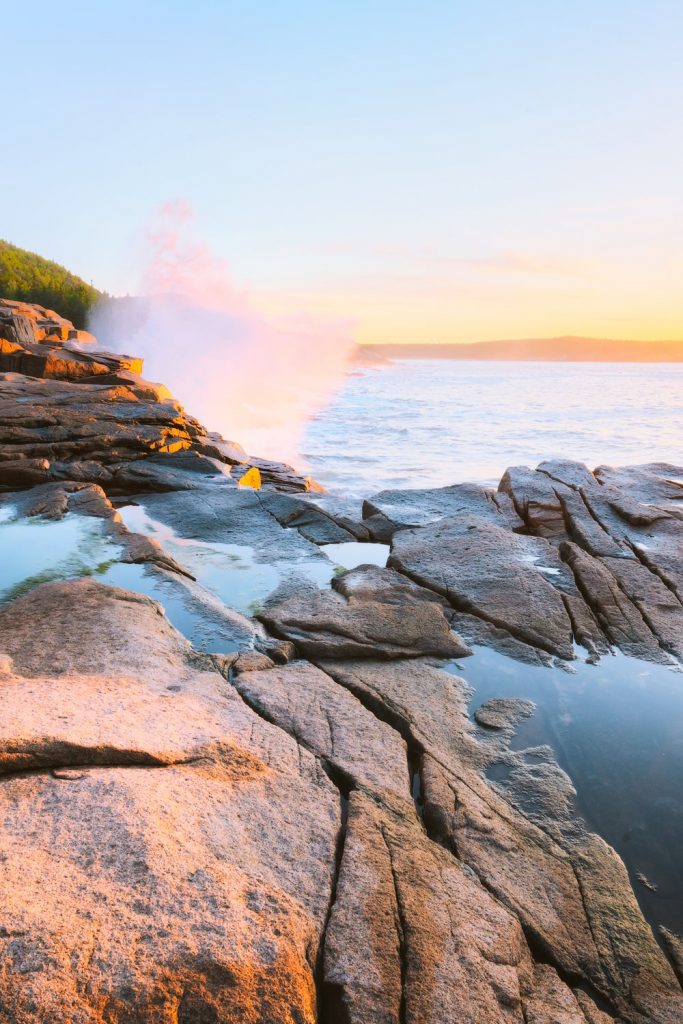 Interesting Facts about Acadia National Park
Acadia National Park was established on February 26, 1919 and it is the oldest designated national park east of the Mississippi River.
Acadia is open year-round, however many facilities within and nearby the park are closed from October through late May.
Birders flock from all over the world to Acadia in the hopes of viewing puffins, warblers, peregrine falcon and other birds of prey.
The park has 26 mountains within its boundaries, including the tallest peak along the North Atlantic Seaboard – Cadillac Mountain (1530 feet)
Acadia is home to at least 40 different species of mammals, including black bears, moose, beavers and coyotes. There used to be mountain lions and gray wolves in the park but they have since left the area.
In 2016 Acadia National Park had almost 3,500,000 visitors, making it one of the most popular parks in the National Park Service.
---
PIN for Later Planning