Hitting the local hiking trails is one of my favorite ways to explore a new area. And Lake Tahoe has some incredible trails! Whether you're in the area for a vacation, just passing through, or looking to plan your next adventure, these are some of Lake Tahoe's best hiking trails. There's an amazing variety of trail lengths and terrain to be found in Lake Tahoe. No matter your ability and experience, Lake Tahoe has an incredible hiking trail for you.
Disclaimer: This blog post may feature some affiliate links, which means I get a small commission if you make a purchase (at no extra cost to you). It's one of the ways I can keep producing free guides and resources for my readers. Learn more about my affiliate policy here. Thank you for the support!
5 Incredible Lake Tahoe Hiking Trails
Nestled on the border of California and Nevada, Lake Tahoe is known for world-class recreation and incredible mountain views. One of the things I love most about the Lake Tahoe area is how easy it is to get around to all the different activities. With plenty of trails in every direction, there's also a great range of hikes to be found here.
These are some of the most incredible Lake Tahoe hiking trails that have a variety of mountain and lake views. With options for easy strolls, strenuous climbs, and everything in between, there's something for everyone here. Lake Tahoe is fantastic to visit year-round, though for summer hiking and lake adventures I recommend visiting from July to October. Keep in mind that some higher elevation trails will tend to hold onto snow even into the summer.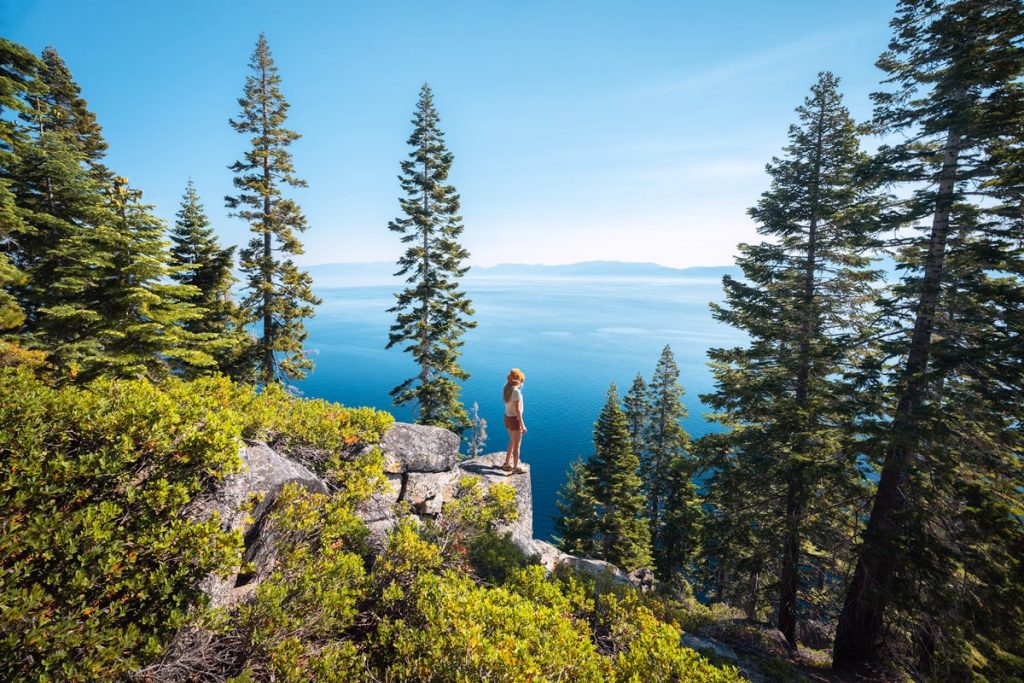 Rubicon Trail
My absolute favorite trail in the Lake Tahoe area is the Rubicon Trail. Although most hikers opt to hike shorter sections of the trail, you do have the option to hike the full 16.4 miles roundtrip. The first 2 miles have spectacular views of Lake Tahoe's crystal clear blue water. Further on you'll see wildflowers, coastal cliffs, waterfalls, and panoramic views of Lake Tahoe and the surrounding mountains. My favorite way to hike this trail is to start at the north end in D.L. Bliss State Park and arrange for a friend to pick you up at the south end in Emerald Bay State Park. That way you get to hike the full trail, without having to hike back to your car at the end!
Distance: 16.4 miles (if you hike all the way out and back)
Elevation gain: 2306 feet
Difficulty: Moderate
Pet friendly: No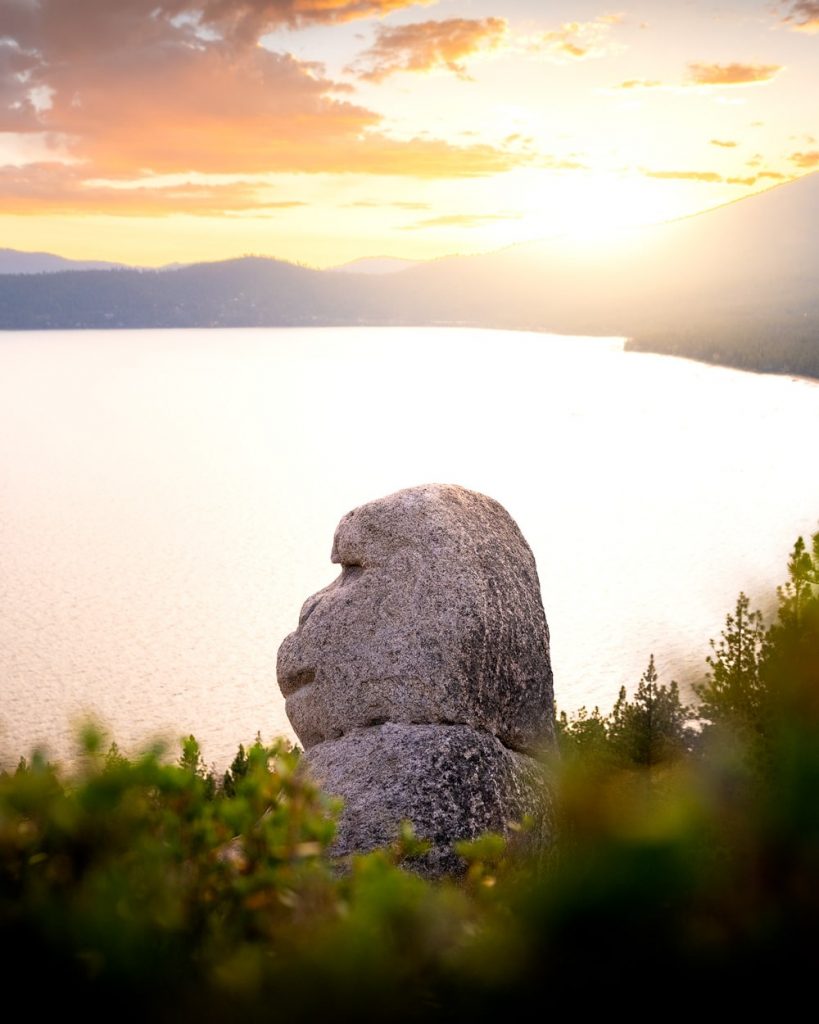 Monkey Rock
This is one of my must-see recommendations for anyone visiting Lake Tahoe! Monkey Rock is a pretty short hike, and well worth the incredible views from the top. This is a good one to stretch your legs when you're on the east shore of Lake Tahoe near Incline Village. Keep an eye out for the famous rock at the top and see if you can spot the monkey resemblance! This hike is a nice option to pack a picnic lunch to enjoy while you take in the views.
Distance: 2.6 miles roundtrip
Elevation gain: 498 feet
Difficulty: Moderate
Pet friendly: Yes, on leash
Insider Tip: The trailhead leaves from the parking lot by Tunnel Creek Cafe, right off highway 89.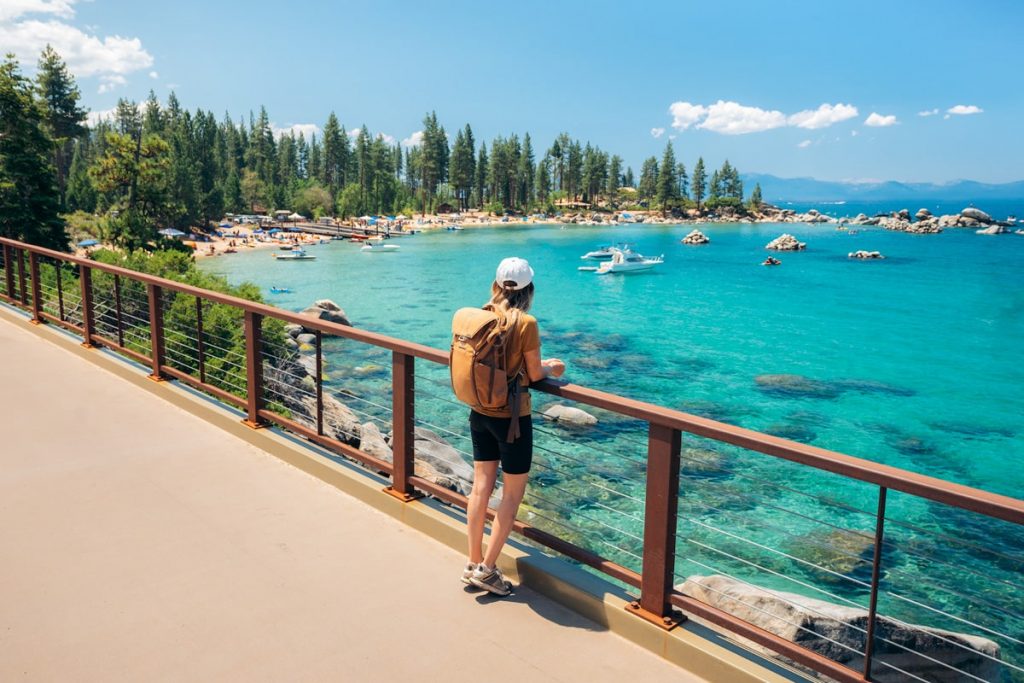 Tahoe East Shore Trail
One of the newer trails here, the Tahoe East Shore trail on the Nevada side of Lake Tahoe is already quite popular! It's a wide, paved path that's accessible for hiking, biking, strollers, and wheelchairs alike. I love that the East Shore Express shuttle stops at multiple points on the trail, so you can head out for a stroll and always take the shuttle back to your car if you don't feel like walking the 6 miles out and back. There are plenty of rest stops and beach access along the way, with gorgeous views of Lake Tahoe surrounding you as you stroll the shoreline. This is one of my favorite ways to explore the shores of Lake Tahoe!
Distance: 3 miles one way
Elevation gain: 144 feet
Difficulty: Easy-Moderate
Pet friendly: Yes, leashed
Insider Tip: If the weather is nice, I definitely recommend packing a swimsuit and a towel. Hidden Beach and Emerald Cove are both great places to take a dip!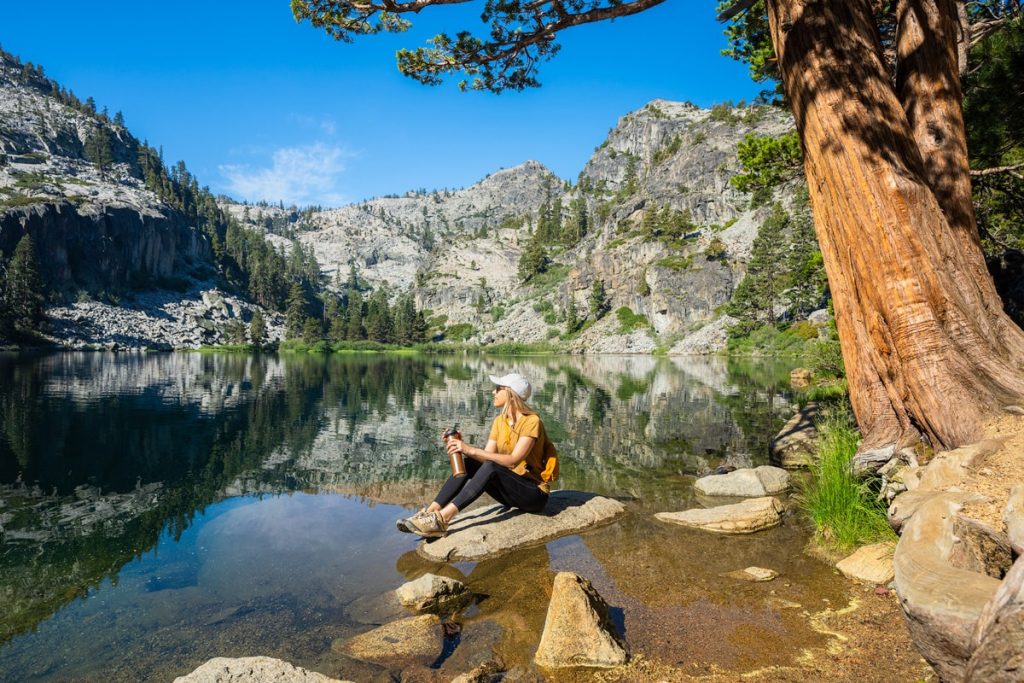 Eagle Lake Trail
With incredible views at the lake and along the trail, Eagle Lake is a great choice for a moderate hike in the Lake Tahoe area. This hike meanders into the Desolation Wilderness of the Sierra Nevada mountain range and has amazing views of craggy granite mountain peaks and lush vegetation along the trail. The surface of the alpine lake itself is often still enough to reflect the mountain backdrop in the waters on a calm, clear day. It's pretty spectacular! I recommend arriving early, especially if you plan on hiking here during a summer weekend. It's a gorgeous spot, so it can get crowded and parking is limited at the trailhead.
Distance: 1.9 miles roundtrip
Elevation gain: 459 feet
Difficulty: Moderate
Pet friendly: Yes, leashed
Insider Tip: Add on Eagle Falls for an incredible waterfall vista while you're in the area!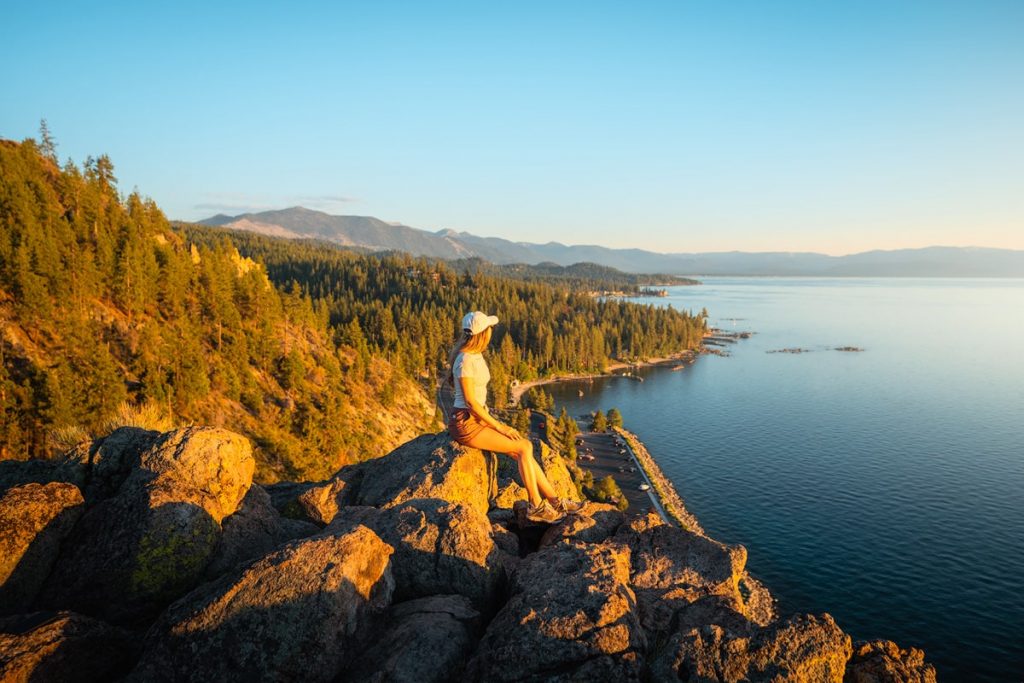 Cave Rock Trail
The Cave Rock trail is a nice option for a relatively quick, easy hike. Located in the South Lake Tahoe area, this is a pretty popular spot for watching the sunset across the lake. You'll get the best views of the surrounding summits if you climb up and perch on the rocks here. But if scrambling up rocks is not your speed, there are also great lake views from the trail itself, so this is an awesome hike if you have pets or small children with you.
Distance: 0.8 miles roundtrip
Elevation gain: 137 feet
Difficulty: Easy
Pet friendly: Yes, leashed
Insider Tip: Looking for a more extensive backpacking trip? The Tahoe Rim Trail is a 170-mile loop trail that circumnavigates the entire lake. Talk about a bucket list hike!
What To Pack When Visiting Lake Tahoe
What you pack for your Lake Tahoe trip will depend on what time of year you choose to visit and what activities you'd like to do. This packing list is geared towards those who like to hike, so includes appropriate footwear, packs, layers, etc. Don't forget to pack a swimsuit and a towel for a refreshing, post-hike dip in Lake Tahoe!
Below you will find my recommended gear items for a trip to Lake Tahoe. Backcountry.com is my go-to retailer for all things outdoors and travel. Use code RENEE15 to get 15th off your first order (some exclusions apply). Click here to shop my gear favorites.
Hiking shoes:
Typically in the summer, you're best off in a lightweight, breathable pair of hiking shoes or trail runners. The Danner 2650 Hiking Shoes are my favorite hiking boots for terrain like this. If you prefer a more solid, supportive hiking boot the Columbia Newton Ridge Plus Waterproof Hiking Boots are a great choice. We also have a guide on all the best hiking shoes, so don't forget to check that out when shopping for new hiking boots!
Merino wool socks:
Wool socks are the best for preventing blisters and also letting your feet breathe. Recommended hiking socks.
Hiking pants, leggings, shorts, Skorts, Dresses:
While I generally opt for leggings while hiking, shorts are a nice option if you want to spend some time in or on the lake! The Stoic Desert Shorts are some of my go-to shorts for warm weather adventures. I have also been loving skorts lately, but choose whatever feels comfortable and practical for you! Recommended hiking pants, hiking skort, hiking dress, hiking leggings.
Quick-dry top:
Merino wool tops are my favorite due to their breathability and odor resistance. Recommended short-sleeve hiking top; long-sleeve hiking top. If you want less material in the hot weather, other good options are lightweight tank tops or sports bras. But make sure to apply and reapply lots of sunscreen to avoid sunburns! I also like to have a long sleeve sun shirt to avoid unnecessary sun exposure if I do feel like I am getting burnt. This one is lightweight and provides UPF protection.
Swimsuit & Towel:
I personally think it's wise to travel with a swimsuit no matter where you are heading, and it's definitely a must-pack for a trip to Lake Tahoe! Quick-dry towels are also great for traveling since they are so lightweight and packable. You won't have to worry about lugging around a heavy, wet towel!
Day pack/hiking backpack:
Choose something with hip and chest straps for optimal comfort and practicality. Recommended backpack.
Hip pack:
When taking short walks or exploring roadside stops I often prefer to opt for a small hip pack instead of a backpack. Just something to fit my phone, lip balm, sunglasses, and any other essentials. Recommended hip pack.
Trekking poles:
Optional but I personally swear by them for hiking longer and steeper trails! Recommended trekking poles.
Mid-layer:
Perfect for chilly mornings and evenings. Opt for something lightweight like a fleece or pullover. Recommended mid-layer.
Insulated jacket:
You will want something warmer for chilly days and during the mornings and evenings when visiting in the spring or fall. Recommended insulated jacket.
Rain jacket:
It's always a good idea to pack a rain jacket and/or windbreaker, no matter where you're traveling or the season. Recommended rain jacket, recommended windbreaker.
Casual clothes:
Pack some casual and/or nicer outfits if you plan to eat out at restaurants. This is of course optional though! Check out my Favorites page on Backcountry for some recommendations.
Navigation:
When driving, have Google Maps or Maps.Me handy. For hiking, carry a physical map and a compass, and download offline maps onto your phone. I use Gaia GPS – click here to get 20% off a Premium membership!
Emergency beacon:
Optional, but can give you and your loved ones some peace of mind when hiking or traveling without phone service. Recommended emergency device.
Headlamp + batteries:
For hiking in the dark, camping, or in emergency roadside situations. Recommended headlamp.
Drink bottle + Water Jug:
Pack a reusable water bottle and you could also consider using a water bladder inside your backpack when hiking. Since it can get quite hot it's a lot easier to get dehydrated. Electrolyte aids are a great addition when hiking in warm climates (they're great for travel/flying, too!) I like to keep a larger water jug in my car so that I don't have to rely on finding water fillup stations. Lastly, I also like to hike with a lightweight water filter to ensure I don't get sick when drinking from streams.
Sun hat:
Bring along either a cap, bucket hat, or wide brim hat to protect your face from the sun. Recommended cap; bucket hat; wide brim hat.
Sunscreen:
Self-explanatory. This one is reef safe and doesn't contain any chemicals that will harm you or the environment. Don't forget a lip balm with sunscreen too.
Sunglasses:
Polarized sunglasses are best for eye protection.
Don't forget to use code RENEE15 to get 15% off your first Backcountry.com order! (some exclusions apply) Click here to shop my favorites.
First aid items:
Always carry a small first aid kit with essential items like blister plasters and emergency supplies. Recommended lightweight first aid kit.
Phone + driver's license/ID:
Always best to keep these on you in case your car is broken into. Recommended lightweight wallet (or you can simply use a small binder clip!)
Camera + batteries:
Optional but trust me, you will want a camera to capture the amazing scenery! Check out the camera gear I use to capture my travel photos and the camera bag I pack it all in!
Want more packing & gear tips? Check out our guides on what to wear hiking, car camping gear essentials, how to plan a national parks trip, and the best hiking shoes.
Where to Stay in Lake tahoe
Since Lake Tahoe is such a popular adventure destination, you'll have quite a few options to choose from for accommodations! Whether you stay at a local Lake Tahoe resort or find a cozy vacation rental, there are plenty of amenities around the lake for a memorable trip. If spending the night sleeping under the stars is more your style, you can check out local campgrounds on The Dyrt. Use my code reneeroaming for a free 30-day trial.
Here are some hotels and rentals that look like great options:
More Things To Do In Lake Tahoe
Lake Tahoe is pretty well known for being an adventurer's paradise, and for good reason. On top of some of the most amazing hiking trails in the country, Lake Tahoe has incredible stand-up paddleboarding, world-class mountain biking trails, and even some amazing sightseeing. The winter months have amazing options for skiing, snowboarding, and snowshoeing, too. I have plenty more suggestions on fun adventures in the area in my Reno and Lake Tahoe Adventure Getaway guide.
Final Thoughts On The Best Lake Tahoe Hiking Trails
There are plenty of amazing hiking trails in Lake Tahoe, so this is definitely not an exhaustive list. But these are my 5 favorite Lake Tahoe hiking trails that you should put on your bucket list! Have you visited Lake Tahoe yet? What are your favorite hiking trails in the area? Let me know in the comments so we can plan some more hiking adventures!
---
PIN for Later!