Williamsburg Virginia is a charming city known for its Colonial-era history, delicious food, and close proximity to a wide range of activities. It is one of three areas in the Historic Triangle of Virginia, along with Jamestown and Yorktown. I recently visited Williamsburg and spent 4 days immersing myself in everything the area has to offer. It didn't disappoint!
I was a big history buff in school and I love exploring nature (if you hadn't already gathered haha), so Greater Williamsburg's combination of natural and historic sights was perfect! In this guide I am sharing everything you need to know to plan your own trip, including the best things to do, where to stay, amazing places to eat, and the ultimate itinerary!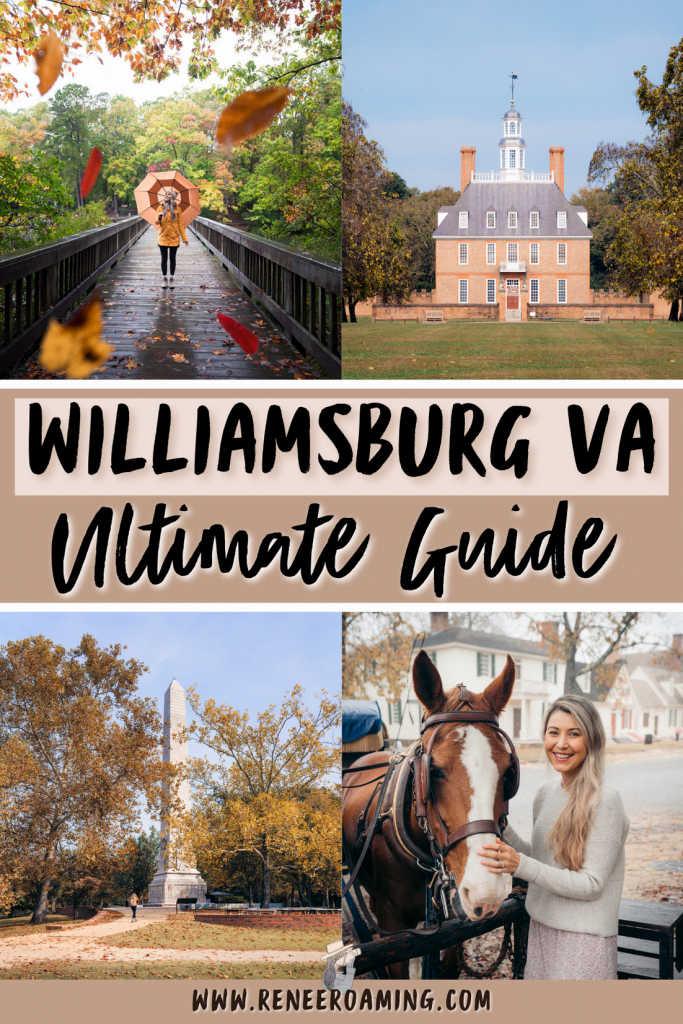 Thank you to Visit Williamsburg for hosting my husband and I during our time in Williamsburg and for sponsoring this blog post. As always, all opinions are my own and 100% honest.
Williamsburg Virginia Guide and Itinerary
One of the best things about Williamsburg is that it truly is a year-round destination and is beautiful throughout all the seasons. We chose to visit during late October so we could enjoy the fall colors and cooler temperatures. It was so magical to experience the combination of green and golden trees, foggy mornings, and crisp nights! In total we spent 4 days exploring the Williamsburg area, but it would also make for the perfect long weekend destination.
My husband and I chose to take a couple's getaway to Williamsburg, but our itinerary could easily be adapted for families. We saw all kinds of travelers during our trip, including honeymooners, families, older visitors, and those with disabilities. It's a very inclusive and accessible destination.
In case you don't know the lay of the land… Greater Williamsburg is most famous for the Historic Triangle of Virginia. The Colonial Parkway connects this triangle and the Colonial National Historical Park. You can see what I mean by looking at the map below. Ok, let's jump into all the best things to see and do!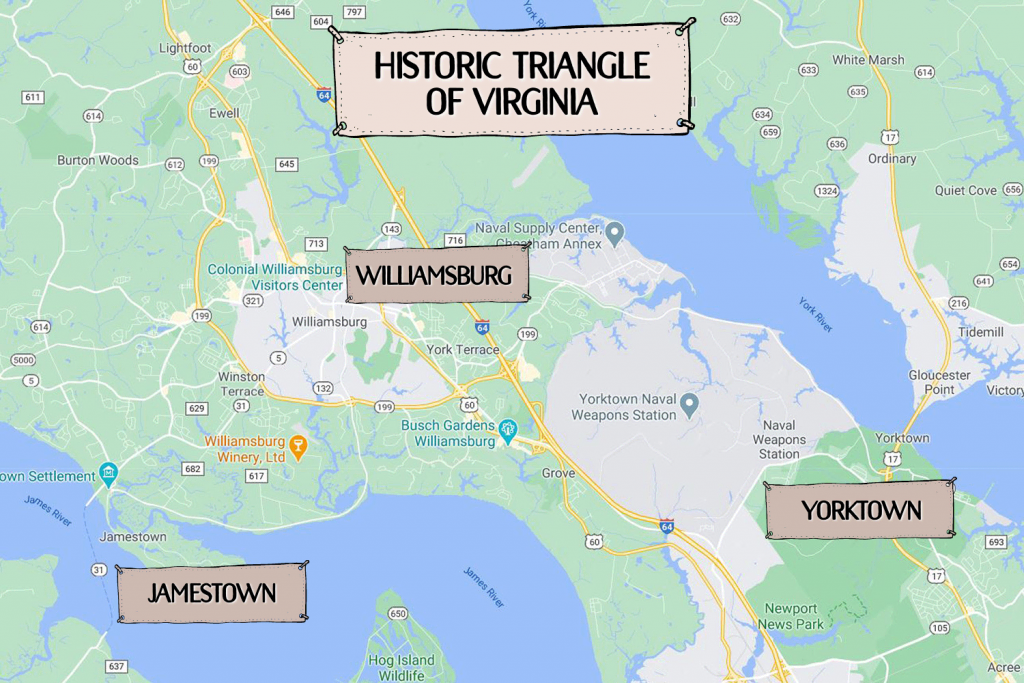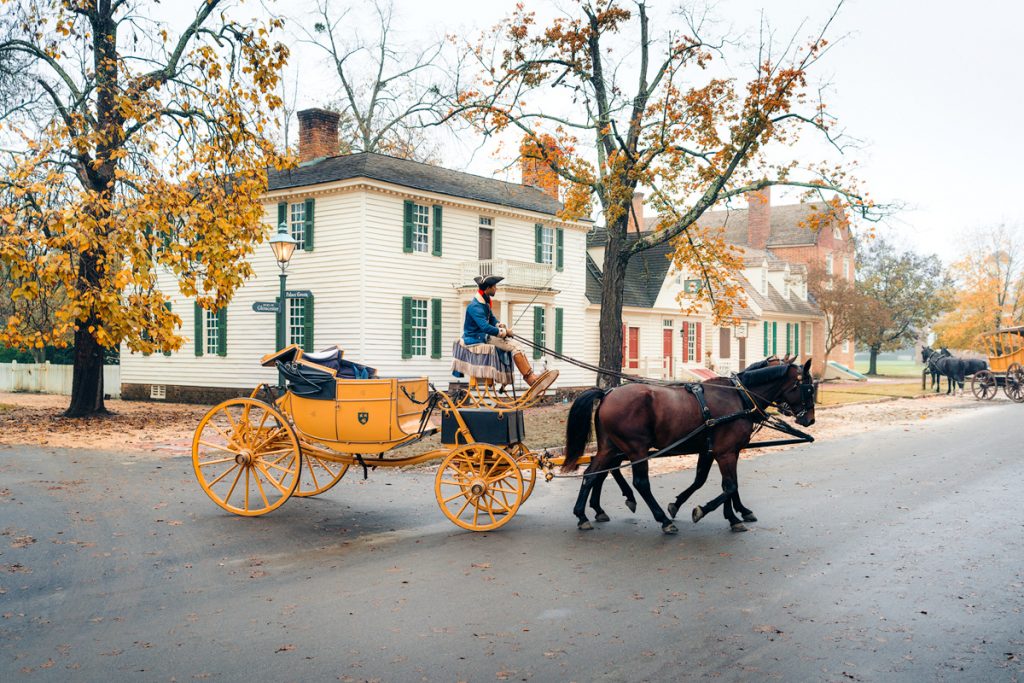 Things to do in Williamsburg Virginia
There are so many things to do in the Williamsburg area! To make it easy for you, I have broken them down into categories below. You can also refer to the map for color-coded categories and instructions on where to find each activity.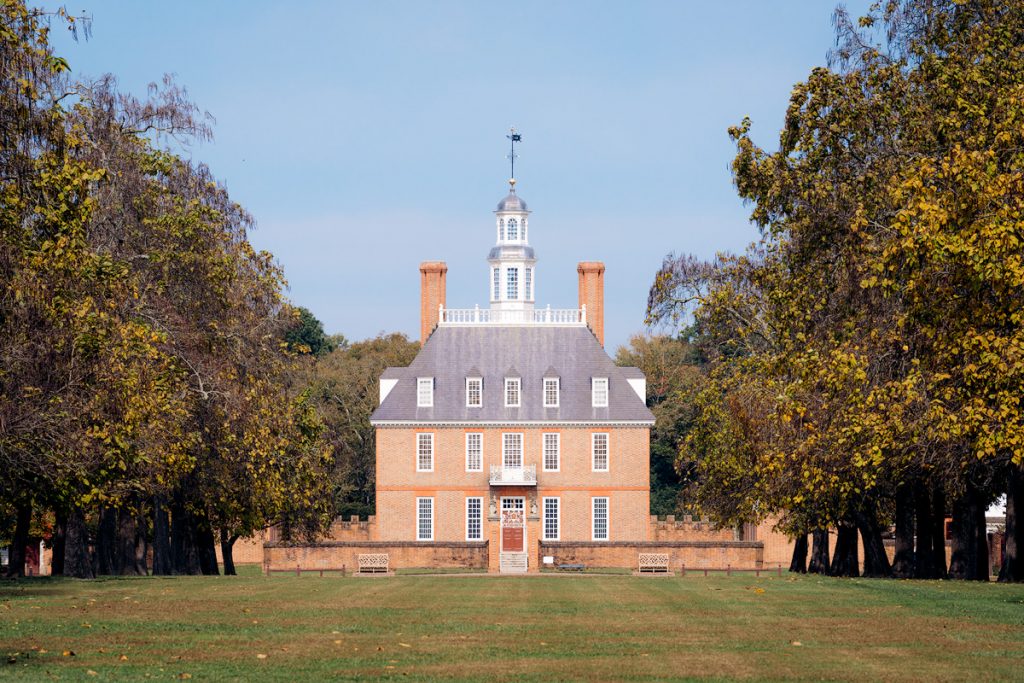 Explore Colonial Williamsburg
A highlight of your visit to Williamsburg will be exploring the Colonial Williamsburg Historic Area. Spanning 301-acres, Colonial Williamsburg is the world's largest living history museum. Visitors can wander the beautiful streets and be transported back into the 18th century when Williamsburg was the center of government for the Colony of Virginia.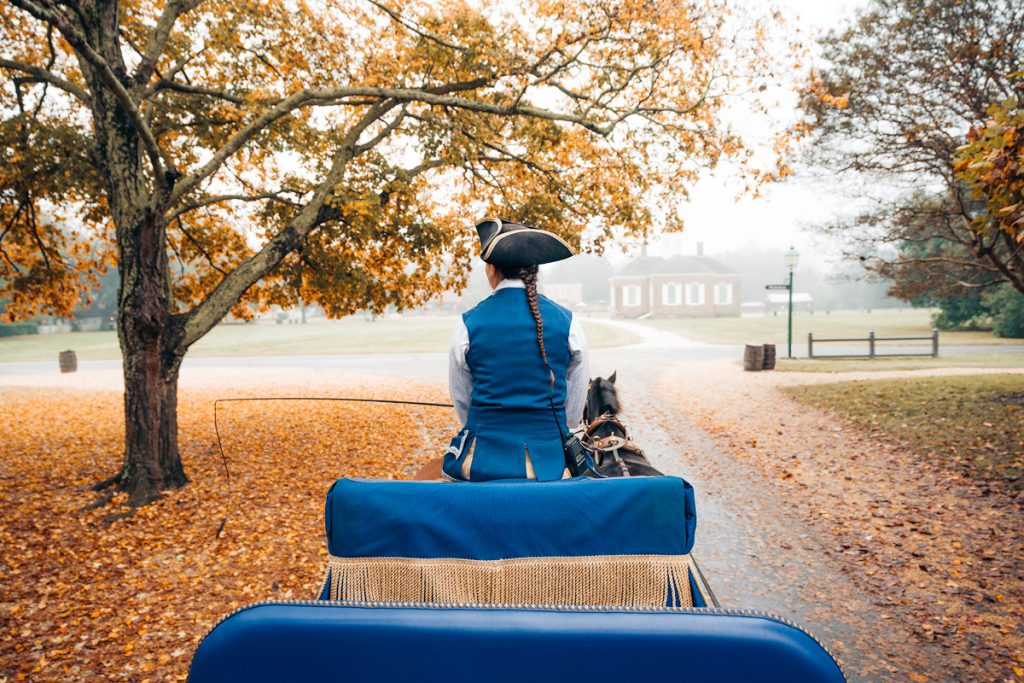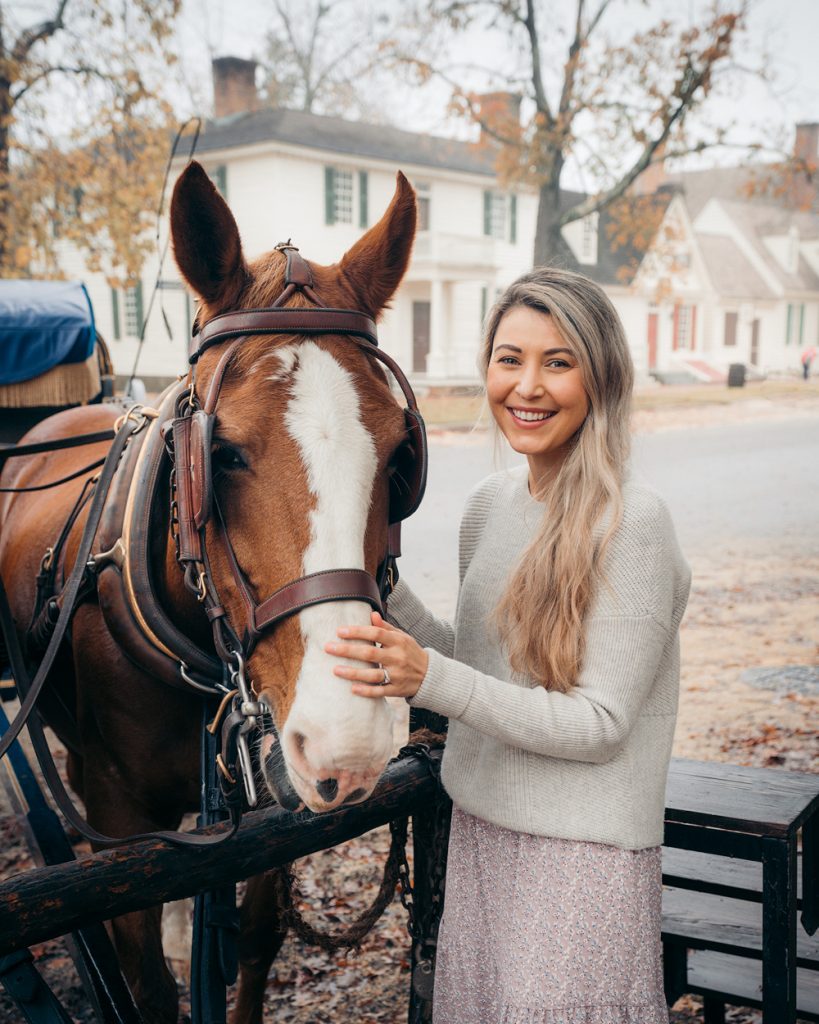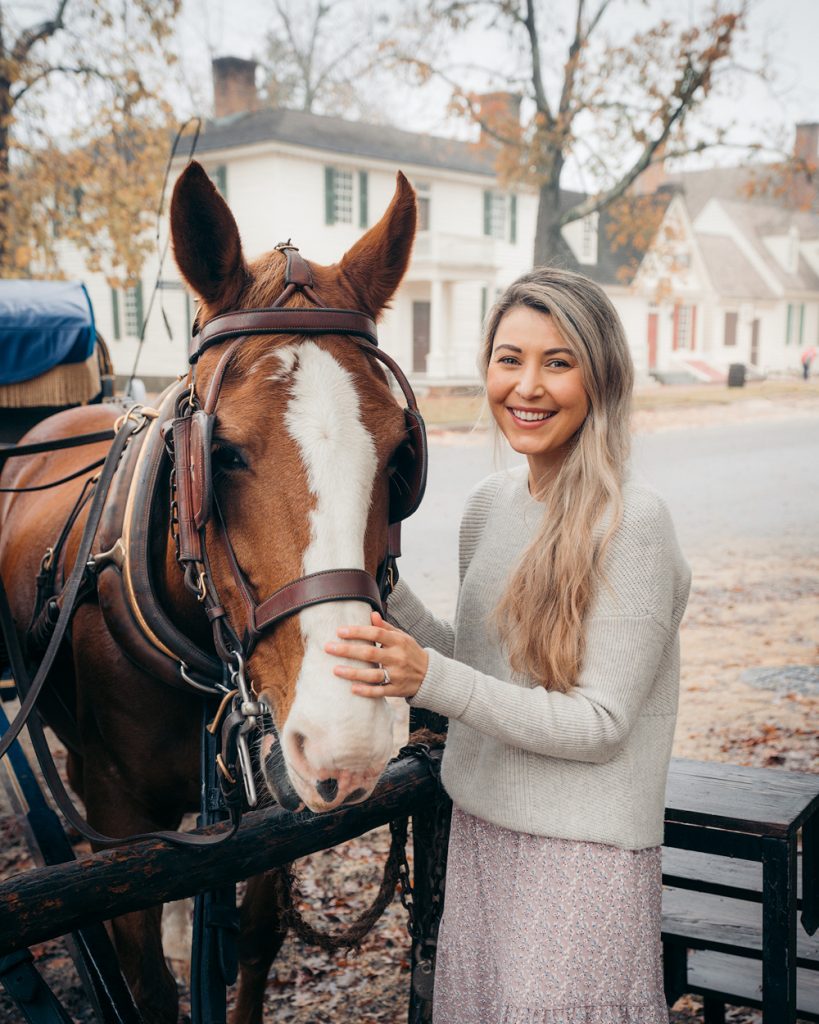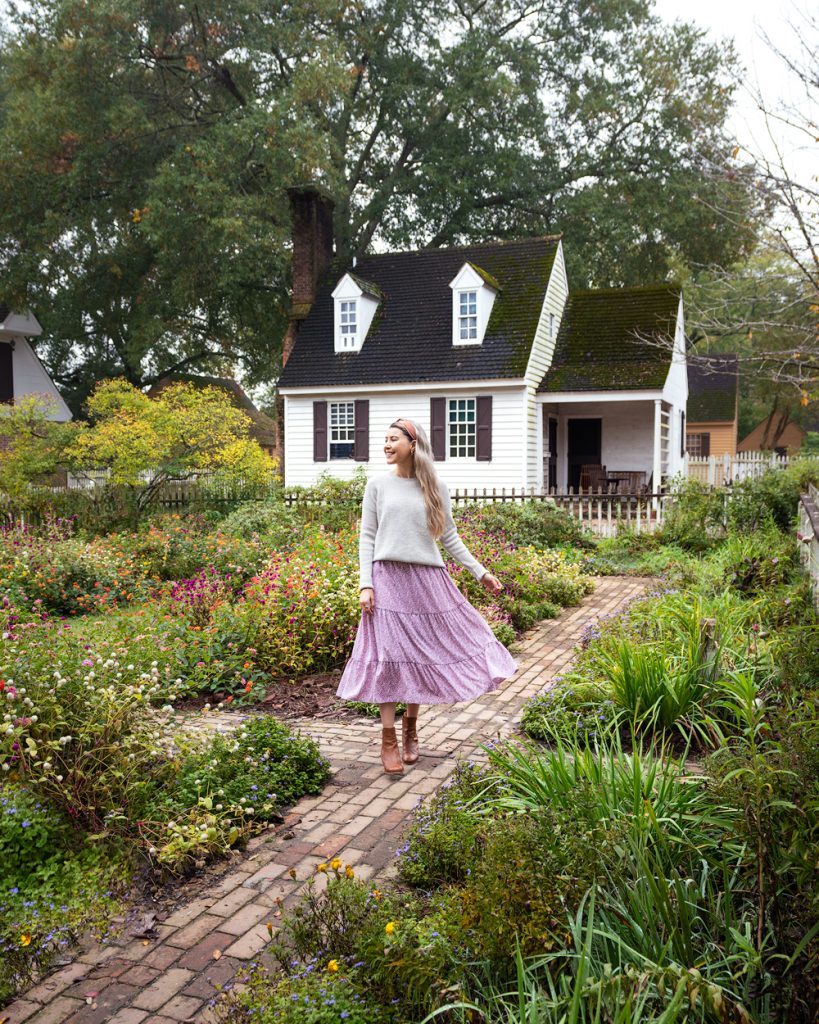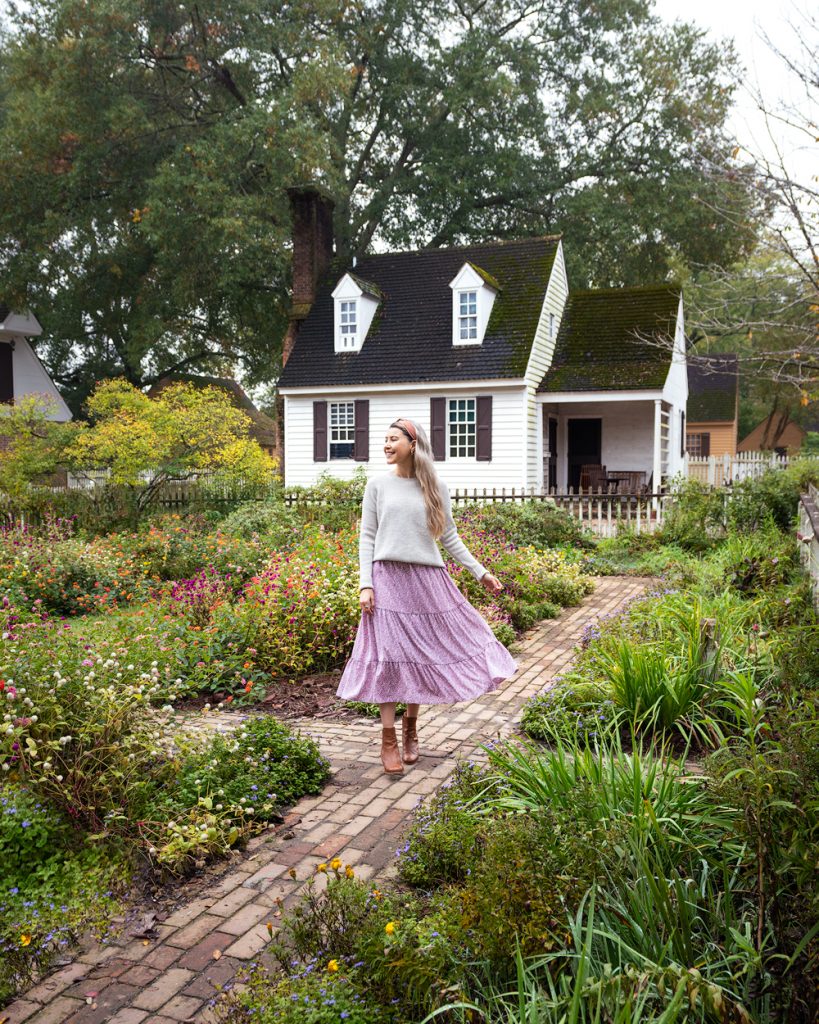 Be sure to stroll down Duke of Gloucester Street and visit The Governor's Palace and The Capitol. Many areas of Colonial Williamsburg can be accessed free of charge, but some buildings and gardens will require you to purchase a ticket.
We opted to take a horse-drawn carriage ride through the Historic Area, and it was one of the highlights of our visit. Our driver was very friendly and shared knowledge about the different buildings and history. Click here for more information on Colonial Williamsburg and taking a carriage ride.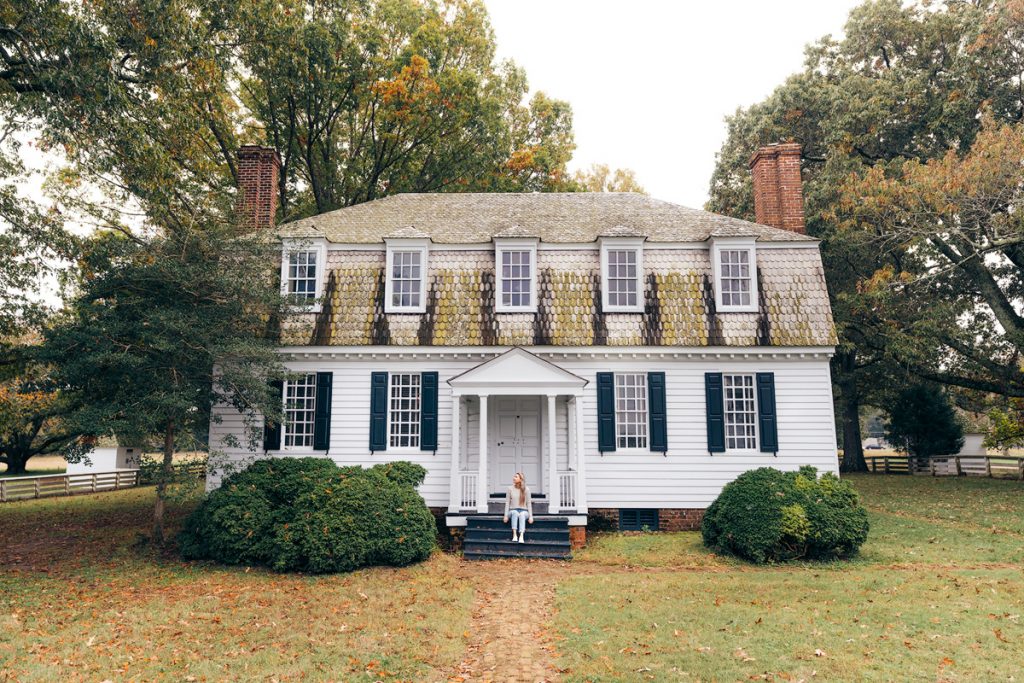 Historic Yorktown is another must-visit during your time in Williamsburg. The area is most famous for being the site of the Revolutionary War Siege of Yorktown (September 28 – October 19, 1781). This is where Lord Cornwallis surrendered his British army to General George Washington, effectively ending the American Revolutionary War.
Visitors to Yorktown can stroll Riverwalk Landing and Yorktown Beach, imagining what it would have been like as an active port in the 17th and 18th centuries. We picked up some take-out fish and chips from Yorktown Pub and ate picnic-style down by the water, so good!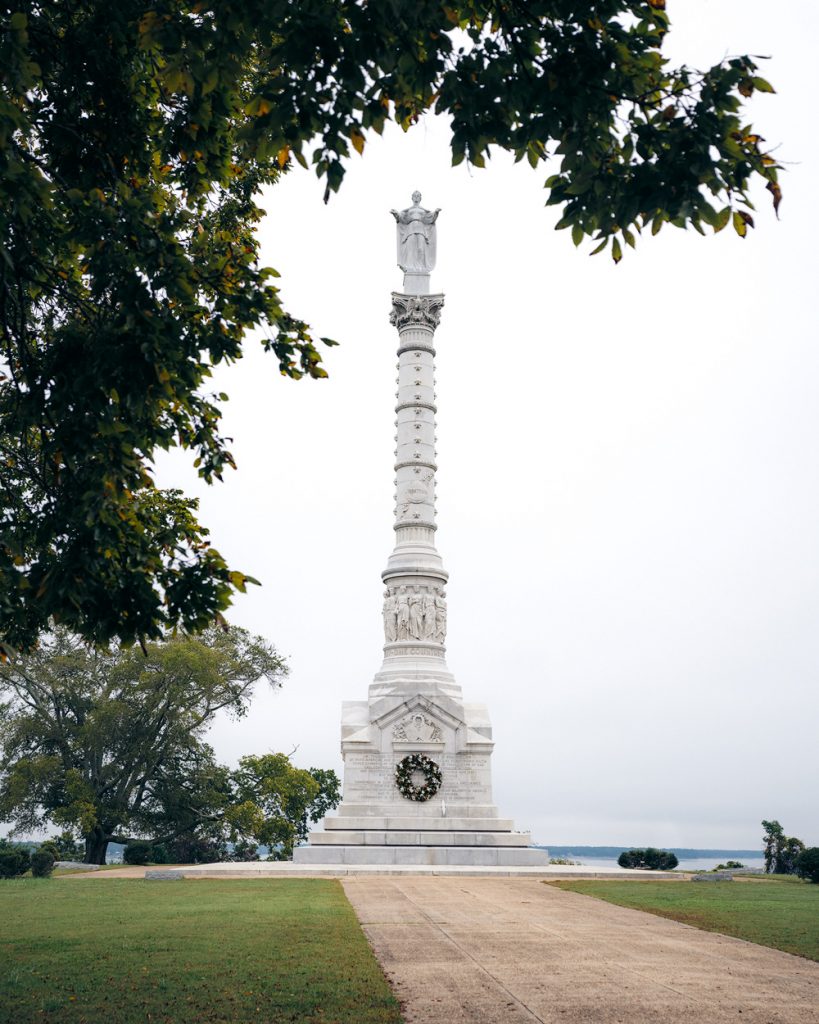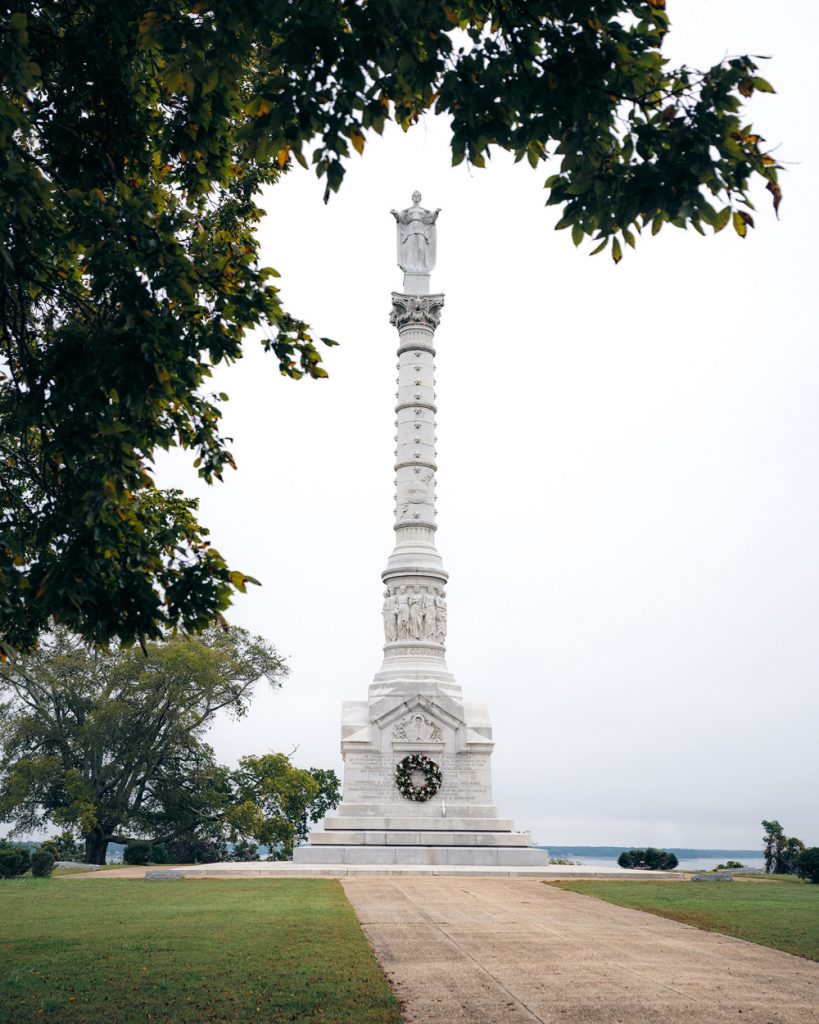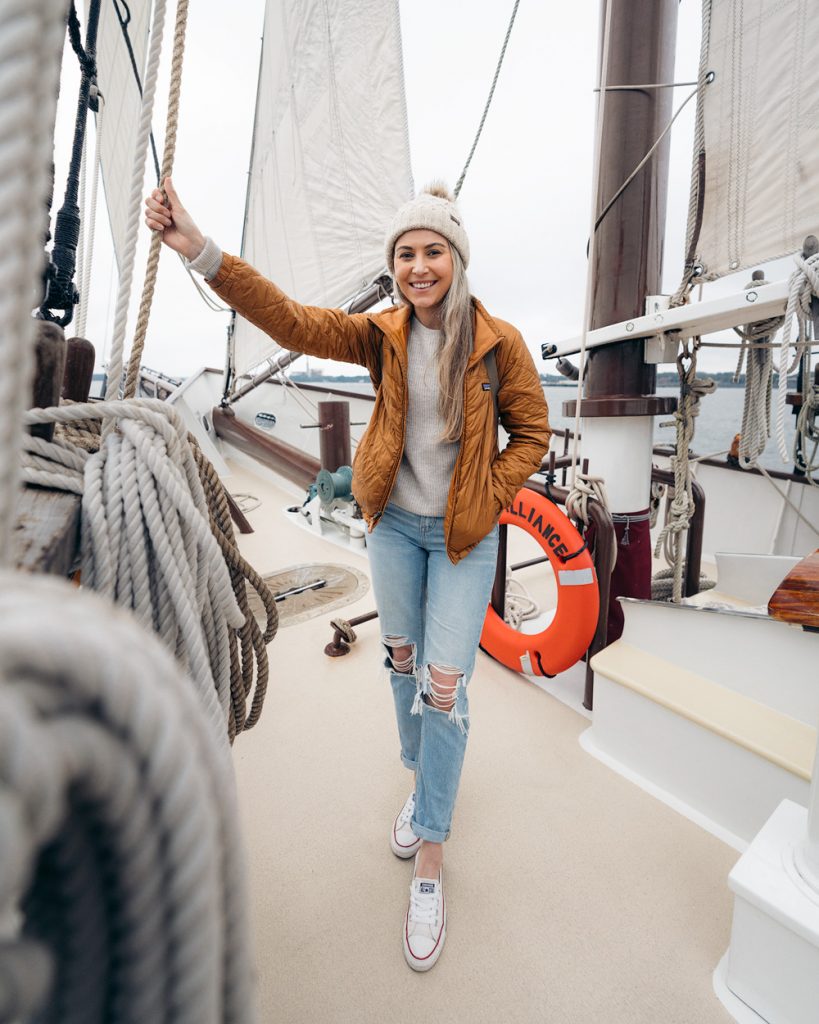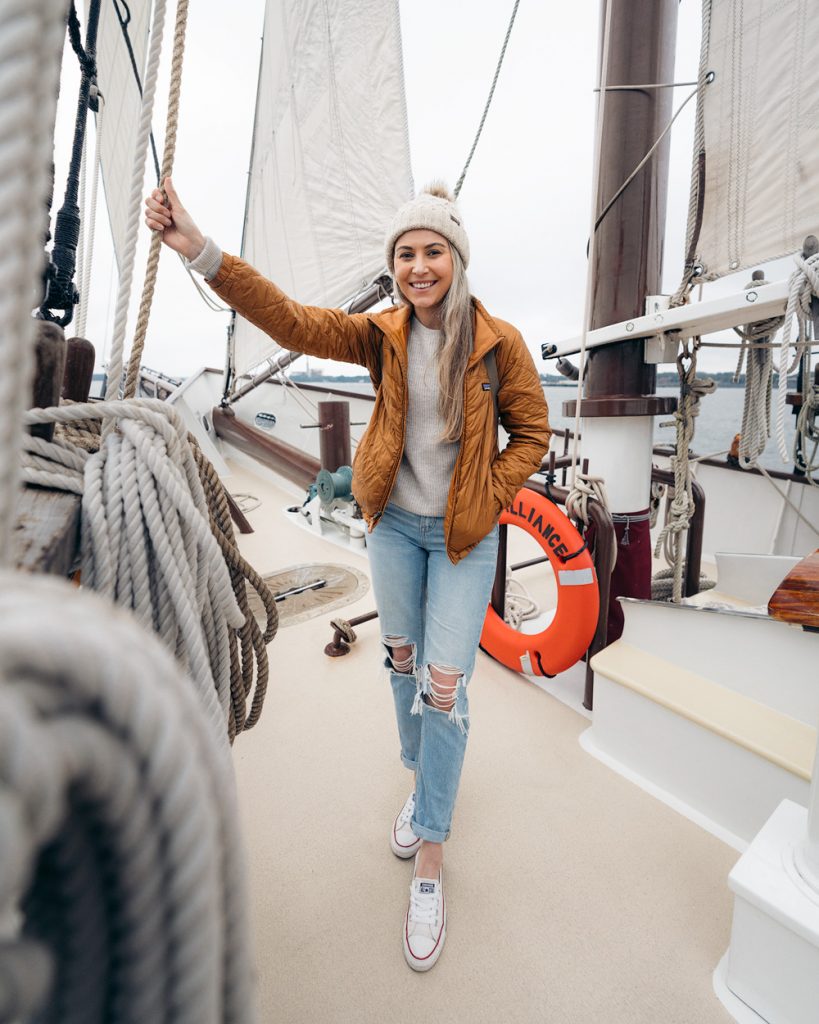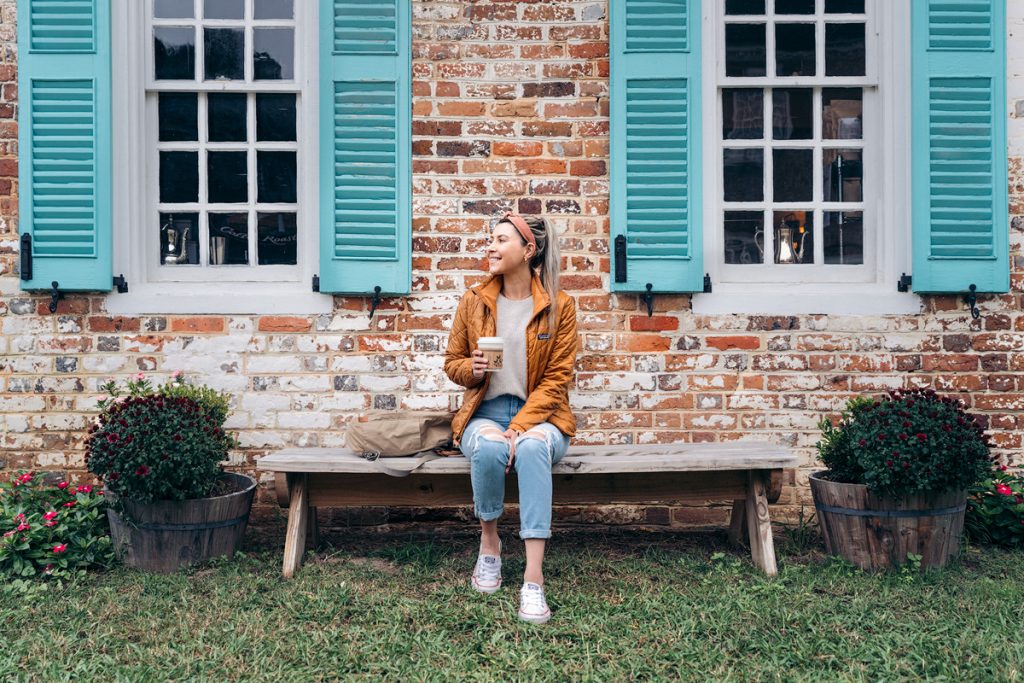 We opted to take a history tour from Mobjack Bay Coffee Roasters to see the Yorktown Battlefield. Our historian guides, Michael and Maureen, were absolutely so wonderful. They catered the tour to our knowledge base (or lack thereof!) and we learned so much about the Revolutionary War, the Battlefields, and influential historical figures. Click here to book your own guided tour.
You can also drive around the Colonial Historical Park and Yorktown Battlefield via a self-guided tour. Admission is free in 2020 but usually a National Park entrance fee is required ($10 for adults, under 15 free). There is also a free Yorktown Battlefield Tour Guide App that you can use while driving the Yorktown Battlefield tour roads, or in the village of Yorktown.
Another fun thing to do in Yorktown is to go sailing on the Schooner Alliance, by Yorktown Sailing Charters. We opted for the sunset sail and enjoyed evening views of the York River before heading back to town for dinner.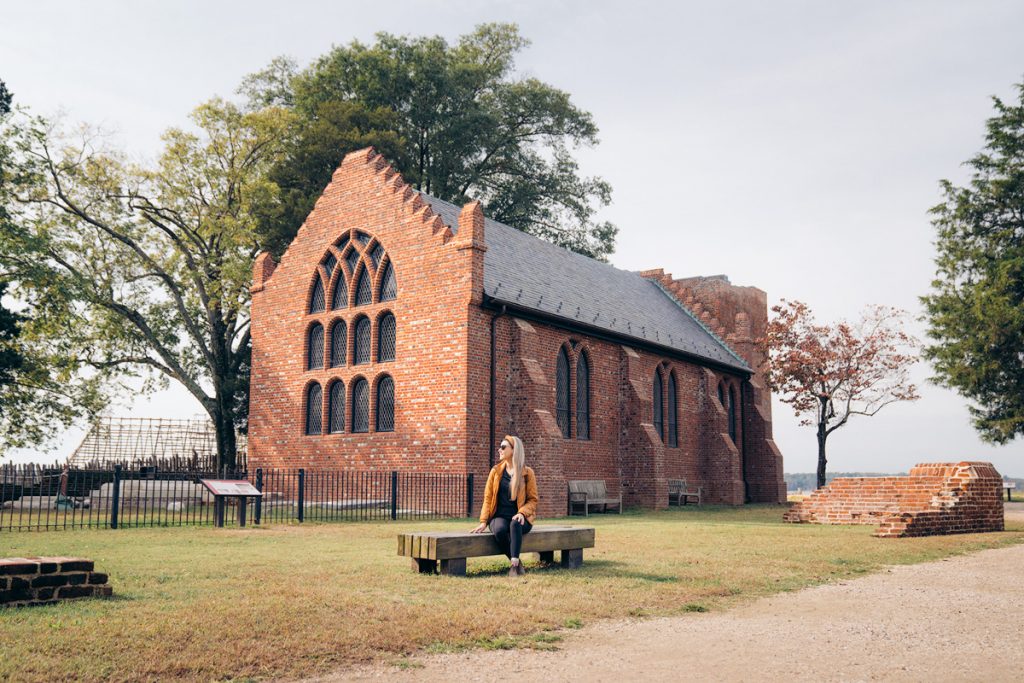 Visit Historic Jamestown Island
Jamestown Island is the original site of the first permanent English settlement in North America (1607). It has now been acquired by the National Park Service and Preservation Virginia and is part of the Colonial National Historical Park. Visitors can also learn about native peoples of the area, the Powhatans, and the 1619 arrival of African slaves to Virginia.
An archaeological project called Jamestown Rediscovery has established the location of the original Jamestown Fort (1607-1624) and recovered more than three million artifacts. It's very likely that you will see archaeologists working by the James River during your visit to Historic Jamestowne (say 'hi' – they are super friendly!) Be sure to check out the Voorhees Archaearium (museum), Memorial Church, and the Tercentenary Monument to see some of these artifacts and other historic structures.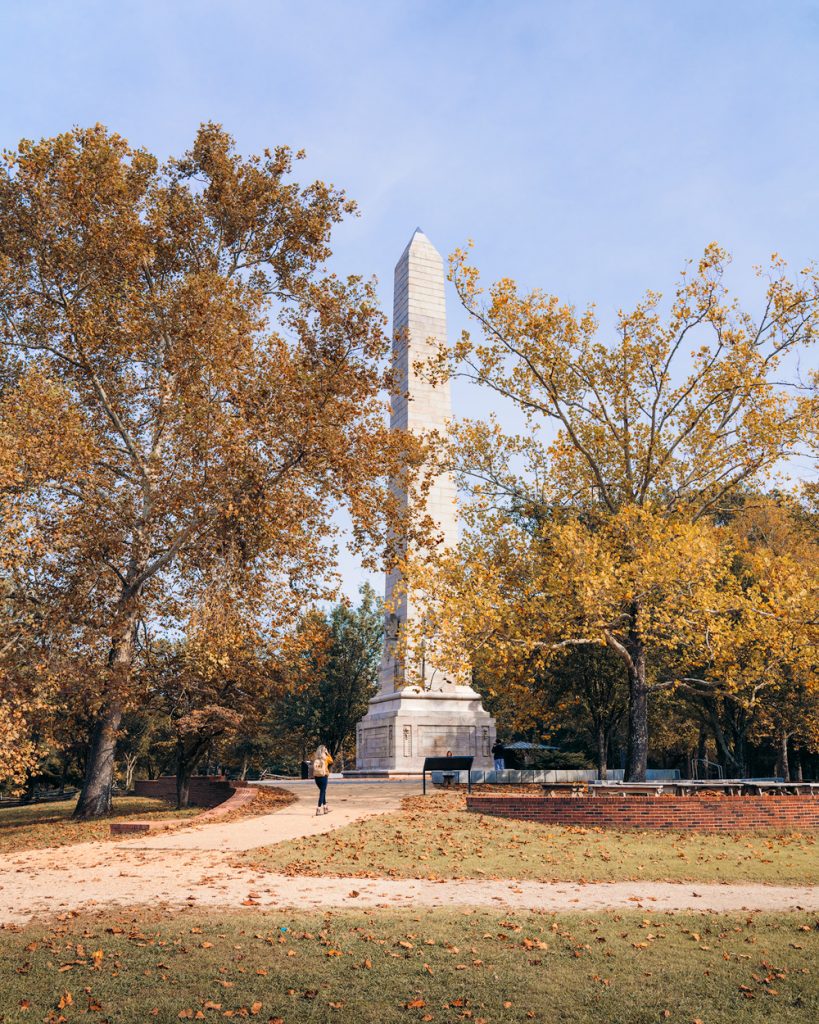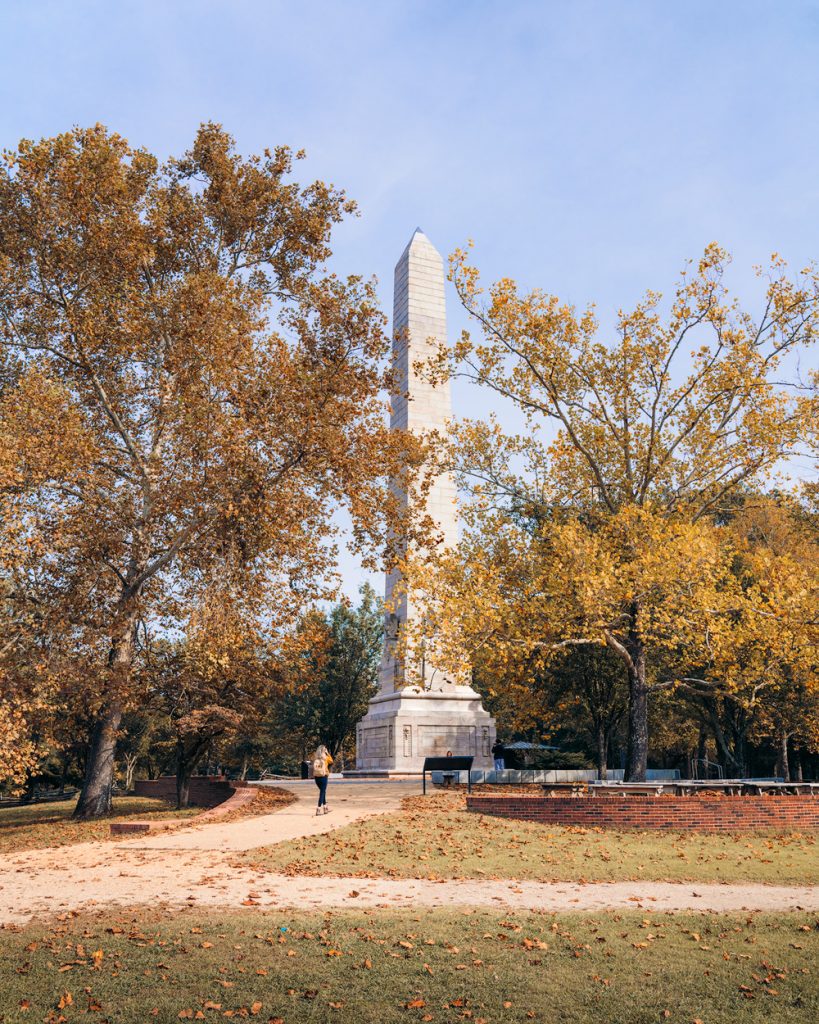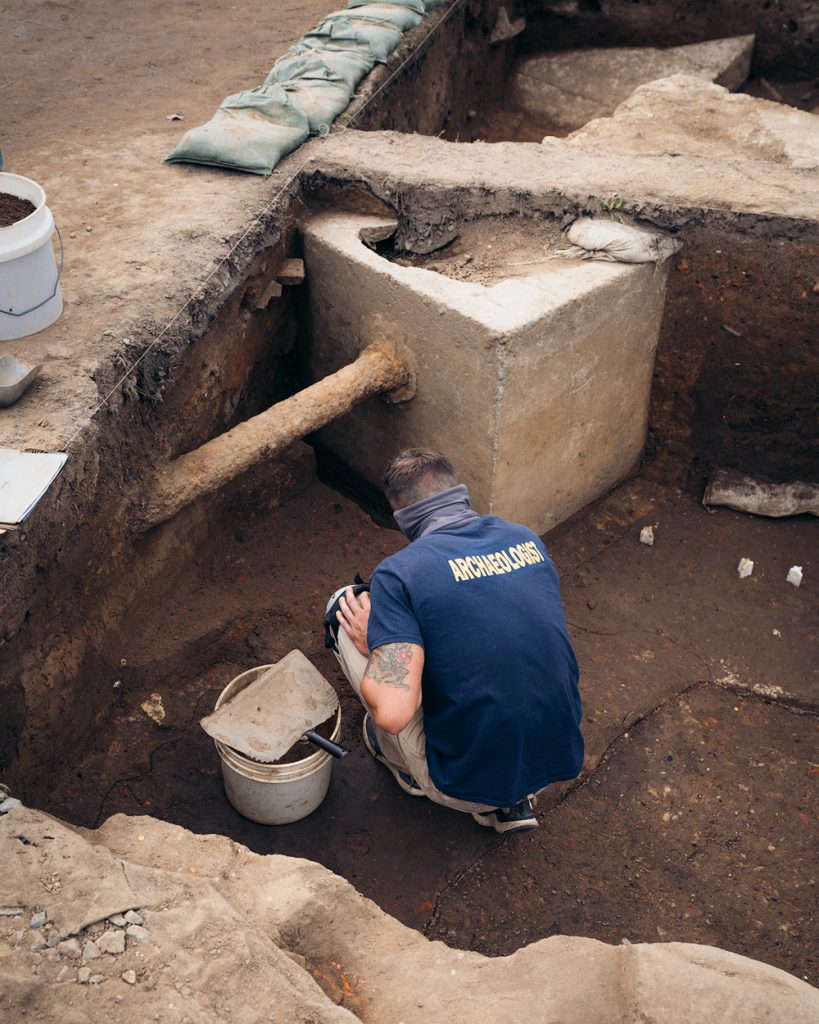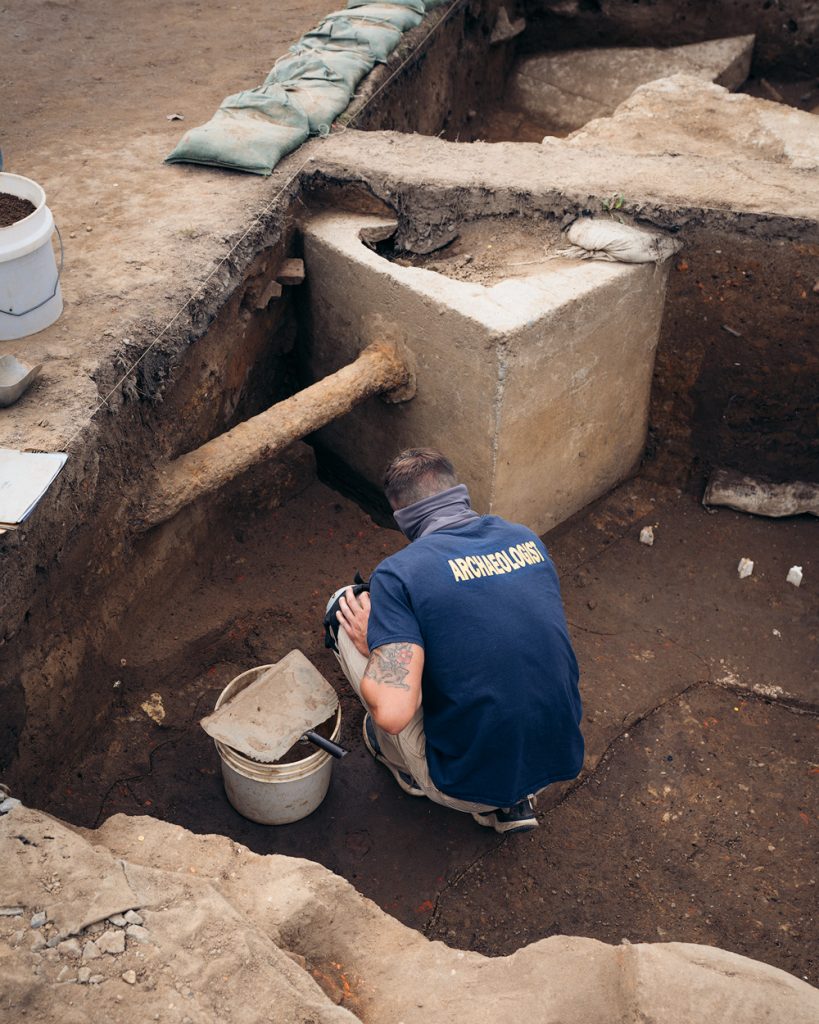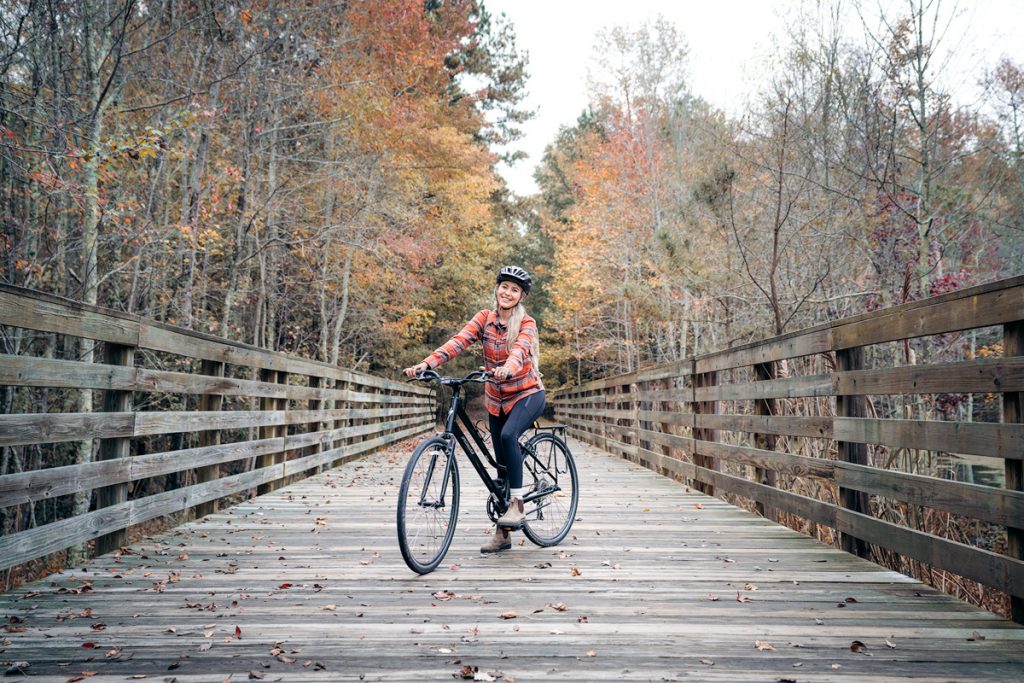 During your visit to Jamestown Island, I highly recommend driving or biking Island Drive. There are two options for touring, either a 3 mile one-way loop, or a 5 mile one-way loop. We opted to rent bikes from Spoke + Art Provision Co. and ride out to Jamestown Island along the Virginia Capital Trail. It was a really fun way to explore the area and get up close to nature!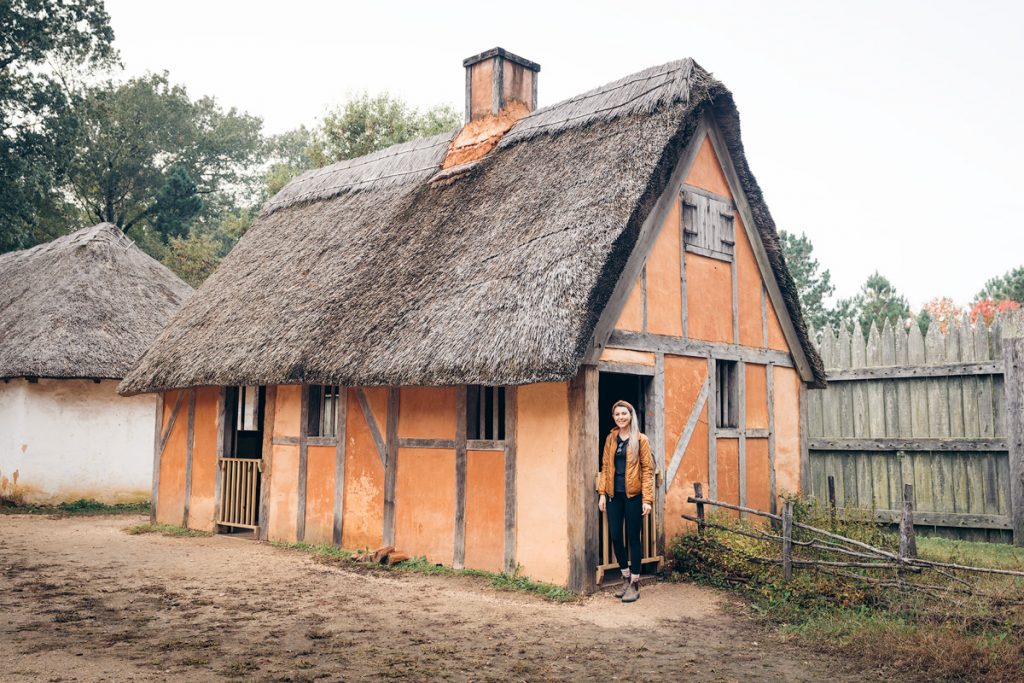 Tour Jamestown Settlement
Jamestown Settlement has been created by the Jamestown-Yorktown Foundation to give visitors a glimpse at what this part of Virginia would have looked like in 17th century Virginia. Start off by watching the introductory film and walking through the gallery exhibits, then make your way outside to explore recreations of James Fort, the town of Paspahegh (a Powhatan village), and the three ships that sailed to Virginia in 1607. Click here for admission information and tickets.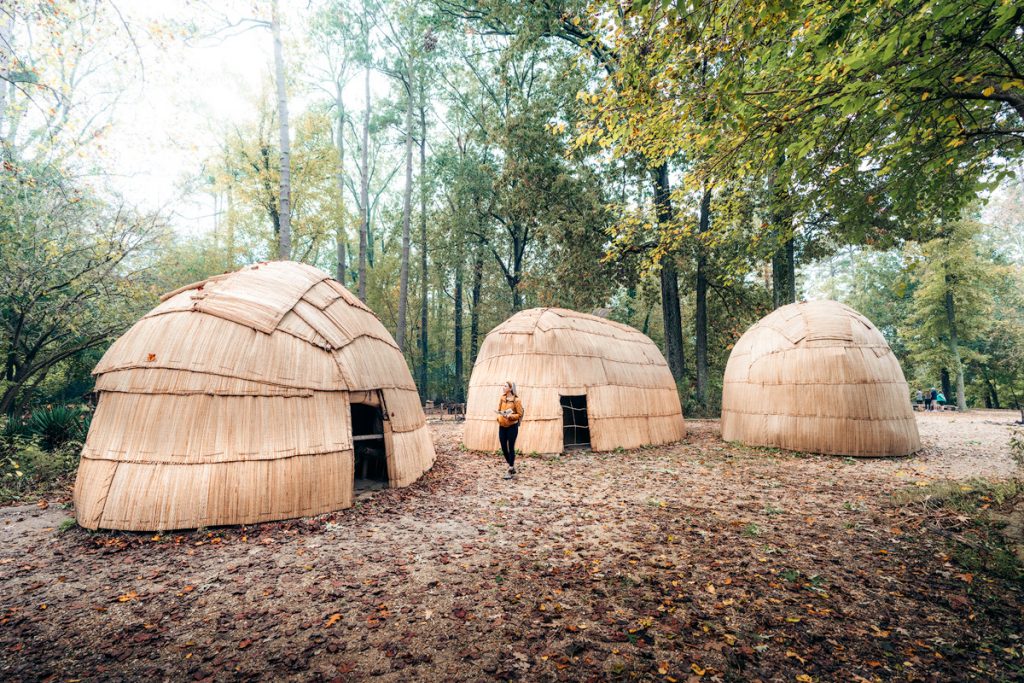 I was impressed with the vast information available at Jamestown Settlement, including that of the Powhatan Indians, west-central Africans, and Europeans. I find that historic sites often gloss over how native peoples and Africans were treated during colonization, but here I felt like all sides of the story were available for visitors to learn about.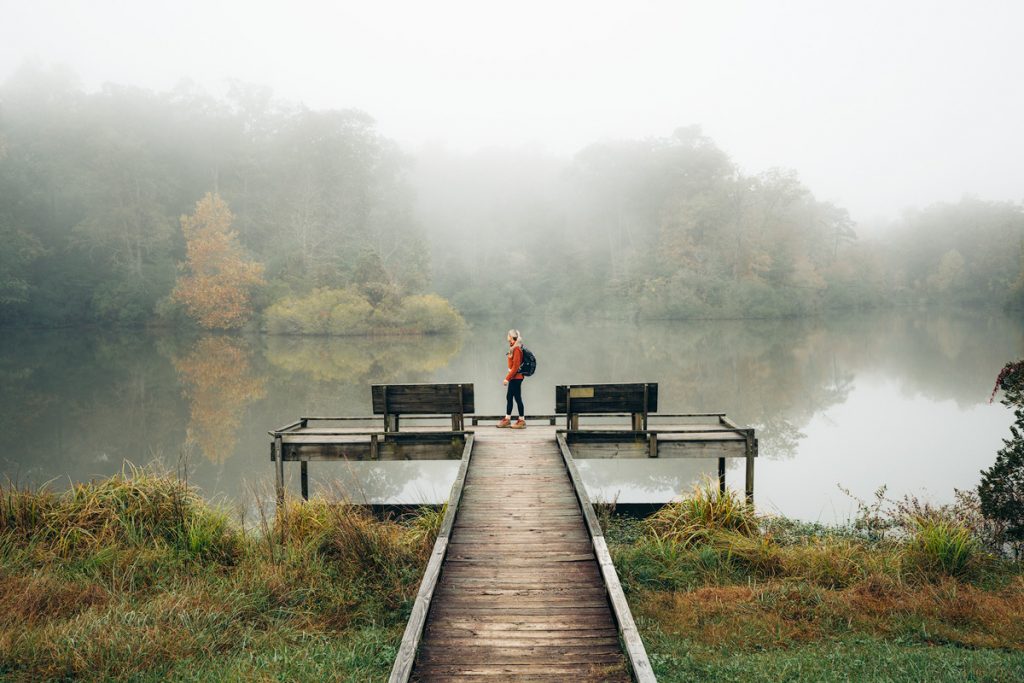 Explore York River State Park
We experienced a moody and foggy morning at York River State Park, but even that couldn't hide its beauty. York River State Park is a rare and delicate estuarine environment where saltwater and freshwater meet to create a rich habitat for plant and marine life. Visitors can enjoy a wide variety of hiking, mountain biking, and equestrian trails through marsh, river, shoreline, and forest settings.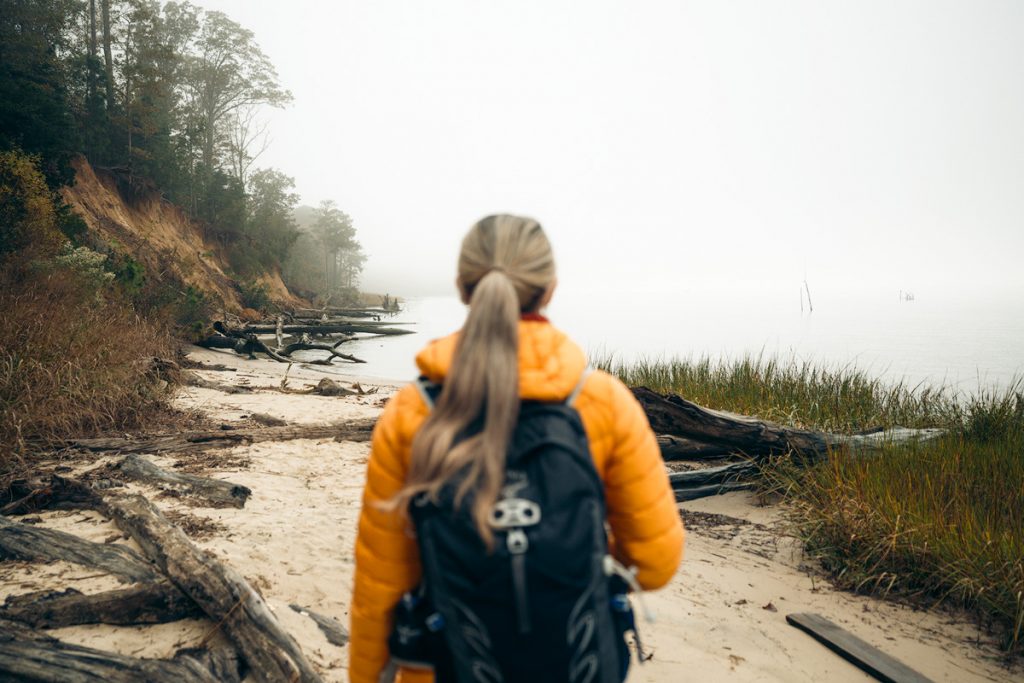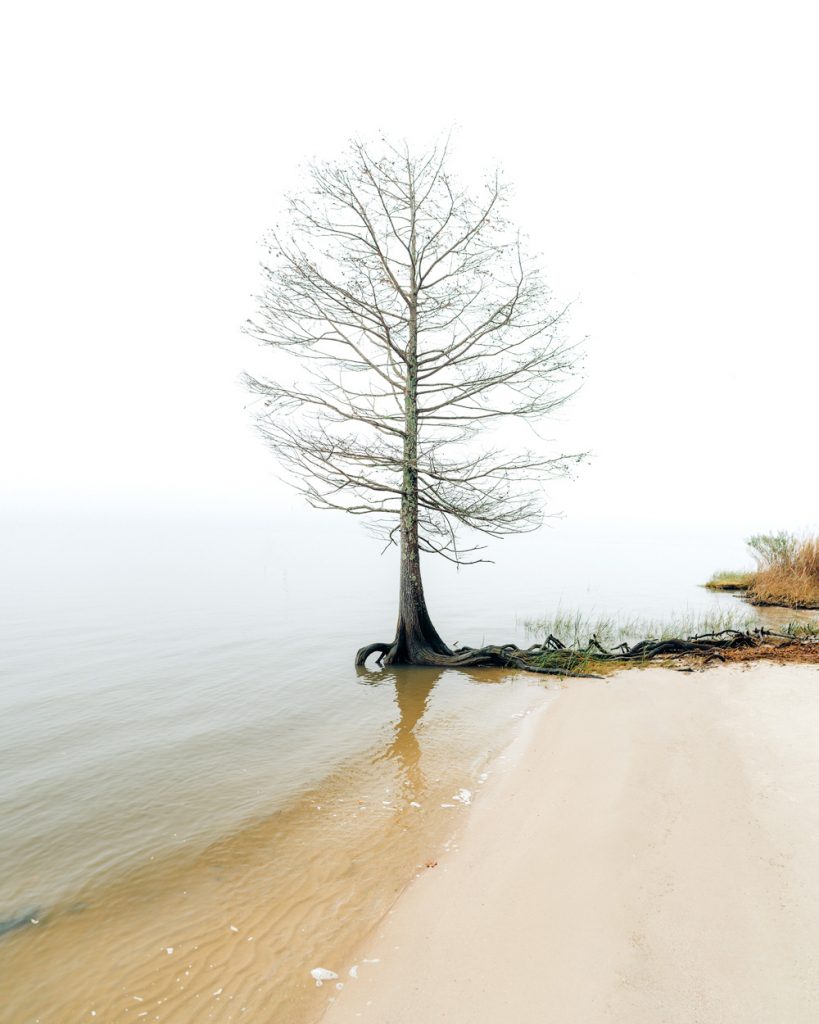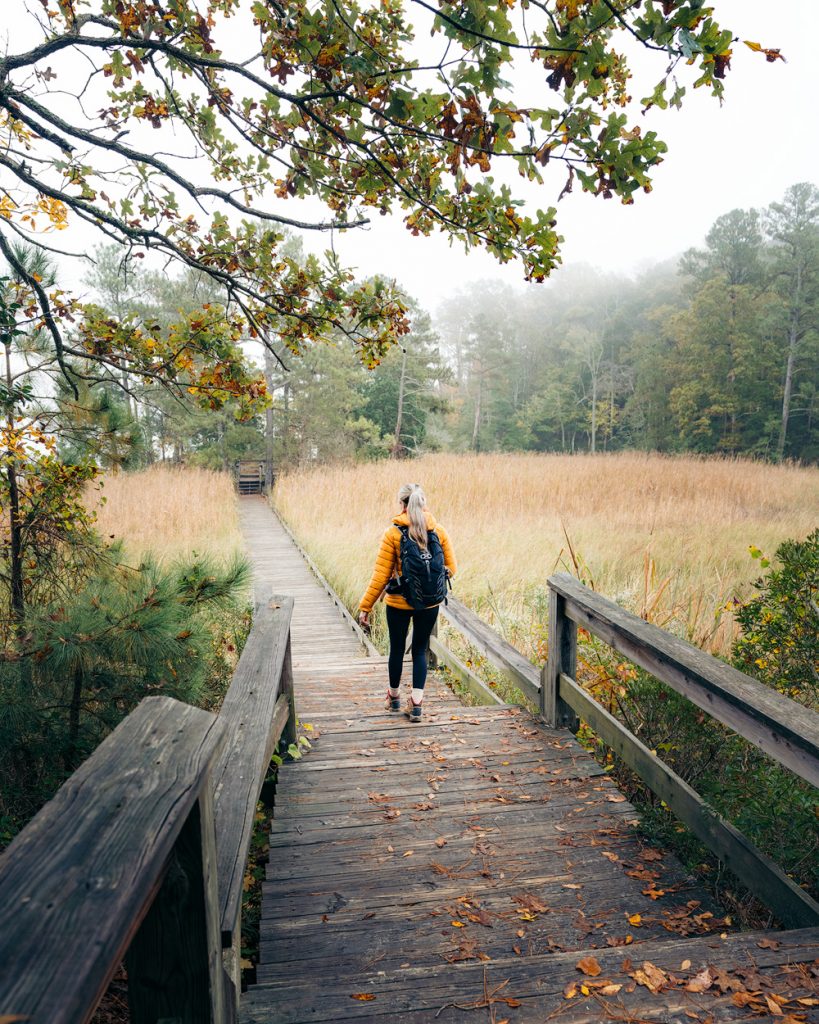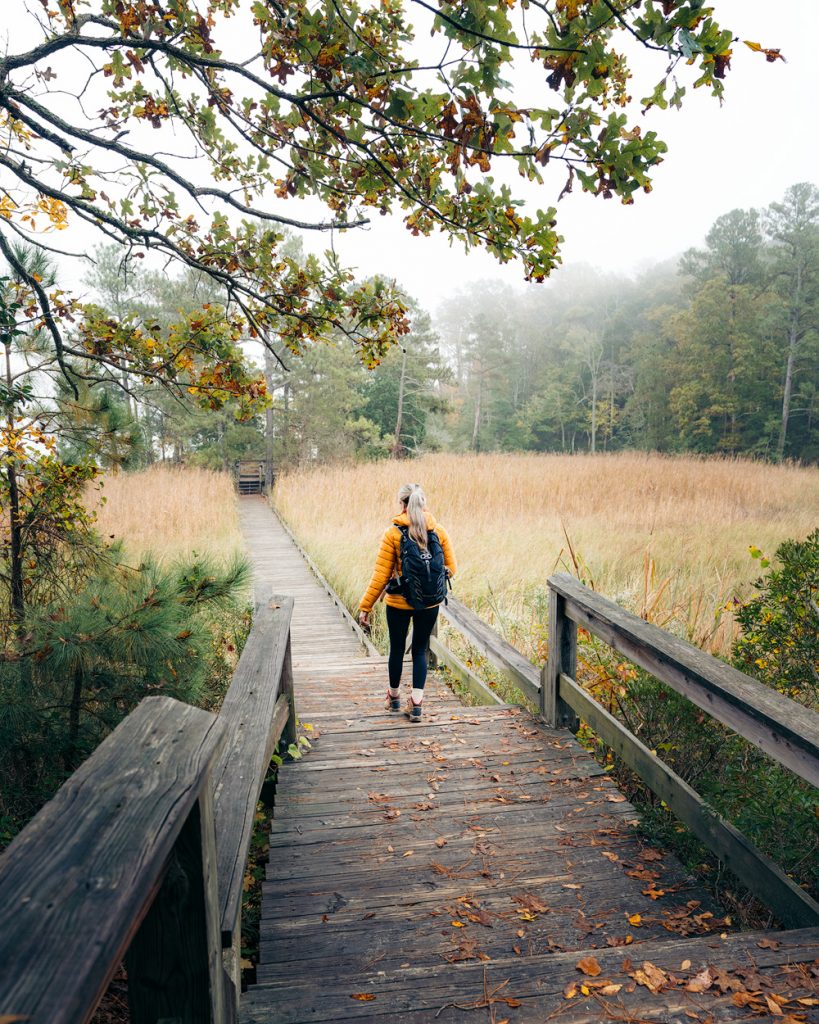 We chose to hike the Beaver Trail around Woodstock Pond and then make our way out to Fossil Beach. We encountered deer, herons, frogs, and did in fact find some fossils! As we were leaving, we bumped into a friendly ranger and he said his favorite part of the park is the Taskinas Creek Trail – so add that one to your list as well!
New to hiking? Read my Beginners Hiking Guide!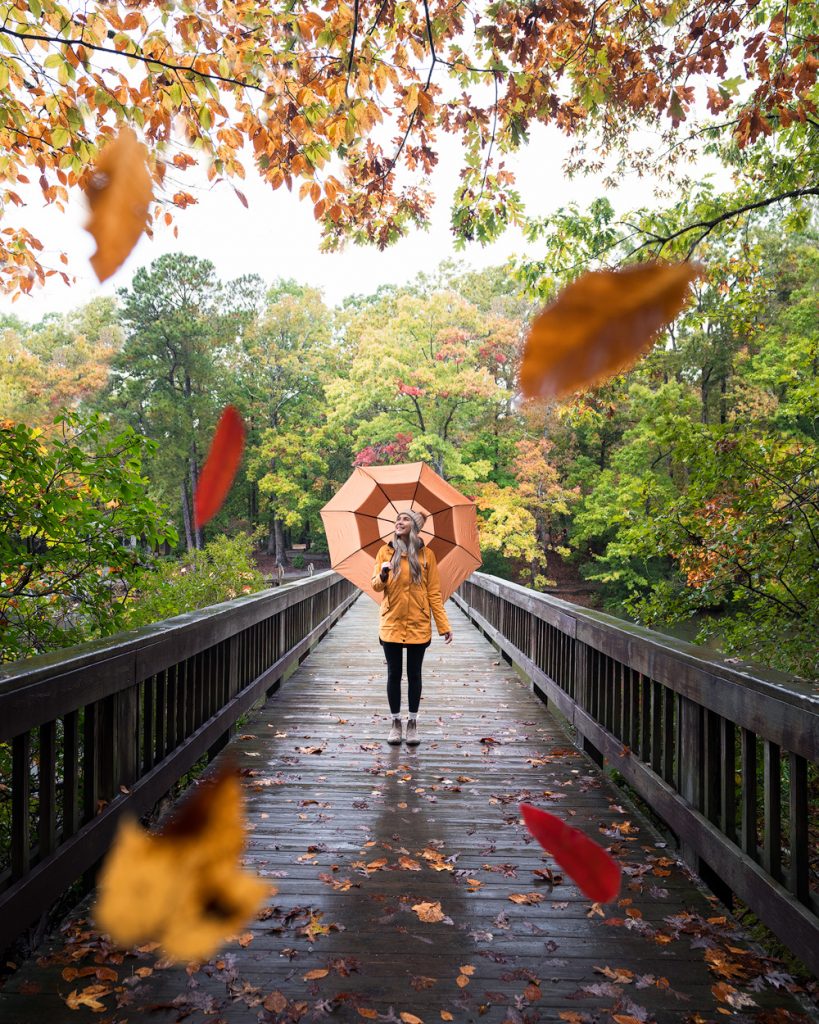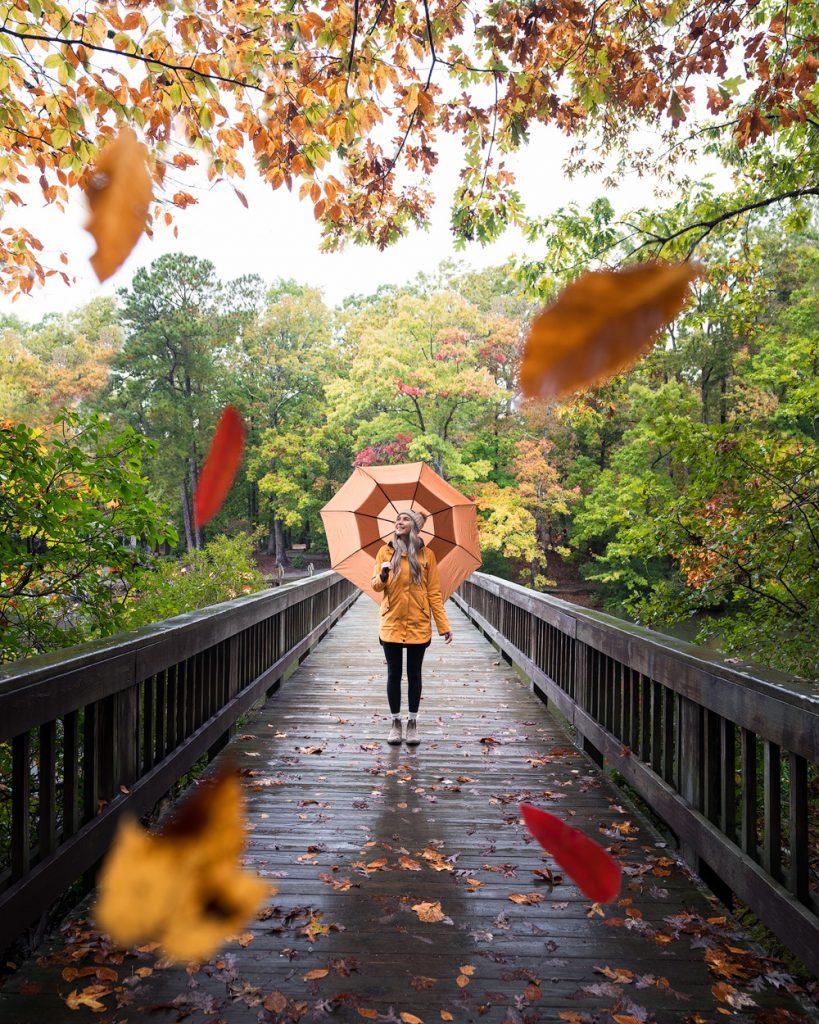 Located only 10 minutes north of Colonial Williamsburg, Waller Mill Park is the perfect place to escape into nature. The park offers an abundance of outdoor activities, including 6 miles of hiking trails, boat rentals (kayak, canoe, pedal boats, jon boats), opportunities for fishing, a dog park, playground equipment, picnic shelters, and even an 18 hole disc golf course. The park has an entrance fee of $2.00 per vehicle, with the option to pay with a debit/credit card.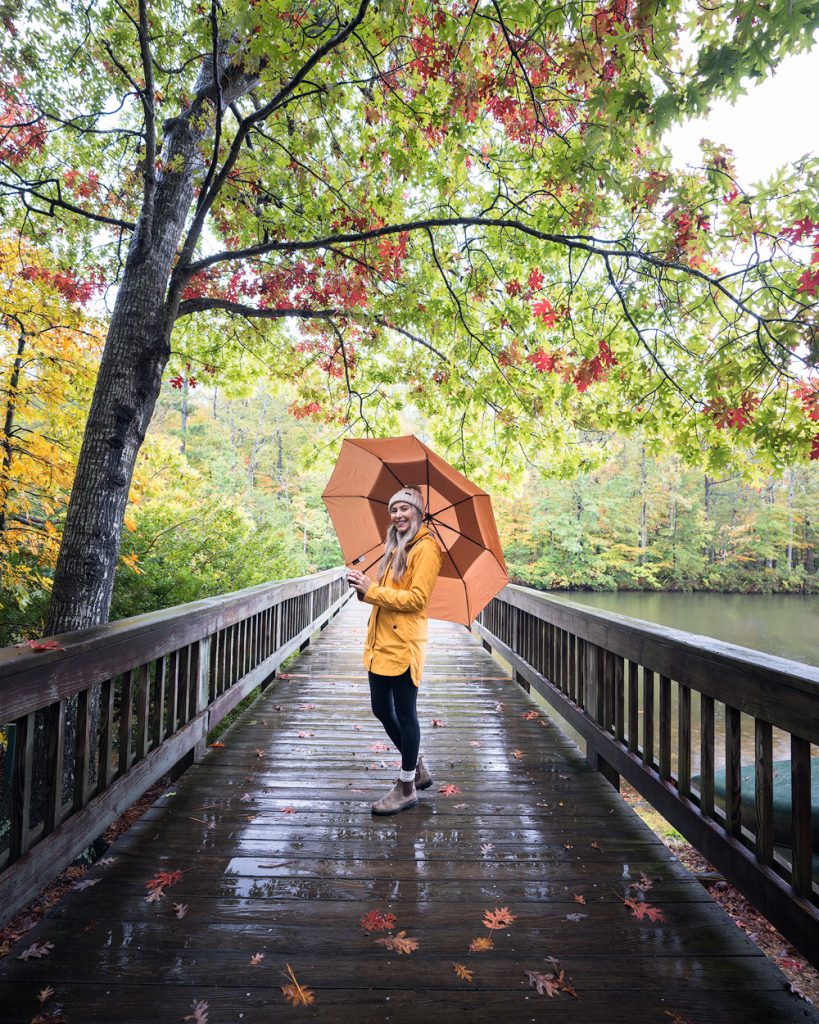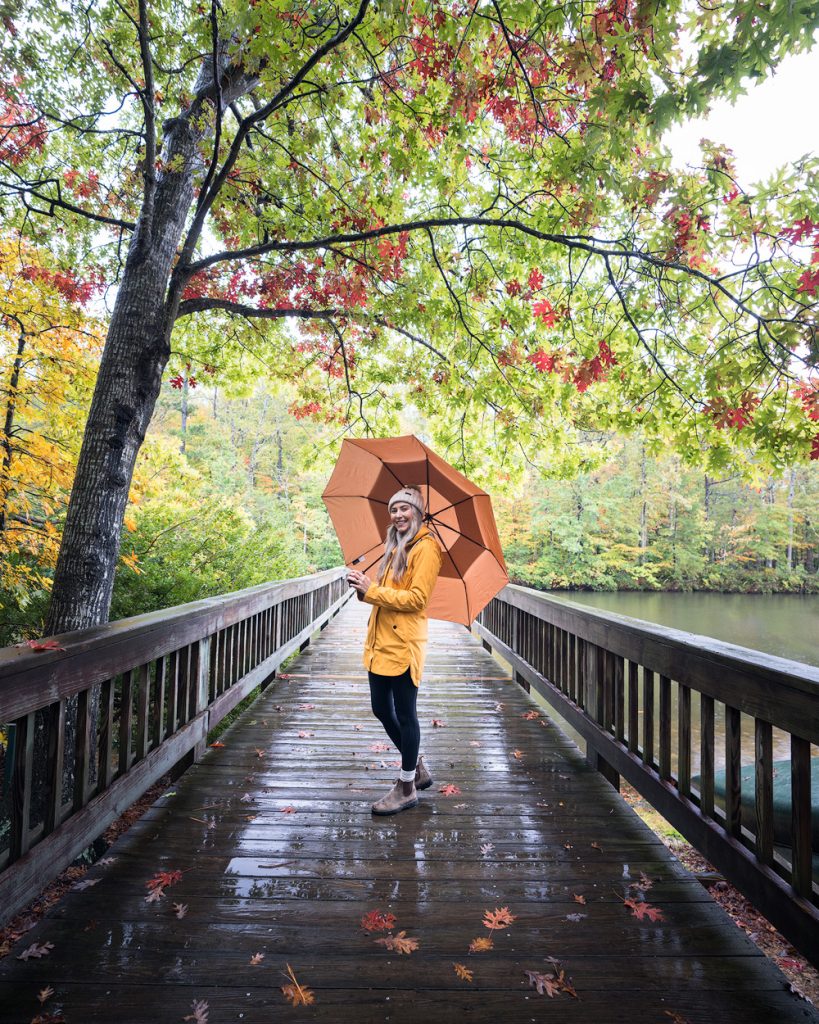 It was a very rainy day when we visited Waller Mill Park, so we mostly explored around the main bridge and fishing pier. I have been told that the Lookout Tower Trail (2.92 miles) is well worth it, so check that one out if you happen to visit the park.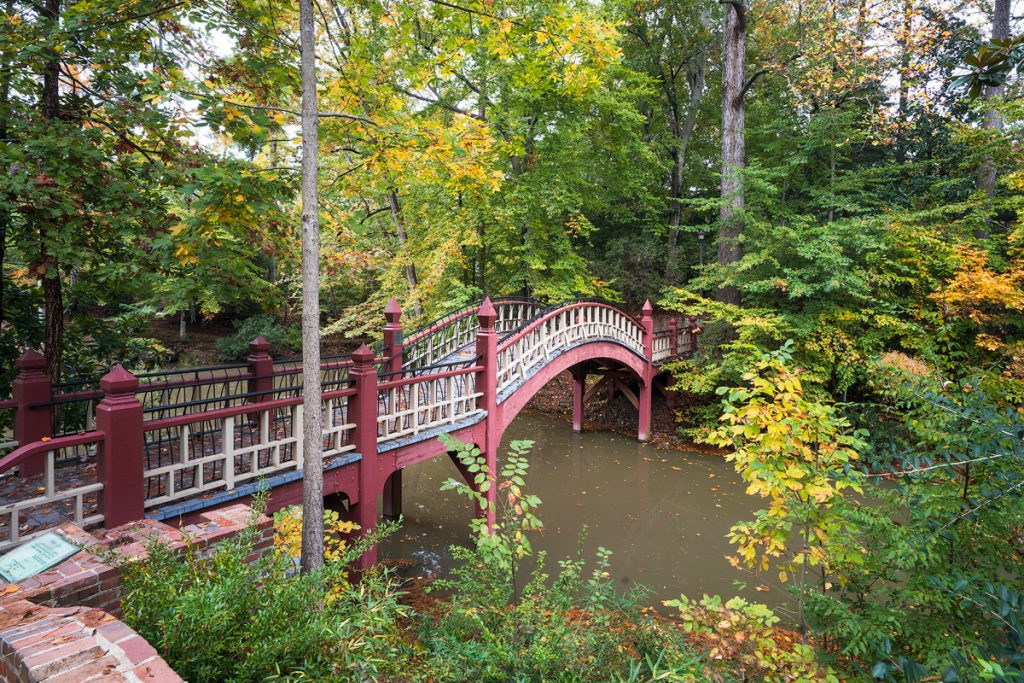 Visit the Crim Dell Bridge
I would highly recommend visiting the Crim Dell Bridge during your time in Williamsburg. It's located on the College of William & Mary's campus and is within walking distance from Colonial Williamsburg.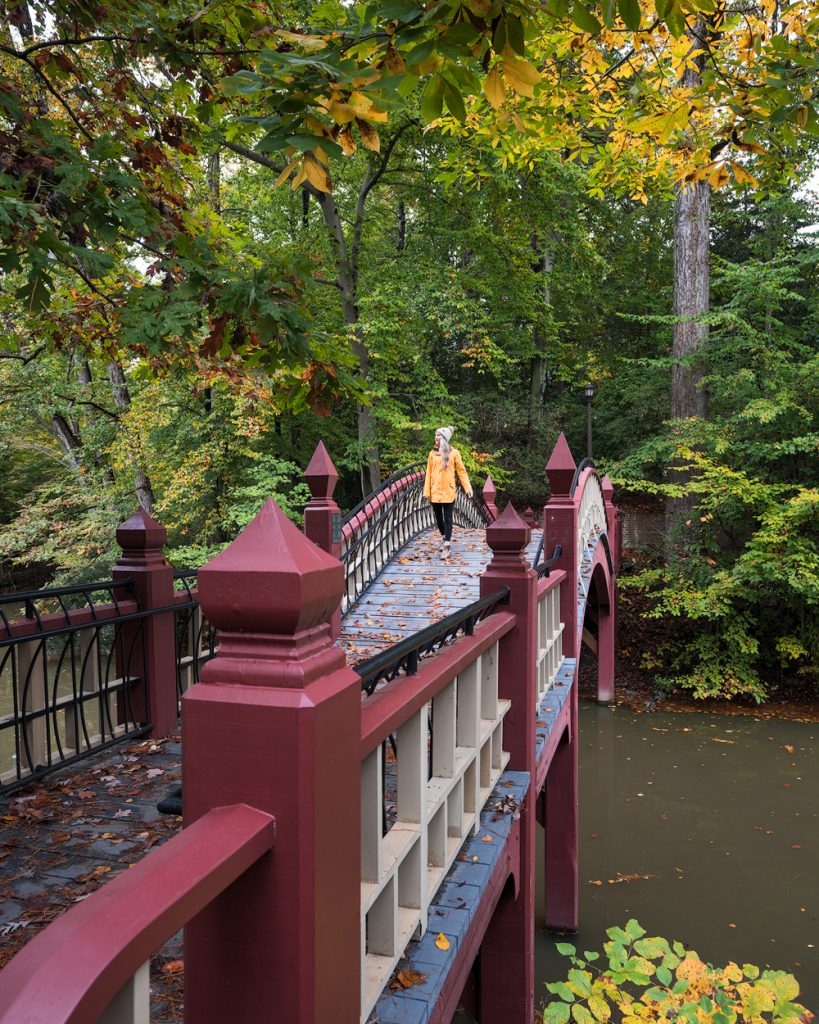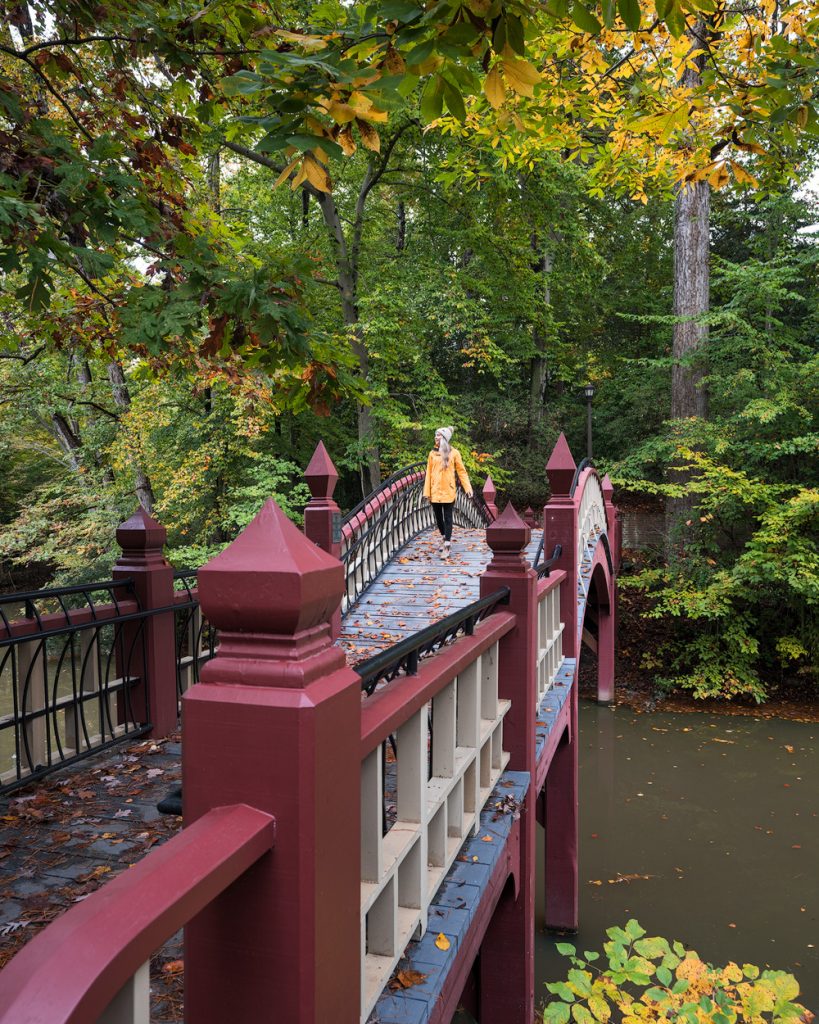 The arched Crim Dell Bridge and surrounding foliage make for some picturesque photos. Oh, and I swear we saw about 15 squirrels during our short time enjoying the area!
Fun fact – locals say if two lovers cross the bridge together and kiss at the crest of it, they will be together forever.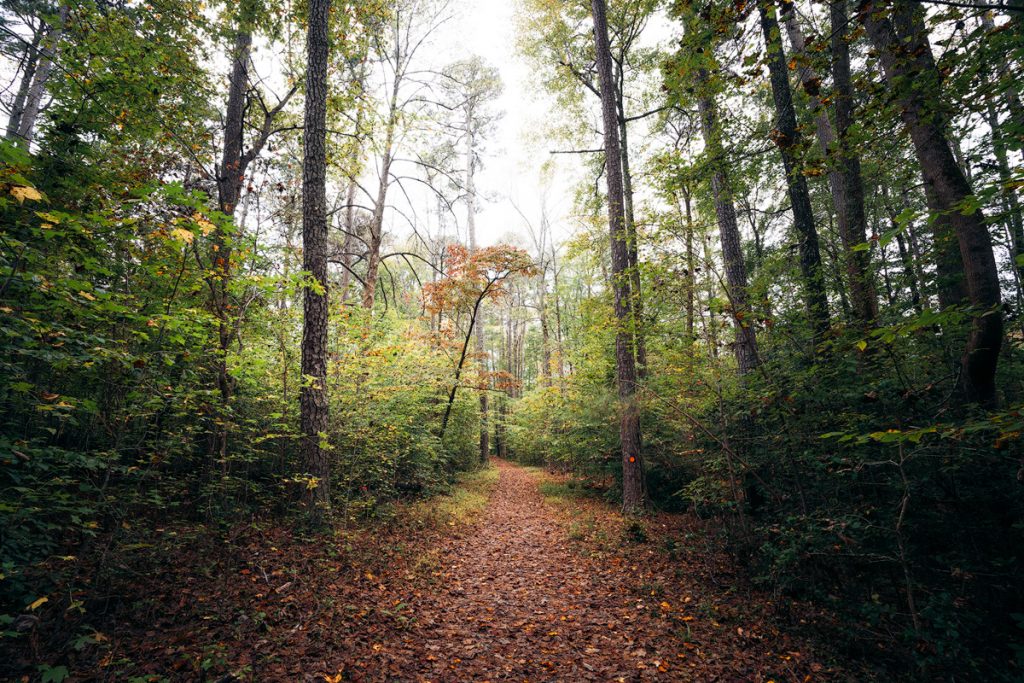 Wander the Bassett Trace Nature Trail
Located in the heart of Williamsburg, the Bassett Trace Nature Trail is a peaceful nature refuge. The 2.8 mile out-and-back trail includes lush trees, streams, foot bridges, and a pond. The trail begins by the Green Wing's Parking Lot of Colonial Williamsburg's Griffin Hotel, and stops at the Clubhouse for the Golden Horseshoe's Green Course. Hikers have the option to follow South England Street for a different route back from the clubhouse to the trailhead.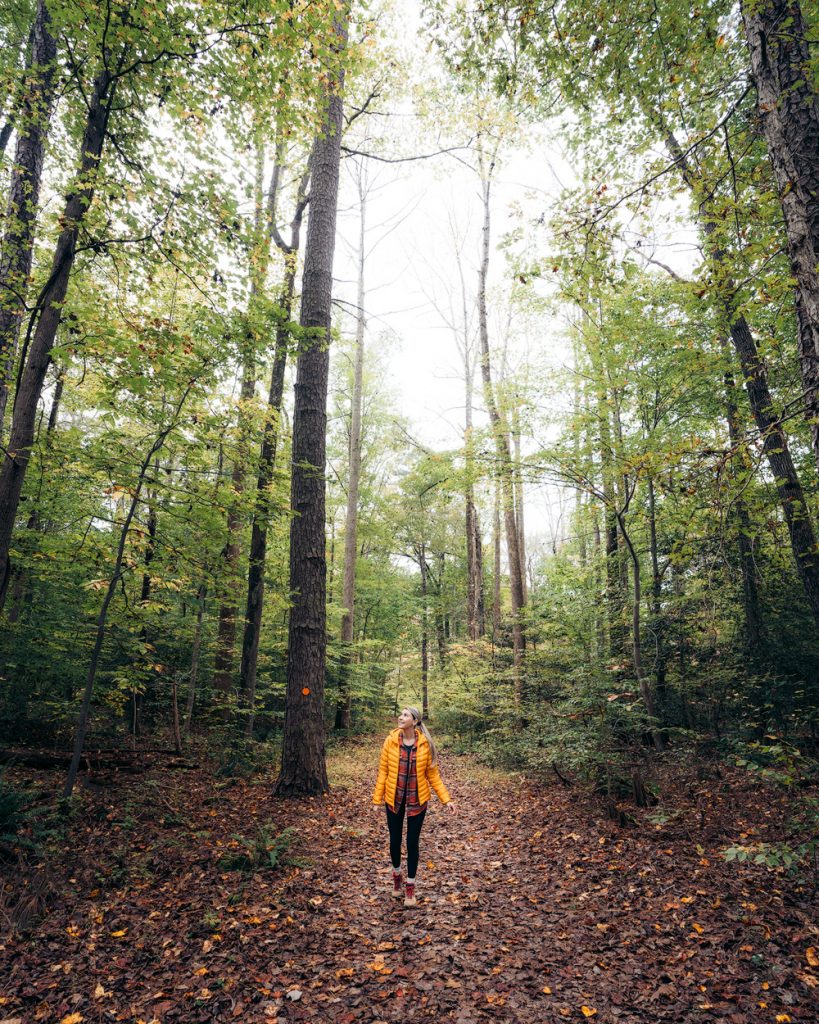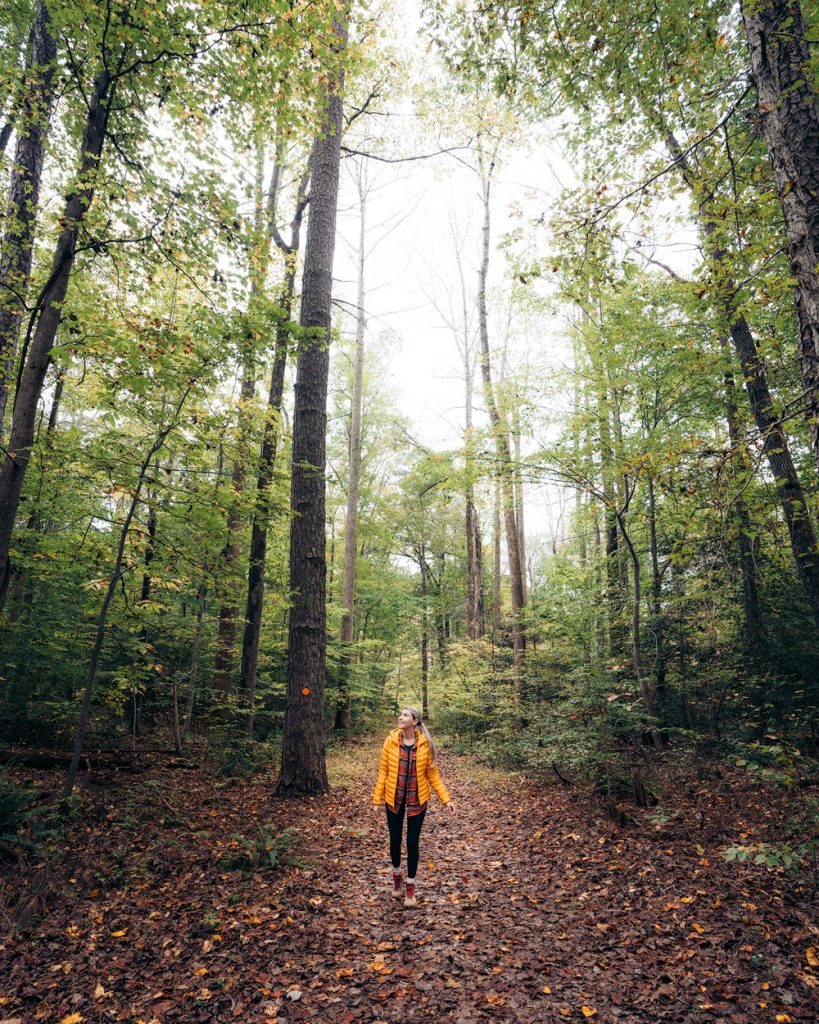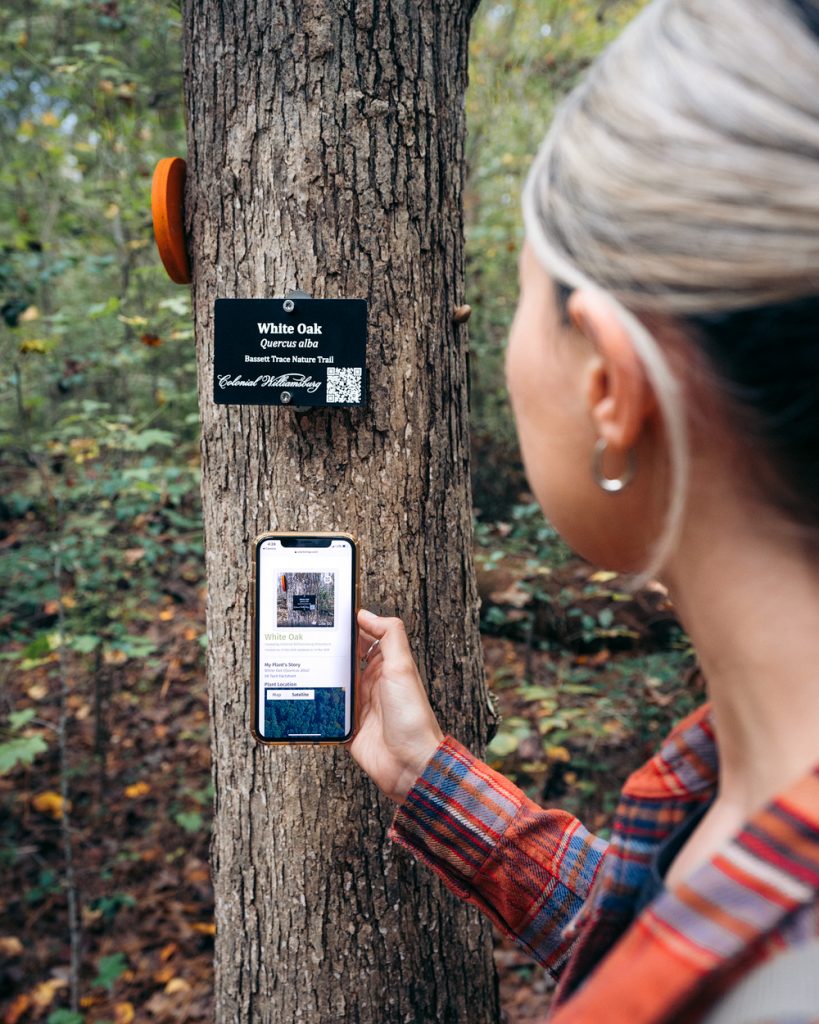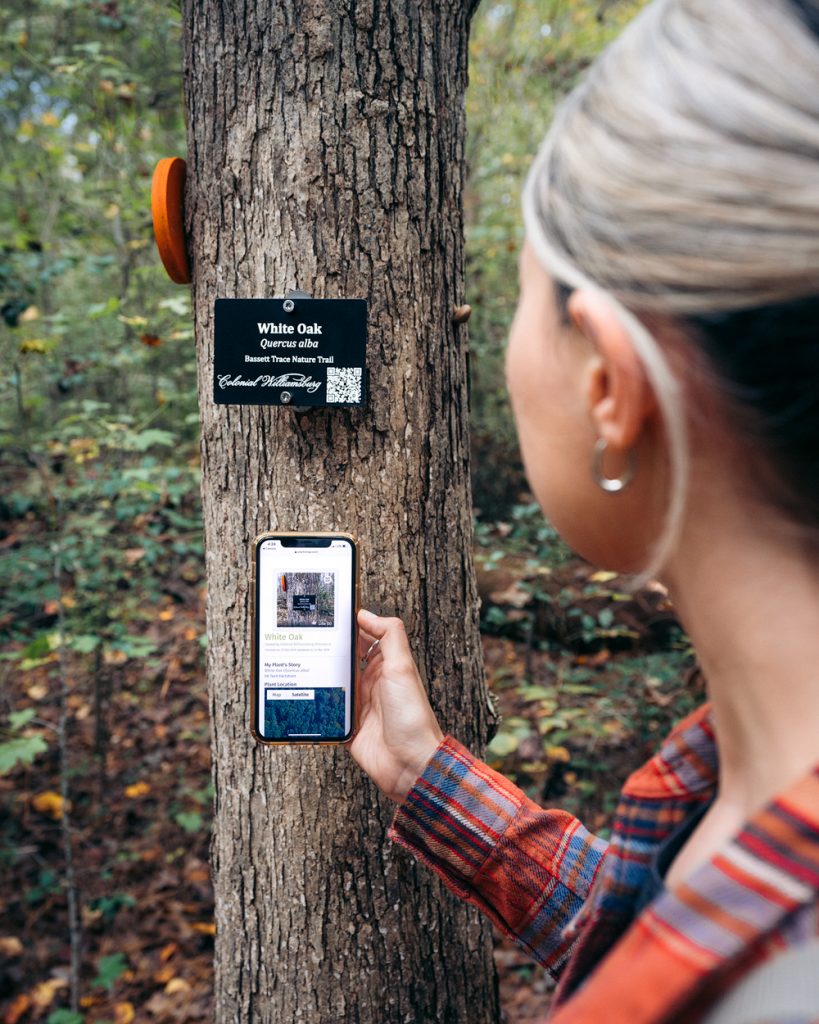 The Bassett Woodlands is home to a wide variety of native plants and birds, and my husband and I loved how the trail included a range of interpretive signs and markers. You can scan some of them with your phone and they provide more information about the type of tree – so cool!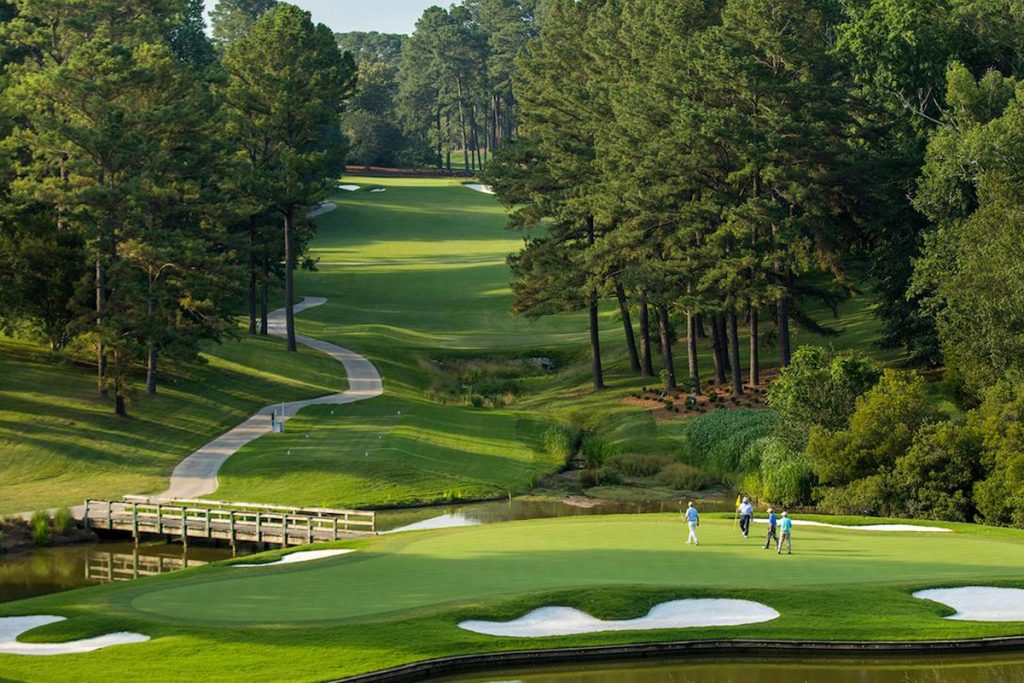 Golfing isn't really my thing… but if you're a golfer, I hear Williamsburg is a great place to play a round! In fact, this part of Virginia is fast becoming one of the United States' top golf destinations and has more than a dozen courses to choose from. Some options include Colonial Williamsburg's Golden Horseshoe Golf Club, Kingsmill Resort, Kiskiack Golf Club, and Stonehouse Golf Club. Click here for more information about golf getaways in Williamsburg.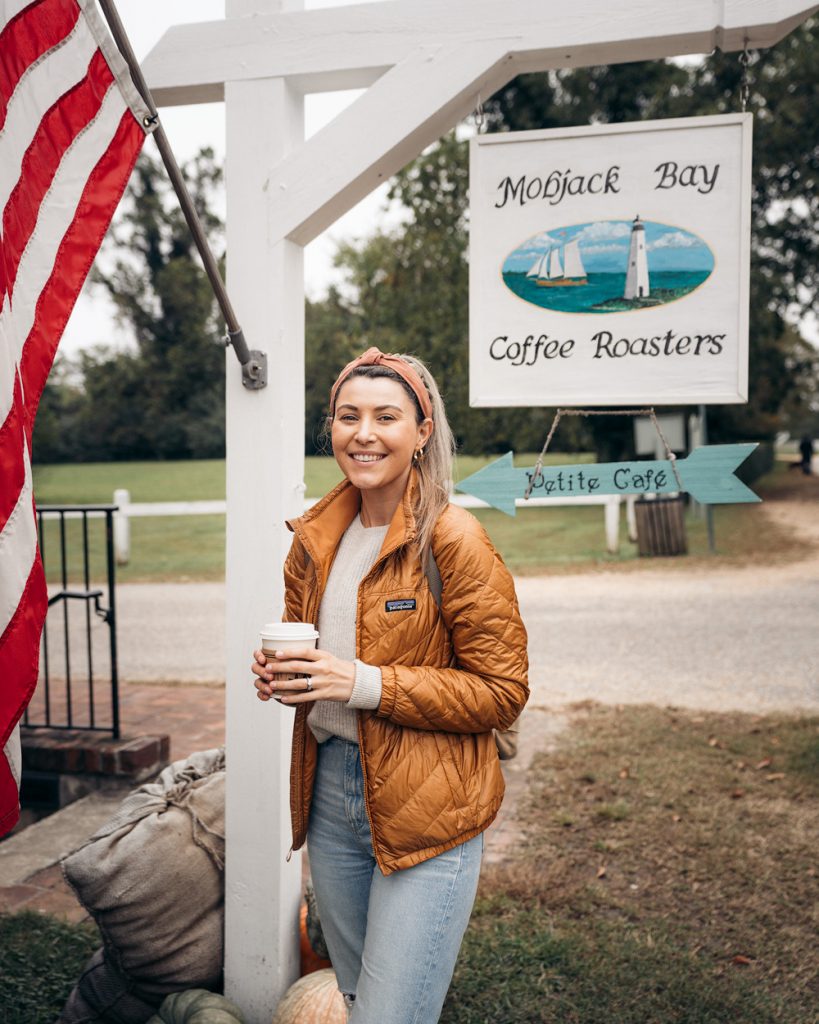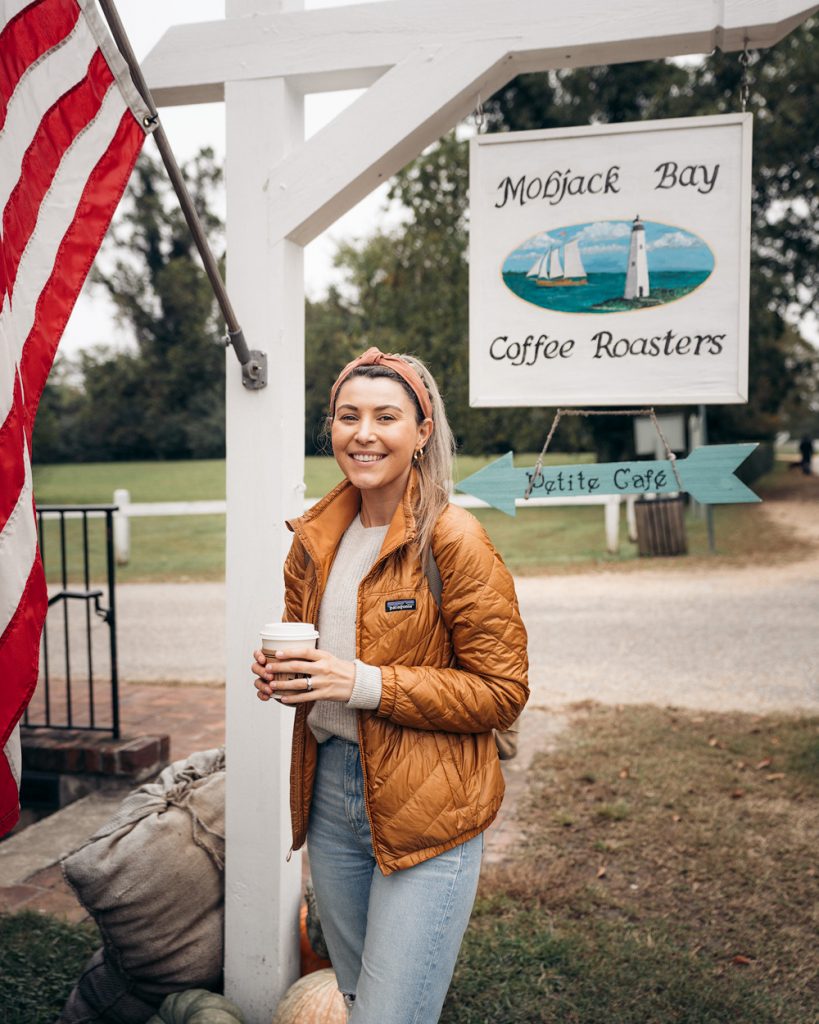 Places to eat in Williamsburg Virginia
We really enjoyed the food in Williamsburg and found a wide variety of places to eat. From coffee shops to seafood restaurants, steakhouses, and also ice cream shops – you could really get any type of food! For the most part, it was easy to eat outside and restaurants were all following COVID-19 health protocols. You can even take a guided food tour! I have our top recommendations below, along with a handy map showing all of the locations.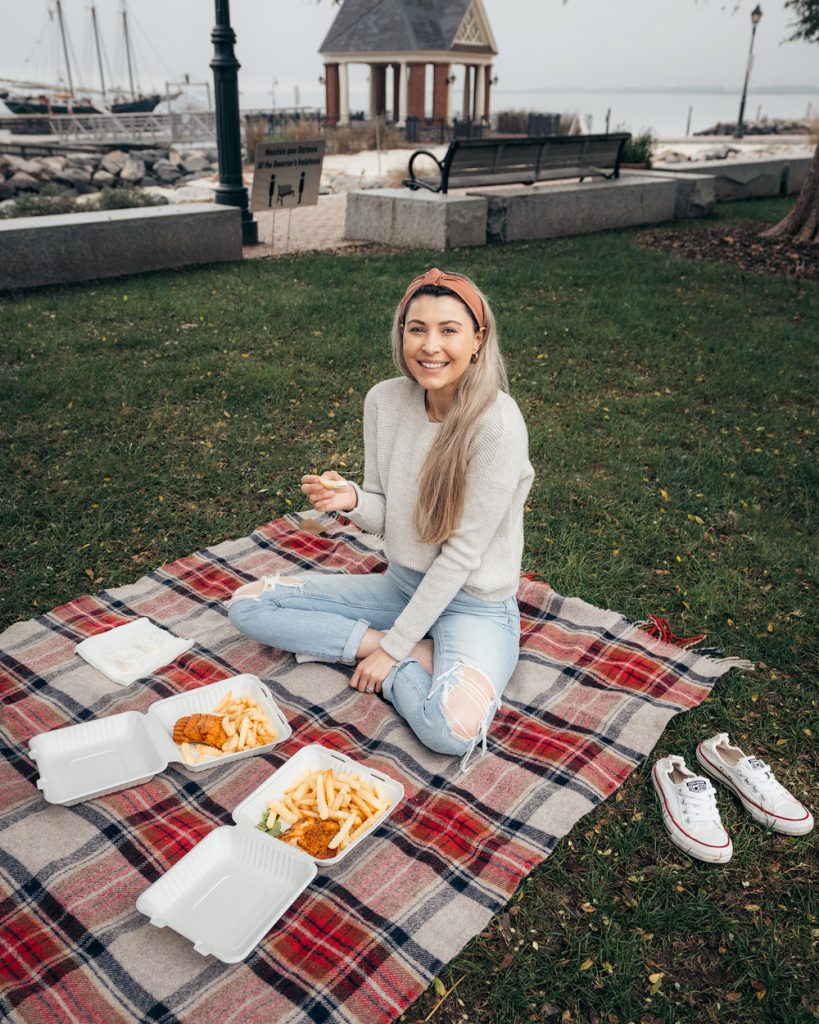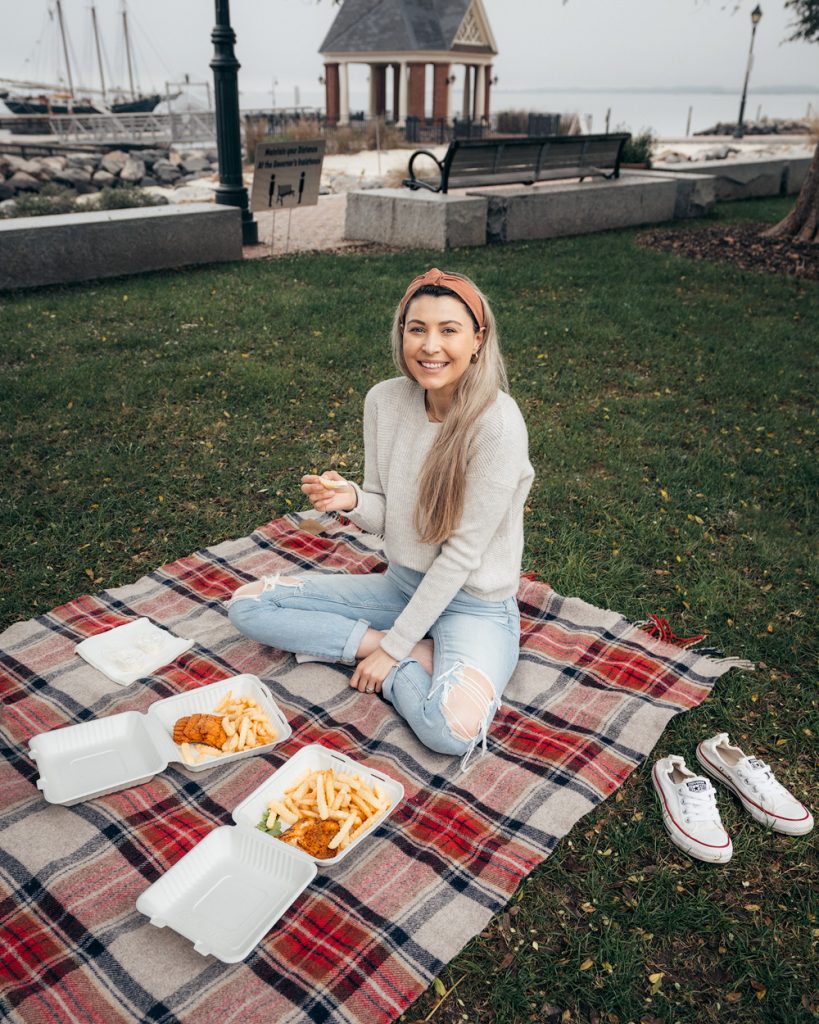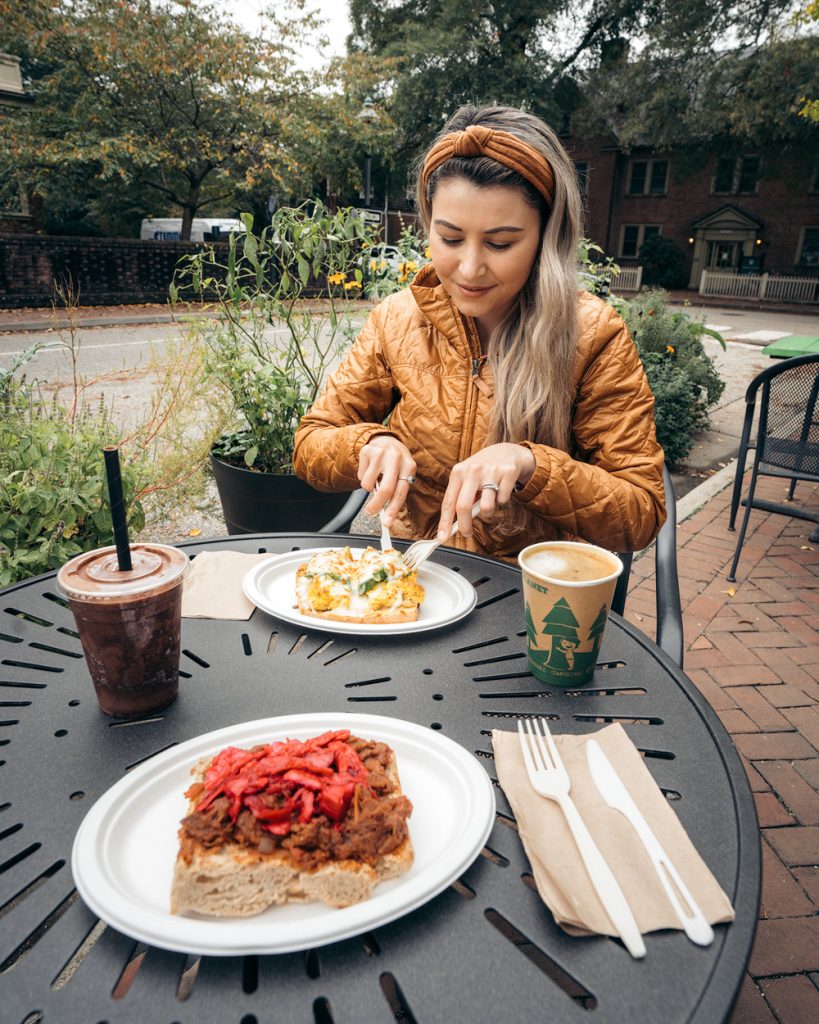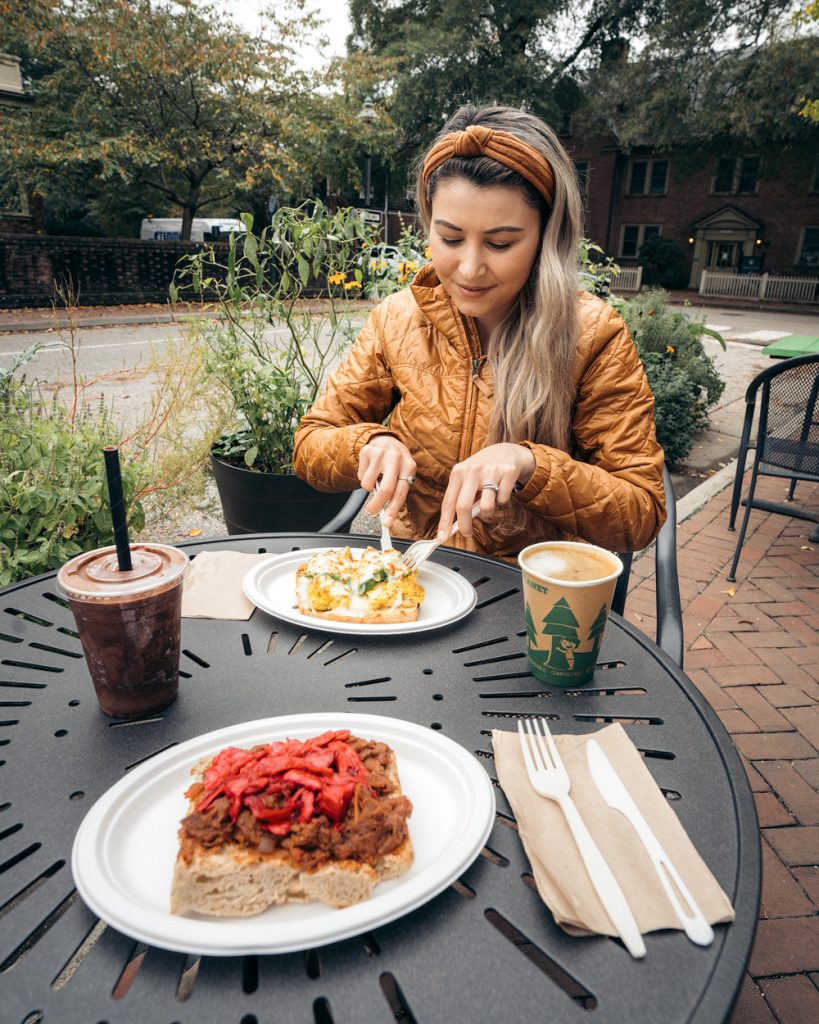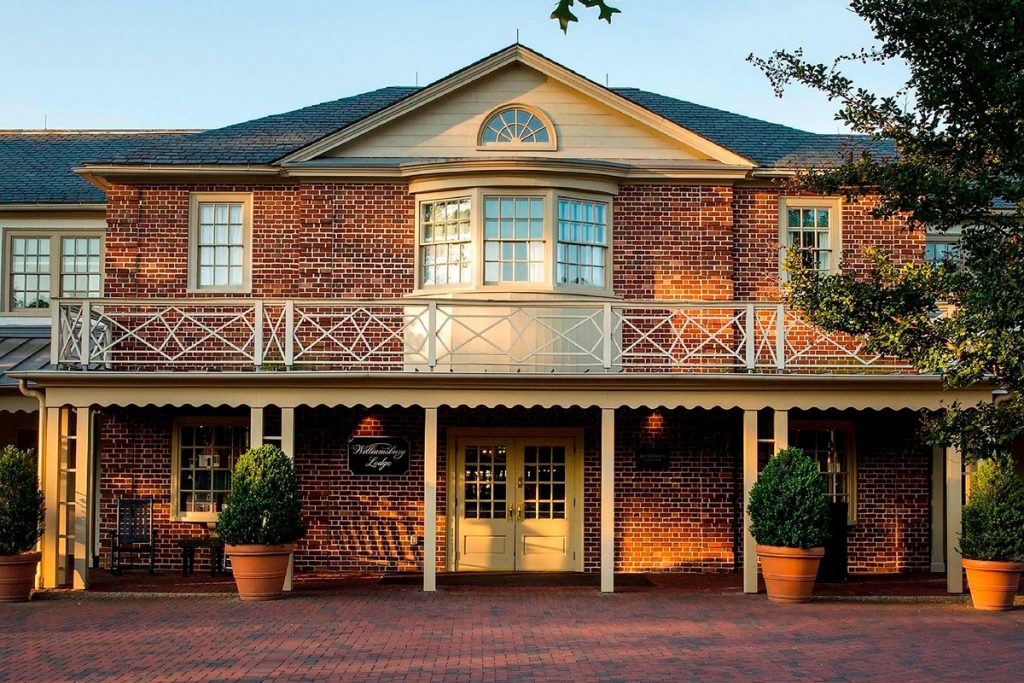 Where to stay in Williamsburg Virginia
The Williamsburg area has a wide range of accommodation choices. I would highly recommend staying in the town of Williamsburg so that you are centrally located in the Historic Triangle of Virginia. From here you will be able to drive to all the best activities within a short time and have more options for places to eat.
My husband and I stayed in the Williamsburg Lodge by the Autograph Collection. Our newly renovated room was comfortable, within walking distance of Colonial Williamsburg, came with convenient parking, and all the staff were very friendly.
4 day Williamsburg itinerary
I have put together the ultimate 4-day Williamsburg itinerary! It's based on my own trip and can be tweaked to suit your own needs. As I mentioned above, this itinerary could easily be squeezed into a 3-day long weekend or could also be extended beyond 4 days.
Today will be a fairly relaxed day in terms of activities, as you will likely arrive in Williamsburg later in the afternoon and may be tired from traveling. Check into your hotel and grab something to eat if you're feeling hungry. Change into your hiking clothes and head to Waller Mill Park. I suggest walking the Lookout Tower Trail. You could also rent a kayak (very affordable!) and take a paddle if time allows. Head back into Williamsburg and eat dinner at one of the restaurants I listed above.
Today will be mostly focused on exploring Colonial Williamsburg! Grab breakfast and aim to be in Colonial Williamsburg by about 10am (that's when most places have opened for the day). Start off by taking a horse and carriage ride around Colonial Williamsburg. This will help orientate you with the area and help you decide where you would like to explore in more depth.
Spend the next couple of hours walking around and touring places such as Duke of Gloucester Street, The Governor's Palace, and The Capitol. There are plenty of places within walking distance for whenever you get hungry and would like lunch.
Drive to Spoke + Art Provisions Co. and rent bikes for the afternoon. I suggest riding the Virginia Capital Trail or the Greensprings Interpretive Trail. If you have the time you could also ride out to Jamestown Island and bike Island Drive. Head back into Williamsburg after your ride and grab some dinner.
Today will be focused on exploring the York River and Historic Yorktown. Start your day nice and early at York River State Park. Hike out to Fossil Beach or take the Taskinas Creek Trail. Keep your eyes peeled for deer and interesting birds!
Next, drive the Colonial Parkway to Yorktown. Grab some takeout fish and chips from Yorktown Pub and picnic along Yorktown Beach or Riverwalk Landing. Make your way to Mobjack Bay Coffee Roasters and take a tour with their amazing historians (book ahead of time). Learn about the Yorktown Battlefield, the Revolutionary War, Civil War, and historical figures.
Catch the sunset sail upon the Schooner Alliance (book ahead of time) and enjoy views of the York River and surrounding areas. Have dinner at Water Street Grille when you arrive back in Yorktown.
Today will be all about exploring Historic Jamestowne and Jamestown Settlement! Arrive at Jamestown Settlement by around 10 am and then begin by watching the introductory film. Then spend some time wandering around the indoor exhibits and galleries. Next, explore the outdoor recreations of James Fort, the town of Paspahegh (a Powhatan village), and the three ships that sailed to Virginia in 1607.
Pack a picnic lunch or head to Billsburg Brewery and The Hungry Pug Food Truck for lunch. Make your way over to Jamestown Island to spend the afternoon exploring the archaeological sites, Voorhees Archaearium (museum), Memorial Church, the Tercentenary Monument, and more. If you didn't already bike Island Drive on day 2, this will also be your opportunity to explore it. Head back into Williamsburg for dinner.
The above is a fairly jam-packed itinerary, but there is still more to do nearby if you want to extend your stay. Consider adding on the Bassett Nature Trail, Busch Gardens Williamsburg theme park, a spa visit, and/or a game of golf.
For a long weekend instead of 4 days, I would recommend splitting your time into three main areas: Colonial Williamsburg, Yorktown, and Jamestown. You could still explore places like Waller Mill Park but would need to consider adding that to one of your mornings before one of those three main areas.