This South Australia road trip guide is written by our guest contributors Christopher and Laura from Chris and Laura Travels
Of all the incredible ways to discover the land down under, none come close to getting behind the wheel and exploring this sunburnt land on epic road trips! With so many options and states to choose from, South Australia road trips are the ultimate way to discover the raw and hidden landscapes of Australia.
South Australia is situated between both Western Australia and Victoria to the East. In fact, it is the only state in Australia that shares a border with every other state in the country. The sheer fact of this should assure you enough that there is natural beauty hidden in every little corner of South Australia.
My partner Laura and I ventured out from Melbourne to South Australia in a converted Fiat Ducato self-contained van for a month. We're sharing with you the 10 BEST South Australia road trips!
Disclaimer: This blog post features some affiliate links, which means I get a small commission if you make a purchase (at no extra cost to you). It's one of the ways I can keep producing free guides and resources for my readers. Learn more about my affiliate policy here. Thank you for the support!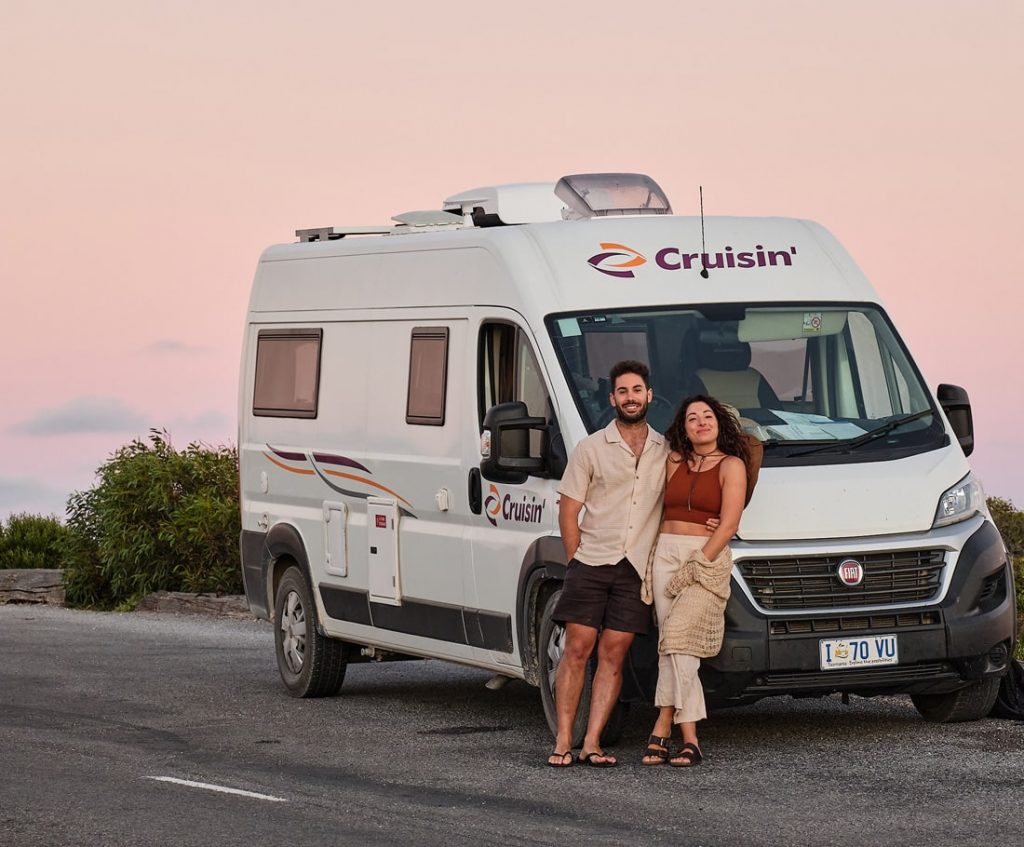 10 Incredible South Australia Road Trips
From the foothills of the capital city of Adelaide to the many world-famous wine-producing regions of McLaren Vale and the Barossa Valley, to the epic rugged coastline of the Great Australia Bight, South Australia road trips allow you to see Australia in all its glory.
Like most parts of Australia, with the exception of Far North Queensland, South Australia's climate is a lot drier than its counterparts out east. The summer months run generally from December through to February, with the winter months remaining mild. This isn't an exact science as Australia is experiencing the effects of La Nina currently, hence our summer has stayed slightly cooler and our winters more chilly.
There are a number of options to get to South Australia, if you plan on flying in from Sydney or Melbourne your best options are to either fly into Adelaide Airport with Qantas or Jetstar. If you don't mind the drive down south then you can always hire a car or a self-contained van from airport car hires or local van companies.
Great wine, mind-blowing coastline, and incredible national parks are what make a South Australian road trip so intense! We've managed to condense the list down to 10 of the most scenic drives in South Australia, granted it is a very large state with the largest straight road anywhere in the entire country!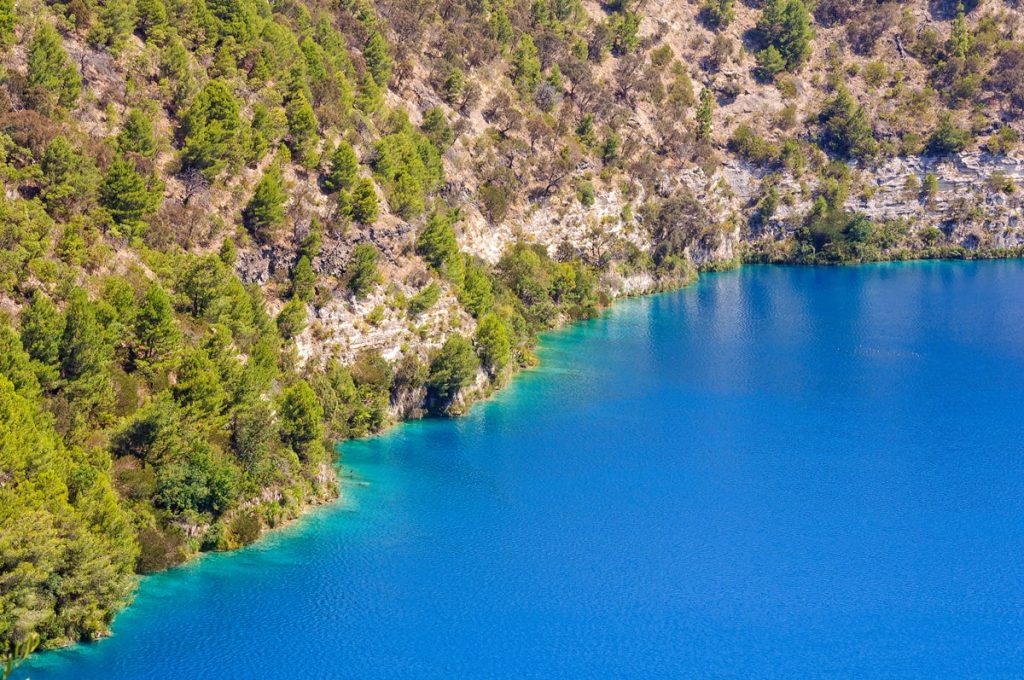 Melbourne to Mount Gambier
If exploring Mount Gambier isn't epic enough, then driving from the outer suburbs of Melbourne through downtown and across the Great Ocean Road, Otway Ranges National Park will surely prepare you for what lies ahead. The entire drive will take you around about 5 hours in total and cross some of the country's most scenic drives, The Great Ocean Road.
Driving along the Great Ocean Road will add on 2 hours to your journey bringing it to a 7 hour drive but we promise you, it's well worth it! It's a fairly direct route straight across and it's near impossible to get lost on this road, but always remember that wildlife cross these roads both day and night, so ensure to always remain vigilant of our cute furry friends!
The Princess Highway is the main arterial connecting the whole country circumferentially so sticking to this road should be a piece of cake. Mount Gambier is a small borderside town known for its collection of limestone, freshwater sinkholes, and lakes known worldwide for snorkeling and diving. It was the first stop on our South Australia road trip and prepared us for a very promising month indeed.
Destination
Mount Gambier, South Australia. Get directions on Google Maps
HOW TO GET TO MOUNT GAMBIER
Via the Western Freeway through Ballarat, the Hamilton Highway, or the Great Ocean Road along the southern coastline of Victoria and South Australia. There are also options to go from Melbourne Airport to Adelaide airport via Qantas or Jetstar, with daily flights in between.
---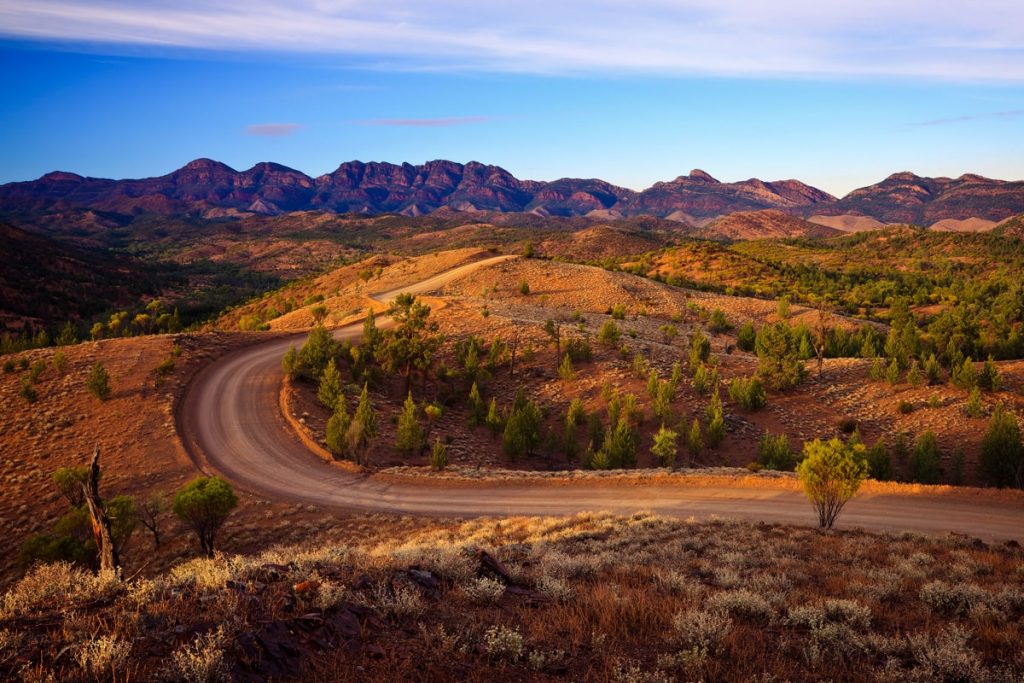 Ikara-Flinders Ranges National Park
Something out of the Jurassic period, this rugged and earthy national park is a drawcard for many visitors embarking on South Australia road trips. Hitting second on the list of our South Australia road trip itinerary, Flinders Ranges covers 95,000 hectares of land halfway between the Northern Territory and the capital city of Adelaide.
This uniquely rugged, semi-arid landscape has been home to the Indigenous Adnyamathanha first nations people for over 1000 years. One of the most scenic drives in South Australia, Flinders Ranges is best viewed from the air, with many options for taking a scenic helicopter or chartered flight over the Ranges.
Destination
Ikara-Flinders Ranges National Park, Blinman -South Australia. Get directions on Google Maps
HOW TO GET TO FLINDERS RANGES
Most people traveling north will use the Flinders Ranges highway, but a quicker option is the R M Williams highway that will take you just under 5 hours to drive from Adelaide.
---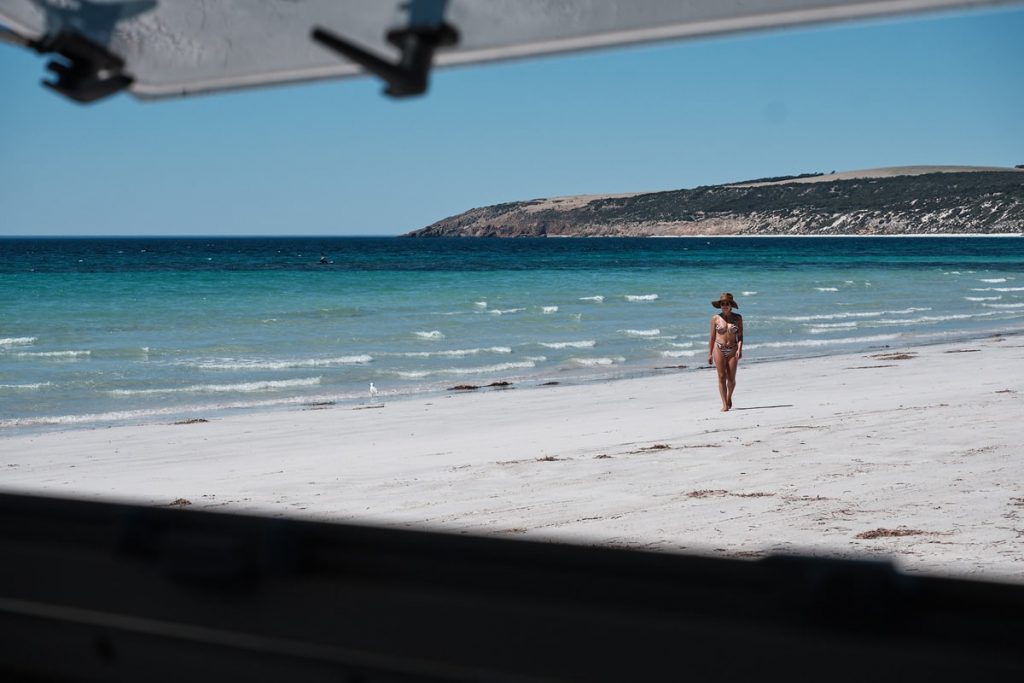 Kangaroo Island
Getting here is half the fun; because you most definitely cannot drive your way here! Kangaroo Island is South Australia's premier tourist destination that's a 45 minute ferry ride across the Back-passage strait from Cape jervis, in the south of the Fleurieu Peninsula. Once you're here however, a whole island's worth of South Australia road trips await you!
There are 3 main roads that will take you to some epic locations along kangaroo island:
Playford Highway cuts straight through the guts of K.I and takes you to places like Cygnet River, Kingscote and Parndana.
South Coast Road is the most popular road and takes you down to Vivonne Bay, Flinders Chase National Park & Seal Bay.
North Coast Road is a lot shorter than the rest and unsealed so make sure you have a car capable of 4WD to get to the hidden beach of Stokes Bay on the other side.
Cape Du Couedic Road is one of the more scenic drives in South Australia and takes you through Flinders Chase National park towards Admirals Arch and Remarkable Rocks.
No Australian road trip is complete without venturing down to Kangaroo island for at least a week, so make sure you set aside plenty of time to visit here!
Destination
Kangaroo Island, South Australia. Get directions on Google Maps
HOW TO GET To KANGAROO ISLAND
Take the ferry by SeaLink or K.I connect for a 45 minute ferry crossing to KI. SeaLink ferries are a vehicle carrying ocean-going vessels making it easy to bring your own car along for the road trip.
---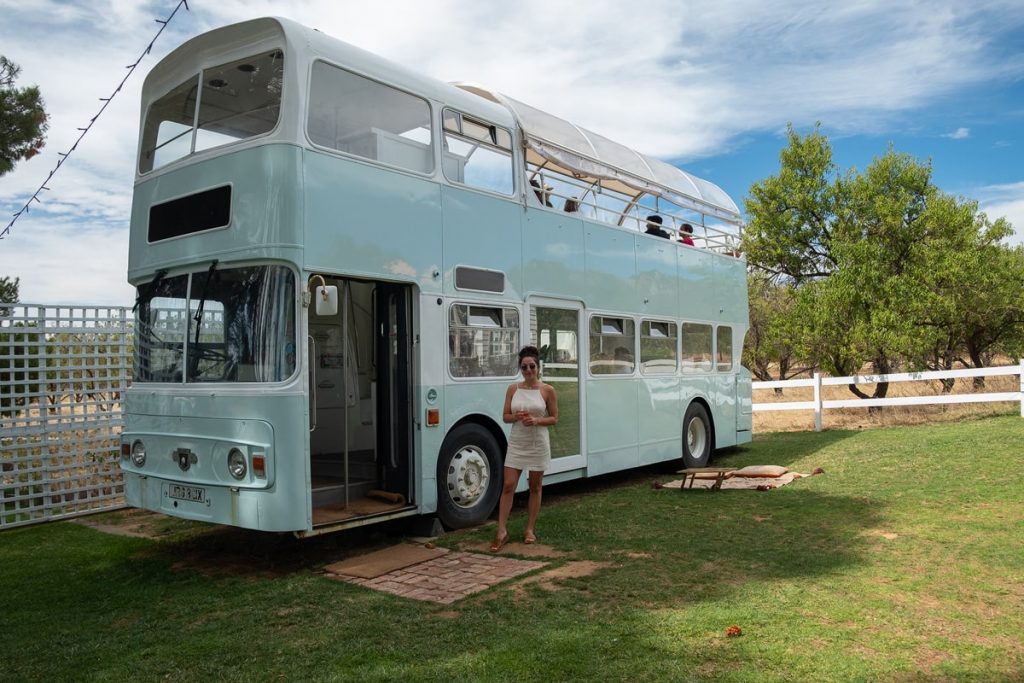 McLaren Vale Wine Region
No South Australia road trip itinerary is complete without making at least one stop at a local winery. Shadowed amongst giants of the wine industry of South Australia, the likes of Claire Valley, Barossa Valley, Adelaide Hills, and Langhorne Creek is McLaren Vale.
Home to over 60 different wineries in this tiny section of the Fleurieu Peninsula, we only had time for a few however our personal favorite was Down the Rabbit Hole. This quaint, modern farm-style house plays host to a large, grassed backyard where guests of the vineyard can enjoy a 30 minute wine tasting preview in an old, blue double-decker bus.
Destination
Down the Rabbit Hole: 233 Binney Rd, Mclaren Vale. Get directions on Google Maps
How To Get To McLaren Vale Wine Region
A 50 minute drive from Adelaide down the southern Expressway (M2) or journey via the M13 down Main South Road through Morphett Vale and the foothill of the Onkaparinga Hills.
---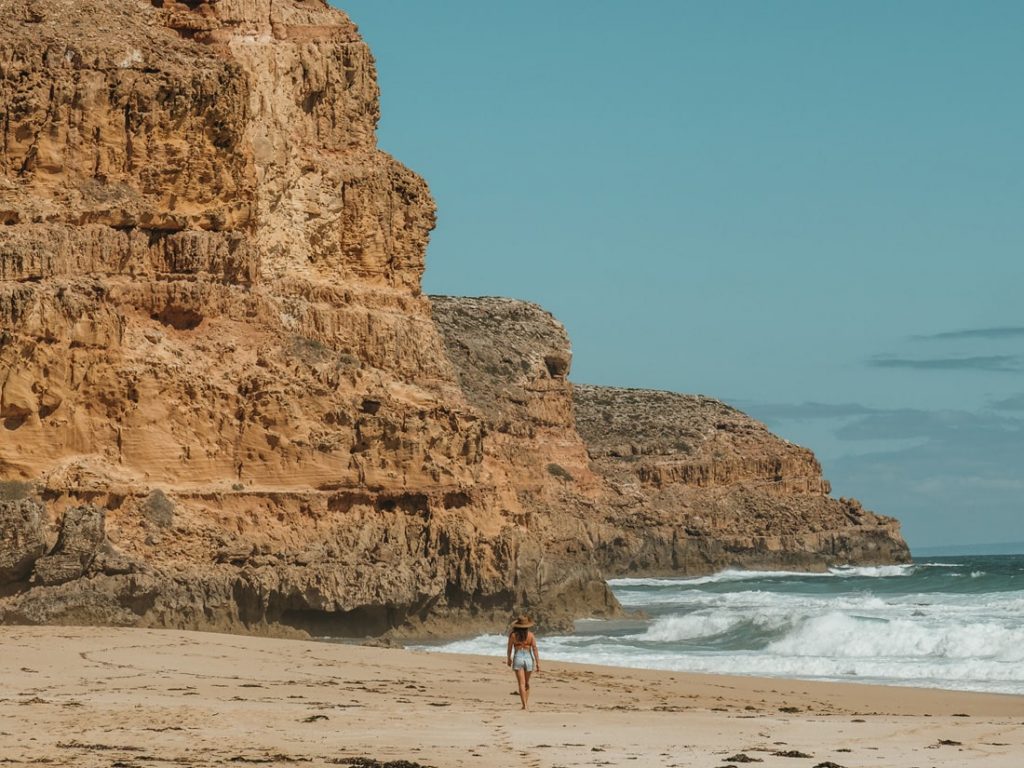 DHILBA GUURANDA-INNES NATIONAL PARK
By the time you reach Innes National Park, you've made it halfway through your list of the best South Australia road trips. Innes is situated at the very bottom tip of the Yorke Peninsula; bang smack in the middle of the Fleurieu and the Eyre Peninsula. Much smaller than the others, but nonetheless spectacular and provides some iconic scenic drives in South Australia.
Pondalowie Bay road is the place you want to be at for both sunrise and sunset. One stretch of road in particular on the western side of the island becomes illuminated at sunset and gives you incredible views over the island where the rest of the road turns highlighted orange from the sun. There is a small turn-off along Pondalowie Bay road where you can park and get ready to enjoy the views on a cloudless night.
Destination
Dhilba-Guuranda Innes National Park, Yorke Peninsula- South Australia. Get directions on Google Maps
How to Get To Innes National Park
The quickest way down is via the Spencer highway through the middle of the Yorke Peninsula until you get to a town called Warooka where you will merge onto the Yorke Highway down to Innes. The spencer highway is more of a coastal option along the east coast of the Yorke but ever so slightly longer.
---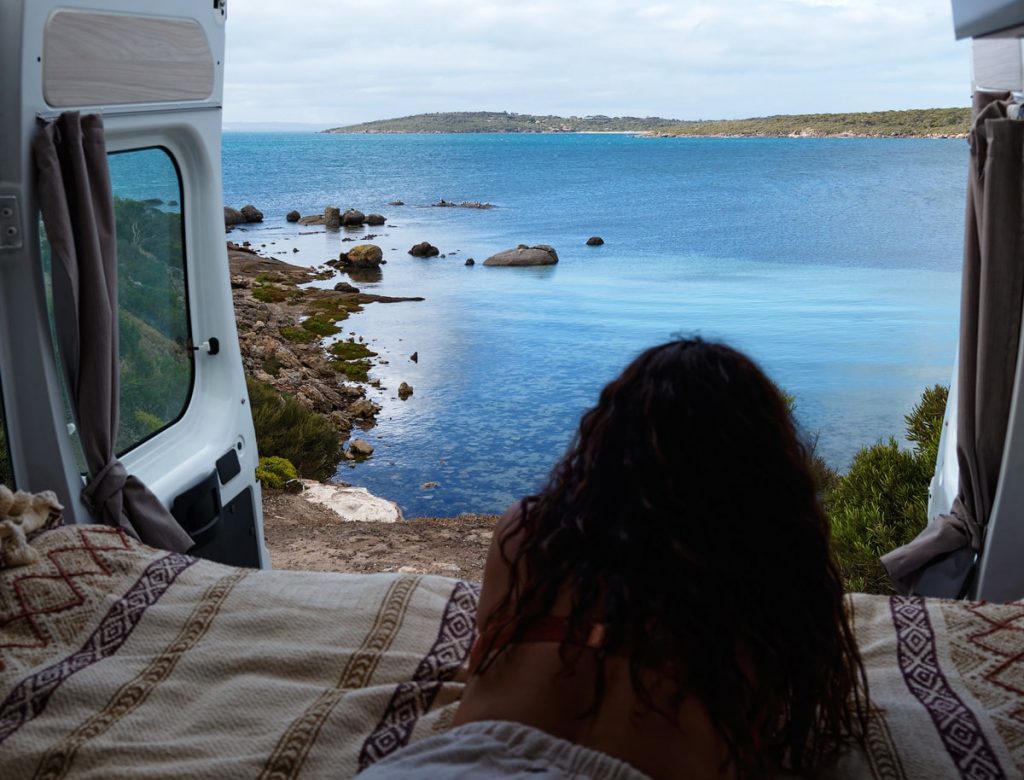 Lincoln National Park

Port Lincoln National Park is situated on South Australia's westernmost peninsula and is gateway to the most famous road trip in Australia. The town of Port Lincoln is regarded worldwide as a premium destination for cage diving with Great White Sharks and is the largest coastal town on the Eyre Peninsula.
A road trip in South Australia is never complete without venturing off the beaten path into this stunning national park. Port Lincoln National Park is mostly accessible via 4WD, as some of the tracks far west get very sandy so getting stuck is a real possibility. If you're not 4WD capable then one of the best spots to drive out to is Fisherman's point campground.
Parking your car at the top of the campground make sure you get there early enough to find a spot close enough you can see the water's edge and you may be visited by a pod of passing dolphins or seals early morning.
Destination
Fishermans Point Track, Lincoln national park- Eyre Peninsula, South Australia. Get directions on Google Maps
How To Get To LINCOLN NATIONAL PARK
From Point Lincoln, take Proper Bay Rd heading towards Sleaford and take the left-hand exit towards Lincoln National Park on Donnington Road. Once you get around the beach and pass Spalding Cove on the northeast section is Fisherman's point campground.
---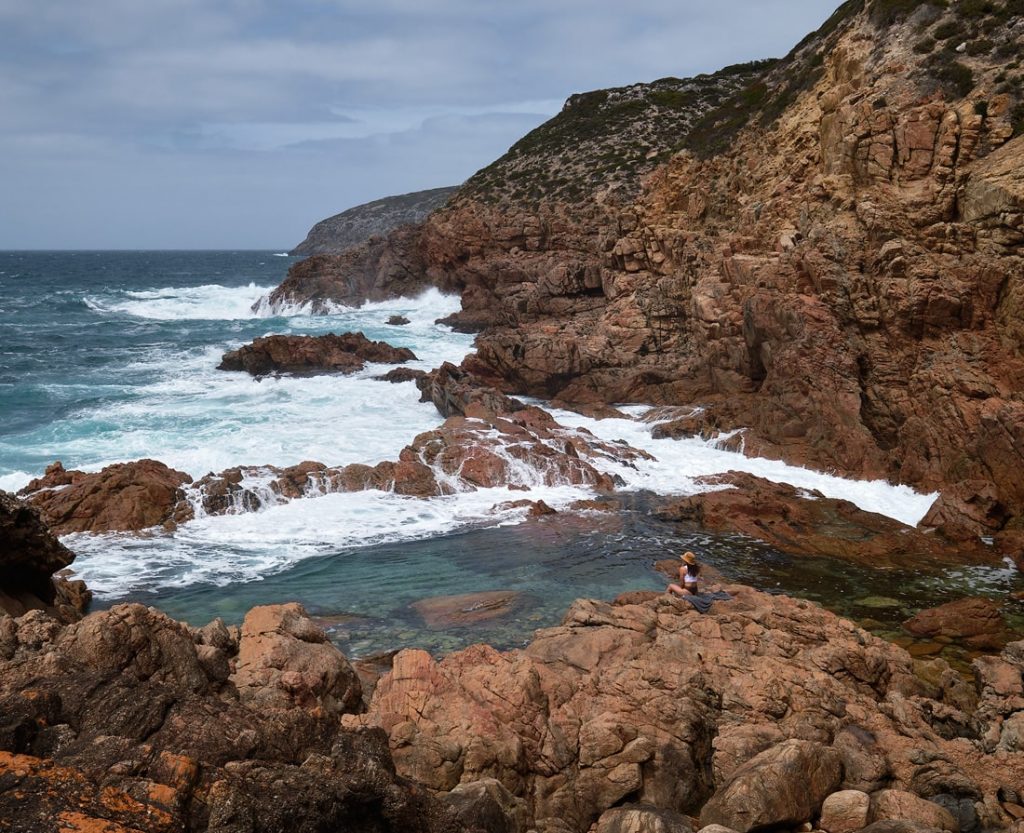 Whalers Way
This privately owned land at the southernmost tip of the Eyre Peninsula is undoubtedly one of the most epic road trips in South Australia. Entry into Whalers Way is first done by visiting the Port Lincoln Visitor information center in town and purchasing a pass for $40 per vehicle which gets you entry into the property and your first night's stay as well as a key for the lock on the gate. Alternatively, if you purchase online you will receive a code to unlock a key safe.
One of the most scenic drives in south Australia twists and winds around the epic coastline from when European explorers first made land in Australia and could see the variety of whales that greeted these shores; for which each section of coastline is named after. Looking at a map of South Australia it's easy to see why this place is named Whalers Way, as it resembles the fin of a whale's tail.
Destination
Right Whale Road, Sleaford (Whalers Way) Eyre Peninsula, South Australia. Get directions on Google Maps
How To Get To WHalers Way
Whalers Way is most easily accessible via Proper Bay Road out of Port Lincoln and merging onto Fishery bay road towards Fishery Bay. From there you will get to a junction that leads straight onto Fishery Beach, or turn right onto Right Whale Road at the gateway to Whalers Way.
---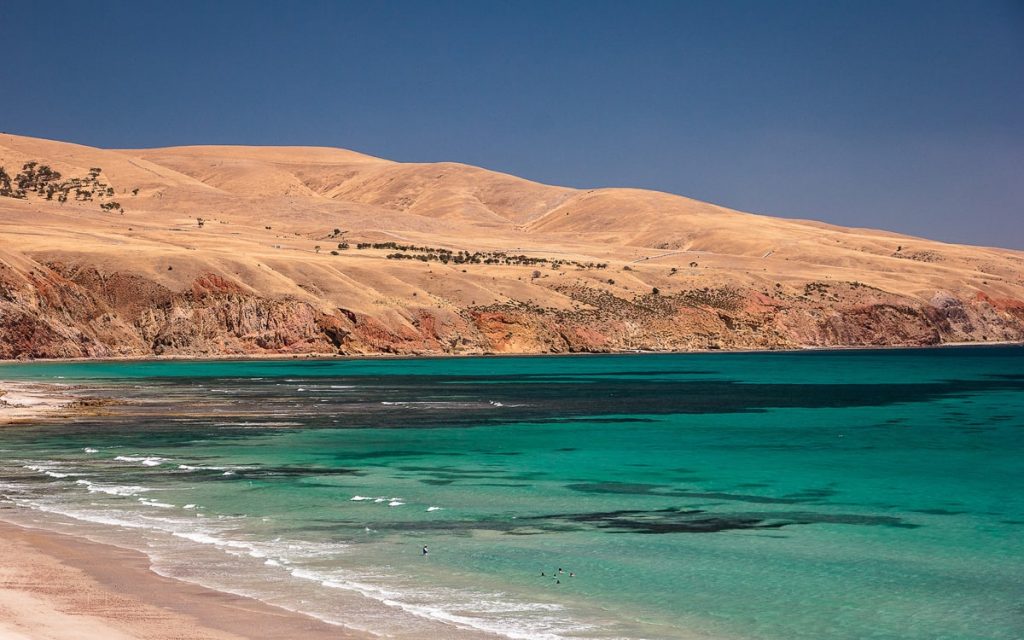 Sellicks Beach
This one is for the books: a beach you can actually drive onto in the middle of the Fleurieu Peninsula. Of all the South Australia road trips we tried, Sellicks was our personal favorite!
Idyllically placed halfway down the Fleurieu Peninsula, this hard, white sandy beach sits amongst years-old sandstone cliff faces that penetrate down into the ocean on the hillside. Like something out of a movie, Sellicks beach is also the perfect place for van-lifers to park their car for the night and sleep under the stars.
Laura and I spent a couple of nights here in between driving to chill and re-group, falling asleep, and waking up to the sounds of the ocean every single night.
Destination
The Esplanade, Sellicks Beach South Australia. Get directions on Google Maps
How To Get To Sellicks BEach
From Adelaide take the A15 all the way down towards Sellicks beach where it joins up with the A23 and heads towards Sellicks beach until you hit the Esplanade.
---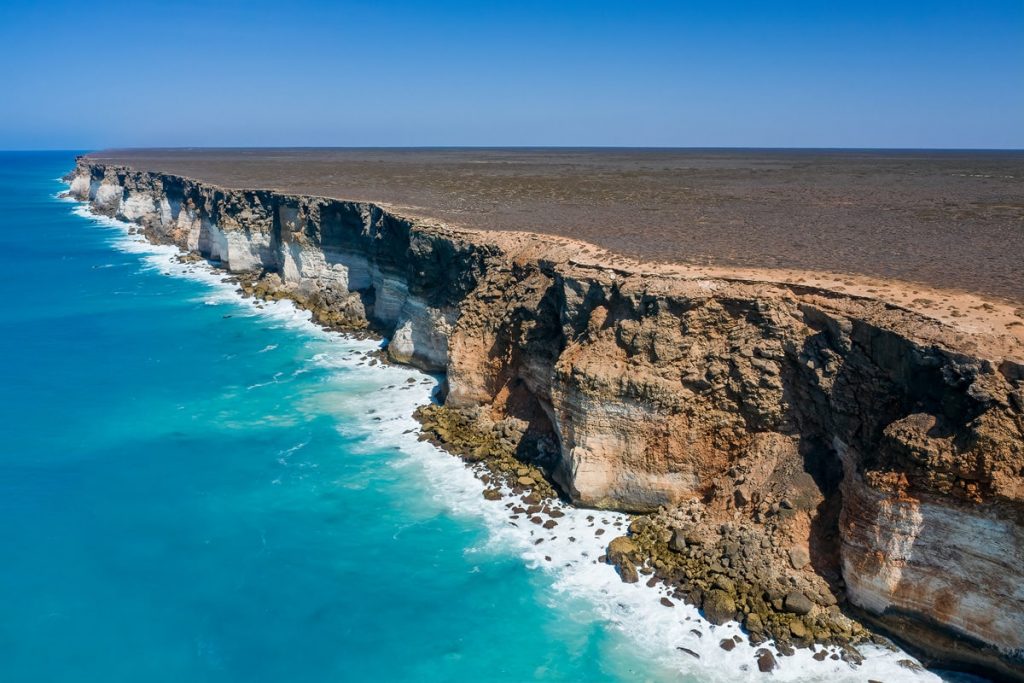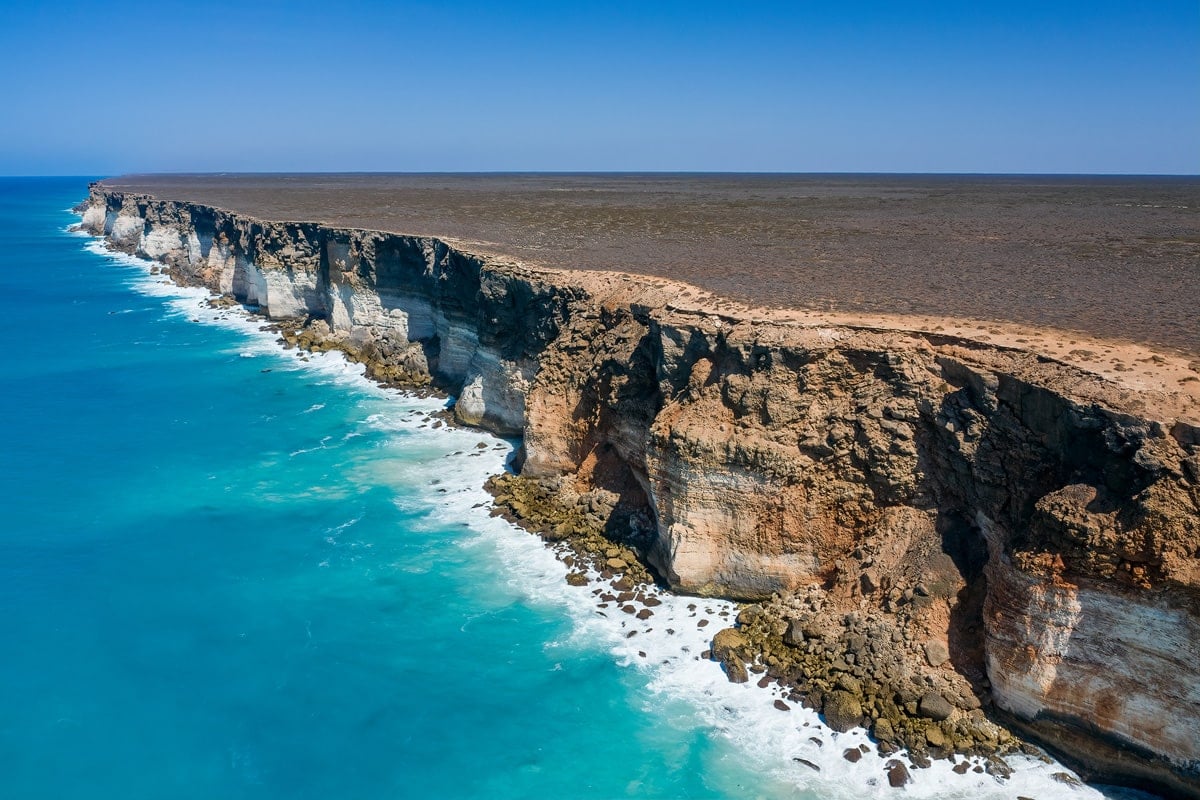 The Great Australian Bight
Towering sandstone cliffs that hug the coastline of the Great Australian Bight and one of the most beautiful places we've ever been! The bight is a chunk of coastline that looks like someone has taken a 'Bight' out of it from an aerial perspective. So a road trip in South Australia isn't complete without venturing into this part of the world; in fact, it's the only way to drive across from South Australia into Western Australia.
Road tripping through this part of the world is so unique due to the wildlife that passes through the coastline here during the winter months, and the ruggedness of this central rural landscape. The Bight plays host to the longest straight road found anywhere in Australia and segues nicely into our final South Australia road trip bucket-list…
---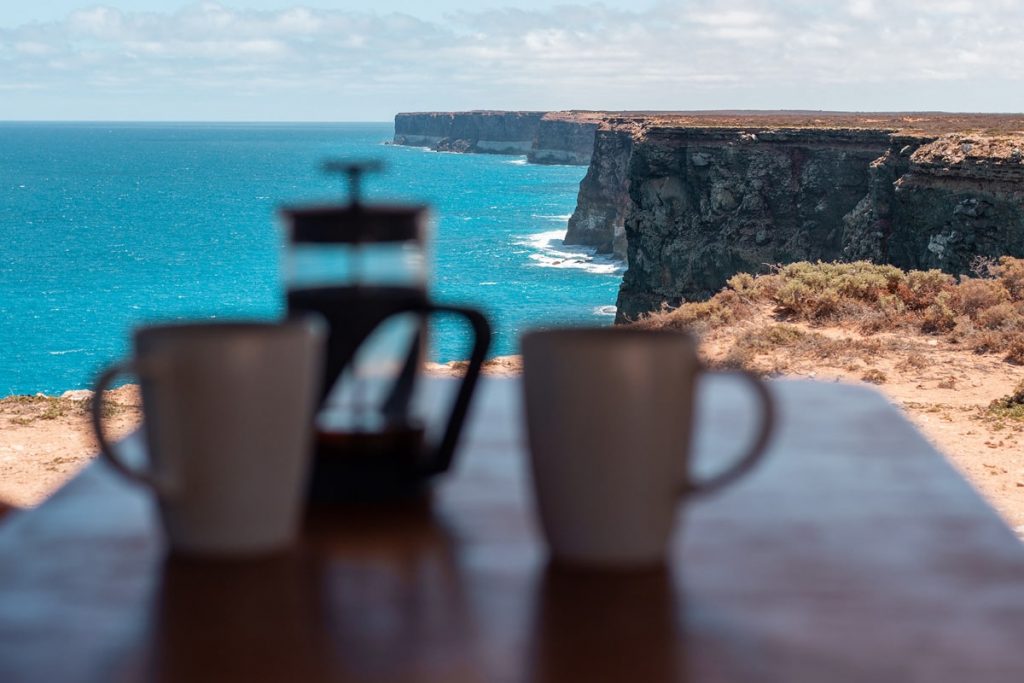 The Nullarbor Plain

The Nullarbor tops our list for the most epic road trips anywhere in South Australia. It's also the world's single largest exposure of limestone bedrock, covering an area of 200,000 sq. km.
Aussies from around the country drive down south for the chance to spend 3 days driving in a straight line with nothing but a few trees, a couple of out-houses, and random camels along the way. Seriously, be prepared for nothing more than gravel, dirt…and more gravel!
If you take your time you'd be looking at anywhere from 3-4 days, but if you share the driving with a friend, you could easily knock this road trip off in 2 days solid.
---
Final thoughts on the Best South Australia Road Trips
We hope you have found this guide helpful in planning your next road trip across South Australia! Leave a comment below if you have any other suggestions to add to the South Australia Road trips list! You can also check out our other Australia travel guides here and this article on more South Australia destinations to add to your bucket list!
South Australia travel guides here.
Want more road trip inspiration? Check out these road trip guides!
---
PIN for Later Planning