Ireland is one of those destinations that will leave you wanting to return and again! In 2019 I took an incredible week-long trip exploring Ireland's Wild Atlantic Way. This spectacular coastal route has it all… think beautiful sea cliffs, a rich history, seemingly endless castles, tons of cute sheep, quiet winding roads, and friendly locals. In this blog post, I am sharing a day-by-day breakdown of our week-long road trip along the Wild Atlantic Way. Read on to find out all the must-see locations, best things to do, where to stay, what hikes to take, and more!
This trip was in partnership with Tourism Ireland, who invited my husband and I out to explore their beautiful part of the world. Spoiler alert: it lived up to the hype!
Wild Atlantic Way: Exploring Ireland's Breathtaking Coastal Route
Time of year: late February / early March
Trip length: 8 days
Transportation: rental car
Accommodation: hotels
Language: English and Gaelic
Currency: euro
Note – My husband and I are both photographers and we prioritize shooting in the best light when we travel. This means that our trips usually involve some back-tracking and sometimes seeing things a little out of order. Keep this in mind if you are trying to emulate our itinerary!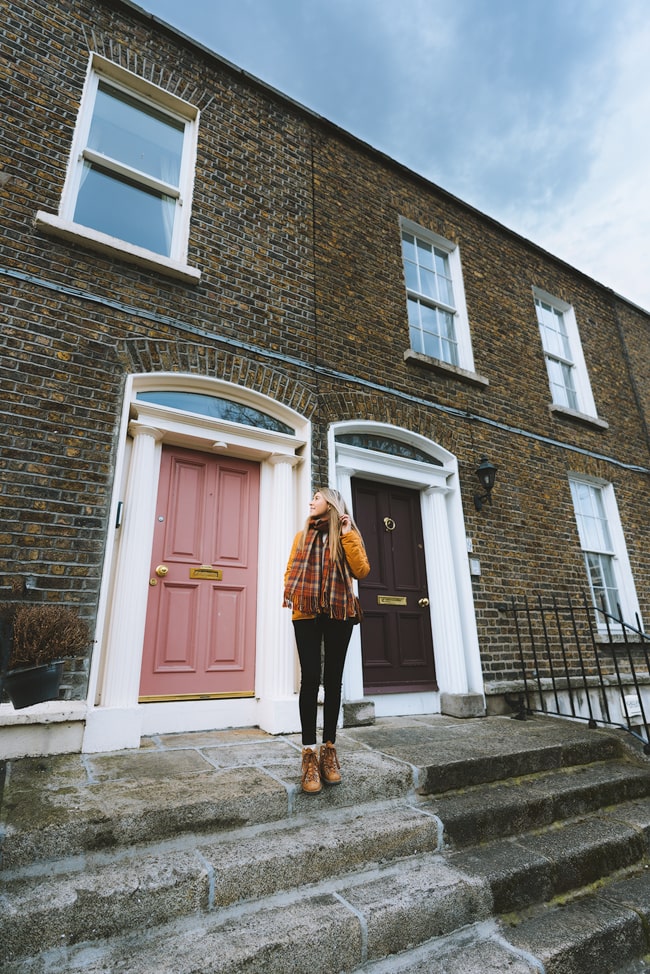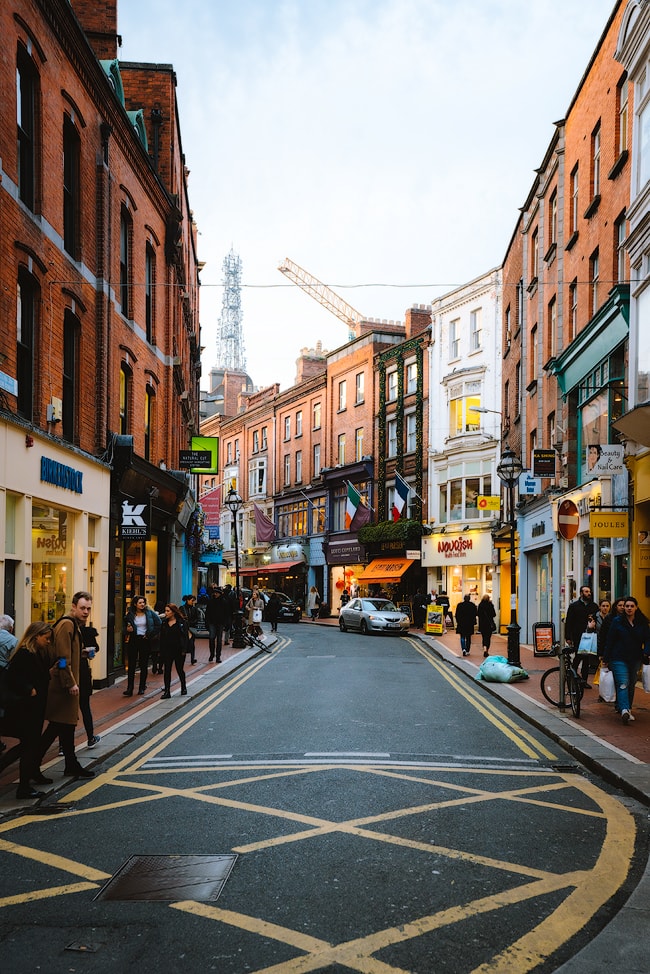 Day 1 – Dublin
We were conveniently able to take a direct flight from Seattle to Dublin with Aer Lingus, a new route that began in mid 2018. The overnight 9-hour flight had us in Dublin before we knew it. And it was sooooo nice not having to waste time connecting through another airport.
After landing, we quickly picked up our rental car from Enterprise and then made our way into Dublin city. My husband, Matthew, and I grew up in Australia. So driving on the left side of the road, using km's, and navigating round-abouts wasn't a big deal to us. But something to keep in mind if you're traveling from the US.
It was nostalgic being back in Dublin after visiting the city some 12 years ago. I was only 17 years old when I last wandered around downtown and sampled the local food. Everything felt familiar but at the same time quite new and exciting. Matthew and I checked into the beautiful Marker Hotel along Grand Canal Dock, quickly refreshed, and got out to explore Dublin before the daylight was over.
Our afternoon was spent strolling around popular sights like Merrion Square, St Stephen's Green, Trinity College, Grafton Street, and Temple Bar. It was a real treat seeing all the beautiful architecture and colorful Georgian doors. And as per usual, we took way too many photos. The jet lag started to hit around 6 pm. So we opted for an early (and delicious) dinner at the Marker Hotel before catching up on some much needed rest.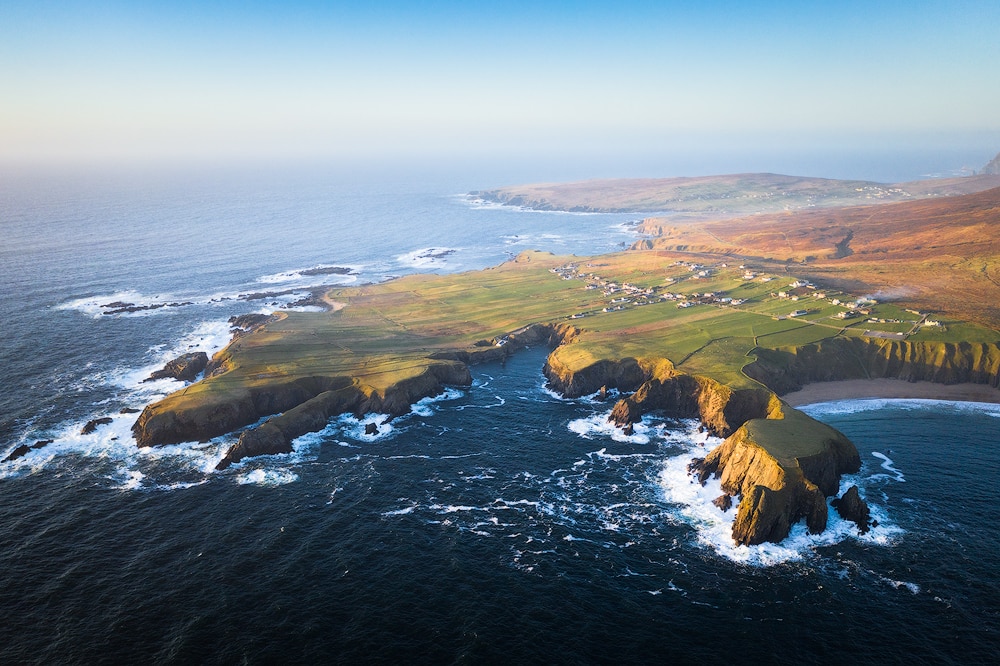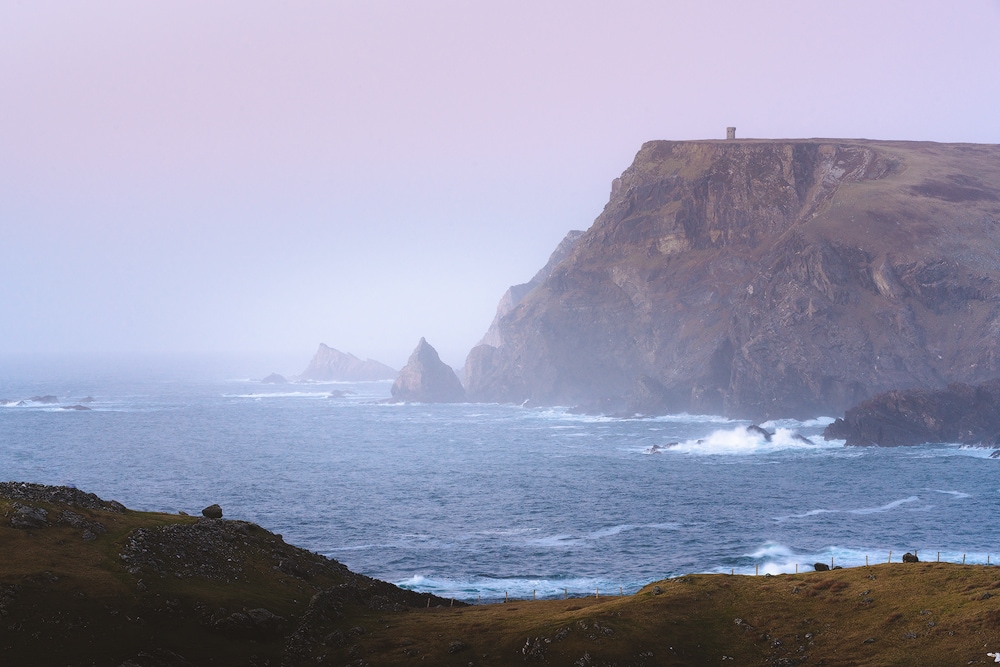 Day 2 – Donegal & Glencolumbkille
After indulging at the Marker Hotel's breakfast buffet we sadly said goodbye to Dublin. Side note – they know how to make a good latte in Ireland! Even Matthew (who isn't really a coffee drinker) enjoyed the coffee throughout our trip. Another surprise was the yummy and authentic porridge that I sampled across the country… who knew it could actually rival avocado toast?!
The aim of our trip was to explore some of the lesser known spots along the Wild Atlantic Way, with a couple of the popular sights thrown in for good measure. We aren't the biggest fans of large crowds and generally prefer to have locations mostly to ourselves, so this itinerary suited us perfectly!
Our first stop on the Wild Atlantic Way was the county of Donegal, in the northwest corner of Ireland.
On route from Dublin we passed through Northern Ireland, which was surprisingly uneventful. In fact, if it hadn't of been for the switch to miles per hour then we probably wouldn't have even noticed we had entered a different country!
We enjoyed driving across the Irish countryside during those 3 hours it took to get from Dublin to Donegal. Everything was so green and lush! Our lunch stop for the day was in the cute town of Omagh, where we enjoyed soup, focaccias, and milkshakes at Serendipity Tea Room.
When researching photo locations for this trip we kept coming across two particular spots in the south-west area of Donegal – Glencolumbkille and Malin Beg. Their dramatic sea cliffs and beaches really stood out on Google Earth and we knew we needed to see the region with our own eyes.
We arrived at Silver Strand Beach (Malin Beg) as the afternoon light was turning golden.
And what a magnificent spot! The bay is shaped like a horseshoe, surrounded by huge cliffs, and home to a beautiful sandy beach. It was only us, a few locals walking their dogs, a bunch of local sheep, and some of the prettiest coastal views you could imagine.
Just before sunset we decided to quickly drive over to a viewpoint of Glen Head, just outside the town of Glencolumbkille. You could see the famous Sturrall in the distance and the sky turned a gorgeous shade of pink as the sun made its way below the horizon.
Our stomach's grumbling, we jumped back into our car and began the 1.5 hour drive to Letterkenny. We had a lovely dinner at Brown's on the Green before checking into the Radisson Blu Hotel for the night. It was a successful first day exploring the Wild Atlantic Way!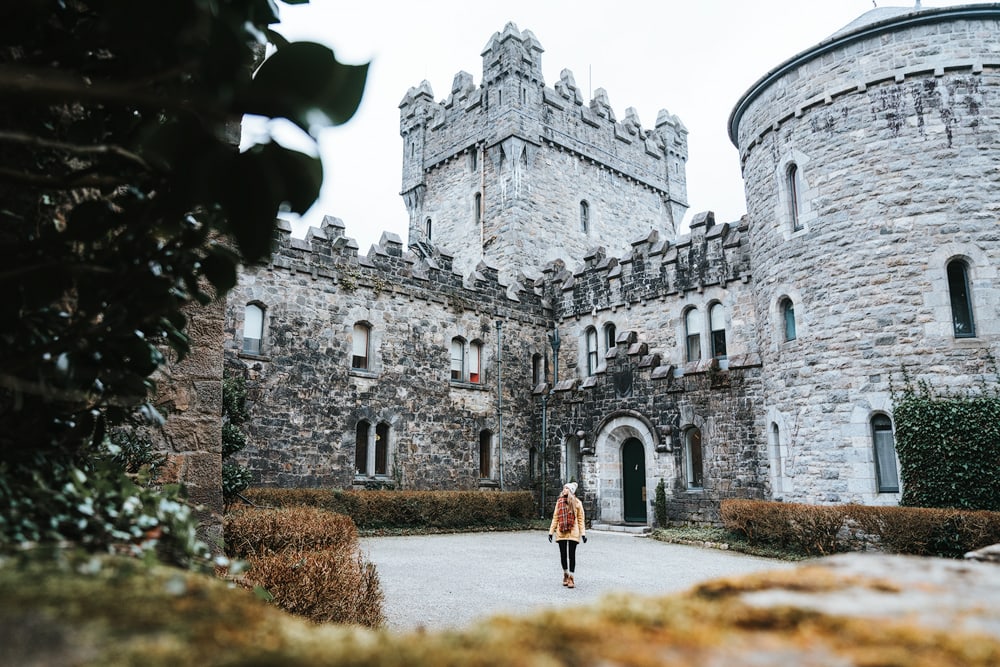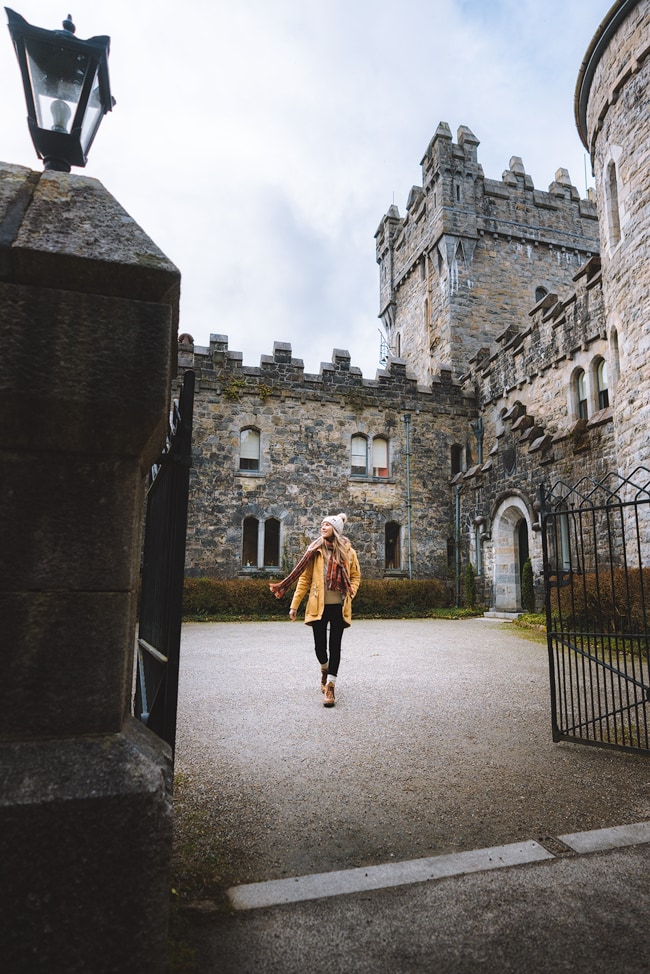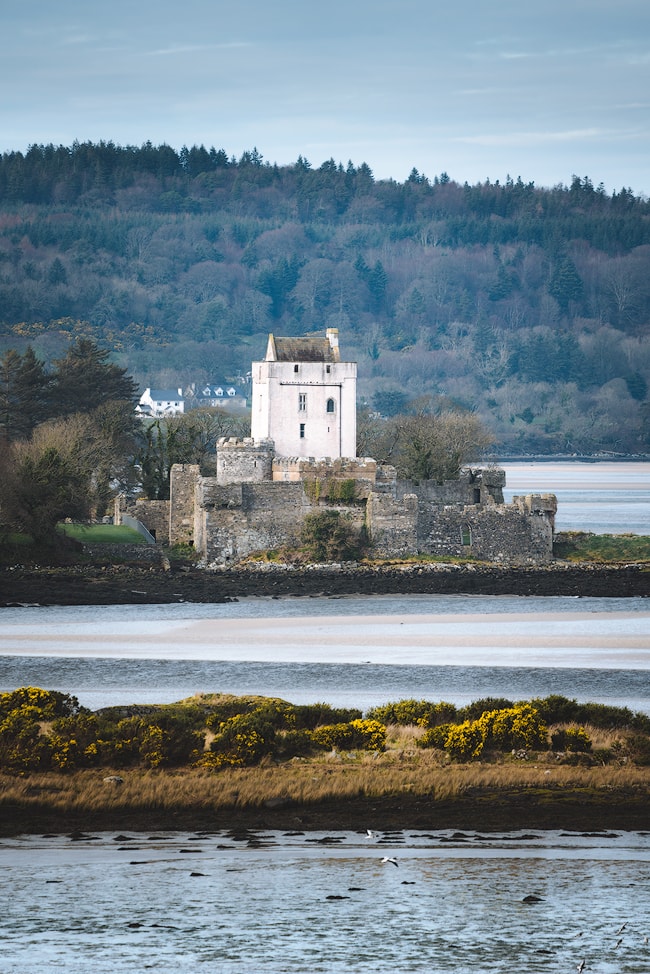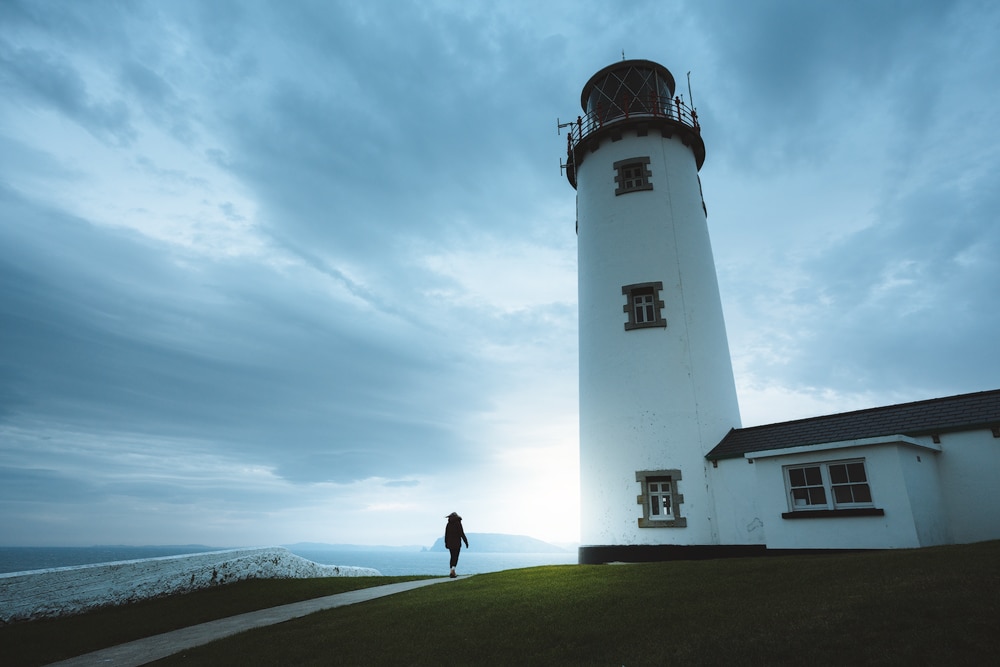 Day 3 – Glenveagh & Fanad Head Peninsula
Glenveagh National Park was the main attraction for us to explore during day 3. Located about 25 minutes from Letterkenny, the park's Visitor Center was our first point of call. Friendly rangers loaded us up with advice and maps, suggesting we start off with a tour of Glenveagh Castle.
There are two options for getting to Glenveagh Castle – walking the 3.5 km Lakeside Trail or catching a shuttle bus. It was drizzling rain and fairly windy so we opted for the bus, costing only 3€ each.
Some of you probably already know this… but I have a thing for castles, always have, always will. There's just something about their history and beauty that has me in awe every single time. Glenveagh was no exception and we thoroughly enjoyed our guided tour of the Castle's interior (7€ per person).
Our tour guide led us through the Castle's many beautiful rooms, shared stories of its owners, and how it had been renovated and extended over the years. Matthew and I also enjoyed walking (self-guided) around the Castle's gardens, down by the boat dock, and finished with a delicious lunch in the Tea Rooms.
The daylight hours were running out yet again, so we pushed onward to our next destination – the Fanad Head Peninsula.
The drive took us about 45 minutes and was again filled with beautiful views of the lush Irish countryside.
The remote Fanad Head Peninsula is best known for it's idyllic lighthouse, which stands grandly between Lough Swilly and Mulroy Bay. It has been voted one of the most beautiful lighthouses in the world, and I definitely have to agree!
This night we were lucky enough to be stay at the Fanad Head Lighthouse. Yes, you heard me right, you can actually book the cottage for a night (or more)! The lighthouse now runs automatically so we were in fact the only people staying on Fanad Head that night. It felt like we had stepped into the position of lighthouse keepers as we watched the light beaming across the ocean after dark – so surreal!
We were treated to a tour of the lighthouse and learned about the area's fascinating history. Quick facts – the lighthouse was built in 1817 and sits 39 meters above sea level, with 79 steps up to the tower.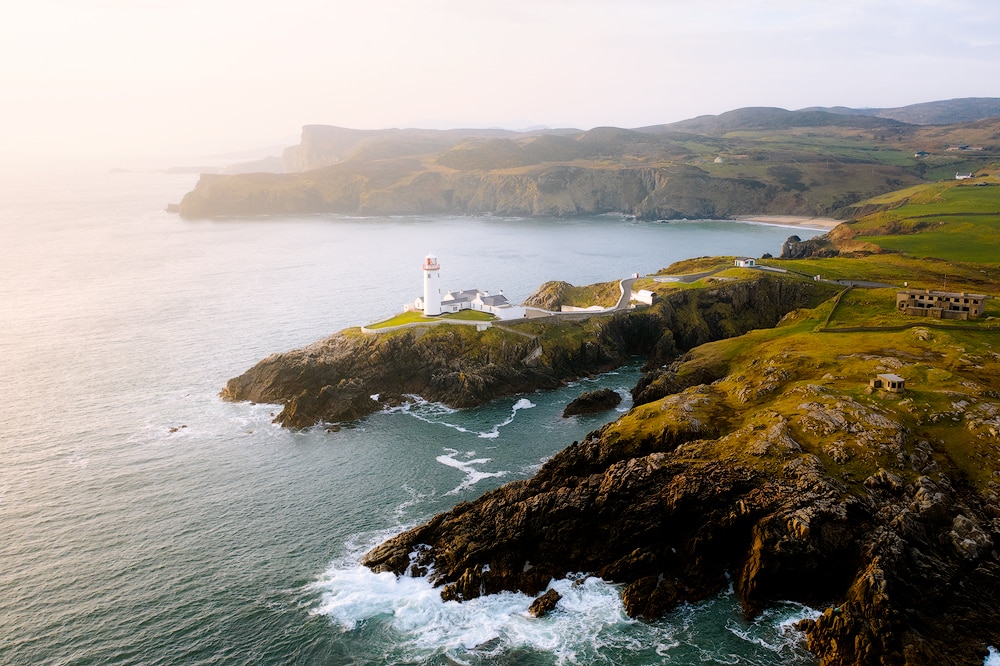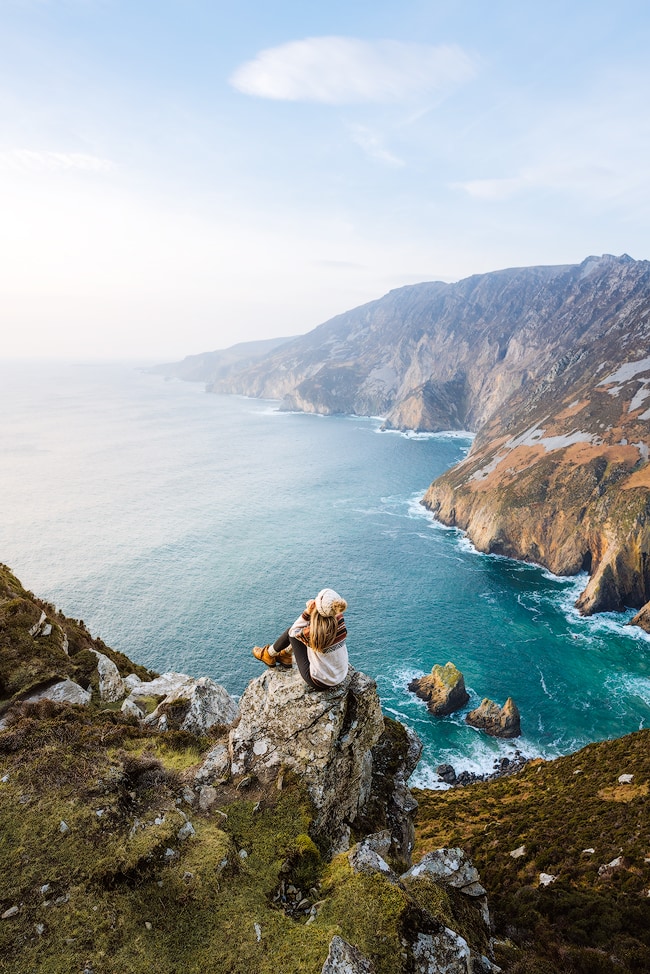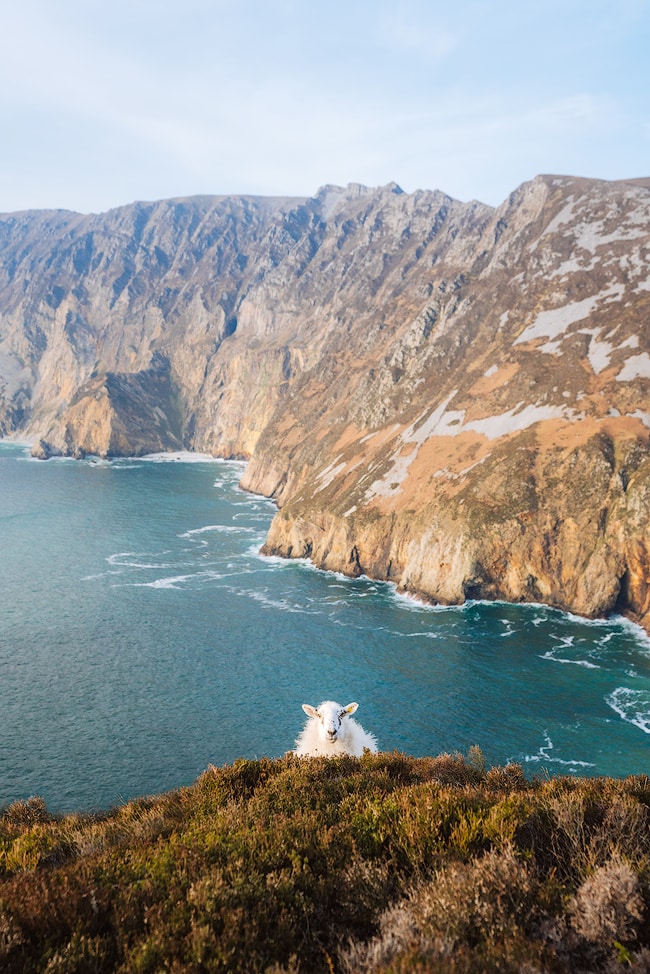 Day 4 – Slieve League Cliffs
Our morning started off with the most magical sunrise over the Fanad Head Peninsula and Lighthouse (see the blog's header photo). The forecast had predicted grey skies so the vibrant pinks and purples took us both by surprise… a weather pattern that seemed to continue throughout our trip.
We checked out of our cottage and began the journey back down the Wild Atlantic Way, this time heading for the Slieve League Cliffs. We drove through so many quaint towns, passed by some beautiful beaches, and probably stopped at too many bakeries! (Never!) Some detours that stood out were Bunbeg Harbor, Dunfanaghy Beach, and the heritage town of Adara.
It was mid afternoon when we arrived at the Slieve League Cliffs, also known as Sliabh Liag Cliffs and Slieve Liag. This magnificent part of the coast is known for its staggering 600 meter high sea cliffs, epic hiking trails, and magnificent views of the Atlantic Ocean. I can confirm that it lived up to all of those expectations!
The Slieve League Cliffs are free for anyone to visit and can be accessed by driving to the Bunglass View Point parking lot.
Keep in mind that you need to open (and securely close) a cattle gate to drive up the main road, or visitors can park at the bottom and walk up.
From the parking lot you can easily take in spectacular views right from the boardwalk and Bunglass Overlook. We opted to venture beyond the viewing point up Old Man's Pass hiking trail for sunset, where I believe we stopped about a third or halfway along the trail for a particular photo spot we liked.
It blew our minds that we were the only people at Slieve League Cliffs for sunset, besides the local sheep that is. These are the tallest sea cliffs in Ireland (nearly 3 x that of the Cliffs of Moher), very easily accessible, and completely free to visit! It was a real treat to witness the area's beauty in solitude and we hope to return and complete the full hike one day.
We stayed that night at the luxurious Harvey's Point in Lough Eske. Our hotel room was beyond beautiful and we are so sad that we didn't have more time to explore the area. Another place on our "must-return" list!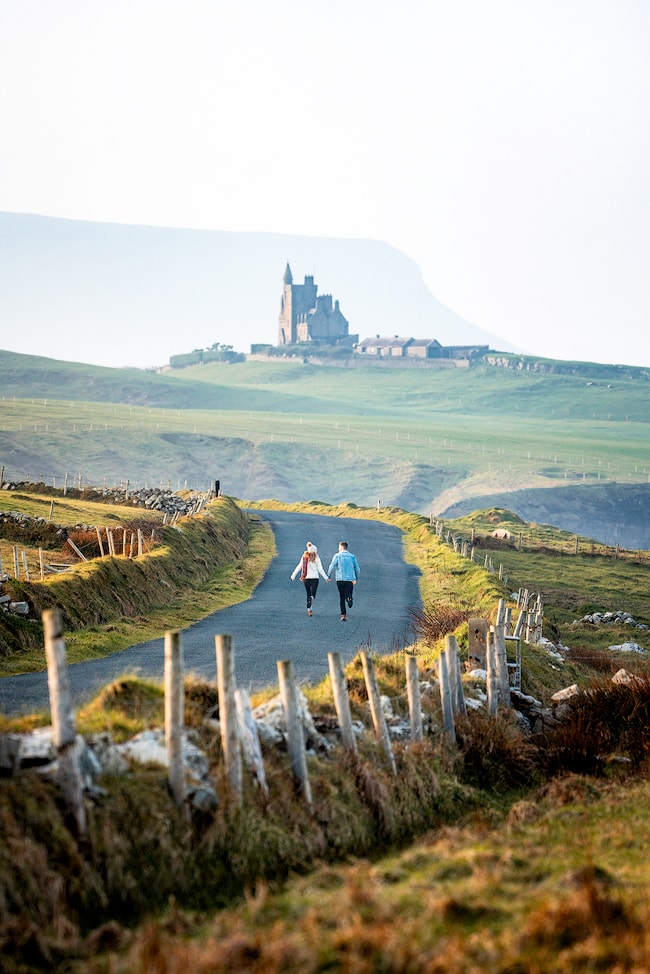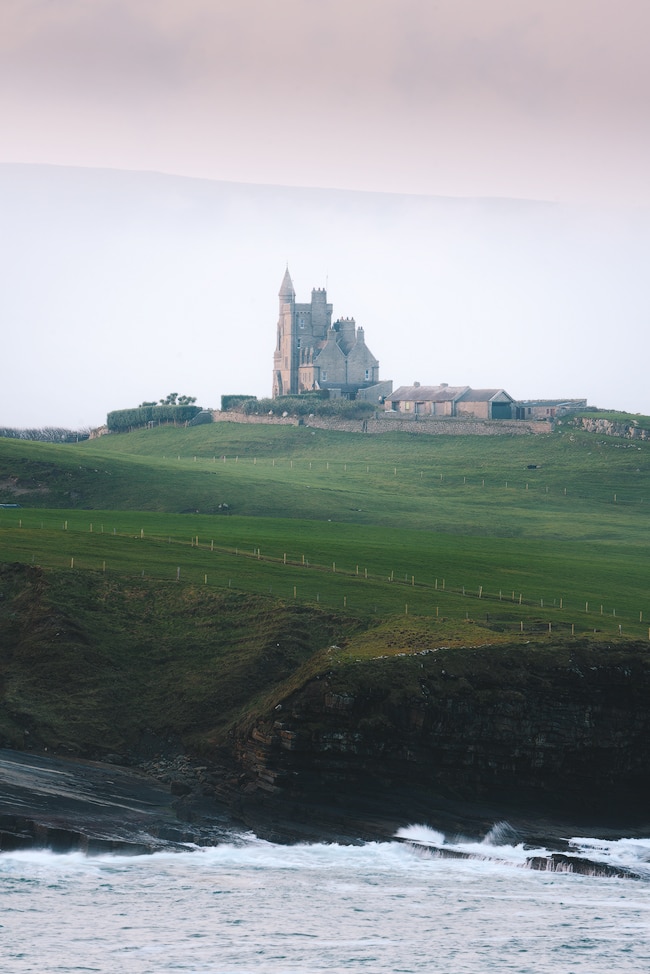 Day 5 – Mullaghmore Peninsula
Another gorgeous and sunny day! By this point in the trip we couldn't believe our luck with the weather! Day 5 and we had only had a tiny bit of rain and one morning of cloud/fog. It's funny because the last time I was in Ireland we also experienced a week of sunshine… it must be that Irish luck!
This morning was all about exploring the Mullaghmore Peninsula. We had seen some photos online of Classiebawn Castle with magnificent Ben Bulben (Benbulbin) mountain behind and were keen to capture the area at sunrise. Again, it was just us and the local sheep out enjoying the morning… a seemingly constant theme of the trip and one we were very much enjoying.
Classiebawn Castle is a privately owned property that you can photograph from a distance but not enter the grounds. I loved that we could stand on a sea cliff with the Atlantic Ocean to our right, lush paddocks to our left, Classiebawn Castle in front of us, and Ben Bulben mountain way out in the distance. What a sight!
After capturing some fun photos we decided to drive south to the city of Sligo. A yummy meal was in order and the selection at Sweet Beat Cafe definitely hit the spot. Bellies full, we continued on to the coastal town of Strandhill. Our accommodation that night was at the Strandhill Lodges & Suites and I would highly recommend The Venue Restaurant next door.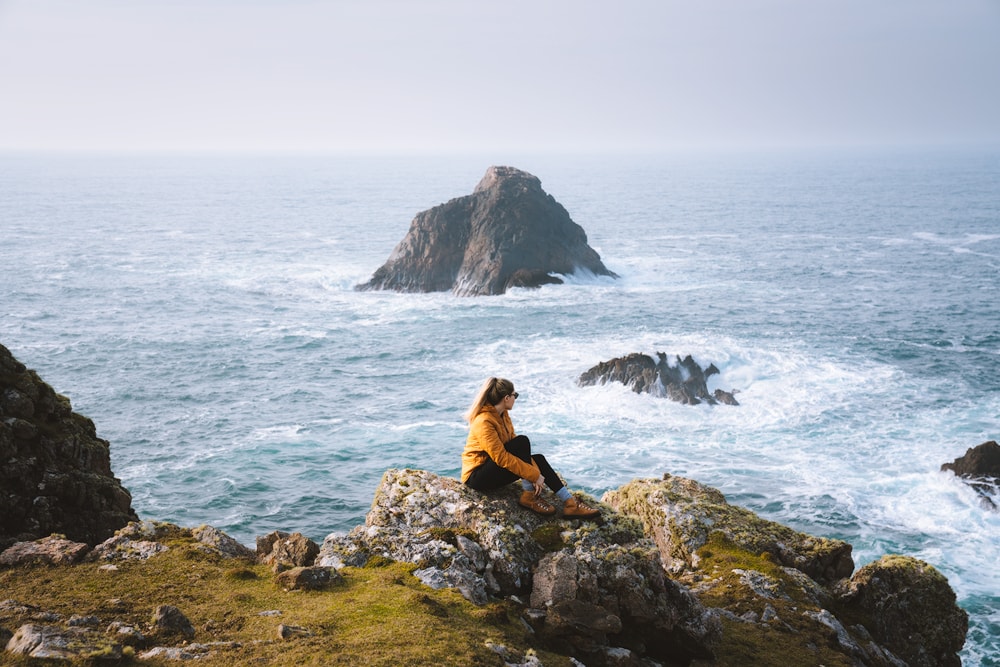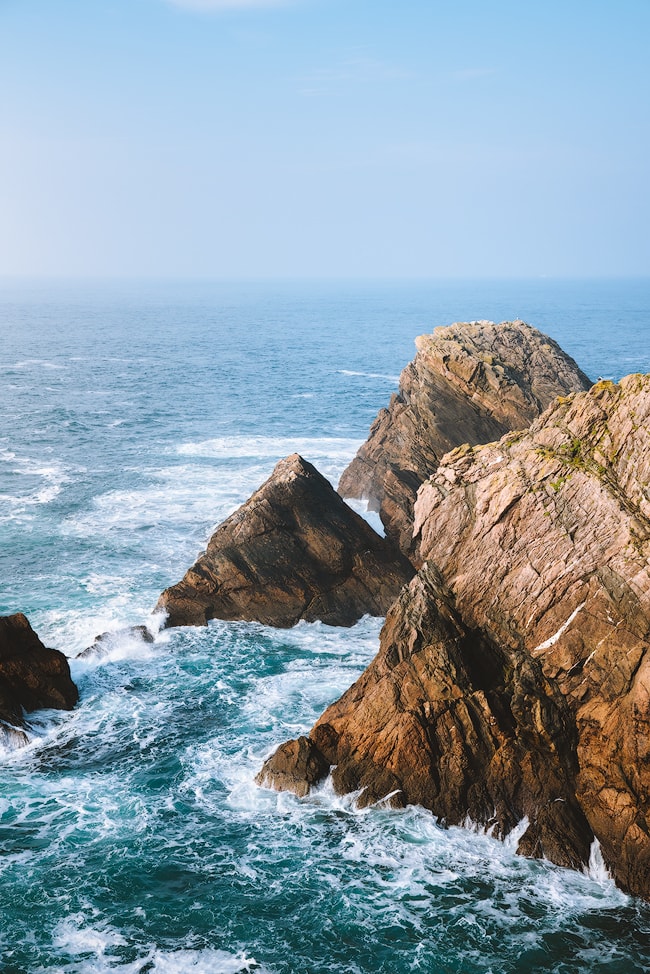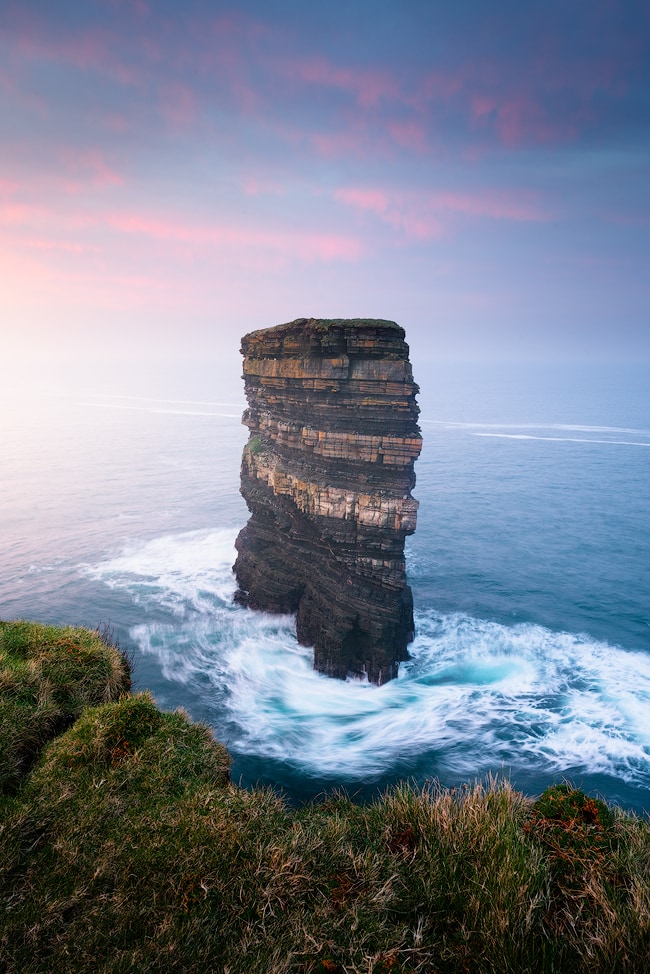 Day 6 – Erris Head & Dun Briste Seastack
Today was yet another day filled with sunshine and epic coastal views along the Wild Atlantic Way. As mentioned earlier on in this post, Matthew and I often travel a little "out of order" so that we can shoot particular locations at sunrise/sunset. Today was one of those days that involved some back-tracking.
We started off heading south-west on the Wild Atlantic Way towards Erris Head. It made sense to take a hike on this beautiful warm day and we opted for the Erris Head Loop Trail. The 5 km trail passes by some of Country Mayo's most spectacular scenery. Including steep cliffs, grassy hills, local sheep, and rugged sea stacks. Would highly recommend!
A quick post-hike bakery stop was in order and An Builin Blasta in Belmullet was well worth the visit.
From here it took us about 50 minutes to drive to our sunset location – Dún Briste Sea Stack.
Located off Downpatrick Head, Dún Briste (Gaelic for Broken Fort) is a 45 meter / 150 foot tall sea stack that was once joined to the mainland. Visitors can access the area via a short walk from a designated parking lot (you have to pass through a cattle gate which should always be closed after use).
It was a little eerie standing near the edge looking out to Dún Briste. I was very conscious that the cliff side is prone to erosion. And want to stress for visitors to be careful when exploring the area. In saying that, the view was absolutely breathtaking and I would recommend it be added to everyone's itinerary.
For those who have the extra time, the Céide Fields are located very close to Downpatrick Head. These are the oldest known Stone Age field system in Europe, where you can explore ancient stonewalls, settlements, and preserved megalithic tombs. Sadly we didn't make it this trip but it's meant to be worth the visit!
After sunset, we drove further south to Mulranny, where we stayed the night at the beautiful Mulranny Park Hotel.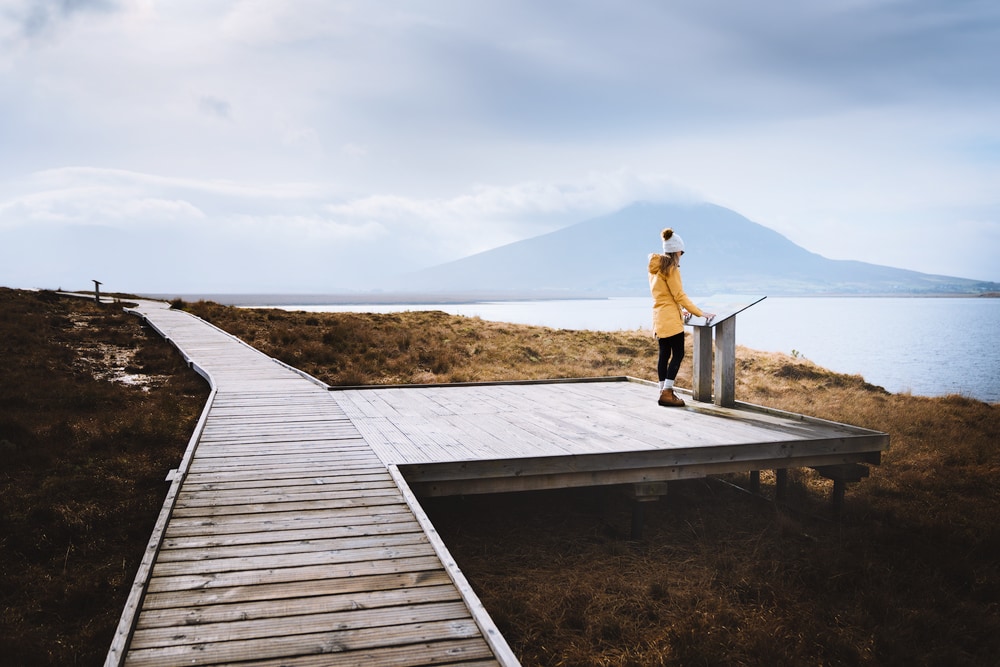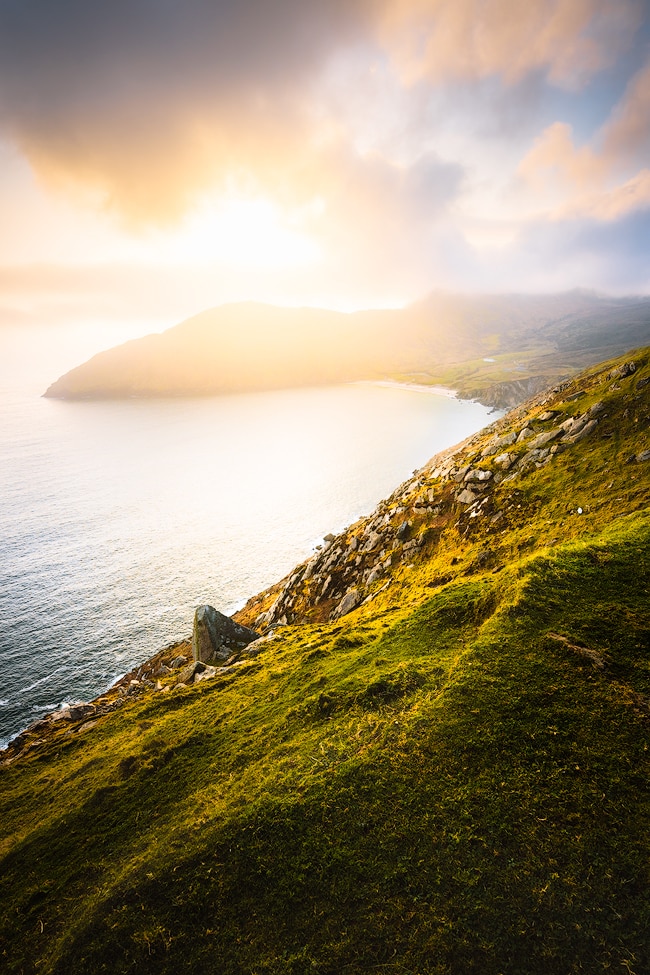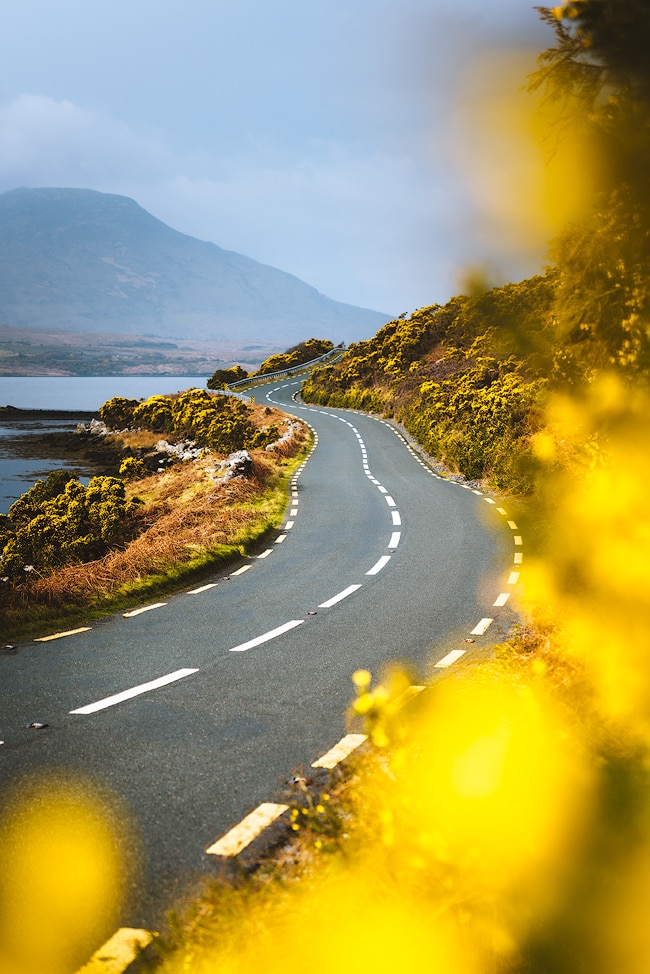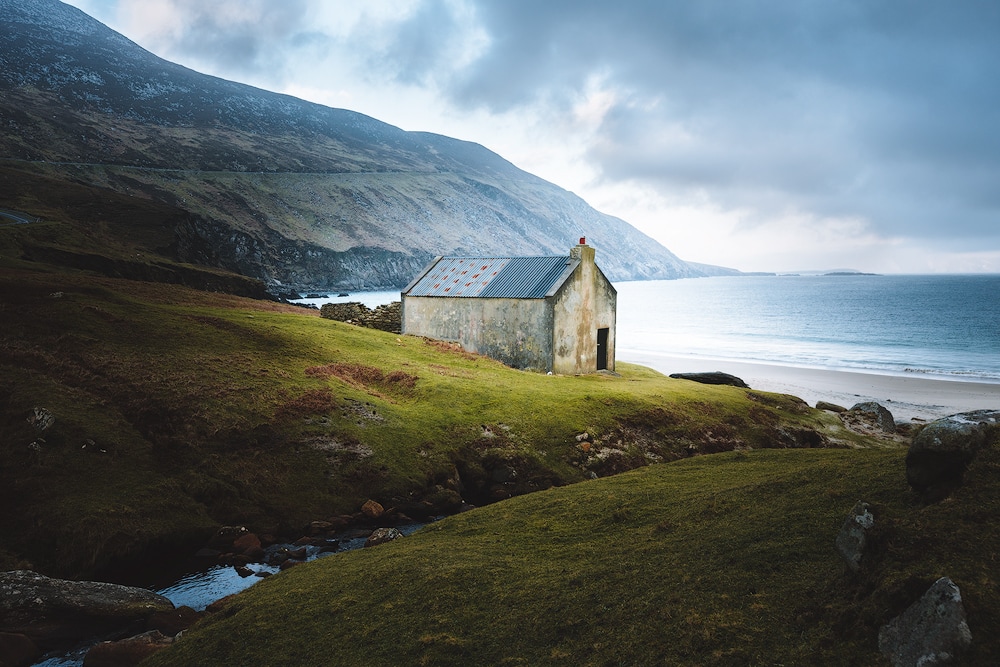 Day 7 – Ballycroy & Achill Island
We chose to back-track a little this particular morning, as we were yet to explore Ballycroy National Park and didn't want to miss it this trip! On a side note, today was slightly gloomy. BUT we did see some pockets of sunshine and didn't experience too much rain – our luck continues!
Located only 20 minutes back north, Ballycroy National Park is a wonderful stop to take scenic walks and view the Nephin Beg mountains. The area is known to be one of the last intact active blanket bog systems in Ireland. And we were able to experience some that along the beautiful Claggan Mountain Boardwalk Trail.
Our next stop of the day was Achill Island, located a short drive west of Mulranny. The island is known for its sea cliffs, rugged mountains, peat bogs, and beautiful beaches. Our two favorite spots were probably Keem Bay and Keel Beach. We sadly ran out of time to hike Achill Head from Keem Bay. But I hear it provides amazing views over the Atlantic Ocean.
We stayed the night at the beautiful Knockranny House Hotel in Westport, Mayo. If you're looking for a delicious dinner I would highly recommend the fish and chips and crème brulee from their onsite Brehon Bar.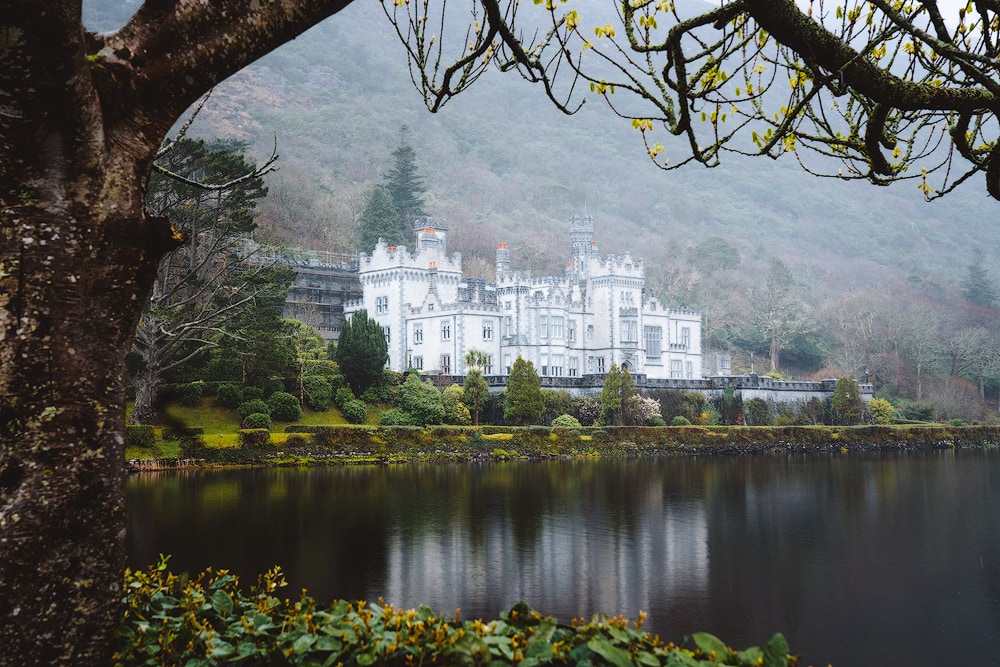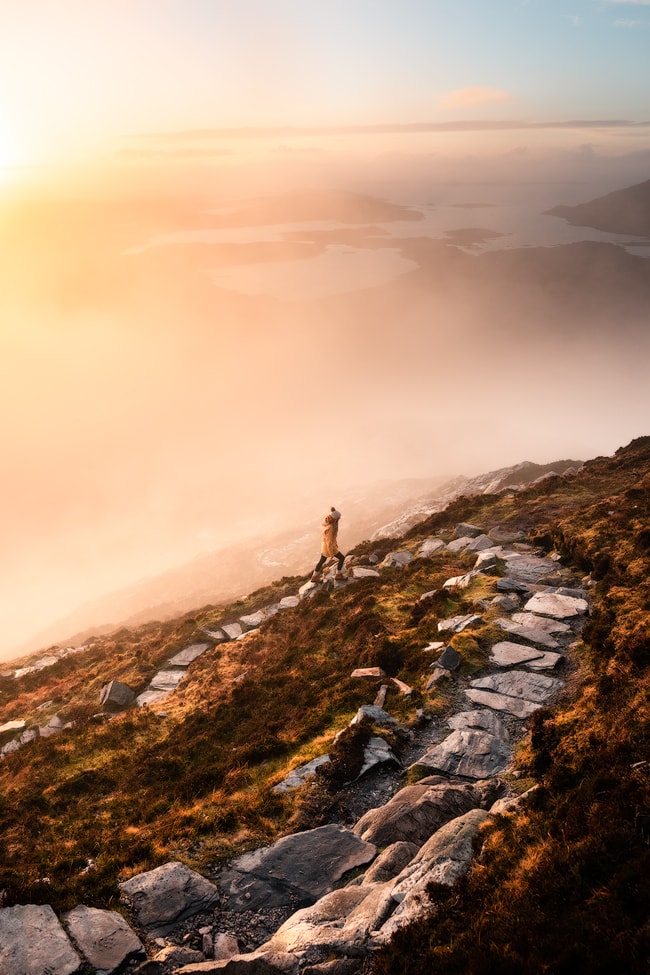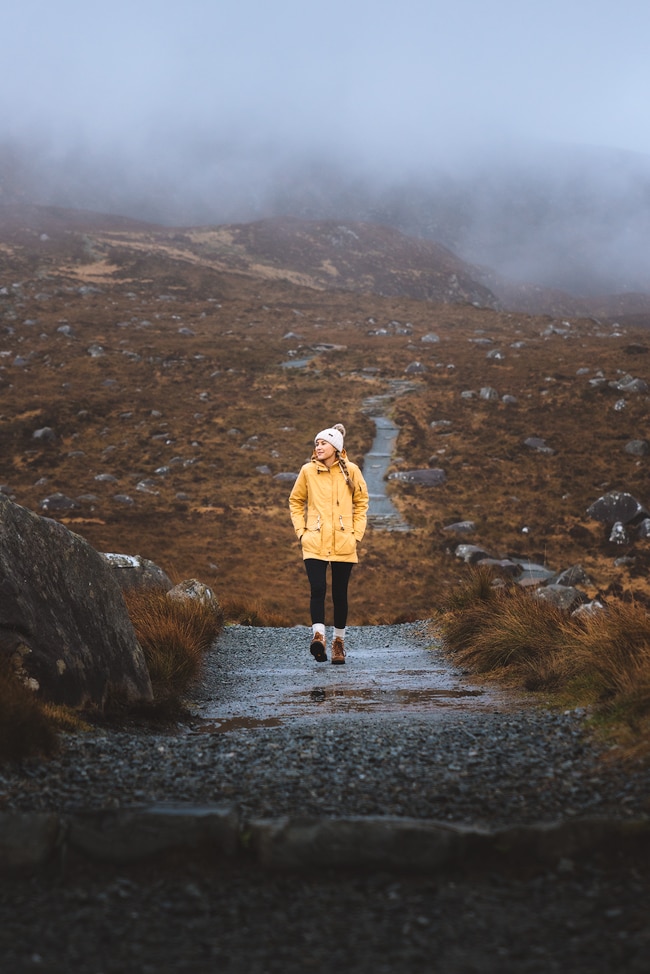 Day 8 – Connemara National Park
Sadly this amazing trip had to come to an end! Today we decided to focus our attention on exploring one of Ireland's most well-known areas, Connemara National Park and its surrounds. Our luck with the weather seemed to end on this day… or so we initially thought!
Our first stop was beautiful Kylemore Abbey and its famous Victorian Walled Garden, which sit so picture-perfect on Pollacapall Lough. The rain was coming down hard. So we threw on our jackets, snapped a few photos and ran back to the car.

The rain continued to fall and we were limited in what sights we could explore in Connemara National Park. The park's Visitor Center was very informative and we also spent some time learning about the area's vegetation and history. The rangers helped us plan a sunset hike up Diamond Hill. But the weather wasn't looking very promising.
We decided to put on our rain jackets and make the most of our last afternoon. Our hike of choice was the Upper Diamond Hill Trail. Which loops 6.1 kms and provides stunning views of the Twelve Bens and surrounding Connemara region.
Well, we were in for quite the treat!
About an hour before sunset the clouds and fog began dissipating and we ended up experiencing the most magical golden light. We actually laughed out loud thinking about how lucky we had been with the weather all trip!
After enjoying the epic sunset we hiked down in the dark using headlamps and made our way to Ballynahinch Castle. To top off this amazing trip we were able to stay in a real life castle on our last night! It was such a cool experience and one I would highly recommend if you are planning your own trip. All the staff at Ballynahinch were amazing, the grounds were magnificent, and the food absolutely delicious.
I didn't include a section dedicated to the following day as it only involved us driving back to Dublin and catching our flight home to Seattle. We were very sad to be leaving Ireland but know we will be back soon!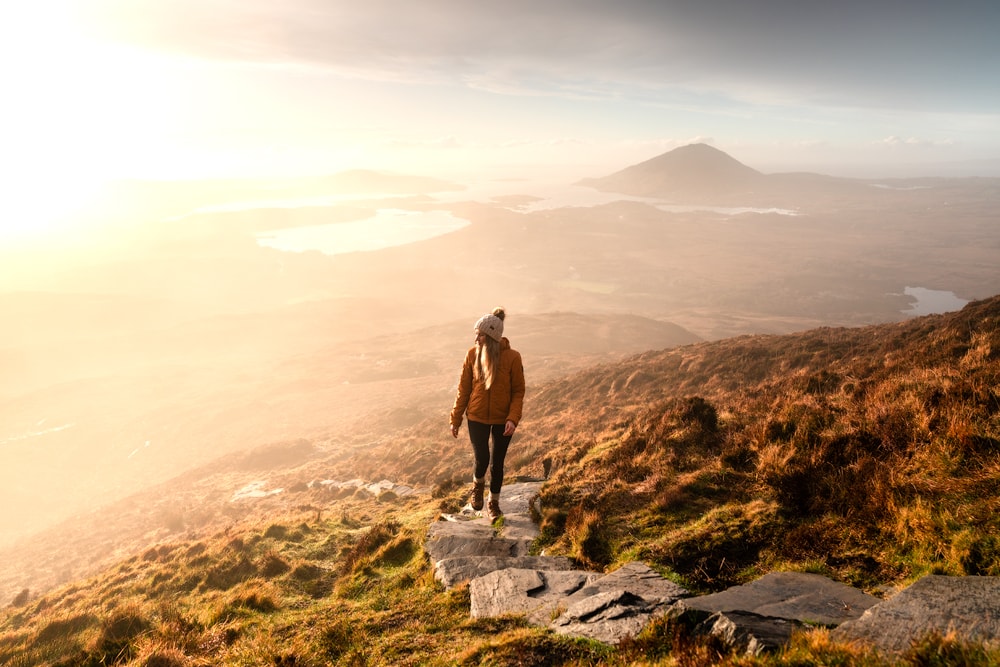 PIN For Later!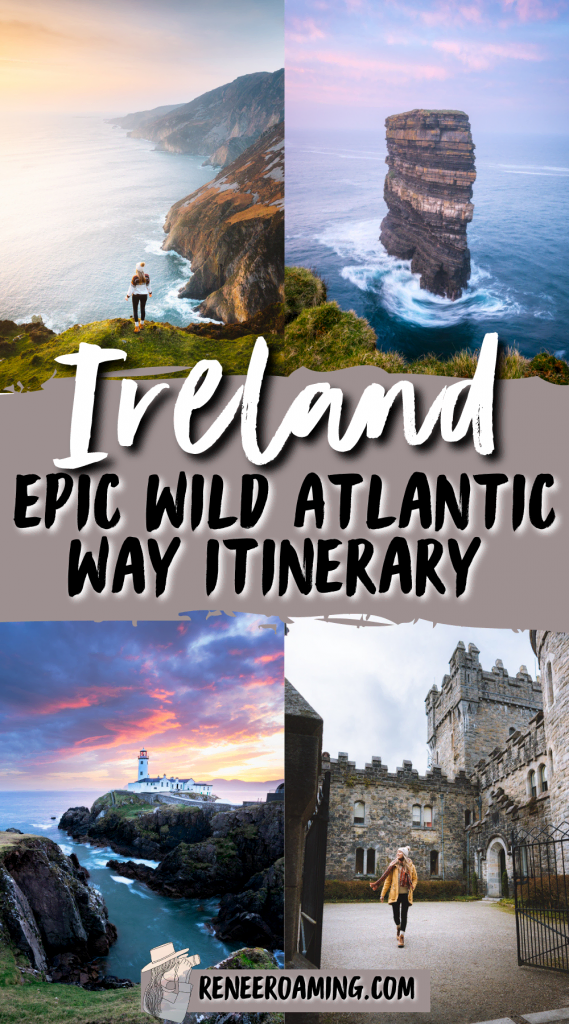 Disclaimer: This blog post featuring the Wild Atlantic Way is in partnership with Tourism Ireland. All thoughts and opinions are my own and honest.