I recently spent some time exploring the Italian Dolomites and now I am convinced that it's one of the most beautiful places on earth!
I've lived in mountainous places such as Colorado and the U.S. Pacific Northwest, and traveled to destinations like Peru, Alaska, Switzerland, and New Zealand… and nothing quite prepared me for the jagged peaks of the Dolomites. The scenery literally had us laughing out loud at its sheer beauty and scale!
In this blog post I am sharing all the details about our fall road trip around the Dolomites, including everything you need to know to plan your own visit! You'll find information about where to stay, what to see, a packing guide, location map, suggested itinerary, and more!
Disclaimer: This blog post is in collaboration with Backcountry.com and features some affiliate links. This means I get a small commission if you make a purchase (at no extra cost to you). Use code RENEE15 to get 15% off your first Backcountry order (some exclusions apply). You can also learn more about my affiliate policy here. Thank you for the support!
Plan the Ultimate Fall Road Trip to the Dolomites of Italy
The Dolomites are a mountain range located in north-eastern Italy, close to the border of Austria. Although they are entirely within Italy, you could be fooled into thinking that you are in Austria due to the style of architecture that dominates the region, and with the most common language being German. This is due to the region belonging to the Austro-Hungarian empire until it was annexed by Italy in 1918.
The mountains in the Italian Dolomites are some of the most dramatic you will find anywhere on earth, and are a haven to outdoor adventurers and tourists year-round. Popular activities during the summer months are hiking, climbing, and biking. Whereas in the winter over 130 kilometers of ski slopes and 400 ski lifts keep visitors coming back again and again.
When to Visit the Dolomites for Fall Colors
We chose to visit the Dolomites in October (2019), partly because of the reduced crowds, but also due to the INSANE fall colors that surround the region at this time of year. Timing fall colors can be difficult as the dates of peak colors can vary year-to-year depending on the weather.
Our research showed that the most common peak autumn colors were around the 15th-25th of October, so we planned our trip within this window. Lucky for us, these dates ended up working out perfectly this year and we arrived to an incredible display of color that lasted throughout our stay.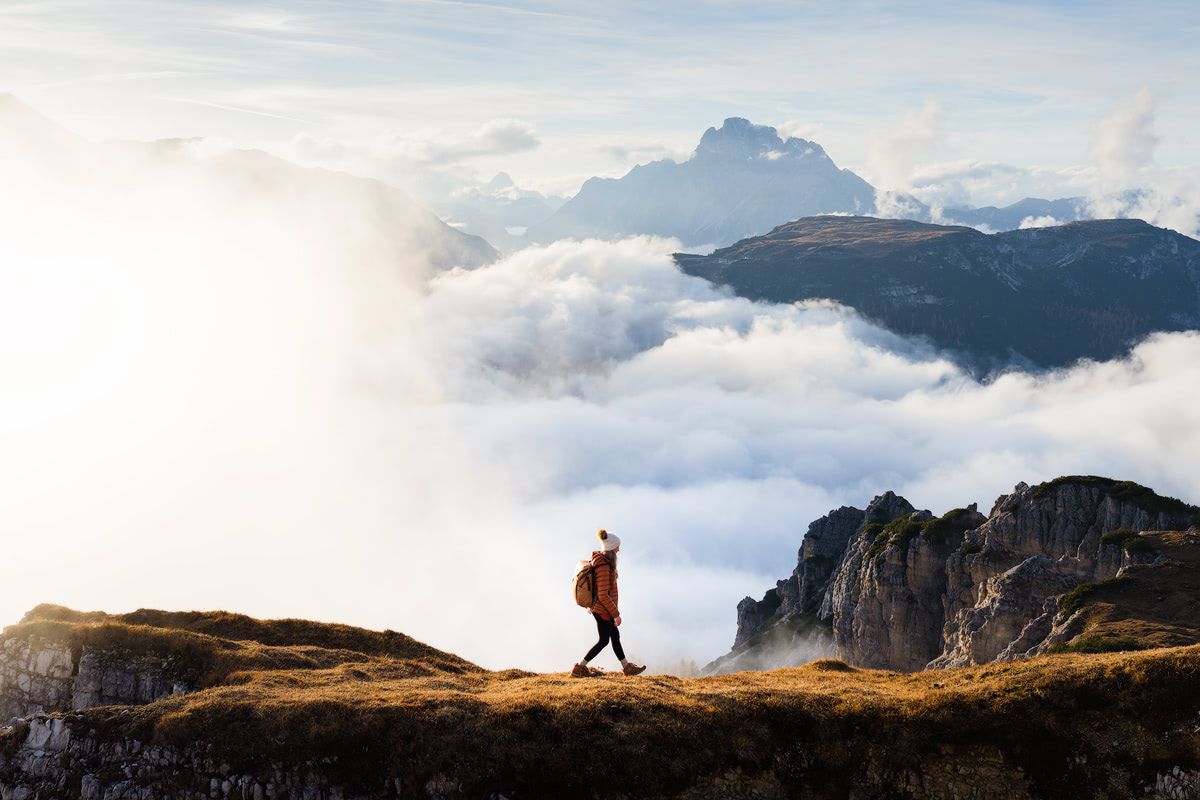 How to get to Northern Italy
Getting to northern Italy is fairly easy. There are numerous major airports that are within a short driving distance, with the most common for Dolomites access being Milan and Venice. We opted to fly into Milan, pick up a rental car, and drive approximately 4 hours to our first destination in the Dolomites (see a suggested itinerary further down this blog post!) Another option would be to fly into a neighboring country, with cities such as Munich, Zurich, Innsbruck being relatively close.
Zurich Airport – Switzerland: 5-6 hours
Malpensa Airport – Milan, Italy: 4-5 hours
Munich International Airport – Germany: 3-4 hours
Marco Polo International Airport – Venice, Italy: 2-3 hours
Innsbruck Airport – Austria: 2-3 hours
How long to spend in the Dolomites
How long you spend exploring the Dolomites of Italy will depend on your style of travel, how much time you typically enjoy spending at each destination, and whether or not your priority is to capture photos.
My husband and I are professional photographers and one of our main goals when traveling is to capture images. We therefore typically allow for longer at each destination to account for any potential bad weather days, changing autumn colors, etc. Our trip to the Dolomites was 8 nights total, split between two main destinations (see more info below).
If you aren't so focused on capturing photographs then I would say about 5 nights would be a nice amount of time to see the areas highlights.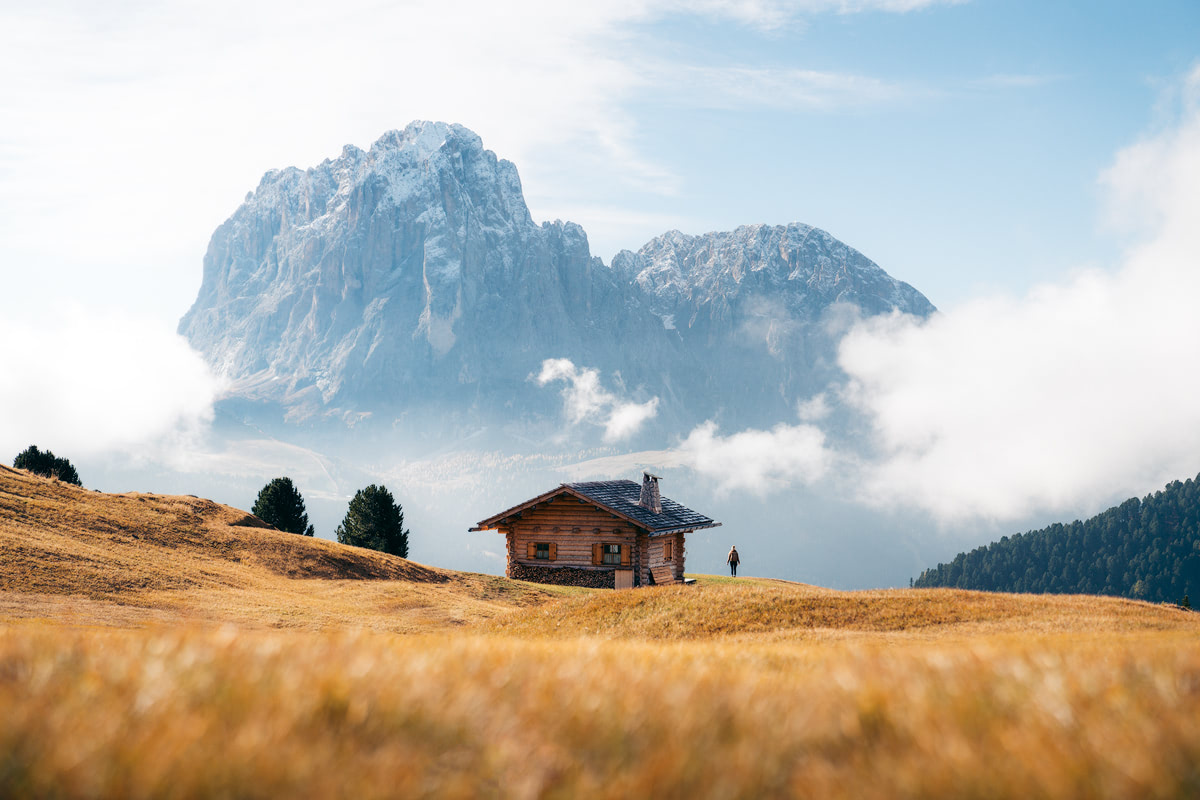 Where to stay in the Dolomites
The Dolomites has a variety of small towns you can base yourself in. Accommodation options include guest houses, hotels, rifugios, vacation rentals (Airbnb/VRBO), tent camping, or staying in a camper van. We opted to stay in apartments booked through VRBO and this ended up suiting our needs really well. Below are the two towns we chose to split our time between:
Ortisei (Urtijëi)
We spent three nights in Ortisei and found it to be a great base to access a lot of the western Dolomites, including Seisler Alm, Val Di Funes, Seceda, St. Valentin Church/Siusi, and Gardena Pass. Note that the town is called Urtijëi in German, which can confuse some visitors.
There weren't a lot of food options open in October when we visited due to it being the off-season, but there was a couple of really nice restaurants that suited us fine for the time we were there (definitely check out Restaurant & Pizzeria Cascade!)
Cortina D'Ampezzo
Cortina D'Ampezzo was another great base for our activities. We were there for 5 nights and used this as a base to explore the areas further east in the Italian Dolomites, including Tre Cime Di Lavaredo, Passo Giau, Lago Di Braies, Lago Federa, etc.
Cortina D'Ampezzo is actually quite a large town, and numerous food options were open despite it being off-season. With that said, never trust opening hours stated on Google Maps during autumn because many restaurants said they were open when they weren't. Our favorite food stop in Cortina was the restaurant at Hotel Ciasa Lorenzi, I would definitely recommend checking it out!
Getting around the Italian Dolomites
I think by far the best way to get around the Dolomites is by car. This allows you to have freedom of when and where you want to go, especially in shoulder seasons when there are limited gondolas open. We also noticed that there were limited public transport options available in many of the areas we visited.
We opted to rent our car in Milan and dropped it off in Venice (for a small one-way fee). In fact, we always research car rentals through Sky Scanner, Priceline, and Car Rentals to ensure we get the best deal possible. Be mindful that most rentals in Europe are for manual transmission, so you need to request automatic if that is your preference.
Note that Italian drivers are quite speedy and can be slightly aggressive in the way they navigate traffic – it's totally normal! Also keep in mind that there are tolls on the major highways (cash or card is fine) and many roads have speed cameras.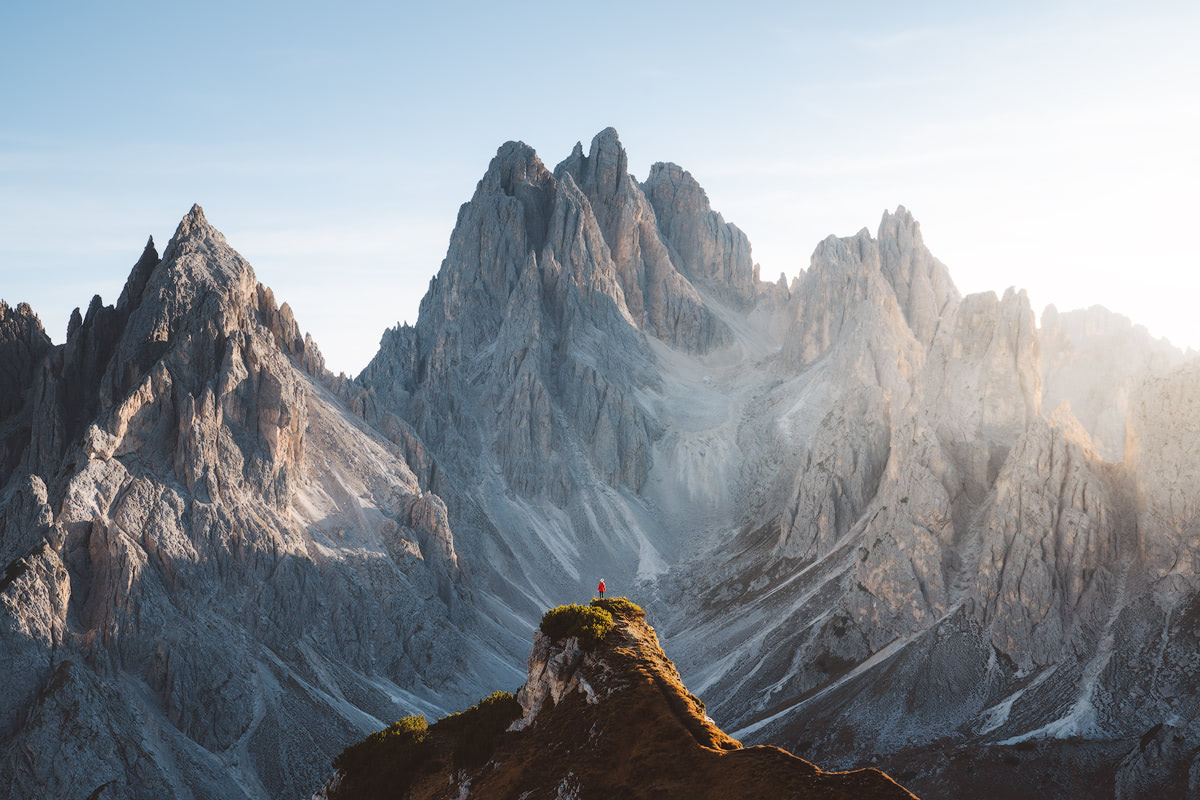 Things to know before you visit
Food options are limited in the Dolomites during autumn. Don't trust that just because Google Maps says that somewhere will be open that it actually will be.
Consider traveling with friends to save money. There are a lot of VRBO/Airbnb style accommodations with space for four or more people, and splitting the cost of this will make it cheap for everyone. This also helps break up the costs of entrance and parking fees if you can carpool places.
A lot of the rifugios, gondolas, cable cars, etc are closed during fall. Be sure to check opening dates online before relying on them to be running.
The Dolomites are in Italy, and thus use the Euro currency. Make sure to always have some cash on hand as we found that some smaller stores do not accept credit card.
There are speed cameras in a lot of the towns in the Dolomites. Definitely stick to the speed limit not only for your safety, but also for the sake of your bank account.
Most people we encountered spoke some English, though keep in mind that Italian and German are the primary languages. It helps to have Google Translate handy!
Dolomites Fall Packing List
Temperatures and conditions can vary during fall in the Dolomites. The average high for mid-late October is around 43-53° Fahrenheit/6-12° Celsius, and the average low is 31-39° Fahrenheit/-1-4° Celsius. It snowed on the mountain peaks during our visit and we did get a couple of days of rain. Below I have suggested some packing items based on what I found most useful during our 8 days, factoring in that we spent most of our time sight-seeing and hiking.
This blog post and the items below are in collaboration with Backcountry.com, who are my go-to for purchasing outdoor and travel gear. They offer free 2-day shipping on orders over $50, easy returns, 24/7 advice from their amazing Gearheads, and they support incredible causes like The Nature Conservancy. Backcountry have kindly offered my readers 15% off first-time online orders using code RENEE15! *some exclusions apply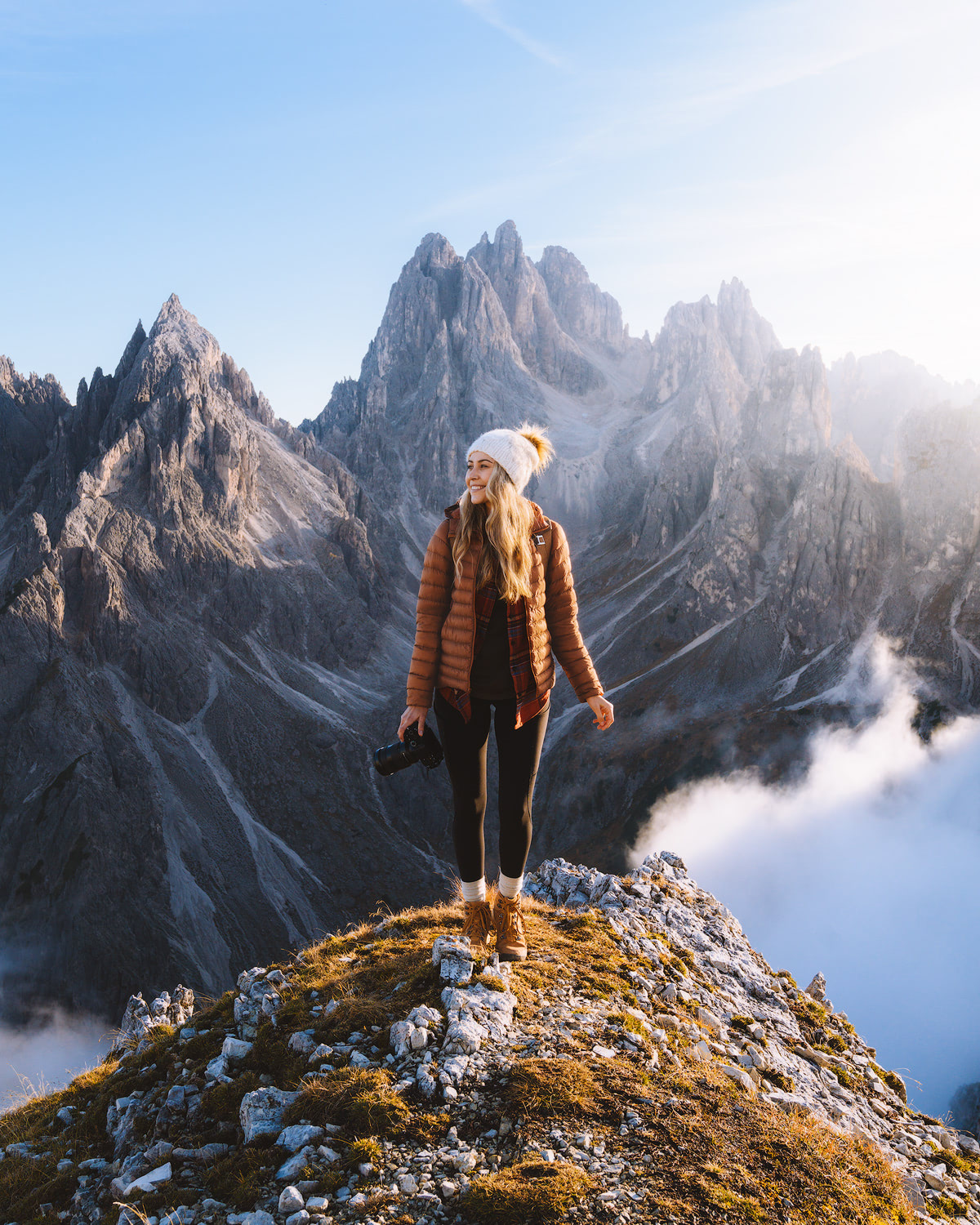 Outer Layers
I found myself reaching for the below outer layers almost everyday of our trip. Some days the cold lows plus icy wind chill even had me layering every single one haha. Most importantly, I would ensure you have at least one warm insulation layer and one waterproof layer for adventure we went on.
For hiking adventures I found myself using the Arc'teryx Cerium LT Down Jacket + Black Diamond Liquid Point Rain Jacket. Then for more casual sight-seeing adventures I was often reaching for my warm Columbia South Canyon Sherpa Lined Jacket (also waterproof) and cozy options such as the Carve Designs Roley Cowl Neck Sweatshirt and Patagonia Retro Pile Vest.
Mid Layers
Again, I found myself reaching for these pieces frequently during our time in the Dolomites. My Icebreaker Quantum Full Zipped Jacket was perfect for layering when hiking, and my Patagonia Fjord Flannel and Backcountry Crewneck Sweatshirt were my go-to's for more casual moments.
Base Layers
Breathable and versatile base layers are your best bet for a trip to the Dolomites. Make sure to pack a least one long-sleeve top (I opted for The North Face HyperLayer Crew Top) and one short sleeve (the Icebreaker Sphere Crew Shirt is my favorite). Then I would also suggest packing a pair of thermal bottoms for layering under pants during any super chilly mornings. Icebreaker make my favorite thermals and I packed the BodyFit 175 Everyday Leggings for this trip.
Pants
Black on black on black 😉 I pretty much just packed a variety of black pants for our trip to the Dolomites haha. My go-to's were the Backcountry Sundial Tights (fleece lined and cozy!), the Backcountry Millvue Active Leggings, and a pair of black jeans. I alternated the different options depending on how cold it was and what kind of activities we were doing that day. You can't really go wrong with this set.
Waterproof Shoes
Comfortable, sturdy, and waterproof shoes are a must if you plan to explore the Dolomites. I opted to pack one pair of hiking boots (Danner Arika Hikers) and one pair of slightly more casual shoes (Blundstone Super 550 Series Boot). Both served me well and I didn't find myself needing anything else.
Backpack
You will want some kind of day bag for your adventures in the Dolomites. Being a photographer, I opted for the Peak Design Everyday Backpack (which also acts as a camera bag). If you don't have a ton of photography gear then I would recommend a bag like the Osprey Skarab 30L or something more casual like a Fjallraven Kanken.
Accessories
These four items are a must! You will 100% want a warm hat/beanie and some kind of gloves during your time in the Dolomites as it gets chilly in the mornings and evenings. Packing a scarf/neck warmer would also be handy if you have the room. A reusable water bottle is another essential (please don't buy single-use plastic water bottles), and I also used my Petzl Actik headlamp on numerous sunrise/sunset hiking adventures.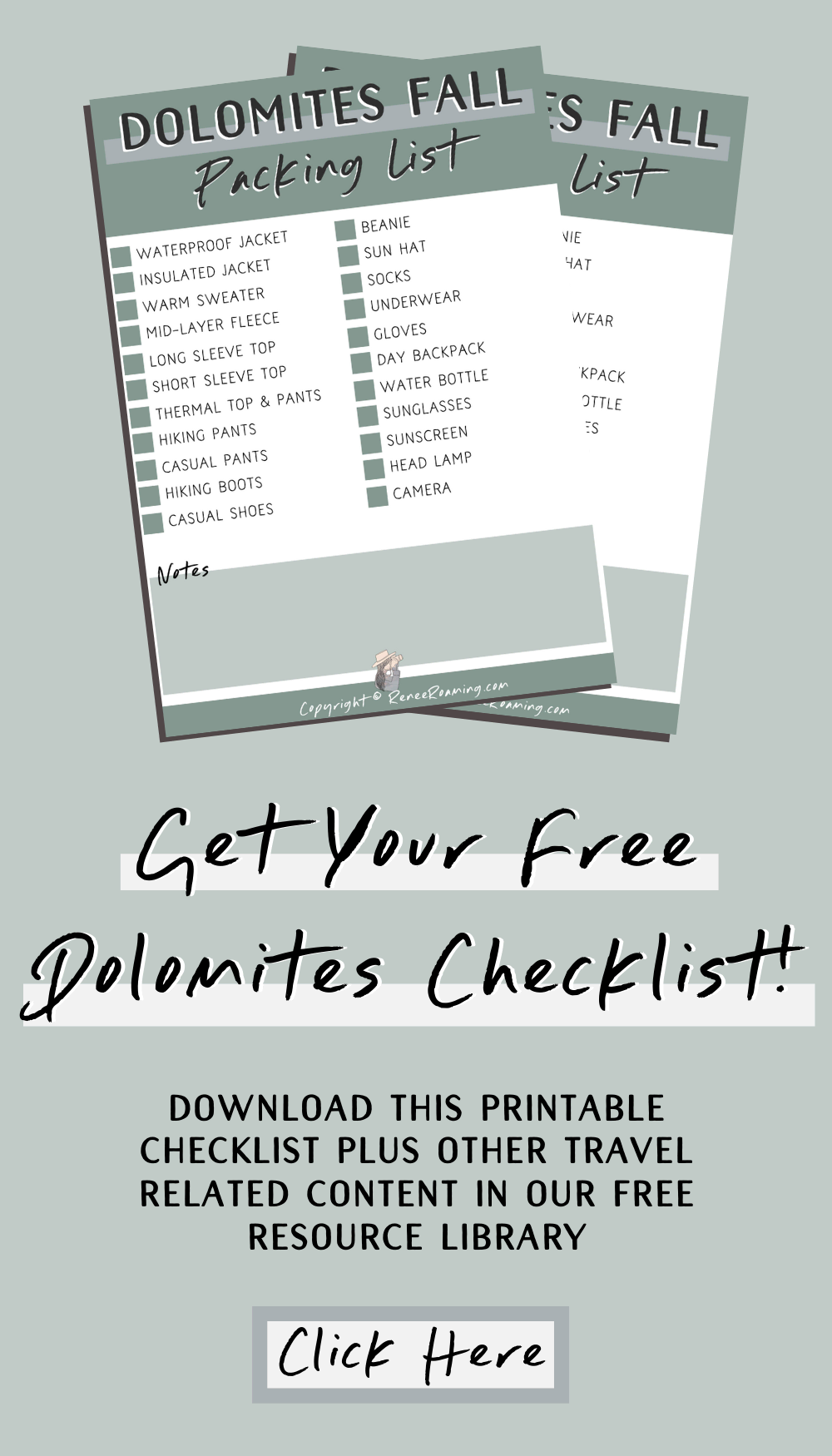 Best Places to Visit in the Dolomites
There are almost endless places you could explore in the Italian Dolomites! I have listed some of our favorites below, including some extra information to help you plan your visit. I also marked them all on this map: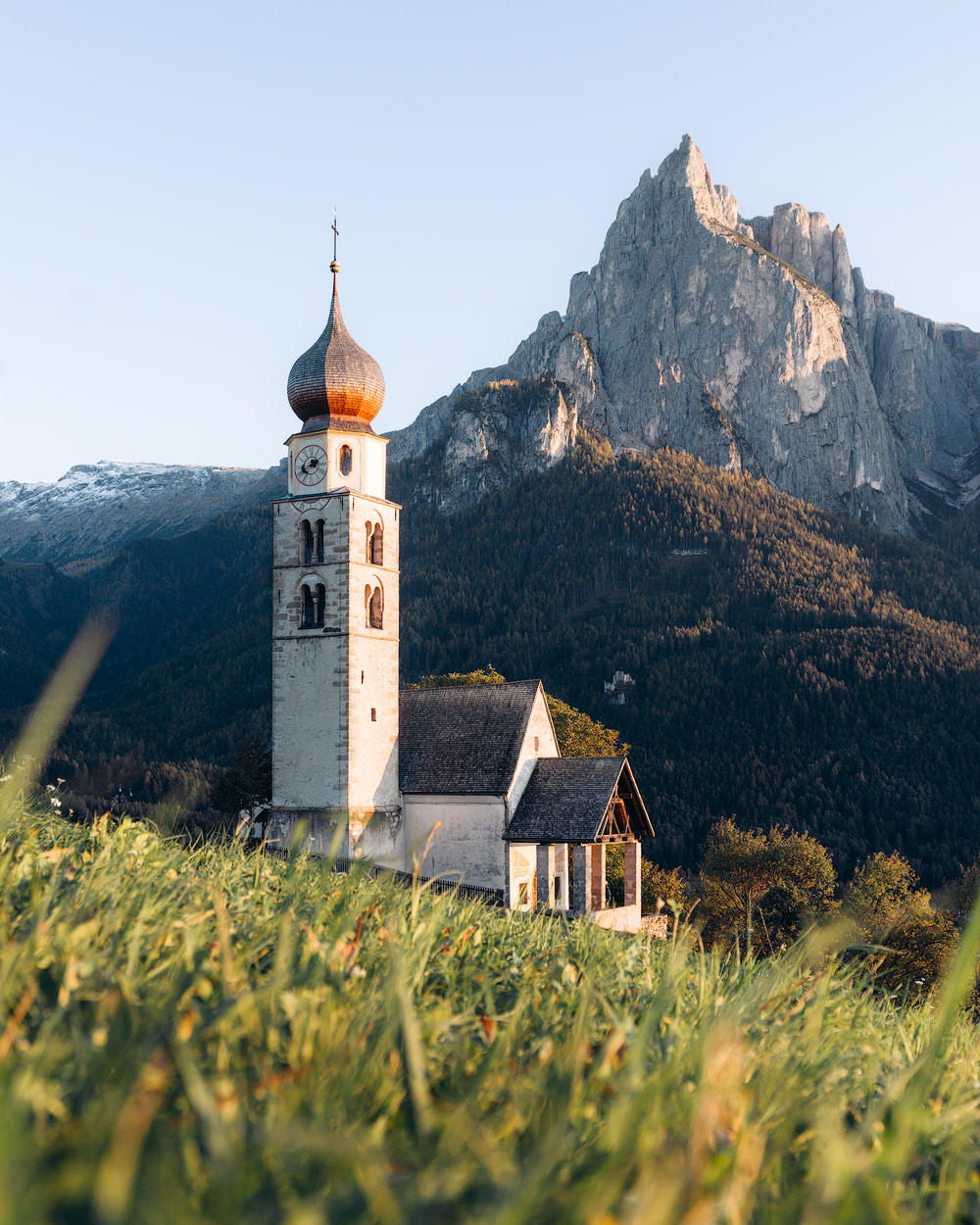 St. Valentin Church/Siusi
In the western part of the Dolomites lies the quaint town of Siusi. Sitting on the hilltop above is St. Valentin Church, which can be accessed via a short walk from town. It is a beautiful spot to visit in the early hours of the day or during sunset, with the mountains providing the perfect backdrop for photographs. Besides its picturesque location below Alpe de Siusi, St. Valentin Church is also marveled for its stunning frescoes inside and on its outer walls.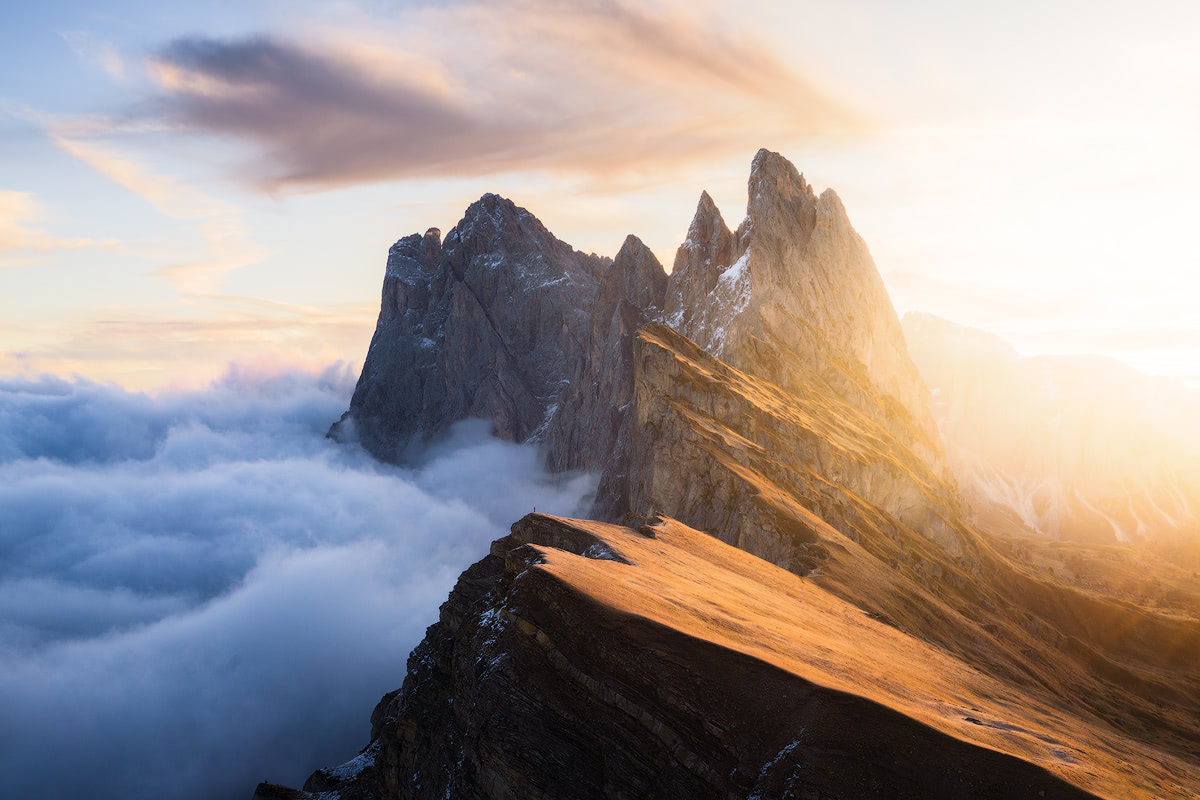 Seceda
Visiting Seceda was one of the most memorable experiences of our trip to the Dolomites. We woke at 3am so we could make the hike up to Seceda for sunrise. It's about a 1.5 – 2.5 hour hike to the top depending on your pace. The hike is quite steep, so be prepared and bring enough water. It can also be bitterly cold up there in fall, so pack plenty of layers! We had 2 jackets and were still cold when we got to the top earlier than expected. Make sure to take your time walking down and enjoy the views on the way back.
Note: There is a gondola that runs to the top of Seceda during peak seasons. If you don't feel like hiking to the top, you can use this depending on the time you visit and if it is currently operating.
Val Di Funes
Val Di Funes was one of our favorite areas in the Dolomites. Our first stop was the Church of St Johann near the town of Santa Magdalena (listed as 'Kirche St. Johann in Ranui' on Google Maps). There is a fence which prevents you from entering the property, but there is a small viewing platform which allows you to see the church and snap some photos from a distance. This was definitely worth a quick stop, the backdrop of the Odle mountain range is truly beautiful from here! Apparently you can pay to visit the church but the view from the free viewing platform was perfect for us.
Next we parked in the town of Santa Magdalena and walked about 20 minutes up the road to a viewing point which would provide an epic view of the town at sunset (listed as 'Chiesa di Santa Maddalena' on Google Maps). You are not able to drive this road and will get a parking fine if you try. It was definitely worth the walk, the view from up here was incredible and a great way to end the day.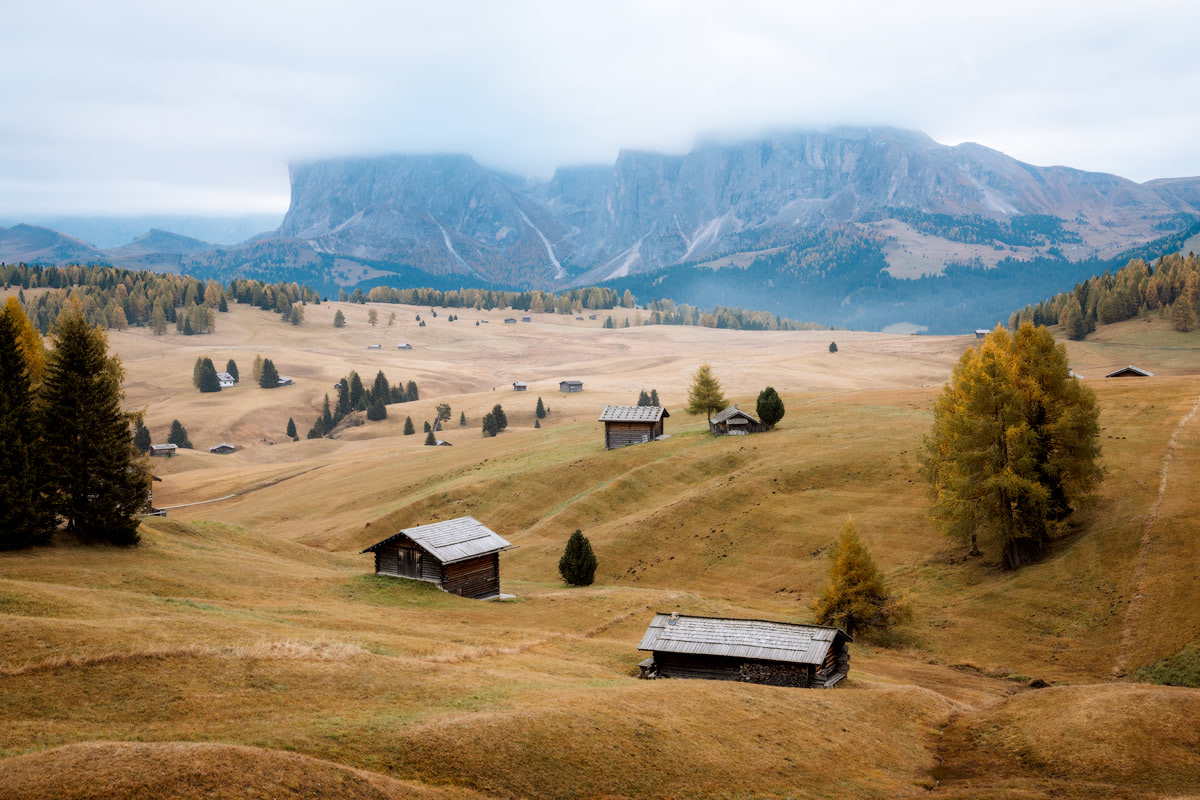 Alpe De Siusi/Seisler Alm
Seisler Alm is the largest high alpine meadow in Europe, and it was absolutely breathtaking! We parked at Compatsch, then walked 1 hour to a location that overlooks some cute cabins for sunrise (photo location marked on the map featured above). You are able to walk as far or little as you feel, but we chose that spot in particular because it is very photogenic for sunrise. Due to limited parking, driving into Seisler Alm is restricted unless you are staying at a hotel within the area (which can be expensive), so factor this into your plans.
Sadly we didn't get the best weather at Alpe De Siusi (as you can see in the above photo) but it was still beautiful nonetheless!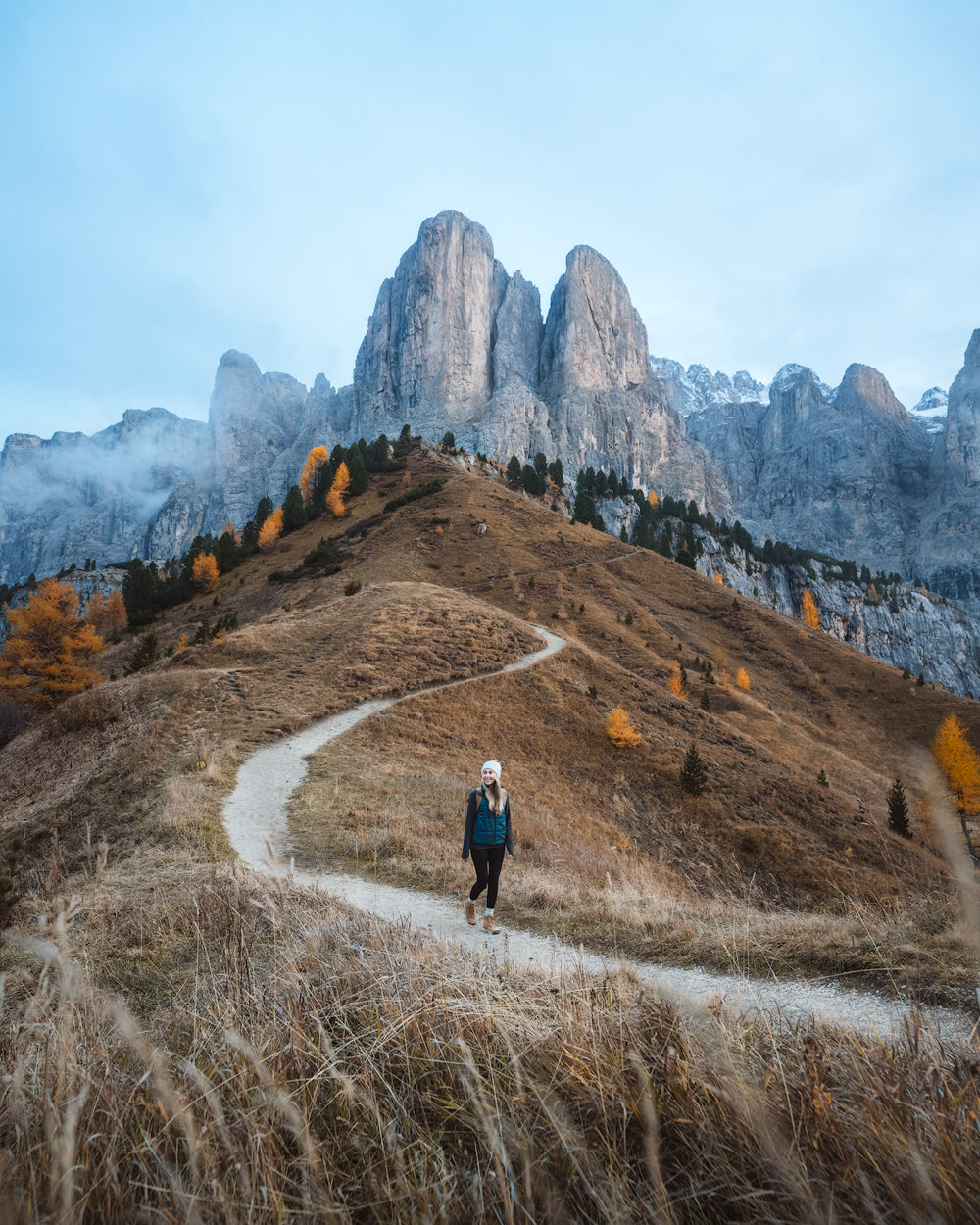 Gardena Pass (Passo Gardena)
This is one of the main passes in the Italian Dolomites, and it's absolutely spectacular in fall. Golden larch trees cover the mountainsides and the roads wind through some of the most beautiful scenery you have ever seen. At the top there is a parking lot with access to a beautiful little trail that provides views of the Sella mountains that we really enjoyed. You can also visit the Gardena Pass Chapel while up there.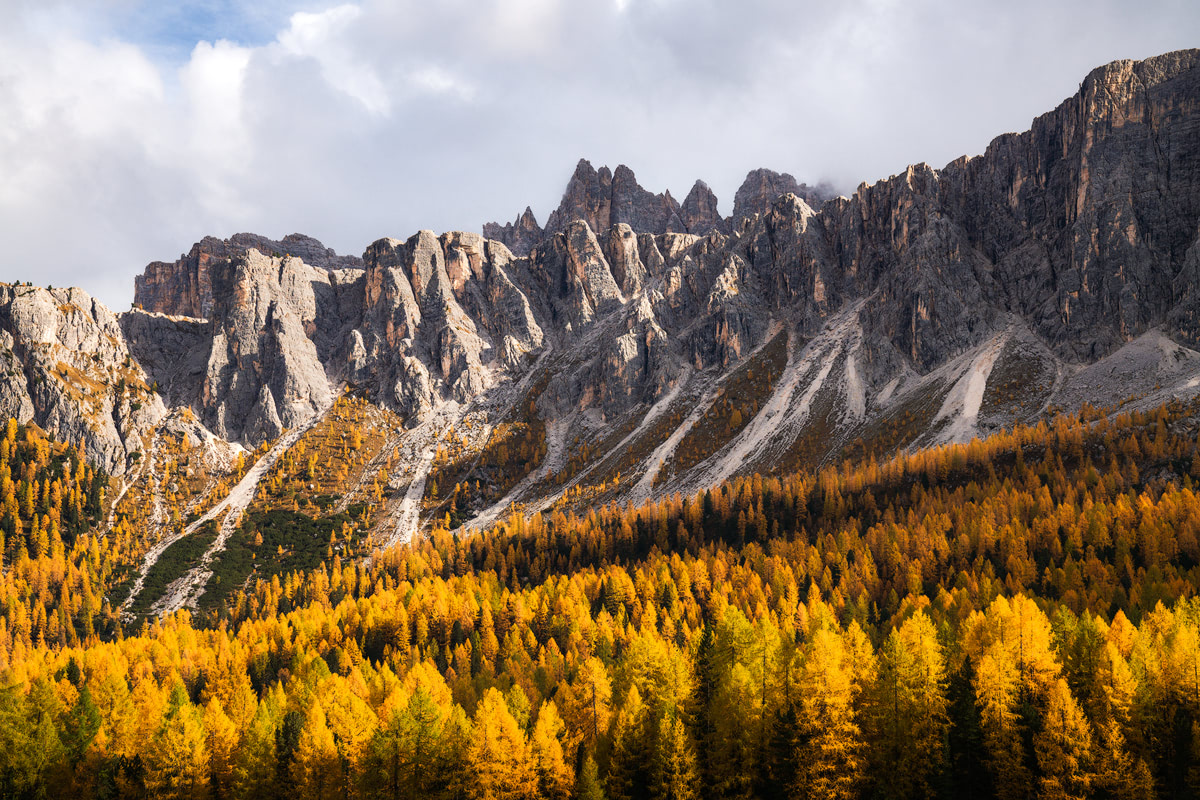 Giau Pass (Passo Giau)
Passo Giau is another of the popular passes in the Dolomites and provides stunning, 360 degree mountain views. Up at the top of the pass there is a rifugio and many hiking options for those that want to stretch their legs. There is also a small hotel that is open during busier seasons in case you wanted to spend a night close by.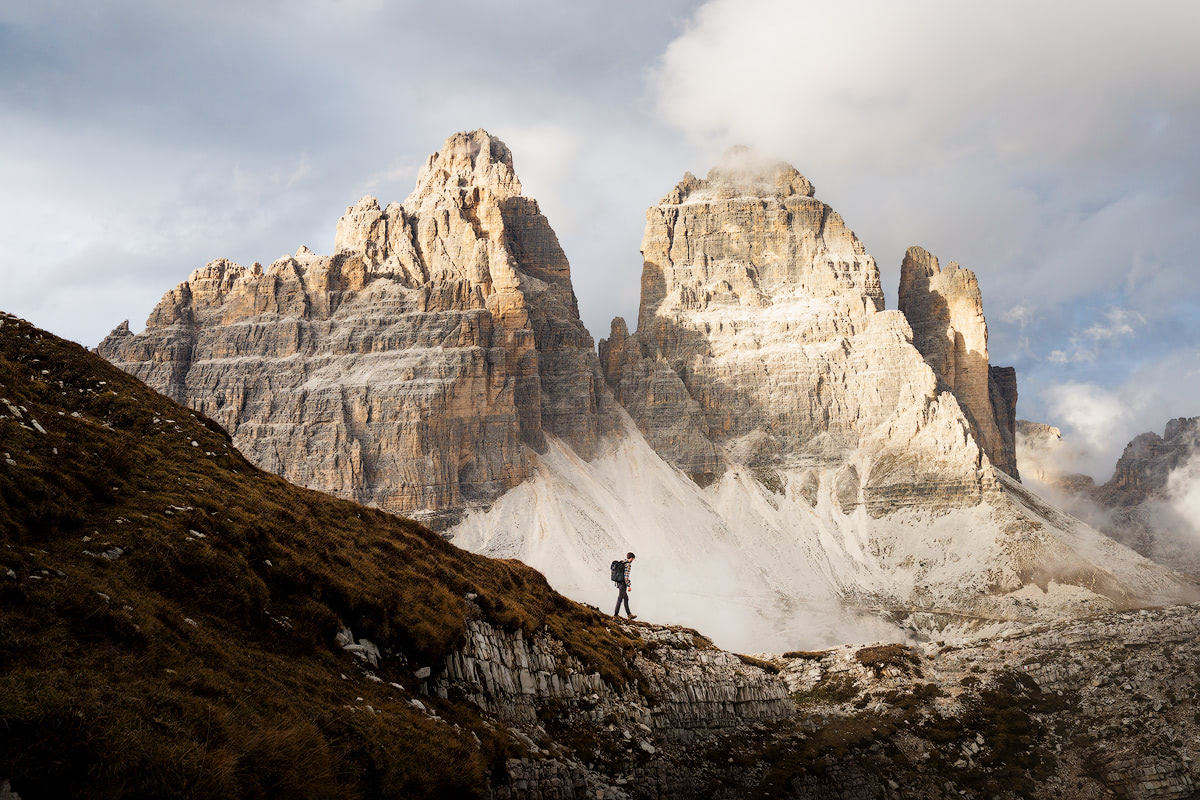 Tre Cime de Lavaredo
I think Tre Cime de Lavaredo might be my favorite area that we visited in the Italian Dolomites. The peaks are absolutely mind-blowing! There are hiking trails, both long and short, that leave from the parking lot and will provide you with some of the best mountain views you can find on earth. There are also multiple refugios (season dependent) that you can stay at in this area, one right at the parking lot, and two others along the hiking trails.
Note: There is a $30 Euro entrance fee per car to enter the area.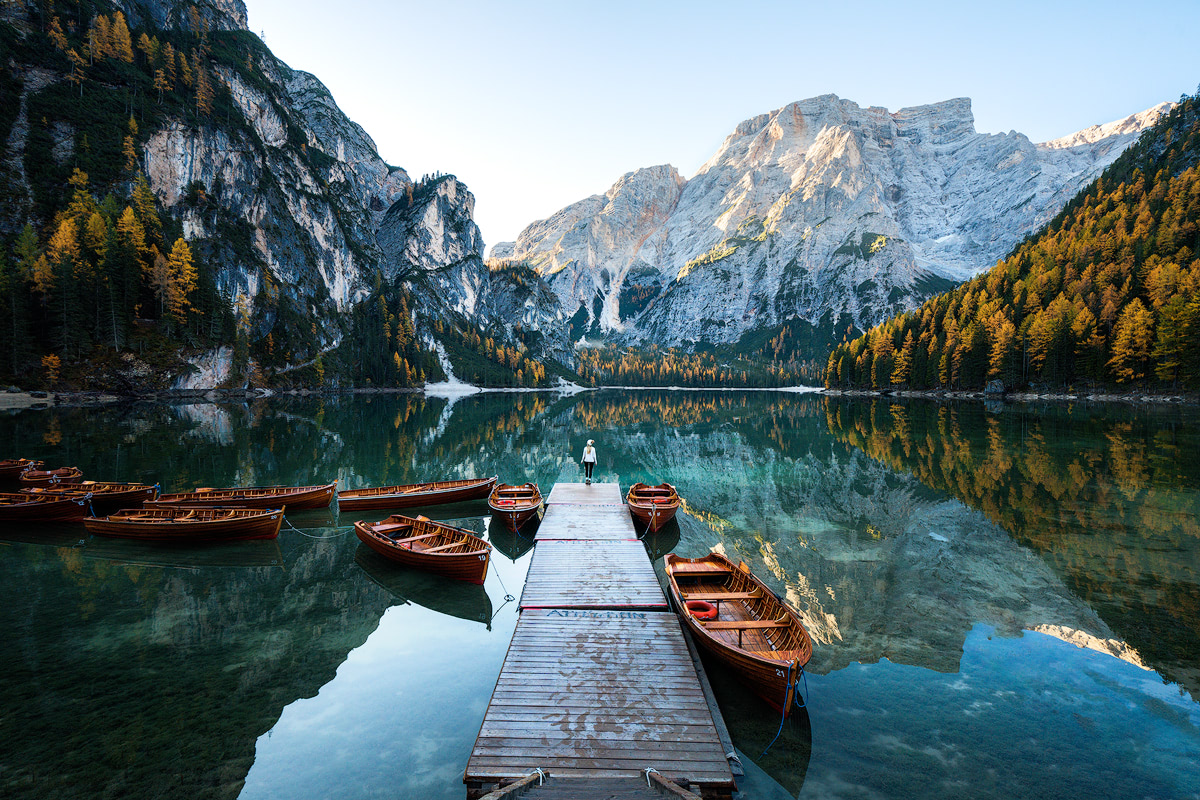 Lago Di Braies
In fact, Lago Di Braies felt like the Lake Louise of Italy. It's so beautiful, but also incredibly busy! With that said, it was still worth visiting to enjoy the scenery for a couple of hours… and the hot chocolate at the cafe there was to die for! The lake is accessible right from the parking lot, and there is a loop trail that goes around the whole lake if you feel like going for a walk. There are also larger hiking trails that leave from this area.
Note: Parking was $6 Euro per car.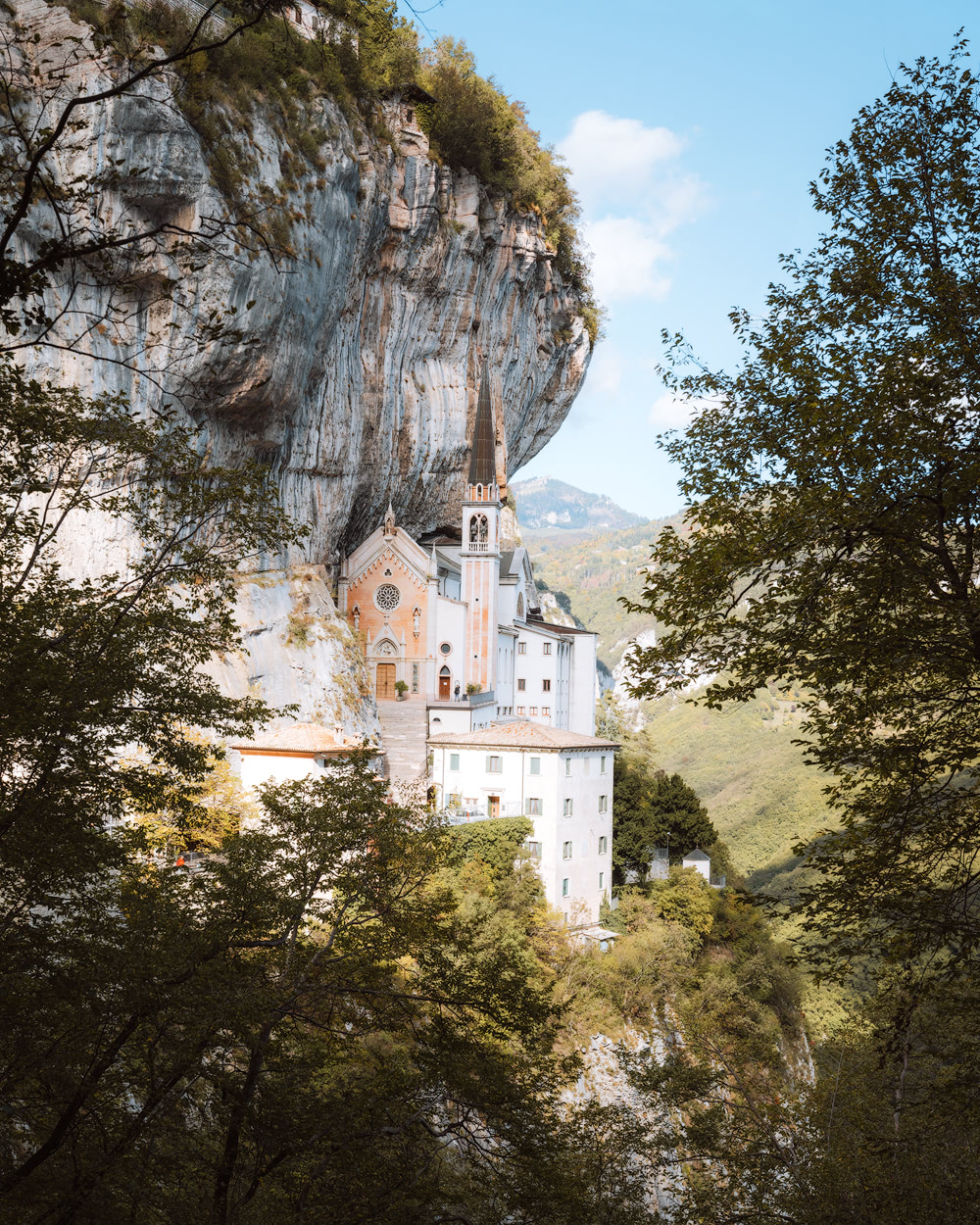 Madonna Della Corona
Madonna Della Corona is not in the Dolomites, but it is a short detour on the way to the Dolomites from Milan. To visit the church you park at the town of Spiazzi and then walk down a short, but steep trail. Be sure to take some water with you, we didn't and regretted it! There are a few food options in town, so you can get a bite to eat here if you are feeling hungry.
Suggested Dolomites Itinerary
We spent a little over a week in the Dolomites and felt like it was a good amount of time for us as photographers who like to take our time to really explore an area. With that said, we felt that about 5-6 days would be perfect for the average traveler. Here is my suggested itinerary for an incredible time in the Dolomites:

Day 1
Drive from Milan to the Dolomites, making a short detour to Madonna Della Carona on the way. Eat lunch in Spiazzi, then continue towards Ortisei where you will spend the night. If you have daylight hours remaining on your way through to Ortisei, check out St. Valentin Church in Siusi for sunset. Have dinner in Ortisei. We enjoyed Restaurant and Pizzeria Cascades and ate there multiple times while in Ortisei (options were very limited in October).
Day 2
Hike up to Seceda in the morning. It's likely that the gondola will be closed if you visit in fall (most in the Dolomites will be), so walking will be your only option. Pack plenty of water and snacks. We did a loop that ended up being around 9.5 miles and 2700 feet of elevation gain, so it's a pretty tiring walk! But definitely worth it for the incredible views.
If you started your hike up to Seceda nice and early then you should have enough time to get back to your accommodation in Ortisei, rest up for a little while, and then head over to Val Di Funes for sunset. Visit the Church of St. Johann when you first arrive. This is a beautiful stop and great for photos (there is a platform to stand on so you don't disturb the farmers pastures).
Next, park in town and follow the crowds up to Panorama Di Santa Magdalena (as it's named on Google Maps). From here you will get an epic view for sunset over Santa Magdalena and the Odle mountains in the distance. We chose to have dinner at Pizzeria Restaurant Viel Nois in San Pietro on the way back to our apartment and it was quite good.
Day 3
Start day 3 by driving to Alpe De Siusi and walking around Europe's largest high alpine meadows. You can park at Compatsch and hike in as little or as far as you'd like, it's such a beautiful area out there. Our favorite spot was about an hour walk towards Adler Lodge Alpe. Please note that you must park at Compatsch and not drive beyond this point as it is a private road reserved for locals and hotel guests only.
Once you have finished up at Alpe Di Siusi, it should be time to head back to your accommodation and check out. Grab lunch and then drive towards Cortina D'Ampezzo, stopping at Gardena Pass along the way. Up at Gardena Pass there's a cute little church to check out, as well as hiking trails that you can follow. We did a short walk along the trail that heads south towards some towering peaks and that was a nice little hike to stretch the legs and break up the drive.
From here, take your time getting to your accommodation in Cortina D'Ampezzo, admiring the views along the way. There is another pass along the way that was really beautiful, and there are a lot of cute mountain towns you can stop at to stretch your legs. Finish your day by checking in to your accommodation and having a bite to eat – we really liked the restaurant at Hotel Ciasa Lorenzi.
Day 4
Start your day by eating breakfast at Pasticceria Panificio Alvera (one of our favorite food stops in the Italian Dolomites) and head out for a drive to Passo Giau. The drive up to the pass is beautiful and the whole area is surrounded by golden larch trees at this time of the year. Once at the pass, there are multiple hiking options depending on how adventurous you are feeling. We chose to walk the short but well-maintained path up beyond the hotel to the top of the hill.
Next, drive towards Tre Cime Di Lavaredo, stopping at both Lago Di Misurina and Lago Di Antorno along the way. Once you reach Rifugio Auronzo make sure you have your hiking boots on, snacks and water packed, and set out on the Tre Cime Di Lavaredo loop hike. It's a 10.3km hike that does a loop around the incredible Tre Cime mountains. Although 10.3km might sound long to some, this hike can be completed by almost anyone assuming you leave time for rest stops. It's quite an easy hike with not too much uphill, and the views are absolutely breathtaking the whole way around.
Upon completing the hike head back towards Cortina D'Ampezzo, but stop for dinner at Quinz Ristorante dell Locanda or Pizzeria Edelweiss, both located along Lago Di Misurina.
Day 5
After breakfast, head towards Lago Di Braies (about a 50 minute drive). The earlier you can do this, the better. Lago Di Braies is one of the most popular places in the Dolomites, and gets extremely busy. Don't let that turn you off though, it's definitely worth seeing. Be sure to grab a hot chocolate from the cafe near the parking lot, it might be one of the best I've ever had! Take a walk on the trail that goes around the whole lake to escape a lot of the crowds.
Next, head back towards Cortina D'Ampezzo, stopping at both Lago Di Dobbiaco and Lago Di Landro along the way. Spend the rest of the day checking out any areas you felt that you would like to see more of.
Day 6
Wake up, cry about having to leave, then make your way back to the airport. Another option would be to head south to Venice (what we did!) and enjoy some different scenery for a couple of days.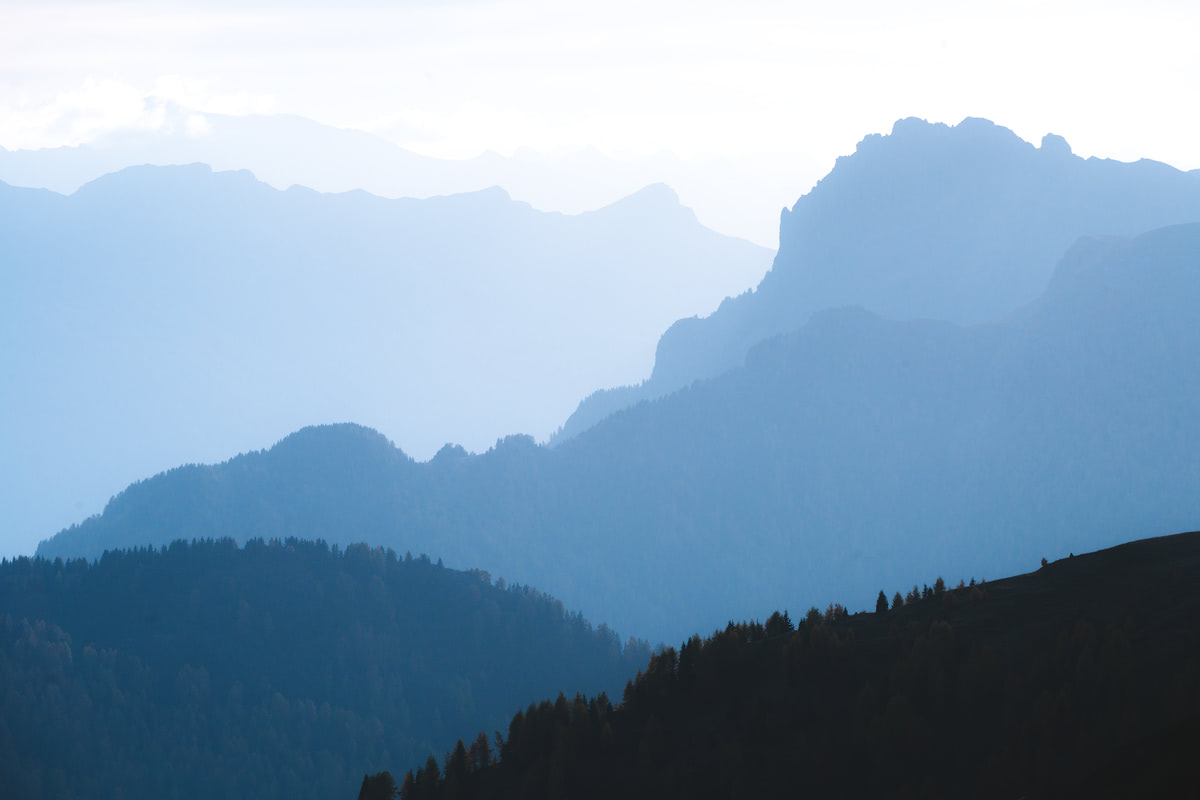 Responsible Travel
As always, please respect local rules and leave every place you travel better than you found it. Here are some general tips for being a responsible traveler:
There shouldn't be any physical evidence that you were there – don't carve your name into things, don't leave love locks, don't litter. For more information about how to reduce your physical impact, check out the 7 Leave No Trace Principles – a program encouraging sustainable exploration of the outdoors.
Learn how to say "hello" and "thank you" in the local language. Educate yourself on local customs and actions that could be considered offensive (like taking photographs without permission). The first step to being a responsible tourist is being a respectful tourist.
Think green – don't leave lights on in your hotel room, don't leave water running, pack a reusable water bottle/utensils and avoid buying single use plastics, and take public transport when it is an option. Check out my blog post: 6 Easy Things You Can Do to Reduce Your Impact on the Planet.
Purchase goods from local people to directly support the economy. Choose locally made handicrafts instead of mass-produced magnets, mugs or keychains. When bargaining for goods, consider appropriate pricing rather than a "sweet deal."
Don't participate in harmful forms of animal tourism/entertainment. Check out the World Animal Protection's guide to an animal-friendly holiday for more information on what to look for in wildlife attractions.
Consider off-setting your carbon emissions for air travel. My Climate, Gold Standard and Carbon Fund are non-profit carbon offset organizations that I have found to be easy to use and are doing a lot of good in the world.
PIN to read later!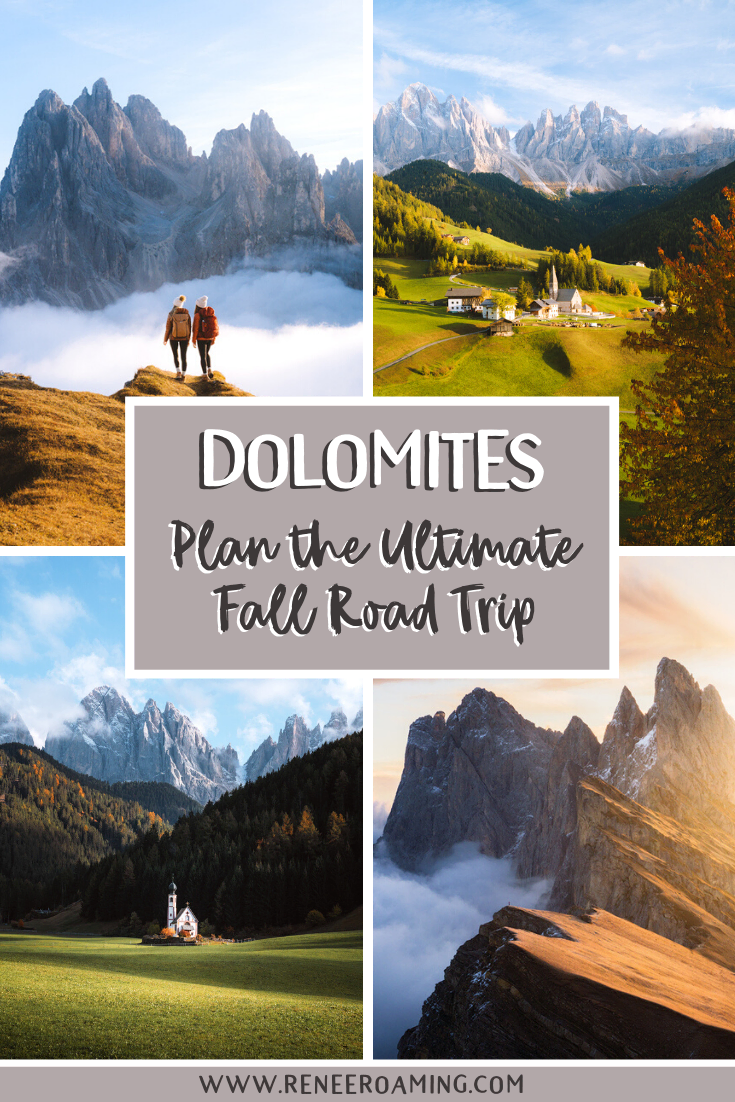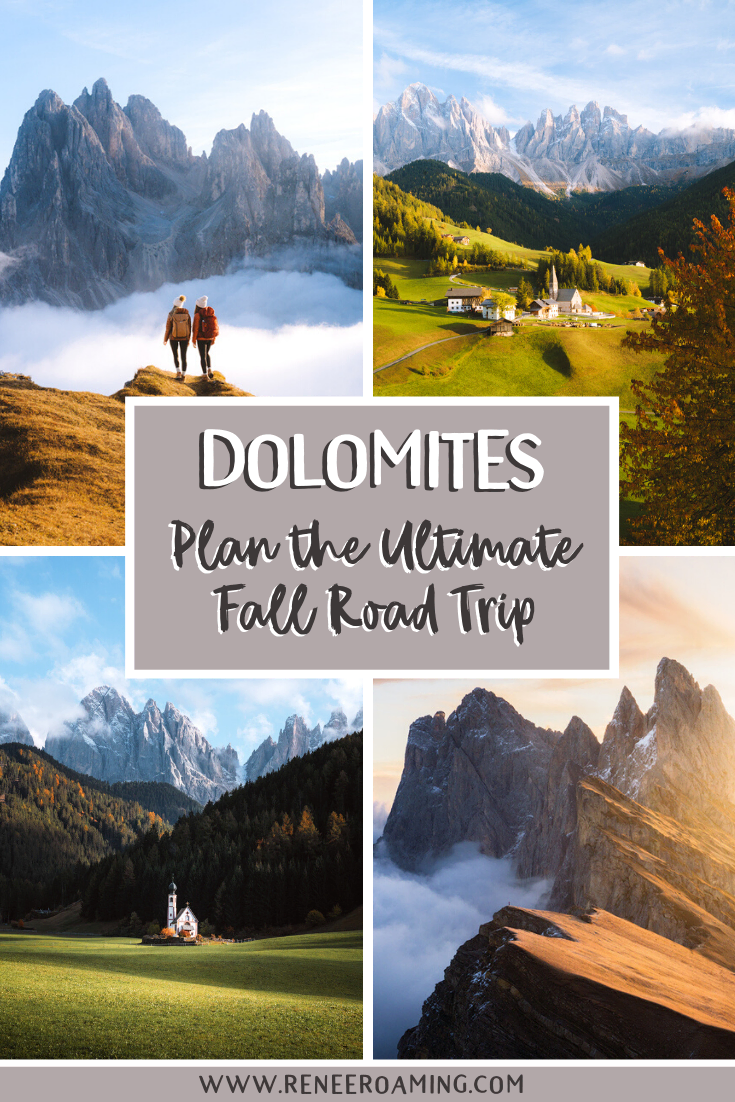 More Trip Inspiration