California's Orange County is the perfect destination for a short getaway. The OC is jam packed with beautiful beaches, amazing places to eat, scenic hikes, historic sights, and fun parks like Disneyland and Knott's  Berry Farm. In this blog post I'm sharing everything you need to know to plan your own trip!
Orange County Travel Guide: Everything You Need to Know!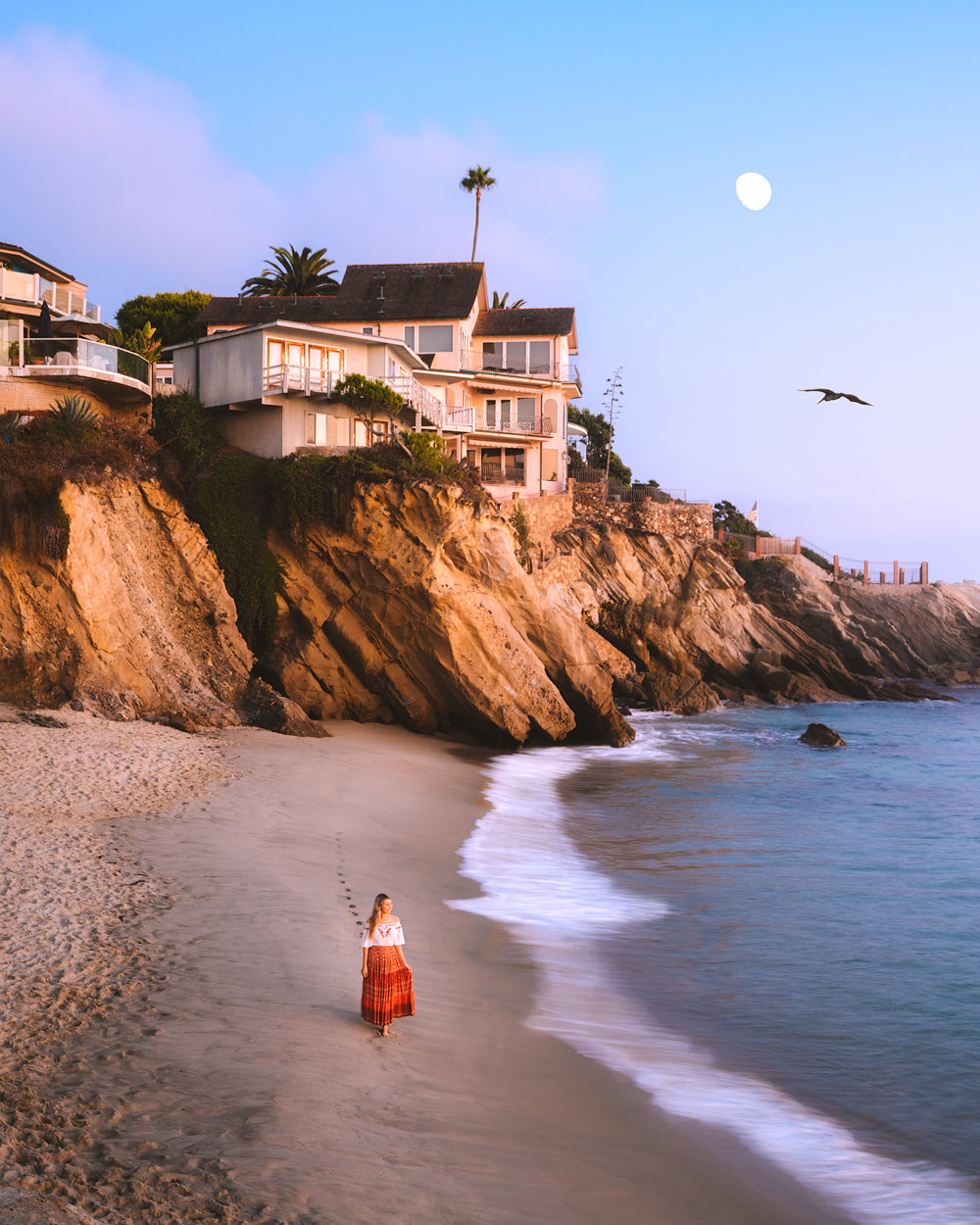 In collaboration with Visit The OC
Quick Info
Location : Southern California, USA.
When to go: year round, though fall is great for nice weather and less crowds.
Weather: highs over 20°C/68°F year round, lows of around 10°C/50°F in winter.
Closest airport: John Wayne Airport, Santa Ana.
Getting around: renting a car is most practical.


How to get to Orange County
There are many ways you can get to Orange County, but the easiest is to fly into John Wayne Airport (also known as Orange County Airport or Santa Ana Airport). For us it was a quick and easy 2 hour direct flight from Seattle, and there are direct flights from many other cities in the country including Portland, Denver, Salt Lake City, Chicago and more. Flying into John Wayne Airport will get you as close as possible to the action and will have you avoiding that terrible Los Angeles traffic you would get by flying into LAX.
We rented a car to get around during our stay, which was picked up from Hertz right at the airport. I highly recommend having a vehicle to get around during your stay as it is much more convenient than public transport, and parking is very affordable in most places.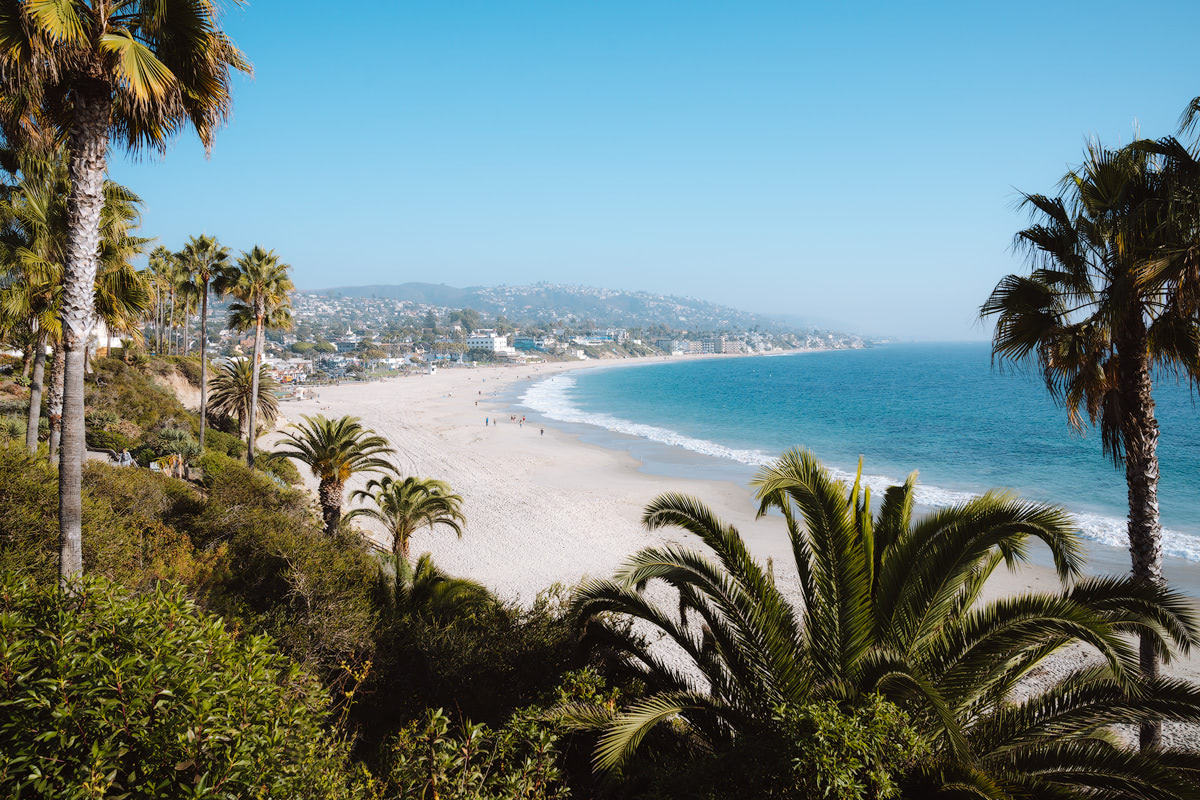 Where to stay in the OC
During our time in Orange County we chose to stay in Laguna Beach. It was central to most things we wanted to see and in general we really love the local beaches and restaurants. We based ourselves out of The Ranch at Laguna Beach, nestled in between Aliso and Wood Canyons.
The Ranch is the only Californian resort designated as a National Geographic Unique Lodge of the World. It features a world-class 9 hole golf course, a full-service spa, and multiple dining options to keep your belly full. We were also just a 10 minute walk from Alison Beach Park for when we wanted to stretch our legs and catch some rays.
This was the only place we stayed in Orange County, but the accommodations were comfortable, the food was good, and the location was beautiful… I can highly recommend it! Alternatively, there are a wide array of hotel options that will appeal to the budget minded traveler, all the way up to those looking to live in luxury while in Orange County.


Top things to do in Orange County
The OC is most known for its beaches (over 40 miles of coastline!), and with that a wide variety of water related activities. Anything from surfing to luxury yacht cruises, you can do it in Orange County. What we learned during our stay is that the area has so many options for things to do, both along the coast and also a little more inland. Below are a few things we got up to and some inspiration for planning your own trip (plus they are all marked on the clickable map above!)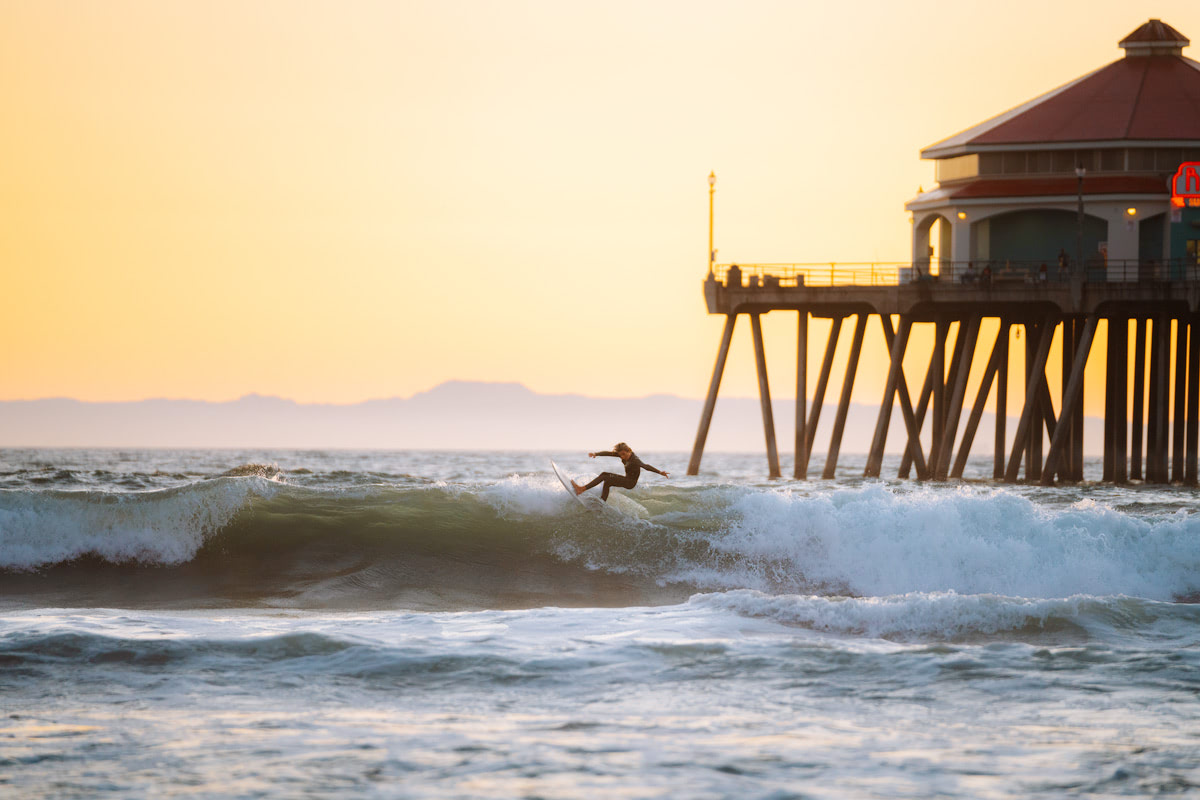 Above: Sunset at Victoria Beach
Check out the beaches
Orange County is most famous for its incredible coastline, and for good reason. The OC is home to some of the most beautiful beaches in the lower 48 states, and whether you are looking to go surfing, find a secluded beach cove, or go for a walk down a pier, it has you covered. We spent every sunset on the beach wearing t-shirts, dresses, and shorts… in November! It was the perfect break from incoming winter weather in the Pacific Northwest where we are now getting to down jacket and rain coat season.
Some beaches I would recommend checking out in Laguna Beach are Crescent Bay Beach, Aliso Beach, Victoria Beach, Thousand Steps Beach, Shaw's Cove, and Main Beach. If you're looking for the Rapunzel looking tower, it's hiding around the corner at Victoria Beach (turn right when you get down to the sand and walk around the head).
The OC has plenty of other amazing beaches outside of Laguna, including Newport Municipal Beach, Huntington City Beach, Sunset Beach, Capistrano Beach, and more.
---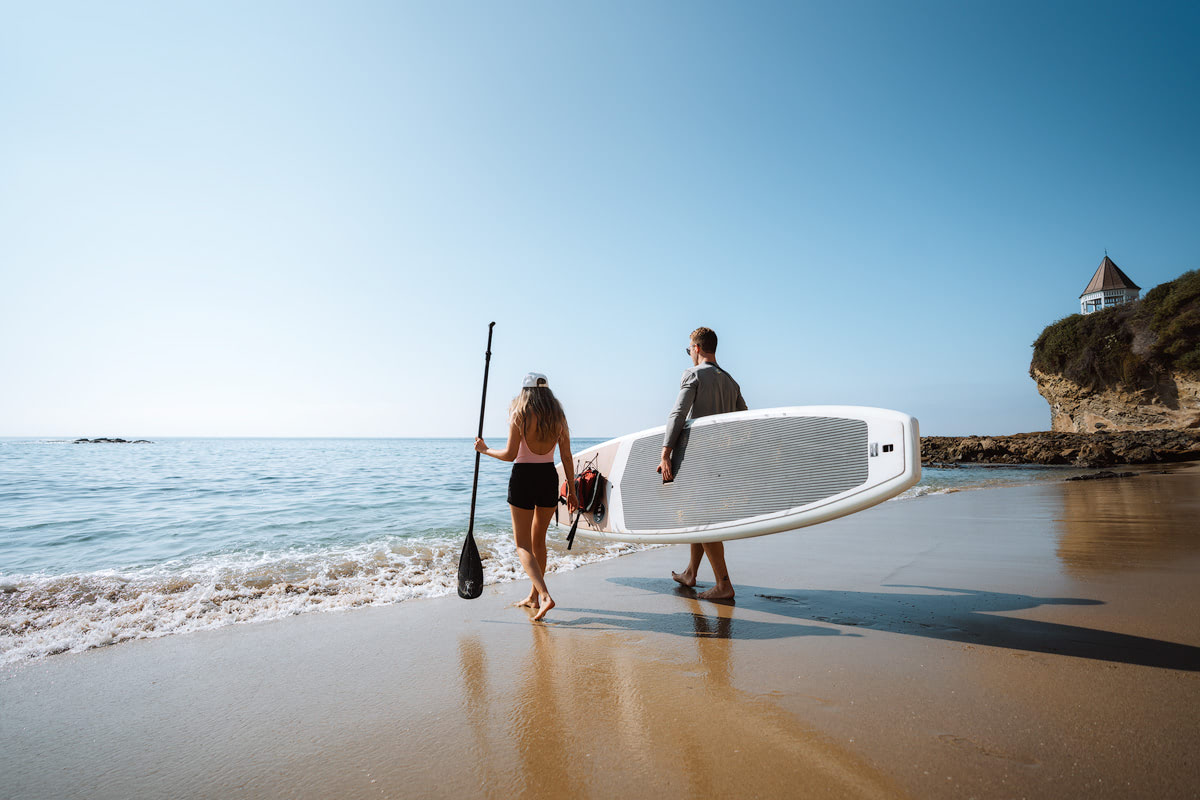 Go Stand-Up Paddle boarding
Possibly my favorite experience during our stay in Orange County was a stand-up paddle-boarding excursion with La Vida Laguna. We left from Fisherman's Cove in Laguna Beach and paddled for 2 hours up and down the coast seeing baby sea lions, fish, dolphins, birds, and enjoying the scenery along the shoreline. It was such a perfect day with almost no waves, crystal-clear water, and no wind to speak of. I cannot recommend this activity enough!
---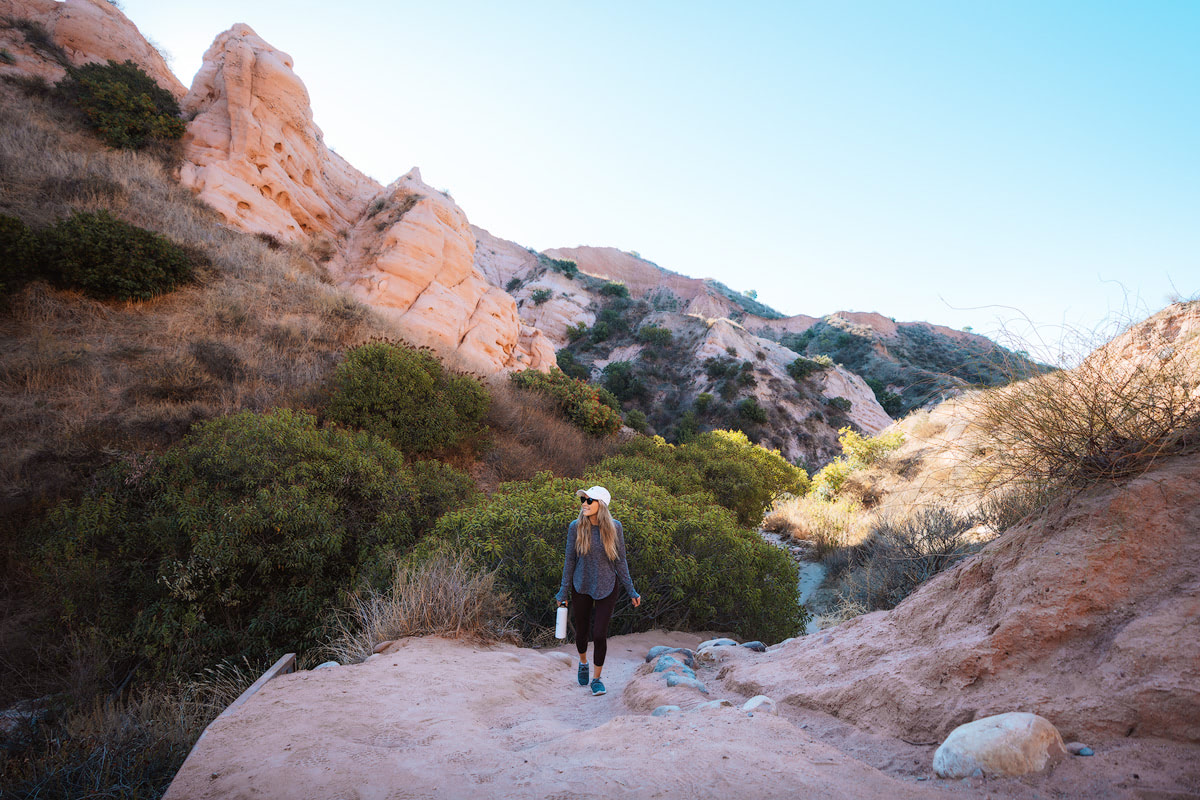 Above: Red Rock Canyon Trail 
Take a hike
Many probably don't consider this when in Orange County, but there are actually a lot of hiking options for those that want to do something a little more adventurous. We got up early one morning and drove out to hike Red Rock Canyon near Irvine. This was a short, easy 4 mile hike which took us through beautiful trees and eventually to a little viewpoint that looked over some crazy rock formations. It actually reminded us of a small version of things we have seen in the Southwest, which is pretty cool considering we were only 30 minutes from the beach! Some other hikes to check out in the Irvine area include the Laurel Canyon Trail, and "Top of the World".
---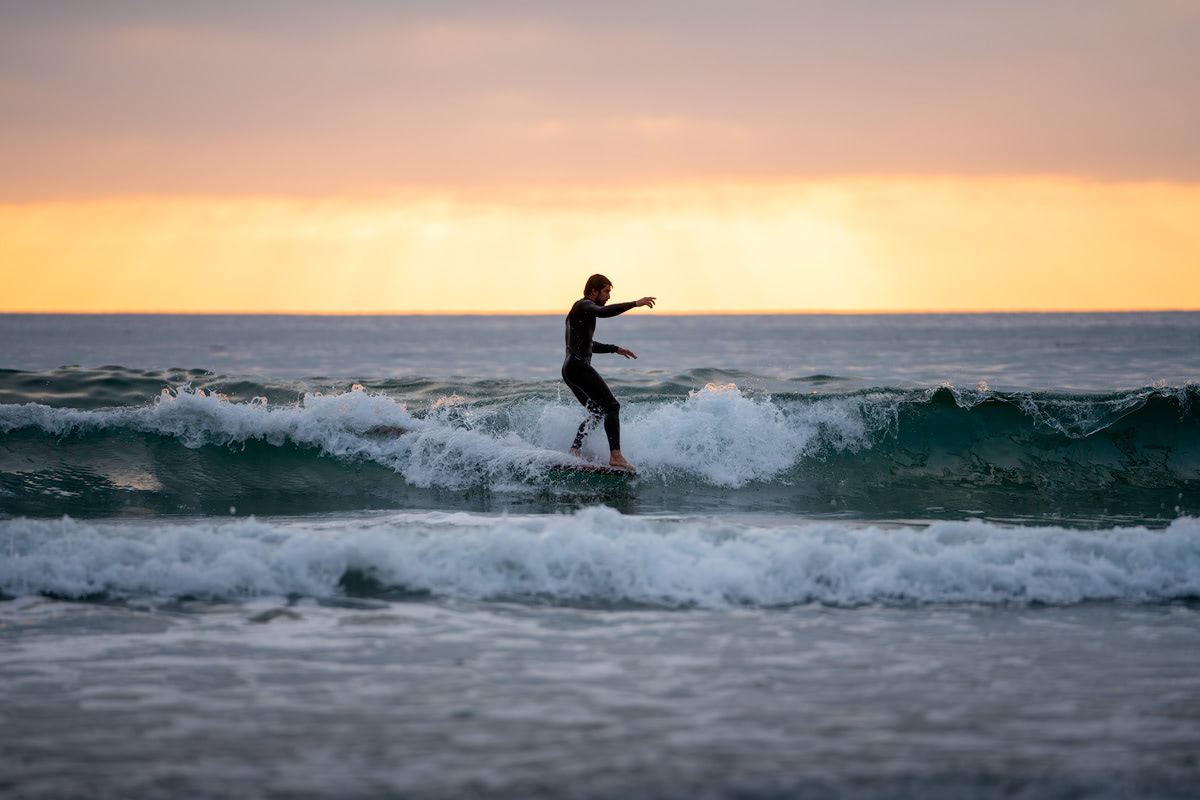 Above: Surfers during sunset at Huntington Beach
Try out surfing
Surfing is a Californian past-time, and if you are in the area why not give it a try? If you've never surfed before, don't sweat it, there are many places in the OC that can give you a lesson and get you standing on a board in no time! The waves are generally beginner friendly, but depending on the day and beach can still provide a challenge for the seasoned surfer. I would recommend checking out Endless Surf School in Newport Beach.
---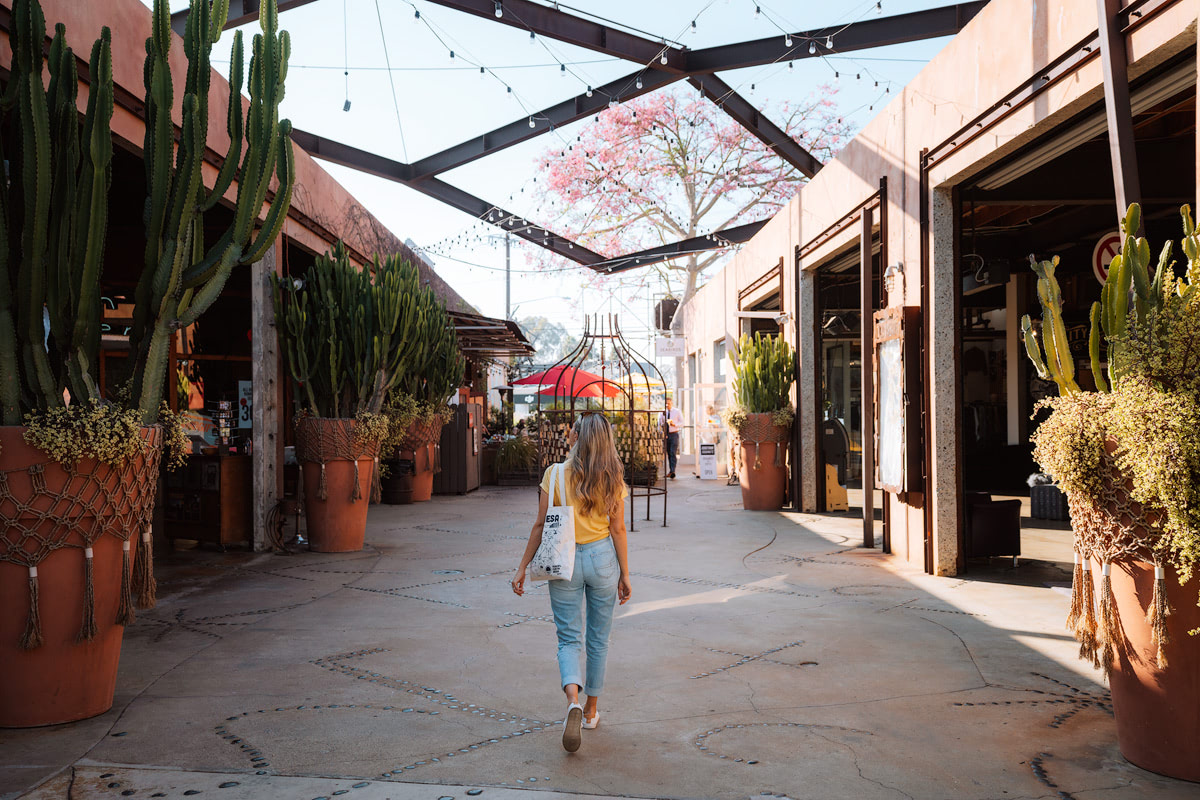 Visit The Lab Anti-Mall
The Lab is an outdoor "anti-mall" located in Costa Mesa focused on breaking up the monotony of the retail space, and supporting small American business' in the process. Here you will find an assortment of cafes, restaurants and retail stores that appeal to lovers of art, music, fashion and hip cuisine. We really loved the focus on smaller business' that were selling some really beautiful and unique products. In particular, I would recommend stopping by Prism Boutique, Buffalo Exchange, Creme Tangerine Records, and Eco Now.
---
Take a beach-side bike ride
Another of our favorite activities while in Orange County was renting bikes in Newport Beach and riding all the way up to Huntington Beach. This took us about 2 hours round-trip, and it was really fun to see all of the beautiful beach-side houses, soak in some rays, and move our bodies while we were at it. There are also plenty of restaurants, cafes and ice-cream stores along the way in case you build up an appetite; consider stopping at Pacific City near the Huntington Beach pier for lunch. We rented our cruiser bikes from Balboa Beach and Bicycle Boutique in Newport Beach and had a great experience.
---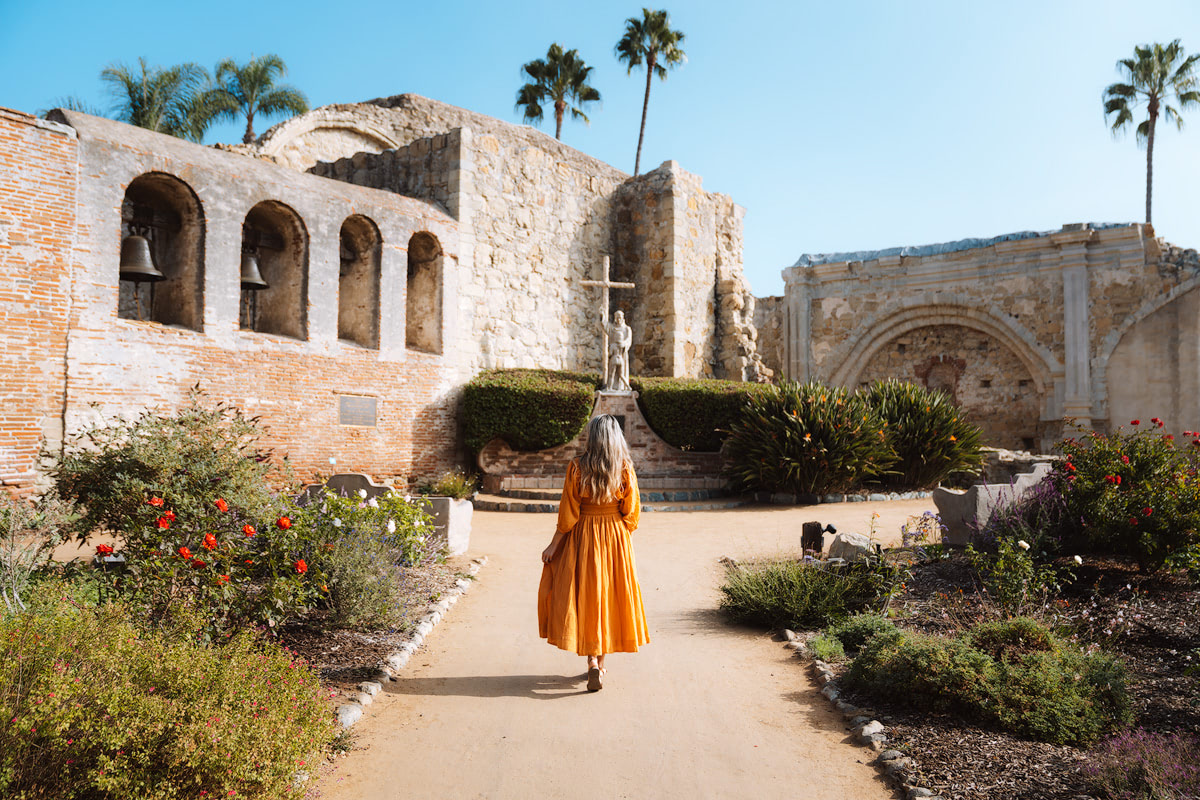 Tour Mission San Juan Capistrano
One morning we decided to check out the Mission San Juan Capistrano. Known as one of the birthplaces of Orange County, the mission was founded around 240 years ago by Spanish settlers and Native Americans, and was originally a fully self-sufficient community. Today Mission San Juan Capistrano serves as a monument to California's rich multi-cultural history, and gives visitors a realistic look into the history of the area. We really enjoyed walking around the beautiful property and learning about the native people who first inhabited the area.
---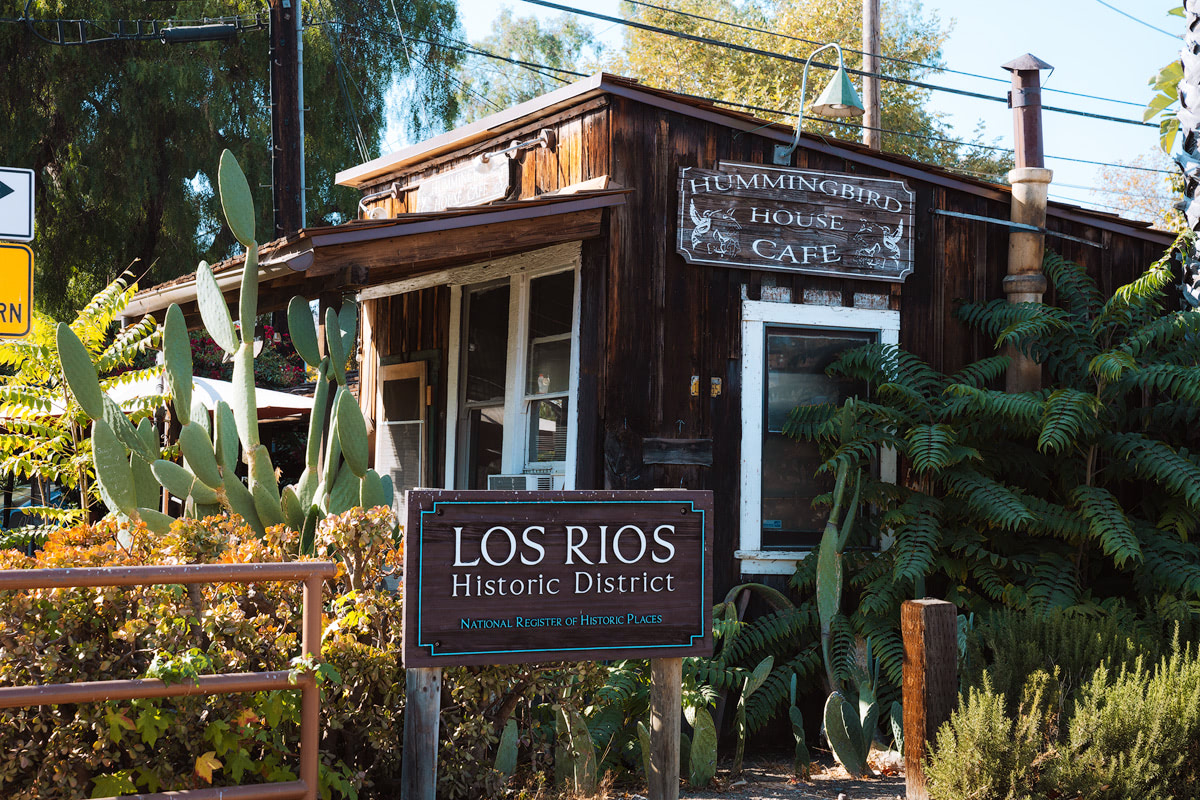 Explore the Los Rios Historic District
Just a short walk from Mission San Juan Capistrano is the Los Rios Historic District, an area known to be the oldest neighborhood in the state of California. Here you can walk the streets, get a feel for the historical significance of the area and see the three remaining adobe structures that date back to the 1700s. I recommend planning to spend lunch here as there are some really great cafes that line the streets of the historic district (check out The Ramos House Cafe!)
---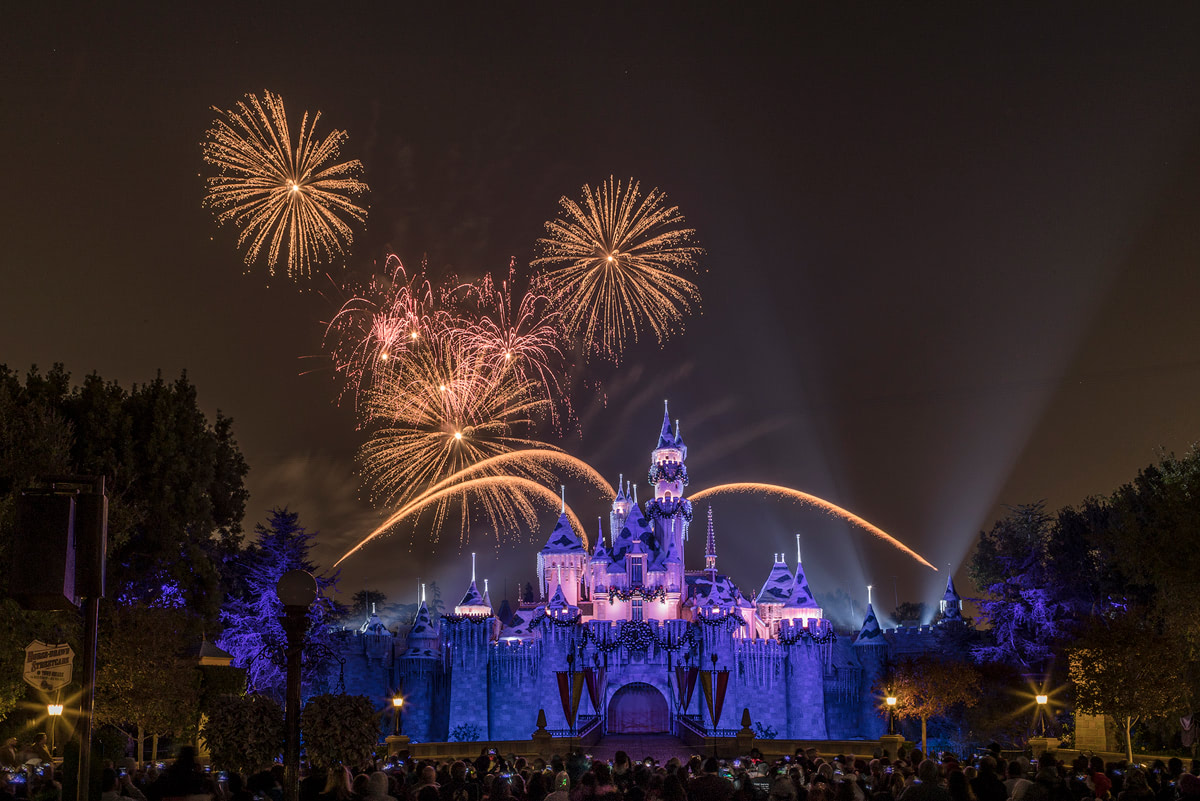 Find Your Inner Kid at Disneyland
I think it would be a crime to write a blog post about the OC and not mention Disneyland, so here we are! Although we didn't have time to visit Disneyland during this visit to Orange County, I have visited in the past and really enjoyed the experience. Disneyland is great for people of all ages as the rides vary from kid-friendly to pretty terrifying (at least for a ride-wimp like me haha).
Although Disneyland can be seen in one full day, I would recommend having at least two days to really explore the park (it's pretty big!) Be sure to catch the evening fireworks show above the castle before you leave!
---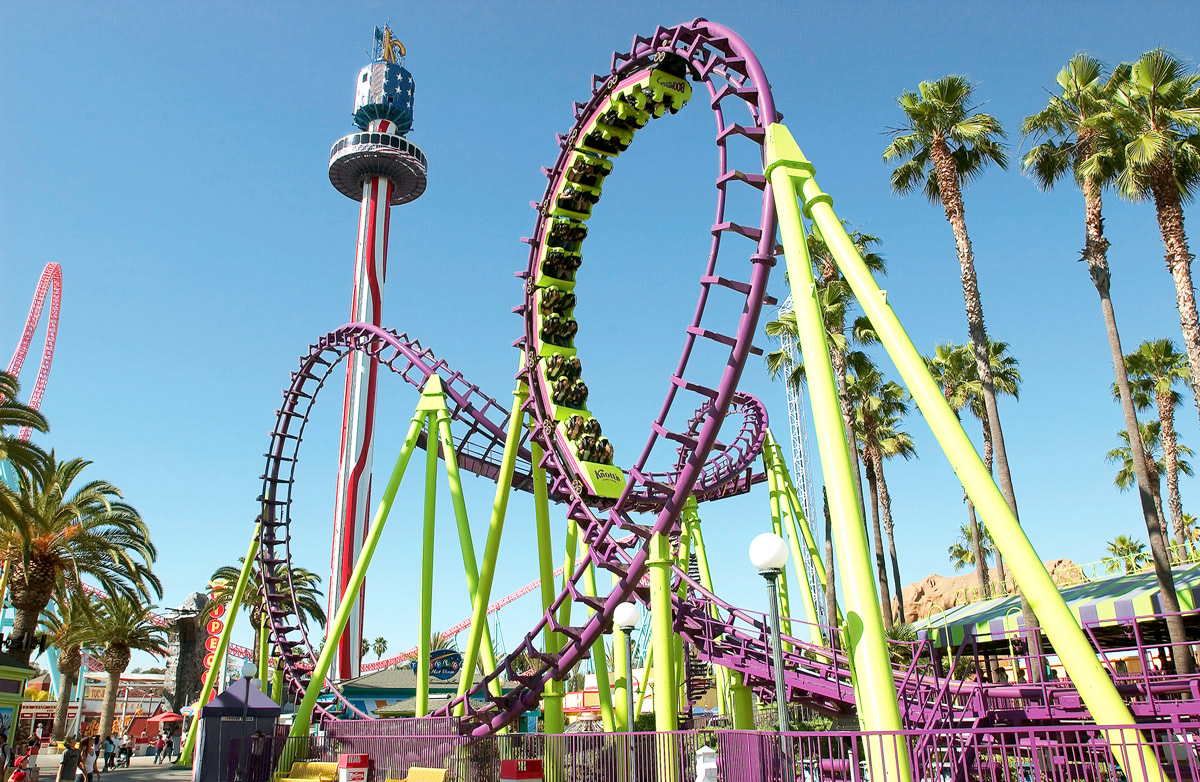 Visit Knott's Berry Farm
I personally haven't had the pleasure of visiting Knott's Berry Farm, but I hear it's A LOT of fun! Located in Buena Park, Knott's Berry Farm is the tenth most visited theme park in North America. It's home to forty rides, including roller coasters, family rides, water rides, and more. I hear that one full day is a good amount of time to visit the park – perfect to add on to your Orange County getaway!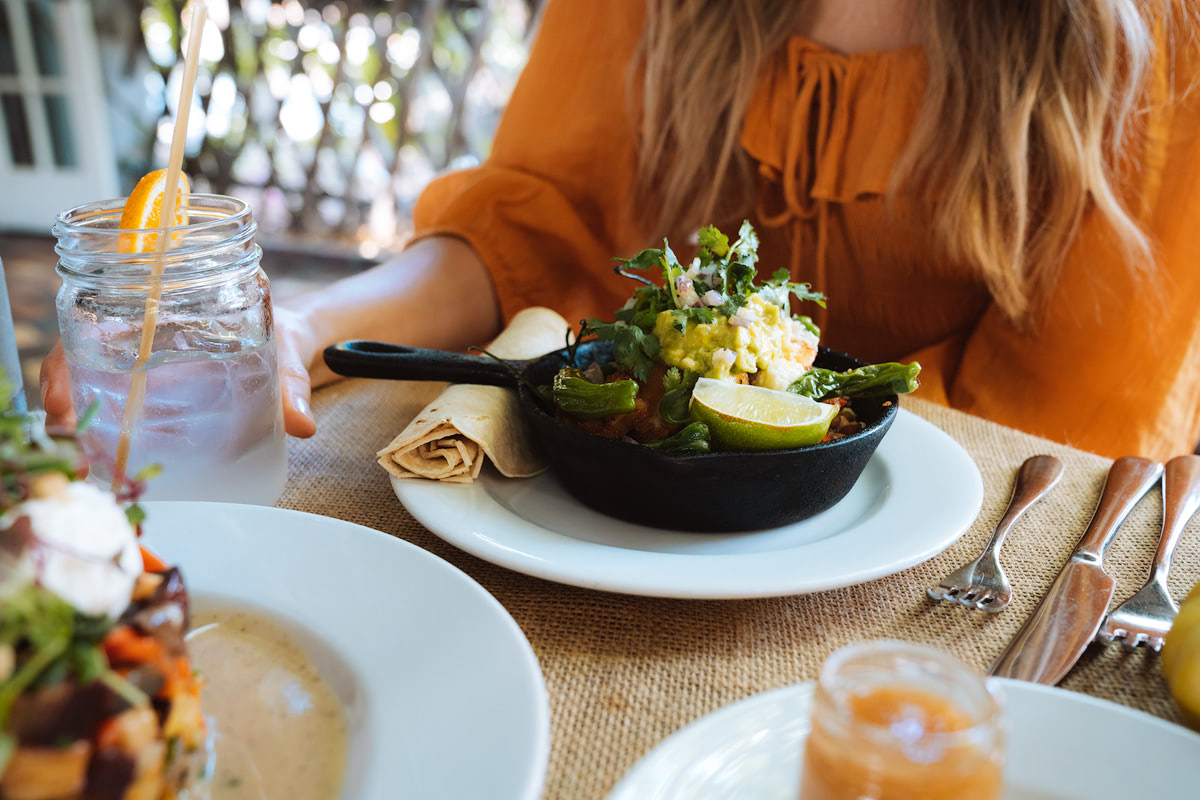 Best Eats in the OC
We were lucky enough to try a wide variety of dining options during our trip to Orange County. Due to the area's ethnic diversity and decently sized population, you will never be short of options, no matter what kind of food you are looking for. I have shared some of the area's best eats below!
Mexican
Carmelita's Kitchen de Mexico – We stopped here for lunch one day while exploring Laguna Beach and weren't disappointed. Definitely check it out if you are in the mood for some good Mexican food (the fish tacos were delish!)
La Sirena Grill – La Sirena Grill has three locations in Orange County – open for breakfast, lunch, and dinner. The food is Mexican inspired and I love their mission for sustainability and minimizing waste.
Asian
Another Kind Cafe – Serving delicious Vietnamese dishes, Another Kind Cafe uses fresh ingredients and each meal is prepared at the time of order. They also have a really cute space!
Starfish – Located in Laguna Beach, Starfish has an array of Asian influences and a wide variation of menu options. You will find flavors from Thailand, Vietnam, China, Korea, and India, served within a vibrant upbeat setting.
Italian
Alessa by Pirozi – Alessa was another of our favorite food stops in Orange County. Run by an Italian-born chef, Alessa offers authentic Italian cuisine right in the heart of Laguna Beach. I had one of my favorite pastas ever here (a butternut squash ravioli), and the pizza and salad were also amazing.
Roma D'Italia – Another family owned Italian restaurant, Roma D'Italia has a huge menu and something to please any taste.
Seafood
Hook and Anchor Fish & Lobster House – We stopped for lunch at Hook & Anchor while exploring Newport Beach and it did not disappoint. We had the blackened fish tacos and a lobster roll, both were amazing. Check it out if you want a quick, delicious seafood lunch.
Las Brisas – Situated right by Laguna Main Beach, Las Brisas serves a wide range of seafood dishes and offers some of the best dining views in the area.
Habana – Habana in Costa Mesa is actually a Cuban inspired restaurant, but we had some incredible seafood dishes there (hence the inclusion in this category!) I would recommend trying out the Spice Crusted Seared Ahi and the Salmon a la Parilla.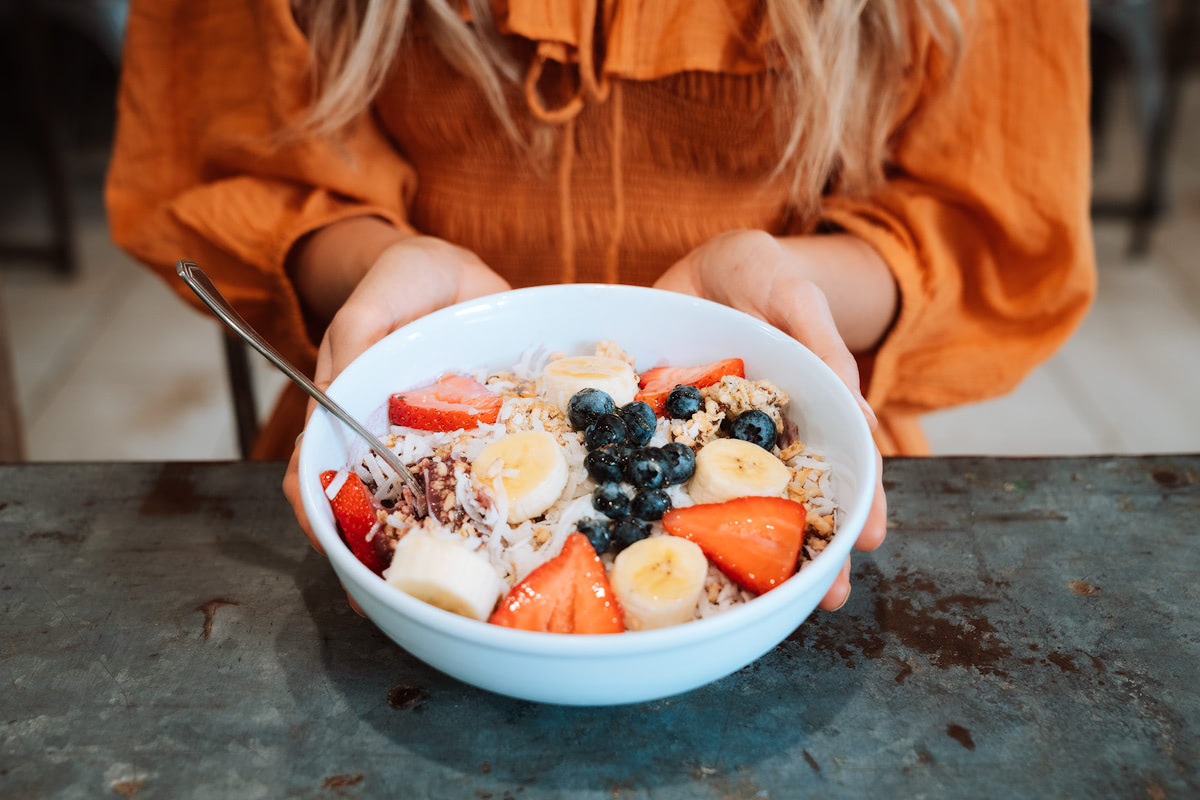 Brunch
Lost Pier Cafe – This was a great spot to grab breakfast or lunch as it was right on the beach, just a short 10 minute walk from our room at The Ranch. We really enjoyed the food here, and it was really nice to take a walk along the beach afterwards.
Banzai Bowls – If you're too busy exploring to enjoy a slower sit-down meal, Bonzai Bowls is an awesome quick option. The acai bowls were absolutely delicious and it was a great way to eat something healthy that tastes amazing.
Harvest – Harvest is the restaurant located at The Ranch Laguna Beach, where we stayed during our visit. We ate breakfast here one morning and it was delicious – the peanut butter french toast was to-die-for! I definitely recommend eating here, especially if you are already staying nearby.
Modern / American
Harley – This was probably our favorite dining experience of our trip to Orange County. Located in downtown Laguna Beach, we stopped here for dinner and chose to go with the 7 course dining experience which was absolutely incredible! Although we are pescatarian and have some dietary restrictions, they were able to accommodate our needs perfectly. Highly recommend this place!
Babette's – We went to Babette's for dinner on the first night and it was really wonderful. It had a nice atmosphere and great variety in the food they offered. Try any of the salmon dishes and you will not be disappointed!
The Ramos House Cafe – Located right in the middle of Los Rios Historic District, Ramos House Cafe serves fresh meals in a cozy setting. They don't have the most extensive menu but everything we ordered was absolutely delicious!
The Crack Shack – So Cal inspired cuisine and a twist on comfort food. I'm talking fried chicken, burgers, poutine, and fries… but not entirely how you would expect them to be!
Plant based
Native Foods Cafe – Native is a completely plant-based cafe that serves delicious food such as "meat-ball" subs, "chicken" sandwiches, and BBQ briskets that are all actually plant-based ingredients. The food here was really good considering the lack of any animal products, and if you are vegan (or not!) you should definitely check this place out.
Urth Caffe – Urth Caffe is known for their amazing health-conscious coffee, farm-to-table practices, and exceptional service. They serve an array of plant-based and non-plant-based options, so great for any type of visitor!
Dessert / treats
The Loop Churros – The Loop is a churro place, but with a twist (pun intended). One of the more unique dining options in the OC, here you will find tasty churros that are shaped like a loop and offered with a variety of yummy toppings.  So good!
Good Town Doughnuts – Located inside The Lab Anti-Mall, Good Town Doughnuts offer a variety of gourmet doughnut options. We tried the vegan salted caramel and despite not being vegan ourselves, it was absolutely delicious!
Gelato Paradiso – With four locations across So Cal, Gelato Paradiso serves authentic Italian gelato and sorbet. We were impressed with how many flavors they offered and the creamy consistency – definitely check them out!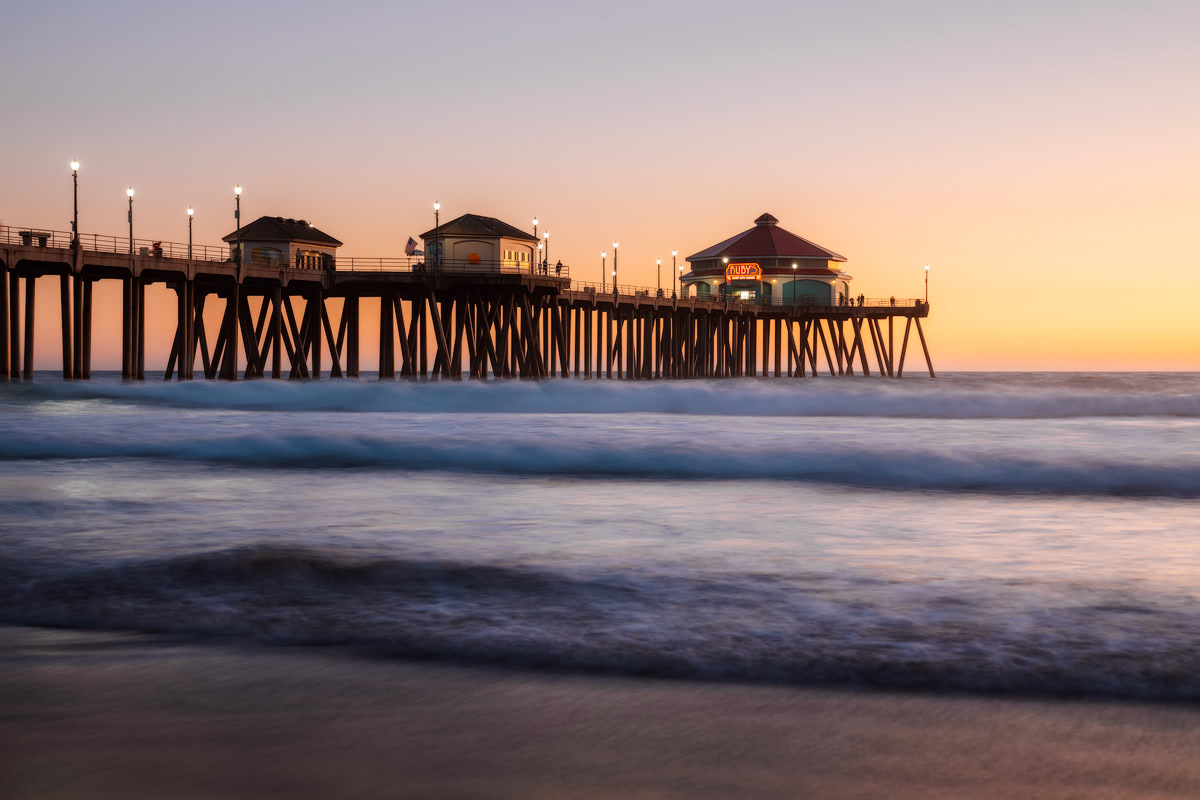 Have an amazing trip!
I hope this blog post has given you some ideas for planning your own trip to Orange County! It's the perfect destination for a short getaway from the Pacific Northwest, or really anywhere in North America. Enjoy 🙂


PIN to read later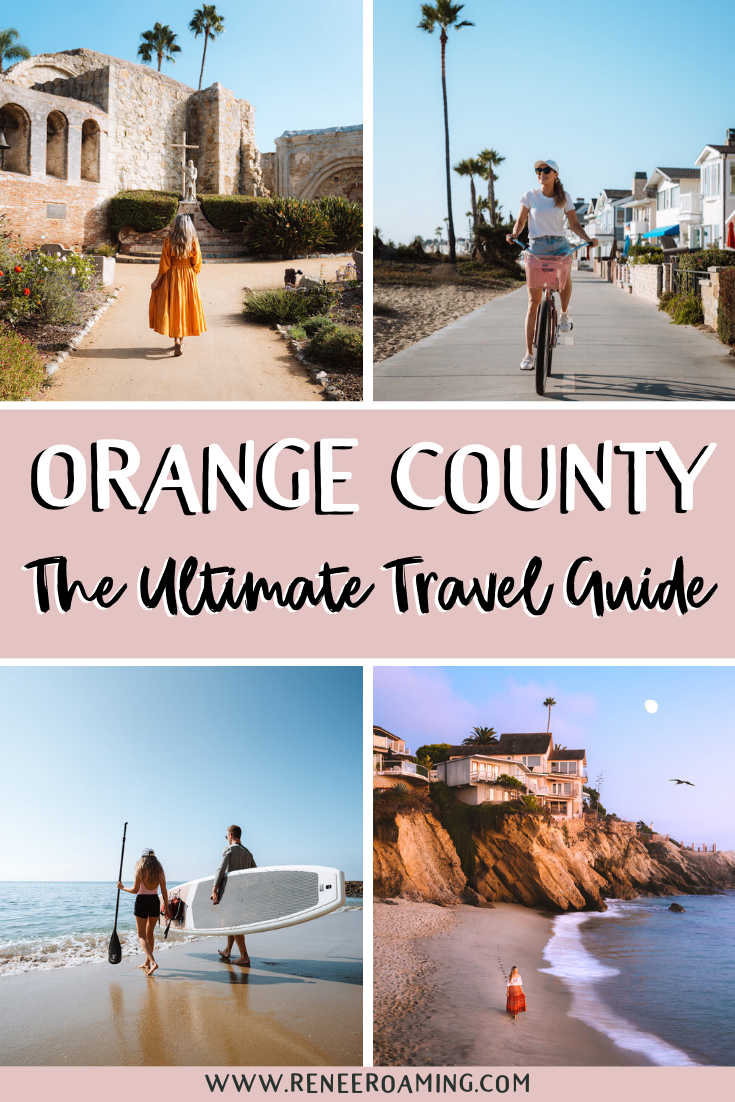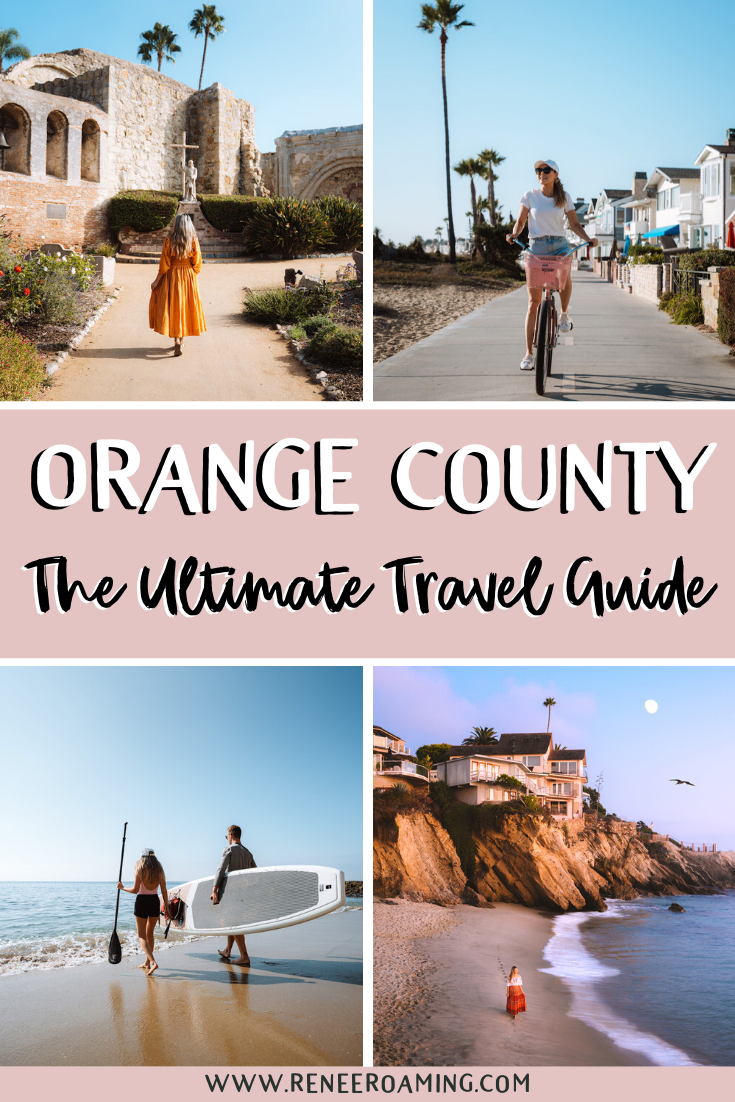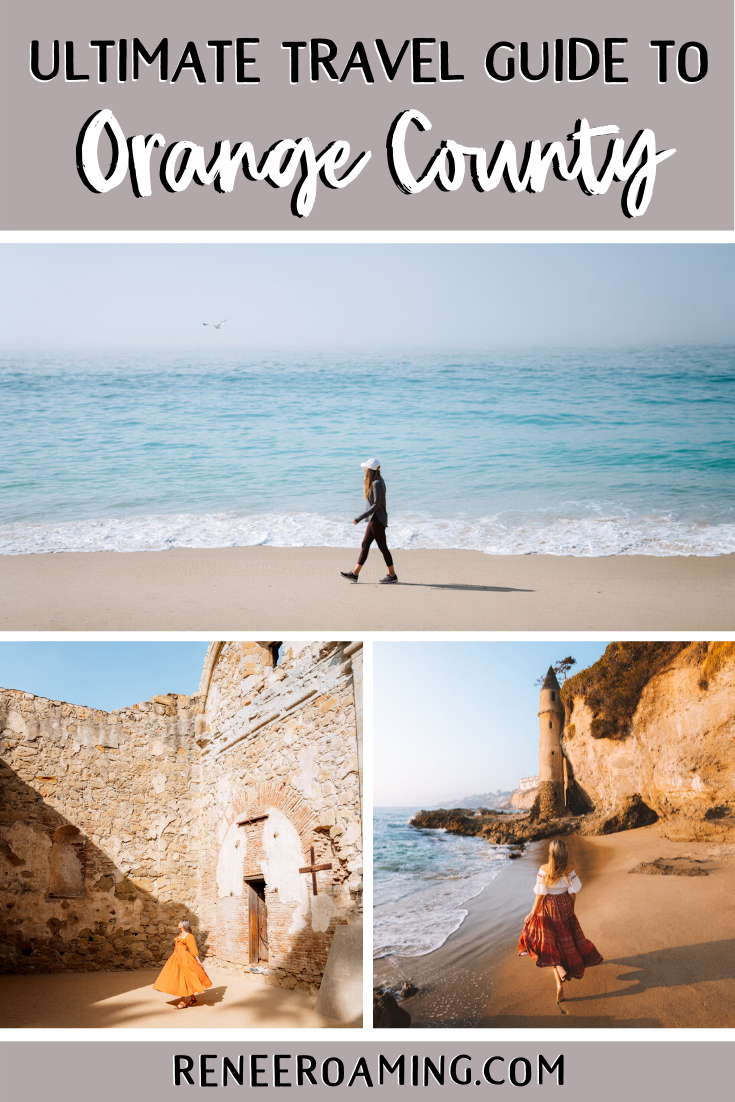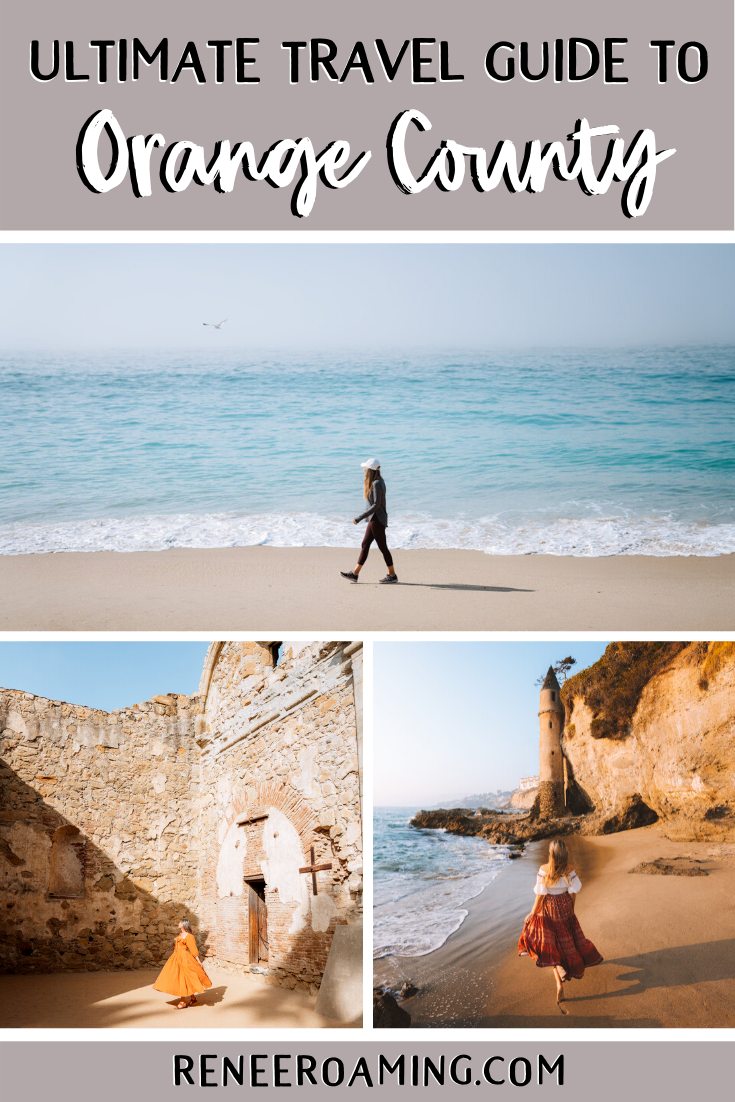 More Trip Inspiration
The Ultimate Guide to Tulum, Mexico
Romantic Getaway to Bora Bora, French Polynesia
5 Best Things To Do on Oahu, Hawaii
How to Spend 24 Hours in San Francisco
The Ultimate Getaway to Lake Tahoe, California


Disclaimer: Thank you to Visit The OC for hosting us. As usual, all opinions are my own and based on the awesome experience I had exploring Orange County. All photography featured in this blog post is credited to myself and my husband Matthew Hahnel.